Baby feeding bottle nipples
Minbie - award winning baby bottle nipples – Minbie US
PPSU Bottles Nipples Sterilizer & Dryer Breast Pumps
Why you need the Complete Package
1. avoid nipple confusion
our award winning nipple encourages your baby to practice a proper latch and work for each feed using their instinctive breastfeeding technique, protecting your bond.
2. the freedom to pump & store
portable, comfortable pumping that mimics the breastfeeding experience gives you the freedom to pump on the go and hand over whilst protecting your breastfeeding relationship.
4. keep your baby healthy
time saving sterilization protects your whole family from harmful bacteria and viruses at the press of a button.
3. 'me time' for mum
secure the quiet moments you need and the relaxation you deserve whilst others safely feed your baby without risk to your breastfeeding bond.
Why you need the Complete Package
1. avoid nipple confusion+
2. the freedom to pump & store+
3. keep your baby healthy+
4. 'me time' for mum+
Breast Pump & Bottle Bundle
$250.00
Save $32.90
Sterilizer & Bottle Bundle
$99.90
Save $36
PPSU 3-9 Month Bundle
$47.90
Breast Pump & Bottle Bundle
$250.00
Save $32.90
Sterilizer & Bottle Bundle
$99.90
Save $36
PPSU 3-9 Month Bundle
$47.90
OUR MISSION
WE ARE HERE TO EMPOWER MOMS DURING THEIR BREASTFEEDING JOURNEY BY PROVIDING PRODUCTS THAT NURTURE AND PROTECT THAT INSTINCTIVE, SPECIAL BOND
read our story
functionally designed like nature intended
- smart contours train baby to latch perfectly to the breast
- protects your breastfeeding bond from nipple confusion
- anti-colic vent floats air away from your baby's stomach
revolutionary nipple design
revolutionary nipple design
minbie
other nipples
Nurtures instinctive breastfeeding latch
-
Trains breastfeeding muscle-memory
-
prevents nipple confusion
-
Prevents lazy feeding
-
Supports good digestion
-
Anti reflux & colic
-
Gentle on palate & gums
-
SHOP BY AGE
months
NEWBORN RANGE
months
3+ MONTHS
months
6+ MONTHS
months
9+ MONTHS
SHOP BY AGE
months
NEWBORN RANGE
months
3+ MONTHS
months
6+ MONTHS
months
9+ MONTHS
READY SETS GO!
bundle them up and save $50 + FREE Shipping.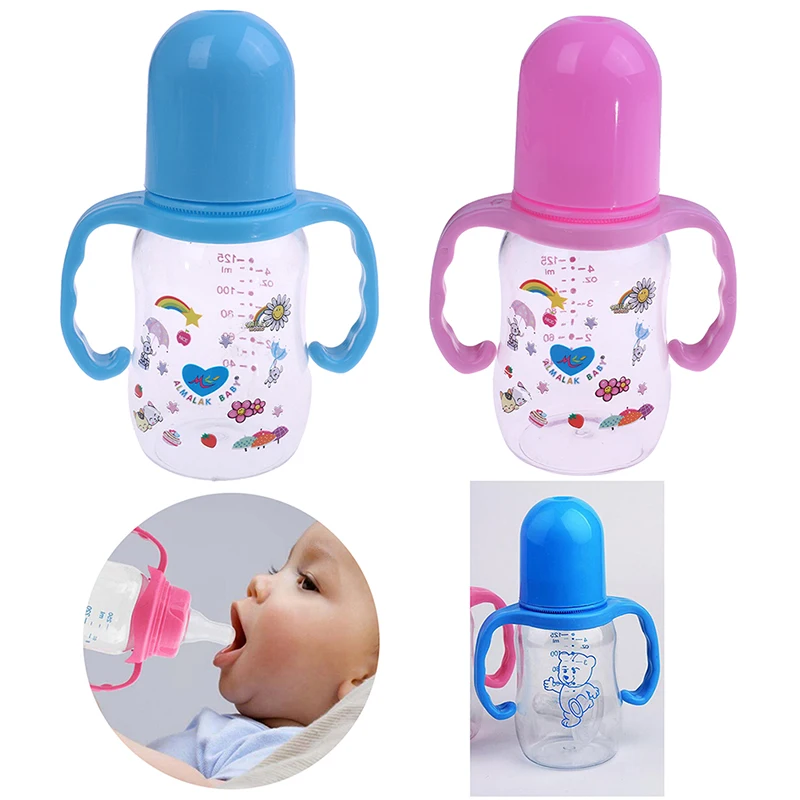 shop all
clearly better
Premium PPSU Bottle
a higher heat resistance than regular bottles makes new PPSU the safest, most durable bottle you'll find. our hypoallergenic nipples are made of premium-quality soft silicone. australian designed & owned.
shop all
Featured article

Everything you need to know about Baby Colic

read our story
HUMBLE BRAG
300k
parents and counting choose minbie
12k+
bottles and teats donated
15k+
five star reviews
follow us @minbie
Buying and caring for baby bottles and nipples: MedlinePlus Medical Encyclopedia
Whether you feed your baby breast milk, infant formula, or both, you will need to buy bottles and nipples.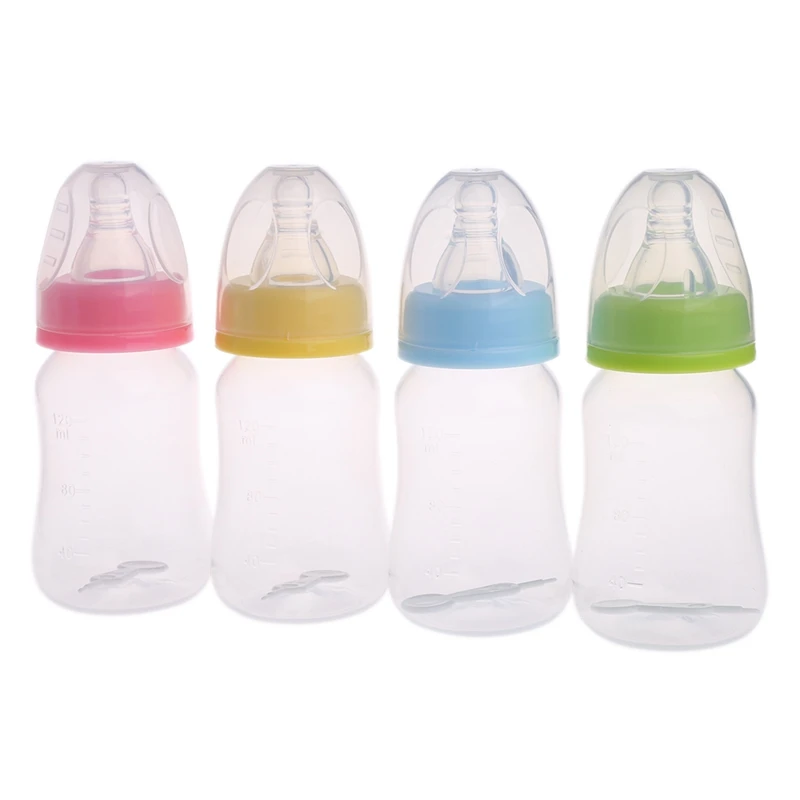 You have many choices, so it can be hard to know what to buy. Learn about the different options and how to care for bottles and nipples.
The type of nipple and bottle you choose will mainly depend on which type your baby will use. Some babies prefer a certain nipple shape, or they may have less gas with certain bottles. Others are less fussy. Start by buying a few different types of bottles and nipples. That way, you can try them out and see what works best for you and your baby.
Nipples can be made from latex or silicone.
Latex nipples are softer and more flexible. But some babies are sensitive to latex, and it does not last as long as silicone.
Silicone nipples last longer and tend to hold their shape better.
Nipples come in different shapes.
They can be dome-shaped, flat, or wide. Flat or wide nipples are shaped more like a mother's breast.
Try different shapes to see which one your baby prefers.
Nipples come in different flow rates.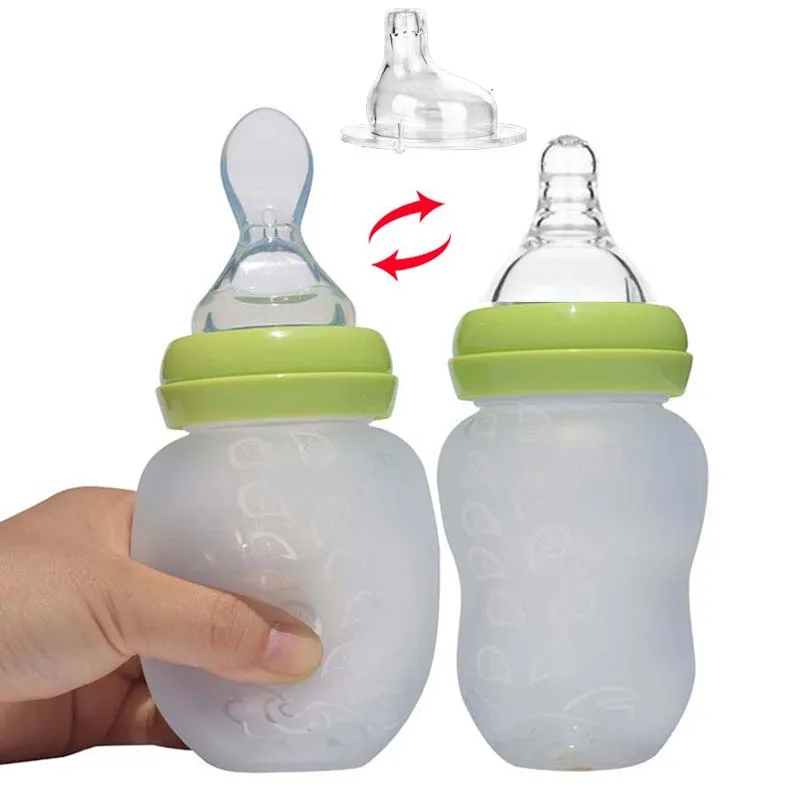 You can get nipples that have a slow, medium, or fast flow rate. These nipples are often numbered, 1 is the slowest flow.
Infants usually start with a smaller hole and slower flow. You will increase the size as your baby gets better at feeding and drinks more.
Your baby should be able to get enough milk without having to suck too hard.
If your baby is choking or spitting up, the flow is too fast.
Baby bottles come in different materials.
Plastic bottles are lightweight and will not break if dropped. If you choose plastic, it is best to buy new bottles. Reused or hand-me-down bottles may contain bisphenol-A (BPA). The Food and Drug Administration (FDA) has banned the use of BPA in baby bottles due to safety concerns.
Glass bottles do not have BPA and are recyclable, but they can break if dropped. Some manufacturers sell plastic sleeves to prevent bottles from breaking.
Stainless steel bottles are sturdy and will not break, but they may be more expensive.
Disposable bottles have a plastic sleeve inside that you throw away after each use. The liner collapses as baby drinks, which helps prevent air bubbles. Liners save on cleanup, and are handy for traveling. But they add an extra cost, as you need a new liner for every feeding.
You can choose from several different bottle shapes and sizes:
Standard bottles have straight or slightly rounded sides. They are easy to clean and fill, and you can easily tell how much milk is in the bottle.
Angle-neck bottles are easier to hold. The milk collects at the end of the bottle. This helps prevent your baby from sucking in air. These bottles can be harder to fill and you need to hold them sideways or use a funnel.
Wide bottles have a wide mouth and are short and squat. They are said to be more like a mother's breast, so they may be a good option for babies who go back and forth between breast and bottle.
Vented bottles have a venting system inside to prevent air bubbles. They are said to help prevent colic and gas, but this is unproven. These bottles have a straw-like inner vent, so you will have more parts to keep track of, clean, and assemble.
When your baby is small, start with the smaller 4- to 5-ounce (120- to 150-milliliters) bottles. As your baby's appetite grows, you can switch to larger 8- to 9-ounce (240- to 270-milliliters) bottles.
These tips can help you safely care for and clean baby bottles and nipples:
When you first buy bottles and nipples, sterilize them. Place all of the parts in a pan covered with water and boil them for 5 minutes. Then wash with soap and warm water and air dry them.
Clean bottles right after you use them so the milk doesn't dry and become caked onto the bottle. Wash bottles and other parts with soap and warm water. Use a bottle and nipple brush to get at hard-to-reach areas. ONLY use these brushes on baby bottles and parts. Dry bottles and nipples on a drying rack on the counter. Make sure everything is completely dry before using again.
If bottles and nipples are labeled "dishwasher safe," you can wash and dry them in the top rack of the dishwasher.
Throw out cracked or torn nipples. Small pieces of the nipple can come off and cause choking.
Throw out cracked or chipped bottles, which can pinch or cut you or your baby.
Always wash your hands thoroughly before handling bottles and nipples.
American Academy of Pediatrics website. Practical bottle feeding tips. www.healthychildren.org/English/ages-stages/baby/feeding-nutrition/Pages/Practical-Bottle-Feeding-Tips.aspx. Accessed July 8, 2021.
Centers for Disease Control and Prevention website. How to clean, sanitize, and store infant feeding items. www.cdc.gov/healthywater/hygiene/healthychildcare/infantfeeding/cleansanitize.html. Updated October 29, 2020. Accessed July 8, 2021.
Goyal NK. The newborn infant.
In: Kliegman RM, St. Geme JW, Blum NJ, Shah SS, Tasker RC, Wilson KM, eds. Nelson Textbook of Pediatrics. 21st ed. Philadelphia, PA: Elsevier; 2020:chap 113.
Updated by: Neil K. Kaneshiro, MD, MHA, Clinical Professor of Pediatrics, University of Washington School of Medicine, Seattle, WA. Also reviewed by David Zieve, MD, MHA, Medical Director, Brenda Conaway, Editorial Director, and the A.D.A.M. Editorial team.
Browse the Encyclopedia
KP top 10 rating, reviews, expert advice
Feeding bottle is the essential item you need whether your baby is breastfeeding or formula fed. In the second case, it is clear - this is number one in your everyday life. And in the case of breastfeeding, a bottle may be needed when the mother needs to go away on business and leave expressed milk for the baby, or if there are problems with lactation and the child needs supplementary feeding.
Your task is to choose a high-quality and safe product for your newborn. Today, a huge number of bottles for newborns and children of the first year of life are presented on the market for children's goods. There are many manufacturers, among the most famous and well-established ones are Philips Avent, Dr. Brown's, Medela, Pigeon, Сhicco, Munchkin, Nuk and some others.
There are many nuances when choosing a bottle, but one of the most important criteria to consider is the presence of a physiological nipple.
The advantages of the physiological teat
Its use is especially important when the newborn is on mixed feeding or parents sometimes resort to feeding with expressed milk. In order for the baby not to abandon his mother's breast in favor of a bottle, according to its characteristics, it should be as close as possible to imitation of breast sucking.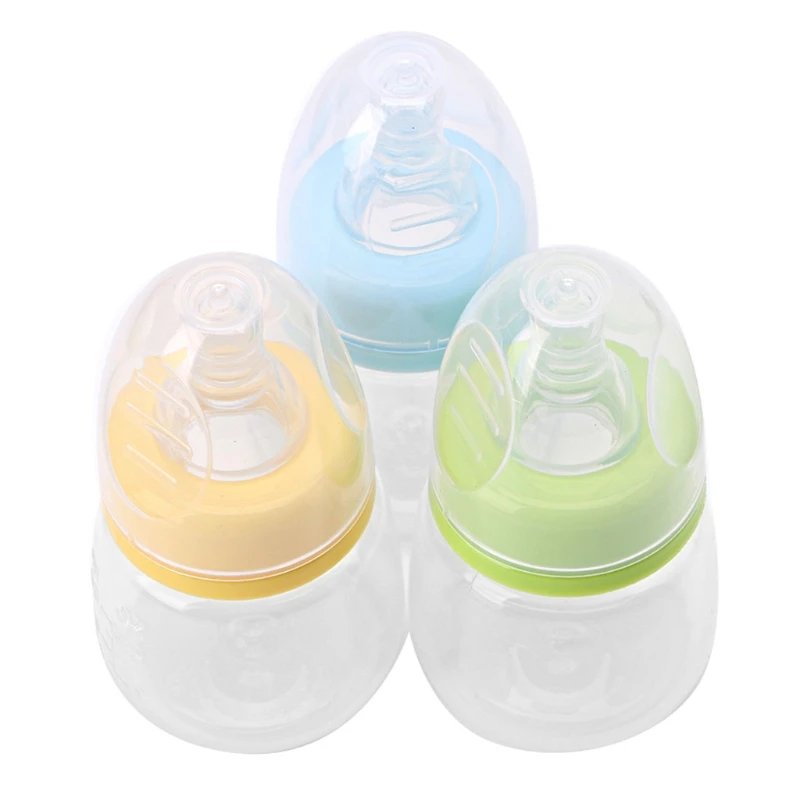 "At the initial stage, when lactation is just being established, it's generally better to stop using a bottle and give the baby only the breast," says lactation consultant Anastasia Kulikova . - Sucking a bottle is much easier, the newborn is still quite weak and can simply refuse his mother's breast. But if for some reason it is necessary to use a bottle, then choose options with a physiological nipple. It is most reminiscent of the shape of the nipple of the breast, in addition, please note that it should have one small hole. This means that the milk or formula from the bottle will flow slowly and the baby will have to make an effort to suckle the bottle, just like when sucking on the mother's breast. As a rule, such nipples have a fairly wide base, which contributes to the wide grip of the nipple by the baby, as well as when sucking on the mother's breast.
CP top 10 rating
1. Medela Calma bottle with smart nipple, 150 ml
Medela Calma bottle with smart nipple, 150 ml.
Photo: yandex.market.ru
The Swiss company has been producing products for newborns and their mothers for many years, the main feature of which is the support and preservation of breastfeeding. The Medela Calma Feeding Bottle with Smart Teat is designed specifically for mothers who want to establish and maintain breastfeeding, but for one reason or another have to use a bottle as well. The peculiarity of the bottle is in its nipple, a unique development of the company, which reproduces the vacuum sucking of the baby and prevents the swallowing of air. At the same time, the nipple has one size for the entire period of feeding, as well as in natural conditions. This version of the bottle allows the baby to retain the skills learned when sucking on the mother's breast, and easily move from breast to nipple and back when necessary. The disadvantages of this option include a rather high cost. Also, some parents note that not all babies like the specific structure of the nipple.
There is an anti-colic valve in the bottom of the bottle that prevents air bubbles from entering the mixture.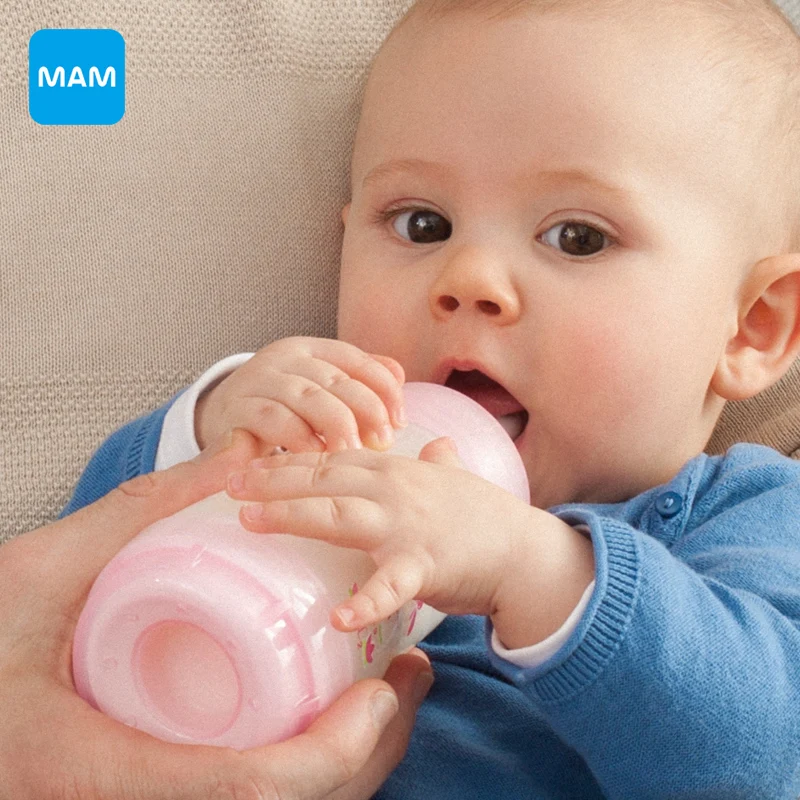 Many parents also like the sleek, stylish design of the bottle. Of the shortcomings, it is worth noting the rather high cost of the product. Also in the reviews, some mothers note that sometimes the bottle can leak.
| | |
| --- | --- |
| Manufacturer | USA |
| Bottle material | Polypropylene |
| Teat material | Silicone |
5. Twistshake bottle with container, 180 ml
Twistshake bottle with container, 180 ml. Photo: yandex.market.ru
This option is more focused on children who are bottle-fed, although for a mother who is breastfeeding, but who resorts to supplementing her baby with a mixture, it will become an excellent lifesaver. The peculiarity of the bottle is that it comes with a container for storing the mixture and a shaker for whipping it. It is important that it be homogeneous, without lumps. The bottle itself is made of safe plastic, the silicone nipple has a special valve that prevents excess air from entering the baby, which means it reduces the risk of colic.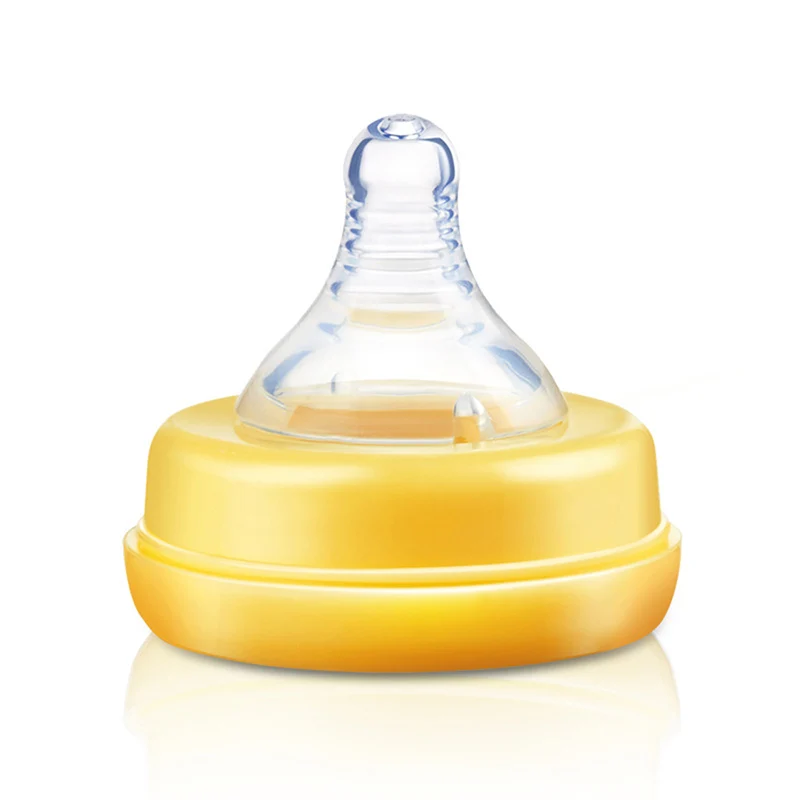 In addition, the product looks stylish, a wide range of colors is available: from neutral whites, blues and pinks to purples, bright yellows and even blacks. Of the shortcomings in the reviews, they note that the white scale is not very visible on light bottles. Also, the lid is a little tight, which can create some difficulties when opening.
| | |
| --- | --- |
| Manufacturer | Sweden |
| Bottle material | Polypropylene |
| Teat material | Silicone |
Photo: yandex.market.ru
Many parents who used a bottle of this American brand noted that the so-called anti-colic system really works. The bottle is equipped with a special ventilation system (a technology patented by the company), and when sucking, the baby does not swallow air, as happens during feeding with the help of some analogues. This means that the period of colic, which is already difficult for the baby, is not complicated.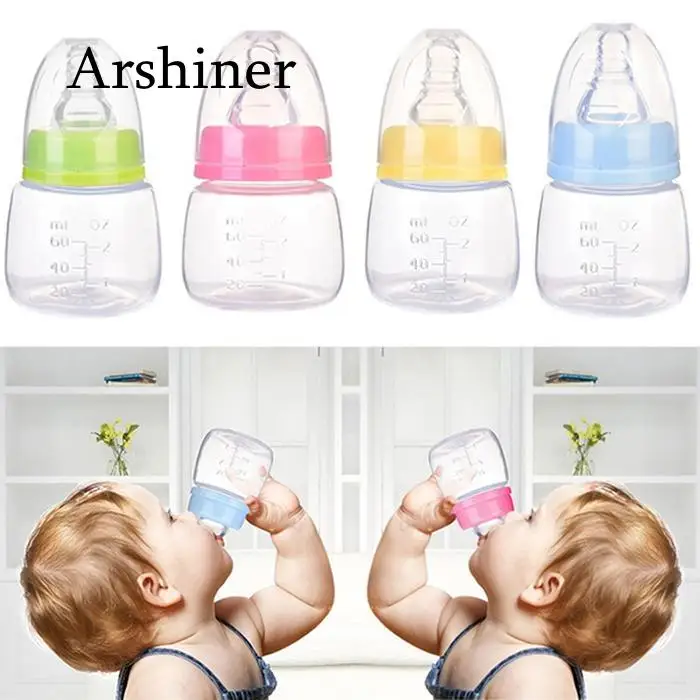 A nice bonus: the kit includes a small brush for cleaning the pacifier and ventilation system. Chicco Natural Feeling silicone bottle, with tilt and flexors, 150 ml. Photo: yandex.market.ru
Italian brand, one of the oldest in the production of goods for children and their mothers. The quality of products has long been trusted by many Russian parents. Chicco's line of feeding bottles is pretty well presented, most of them have a lot of positive reviews. In our rating, let's pay attention to the bottle of Chicco Natural Feeling.
According to the manufacturer, the use of bottles in this series brings the process of feeding closer to natural. The nipple imitates mother's breasts: it has a special velvety mum effect texture, reminiscent of a woman's breasts. A special ultra-soft silicone is used for the pacifier, which means that it is more comfortable for the child, while being durable. The design allows for a proper wide grip, so the bottle should be suitable for breastfeeding.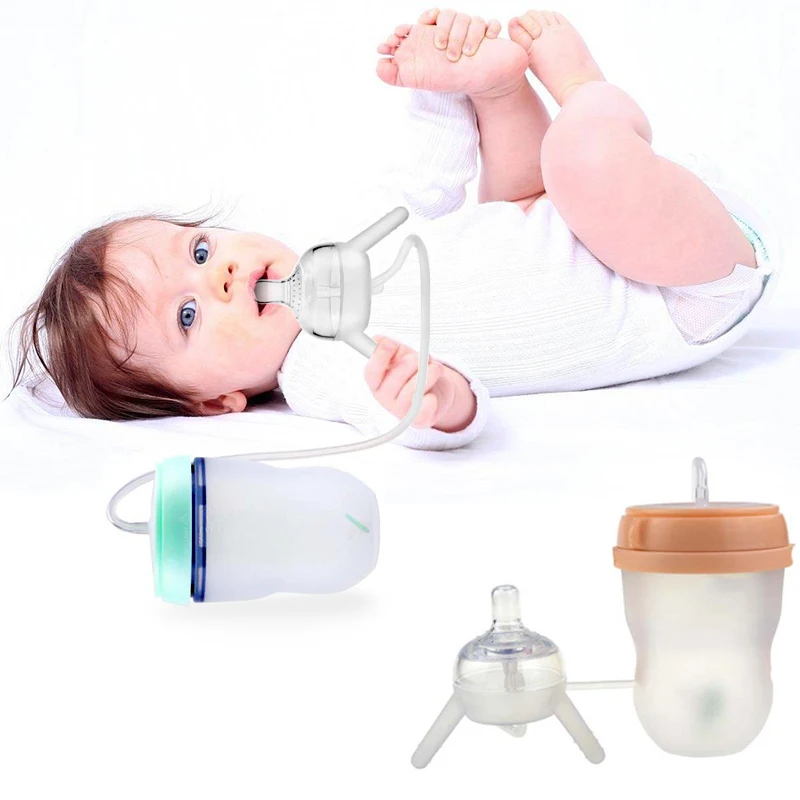 The double anti-colic valve reduces the chance of air getting in while the baby is feeding and the risk of colic. Among the shortcomings: some parents in the reviews note that the flow for the newborn may be stronger than necessary, and in this case it is better to use the bottle not from birth, but a little later.
An anti-colic system is provided: a special valve prevents the child from swallowing excess air. Parents who use the mixture like the wide neck, as it is convenient to pour it into the bottle. Then it is easy to wash.
manufacturer
Poland
Buechka material
Polypropylene
Silicone
Silicon
100021 Lubby feeding bottle with milk teat Babies and Babies, 120 ml. Photo: yandex.market.ru
Another glass and at the same time budget bottle in our rating. It has a small volume, it is convenient to use in the first months of a baby's life. The milk nipple that comes with the bottle has a slow flow and an anatomically correct shape.
There is a valve that traps air. The bottle closes with a special rather large cap, which can also be used as a glass.
The advantage of this option is the relatively low price in the segment. Of the shortcomings, parents note in the reviews a narrow neck and rather thin glass, so the bottle does not hold heat very well.
manufacturer
Thailand
Buechka material
Glass
Silicon
9001 There are glass ones, and there are plastic ones, some are suitable for babies from birth, others for children from six months and older. Some have a so-called anti-colic system that prevents air from entering the baby during feeding, which can reduce the risk of colic in newborns.
Bottle material
Most parents today prefer plastic bottles. Their advantages are that they are light, do not break, many are shaped with recesses to make it more comfortable to hold in your hand.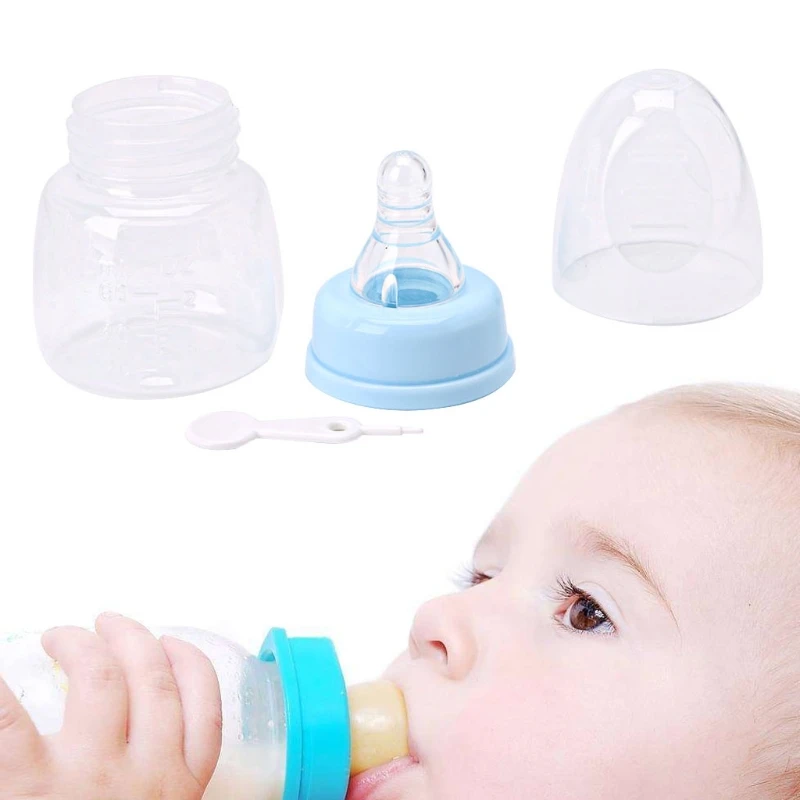 The main thing here is the quality of the plastic from which the bottle is made. It should be polypropylene, which does not contain Bisphenol A, does not emit harmful substances during sterilization and is safe for the newborn. Pay attention to the corresponding markings on the label.
As for bottles made of glass, this is a more environmentally friendly material, glass does not react during sterilization, does not absorb odors, which can be seen in some plastic bottles. But they are heavier than plastic ones, they break easily. Although there are a lot of adherents of glass bottles among parents, and most manufacturers necessarily have such options in their lines.
Size and shape of the bottle
A newborn eats small amounts of food, so at the first stage it is advisable to purchase small bottles - up to 140 ml. They are more compact and easy to use. A bottle with a larger volume will be less convenient, but it will last longer. A wide bottle is usually more comfortable to hold in your hand.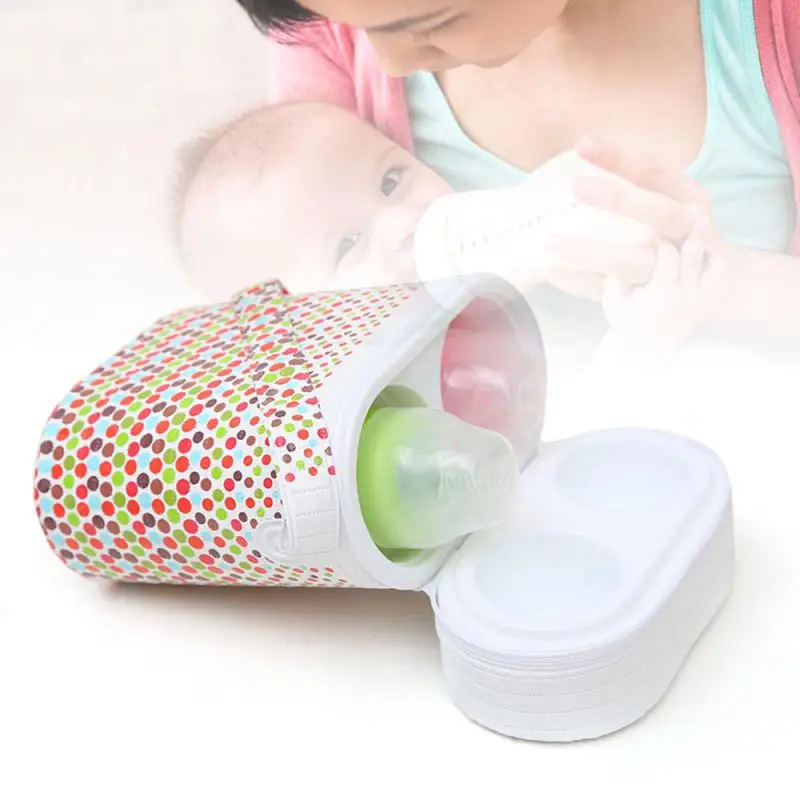 A plus will be a wide neck - it is convenient to pour the mixture into this and wash it.
Teat material
There are two options: silicone or latex. Latex nipples are brown in color, softer and often more appealing to babies. But they are short-lived and often require replacement. The silicone nipple is harder, which can make it difficult for weak premature babies to feed. But it keeps its shape better and lasts longer. Focus on the tasks that you set for yourself when using the bottle. If you want to maintain lactation and use an exclusively physiological nipple, it is better to choose silicone. For premature babies, latex may be better suited. In addition, the baby himself can declare his preferences and refuse one option in favor of another.
Shape of the nipple
The best option would be a physiological nipple, as close as possible to the mother's nipple, with a wide latch, which promotes the development of the same skills in the baby as when breastfeeding.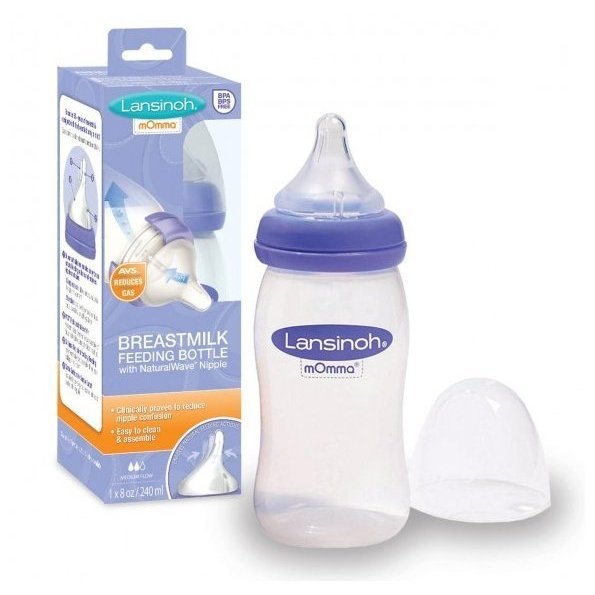 There are also orthodontic nipples with beveled nipples, it is believed that they favorably affect the proper development of the jaw system.
Flow rate and nipple size
Depending on the age of the baby, the nipples differ in the size and flow rate of the liquid coming from the bottle. For a newborn, a size 1 or 0 nipple is suitable (may vary depending on the manufacturer). It is also important to use a slow-flow nipple for the first month so that the milk or formula does not flow quickly, and the baby makes an effort to suckle the bottle, as well as suckling at the breast. The slowest flow is one small hole in the nipple. The more holes, the faster the liquid will flow to the baby. For example, a pacifier with two holes is best used after a month. All these characteristics are indicated on the instructions for the product, pay attention to this when choosing.
Anti-colic system available
Today, more and more manufacturers offer so-called anti-colic bottles.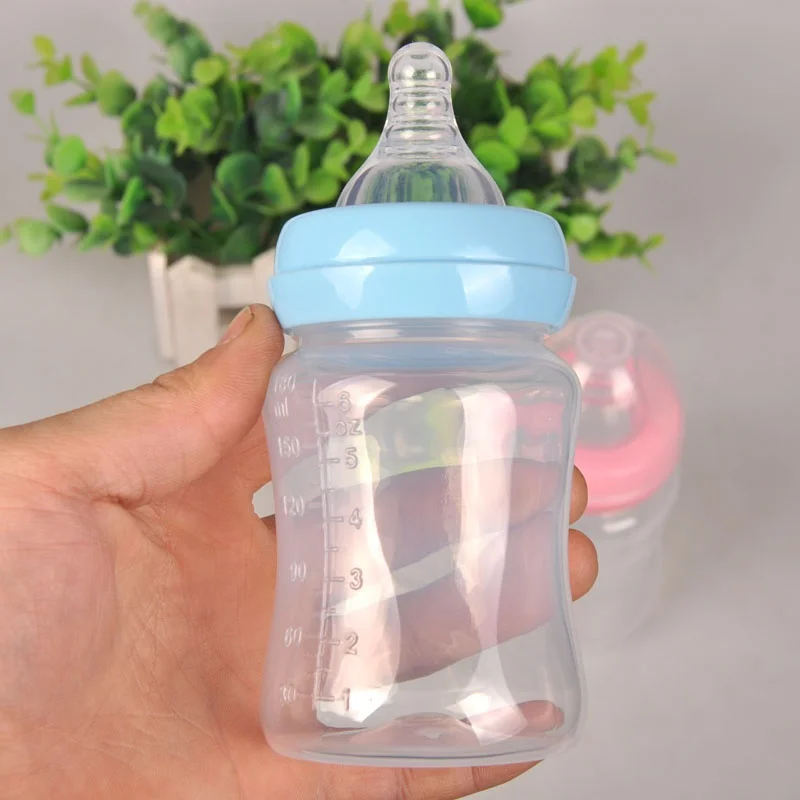 They suggest the presence of a nipple with a special valve that does not allow air to enter the baby when feeding. There are also options when the "anti-colic" mechanism is placed in the bottle itself. This is a good option. But it should be borne in mind that these mechanisms do not always work one hundred percent, and it is not possible to completely avoid air ingress during feeding. In addition, colic is a natural physiological process, in some babies they are more pronounced, in others less. And the air that enters the baby's stomach during feeding is just one of the factors that can increase the manifestation of colic.
Bottle feeding
When breastfeeding is not possible, or there is not enough breast milk and supplementary feeding is required, the use of infant milk formulas allows you to establish good nutrition for the baby.
The mixtures contain all the necessary nutrients, vitamins and trace elements. As a rule, they are well tolerated and digested, especially if the feeding process is properly established.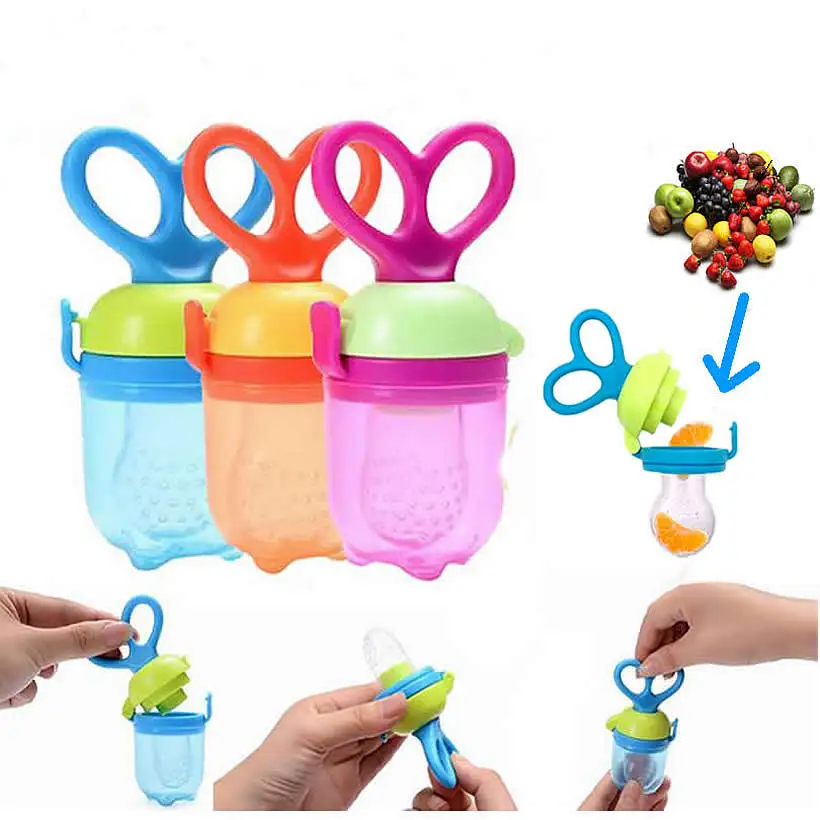 If you plan to bottle feed or supplement your baby with formula, our article will help you navigate the basic rules and intricacies of artificial feeding.
How to choose a teat (nozzle) for a bottle
Teats differ in composition (silicone, latex), shape and flow rate. While the shape of the nipple and the material are often chosen according to the preferences and needs of a particular baby, the flow rate is strictly determined by the age category.
Babies are fed from birth using the slowest flow nipple (these are usually labeled from 0 and one drop). Next, the teat flow rate in most bottle manufacturers increases at 3 months, 6 months, 12 months.
In order not to be mistaken, pay attention to the labeling and the age group for which the nipple to the bottle of the selected manufacturer is intended.
Whether such a nipple is right for you, you will also probably be able to understand during feeding.
Your baby should be able to comfortably grip the nipple and drink formula confidently (without too much effort).
He should not choke/choke frequently.
The mixture should flow well. If the mixture does not flow until you shake the bottle, the hole may be clogged with powder.
If the mixture flows too much, check if the nipple is not torn.
How to handle the bottle
For newborn babies in the first months of life, it is recommended to sterilize the bottles before each feeding. Sterilization is the immersion of all feeding accessories (bottles, nipples, other parts) in boiling water for about 5 minutes to destroy pathogenic microflora.
You can choose any convenient method of sterilization: using a special device (sterilizer), in a microwave oven, dishwasher, ordinary boiling. Read more about how to properly sterilize bottles in our other article.
It is important to ensure that the baby bottle you use is made of safe plastic that can be heated. Some types of plastic release harmful chemicals when heated. As a rule, information about the possibility of sterilization and heating is indicated on the packaging.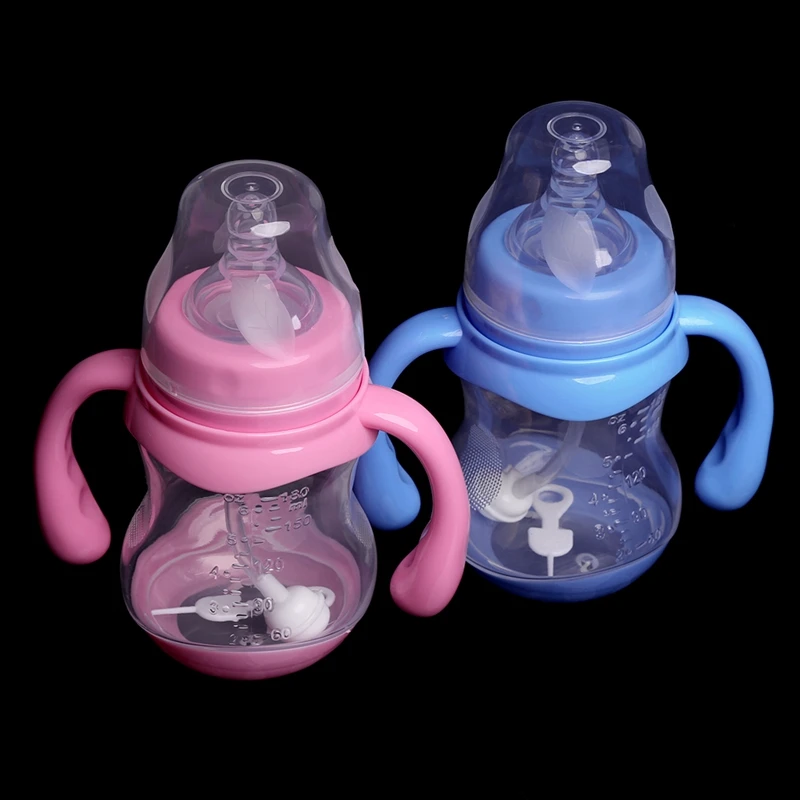 If there is no such information, it is not worth the risk. Use special baby bottles from well-known manufacturers. For example, a Dino Reno feeding bottle with nipple can be sterilized completely by any of the listed methods.
How to prepare formula and feed your baby
Wash your hands with soap and dry with a dry towel.
Remove the bottle and nipple from the sterilizer using the special holder (tweezers), assemble the bottle with the nipple, being careful not to touch the part that will go into the baby's mouth with your hands.
Take boiled or special baby water heated to body temperature, dilute the mixture in the proportion indicated on the package.
Use the special measuring spoon (included in every box of formula) for preparation.
Dilute the mixture strictly in the proportion indicated by the manufacturer. A thicker or thinner formula can harm your baby and cause stomach problems.
Shake the bottle thoroughly to mix the contents evenly. Make sure that there are no lumps and clots left in the liquid and on the walls of the bottle.
Check the temperature of the prepared mixture by dropping a little liquid on your wrist, it should not burn.
Hold the bottle at the correct angle. So that the tip of the nipple is always filled with milk and not with air.
Hold baby upright after feeding, let him burp excess air.
Feed your baby only fresh formula. According to the recommendations of the European Society of Pediatric Gastroenterology, Hepatology and Nutrition (ESPGHAN) of 2004, the reconstituted dry formula can be stored in a sealed bottle at a cool temperature for no more than 4 hours.
If the mixture has cooled down, it can be heated with a special heater or in a water bath.
If you are going on a long trip or outing, do not prepare the formula ahead of time. Better just pour the required amount of water into the bottle, and pour the right amount of the mixture into a separate container.