Baby food teether mesh
Ultimate Guide to Baby Feeders: Mesh and Silicone
You may have seen baby feeders, whether mesh or silicone, and wondered what they are for. They are a great tool for feeding babies and toddlers—and are especially awesome for teething relief. There are many on the market though, so today I'm sharing the best of the best.
Baby Feeder
A baby feeder is made up of an easy-hold handle and a little pouch with lots of holes. The idea is that the holes allow some of the flavor and texture of the food to come out, without the concerns that may come with larger pieces of food.
This means you can worry less when it comes to choking risks.
One thing to keep in mind: They don't allow babies to have the full texture experience of the food—since the texture is mostly the mesh of the feeder. That means you don't want to use one of these for every meal (or even most meals).
Lots of exposures to lots of textures helps babies and toddlers gain confidence in handling all sorts of foods, which can make feeding kids a lot easier over the long run.
But an infant feeder can be a handy tool to have in the mix, especially if on the go, starting to transition to baby food, or trying out a new food that has you a little nervous.
And they are a great way to offer cold teething relief to soothe baby's gums.
Baby Fruit Feeder
Many people like to use baby feeders to offer fruit, either fresh or frozen, since the product is a safe way for baby to suck on and explore the flavor of a wide range of fruit.
TIP: Another name for this is Baby Fruit Pacifier.
Best Baby Food Feeders
Below are my top picks for infant feeders chosen for ease of use, durability, and ease of care (as in washing!). There are different materials listed, as well as specific information on each product.
Best Mesh Feeder
Munchkin Baby Feeder, sold in a set of two. (Or choose the ones that come with travel caps.)
This baby feeder has a streamlined, simple design of a mesh bag for the food and a ring for baby to hold onto.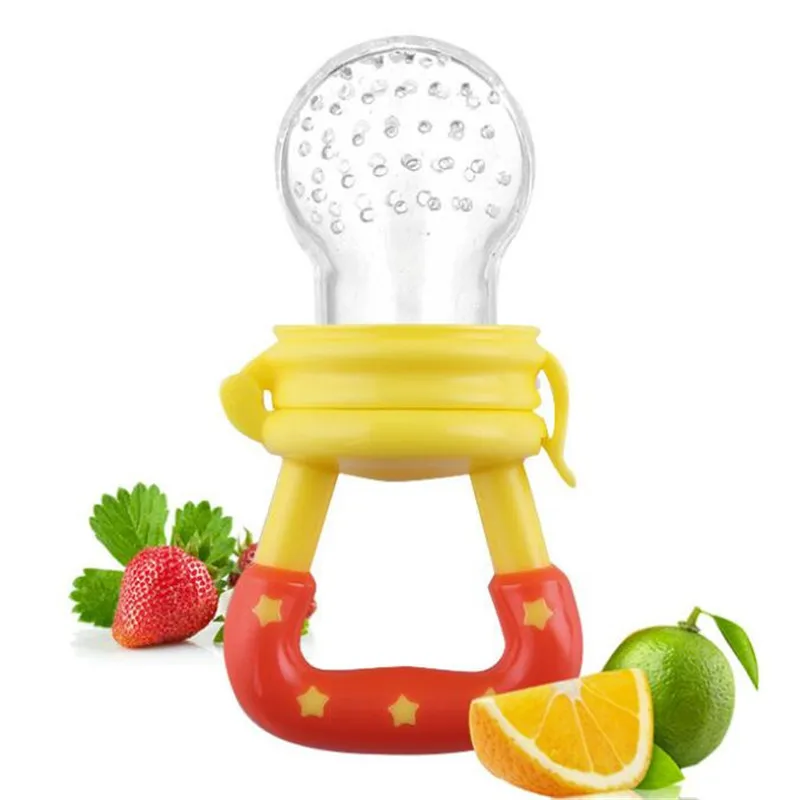 Small, digestible pieces of food come through so baby is getting some nourishment (and comfort if using for teething) without the risk of choking. It's about $7 for two of them.
Best Silicone Feeder
Boon Silicone Feeder
This baby feeder, which is priced at under $6, is made from durable silicone and can be used with fresh or frozen foods. The interior stem forces food toward the tiny holes in the feeder and the small handle is sized just right for baby's little hands.
Kidsme Baby Feeder
Baby Feeder Pacifier Combo
Kidsme Food Feeder
This popular Kidsme feeder has a replaceable silicone pouch that comes in two sizes, so you can adjust and replace as your child grows. It has a unique handle style that some babies may prefer and can be used as a pacifier too. It's usually priced around $15 and is recommended for ages 4-24 months.
What baby foods should I put into a baby feeder?
Here are some fruits that are good to serve in a baby feeder:
Raspberries, fresh or frozen
Strawberries, fresh or frozen
Blackberries, fresh or frozen
Cantaloupe
Honeydew
Banana
Mango, fresh or frozen
Roasted sweet potato
Roasted butternut squash
Ripe fresh pear
Fresh cucumber, skin removed
Watermelon
Cooked red meat such as steak
Frozen grapes (These are NOT safe served to a child this age in any other way as they are a choking risk. They are fine served inside the feeder, though.)
TIP: You can use frozen fruit or ripe fresh fruit that's soft and easy to gum. Avoid any fruits or veggies that are very hard as baby may be frustrated by that texture.
Frequently Asked Questions
What age can baby use a mesh feeder?
Babies can use an infant feeder soon after starting solids around 6 months, or when they can easily hold it and bring it to their mouth.
How do I use a baby feeder to help with teething?
If you fill the feeder, whether mesh or silicone, with frozen fruit, you can soothe teething in infants who are eating solids or in toddlers. It's cold and yummy, yet requires no real work for the child to suck on, so it's comforting.
Are all of these baby feeders BPA-free?
Yes, if you choose a mesh baby feeder or one made from silicone, they are BPA-free.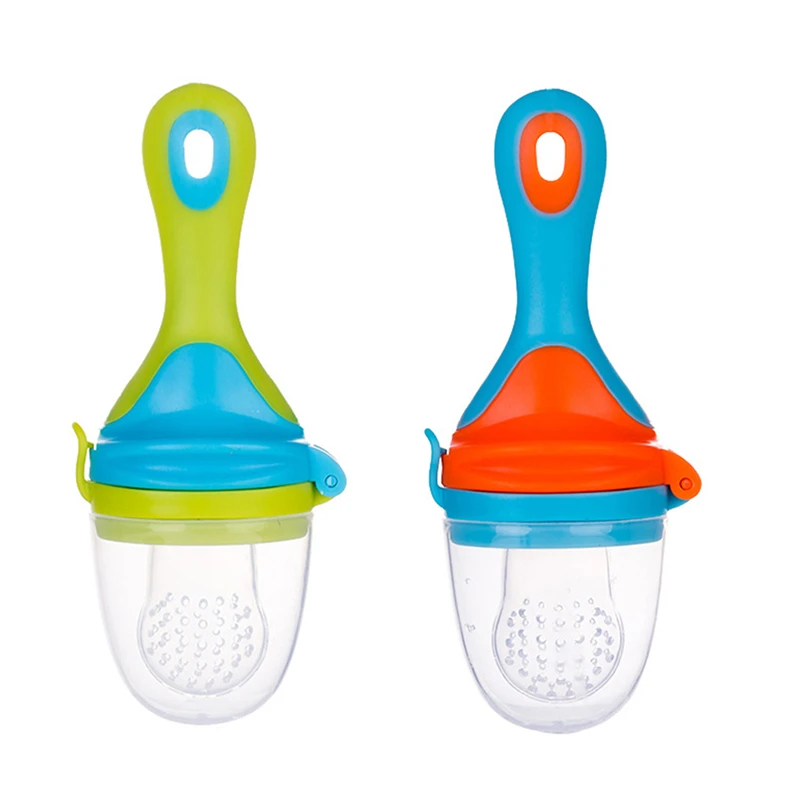 What's the best way to clean a baby feeder?
Try using a bottle brush or just running water to clean out the mesh. It should be fairly easy to clean if you avoid letting it sit too long with food in it!
Are baby feeders good for babies?
The one downside could be that if you rely on them too much, the child learns the texture of the feeder, rather than of the food. This can make it harder for a child to learn to move actual food around in their mouths and harder for them to accept a range of textures in the future when you don't want to be using the mesh feeder as much.
Because of that, I recommend using this product at limited times such as when on the go at a restaurant or to help sooth a teething infant, baby, or toddler.
This is not recommended as a way to feed your child at every meal.
If you are worried about choking, review this information on toddler choking and trust that if you serve foods that are easy to squish between your fingers, baby is sitting down at meals, and you are with them, they will learn to eat like so many other kids who have gone before them!
You May Also Like
Best Baby Puffs
Favorite Sippy Cups
Best Snack Containers
Best Lunch Boxes
Favorite Suction Bowls
Top High Chairs
I'd love to hear your thoughts on baby feeders in general or on these specific products, so please comment below to share!
This post was first published May 2019.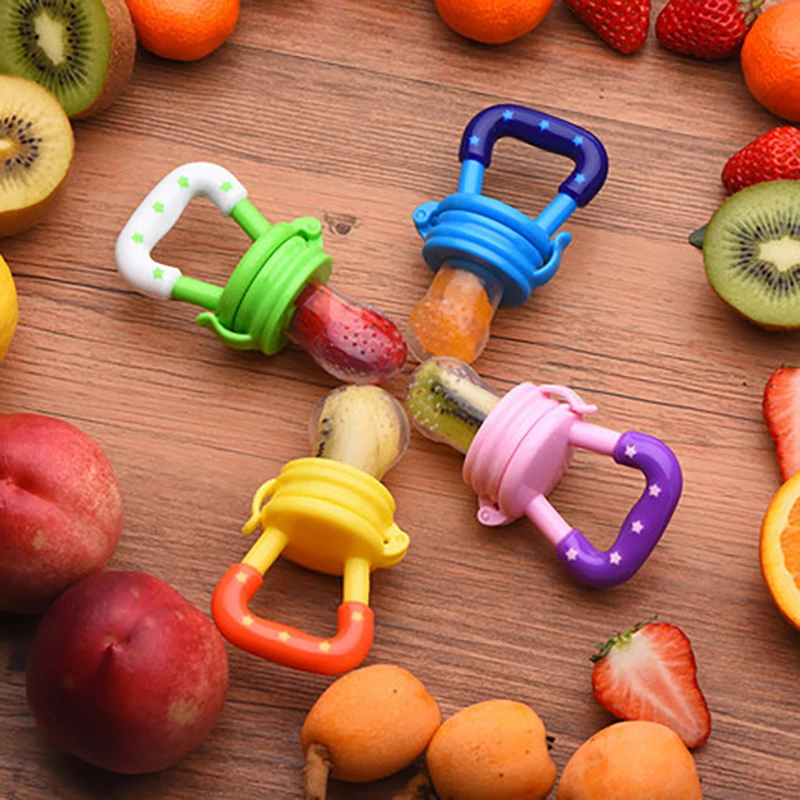 5 Popular Baby Food Feeder Options to Keep Baby Safe and Less Messy
Looking for a baby food feeder? Read on to discover the advantages of a baby food bottle feeder, mesh baby food feeder, silicone baby food feeder, reusable squeeze pouch baby food feeder, and a baby spoon feeder. These can help your child learn how to start to transition from baby feeders to more soft foods and someday solid foods as they get older.
I love my kids when are babies, but I don't always love taking the time to sit there and feed them baby food from a jar (and I certainly don't love taking the time to make my own baby food purees). I'm all about that baby-led weaning and finger foods! I am a busy mom with other kids and work and school so easy is my approach to introducing baby foods.
I wait until at least 6 months before introducing any type of baby food.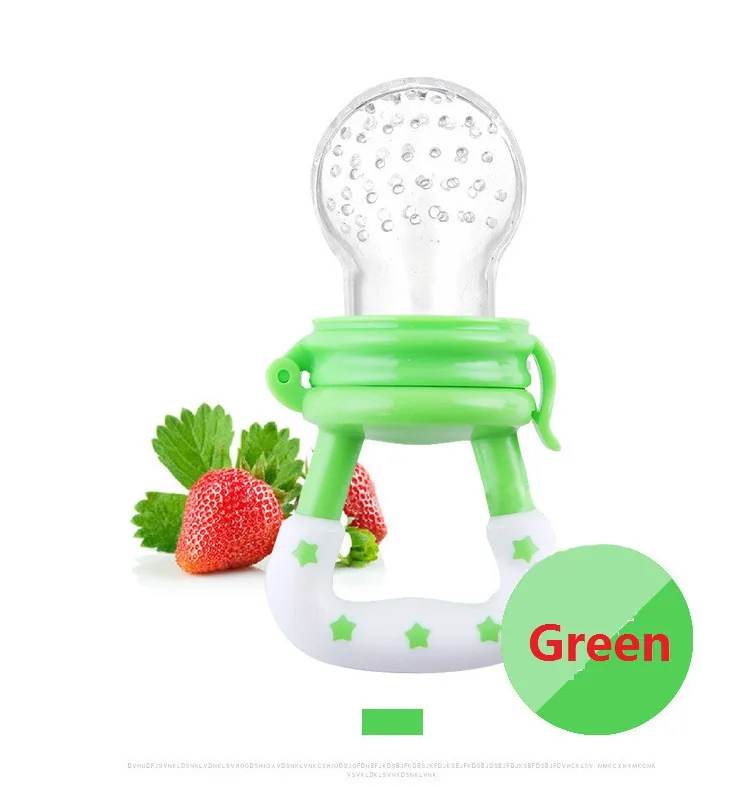 I usually buy some rice cereal and mix it with a little formula or pumped breastmilk (if I have any pumped) and give it a go. I may then try spoon-feeding some simple, single-flavor jarred baby food to my infant.
Once they get more a hang of the idea of food, and can move food around in their mouth and swallow better, I start giving the baby small, soft bits of whatever we are eating at the table, along with baby-friendly puffed cereals, freeze-dried yogurt bites, and more pureed baby foods perhaps from a baby food feeding pouch.
The biggest fear I have every time I start feeding babies is the fear of them choking.
This is one of my greatest fears, not just at the dinner table, but as they crawl around and find all the tiniest bits of whatever all over the floor and stick it in their mouths! I have pulled so many pieces of paper, leaves, grass, and toys out of my fifth baby's mouth.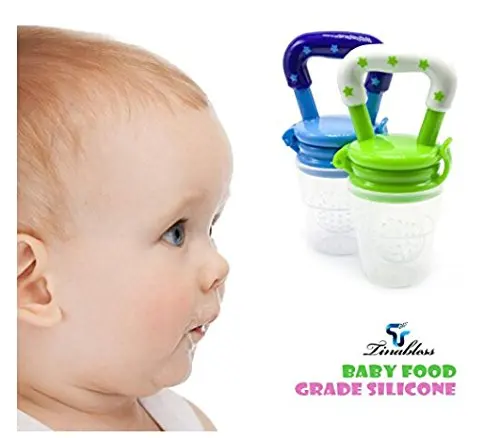 It's nerve-wracking!
And that's why I love the idea of a safe baby food feeder.
Why it works for easy feeding
Using useful tools like a mesh baby feeder is perfect for helping your child transition to soft foods and solid foods. It's also an easy way to help your baby's gums transition to eating a small size of food as well. Baby fruit feeders are great because they are made of safe materials with tiny holes that allow your child to hold onto the food-grade silicone handle and start to figure out the best way to eat.
This is a great way to introduce small amounts of food to a teething baby or to introduce them to new flavors of food in a fun way.
Keep in mind that a baby's age and the baby's diet needs to be kept in mind. Young babies shouldn't be eating the same thing as an older baby so you still have to be very careful as well.
Use these for little hands.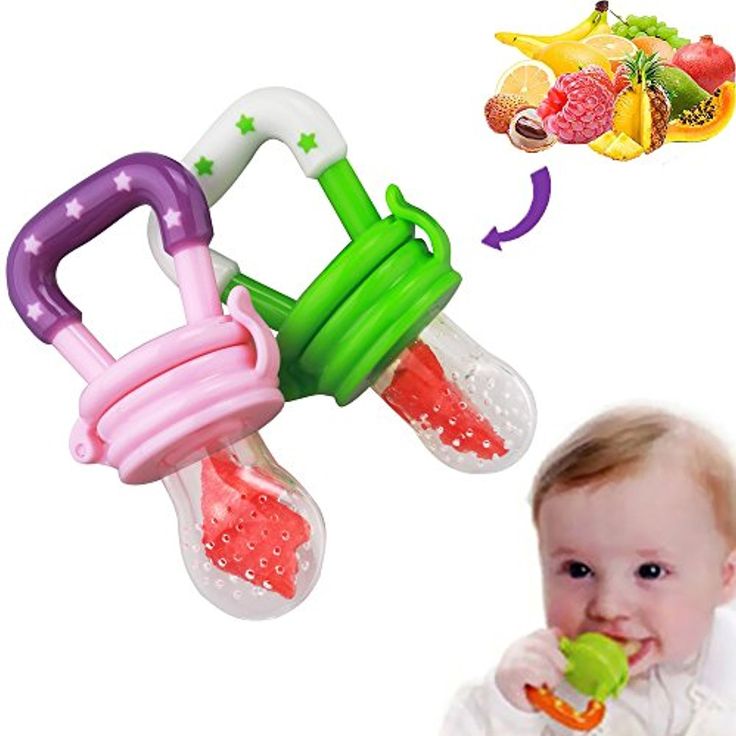 They also work great to work on hand-eye coordination as they're putting them up to their mouths. I also love that they're made for easy cleaning, too!
Baby Food Feeder
Using a baby food feeder is a new thing for me to try with my fifth baby, but I like it so much!
Not only does it make feeding babies safer but makes mealtime less messy! (See my post on limiting messy eating toddlers for tips for the  slightly older crowd!)
I discovered that there are several very popular baby food feeder options out there today, so I wanted to discuss the various options and what makes them each great or not so great and where you can pick them up.
Munchkin Baby Food Feeder
To help facilitate this discussion, Munchkin sent me a few baby food feeders and a cool sippy cup cleaning brush set to review.
#1 Baby Spoon Feeder
This type of baby food feeder is where you dispense baby food through a baby food dispensing spoon.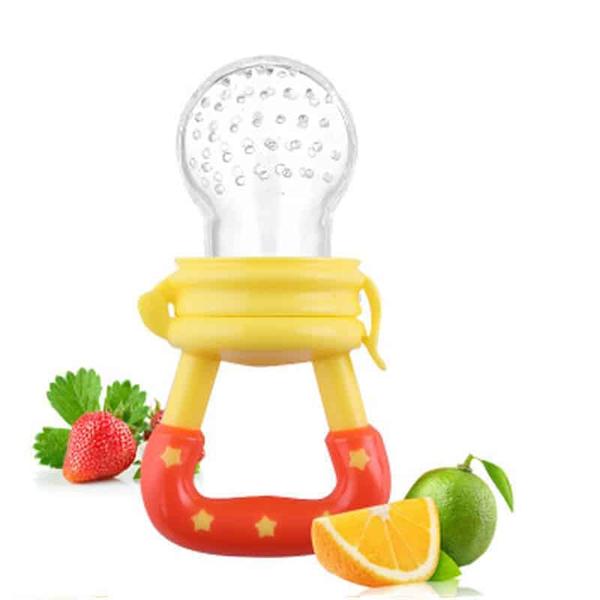 You simply fill up the soft silicone end with soft pureed foods or things like yogurt and then you squirt baby food out from the silicone part out onto the spoon!
I tried ours out with some Greek vanilla yogurt. While it still ending up being messy and it made all sorts of fun "farting" noises as I pushed out air along with the yogurt, which then kinda sprayed everywhere, it was pretty easy to use.
What I like about this versus a bowl or jar that you are spoon feeding your baby from, is there is less back and forth from the jar or bowl to the baby's mouth. When babies are at the "swat at everything" stage, it means less chance of baby food ending up on the floor, or my lap.
So, still kinda messy but better!
It's pretty easy to clean out, and you can take the squeeze feeding spoon on the go as it comes with a hard plastic cover you just snap on to the end of the spoon.
They come in colors blue, green, and pink and are $7 each on Munchkin.com. You can also find them on Amazon (though for more).
Munchkin Baby Mesh Feeder
I have seen many friends over the years who use and love these mesh baby food feeders (and even pediatric occupational therapists highly recommend mesh feeders)! They are especially handy as a baby teething feeder! You can put some frozen raspberries or other frozen fruit or even an ice cube in it and let your baby safely gnaw and gum it, cooling their poor aching teething gums!
The Munchkin fresh food feeder is perfect in that you can give your baby chopped up pieces of fresh fruits and vegetables without having to puree them to a pulp! The mesh prevents large pieces from coming through so they won't chock on the fresh food! Yeah!
I put some cut grapes, pieces of chicken, and more in mine when I tested it out to give to my 8-month old baby.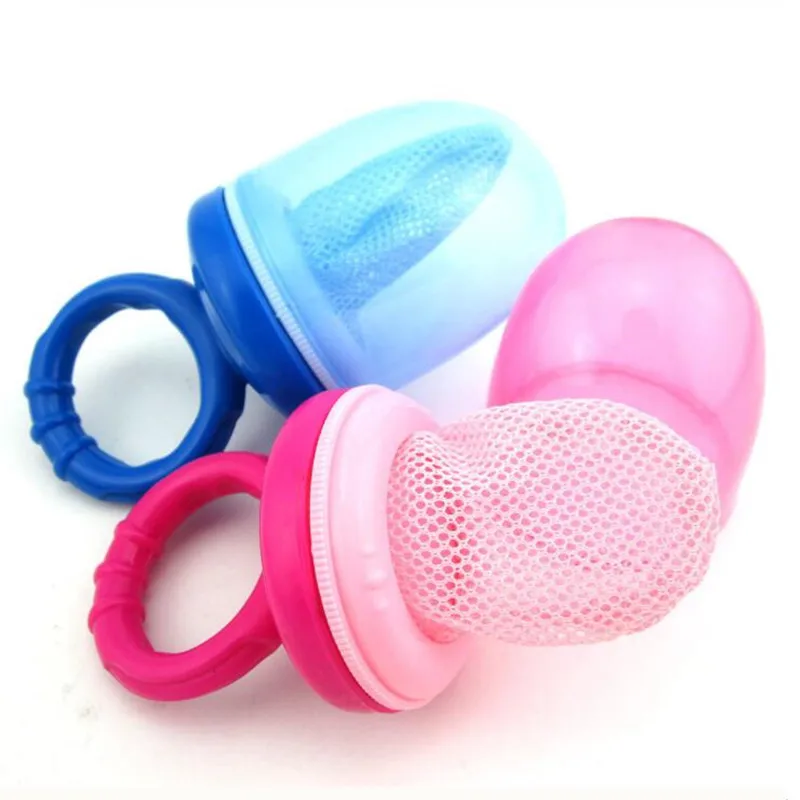 She loved gnawing on it!
Some of the best foods for a mesh feeder include:
raw apples
chunks of melons
frozen blueberries
pears
peaches
raw carrots
nectarines
chunks of meat
It is recommended to empty and wash out your mesh feeders shortly after use to make it easier to clean out and prevent any food going bad in there! I found it super easy to rinse out with a little dish soap at my sink. But some foods like bananas can be more difficult to clean out of it.
The Munchkin Fresh Food Feeder comes in pink/purple, green/blue, and yellow/green colors for $3 each on Munchkin.com. You can also opt for one of their Munchkin Deluxe Fresh Food Feeders that come with a convenient on-the-go cap with snap-tight closure for $4 each on Munchkin.com. Amazon has the 2-pack fresh food feeders that I received for $5.99.
Munchkin Silicone Baby Food Feeder
Similar to the above fresh baby food feeder, there is also a Munchkin silicone baby feeder too (but I didn't receive this product to try out).
The silicone baby feeder is actually designed for babies ages 4+ months whereas the other ones are designed for babies 6+ months old.
The silicone baby food feeders are easier to clean, but smaller and actually designed for baby food purees rather than large fresh food, though some people still put large pieces of food in them (but it's harder to fit them in these).
Munchkin silicone baby food feeders come in pink, green, and blue and includes an on-the-go cap for $4.50 on Munchkin.com.
Baby Food Bottle Feeder
I don't use baby bottles hardly at all, so maybe that is why I had never heard of a baby food bottle feeder before!
There are some bottle manufacturers that offer alternative bottle tips that allow you to squeeze out baby food from inside the bottle to the base of a replacement bottle head – a food dispensing spoon!
With our baby twins we had used baby bottles that could swap out tips for sippy cup tips, and we used those silicone sippy cup nipples with moderate success (until they got teeth and stuck utensils, pencils, and other objects into the opening making anything but spill-proof).
The baby food feeder bottle nipples also make sense!
It doesn't appear like there are many bottle companies that actually make these anymore. Nuby used to make one called the Nuby Infa Infant Feeder and the Nurtur Care Infa Feeder but they are no longer available for purchase. I did find that Sassy offers a baby food nurser bottle (on BuyBuyBaby and Amazon).
The cool thing about this product is that it has a vacuum disc that keeps air out and moves cereal or baby food without clogging. Plus there is a handy travel cover so you can take baby food on the go much easier. The spoon is also like a soft nipple which is easier on those little mouths than a regular spoon. 
Reusable Squeeze Pouch Baby Food Feeder
I recently got a reusable squeeze pouch baby food feeder from Noobie Box's Noobie Eat Box. I have always wanted one of these because I hate how wasteful and expensive all these baby food pouches out there! You can easily fill one of these up with apple sauce, your own fruit purees, or yogurt and save yourself a ton of money, time, and trash!
Squeeze pouches are super handy for feeding soft pureed foods to babies (and older kids too – let's be honest!), especially on the go! No utensils required and when they get older can safely suck them down themselves without making any messes.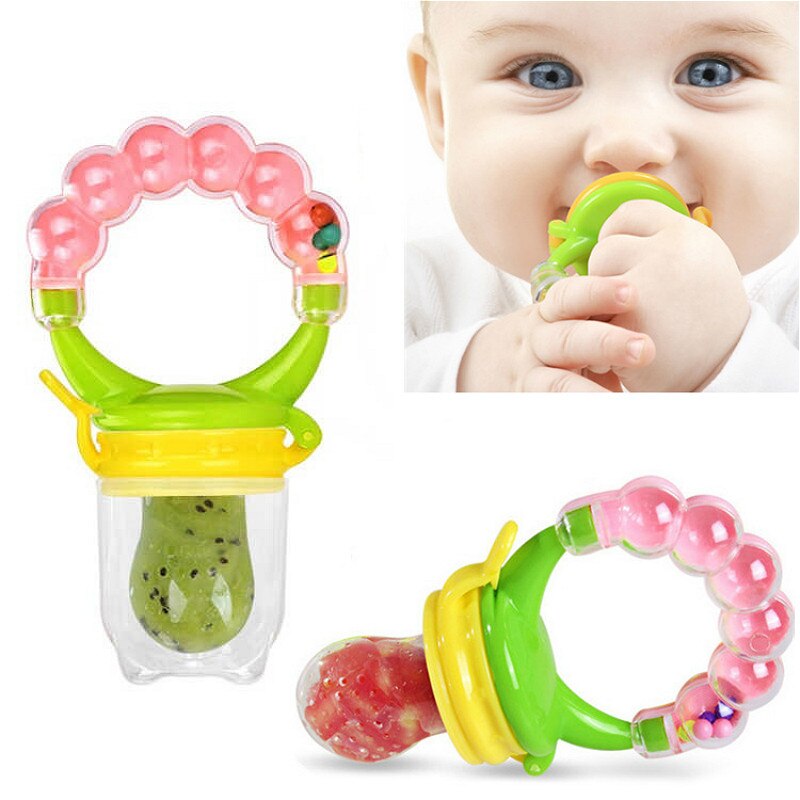 My baby at 8-months old cannot manage one of these on her own (she loves to squeeze them) but uses baby food squeeze pouches has helped her develop some sucking skills, skills that will come in handy when introducing sippy cups with straws.
If you are interested in picking up reusable squeeze pouches, there are many options on Amazon from brands like Squooshi, WeeSprout, Baby Brezza, Kiddzo, and others costing about $9.99-$19.99 for multiple reusable pouches.
Munchkin does not carry any baby food pouches, but they do have Click Lock Food Pouch Spoons! They work with most leading pouch brands. The spoons are twisted onto the ends of the pouches, allowing you to squeeze baby food from pouches onto a baby-friendly spoon. They're designed for kids ages 4+ months. It's pouch feeding without the mess (hopefully).
You can get a 2-pack of the Munchkin Click Lock Food Pouch Spoons for $4 on Munchkin.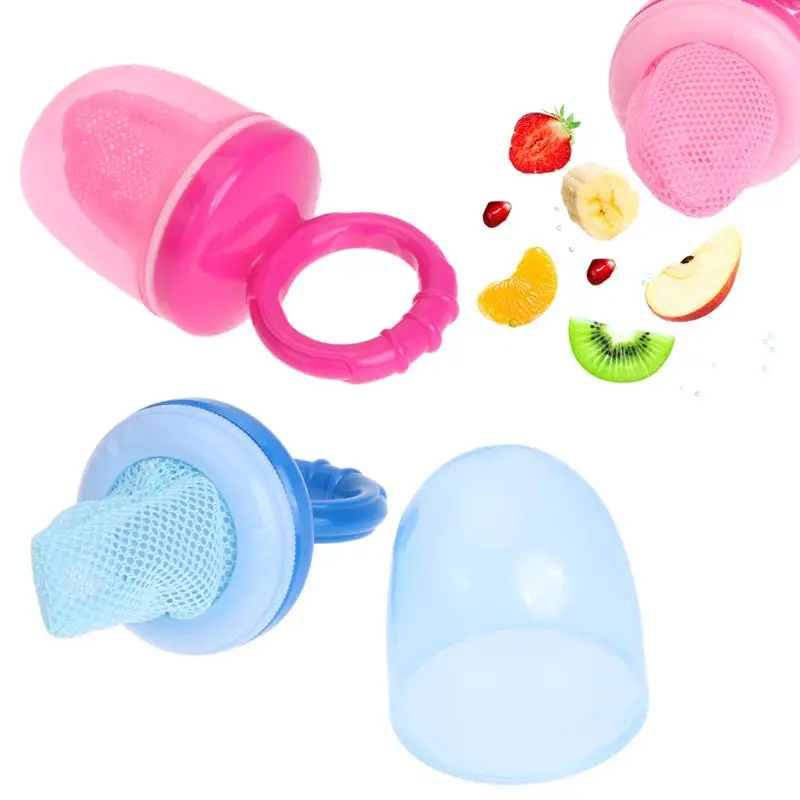 com.
If you want to pick up several of these great Munchkin baby food feeders, remember that you get FREE Shipping on Munchkin.com Orders Over $25 + FREE Returns! Plus, you can also Sign up to receive an additional 10% OFF!
I'm so glad there are so many great and innovative baby brands making products to help me feed my baby safer and cleaner!
I'd love to know what you've thought about various baby food feeders you've used over the years, sharing your own reviews of which one(s) is your favorite. 
---
Be sure to check out these other great posts:
Thrifty Mom's Guide to Essential Baby Feeding Supplies
15 Must-Have Baby Items
How to Take Care of a Baby's First Teeth
How to Transition Baby from Bottle to Sippy Cup
What Happens When You Grow Up to Be a Picky Eater Adult
Teething net 2 x 1 Red Blue - Feeding accessories
Transportation of an order valued over 59€ in Estonia - free of charge.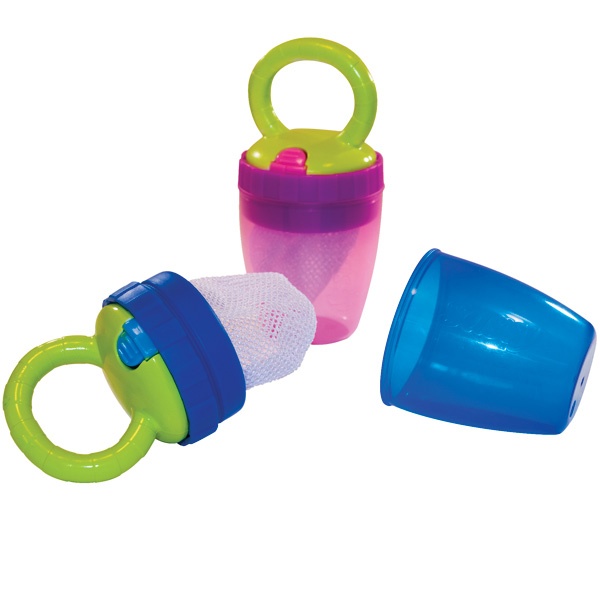 The exact delivery time is indicated in the "Availability" section.
Just add the item to your cart and you can choose one of the following delivery methods:
Photopoint Dealership

Place your order online and pick it up at a Photopoint Dealership.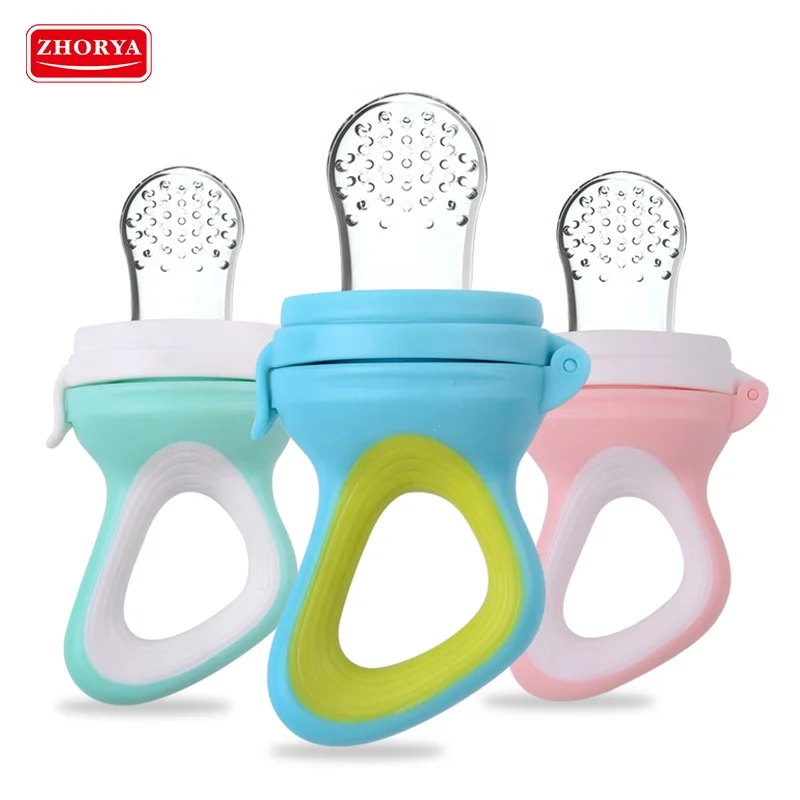 This way, it won't cost you a cent to pick up the item, because there are no postage costs when ordering to a store, even if the cost of the order is below 59€.
You will be notified by e-mail when the goods arrive at the dealership.
Photopoint has representative offices in Tallinn and Tartu. More detailed information about the location of stores and contact details can be found here.
Omniva parcel machine
Choose any Omniva parcel machine that suits you. When the parcel arrives at the machine, you will receive an SMS notification with a unique code. Come to the machine, enter the code and take the package. Everything is so simple. Omniva postal machines are located outside the buildings, so you can receive the parcel at any time convenient for you.
You can select the nearest postal machine in the basket of the Photopoint online store from the list in the list of delivery methods. You can see all the locations of Omniva post machines here.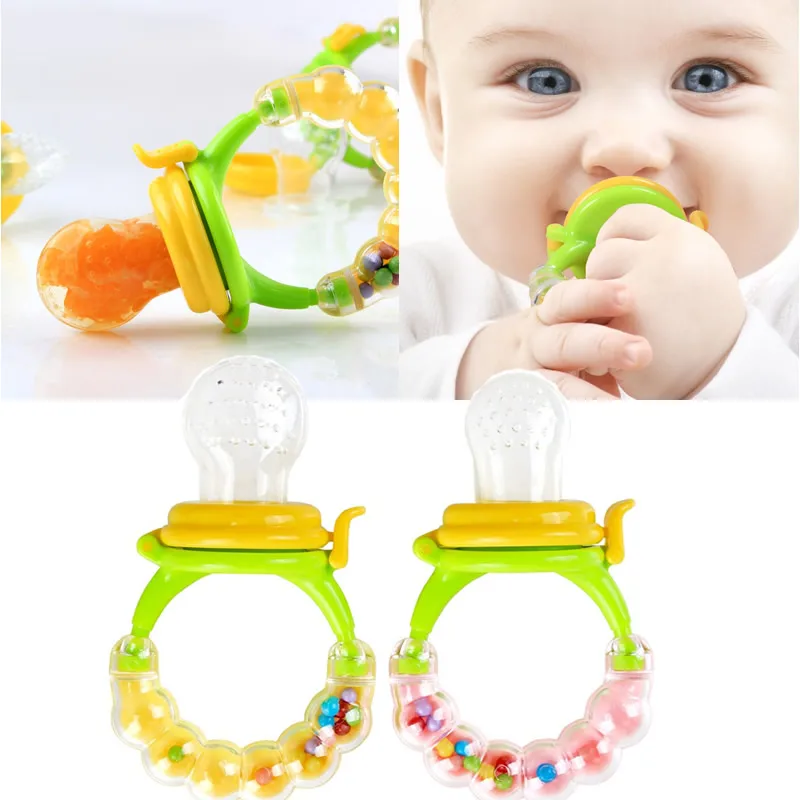 SmartPOST parcel machine

What if it's closer and more convenient for you to get to the SmartPOST parcel machine? If so, then select this option in the Photopointi online store in the basket. As soon as the parcel arrives at the place, you will receive an SMS with a unique code. Go to the place, enter the code and receive the package. Fast and easy.
The location of SmartPOST postal machines can be viewed here.
Parcel collection point DPD Pakipood
Be sure to pay attention to where the DPD Pakipood pick-up and drop-off points are located. They are even in some small villages. Select the appropriate DPD Pakipood from the shopping cart. As soon as the parcel arrives at the place, you will receive an SMS with a notification. Go to the place, show your ID and pick up the package.
Location of DPD Pakipood locations can be viewed here.
SmartPOST postal machine in Finland

Order goods for yourself in Finland or send to a friend there.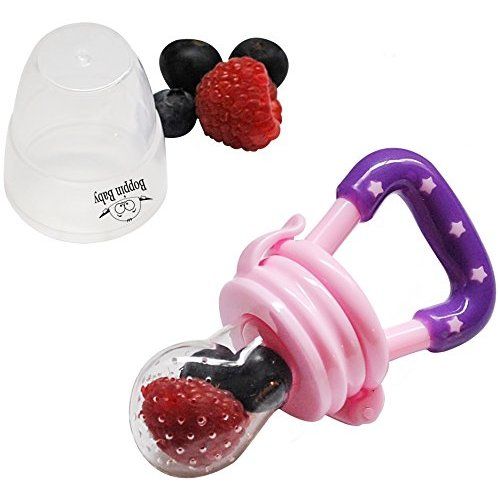 SmartPOST Finland postal machines work just as easily as those in Estonia. Choose the appropriate SmartPOST Finland machine in the shopping cart in the online store. As soon as the parcel arrives at the place, you will receive an SMS with a unique code. Go to the place, enter the code and take the package.
The location of SmartPOST Finland parcel machines can be found here.
Matkahuolto parcel pick-up point in Finland
Order goods to Finland for yourself or a friend. On the Photopoint page, in the "basket" section, select the Matkahuolto pick-up point that is convenient for you and place an order. As soon as the package arrives at your chosen point, you will receive an SMS notification or an email notification. The parcel can be received on the basis of an identity document.
Matkahuolto pick-up points see here.


Home by courier Omniva

"Courier" does not mean that you have to order goods home.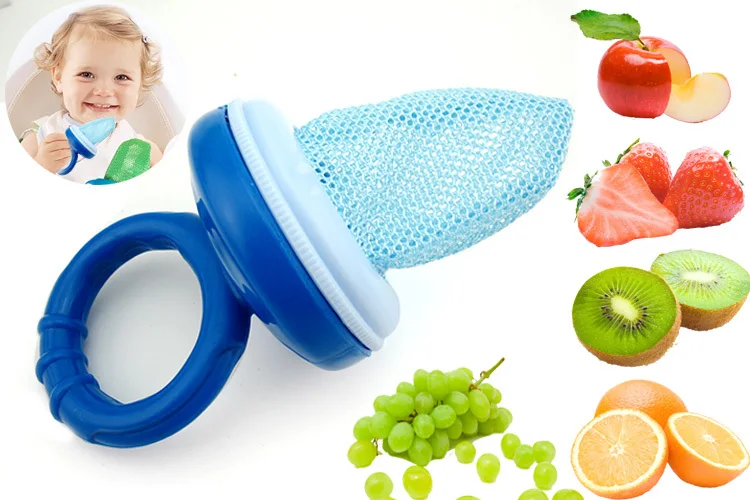 Only if you do not buy, say, a refrigerator, you can order goods anywhere. The parcel will be delivered to the address during business hours 08:00-17:00.
Before the package is delivered, the courier will call the number provided. When ordering goods home, be sure to make sure that the phone is at hand and the person who should receive the goods is in place.
Teething ailments in children
Other related articles: pediatrician, teething
adenovirus infection

Adenoids

Autism

Autism (RAS)

Bronchitis in children

Chickenpox

windmill parties

coxsackie virus

Questions to the pediatrician

Flu and SARS

Breast milk

Dacryocystitis

Children's painkillers

Diet for nursing

Medical examination at 1 year

Diphtheria in children

For expectant mothers

hardening

Hardening of children

Constipation in children

Foreign body of the bronchi

Infectious mononucleosis

Whooping cough

Measles in children

Rubella in children

Deprive a child

false croup

Tangerines for children

Children's massage

Meningococcal infection

Pediatrician at home

First year of life

Baby's first year

Nutrition for children 1-3 years old

Child nutrition

food allergy

Defeat the Flu

Preparation for vaccination

Complementary foods for children

Child's bite

Walks in the cold

Allergen products

Teething

Rickets in children

The baby is ill

Rotavirus infection

mumps in children

Scarlet fever in children

Sleep with animals

Baby care

Phytotherapy in children

Enuresis
Article author: Soboleva Ksenia Andreevna , pediatrician
From all sides we are told to use various medicines for any ailment.
Let's try to figure out if this is so necessary using the example of children under one year old.
In childhood, there are a number of conditions that do not require the use of drugs. I would like to talk about such a physiological process as teething. Teething is a physiological process and most often begins around 4-6 months of age. Teething may be accompanied by fever, pain, runny nose and functional bowel disorder. These symptoms may appear all together or alternately.
What to do if the baby has symptoms of malaise due to teething? With an increase in temperature to 38.5 degrees, if the child is healthy and has no concomitant diseases that suggest the development of complications from high temperature, such as febrile convulsions, the use of antipyretics is not indicated. In this case, the child should be undressed, supplemented with water, if the child is breastfed, applied to the breast more often, and fresh air should be provided. The use of antipyretics is justified only in case of an increase in temperature above 38.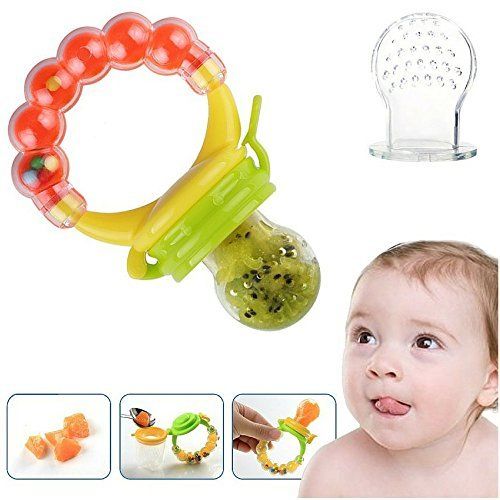 5 degrees or as directed by a doctor.
If a baby has a runny nose against the background of teething, you shouldn't rush to take medicines either. A runny nose and nasal congestion often accompany teething. And in cases where this does not violate the general well-being of the child, does not interfere with sleep or food intake, the use of drug therapy is not justified. In this case, it is quite enough to perform a daily hygienic toilet of the nose.
With a moderate frequent stool against the background of teething, if the child feels well, there are no signs of dehydration - one should also refrain from taking sorbents or beneficial bacteria for the intestines. There is no evidence of their effectiveness. It is enough to provide additional fluid intake: apply more often to the chest or supplement with water.
What to do with pain syndrome? Pain syndrome, as well as the symptoms listed above, is a frequent companion of teething.