Best baby food to start out with
Dos and Don'ts for Baby's First Foods
Wavebreak Media/Thinkstock
Breastfeeding has been shown to improve infant, child and maternal health outcomes and help control healthcare costs, but how long should breastfeeding last and when should parents introduce solid foods?
The Dietary Guidelines for Americans recommend exclusive breastfeeding, meaning the infant receives only breast milk, during the first six months of life for optimal nutrition and health benefits.
Once solid foods are introduced, health professionals recommend continuing breastfeeding through 12 months of age and, after that, as desired by mother and baby. Introducing your baby to solid foods is an exciting milestone. When you start introducing children to the world of solid foods, you are helping them shape their relationship with food and establish a healthy eating style. The timing for introducing solid foods will depend on the infant, but it is not recommended before the age of four months or after the age of six months.
Not sure how to get your baby started on solid foods? Consider these helpful tips.
Is Your Baby Ready to Transition?
Each child's readiness for solid food depends on their own rate of development. Signs a baby may be ready to start solid foods include sitting up with minimal support, demonstrating good head control, bringing objects to the mouth or grasping at small objects. Check with your pediatrician before starting solid foods.
Getting Started With Solids
Solid foods may be introduced in any order. However, puréed meats, poultry, beans and iron-fortified cereals are recommended as first foods, especially if your baby has been primarily breastfed, since they provide key nutrients. Only one new single-ingredient food should be introduced at a time.
Softer textures are very important when first introducing foods. Infants usually start with pureed or mashed foods around six months. As infants develop chewing and motor skills, they are able to handle items like soft pieces of fruit and finger foods.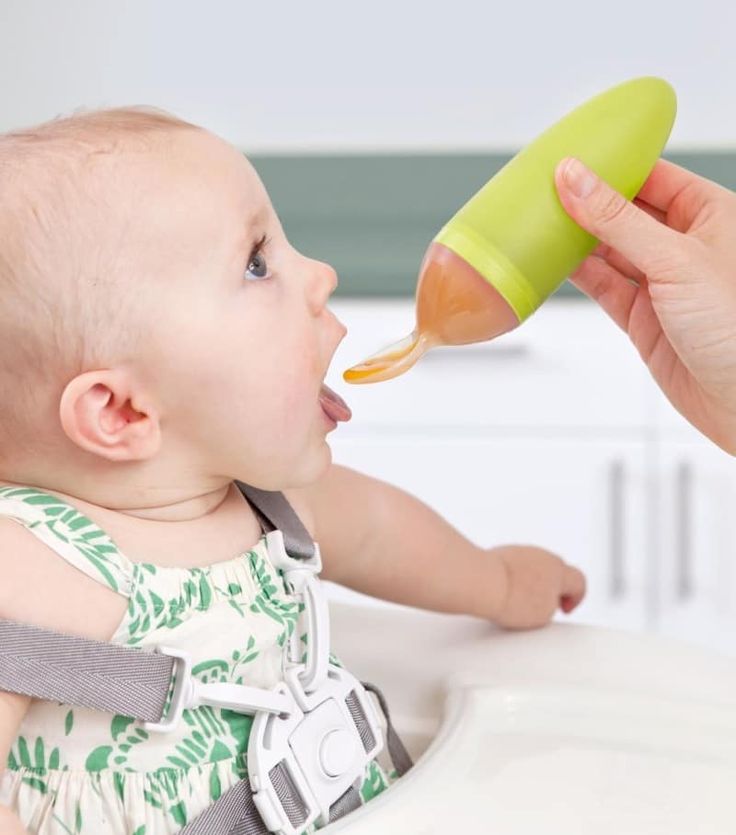 As the child ages, a variety of healthful foods is encouraged.
Weaning From Breastfeeding
When deciding if you should wean your baby to a bottle or a cup, consider their developmental readiness. Between 7 and 8 months, most infants will drink small amounts of liquid from a cup or a glass when someone else holds it. Older babies and toddlers often have the coordination to drink fluids from a cup by themselves.
If your baby is under 12 months of age and you are not continuing to breastfeed, wean from breast milk to iron-fortified infant formula. If your baby is 12 months or older, whole cow's milk is appropriate.
Food Safety Do's and Don'ts
Food safety concerns for infants and toddlers include food allergies, choking and risks for foodborne illness. Keep the following safety tips in mind:
Do talk with your pediatrician about the risk of food allergies. Introducing one new food at a time, every several days, allows time to monitor for allergic reactions.
Current evidence does not indicate needing to wait beyond 4 to 6 months before introducing potential allergy-causing foods such as eggs, dairy, soy, peanuts and fish. In fact, introducing peanut-containing foods as early as 4 to 6 months of age may help prevent a peanut allergy. The Dietary Guidelines for Americans recommends introducing potentially allergenic foods when other complementary foods are introduced to an infant's diet. Parents with concerns about food allergies should discuss how to include these foods with their pediatrician.
Don't feed your baby solid foods from a bottle. It can be a choking hazard and despite a popular misconception, putting cereal in a baby's bottle won't help with sleeping through the night. Other foods that are considered to be choking hazards are listed below.
Do supervise your child while eating. Infants should be able to sit upright and face forward when you first introduce solid foods. This makes swallowing easier and choking less likely.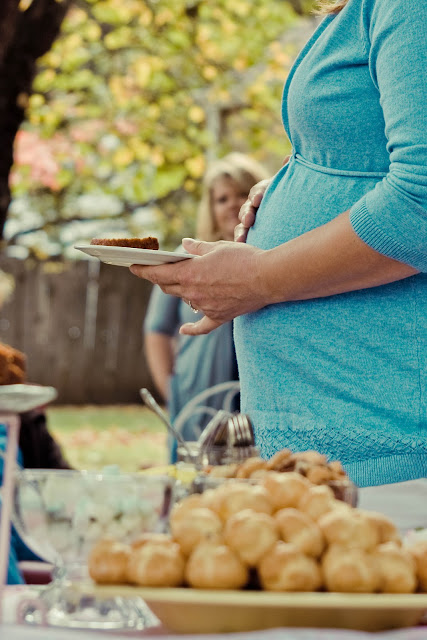 Don't feed directly from the jar of food but instead spoon some food into a separate dish first. Feeding directly from the jar may introduce bacteria from your baby's mouth to the spoon and back into the food, creating a food safety issue.
Don't feed honey to children under 12 months of age due to the risk of foodborne illness.
Examples of appropriate solid foods listed by age:
6 months:
Well-cooked and pureed meat, poultry or beans
Ground, cooked, single-grain cereal or infant cereal with breast milk or formula
Cooked and pureed vegetables
Mashed banana or avocado
9 months:
Well-cooked, minced or finely chopped meat, poultry or beans
A variety of cooked vegetables cut into small, ½ inch pieces, such as squash and green beans
Sliced and quartered bananas or small pieces of other soft fruits
12 months:
Soft, shredded meat, poultry or fish
Small pieces of cooked vegetables
Small pieces of soft, easy to chew fruits
Mixed food dishes the family is eating in appropriately sized pieces
Not recommended for those under 4 years of age due to the risk of choking:
Popcorn and whole kernel corn
Nuts and seeds
Large chunks of meat, poultry and cheese
Candy, gum drops and jelly beans
Hard, raw fruits or vegetables such as apples, celery and carrots
Whole grapes and cherry tomatoes, unless cut into quarters
Hot dogs, unless cut into strips and age appropriate, bite-size pieces
Sticky foods, such as peanut butter, which can get stuck in the back of the mouth – peanut butter is okay if spread thinly on bread
For toddlers and preschoolers, chop grapes, meat, poultry, hot dogs and raw vegetables and fruits into small pieces (about ½ inch or smaller).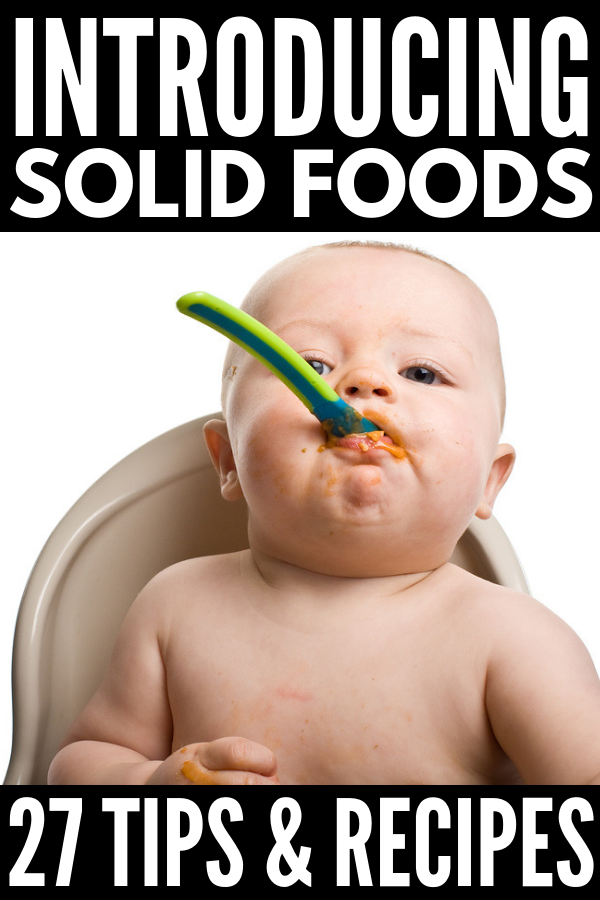 Nurturing Healthy Relationships with Food
Establishing a positive feeding relationship during infancy can have lifetime benefits. Keep in mind that children are responsible for how much and whether they eat so always wait for your baby to pay attention to each spoonful before you feed them. Don't be afraid to let your baby touch the food in the dish and on the spoon. You wouldn't want to eat something if you didn't know anything about it, would you? In addition, know the cues that your baby is done eating. A common cue babies are full is head turning.
Whatever happens, don't get discouraged and enjoy the experience. With a little patience and creativity, you can make your baby's first solid food eating experience fun for everyone involved!
When to Start Baby Food
Starting solids is an exciting and important milestone in baby's development—one that not only opens them up to a brand-new world of flavors and textures, but also puts them on the right path to growing healthy and strong.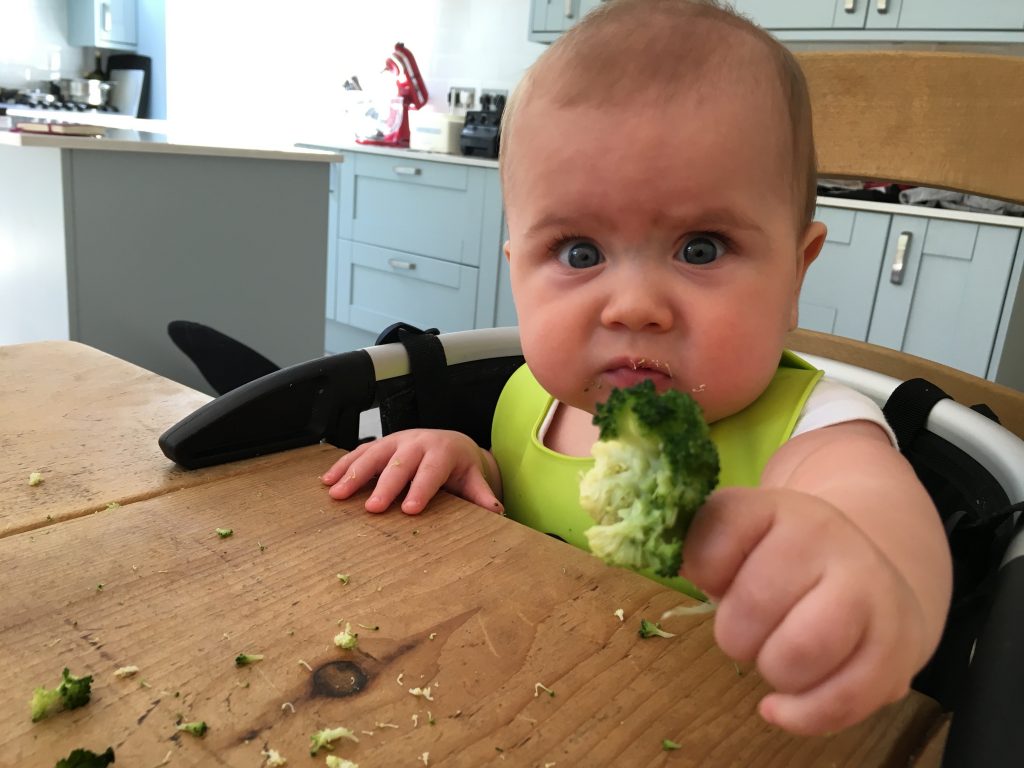 Here's what you need to know about how and when to start baby food for a smooth transition.
In this article:
When to start baby food
How to start baby on solids
Best first foods for baby
Introducing allergenic foods
When to Start Baby Food
Knowing when to start baby food is both crucial and tricky. Starting baby on solids too early means you might increase the risk of choking, obesity and bellyaches, but introducing solids too late means you might slow baby's growth and encourage an aversion to solid foods, among other conditions. Fortunately, doctors have zeroed in on a sweet spot for starting baby food, which is sometime between 4 and 6 months of age—though, ideally, baby should be receiving their nutrition exclusively from breast milk until the six-month mark, according to the American Academy of Pediatrics (AAP). How to tell if it's time for starting solids for your little one? Baby will give you clues, including:
• Baby can sit in a high chair comfortably on their own.
This is a major sign in terms of when to start baby food, says Lauren Kupersmith, MD, a pediatrician at Hassenfeld Children's Hospital at NYU Langone in New York City. It means baby can hold their head up and doesn't need to be propped up to stay in the upright position, which is important to avoid choking.
• Baby looks interested at mealtime. Babies likes to mimic what we do, so if your child likes to sit up like a big kid and watch you eat, then by all means let them try eating too.
• Baby can move food to the back of their throat to swallow. But if baby tends to push the food out of their mouth—not because they don't like it, but because they can't seem to get the food to where it needs to go—hold off on starting solids.
How to Start Baby on Solids
At 4 to 6 months, most of baby's nutrition will still come from breast milk or formula, so don't worry if baby doesn't like eating food right away. Introducing solids is a gradual process, and every baby learns in their own time.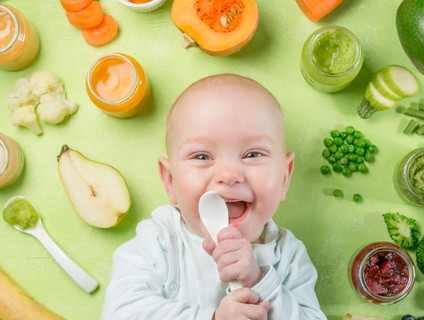 Here are some general guidelines for how to start baby on solids:
• Feed baby with a spoon. Letting your child go at it with their hands may seem tempting (and super-cute), but it's best that they learn the right way from the get-go. (And even then, be prepared to clean up more than a few messes!) Also, never put cereal (or any other food) in baby's bottle—it's a choking hazard.
• Start slowly. When introducing solids, a half spoonful will do at first—you may even want to talk baby through it ("Yummy!"). To make it easier for baby to get accustomed to the idea of swallowing solids, start mealtime with a little breast milk or formula, then offer some food (again, no more than a half teaspoon at a time) and finish off with more breast milk or formula. If baby cries or turns away when you present the spoon, try again some other time. Start off with introducing solids at one meal a day, then slowly work your way up. The morning is a good place to start, since baby is often hungriest at that time.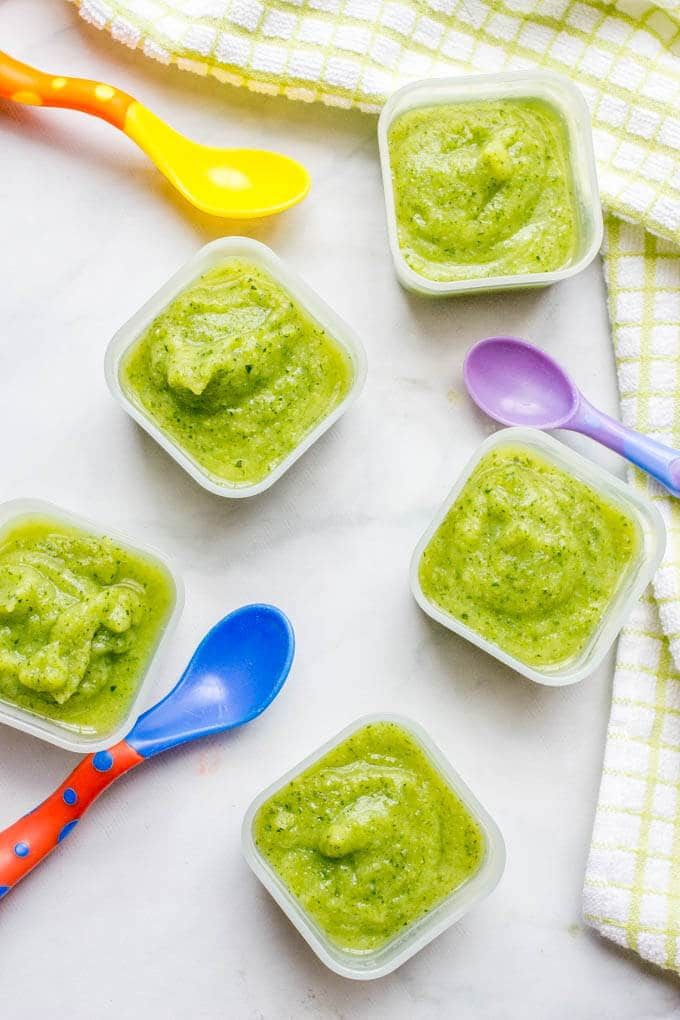 When starting solids, baby typically won't eat more than an ounce or two in one sitting.
• Try new foods more than once. Since babies' tastes will evolve, you may need to try a food 20 times before a baby actually likes it, says Kupersmith.
• Stick with the same food for three days before trying another one. This makes it easy to track whether baby is allergic to a particular food.
• Try foods in different forms. If baby doesn't like pureed food, try it mashed. After all, baby is learning about new textures as well as new tastes. It may be a case of trial and error until you find a winner.
Best First Foods for Baby
Got baby safely strapped into the high chair and bib? You're ready to finally start feeding baby solids! There aren't any official food rules for babies starting solids, and there's no scientific evidence suggesting you should introduce one type of food before another, assuming the foods aren't choking hazards.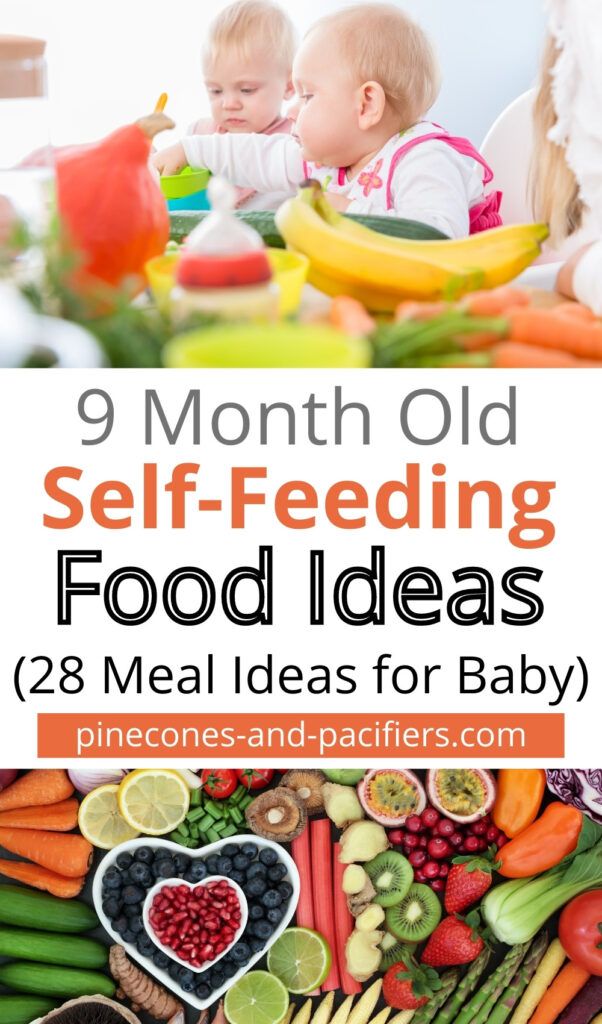 Nevertheless, baby cereal (such as oatmeal, rice and barley) is an "easy training food," says Kupersmith, which is why it's often recommended as baby's first food; you can always mix it with more milk to build up to a thicker consistency. Many doctors also recommend starting vegetables before fruits, but there's no evidence that this would make babies like vegetables more when they grow up—babies innately love sweets, and the order of introducing solids to baby doesn't change that.
So why not simply start introducing solids with something you think baby will like? Here are a few common first foods for baby that are healthy and easy to eat (and, in the case sweet potato and banana, also easy to digest). Whatever you decide to feed baby, mash it with a fork or puree before serving whenever introducing solids.
Baby cereal, such as oatmeal, rice, barley
Sweet potato
Banana
Avocado
Apples
Pears
Green beans
Butternut squash
If your child has been breastfeeding, check with your pediatrician about getting a jump on pureed chicken or beef when you're starting solids.
These foods contain easily absorbable forms of iron and zinc, which baby needs by 4 to 6 months, according to the AAP.
At around 9 months, baby should have already worked their way up to a variety of foods, including cereal, vegetables, fruits, meats, eggs and fish (see below regarding the last two). (Keep in mind, though, that baby will still get the majority of their nutrients from breast milk or formula until age one.) By now, baby will probably settle on three meals a day along with two snacks. Let them consume about 4 ounces of solids at each meal (equivalent to a small jar of strained baby food) and about half that amount for each snack.
Save honey and cow's milk for after baby's first birthday—there's a risk for infant botulism with honey (a type of bacterial poisoning), and baby's tummy isn't prepared to digest large amounts of cow's milk until they're about one year old. Avoid adult processed foods and foods that are choking hazards (such as sticky foods, like large gobs of peanut butter; hard foods that are difficult to gum, like raw vegetables, nuts, seeds and popcorn; and round, slippery foods that haven't been cut up, like grapes and cherry tomatoes).
Instead, the first foods for baby, and those in the months that follow, should be soft and served mashed, pureed or (once baby seems ready to move up from the really mushy stuff) cut up into really little bits. "There's pretty much free reign at that point," Kupersmith says.
Introducing Solids Chart
Hesitant about improvising your first foods for baby? That's okay too. If you prefer an "introducing solids chart" to help you plan out baby's path, the guide below can come in handy.
Image: The Bump
Introducing Allergenic Foods
Much of the confusion around when to start baby food stems from questions concerning allergenic foods. These are foods that babies are most often allergic to. The major culprits include dairy, eggs, fish, peanuts and tree nuts. In the past, parents were advised to hold off on exposing baby to these foods, but now doctors recommend introducing them early, often and in age-appropriate format, which means starting off with purees and soft textures.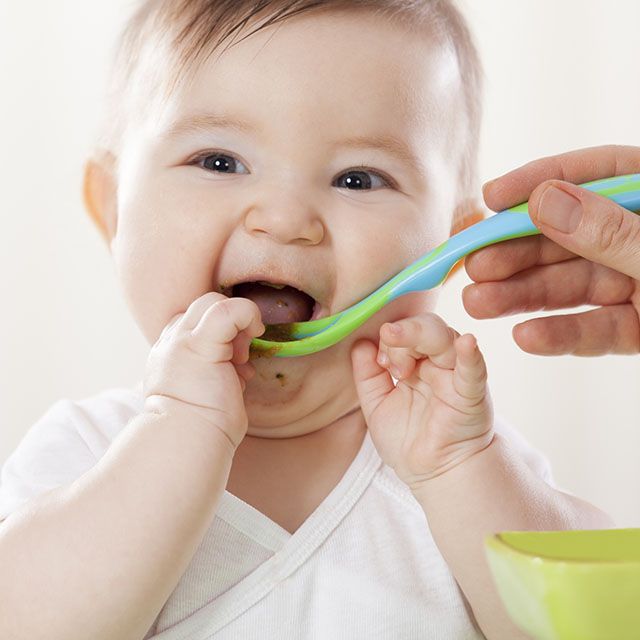 "Dairy is an easy starting point, given options such as yogurt and cheese," says David Stukus, MD, director of the Food Allergy Treatment Center at Nationwide Children's Hospital and a spokesperson for the American College of Allergy, Asthma, & Immunology. You can also try scrambled eggs in small amounts, although baby may not be too pleased with the texture at first.
As far as peanut products go, the National Institutes of Health issued new guidelines in 2017 that encourage parents of children at high risk for peanut allergies to incorporate them into baby's diet at 4 to 6 months of age. Giving these babies peanut products before the age of one actually decreases their risk of developing a peanut allergy before age 5 by 81 percent, compared to kids who are introduced to peanuts later in life. Parents of kids without the food allergy risk can start peanut products whenever they'd like, as long as the nuts are in an age-appropriate form: Peanut butter can be thinned out with water or mixed into a fruit or vegetable puree, and peanut powder can also be mixed into cereal and fruits.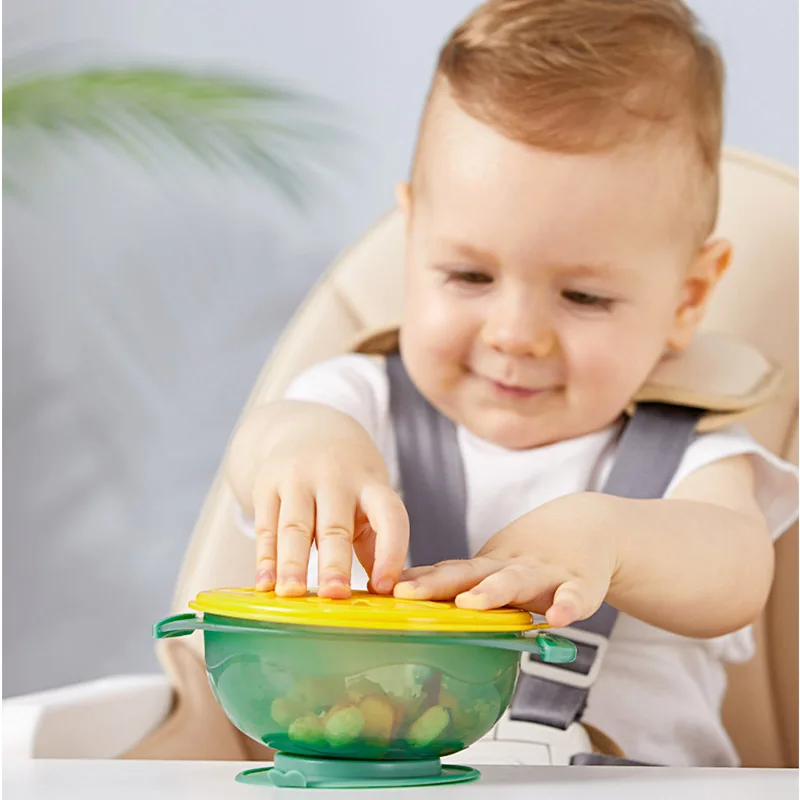 Don't give whole peanuts or pieces of peanuts, since they're a choking risk.
Allergic reactions to food are never just a fluke; they will happen with every exposure. Symptoms can range from mild (such as a rash or vomiting) to severe (such as trouble breathing). If baby has a food allergy, you'll notice a reaction within minutes or up to two hours after eating the problematic food, Stukus says. If the symptoms are severe, call 911 right away. Otherwise, talk to your pediatrician; she can help confirm whether it's an allergy or some other type of condition (such as a viral illness).
Expert bios:*
Lauren Kupersmith, MD, IBCLC, is a pediatrician and clinical instructor at Hassenfeld Children's Hospital at NYU Langone in New York City, as well as a certified lactation consultant. She earned her medical degree from New York Medical College in 2005.
David Stukus, MD, is the director of the Food Allergy Treatment Center at Nationwide Children's Hospital, an associate professor of pediatrics in the division of allergy and immunology and a spokesperson for the American College of Allergy, Asthma, & Immunology.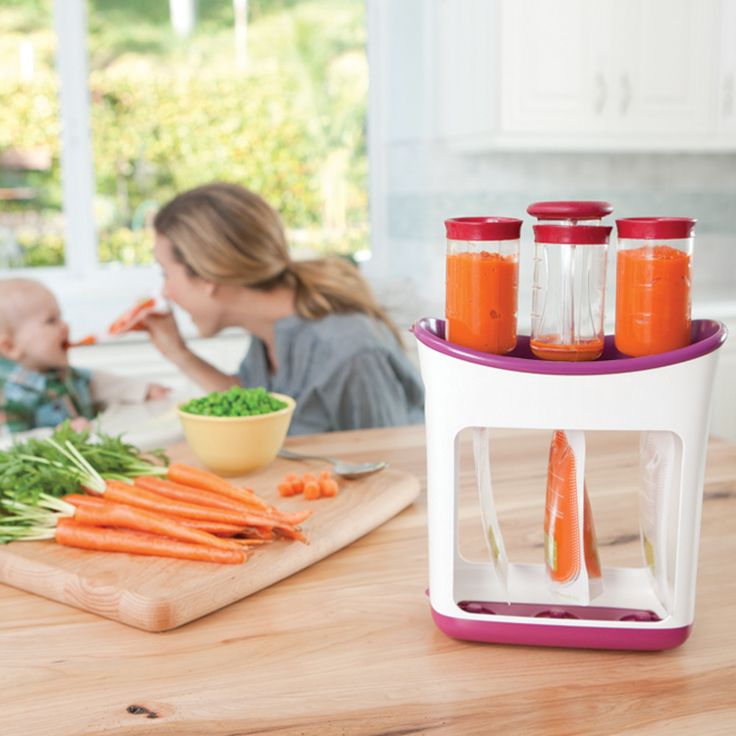 He earned his medical degree from University of Pittsburgh School of Medicine in 2002.
Updated January 2020
Please note: The Bump and the materials and information it contains are not intended to, and do not constitute, medical or other health advice or diagnosis and should not be used as such. You should always consult with a qualified physician or health professional about your specific circumstances.
how to choose and what kind of baby food is better?
The ideal "baby food" for an infant is breast milk. However, not all mothers can breastfeed their baby, usually this is due to the health of the mother or child. It happens that the woman herself has a serious condition after childbirth and in the early postoperative period, reduced lactation or diseases in which breastfeeding is contraindicated. In such cases, the baby is given formula milk - this is the only alternative to mother's milk. Subsequently, at four to seven months, complementary foods should be introduced into the child's diet, regardless of whether he is breastfed or artificial.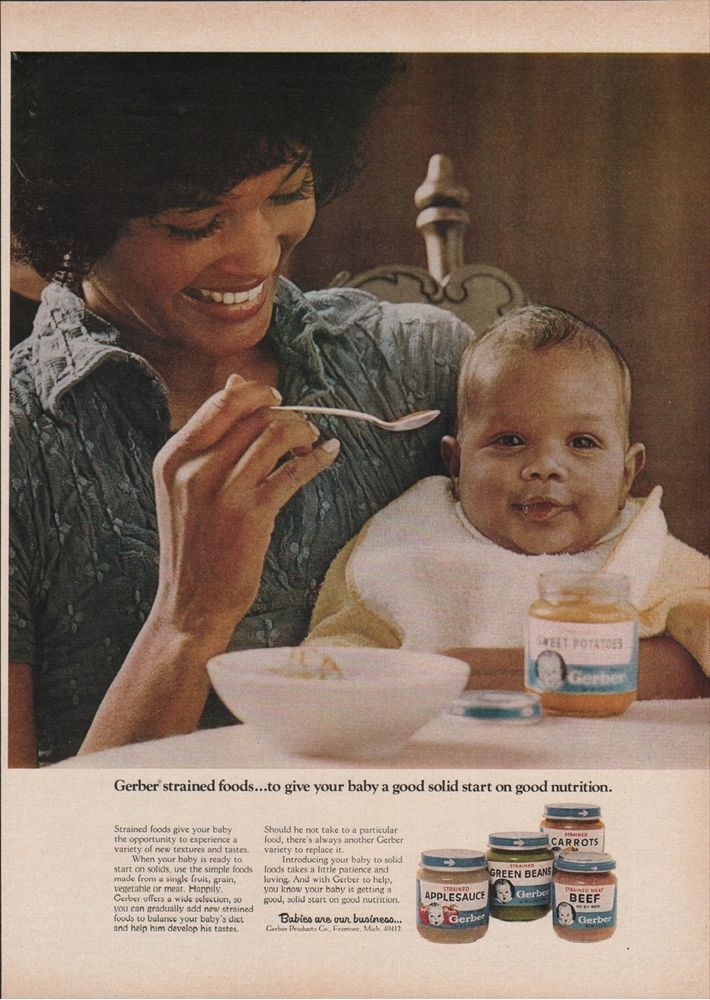 The mother is faced with the task of choosing the right baby food for complementary foods.
In this article, we will talk about what foods for babies are and how to choose the best baby food.
Legislation under "baby food" means food products that meet the physiological needs of the body of a child under 14 years of age. And nutrition for young children is food intended for children from birth to three years[1]. It is necessary to make a diet taking into account the age of the baby and the characteristics of his physical condition.
The Union of Pediatricians of Russia created the National Program for feeding children in the first year of life and the National Program for optimizing the nutrition of children from one to three years old [2]. They describe recommendations regarding what formula to feed the baby from birth, how to introduce complementary foods and expand the baby's diet. These programs provide detailed information on what nutrients and nutrients should be included in the diet of children of different ages.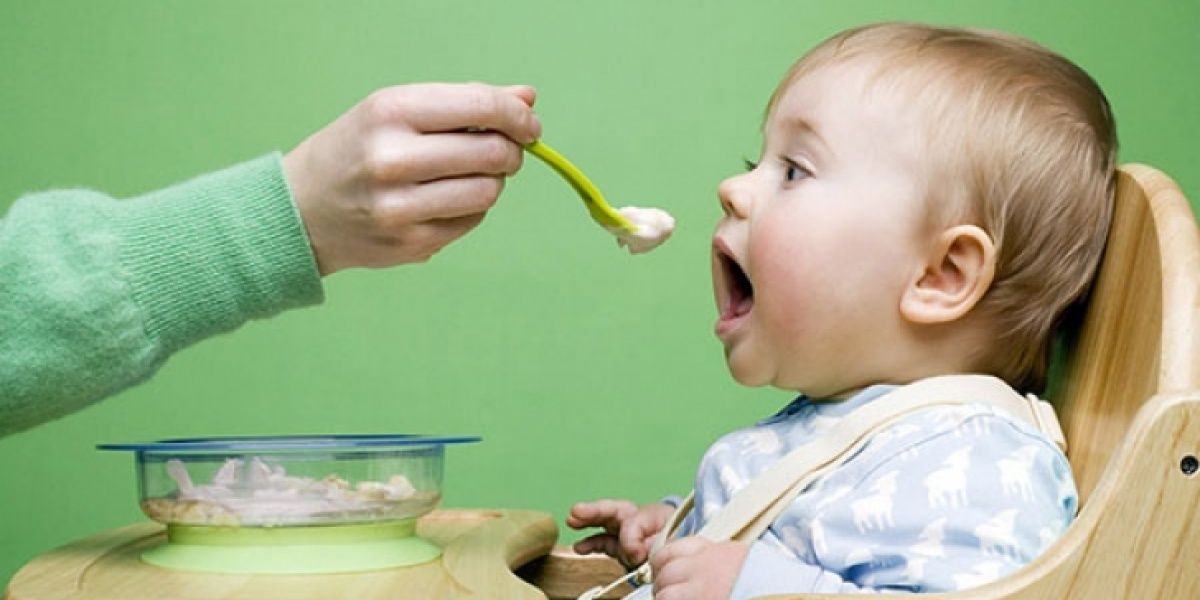 First you need to figure out what kind of baby food is [3]. Products for toddlers can be divided into two categories:
Infant formula. There are for children from birth to six months (formula 1 mixtures, or initial), from six months to a year (formula 2) and from a year (formula 3). The composition of such baby food is adapted, that is, as close as possible to the composition of breast milk.
In the initial mixtures, the amount of protein is reduced to 1.2-1.5 g / 100 ml - in accordance with the composition of breast milk. They also changed the fat and mineral profile. The initial mixtures are enriched with such an essential amino acid as taurine, and micronutrients, probiotics, vitamins.
After six months, the baby's need for protein increases, mother's milk changes its composition. And babies on artificial feeding begin to be fed with a more nutritious mixture of formula 2. Taurine is no longer always needed: the body of a baby aged from six months to a year is able to synthesize this amino acid itself. Meanwhile, the content of iron, calcium, zinc increases compared to the initial mixtures, because by this age the child's reserves of minerals received from the mother during pregnancy are depleted, and they need to be replenished.
A child's diet changes after one year - he is already able to eat a variety of solid foods. However, it is advisable to continue to feed him with a mixture, though already formula 3. Pediatricians recommend it as a source of vitamins and minerals that the baby can easily absorb.
Complementary foods As we have already noted, it is introduced when the baby is four to seven months old. This interval is called the "critical window" and is considered optimal for the initiation of complementary foods for several reasons:
The baby needs a wider range of minerals, vitamins and other nutrients. In addition, his baby's digestive system is already ready to accept more solid and complex foods than mother's milk or infant formula.
At this age, the child develops an interest in food, and it is necessary to offer him the right foods to develop his taste.
During this period, the risk of developing a food allergy to a new product is lower.
Timely introduction of complementary foods prevents the risk of micronutrient deficiencies and iron deficiency anemia.
Usually the first food is vegetable puree or monocomponent gluten-free cereals, dairy or dairy-free. Over time, cereals containing gluten, supplements from fruits and berries, and also consisting of several cereals are added. A six-month-old child can already be given several types of vegetables and cereals. Also, at about six months, they begin to give meat puree, then fruit, and from eight months - fish. A child from seven months is allowed the yolk.
From the age of 12 months, complementary foods already make up the majority of your baby's diet. At this age, it is especially important to diversify the child's diet: he can be given soups with small pieces of vegetables, meat, fish and cereals.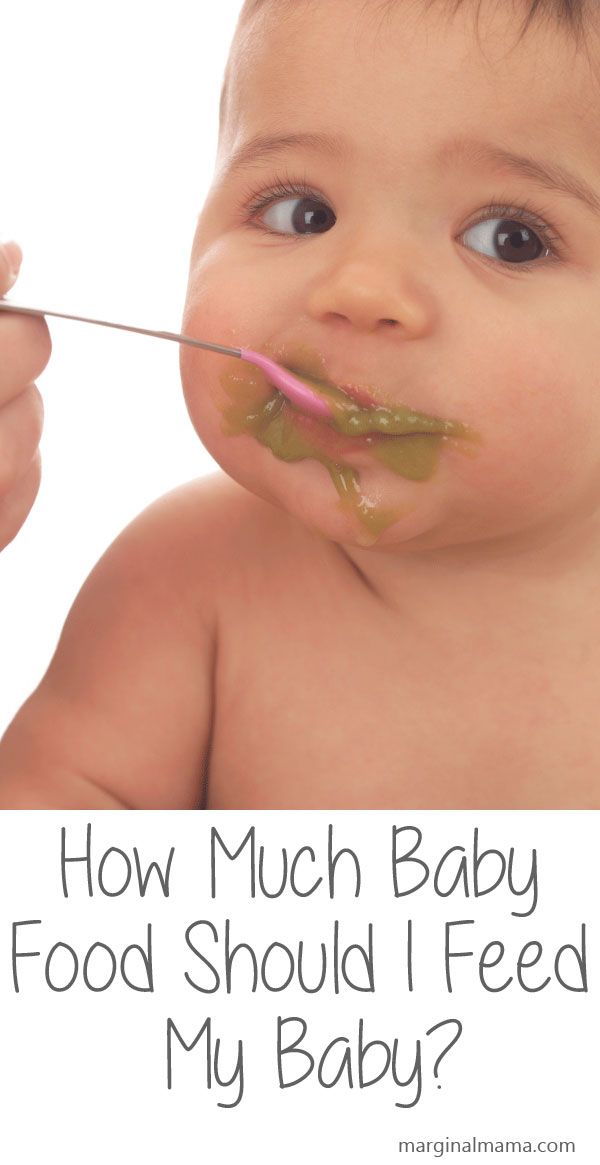 Information
During the first feeding, the baby's eating habits are laid, and it depends on the parents how correct they will be. Often, mothers introduce fruit juices into complementary foods too early. And because babies have an innate preference for sweet tastes, they can become naughty and stop eating the unsweetened foods they need, especially vegetables. Unhealthy taste habits are formed, which can later provoke obesity.
Domestic doctors are concerned about such irrational nutrition of young children - due to the wrong approach to nutrition, many babies experience a deficiency of vitamins and an excess of fast carbohydrates.
How to choose baby foods
Finding the right foods for your baby is not an easy task. Store shelves are bursting with boxes, jars and bottles, and manufacturers write on every second package that the baby will be healthy, strong and cheerful after feeding. Of course, the baby will receive the necessary substances, no matter what product his parents choose, because all the production of baby food is strictly controlled by the state.
By the way, Russia has some of the most stringent requirements for the quality of baby food in the world.
However, products for children differ in their properties. It is necessary to select food so that by the end of the first year of life the baby has actively developed chewing skills and an interest in independence, and the diet of complementary foods is reasonably varied.
For children from one to three years of age, the diet should be even more varied. It is important that the child receives daily something new from the main food groups: dairy, vegetables and fruits, meat and fish, cereals, butter and vegetable oil. Of course, the baby's diet should be expanded taking into account his state of health.
When organizing the nutrition of a child from the moment of introduction of complementary foods and up to three years, a mother needs not only to know what can be fed, but also to consider what foods should not be included in the diet. Among the prohibited products for children under three years of age:
any mushrooms, vegetables and fruits in a marinade;
pickles, preserves in tomato sauce;
commercial juice concentrates, carbonated drinks, coffee and strong tea;
various condiments - mustard, ketchup, hot sauces, horseradish, pepper, vinegar, mayonnaise;
products containing flavors, industrial colors, including chewing gum;
margarine and refractory fats - lamb, pork;
chocolates, sweets and other sweets.
To choose the right baby food, you need to know exactly what you should pay attention to and what you don't need to worry about.
When choosing mixtures, it is important to check:
Absence of palm oil. Formula manufacturers may use palm oil (more specifically palm extract) because, like breast milk, it is rich in palmitic acid. However, in human milk, palmitic acid is in the beta position, while in palm oil it is in the alpha position. Such alpha-palmitic acid can interfere with the absorption of calcium and fats and is generally less well absorbed by the child's body. This can negatively affect the work of the intestines, lead to constipation, regurgitation. Milk fat is better suited for baby food as a source of palmitic acid[4][5].
Protein ratio. Breast milk protein is primarily whey proteins and casein. A child needs both types of protein, while proteins are easily digested, which cannot be said about casein. If baby food contains a lot of casein, it stays longer in the digestive tract, which can cause problems with the baby's stool.
The presence of additional functional elements in the composition - lutein, nucleotides, pre- and probiotics. The task of lutein is to protect vision from ultraviolet rays. Nucleotides are low molecular weight compounds that promote the growth of beneficial bifidobacteria in the intestines. And pre- and probiotics in the composition of infant formulas help to establish comfortable digestion.
When choosing complementary foods, pay attention to:
Age appropriate. It is important that in the diet of a child under three years of age who receives complementary foods, special children's products predominate - in their composition the components are selected taking into account the age-related needs of the baby's body. It is impossible at an early age to transfer children to "adult" foods like pickles, smoked foods, fast food, and so on.
Fortified products. It is important that the composition contains vitamins and minerals. The National Child Nutrition Optimization Program recommends choosing complementary foods that contain elements designed to prevent anemia, rickets, and vitamin deficiencies.
For a varied diet. The menu for a baby up to six months is quite monotonous. But as they grow older, the baby needs more various nutrients - proteins, carbohydrates, fats, vitamins, minerals.
For the individual reaction of the baby. If the child is already receiving complementary foods, then it is worth introducing a new product only after the previous one has been fully introduced. If the baby is allergic to the product, then it should be administered carefully, carefully checking the reaction of the body.
Ingredient safety testing is optional. Of course, the content of any "chemistry" in the product for feeding a child, whether it be a mixture or complementary foods, is unacceptable.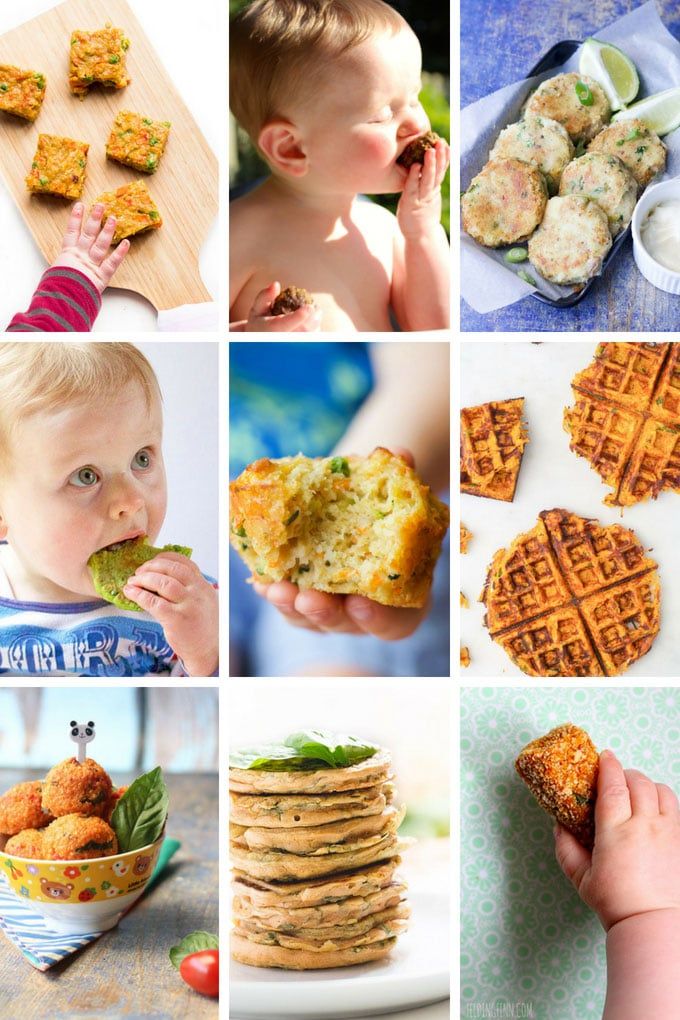 There is no need to worry about this: baby food is carefully checked. If it is registered on the territory of the Customs Union and hit the shelves, then it complies with SanPiN 2.3.2.1940-05 and there will be no "prohibited" components in its composition. Also, contrary to popular misconception, in Russia it is forbidden to use GMOs in children's products.
Note
Baby food in jars (usually mashed potatoes) has a short shelf life after opening because it does not contain preservatives. However, before the jar is opened, the products can stand for quite a long time on the shelves of stores or in the refrigerator at home. This is possible thanks to a special production technology, sterilization and vacuum packaging. If a soft pop is heard when opening the jar, this is a good sign: the puree is not spoiled. But products in jars with swollen lids or a protruding bottom should not be used: microorganisms already multiply in such food, it is not suitable for food.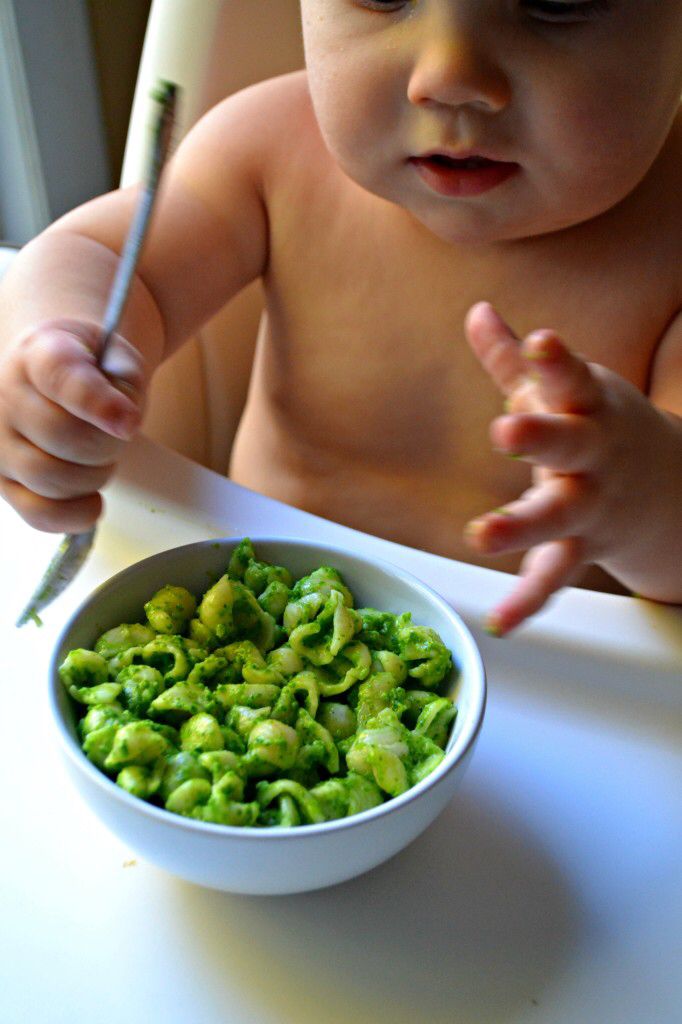 Features of the choice of dairy products
It is necessary to choose dairy products for babies, following the doctor's recommendations. The specialist will take into account the health of the baby, especially if he is allergic to cow protein. In Russia, such an allergy occurs in 30–40% of children [6]. Such a reaction may occur due to hereditary predisposition and immaturity of the body. But most often, allergies go away when the child grows up.
Goat milk baby food may be a suitable option for young children with a predisposition to allergies. Its protein is perceived by the body better than cow's: alpha-s1-casein, contained in large quantities in cow's milk, makes a product based on it difficult to digest - food stagnates in the baby's gastrointestinal tract, motor skills are disturbed, as a result, allergies often occur. In goat milk, as in breast milk, there is practically no alpha-s1-casein [7]. Therefore, goat's milk, and hence the mixture based on it, are better absorbed.
Of course, with the introduction of complementary foods, other dairy products will appear in the baby's diet. Unadapted fermented milk drinks, such as kefir, yogurt, biolact, can be introduced into the diet from eight months and in an amount not exceeding 200 ml. Also during this period, it is recommended to give cottage cheese - no more than 50 g per day, but according to indications, it can also be prescribed from the age of six months. Whole milk cannot be used as the main food, and it is advised to introduce it into the diet of babies no earlier than a year (in the amount of 100-150 ml per day) [8]. As mentioned above, it must be adapted infant milk or formula 3 formula.
To choose the best baby food, it is necessary to take into account the health of the baby, his tastes, as well as individual reactions of the body. Therefore, before going to the store, you should consult a doctor. The specialist will not only tell you which baby food to choose, but also give recommendations on how to make the child's diet balanced and healthy.
Baby food: the best foods for babies | Types of products for children
Not all mothers and fathers know what applies to baby food and when they can be offered to the baby. In the practice of doctors, there are many cases when a baby of 3-4 months is already given cow's milk, and vice versa - at the age of 8-9months still do not introduce meat puree into the diet.
According to the WHO, it is recommended that complementary foods be introduced when the baby is 4-6 months old and should be done while breastfeeding continues. Complementary foods are understood to mean all liquid and solid foods that are offered to the baby - with the exception of breast milk itself and infant formula. In the Russian Federation, the introduction of complementary foods from 4-6 months is recommended.
In this article we will look at what kind of baby food is best for babies, what is recommended to use to expand the menu, how to choose and in what sequence to introduce foods into the diet of a child in the first year of life.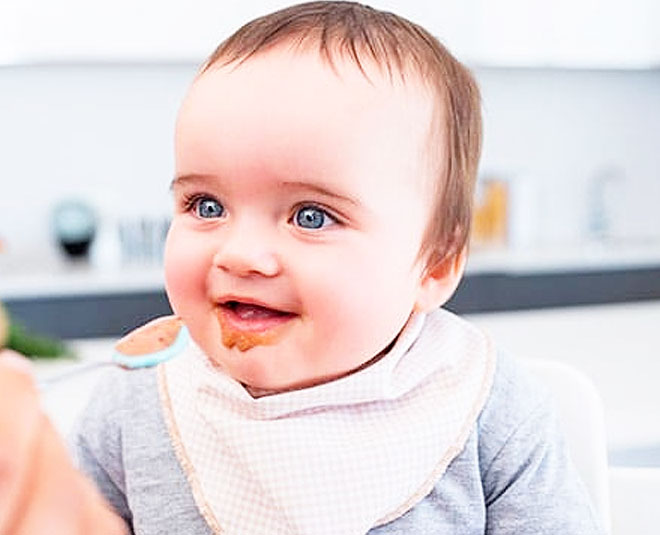 Choose foods for the first feeding
Kashi
Kashi is the best baby food for the first feeding of babies. They are made from cereals, contain a lot of carbohydrates, which give the baby energy for growth and development, and fiber, which contributes to comfortable digestion. This natural and healthy baby food is also a good source of vegetable proteins and fats. All Nestlé® baby cereals are additionally enriched with the Iron+ trace element complex, thanks to which the baby receives iron and other minerals from food.
Dairy-free, gluten-free, hypoallergenic cereals - buckwheat, corn - should be the first cereal-based baby products. Then the baby's diet can be expanded and other cereals can be introduced:
Dairy cereals from gluten-free cereals - for example, buckwheat porridge with dried apricots, rice porridge with apple.
Cereals from cereals containing gluten - oatmeal, wheat.
Porridge from a mixture of cereals - multi-grain porridge with pear and peach, banana and strawberry pieces.
Nestle® Kashi is an easy-to-use dry baby food. Just take the right amount of porridge and dilute it with breast milk or water - it's very easy. You can prepare a very tiny portion, which is important when the baby first meets a new product.
Important!
Complementary foods always start with small portions. If your baby is trying porridge for the first time, offer him no more than one teaspoon. Watch out for reactions; if everything is in order - the next day increase the portion to two teaspoons. With good tolerance, gradually, within 5-7 days, bring the serving volume to the age norm. If, in response to the introduction of porridge, the child develops a rash on the skin, the nature of the stool changes, he becomes restless - do not give this product yet. It will be possible to try again to introduce it into the diet in a month.
Meat
Meat purees occupy a special place among baby foods. They are rich in protein, contain B vitamins, zinc, magnesium, and, most importantly, a lot of well-absorbed heme iron.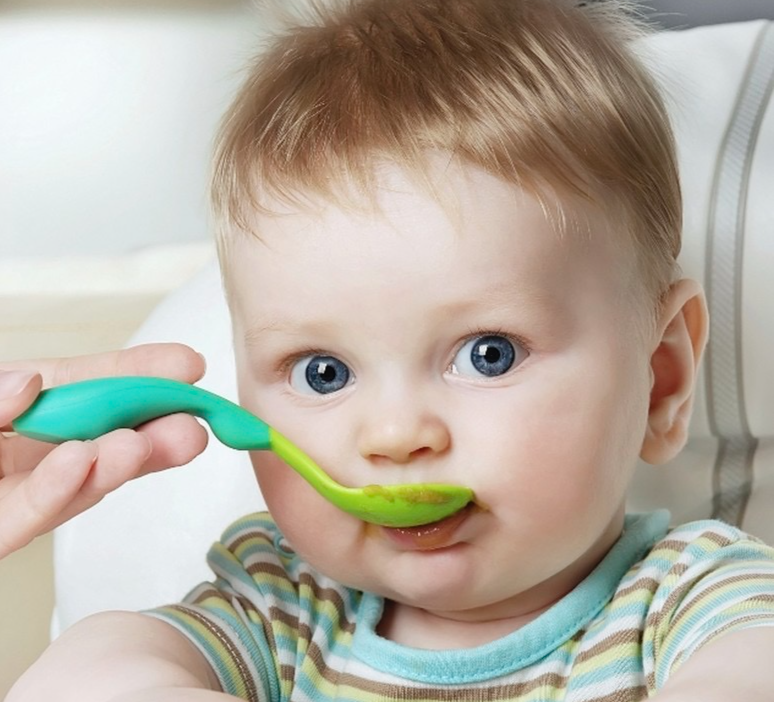 By six months, the baby's iron stores are depleted, and a reliable source of this element should appear in his diet.
Meat is introduced into the diet as homogenized baby food. It is recommended to start with mashed light white meat - rabbit or turkey - they have the highest iron content. Then the menu includes more nutrient-dense meats: veal and beef.
Vegetables
Vegetables contain carbohydrates, organic acids, fiber, pectin, various vitamins and minerals. Some of them, such as carrots and pumpkins, literally scream with their orange color about a large amount of beta-carotene, a provitamin from which the body produces vitamin A.
The ideal consistency for introducing crumbs to vegetables is mashed potatoes. Therefore, for children aged 4-6 months, all baby food should be homogenized. Pieces of food appear on the menu of the child closer to the year - and then very small.
For the first vegetable weaning, mashed marrows, broccoli, cauliflower are recommended.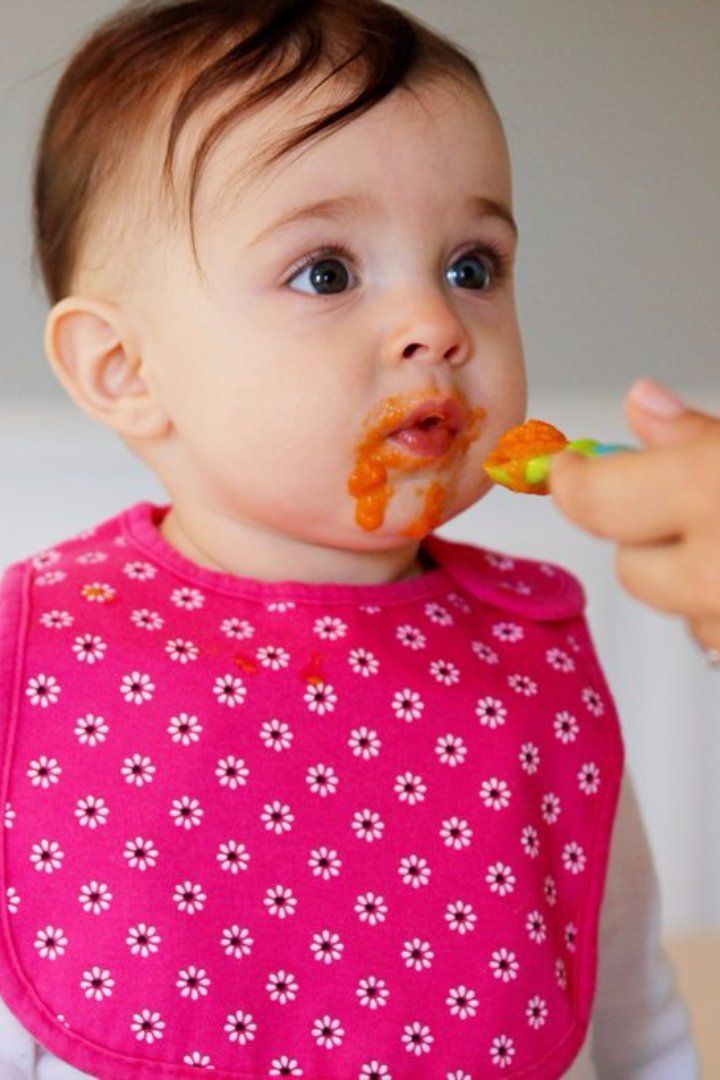 As your baby becomes familiar with simple foods, you can move on to purees with sophisticated flavor combinations, such as cauliflower and potatoes.
Note
There is a rule: one day - one new product. If you introduced mashed broccoli into your child's diet today, do not offer other new dishes yet.
Egg
Egg is not a first food product. Egg yolk can be included in baby food immediately after the first cereals and mashed potatoes, from 7 months. The yolks contain a lot of easily digestible proteins and fats, vitamin A and phosphorus. Choline is especially important - it favorably affects the development of the nervous system.
Fruits
Fruits are not only healthy, but also very tasty, because they contain a lot of natural sugars. They are also rich in vitamins and minerals, organic acids (citric, malic and others), fiber, which contributes to the comfortable functioning of the intestines. Baby fruit products are recommended to be introduced after the first feeding.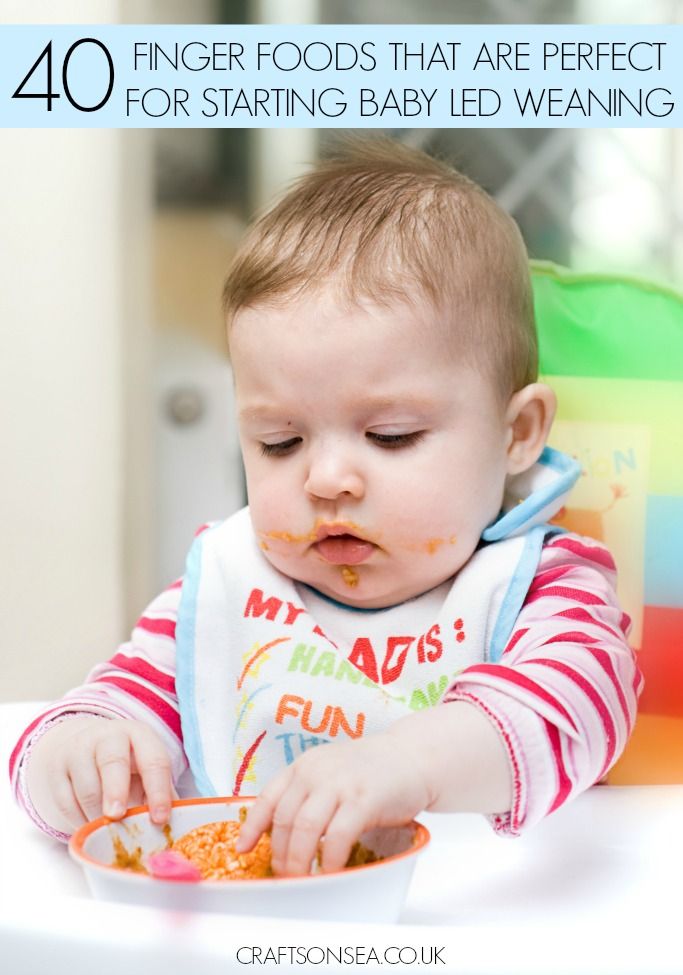 It is better to start with fruits traditional for our country - apples or pears.
Some mothers think that natural baby food from fruits can only be prepared at home. Actually it is not. Factory products - the best companies involved in the production of baby food, carefully test raw materials for the absence of heavy metals, traces of fertilizers and other harmful impurities, and are also responsible for the proportions of nutrients declared on the packaging. It is impossible to achieve this at home.
Fruit juices
Fruit juices are one of the popular liquid baby food options. They are similar in vitamin and mineral composition to fruit puree (especially juices with pulp) - they contain potassium, iron, vitamin C and many other useful substances. And, of course, juices are a pleasant delicacy that kids really like and greatly expands the palette of baby food flavors.
Juices are introduced into complementary foods simultaneously with fruit puree and according to the same scheme.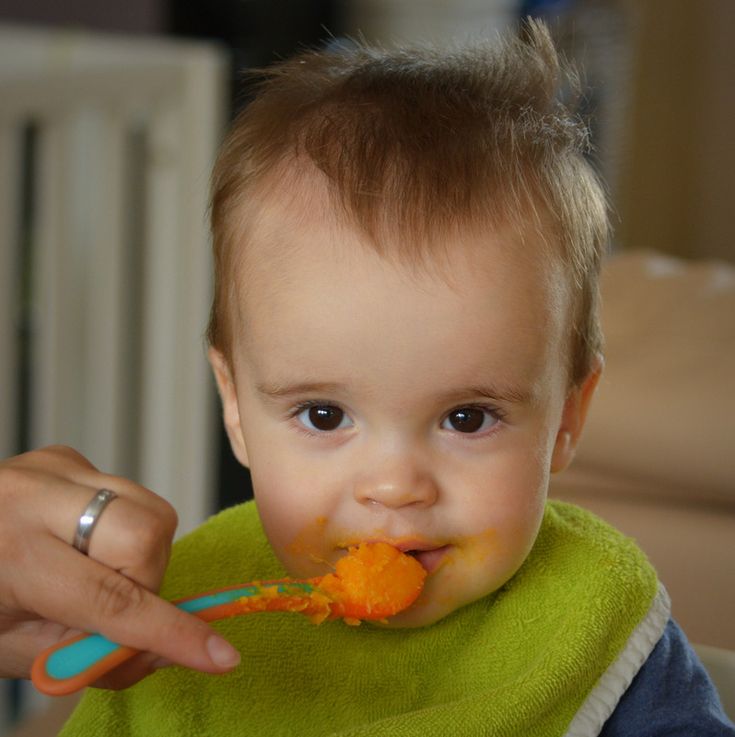 It is advisable to start with simple drinks from one fruit - for example, an apple or a pear, and only then indulge the crumbs with complex cocktails - such as a mixture of apple, grape and rosehip juices.
Fish
Like meat, fish in baby food will become a source of protein, B vitamins and other trace elements. In addition, it contains polyunsaturated fatty acids that are important for growth and development, which the child's body is not able to synthesize on its own in the right amount.
Babies can be offered fish from 8–9 months, replacing meat with it 1–2 times a week. When introducing fish, you need to remember that children have intolerance to this product. If fish feeding has led to allergies or other undesirable consequences, temporarily exclude fish from the diet and be sure to consult a specialist. It will help you choose the right foods for your baby.
Dairy products
Many parents in Russia believe that cow's milk is the best baby food, and this misconception is actively supported by the older generation.
Don't believe it: whole cow's milk does more harm than good to babies and can cause digestive problems. In addition, milk contributes to too rapid weight gain, which in the future increases the risk of obesity, diabetes and other diseases.
Instead of cow's milk, the following solid and liquid baby foods are recommended for babies under 3 years of age:
Children's products containing milk in small quantities - such as industrial milk porridges.
Special for children after one year.
Fermented milk products - special adapted drinks.
Low-fat cottage cheese.
Water
In the first months of life, the baby receives the necessary amount of water from breast milk. However, as an independent product, water appears in the baby's diet almost simultaneously with the first complementary foods. It is used for breeding dry baby food - dairy-free and milk porridges, as well as just for drinking.
The choice of water must be approached responsibly.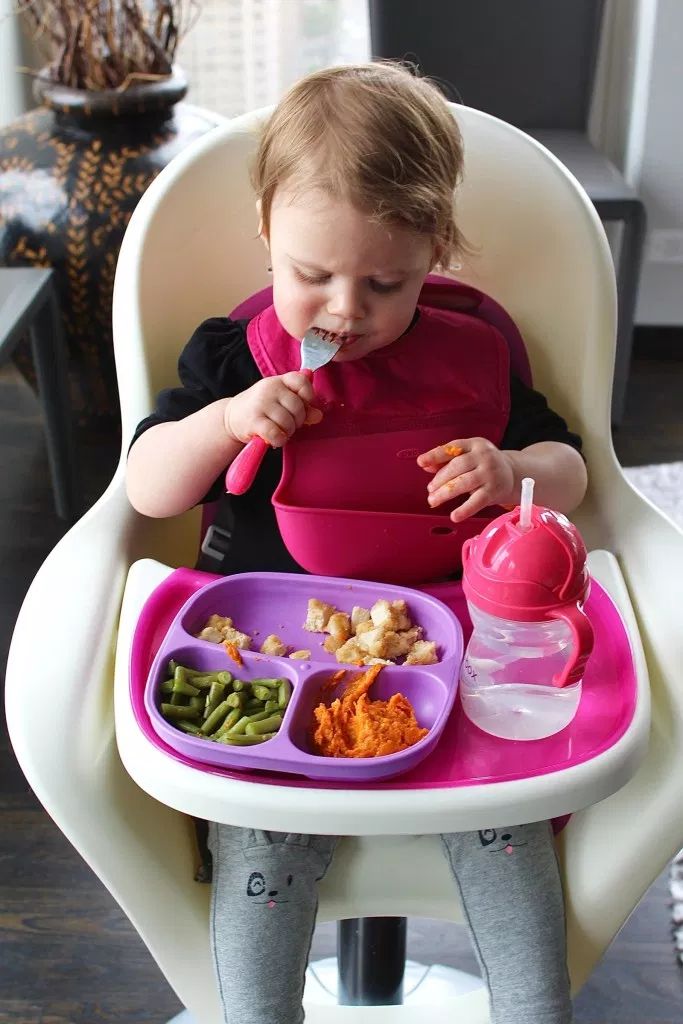 Pediatricians recommend buying a baby special bottled water for baby food. It is manufactured in compliance with strict bacteriological standards, does not contain radioactive and harmful chemical impurities, and is characterized by low mineralization. For parents, this water is convenient because it does not need to be boiled - but only if used within a day after opening the package.
Herbal teas
There are many herbal teas now available that are specially formulated for baby food. They contain medicinal herbs and fruits - fennel, mint, anise, chamomile, rose hips, raspberries and others.
Sometimes berries, fruits, natural sugars are added to children's tea - this way the drink becomes more attractive for a little gourmet.
These children's products are a natural pharmacy that provides the baby with a complex of useful substances. However, some active components of herbal drinks can cause allergies, so teas should be introduced into the baby's diet with extreme caution.