Broccoli combination baby food
3 Broccoli Baby Food Combinations (Stage 2)
Add a little more green to your baby's diet with these 3 broccoli baby food combinations! This homemade broccoli baby food puree is made with inexpensive ingredients and done in a few simple steps. It's also easy to customize flavors so feel free to try something new!
Jump to:
Broccoli Baby Food Puree
How To Prepare Broccoli For Baby Food
3 Broccoli Baby Food Combinations (Stage 2)
What Age Can Babies Eat Broccoli?
What Is Stage 2 Baby Food?
How To Serve Baby Food Puree
How To Store Homemade Baby Food
How To Reheat Baby Food
More Baby Food Recipes To Try
Let's Connect
3 Broccoli Baby Food Combinations (Stage 2)
Broccoli Baby Food Puree
Broccoli can be a great addition to a healthy diet and makes an easy ingredient to add to baby food. It's nutrient dense and packed with fiber, iron and vitamins.
You can serve steamed broccoli puree on its own or add other ingredients to create a nutritious combination.
If you're wondering what to mix with broccoli for baby, I have some ideas! I'll go over three baby food combinations that go well with broccoli as well as some additional flavor ideas. Let's dive into how to make baby food, you'll be surprised at how easy it is!
Is this your first time making homemade baby food purees? Or are you looking for more flavor combination ideas? Don't worry, I have you covered! Check out our recipes for 6 Homemade Baby Food Combinations, 3 Sweet Potato Baby Food Combinations, and Kale Baby Food Puree Combinations for more inspiration and help!
How To Prepare Broccoli For Baby Food
You can use either fresh or frozen broccoli in baby food puree. If you're using fresh broccoli, make sure it is washed thoroughly before using. Then roughly chop the broccoli into similar sized pieces. Sometimes I'll use frozen broccoli out of convenience.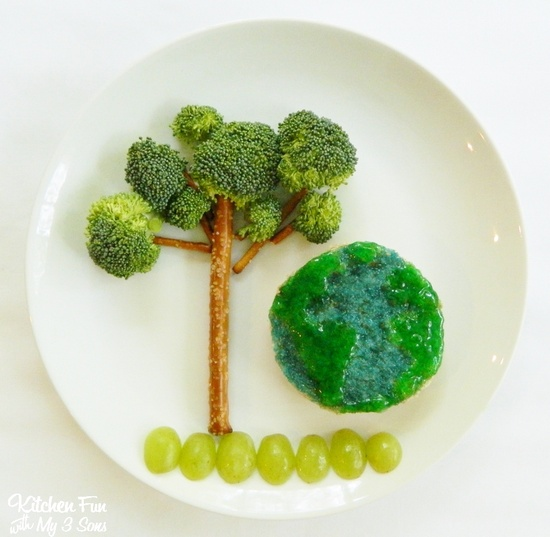 You'll want to steam the frozen broccoli just the same as you do with fresh broccoli, although it might take a little longer.
How to steam broccoli: Place the broccoli pieces into a steamer basket or small pot with water. Heat and steam until the broccoli is tender and bright green.
I don't have a steamer basket so I prefer to use a small pot. I'll fill the small pot with just enough water to cover the broccoli and then cover it. I'll let it simmer on the stove covered until the broccoli is softened.
You'll also want to steam the apples, carrot, and spinach that are listed in the recipes below. The cook time may differ but you can steam them the same way as the broccoli.
*Note: If you want more information on how I steam the vegetables or fruit in homemade baby food, check out the 6 Homemade Baby Food Combinations blog post and How Make Baby Food In The Instant Pot for more information.
How to puree: Once the vegetables and fruit are softened and steamed, simply place the ingredients into a blender or food processor.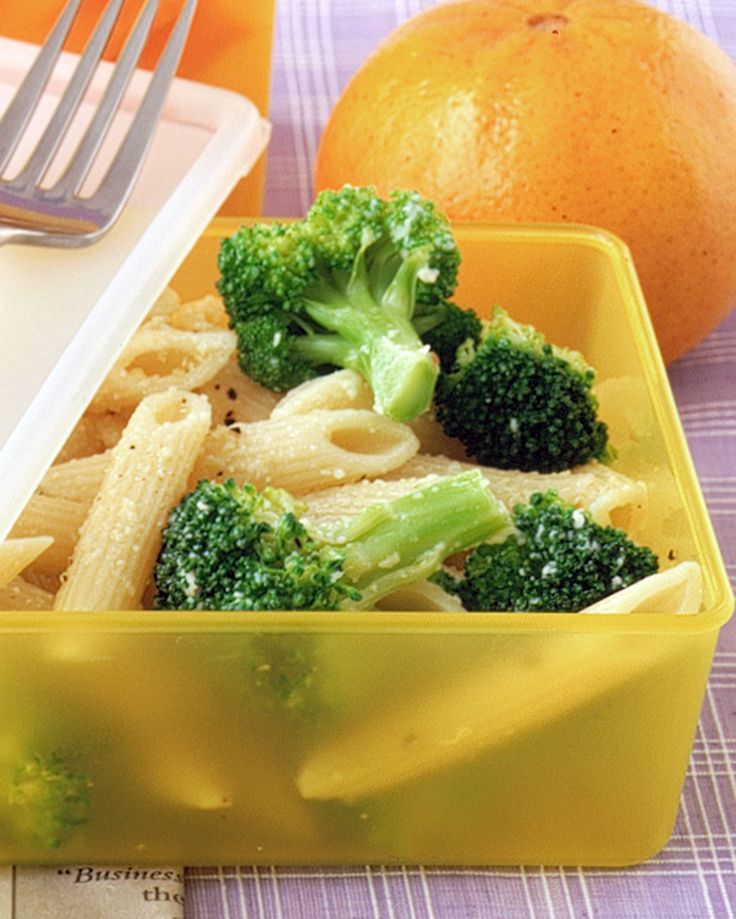 Blend until the puree is smooth and feel free to add a little water if needed for desired consistency. Additionally, some people like to add breast milk or formula instead of just water for added nutrients.
3 Broccoli Baby Food Combinations (Stage 2)
Broccoli + Apple
Puree Ingredients: ½ cup steamed broccoli + 1 steamed and peeled apple + A little bit of water, if needed
Broccoli + Carrots + Olive Oil
Puree Ingredients: ½ cup steamed broccoli + ½ cup steamed carrots + 1 tsp olive oil (optional) + A little bit of water, if needed
Broccoli + Spinach + Apple
Puree Ingredients: ½ cup steamed broccoli + 1 steamed and peeled apple + ½ cup steamed  spinach + A little bit of water, if needed
What Age Can Babies Eat Broccoli?
Please ask your pediatrician for their advice on your child's specific dietary needs before introducing solids. In my experience, we introduced broccoli puree to my daughter when she was around 6 months old.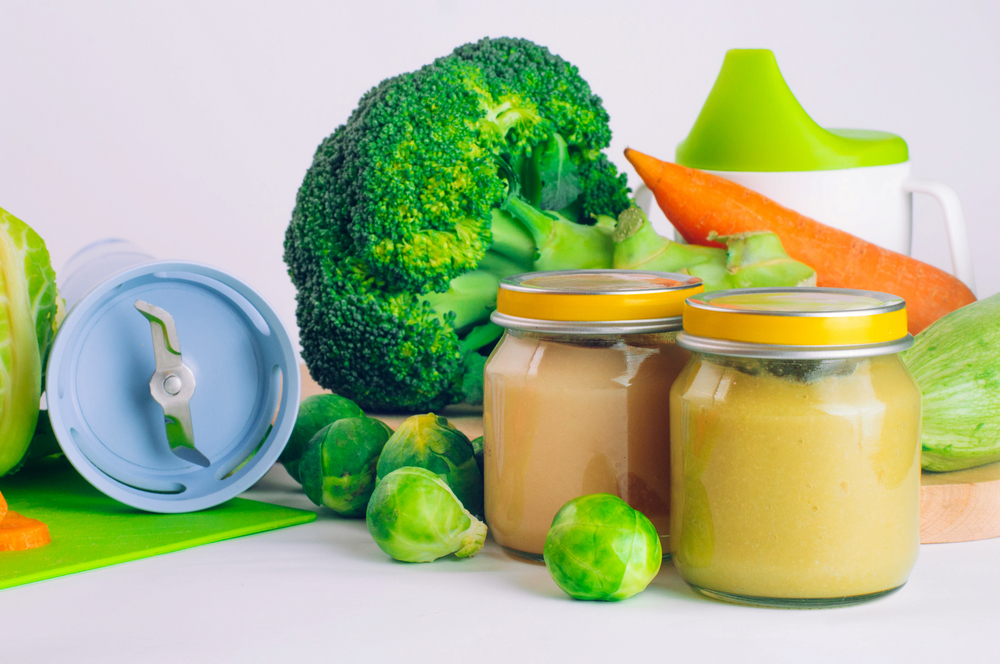 These broccoli puree combinations are meant for babies that are around 6 to 9 months and in Stage 2 of eating. 
What Is Stage 2 Baby Food?
Generally, baby food is referred to by different stages. Stage 1 is watery purees that only consist of one ingredient. So if you were to make plain broccoli puree, with only broccoli as the ingredient, this would be considered stage 1 baby food.
Stage 2 baby food is typically served once the baby is more used to eating and contains more than one ingredient. The broccoli baby food combinations that are listed in this post contain two or more ingredients so that is why they're referred to as stage 2.
How To Serve Baby Food Puree
I would usually serve baby food in a silicone bowl that would suction cup to my daughter's high chair tray. This was an easy way for her to practice using her spoon without making a big mess. I also really enjoyed using reusable baby food pouches.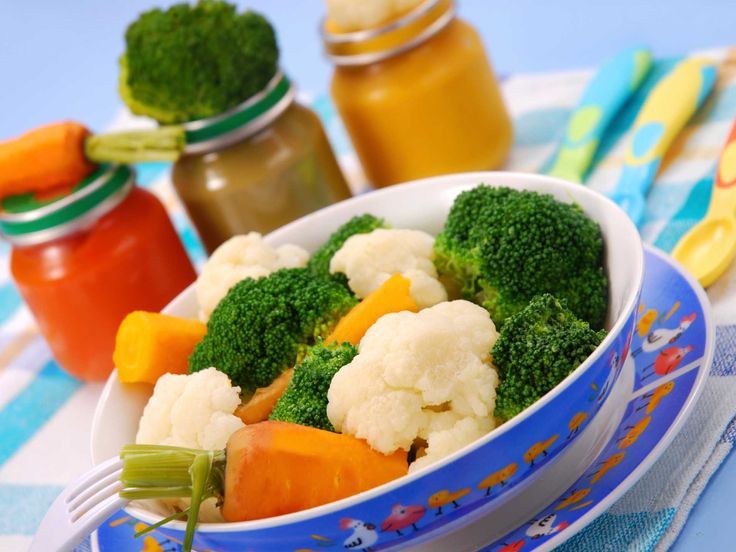 These are great for on the go and I find that my toddler loves to eat purees in the pouches.
How To Store Homemade Baby Food
There are many different options on how to store your homemade baby food. I usually use glass containers with airtight lids. Baby food puree can last up to 3 days in the fridge. 
Alternatively, homemade baby food can easily be frozen for up to 3 months in the freezer. I like to store any leftover baby food I know we won't get to in the freezer instead. It's easy to use ice cube trays or silicone trays as a way to freeze the puree in single servings. Once the cubes are frozen, simply pop them out and store them in a freezer bag.
How To Reheat Baby Food
I thaw homemade baby food by placing the frozen cubes in the refrigerator overnight. In a pinch, you can quickly reheat the baby food in the microwave or on the stove top. Just make sure the baby food is cooled off before serving.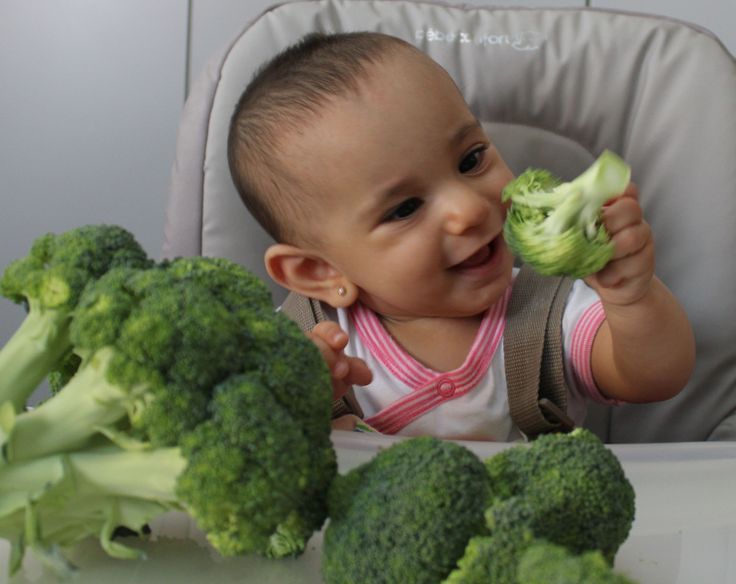 More Baby Food Recipes To Try
3 Sweet Potato Baby Food Combinations (Stage 2)
Kale Baby Food Puree Combinations (Stage 2)
Applesauce Baby Pancakes
6 Homemade Baby Food Combinations (Stage 2)
Butternut Squash Baby Food Puree
How To Make Baby Oatmeal
Let's Connect
Thank you so much for your support and checking out this recipe! If you'd like to connect, please follow along with our Instagram and Pinterest pages where we share more behind the scenes on food photography and our blog journey. 
I'd love for you to become a part of our community here at With Sweet Honey! Feel free to sign up for our newsletter to stay in touch!
This post contains affiliate links. Thank you for supporting With Sweet Honey!
Blender

Baby Food Freezer Storage Container

Baby Food Container

Reusable Baby Food Pouch
Broccoli + Apple
½ cup broccoli steamed
1 apple peeled and steamed
a little bit of water if needed
Broccoli + Carrots + Olive Oil
½ cup broccoli steamed
½ cup carrots steamed
1 tsp olive oil optional
a little bit of water if needed
Broccoli + Spinach + Apple
½ cup broccoli steamed
1 apple peeled and steamed
½ cup spinach washed and steamed
a little bit of water if needed
Choose one of the combos from above. Follow the instructions above on how to steam the broccoli and produce.

Add the ingredients to a high powered blender or food processor. Add a little bit of water if needed to thin to desired consistency.

Serve or store in the refrigerator for up to 3 days or freeze up to 3 months.
Tried this recipe?Tag @withsweethoney on Instagram!
The Best Broccoli Baby Food Puree (Stage One)
Home » Feeding Style » Baby Food Purees » Stage One » The Best Broccoli Baby Food
This Broccoli Baby Food recipe is a great way to introduce healthy green vegetables into your baby's diet. A delicious puree that is full of essential vitamins and healthy fats for a growing baby. If you're looking for an easy green starter puree for your baby, this is it! Great baby food for 4-6 months and older – stage 1 baby food!
Medically reviewed and co-written by Jamie Johnson, Registered Dietitian Nutritionist (RDN), and Lauren Braaten, Pediatric Occupational Therapist (OT).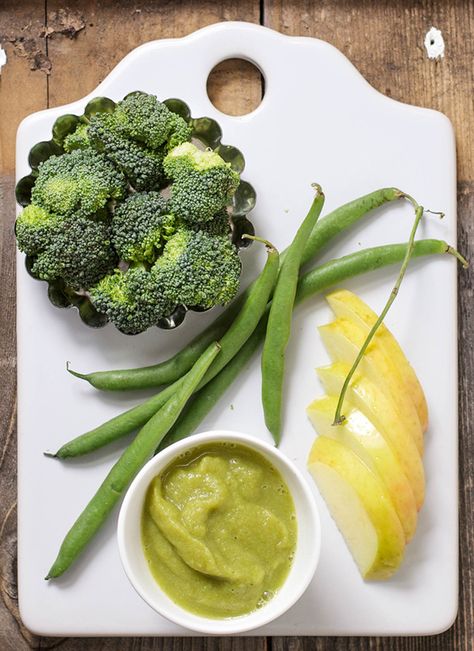 Broccoli Baby Food
Do you want your child to grow up loving broccoli? Then this puree is a good place to start! 🥦
We start with the main star of the show – broccoli! By gently steaming the broccoli, we are able to preserve its fresh taste and bright green color without getting a too intense broccoli flavor or drab color. I'm also inviting you to try adding in a small amount of peeled apple, pear or white potato. This addition helps give the puree just enough starch and fiber to make a truly creamy and smooth puree that helps balance out the, sometimes, intense broccoli flavor. And for a boost of healthy fats, we are going to drizzle in a little bit of high-quality olive oil.
What this simple recipe gives us is a truly delicious puree that baby is going to dive right into!
First time making homemade baby food? Then, I would suggest that you start by reading my very in-depth Guide on how to Make Homemade Baby Food – which goes over all the important information such as the best cooking tools to have on hand, safe storage, how to know when baby is ready for solids, how to introduce purees, the best first foods for baby, and more! You can also check out my best-selling cookbook for even more information and recipes!
Broccoli Puree Video
Watch this video to see how easy it is to make this Broccoli Puree!
Reasons to Love this Broccoli Baby Food
nutrient-dense – contains fiber, iron, calcium, antioxidants, folate, potassium, vitamins A, C and K
creamy green puree baby will love
filled with healthy fats for baby's growing brain and bones
4-6+ months and older
freezer-friendly
stage 1 baby food puree
homemade
Health Benefits of Broccoli
Broccoli has a whole host of health benefits!
The fiber found in broccoli promotes gut health and heart health.
It helps support your immune system with the help of vitamin C.
Broccoli is high in vitamin K, which is important in blood clotting.
The antioxidants found in broccoli may help protect against certain types of cancers.
Vitamin A and antioxidants found in broccoli promote eye health.
Ingredients
Make sure to read the recipe card below for full ingredients and instructions!
Broccoli: Being the start of the show, we need to use fresh broccoli that is bright and green with no mushy parts. You can cut up a head of broccoli or get pre-cut florets. You can also use frozen broccoli in this recipe, but the taste will be slightly more intense.
Apple: We are going to use one small peeled apple in this recipe to give the puree a smooth consistency. You can also use a small white potato or pear, if you prefer. If you want to keep the puree a single ingredient puree, then just leave the apple (potato or pear) out, the puree will be slightly different but still amazing.
Olive Oil: For an added boost of healthy fats, we are adding in a little drizzle of a high-quality olive oil. You can omit this if you prefer.
Shopping & Storing Tip: When purchasing broccoli, look for a firm head with dark-green crowns and tightly-closed buds. Broccoli is a hardy, cool-weather vegetable, so it loves your cold refrigerator. Wrap the broccoli in a few dry paper towels, to help wick away any excess moisture, and store in an unsealed plastic bag.
Step-by-Step Instructions
Prep Broccoli: roughly chop a bunch of broccoli and peel and chop one small apple or white potato.
Steam: place the broccoli and apple/potato into a steamer basket and steam until tender.
Puree: transfer cooked produce into a blender or food processor and add a drizzle of olive oil. Puree until smooth.
Serve or freeze.
Tools Needed
These tools will make it a lot easier for you to make this healthy Broccoli Puree. For more of my favorite kitchen tools make sure to check out my shop.
Steamer Basket
Medium Saucepan
Blender or Food Processor
Freezer Tray
Storage Containers for Fridge
highchair
suction bowl or baby bowl
baby spoon
open lid cup
bib with catch pocket
Other Cooking Methods
While I love the clean flavor of steamed broccoli, there are several different ways you can cook broccoli for baby food. 
Roasting
Place broccoli and small chunks of potato onto a baking sheet and roast in the oven at 425 degrees F, for 20-25 minutes or tender when pricked with a fork. Puree in a blender as directed below. 
Blanching
Bring a medium saucepan filled with water to a boil, add in the potato and cook for 6 minutes, then add in the broccoli and cook for 2 minutes or when tender with pricked with a fork.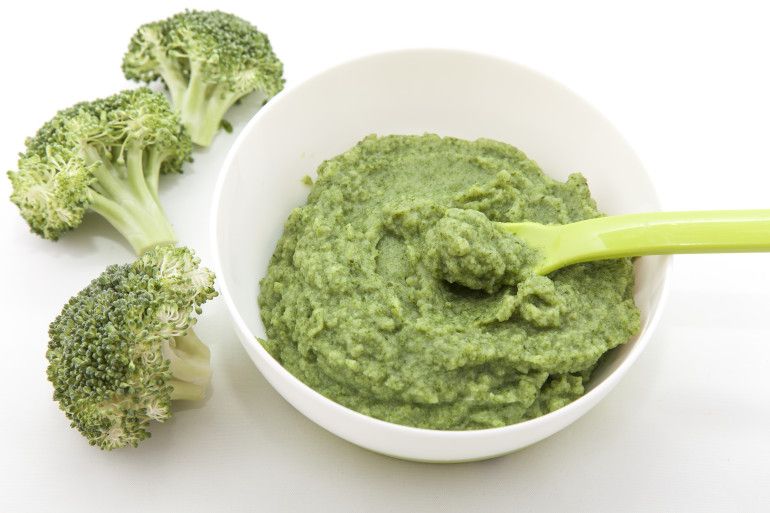 Drain the water, let cool slightly. Puree in a blender as directed below.
Adding Spices
In this recipe, we are adding a small drizzle of high-quality olive oil into the puree, but feel free to use the following spices instead – chopped chives, mint leaves, chopped cilantro, cumin, or a squeeze of fresh lemon juice.
Tip on Spices: I always recommend adding spices to any baby food puree, but you can add or leave out spices in all of your baby food. You do you! Either way, this puree will taste amazing.
Frequently Asked Questions
When can baby eat broccoli?
Baby can have broccoli as one of their first foods. When a baby can start on solids is determined by their own rate of development, which generally comes between 4-6 months of age. Some of the developmental milestones babies need to reach in order to start solids include: if your baby has solid control of their head and neck, if your baby has doubled in weight, and if your baby is reaching for or opening their mouth when you eat (see my guide here).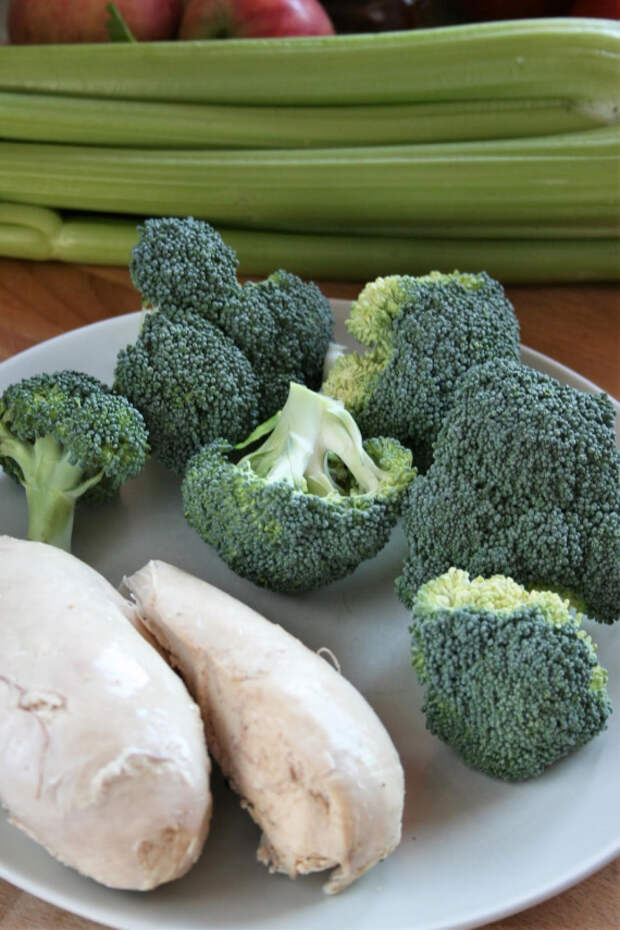 Before you start your baby on purees, you should consult with your pediatrician to make sure your child is developmentally ready.
Can broccoli be baby's first food?
Broccoli can 100% be your baby's first food if you want it to be. It is recommended to wait to introduce the top eight allergen foods to your baby once a few other well-tolerated foods have been introduced, but otherwise, foods can be introduced in any order so choose whatever you are most excited for your baby to have.
Is broccoli a common allergen for baby?
No, broccoli is not a common allergen, however, as with any food, start with a small portion and be aware of any signs that might be an allergic reaction after introducing it.
Does broccoli cause constipation for babies?
Broccoli does not usually cause constipation in babies, and it can actually help alleviate constipation due to its high fiber content.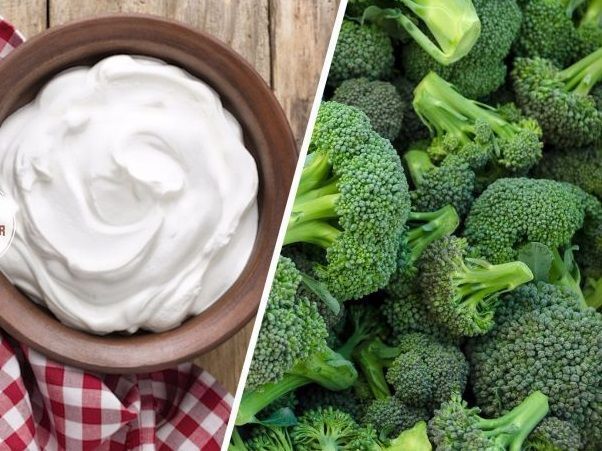 How to Store Broccoli Baby FoodRefrigerator
You can store it in an airtight container in the fridge for up to 4 days. 
Freezer
This puree can be frozen for up to 4 months.
Spoon puree into a freezer storage container – do not overfill. 
Place the lid on the storage container or cover with a piece of saran wrap and label with date and recipe name. 
Place the tray into the freezer and let freeze completely – preferably overnight. 
Pop out the baby food cubes and place in a zip-lock baggie or stasher bag – don't forget to re-label the baggie or stasher bag for future reference.
Need more information on how to store your baby foods – head over to my Best Baby Food Storage Containers – Plus 6 Tips on Freezing and Thawing post!
Label Tip: Don't forget to label your purees before you place them in the fridge or freezer with the name of the puree and the date you made it.
Take it from me, you will completely forget when and what is in your freezer by the end of the week.
Great Broccoli Combination Purees
While Broccoli Baby Food is great by itself, it's also super easy to mix and match with other nutrient-dense baby food purees. Give these fun flavor combos a try!
Apples
Asparagus
Quinoa Baby Cereal 
Chicken
White Beans
Softened Tofu
Spinach
Green Beans
Yogurt
Mango
Broccoli for Baby-Led Weaning: Carrots are also a great food to serve to your baby whole for baby-led weaning (6+ months) or as a finger food (9+ months). You can always serve baby a combination of purees and finger foods right from the start.
Feeding Tips
Make sure baby is showing readiness signs for eating – good control of their head and trunk, sitting with minimal assistance, bringing hands or toys to their mouth, and appearing interested in your food when you're eating.
Try adding a little seasoning or spice to purees – babies like flavor! Or consider changing the temperature of purees from time to time, to slightly warmed or slightly chilled. Varying these aspects adds to the sensory experience!
Place a small amount of puree on the tray during spoon feeding, so that your baby can dip their fingers or hands in the puree. Allowing baby to explore foods in this way helps them learn to self-feed and can help them be more willing to try new textures and foods in the future.
Throwing spoons is a common phase that all babies go through at one point or another. One of the best ways to handle spoon throwing is to ignore it and keep feeding baby as usual (with an extra spoon you already have at the table). If baby ends up also throwing back up spoons #2 AND #3, simply encourage your baby to eat with their hands until they appear to be finished with the meal.
Or watch a shortened version of this video here.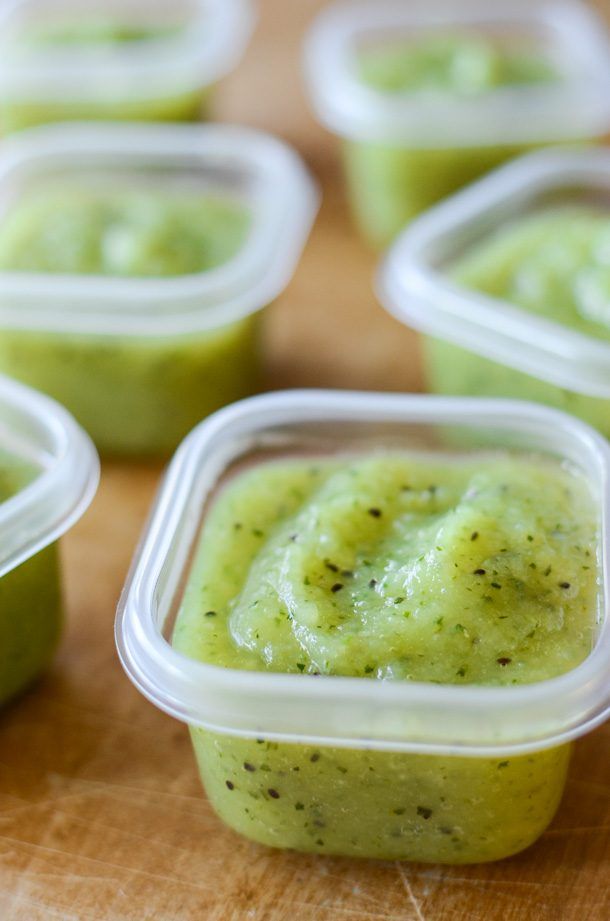 2 cups broccoli, chopped into small florets
1/2 apple, pear or small white potato peeled and chopped (optional)
1 tbsp good quality olive oil (optional)
Prep: In a medium saucepan, bring 2 inches of water to a boil over medium heat.

Steam: Place the broccoli and apple/potato/pear into a steamer basket and place over boiling water, cover and steam for 8-10 minutes or until the broccoli and apple are tender. Reserve the water from the steamer. Let cool slightly.

Transfer: Add the broccoli and apple to a blender or food processor.

Add Olive Oil: Drizzle the olive oil into the blender or food processor.

Blend: Puree on high for 1-2 minutes or until smooth, adding in additional liquid (reserved water, fresh breast milk or formula) in 1/4 cup increments if needed. I had to add in 1/4 cup of water to the puree pictured.

Eat: Serve to your baby or freeze for a later meal.
Age: 4-6 months and up
Yield: roughly 12 ounces
Adding In Spices: Feel free to add in 1 tsp of chopped chives, 2-3 mint leaves, 1 tsp of chopped cilantro, 1/2 tsp cumin or a squeeze of fresh lemon juice.
Blender
Freezer Tray
Tripp Trapp High Chair
Glass Baby Food Jars
Silicone Baby Bibs
Calories: 25kcal, Carbohydrates: 3.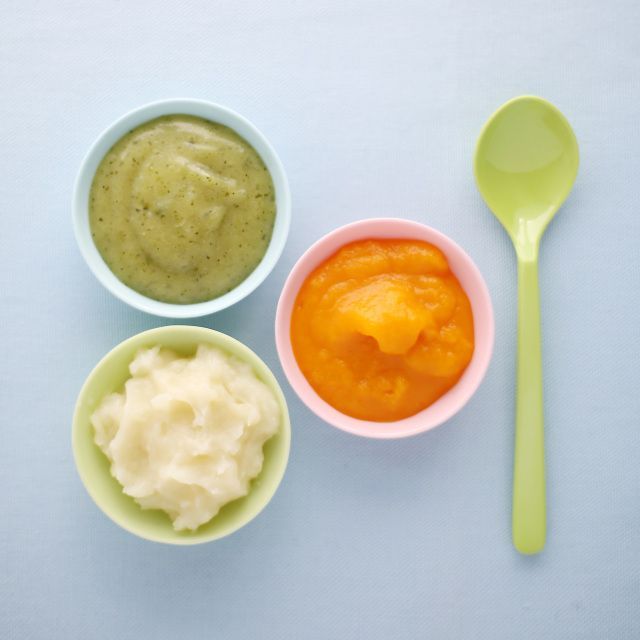 2g, Protein: 0.7g, Fat: 1.2g, Saturated Fat: 0.2g, Sodium: 6mg, Potassium: 106mg, Fiber: 0.7g, Sugar: 0.4g, Calcium: 8mg
Did you make this recipe?
Tag @babyfoode on Instagram and hashtag it #babyfoode!
Email a Friend
Combined baby food menu. Complementary feeding schedule - Encyclopedia Baby food
Levchuk Victoria©
Levchuk Victoria©
Baby food combination, sample menu for children from birth to 12 months of age.
When reading any children's menu, it is important to note that not all children will eat the same amount of food as others, and most likely they will not like the same foods. This is due to different ages of introduction of complementary foods, and the fact that all children are different is also important. You should not blame yourself if the child does not eat complementary foods on schedule. The baby will eat as much adult food as he needs - you should trust your child.
Contents:
Formula and/or mother's milk are the most important sources of nutrition for a child under 12 months of age.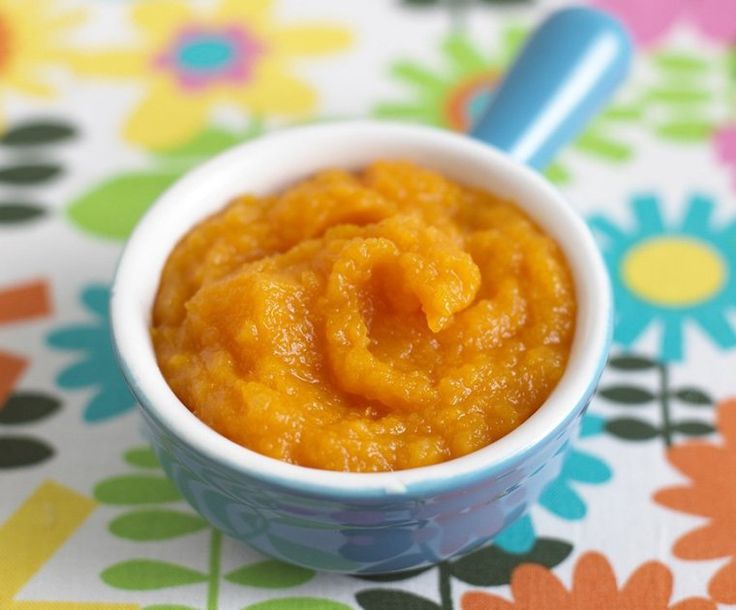 Breastfeeding or formula feeding should NOT be replaced with all solid foods unless your pediatrician tells you otherwise.
We will not tire of repeating - all children are different, and the child may eat more or less than what is shown on these graphs. This menu and sample chart is described roughly and shows the options for eating solid foods. It does not take into account, nor list, the total daily intake of mother's milk or formula.
As always, the baby should be fed according to his or her signals and needs. A pediatrician should always be consulted if there is reason to be concerned that a child is not getting the proper amount of either milk or solid food.
Many breastfeeding mothers supplement with formula because their breast milk supply is low for a variety of reasons. We praise those mothers who continue to breastfeed their children with supplementary foods. Congratulations from the bottom of our hearts!
Sample menu for infants 0-6 months of age
Breakfast - Formula and / or mother's milk
Lunch - Formula and / or mother's milk
Dinner - Formula and / or mother's milk
Dinner or mother's milk
Notes: The 3 main meals have been included as an example only.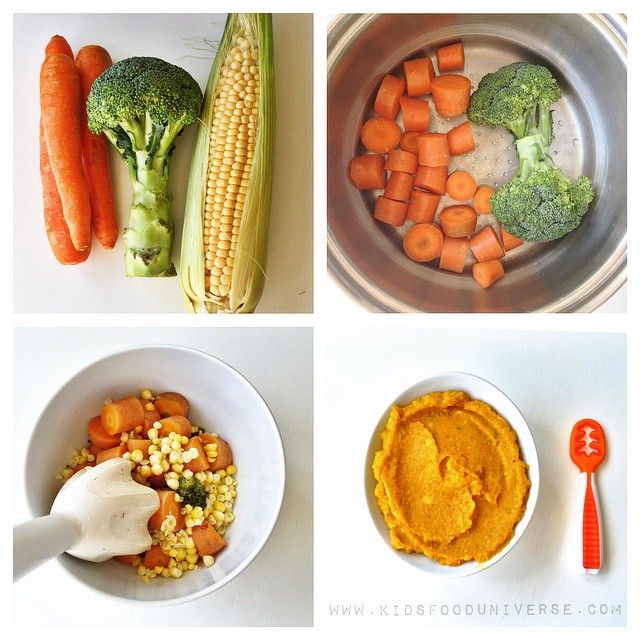 This is not meant to be taken as a suggestion, nor is it meant to be limited to 3 meals a day. At this age and stage, most babies are hungry all the time and thus feed "around the clock" and on demand. The best way to feed your baby is as often as the baby needs.
Sample menu for babies 6-8 months of age
Wake up early in the morning - Formula and/or mother's milk
Breakfast - Formula and/or mother's milk
Baby cereal (optional) - 1-2 tablespoons
Fruit or vegetables (optional) - 1-2 tablespoons - mixed or singly
Lunch - Formula and/or mother's milk
Baby cereal (optional) - 1- 2 tablespoons
Fruits or vegetables (optional) - 2-4 tablespoons of each, or mix together.
Example: apples and carrots taste good together. Feed with or without porridge.
Snack/dinner - Formula and/or mother's milk
Fruit or vegetables (optional) - 1-2 tablespoons
3 meals a day at this age? Many babies are not ready to eat 3 "meals" throughout the day until 9-10 months of age.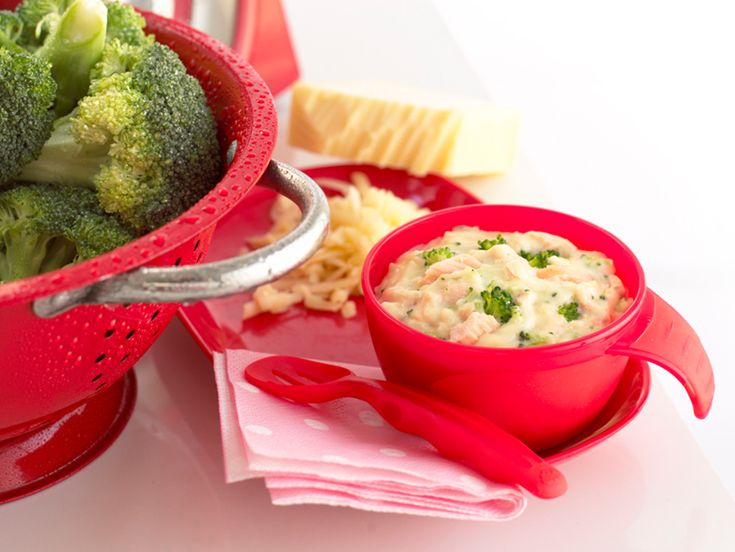 There are, however, children who start eating 3 times a day from 7-8 months. This is an exemplary menu, do not forget about the gradual introduction of food into the baby's diet. Also, breakfast or lunch is gradually introduced first, then dinner.
Feeding Tips: The introduction of a new product should be started gradually and with ½ teaspoon. Most likely at first the child will not eat more than 1/2 tablespoon, but gradually the baby gets used to solid food and it will be possible to increase the portion sizes.

Spitting out food: Many parents see their children spit food out of their mouths the first few tries. This is normal, however, it may also mean that the baby is not yet ready for solid foods; only parents decide whether the child is able to eat solid food.
Sample Infant Menu for Toddlers 8-12 Months
Wake Up Early in the Morning - Formula and/or Mother's Milk
Breakfast - Formula and/or Mother's Milk 9004 optional) - 1-2 tablespoons
Fruit or vegetables - 4-6 tablespoons
Dairy products (optional) - Yoghurt - about 2 tablespoons
Lunch - Formula and/or mother's milk
Baby cereal or pasta, any grain products (optional) - 2-4 tablespoons
Meat / Meat-protein (alternate) (optional) - 2-4 tablespoons 6 tablespoons in total of each or can be mixed with porridge
Example: rice mixed with peas served with pear puree separately
Dairy (optional) - Yoghurt or cheese
protein without grains is also a menu option. Lunch grains with fruits and vegetables without protein is another option.
Snack / Dinner - Formula and/or mother's milk
Grain (optional) (i.e. pasta, rice) - 2-4 tablespoons
Meat - (optional) - 2 tablespoons
Fruits and/or vegetables - 4-6 tablespoons in total of each type Example: Tofu mixed with avocado, served with applesauce and blueberries separately
Dairy products - yogurt or Bryndza (optional)
Notes: 3 -x meals a day? Keep in mind that even in this age group, many children are still not ready to eat 3 meals a day until 9-10 months. Many babies do not begin solid foods before 6 months of age and not all babies will eat the same foods and amounts of food.
Many babies can eat 120-170 grams of food per day at 6 or 7 months, while others who are just starting complementary foods will be in the 30-60 grams range.
Follow your pediatrician's recommendations for complementary foods and include a balanced and varied diet.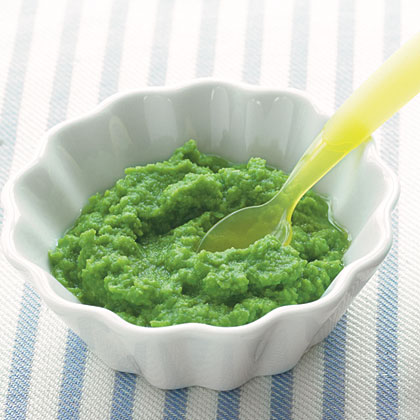 It must be remembered that a pediatrician's consultation regarding the introduction of complementary foods for the baby and discussion of any new products, in order to avoid food allergies, is mandatory.
To calculate your daily milk intake, you can use the following:
Read more about your baby's serving size here.
Does the child eat enough food?
How much solid food a child will eat depends on many different things.
A baby who started solid foods at 4 months of age is likely to eat more solid foods than a baby who started solid foods at 6 months.
A child who eats soft cut foods eats less than a child who eats puree from a spoon.
How much a child will eat also depends on the individual child's appetite. Just like adults, some children will eat more than others due to their individual needs.
We are not afraid and add me to VK and Odnoklassniki, Instagram!
Like this article? Subscribe to site updates
"Encyclopedia Baby Food"!
Don't forget to bookmark us! (CTRL+SHIFT+D) Subscribe to the site, comment, share in social networks.
On our site Encyclopedia Baby Food there is useful information on the nutrition of your children, which is useful for everyone, and we update the site "Encyclopedia Baby Food" constantly and try to search and write only excellent, verified and necessary information for you and your children.
Disclaimer No. 1: It must be understood that the author of the articles on the Baby Food Encyclopedia website is not a medical staff, "I am not a doctor." The information I share is based on my own experience. My goal is not to teach you how to eat or feed your child, but to talk about how we did it, what new things I learned or read. This expands the picture of Baby Food knowledge, gives you a glimpse of the whole process so you can decide if you like it or not.
Disclaimer No. 2 : However, the above does not cancel a visit to the pediatrician. Before you start complementary foods, you need to get his professional opinion on the best way to introduce new foods for your baby.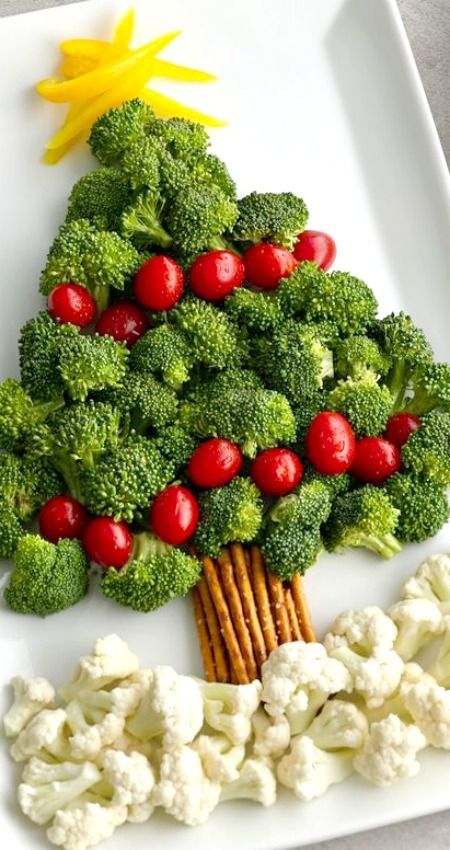 I also draw your attention to the fact that you need to look at the original date of the published articles, because some of the "best practices" may have changed. Always check with your child's pediatrician about complementary foods and their health.
Disclaimer #3: Keep in mind that every family is unique, every situation is also completely unique. There are no universal solutions. Only you can find what works best for you. Certain goals require certain sacrifices and priorities - not everyone wants to make those choices, and that's GREAT! Just know what you want to achieve, and be ready to get to work, putting the best of your strength!
Disclaimer No. 4: On the Encyclopedia Baby Food website, photos from books on baby food with attribution are used to better understand the information (Article 1274, paragraph 1, part four of the Civil Code of the Russian Federation). Literature on baby food is found in the public domain on the Internet.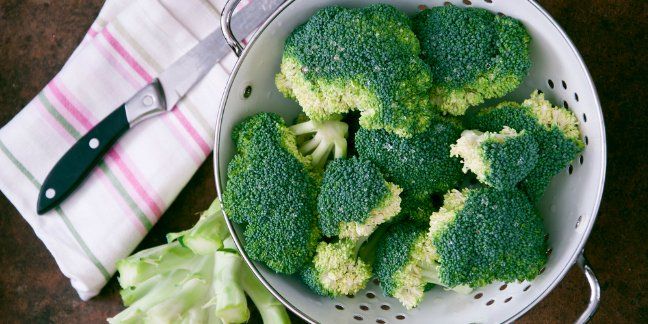 Apricot puree with chicken
Bannaya-global puree
Banana puree
Borsch
Bousse broth with peas and rice
Botterbrod with kolrabi
Fast dessert
WIGHT FROM BACKS
Spring salad
Greek cereal 9020 Buckwheat porridge with apricots
Buckwheat porridge with banana
Buckwheat pilaf
Children's sausage
Children's milk porridge with banana
Children's vinaigrette
Children's ketchup
Children's cucumber salad
Children's salad Olivier
Children's porridge biscuits
Children's puree of strawberries, bananas, yellow cherries, yoghurt and biscuits with cereals
Children's puree with cottage cheese and fruit
Homemade yeast bread with flax flour
Homemade cheese
Homemade pizza
0 Breakfast outside Kohlrabi appetizer
Roasted cauliflower
Roasted carrots
Roasted carrots and cherries with millet
Winter salad with Jerusalem artichoke
Cabbage with white beans
Cabbage salad like in a canteen
Mashed potatoes
Quinoa and pumpkin porridge
Quinoa porridge
Breakfast cereals
Quinoa and apple
Strawberry puree
Strawberry puree with banana
Strawberry compote
Wild apple and raspberry compote
Thermo-steamed fruit compote for children 8 months
Corn porridge
Corn porridge with pear
Corn porridge with pumpkin
Corn porridge with pumpkin and carrots
Corn porridge with apple and carrots
Chicken liver in the oven
Chicken cutlets with carrots
Chicken with carrots, sweet peppers and potatoes
Naval pasta
Pasta with orange sauce
Gremolata pasta
Muffins with vegetables and egg
Jacketed new potatoes
1 Vermicelli milk soup 0102 Carrot puree
Carrot-rice casserole
Carrots with chicken
Fly agaric from eggs and tomatoes
Meat envelopes
Homemade Tarragon drink for children
Vegetable puree from cauliflower and carrots
Vegetable soup with corn semolina
Vegetable soup with cheese and corn semolina
Vegetable soup with spinach
Vegetable soup-puree with bell pepper
Oatmeal porridge
Pollock fritters
Hot kefir fritters
Omelette and cauliflower in a bag 90
Spinach and Cheese Omelette
Omelette Pancake
Peach Puree
Baked Apples 7 months +
Zucchini and Carrot Pie
Zucchini Pie
Rice and Zucchini Pie
Fish Pie
Fish and Potato Pie
White Cabbage Pizza
Lavash Pizza
Zucchini, Tomato and Sausage Pizza
Tomato and Olive Pizza
Spinach Pizza
Rabbit Pilaf
Chicken Pilaf with Banana and Corn Puree 901 and cherries
Banana, cottage cheese and porridge puree 4 cereals
Broccoli (cauliflower) puree
Broccoli, courgette and cauliflower puree
Blueberry puree
Pear puree
Pear and banana puree
Pear and banana puree, baked
Pear and pumpkin puree 7 months +
Pear, pumpkin and peach puree
Pear, apple, plum and prunes puree
Blackberry puree
Turkey puree
Zucchini puree 902 zucchini and broccoli
Zucchini, carrot and potato puree
Quinoa and banana puree
Quinoa and carrot puree
Quinoa, banana and carrot puree
Quinoa, squash and carrot puree
Quinoa, peach and raspberry puree
quinoa, cauliflower, apple, peas and mint
Quinoa, apple, pear and raisin puree
Quinoa, apple, carrot puree
Rabbit, broccoli and cauliflower puree
Chicken, carrot, potato, apple and pea puree
Raspberry, cherry and banana puree
carrots
Carrot and apple puree
Carrot, potato, broccoli puree with cheese
Carrot, potato, apple and quinoa puree
Carrot, pumpkin, apple and prunes puree
Carrot, apple and potato puree
Turnip and carrots
Plum puree
Cottage cheese, strawberry and banana puree
Pumpkin puree
Pumpkin and banana puree
Pumpkin and squash puree
Pumpkin and apple puree
Pumpkin, apple and banana puree
Cauliflower and broccoli puree
Cauliflower puree and potatoes
Cauliflower and rice puree
Cauliflower and apple puree
Cauliflower, green peas and courgette puree
Cauliflower, turkey and potato puree
Cauliflower, potato and courgette puree
Cauliflower, carrot and broccoli puree
Cauliflower, carrot, cheese and rice puree
Cauliflower, apple and courgette puree
Zucchini puree
Zucchini and potato puree
Zucchini, carrot and apple puree 902 cherries
Blueberry puree
Prune puree
Apple, pumpkin, carrot and some curry puree
Apple and pear puree
Apple and strawberry puree
Apple, strawberry and cherry puree
Apple, peach and banana puree
Carrot and pumpkin puree
Cottage cheese and banana puree
Turkey, potato and carrot stew
Zucchini, carrot and broccoli stew
Fish, potato, carrot and broccoli stew
Rice porridge
Whole grain rice porridge
carrot
Rice porridge with pumpkin
Rice porridge with apples
Rice porridge with apple and pear
Rice porridge with apple and pumpkin
Fish cakes with vegetables
Semi-cooked fish
Fish meatballs with ketchup
Baby Fish Soup
Salmon and Celery Fish Soup
Carrot and Kohlrabi Salad
Chickpea Salad
Chickpea and Cabbage Salad
The Laziest Soup
Creamy Kohlrabi Soup
Oatmeal Smoothie1 Pot Sauce
Cheesy Pizza
Pea and Bacon Soup
Baked Vegetable Soup
Kohlrabi Soup
Salmon Soup
Cauliflower Soup
Turnip Potato Soup
Meatball Soup for the Picky Eater
Green apple kohlrabi soup
Rabbit, pumpkin, potato, broccoli and cauliflower soup
Beetroot soup
Pumpkin mushroom soup
Broccoli and celery soup
Soup/stew Pork with Potatoes and Carrots
Cheese Pasties
Pumpkin Cheese Sauce (Annabelle Carmel Recipe)
Buzz Lightyear Sandwich
Pumpkin Apple Puree
Pumpkin Apple Juice
Pumpkin Cake
Pumpkin Soup9 Fruit Puree
Fruit Salad
201 Bread lavash
Cauliflower with cheese
Linden and thyme tea
Experimental soup-puree with vermicelli and lentils
Apple puree
Apple juice

How to cook broccoli for a child?
Broccoli - Healthy for Babies
This kale is best digested by babies and is ideal for first foods.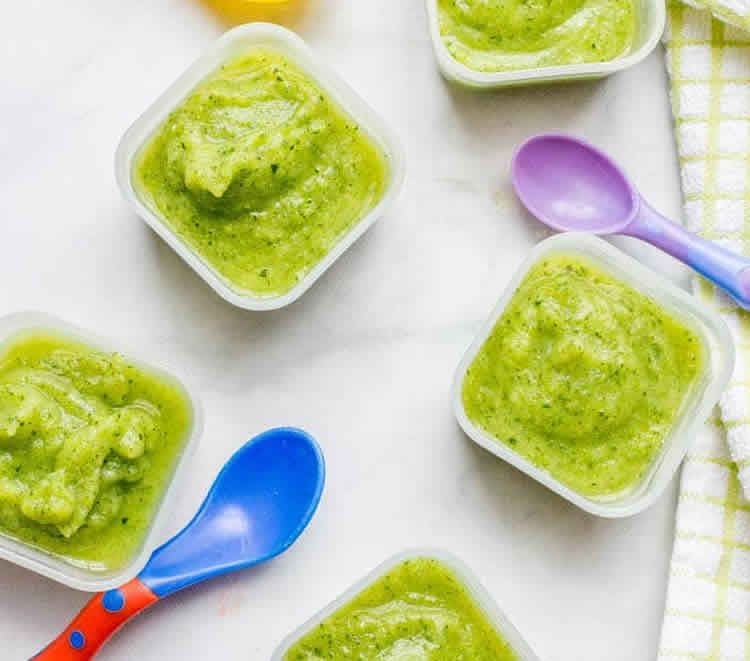 Broccoli contains a lot of vitamins A and C, fiber, useful trace elements (iron, copper, selenium, calcium, phosphorus, iodine). In addition, it is a very nutritious product, it contains proteins, fats and carbohydrates, which are so necessary for a growing body. Due to its unique composition, broccoli helps the digestive system, relieves the baby from constipation, and strengthens the immune system.
Important! If your child has frequent intestinal or pancreatic problems, they should not be given broccoli as their first food.
What is the right way to introduce broccoli into a child's diet?
Children are given cabbage at about 7 months of age, immediately after zucchini. Adaptation of the child to a new product takes a week. During this time, portions gradually increase - from 5 to 50 grams. It is better to feed the baby with cabbage for breakfast, first offering him a spoonful of mashed broccoli, and then feeding him with zucchini.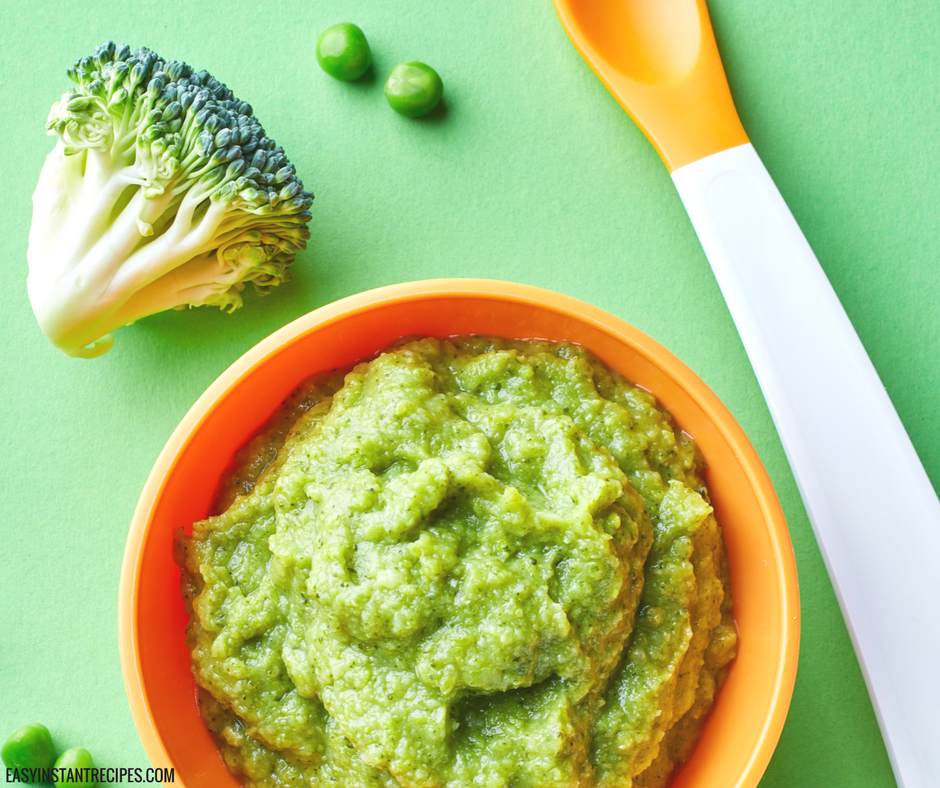 The first product day by day "forces out" the second. If the child responds well to broccoli, after a week he can be offered a combined puree, for example, from potatoes and cabbage.
How to cook broccoli for a child?
Before cooking broccoli, rinse thoroughly, separate the florets from each other, then cover with cold water and soak the vegetables in it for about 20 minutes.
How long to cook broccoli?
So that cabbage does not lose its beneficial properties, it must be steamed. This can be done without a steamer. Just put the broccoli in an enameled bowl, pour in a little water, cover with a lid and put on a slow fire. Broccoli takes 7-10 minutes to cook. They don't need to be overcooked!
How long to cook frozen broccoli?
Babies are best given fresh food. However, if this is not possible, frozen broccoli is also suitable. Just do not forget to feel the packaging before buying: there should be no ice inside.
Such vegetables are prepared similarly to fresh ones, but they do not need to be thawed and washed.
How to store broccoli?
Place the cabbage in a container of water if you intend to cook it within the next 12 hours. If not, broccoli is placed in the refrigerator on a separate shelf for vegetables and fruits. Before this, it is worth cleaning the cabbage from wilted inflorescences, placing it in a paper or plastic bag. It doesn't need to be tied. Store at 0 - 10 °C. Keep away from tomatoes, apples and carrots. From such a neighborhood, broccoli will spoil faster. In the refrigerator, cabbage should lie no more than five days.
You can freeze broccoli yourself. To do this, disassemble it into inflorescences, rinse, soak in salted water (a tablespoon of salt per liter of water). Cabbage is kept in this solution for about two hours. Then they are washed again, dipped in boiling water for three minutes, then taken out and immersed in ice water.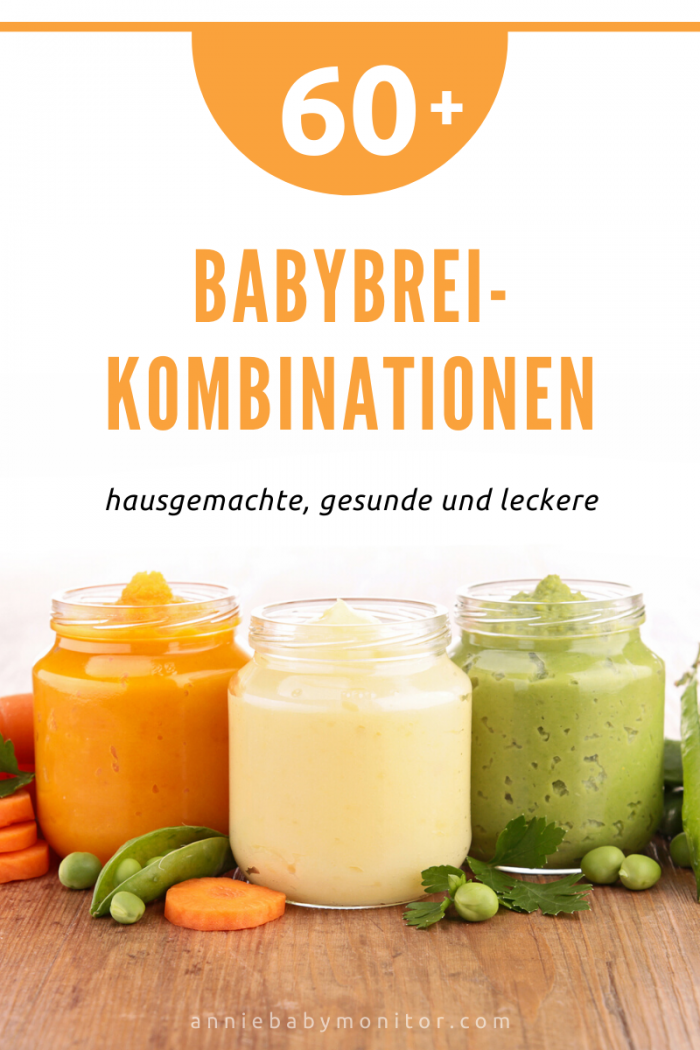 The cooled inflorescences are dried and placed in the freezer. Store them at -18 - -23 ° С. In this form, cabbage can be kept at home for a whole year. However, do not forget - fresh vegetables are much healthier for the baby.
Best Broccoli Recipes for Kids
Broccoli Puree
This dish is used at the beginning of weaning. To prepare it, you need to take 100 grams of cabbage, rinse and divide into inflorescences. Cook in a small amount of water over low heat. Broccoli is steamed for 10 minutes (in a double boiler - 15 minutes). The water does not drain. Beat the cabbage with a blender to the desired consistency or mash with a fork. To make the puree more liquid, add a spoonful of boiled water or breast milk to it. The dish does not need to be salted!
Broccoli soup for baby
Cabbage soup starts to feed baby from 8 months. There are two equally good creamy broccoli soup recipes:
Broccoli Potato Soup for Kids
Ingredients:
Broccoli - 300 grams
Potatoes - 300 grams
Carrots - 1 piece
Water - 1 liter
Preparation: Wash vegetables thoroughly, cut into pieces.
Dip carrots and potatoes into boiling water, after 10 minutes add broccoli. Cook over low heat for 5-7 minutes. Then remove the pan from the stove and beat the contents with a blender until smooth. Add some sour cream before serving.
Broccoli Soup with Rice
Ingredients:
Broccoli - medium head
Rice flakes - 2 cups
Carrots - 1 pc.
Onion - 1 pc.
Water - 1 liter
Preparation: Thoroughly wash the broccoli, separate into florets. Chop the onion, grate the carrot. Pour rice flakes into boiling water, cook for 15 minutes. Then add carrots and onions, after 5 minutes - broccoli. Cook for 10 more minutes. Blend the cooked vegetables in a blender until smooth.
This appetizing meal can be offered to your little one when they are one year old.
Ingredients:
Frozen broccoli - 1 bag
Eggs - 4 pcs.