Butternut squash baby food ideas
Stage 3 Butternut Squash Baby Food
HomeBaby
Jump to Recipe
Stage 2 and 3 Butternut Squash Baby Food is pureed butternut squash mixed with lots of fruits. Picky baby and toddler approved!
Homemade Stage 3 baby food recipe
This homemade butternut squash baby food is a nutritious Stage 2 and Stage 3 puree and made with butternut squash, fresh fruits and berries. Once the batch is ready (it takes less than 30 minutes), store it in the fridge or into baby food pouches so you can take it on the go. I love the healthy blend of fruit while my toddler can't get enough of the delicious flavors!
Can babies eat butternut squash?
Yes! Butternut squash can be introduced to babies as soon as they're ready to start eating solid foods (usually between 4 and 6 months). Its mild flavor, smooth texture, and variety of vitamins and minerals make it an excellent choice when your baby is beginning to experiment with different fruits and veggies.
Butternut squash is an excellent source of vitamin A, vitamin C, vitamin E, and multiple B vitamins. With all of these packed together into one delicious winter squash, your baby's eye sight, skin, bone health, and brain development will all benefit. Some parents find that squash can be constipating for babies, but with apples and berries included in the puree, digesting should be easy.
Storebought vs. homemade baby food
Making your own baby food from scratch rather than always picking some up at the store will give your baby plenty of nutrient-dense and filling meals without wreaking havoc on your wallet. These are a few of my favorite benefits:
They're flexible. You can make baby food using any combination of fruit and vegetables, making it easy to determine food sensitivities and provide a wealth of nutrients.
No added sugar. Making your own baby food gives you the chance to reduce excess sugar in your child's diet.  
It's affordable. You end up paying way more for the cost of ingredients in storebought baby food than you would if you bought the fruits and veggies yourself.
No junky ingredients. Say goodbye to preservatives! Homemade baby food doesn't contain any weird stuff that keeps the storebought food pouches shelf-stable for weeks on end.
Clean out your fridge. Forget about food waste because you can use up all of your fresh, baby-friendly fruits and veggies in the fridge when experimenting with pureed baby food recipes.
How to make butternut squash baby food
Once you make homemade baby food once, you'll never go back to storebought. It's so easy and ready after a few simple steps:
Cook the butternut squash and apple together in a pot of boiling water. Once the squash is fork tender, drain the water.
Transfer the cooked fruits to a food processor or blender and blend until smooth.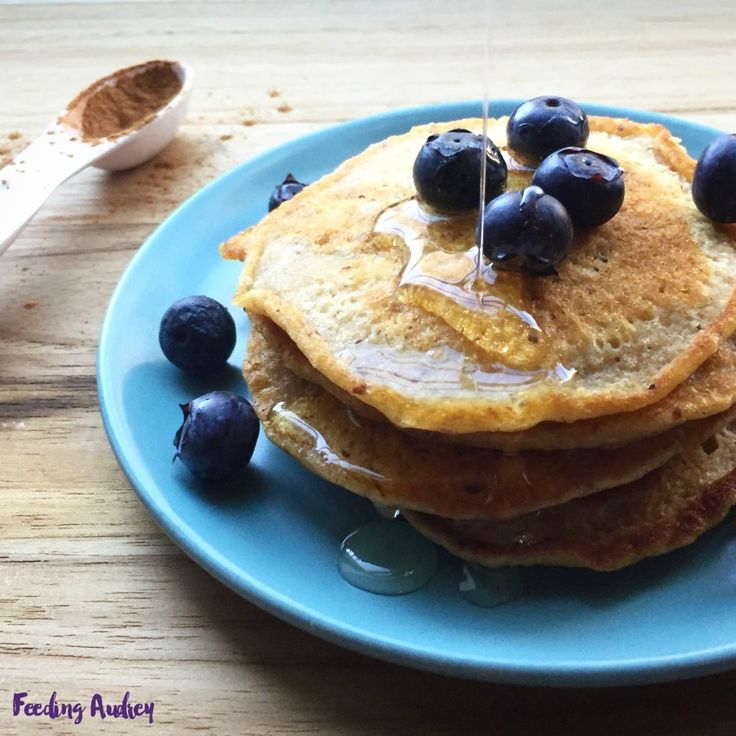 Add in banana, raspberries, and blueberries. Pulse until it's a smooth consistency.
Tip: Want to add veggies? Add in 2 stalks of celery – it's a sneaky way to add some extra nutrients into this baby food!
Serve the baby food once cooled down or place it in the fridge or freezer for later.
Tips and variations
Save time and deepen the flavor of the mash by roasting the squash ahead of time instead of boiling it. Just keep the roasted squash in an airtight container in the fridge until it's time to puree.
Serve the butternut squash puree with mashed lentils or beans for an extra dose of vitamin C.
Add even more to the puree, like strawberries, beets, leafy greens, sweet potatoes, lentils, beans, carrots, pears, and more.
Storing baby food
To store: Keep the leftovers in a sealed container in the fridge for up to 2 days.
To freeze: Baby food can be stored in airtight glass containers, silicone freezer storage cubes, or reusable pouches for up to 3 months.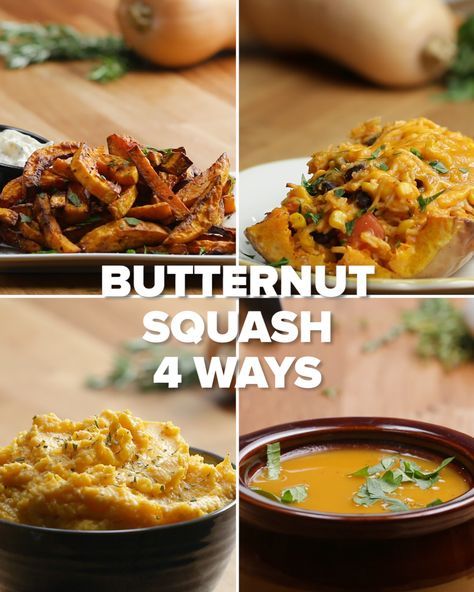 Need more baby food recipes?
Apple, Pear, and Banana Baby Food
Cinnamon Carrot Fries for Baby
Carrot Baby Cookies
Sweet Potato Fries for Baby Led Weaning
Pin for later:
Pinterest
Instagram
Facebook
5 from 2 votes
Stage 3 Butternut Squash Baby Food
Print
Stage 3 Butternut Squash Baby Food is easy to make and packed with nutritious pureed butternut squash, banana, apples and berries.
serves 4 cups
▢ 2 cups butternut squash peeled and chopped
▢ 1 apple (I recommend gala or fuji) peeled, core removed, chopped
▢ 1 banana
▢ 1/2 cup raspberries
▢ 1/2 cup blueberries
Bring a pot of water to a boil.  Add butternut squash and apple and cook on a low boil for 20 minutes.  After 20 minutes your fork should be able to easily go through the fruits and vegetables.   If it doesn't, cook for 5 more minutes or until your fork can easily go into them.  Drain.

Add butternut squash and apple into food processor (or blender).  Blend until smooth and no longer lumpy.

Add banana, raspberries and blueberries and pulse until baby food consistency. 

Serve immediately (after cooling down), place in refrigerator to eat within 2 days, or freeze for later usage.  I also love putting this food in reusable pouches for my toddler to snack on!
Course:Snack
Cuisine:American
Keyword:Butternut Squash Baby Food, stage 3 baby food
Did you make this?I love seeing what you've made! Tag me on Instagram at @BrooklynFarmGirl and don't forget to leave a below.
Reader Interactions
join the free recipe club
Receive My Favorite Recipes Straight To Your Inbox!
Butternut Squash Baby Food (Stage One)
This homemade Roasted Butternut Squash Baby Food Puree recipe not only contains calcium, folate, fiber, and vitamins A and C, but it is also a deliciously smooth way to introduce butternut squash to your baby! It's a great Stage 1 baby food for 4-6 months and up!
Medically reviewed Jamie Johnson, Registered Dietitian Nutritionist (RDN), and Lauren Braaten, Pediatric Occupational Therapist (OT).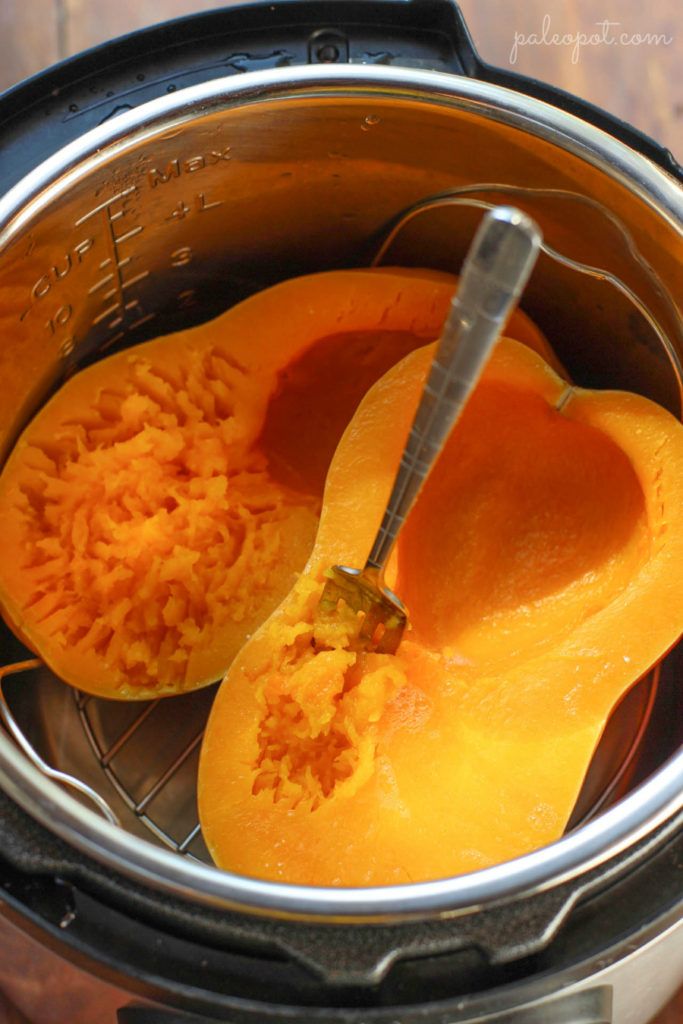 Butternut Squash Baby Food
This butternut squash puree is a quick and simple recipe that involves roughly 5 minutes of hands-on time! 🖐
We'll let the oven do all the hard work for the rest of the prep time. Cuz why should we work harder 💪 when we can work smarter? 🙋‍♀️
Butternut squash contains calcium, folate, fiber, and vitamins A and C and is considered one of the very best first foods for your baby.
Is it your first time making homemade baby food? Then I suggest you start this journey by reading my in-depth Guide on How to Make Homemade Baby Food. The detailed guide goes over all the important information such as the best cooking tools to have on hand, safe storage, how to know when baby is ready for solids, how to introduce purees, the best first foods for baby, and more! You can also check out my best-selling cookbook for even more information and recipes!
Butternut Squash Video
Watch this video to see just how easy it is to make this delicious puree for your baby!
Reasons to Love this Butternut Squash Puree
creamy and smooth
great for 4-6+ months
stage one baby food
healthy — full of essential nutrients for your baby
easy to make — requires only 5 minutes of hands-on time
babies will love the sweet and earthy taste
homemade
freezer-friendly 
budget-friendly
Health Benefits of Butternut Squash
High levels of antioxidants and vitamins A and C, which boosts the immune system and reduces inflammation
A good source of potassium that helps keep bones healthy
Contains a protein that may be a potent anticancer agent
Provides calcium to help strengthen bones and folate to help with brain development
Ingredients
Make sure to read the recipe card below for full ingredients and instructions!
Butternut Squash: This is an easy-to-find, inexpensive, and nutritious food for your baby! When selecting butternut squash, look for a firm squash that has a solid beige color skin without bruising or damage marks. The insides will range from bright yellow to burnt orange, so don't be alarmed if yours is somewhere in that color range.
Thyme or Rosemary: We are kicking up the flavor profile with a fun and fresh herb — thyme or rosemary. Either of these herbs will tone down the earthiness of the squash and ramp up its freshness and citrus aspect. You can't go wrong with either. But you can always skip adding herbs and spices to your baby food if you prefer (see more below).
Adding Healthy Fats Tip: If you are looking to add some extra healthy fat to your baby's meals, then you can drizzle the butternut squash with extra virgin olive oil before roasting. Olive oil is a healthy fat that is full of omega 3 and omega 6 that helps baby absorb vitamin D which is important for bone growth and strengthening.
Tools Needed
These tools will make it a lot easier for you to make this healthy Sweet Potato puree. For more of my favorite kitchen tools make sure to check out my online shop.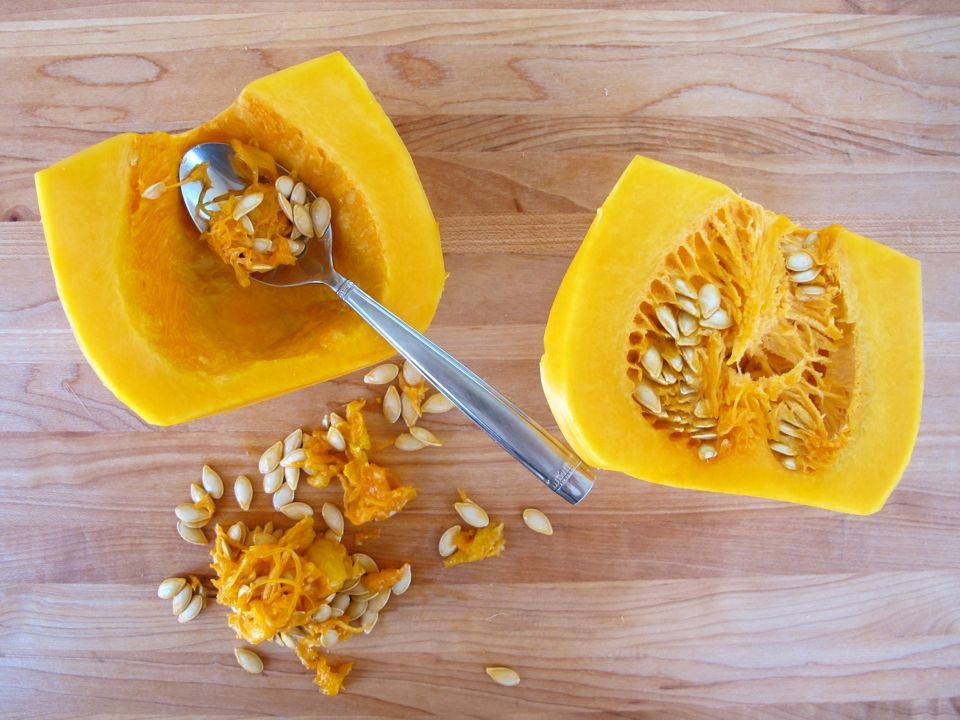 Baking Sheet
Blender or Food Processor
Knives
Freezer Tray
Storage Containers for Fridge
Stasher Bag
Bib with catch pocket
Reusable pouches
Step-by-Step Instructions
Heat Oven: Preheat the oven and line a baking sheet.
Prep Squash: Cut the butternut squash in half and scoop out the seeds. Place them on the baking sheet with the flesh side down, and brush with olive oil (optional).
Bake: Place the baking sheet in the oven and bake until easily pricked with a fork.
Scrape:  Let it cool, and then scrape off the skin until you only have the butternut squash left. Add to the blender or food processor.
Add Herbs: Add in a pinch of thyme or rosemary to the butternut squash.
Puree: Turn on the blender and puree until smooth, adding liquids if needed.
Serve or freeze for another meal.
Other Cooking Methods
While I love the earthly, caramel flavor of roasted butternut squash, there are several ways you can cook butternut squash for baby food. 
Steaming
Peel and roughly chop 1 butternut squash. Place the cubes into a steamer basket over 2 inches of boiling water for 10-15 minutes or until tender when pricked with a fork. Puree in a blender as directed below. 
Boiling
Place 1 peeled and roughly chopped butternut squash into a medium saucepan, add enough water to cover the butternut squash, and bring to a boil. Reduce to simmer and cook for 7-10 minutes or until tender when pricked with a fork. Puree in a blender as directed below. Note that boiling the butternut squash decreases the nutritional value of the puree since a lot of the nutrients are thrown out with the water after cooking. 
Saving Time Tip: Steaming or boiling butternut squash are great methods to use if you are using prepared or frozen butternut squash.
I have found both peeled and cubed fresh or frozen butternut squash in my grocery store, which are both viable options if you are short on time.
Frequently Asked Questions

Can butternut squash be baby's first food
Butternut squash can 100% be your baby's first food if you want it to be. It is recommended to wait to introduce the top eight allergen foods to your baby once a few other well-tolerated foods have been introduced, but otherwise, foods can be introduced in any order so choose whatever you are most excited for your baby to have.
Is butternut squash a common allergen for baby?
No, butternut squash is not a common allergen, however, as with any food, start with a small portion and be aware of any signs that might be an allergic reaction after introducing it.
When can baby eat butternut squash?
Babies can have butternut squash as one of their first foods.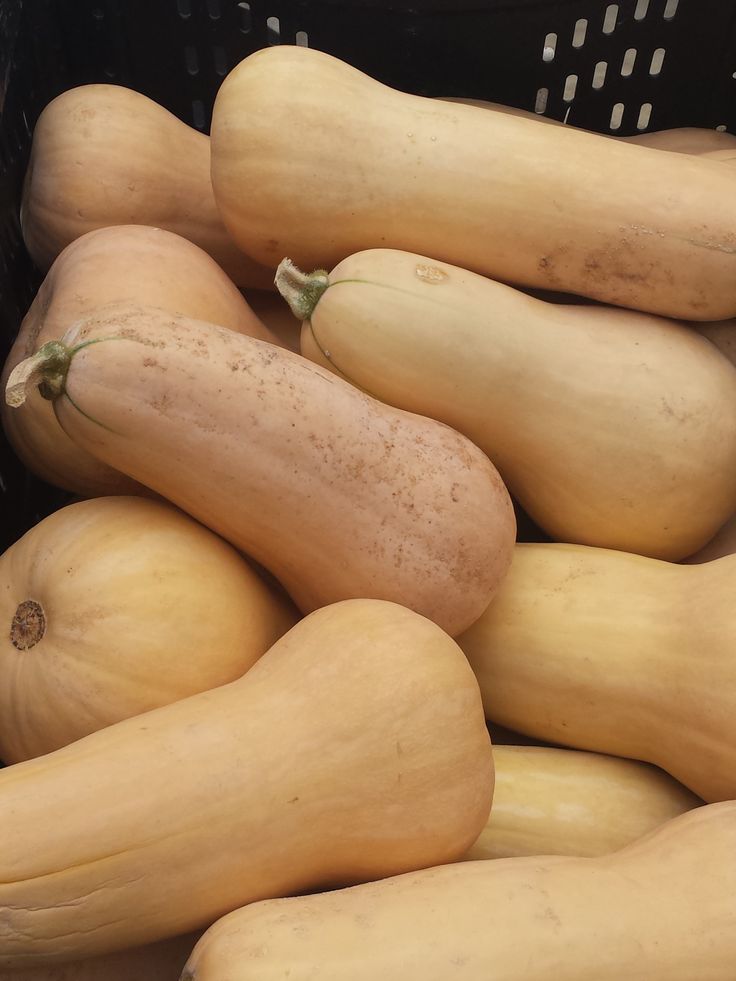 When a baby can start on solids is determined by their own rate of development, which generally comes between 4-6 months of age. Some of the developmental milestones babies need to reach in order to start solids include: if your baby has solid control of their head and neck, if your baby has doubled in weight, and if your baby is reaching for or opening their mouth when you eat (see my guide here). Before you start your baby on purees, you should consult with your pediatrician to make sure your child is developmentally ready.
Can you add spices or herbs to this baby puree?
Yes! You can add in a pinch of chopped rosemary to this recipe, but feel free to use the following spices instead: basil, cilantro, ginger, nutmeg, coriander, mint, cinnamon, or mild curry powder (see quantity recommendations in the recipe card). 
Tip on Spices: I always add spices or herbs to my baby food purees, but you can choose to leave them out in all of your baby food.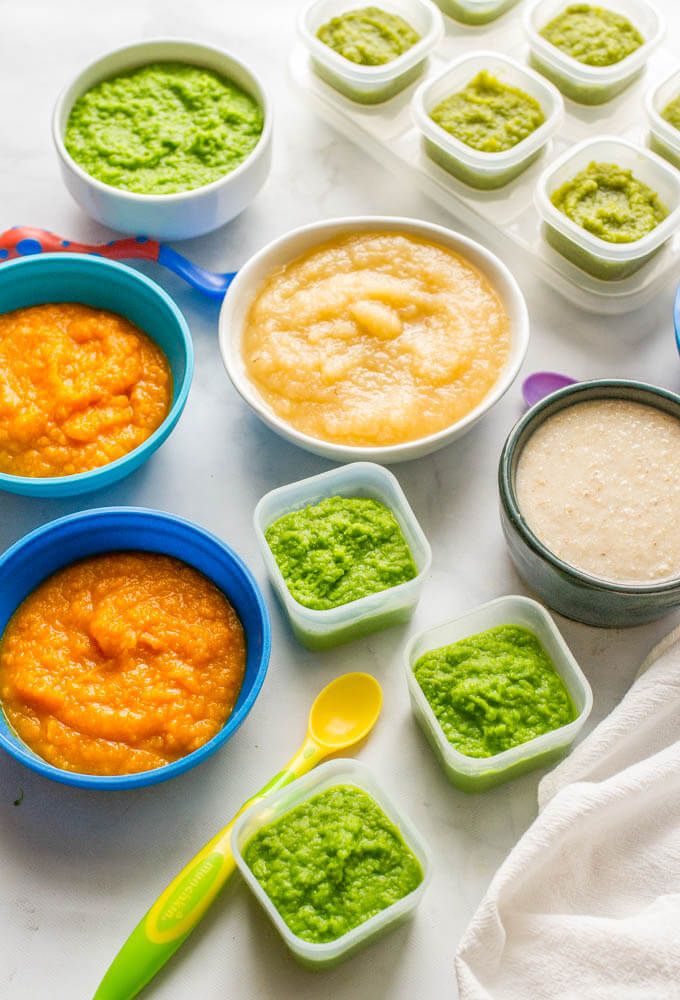 You do you! Either way, this puree will surely taste amazing. 
Does butternut squash cause constipation for babies?
Butternut squash, though unlikely, may cause constipation in some babies, so avoid giving too much.
How to Store Butternut Squash Baby FoodRefrigerator
You can store this puree in an airtight container in the fridge for up to 4 days. 
Freezer
This puree can be frozen for up to 4 months.
Spoon puree into a freezer storage container– do not overfill. 
Place the lid on the storage container or cover with a piece of saran wrap, and label with the date and recipe name. 
Place the tray into the freezer and let it freeze completely — preferably overnight. 
Pop-out the baby food cubes and place them in a ziplock baggie or stasher bag. Don't forget to relabel the baggie or stager bag for future reference.
Need more information on how to store your baby foods? Head over to my Best Baby Food Storage Containers – Plus 6 Tips on Freezing and Thawing post!
Label Tip: Don't forget to label your purees before you place them in the fridge or freezer with the name of the puree and the date you made it. Take it from me; by the end of the week, you will completely forget what is in your freezer and how long it's been there. 😉
Puree Feeding Tips
Follow your baby's lead – when feeding purees from a spoon, sometimes there's a tendency to keep offering bites past the point of your baby being full. Always follow baby's cues for when they are done eating. Turning away from the spoon, closing her mouth, or pushing food away are all signs that baby is finished with the meal.
Trial adding a little seasoning or spice to purees – babies like flavor! Or consider changing the temperature of purees from time to time, to slightly warmed or slightly chilled. Varying these aspects adds to the sensory experience!
Place a small amount of puree on the tray during spoon feeding, so that your baby can dip their fingers or hands in the puree. Allowing baby to explore foods in this way helps them learn to self-feed and can help them be more willing to try new textures and foods in the future.
Great Butternut Squash Combination Purees
While this butternut squash puree is tasty by itself, it's also super easy to mix and match with other nutrient-dense baby food purees. So give these fun flavor combos a try!
Apples
Carrots
Pears
Cherries
Quinoa Baby Cereal 
Chicken
Corn
Sweet Potato
Soft Tofu
Pumpkin 
Mango
Cauliflower
Yogurt
DID YOU MAKE THIS BUTTERNUT SQUASH PUREE?
 I'D LOVE TO KNOW HOW IT TURNED OUT! LEAVE A COMMENT AND A ⭐️ RATING BELOW 👇
Or watch a shortened version of the video here.
1 butternut squash
1 tsp fresh thyme or rosemary, roughly chopped
1-2 tsp olive oil (optional)
1/2-1 cup liquid (water, fresh breast milk, formula, stock or bone broth)
Preheat: Heat oven to 450 degrees F. Line baking sheet with a silicone mat, tin foil or parchment paper.

Prep: Cut butternut squash in half, deseed and place flesh side up, skin side down on the baking sheet. Optional – feel free to drizzle the squash with 2 teaspoons of olive oil for some added healthy fat.

Roast: Place the baking sheet into the oven and bake for 45-60 minutes or until you can easily prick the squash with a fork.

Peel: Let cool until you can handle the squash with your hands. Scrape the flesh off of the skin and place in a blender or food processor.

Add Herbs: Add the thyme or rosemary to the blender.

Puree: Turn on the blender or food processor and puree, adding liquid in 1/4 cup increments until you have the desired consistency. I had to add in 3/4 cup of water to my puree shown below.

Eat: Serve or freeze for later.
Age: 4-6 months and up
Yield: 25 ounces
Additional Spices: Feel free to sub the thyme or rosemary for 4 chopped basil leaves, 1 tsp chopped cilantro, 1/2 tsp minced fresh ginger, 1/2 teaspoon nutmeg, 1/2 tsp coriander, 1/2 tsp cinnamon or even 1/2 tsp of mind curry powder.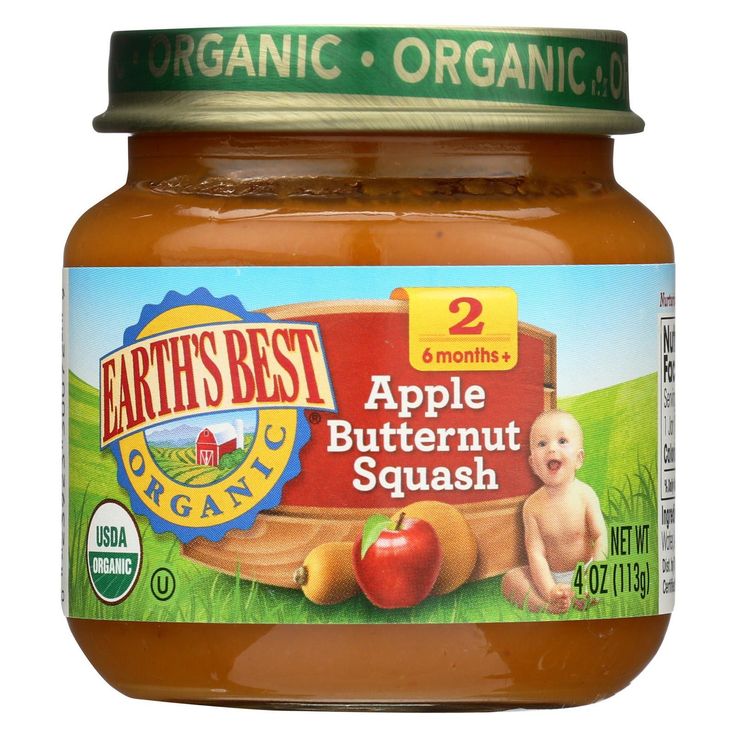 Freezer Tray
Blender
Silicone Baby Bibs
Bumkins Baby Bowl
Tripp Trapp High Chair
GreenPan Cookware
Did you make this recipe?
Tag @babyfoode on Instagram and hashtag it #babyfoode!
Pin Recipe Email a Friend
8 pumpkin dishes that children will love
Pumpkin is a valuable product, especially in a child's diet. It contains B vitamins, beta-carotene, potassium, magnesium, phosphorus and fiber. At the same time, you can cook a lot of both sweet and savory dishes from pumpkin - some of them will surely appeal to children.
Pumpkin porridge with rice
• Peel the pumpkin, cut into large cubes and simmer over low heat, adding a little water to avoid burning.
• When the pumpkin softens slightly, add a little more water and pour rice directly into the same pan.
• Mix thoroughly, add salt, sugar, cinnamon and a little citric acid to taste.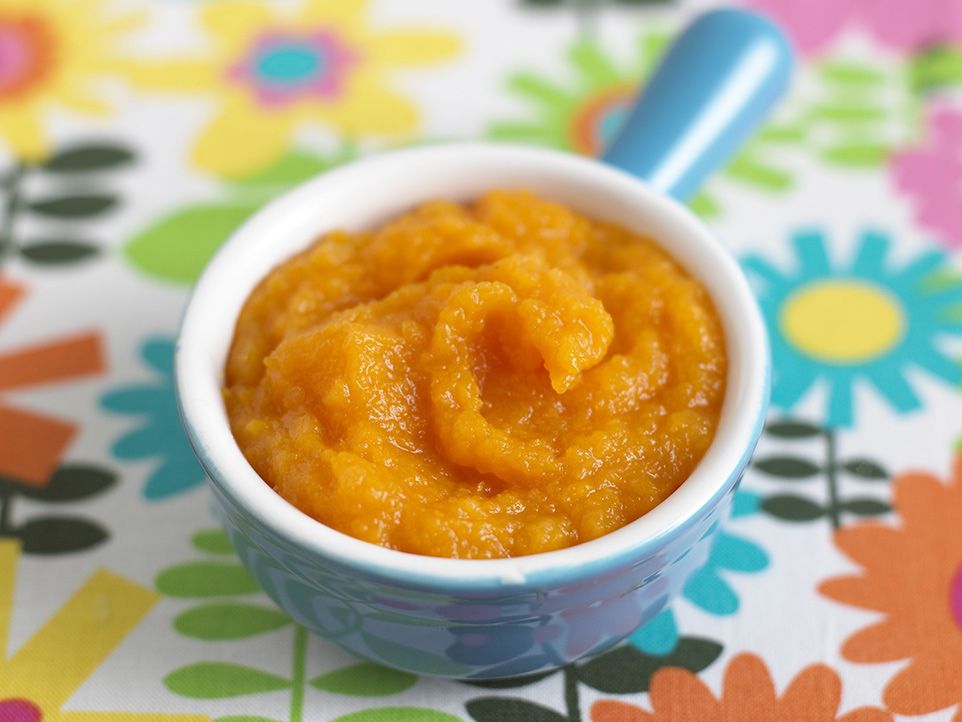 • If you want the porridge to be more "pumpkiny", add less rice and more pumpkin.
• You can add millet instead of rice, it will also turn out delicious. Serve with butter.
Pumpkin puree soup
Pumpkin puree soup, despite its simplicity, is popular in many restaurants. There are many recipes, we offer a basic one that you can adapt to the tastes of your family.
• So, fry 300-400 g of pumpkin pulp with onions and small carrots in butter.
• Puree in a blender, add hot milk or cream.
• Pour into a saucepan, bring to a boil, add spices, salt and serve, sprinkling cream soup with croutons or pumpkin seeds.
• If you add pre-fried chicken fillet pieces to the soup, it will turn out to be more satisfying, and with MAGGI® Super Seasoning "10 Vegetables" - more fragrant.
Baked pumpkin
This is perhaps the easiest recipe that even a child can handle.
• Spread the pumpkin pulp cut into large squares on a baking sheet covered with foil, bake in the oven until the pumpkin becomes soft.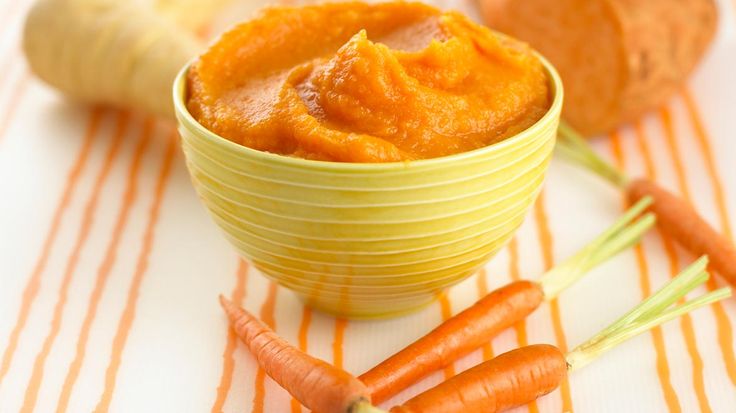 • Then sprinkle with cinnamon and drizzle with runny flower honey. Healthy dessert is ready.
By the way, the taste of pumpkin goes well with blue cheeses. If, instead of honey, pumpkin is sprinkled with dorblu cheese, you get a savory, but no less tasty dish - however, rather for an adult menu.
Pumpkin fritters
If you like pancakes made from zucchini or potatoes, then why not add pumpkin to them?
• Coarsely grate the zucchini first, then the pumpkin, salt and mix, and then gently squeeze out the excess juice.
• Depending on the amount of the resulting mass, add 1 or 2 chicken eggs, a little flour, mix and fry in a pan, like regular pancakes.
• Serve with sour cream.
Pumpkin chips
• Cut the peeled pumpkin into thin slices, brush with olive oil, salt, sprinkle with sesame seeds and spread on a baking sheet covered with baking paper.
• Bake at 200 degrees for about 15 minutes.
• Be careful not to burn the pumpkin as the baking time may vary depending on the type of pumpkin and the thickness of the slices.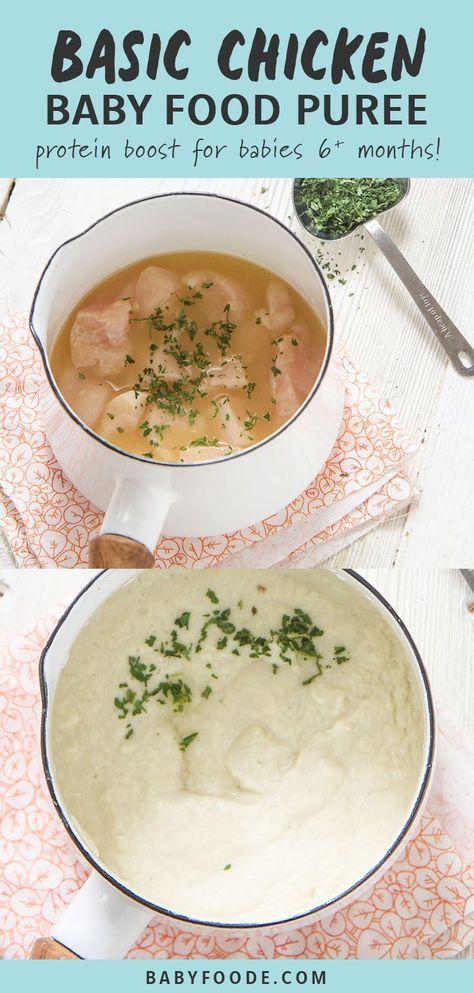 • Get an unusual snack, which can replace store-bought potato chips, cookies and other foods that are not the most healthy for a child.
Fresh pumpkin salad
• Coarsely grate pumpkin, sweet golden apples and carrots.
• Drizzle with olive oil, sprinkle with peeled pumpkin seeds. Healthy vitamin salad is ready.
Pumpkin Cheesecake
For the cheesecake base, you will need 250 g almond biscuits, 120 g butter and 1 tbsp. brown sugar.
For the filling: 250 g pumpkin, 200 g sugar, 500 g Philadelphia cheese, 2 eggs, 2 egg yolks, 200 ml heavy cream, cinnamon, ginger, salt and 3 tbsp. lemon juice.
• Grind cookies in a blender, add melted butter and sugar to it: you should get a soft plastic mass.
• Roll it out and lay it on the bottom of the baking dish, leaving low sides.
• Put in the refrigerator and take care of the filling. At medium speed, mix eggs, yolks, Philadelphia cheese and sugar with a mixer or blender, add pre-prepared pumpkin puree, lemon juice, spices and salt to taste.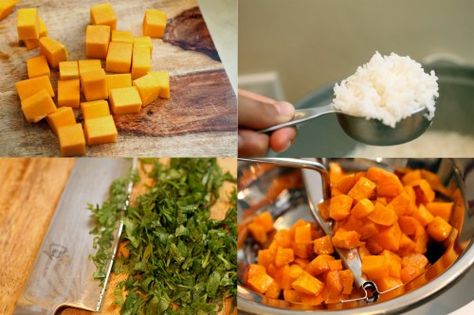 • At the end, add the cream and mix again until smooth.
• Pour the finished filling into the mold and send it to the oven preheated to 190 degrees for 50-60 minutes.
• When the cheesecake is done, let it cool straight out of the pan.
• Serve drizzled with hot chocolate or sprinkled with salted caramel.
Candied pumpkin
• Cut the pumpkin into small pieces, put in a layer in a large saucepan and generously sprinkle with sugar, top with sliced ​​lemon.
• Then again a layer of pumpkin-sugar-lemon and again, until the place in the pan runs out.
• Place the pot over medium heat, bring to a boil, cook for 5 minutes and let cool for 3-4 hours.
• Repeat the procedure one or two more times. The main thing is that the pumpkin is soaked in syrup, but at the same time the pieces retain their shape and do not turn into mashed potatoes.
• When the pumpkin has cooled for the last time, drain the syrup and send the candied fruits to dry in the oven.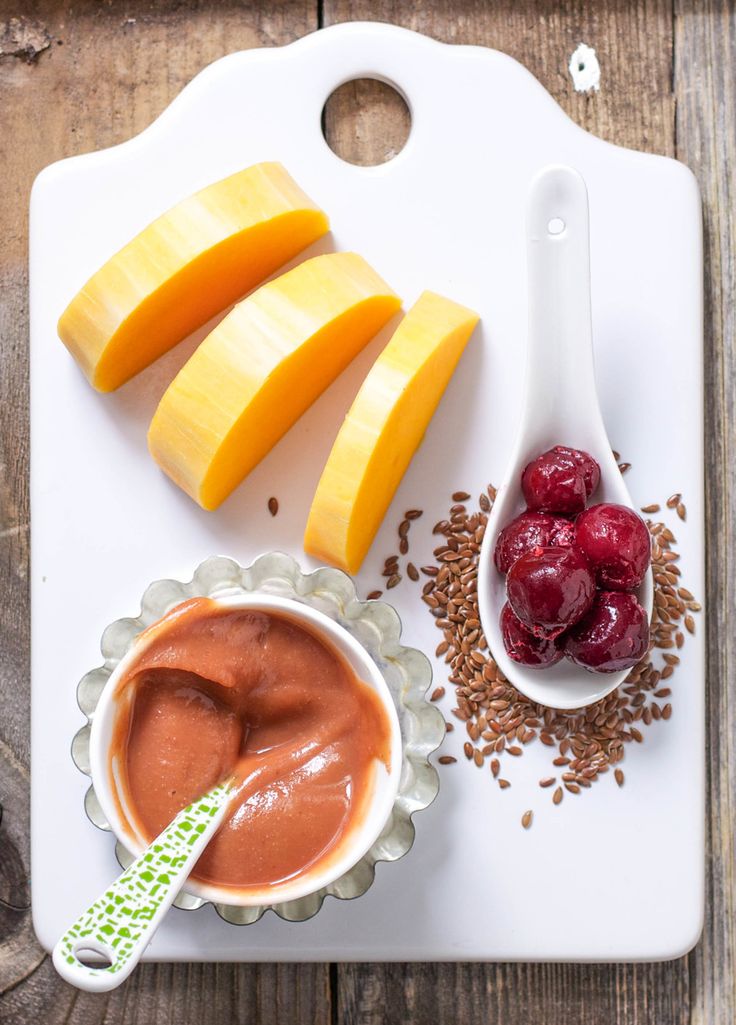 This will take about 4 hours at a temperature of 100 degrees.
• When the candied fruits have hardened, sprinkle with powdered sugar and serve.
• Store candied fruit in a closed jar.
Olga Vykhodchenko
Journalist
Pumpkin in baby food
Feature : can be introduced into the baby's diet from 6 months in the form of puree.
Pumpkin is a genus of herbaceous plants of the Cucurbitaceae family, belongs to melons. Pumpkin is a very large spherical or oval fruit. It is covered with thick smooth skin. Inside - juicy pulp and seeds.
Mexico is considered the birthplace of pumpkins. It has been cultivated there for over 3,000 years BC. It came to us in the middle of the seventeenth century - from the Spaniards. It contains magnesium, calcium, phosphorus, iron, copper, vegetable proteins and fats. Also, pumpkin has a lot of vitamin A, C, E, T.
100 grams of pumpkin contains 22 kcal
Vitamins

Macronutrients

Microelements

Vitamin PP - 0. 5 mg

Beta-carotene - 1.5 mg

Vitamin A (RE) - 250 mcg

Vitamin B1 (thiamine) - 0.05 mg

Vitamin B2 (riboflavin) - 0.06 mg

Vitamin B5 (pantothenic) - 0.4 mg

Vitamin B6 (pyridoxine) - 0.1mg

Vitamin B9 (folic) - 14 mcg

Vitamin C - 8 mg

Vitamin E (TE) - 0.4 mg

Vitamin PP (Niacin Equivalent) - 0.7mg

Calcium - 25 mg

Magnesium - 14 mg

Sodium - 4 mg

Potassium - 204 mg

Phosphorus - 25 mg

Chlorine - 19 mg

Sulfur - 18 mg

Iron - 0.4 mg

Zinc - 0.24 mg

Iodine - 1 mcg

Copper - 180 mcg

Manganese - 0.04 mg

Fluorine - 86 mcg

Cobalt - 1 mcg
Composition and nutritional properties of pumpkin
100 grams of pumpkin contains:
Proteins - 1 g
Fats - 0. 1 g
Carbohydrates - 4.4 g
Dietary fiber - 2 g
Organic acids - 0.1 g
Water - 91.8 g
Mono- and disaccharides - 4.2 g
Starch - 0.2 g
Ash - 0.6 g
Useful properties of pumpkin
Pumpkin is rich in many vitamins and nutrients. For example, vitamin C contained in it increases the immunity of a person as a whole, promotes wound healing, and strengthens blood vessels. Vitamin A contributes to the maintenance of good vision, vitamin T helps to accelerate metabolic processes in the body, prevents the formation of platelets.
Pumpkin dishes are recommended for people who suffer from diseases of the cardiovascular system, with cholecystitis, hepatitis, cystitis, nephritis. Pumpkin also improves bowel function, has a choleretic and diuretic effect.
Read also: Recipe of the week. Pumpkin Pie with Cinnamon
Contraindications for use
It is not recommended to use pumpkin juice for any exacerbations of gastrointestinal diseases.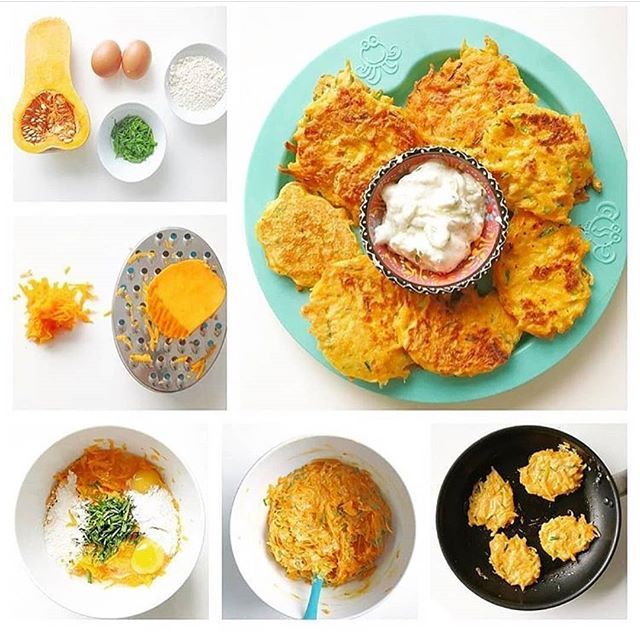 Pumpkin in children's diet
Pumpkin is a hypoallergenic product. Therefore, pumpkin is one of the first vegetable foods for a child. It can be given to a child in the form of puree from 6 months.
Pumpkin juice is also very useful, but it is not necessary to give freshly squeezed pumpkin juice to a child in its pure form. It needs to be diluted with water.
After the child is one and a half years old, you can diversify the pumpkin menu with soup, porridge, baked pumpkin, pumpkin curd casseroles.
Also, pumpkin dishes are recommended for children who suffer from diseases of the gastrointestinal tract.
Preparation and consistency
Pumpkin can be eaten both fresh and boiled, fried, baked. You can also prepare juices, marmalade, caviar, puree, jams, candied fruits. Pumpkin can be stored throughout the winter. Children of the first year of life pumpkin should be given in the form of mashed potatoes.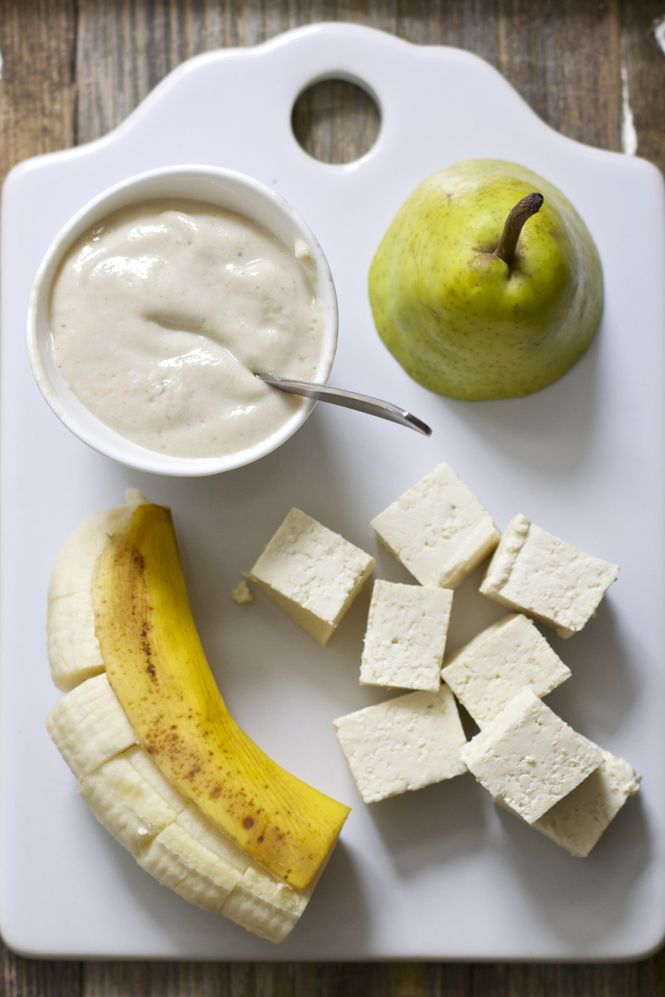 Culinary recipes from pumpkin for children
Puree for the first vegetable food (from 6 months)
Ingredients:
Preparation:
You need to boil a piece of pulp in a small amount of water. It takes about 20 minutes to cook. Then grind the pumpkin with a blender (or rub through a sieve). If the child does not like the taste of pumpkin, pumpkin puree can be diluted with fruit puree (if the fruit has already been introduced into the child's diet).
Corn porridge with pumpkin (possible from 8 months old)
Ingredients:
Corn grits - 2 tbsp. spoons
Pumpkin - 50 g
Preparation:
First you need to fill the corn grits with water and cook for five minutes.
Then you need to cut the pumpkin into cubes (pre-peel it from the peel and seeds). Place in a steamer bowl or on a baking sheet. Top can be sprinkled with sugar. Cook 20 minutes. Then you need to mash the pumpkin. This can be done manually with a fork or blender. Put porridge on a plate, put a flower of pumpkin puree on top. The middle of the flower can be made, again, from porridge.
Cottage cheese casserole with pumpkin (available from 18 months)
Ingredients:
Cottage cheese - 500 g
Chicken egg - 2 pcs.
Sugar - 75g
Milk - 50g
Semolina - 50g
Pumpkin - 200g
Preparation:
First you need to separately knead the cottage cheese with a fork and beat the eggs separately. Then mix eggs and cottage cheese. Add sugar, milk, semolina here and mix (or beat with a blender). Then you need to cut the pumpkin into cubes and add to the curd mass.