Can i feed my baby in the car seat
Newborn Car Seat Safety | Infant in Car Seat
As the due date for your little bundle of joy gets closer and closer, you're likely starting to realize that there is way too much to do, and you're running out of time to prepare. It can be difficult to prioritize all the different massive changes to your home and life! It's an exciting, but stressful, time.

One thing that should be at the top of your list is getting a car seat. This absolutely must be taken care of before you go into labor. It is never safe to have a baby, a toddler, or any child under four feet nine inches tall in the car without some sort of car seat. Newborns in particular require rear facing car seats. This kind of vital safety requirement is not something you want to leave until the last minute.
When to Install a Car Seat During Pregnancy
Purchasing car seats doesn't have to be the very first thing you do, but you might want to start saving up for one as soon as you know you're pregnant (or make it a baby shower request!).
The most important thing to keep in mind is that your car seat should be installed and ready before you're far along enough that labor is imminent.

Every state in the U.S requires that babies be secured in car seats. In order to be in compliance with state laws, hospitals will often require car safety seats as part of their discharge policies. Hospital staff may be required to actively observe the baby in a safety seat that meets regulatory standards before discharge can be completed.

That's why you need to have a seat sorted out before you're likely to go into labor. The last thing you want is to be stressing about finding a car seat when it's time to head to the hospital for delivery. The ideal time is anytime before active labor becomes an imminent risk.
Baby Proofing the Car Checklist
Getting the family car ready for baby is more involved than buying a car seat. If your vehicle is older, and doesn't have certain safety features, you may want to think about trading it in for something slightly more modern.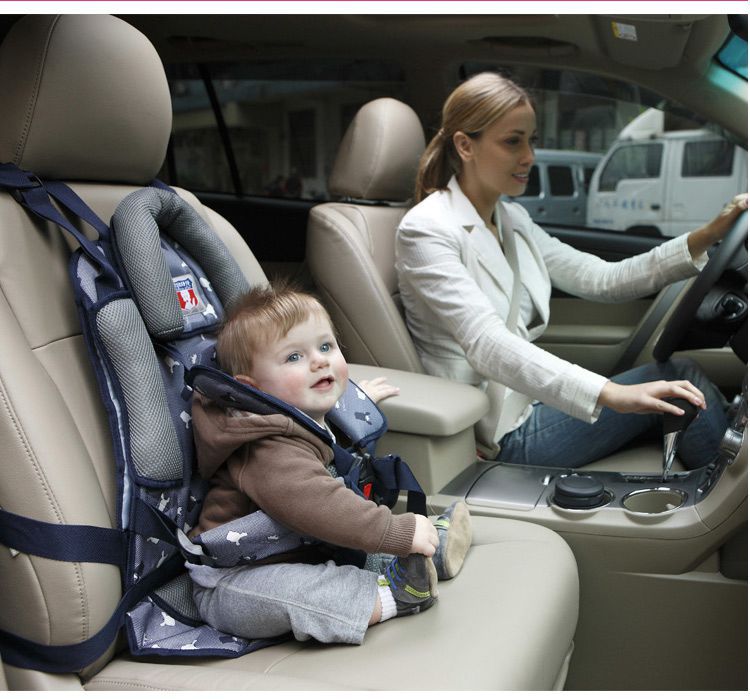 There are several key safety features you may want in a car for transporting children.

Child locks: These have been installed in American cars by default for decades. Unless your car was built before the 80s, this shouldn't be a problem, but it's good to double check.
Auto reverse windows: These windows are sensitive to objects in their path, and will reverse course if touched while moving. This will help stop little fingers from getting pinched!
A good safety rating:  Safety ratings are issued by the National Highway Traffic Safety Administration. Pay specific attention to the location of accessible safety seat latches.
Advanced front and side impact airbags: These go along with a vehicle's safety rating; better airbags could save lives!
Interior trunk release: This is a release mechanism inside the trunk of the vehicle. This is important because children are generally curious by nature, and in the past have been seriously injured by trapping themselves in a car's trunk.
Rearview camera: This safety feature helps prevent collisions while you're reversing, and will allow you to see if there are any little ones running around behind the car.
You'll also want to make sure you have appropriate emergency kits on hand for different situations. A good emergency kit for breakdowns and accidents is a necessity, but specifically for a baby, you'll want to keep a kit with all the things you might need on the road in a pinch. Diapers, wipes, and ziplock bags for soiled diapers and clothing items are all a good idea.

If you use formula, a bag with unopened packs of formula, baby bottles, and water, is ideal. If you use a breast pump, you'll want to make sure you have all the sterilized pump items, as well as pump car charger.

It's also a good idea to pack extra clothes for multiple weather conditions. Be sure to update the car baby emergency kit appropriately as your baby grows!
Baby on Board Decal
This is an important addition to your vehicle.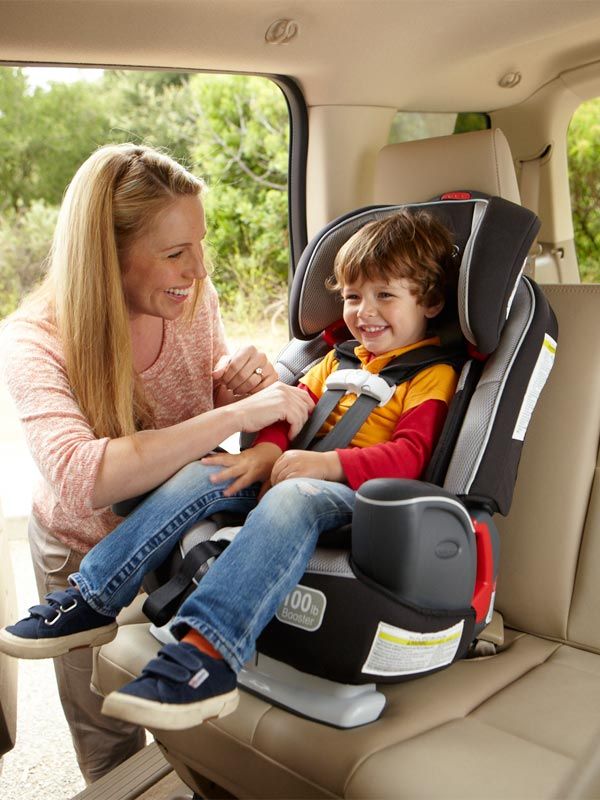 There can be stigma surrounding the "baby on board" signs, but when used properly they are very helpful. Their purpose is twofold; to inform other drivers to treat your vehicle with care, and to inform first responders of the presence of a baby in case of an emergency.

It's important to remember not to obstruct the driver's view with signs, so place the sign out of the way. Only use the sign when the baby is actually in the car.
Car Travel With Baby: Safety Tips
Here are some general tips to help in preparation for travelling with a baby on board. Babies make travel more complicated, but with the right preparation and know-how, the trips can be less stressful for everyone involved, including you and your baby!
How to Keep Your Baby Cool
Sun shades: you can get shades for the inside of the back windows to help keep the sun out of the baby's eyes, and it also helps to limit the buildup of heat from direct sunlight.
Car seat covers: can be useful in preventing car seats from heating up too much.
Park in shady areas: when you pile the family out of the car, try not to leave the car in direct heat. That way, when you come back, the car won't feel like a furnace when you first get in. It goes without saying that you should never leave children or pets in the car unattended.
Keep them hydrated: check on your child's hydration regularly. When they get old enough to hold a sippy cup and drink by themselves, make sure they always have a water cup when they're in the car to self-hydrate with.
How Long Can a Newborn be in a Car Seat?
Newborns should not spend very much time in car seats. This is because their bodies are very early in developmental stages, their spine is still developing, and their breathing may be weakened during prolonged periods of sitting upright. A two hour rule of thumb is recommended for babies; no more than two hours in a 24 hour period.

As children get older, this rule of thumb can be relaxed.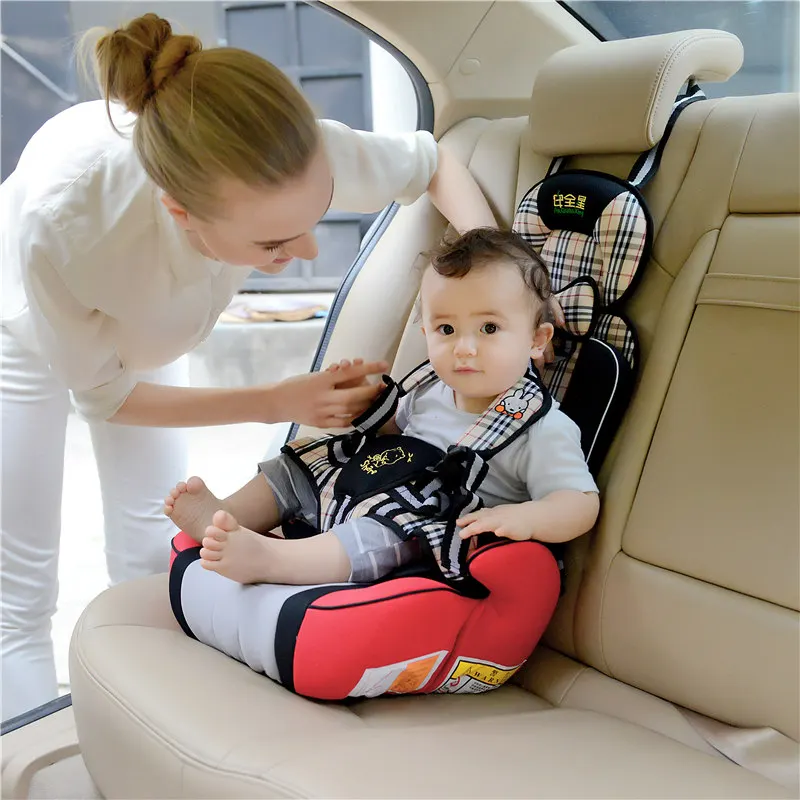 The two hour rule is still a good one to follow, however. The American Academy of Pediatrics recommends a break every two hours on long road trips, to get out of the car and stretch out the body.
Feeding Baby in a Car Seat
Ideally, feeding your baby in a car seat is something you want to avoid. If it's something you need to do, here are a few safety tips to keep in mind.
Don't feed baby while the car is moving. Bottles become projectiles in the event of a crash. Motion sickness is something to consider as well as choking hazards while a vehicle is in motion.
Don't feed babies solid items of food that could be choking hazards, like grapes, in the car.
If bottle feeding, attend to the bottle; don't just try and prop it up.
Try to protect the car seat as much as possible from getting messy. If it does get messy, follow the manufacturer's cleaning instructions carefully.
With the right planning and the right things on hand, travelling with baby doesn't have to be as stressful as you think.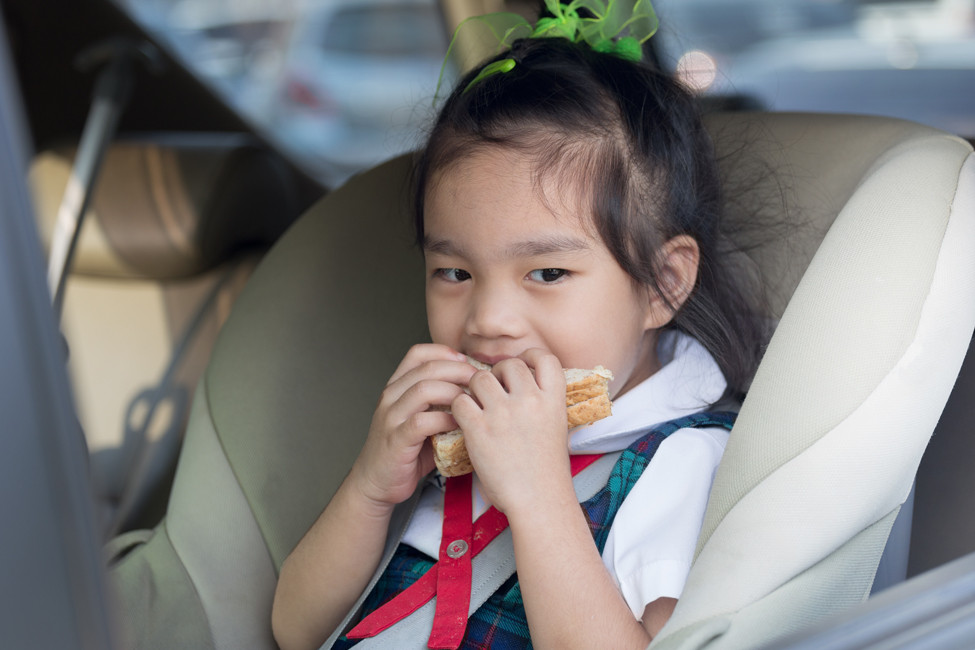 Just remember that safety is non-negotiable, and a little extra effort makes a huge difference.

Comments
comments
Can You Feed Baby In Car Seat?
Feeding your baby during a drive is expected. Even when you have tried to build an air-tight feeding schedule, sometimes it changes last minute. Nevertheless, you have to plan for the inevitable when it happens.
Yes, you can feed your baby in a car seat, but first, you have to find a safe spot and park your car. The reason is you cannot properly monitor your baby's feeding while you drive. It's an obvious safety hazard for both of you.
A happy baby makes a happy parent, so ensuring their comfort is essential. Feeding your baby during a drive cannot be avoided. Learn how to make this task go smoothly and more effortless.
Quick Navigation
Can You Feed Baby In a Car Seat?
Bottle Feeding
Solid Food
Breastfeeding
What Should I Consider When Feeding My Baby In A Car Seat?
What Can I Feed My Child While Driving?
What Not To Feed Your Baby In A Car
What Are The Best Baby Feeding Chairs?
Graco Swivi Booster High Chair
Features 
Ingenuity Baby Seat
Features 
Chicco Baby seat
Fisher-price Baby booster seat
Summer Deluxe baby seat
Conclusion
Can You Feed Baby In a Car Seat?
Yes, you can feed your baby in a car seat.
Here are some facts to consider and some feeding options you can use.
Bottle Feeding
Bottles are a great alternative when feeding your baby in the car. To use this option, you must stop the vehicle so you can monitor the baby. As babies' bottle-feed, they swallow a lot of air or can even choke. 
Some babies may not even be able to lift their bottles properly. Worse case, the bottle falls off their little hands. So you see, you need to be actively involved during feeding time.
Do not forget to wait and burp the baby after feeding. It is equally as important as feeding, as all that air needs to go out. The swallowed air while eating makes them gassy and fussy or sick. The bottle can even harm them in a fatal emergency.
Solid Food
Solid food is an appropriate feeding choice for a road trip. But as earlier mentioned, you have to monitor the child as he or she feeds. It may not be convenient, but it is necessary to prevent suffocation or motion sickness.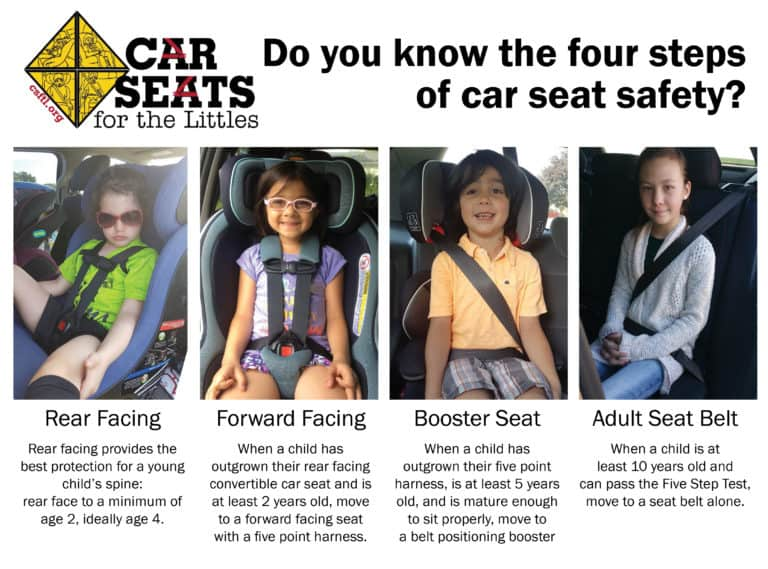 Solid-food options include cut-up fruits and vegetables. 
Breastfeeding
For obvious reasons, you must park your vehicle to breastfeed your baby. It would be best to use your seat belts and adequately strap your child during a road trip. Multitasking isn't an option in this feeding routine.
It is not safe for you and your child as well as other motorists on the road. Consider parking at a gas station or store car park and give your baby attention and feed her. Maximum, it will take you a few more minutes to get to your destination.
You are probably wondering," why don't I feed my baby when I get there?" while that might work since you know how long it will take you to get to your destination, but it's hard to ignore their cries. You need to be able to focus on the road entirely. 
What Should I Consider When Feeding My Baby In A Car Seat?
Car feeding cannot be completely avoided, so be better equipped for when it happens.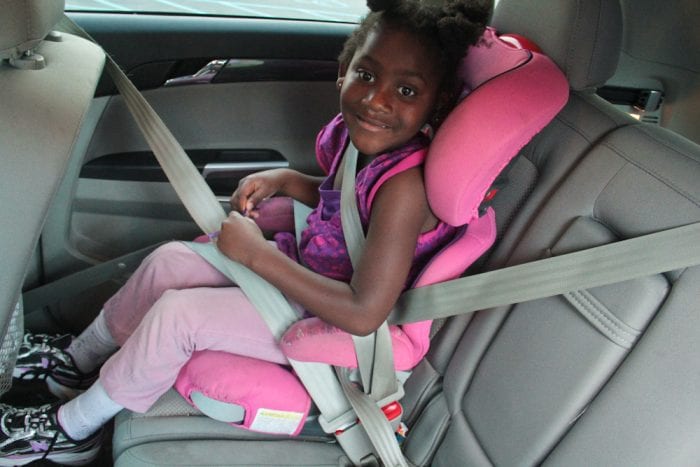 Be prepared to feed at any time.
Supervise the baby feeding.
Burp your baby after mealtime.
Don't starve your baby longer than necessary as it would affect milk production.
Remember, safety first.
Bottle-feeding is not safe in a car in motion because the bottles become a potential hazard in emergencies.
Solids like chopped up fruits can choke a baby.
Monitor or hold up the bottle for your baby as it can slip off their little hands.
Eating in a car seat gets it dirty in no time. Consult the car seat manufacturer's manual to find out cleaning and maintenance expectations.
What Can I Feed My Child While Driving?
We have put together ideal feeding materials to make meal-time easier as you drive. Please note that your child should be old enough to chew their food correctly, grip items, and burp on their own.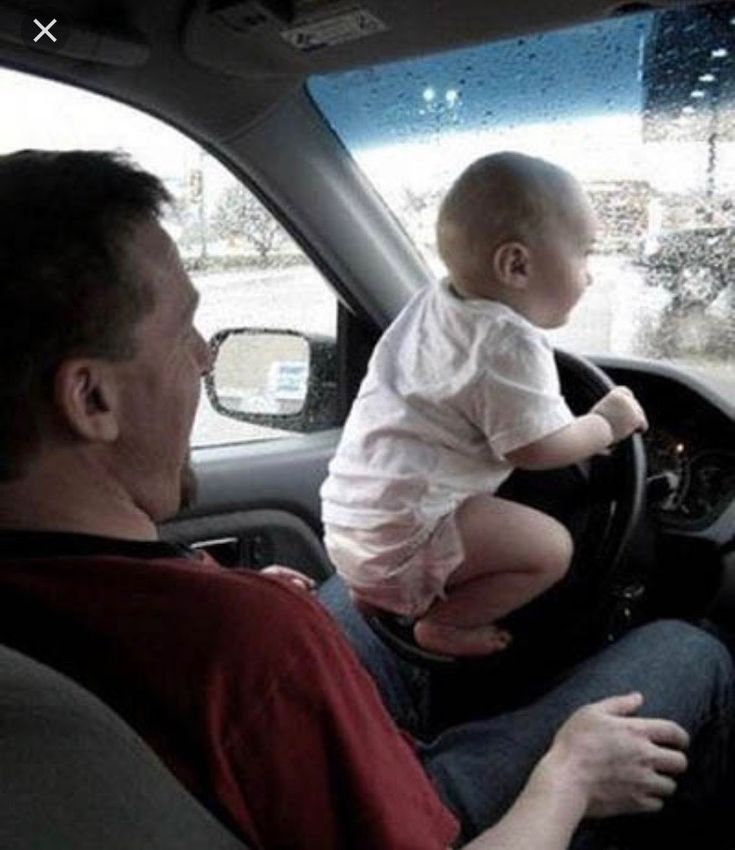 Below is a list of easy to eat food and feeding essentials.
Meal Pouches  -Meal pouches may contain mashed fruits or other suck-on-the-go meals. Some manufacturers make them from silicon, so they are soft to chew on and great for teething babies.
Car Safe Sip Cups- These cups are usually made out of silicon and are no potential hazards in an accident.  They are perfect for hydrating your baby during a road trip.
Car Safe Travel Bottles- These kinds of bottles imitate hot water bottles. Manufacturers make them with soft but durable materials. You can fill them with any liquid-based meal of your choice.
Feeding Bibs– no matter how covered or sealed a baby's meal pouch is, they would still spill. A feeding bib is convenient and easy to wash. The baby should wear it over their safety harness; remember safety first.
What Not To Feed Your Baby In A Car
If your toddler is up to the age when they can feed themselves, it is easier to let them eat while driving.
It is essential to point out that some food items are potential choking hazards. Here are six of them;
Whole grapes and cherry tomatoes 
Popcorn
Chips
Peanuts or any other type of nuts
Carrots
Chopped up sausages
What Are The Best Baby Feeding Chairs?
After thorough research on car seat feeding chairs,  we can recommend five. Our list is primarily based on how versatile they are. 
Graco Swivi Booster High Chair
Cost: $55.00
Material: Plush
Dimensions (inches): 24 x 20.4 x 22
Colour: available in two colors; Abington and Albie
Features 
Graco Swivi is manufactured to adjust and accommodate your child from birth to toddler.
The Graco swivi rotates smoothly in any direction. 
The seat has  comfortable head and body pads with room for your baby's growing body.
Ingenuity Baby Seat
Cost: $52.25   
Material: Foam
Dimensions (inches): 15 x 17 x 12 
Colors: comes in four different colors.
Features 
It can fold compactly and easy to move around.
It has insert pads to fit smaller kids snugly, and you can remove them as the kid grow.
You can store the detachable tray beneath the seat.
Chicco Baby seat
Cost: $54.00
Material: Metal
Dimension (inches): 25.3 x 14.2 x 14.3 
Features
The Chicco seat compacts entirely, causing it to be carried around easily.
It doesn't require a chair to set up.
You can hand wash the seat pads.
It has a practical and secure harness to keep your baby safe.
You can clean the entire seat with mild soap or hand-wash.
Fisher-price Baby booster seat
Colour: Green and blue
Cost: $34.99
Dimensions (inches): 12x15x8.5
Features
Fisher-price is easy to clean, and it doesn't catch and store food crumbs.
It stores compactly and can easily be carried around.
You can clean the seat with soap and water.
It contains inserts that you can remove to fit the baby's body.
The manufacturer permits the feeding tray to be machine-washed.
Summer Deluxe baby seat
Colour: Tan, Grey, and pink
Cost: $24.99
Dimensions (inches): 14.5x 17.5x 13.5
Features
The summer deluxe folds flat 
The summer deluxe is durable, affordable, and compact.
It is adjustable and can accommodate an infant and a toddler.
Comfortable for your baby
Conclusion
Feeding your baby in a car cannot be avoided even with air-tight schedules.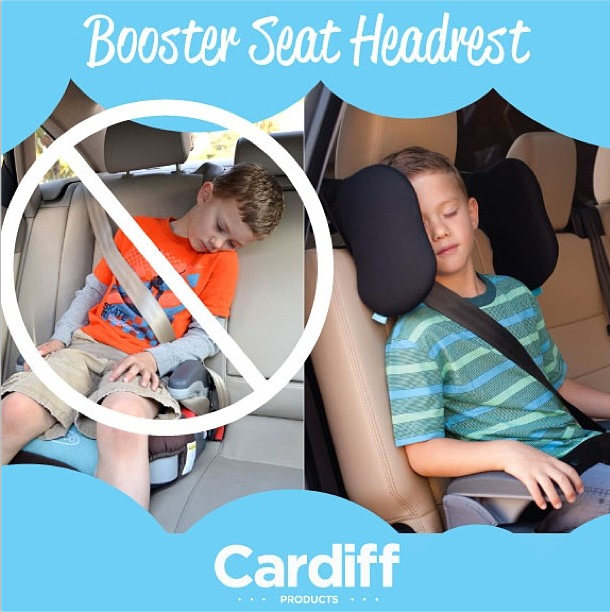 Park your car first, if you decide to feed your baby during a drive. Monitoring your child as he/she feeds is necessary. Your focus should not be divided while driving, so prioritize and do the needful.
Breastfeeding in a car seat. How? — Studiopedia
Share
So, we have agreed that we carry the baby only in a car seat, and under no circumstances
we take it out of it on the go. This rule must be ironclad.
But what to do if the baby is accustomed to frequent breastfeeding? Frequent
infant feeding is a normal and natural process. In addition to feeding,
it is easier for the child to cope with changes in the environment, with fear, it is easier to fall asleep, etc.
So how do you feed a baby in a car seat?
At one time, I read about such an opportunity - to feed a child right in a car seat
- from famous writers and parents of 8 children William and Martha Sears, but how exactly to do this
was not said.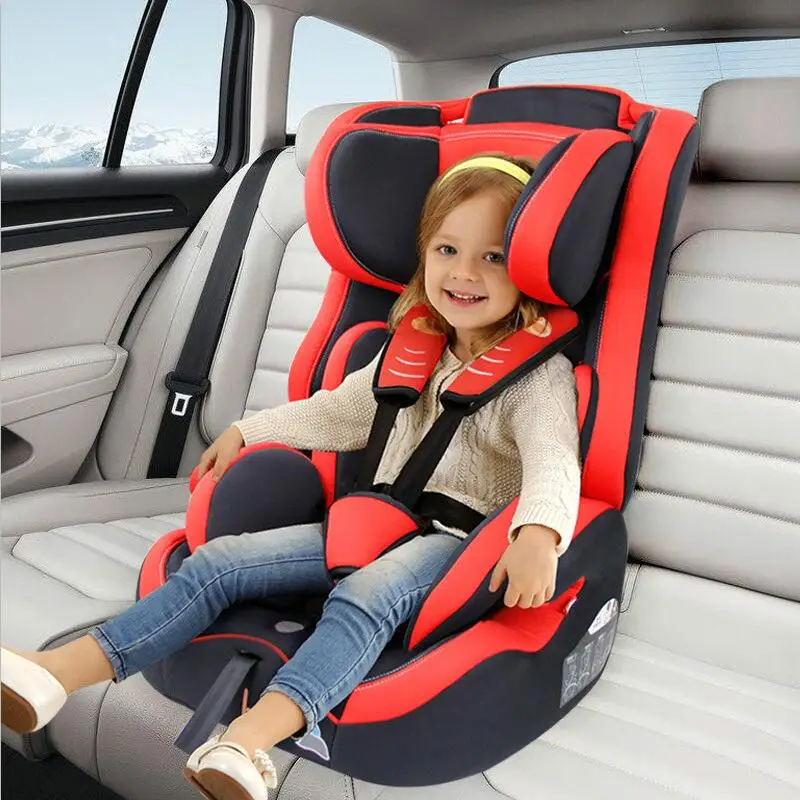 And I thought that if someone got used to it, then I can
. And I did it.
So, if the baby is under one year old and lies in the cradle head towards you (against the direction of travel), then
is the easiest way to feed. You just lean over him and the nursing clothes do a
the process is convenient and simple. The rest is a matter of technique and habit. If the sides of the car seat
interfere a little, rest against the stomach, then you can slightly tilt the child's seat towards
yourself.
It is inconvenient to ride in this position for a long time, but it is quite possible to feed the baby and/or allow him/her to fall asleep again
if he/she becomes restless in a dream. Then the baby either
releases the breast himself, or you carefully take it yourself. If the child does not let go - wait
a little while longer until he falls into deep sleep and is ready to let you go.
There is one more point that I would like to highlight.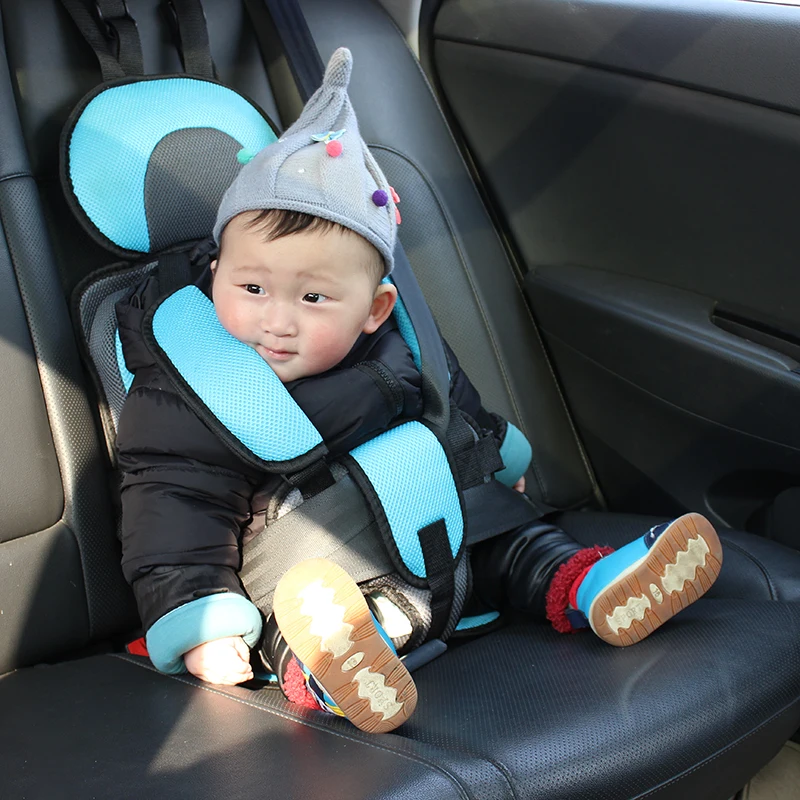 While the car is moving, when it
gets into pits, potholes or any other bumps in the road (which is quite common in Russia
) - make sure that on such bumps the child does not accidentally bite your chest
.
In my case, when we fed in the car quite often and for a long time, there were not 9 such situations0003
arose, although theoretically I understood that they could be. Firstly, I always
attracted and slightly tilted the child's chair towards me. And even if we bounced on the
bump, we did it synchronously, together with the chair and the child :). Secondly, when I needed
to feed the child in the car, my husband slowed down and tried to drive as carefully as possible
. It is also possible to feed a child from the farthest breast, although you will have to stretch
a little further.
As for feeding children after a year who are already sitting facing forward in high chairs
, this is also possible, although a little more technically difficult.
In order to
feed a forward facing child, I turned my seat backwards
(facing the child) and knelt on the chair. She wrapped her arms around the child seat
, and the child could easily eat. It was no longer necessary for a grown child to feed for a long time
, such feedings were rare, but they helped a lot if we drove at night, but0003
the child woke up. The husband in this case also slowed down and drove as carefully as possible
.
That's probably all the "tricks" of breastfeeding in a car seat :)
total trip. You can feed your baby inconspicuously anywhere, and no one will even
pay attention to you and understand what is going on there. In Europe, by the way, absolutely
are normal for breastfeeding women, and in many museums, large stores and
malls you can find a mother and baby room where you can safely change
a diaper and feed your baby. Part 2. What to do with a child 1.5 - 5 years old in the car.
Traveling with older children is, on the one hand, a little easier. The child can already say,
, what he wants, or somehow show and explain it, if he does not yet say, or can say,
, what he does not like. On the other hand, they sleep less, and physical activity and
The need to explore the world is very high in most children during this period.
After one and a half years, it is difficult for children to be in a car seat for a long time without moving.
The most optimal thing is to go during the daytime sleep of the child, having previously taken a good walk
with him and fed him. Plus - a short time right after sleep, they usually still
go well. For a while, children can endure the path with games and entertainment. If
the road is long, then it may be easier for you to drive at night. For baby
transfer
a big move while sleeping is the easiest and most comfortable option.
How to keep your child safe in the car as much as possible - Life hack
www.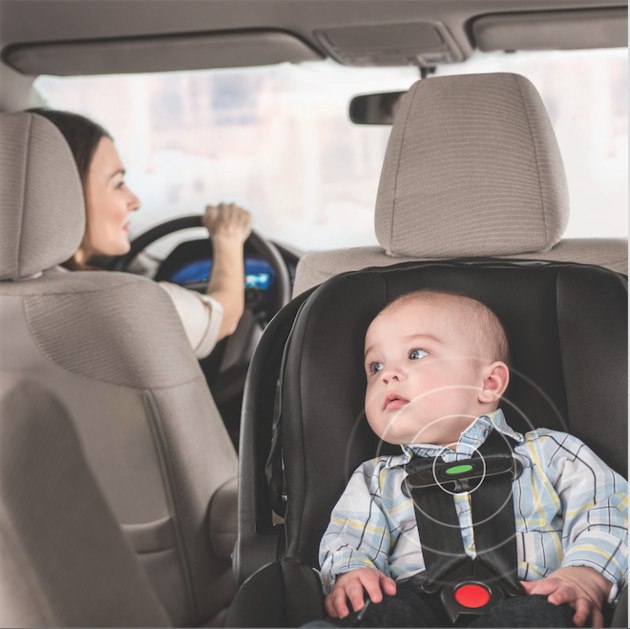 cavatoyota.com
using ISOFIX. But is one such measure enough to completely protect the child on a trip?
Ivan Flyagin
Recall that a month ago there were changes in the rules for transporting children in a car. Now paragraph 22.9 of the SDA provides that in a car equipped with seat belts, children under 12 years of age in the front seat must ride exclusively using a special restraint. In the back seat, a car seat or infant carrier is required only for those under seven. Children older than this age can only wear seat belts. However, the safety of young passengers is not limited to traffic rules.
First of all, you need to choose the right car seat, because according to statistics from the World Health Organization, a restraint in a car reduces child deaths in accidents by 54%, and the risk of injury by 70%. In this case, avoid half measures and do not try to save money on buying frameless chairs, boosters and other cheap and dubious devices, which, according to our controversial legislation, can also be considered restraints.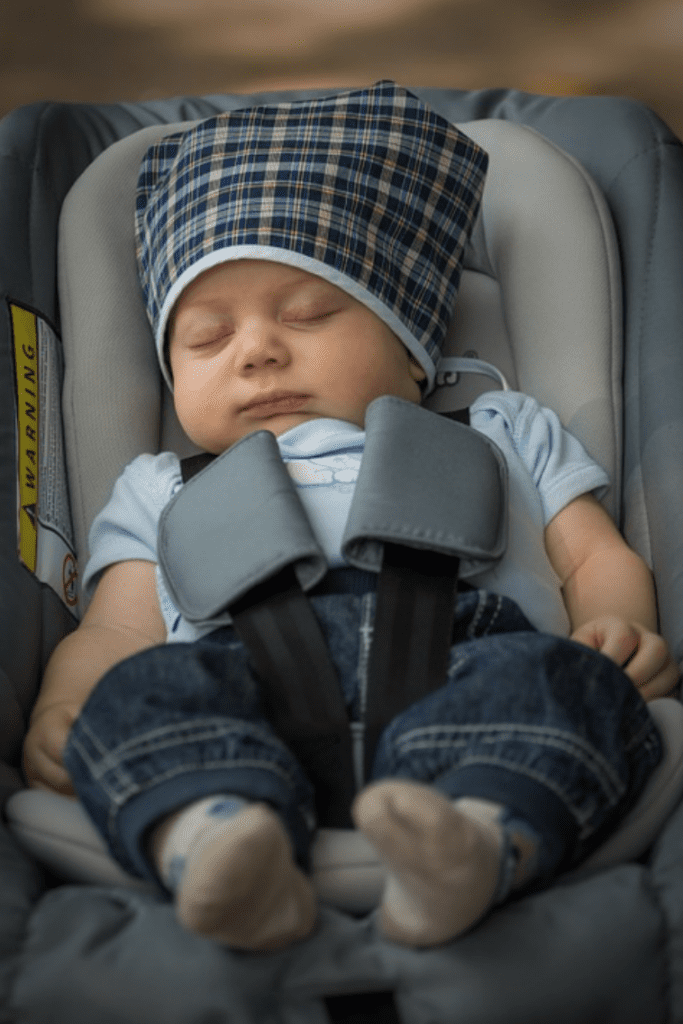 www.esellerpro.com
It is advisable to choose a chair from a well-known manufacturer with a proven track record with a mandatory safety certification mark, which the seller must show you. When choosing, you should be guided by the height and weight of the child, taking into account the appropriate categories of car seats.
The ISOFIX system allows you to firmly fix the restraint to the car body, but if this option is suddenly not available in your car, try to fix the seat as firmly as possible using the standard seat belt. In any case, the installation instructions must be strictly followed. Prerequisite: the restraint with an infant under 15 months is installed so that the baby is facing backwards.
Moreover, such a chair, directed against the motion of the car, must be equipped with a supporting structure resting on the floor of the car, which will protect the child in case of a frontal impact and ease the load on his cervical spine. On the back sofa, it is safest to install a car seat either in the center or behind the driver.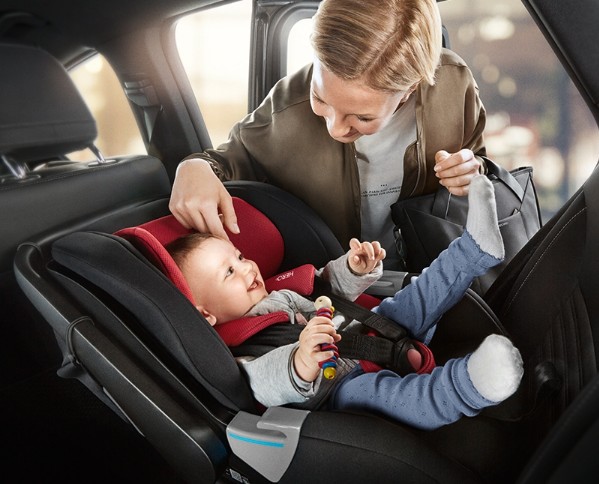 The most risky option is to put the child in the front passenger seat next to the helmsman.
When fastening children, make sure that the seat belts are tightly tightened, and keep in mind that the farther they are from the child's body, the more severe the impact in an accident. Never allow children to remove the upper part of the belt from the shoulder and slip it under the arm while driving - this can cause serious injury in the event of a collision. While driving, children must always remain in their seats with their seat belts fastened tightly.
118376
www.expertreviews.co.uk
When driving, make sure that all items in the car are securely fixed, and in case you have a crossover, station wagon or hatchback, the luggage cover must be tightly closed . An unsecured tablet, book or water bottle turns into a destructive heavy projectile in a collision with a car, capable of killing not only a child in a confined space. What to say about more weighty subjects.