Dog biscuit recipes with baby food
Easy Dog Biscuits Made From Baby Food - Fun Dog Treats to Make!
by Denise
These easy dog biscuits are made entirely from baby food.  This is an easy, economical and healthy way to treat your dog.
You might also like these natural homemade dog treats too!
This post contains affiliate links. For more information visit our policies page.
This is Izzy. She's my little sweetheart. I put off getting a dog for so long, and now I can't imagine life without her. None of us can. My whole family is smitten with her. Enough about Izzy, clearly this post is just a poor attempt to post pictures of her. 🙂
However I do like to make her healthy, wholesome treats. These easy dog biscuits were made just from baby food and they were so easy. I figured if baby food was good enough for a baby, it was good enough for my Iz.
Dog Biscuit Recipe Disclaimer 
 I am not an animal expert.
Please check with your vet to see if what you are using is safe for your dog. Here is an article about what people foods are good for your dog. These foods are toxic and should never be given to your dog: chocolate, onions, grapes, raisins, yeast dough, artificial sweeteners, macadamia nuts, avocadoes, alcohol, or coffee. 
Dog Biscuit Ingredients I Used
One of the reasons I used baby food was because we had some leftover oatmeal cereal like this from when my granddaughter visited last. I thought oatmeal cereal would essentially act as oat flour and by adding some chicken, sweet potatoes and carrot baby food, you almost have a complete meal!
Essentially all you do is mix the jar food with the oatmeal and make a stick dough. Then you roll it out on a silicone mat by taking a greased piece of wax paper and placing it on top of the dough. Then using a rolling pin, roll on top of the wax paper so the dough doesn't stick to the rolling pin.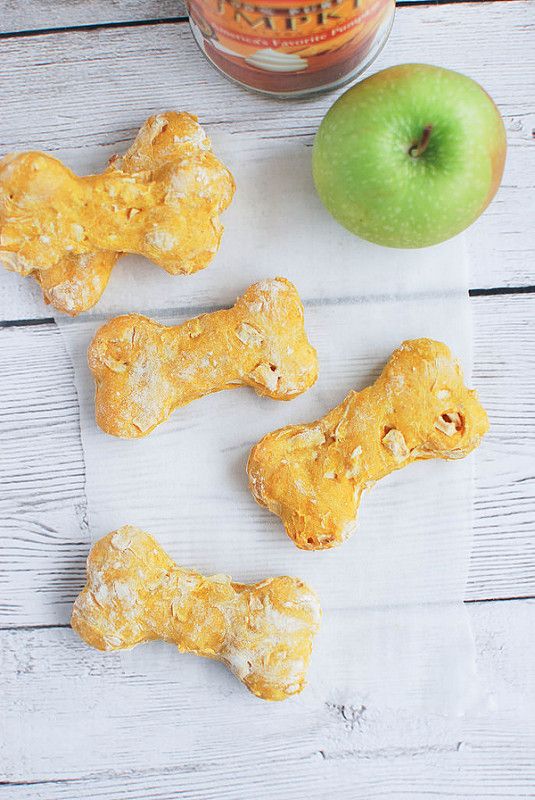 You want to roll it to about ¼ inch thick. Then use cookie cutters to make the biscuits. I got these from Amazon and love them!
Dog Biscuit Recipe In A Nutshell
Mix jar baby food and baby oatmeal to make a sticky dough.
Roll it out on a piece of parchment paper or silicone mat. You will need a piece of grease wax paper to place on top before rolling.
Using a rolling pin over the wax paper to roll the dough about ¼ inch thick.
Use cookie cutters to make biscuits.
Bake for 20 minutes or desired chewiness or crunchiness.
Bake them on another silicone mat (you can use parchment paper too) until they are nice and brown. I didn't make mine too crunchy. You can always cook them longer to make them crunchier. Sometimes I turn off the oven and keep them in there as the oven cools down and they continue to bake. Just make sure to watch them so they don't burn.
I tried to get some good pics of Izzy eating them but it was hard to hold the camera and the biscuit at the same time.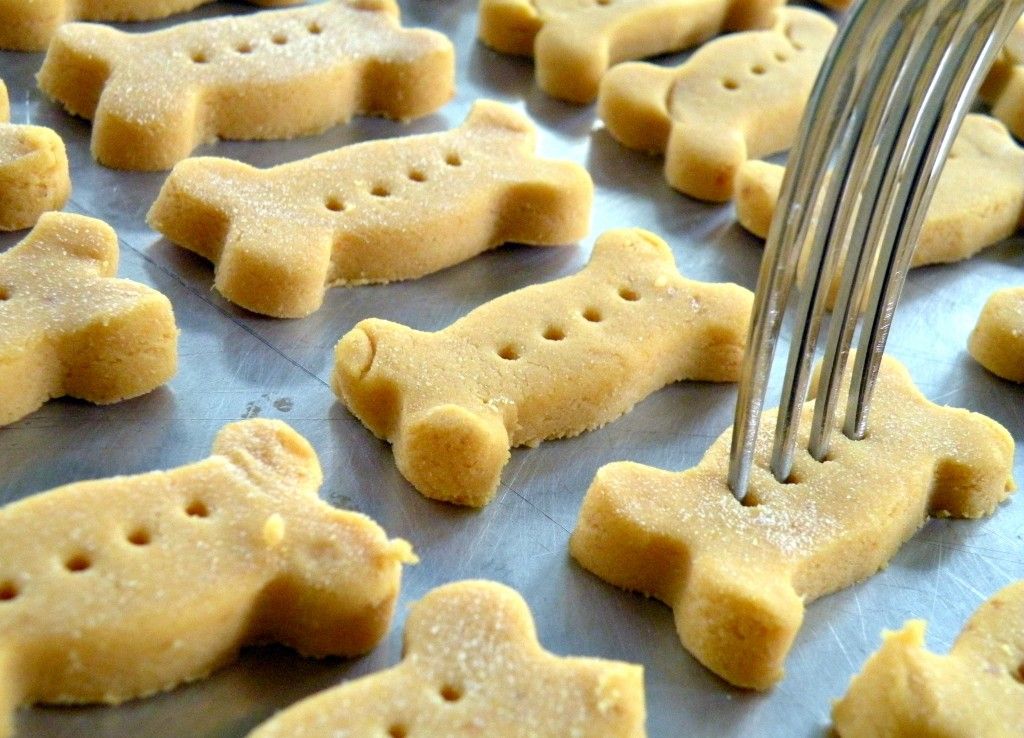 So I cut off her head when she was licking her lips but she really likes them.
Unfortunately, I'm writing this post much later than when I made them, and now they are all gone. Time to make another batch. I store them in the refrigerator and they last a long time. 
I hope you like this little dog biscuit recipe for man's best friend. It was fun making them for my little, sweet puppy. I hope your pup likes them as much as Izzy did.
And if you would like some more dog treats I have a few for your reading pleasure.
More Easy Dog Treats To Try!
Healthy Homemade Dog Treats Christmas Dog Waffles Quick Valentine's Day Dog Treats Homemade Dog Biscuits
4.34 from 6 votes
Print
Easy Dog Biscuits Using Baby Food
These easy dog biscuits are made entirely from baby food. This is an easy, economical and healthy way to treat your dog.
Course Snack
Cuisine Dogs
Keyword baby food, dog treat
Prep Time 10 minutes
Cook Time 20 minutes
Total Time 30 minutes
Servings 30
Author Denise Wright (MyLifeCookbook.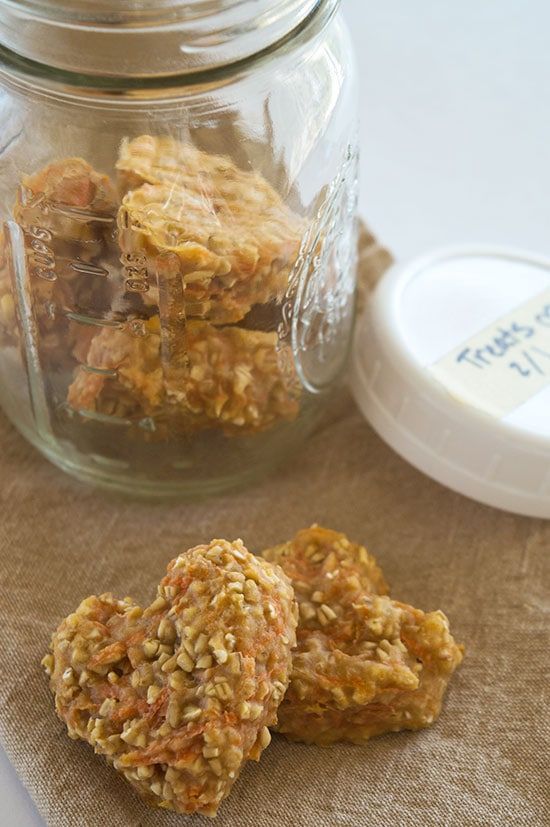 com)
1 jar of carrots baby food
1 jar of sweet potatoes baby food
2 jars of chicken (~2.5oz each)
2 ½ cups of oatmeal baby cereal I used Gerbers Oatmeal Cereal for babies
Preheat oven to 350 degrees

In a large bowl, mix all ingredients well until it forms a sticky dough.

Line a cookie sheet with a piece of parchment paper or a silicone mat.

Spread your dough onto the sheet and use a piece of wax paper that has been sprayed with cooking spray to press down your dough. You can also use a rolling pin to get it nice and smooth.

Use cookie cutters to make shapes.

Place cookie sheet into the oven and cook for 20 minutes. If you desire crunchier biscuits, Turn off the oven and let them cook some more and keep checking.

Store in the refrigerator.
More Dog Treats
Subscribe
for your weekly recipe fix.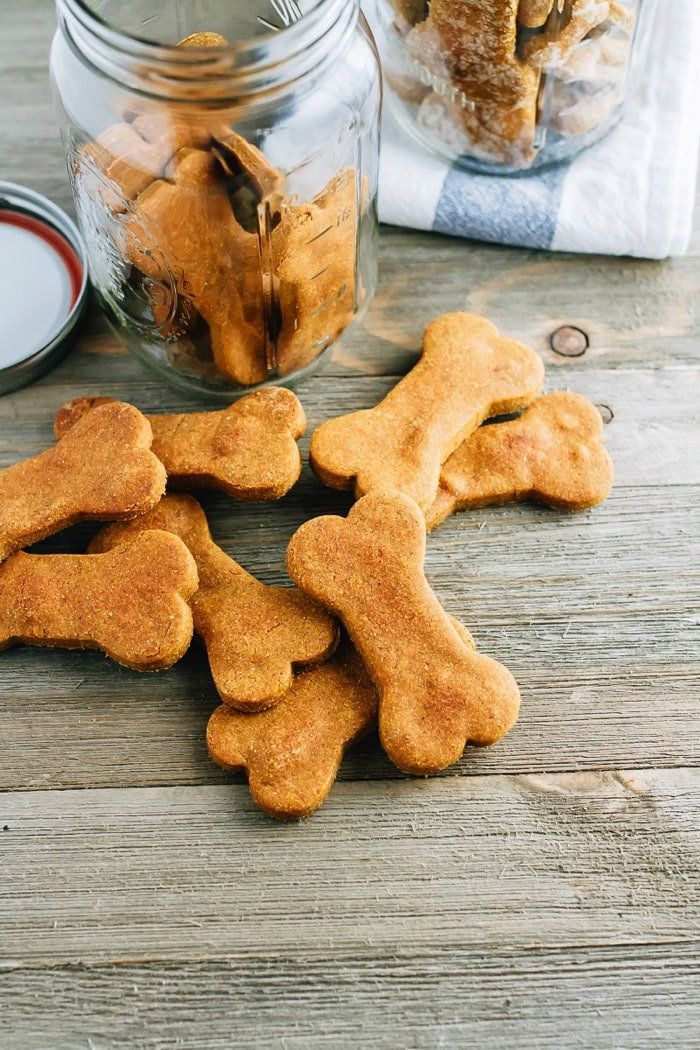 Reader Interactions
We are a participant in the Amazon Services LLC Associates Program, an affiliate advertising program designed to provide a means for us to earn fees by linking to Amazon.com and affiliated sites. As an Amazon Associate I earn from qualifying purchases.
Nutritional information for the recipe is provided as a courtesy and is approximate only. You should always do your own calculations if you are concerned about the accuracy of this or any recipe. I use the Lose It app for all of my nutritional information because I have for years.
DIY Homemade Dog Treats - Two Ingredient Recipes
Share this Recipe!
These DIY Dog Treats are the homemade way to your dogs heart. They love them, and you can do all sorts of fun things with them. 
When I came to the Letter D for the A to Z Blogging Challenge, I had all sorts of ideas. 
Then I realized it might be fun to do something for the Dogs.
Why not do some DIY Dog Treats.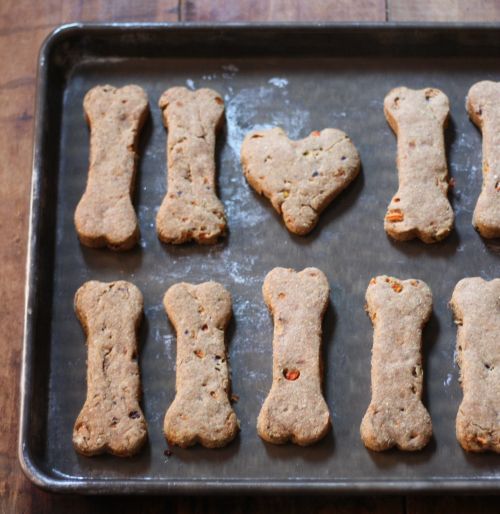 Homemade dog treats are fun to make and the dogs love them.
I have a Shih-tzu, a PomkiePoo (Pomeranian, Yorkie and Poodle mix) and my big baby Finn, a Pitt mix. 
Then my BFF has 3 dogs (a Chihuahua, a shih-tzu (from our litter) and a mix). I have plenty of dogs to spoil.
We often make our own homemade dog food, just to make sure they are getting a balanced diet.
With all the pet food recalls I get nervous sometimes. I want to make sure my dogs don't get sick.
So yes, I take my time out to make them food.
Yes, from scratch. Yes it takes some time.
But they love it and they are happier and healthier because of it.
With my fear of the pet food recalls, I am always hesitant to buy dog treats that way as well.
So I decided to try my hand at making my own homemade version and I have dozens of different recipes for them.
But then I stumbled upon this two ingredient DIY Dog Treat recipe and I knew it was the one I'd make the most.
It originally called for baby food and that's all fine and dandy, but even that I made homemade.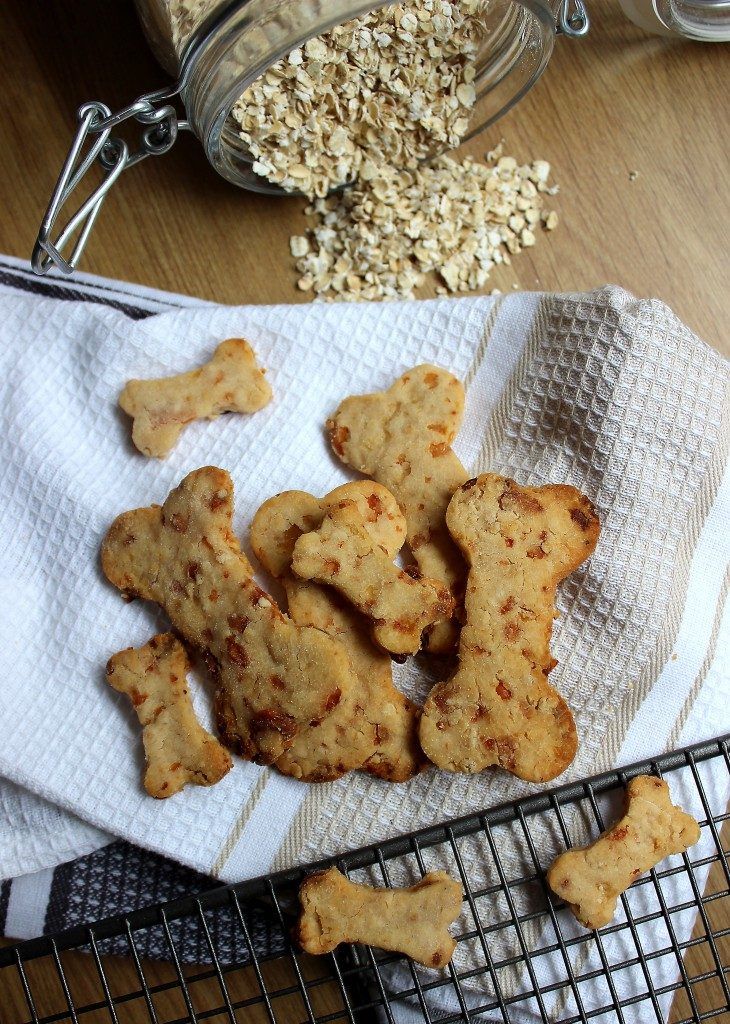 Just pureed my own vegetables.
You can do it either way and they will turn out great.
Have you made Homemade Dog Treats?
I included a rather gross looking photo of the dough when it was done mixing.
The reason I did this, is because it doesn't look like typical dough and I don't want you to think you are doing it wrong.
It's very sticky, so if you need to, add a bit more flour until it is easy to roll out.
I used two different sized cookie cutters, one for the larger dogs and one for the smaller dogs.
Somewhere around here I actually have a dog bone cookie cutter. 
I couldn't find it that day so I went with hearts.
I like hearts and the dogs don't really care what they look like. ha!
Are you ready to make your own DIY Dog Treats?
DIY Dog Treats - Two Ingredients
www.dailydishrecipes.com
Easy two ingredient Dog Treats will make your pooches happy. And they are healthy too! Please keep in mind that you
4.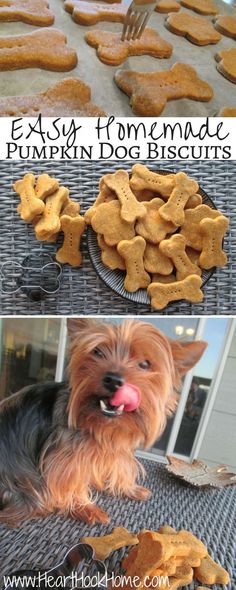 57 from 141 votes
Print Recipe Pin Recipe
Prep Time 15 mins
Cook Time 20 mins
Total Time 35 mins
Course Pet Recipes
Cuisine American
Servings 12 -24
2 cups 100% whole wheat flour
2 4 oz. jars of any flavor pureed baby food I used 1 cup of homemade carrot puree
Preheat your oven to 350°.

In a large mixing bowl, mix the flour with the pureed veggies (or baby food) to form a stiff dough. If it's too sticky add flour. If it's too stiff, add some water.

Lightly flour your work space and roll out the dough until it's about ¼" thick.

Use a cookie cutter to cut out the cookies.

Spray a cookie sheet with cooking spray.

Place the treats about ¼" inch apart on the cookie sheet.

Bake for 20 – 25 minutes.

We store ours in a dog cookie canister and it sometimes makes the cookies softer but the dogs like them that way.

If you want them to stay hard, you might want to store them in a paper bag.

They keep for up to two weeks.
Tried this recipe?Please leave us a rating and then share a photo on Pinterest or Instagram and tag us @dailydishrecipes or #dailydishrecipes — we can't wait to see what you've made!
See more great dog treat and food ideas here.
Share this Recipe!
5 easy dog ​​biscuit recipes. — GAVTORG.COM
Skip to content
GAVTORG.COM
Dog treats and horns
0
Cart is empty.
Surely any owner wondered - how to make dog biscuits with your own hands? Making dog treats is easier than you think! Now we will reveal some simple and delicious recipes for treats for dogs.
Why is it better for a dog to give treats that you made yourself?
Homemade dog treats are healthier than store-bought ones and do not contain preservatives or dyes.
You can take into account the characteristics or preferences of your dog when choosing ingredients, so your treats will be appreciated by both an allergic dog and even the most fastidious gourmet dog.
Any dog ​​will be pleased to eat cookies, which the owner prepared with his own hands with all the love and care!
Ready to try? Now we will announce the main rule that must be observed when preparing homemade treats for dogs: fantasize! No matter how many dog ​​biscuit recipes there are, you can always invent your own.
Cookies for puppies
Baby food (meat) - 250 grams;
Powdered milk - 0.25 cup;
Semolina - 0.25 cup.
Mix ingredients, shape into small pieces
balls and place on a greased baking sheet. Bake until browned, 15 minutes, in a preheated oven at 150 degrees.
Hercules dog biscuits
Wheat flour - 1.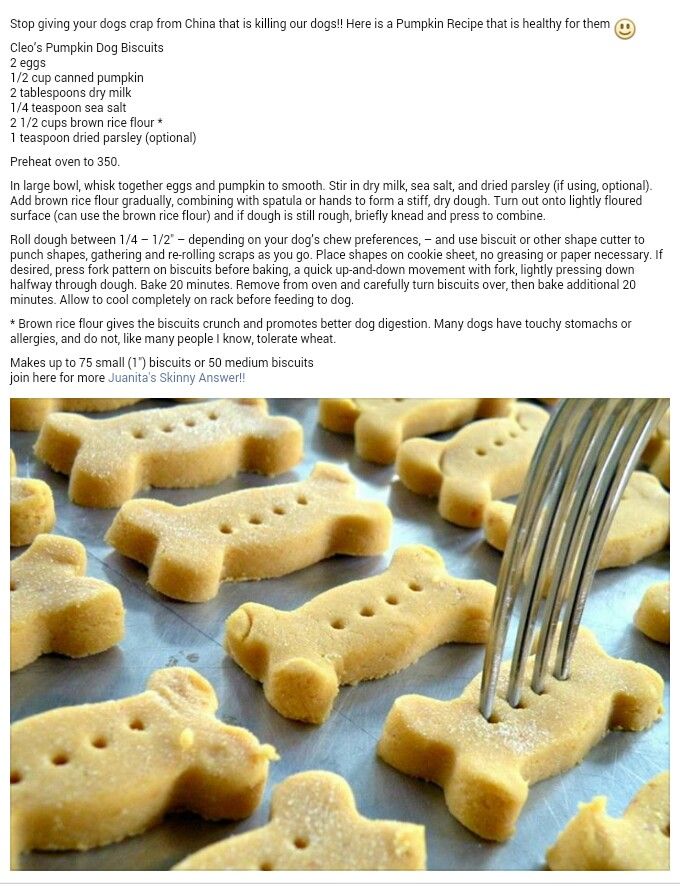 5 cups;
Hercules - 1 glass;
Apple - 1 piece;
Water (warm) - 0.5 cup;
Honey - 0.25 cup.
Mix oatmeal and flour. Add small pieces of peeled apple, water and honey. Mix thoroughly. The dough should be stiff, add more flour if needed. Blind small cakes and put on a baking sheet with parchment paper, brush with oil. Bake for 30 minutes in a preheated oven at 160 degrees. Then flip the cookies over and place back in the oven for 20-30 minutes, until golden brown.
Applesauce dog biscuits
Wheat flour - 3 cups;
Applesauce - 0.75 cup;
Butter - 100 grams;
Water - 0.5 cup;
Honey - 2 tablespoons.
Whisk applesauce, butter, water and honey until smooth. Gradually (one glass at a time) add flour, mixing thoroughly each time. Then turn the dough out onto a floured surface and knead until it becomes flexible and elastic. Roll out the dough to a thickness of 0.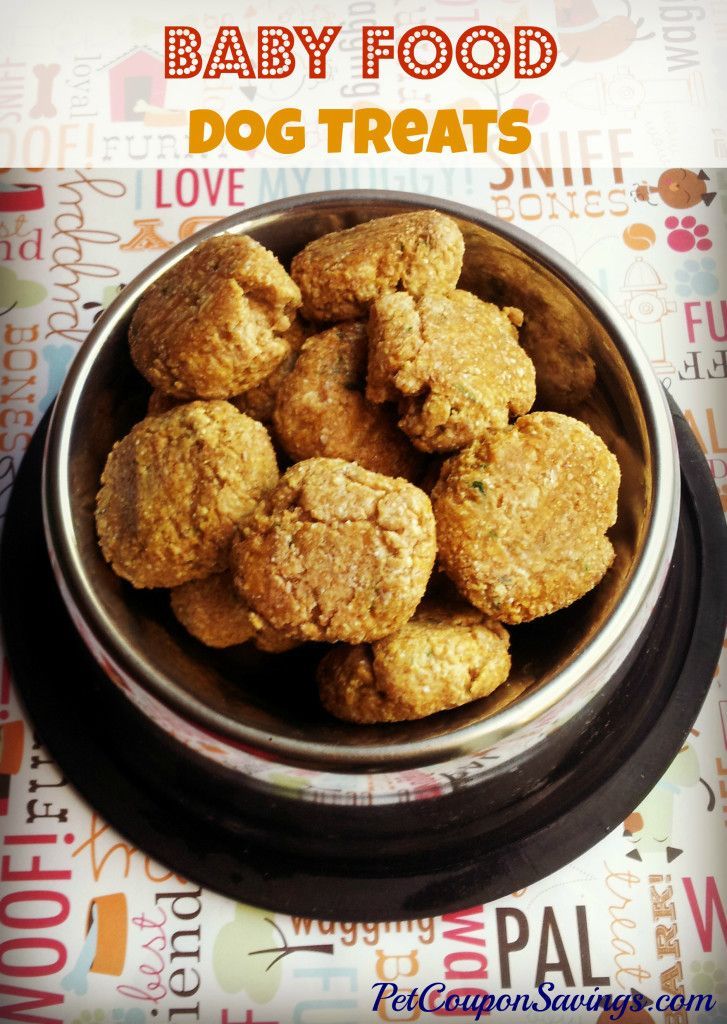 5 cm and cut into pieces (you can cut out various figures using the molds). Place cookies on a baking sheet lined with parchment paper. Bake at 180 degrees for 24-30 minutes, turning the cookies over to the other side after 12-15 minutes from the start of baking.
Dog liver biscuits
Liver (beef/veal/chicken) – 1 kg;
Flour for consistency;
Chicken eggs - 2 pieces.
Boil the liver and grind in a blender. Add eggs and flour. Add flour until you get a "cool" dough. Roll the mass into thin sausages and bake in the oven on a baking sheet, greased with oil, for 15 minutes. Still hot sausages should be cut into small pieces and let them cool.
Beef dog biscuits with carrots
Carrots - 1 piece;
Chicken egg - 1 piece;
Beef - 100 grams;
Oatmeal - 2 tablespoons.
Grate carrots on a medium grater. Whisk the egg. Cut the beef into small pieces.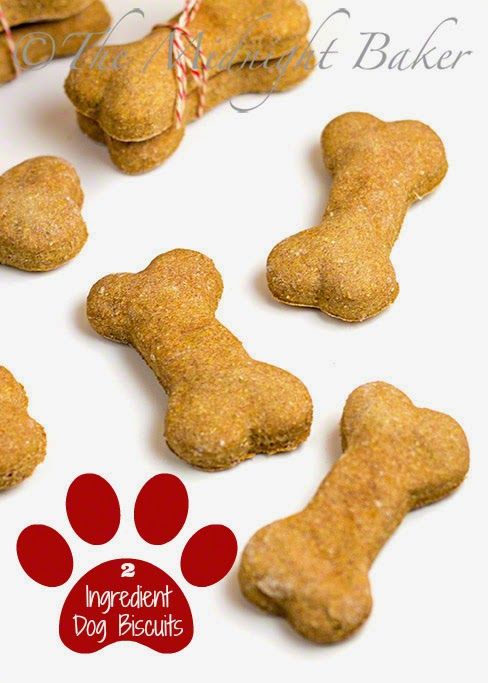 Mix beef, carrots and egg, add oatmeal. From the resulting mass, blind small cookies. Bake in the oven at 180 degrees for 10 minutes.
Now go ahead and cook delicious dog biscuits for your faithful friend! We are sure that the dog will definitely appreciate the treats prepared with love!
Everything turned out to be much easier than you thought, right?
error:
How to make your own dog biscuits: recipes
Today we'll show you how to make your own dog biscuits and present you two simple recipes for this delicious natural dog treat. Cookies can be offered to your furry friend as a treat on their own, they can be used as a training reward, they can be used to decorate any birthday cake for a dog.
Previously, in the article "Treats and Treats for Dogs", we already showed recipes for cookies that were prepared with fish, chicken, pumpkin and banana. Today we will prepare meat and liver cookies for dogs.
Liver biscuits
Liver biscuits are quite popular with pet owners.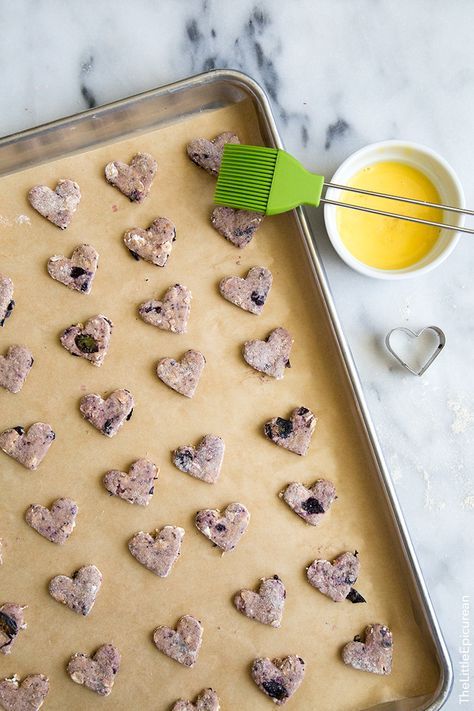 It is prepared by many housewives. Each has its own recipe. Someone prepares delicacies simply from one liver. Someone adds various vegetables, herbs and even fruits. You can cook different tasty treats each time, and add different ingredients each time. You can use carrots, zucchini, pumpkin, sweet peppers, broccoli, apples, pears and even a banana. The main thing is that these vegetables and fruits are suitable for your woolen friend.
Our recipe for dog liver biscuits includes carrots and zucchini.
We will need:
250-270 grams of raw liver.
1 small carrot.
1/2 courgette.
1 egg.
rice flour.
Preparation:
Cut the raw liver into pieces and grind in a blender (or twist in a meat grinder).
We rub carrots and zucchini on a coarse grater.
Put all the ingredients in a separate container. Combine vegetables and liver, add the egg.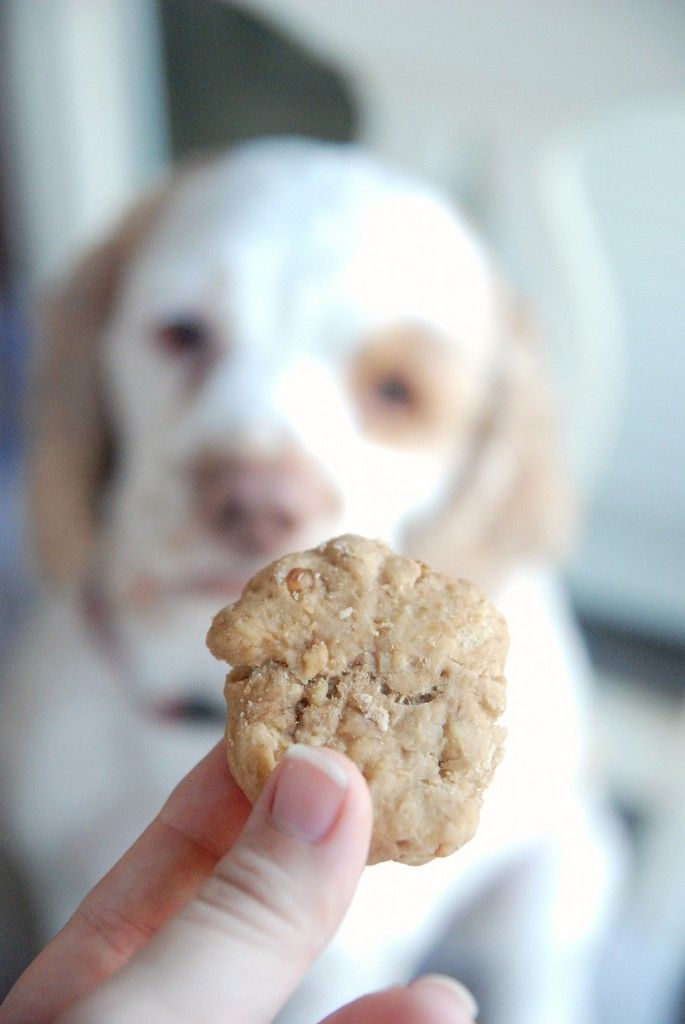 Mix everything well until a homogeneous mass is obtained.
Add flour to the resulting mass. I put the flour "by eye" so that our liver dough turns out to be the consistency of thick sour cream.
We cover a baking sheet with parchment paper, and spread the resulting mass on it in strips 2-3 cm wide and about 1 cm thick. In addition, I have special molds in the form of bones. Therefore, I laid out part of the "dough" in molds, and laid out the rest on parchment.
We put the liver biscuits in the oven preheated to 140-150 degrees for 40-45 minutes.
Let the finished yummy cool down.
We break it into pieces, and ... treats for dogs from the liver are completely ready.
Meat biscuits
Meat biscuits for dogs are prepared in much the same way as liver biscuits. Similarly, you can use any vegetables or fruits.
We need:
250-270 grams of raw meat (I used beef trimmings).