When can my infant eat baby food
When, What, and How to Introduce Solid Foods | Nutrition
For more information about how to know if your baby is ready to starting eating foods, what first foods to offer, and what to expect, watch these videos from 1,000 Days.
The Dietary Guidelines for Americans and the American Academy of Pediatrics recommend children be introduced to foods other than breast milk or infant formula when they are about 6 months old.  Introducing foods before 4 months old is not recommended. Every child is different. How do you know if your child is ready for foods other than breast milk or infant formula? You can look for these signs that your child is developmentally ready.
Your child:
Sits up alone or with support.
Is able to control head and neck.
Opens the mouth when food is offered.
Swallows food rather than pushes it back out onto the chin.
Brings objects to the mouth.
Tries to grasp small objects, such as toys or food.
Transfers food from the front to the back of the tongue to swallow.
What Foods Should I Introduce to My Child First?
The American Academy of Pediatrics says that for most children, you do not need to give foods in a certain order. Your child can begin eating solid foods at about 6 months old. By the time he or she is 7 or 8 months old, your child can eat a variety of foods from different food groups. These foods include infant cereals, meat or other proteins, fruits, vegetables, grains, yogurts and cheeses, and more.
If your child is eating infant cereals, it is important to offer a variety of fortifiedalert icon infant cereals such as oat, barley, and multi-grain instead of only rice cereal. Only providing infant rice cereal is not recommended by the Food and Drug Administration because there is a risk for children to be exposed to arsenic. Visit the U.S. Food & Drug Administrationexternal icon to learn more.
How Should I Introduce My Child to Foods?
Your child needs certain vitamins and minerals to grow healthy and strong.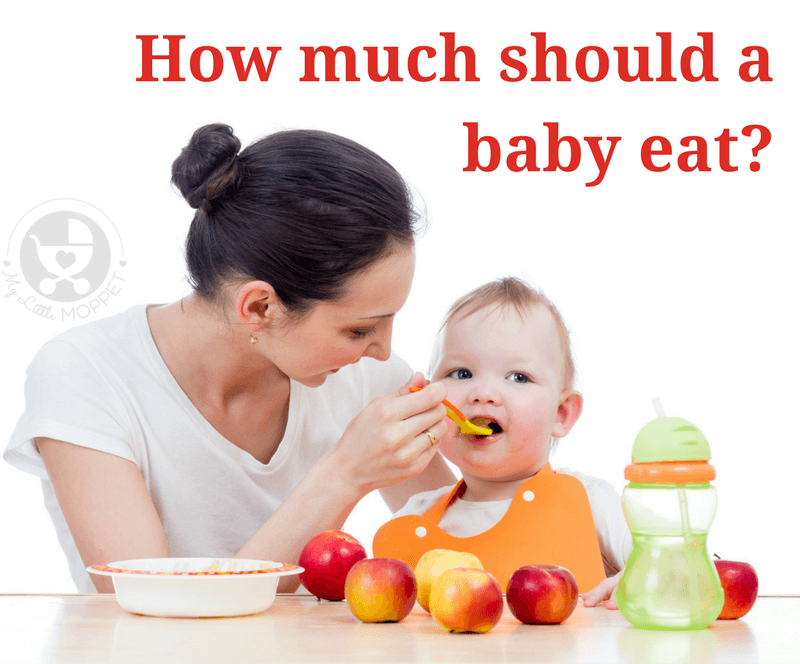 Now that your child is starting to eat food, be sure to choose foods that give your child all the vitamins and minerals they need.
Click here to learn more about some of these vitamins & minerals.
Let your child try one single-ingredient food at a time at first. This helps you see if your child has any problems with that food, such as food allergies. Wait 3 to 5 days between each new food. Before you know it, your child will be on his or her way to eating and enjoying lots of new foods.
Introduce potentially allergenic foods when other foods are introduced.
Potentially allergenic foods include cow's milk products, eggs, fish, shellfish, tree nuts, peanuts, wheat, soy, and sesame. Drinking cow's milk or fortified soy beverages is not recommended until your child is older than 12 months, but other cow's milk products, such as yogurt, can be introduced before 12 months. If your child has severe eczema and/or egg allergy, talk with your child's doctor or nurse about when and how to safely introduce foods with peanuts.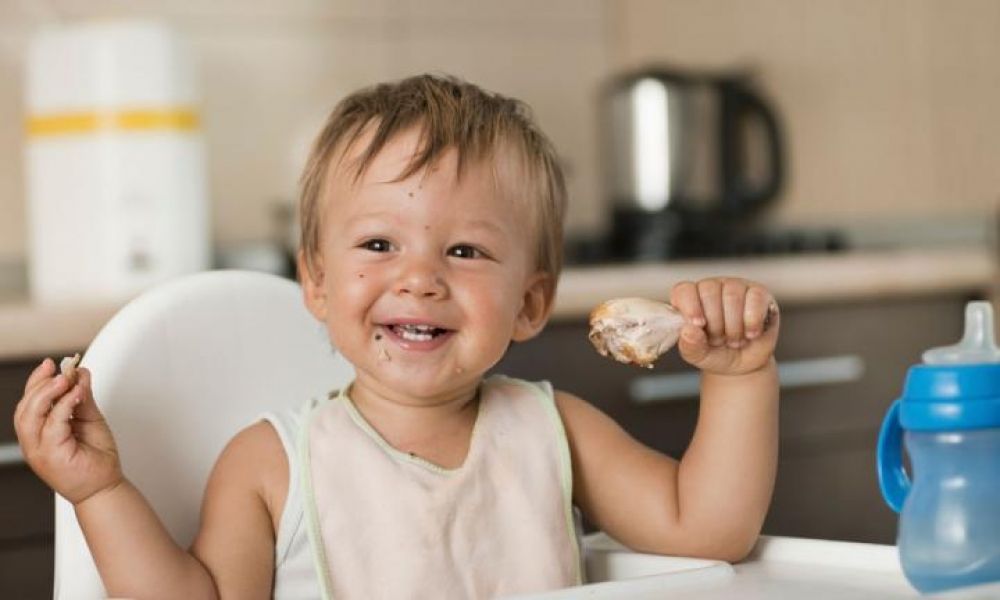 How Should I Prepare Food for My Child to Eat?
At first, it's easier for your child to eat foods that are mashed, pureed, or strained and very smooth in texture. It can take time for your child to adjust to new food textures. Your child might cough, gag, or spit up. As your baby's oral skills develop, thicker and lumpier foods can be introduced.
Some foods are potential choking hazards, so it is important to feed your child foods that are the right texture for his or her development. To help prevent choking, prepare foods that can be easily dissolved with saliva and do not require chewing. Feed small portions and encourage your baby to eat slowly. Always watch your child while he or she is eating.
Here are some tips for preparing foods:
Mix cereals and mashed cooked grains with breast milk, formula, or water to make it smooth and easy for your baby to swallow.
Mash or puree vegetables, fruits and other foods until they are smooth.
Hard fruits and vegetables, like apples and carrots, usually need to be cooked so they can be easily mashed or pureed.
Cook food until it is soft enough to easily mash with a fork.
Remove all fat, skin, and bones from poultry, meat, and fish, before cooking.
Remove seeds and hard pits from fruit, and then cut the fruit into small pieces.
Cut soft food into small pieces or thin slices.
Cut cylindrical foods like hot dogs, sausage and string cheese into short thin strips instead of round pieces that could get stuck in the airway.
Cut small spherical foods like grapes, cherries, berries and tomatoes into small pieces.
Cook and finely grind or mash whole-grain kernels of wheat, barley, rice, and other grains.
Learn more about potential choking hazards and how to prevent your child from choking.
Top of Page
When Can My Baby Start Eating Solid Foods? (for Parents)
A friend just started giving her 3-month-old applesauce and rice cereal.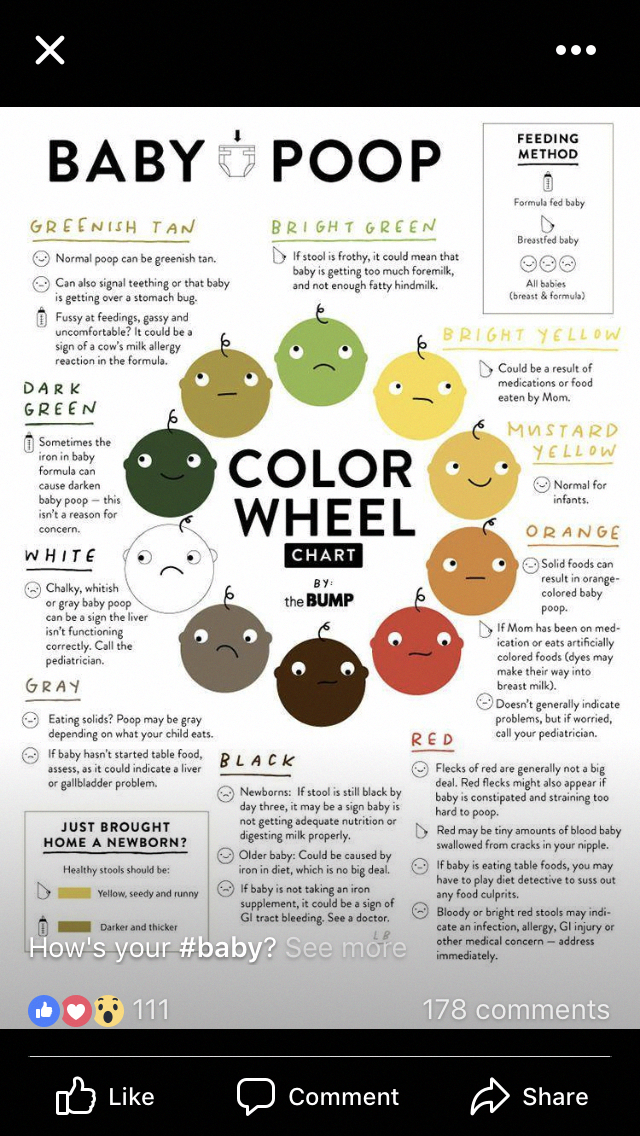 My son is just 2 weeks younger than hers, and I am wondering if I should be introducing solids soon too. When should I start?
– Taylor
Doctors recommend waiting until a baby is about 6 months old to start solid foods. Starting before 4 months is not recommended.
At about 6 months, babies need the added nutrition — such as iron and zinc — that solid foods provide. It's also the right time to introduce your infant to new tastes and textures. 
Some babies may be ready for solids sooner than 6 months, but don't start until your baby is at least 4 months old.
How do you know it's the right time to start solid foods? Here are some signs that babies are ready:
They have good head and neck control and sit up in a high chair.
They're interested in foods. For example, they may watch others eat, reach for food, and open their mouths when food approaches.
They don't push food out of their mouths, which is a natural tongue reflex that disappears when they're between 4–6 months old.
They weigh twice their birth weight, or close to it.
Talk to your doctor about the right time to start solid foods.
How Should I Start Solids?
When the time is right, you can start with a single-grain, iron-fortified baby cereal. Start with 1 or 2 tablespoons of cereal mixed with breast milk, formula, or water. Feed your baby with a small baby spoon. Don't add cereal or other food to a baby's bottle because it can lead to too much weight gain. Let your baby practice eating from a spoon and learn to stop when full.
When your baby gets the hang of eating the first food, introduce others, such as puréed meat, fruits, vegetables, beans, lentils, or yogurt. Try one food at a time and wait a few days before trying something else new to make sure your baby doesn't have an allergic reaction.
Foods that are more likely to cause allergies can be among the foods you introduce to your baby. These include peanuts, eggs, cow's milk, seafood, nuts, wheat, and soy.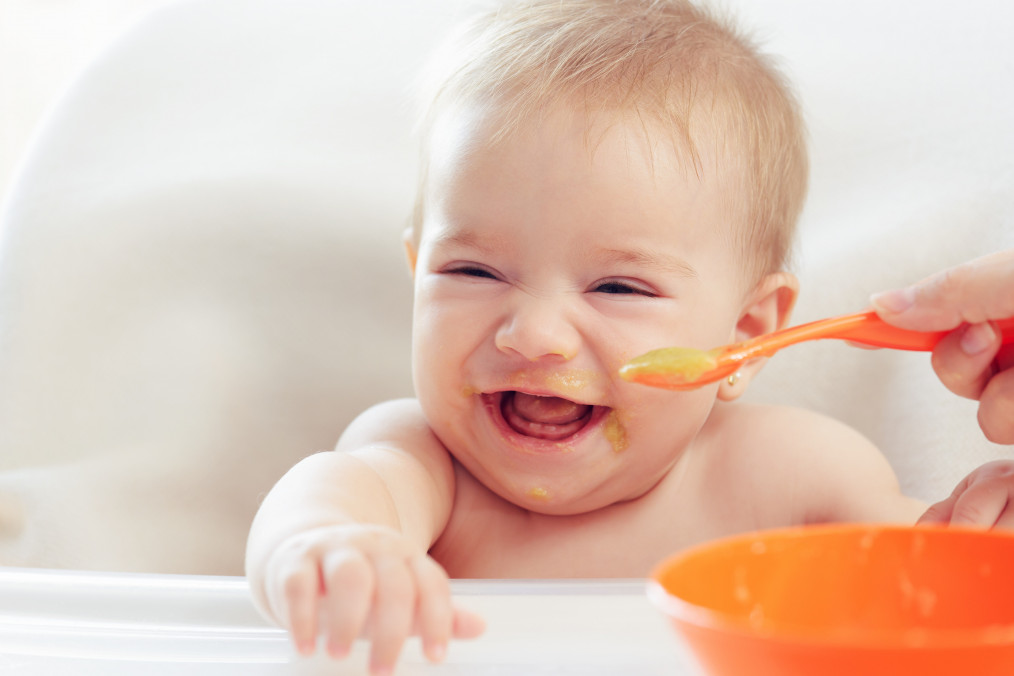 Waiting to start these foods does not prevent food allergies. Talk to your doctor if you are concerned about food allergies, especially if any close family members have allergies, food allergies, or allergy-related conditions, like eczema or asthma.
Infants with severe eczema or egg allergies are more likely to have allergies to peanuts. Talk to your doctor about how and when to introduce these foods to your child.
When starting your baby on solids, avoid:
foods with added sugars and no-calorie sweeteners
high-sodium foods
honey, until after the first birthday. It can cause botulism in babies.
unpasteurized juice, milk, yogurt, or cheese 
regular cow's milk or soy drinks before 12 months instead of breast milk or formula. It's OK to offer pasteurized yogurt and cheese.
foods that may cause choking, such as hot dogs, raw carrots, grapes, popcorn, and nuts
Also, do not give fruit juices to infants younger than 12 months old.
Over the next few months, introduce a variety of foods from all the food groups. If your baby doesn't seem to like something, don't give up. It can take 8 to 10 tries or more before babies learn to like new foods.
Reviewed by: Mary L. Gavin, MD
Date reviewed: February 2021
From 4 to 6 months
Breast milk is the best food for your baby.
It is very important that the baby consumes breast milk for as long as possible.
The right age to start complementary foods
It is recommended to start introducing complementary foods into the baby's diet no earlier than 4 months, but no later than 6 months*. At this age, the baby is in the active phase of development and reacts with curiosity to everything new! Some babies at 4 to 5 months of age can no longer satisfy their appetite with breast milk alone and need complementary foods for healthy growth. Other children have enough breast milk, and they are ready for the introduction of complementary foods only after 6 months.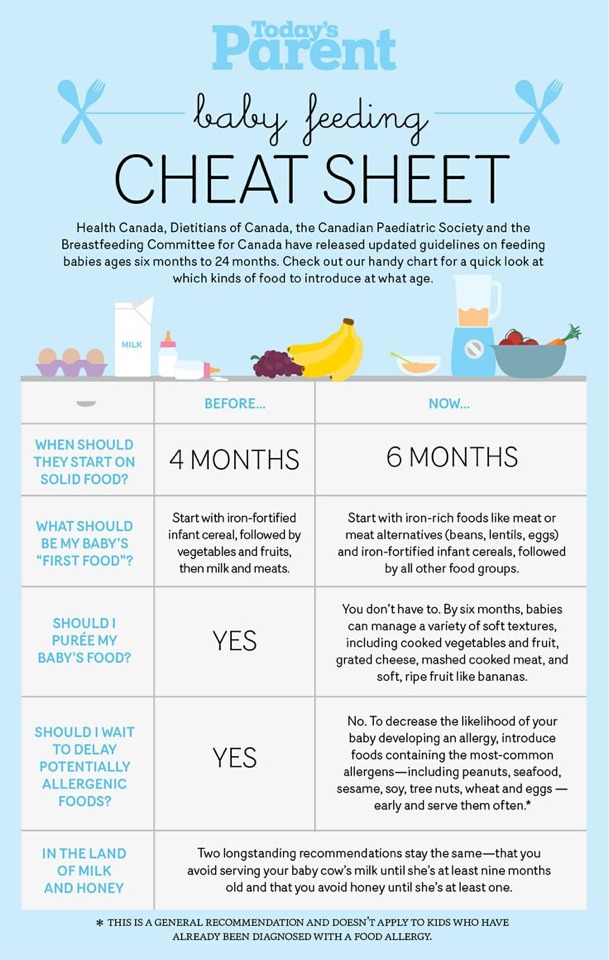 The decision to start complementary foods should always be made according to your baby's development. Do you feel like your baby is not getting enough breast milk? Does your baby hold his head on his own, show interest in new foods or a spoon? Then it's time to start feeding. If in doubt, consult your pediatrician.
If your baby spits out the first spoonfuls of puree, be patient. After all, he must first learn to swallow it. Start with a few scoops and give your child time to get used to the new form of feeding.
*Recommendation of the Nutrition Committee of the European Society of Pediatric Gastroenterology, Hepatology and Nutrition (ESPGHAN)
Why is complementary food important for the baby?
After 4-6 months of life, mother's milk or milk formula alone is not enough to supply the child's body with all the nutrients and necessary energy. In addition, the transition to solid food trains the muscles of the mouth. And finally, with the introduction of complementary foods, the child will get acquainted with the variety of taste directions, which is also important for his development.
When to start complementary foods?
Gradually replace one breastfeed with complementary foods. First for lunch, then for dinner and finally for lunch. The mouse eats breakfast with the usual dairy food.
Starting complementary foods with HiPP products is easy. The first spoons will be vegetable or fruit purees HiPP:
First step: lunch
We recommend that you start complementary foods at lunchtime with HiPP vegetable puree (for example, "Zucchini. My first puree", "Cauliflower. My first puree" or "Broccoli .My first puree"). Then, for satiety, feed your baby as always: breast or bottle. The amount of vegetable puree can be increased daily by 1 spoon. Be patient if your baby does not immediately love vegetables. Try repeating the vegetable puree in the following days. Next week, you can expand your diet with other varieties of HiPP vegetables (for example, "Carrots. My first puree" or "Potatoes. My first puree").
If your baby tolerates vegetables well, in the third week you can introduce grain porridge into the diet, and as a dessert, offer a few spoons of fruit puree enriched with vitamin C.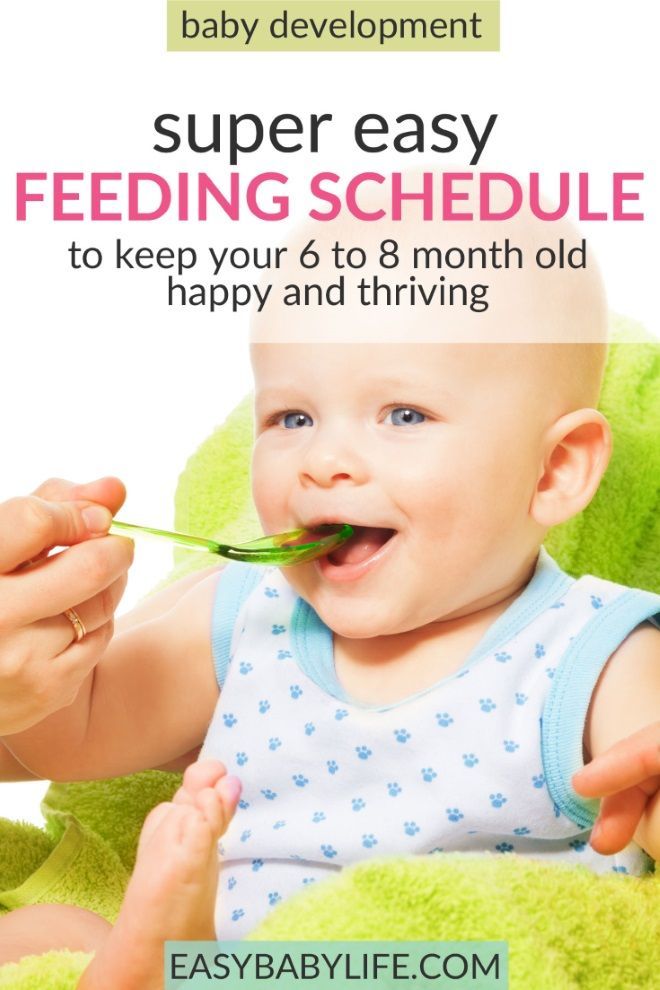 Vitamin C helps to better absorb iron in the body.
Once your baby starts eating a whole serving of mashed potatoes for lunch, you can eliminate breast milk or formula during that meal.
Tip: Reheat as much puree as needed for feeding. Store leftover puree in a sealed jar in the refrigerator. Use the contents of the opened jar within a day.
Important! If you are using a microwave, please remove the lid before reheating puree. Stir after heating. To prevent damage to the jar, please use only a plastic spoon. Always check food temperature before feeding.
from 6 months
HiPP product groups can be recognized by the following color coding:
Learn more: Advice
Video: Weaning introduction - OB tips Video: Baby massage Diet
From birth to 4 months From 4 to 6 months From 6 months From 7 to 9 months From 10 months to 12 months
Food and drinkDigestion of the babyOn holiday with the babyAllergySleepCrying of the babyMotor skills and speech
Choice of complementary foods
No age restrictions from the first daysfrom 1 monthfrom 4 monthsfrom 5 monthsfrom 6 monthsfrom 7 monthsfrom 8 monthsfrom 9 monthsfrom 10 monthsfrom 12 months
Choose a product categoryVegetable purees - Vegetable puree from 4 months - Vegetable puree from 5 months - Vegetable puree from 6 months - Vegetable puree from 7 months - Vegetable puree from 8 months Fruit puree - from 4 months - from 5 months months - from 6 months - Fruit purees in soft packagingMeat purees - Meat pureesMeat and vegetable menu - from 8 months - from 12 months Fish and vegetable menu - from 9Soups - from 6 months - from 7 months - from 8 months - from 12 months - From 18 months "Good night" in jars - Cereal cereals with fruits in jarsDrinks - Health drinks - Granulated teas - Tea bags - JuicesSnacks - Snacks
what is the diet in 5 months, the menu of complementary foods for a five-month-old baby
Published: 07.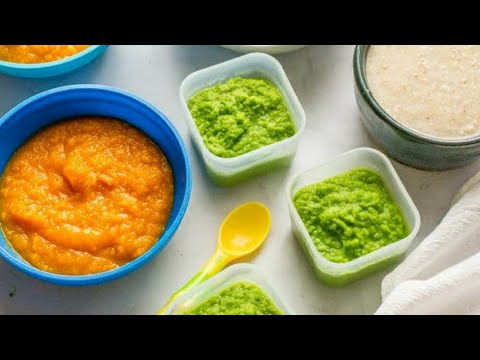 10.2019
Reading time: 5 min.
Number of reads: 199188
By 5 months the infant reaches a certain maturity of the digestive and immune systems, allowing for non-dairy nutrition. Today, there are many points of view on the timing of the introduction of complementary foods, but there are criteria by which parents can absolutely understand whether their child is ready to change something in their own diet.
Contents: Hide
When should we start introducing complementary foods?
What to prepare for a new stage in life?
How to start complementary foods at 5 months?
Which products are we introducing first?
What not to give before 1 year
Where to be vigilant?
So all the same PORRIDGE or VEGETABLES?
Of course, the ideal period for the introduction of complementary foods at 6 months, but only if the baby receives the optimal amount of nutrients from breast milk/formula, has a good increase in height and weight, meets the normal criteria for neuropsychic development.
But in real life, unfortunately, by the age of 5-6 months, children often begin to experience a deficiency in certain food components, which requires parents to correct the child's diet. At the same time, allergists are unanimous in their opinion, who argue that the introduction of complementary foods in the interval of 4-6 months can reduce the risks of developing food allergies in the future, since it is in this age period that the immune system is most tolerant to new food agents.
When to start introducing complementary foods?
There are several signs that a baby is ready to start weaning.
One of the first is food interest. If the child is at the table with adults, he actively reaches for his mother's plate and is ready to try the food offered.
And the next logical sign is coordination of movements: hand - spoon / food - mouth. The child may pick up pieces of food with his fingers and bring them to his mouth or try to put a spoon in his mouth. And do it consciously, not by accident!
Child can sit up. If he does not sit up on his own, but sits with support on an adult's lap, then this can also be considered a sign of maturity and readiness for complementary foods.
Extinguishing reflex. The younger the child, the more actively he pushes any object, medicine, food out of his mouth. Gradually, the ejection reflex fades away and the little person is ready to accept other consistency than milk. But in the first days of acquaintance with complementary foods, some children have a gag reflex, which is very scary for parents. Thick porridge or pieces of fruit, when hit on the middle and back of the tongue, lead to a spasm of the larynx, and the person returns the food to the front of the tongue and / or spit out the product. This is also one of the stages of development, and the faster the gag reflex fades, the more often you feed the child with complementary foods and do not take breaks in the new diet.
What to prepare for a new stage in life?
Your baby will definitely need a high chair and a colorful plate (with a rubber bottom or with a suction cup). Comfortable spoon, not too small and not too big, with a comfortable handle that the baby can hold in his hand. Bibs should be exactly at least two, waterproof and with a convenient lock. Lots of paper towels and a huge amount of patience.
How to start complementary foods at 5 months?
To date, there is no strictness in the sequence of introduction of certain products. The only thing children's nutritionists, pediatricians and other specialists agree on is that the child should receive the foods that are traditionally eaten in his family. If the family lives in Siberia, then the baby should try the apple earlier than the mango or blackberry.
The first complementary foods most often are cereals or vegetables. The baby gets acquainted with each product for 1-3 days, and after that, parents can continue to get acquainted with new types of complementary foods or expand the range within the same group. If we stretch the acquaintance with each new dish for 7-10 days, then by the age of 1 we will not have time to introduce into the diet all the food groups that the family eats every day. 3 days is the optimal period for which any parent will understand the reaction to a particular product of their child. Therefore, we boldly begin complementary foods with the appearance of all signs of readiness and teach the little person adult nutrition.
It is better to start acquaintance with new products in the morning or in the afternoon. This rule is conditional, and it is necessary to observe it only so that in the event of a negative food reaction (rash, vomiting, diarrhea, etc.) in response to a new dish, parents can quickly contact a specialist and receive medical assistance if necessary, which is better. do during the day, not late in the evening or at night.
Diet when transferring a child to an adult table must be observed. This is done so that the child is psychologically and physiologically ready for a certain interval between meals. Children do not perceive the variability of the environment well, and for harmonious development they need to follow the rituals and the usual sequence of actions of their parents: after sleep, breakfast always follows, and after a walk, lunch. Also, observing the intervals between meals allows the child to feel hunger and satiety, thereby correctly hearing the signals of his body and forming eating behavior.
Snacking before 1 year of age is not necessary, most infants receive on-demand breastmilk for a long time, and formula-fed infants have an optimal nutritional profile in formula, which eliminates extra meals outside of the main ones.
At the age of 5-6 months of life, the number of non-dairy meals should be at least 2 times a day, by 9 months the number increases to 3 times a day. Most likely it will be breakfast and lunch. Only a mother and her baby can choose the time for complementary foods, because even babies can be larks or owls. Look at the biological rhythm of your baby. If he is very sleepy by 8 in the morning and has no interest in food, then breakfast should be shifted by 9−10 in the morning, and if you have a lark, then it is likely that porridge at 7 in the morning will make it even more active and cheerful.
Which products are we introducing first?
Due to the fact that the need to introduce complementary foods is dictated by the physiological needs of the baby for additional nutrients that the baby can no longer get with breast milk / formula, then products with a high nutritional value should be chosen.
One of the earliest deficiencies is iron deficiency in infancy. Based on this, pediatricians recommend the first to introduce cereals, meat, fish or eggs. Previously, meat and fish were offered in complementary feeding regimens after 6-7 months of age, but studies have confirmed the benefit of early introduction of meat into the diet of children under one year old to maintain normal blood hemoglobin levels.
Importantly, for better absorption of iron from animal products, they should be combined with vegetables rich in vitamin C (broccoli, sweet peppers or pumpkin).
But most parents, of course, are more accustomed to starting complementary foods with a cereal dish. Therefore, of all cereals, we choose buckwheat, the richest in trace elements and iron (7 mg / 100 g of cereal). The first porridge for the baby should be dairy-free, without additional enrichment with sugar and salt, without gluten (the protein of some cereals). Therefore, buckwheat, as well as rice and corn, are ideal for a first acquaintance.
Thus, porridge, vegetables and meat will be the first dishes of complementary foods on the baby's table. By 6-7 months, the child may well become familiar with all these food groups and absorb them well.
The volume of the dish should not exceed the conventional norm (the size of the fist of a small person ≈ 80-100 g at the beginning of the journey) and then grow with the child.
Sample menu at 5 months for artificial owl:
6:30 - mixture.
09:30 - dairy-free porridge 80 g + mixture.
13:00 onwards - mixture.
Sample menu for 6 months for baby-lark:
5:00 - GV.
7:30 - dairy-free porridge + GW/mixture.
10:00 − GV.
13:00 - vegetables with meat + HS/mix.
16:00 onwards - HW/blend.
What not to give before 1 year
ALL food groups must be included in the menu of young children so that it is varied and complete, but a number of adult dishes should not fall on the children's table. It is important for parents to know what should be EXCLUDED from children's diet:
Added sugar and salt, which increases the load on the excretory system and increases the risk of developing cardiovascular disease in older age.
Honey - due to the risk of botulism.
Large varieties of fish (tuna, salmon) due to high mercury content.
Seaweed due to its high iodine content, which can disrupt the thyroid gland.
Spinach and beets, because they easily accumulate pesticides, the dose of which is toxic to children.
Where to be alert?
There is a group of foods with a high allergenic potential: wheat, fish, eggs, nuts, seafood and cow's milk. These foods are more likely than others to cause food allergies. But studies have shown that the introduction of food allergens in the first year of life reduces the risk of developing food allergies at an older age. Therefore, it is not necessary to sharply limit the introduction of these products, it is necessary to apply a more careful attitude to them. The introduction of any allergenic food should be against the background of the relative health of the baby, outside the day of vaccination and without the combination of other NEW foods. Within 3-5 days, mix small amounts of new into the main dish and observe the reaction.
But red fruits and vegetables are long gone from this list. The presence of moderate redness of the cheeks, chin after eating strawberries is not a cause for excessive concern. It is necessary to repeat the introduction of the berry in a couple of days and make sure that there is no reaction or that it is only a local short-term one.
So is PORRIDGE or VEGETABLES?
To make a rational decision to start introducing complementary foods, parents need to contact their pediatrician. There are benefits to each type of food, and according to the child's health and maturity, the pediatrician will help the loving mother make the choice.
Porridge is an ideal cereal product that is a rich source of energy, dietary fiber and trace elements. For the first feeding, both buckwheat and rice porridge are perfect. Specialized children's cereals are additionally enriched with a vitamin-mineral mixture, which helps to maintain a balance of nutrients in the child's diet and prevent the development of nutritional deficiencies. Baby Premium porridge for the first feeding is a lifesaver for mom, because it meets all the requirements for the transition of the child to adult nutrition, dissolves easily (without prolonged stirring and lumps) to the desired consistency and is represented by several cereals (rice, buckwheat , corn).
Vegetables are an excellent source of vitamins, trace elements and fiber. Vegetable purees or light vegetable soups can also be introduced first due to their low allergenic potential, good digestibility and high nutritional value.