Apricot puree baby food
Apricot Baby Food
byAmy Palanjian
Updated
Jump to Recipe
This post may contain affiliate links. If you shop from one of our links, we may earn a commission.
Learn how to make easy homemade Apricot Baby Food, with both puree and BLW options. Find storage tips and baby food combinations, too.
Apricot Baby Food
Turning fresh apricots into baby food, whether as a puree or a baby-led weaning food, is easy with this simple method. You can use this as a Stage 1 baby food or as an option for a baby food combination. It's very versatile!
Follow along below for the full information on making this recipe, with tips, variations, and storage advice.
Ingredients You Need
To make this recipe, you'll need just a few ingredients. Here's what to have on hand before you start.
Apricots: Look for ripe, fresh apricots without blemishes. Apricots can be very, very tart, so the fresher, more local the better. (This is one circumstance where opting for local fruit, which is more likely to be picked when ripe versus underripe so it can withstand travel, makes a big flavor difference.)
Unsalted butter: This is used to cook the apricots in a pan, though you can use coconut or avocado oil if you prefer.
Step-by-Step Instructions
Here's a look at the process for making this baby food. Scroll down to the end of the post for the full information.
Cut the apricots in half and remove the pit. Cut into lengthwise pieces about 1/2-1 inch thick.
Warm the butter in a pan to melt. Add the fruit.
Cook until soft, stirring occasionally. Let cool and serve as a BLW fruit.
Or, transfer to a blender and blend smooth. Serve or store.
Frequently Asked Questions
Why is my apricot puree so tart?
Apricots are naturally tart, so you may need to add another less tart food, like apple, to balance it.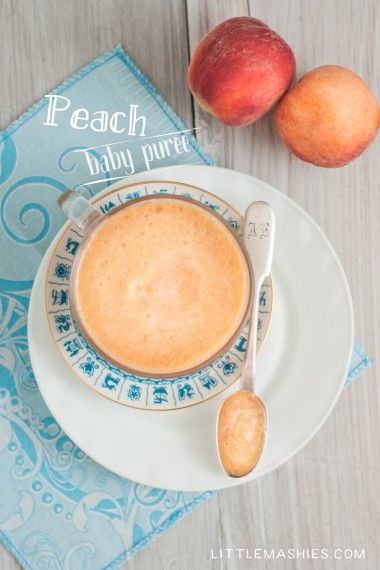 Can babies eat apricot?
Yes, after 6 months (or whenever baby starts solids), apricots are a nice option for a baby food.
Do you peel apricots for baby food?
No, you don't have to peel the apricots. The skins blend into the puree very easily.
How do you prepare apricots for baby food?
If your apricots are very ripe and very sweet, you can simply puree the fresh fruit after you remove the pits. If they are not very sweet, which is often the case, it is better to saute them in a pan to caramelize the sugars a little and help the fruit soften. Then you can serve it as a BLW food or blend into a puree.
How to Store Baby Food
You can put leftover or meal-prepped baby food into baby food storage containers or reusable pouches and store in the fridge for 3-5 days. Or, you can also freeze baby food. I prefer to freeze it in ice cube trays, then transfer the frozen cubes to a storage bag to freeze for longer-term storage.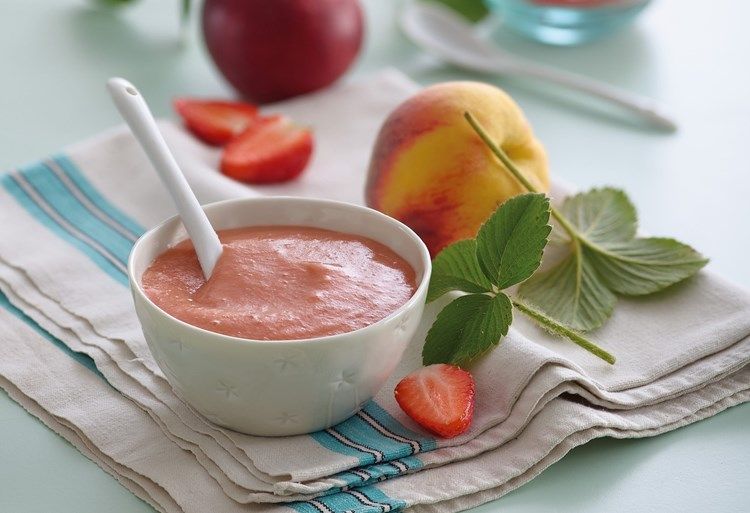 Favorite Baby Food Containers
I love the WeeSprout Jars, Beaba Clip Containers, and Squeasy Gear Pouches for baby food storage. You can find all of my favorite resources for baby food containers for more information.
How to Store
Store the puree or slices in an airtight container in the fridge for 3-5 days, or freeze the baby food for longer-term.
Best Tips for Success
If you have the option, choose local, very fresh apricots if possible.
Remove the pits and cut lengthwise so the fruit is ready for BLW.
If the puree is very tart after blending, add a ripe banana or 1 cup applesauce to help even out the flavors.
To make an Apricot Baby Food Combination, mix with Avocado Puree, Peach Puree, Mango Puree, Sweet Potato Baby Food, or Strawberry Puree.
Related Recipes
---
I'd love to hear your feedback on this recipe, so please rate and comment to share.
Prep Time 10 minutes
Cook Time 10 minutes
Total Time 20 minutes
Author Amy Palanjian
Cuisine American
Course Baby Food
Calories 80kcal
Servings 4 -6
▢ 1 pound apricots
▢ 1 tablespoon unsalted butter (or avocado or olive oil)
Halve the apricots and remove the pits. Slice into 1-inch slices.

Add the butter to a skillet over medium heat. When melted, add the apricot slices and stir gently to coat. Cook for 10-12 minutes, stirring occasionally, until the fruit is soft but still holding together. Remove from heat.

Let cool slightly and serve BLW-style.

Or, add fruit to a blender and blend until smooth, adding 1-2 tablespoons water, formula, or breastmilk until you reach the desired consistency.
Calphalon 5-Quart Pot

Vitamix Blender

Reusable Pouch
Store the puree or slices in an airtight container in the fridge for 3-5 days, or freeze the baby food for longer-term.
If you have the option, choose local, very fresh apricots. (They may be less likely to be underripe and should have better flavor.)
Remove the pits and cut lengthwise so the fruit is ready for BLW.
If the puree is very tart after blending, add a ripe banana or 1 cup applesauce to help even out the flavors.
To make an Apricot Baby Food Combination, mix with Avocado Puree, Peach Puree, Mango Puree, Sweet Potato Baby Food, or Strawberry Puree.
Calories: 80kcal, Carbohydrates: 13g, Protein: 2g, Fat: 3g, Saturated Fat: 2g, Polyunsaturated Fat: 0.2g, Monounsaturated Fat: 1g, Trans Fat: 0.1g, Cholesterol: 8mg, Sodium: 2mg, Potassium: 295mg, Fiber: 2g, Sugar: 10g, Vitamin A: 2272IU, Vitamin C: 11mg, Calcium: 16mg, Iron: 0.4mg
Tried this recipe?Rate in the comments and tag @yummytoddlerfood on IG!
Related Posts
Related Products
Happy Family Meals (Meal Plans)
Buy Now
Happy Family Meals (Vol 2)
Buy Now
Yummy Toddler Snacks
Buy Now
Yummy Baby Food
Buy Now
Share it with the world
FacebookTweetPin
Filed Under
Apricot Homemade Baby Food Recipes and Introducing Apricots to your baby with Homemade Apricot Baby Foods
Apricots for Baby Food – Learn About Feeding Your Baby Apricots and the Age to Introduce Apricots
Introduce Apricots to Baby between 6-8 Months Old
The Goodness of Apricots
Apricots are high in Beta Carotene (Vitamin A), Vitamin C and Lycopene.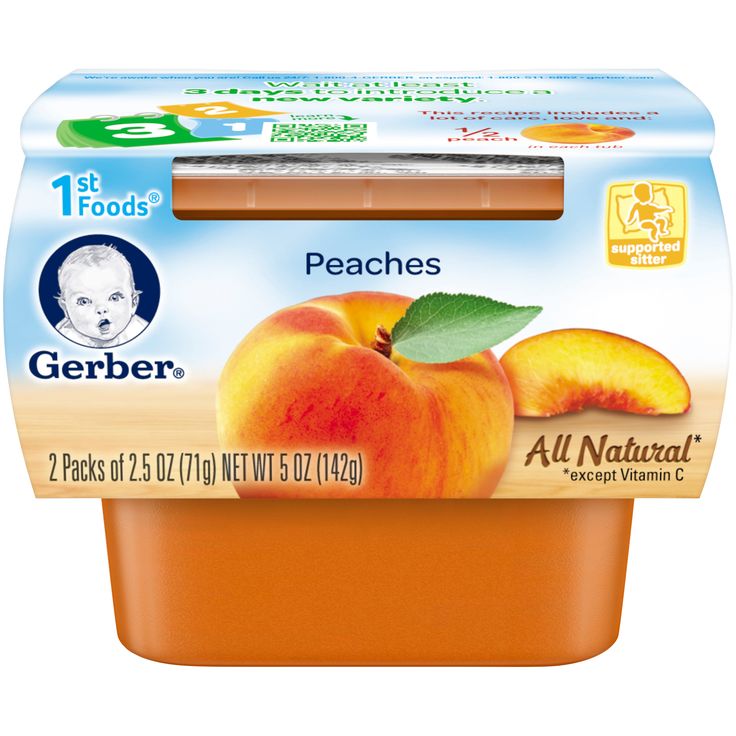 Just 3 apricots contain approximately 30 % of the USRDA for Vitamin A. This combination of nutrients is one of the best defenses against heart disease and some cancers.
Apricots for Baby Food – When can baby eat apricots?
Apricots are another great source of nutrition for baby. As with several other fruits, you may typically introduce them anywhere from 6 months old and older.
If you will be using Dried Apricots, try to find those that do not contain sulphurs such as sulphur dioxide. Some people are allergic to sulphurs and sulphurs tend to be high in sodium.
Nutrients in 1 cup of Apricots

VITAMINSVitamin A – 674 IU

Vitamin C – 3.5 mg

Vitamin B1 (thiamine) – .04 mg

Vitamin B2 (riboflavin) – .01 mg

Niacin – .21 mg

Folate – 3 mcg

Contains some other vitamins in small amounts.

MINERALS:Potassium – 91 mg

Phosphorus – 8 mg

Magnesium – 4 mg

Calcium – 5 mg

Sodium – 0 mg

Iron – .14 mg

Also contains small amounts of manganese, copper and zinc.
Your baby will love apricots served fresh and homemade. View some apricot baby food recipes and learn about the nutrients in apricots too.
How to select and store Apricots for baby food
 Hooray! According to the EWG, apricots are not one of the "dirty dozen" foods that are most highly contaminated with pesticides – purchasing organic apricots is a personal choice.
Look for plump, fairly firm apricots with an orange-yellow to orange color. Fully ripe apricots are soft to the touch but not squishy. Apricots tend to be juicy and should be eaten as soon as possible.
Keep apricots cool to prevent over ripening. Store ripe apricots in the refrigerator where they may keep for up to a week. You may place hard apricots in a paper bag and let ripen for a day or two but keep in mind that apricots have are a greenish color will not ripen.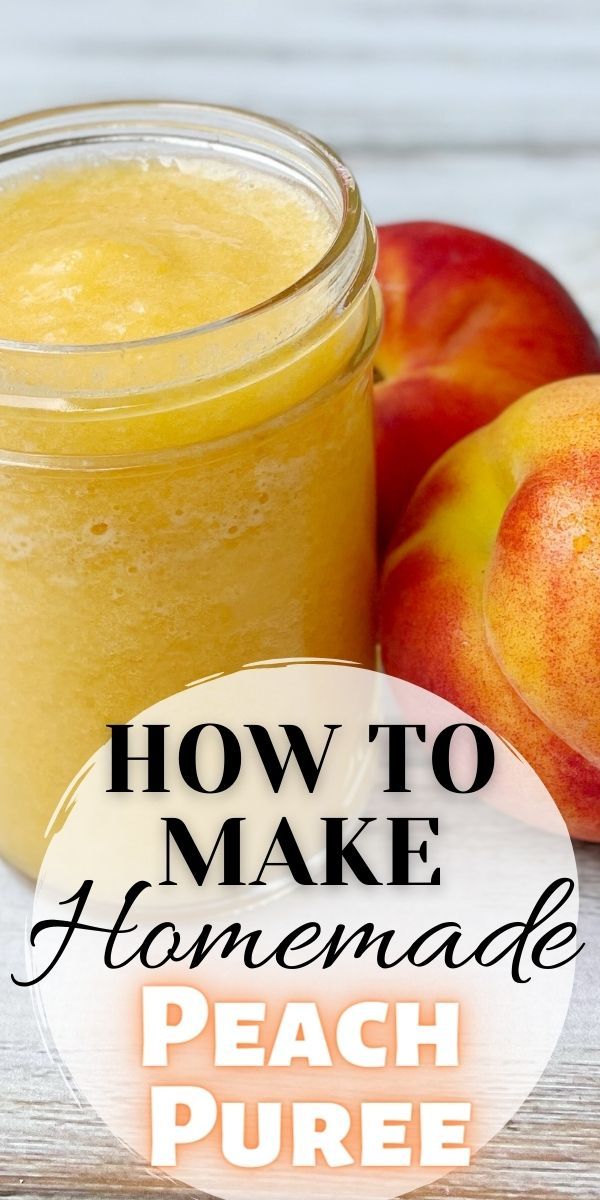 To freeze fresh apricots, simply half the fruit and place on baking sheet until frozen. Then pack in a plastic freezer bag.
The best way to cook Apricots for baby food
You may bake apricots by halving, pitting and then placing in a shallow baking dish with water. This method brings out their natural sweetness and also helps retain nutrients.
You may also steam or boil apricots using a blanching method – add apricots to boiling water for a few minutes then take them out, run cool water over them and slip the skins off; you will still need to pit them.
Tasty Apricot Baby Food Recipes
Apricot Baby Food Recipes – Apricot Puree (using dried apricots) for babies 6 – 8 months 
Ingredients:
1 pound dried apricots
2 c. white grape juice or apple juice
(plain water is ok but the puree may be a bit bitter-consider using ½ water or ½ juice is you disagree with the juices or if baby cannot have juice)
Directions:
Step 1: Bring juice (or water or the combo) and fruit to a boil and simmer for 15 minutes.
 Reserve any left over liquid to use for the puree
Step 2: Place into your choice of appliance for pureeing and begin pureeing.
Step 3: Add the reserved liquid as necessary to achieve a smooth, thin puree or
Step 4: Add cereal (if desired) to thicken up
 NOTE: puree will not freeze solid, but into slightly soft/slightly frozen cubes.
---
Apricot Puree for babies 6 – 8 months 
Using Fresh apricots (fresh apricots for baby food is best.)
Baking Halve the fruit and remove pit, place "open" side down in a pan filled with 1 inch of water, bake at 400F until soft and tender or puckering of the skin appears.
Steaming Halve the fruit, remove pit and steam in an open pan of water until soft and tender – remove skins
Blanching Drop whole, cleansed fruits into a pan of boiling water for 5-10 minutes, until fruits are soft
Place fruits into a bowl of cold water and slip off the skins then cut and pit the fruit
To puree, follow Steps 4 through 7 above
---
Apricots & Naners for babies 6 – 8 months 
Add pureed apricots to baby's mashed bananas – you can then add this mix to baby's cereal if you wish.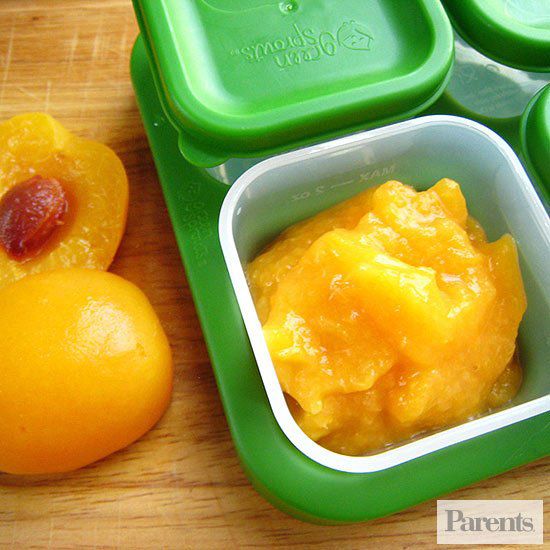 Try this with meats or yogurt too.(when age appropriate for your baby)
---
Apricot Cereal for babies 6 – 8 months 
Add pureed apricots to baby's homemade rice, oatmeal or barley cereal
Chicken and Rice with Apricots for babies 8-10 months 
Ingredients:
1/2 cup (Brown/or Jasmine) Rice
2 cups water
1/4 cup apricots – sliced into small dices or slivers
1 boneless chicken breast
Directions:
Step 1: Combine all of the above ingredients in a medium saucepan.
Cook over medium-low heat for 30 minutes or until rice is soft, fragrant and a bit soupy.
Step 2: Take out the chicken breast and cut into small pieces, transfer back to saucepan.
Step 3: Add more water if needed and stir frequently to stop sticking to the pot and add more milk or water if necessary. Cook an additional 15 minutes
Step 4: Once the mixture is fully cooked, allow to cool for 10 minutes and then transfer to a blender or food processor.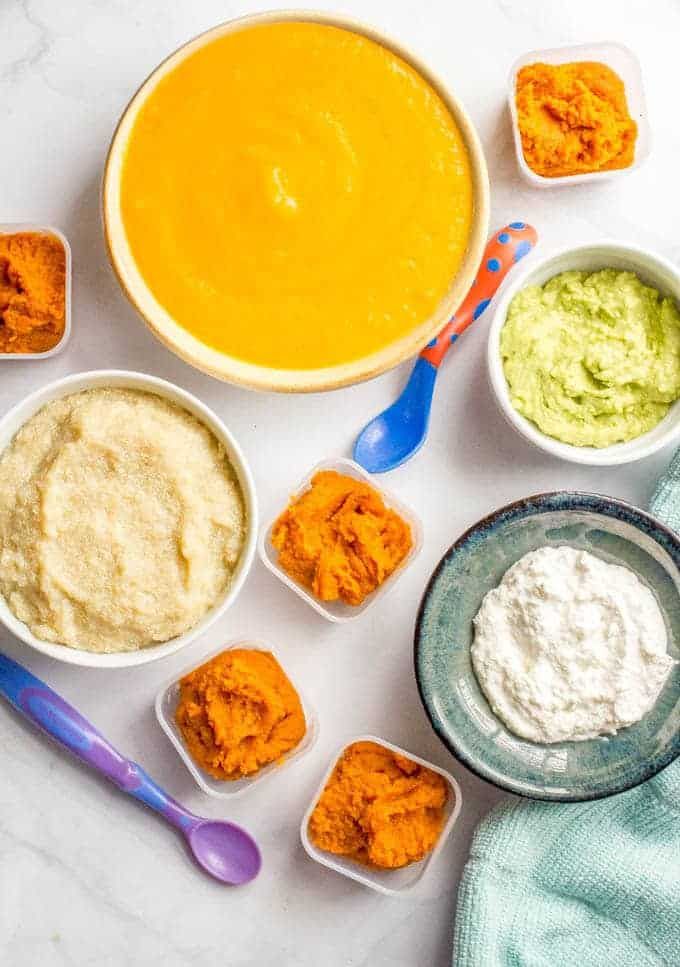 Puree or chop as needed for your baby's age and texture requirements.
This makes a great finger food meal for older babies and toddlers alike.
Apricot Purée – Substitute for Oil in Cooking
Apricot purée is on the rise as the new substitute for oil or
water in many high-calorie, high-fat recipes. Simply purée canned apricots in a blender or food processor until smooth. Unlike prunes (which can darken some baked goods) or applesauce (which may cause recipes to be watered down), apricot purée reduces the fat content and adds a touch of added flavor. From http://www.apricotproducers.com
Foods Good to Mix With Apricots:
Rice, Oatmeal, Barley and Mixed Grain Homemade Baby Cereals
Bananas
Avocado
Blueberries
Pears
Peaches
Sweet Potatoes
Carrots
Summer Squash – Zucchini, Yellow (Crooked Neck)
Chicken
Beef
Yogurt
Do Apricots need to be cooked or peeled for baby food?
Many doctors suggest cooking fruits for babies under 8 months old.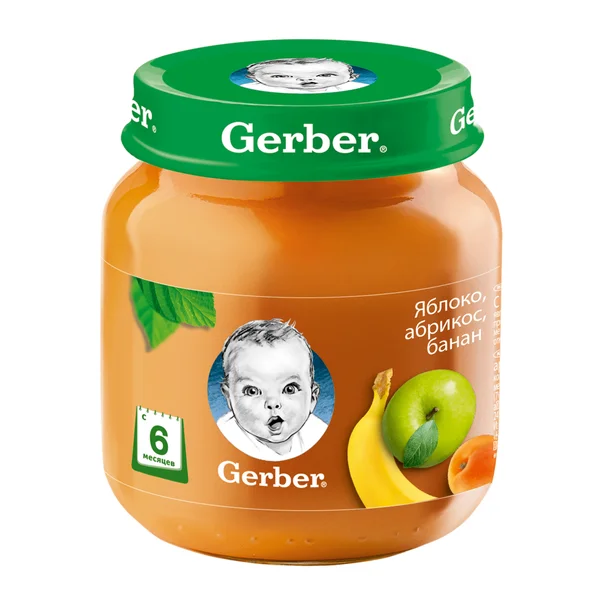 Apricots have skins that are relatively easy to digest and cooking and/or peeling them may not be necessary at all. If your baby has shown any signs of having tummy troubles with foods and is under 8 months of age, you may want to consider cooking and/or peeling apricots.
Visit our Combinations page to see more Homemade Baby Food Combination Ideas
Resources and Learning More:
California Apricot Council
Apricot – Horticultural Info. Southern Australian Research & Development Institute
apricotproducers.com
WholeHealthMD – Apricots
 Remember, always consult with your pediatrician regarding introducing solid foods to your baby and specifically discuss any foods that may pose allergy risks for your baby.
 This site complies with the HONcode standard for trustworthy health information: verify here.
SHARE ON FACEBOOK SHARE ON PINTEREST
Introduction of complementary foods: Apricot puree - Encyclopedia Baby food
Levchuk Victoria ©
Apricots are a useful product for a growing child's body.
It contains many vitamins, minerals, fiber, carotene, pectin, tannins. They are a mild laxative and an excellent antioxidant. Apricots have a fragrant and sweet taste. Ripe fruit can be: yellow, orange and reddish in color. They promote health by providing the body with strength and energy. Apricots spoil very quickly and are usually harvested when not ripe.
What is an apricot?
Contents:
Apricot is a fruit tree of the Plum genus of the Rosaceae family. The fruits of the tree are edible, they are also called apricots.
The most common type of this fruit throughout the world is the common apricot. This species includes most of the known varieties. There are 54 varieties of apricot in Russia. All of them are included in the State Register of Breeding Achievements.
Fruit ripening is due to climatic conditions. In the Mediterranean, apricots begin to ripen from March. In June, ripe and juicy apricot fruits can be enjoyed in Armenia and the Middle Caucasus.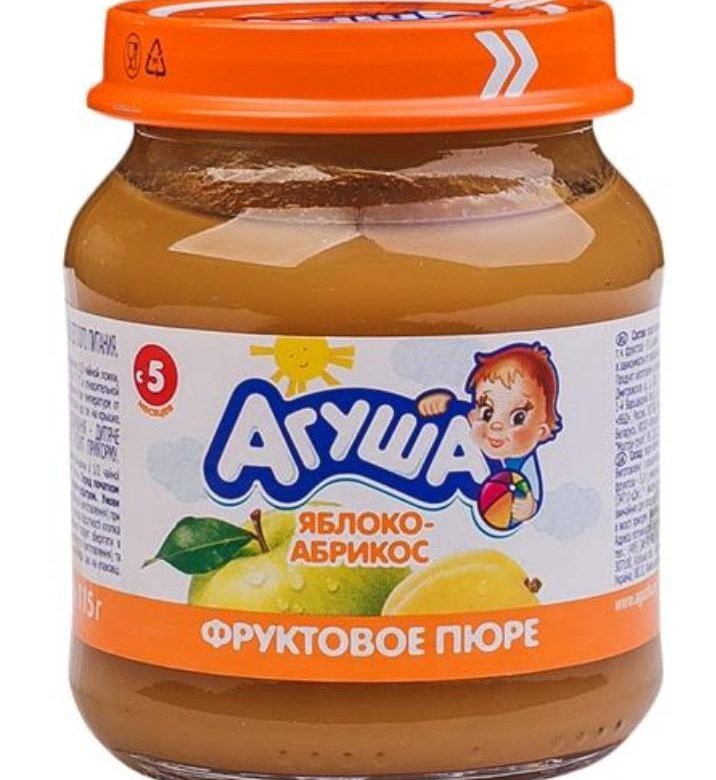 In Central Asia, apricots can be harvested at the end of June and July. In hilly areas in the upper zones, the harvest ripens a month later, and in the lower zones, the fruits ripen a month earlier.
In the southern parts of our country, early varieties of apricots are harvested at the end of June. Mid-season varieties ripen in mid-July. And late varieties in the Krasnodar Territory and Crimea ripen by the end of July.
History of the apricot
The first mention of the apricot is in the Chinese chronicles of an emperor who lived 2200 BC. According to one version, the apricot originally appeared in China, in the Tien Shan region, and then spread to Central Asia, then to Europe. However, the homeland of the apricot has not been precisely established. According to another version, the birthplace of the apricot is sunny Armenia. In Russia, apricot appeared in the 17th century. This fruit was brought to our country from Western Europe.
The benefits of apricot in baby food
Apricot has a beautiful orange color, which means that it is rich in beta-carotene, which the child's body converts into vitamin A.
But that's not all - apricots provide the child with a lot of vitamin C, as well as a lot of minerals, including iron and potassium.
The high levels of antioxidants in apricots help protect the body from various types of cancer and heart disease, and its high fiber content makes apricots very effective against constipation. Fiber stimulates the intestines, causing a mild laxative effect.
The laxative effect of apricots - especially dried apricots - can be quite strong. If parents want to use apricot to relieve constipation, then only a little should be offered at first, and gradually increasing the amount until the baby goes to the toilet. Giving your child too much apricot or apricot-based products at one time can cause a nasty bout of diarrhea .
minerals and vitamins apricot
Apricot fruits have a beneficial effect on digestion, help in the fight against flatulence and the treatment of dysbacteriosis.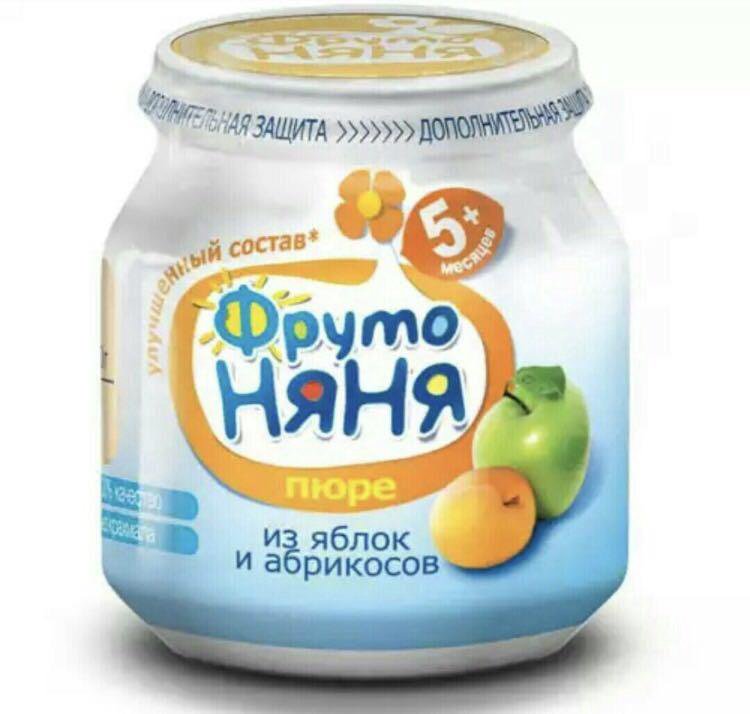 Also, these fruits have the best effect on the nervous system. Apricots have a useful vitamin composition:
calcium forms and strengthens bones;
magnesium normalizes metabolic processes;
potassium normalizes the work of the heart;
iron enriches the blood with oxygen, and also increases the level of hemoglobin, participates in the process of blood formation;
phosphorus restores cells, activates the brain;
ascorbic acid helps strengthen the immune system;
carotene improves the appearance of hair, nails and skin;
B vitamins help absorb iron.
In baby food, apricots are used as complementary foods, in the form of puree. This is a healthy and dietary product. Complementary foods will be prescribed by a pediatrician when the baby is six months old. Usually the baby gets acquainted with apricots at about 8-10 months, but everything is at the discretion of the parents. Since the introduction of this fruit into complementary foods depends on the season.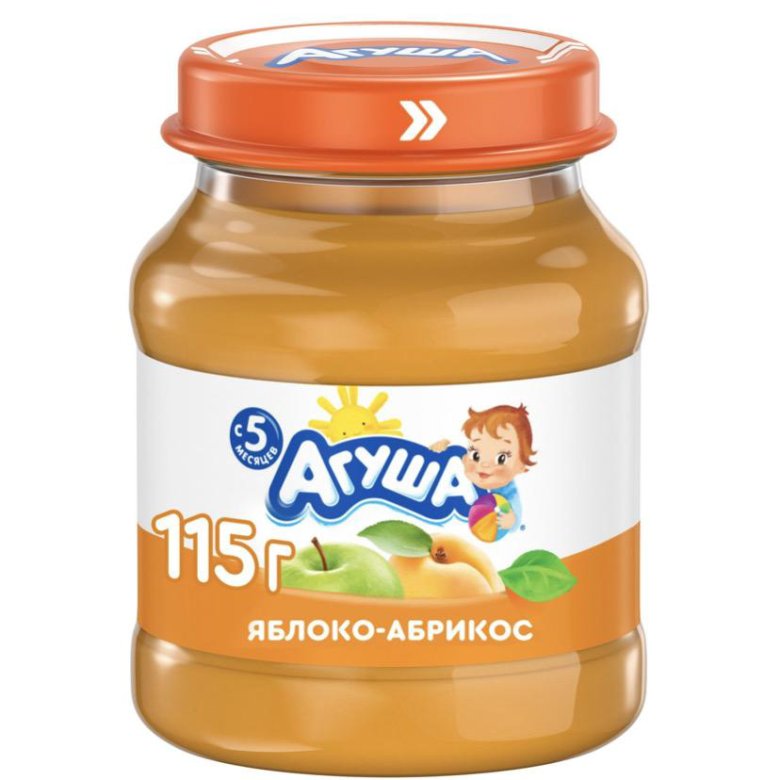 If the baby is more than six months old during the apricot harvest period, then you can safely introduce the baby to the fruit. However, it must be borne in mind that the baby should be familiar with vegetables and at least one less allergenic fruit, for example, an apple. Only then is it worth introducing him to the apricot. We also take into account the peculiarity of the fruit - its laxative effect and at first we give a small amount to understand how the baby will react to the product.
Approximately in July, August, fresh apricots, ripe according to the season, appear on sale. Therefore, it is better to make puree yourself. You can make it from dry apricots, that is, dried apricots, only the quality of this puree is much worse.
Feeding Recommendations
If you are introducing this product to your child's diet for the first time, to avoid allergies, you should start complementary foods with half a teaspoon, gradually increasing to 50 or 100 grams.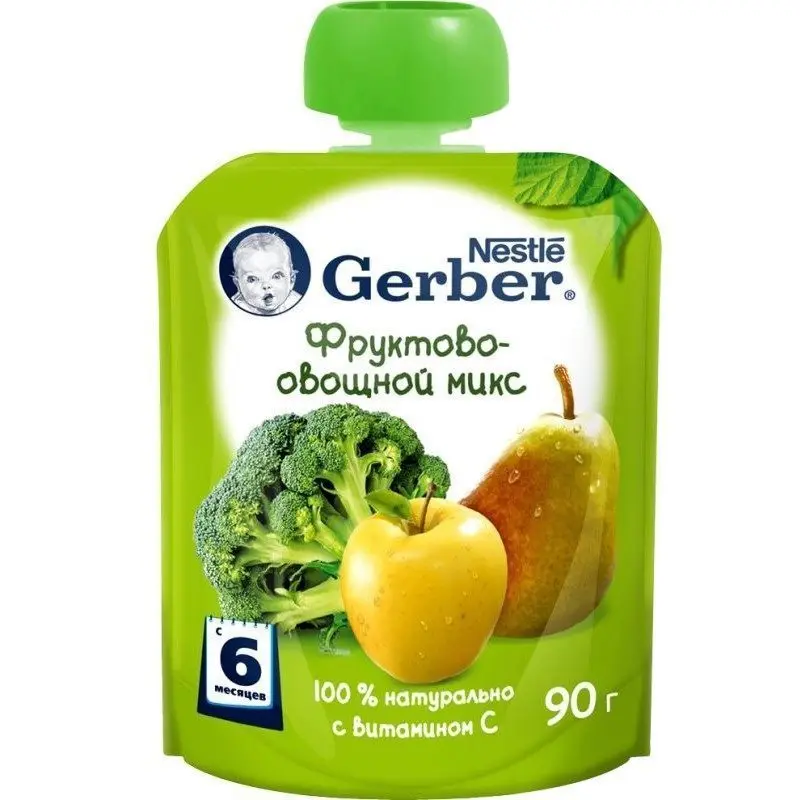 If the child refuses to eat, you can add a little breast milk or baby food to the puree. If it is not possible to prepare mashed potatoes yourself, you can buy ready-made products in jars for baby food. For their preparation, only proven products are used. They are produced as a separate product - apricot puree, and can be combined with other fruits and additives, for example:
apricot and apple;
cottage cheese and apricot;
apricot and cream;
oatmeal and apricot;
banana and apricot;
peach, apple and apricot and others.
These recommendations will help mothers to pay attention to the benefits of complementary foods and how to prepare them at home.
Apricot should be given to a baby up to 12 months in processed form, after which you can introduce him to fresh fruit. But the first time the fruit will need to be peeled. It is easy to do this, we sharply lower the apricot into boiling water, then put it into ice water, the skin will peel off by itself.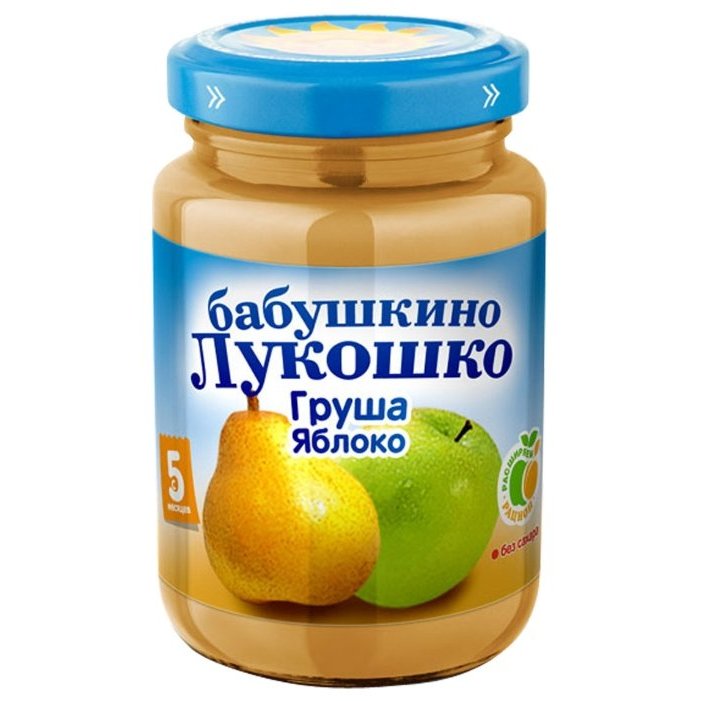 It is also an ideal fruit if picked from a naturally ripened tree. But apricots reach the market ripened in a box, i.e. they are plucked while still green, they ripen on the way to the market. Which is very inconvenient for the introduction of complementary foods, since the baby will not receive a huge amount of vitamins. Therefore, it is necessary to look for local apricots or from nearby settlements. I also draw your attention to the fact that many fruit trees were planted as landscaping in Russian cities earlier. Therefore, you can just go on a "hunt" with the baby. I don't know about you, in our city in quiet peaceful courtyards you can find cherries, cherries, apricots, blackberries, nuts, etc. Moreover, when seeing a mother with a baby, compassionate grandmothers can take out a ladder to make it easier to collect.
apricot complementary food
Allergy to apricot
Reaction to apricot is rare, but it happens. There are two types of apricot allergy.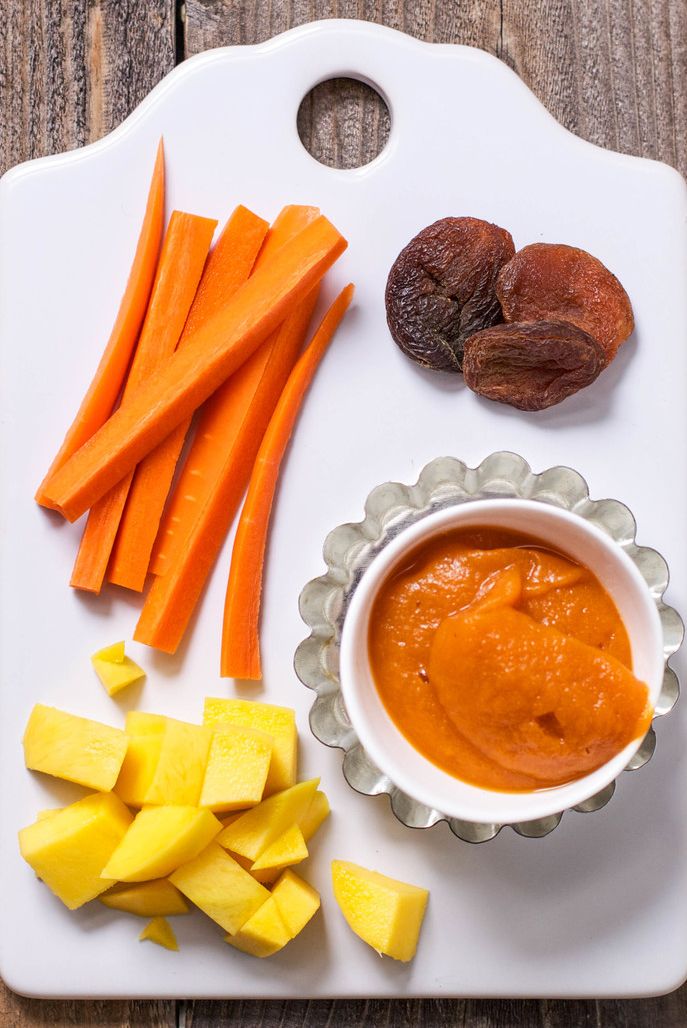 One (with less severe symptoms) is associated with birch pollen allergy. People with this type of allergy can often eat cooked apricots, but not fresh ones.
The second type of allergy (with more severe symptoms) is associated with peach allergy. People with this type of allergy usually cannot eat apricots in any form. If a child has already been diagnosed with an allergy to peaches or nectarines, then most likely he will be allergic to apricots. Therefore, it is necessary to discuss the introduction of apricots with the child's doctor.
In any case, apricots should be carefully introduced into complementary foods, observing the rules of waiting 4-7 days. Thus, if there are any signs of an allergic reaction, then it will be possible to remove apricots from the child's diet as the cause.
Dried apricots can cause a reaction if the child is sensitive to sulfites, especially if the child has asthma.
How to choose and store apricots
The best time to buy sunny fruit is during the high season, namely from late May to August.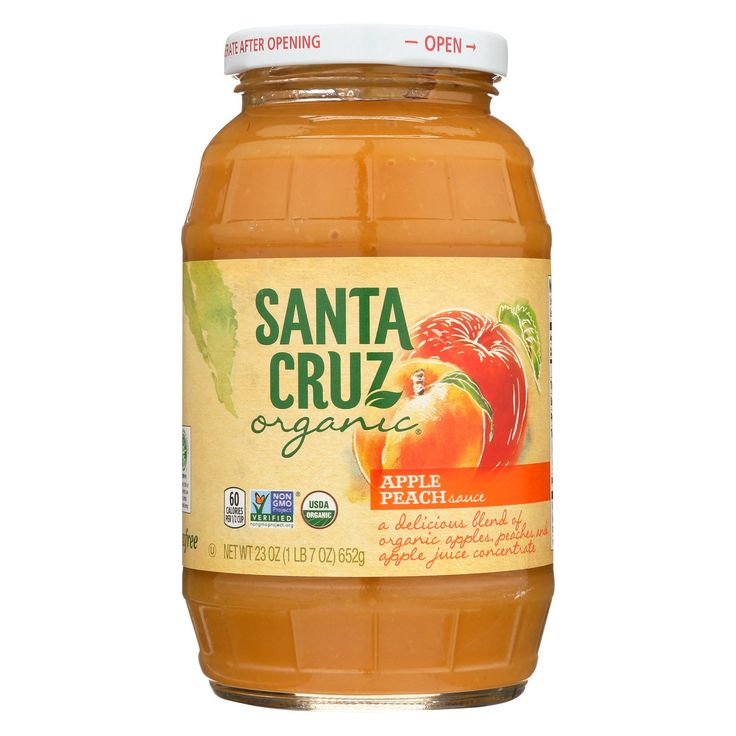 The skin of apricots is colored bright yellow or bright orange, often there is a red blush. Ripe apricots should be tight and firm, looking round and full. Apricots tend to spoil quickly, so it is better to choose fruits without flaws and dents. However, mashed apricots are quite suitable for preparing various dishes, such as sauces, purees, jams or pastries.
Ripe apricots should be stored in an airtight container in a cool place. They can be stored in the refrigerator for a week, while at room temperature - up to four days. If the apricots are not ripe, they can be folded into a paper bag for further ripening until the fruit is soft. Ripening occurs up to three days, and unripe apricots can be stored at room temperature for up to five days. Overripe fruits are not suitable for storage, so do not delay using such apricots.
Pesticides and apricots
Dried apricots are often pre-treated with sulfur dioxide to preserve their color and nutrients. The presence of this substance can provoke an allergy or an asthma attack.
When choosing dried apricots, you should pay attention to their color: if the fruits are amber or caramel in color, then most likely the fruits have been treated with substances.
In order to delay the fungus infestation of apricots during storage, the fruits are processed, disinfected or cooled with ice water with or without fungicides. Also, most apricots are treated with pesticides against diseases and pests during cultivation. Recognizing a processed fruit is quite difficult, so it is worth taking measures to remove chemicals from fruits (fresh and dried) such as washing apricots under running water with a fruit wash, soaking fruits in water or soda.
There is a perception that the markets sell organic fruits that have not been chemically processed, or the processing of fruits was minimal and not as toxic. Therefore, it is recommended to purchase apricots in such markets.
Freezing apricots
Apricots can be frozen, but this product can only be used for compotes, baking.
Frozen apricot puree tastes fresh and watery.
However, if you want to freeze an apricot, then you need to choose good ripe fruits that get rid of stones and are divided into 2 halves. These halves are placed in bags and frozen in quick freeze. The main thing is to freeze in a completely empty chamber and then immediately put it in an airtight bag and store only with other fruits. Apricots love to absorb foreign odors, so a fruit with a meat smell, I don't think a child will like it.
Whole fruits can be frozen, but it is inconvenient to use the product with a stone in the future. You can also freeze apricot puree, both in large quantities and after complementary foods, for example, the remains of baby puree. The main thing to remember is that all frozen blanks are made without sugar. You can use frozen apricots in compotes, fruit drinks, kissels, with porridge, in pastries, etc. You can store a whole frozen product for about 1 year, and frozen mashed potatoes - 3 months.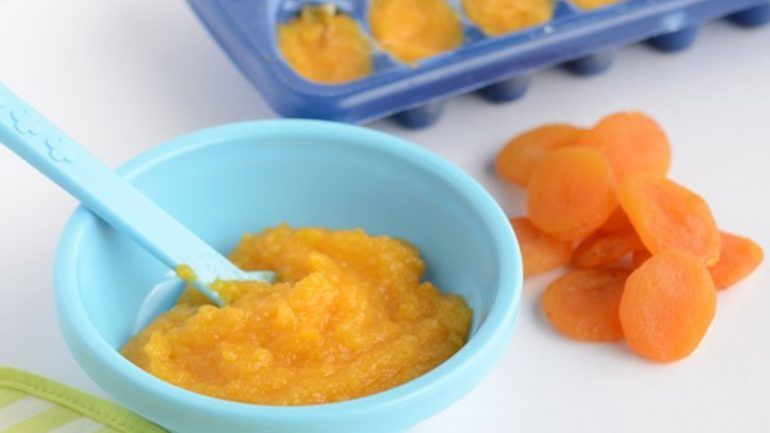 Defrost and refreeze is strictly not recommended.
Dried apricot fruits
Modern dried apricot fruits are called dried apricots. You can buy it in the market or in a store, but its beautiful appearance is alarming. The fact is that when dried, apricots are sprayed with sulfur dioxide (E220), so this product is bright orange in color and does not darken. But children may have an allergic reaction to this substance, so it is better not to introduce a baby under 3 years old to store-bought dried apricots. However, everything happens in life, so if you want to feed your baby with beautiful bright dried apricots, then you should soak it for 20 minutes before use.
Also, if a child has received dried apricots, it should be taken into account that it can stick to the palate and teeth, which makes chewing difficult. Therefore, it is best to introduce the baby to dried fruit after 3 years, when he will not be able to choke and will calmly respond to food particles sticking to his teeth and palate.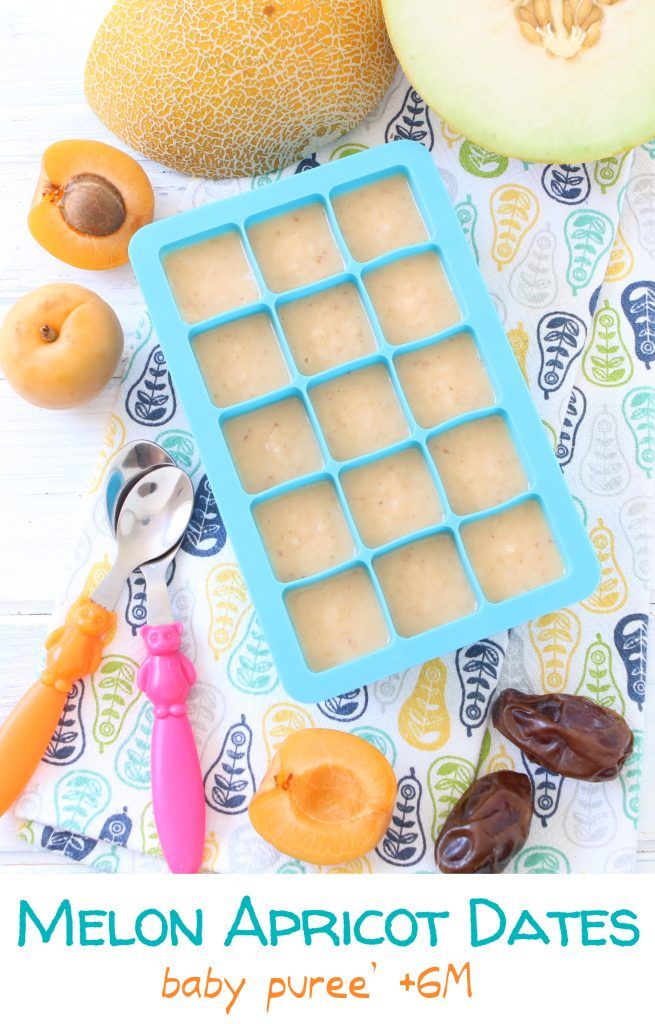 Dried apricot at home is more useful, unpresentable, dirty brick. From such dried apricots, amazing compotes are obtained, and in this form the fruit can be stored for more than one year. Although the shelf life is exactly 1 year, it can be stored at home for up to 3 years in glass jars, the main thing is to fry in the oven once a year so that parasites do not start. It is parasites that reduce the shelf life of dried apricots, so it is worth taking it out and looking at it periodically, because if there is a hint of living creatures, the entire product goes into the trash can.
Canned apricots
Apricots do well in canning. You can make jam, marmalade, apricot puree and jams from them, but everything is cooked with sugar. Without sugar, apricot puree is fresh and should be stored in the refrigerator. But in its pure form, sugar-free apricot puree cannot be given to a child, so you should mix it with a banana, or something fresh. Canned apricots with sugar will keep for about a year.
Contraindications
1). Since apricot contains a large amount of sugars, people with diabetes should not get carried away with this fruit.
2). You should not eat an apricot on an empty stomach: it can cause irritation of the gastric mucosa, as well as exacerbation of ulcers or pancreatitis.
3). When eating apricots, allergic reactions are possible, in particular in children. Therefore, it is necessary to introduce this fruit carefully, observing the reaction of the child's body.
4). It is not recommended to eat apricots after milk, fatty and hard-to-digest foods, as these fruits can cause indigestion.
5). Do not consume more than 15 apricots per day, as this can cause diarrhea, dizziness, decreased blood pressure and heart rate.
Preparing fresh apricot puree
To prepare one serving of puree, you need to take about 100 grams of apricots, remove the stones. Then pour water and put to boil. If the fruits are ripe, then it is better not to add sugar, since apricots are quite sweet and contain easily digestible sugar.
Cook for approximately 10 minutes. Put the boiled apricots on a sieve and wipe. Then bring to a boil again and cool. This cooked puree is suitable for single use. It is not recommended to keep it.
Proposed way of consuming apricot in baby food
Apricot in baby food should be offered in the form of baby puree, in any variety of baked goods, with any cereals. You can also mix apricots with yoghurts and cream cheese. Use apricot jam or jam with pancakes and pancakes. Also, the sweet and sour taste of the fruit is ideal for meat, such as chicken. As a finger food, apricot is also suitable. You can choose ripe varieties that melt in the child's mouth and he will not be able to choke on them. You can also use an apricot in a nibbler until the baby has learned to eat in pieces.
Apricot pit
Apricot pit poses a danger to the child as he may choke on it. If a cherry or sweet cherry stone can safely pass through the esophagus and come out with feces, then a large apricot stone can get stuck.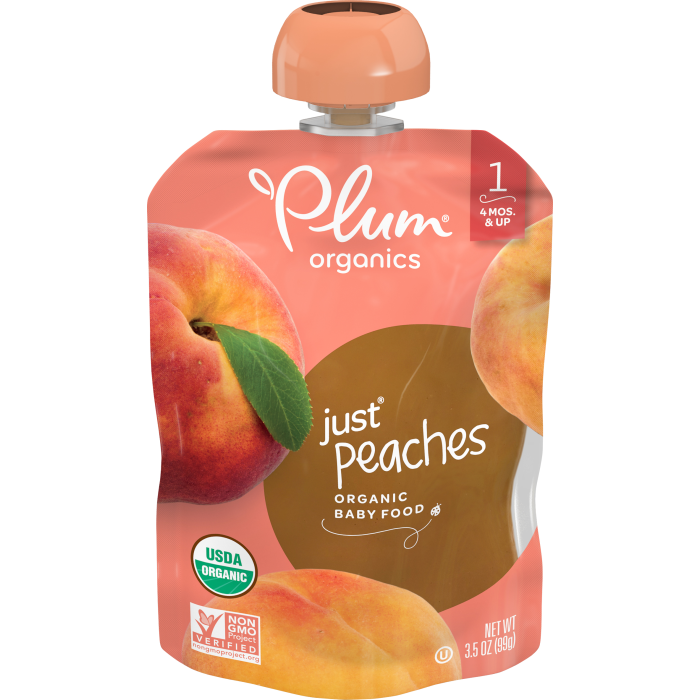 Therefore, up to 2-3 years old, a child should be given pitted apricots and gradually learn to extract the core on their own. After 3 years, the child is able to independently remove the stone and eat an apricot. Although, as I wrote earlier, it is still worth controlling the eating of stone fruit until the age of 5.
Apricot drink
Apricot drink can be given to a child after the fruit has been safely introduced. You can cook your baby a regular compote of dried apricots, or juice with pulp, fruit drink or jelly. Compote is cooked, as usual, in boiling water we throw thoroughly washed dried apricots or fresh apricots and cook for 5 minutes. Sugar can be omitted, like apple compote, it will be sweet in itself. For juice, apricot puree is used, to which a little water is added for a liquid consistency and boiled for about 3-5 minutes. In any case, an apricot drink turns out to be tasty and sweet, without sugar.
Ready-made baby food
Apricot puree is commercially more common in pure form than banana.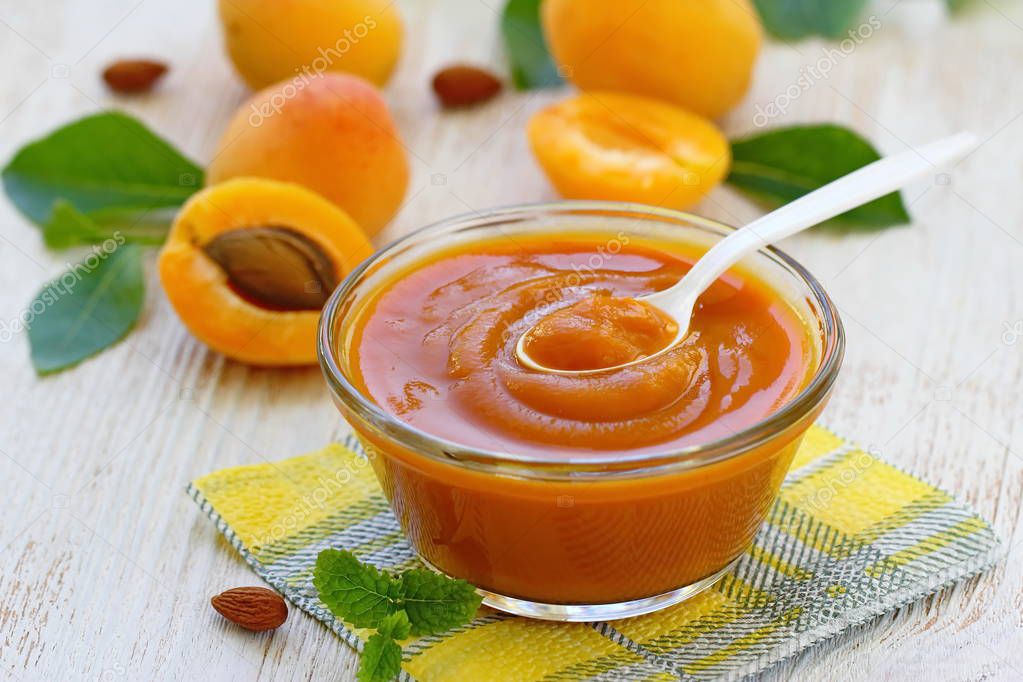 So apricot puree is offered by such manufacturers as Babushkino Lukoshko, Spelenok (though sugar is present), Rusty Bolshoy, Hipp, Bebivita.
The standard and favorite combination of all manufacturers apple + apricot is found in such manufacturers as Sami with a mustache, Bebivita, Agu-Agu, Frutonyanya, Babushkino Lukoshko, Rasti Bolshoi, Sady Pridonya (with sugar), Semper, etc..
Also in the baby food market you can find many interesting mixes:
Porridge rice with pumpkin and apricot Frutonyanya
Greek milk with peach and apricot 9000,0002 Frutonyanya
9000 with cream Frutonyanya
Apricot - Curd Babushkino Lukoshko
Nectar Apricot Babushkino Lukoshko
juice with apple- Apricot Babushkino Lukoshko, Heinz
Apple- Apricot Cream 9000 - Banan- Apricot Gerber
Apricot with cottage cheese Gerber , Heinz
Aprobisos with cream gerber
porridge rice Abrikos - Bunny Heinz
Greek porridge Aprocos - Grushka - Currants Heinz
Porridge Apricik 9000 Heinz 9000
KAM — Blueberry Heinz
Fruit puree with biscuits ( Apricot — Pear — Apple — Powdered milk — wheat flour) Heinz
Oatmeal with Nestle
Milk oat apple - Apricot Nestle
Milk buckwheat with Curago Nestle
POOKS APROSE 9000 9000 9000 9000 NESTLE 9000 9000 2 apricot Nestle
etc.
Foods that go well with apricot:
Rice, oatmeal, barley and mixed cereals
puree of fresh apricots, step -by -step recipe for 132 kcal, photo, ingredients
Add recipe
Recipe
9000
Recipe from Yulia Vysotskaya
Pork with mango, ginger and chili sauce
Despite the fact that pork almost always contains some amount of fat, dishes from it often turn out to be dryish. It's all about the marinade - any citrus acid, for example, will make the meat
Julia Vysotskaya
Advertising
Viderait on the topic
Recipe from Julia Vysotskaya
Terrin from Rabbit with Kuraga
If you are not able to buy a rabbit with a liver, replace it with chicken liver.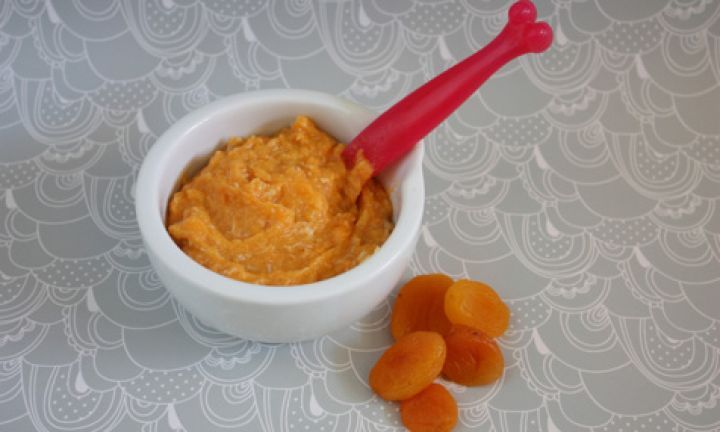 Instead of port wine, marsala or vermouth can be added to giblets. If fresh sage is not available, use dried sage. Cook offal
Yulia Vysotskaya
Recipe from Yulia Vysotskaya
Chinese rice porridge
If you don't like spicy, remove the seeds from the chili. Any mushrooms are suitable - shiitake, oyster mushrooms, champignons or forest mushrooms.
Julia Vysotskaya
Advertising
Julia Vysotskaya
Preparation
25 minutes 9000 it is best to cook with fresh apricots when they first appear in the summer (ideally plucked straight from the tree!). Those that are sold in our stores in winter are not suitable for a small child!
0g
% DV
0%
0%
0%
Based on your
age, weight and activity.