Baby alive food instructions
Baby Alive Magical Mixer Baby Doll Strawberry Shake, Blender, Accessories, Drinks, Wets, Eats, Toy for Kids Ages 3 and Up
US - English
(For example: brand, product name, product number, etc.)
Back
Baby Alive Magical Mixer Baby Doll Strawberry Shake, Blender, Accessories, Drinks, Wets, Eats, Toy for Kids Ages 3 and Up
Baby Alive (E6943)
Baby Alive Magical Mixer Baby Doll Strawberry Shake, Blender, Accessories, Drinks, Wets, Eats, Toy for Kids Ages 3 and Up
File Size : 339.47 KB
Download
Whipping up a pink treat for baby is so much FUN with Magical Mixer Baby dolls real working toy blender! Just open 1 of the 2 included powdered doll food packets (additional powdered doll food sold separately), pour it in the blender with 3 tsp. (15 ml.) of water, and press down on the button to mix up babys food! This doll also comes with a spoon for feeding, and a comb for brushing her pretty blonde hair. She drinks, wets, and poops, too! After babys finished her food, give her a few sips of water from her bottle.
Uh-oh! Its time to change babys diaper! Its a great toy or gift for girls and boys ages 3 years old and up. Baby Alive and all related properties are trademarks of Hasbro. 
Includes doll with removable outfit, 2 diapers, 2 packets of doll food, blender, bottle, spoon, comb, and instructions. 
TOY BLENDER REALLY WORKS Babys ready for a treat! Pretend to make her a strawberry shake in a real working toy blender! Add pink doll food and water into blender. Then push down button to mix! 
SHE LOVES TO EAT AND DRINK After you mix up a sweet treat for baby, feed her with the included spoon, then give her a few sips of water from her bottle to wash it down. Doll really eats and drinks! 
SHE PEES AND POOPS - When baby eats lots of yummy food and drinks her bottle, you know what shell need next: a diaper change! Magical Mixer Baby really wets and poops her diaper! 
REMOVABLE OUTFIT AND COMB - This very sweet baby doll comes in a strawberry-themed removable dress with a comb to brush her hair 
FOR KIDS AGES 3 AND UP Girls and boys ages 3 years old and up will love mixing up their dolls food in a real toy blender, then feeding, changing, and enjoying sweet moments with their Baby Alive doll 
For ages 3+ 
WARNING: Small parts may be generated.  
Note: Adult should remove and discard fasteners/packaging components. 
Doll food not intended to be eaten. 
Included powdered doll food is NOT reusable and is intended for use ONLY with Baby Alive dolls that take powdered doll food. 
Baby Alive powdered doll food may stain some surfaces. Adult supervision recommended. 
DIAPER FILLING: ALL NEW MATERIALS: SOFTWOOD PULP. 
SURFACE CLEAN ONLY
Some of our vintage or prior versions of toy and game instructions may be more difficult to decipher or have less clarity. If you have any concerns or questions please contact our Consumer Care department at https://consumercare.hasbro.com/en-us
Baby Alive Magical Mixer Baby Doll Strawberry Shake, Blender, Accessories, Drinks, Wets, Eats, Toy for Kids Ages 3 and Up
File Size : 339.47 KB
Download
Everything you need to know about the product. Can't find the answers you're looking for? Please reach out to us.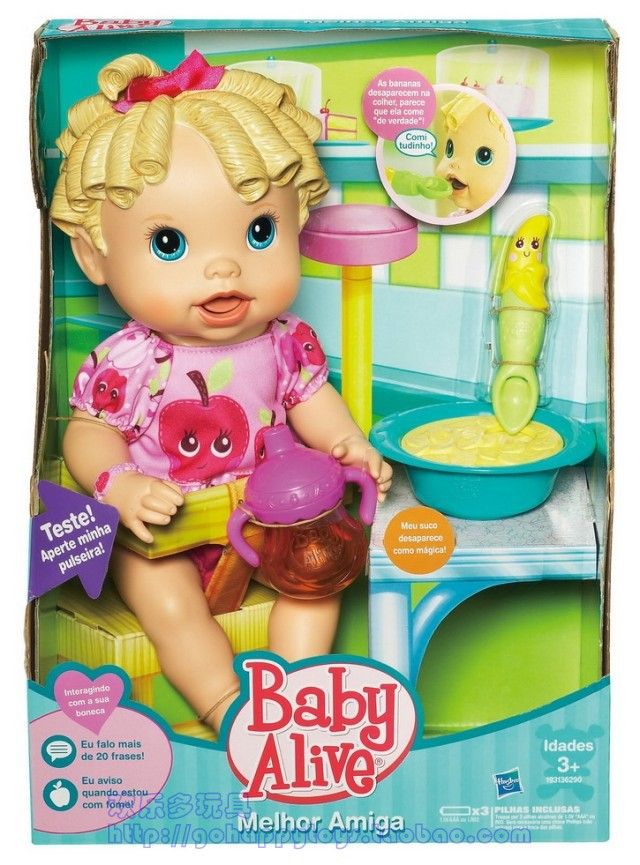 Where to buy
Site Map
Consumer Care
Corporate
Privacy Policy
Terms and Conditions of Use
Calif. Privacy Rights & Notices
Do Not Sell My Personal Information
Responsible Disclosure Policy
Products not available everywhere
© 2022 Hasbro. All rights reserved. All audio, visual and textual content on this site (including all names, characters, images, trademarks and logos) are protected by trademarks, copyrights and other Intellectual Property rights owned by Hasbro or its subsidiaries, licensors, licensees, suppliers and accounts.
Baby Alive Grows Up Review - A Doll that Really Grows
May 15, 2021 July 20, 2022
Baby Alive Grows Up is a super popular toy that I've been trying to get my hands on since before last Christmas. It was one of the hot toys last Christmas, and it will likely be very popular again this year. I wasn't sure if this toy would be just another gimmick, but I finally gave in and ordered it.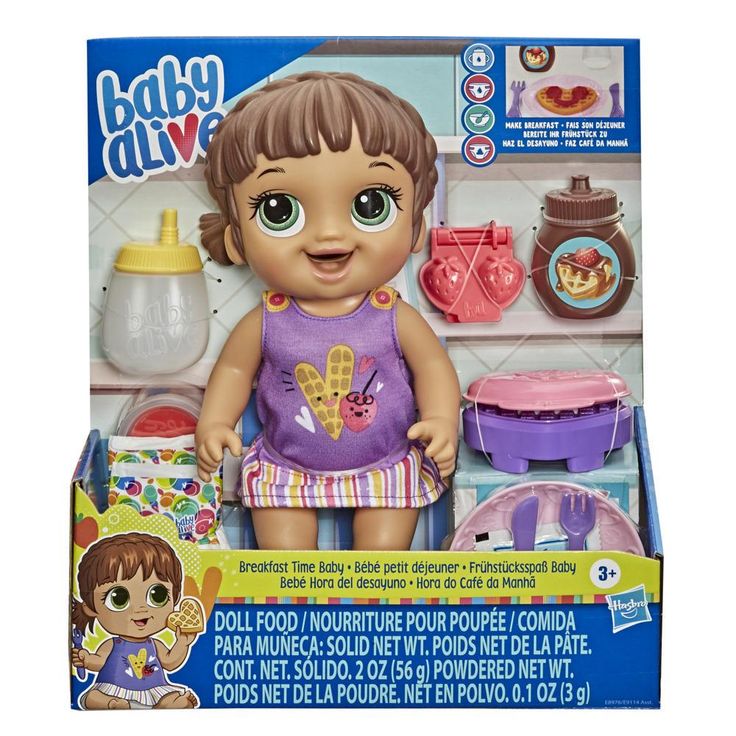 I wanted to share my review with you now so that if you're like me and have been waiting, you'll know whether the Baby Alive Grows Up Doll is really worth it or not.
Disclosure: Some links below are affiliate links. This means at no additional cost to you, I earn a small commission if you decide to click through and make a purchase.
What is Baby Alive Grows Up Doll?
So first of all, what is so special about this doll? Well, the whole Baby Alive line by Hasbro is basically meant to be an interactive or "alive" doll line. Other dolls that were previously released in this line eat, pee, poop and talk. The Grows Up doll literally grows right before your eyes.
She starts out as a newborn baby, but grows as you feed her and interact with her first into a baby and eventually into a big girl. The doll physically expands and "grows" by 4 inches (10cm) in size. Like many of the other Baby Alive dolls, Baby Alive Grows Up speaks and interacts with you. She learns to sit up and how to say her first word as she grows.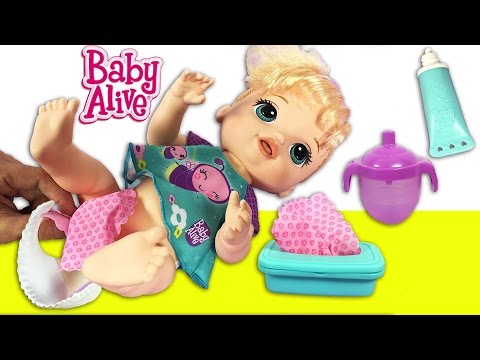 She makes sounds when you feed her and has over 75 phrases she can learn. Her hair will also get longer as she grows. You can even reset the doll back into newborn mode to keep the fun play going.
Baby Alive – Growing Up Stages
Stage 1 – Newborn: The doll starts out as a newborn baby. She is swaddled and will coo and open her eyes when fed to reveal her eye color. She is also wearing a hat when she first is unboxed, which can be removed to reveal her hair color. Once baby is fed and rocked enough, she will transform into the next stage: baby!
Stage 2 – Baby: Once fed and rocked enough, baby will kick out her legs breaking out of the swaddle and transform into a baby. She will then be able to sit up and learn her first words. The stage 2 box includes a bib and food pouch to feed baby. Baby will respond to feeding and playing with babbling that eventually turns into her first words and full responses. Eventually, the doll will be ready to stand up and transform into a big girl. She'll let you know this by asking to stand and saying "Press my bracelet, hold my hands, help me grow!"
Stage 3 – Big Girl: Once the doll is stood up and her bracelet is squeezed, baby will physically expand to the full height and be in the big girl mode. If you brush her hair (and give a bit of a tug), her hair will grow into a full pony tail. Additionally a skirt and shoes are included for playing dress-up with the doll in the big girl phase.
How do I reset Baby Alive Grows Up Doll?
The doll is reset by using the switch on her neck. The switch should be set to "Mommy" or "Daddy" mode on the right when on. To reset the doll, push the switch all the way to off. I usually remove the big girl accessories and lay the doll down face up at this point so that the legs can retract. After a few moments, switch back on to the desired mode. The doll should shrink back, and then you can push the legs back up and swaddle the baby in the provided blanket.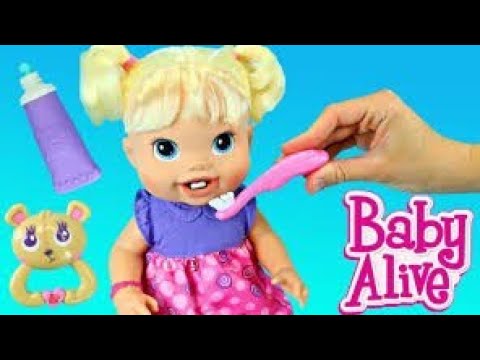 Voila, back to baby!
Baby Alive Grows Up – Product Details
There are 3 variations of the Baby Alive Grows Up Doll currently available: Sweet, Happy and Dreamy. Each of these variations has 2 different possible eye color and hair color variations. Making a total of 6 variations in all: Sweet Blossom or Lovely Rosie, Happy Hope or Merry Meadow, or Shining Skylar or Star Dreamer. The dolls also can speak in Spanish or in English.
Additionally, the doll can be set to "Mommy" or "Daddy" mode which changes if the doll addresses it's caretaker as Mommy or Daddy. The Baby Alive Grows Up doll is recommended for ages 3 and up. The doll does require 4 AA batteries, but they are included, and the doll will work right out of the box. A huge plus as most toys don't include batteries. The doll weights a little over 4 pounds and is 4.49 x 15.98 x 14.02 inches in size. The doll retails for $49 on Amazon currently.
Pros:
Truly unique concept of a growing doll
Entertaining and Interactive doll (speaks, sits and grows)
Repeatable Play
Speaks English or Spanish
Addresses "Mommy" or "Daddy"
Surprise eye color and hair color makes for a fun reveal
Cons:
Some reviews mention the doll malfunctioning and not resetting properly (seems highly prone to breaking)
Does not include other Baby Alive features such as eating, peeing or pooping
Onesie is not removable, which makes dress up options limited
Swaddle doesn't stay on the doll very well
Relatively Expensive Toy
Final Review – Baby Alive Grows Up
My daughter absolutely loved playing pretend parent to the Baby Alive Grows Up Doll.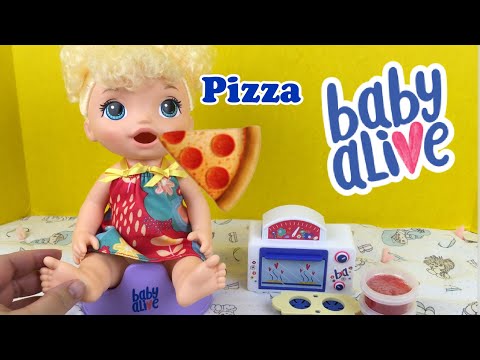 She was thrilled from the moment she saw her. In fact, the first evening she had her, she played with her for well over an hour before bed. She reset her at least 3 times to grow up all over agin and would not put her down that day. She even tucked her in right beside her to sleep. It was so adorable! Like all young kids, my daughter does have a short attention span, so I appreciate toys that aren't simply tossed aside in just a few minutes.
She has continued to play with this doll at least once a day. I really appreciate that the growing stages are repeatable (especially with so many one time use toys out there these days) to keep her coming back for more. She loves all of her baby alive dolls, but this has now become her favorite.
Final Thoughts
While I do think there are some tweaks that could make the doll better, overall I think this doll is a winner and worth the price. The growing doll is truly a unique concept that I have not seen with any other dolls. Additionally, the interactivity of the baby alive dolls is awesome; children just love hearing their baby alive doll talk and feeding them and following their requests.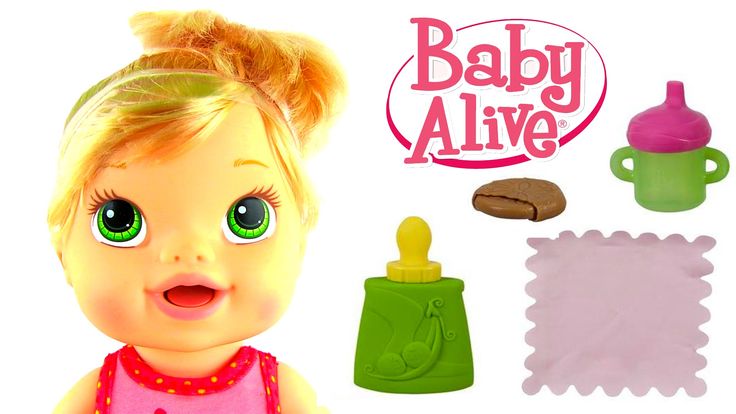 Younger children may require some assistance to reset the doll back to the newborn stage, but it is really simple to reset.
I do wish that the swaddle stayed on a bit better, it falls off if you barely move the doll, but that's honestly my biggest complaint. If you have a child who loves playing pretend mommy or daddy, I truly think they will adore the Baby Alive Grows Up doll. I personally think it is well worth the higher price as they will get a lot of use out of it with the repeatable play. I think it would make for an excellent birthday or Christmas gift for little kids as well.
Have you tried out the Baby Alive Grows Up Doll? If so, I'd love to hear what you (and your littles) thought about it in a comment down below.
Thanks for stopping by! If you enjoyed this post, you may also want to check out my review of the Little Adventures Toddler Costumes and Dress-Ups.
How to properly dilute infant formula
Properly prepare milk formula - it would seem that it is easier, read the instructions on the box and do as it is written.
But sometimes the simplest things, especially when they concern a newborn, can simply put parents in a stupor.
Contents
How to properly dilute the mixture
How to prepare infant formula
How long is reconstituted infant formula
What water to dilute infant formula
Water temperature for infant formula
Preparing Night Feeding Formula
Infant formula on the road
You should know that no formula, even the most modern adapted formula, can completely replace mother's milk. Transferring a child to artificial feeding should be a conscious and forced step, and not the advice of a friend and the desire to make life a little easier for yourself, to have freedom of movement or your own guesses and assumptions that there is not enough breast milk. The deficit that is formed in the child's body without mother's milk cannot be filled with anything. nine0024
How to mix
correctly The first thing to do is to read the instructions from the manufacturer.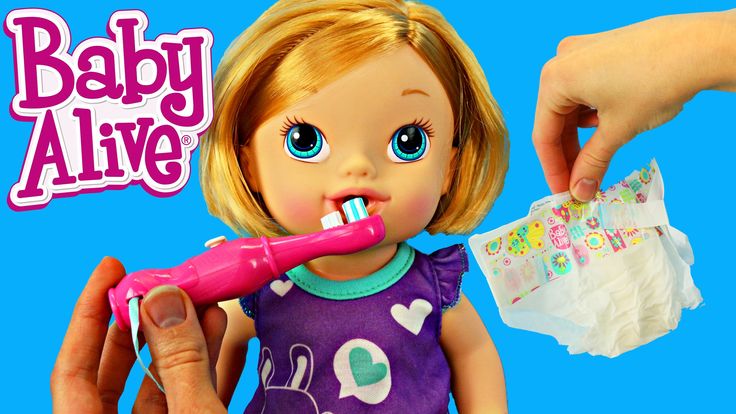 It always describes how to prepare infant formula. It is worth paying attention to the following important points:
in what proportion to dilute the milk formula (often, one scoop per 30 ml of water)
at what temperature is the mixture prepared
recommended amount of ready-made formula for children of different ages
nine0007 how long and under what conditions can an opened package be stored
How to properly prepare formula for a newborn
The intestines and mouth of a healthy baby are sterile. The task of the parent is to give the baby the opportunity to gradually adapt to the surrounding space, before starting to acquaint him with pathogenic microflora (in other words, microbes).
In all cases of contact with children's things, food and the child himself, be sure and always wash your hands with soap and water. Of course, in any case, the baby will have to get acquainted with the surrounding microorganisms, but when he is a few days old, it is too early.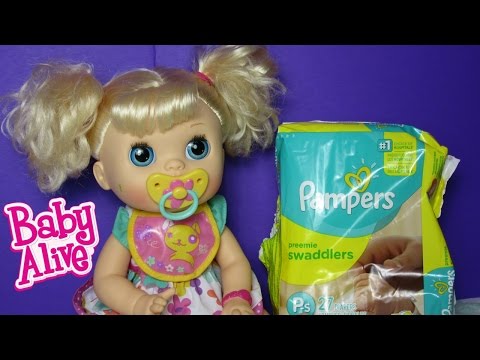 nine0024
Since you need to prepare the formula just before feeding, be prepared to do this under the heart-rending cries of a hungry baby. It is possible that under such conditions it will not be possible to prepare sterile bottles in cold blood - it is better and more convenient to have at least two of them.
It is better to prepare and cover a clean bottle with a dry towel in advance than to rush around the house and remember where to put it after feeding when the baby is crying from hunger. Of course, in theory you need to wash the bottle immediately after feeding, but in practice, babies miraculously make adjustments to your schedule. nine0003
So, when all the necessary preparations are made, according to the instructions, we determine the desired ratio of water and dry mixture according to the age of your baby. Pour water of the required temperature into a sterile bottle or bring it to the desired temperature in the bottle. We pour the required number of measuring spoons, after removing a slide from them (you can use the back of a knife).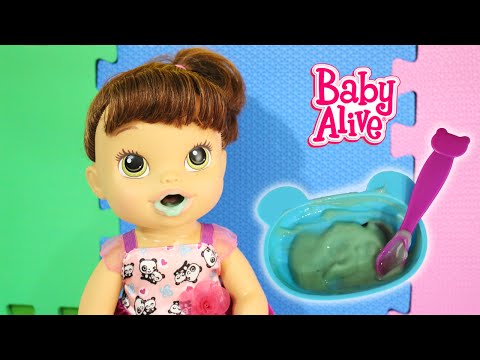 The measuring spoon must be dry. Follow this strictly and store infant formula in a dry place. Milk powder is very hygroscopic and perfectly absorbs moisture, and if the rules are not followed, the mixture will instantly begin to clump. nine0003
Close the bottle with a cap and shake very well so that there are no lumps left in the mixture (you can check for light). Just in case, we check the temperature of the mixture by dropping it on our wrist. After feeding, pour out the rest of the mixture.
Some mothers, trying to feed the baby more satisfyingly, increase the concentration of the dry mixture in the water. Doing this is strictly prohibited. This can lead to obesity or other metabolic disorders in the child.
To some, these measures may seem superfluous, and, of course, no one can force you to do this. But do not forget that the first three months of a child's life without this will complicate colic and aggravate the situation with hastily washed bottles, believe me, it's not worth it.
nine0003
How long can reconstituted infant formula be stored
A very common question of interest to all parents is how long can prepared infant formula be stored? Ideally, ready-made milk formula is eaten immediately and not stored. The longer the mixture is prepared, the more chances are given to multiply harmful microbes that love heat and milky environment. And not just the necessary bifidobacteria, for which you lovingly created the optimal temperature. The storage time of reconstituted infant formula should be kept to a minimum. Remember that prepared milk formula should be stored is impossible even in the refrigerator.
The bottle and nipple must be washed and sterilized before each formula preparation. You can learn more about sterilizing feeding bottles here.
What kind of water to dilute infant formula
An urgent question for parents - is it possible to dilute formula with infant water? For decades, boiled water has been used to prepare the mixture.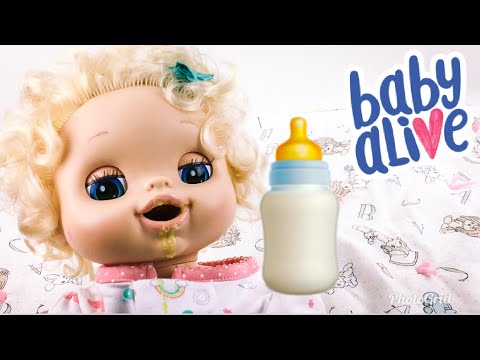 Now they began to think about the fact that boiling kills water, deprives oxygen and other trace elements. Today you will not surprise anyone with special baby water for drinking and formula preparation. It does not need to be boiled, it is enough to heat it to the optimum temperature. nine0003
What are the benefits of baby water?
at all stages of harvesting, water undergoes strict sanitary control
cleaning uses a multi-stage filter system
unlike boiled, it is not devoid of oxygen and other useful trace elements
mineralization decreases in baby water (in dry mixtures, they try to choose the optimal ratio of trace elements and water with increased mineralization can disrupt these proportions)
If you want to use water from a well, it is better to hand it over for analysis to a sanitary and epidemiological station.
Water temperature for infant formula
The water temperature is of fundamental importance for the preparation of formula, which must be indicated on the packaging.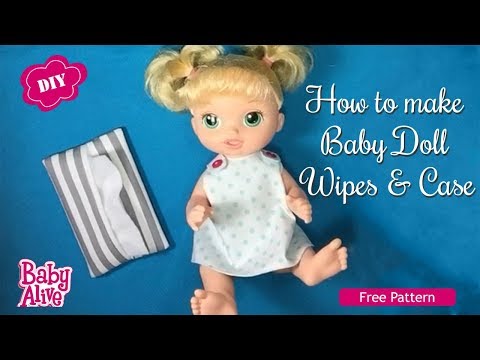 Almost all mixtures now contain bifidobacteria that are beneficial for the child's intestines. Beneficial bacteria, unlike harmful ones, are rather gentle microorganisms. At a temperature higher than that indicated in the instructions, they will simply die. nine0003
In addition, of course, the temperature of the water simply needs to be comfortable for the child, 36 - 37 ºC. This is the temperature of mother's milk. Therefore, if possible, use a thermometer to prepare infant formula. Fortunately, the assortment of baby stores is now replete with products that make life easier for moms. Well, if there is no thermometer, it does not matter. Put a few drops of the prepared mixture from the bottle on your wrist. If the temperature of the mixture is optimal, then you will not feel it on your wrist. nine0003
It is not advisable to heat the finished mixture. Adapted infant formula is not a product that can be heated and cooled without consequences. It's good bacteria, remember? And not only.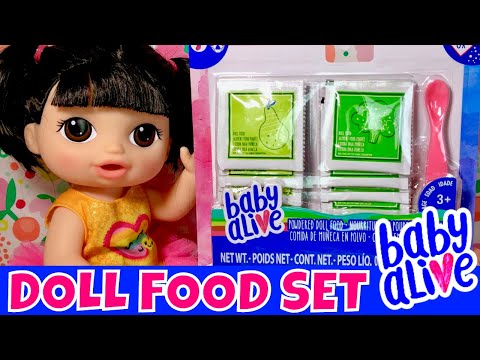 But if it so happened that while you were preparing for feeding, the mixture has cooled down, warm it up under running hot water.
Do not use the microwave to heat up the mixture! You will not be able to control the degree of heating of the liquid bottle, which can lead to an irreversible change in the structure and composition of the formula. nine0003
Night feeding formula
The safest option for the baby and gentle for the mother is to pour water into a sterile bottle in the evening and put it in the warmer. Most warmers are capable of maintaining a constant set temperature in the bottle. Pour the dry mix into the dry mix dispenser.
Now you can prepare the mixture on autopilot at night. All that remains to be done is to get from the dispenser into the bottle and mix thoroughly. Just in case, do not forget to check the temperature of the prepared mixture. Ready. You can start feeding a hungry baby. nine0003
Infant formula on the go
All modern parents want to be mobile.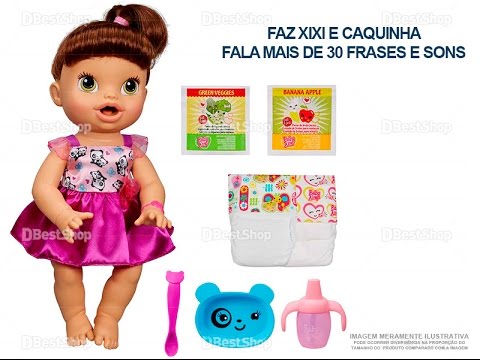 We must pay tribute to the manufacturers of children's goods - it has now become much easier to provide a child with food on a trip than it was, say, in the last century. It sounds ridiculous, of course, but that was only fifteen years ago.
If you are traveling with a small child, take water and powdered milk separately with you. For cars, heaters have already been invented that work in the car from the cigarette lighter. Special bags-thermoses are convenient, where you can put a bottle with a little warmer water than you need. If there is not enough time to keep warm in a special bag, you can warm up a bottle of water for feeding by putting it in a container with another hot water, for example, made of titanium, if you are on a train. nine0003
Remember, your task is to keep the water and dry formula separate for as long as possible, combining them just before feeding. Of course, ready-made diluted mixtures in tetrapacks are also on sale, but each mother decides for herself whether to use them or not.

Job description of a baby food cook, 5th category
APPROVED:
_______________________________
[Position name]
_______________________________
_______________________________
1.2. The baby food cook of the 5th category is appointed to the position and dismissed from the position in accordance with the procedure established by the current labor legislation by order of the head of the Company.
1.3. The baby food cook of the 5th category belongs to the category of workers and reports directly to [name of the position of the immediate supervisor in the dative case] of the Company.
1.4. A person with a vocational education, relevant training and at least 1 year of work experience in the specialty is appointed to the position of a baby food cook of the 5th category. nine0003
1.5. In practice, a baby food cook of the 5th category must be guided by:
local acts and organizational and administrative documents of the Company;
internal labor regulations;
rules for labor protection and safety, ensuring industrial sanitation and fire protection;
instructions, orders, decisions and assignments of the immediate supervisor;
this job description. nine0008
1.6. A 5th category baby food cook must know:
the basics and importance of nutrition for infants, toddlers, preschool and school children;
characteristics and biological value of various food products, signs of good quality of products and organoleptic methods for their determination;
terms of storage and sale of raw products, semi-finished products and cooked meals;
peculiarities of culinary processing of products for baby food; nine0008
fundamentals of technology for preparing first, second, third, cold dishes and dough products;
mode parameters and duration of heat treatment of products, processes of cooking, frying, poaching, baking;
norms, ratio and sequence of laying raw materials in the equipment used;
ways of portioning meals according to the age of children;
rules for using the product replacement table;
device and principle of operation of serviced mechanized, thermal, weighing, refrigeration and other equipment, rules for its operation and maintenance; nine0008
sanitary rules for the maintenance of the catering department;
rules for personal hygiene;
ways to prevent food poisoning;
rules for distributing food to children.
1.7. During the temporary absence of the baby food cook of the 5th category, his duties are assigned to [deputy position].
2. Responsibilities
The baby food cook of the 5th category performs the following job responsibilities:
2.1. Cooking:
meals for children of different ages in children's consultations, nurseries, kindergartens, nursery-kindergartens, schools and other catering establishments;
"B" milk formulas, reconstituted adapted milk formulas;
viscous, semi-viscous, pureed and crumbly cereals from various cereals;
boiled, stewed, baked, mashed and other vegetable dishes;
vegetable, fruit, fruit and vegetable and meat and vegetable salads, vinaigrettes. nine0008
2.2. Cooking meat and chicken broths; vegetarian, puree, cold soups and dressings on bone broth.
2.3. Preparation:
various types of sautés, tomato, sour cream, milk and fruit sauces;
soufflés, meatballs, hashé, cutlets, goulash and other dishes made from meat, chicken and fish products;
brains, hashé and other offal dishes;
casseroles;
vegetables with meat, eggs and curds; nine0008
dairy and egg dishes;
hot and cold drinks, fruit and vegetable juices, compotes, kissels, fruit drinks, mousses, jelly and other third courses.
2.4. Kneading yeast and unleavened dough, baking buns, pies, pancakes, pancakes, cheesecakes, crackers and other culinary products from it.
2.5. Portioning and distribution of dishes in accordance with age norms for infants, toddlers, preschool and school age.
In case of official necessity, the baby food cook of the 5th category may be involved in the performance of his official duties overtime, in the manner prescribed by law. nine3.1. Get acquainted with the draft decisions of the management of the enterprise relating to its activities.
3.2. Submit proposals for the management to improve the work related to the responsibilities provided for in this job description.
3.3. Report to the immediate supervisor about all the shortcomings in the production activities of the enterprise (its structural divisions) identified in the course of the performance of their duties and make proposals for their elimination. nine0003
3.4. Request personally or on behalf of the immediate supervisor from the heads of enterprise departments and specialists information and documents necessary for the performance of their duties.
3.5. Involve specialists from all (separate) structural divisions of the Company in solving the tasks assigned to him (if it is provided for by the regulations on structural divisions, if not, with the permission of the head of the Company).
3.6. Require the management of the enterprise to assist in the performance of their duties and rights. nine0003
4. Responsibility and performance evaluation
4.1. The baby food cook of the 5th category bears administrative, disciplinary and material (and in some cases provided for by the legislation of the Russian Federation - and criminal) responsibility for:
4.1.1. Non-fulfillment or improper fulfillment of official instructions of the immediate supervisor.
4.1.2. Failure to perform or improper performance of their labor functions and assigned tasks.
4.1.3. Unlawful use of the granted official powers, as well as their use for personal purposes. nine0003
4.1.4. Inaccurate information about the status of the work entrusted to him.
4.1.5. Failure to take measures to suppress the identified violations of safety regulations, fire and other rules that pose a threat to the activities of the enterprise and its employees.
4.1.6. Failure to enforce labor discipline.
4.2. Evaluation of the work of the baby food cook of the 5th category is carried out:
4.2.1. Direct supervisor - regularly, in the course of the daily implementation by the employee of his labor functions. nine0003
4.2.2. Attestation Commission of the enterprise - periodically, but at least once every two years based on the documented results of the work for the evaluation period.
4.3. The main criterion for evaluating the work of a baby food cook of the 5th category is the quality, completeness and timeliness of his performance of the tasks provided for in this instruction.
5. Operating conditions
5.1. The working hours of the 5th category baby food cook are determined in accordance with the internal labor regulations established by the Company.