Baby food maker and storage
Buying Guide 2022: Best Baby Food Makers (Pros + Cons)
Making your own baby food is a cost-effective and easy way to give your baby delicious homemade food from the start! In our buying guide, you will find our recommendations for the best baby food makers, nutritional tips when using a baby food maker, frequently asked questions, and how to store baby food.
Medically reviewed and co-written by Jamie Johnson, Registered Dietitian Nutritionist (RDN), and Lauren Braaten, Pediatric Occupational Therapist (OT).
Baby Food Makers
Feeding your baby can sometimes feel like a daunting task. Just when it seems like you've got the bottle or breastfeeding figured out, you realize it's time to start offering your little one their first bites of real food. Which might get you thinking…should I invest in a baby food maker?
First of all, modern baby food makers have come a long way from the very first models. Most brands come with multiple functions all in one machine, which saves you time in the kitchen.
Second, baby food makers can definitely save you money. While store-bought baby food can be great at times, the cost adds up. Making your little one's meals with a baby food maker allows you to make larger quantities and a variety of foods easily.
Third, using a baby food maker gives you peace of mind, because you know exactly what ingredients are going into your baby's food. You can even introduce your baby to the same flavors and foods that the whole family is eating. And finally, baby food makers can make more than just baby food. Use it to chop and prep vegetables, make dips, or reheat chilled foods.
Reasons To Love Baby Food Makers
Saves money – the cost of store bought baby food jars and pouches adds up quickly, but a baby food maker gives you large quantities of homemade baby food at a fraction of the price!
Saves time – many baby food makers have multiple functions (steam, cook, blend, reheat, defrost) all in one, which means less pots, pans, and bowls to wash!
Provides quality and healthy food for baby – you get to control the ingredients for baby's very first foods
Ability to customize – you can get creative and make delicious combinations of purees or pureed table food that family eats. No more bland baby food!
Can be used to make a variety of foods for the whole family – steam veggies, rice, pasta or make applesauce, mashed potatoes or soup. Baby food makers are actually very versatile!
Best Baby Food Makers
BEABA Babycook Neo
Baby Brezza One Step Food Maker
NutriBullet Complete Baby Food Making System
QOOC 4-in-1 Mini Baby Food Maker
Sage Spoonfuls Baby Food Maker and Storage Set
Cuisinart Mini Prep Food Processor
BabyMoov Duo Baby Food Maker 6 in 1
BEABA Babycook Duo 4 in 1 Baby Food Maker
Nutritional Tips Using a Baby Food Maker
Using frozen foods is totally fine- some (like blueberries) can be even more nutritious than the fresh.
Try to combine iron rich foods with vitamin C rich foods for maximum iron absorption.
No need to add salt or sugar but don't be afraid to add other spices for a variety of flavors.
Honey and cow's milk should be avoided until one year.
You can use fresh breast milk or formula to puree foods for added nutrients.
Wash and peel produce and remove seeds/pits before cooking.
Make sure the texture and temperature are appropriate for baby before serving to avoid choking risk or burning baby's mouth.
Make sure to clean all parts of the baby food maker that come in contact with food thoroughly. 
Frequently Asked Questions
Is it worth it to buy a baby food maker?
Depending on your needs and goals, a baby food maker can definitely be worth the cost. Modern baby food makers are very efficient at whipping up a variety of tasty and nutritious purees. Many baby food makers are created with busy parents in mind, so built-in timers, one-handed prep options, and a variety of functions all in one machine make preparing meals for your baby easy.
In addition, baby food makers can be used for making more than just baby food purees.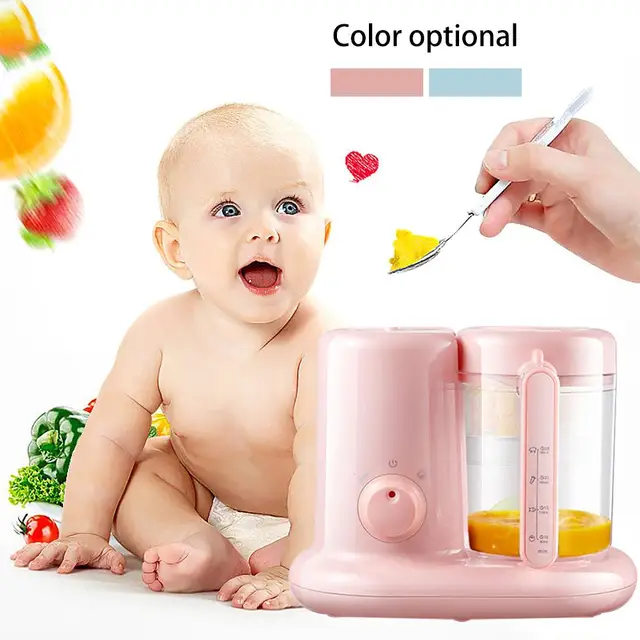 Use it to steam veggies, rice or pasta, make mashed potatoes or applesauce, or reheat chilled foods.
Are plastic baby food makers safe?
The main concern with plastic baby food makers is that they can contain bisphenol A (BPA), a chemical produced to manufacture epoxy resins and harden plastics. Although the Food and Drug Administration (FDA) approves very low levels of BPA as safe, there are many articles and studies available that discuss BPA's possible connection to negative health effects. If you have concerns about plastic baby food makers, it's best to discuss them with your pediatrician.
Which baby food maker brand is best?
There are many high-quality baby food makers on the market, so no matter what you're looking for (from built-in timers to manual controls, from glass to plastic bowls, or from small to large capacities and beyond), you can find a brand of baby food maker to fit your needs.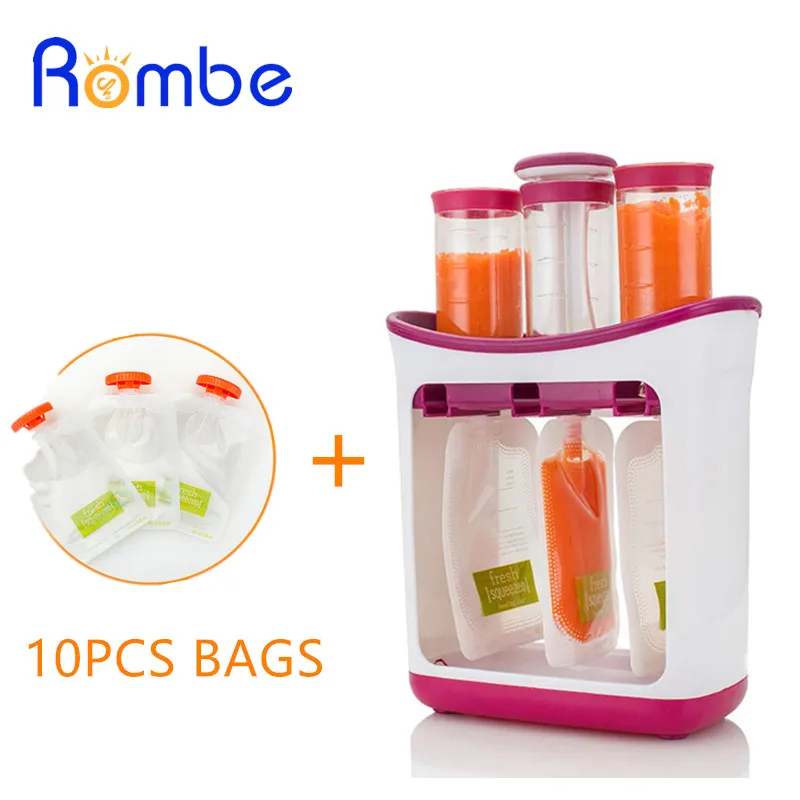 For a solid overall brand, we love BEABA (we chose two of their products for our list!). BEABA's products consistently receive high marks from consumer ratings and reports.
How to Store Baby Food
After making baby food, you'll need to freeze it, as baby food does not last in the fridge for more than 2-3 days. Frozen purees should last in the freezer for 2-3 months.
After making your puree, let it cool until just warm.
Spoon the puree into your choice of baby food storage container.
Cover your container with a lid or plastic wrap, and place in the freezer.
Let the puree freeze completely before you crack the purees out of the tray and place the cubes into plastic freezer zip-lock or stasher bag. If using jars, the frozen purees would stay in the jars.
Label each bag or jar with the name of the puree and date you made it.
Addiontional Tools Needed
WEESPROUT Silicone Baby Food Freezer Tray – great 10 sectioned baby food tray that holds 1. 5oz each, but has a 1 oz fill line for smaller portions. Is made out of premium food-grade silicone and has a plastic lid for easy stacking. These trays or worth their price and I would advise that you get a couple of their fun color trays so you can easily stock up on your homemade baby food.
WEESPROUT Glass Baby Food Storage Containers – I absolutely love these jars! You get 12 colorful glass jars that hold 4oz each. Great for storing baby food purees as well as yogurts, overnight oats, chia seed pudding for toddlers and kids. While the price is a little high, you will get many years worth out of these jars. Well worth the investment for me.
OXO Tot Baby Blocks Freezer Storage Containers – a great smaller set that contains 4 – 4oz PVC, BPA, and phthalate-free jars and a storage tray. A great space-saver system that helps keep your jars of baby purees organized and tidy. Plus, you can easily stack more trays on top of each other if you need a bigger freezer stash.
Stasher Bags – these silicone reusable bags can hold your frozen cubes of baby food purees.
ZipLock Bags – another option for storing your frozen purees in.
Highchair
GOOtensils
Bowl or sectioned plate
Bib with catch pocket
Reusable pouches
Want to learn more about how to store and thaw baby food? Then read my guide on Best Baby Food Storage Containers (plus, 6 Tips on Thawing and Freezing).
Baby Food Maker Tips
Make sure to wash all parts of the baby food maker that come into contact with food after each use.
Cutting ingredients into smaller, similar-sized pieces will ensure that food cooks evenly.
While blending, if the puree is too think, you can add in the reserved water or fresh breast milk or formula until you get your desired texture.
Make sure to let the machine run long enough while blending (usually 1-2 mintues) so you get a smooth and creamy puree.
Because the baby food maker is steaming the food, there might be some hot condensation on the lid when you open it. Handle with care. And be sure the baby food maker is sitting on a surface that can get wet.
Key Features
This unique baby food maker is the only one with a glass bowl, if you are looking to avoid plastic products. Four settings allow you to steam, cook, blend, reheat or defrost all in one appliance.
Environmentally friendly glass bowl & a stainless steel steam basket
Easily accessible reservoir
Unique blend feature controls the consistency
Patented steam cooking system
5.2 cup dishwasher safe bowl
BPA, Lead & Phthalate free
Why our Experts Love It
The patented steam cooking system turns off automatically, so you don't have to worry about overcooking your baby's food. In addition, the steam system uses 50% less energy and water while making 33% more food.
Pros + Cons
Pros
Four cooking settings in one appliance
The reservoir has large opening for easy cleaning
Larger cooking capacity
Dishwasher safe
The blade is safely designed to be removed with a single touchpoint
Cons
More expensive compared to other brands
Plastic lid and handle can get very hot to the touch after cooking
The white color option may stain easier
Parents Review
Overall this blender is well worth is cost and the money saved on buying baby food is certainly regained! The glass option was also a great upgrade as we try to avoid using plastic, especially at high temperatures!

Jennell
BEABA Babycook Neo
A beautifully designed and unique baby food maker that allows you to steam, cook, blend, reheat and defrost all in one appliance.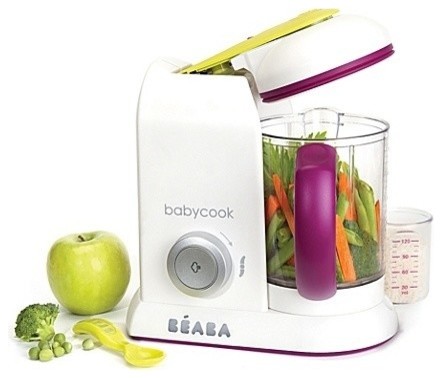 Comes in four choices of color options.
Amazon
Walmart
Key Features
This compact baby food maker automatically steams and blends in 1 easy step. You can make up to 3 cups of homemade baby food in the same bowl with the push of a button.
Viper blade blends food to the perfect precision
Steam tank is fully accessible for easy cleaning and water tank is removable
Bowl and blade are dishwasher-safe
It comes with three reusable feeding and storage pouches, and an easy-to-use funnel
Why Our Experts Love It
Baby Brezza makes an intuitive baby food maker that is easy to use and clean. We love the LCD control panel and the variety of recipes and tips for cooking that are included.
Pros + Cons
Pros
Compact design
Easy to clean
Suction cups on the bottom help it stick to the counter
Dishwasher safe bowl and blade
BPA free
Cons
Lid gets very hot if using the steam option
Holds less food than some brands
Parents Review
I was so intimidated to make my own baby food but this product makes it so easy! I'm happy saving money and my baby is happier to try purées that aren't typically available in stores. He's a huge fan of Brussel sprouts and blueberries!

Arielle
Baby Brezza One Step Food Maker
This sturdy and compact baby food maker is a breeze to use, steaming and blending with the push of a button. The dishwasher-safe bowl and blade make clean-up equally as easy!
Amazon
Target
Walmart
Key Features
This adorably designed baby food maker allows you to prepare, store and freeze food quickly. The NutriBullet comes with perfectly sized storage cups and a tip-proof tray to keep food organized.
Includes 6 storage cups with date ring lids, storage tray, silicone freezer tray with lid and recipe book
Batch bowl and cups are made of non-toxic, BPA-free, super-durable plastic
Dishwasher-safe for quick and easy cleanup
Why our Experts Love It
The NutriBullet's cute design and variety of accessories make it a fun and affordable way to make nutritious baby food. It's an affordable baby food maker for the functions it provides.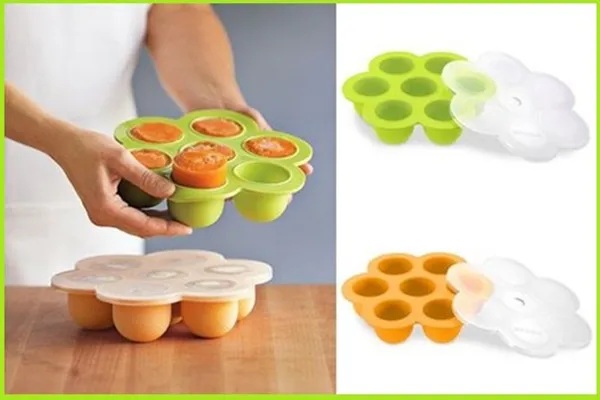 Pros + Cons
Pros
One of the most affordable baby food makers on the market
Dishwasher safe
Made of BPA-free plastic
Comes with storage cups, tray and recipe book
Cons
Functions include blending and making purees, so you will need to pre-cook most foods before blending
Holds 32 ounces, which is less than some baby food makers
Parents Review
I love this to make my baby's food! It's super cute and it works! I love the little containers that comes with it to make for easy storage! Buy it!

Gwynita
NutriBullet Complete Baby Food Making System
An affordable and easy-to-use baby food maker. The NutriBullet consistently makes smooth purees without the hassle of putting together and taking apart multiple pieces.
Amazon
Target
Walmart
Key Features
This mini baby food maker packs a punch with four powerful functions in one compact appliance.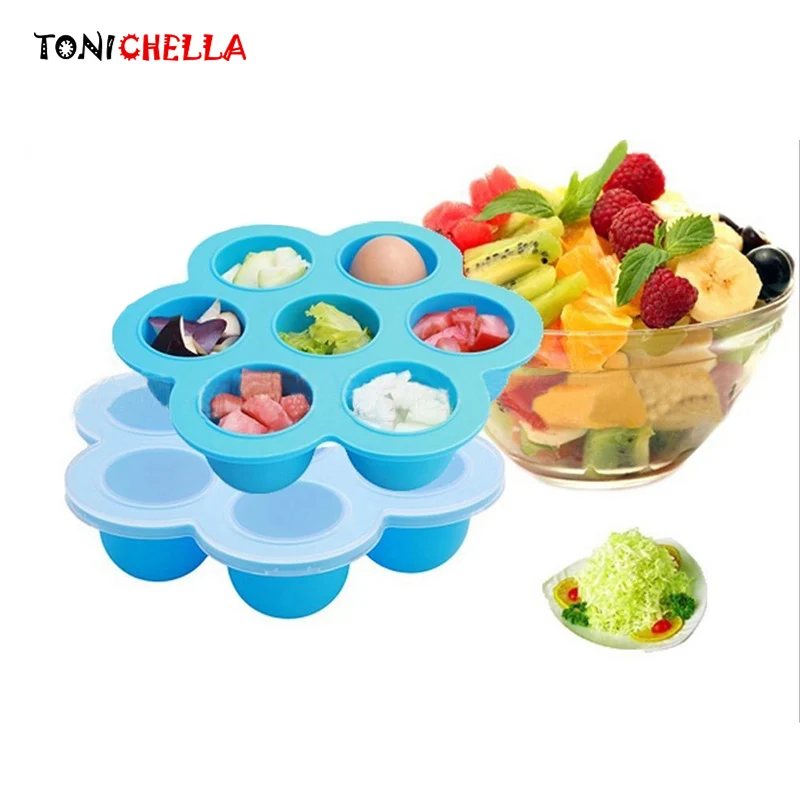 You can steam, blend, reheat and defrost healthy homemade baby food in just 15 minutes.
Made from safe materials – BPA, lead and phthalate free
Shatterproof and compact design
Innovative one-handed controls
All components are dishwasher safe
Why our Experts Love It
We love the prep blade, because it makes it fast and easy to quickly chop and puree a variety of foods with the press of a button. This little, but mighty baby food maker gets the job done!
Pros + Cons
Pros
Includes 4 cooking functions in one
BPA, lead and phthalate free
Affordable
Compact design
Dishwasher safe
Cons
Some reviewers have noted that the connection for the blade and bowl is fragile
Holds less food than some brands
Parents Review
I love this food processor so much. I have made various baby food with vegetables, fruits and meats and my baby really enjoy them a lot. Additionally, I can also use this item for adult food such as soup. Super easy to use, easy to clean and no need large space. What I spent for this is totally worthy!! Oh, it says 'mini', but you can make reasonable portion of baby food for more than three days.

Crystal Kim
QOOC 4-in-1 Mini Baby Food Maker
This compact baby food maker comes with four different functions all in one appliance. Its innovative and easy to use design helps make a variety of delicious purees.
Amazon
Walmart
Key Features
This complete baby food system set includes a 2-in-1 immersion blender and food processor, steamer basket, glass baby food jars, and storage containers. It comes with an erasable marker to make it easy to write down the date and contents of the baby food jars, and measurement marks make for easy portion control.
Baby food maker attachments, steamer basket, and glass jars are all top-rack dishwasher-safe
Comes with two different blades to blend foods of all types with ease
Glass jars have a food-grade silicone O-ring in the lids that provide an airtight, leakproof seal to keep food fresh in the fridge, freezer, or on-the-go
BPA, Phthalate, Lead, and PVC free
Why our Experts Love It
We love the Safe Spoonfuls Baby Food Maker and Storage Set because it has the functionality of being a hand blender AND a regular blender.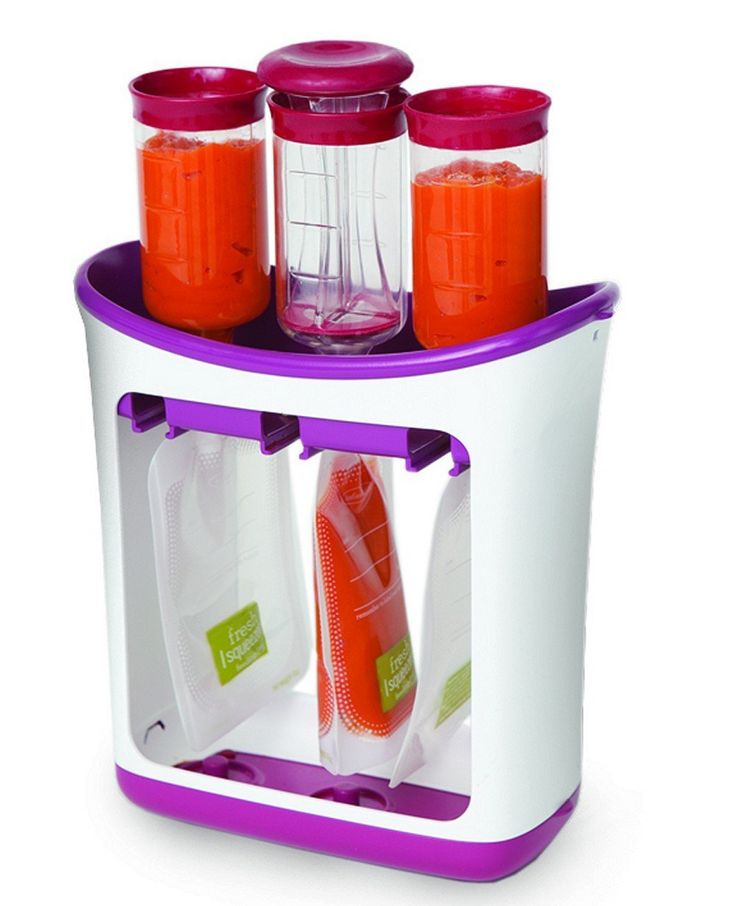 Its quiet design and variety of accessories make it a worthwhile investment.
Pros + Cons
Pros
Easy to use
Options to blend with immersion blender or food processor depending on needs
Includes glass food jars and storage containers
Mixing blades made from durable stainless steel
Most parts are dishwasher safe
Cons
Electric blender wand is hand-wash only
Functions include blending and making purees, so you will need to pre-cook most foods before blending
Parents Review
I LOVE THIS!! We made 10 different baby food purées today and this got them to the perfect consistency. It works with all types of fruits and veggies! If you're thinking of making your own baby foods, this is the perfect tool for you! Works better than a normal blender.

Kimberly
Sage Spoonfuls Baby Food Maker and Storage Set
This baby food maker and food storage set includes everything you need to steam, blend, and store homemade food.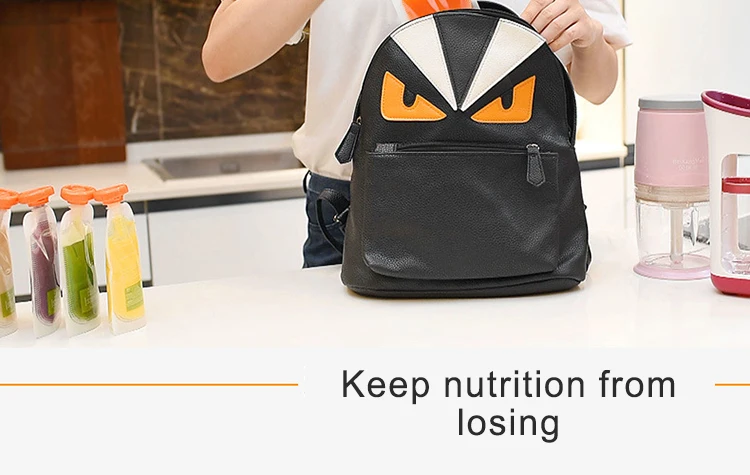 It's a top choice for on-the-go blending, because it can be used in almost any container with very little mess.
Amazon
Walmart
Pottery Barn
Key Features
This mini food processor is a solid alternative to the bigger and fancier baby food makers. A 3-cup plastic work bowl with a handle and stainless steel blade gets the job done easily and quickly.
Chops and grinds with patented reversible stainless-steel blade
Simple push-button control panel with two powerful processing options
Dishwasher-safe bowl and lid for quick cleanup; spatula included
Why our Experts Love It
We love the Cuisinart Mini-Prep Food Processor because of its ability to quickly handle small batches of food and its versatility in the kitchen. The compact design is easy to store on the counter or in a cabinet.
Pros + Cons
Pros
Very affordable
Touchpad controls are easy to use and clean
Dishwasher-safe parts
BPA Free
Compact design
Can be used for a variety of food prep
Cons
Not as quiet as traditional baby food makers
Cannot make larger batches of purees due to smaller size
Does not have an option to steam or cook raw foods
Parents Review
Great little machine that chops or purees so quickly. Very easy to clean with the blade that lifts out without getting your fingers near it. I got this because it has a glass bowl and my others were plastic and they ended up with scratches.

Jan
Cuisinart Mini Prep Food Processor
The Cuisinart Mini-Prep Plus Processor handles a variety of food preparation tasks including chopping, grinding, puréeing, emulsifying and blending. A great choice for a baby food maker "starter kit" for those not wanting a more expensive product.
Amazon
Target
Walmart
Double Baby Food Makers
What's the difference between a typical baby food maker and a double baby food maker? Double (aka 'Duo') baby food makers are known for their larger capacity and multifunctional design that allows you to make up to one week's worth (or more!) of fresh and nutritious food in minutes. Double baby food makers have the ability to simultaneously steam and blend food, saving you valuable time in the kitchen.
Key Features
The BEABA Babycook Duo 4 in 1 comes with two large graduated bowls, so you can make two big batches of different foods at the same time (holds over 9 cups total!).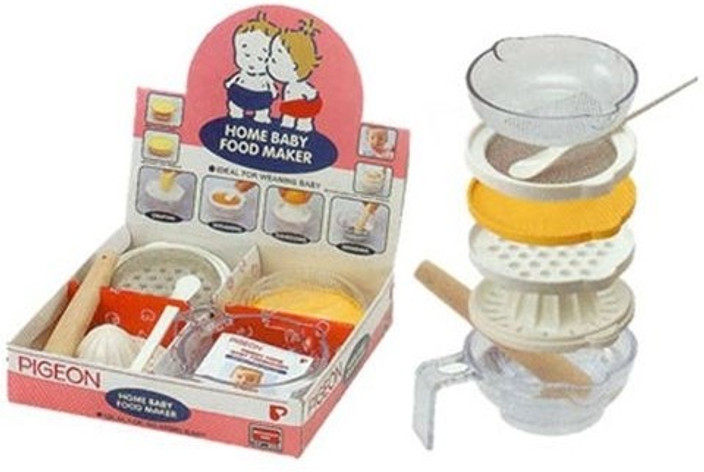 Its efficient design allows you to steam cook on one side while you puree on the other side.
4-in-1 baby food maker steams, blends, defrosts and reheats food
9.4 cup capacity with two 4.7-cup bowls
Patented steam heating system with stainless steel water reservoir
Spatula, mixing lid/smoothie filter, and recipe booklet included
Why our Experts Love It
We love the BEABA Babycook Duo for its ability to prepare double the food at once and save time in the kitchen. It steams and blends foods perfectly.
Pros + Cons
Pros
Four cooking settings all in one appliance
Removable cord for easy storage
Auto switch-off and beeps when done
One-handed operation
Double safety lock on bowl
BPA, Lead and Phthalate free
Cons
More expensive compared to other brands
Compared to the other BEABA product on our list, this one does not have glass bowls
Parents Review
Holy grail of cooking healthy baby food and snacks for the whole family. This does it all. When baby's appetite grows, you'll be happy you got this model. It saves you time on cooking a variety of meals. 

Lisa T.
BEABA Babycook Duo 4 in 1 Baby Food Maker
If you are looking for a baby food maker that can do it all, this one is a great choice. Provides great flexibility for busy kitchens and families!
Amazon
Walmart
Nordstrom
Key Features
This incredibly versatile baby food maker is an all-in-one design that cooks, blends, warms and defrosts food, AND can be used as a bottle warmer and sterilizer. Its large capacity saves time by making up to 9 cups of food at once.
Includes 2 steamer baskets
3 speed blender is easily programmable for various cook times
LCD display is fully programmable with audio alerts
Comes with a spatula and 100+ free recipes to guide you though baby's first meals!
Why our Experts Love It
We love the BabyMoov Duo Baby Food Maker for its multifunctional design and its 3 different blender settings, so we can get perfectly consistent purees in minutes.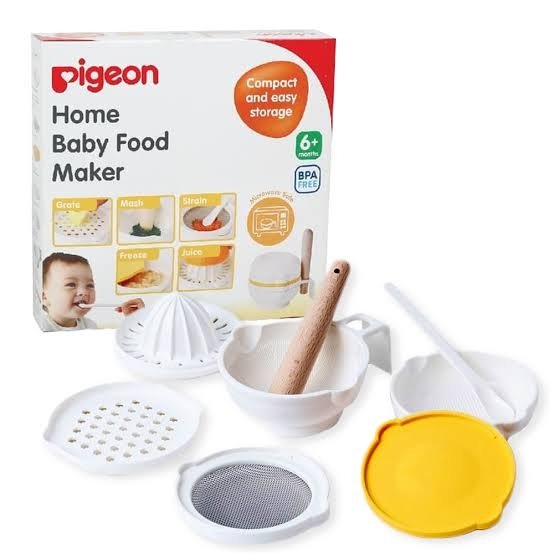 It's a space saving machine that is sure to have plenty of longevity in your kitchen.
Pros + Cons
Pros
6-in-1 functions reduce need for separate appliances and saves space
Easy to clean
Dishwasher safe
BPA, lead and phthalate free
Cons
More expensive compared to other brands
Steamer and blender containers are made of plastic, not glass
Parents Review
Honestly hands down a greatly made product. With my first son I always had trouble prepping his food to make purée. Now as I make food for my second kid, babymoov has make it incredibly easy. Steam food with their guide is quick. You really set it and forget it. And when you are ready, you transfer it over to the blender and purée. The fact that it's all in one compact system declutters my counter. I love that I can steam two items at once and cook rice at the same time. I no longer have multiple pots running all at once. It's been amazing and highly suggest families to get one. Buy it early on to really make good use of the functionality.

Jaclyn Dinh
BabyMoov Duo Baby Food Maker 6 in 1 Food
The BabyMoov saves time in the kitchen and gives you more time to hang out with your little ones. It's the only baby food processor with 6 different functions: steam, blend, sterilize (up to 3 full-size bottles), defrost, reheat, and warm bottles.
Amazon
Walmart
Target
The Best Baby Food Makers of 2022
Looking for a versatile, safe, easy to use, reliable, effective, efficient, and reasonably priced baby food maker?
You came to the right place! Every year we put over a dozen baby food makers to the test, finding you the best options your money can buy! Below are the top 5 best baby food makers we found this year, followed by in-depth reviews of about a dozen different options.
| Model and Link to Amazon | Our Rating |
| --- | --- |
| #1. Beaba Babycook Solo | |
| #2. Babymoov Duo | |
| #3. Evla's Baby Food Maker | |
| #4. QOOC Mini Food Maker | |
| #5. Elechomes Baby Food Maker | |
Baby food makers are an excellent addition to the baby essentials list for new parents. Available since the early 1990's in Europe, and in the U.S. for about two decades, baby food makers have saved millions of parents' time and energy when making fresh, wholesome purees. The systems have gotten much better over the years, with higher reliability, ease and convenience, more powerful motors, dishwasher-friendly parts, and phthalate-free plastics.
Carrots? Peas? Sweet potato? Got it. Fun and healthy dessert blends like banana blueberry puree? No problem. Once you get your hands on a good baby food maker you'll be inventing recipes like a professional chef! And your baby will love you for feeding them so many delicious fruits and vegetables!
An awesome baby food maker combines a steamer and food processor all-in-one, includes all the accessories you'll need, is BPA-free and dishwasher friendly, safe, and withstands the test of time and repeated use.
Our baby food maker reviews primarily consider all-in-one models that can steam and process the food, but if you're simply looking for a great food processor definitely check out the Nutribullet. If you're looking to save time, check out our list of the best ready-made organic baby foods!
Table of Contents [show/hide]

Top 5 Baby Food Makers Comparison Table
1. Best Overall: Beaba Babycook
2. Babymoov Duo
3. Evla's
4. QOOC 4in1 Mini
5. Elechomes
6. Whale's Love
7. Bubos
8. Beaba Babycook Neo
9. Baby Brezza
10. NutriBullet
Features to Look For
    Steaming & Processing
    Ease of Use
    Reliability
    Efficiency
    Safety
Full disclosure: Some of these food makers, including the Elechomes, Baby Brezza, and Beaba models, were sent to us as free test samples by the manufacturer.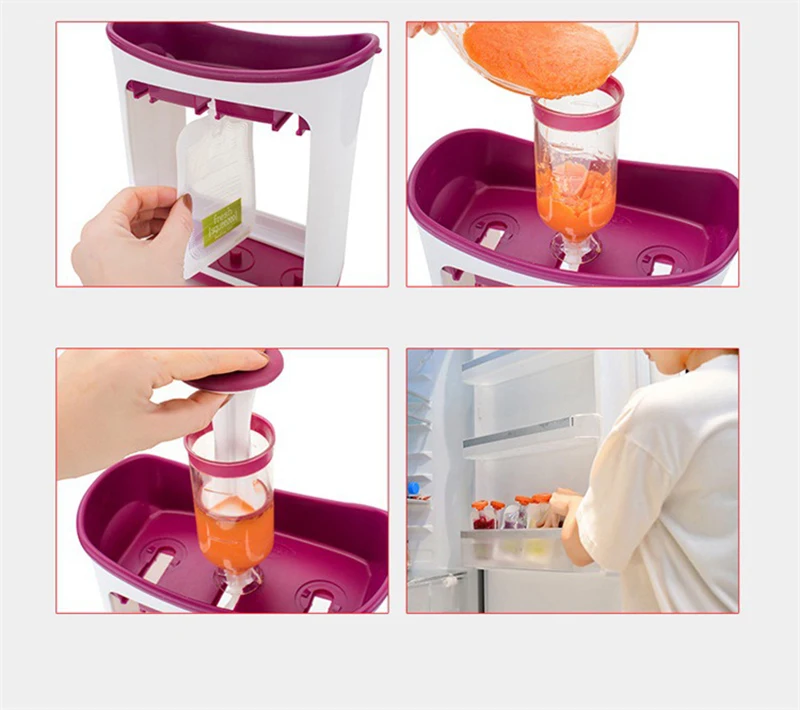 Here are the Best Baby Food Makers of 2022!1. BEABA Babycook 4in1 Solo Baby Food Maker.
The top-rated BEABA Babycook 4in1 baby food maker is well known for reliability, ease of use, safety, and efficiency. They are the best baby food makers on the market, and for good reason. Even though it is a bit more expensive than other options, we think it is worth the extra cost. The BEABA looks and works great. It uses a large 4.7-cup capacity so you can fit several servings of food in one batch. You can use it with only 1 hand, so you can hold your baby in one arm while steaming, pureeing, defrosting, or reheating your food. The water reservoir on the side that holds water for steaming is stainless steel rather than plastic, and all surfaces that come in contact with food are BPA, lead, and phthalate free. We found that it is easy to clean, easy to use, and highly reliable. We were impressed with how quiet the motor was when pureeing with the baby food blender, and how evenly the steaming seemed to work.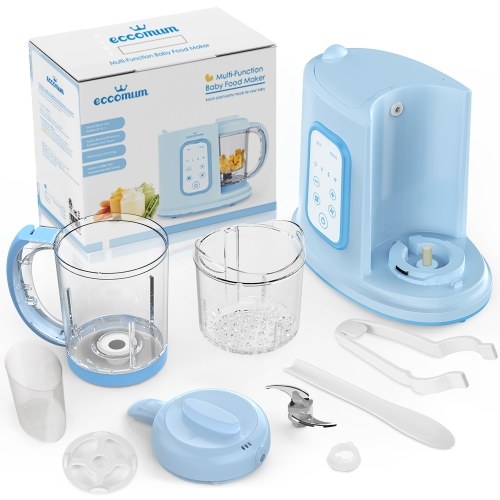 To steam, you place your freshly cut fruits or veggies into the basket and simply press the steam button. When it's finished, about 13-15 minutes later, you simply dump the basket of freshly steamed food into the bottom of the bowl and turn the knob to begin making nice smooth purees. We thought the button and knob were really intuitive and easy to use. And we used it to make baby puree and blend some frozen fruits and veggies as well, to make ourselves a little smoothie. Worked pretty decently as a little blender. Note that with any baby food maker that includes steaming, if you use anything other than distilled water, your water reservoir will develop mineral deposits; as suggested by Beaba, we found that descaling with vinegar every few months was really helpful. If you do have an issue it comes with a 1-year warranty, and the customer service is great. Who else loves the Beaba Babycook? Our friends at Babylist, Babygearlab, and WhatToExpect all consider it a top pick! Interested? You can check out the Beaba Babycook here.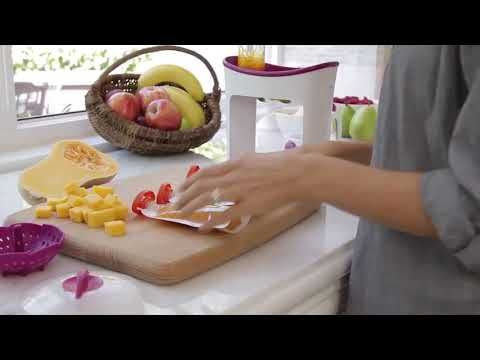 Need to cook more than one recipe at a time? Check out the double Beaba Babycook Duo for about $50 more.
2. Babymoov Duo Meal Station Baby Food Maker.
This is new for this year, and we got our hands on it in early January for some in-depth testing. It's a truly awesome and versatile top-rated baby food maker, with some serious functionality. The Babymoov Duo Meal Station is the only baby food maker on this list that can support simultaneous and separate steaming and blending, which allows you to start steaming another food (or keep steaming one tray of food) while blending another. We found this super helpful when steaming two foods that take different times to steam. For instance, we steamed a tray of green peas while steaming a tray of sweet potatoes: the peas took about 4 minutes, but the sweet potatoes took about 10 minutes (once the steam started). So, this system allowed us to start blending the peas while finishing steaming the sweet potatoes. That's great flexibility for a busy kitchen.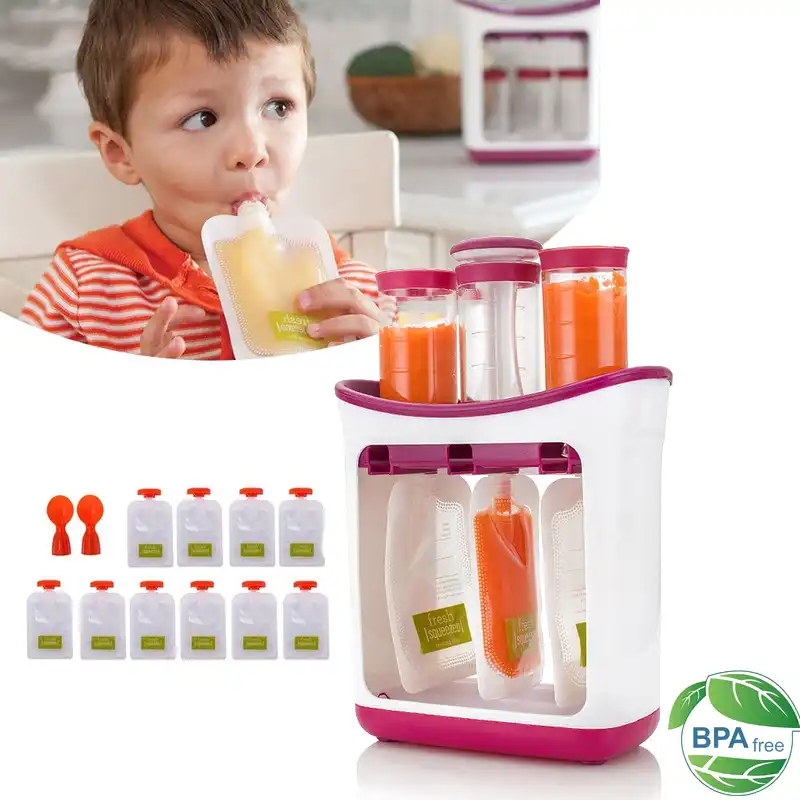 It's also very high capacity, the largest on this list of best baby food makers, allowing us to prepare up to 9 cups of food at once! That's like 25 meals for a baby, so that's a big deal. If you don't need to make something that large, you can use just a single layer tray for one food type (or two that have the same cook times), or you can stack the trays up to separate two different types of food. It worked really well for smaller and larger jobs. The steamer was powerful and easy you use: add some water to the bottom until the light turns off, set the timer and you're ready to go.
The baby food blender was powerful and the blade was sharp and durable, and the blender itself had three speed settings. The two things that distinguish this from the Babymoov Nutribaby (below) are the ability to steam and blend simultaneously, and the three-speed blender. And the fancy LED screen and interface, which we thought was intuitive and easy to use. The steamer and blender parts are all BPA free (and lead and phthalate free) and dishwasher friendly, making clean-up a breeze.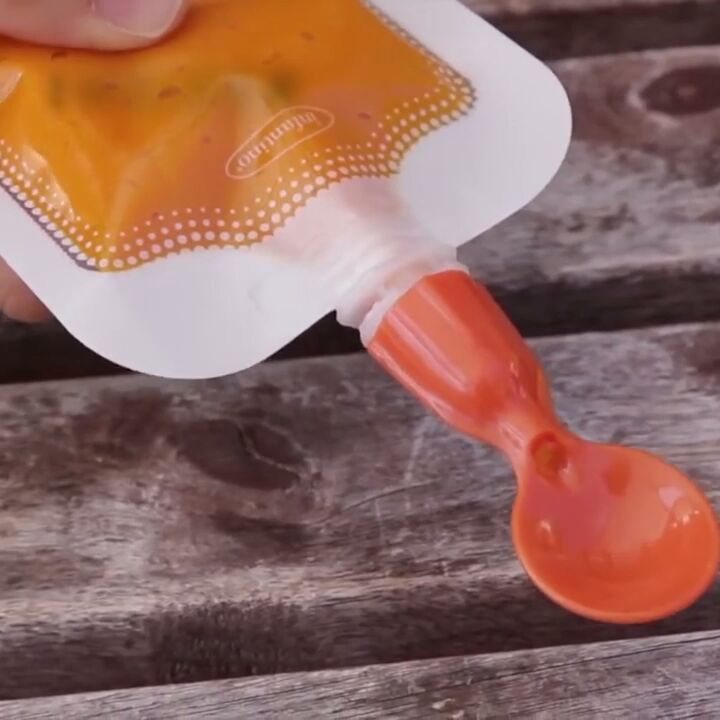 So why isn't it #1 on our list? It might be next year, but first, it needs to pass the test of time. Also, it's quite big, so people will smaller kitchens or otherwise restricted counter space might find it too large for their space. Coming in at about the same price as the Beaba Babycook, if you have the space, this is a must-have. Overall, this is an excellent baby food maker that we highly recommend! Who else loves the Babymoov Duo? Our friends at Babylist and WhatToExpect call it a top pick! Interested? You can check out this Babymoov Duo here!
3. Evla's Baby Food Maker.
This was completely new to our list last year, and we fell in love with it! The EVLA's baby food maker is fierce new competition for the Beaba and others, providing awesome capability at a price point about $30 less expensive than the Beaba. Out of the box, we thought that everything felt very high quality and well-made. There are so many junky baby food makers on the market that it's always nice to see a high quality unit show up.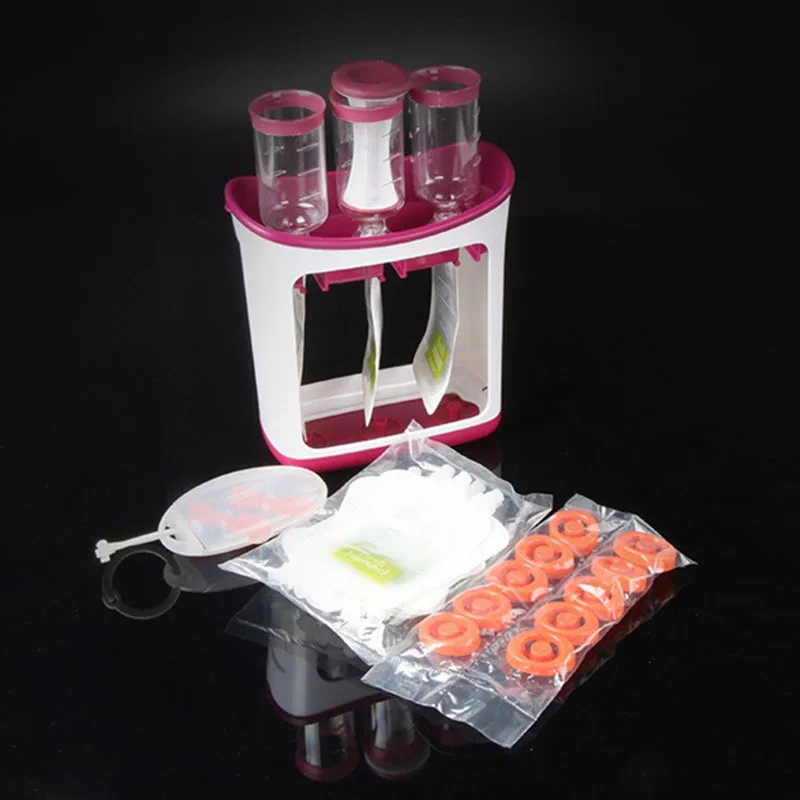 And it was easy to use and follow the instructions; if the written instructions aren't clear, there are awesome video instructions at Evla's website. The features are great, including steaming, blending (pureeing), reheating, defrosting, and sterilizing functions. It also has a self-cleaning function that helps you clean the blade after use without having to detach or touch it (and risk a cut), which is an awesome feature to increase the ease of cleaning. The water reservoir holds about 7-8 ounces of water and is super easy to clean - it's big enough to fit your entire hand and a sponge in there, making things less likely to get covered with mineral scale, slime, or mold. The steaming basket and stirring cup are top-rack dishwasher safe, and all parts that come in contact with food are BPA-free. A couple other things worth mentioning. Turning it on, you need to press and hold the power button for about 3 seconds, which is a great safety feature but also helpful so it doesn't accidentally power on when cleaning the nice digital screen on the top.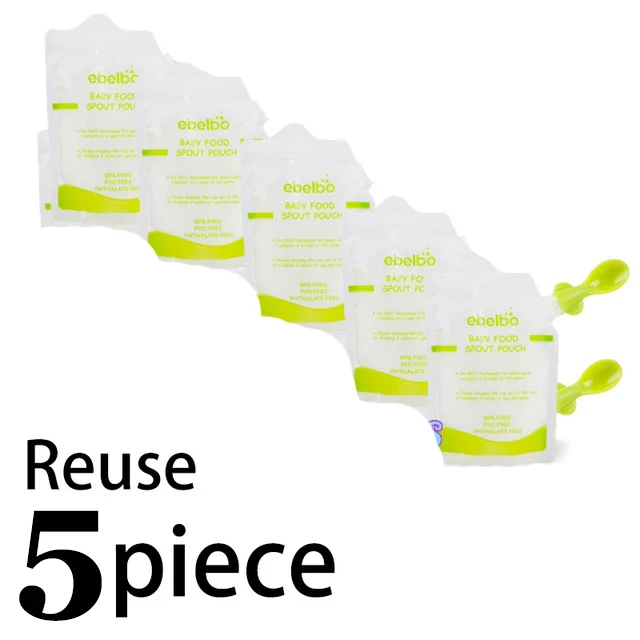 Speaking of the screen, it's super intuitive to use. The buttons are simple - clean (to clean the blade after using - be sure to attach the spillproof lid first), steam (to steam food in the basket), and sterilize (to sterilize before first use, or sterilize pacifiers and bottle nipples). There are two other buttons, one is an auto puree button that will sense resistance in the stirring cup and blend for an appropriate amount of (usually about a minute), and one is a pulse puree button just in case you want to customize the puree time to make chunky food (less time) or smoother purees (more time). The capacity is about 12 ounces of food (the stirring cup is about 600mL), so it's not the biggest on on the list, but it's plenty big enough for most situations. Steaming veggies only takes about 15 minutes (meat takes about 20 minutes), and blending takes another minute, so you could definitely make a few purees in a row - maybe 3 or 4 within an hour, which is pretty good. We're really impressed with this baby food maker and think it's very deserving of its spot on this list! Also, the EVLA's company is super responsive on Amazon or Facebook (or email at [email protected]) and will resolve any issues you have immediately and with a smile.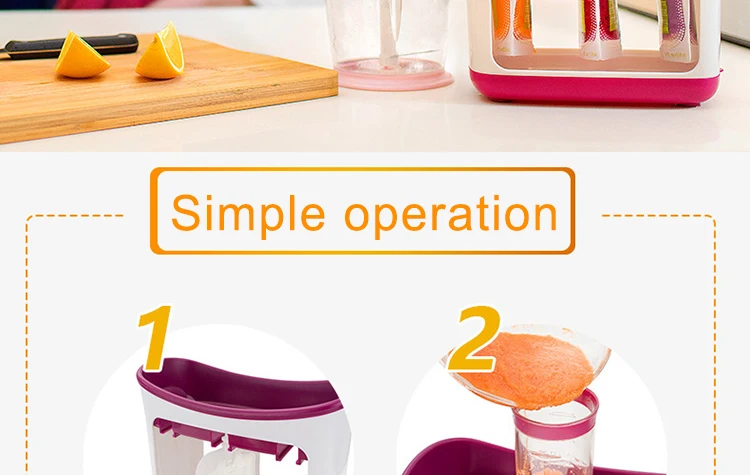 Not that you're likely to have any issues, but just in case! When we tested this food maker it included a bunch of reusable food pouches, which was a nice extra to find in the box! Also, if you register the warranty they will send you a free baby spoon and bowl, and registering takes about a minute. Cons? Not a huge capacity, and it doesn't have the dual-layer steamer baskets. Outside of that, we think this is an awesome new option to consider! Who else loves the Evla's Baby Food Maker? At this point, we're the first to test it - though we expect that to change once others see this review! Interested? You can check out the Evla's Baby Food Maker here.
4. QOOC Mini Baby Food Maker.
This baby food maker is brand new to the U.S. market, and is making some waves! It is a small-footprint and small-capacity unit, making it perfect for smaller kitchens, smaller batches of food, and less clutter on the countertop. Its size is matched by its simplicity. It is technically a 4-in1 baby food maker, which means that it does the usual steaming and blending, but it also can reheat and defrost, which is basically just the steaming function used for two other purposes.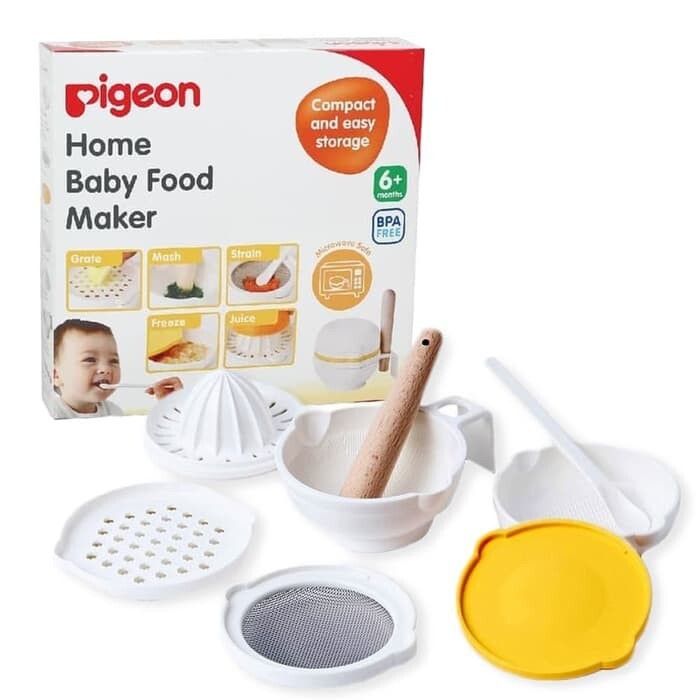 Convenient, but not any different from most others on this list. The capacity is relatively small, about 300 grams or 2 cups, making it the smallest of the bunch. Its look and feel, and functionality, are very similar to the Beaba Babycook, with a sleek and low-profile shape, and a large and easy to use button right up front and center. We found it very easy to use with only one hand: you simply turn the button to steam or blend and push the button to start. The lid, container, steamer basket, and blade are all dishwasher safe, and the blade pops out of the container for more thorough cleaning. All components that come into contact with food are also BPA free and do not contain lead or phthalates. Some other things we appreciated were the quiet motor, how easy it was to refill the water reservoir, and how little space it took up on our (already cramped) kitchen counter! Because this is a newcomer to the baby food maker category, we do not have extensive experience with it. In our limited testing for about a week, we found it quite capable and a great new competitor for this segment.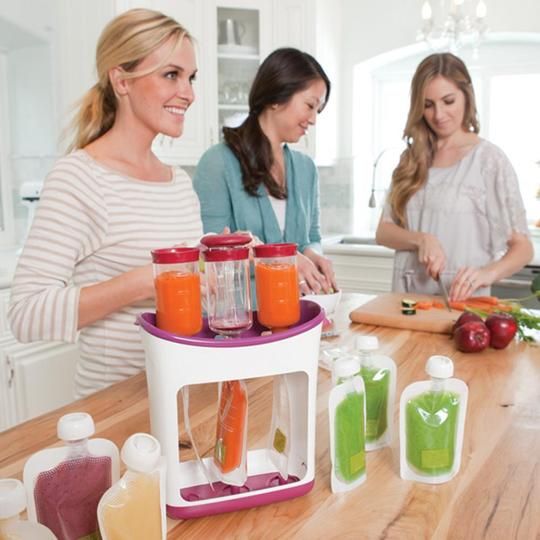 It's small, but if that's what you're looking for, this is definitely a great option. Over the next 6-12 months we'll keep using this model and report back on its reliability; if things keep going like this, it's very likely to creep up higher on our list! Overall, a great option, and we found it for about $90. Who else loves the QOOC baby food maker? Our friends at The Wirecutter and WhatToExpect call it a top pick! Interested? You can check out the QOOC 4in1 Mini here.
5. Elechomes Baby Food Maker.
The Elechomes baby food maker was recently released and offers a great feature-rich option that doesn't break the bank. Coming in at less than 80 bucks, this is a great choice for parents who aren't willing to drop $150 on a baby food maker, while retaining most features of the pricier options. These features include a dual basket steamer, integrated food processor, BPA-free and dishwasher-friendly parts, kitchen timer, and some cool retro styling (if that's your thing!).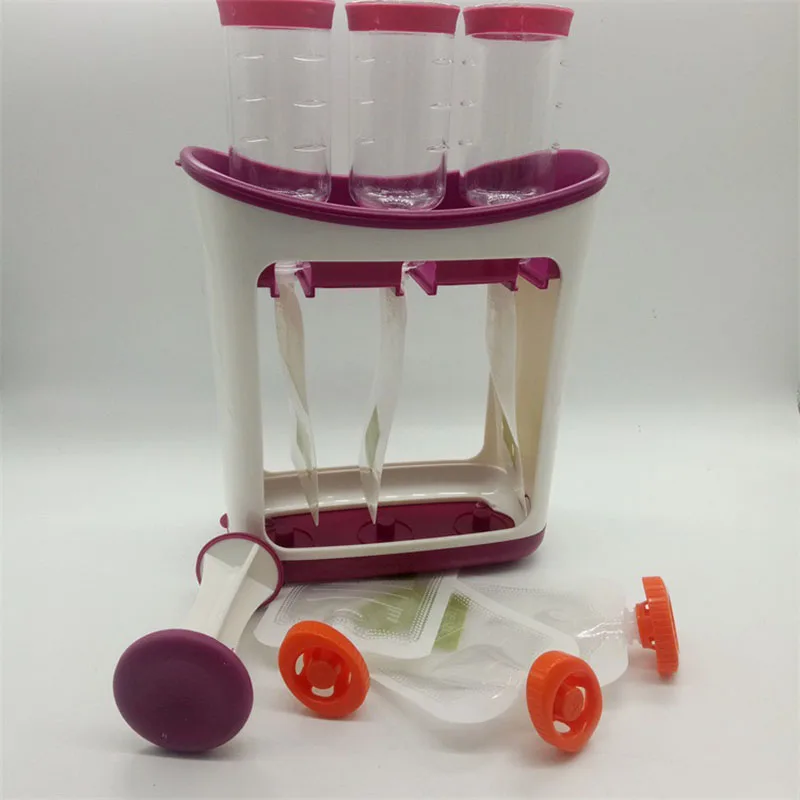 There are some things we really liked about it: it was simple and intuitive to use, the parts felt sturdy and good quality, the lower steamer basket was a decent size (the upper one is a bit smaller but still great for peas or other small and easy to steam foods), the steam and puree functions were highly effective, and the parts were easy to disassemble and clean. In our hands-on testing of this model (see our full Elechomes Baby Food Maker review here), we cooked several different frozen and fresh fruits and vegetables. They all turned out really nicely and most took about 15-20 minutes to steam. The owner's manual comes with a little guide with recommended cook times for most popular fruits and veggies. Speaking of the owner's manual, it was in English and generally easy to understand. Design-wise, the Elechomes is most similar to the Bubos model we reviewed (below), and it has a nice small footprint so it doesn't take up too much kitchen counter space. Overall, we really enjoyed testing this baby food maker and think it makes a great addition to this list.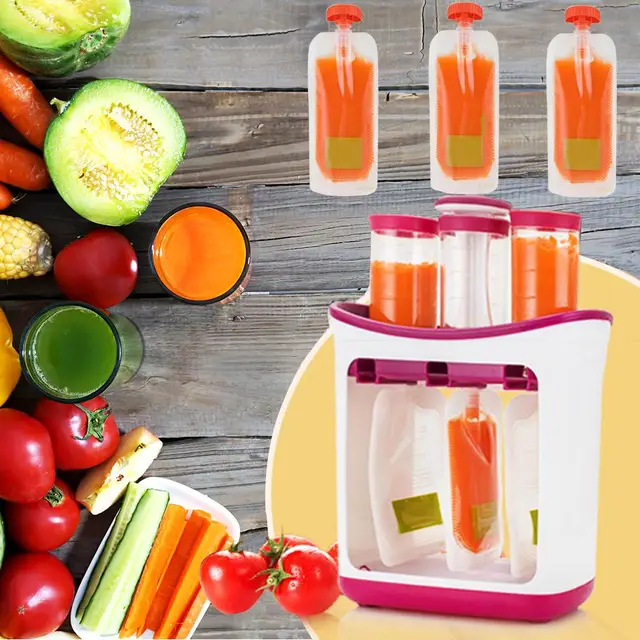 So what didn't we like? Well, a couple things. One is that you need to hold down the power button to make the food processor spin, meaning that you need to stand there with your finger on the button the entire time while it purees. A first-world problem really, but worth mentioning. Second is that the steamer timer dial is a bit noisy - it's basically a kitchen timer (and can be used as one when the unit is unplugged, which is nice), so it has a ticking sound and makes a "DING" noise when it finishes. If you're like us and want things to be quiet and simple in the kitchen, this gets a little annoying - but for others, the ticking sound is a convenient reminder that things are cooking, and the ding is a nice reminder that it's finished steaming. Finally, another annoyance is more related to safety: the top blue ribbed lid gets really hot, so when you finish steaming and want to remove the top, you'll need to use an oven mitt or towel to make sure you don't burn your hand. Realistically, these are all pretty minor annoyances that get trumped by the fact that this is a super capable baby food maker that can be found for only about $80, making it an overall great option.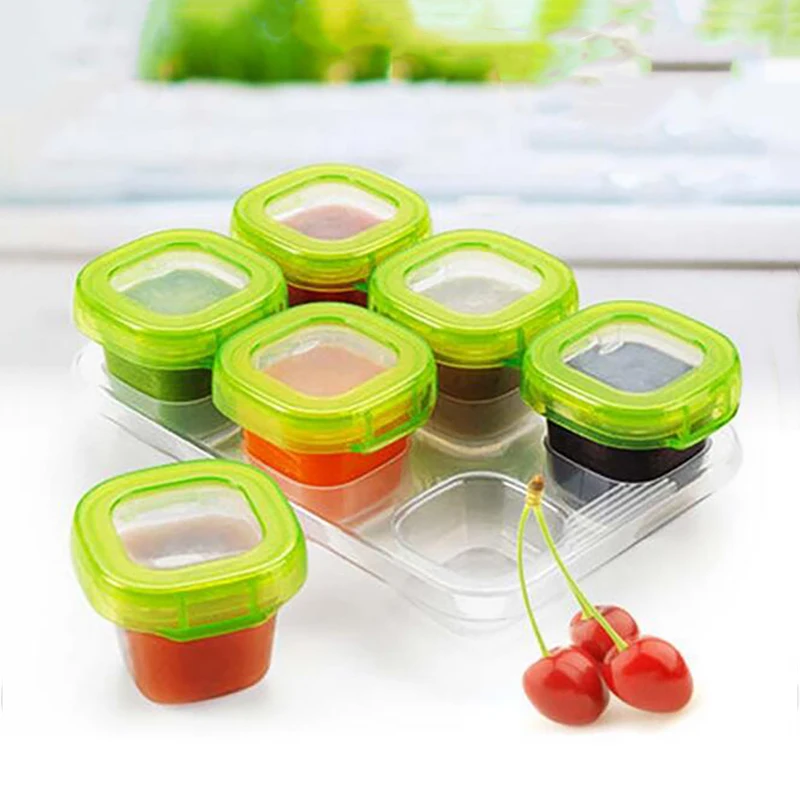 Who else recommends the Elechomes baby food maker? Our friends at WhatToExpect! Interested? You can check out the Elechomes Baby Food Maker and Processor here.
6. Whale's Love Baby Food Maker 5-in-1.
Amazon has recently become saturated with baby food makers from China, many of which look nearly identical and have the same functions, but with a slightly different brand. Most of them are pretty junky, and some of them are hard to tell apart from the good ones, and the fake or padded reviews don't help the situation. We were worried when we bought the Whale's Love that we were basically buying the QOOC or Elechomes with a slightly different style; not that we don't like those models, just that it seems like a waste of time and money to keep testing all the differently-branded products. Well, after over 4 months of use we have been really impressed with this model! They call it a 5-in-1 baby food maker, with the capability to: steam, steam-blend, blend, warm baby bottles, and self-clean its tank.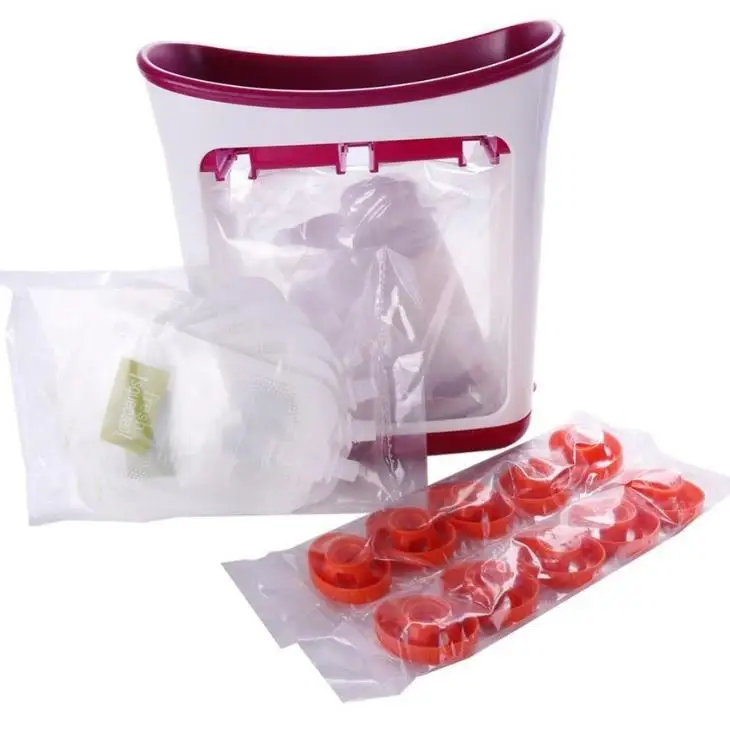 The water tank can hold 230mL of water (just under 8 ounces), and the steaming and blending bowl can hold up to 1000mL (nearly 34 ounces). That's pretty good capacity. The steaming basket drops in surrounding the blade so you can leave the blade mechanism in the bowl during steaming. The blade itself is sharp and easily removed for cleaning. In fact, all of the parts are easy to clean and dishwasher friendly, though the main bowl is a little narrow so you might want to use a bottle brush if you have bigger hands. We found the controls and screen easy to operate and understand, and the steaming and blending feature worked really well - you push a few buttons, come back in about 25 minutes and you are ready to eat! Speaking of pushing buttons and walking away, the steam-blend feature is possibly very useful. Technically, you can run the unit without the steamer basket so there's no transition between the phases, but then you're blending the food in its own accumulated water. That might be fine for some vegetables, but tends to make most purees a bit too watery.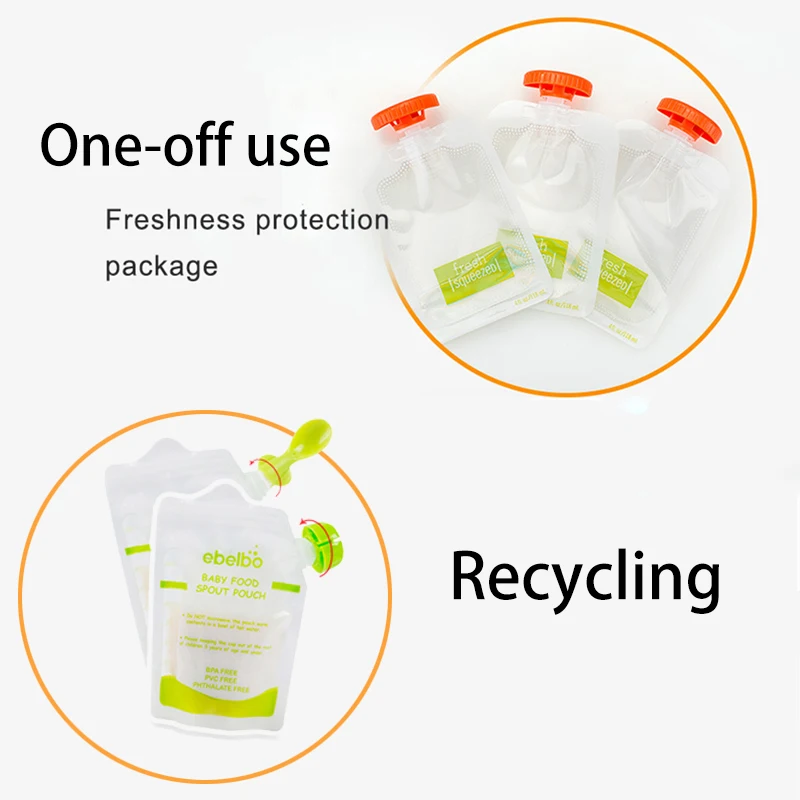 We suggest doing it the old fashioned way: steaming in the basket, then emptying the extra water out and dumping the food back into the bowl for pureeing. Another interesting feature is the tank descaling self-cleaning feature. At first we were skeptical that this wouldn't do anything helpful, but were actually pleasantly surprised by its effectiveness! During use, we had a couple little grips. The markings in the water reservoir are nearly impossible to see, so it's hard to know how much water you're putting into the reservoir. We basically needed to fill it all the way to the top each time because we had no idea how much we had put in, or whether it was enough. On a related note, if you end up putting in too little water for the cycle, the system has an auto-shutoff for safety if it detects there's no more water in the reservoir. Also, the unit didn't take up very much space on the counter because it's a bit taller rather than wider, and it has little suction cup feet that you may love or hate.
Personally, we didn't like them because they marked up our wooden countertops, but most people won't have that issue. Overall, we really liked this new addition to our list and think it's a great option. We'll revise this after some longer-term testing to give an idea about reliability. We found it for about $90 online, you can check out the Whale's Love baby food maker here.
7. Bubos All-in-One Baby Food Maker and Steamer.
We're always excited about newcomers to the baby product market, and this Bubos baby food maker is an awesome example. We got our hands on this all-in-one steamer and food processor late last year and were really impressed by the quality, features, versatility, and relatively low price (about $90 at the time of testing). The Bubos can steam, sterilize, blend, chop, defrost, and reheat. Out of the box, the system is a little complicated to figure out, there are a lot of different plastic parts and we needed to read the manual a couple times and look online to figure out exactly how to use the system.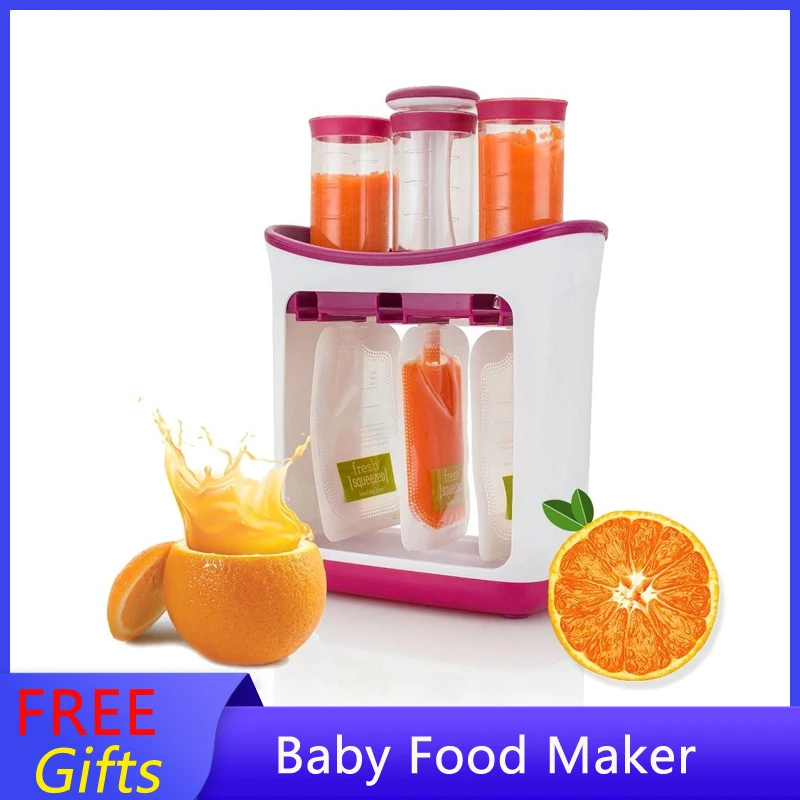 Once we figured it out, we were impressed. The steaming is pretty flexible and you can put up to 3 levels of foods for steaming simultaneously - we put peas in the top, broccoli in the middle, and sweet potatoes in the bottom. The three stacking baskets are different capacities, the bottom one is largest (750mL), then the medium one (350mL), and the top one is smallest (150mL). When the baskets are stacked onto one another, the height of the tower is also great for fitting bottles for sterilizing or reheating/warming. So, this serves as a steamer, bottle sterilizer, and bottle warmer. If you want a separate bottle warmer, check out our reviews of the best baby bottle warmers. Once our sweet potatoes were steamed (about 15 minutes later), we tested out the blender to make a delicious puree - and it worked really well, the blade was super sharp and it pureed the potatoes in less than a minute or so. Clean-up was easy, and you can put the steaming baskets, mixing bowl, and lids right in the dishwasher.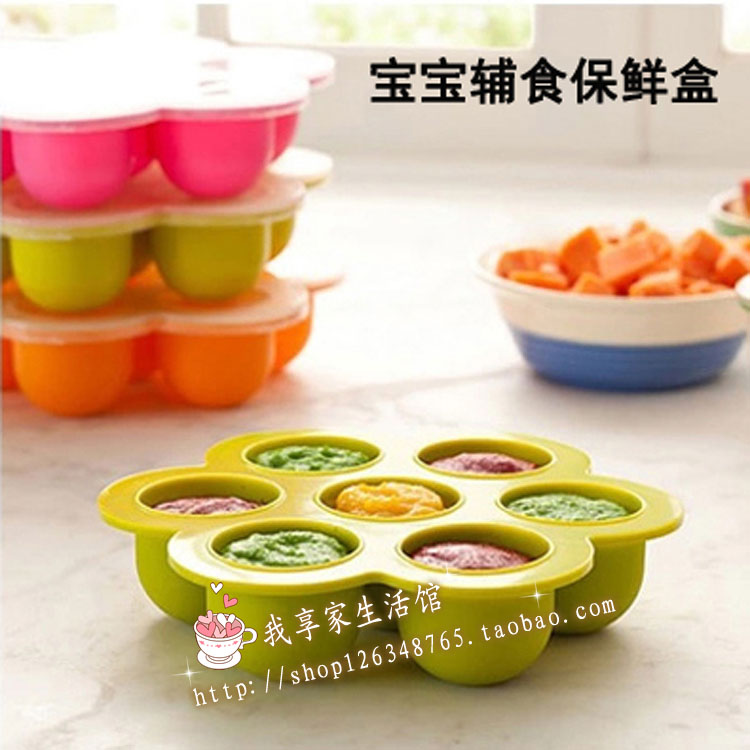 Some good safety features here too - it will turn off automatically if it detects a low water level in the reservoir, and it is free of BPA, lead, and phthalates, and uses FDA-approved food safety materials for all parts that come in contact with the food. There's a lot to love here, and we have been using it for a few weeks without any issues. But we aren't going to push it up on this list until this baby food maker proves itself over the longer term. We found it for about $90 online, you can check out the Bubos baby food maker here.
8. BEABA Babycook Neo Baby Food Maker.
This is the baby food maker everyone wants to love, with its sleek European-made styling, glass bowl, stainless steel steaming basket, high capacity (5.5 cups), large and easy to clean water reservoir, and versatile cooking options. And when we got our hands on it for testing, we wanted to love it too! Out of the box, we really did: it is very high quality, looks fantastic, and is easy to assemble and use.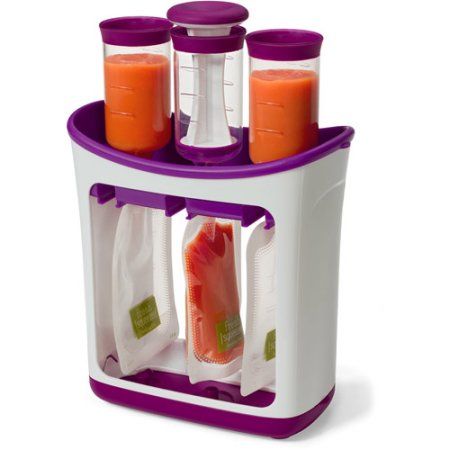 For our first use, we steamed and pureed peas, sweet potatoes, and spinach, and everything came out really nicely. In addition to the basic steaming feature, you can also use a defrost and reheat function, both of which worked really well in our testing. The puree and blend blade was stainless steel and super sharp and effective, it was really good at including all of the food into the blend without leaving any chunks around the edges of the glass bowl. And we also found that using a glass baby food maker was a bit quieter when a plastic one, likely due to the superior insulating (sound and temperature) properties of glass versus plastic. Speaking of glass, this is a great option for parents concerned about BPA and phthalates, or other plastic chemicals leaching into foods while you're steaming; glass effectively solves that problem, as does the stainless steel steaming basket. But just like with glass baby bottles, using glass with plastic can introduce some fitment options especially after repeated warming or dishwashing of the parts.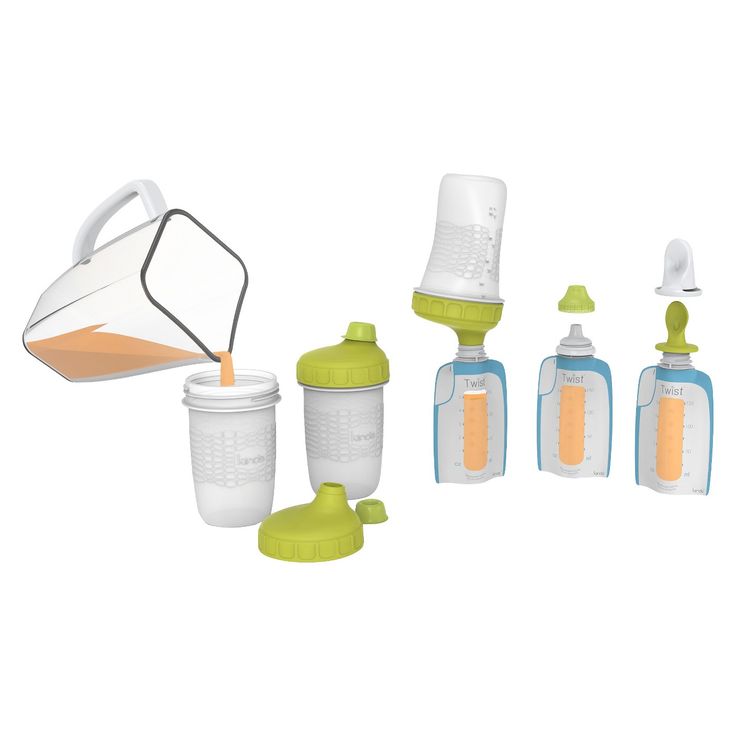 Specifically, the plastic lid didn't fit the glass bowl perfectly after a while, and the plastic handle of the bowl started to separate a bit from the bowl. Not huge deals, but worth mentioning. The other issue is that when you rapidly heat glass there is a risk of breaking the glass, so when you put a bunch of frozen fruits or veggies in there and the glass cools down, and then you heat it with steam it heats up quickly and can crack. That didn't happen to us in our testing, but it's worth pointing out that Beaba just finished recalling their first batch of these Neo baby food makers due to glass bowl breakage. As of early 2020, the Neo models being shipped from Amazon appear to use the new glass bowl that was issued after the recall. The other big issue with this baby food maker is the price, coming in at a whopping $250, which we believe is ridiculous for a baby food maker, even if it uses glass and stainless steel instead of plastic! Maybe a price point around $150-175 would be more reasonable, given the price of the other front-runners in the baby food maker market.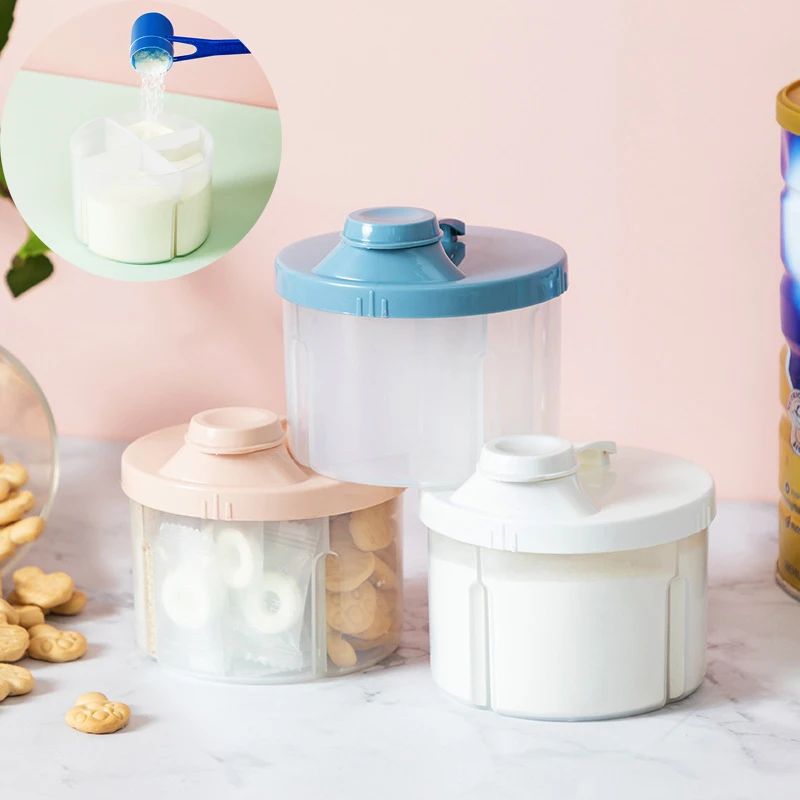 Overall, you're getting a very stylish and functional baby food maker with some clear advantages over most other models, but with the risk of glass breakage and a very steep price tag. Interested? You check out the Beaba Babycook Neo here.
9. Baby Brezza Glass 4-cup Food Maker.
Overall, this is a nice decent-capacity (4 cups, same as the Cuisinart, but smaller than the Beaba and Babymoov) unit that is easy and convenient to use and doesn't take up a ton of space on the counter. There are some really awesome features here! First, there is a one-button option for steaming and blending, which means you fill the water reservoir and put your food in the bowl, close it, and press the Steam + Blend button. About 10 minutes later and you're ready to go with freshly steamed and pureed fruits and veggies. Of course, if you only want to steam or blend, there are separate buttons to do those as well. Second, another great feature is that the water reservoir is removable, which makes filling and cleaning super easy.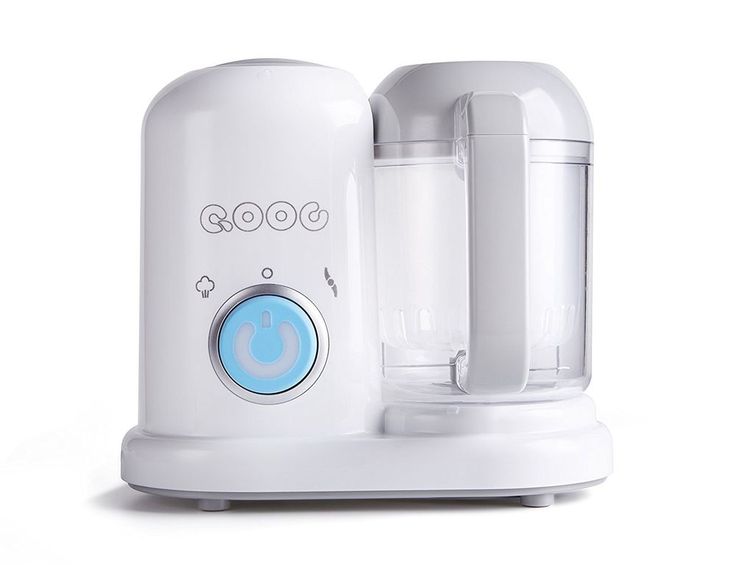 In our testing, we really appreciated this feature and thought it set a new precedent for other baby food makers to follow. Third, it has an easy to read and understand display that tells you how much time is remaining until you get to enjoy the food. Finally, when this model first came out on the market, we got a ton of emails requesting we review it, because it is the only all-in-one steamer and blender that uses a glass bowl. This means no more worrying about whether the plastic is BPA free and whether there are other harmful chemicals getting into your baby's food. The glass bowl takes care of that problem, and we think it is an excellent addition to the baby food maker category. Of course, that glass bowl and the blade are dishwasher safe. Overall, this is an excellent baby food maker option that you will certainly be happy with. Our only major concern with this model is that there are reports of poor reliability after a few months. We happily used our test unit for over 6 months without any issues, but more recently we have encountered some seemingly random problems.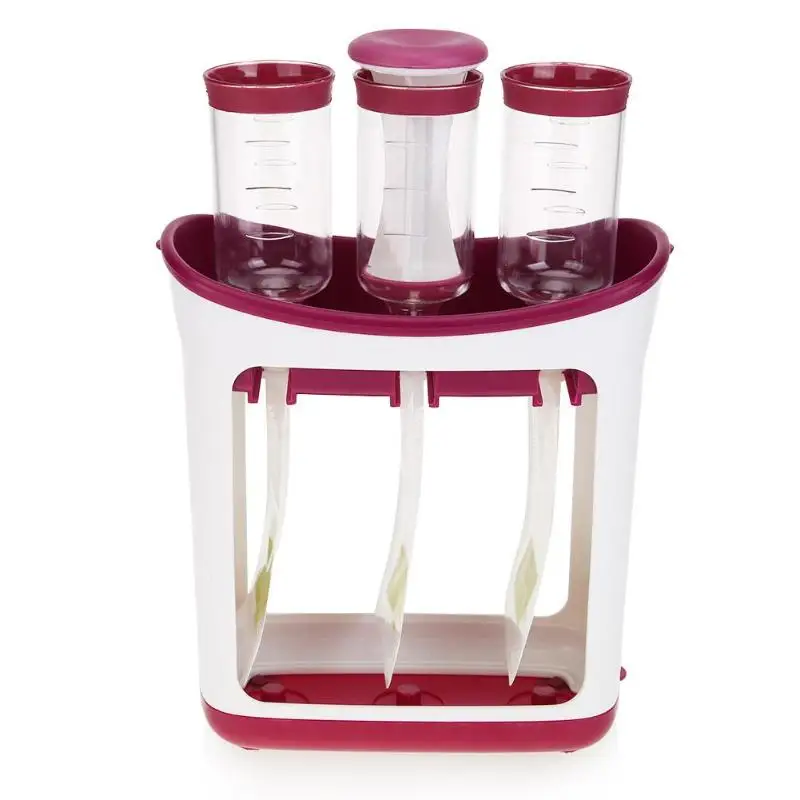 For instance, the display sometimes shows erroneous information, and water sometimes leaks from the base. Overall, this is a great baby food maker, and if it improves in reliability over time then it will likely crawl up on this list! It is usually available for under $150. Note that Baby Brezza also makes the famous Baby Brezza Formula Pro that can mix formula perfectly and put it right into your favorite baby bottles. Who else thinks the Baby Brezza food maker is pretty great? Our friends at Babylist and Babygearlab call it a top pick! Interested? You can check out the Baby Brezza food maker here!
10. Nutribullet Magic Bullet Baby Bullet Baby Care System.
The Baby Bullet was one of the first baby food blenders specifically targeting new parents, including a baby food cookbook, baby food storage containers (fridge and freezer), and a feeding cup. It also boasts the cute smiley face on the front to make you think there's something really special about this blender.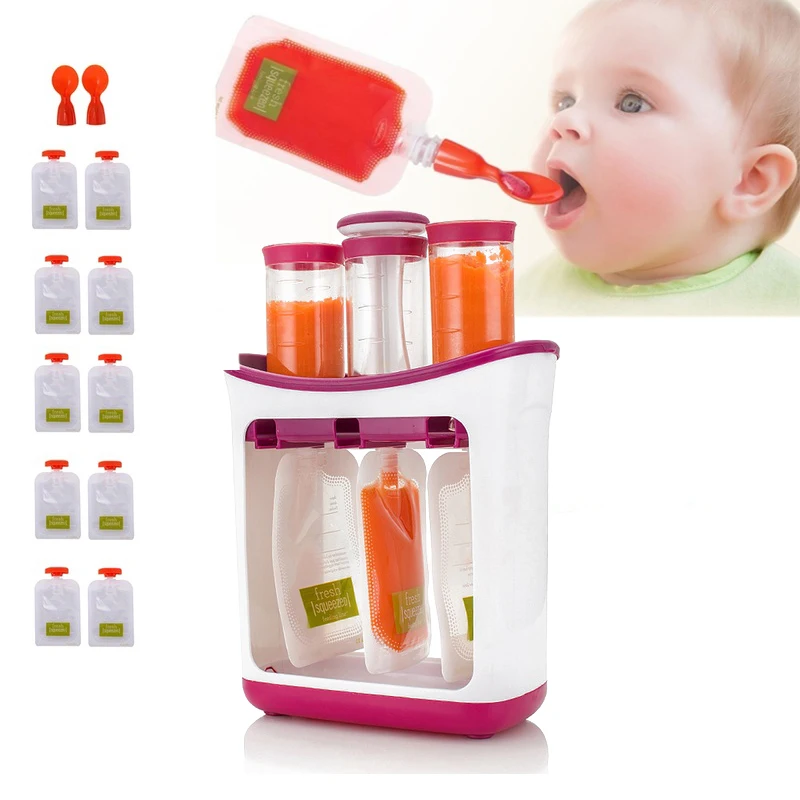 Over the years, the Magic Bullet transitioned to being called the NutriBullet, which provided some small improvements upon the original product. The Nutribullet baby food maker is undeniably adorable, with its baby blue or light pink plastics, the smiley faces adorning the front of the clear plastic bowls, and the cute short cup with handles and storage cups. We love when a baby food maker includes storage options, and these little cups are the perfect size and shape, and fit nicely into an included silicone holder for freezer storage. Out of the box, we think you'll love the NutriBullet! It looks great and works wonderfully to blend steam-softened fruits and vegetables, using a reasonably powerful 200 watt motor and a sharp blade. Getting through grittier foods such as broccoli, or foods that aren't as thoroughly steamed, the NutriBullet tends to underperform relative to its more powerful peers. Critically, the NutriBullet does NOT provide any steam capability. If you need to steam any fruits or veggies, that needs to be done separately before using this system.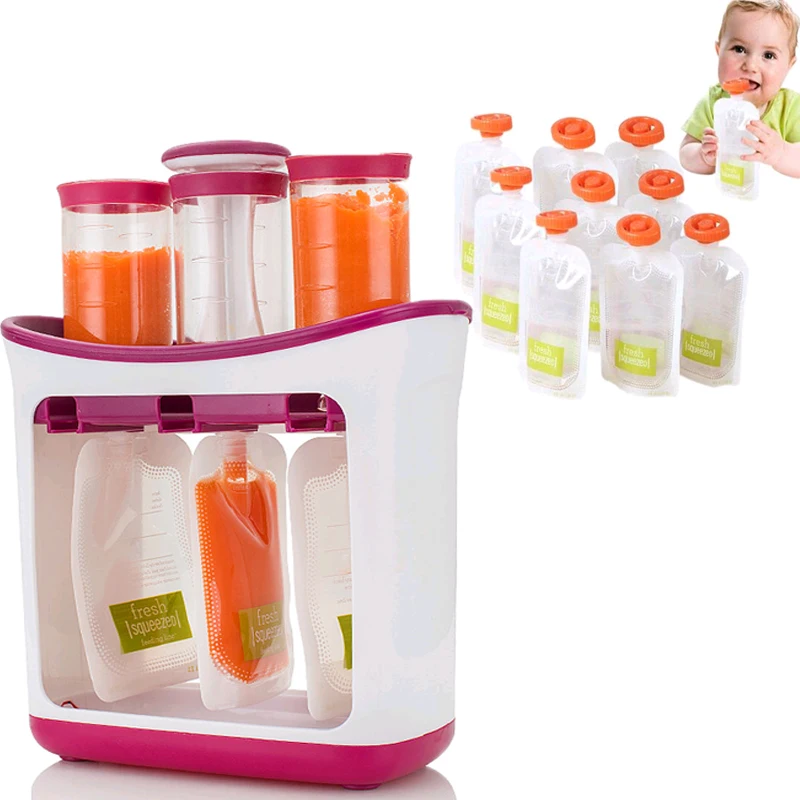 In our opinion, that's the most unfortunate limitation of this system. Add that limitation to major concerns about the quality and long-term reliability of the motor and rubber seals, and you've got a deal-breaker. In our testing, while we didn't have any issues in our short-term test, speaking with fellow parents who have used the NutriBullet for over 6-10 months reveals that it tends to have failing rubber seals that disintegrate and can even get into the food while being prepared. While our friends at Babylist and the Wirecutter consider it a top pick (though it's unclear if they tested it themselves), we suggest considering an all-in-one steamer and blender that doesn't have these reliability issues. Interested? You can check out the NutriBullet baby food maker here!
How We Find the Best Baby Food MakersSteaming and Processing in One
The original baby food makers were glorified food processors that changed their name and marketing, and were manufactured with some cute colors to entice new parents.
With these old systems you had to cook fruits and vegetables separately in a steamer and then puree them in the processor. This method got the job done, but was definitely time-consuming. More dirty dishes, more hands-on kitchen work, and more time away from your baby.
All the new systems we recommend are all-in-one steamers and processors, going way beyond what you will get with a classic blender or a modern mash maker or other baby food grinder. Put in the fruits and/or veggies, add some fresh water, and the system will steam it for you with the push of a button. Aren't around when the steamer finishes? No worries, just come back later to puree, which by the way is simply another push of the button. Two button presses later and you have a freshly steamed and smooth pureed masterpiece for your little munchkin. Some of the newer models even have a one-button feature, like the Baby Brezza: you press the Steam + Blend button and 10 minutes later your food is ready!
Maybe a healthy veggie puree for dinner, maybe a fruity blend for dessert? You're the chef now, no more worrying about which Gerber options are on the shelf, or worrying about harmful additives! Need to save time and have high quality pureed food without any hassle? Check out our organic baby food buying guide.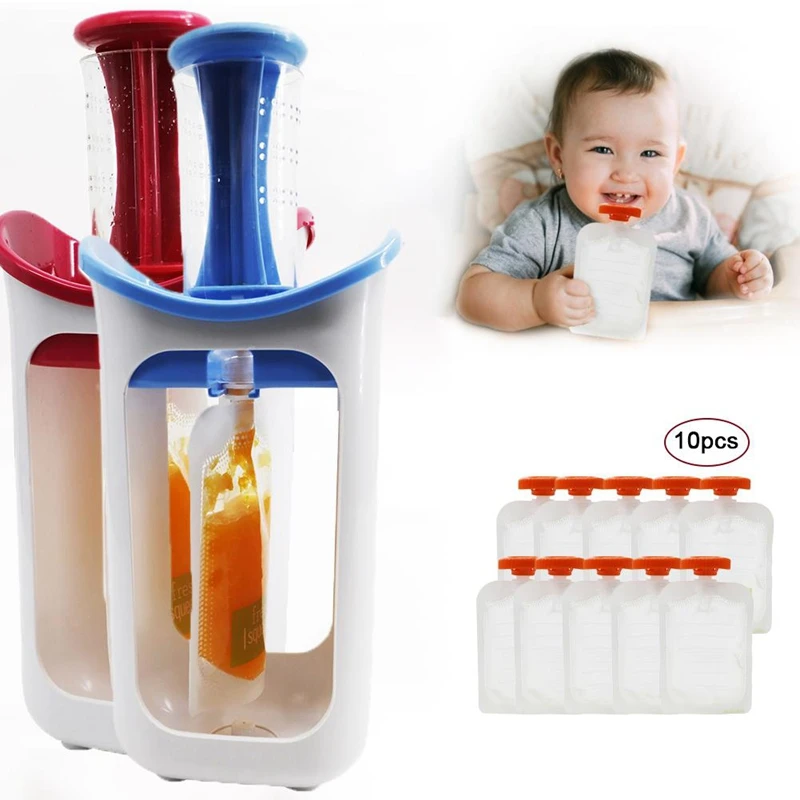 Ease of Use
This is the factor that sets apart the good and bad baby food makers. The fewer steps the better, and the more logical the better. Some systems do this well and others get it wrong. If it takes a rocket scientist to help you figure it out and understand the owner's manual, it's a poorly designed product. All of our recommended systems are highly rated for ease of use.
Reliability
Just like with ordinary food processors and steamer systems, there are reports of smoking motors, melting plastics, quickly dulled blades, breaking clips, and other various defects. Some of the systems have more issues with this, whereas other systems are consistently reliable and carry great warranties that are reliably honored. All of our recommended systems have histories of high reliability and customer satisfaction. We want to be clear that every baby food maker that includes a steaming feature will develop scaling, discoloration, hard water stains, and even a slimy build-up if you do not do the following three things.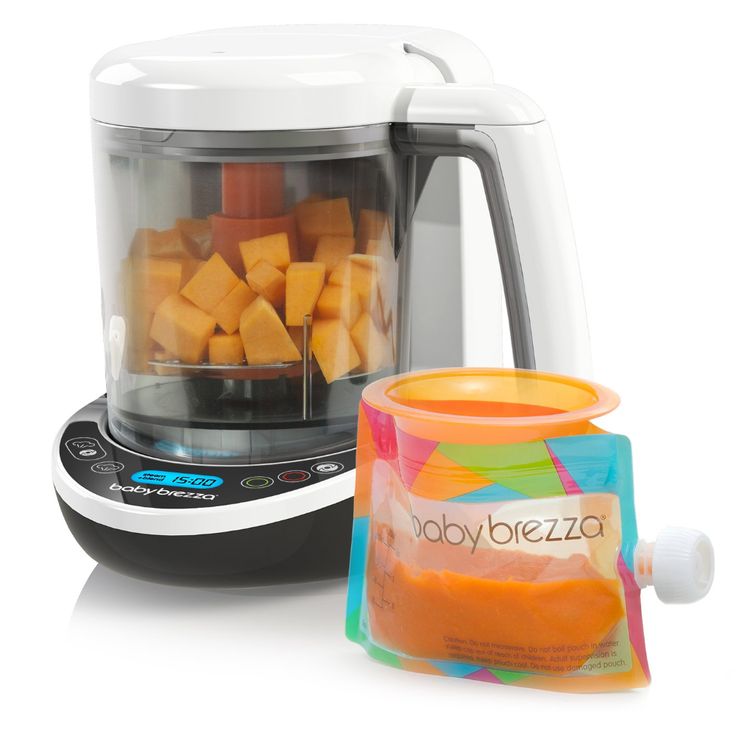 First, always use distilled water. It's easy to be lazy here, but you'll regret using tap water or bottled water after a couple months when your system gets truly disgusting in the water reservoir and heating element.
Second, regularly clean the water reservoir with white vinegar and a sponge or baby bottle brush.
Third, after every 5-10 uses or so, fill the water reservoir with white vinegar and run the system through its entire cycle. That will help keep nasty sludge, mold, or mildew from building up in the reservoir and inside the unit on heating element itself. Even the absolute best baby food steamers, like the Beaba and Babymoov will have terrible reviews on Amazon and other sites from parents who didn't follow the instructions to use distilled water and clean the unit on a regular basis.
Efficiency
If you're going to spend over $100 on a good baby food maker, you want one that will make smooth purees quickly and effectively. You don't want to run it, check whether your food is well blended, and keep trying.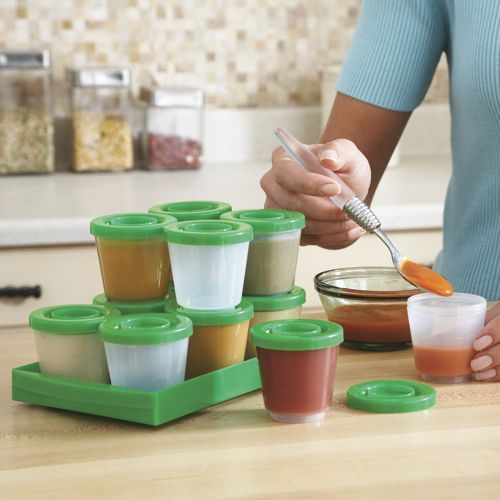 Weak and slow motors, dull blades, and poor blade design can all contribute to lower efficiency and more headaches. You want a fast steamer, powerful motor, and sharp blades. You also want a bowl large enough to fit enough food to make several servings. Avoid units with capacities under 3 cups because you'll find yourself spending a bit too much time washing, peeling, steaming, and smooth pureeing for single servings! All of our top recommended systems show high efficiency with both the steaming and processing stages.
Safety
The original baby food makers used plastic steaming baskets and bowls containing BPA and phthalates, which many scientists and doctors believe leached into foods. These chemicals have been linked with a variety of health and developmental issues. Newer systems from major baby food makers have removed these harmful chemicals, resulting in safer food for your little baby. Even better, some use heavy duty glass bowls, like the Baby Brezza baby food maker, and stainless steel rather than plastic parts.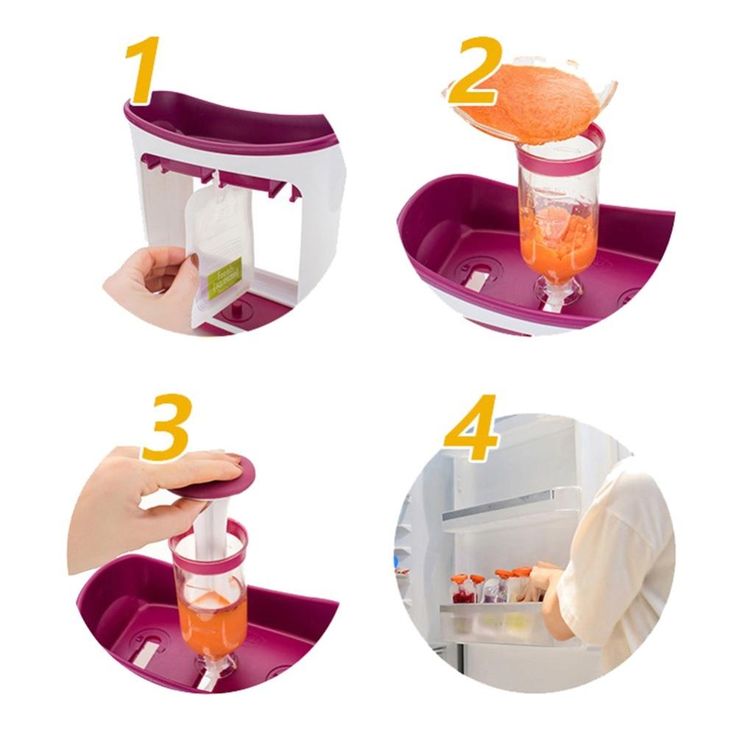 The safer your baby gear, the safer your baby.
Storage and Portability
So, what do you do with all that great food you're steaming and pureeing? Definitely don't fill up those extra baby bottles, that will make a mess! Parents usually put the food into small freezer-safe containers (like these awesome ones by OXO) and take them out as needed. But there's also another way to do this that is gaining in popularity. You know those fun squeezable pouches of baby food? Like the popular ones by Plum Organics?
What if you could make those at home!? Well, the new Infantino Squeeze Station makes that possible. Simply steam and puree your food in one of our favorite food makers below, and then use the squeeze station to pour the puree into those awesome squeezable pouches. Not only is this an awesome and portable baby food maker option, but your toddler can take charge of the feeding and you're not stuck with a dirty spoon or dirty container in the end! Interested in this option, get more info by clicking the picture to the right.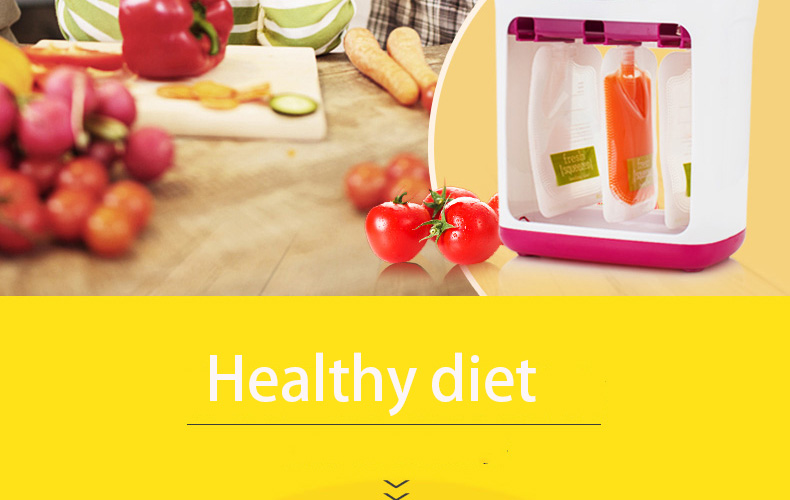 rating of the top 10 Russian and foreign brands with reviews according to KP
Goods for children are always under special quality control. Including food. After all, food for a baby is not only a way to satisfy hunger, but also acquaintance with different tastes and a guarantee of healthy development (1). Today there are many different brands. Among them, we selected the best manufacturers of baby food, based on the reviews of parents and expert opinions.
Rating of the top 5 Russian baby food manufacturers according to KP
There are many popular brands among Russian manufacturers of baby food. Basically, various purees, juices, cereals and dairy products are presented on the market. There are also formulas for babies, but in smaller quantities. The popularity of food is due to high quality and rather low (in comparison with foreign analogues) price.
1. "Agusha"
"Agusha". Photo: yandex.market.ru
Agusha is one of the most popular manufacturers of baby food in Russia.
The trademark appeared in 1992 and has a wide range of products for children of all ages. Newborns are offered powdered milk formulas, babies from 4 months - a variety of purees, sour-milk products, water, older children - ready-made cereals (both dairy and non-dairy), juices, fruit drinks, compotes and fruit bars for a snack.
Thanks to the availability and variety of products, the manufacturer is confidently holding onto the Russian market. The safety and quality of Agushi is also confirmed by some neutral studies. For example, fruit cottage cheese, as well as kefir from this brand, received the highest rating from Roskachestvo (2, 3).
However, some parents are confused by the rather high price of certain items.
The main characteristics
Manufacturer
Pepsico Russia
Assortment
puree, Dry Milk mixes, porridge, fruit bars
, recommended ages
C Founded
1992
Pros and cons
There are mixtures in the product line; a wide range of.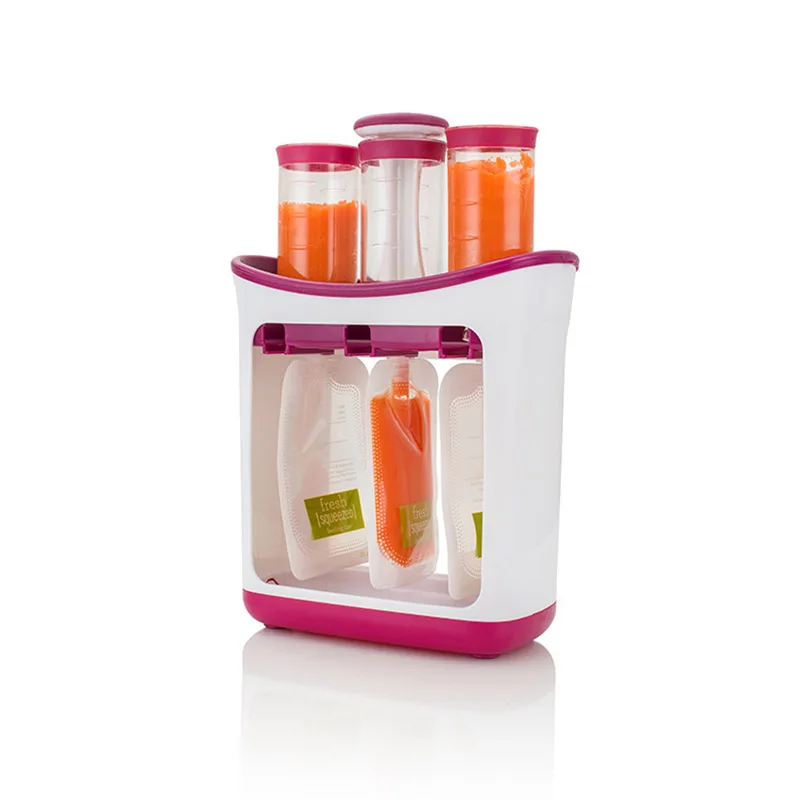 High price for some items.
2. FrutoNyanya
FrutoNyanya. Photo: yandex.market.ru
FrutoNyanya baby food brand products are distinguished by a wide range and wide distribution in stores. Among the products of the brand you can find: a variety of cereals (with additives in the form, for example, pieces of fruit or without them), vegetable, fruit and meat purees, water, dairy products, juices, fruit drinks and nectars, snacks. For children prone to acute reactions to certain products, a special line of hypoallergenic food is offered.
Some of the brand's products have received high ratings from Roskachestvo, for example, biocurd, buckwheat porridge (4, 5).
Nutrition from this brand is designed for both the first complementary foods and for babies after a year. The composition contains salt and sugar, which are not recommended for children under one year old.
Main characteristics
| | |
| --- | --- |
| Manufacturer | Progress |
| Assortment | purees, drinks, soups, snacks, cereals, snacks, water |
| Recommended age | from 0 months |
| Founded | 2000 |
Pros and cons
There are hypoallergenic products.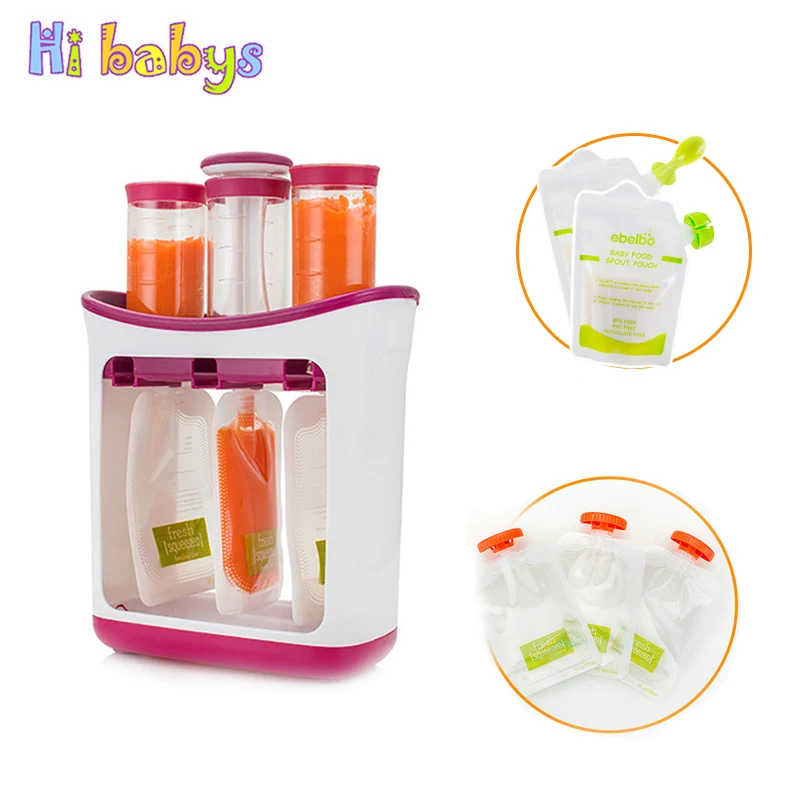 May contain allergenic ingredients (eg sugar).
3. "Grandmother's Lukoshko"
"Grandmother's Lukoshko". Photo: yandex.market.ru

The manufacturer has been present on the Russian market since 1999. The main product is a variety of purees, which are available in glass jars and soft packs. For example, apple puree from this brand received the highest rating from Roskachestvo in all analysis criteria and was awarded the Quality Mark (6).

For older children, prepared meals, meatballs, healthy snacks such as fruit lozenges and biscuits are available. Also, "Babushkino Lukoshko" produces children's herbal teas. Salt in some products is not always welcomed by parents.
The main characteristics
| | |
| --- | --- |
| manufacturer | "Sivma" |
| Assortment | puree, finished lunch, drinks, fruit pastures |
| Recommended age | from 4 months |
| Founded | 1999 |
Pros and cons
Relatively low price in the segment; varied products.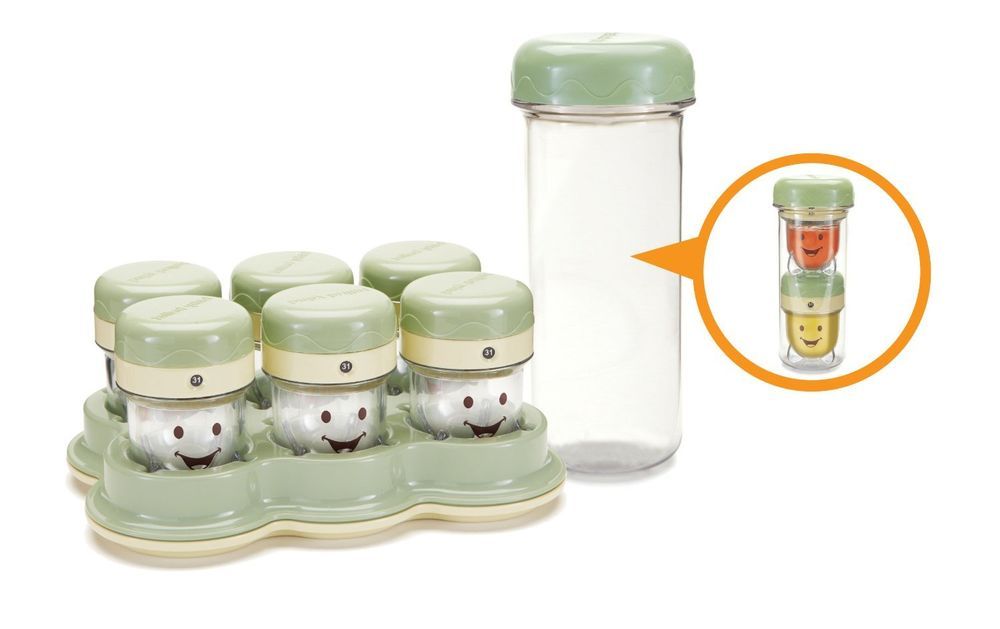 There may be undesirable auxiliary components in the formulation (eg salt).
4. "Subject"
"Subject". Photo: yandex.market.ru

"Theme" offers products for children from 4 months to 3 years. The assortment includes a variety of meat, fish and vegetable purees, dairy products, ready meals and juices. But fruit purees are not presented. Packaging 一 is one of the distinguishing features of the brand. Thanks to special tin cans, the products are reliably protected from sunlight, which prolongs the shelf life. Also, many products of the brand are available in non-spill packages, so it is convenient to take them with you on the road. According to the results of the research, cottage cheese and juice "Theme" received the highest rating from Roskachestvo (7, 8).
5. Diaper
Diaper. Photo: market.yandex.ru

All ingredients for production are supplied from our own farm. The manufacturer claims that thanks to this, it is possible to set fairly low prices for products.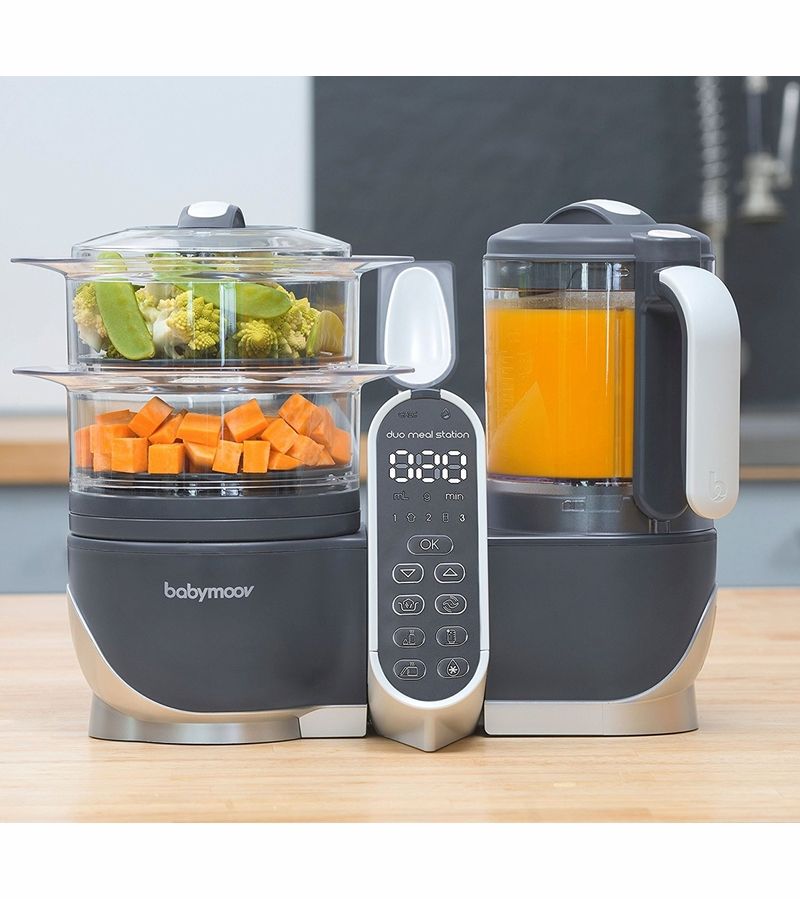 The potential buyer is offered fruit and vegetable purees (some with cottage cheese), soups, various juices and fruit drinks, as well as water. Some of the products are hypoallergenic. The composition does not contain unnecessary components: salt, sugar and preservatives. Meat and fish products are not represented in the product line.
The main characteristics
Manufacturer
"Gardens Podonya"
Assortment
puree, cream-soups, cereal
Recommended age
SITULATY OF 4 months
SIT
2005
Pros and cons
Low price in the segment; simple and clear structure.
Lack of meat and fish products in the assortment.
Rating of the top 5 foreign manufacturers of baby food according to KP
There are many foreign companies that produce baby food on the Russian market. A century of history, many years of experience and a good reputation helps to supply the market with quality products, which are preferred by many parents.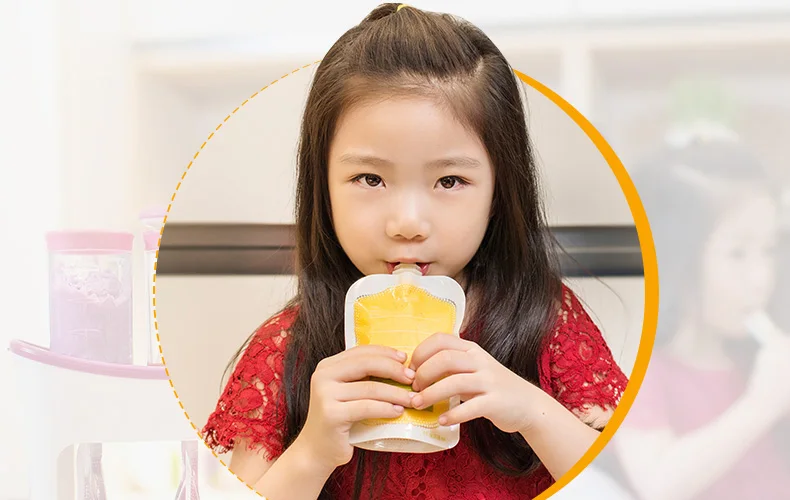 1. Gerber
Gerber. Photo: yandex.market.ru

The assortment of the American manufacturer includes products for children from 4 months. In supermarkets and online sites, you can find vegetable and fruit purees, cereals, healthy snacks, juices, and desserts (cottage cheese treats, smoothies, and others). Hypoallergenic food is also provided. For example, dairy-free buckwheat porridge of this brand is highly appreciated by Roskachestvo experts, who noted the safe composition of the product without dangerous and harmful substances, including no added sugars (9).

The manufacturer claims that the high prices are due to the corresponding quality, which is ensured by strict standards and adherence to technology.
The main characteristics
Manufacturer
Nestle
Assortment
puree, porridge, snacks, desserts
Recommended
°
from 4 months
from 4 months
СО 4 months of
from 4 months of
0022
Founded
1927
Pros and cons
Hypoallergenic products; natural composition; high quality.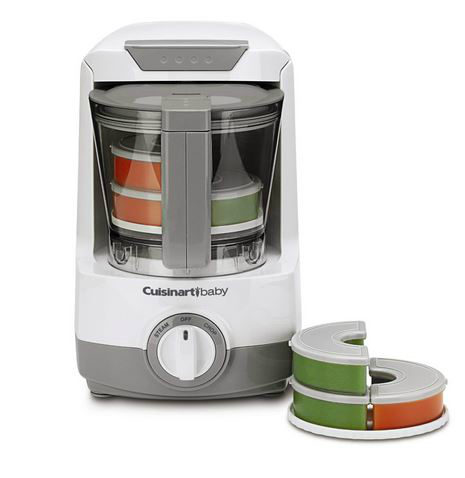 High price in the baby food segment.
2. HiPP
HiPP. Photo: yandex.market.ru

German manufacturer's products are suitable for children from birth. Infants are offered hypoallergenic powdered milk formulas enriched with vitamins. For feeding - various purees, cream soups, cereals, and as a snack for older children - snacks and dairy desserts.

Meals are made exclusively from natural ingredients, without added sugar. The high price, according to the manufacturer, is due to the use of special technologies and high-quality products.
The main characteristics
manufacturer
HIPP
Assortment
puree, cereals, drinks, snacks, dry dairy mixtures
Recommended age
9 months 9 months 9 months 9.0025
Country of origin
Germany
Founded
1957
Pros and cons
Natural composition; There are baby formulas in the assortment.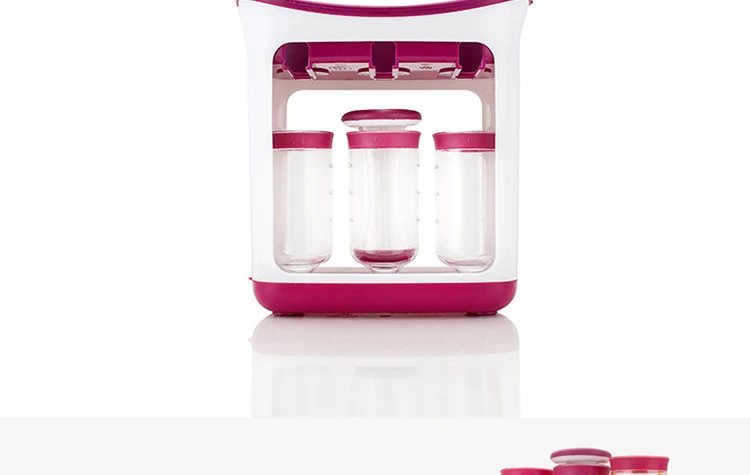 High price of products.
3. Fleur Alpine
Fleur Alpine. Photo: yandex.market.ru

Natural baby food of premium quality. The range includes purees, cereals, cookies and juices - both regular and for children prone to allergies or intolerant to gluten. In addition to the usual products, the manufacturer offers olive oil (from 6 months) and sauces (from 3 years).

From time to time, the products of this brand come under the attention of experts from Roskachestvo and Roskontrol. For example, Three cereals porridge showed excellent results: a good composition with dietary fiber and no foreign impurities, the appropriate taste, color and smell (10), and buckwheat porridge meets the advanced standards of Roskachestvo, except for the increased protein content (11).

Not all products on the official website can be purchased in a regular store. However, they can be purchased on marketplaces.

High price; Not all brand products are easy to find on offline sites.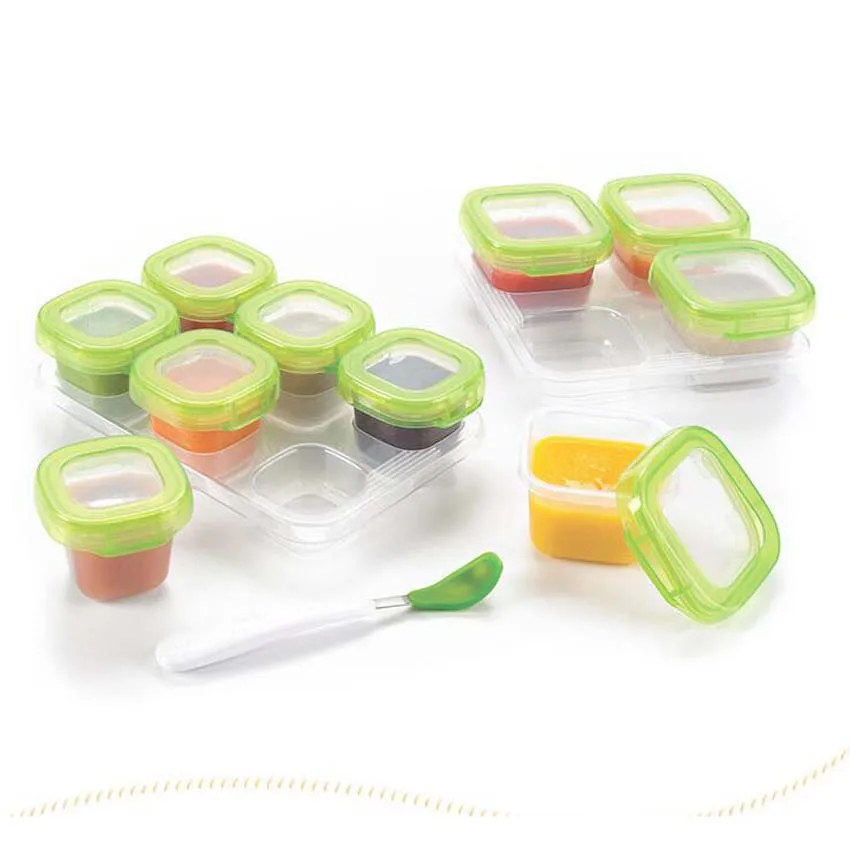 4. Semper
Semper. Photo: yandex.market.ru

The Swedish company offers a wide range of products for children of all ages. Dry milk formulas are suitable for newborns, and there are even specialized ones that are best used for constipation. Some of them are designed for babies older than six months. For crumbs older than 4 months, the manufacturer offers a variety of vegetable, meat, fish and fruit purees, cereals, juices and children's tea with vitamins. In addition to the usual products for children, there are wellings — oatmeal and multi-cereal porridges with natural additives, cookies, and meatballs.

Roskachestvo examined this brand's applesauce and, apart from its high carbohydrate content (higher than indicated on the package), found no drawbacks (12). In addition, some purees contain starch.
The main characteristics
| | |
| --- | --- |
| Manufacturer | Hero Group |
| Assortment | Dairy mixtures, puree, cereals, drinks, cookies |
| Recommended age | ° 0 months |
| Country of origin | Sweden |
| Founded | 1963 |
Pros and cons
There are mixtures in the product line interesting combinations of flavors.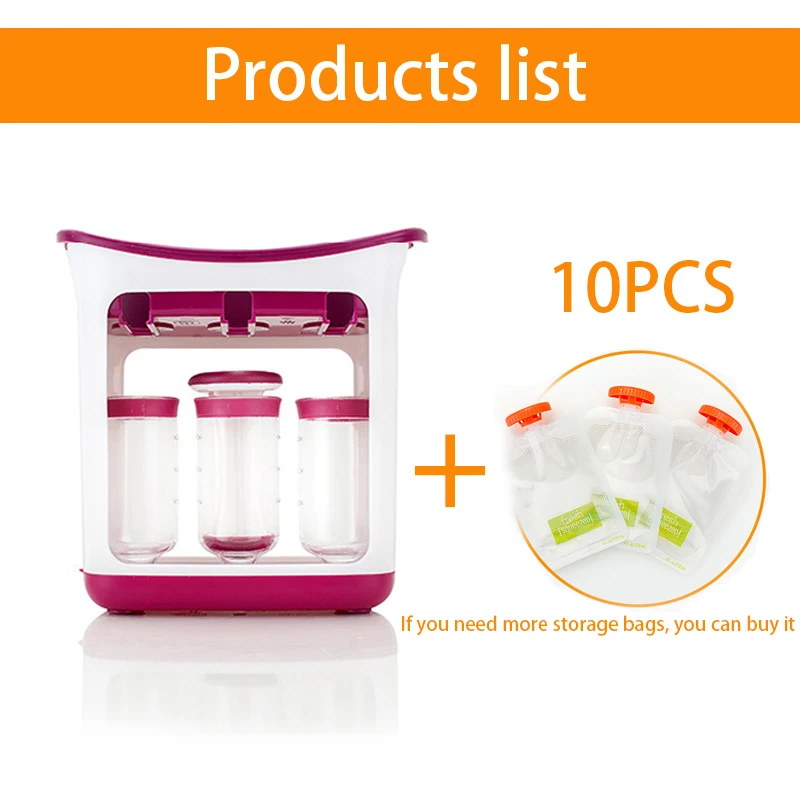 High price in the segment; the presence of starch in the puree; the product according to BJU may differ from that stated on the package.
5. Heinz
Heinz. Photo: yandex.market.ru

American food company offers a wide range of products at affordable prices. There are fruit, vegetable and meat purees, cereals (dairy and non-dairy), soups and drinks. As a healthy snack for babies from 5 months, special cookies are suitable, and fruit and cream puddings will be a great dessert for older children. You can also find a special vermicelli that will suit crumbs from 6 months. The manufacturer's porridges received the highest rating from Roskachestvo (13). However, some products contain sugar and starch, which many parents of babies do not approve of.
The main characteristics
| | |
| --- | --- |
| Manufacturer | Heinz |
| Assortment | puree, soups, vermichel, pudding, cookies, tea |
| Recommended age | USA |
| Year of Manufacture | 1869 |
Pros and Cons
Product contains prebiotics; affordable price in the segment of baby food from foreign manufacturers.
Some products contain sugar and starch.
How to choose the right baby food
A child's menu may differ from another baby's diet, not only because of age, but also due to health conditions (for example, a tendency to constipation or a dairy allergy) and personal preferences. However, the first thing to consider is age. It's also important to keep in mind that your baby's diet should be free of added salt and sugar (14). Certain positions deserve some explanation.
Milk formulas
Designed for feeding babies. In fact, they are designed to become an alternative to mother's milk. For the full development of the crumbs, it is necessary that vitamins and trace elements are present in the composition.
Canned puree
Introduced from 4 months.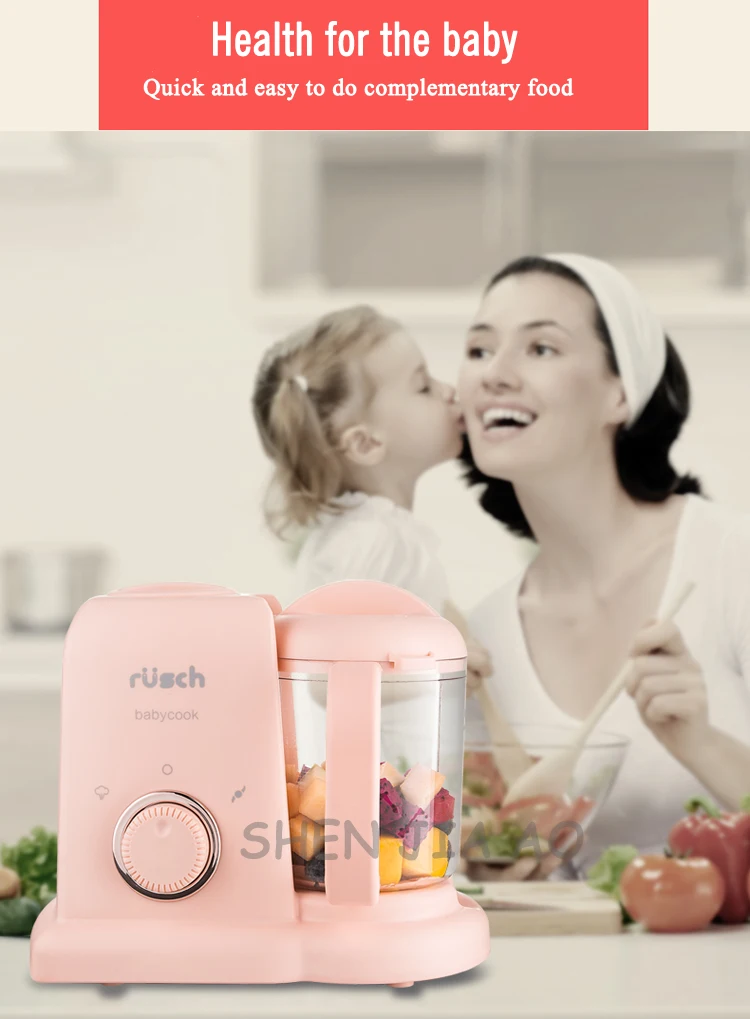 There are fruit, vegetable, meat and fish options. Combinations are also possible. For the first feeding, it is recommended to choose one-component purees from vegetables or fruits.
Porridges
Porridges, as well as mashed potatoes, are recommended to be offered to a baby from 4 months. Thanks to the special processing of cereals, baby porridge is easily boiled, which significantly saves cooking time.
Nectars, juices
You can give your baby juice or nectar from the age of 4 months. As long as it doesn't contain sugar. If available, it is better to wait at least up to 1 year.
Reviews of doctors about manufacturers of baby food
一 Baby food is becoming an object of special attention on the part of the state and parents, 一 says pediatrician Ekaterina Mikhaltsova . - The main advantages of industrial products and dishes are ease of use, balanced composition and minimal cooking time. However, you must strictly follow the age recommendations and cooking rules indicated on the labels.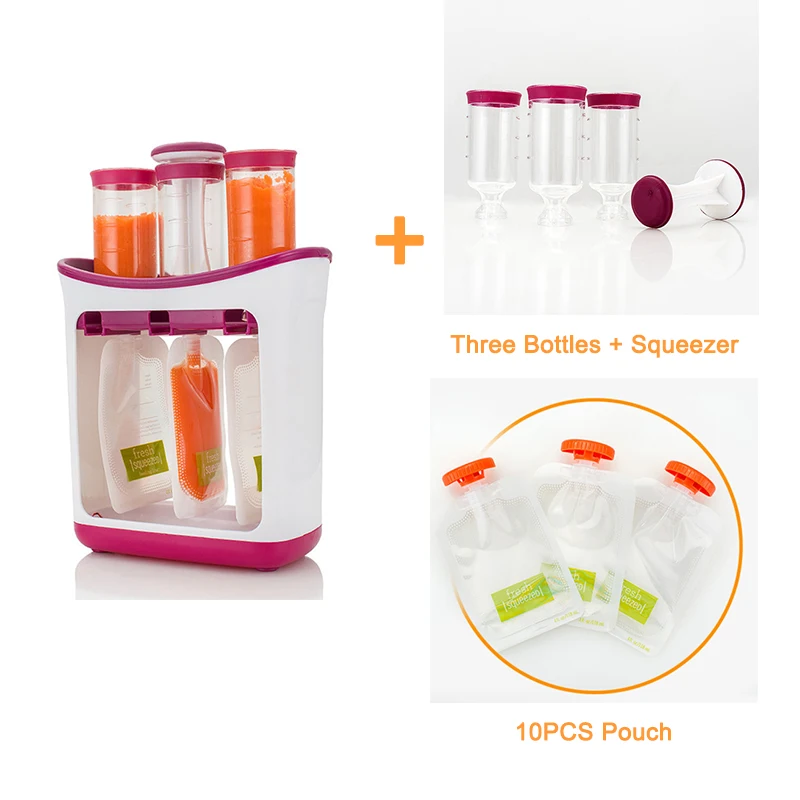 - Dairy products and baby food in particular are complex production products where quality control is essential at all stages. Therefore, it is better to trust large manufacturers, - explains sanitary doctor Nikolai Dubinin . - It is important to pay attention to the composition and, before offering the child, taste the food yourself. In general, doctors agree that commercially produced baby food is no worse than home-cooked. And some are even better, due to supplements in the form of vitamins and trace elements.
Popular questions and answers
We answer the most common questions about baby food together with pediatrician Ekaterina Mikhaltsova and sanitary doctor, epidemiologist Nikolai Dubinin.
How to choose food for the first feeding?
Pediatricians recommend starting the first complementary foods with vegetable puree. Fruits contain a large amount of fructose, which can irritate the lining of the stomach and other organs of the gastrointestinal tract.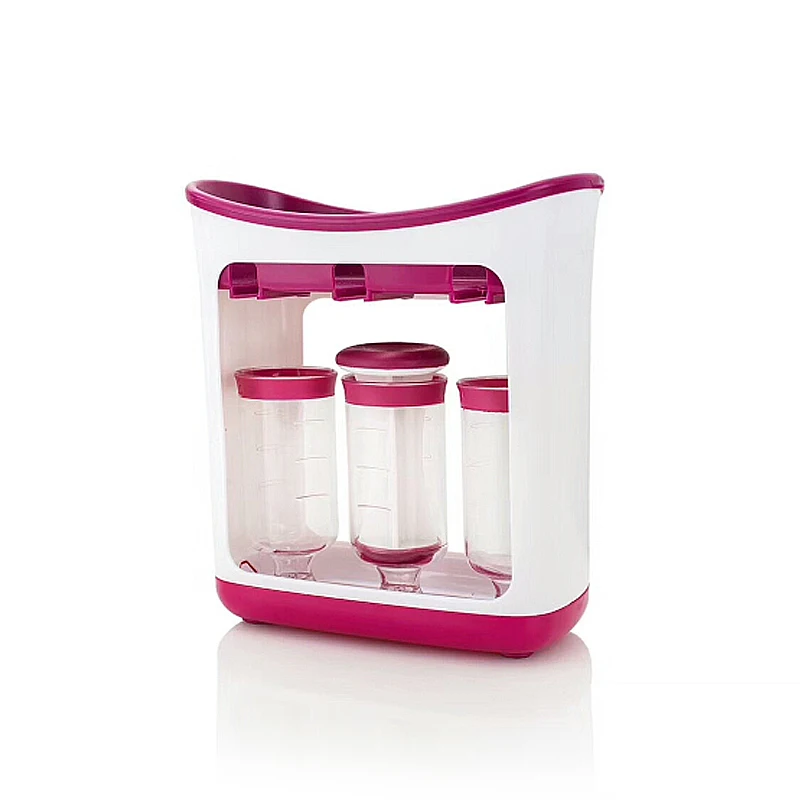 Of course, the parent himself can boil and grind vegetables to a puree-like consistency, but it is easier to purchase products in the store, since baby food is made in compliance with special technologies, taking into account all the rules and regulations.
Another question is how to choose a brand among such a variety of baby foods. The best solution is to stick with a well-known brand. Large companies care about their reputation, and therefore strictly follow all established quality standards and do not violate production technology.
The next step is to study the information on the label, make sure the quality, evaluate the following indicators:
• Natural composition. Preservatives, salt, sugar and other ingredients should not be present in the composition (at least in products for children under 1 year old).
• Consistency (grinding quality). A good puree should be smooth and without lumps.
• Multi or single ingredient .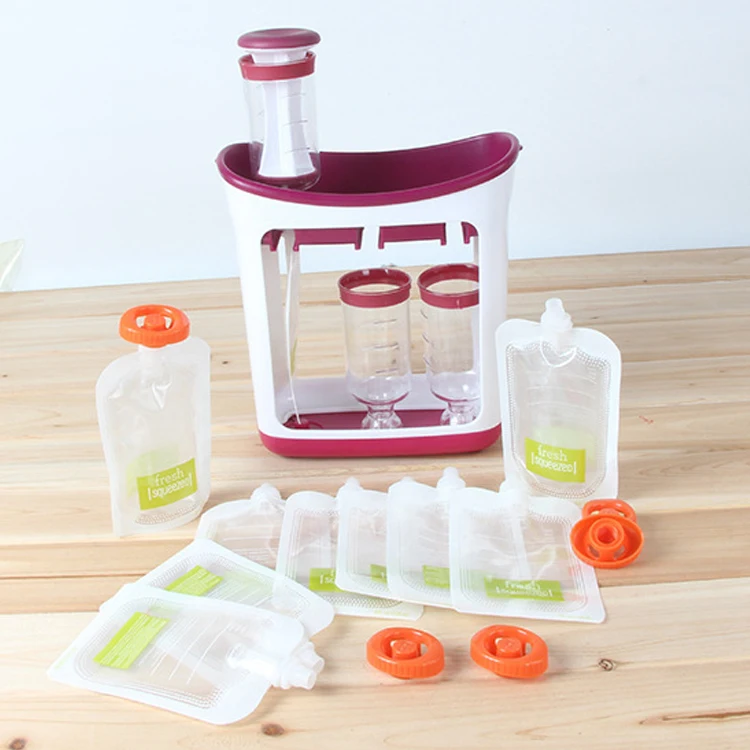 The first puree should contain only one ingredient. The child should get used to a certain vegetable, after which it will be possible to introduce others, adding each one in turn, so that the baby gets used to everything separately.
• Hypoallergenic product. Formula must not contain ingredients that can cause an allergic reaction.
• Package integrity . It is important to inspect the container in detail for dents, scratches or cracks (chips). Tightness must be observed. Don't forget to check the production date.
• Appropriate for the age of the child . The age for which this or that product is designed is usually indicated on the packaging in compliance with the recommendations of pediatricians.
When all these factors are taken into account, it can be said that the product is really suitable for the child and will not cause side effects (15).
Which of the Russian manufacturers should I pay attention to?
Baby food brand Agusha has been producing products for over 30 years.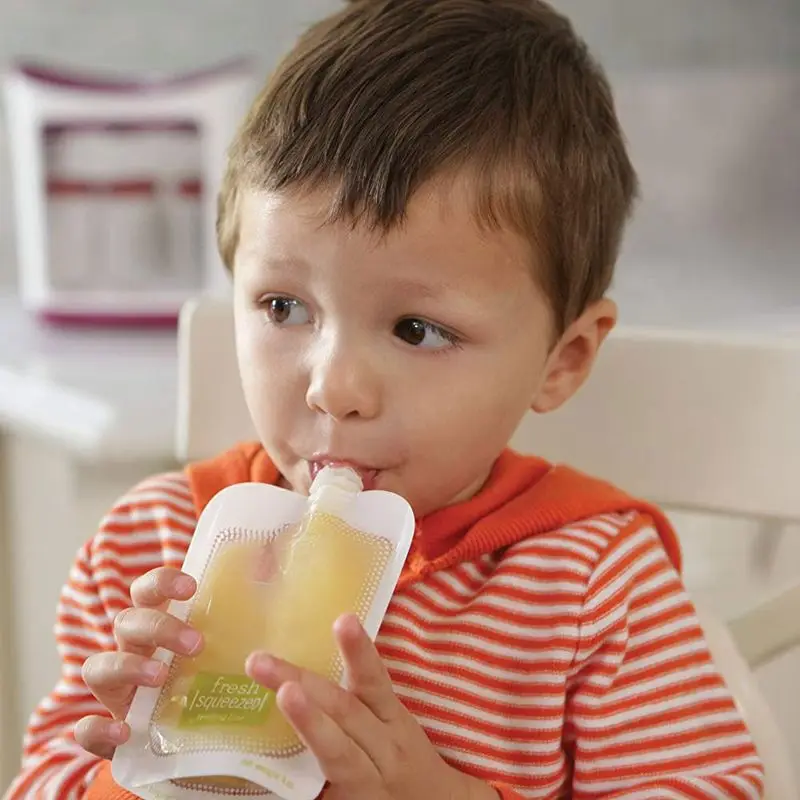 The assortment has everything you need for a complete diet for kids: dairy products, cereals, fruit, vegetable and meat purees, juices and compotes. The company produces safe, hypoallergenic, complete nutrition for children of all ages. High-quality substitutes for breast milk and subsequent complementary foods are also produced. It is also recommended to pay attention to the manufacturers "FrutoNyanya" and "Theme".
What composition should healthy baby food contain?
When choosing puree in jars, pay attention to the composition. The ingredients should be natural, a good option (especially for younger kids) if the puree is a one-component puree - a fruit or vegetable plus water. Please note that the product does not contain salt, flour, starch, dyes and preservatives, and is not too diluted with water. The vegetable itself may contain starch, but its additional additives are very undesirable.
Sources
Once again about baby food. Ladodo K. S. 2003.
Roskachestvo rating. Children's cottage cheese "Agusha". URL: https://rskrf.ru/goods/tvorog-detskiy-fruktovyy-agusha-multifruktovyy-s-massovoy-doley-zhira-3-9/
Roskachestvo rating. Children's kefir "Agusha". URL: https://rskrf.ru/goods/kefir-agusha-s-massovoy-doley-zhira-3-2-dlya-pitaniya-detey-starshe-8-mesyatsev/
Roskachestvo rating. Biocurd "FrutoNyanya". URL: https://rskrf.ru/goods/biotvorog-frutonyanya-yabloko-obogashchennyy-vitaminom-d3-s-massovoy-doley-zhira-4-2-dlya-pitaniya-d/
Roskachestvo rating. Buckwheat porridge "FrutoNyanya". URL: https://rskrf.ru/goods/frutonyanya-pervyy-vybor-grechnevaya-kasha/
Roskachestvo rating. Apple puree "Babushkino Lukoshko" URL: https://rskrf.ru/goods/pyure-fruktovoe-gomogenizirovannoe-sterilizovannoe-dlya-pitaniya-detey-rannego-vozrasta-s-4-mesyatse/
Roskachestvo rating. Biocurd "Theme". URL: https://rskrf.ru/goods/biotvorog-tyema-obogashchennyy-bifidobakteriyami-s-grushey-dlya-detskogo-pitaniya-massovaya-dolya-zh/
Roskachestvo rating. Apple juice "Theme". URL: https://rskrf.ru/goods/sok-yablochnyy-vostanovlennyy-osvetlennyy-dlya-detskogo-pitaniya/
Roskachestvo rating. Buckwheat porridge Gerber. URL: https://rskrf.ru/goods/bezmolochnaya-kasha-gerber-grechnevaya/
Roskachestvo rating. Porridge "Three cereals" Fleur Alpine. URL: https://rskrf.ru/goods/kasha-fleur-alpine-tri-zlaka-/
Roskachestvo rating. Buckwheat porridge Fleur Alpine. URL: https://rskrf.ru/goods/kasha-grechnevaya-gipoallergennaya-fleur-alpine/
Roskachestvo rating. Applesauce Semper. URL: https://rskrf.ru/goods/pyure-iz-yablok-fruktovoe-sterilizovannoe-dlya-detskogo-pitaniya-s-4-mesyatsev-semper/
Roskachestvo rating. Buckwheat porridge Heinz. URL: https://rskrf.ru/goods/grechnevaya-kashka-heinz-bezmolochnaya-nizkoallergennaya/
Baby food safety. Zakharova I.N., Aisanova M.R. 2019.
Classification of baby food products, requirements for their quality and safety. Georgieva O.V., Pyrieva E. A., Kon I.Ya. 2018.
Baby food storage: Terms and requirements for storing baby food
09/23/2019 30400
Article content
The importance of proper storage of baby food
About the safety of baby food
Rules for storing different types of food
General storage rules
All parents want to see their baby cheerful, active and healthy. The harmonious development of the child largely depends on the correct and high-quality diet. The market for special baby food is striking in its diversity, and everyone strives to choose the best for the child. But for the safety of the baby and its full development, it is not enough to buy high-quality products.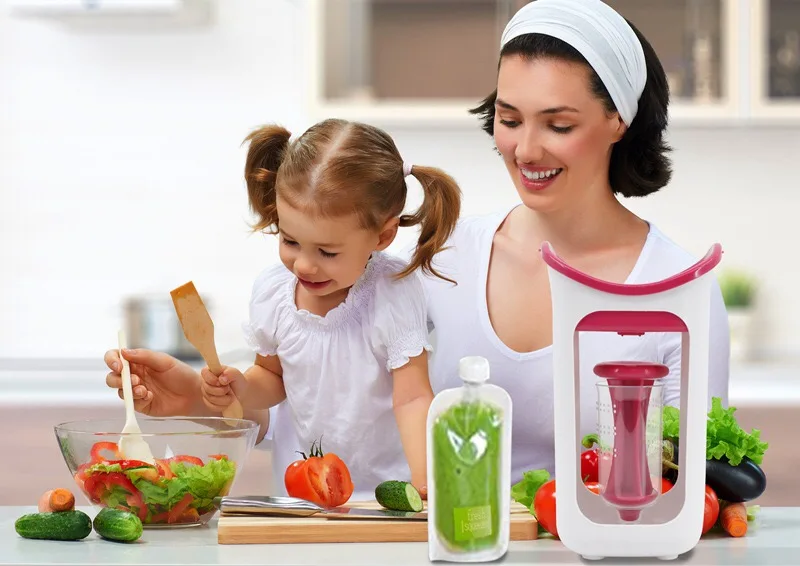 You also need to know how to properly store baby food.
The importance of proper storage of baby food
Warmth, care and attention are necessary for all children. But the child is gradually growing, while he needs to eat varied. And here the question arises: is it possible to save the cooked product until the next feeding? Here it is important to pay attention to the fact that the child's immune system is not yet strong enough, so the storage of baby food should be given special attention. The well-being and health of the baby often depends on the conditions in which and how long they are kept.
About the safety of baby food
In the Russian Federation there is a whole regulation on the safety of food for children - that's what it is called. This document sets out requirements for manufacturers and sellers of children's products related to the protection of children from toxic and chemical substances. This applies not only to baby food produced in our country, but also imported from abroad.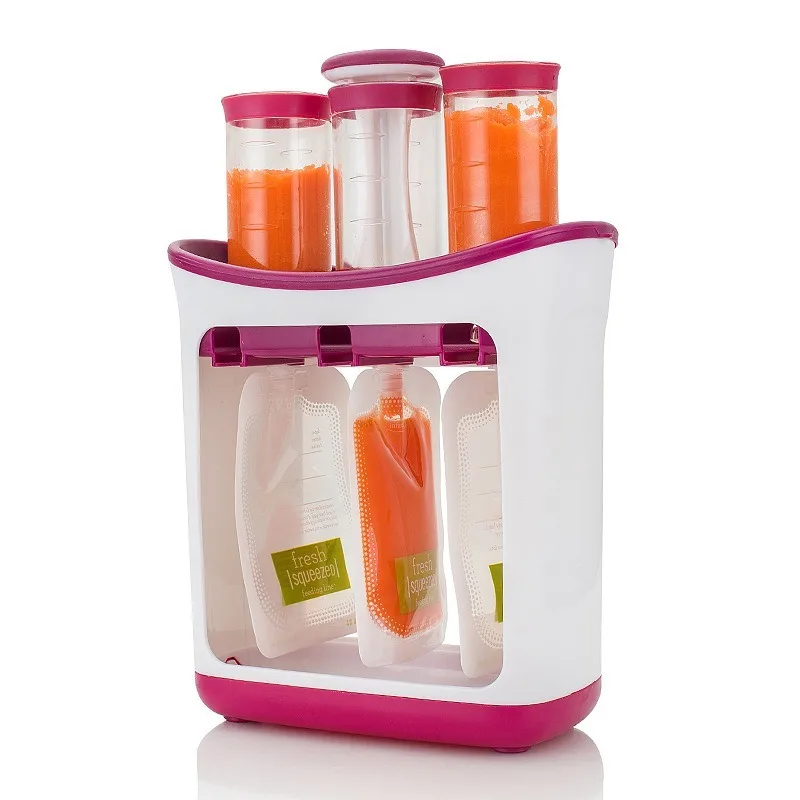 That is why when buying infant formula, porridge, puree or other product, you can be sure of its quality and safety. The regulation requires not only correct production, but also packaging, storage of baby food and its disposal:
Children's products are sold only through special stores or dedicated departments of supermarkets (therefore, it is better to buy them there or, in extreme cases, in a pharmacy).


Expiration dates are set by the manufacturer, who is fully responsible for the quality of his product.


Transportation of baby food is carried out in accordance with the requirements of the technical regulations for the transportation of any products.


At the same time, in the production of baby food, a number of conditions must be observed:
Do not use highly acidic curd products.


Do not add soy flour or grains contaminated with impurities.


Offal is prohibited except for tongue, liver, heart and blood.


Do not include in baby food beef with a fat content of more than 12%, pork - 32%, lamb - 9%.


Do not use salted butter or products with a fat content below 82%*.


For a complete list of products prohibited in the production of baby food, you can follow the link attached to the article.
Rules for storing different types of food
Undoubtedly, breast milk is the most valuable and beneficial for a child. But there are situations when a mother needs to leave the house and she expresses milk in order to feed the baby on time. In addition, the child grows, over time he needs complementary foods. Expressed breast milk, formula-fed infant formula and complementary foods require a special approach, and it is very important to know the conditions and shelf life of baby food.
How long can open packages of infant formula and cereals be stored?
This is important!
The shelf life of opened dry infant formula or cereal is limited to 2-3 weeks, sometimes 4 weeks for cereals (depending on the manufacturer - read the packaging carefully).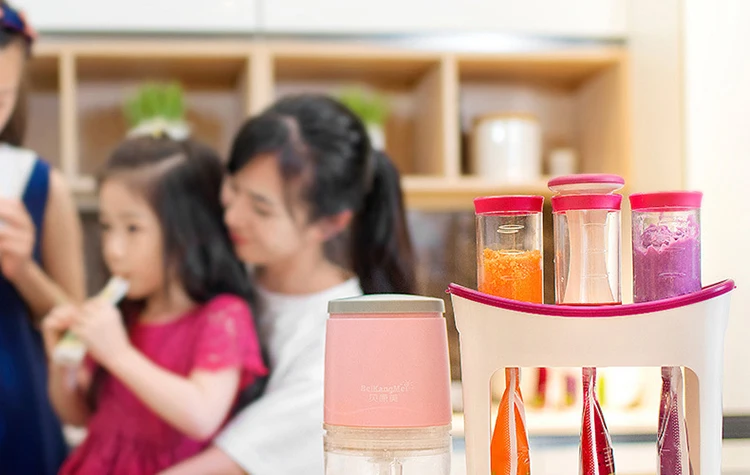 After its expiration, this product cannot be prepared for a child. Dry mixes should be stored in a place protected from light, but not in the refrigerator.


Open jars (packages) of fruit, vegetable and meat puree should only be stored in the refrigerator. And after opening the package, you can eat only within 12 hours **. After the expiration date or 12 hours after opening the package, the product must be disposed of, since it can no longer be eaten. Yes, not only for children, but also for adults.

Also, many are interested in how long home-made baby food, such as freshly prepared vegetable or fruit purees and juices, can be stored. There are two main options to use immediately after preparation (the best) or freeze. Such a product will also be suitable for eating for 12 hours, after which it will begin to deteriorate. Frozen fruits and vegetables can be stored in the freezer for up to six months, depending on the culture. However, even frozen products have expiration dates, after which it would be wiser to throw them away than eat them.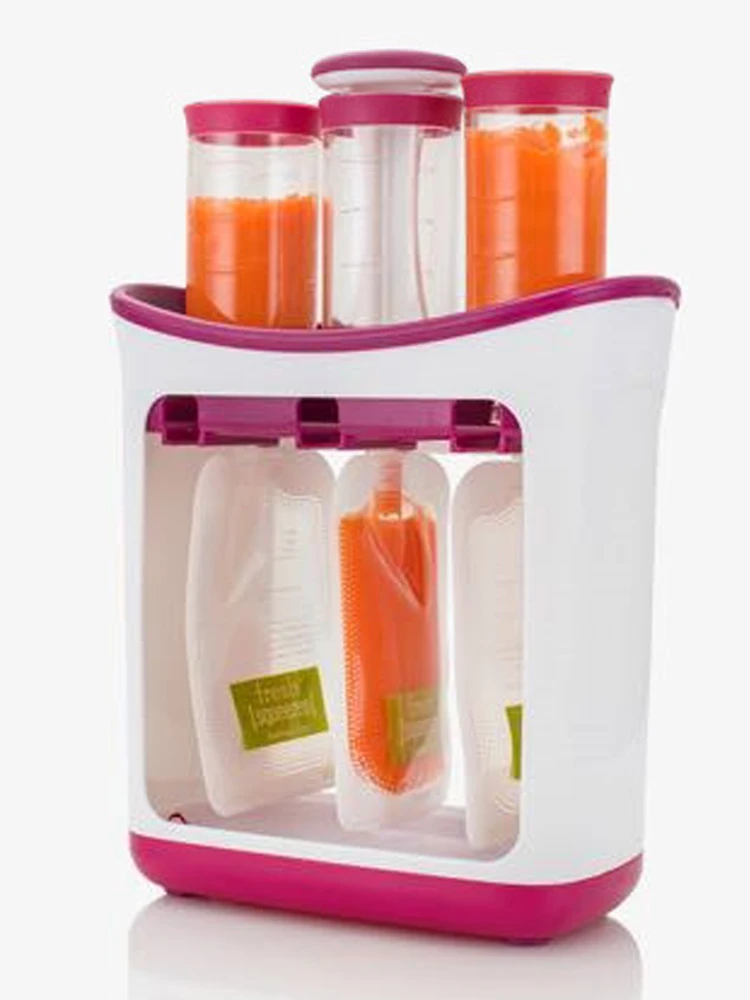 General storage rules
A huge variety and affordable cost of products greatly facilitate the worries of preparing complementary foods for children. But along with this, many parents face another problem: where to store baby food? So that the products do not lose their qualities from the influence of external factors, the following basic rules must be observed.
Hygiene. Be sure to wash your hands thoroughly before preparing food and feeding your baby. The child's dishes should always be clean and stored separately in sterile conditions.


Storage location. Dry cereals and mixtures should be stored in a ventilated cupboard out of the reach of children. In caring for a baby, mothers are loaded with various problems and worries. It is difficult for them to remember everything, so it is recommended to stick a label on each product with the date of its opening. This will help you meet the deadlines.


When feeding a child with vegetable and fruit juices, puree or sour-milk products in jars, it should be remembered that after the integrity of the package, the use of its contents is allowed on average up to 12 - 24 hours. Different manufacturers may have different terms, read carefully what is written on the label! Be sure to ensure that the integrity of the packaging has not been violated even in the store. Most manufacturers on the jars have a special protection against opening. Fresh puree in jars emits a characteristic "pop" when opened, juices must have either a protective foil film or a special opening mechanism. Unopened jars of juices and purees can be stored in the cupboard, while dairy products should only be kept in the refrigerator.


Baby food containers may be glass or plastic, but must be properly labeled to indicate the absence of toxic impurities in the composition of the material.


Food for a child is a source of energy and a guarantee of full growth and development. Therefore, it is very important not only to buy quality products, but also to learn how to properly store them. The health and well-being of the baby, the resistance of his body to the adverse effects of the external environment often depend on this.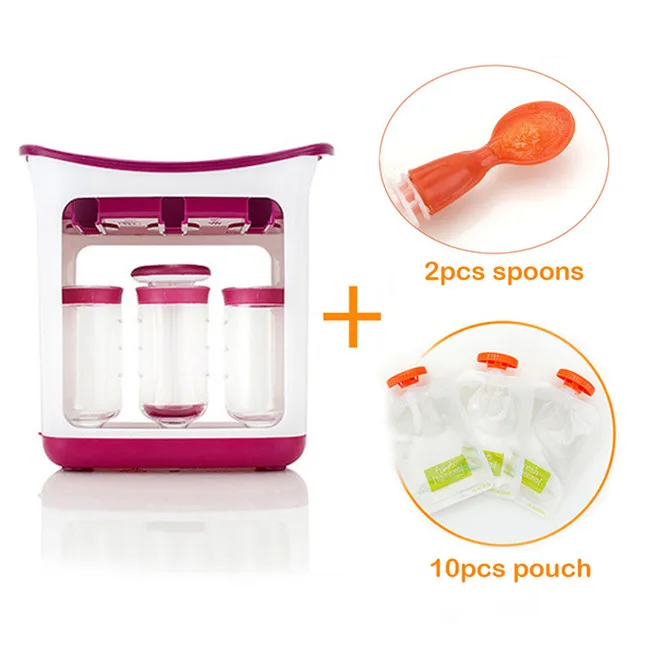 .