Baby tiger feeding
Raising and Feeding Baby Tigers
This article is primarily meant for the benefit of sanctuaries, zoos, and other professional animal caregivers. It is in no way meant to encourage individuals to obtain or own young tigers. All the articles I have written on this subject explain why it is not appropriate for either the human or the tiger to be owned by private ownership, except in those very, very rare circumstances where the human has the knowledge, experience, finances, stability, and property to embark on such a dangerous and complicated endeavor for the perhaps 25 years the cat will live. This is not an elitist viewpoint. I am in favor of any animal receiving a happy, healthy, and stress-free existence, regardless of the source. Rather, it is based upon years of time spent with exotic cats and observing how few individuals have the rudimentary skills necessary to interact with an exotic cat safely, much less give it the security and support it needs. 
At the International Exotic Feline Sanctuary, we have just weaned three white tiger cubs we raised from the age of 4 weeks to their current 5 months.
Since we are a sanctuary, not a breeding facility, we don't often get very young cubs to raise. While I have raised young cubs, I wouldn't consider myself highly experienced in the skills of bottle-feeding young cubs, and therefore sought out as much information as I could find to ensure we were using the very latest research for successfully rearing baby tigers. 
I was surprised at the lack of good information on the Internet, no matter how diligently I searched. I got information anecdotally from several individuals I knew and trusted who had raised cubs frequently. I decided it would be a good idea to publish our experience and techniques for raising these cubs, as they have been extremely healthy and trouble-free throughout their bottle-feeding period, and they are now very healthy young tigers weighing approximately 50-60 pounds each. I hope this information helps other sanctuaries, zoos, and other caregivers that need this information.
First Four Weeks
For the first two days, their mother nursed the cubs.
After being taken from their mother, they were given horse colostrums for 5 days. Their formula for the first four weeks was one ounce of Esbilac added to two ounces of water and 2 ccs of Nutri-Cal. They were each fed this formula 4-8 times a day until they were taking their bottle regularly. 
It was at this point that the cubs were delivered to IEFS.
After that period, their formula was changed to the following: 
Basic formula:
Esbilac 1 can, 12 oz.     (powder) 
Goat milk 1 can, 12 oz.    (fluid)                 
Nutri-cal 1 tube, 4.25 oz. (paste)                         
Bottled water to make one gallon
In addition, we added Gerber stage 2 baby food. We used 6 jars, 2.5 oz. each jar, of the following varieties:
2 jars turkey Gerber stage 2 baby food
2 jars chicken Gerber stage 2 baby food
2 jars beef Gerber stage 2 baby food (veal Gerber stage 2 baby food can be 
substituted for beef if necessary)
See at weekly data after the formula chart below: we added additional baby food at 8 weeks of age, and we added ground turkey to the formula at 10 weeks of age.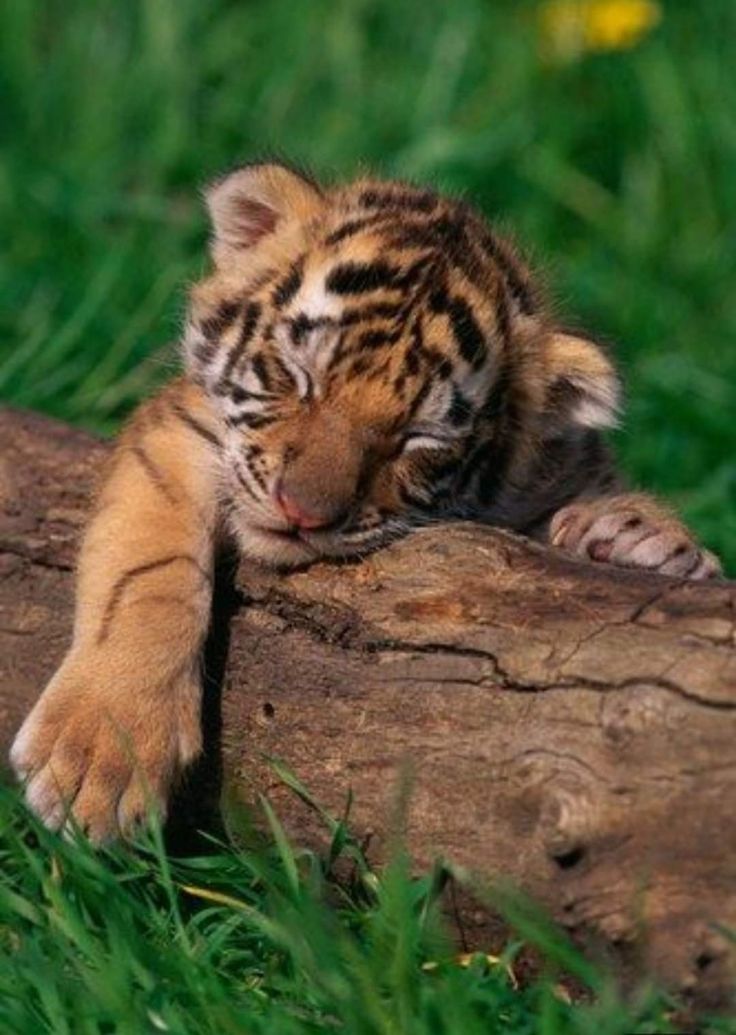 We increased the amount of ground turkey added to the formula at 12 weeks of age.
Gerber stage 2 baby food is highly recommended, as it does not contain any onion, which is toxic to exotic cats.
Directions for Making Formula
Always wash your hands before touching anything that will be in contact with the cubs!!
1.  Heat a few ounces of bottled water to warm 
2.  Pour the warm bottled water into the blender
3.  Add the entire tube of Nutri-cal into the warm water (having the water warm simply helps dissolve the Nutra-cal) 
4.  Blend Nutri-cal into the water while opening up baby food jars
5.  Add the baby food to the blender  
6.  Liquefy the contents of the blender until thoroughly mixed (about 5 minutes) 
7.  While the blender is still on liquefy, begin slowly adding the Esbilac powder to the mixture – if added too fast, the Esbilac will begin to clump and will take longer to mix 
8.  Add the goat's milk to the blender at this time to help the Esbilac dissolve into the mixture
9.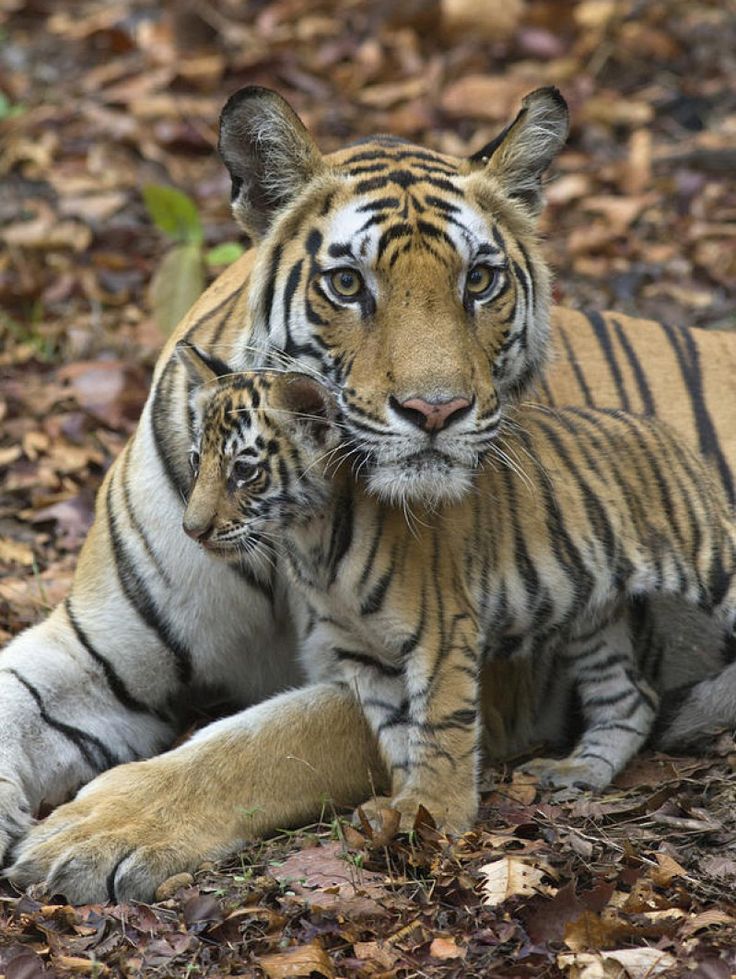 Let the mixture continue to blend for a few minutes to make sure well blended 
10.  Pour mixture into a one-gallon container 
11.  Add enough bottled water to the mixture to make one gallon (use some bottled water to rinse out the blender to get the last of the mixture) 
12.  This gallon will be good for about 2 days in the refrigerator – do not keep longer than that.  Before pouring formula into the bottles, be sure to stir or shake the container well.  The baby food especially tends to fall to the bottom.  
13. Pour a specified amount of formula into the bottles.  Heat the bottles to warm the formula.  Remember that the outside of the bottle will warm faster than the liquid inside, and always test the temperature of the formula by dabbing a few drops on your arm.  Do not put nipples in the microwave – this will quickly affect their elastic properties. 
Understand that this much formula was made for 3 tiger cubs. Since you don't want to keep the formula refrigerated for more than 2 days, you would obviously make proportionately less for fewer cubs.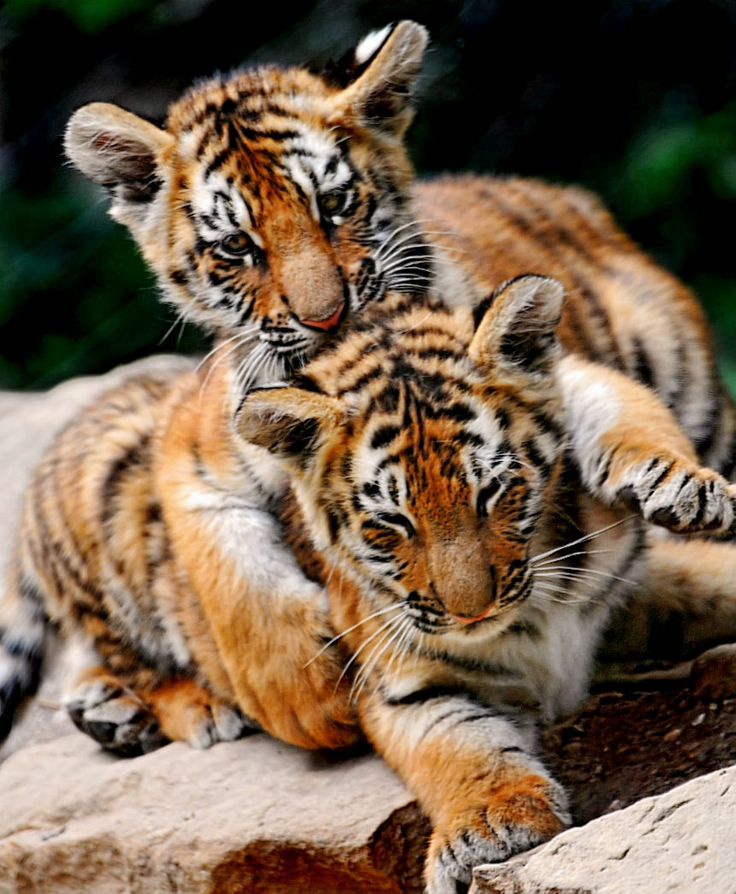 Sanitation
It is very important that the area in which the cubs are kept is as clean as possible, and anyone who comes into contact with the cubs should take precautionary measures to keep it so.  The area in which our cubs lived was scrubbed prior to their arrival with a 50/50 bleach and water solution.  The floors were mopped with water and a capful of bleach daily.  A footbath concentration of 50/50 bleach and water was always present at the door.  It was required to step in this solution before walking into the cub area.  Anyone who had contact with the cubs was required to wash their hands before contact.  Disinfectant spray was also used on the gates and latches on a regular basis.  Any fecal matter collected was removed immediately and the area disinfected.
Bottle Washing
The bottles should be kept as clean as possible.  We used very hot water, antibacterial dish soap and a bottlebrush.  All parts of the bottle (bottle, cap, nipple, etc.) must be disassembled and scrubbed individually.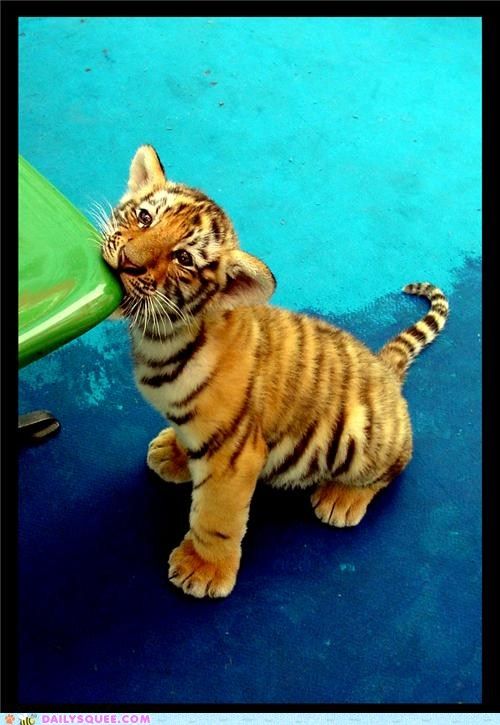 Be sure to scrub inside of the nipple with a smaller brush.  The bottlebrushes should be replaced every so often so a good, firm, and clean brush is used.  The bottles and parts should be rinsed with hot water.  After all washing is through, soak the bottles and parts in a sinkful of clean water with a capful of bleach to sterilize.  Do not let the bottles soak for more than about 5-10 minutes.  To prevent residue on the bottles, dry all parts immediately with a paper towel.
Nipples
It is very important to use the correct-sized nipples for the cubs to prevent them from drinking too fast and getting milk into their lungs.  At 5 weeks of age, we were using three-holed nipples.  We used an exacto knife to enlarge the holes slightly as the cubs got older.  At 10 weeks of age, ground turkey was put into their formula.  Due to the tendency of the turkey to clump and clog the nipples, we began using crosscut nipples.  We used an exacto knife to adjust the size of these crosscuts as the cubs got older.
  We regularly replaced the nipples when they became sticky or eventually chewed up.
Feeding
Be sure to feed the cubs with the bottle held at an angle which insures that no air is taken with the formula. Have the cub standing with all four feet on the floor and its head angled up to insure that no fluid enters its lungs. Always watch the cub while it is feeding to make sure that it maintains a position that insures no fluid enters the lungs; perhaps the most dangerous part of bottle-feeding young cubs. If the cub slows down or stops feeding, just give it a few minutes to relax then try again.
Formula Chart
We fed in accordance with the following chart:
(A bottle was made for each cub with the specified number of ounces for that week; however, an additional bottle was also made in case any cub wanted more to drink.) 
| | | | | | | | | | | | |
| --- | --- | --- | --- | --- | --- | --- | --- | --- | --- | --- | --- |
| Number of Weeks Old | 5 wks | 6 wks | 7 wks | 8 wks | 9 wks | 10 wks | 11 wks | 12 wks | 13 wks | 14 wks | 15 wks |
| Number of ounces offers per feeding: | 4 | 5 – 6 | 7 | 8 | 9 | 9 | 9 | 9 | 10 – 13 | 10 – 13 | 10 – 13 |
| Number of ounces consumed on average per feeding: | 4 | 5. 5 | 7 | 7.5 | 7.5 | 6 | 7 | 8 | 7 | 8 | 8 |
| Number of times feed daily: | 4 | 4 | 4 | 4 | 4 | 3 | 3 | 3 | 2 | 2 | 1 |
| Time of Day fed (morning to night) | 8, 12, 5, 10 | 8, 12, 5 10 | 8, 12, 5, 10 | 8, 12, 5 10 | 8, 12, 5, 10 | 8, 12, 5 | 8, 12, 5 | 8, 5 | 8, 5 | 8, 5 | 12 |
Six Weeks Old
At this time, we reduced the Nutri-cal to 1/2 of a 4.25 oz. Tube. We also began feeding small amounts of ground turkey to the cubs after their bottle at each meal to begin teaching them to eat solid food. Concentrated crystalline taurine was added to the cubs' bottles also in the amount of 200 mg per cub per day. 
Ten Weeks Old
We began adding Missing Link Supplement in the amount of 1/4 tsp. per cub per feeding. We also added 2.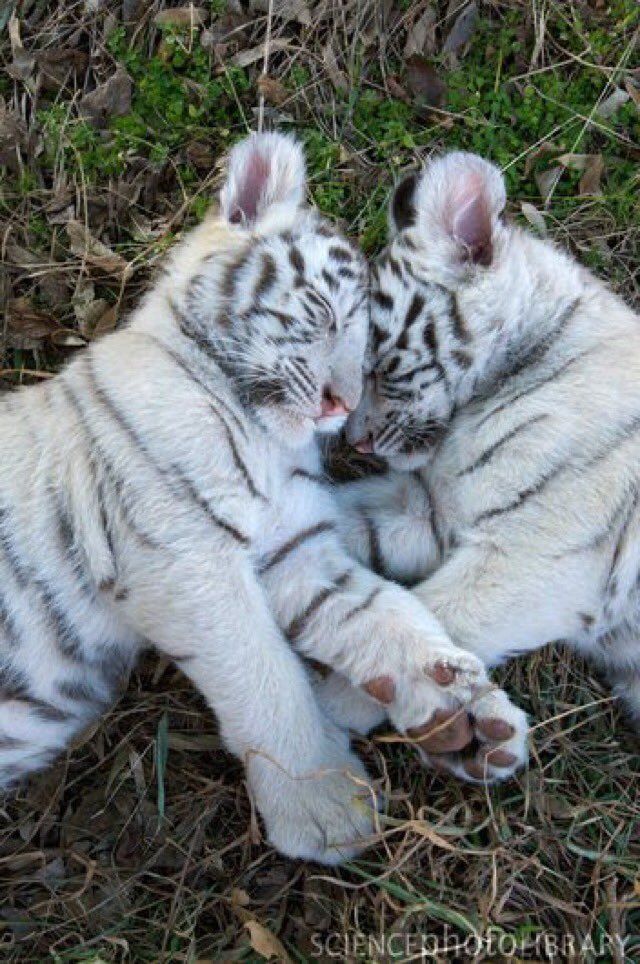 5 oz of ground turkey to the formula. The ground turkey was added at the same step as the baby food and was liquefied in the blender for 5 minutes to blend the meat. It is important to thoroughly blend this meat.  When the formula sits for a while, the ground turkey in the formula tends to clump together and make strings.  It is more important than ever to stir or shake the formula container to properly mix.  As more ground turkey is added to the formula, it is even a good idea to stir what is in the gallon container and then re-blend the amount of formula you plan to pour into the bottles.  This will help prevent ground turkey strings from clogging up the nipples when the cubs are trying to drink.  At this time, the cubs were also given a pound of meat each per day in addition to their formula.  
 In addition, we began adding Dallas Crown meat to begin the process of giving the cubs what they would ultimately be eating as adults. Initially, the proportion of Dallas Crown to ground turkey was 1:4.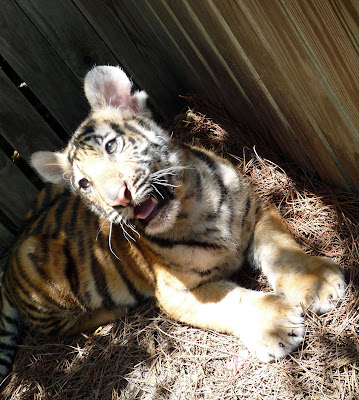 We were giving each cub a pound a day initially.
Twelve Weeks Old
We began adding Pet-Tabs vitamins in the cubs' meat in the amount of 1 Pet Tab per cub per day. We also increased the amount of ground turkey in the formula to 5 oz.
Here is the supplement schedule we used week by week:
No calcium was used during the first week of introducing ground turkey to the cubs (6 weeks of age).  At 7 weeks of age, a pinch of calcium was added to the meat.  At 10 weeks, Missing Link was added to the meat along with calcium.  At 12 weeks, Pet-Tabs were also added to the meat.  Concentrated crystalline taurine was given to the cubs in their bottles beginning at 6 weeks of age (200 mg per cub per day).  As the cubs decreased the amount of formula they were drinking and increased the amount of solid meat they were eating, the taurine was put into their meat instead of their bottles.  By 16 weeks, about 400 mg per cub per day was added to the meat. Once the cubs were receiving all Dallas Crown, the amount of taurine was cut to 200 mg per day.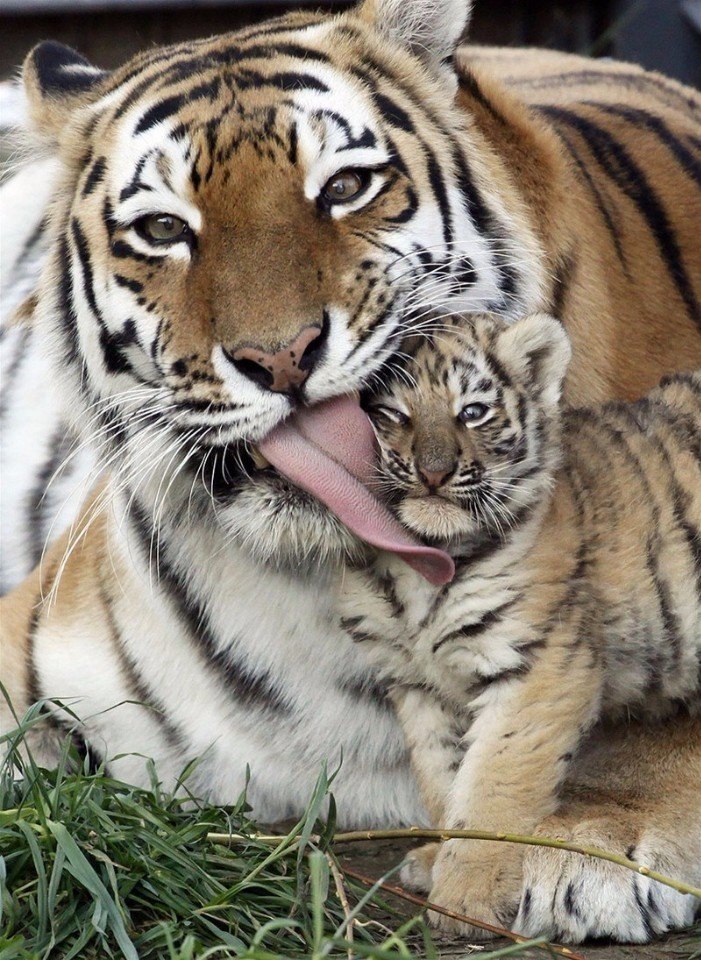 | | | | | | | | | | | |
| --- | --- | --- | --- | --- | --- | --- | --- | --- | --- | --- |
| Number of Weeks | 7 wks | 8 wks | 9 wks | 10 wks | 11 wks | 12 wks | 13 wks | 14 wks | 15 wks | 16 wks |
| Calcium | Pinch | 1/8 tsp | 1/8 tsp | 1/4 tsp | 1/2 tsp | 1/2 tsp | 1/2 tsp | 1/2 tsp | 3/4 tsp | 3/4 tsp |
| Missing Link | None | None | None | 1/4 tsp | 1/4 tsp | 1/2 tsp | 1/2 tsp | 1/2 tsp | 3/4 tsp | 3/4 tsp |
| Pet Tabs | None | None | None | None | None | 1 | 1 | 1 | 2 | 2 |
| Taurine | 200mg | 200mg | 200mg | 300mg | 300mg | 300mg | 300mg | 400mg | 400mg | 400mg |
** Supplements stayed the same for the 17 and 18 weeks of age
Here is the solid meat schedule we used week by week:
Small amounts of ground turkey were introduced to the cubs by hand at 6 weeks of age.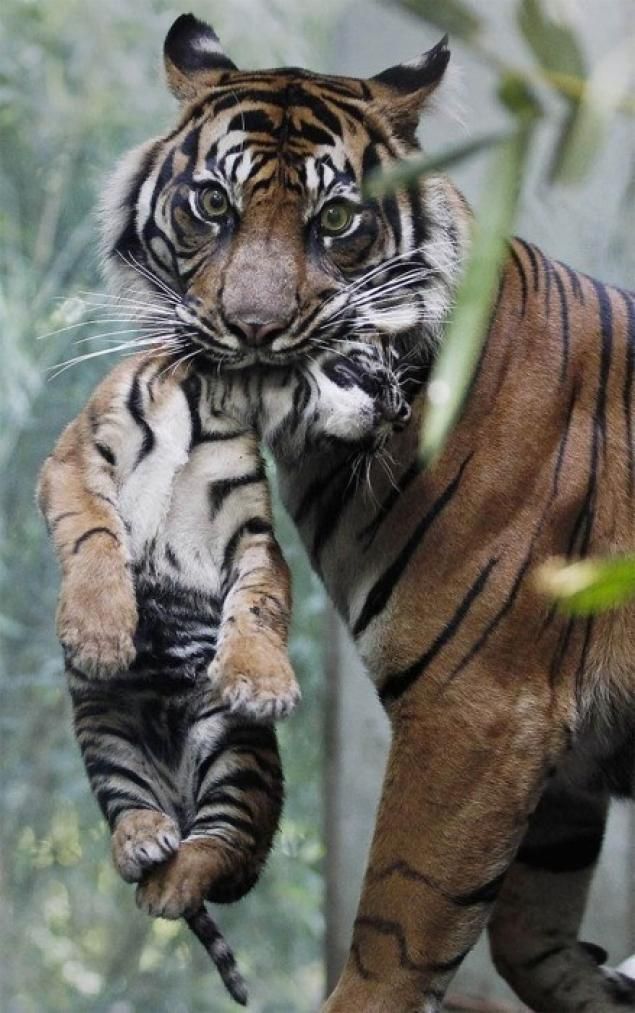 All Dallas Crown used was blended in a food processor.
| | | | | | | | | | | | |
| --- | --- | --- | --- | --- | --- | --- | --- | --- | --- | --- | --- |
| Number of Weeks | 6 wks | 7 wks | 8 wks | 9 wks | 10 wks | 11 wks | 12 wks | 13 wks | 14 wks | 15 wks | 16 wks |
| Amount of Meat | 2-3 oz. | 4-8 oz. | 8-12 oz. | 12-16 oz. | 1 lb. | 1 1/2 lbs. | 2 lbs. | 2 1/2 lbs. | 2 3/4-3 lbs. | 3 1/2 lbs | 3 1/2 lbs. |
| Number of times fed daily | 1 | 1 | 1 | 2 | 5 | 5 | 4 | 4 | 3 | 3 | 3 |
| Portion of Dallas Crown | None | None | None | None | 1/4 | 1/2 | 3/4 | 7/9 | 7/9 | All | All |
Stimulation
The cubs were stimulated to urinate and defecate from the day they were born once a day until they were about 13-14 weeks at the end of one of their bottle-feedings.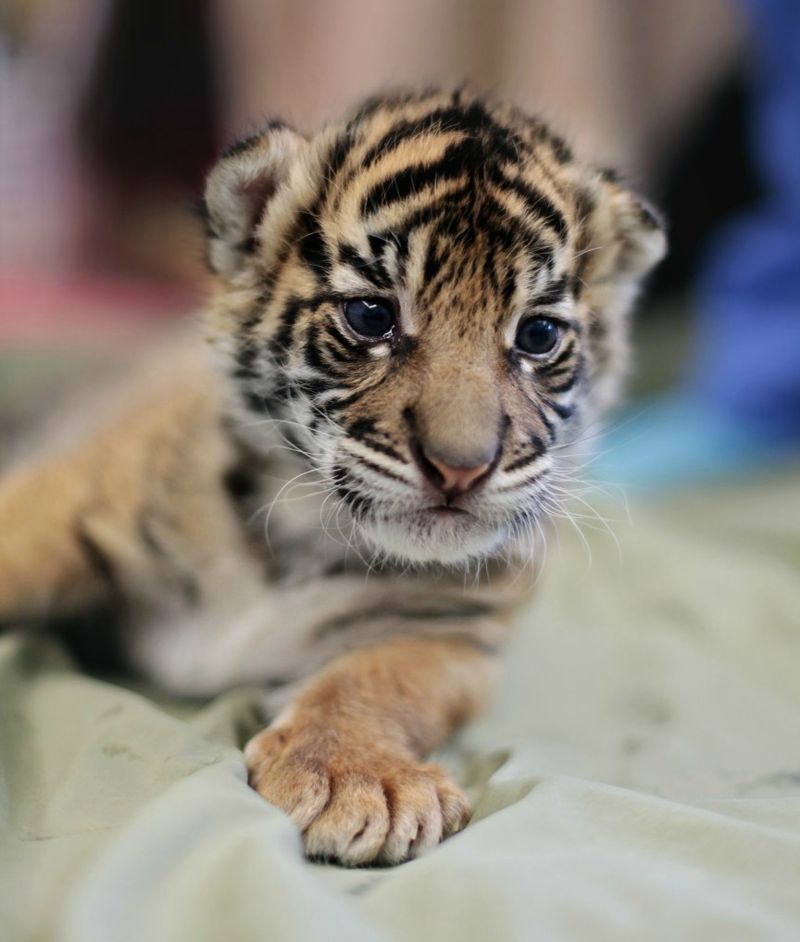 We used baby wipes to stimulate.  If they did not defecate at the time of stimulation, or if they defecated only a very small amount, then we tried to stimulate them again at the next feeding.  The cubs began to urinate on their own around 6 weeks.  At 13-14 weeks of age, a little stimulation was provided for defecation.  By 15 weeks, the cubs were defecating and on their own.
Mineral Oil
Mineral oil was used to help defecation.  Each cub was different.  The mineral oil was started when baby food was added to the cubs' formula (when incisors were majority of the way in, before 5 weeks old).  For our male cubs, 1 cc of mineral oil was added two different times daily to their bottles. For our female cub, 1/2 cc of mineral oil was added two different times daily to her bottle.  The mineral oil was put in their bottles at the feeding times surrounding the stimulation.  For instance, feeding times occurred at 8 am, 12 noon, and 5 pm.  At the noon feeding, the cubs were stimulated.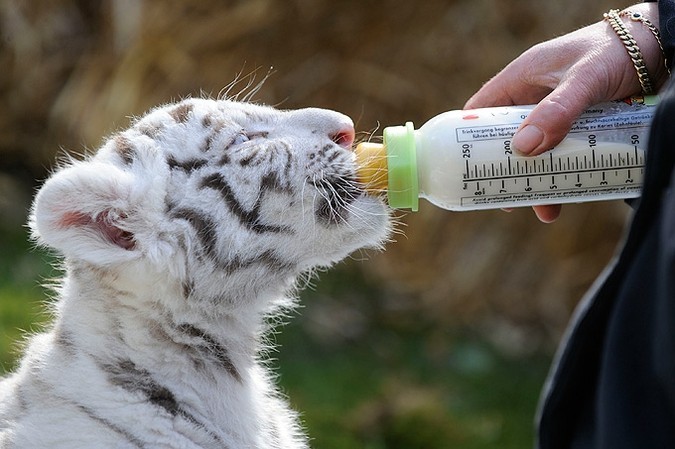 Therefore the mineral oil was put in their bottles at 8 am and at 5 pm.  The amount of mineral oil was adjusted according to the appearance of their stool, especially when solid meat was introduced.  If the amount was changed, it was not changed again for at least a day in order to allow the cubs to acclimate to the new dose.  Mineral oil was lessened as the cubs grew older and their diet stabilized and was eventually removed altogether when the cubs were about 9 weeks of age.
Teeth
We kept a careful check on the condition and progress of teething of our cubs. We do not advocate beginning to feed solid food until the cubs' eyeteeth are coming all the way in. It can vary from cub to cub, but here is our experience:
| | | | | | |
| --- | --- | --- | --- | --- | --- |
| Number of weeks old | 5 | 5-6 | 6-7 | 7-8 | 9 |
| Condition of teeth | All incisors through | Gums are swollen, eye teeth not broken through but protruding | Eye teeth broke through, came in | Gums swollen, molars coming in | All molars through |
Weight
Here is a chart showing the average weight of our cubs week by week.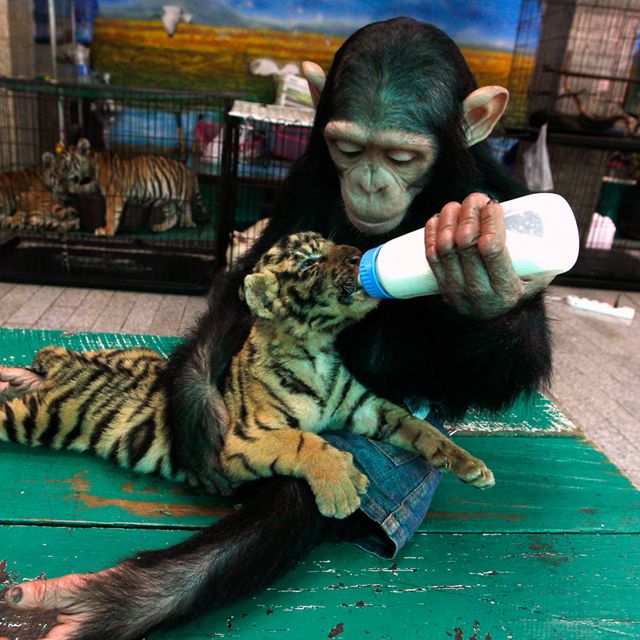 We feel that their progress was about as it should have been. The cubs always looked like their condition was about as it should have been:
| | | | | | | | | | | | |
| --- | --- | --- | --- | --- | --- | --- | --- | --- | --- | --- | --- |
| Number of Weeks | 5 1/2 | 7 1/2 | 8 | 8 1/2 | 9 1/2 | 10 | 11 | 12 | 13 | 14 | 15 |
| Weight | 7-8 lbs | 9-10 lbs | 12-13 lbs | 12-14 lbs | 16-17 lbs | 19-20 lbs | 20-22 lbs | 21-26 lbs | 22-29 lbs | 27-34 lbs | 29-35lbs |
Vaccination
Our veterinarian, Dr. Greg Moore, vaccinated in the following quantities and times:
Vaccines were administered at 7, 10, and 13 weeks of age.
Fel-O-Vax IV
Brand Fort Dodge 
1 ml per shot per cub 
The shot is for:   Feline Rhinotracheitis, Calici, Panleukopenia, Chlamydia Psittaci Vaccine                             
Killed virus and Chlamydia
In Conculusion
At sixteen weeks of age we considered the cubs weaned and eating 3 times a day.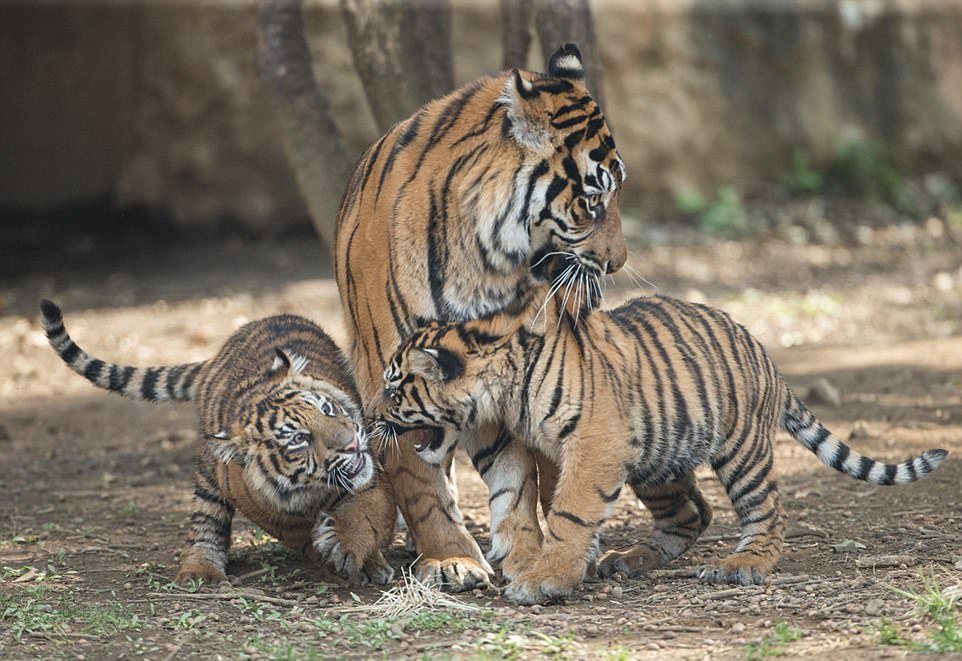 At this point they were receiving all Dallas Crown with the same supplements as previously. We continued to give a bottle at their noon feeding utilizing the same formula without any baby food. We felt this was a good transition for the cubs and additional insurance that they were receiving all the nutritional needs they required. It was also a social interaction with their human caregivers that they seemed to enjoy very much. As of this writing, the cubs are five months old and weigh 50-60 pounds. 
Of course, I have only addressed the cubs' nutritional needs in this article. We at the International Exotic Feline Sanctuary feel that their emotional needs are just as important to the cubs' well-being, health, and happiness, if not more so. I have not gone into all the techniques we are using to insure that they have a happy childhood, because it is quite complicated, extensive, and intricate. It would take at least as long as writing about their nutritional development. Those facilities that are interested are welcome to contact us for this information.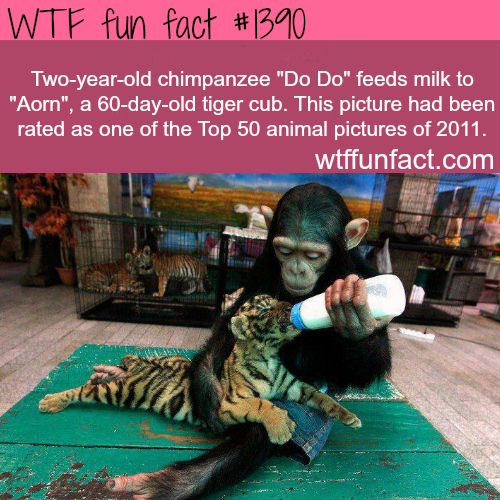 We are very pleased with their interaction with their human caregivers and the respect which both the cats and the humans show to each other. 
I would like to express my appreciation to one of our keepers, Ms. Janelle Lemke, for her assistance in preparing this information. Janelle was primarily responsible for preparing the formula and meat for the cubs, and she kept careful records, which were used in this article. 
 Hopefully, this data will assist others that are faced with the daunting task of raising young tiger cubs. Certainly, we recognize that there are a number of different approaches and diets that have probably been successfully used; the above information is perhaps just one of them. At least it will give others a point of departure for their nutritionist and/or veterinarian. 
How to Raise Baby Tigers
By Edie Grace | Updated November 01, 2017
Things You'll Need
Lisence

Exotic veterinarian

Large enclosure

Milk

Fresh meat

Toys
Tigers are one of the strongest and most dangerous of all the big cats.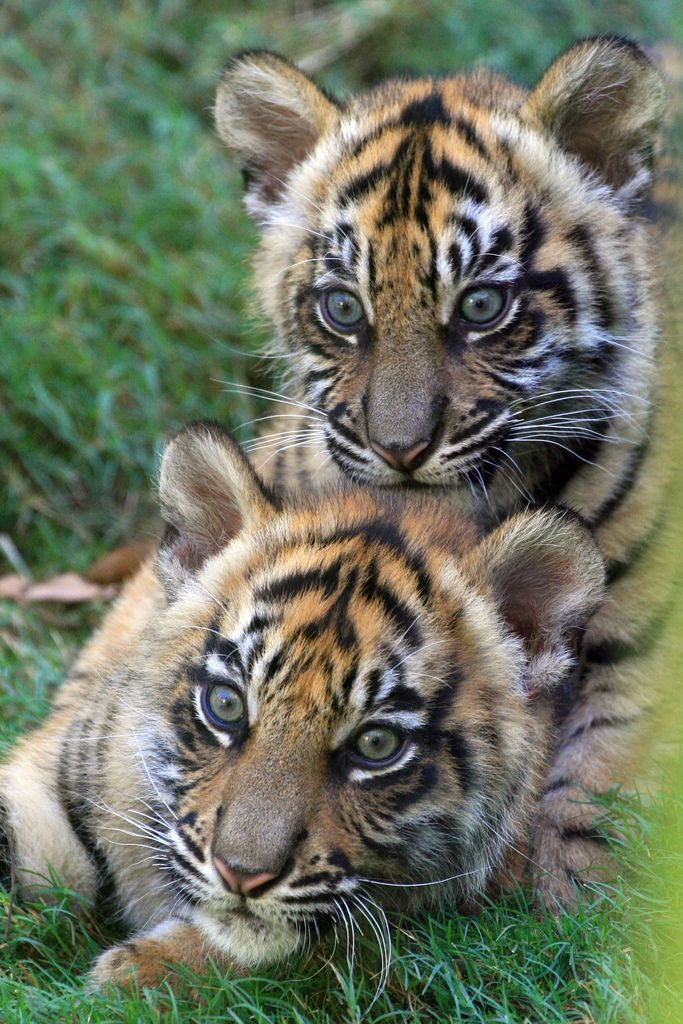 It's important to remember that tigers are wild animals and even those raised by breeders and professional handlers have been known to bite in play or mistakenly in defense. If you are thinking of acquiring one as a pet, be aware that not everyone is suited to owning a tiger. There are many costs, regulations and a lot of work that goes with owning one. If you happen to change your mind, it is likely that a zoo will not adopt the tiger due to breeding and health restrictions and the cat may have to be euthanized.
Contact your state's wildlife agency to inquire about licensing requirements. You may also require a license to build the tiger's enclosure, so phone your city or county's government to inquire about local requirements. If the enclosure is approved by your state, you will need to contact the federal agency, the Animal and Plant Heath Inspection Service (APHIS). They will inspect the enclosure before deciding whether to approve your application. They will also require you to log vet visits and the details of the animal's diet and will inspect you yearly and on a surprise basis.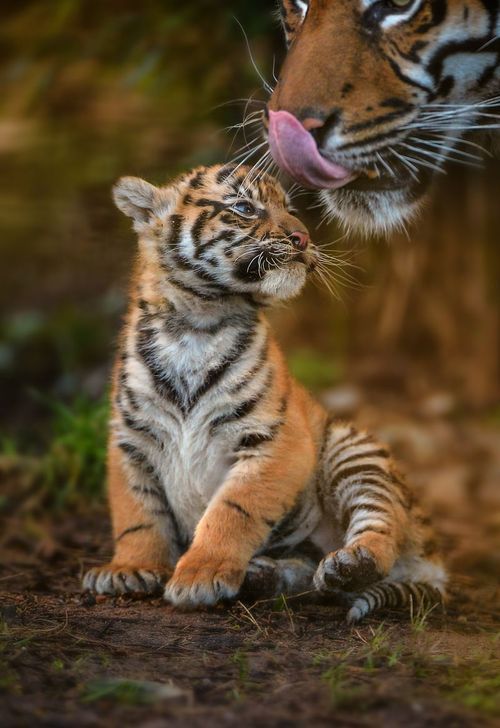 Find an exotic veterinarian who has knowledge of tigers. Their details will need to be passed onto APHIS before you are approved for a lisence. Tigers will require vaccinations and routine health checks throughout their lives.
Build your enclosure to be as large as you possibly can. The enclosure should measure between 500 and 1,000 square feet. The enclosure should be built of strong materials (plywood at least) and the surrounding fencing must be at least eight feet high. Also include two gates, one which closes behind the other. Interior fencing must be at least six feet high by U.S. law. The inside housing (known as a "denbox") must have a sliding door that leads to a separate room so you can lock the cat in when needing to clean its cage. The sliding door must be over a hole used to bait the tiger; it must also be easy to lock once the tiger is inside.
Feed the cub with milk if it is less than six weeks old. However, cubs should not be separated from their mothers this early except when the mother has died.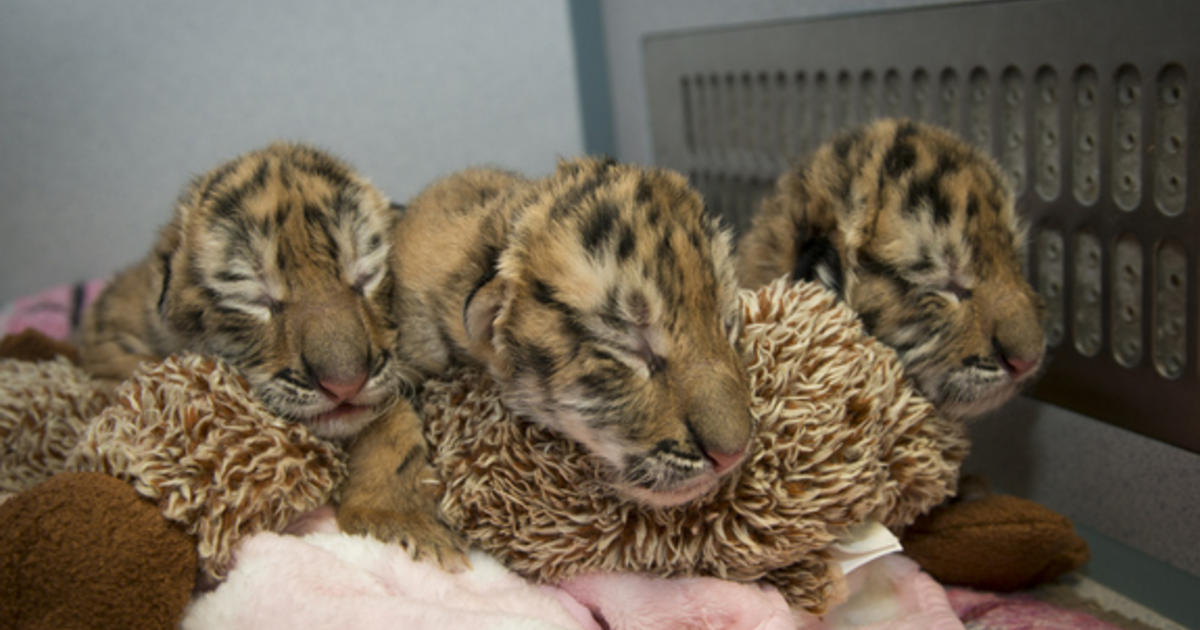 The cub must be fed milk six times a day. A damp piece of cotton wool must then be rubbed on the tiger's genitals to encourage defecation. After six weeks, the cub can be weaned and given minced meat. It can eat meat on its own at three months and must eat five percent of its body weight daily and be given extra calcium. They prefer horse meat, which can be bought from speciali companies.
Put plenty of toys in the enclosure. Tigers are lively, intelligent animals that require a lot of stimulation. They enjoy water and should be given a pool to play in. Trees can be played in, climbed on and used for scratching. New smells and objects should be provided on a regular basis.
References
Wild About Cats: General Requirements For Private Ownership
The Daily Puppy: Tiger Enclosure Policies & Procedures
Loadstar's Lair: Early Days
ASPHI: Big Cat Question and Answer
Louis Dorfman: Raising & Feeding Baby Tiger Cubs
Resources
Exotic Cats
U. S. Department of Agriculture's (USDA) Animal and Plant Health Inspection Service (APHIS)
Wild About Cats
Photo Credits
Writer Bio
Edie Grace has been writing and editing since 2008. Her work has been published in medical magazines and aired on radio. She has written about skin conditions, cardiovascular health and surgery. She holds a Bachelor of Arts in English and music and a Master of Arts in journalism.
Feeding a kitten - we make up the diet of a small tiger
A kitten is a small, but predatory creature. And with excellent appetite. From the age of two months, he is already able to provide for his energy needs by eating on his own. It is at this age that he can be weaned from his mother and transferred to a ready-made diet. Including food from your pet store. How to properly organize feeding a kitten?
Cats have a small stomach, which corresponds to their traditional diet: in small portions, but up to eight to ten times a day.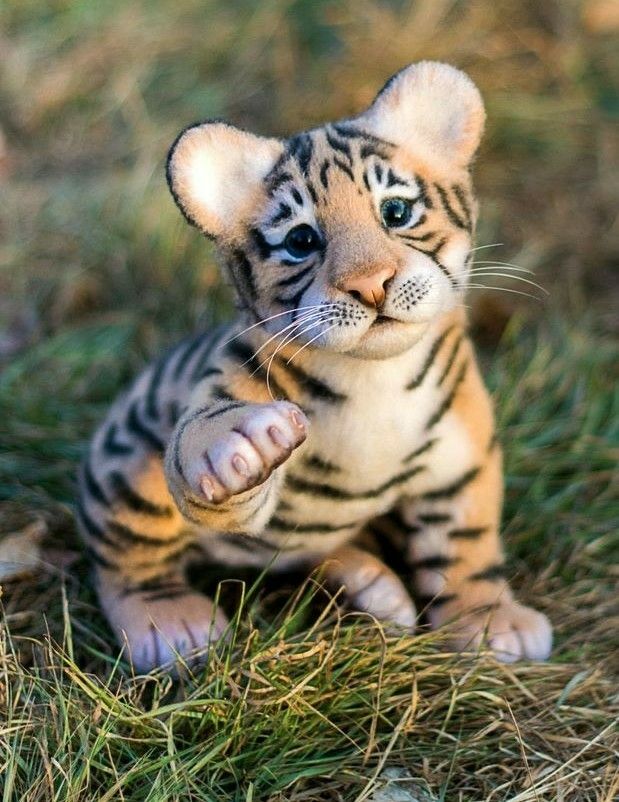 They caught a mouse or a small bird - they immediately ate it. At home, the cat often has to be content with two meals a day, although scientists insist that it is better for her to eat three to four times a day. And for a baby under the age of 12 weeks - five to six times a day. A three-four-month-old kitten can already be transferred to four meals a day, and after six months, if necessary, reduce the number of meals to three.
In general, if we talk about the cat's diet, there are two approaches. The first one is called ad libitum ( lat . "to your heart's content") and has long been considered the most physiological for cats, based on the fact that they have a good feeling of satiety, which prevents overeating. With this approach, dry food is freely available in the bowl, the cat visits it several times during the day, eating in small portions. However, it turned out that the congenital limiter does not work for everyone, many pets have a tendency to overeat and, as a result, overweight.
Thus, the second approach was born: the food appears in the bowl strictly at the appointed time and in a dose that does not exceed the standard recommendations for this food. Although the feeding of the kitten is less strictly limited until the growth of the body is over.
Childhood. Adolescence. Youth
The period of the most intensive growth is from birth to four months. The energy requirements are extremely high, about three times those of adult cats. But the digestive system of kittens is not yet mature. In this regard, they need a highly nutritious food that does not contain components that can cause digestive problems. At first, the kitten receives everything it needs with mother's milk, but already from the age of one month it begins to show interest in solid food and makes attempts to climb into the mother's bowl. From that time on, the breeder gradually accustoms the young shoots to wet, and then to dry food. When the kitten is eight to nine weeks old, he is ready for complete weaning and moving to a new home.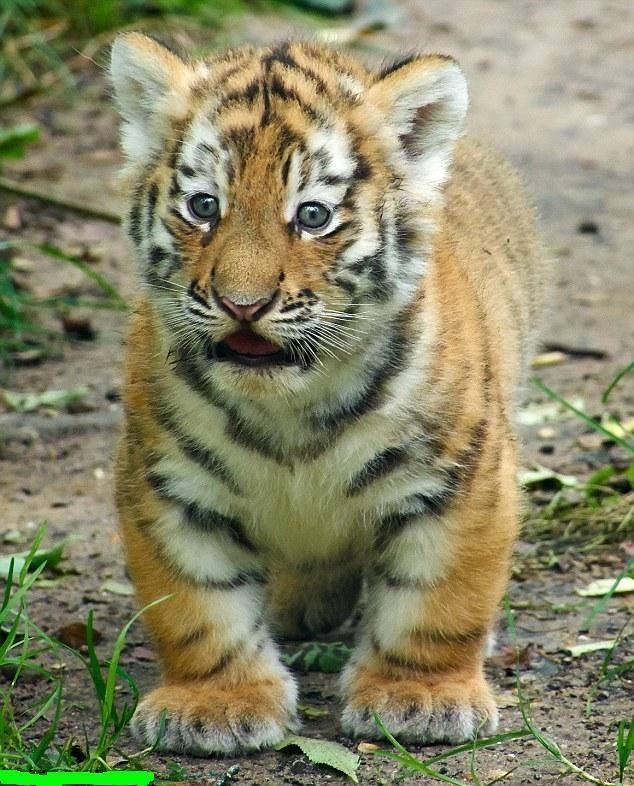 However, animals from unscheduled matings are often handed out when they are one month old, and the foundling may turn out to be of such a tender age. In this case, your client's kitten may not know any other food than milk. Then the feeding of the kitten and all the work of transferring the animal to solid food falls on the new owner.
What should be the special food for a rapidly growing predator? This is a complete high-calorie diet with a balanced vitamin and mineral composition. Energy for a growing organism is provided by easily digestible carbohydrates, building and plastic material - high-quality protein (from 35%), which is also easily digestible and serves as a source, including 11 essential amino acids. In sufficient quantities, the food contains omega-6 and especially omega-3 fatty acids, folic acid and taurine, as well as the correct ratio of calcium and phosphorus.
This food allows the kitten's body to prepare for the most intensive period of weight gain, 100 g per week, which occurs at the age of four to five months.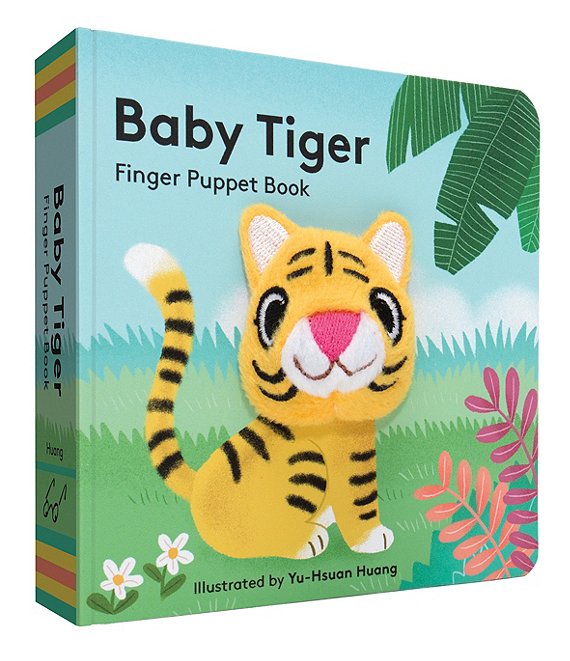 In addition, the change of milk teeth to permanent ones begins. And although the kitten's energy needs are gradually decreasing, they remain much higher than those of an adult cat. At the age of seven to nine months, the sexual instinct begins to manifest itself, the first estrus occurs in females. In this regard, young animals, which the owner does not intend to allow for reproduction, are sterilized. At the age of 12–15 months, the growth of a kitten stops (earlier in southern breeds, later in northern and especially giant ones, like Maine Coons). Starting at the age of one year, young cats and cats are considered adults and are transferred to the appropriate food.
Cat food manufacturers have developed a fair amount of kitty diets, with the same company sometimes showing different approaches to age division and personalization. This can be embarrassing for the buyer, so it's not superfluous to reassure him - the more variations, the more chances to pick up food for a particular kitten.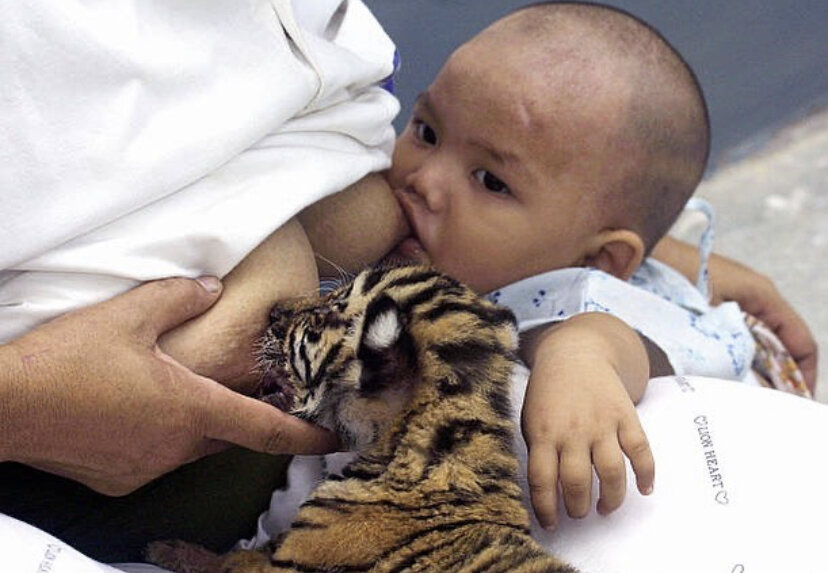 Kitten food: we choose, the cat chooses…
Usually, newly-baked kitten owners are advised to find out in advance what they were fed before and purchase the same food. Moving to a new house, a new family is quite a stressful factor, no need to add to it a sudden change in diet, which is fraught with gastrointestinal disorders. But - for the future - it is worth telling the buyer about the benefits that other kitten food has from the assortment of your store, of course.
And we will digress from the brands and try to summarize what products and for what age the food industry as a whole offers. These are both dry croquettes and wet food - mousses, pates, pieces in sauce and jelly (jars, pouches, lamisters). For the smallest (up to two months) there is a mother's milk substitute for kittens.
Since the needs of kittens and their mother during pregnancy and lactation are similar, there are common diets for them, the difference is only in dosage. In this case, the age of the pet is indicated as "from 6 to 52 weeks", "up to 1 year" and "from 1 to 4 months".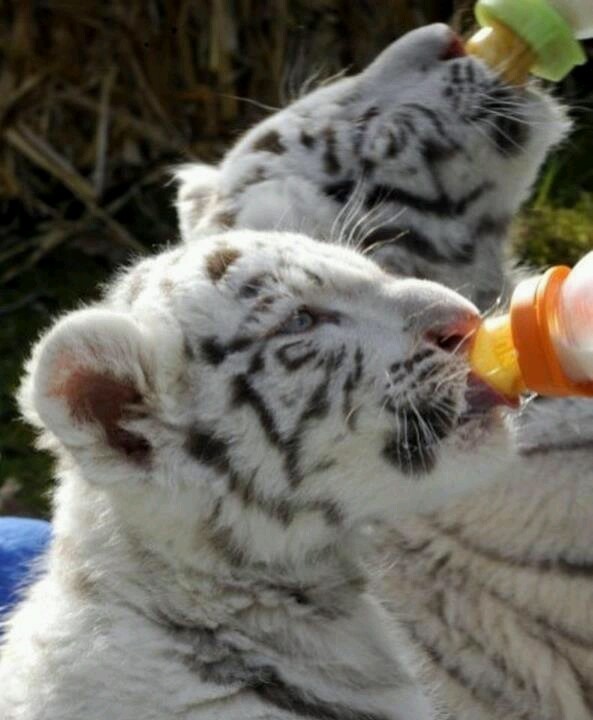 Other foods are positioned as rations for feeding kittens only. In this case, manufacturers can narrow the age range for a particular diet: 1–4, 3–7, 4–12, or 4–14 months. But in most cases, the food is addressed to animals from one to two months to a year. There is also a special wet and dry food for sterilized kittens from the age of six months.
A number of breeds, such as the British Shorthair, Sphynx, Persian, Maine Coon, have also received personal rations. In addition to the features of development and coat, the characteristics of the bite were also taken into account. Kitten croquettes are generally small in size, but in this case their shape is adapted to the jaws of, for example, Canadian Sphynx or brachycephalic breeds.
There are also foods for kittens with special needs, such as those with sensitive digestion. It is clear that many problems appear before the kitten is one year old, but not all of them are covered by the food arsenal. Therefore, warn the buyer: if the package of a diet for animals with special needs (or a veterinary diet) does not contain the words "for kittens" and kittens are also not registered in the table of recommended dosages, a veterinary nutritionist should be consulted.
And you will remind the buyer how to properly feed his kitten.
Feeding a kitten: the right organization
It is recommended to combine dry and wet food: this feeding of a kitten will facilitate the work of his gastrointestinal tract.
It is important that dry and wet food and water are in separate bowls. Also make sure that the water is always fresh. Throw away leftover wet food immediately, and wash the bowl after it immediately so that microorganisms that can cause indigestion do not multiply in it.
Do not give both dry and wet food at the same meal: each of them takes a different amount of time to digest, which does not have the most favorable effect on the pet's digestive system.
Having had enough, the kitten leaves the uneaten food and goes to sleep or play. However, sometimes there are real gluttons, which is very important not to overfeed. Observe the daily dosage of food. The belly of a full kitten should be slightly rounded, firm, but not too swollen.
The cat must consume enough water! The recommended drinking rate for a dry cat is 150 ml of water per 50 g of food eaten.
Cats don't like cold food. A fresh mouse is always warm! Therefore, food should be warm or at least room temperature. If you put the uneaten food in the refrigerator, warm it up.
Changing homes and families is stressful. The diet and feeding regimen of the kitten during this period should remain unchanged: the same food in the same place, in a calm and safe environment.
If the animal has a disease or any problem, a veterinarian should be consulted. The specialist can also help determine the optimal feeding schedule for the kitten, including the amount of food for each stage of life, as well as the distribution of meals throughout the day.
Thus, proper nutrition can be selected for a kitten of any age, breed and with special needs of the body. The main thing is to take into account all these features in time.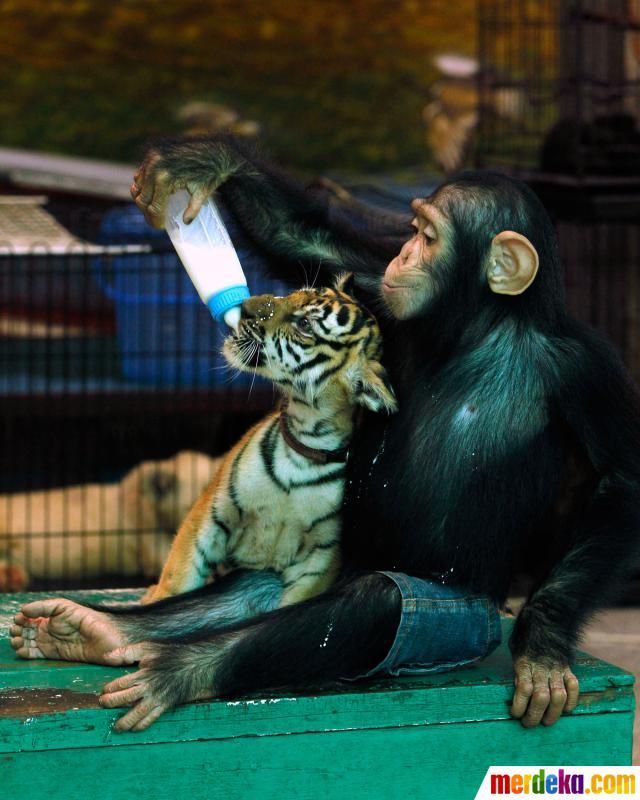 Subscribe to our telegram channel and receive important industry news in a format convenient for you.
Evaluate material
Like
Like Congratulations I sympathize outrageous funny Thinking No words
1
About the Amur tiger | Russian Geographical Society
Amur tiger
Panthera Tigris altaica
detachment: predatory (carnivora)
Family: Koshachi (Felidae)
genus: Panthera 9000 9000 9000 in Russia, hunting for it was completely prohibited. This amazing beast is listed in the Red List of the International Union for Conservation of Nature and the Red Book of the Russian Federation as a species endangered, included in Appendix I of the Convention on International Trade in Endangered Species of Wild Fauna and Flora (CITES).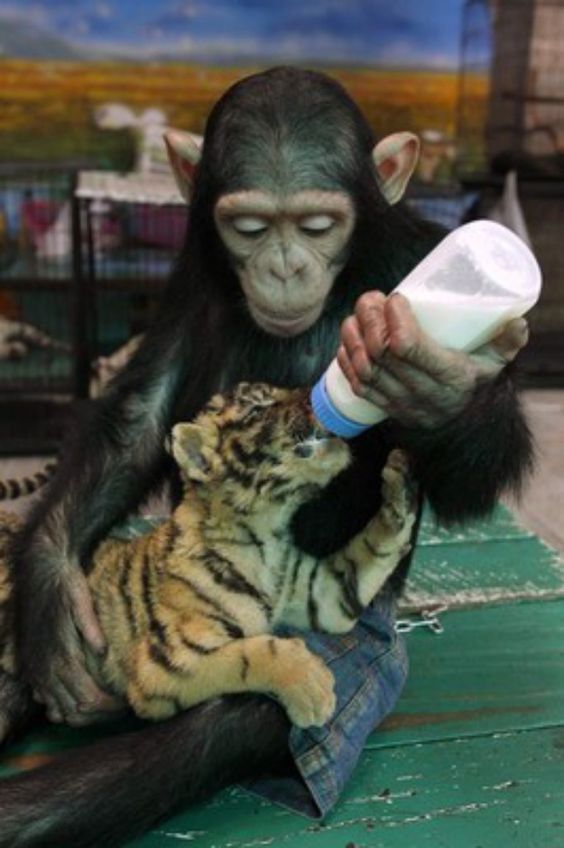 Lives in: Currently, 95% of the entire Amur tiger population lives in the Russian Far East. 5% - in China.
Size: The length of the body of the Amur tiger without a tail is 160-200 cm, the length of the tail is about 100 cm. The weight of an adult animal can reach 300 kg. The largest recorded weight of a tiger is 384 kg.
Appearance: The Amur tiger is larger than its southern relatives, its coat is thicker and lighter. On a reddish background, forming a complex pattern, there are transverse dark stripes. The pattern on a tiger's skin is as unique as human fingerprints: you will not find two tigers with the same pattern. The black stripes, despite their brightness, serve as a camouflage for the tiger. But the large white spots on the black back of the ears have a different purpose. When a tigress walks through the forest, she sets her ears so that the black-and-white field is perfectly visible to the cubs following her.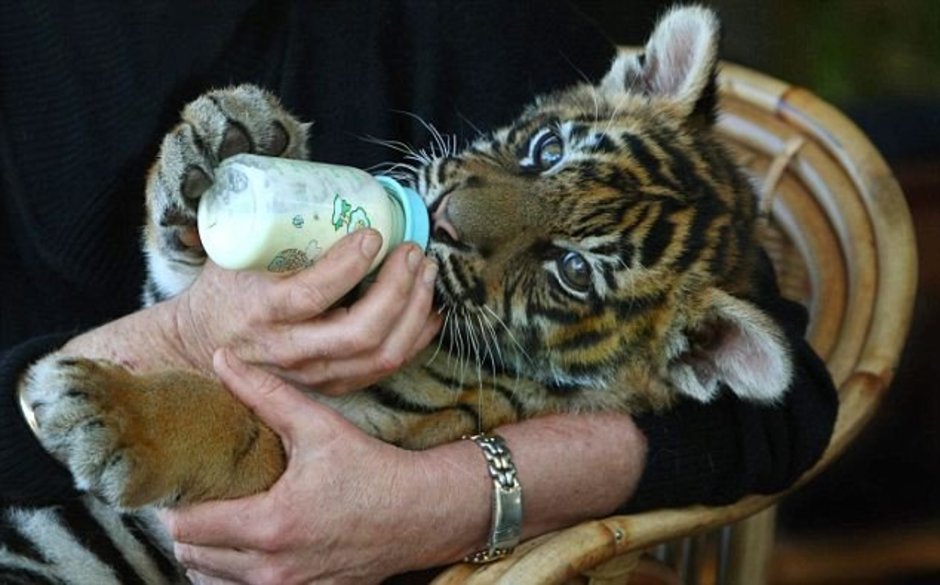 In winter, the skin of tigers brightens, becomes thick and fluffy. The tiger is not afraid of big snows - wide paws help him to walk on them.
Photo: Afanasy Bereda, courtesy of the Amur Tiger Center
Behavior and lifestyle:
Tigers are almost constantly on the move. Bypassing their territory, they look for prey. Tigers, like other cats, mark the boundaries of their territory with odorous marks. And they also scrape the ground or, standing on their hind legs, rip off the bark from the trees. Such "badass" can sometimes be found at a height of 2-2.5 meters above the ground.
Tigers are conservative - they use the same trails for years and, if there is enough food within their territory, they never leave them.
Tiger ranges vary in size. They depend on the sex and age of the animal and on how many ungulates are found in the area. Tigresses with small cubs, for example, use a much smaller territory for living and hunting than single animals.
The Amur tiger has great strength and well-developed sense organs. At the same time, he has to devote a lot of time to hunting. Tigers prey mainly on large ungulates. To catch the prey, the tiger crawls towards its prey, arching its back and resting its hind legs on the ground. Only one out of ten attempts is successful. And if the throw fails, the tiger will prefer not to pursue the victim, but to look for a new one. When game becomes scarce in the forests, Amur tigers sometimes attack large livestock and dogs.
Diet:
The diet of the tiger is based on red deer, wild boar and sika deer. The daily norm of tiger food is 9-10 kilograms of meat. For the successful existence of one individual, about 50-70 ungulates per year are needed.
The Amur tiger can not only hunt, but also fish - during spawning, he catches fish on the rapids of mountain rivers.
Amur tiger. Photo courtesy of ANO ''Center ''Amur Tiger''
Reproduction:
Amur tigers are considered to be polygamous.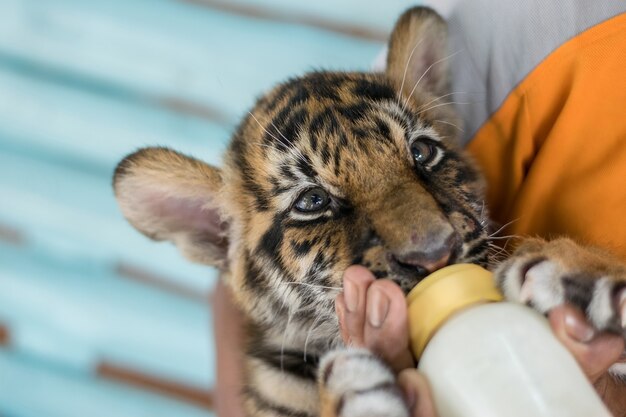 The periods of reproduction and the appearance of tiger cubs are not confined to any particular time of the year. And yet, the offspring of tigers most often appears in April-June.
After three or four months of waiting, the female gives birth to two or three blind cubs. The mother tries to arrange a lair for her cubs in the safest hard-to-reach places: in dense thickets, caves, rock crevices - where they will be invisible to other predators.
Around the ninth day after birth, tiger cubs open their eyes, and at the age of two weeks, sharp teeth begin to grow. The mother feeds the children with milk for six months. Leaving the shelter, two-month-old little predators taste the game for the first time - the mother begins to bring them meat.
Tiger cubs play a lot, learning the skills necessary for hunting. From the age of six months, the grown cubs accompany their mother during the hunt and learn the wisdom of finding and getting food. At the age of one, the cubs for the first time try to apply all the acquired hunting skills.