Dinner baby food recipes
15 Dinner Ideas for Baby (Stage 2 Purees)
Home » Feeding Style » Baby Food Purees » Stage Two » 15 Dinner Ideas for Baby (Stage 2 Purees)
15 Dinner Ideas for Baby that will leave your little one full and satisfied. Loaded with nutrients, protein and some complex carbs, these purees are a healthy way for baby to end their day. Great baby food for 6+ months – stage 2 baby food.
Update: this post was originally posted in July 2017 and has been updated.
Dinner Ideas for Baby
Now that I rounded up some of my favorite breakfast and lunch ideas for baby, I thought it only fitting to give you some of my favorite dinner ideas as well.
That's over 45 healthy purees to make your little ones taste buds explode with happiness all-day-long!
When deciding which puree to serve for dinner, I like to start with purees that are filled with calorie dense fruits and vegetables such as sweet potatoes, carrots, broccoli and mangos.
My theory is that the more calories baby has before bed the higher the chance they will sleep longer through the night <—- just a theory, no scientific research besides my own lazy mom observation has been done on this.
Next, if your baby is eating proteins and grains, I like to mix some in for even more nutrients and calories.
Think about it this way, what are you eating for dinner? Besides pizza or a cheeseburger;) I bet on the good diet days your plate is full of vegetables, a small portion of grains and some type of protein. Since you are cultivating a little mini-you, make baby's dinner purees just like your plate.
This could be made into a single puree like the Thai Chicken with Mango Puree mixed with some cooked quinoa. Or another approach you can have is to serve several different purees for a full meal – Broccoli + Olive Oil Puree, Sweet Potato + Curry Puree with a side of Apple + Cinnamon Puree for a dessert.
Reasons to Love these Dinner Ideas for Baby
great for 6+ months
stage 2 baby food
nutrient dense
mixture of wholesome fruits, veggies, grains and protein
all purees are freezer-friendly
great for freezer storage stash
easy to defrost
Whichever puree you serve your little one, pour yourself a tall glass of wine and enjoy a healthy meal with your little adventurous eater, no matter how long or stressful meal time is:)
Sweet Potato, Pear + Red Pepper Baby Food Puree
4.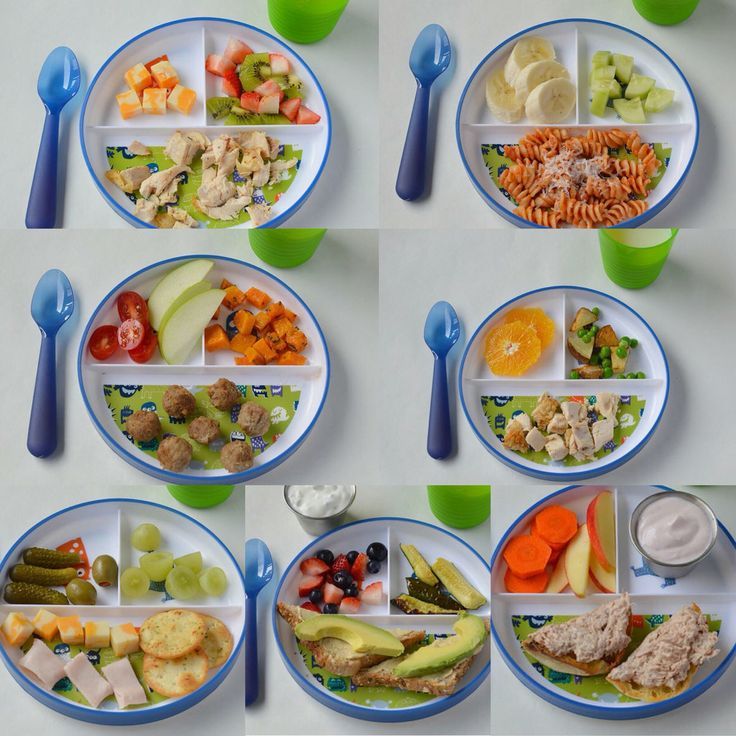 89 stars (9 ratings)
Loaded with vitamin A, B6, C, E, folate, beta-carotene, potassium, calcium, lycopene and fiber, this puree has a ton of essential nutrients for growing baby!
Get the recipe
Broccoli Baby Food
4.80 stars (68 ratings)
This Broccoli Baby Food with olive oil recipe is a great way to introduce healthy green vegetables into your baby's diet. A delicious puree full of essential vitamins and healthy fats for growing baby
Get the recipe
Pear, Chard + Goji Berries Baby Food Puree
No ratings yet
Chard and Goji berries are superfoods but can have sharp flavors for little mouths – but when paired with sweet pears, they turn into a magically delicious baby food combination!
Get the recipe
The Best Sweet Potato Baby Food
5 stars (52 ratings)
This Homemade Sweet Potato with Curry Baby Food Puree is a fun and exotic first puree for baby! Great for 4+ months and is completely freezer-friendly!
Get the recipe
Roasted Strawberry + Salmon Baby Food Puree
4.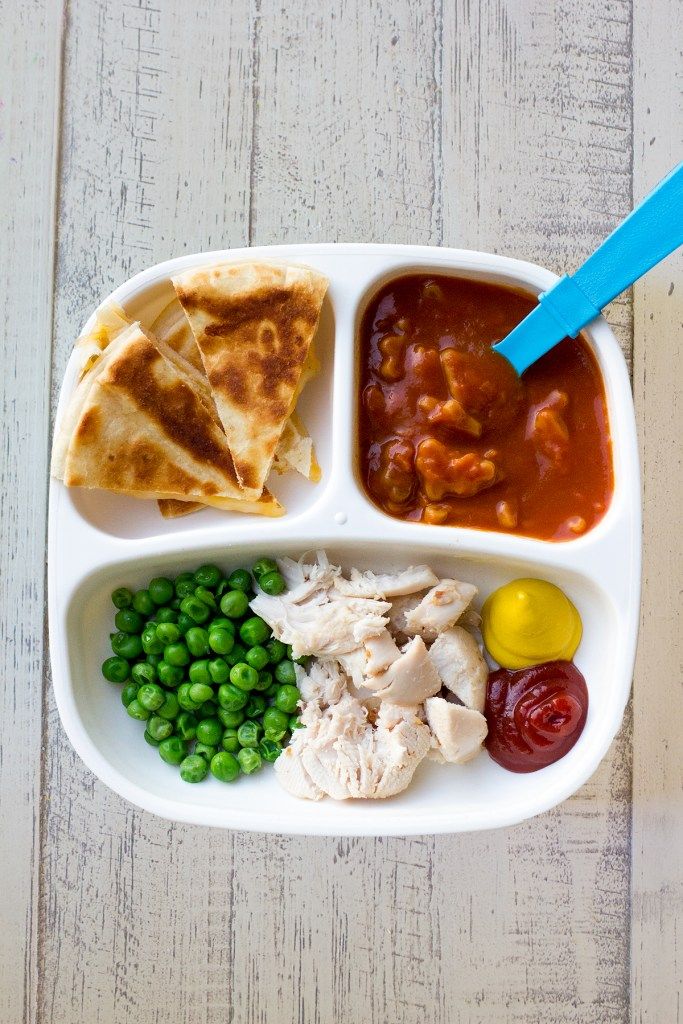 71 stars (17 ratings)
This Roasted Strawberry + Salmon Baby Food Puree is loaded with healthy omega-3's, antioxidants, vitamin A and potassium, and is perfect for both babies and toddlers!
Get the recipe
Beef + Sweet Potato Baby Food Puree with Thyme
5 stars (14 ratings)
This Beef + Sweet Potato Baby Food Puree with Thyme is comfort food in a bowl – for baby! Tender, creamy, and savory, your little one will love this delicious puree for lunch or dinner.
Get the recipe
Roasted Root Veggies + Thyme Baby Food
5 stars (5 ratings)
This golden yellow puree is filled with roasted carrots, sweet potatoes, parsnips, and beets and sprinkled with a little olive oil and thyme for a delicious and healthy baby puree meal!
Get the recipe
Red Pepper Baby Puree
4.88 stars (33 ratings)
This Red Pepper Baby Puree recipe is a smooth, creamy and naturally sweet puree that is loaded with vitamin A, B6 and C.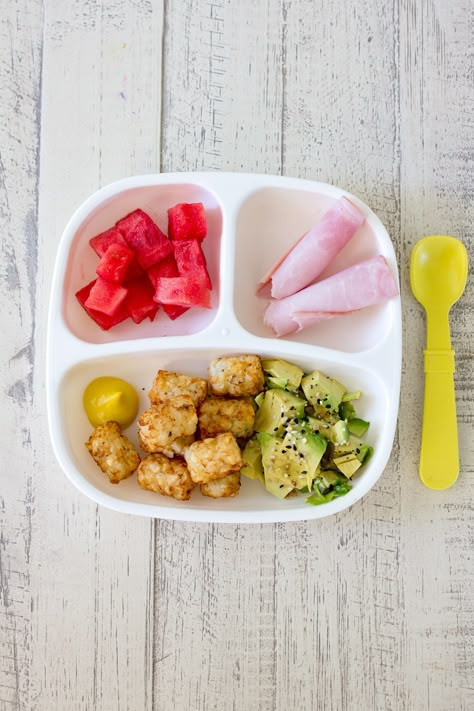 Great for 4+ months and older (or stage 1 puree).
Get the recipe
Fall Superpower Baby Food Puree
No ratings yet
This Fall Superpower Baby Food Puree is made with sweet potatoes, persimmons and egg yolks and is bursting with fall inspired flavors.
Get the recipe
Banana, Tofu + Pear Baby Food Puree
5 stars (14 ratings)
This Banana, Tofu + Pear Baby Food Puree looks meek but it is loaded with potassium, fiber and protein along with high amounts of vitamin B6, C and B2.
Get the recipe
---
MORE BABY FOOD RECIPES YOUR BABY WILL LOVE:
7 Organic Starter Baby Purees for Under $20
15 Stage One Baby Purees (that actually taste delicious)
10 Super Starter Purees for Baby (Tips, Recipes and Starters Guide on How to Feed Baby)
5 Minute Mango Baby Food Puree
Roasted Butternut Squash + Thyme Baby Food Puree
9 Best Organic Baby Food Pouches (expert review)
Homemade baby food and puree recipes
Community
Getting Pregnant
Pregnancy
Baby names
Baby
Toddler
Child
Health
Family
Courses
Registry Builder
Baby Products
Advertisement
Photo credit: Thayer Allyson Gowdy for BabyCenter
Once your baby starts eating solid food, a whole new world opens up for them.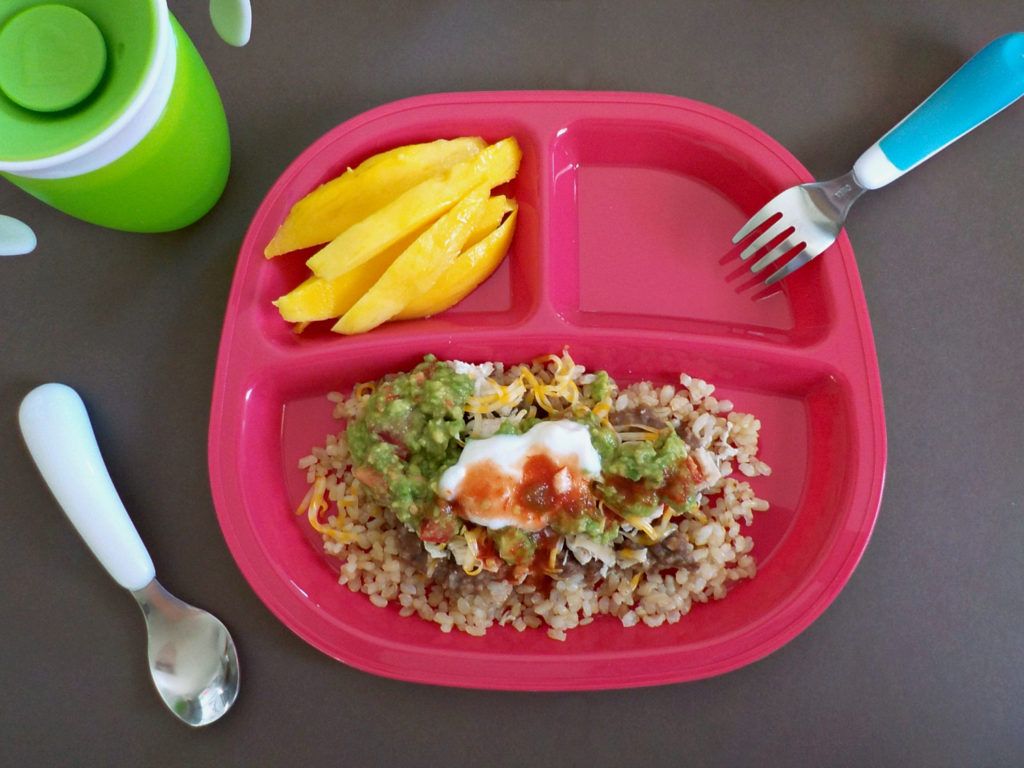 Whether you're going the traditional spoon-feeding route or trying baby-led weaning, you're likely starving for ideas for what to feed your baby. Making your own baby food can seem daunting, but with a little planning, it's super easy – and it can be cheaper than buying prepared baby food.
From thin purees to full finger-food meals, here are some baby food recipes for every stage of your solid feeding journey.
Photo credit: Thayer Allyson Gowdy for BabyCenter
Baby food recipes for 6 to 8 months
Babies are typically ready to start eating solid foods around 6 months. Signs that they're ready include having good head control, being able to sit up, and showing an interest in food. If your baby watches you while you eat, opens their mouth when you offer them a spoonful of food, or even tries to grab food off your plate, those are good indicators that they're ready.
You can start your baby off with just about any pureed, single-ingredient food – like bananas, berries, or many of the foods listed below.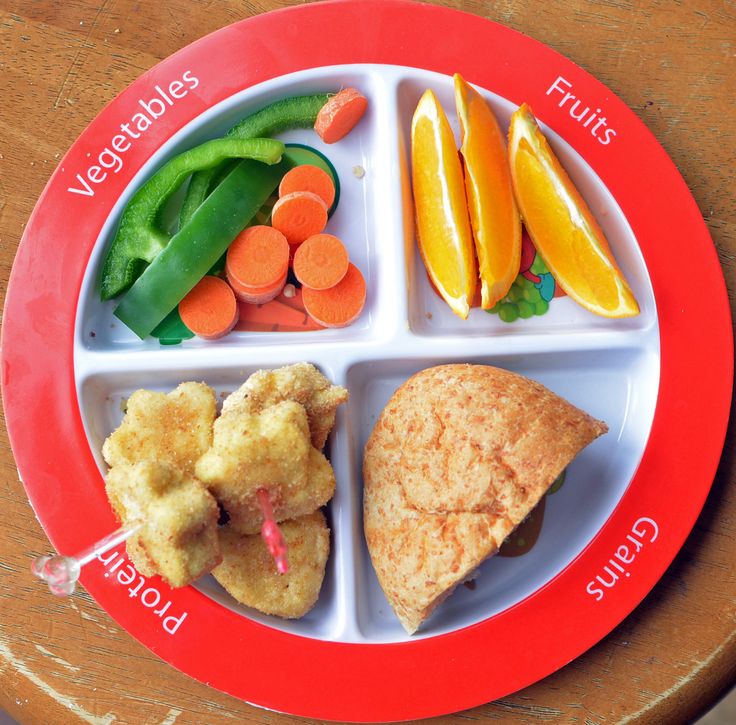 The exceptions are the top allergenic foods, such as fish, wheat, eggs, soy, peanuts, tree nuts, sesame, and dairy. It's best to give your baby low-allergy foods at the very beginning, like apple or chicken puree. Once you know they can handle those foods, you can start introducing potentially allergenic foods.
When introducing your baby to a common allergen, serve it for three to five days before introducing another type of food. That way, if your baby has an allergic reaction, it'll be easier to tell what caused it.
Try these baby food recipes for your 6- to 8-month-old:
Apple and pear sauce
Baby oats with prunes
Butternut squash puree
Green pea puree
Mango and banana puree
Peach or nectarine puree
Roasted pears
Sweet potato puree
Turkey or chicken puree
Whipped cauliflower
Yogurt and berry swirl
Zucchini puree
Photo credit: BabyCenter
Baby food recipes for 9 to 12 months
By the time your baby is about 9 months old, they're ready for some more complex dishes – often, you'll find yourself feeding them whatever you and the rest of your family are eating.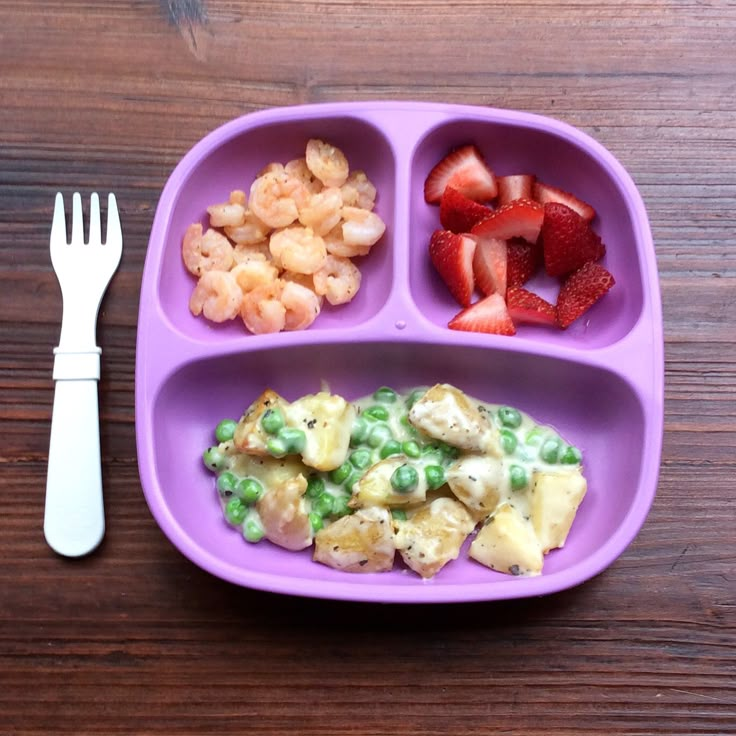 While you're expanding your baby's eating horizons, remember they still don't have that many teeth and can't chew hard or crunchy produce like raw carrots – and be on the lookout for choking hazards, like whole grapes and popcorn. But there are still plenty of other options for babies at this age: flaky salmon, ground beef, roasted vegetables, baked potatoes, pasta dishes… the list goes on.
If your baby doesn't like new textures, don't worry. The key at any age is to offer your baby a variety of foods and to keep trying. Even if they don't like the food at first, keep offering it to them – sometimes, you may have to offer your baby a food up to 20 times before they'll accept it.
By this age, your baby is also typically ready to start trying out finger foods, like O-shaped toasted oat cereal, banana slices, or well-cooked pasta cut into bite-size pieces, about a ¼ of an inch in size. Several of the recipes below, like guacamole, hummus, and whipped cauliflower, make perfect dips to pair with finger foods so your baby can start learning to eat independently.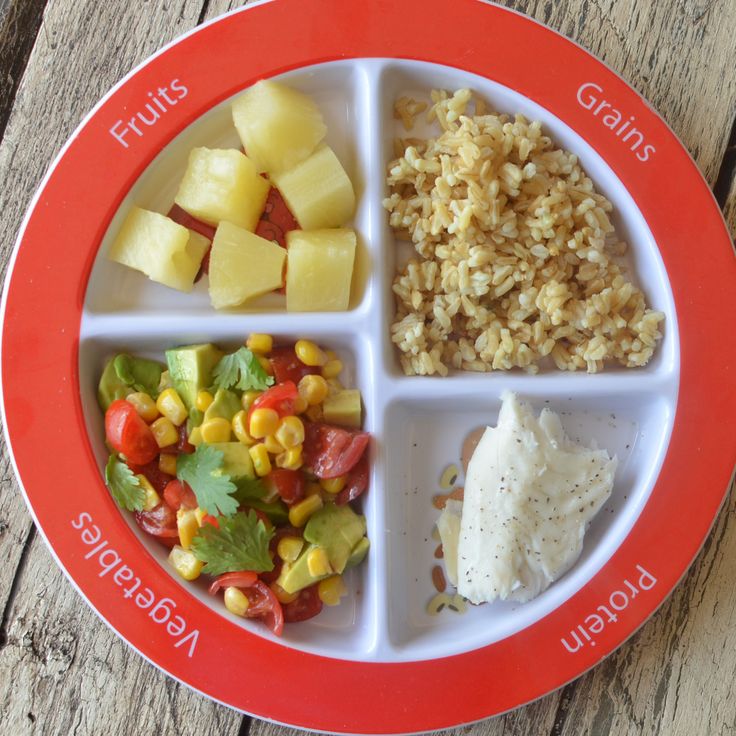 It'll be messy, of course, but it's a great time for them to practice their hand-eye coordination and skills with their newfound pincer grasp.
If you're ready for some more food adventures with your baby, try adding spices to their meals. While it isn't recommended to give babies added salt or sugar in their diet until they're at least 2 years old, fresh herbs and other spices are fair game (and a little added salt is okay). Try adding cinnamon to their oatmeal or rosemary to their ground beef.
And if you really want to experiment with new flavors, your baby may even enjoy a bit of spicy food – but avoid foods with a lot of added sugar, salt, or processing. (If you're a fan of spicy food yourself and ate it while breastfeeding, your baby might even have some built-in tolerance for spice.)
Try these recipes for your 9- to 12-month-old:
Asparagus risotto
Baby guacamole
Barley and mushroom mash
Broccoli and cauliflower cheese
Chicken curry with green beans and zucchini
Coconut milk rice pudding with blueberry compote
Homemade hummus
Lentil and spinach stew
Pasta with spinach and ricotta
Oatmeal with apples 
Quinoa, black beans, and corn
Rice with peas, carrots, and egg
Root veggie mash
Salmon, asparagus, and peas
Shepherd's pie
Smashed chickpea and butternut squash chili
Tomato and avocado scramble
Tropical fruit salad
If you're ever unsure about what to feed your baby or how much food to give them at any age, check out our age-by-age guide to feeding.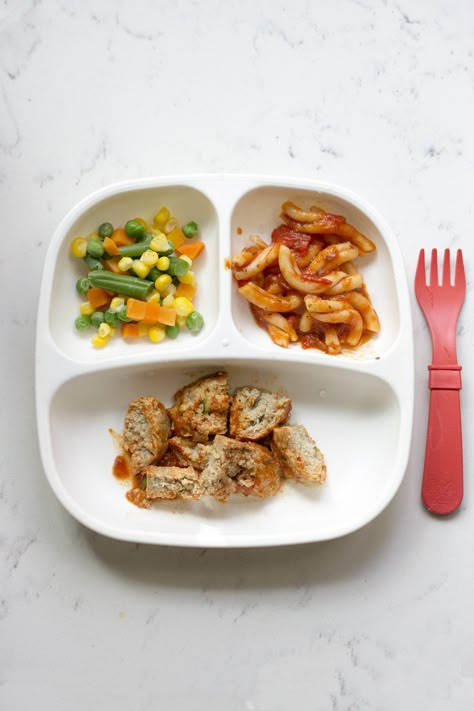 Sources
BabyCenter's editorial team is committed to providing the most helpful and trustworthy pregnancy and parenting information in the world. When creating and updating content, we rely on credible sources: respected health organizations, professional groups of doctors and other experts, and published studies in peer-reviewed journals. We believe you should always know the source of the information you're seeing. Learn more about our editorial and medical review policies.
American Academy of Pediatrics. 2021. Starting Solid Foods. http://www.healthychildren.org/English/ages-stages/baby/feeding-nutrition/pages/Switching-To-Solid-Foods.aspx [Accessed April 2022]
U.S. Department of Agriculture. 2019. Infant Nutrition and Feeding. https://wicworks.fns.usda.gov/sites/default/files/media/document/infant-feeding-guide.pdf [Accessed April 2022]
American Academy of Pediatrics. 2019. Choking Prevention. https://www.healthychildren.org/English/health-issues/injuries-emergencies/Pages/Choking-Prevention.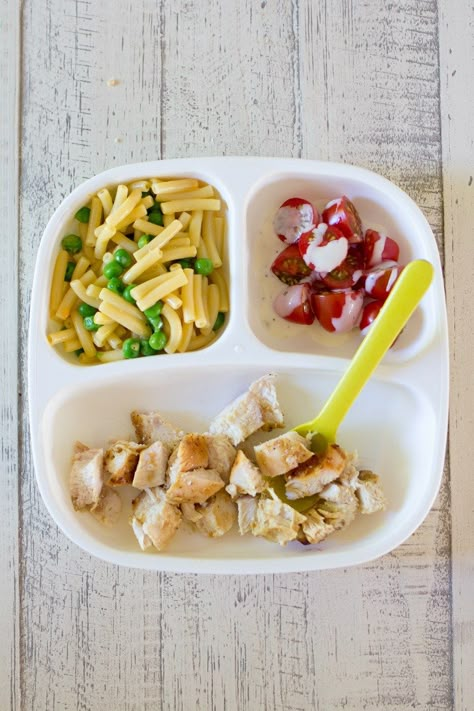 aspx [Accessed April 2022]
American Academy of Pediatrics. 2018. Food Allergies in Children. https://www.healthychildren.org/English/healthy-living/nutrition/Pages/Food-Allergies-in-Children.aspx [Accessed April 2022]
Nemours Foundation. 2018. Finger Foods for Babies. https://www.kidshealth.org/en/parents/finger-foods.html [Accessed April 2022]
Academy of Nutrition and Dietetics. 2022. Introducing New Flavors to Babies. https://www.eatright.org/health/pregnancy/breast-feeding/introducing-new-flavors-to-babies [Accessed April 2022]
Rebekah Wahlberg
Rebekah Wahlberg is an associate editor at BabyCenter, the world's number one digital parenting resource. She lives in Southern California with her silly dog Booger, where she enjoys hiking, yoga, and watching Netflix when she "should" be reading. Wahlberg is passionate about creating content that helps parents and parents-to-be equip themselves with everything they need to succeed.
What to cook for a child for dinner from 1 to 7 years old: recipes
Proven dinner recipes for children from 1 to 7 years old with step by step photos, calories and cooking time.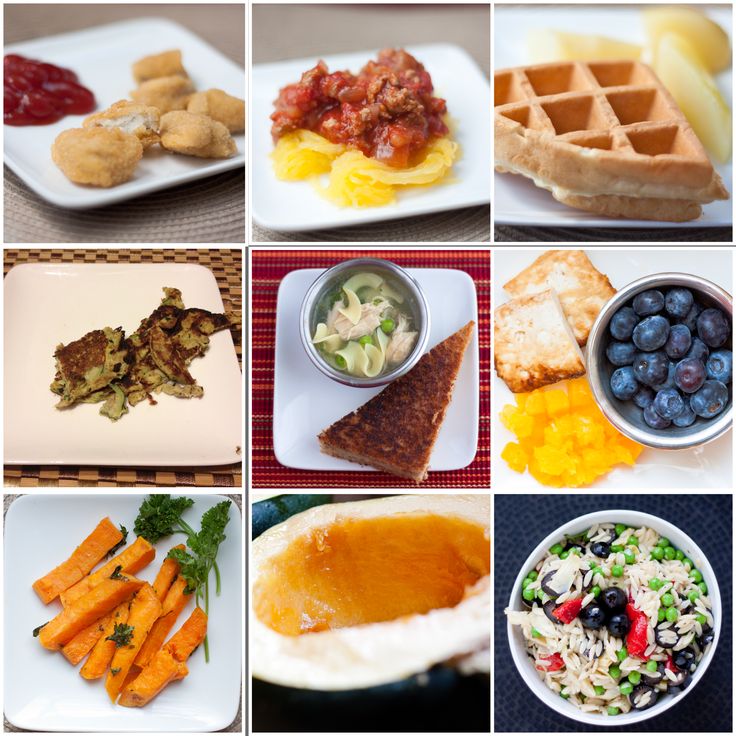 Stews, meatballs, zrazy, casseroles, vegetable dishes, stewed and baked, steamed.
Steamed meatballs cooked according to this recipe are not only very tasty, but also healthy.
Turkey is one of the most dietary and hypoallergenic types of meat, especially if you steam it instead of frying.
Soup with meatballs, cooked in a slow cooker, will surely appeal to children especially.
These adorable chicken hedgehogs made with minced meat and steamed rice immediately attract attention with their interesting appearance.
Many housewives have long bought a miracle of technology - a slow cooker. Therefore, I offer you a modern way of cooking traditional Ukrainian borscht.
Crackers or bread are often added to classic cutlets. I wanted to make a dietary version of cutlets, but in such a way that the taste was as close as possible to the classic one.
Very tender meatballs with just two ingredients - chicken and broccoli. To make the cutlets as useful as possible, I do not fry them, but bake them in the oven.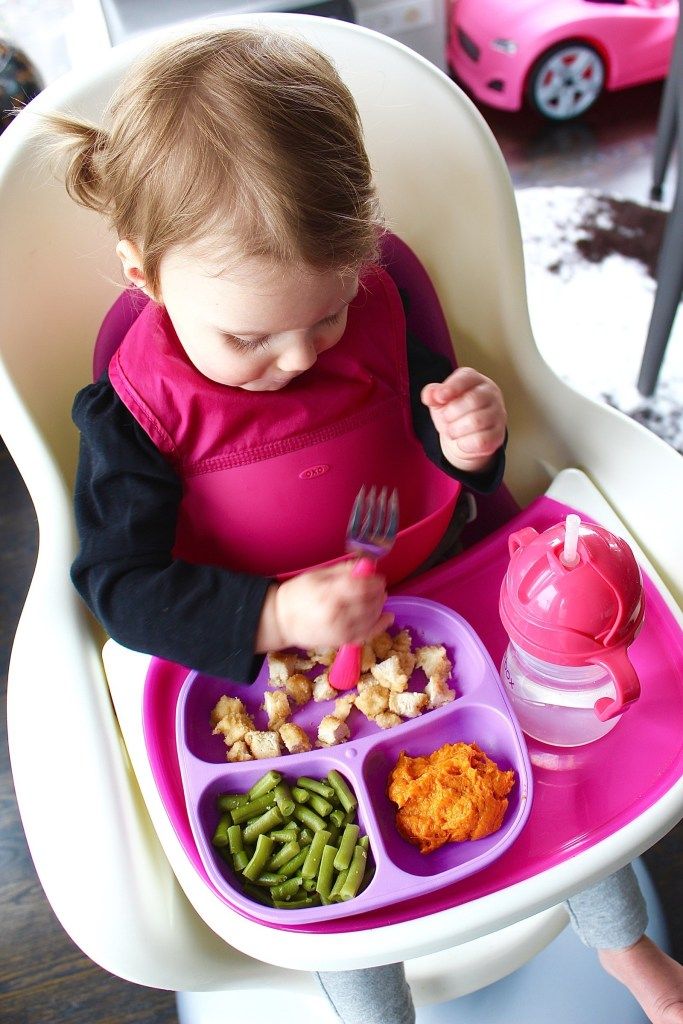 Very tasty and healthy fish soup with rice, celery and vegetables I cook with salmon.
Creamy soup with green peas and cauliflower can be made with fresh vegetables or use your own freezer stock.
If your children are not very fond of cutlets, and even more so zucchini, prepare chopped turkey cutlets for them.
A very light, dietary dinner made from simple and healthy products that will definitely not add extra pounds to you on the eve of the summer season.
This tender and juicy dish can be prepared for both children and the whole family.
Gratin is a great option for a full dinner, featuring healthy cauliflower and tender turkey, all topped off with a creamy sauce and cheese.
"What would you cook so that everyone at home would eat it?" I often ask myself this question.
Liver soufflé with carrots - and the child is happy to eat? After all, the healthy is usually considered not the most delicious .. But I will prove that the liver soufflé is an amazing exception!
Fish baked in an omelette like in a kindergarten - a dish that is absolutely predictable in taste.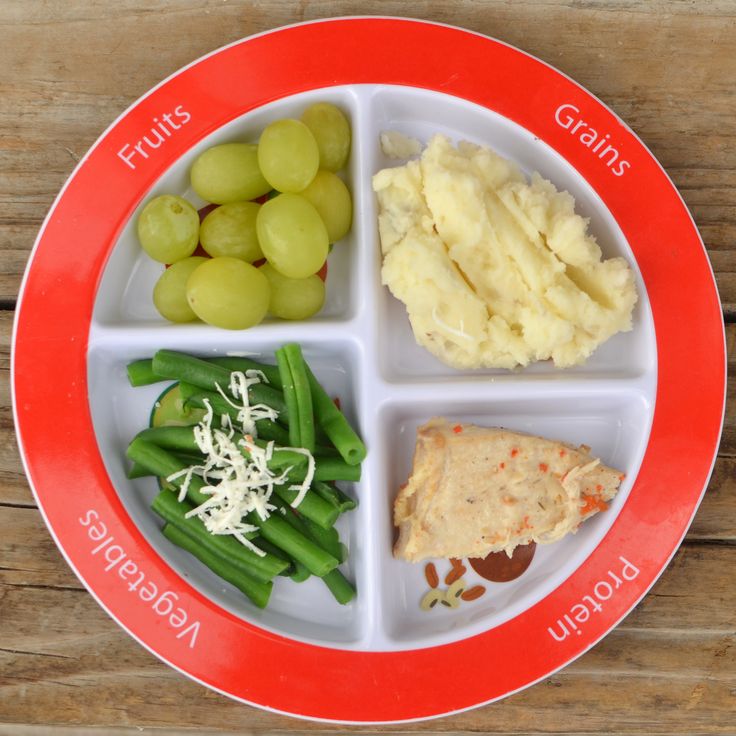 If you adhere to proper nutrition, then cook chicken meatballs with vegetables and treat yourself to delicious, healthy and dietary food.
I would never have thought that rabbit meatballs like in kindergarten can be so tender and juicy!
Boiled pasta baked with eggs, as in kindergarten, is suitable not only for a children's table, but can also be an interesting side dish for people on a diet (suitable for diets No. 3, No. 4c, diets No. 6, 7, 8, 10 , 11 and 15).
Fish patties with vegetables baked like in kindergarten - quite an interesting dish.
Delicious, hearty and healthy chopped chicken fillet with scrambled eggs and vegetables, cooked like in a kindergarten, the whole family will like it.
Fish dishes must be present on the menu of both children and adults.
If you want to treat your family with Stroganoff cookies cooked in the same way as in kindergarten, then you will need to follow the technology of creating this dish, because it is prepared without frying.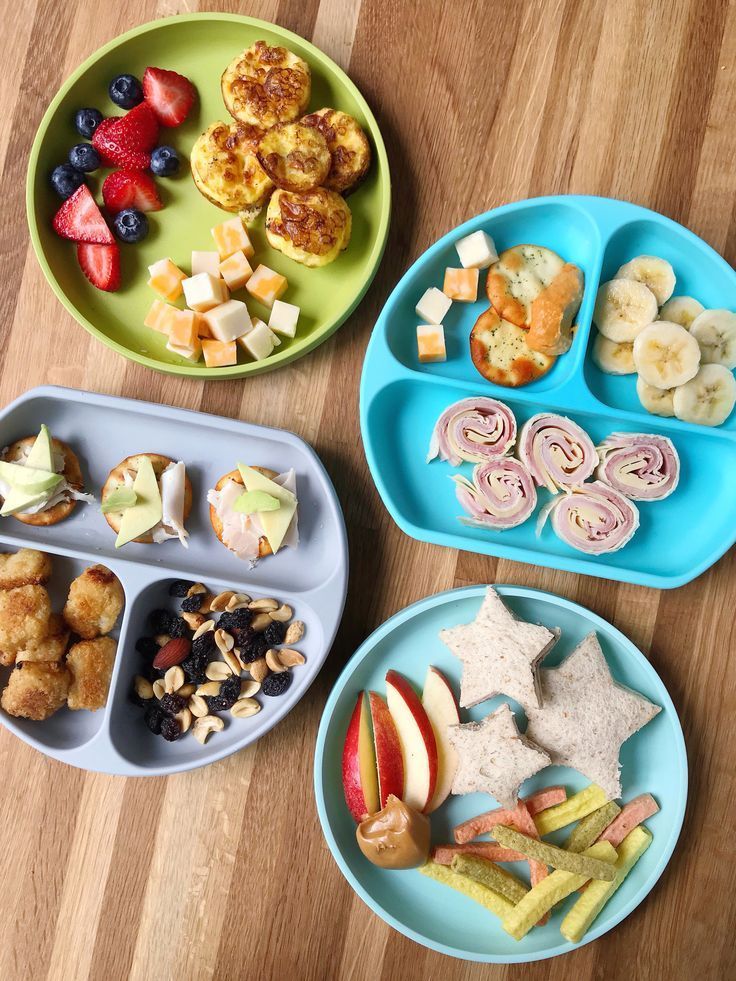 Rabbit cutlets will perfectly diversify the children's menu. Rabbit meat is usually well received even by those children who do not like beef or poultry.
What to cook for children, menu from 1 to 7 years old: 350 recipes with photos
Recipes for meals that can be prepared for a child with step by step photos. Breakfasts, lunches, dinners, afternoon snacks. Dishes like in kindergarten. Proven recipes with cooking times
Kindergarten Recipes Dinner Recipes for Kids Breakfast Recipes for Kids Soup recipes for kids Salad Recipes for Kids Recipes for baking and sweets for children side dish recipes for kids How to "hide" vegetables for kids
Thinking out what to cook for a child is another quest, because food should be both tasty and healthy, and meet many more children's whims.
Here you will find many suitable recipes for children to prepare for breakfast, lunch or dinner. Read more
The recipe for the most delicious cake - this, of course, sounds subjective.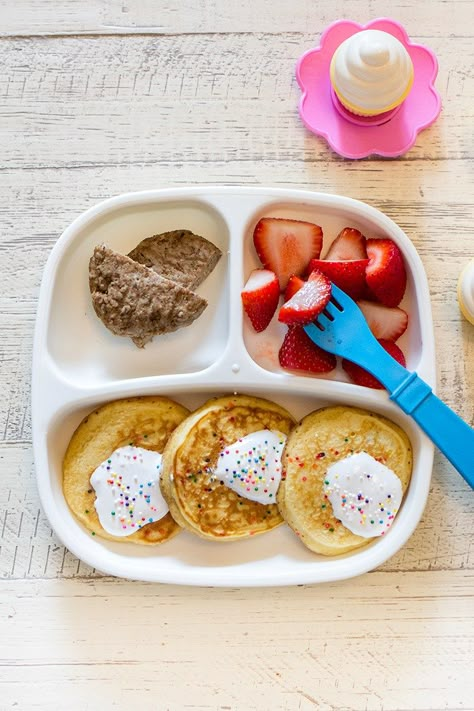 But yes, I have it.
This simple and delicious cheesecake recipe uses only available and inexpensive ingredients.
Curd cake with raisins bakes quite quickly in the oven and will become a lifesaver for the arrival of guests and home tea drinking.
Carrot cake according to the classic recipe is prepared quite simply. And the products for him are also simple.
Meringue is a sweet, crunchy dessert made with minimal ingredients.
This grated cottage cheese pie always pleases my family with its aroma and taste, I bake it in the oven.
Many people remember from childhood the taste of tender cake Mishka in the north. Thin shortbreads soaked in fragrant sour cream with vanilla and a light crunch of walnuts.
Grated shortcrust pastry pie with apple from childhood. Now more and more people are looking for recipes for fashionable macaroons and canelli, and earlier our mothers and grandmothers baked the simplest pies that were and remain insanely delicious.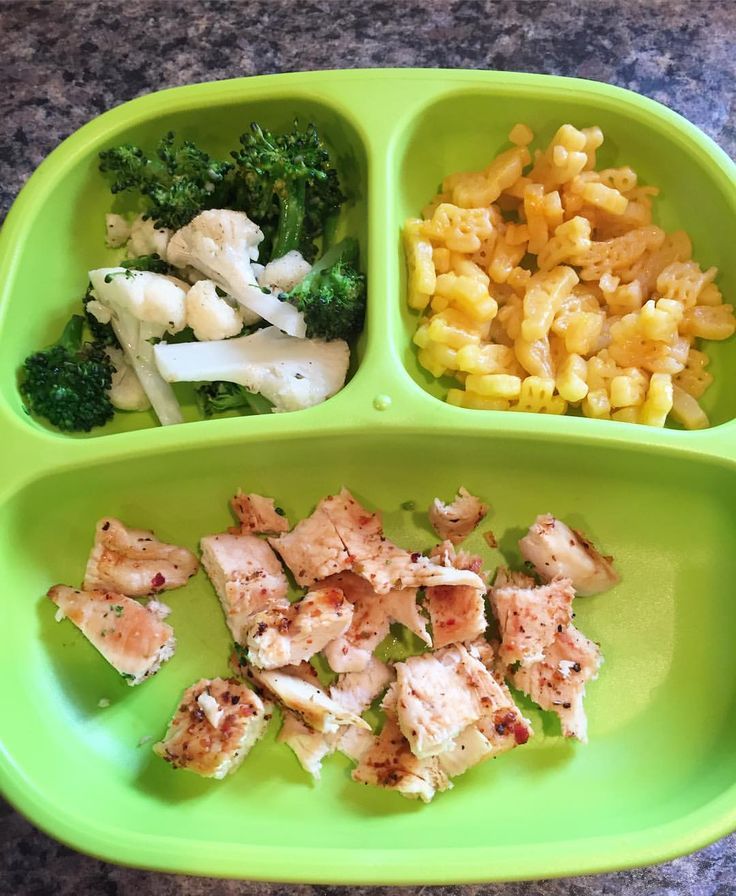 Delicious, simple and fast, and made from affordable ingredients! These mini cupcakes will delight all lovers of sweet homemade pastries.
Carrot sponge cake according to this recipe is perfect for making cakes, pastries and all kinds of desserts.
Pie in a hurry, when there is no time, but you really want sweet pastries.
Today in supermarkets you can buy sweets for every taste, but the composition on the package is often frightening with the amount of chemistry.
The recipe for PP pancakes is good because it does not contain gluten and sugar. And everyone who adheres to a healthy lifestyle has already minimized or eliminated these foods from their diet.
These fragrant pumpkin PP fritters are baked without flour or sugar. Flour in the recipe is replaced with healthy oatmeal, and a ripe banana makes pancakes sweet.
Blueberry jelly turns out not only very beautiful, but also insanely tasty and fragrant.
Sorbet is not just frozen berries ground into fine crumbs.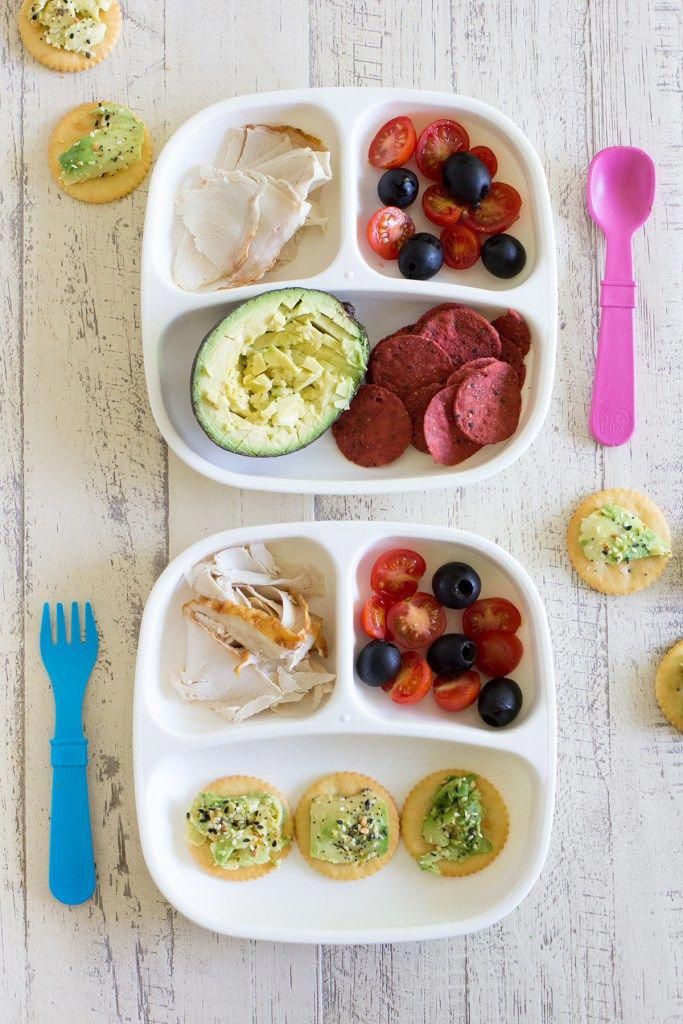 Milk cakes according to GOST - a familiar and favorite pastry with vanilla aroma and light creamy taste.
Waffles are one of my children's favorite breakfasts. Wafers are universal, they can be made sweet or not, with different fillings and additives.
Apricot marshmallow is not only very tasty, but also a healthy delicacy that is easy to prepare at home according to this simple recipe.
If you like citrus pastries, then this cake will definitely become your favorite.
Gingerbread, most often, makes us happy for the New Year and Christmas holidays.
Oven Apple Slices is a light dessert with honey and cinnamon aroma, which is a must-have during the season when fresh delicious apples are plentiful.
A simple and quick recipe for delicious pastries for home tea drinking - curd biscuits with chocolate.
Delicate melon sorbet is very easy to prepare at home, the main thing is to have a blender and a large, ripe melon.