Freezing homemade baby food in ice cube trays
Storing Baby Food | Happy Baby Organics
AndieM.Ed., RD, LDN, CLC, RYT-200
Read time: 6 minutes
How to store homemade baby food and store-bought pureed foods

How to thaw and re-heat pureed baby food

How to help prevent bacterial contamination of baby foods
Whether you buy baby food at the market or make it from scratch, it's important to know how to store, prepare, and reheat your baby's food correctly and safely. Store-bought baby food usually comes in a glass jar, plastic container, or pouch and usually does not require refrigeration or freezing before opening. These foods are manufactured to be shelf-stable, like any other pantry item (think beans, soups, or condiments). They can typically stay fresh on the shelf for 1 to 2 years, but always check expiration dates carefully.1
Baby food storage guidelines
: 2
Pureed store-bought baby vegetables and fruits can stay in the refrigerator for up to 48 to 72 hours and in the freezer for 6 to 8 months.

Pureed store-bought meat, poultry, or fish can be refrigerated for 24 hours after cooking and frozen for 1 to 2 months.

Homemade baby foods will keep for 24 to 48 hours in the refrigerator and for 1 to 2 months in the freezer.
Be sure to refrigerate freshly cooked baby food within 2 hours as bacteria will start to grow at room temperature after those 2 hours are up. Note that your refrigerator should be kept at, or below, 40 degrees F. Any warmer and illness-causing bacteria can thrive and quickly multiply.3
Want some tips on feeding your little one or on making baby food? The Happy Baby Experts are infant feeding specialists and here to help (for free!) with questions about starting solids and picky eating, as well as formula and breastfeeding. Chat now!
Can I feed baby directly from the jar or pouch?
If you feed your little one directly from the jar or pouch, all leftovers must be thrown out after the meal.
Saliva from baby's mouth gets back into the jar or pouch via the spoon, this introduces bacteria that can quickly multiply and contaminate the food. If you know baby won't finish it all, spoon a serving in a separate bowl and feed from that. Then you can refrigerate the jar or pouch of remaining food for an upcoming meal!4
For more information, read: How Can I Make my own Pureed Baby Food?
How to warm refrigerated or shelf-stable foods and thaw frozen foods:
Microwave: Warm up store-bought food directly in its glass jar or transfer the food – including previously frozen purees – into a separate glass bowl (never heat up pureed food in a plastic container or pouch). Reduce the microwave to 50% power (or use the defrost feature) and then warm the puree in 15 second increments. 4 Check and stir the food thoroughly each time to ensure even heating and to eliminate any heat pockets that may burn your baby's mouth.

Stovetop: Warm your baby's store-bought food or thaw frozen baby food on the stovetop by placing the food in a small saucepan and warming on low heat until the puree is the same consistency and no longer frozen. To preserve the nutrients, heat only as much as is necessary.

Submersion Method: Thaw frozen baby food by placing the pureed cubes in a plastic bag and then inside a bowl filled with hot or warm water. This method allows for even warming but does take a little longer – figure about 10-20 minutes for the food to thaw fully. 5 Many parents also use the submersion method to thaw frozen breastmilk.

Refrigerator: Thaw frozen baby food simply by transferring it to the refrigerator. 5 This process will take 4-12 hours so plan ahead (transferring the food the night before it's needed to allow thawing overnight is a good rule of thumb). Homemade frozen baby food that's been thawed can safely stay in the refrigerator for up to 48 hours. Be sure to keep thawed baby food in a sealed container to avoid contamination.

DO NOT let baby food thaw for long periods of time on the counter at room temperature. This will allow bacteria to grow. 5
How to freeze baby food
Freeze purees in ice cube trays or on a cookie sheet
Sanitize or thoroughly clean standard ice cube trays before spooning the puree directly into each cubed section. You could also cover a cookie sheet with parchment or wax paper and spoon small 'mounds' of puree onto the sheet to freeze.

Cover the tray with plastic wrap and place into the freezer.

Once the cubes or 'mounds' are solidly frozen, pop them out and store them in plastic freezer bags.

Label the bags with the type of baby food as well as the date. This allows you to use it before it expires. (Remember: store-bought fruits and veggies can be frozen for 6 to 8 months, while meats, poultry, and all home-made baby food can be frozen for 1 to 2 months).

When your baby is ready to eat, grab an individual portion of the cubes you want to use and thaw!
Ice cube trays are not only convenient, they are also incredibly helpful in portioning out homemade baby food.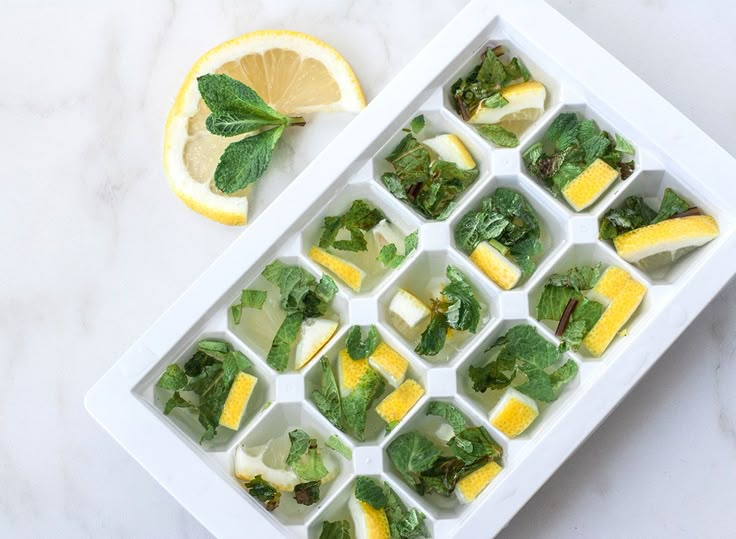 The cubes are roughly 1 ounce each, so you can easily measure the amount of food your baby is eating and thaw small portions at a time to reduce waste.
Do not freeze food in glass containers
Glass baby food jars (or any glass container) are not meant to be frozen. Frozen glass can burst or cause tiny fractures in the glass leaving behind microscopic shards that you may never see.Freeze baby food in safe "ok to freeze" plastic containers instead.
Consider a deep freezer if you want to store purees long-term
For best results, frozen foods should remain at a constant sub-zero temperature. A deep freezer is better equipped to handle this temperature control as opposed to your regular freezer, which may fluctuate with you opening and closing the door often.
Throw away leftover food that's already been reheated
You cannot reheat (or re-freeze) baby food more than once, so once you've thawed a frozen puree, toss any leftovers.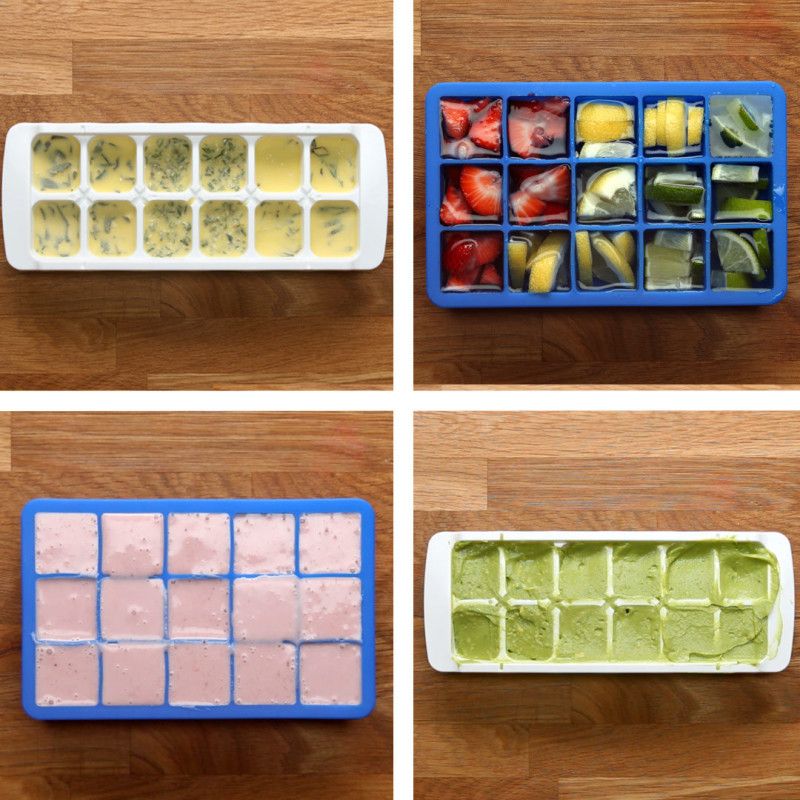 This rule also applies to breastmilk. So if you're using breastmilk to thin out your homemade baby food purees, add the milk while it's fresh!
Read more: Safe Storage of Pumped Breastmilk
You can also use formula too thin a puree. Do not freeze formula in its original can or bottle, but once mixed into a puree it's ok to freeze. Freezing formula causes a separation of the fats from the liquid, which may negatively impact the texture and quality.6
Let's Chat!
We know parenting often means sleepless nights, stressful days, and countless questions and confusion, and we want to support you in your feeding journey and beyond.
Our Happy Baby Experts are a team of lactation consultants and registered dietitians certified in infant and maternal nutrition – and they're all moms, too, which means they've been there and seen that. They're here to help on our free, live chat platform Monday through Friday, from 8am–6pm ET. Chat Now!

Read more about the experts that help write our content!

For more on this topic check out the following articles

How do I Choose Store Bought Baby Food?
Food Safety for Babies and Toddlers
Everything You Need to Know About How to Prepare and Store Infant Formula
Avoid Giving Your Child Too Much Sugar And Salt
Tips on Freezing and Best Containers
Learn the secrets to storing and freezing homemade baby food for ultimate freshness—AND the best baby food storage containers to use to ensure that you never waste what you make!
Baby Food Storage
Going through the effort to make homemade baby food really only works if you have a good plan for how to store the food to ensure that it stays fresh and that baby has plenty of opportunities to enjoy it.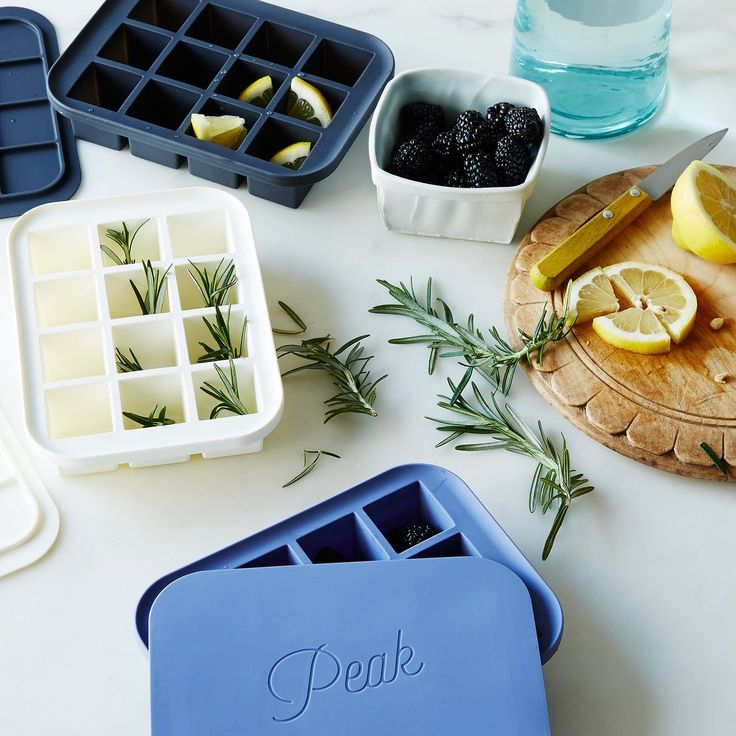 After making a LOT of baby food for my third kiddo to send with him to daycare, I got into a good routine of making and storing baby food—both in the fridge and freezer. Here's how you can do it too.
TIP: You can find my favorite baby food recipes here.
Homemade Baby Food Storage: In the Fridge
You can store baby food in the fridge in airtight containers for up to 3 days. You can use masking tape and a Sharpie to label the containers with the contents and the date if you have a hard time keeping track of when you made something. (It's definitely helpful to do that!)
Best Baby Food Storage Containers
I have a four favorite baby food storage containers that I use regularly.
1. Wean Green Baby Food Cubes
These are small, incredibly durable, and made from glass. They're easy to clean and last forever. (Seriously, I've been using the same set for 7 years and they're still as good as new!) $19.99 for a set of 4
2.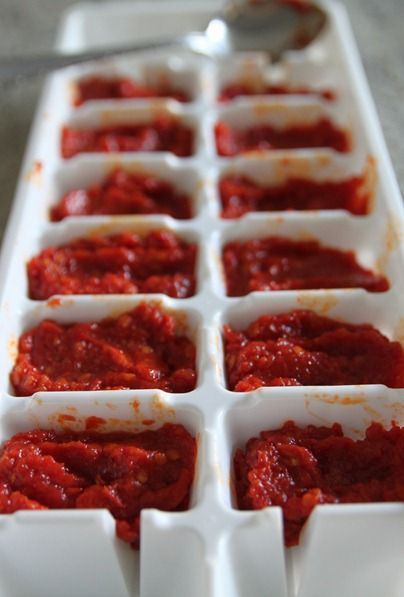 Easy Lunchboxes Mini Dippers
These small containers are a perfect size for 1-2 frozen baby food cubes and they're my go to for packing food for a baby to take to daycare. They also nest nicely when stored in the cabinet. $7.95 for a set of 8
3. Beaba Food Storage Containers
I have two sets of these and I use them regularly for larger amounts of baby food (you could probably fit 4 cubes of frozen food) and for toddler snacks. When assembled, they snap together, so they're an easy way to stay organized. $14.95 for a set of 6
4. Oxo Tot Baby Food Blocks
This neat system is easy to keep contained in the fridge and is also made from a polypropylene body that is PVC, BPA, and phthalate free. They are dishwasher and microwave safe. $9.99 for a set of 6
Homemade Baby Food Storage: For Freezing
Storing homemade baby food in the freezer allows you to make a bigger batch at once, and then serve it to baby over the course of a few weeks or months.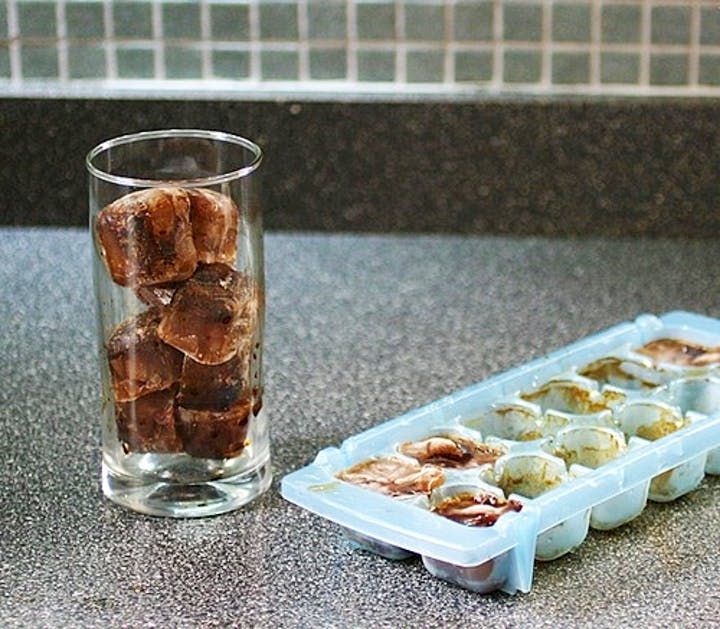 The easiest way is to use an ice cube tray, which has the added benefit of portioning out the baby food nicely.
TIP: Any ice cube tray will do. You can use silicone ice cube trays if you prefer a non-plastic option.
Baby Food Storage Without An Ice Cube Tray
If you don't have an ice cube tray or you'd just rather not use one, you can place a predetermined amount of baby food into a pint-size freezer bag. Remove as much air as possible, press flat, and seal. Place flat in the freezer to freeze. Then you can thaw the entire bag in the fridge overnight, or break off a portion of it to thaw.
How to Store Baby Food in the Freezer Step by Step
Place baby food into each compartment of the ice cube tray, or fill as many as you need to with the amount of baby food you have.
Cover (if your ice cube tray has a cover) and freezer for 4-6 hours or overnight.
Pop out frozen cubes and transfer to freezer storage bags. Label as desired with the type of baby food and the date.
Store in the freezer for up to 3 months.
TIP: I like to have a bag of sweet fruit purees and more savory vegetable purees to avoid having too many separate bags in the freezer at any given time. Then you can combine them into baby food combinations easily!
How to Thaw Baby Food
To thaw baby food, simply remove a cube (or as many as you need) and place into airtight containers. Thaw overnight in the fridge and serve. 1 cube may be plenty for a baby aged 6-7 months and older babies may enjoy two cubes.
Tips for the Best Baby Food Storage
Keep fresh baby food in an airtight container for up to 3 days in the fridge.
Use a regular ice cube tray to freeze, a silicone ice cube tray with a lid, or a small freezer bag with the contents pressed flat.
Store frozen baby food in a freezer storage bag in the freezer for up to 3 months.
To avoid freezer burn, try to remove as much air as possible from the storage bags.
Label your bags with the contents and the date.
To thaw baby food, simply remove a cube (or as many as you need) and place into airtight containers. Thaw overnight in the fridge.
Use leftover baby food to flavor yogurt, baby oatmeal, baby rice cereal, smoothies, or cottage cheese.
See some of my favorite Baby Food Pouch recipes here for more ideas on how to serve your baby food!
I'd love to hear your feedback if you have another storage technique or container that you love, so please comment below!
How to freeze baby food - Encyclopedia Baby food
Levchuk Victoria ©
Levchuk Victoria ©
Knowing how to freeze baby food, you can cook and store whole batches of homemade food for a child, because this is a real find for busy parents.
Table of Contents:
There are several ways to freeze baby food - they all work equally well - but may take up varying amounts of freezer space.
By all means …
… homemade baby food must be prepared and then cooled as quickly as possible to prevent bacterial growth.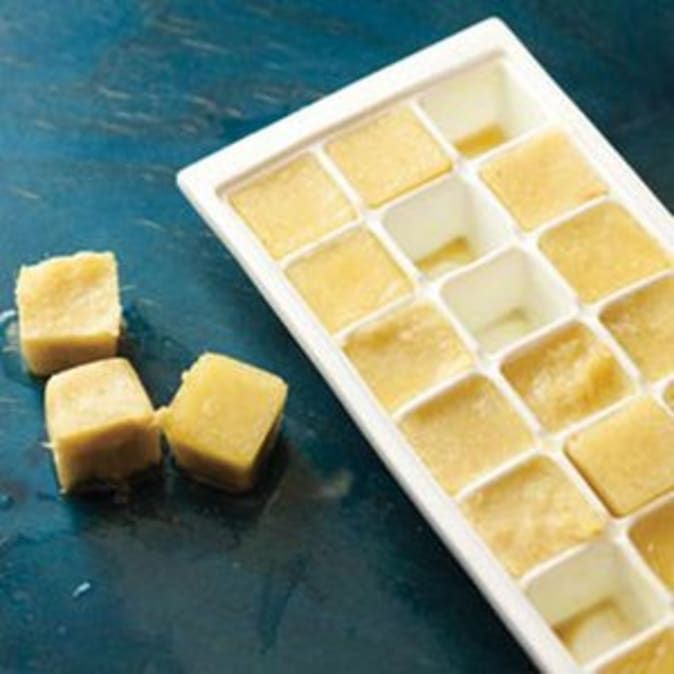 Any food left at room temperature for more than two hours is not safe for a child to consume and should be thrown away.
To cool cooked food quickly, you can try putting it in a shallow container - you can even dip the container in a pot of cold water to help speed up the process.
How to freeze baby food - Method 1
Thoroughly clean the ice mold and the spoon that will be used in filling each section. An ice tray with a resealable lid is ideal as it prevents food from freezing or picking up any odors from the freezer. If there is no mold with a lid, you can cover with food-safe plastic wrap. Some people use foil, although we don't recommend it as some of the foil will remain in the food!
Place the filled ice cube tray in the freezer, and - once completely frozen - place them in ZIP bags that take up less space in the freezer.
This method produces small portions of baby food that are ideally sized - typically around 30 grams or so.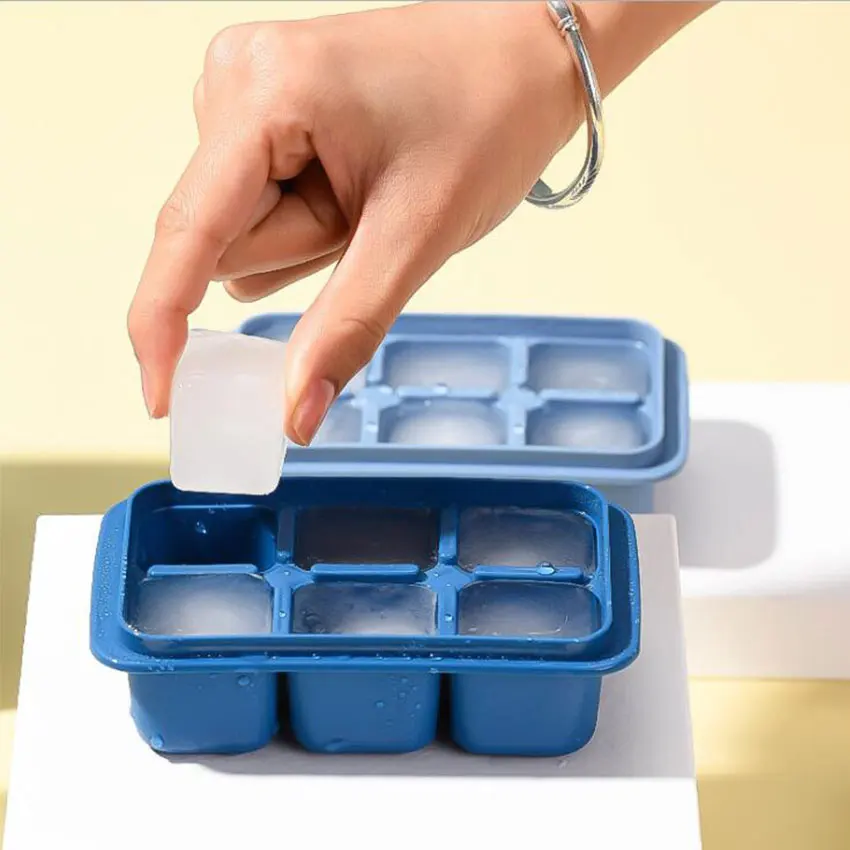 One cube per meal may be enough for a child to start with, but as they grow, you may need to increase the number of cubes at a time or increase the ice cube tray.
You can also make many different flavors of baby food by mixing and matching different fruit and vegetable cubes, for example, the combination of cubed apple puree with cubed carrot puree, delicious!
Which ice mold should I choose?
Some ice cube trays are specifically made for baby food and do not contain potentially harmful chemicals - but a regular ice cube tray can be used, or a silicone mold may be advised, or even stainless steel trays, although the regular plastic version will work if there is confidence in the quality of the workmanship.
How to freeze baby food - Method 2
Same as method 1, since the process of freezing baby food is the same, only silicone cupcake molds are used instead of an ice mold! Their flexibility makes it easy to remove food portions - plus, of course, their use is beneficial when the baby starts to eat more baby food!
How to Freeze Baby Food - Method 3
If no suitable freezer containers are available for baby food, baking paper can be used (although a little more freezer space will be needed initially).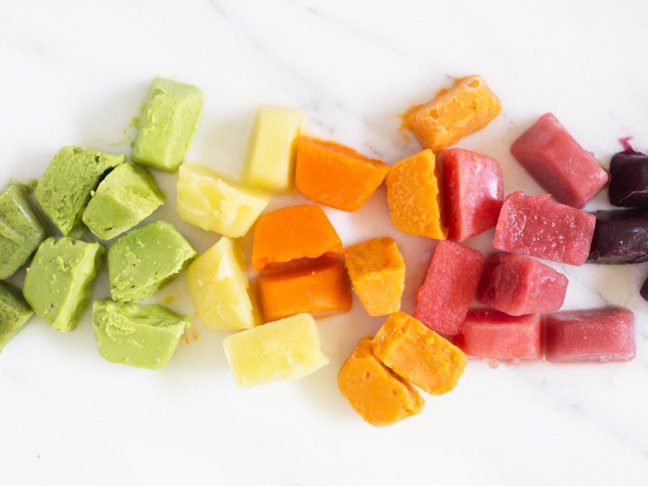 Simply spoon the cooked baby puree onto the baking sheet to form small mounds (though note that this will not work if the puree is too thin). We cover the baking paper with cling film, freeze, and then mix the servings of food into bags, as before.
How to Freeze Baby Food - Method 4
Another good way to freeze homemade baby food is to divide the puree into freezer glass jars and place them in the freezer.
However, please note that you should never freeze baby food in glass jars unless the jar manufacturer has specifically stated that freezing is safe and possible.
Jars that are freezer safe must be properly labeled and distinguished from other tins (including commercial baby food tins) that are not strong enough to withstand the expansion of food that occurs during the freezing process.
This means that the jar may burst or, even worse, there may be small microcracks that cannot be seen with the eyes, but which will allow tiny pieces of glass to get into the baby's food.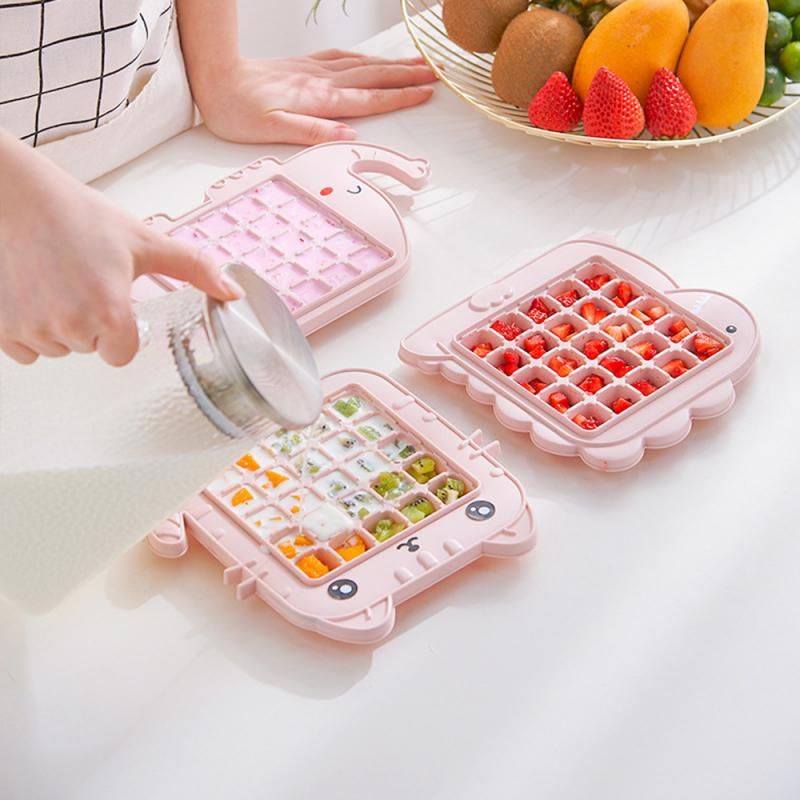 How to Freeze Baby Food Method 5
Probably the most popular way to freeze homemade baby food is to use freezer trays or jars for baby food, there are so many options to choose from!
Manufacturers, recognizing the growing trend of parents to freeze baby puree, offer special forms of baby food that make life easier, well, because there is a lid! What's more, these molds are free of potentially harmful chemicals, which is something some plastic trays for general consumption are guilty of.
Tracking the finished product
Most types of baby food - especially purees - freeze perfectly. Sometimes you will have to experiment with texture, since the freezing process itself consists in the fact that the water in the product expands when it freezes, destroying the cell walls. This is especially noticeable when the whole food is frozen, for example a frozen banana will be very soft when thawed.
To reduce the hassle of freezing baby food here are some helpful tips.
..
- Do not puree too thin before freezing. Keep in mind that many foods become watery when thawed (especially fruits and vegetables), adding extra liquid before freezing will then add too much cereal to thicken!
- Herbs and spices tend to lose their flavor in the freezer. If a baby food recipe calls for them, it is best to add them after after the food is defrosted, just before heating.
- Baked foods - like homemade nuggets or fish fingers - are best frozen when almost cooked but not fully done. This is because the structure of the food when frozen and thawed can behave negatively.
— When freezing yogurt, remember that it may be too thin when defrosted. Sometimes stirring it well is enough to solve this problem - but in some cases, the resulting yogurt is too thin to eat with a spoon, so such yogurt can be used in a smoothie!
- A good result is obtained from freezing rice and oatmeal, which is good if the morning is like a nightmare and there is no time to organize a full breakfast.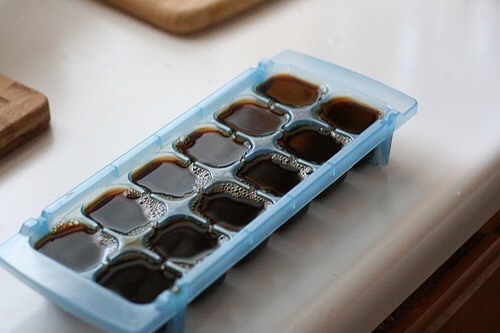 Only cereals should not be made too thin before they are frozen .
- Many fruits - especially apples and pears - can look very brown when frozen and thawed. This discoloration is a natural and harmless result of the fruit being exposed to air, but if it's a concern, mixing lemon juice and fruit puree before freezing can be a solution. Please note that citrus fruits can cause an allergic reaction in babies, so you can use it with a changed color!
- If you want to make your own stock of vegetable or meat broth, which is convenient, you just need to prepare a large batch at a time and freeze. It's worth trying freezing in ice cube trays or baby food trays, as discussed above - then the ideal size of small portions will be in the freezer to use as needed.
- If baby food has been frostbitten, fortunately food safety is not affected - just thaw and then cut or spoon away the affected areas.
How to defrost baby food
The safest and easiest way to defrost baby food is to put it in the refrigerator overnight before feeding.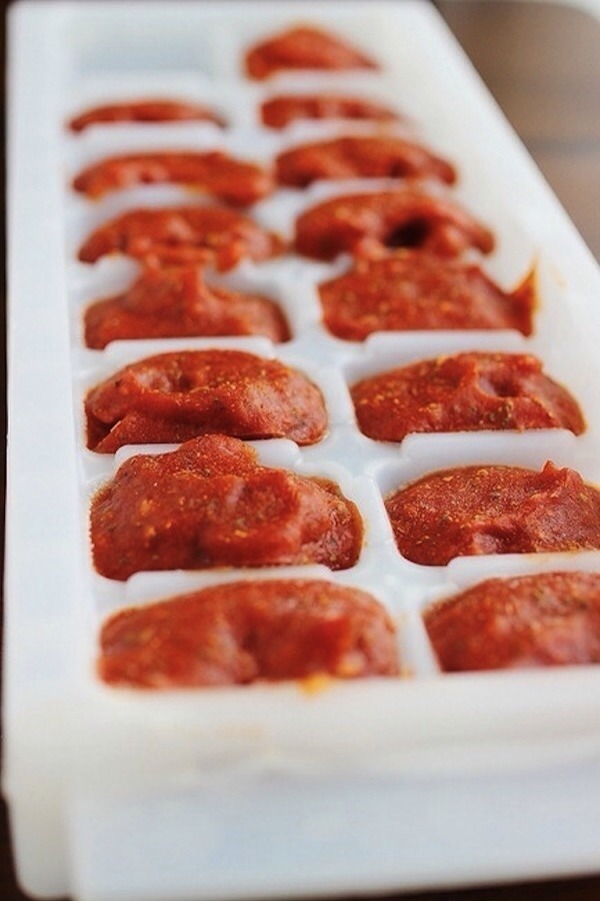 Frozen baby food cubes take 8-12 hours to thaw in most refrigerators. Thawed baby food should be used within 24 hours.
Never, ever refreeze defrosted baby food as this creates a risk of food poisoning for the baby.
We are not afraid and add me to VK and Odnoklassniki, Instagram!
Like this article? Subscribe to site updates
"Encyclopedia Baby Food"!
Don't forget to bookmark us! (CTRL+SHIFT+D) Subscribe to the site, comment, share in social networks.
On our site Encyclopedia Baby Food there is useful information on the nutrition of your children, which is useful for everyone, and we update the site "Encyclopedia Baby Food" constantly and try to search and write only excellent, verified and necessary information for you and your children.
Disclaimer No. 1: It must be understood that the author of the articles on the Baby Food Encyclopedia website is not a medical staff, "I am not a doctor.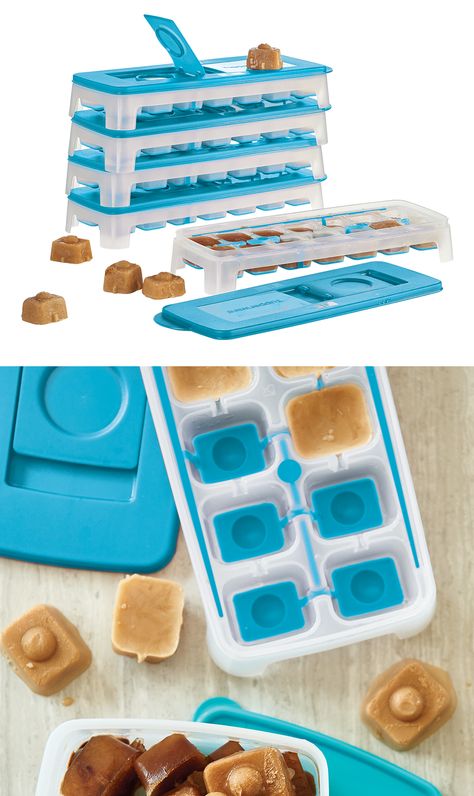 " The information I share is based on my own experience. My goal is not to teach you how to eat or feed your child, but to talk about how we did it, what new things I learned or read. This expands the picture of Baby Food knowledge, gives you a glimpse of the whole process so you can decide if you like it or not.
Disclaimer No. 2 : However, the above does not cancel visiting a pediatrician. Before you start complementary foods, you need to get his professional opinion on the best way to introduce new foods for your baby. I also draw your attention to the fact that you need to look at the original date of the published articles, because some of the "best practices" may have changed. Always check with your child's pediatrician about complementary foods and their health.
Disclaimer #3: Keep in mind that every family is unique, every situation is also completely unique. There are no universal solutions. Only you can find what works best for you.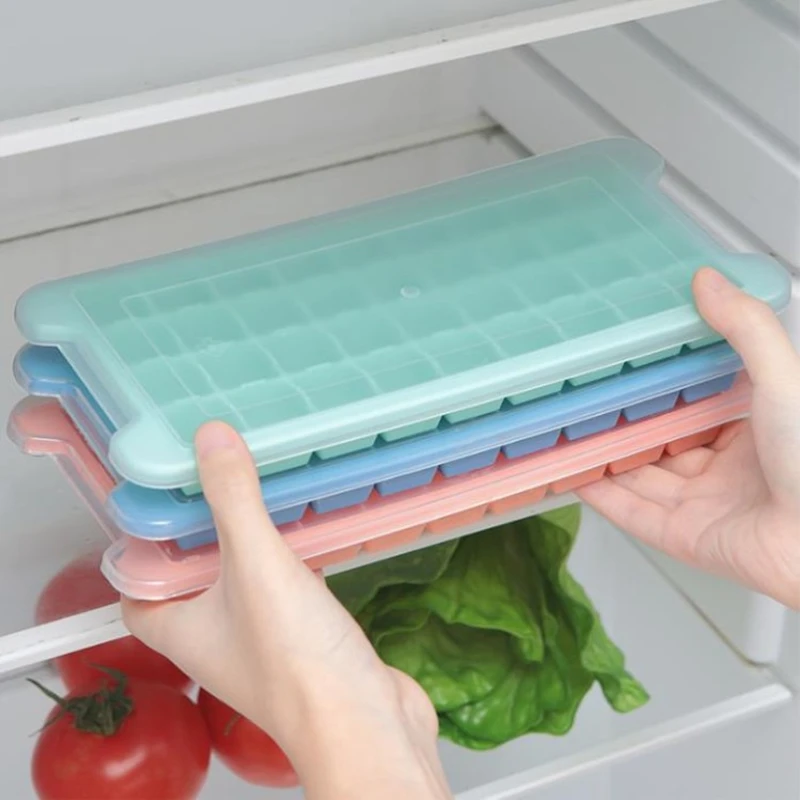 Certain goals require certain sacrifices and priorities - not everyone wants to make those choices, and that's GREAT! Just know what you want to achieve and be ready to get to work, putting the best of your strength!
Disclaimer No. 4: On the Encyclopedia Baby Food website, photos from books on baby food with attribution are used to better understand the information (Article 1274, paragraph 1, part four of the Civil Code of the Russian Federation). Literature on baby food is found in the public domain on the Internet.
Apricot puree with chicken
Banan-global puree
Banana puree
borsch
Bousse broth with peas and rice
Botterbrod with kolrabi
Rapid dessert
Ground
Spring salad with green Buckwheat porridge with apricots
Buckwheat porridge with banana
Buckwheat pilaf
Children's sausage
Children's milk porridge with banana
Children's vinaigrette
Children's ketchup
Children's cucumber salad
Children's salad Olivier
Children's porridge biscuits
Children's puree of strawberries, bananas, yellow cherries, yoghurt and biscuits with cereals
Children's puree with cottage cheese and fruits
Homemade yeast bread with flaxseed flour
Homemade cheese
Homemade pizza
5 Breakfast outside Kohlrabi appetizer
Roasted cauliflower
Roasted carrots
Roasted carrots and cherries with millet
Winter salad with Jerusalem artichoke
Cabbage with white beans
Cabbage salad like in a canteen
Mashed potatoes
Quinoa and pumpkin porridge
Quinoa porridge
Breakfast cereals
Quinoa and apple
Strawberry puree
Strawberry puree with banana
Strawberry compote
Wild apple and raspberry compote
Thermo-steamed fruit compote for children 8 months
Corn porridge
Corn porridge with pear
Corn porridge with pumpkin
Corn porridge with pumpkin and carrots
Corn porridge with apple and carrots
Chicken liver in the oven
Chicken cutlets with carrots
Chicken with carrots, sweet peppers and potatoes
Navy pasta
Pasta with orange sauce
Gremolata pasta
Muffins with vegetables and egg
Jacket new potatoes
Vermicelli milk soup15 Carrot puree
Carrot-rice casserole
Carrot with chicken
Amanita from eggs and tomatoes
Meat envelopes
Homemade Tarragon drink for children
Vegetable puree from cauliflower and carrots
Vegetable soup with corn semolina
Vegetable soup with cheese and corn semolina
Vegetable soup with spinach
Vegetable soup-puree with bell pepper
Oatmeal
Pollock fritters
Hot yogurt fritters
Omelet and cauliflower 90 in a bag
Spinach and Cheese Omelet
Omelet Pancake
Peach Puree
Baked Apples 7 months +
Zucchini and Carrot Pie
Zucchini Pie
Rice and Zucchini Pie
Fish Pie
Fish and potato pie
White cabbage pizza
Lavash pizza
Zucchini, tomato and sausage pizza
Tomato and olive pizza
Spinach pizza
Rabbit pilaf
Chicken pilaf with green peas and corn Puree 9055 and cherries
Banana, cottage cheese and porridge puree 4 cereals
Broccoli (cauliflower) puree
Broccoli, courgette and cauliflower puree
Blueberry puree
Pear puree
Pear and banana puree
Pear and banana puree, baked
Pear and pumpkin puree 7 months +
Pear, pumpkin and peach puree
Pear, apple, plum and prunes puree
Blackberry puree
Turkey puree
Zucchini puree 90 zucchini and broccoli
Zucchini, carrot and potato puree
Quinoa and banana puree
Quinoa and carrot puree
Quinoa, banana and carrot puree
Quinoa, squash and carrot puree
Quinoa, peach and raspberry puree
quinoa, cauliflower, apple, peas and mint
Quinoa, apple, pear and raisin puree
Quinoa, apple, carrot puree
Rabbit, broccoli and cauliflower puree
Chicken, carrot, potato, apple and pea puree
Raspberry, cherry and banana puree
carrots
Carrot and apple puree
Carrot, potato, broccoli and cheese puree
Carrot, potato, apple and quinoa puree
Carrot, pumpkin, apple and prunes puree
Carrot, apple and potato puree
Turnip and carrots
Plum puree
Cottage cheese, strawberry and banana puree
Pumpkin puree
Pumpkin and banana puree
Pumpkin and squash puree
Pumpkin and apple puree
Pumpkin, apple and banana puree
Cauliflower and broccoli puree
Cauliflower puree and potatoes
Cauliflower and rice puree
Cauliflower and apple puree
Cauliflower, green peas and squash puree
Cauliflower, turkey and potato puree
Cauliflower, potato and squash puree
Cauliflower, carrot and broccoli puree
Cauliflower, carrot, cheese and rice puree
Cauliflower, apple and courgette puree
Zucchini puree
Zucchini and potato puree
Zucchini, carrot and apple puree 90 cherries
Blueberry puree
Prune puree
Apple, pumpkin, carrot and some curry puree
Apple and pear puree
Apple and strawberry puree
Apple, strawberry and cherry puree
Apple, peach and banana puree
Carrot and pumpkin puree
Cottage cheese and banana puree
Turkey, potato and carrot stew
Zucchini, carrot and broccoli stew
Fish, potato, carrot and broccoli stew
Rice porridge
Whole grain rice porridge
carrot
Rice porridge with pumpkin
Rice porridge with apples
Rice porridge with apple and pear
Rice porridge with apple and pumpkin
Fish cakes with vegetables
Semi-cooked fish
Fish meatballs with ketchup
Baby Fish Soup
Salmon and Celery Fish Soup
Carrot and Kohlrabi Salad
Chickpea Salad
Chickpea and Cabbage Salad
Lazy Soup
Creamy Kohlrabi Soup
Oatmeal Smoothie 90 Sauce Pot
Cheese Pizza
Pea and Bacon Soup
Baked Vegetable Soup
Kohlrabi Soup
Salmon Soup
Cauliflower Soup
Turnip Potato Soup
Meatball Soup for the Picky Eater
Kohlrabi soup with green apple
Rabbit, pumpkin, potato, broccoli and cauliflower soup
Beetroot soup
Pumpkin soup with mushrooms
Broccoli and celery soup
Soup/stew Pork with Potatoes and Carrots
Cheese Pasties
Pumpkin Cheese Sauce (Annabelle Carmel Recipe)
Buzz Lightyear Sandwich
Pumpkin Apple Puree
Pumpkin Apple Juice
Pumpkin Cake
Pumpkin Soup9 Puree
Fruit Salad 7 Bread lavash
Cauliflower with cheese
Linden tea and thyme
Experimental noodle soup with lentils
Apple puree
Apple juice

Culinary tips.
What can be frozen in ice cube trays
It goes without saying that an ice cube tray is primarily intended for making ice cubes. However, we have learned some not the most obvious ways to use this kitchen accessory and want to share our find. We hope we can surprise you!
See the article for 12 useful ideas on how to use ice cube trays.
Coffee
Iced coffee is a lifesaver in hot weather. Instead of diluting the finished drink with regular ice, try freezing the coffee itself.
Brew espresso or americano, cool, pour into ice cube trays and freeze. Put the finished coffee cubes into a glass, add syrup for sweetness and pour in milk. The ice will melt and saturate the drink with a tart taste.
By the way, plant-based milk will make ice coffee even more interesting: experiment with almond or coconut milk.
Milk
Or you can do the opposite and freeze milk instead of coffee. If you have homemade milk, then it is advisable to boil it first, and then cool it.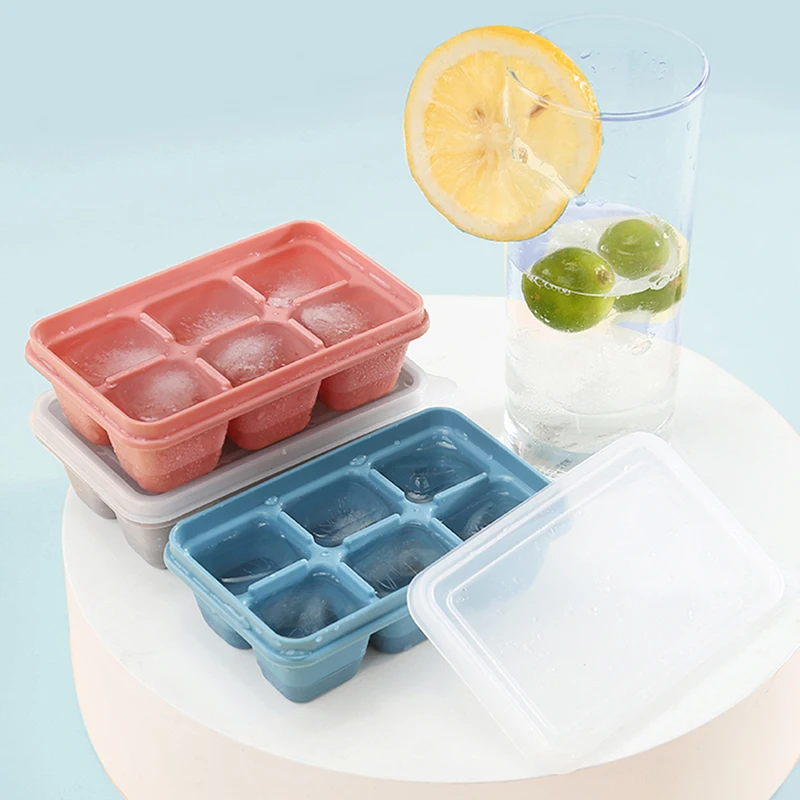 Store-bought is most often already pasteurized, so immediately pour it into molds. Once the milk cubes have set, transfer to a ziplock bag, bleed the air out, and seal tightly. In this form, they can be stored for up to six months.
Add milk ice to your favorite coffee drink, tea or chicory.
Chocolate
Frozen chocolate will appeal to those with a sweet tooth. Drinking a hot drink in summer is too hot, but it can be used to make a wonderful cocktail.
Boil hot chocolate, cool, divide into molds and freeze. Put the seized cubes in a glass and fill with hot milk. Under the influence of high temperature, the chocolate will begin to melt, and the ice will cool the drink. Cold milk will also work, but then the ingredients will mix longer. Cook to your liking.
Wine
You may be surprised, but wine is also frozen. Of course, not in order to drink it later.
Wine ice is useful for making various sauces, so if you don't know what to do with leftover grape alcohol, freeze it.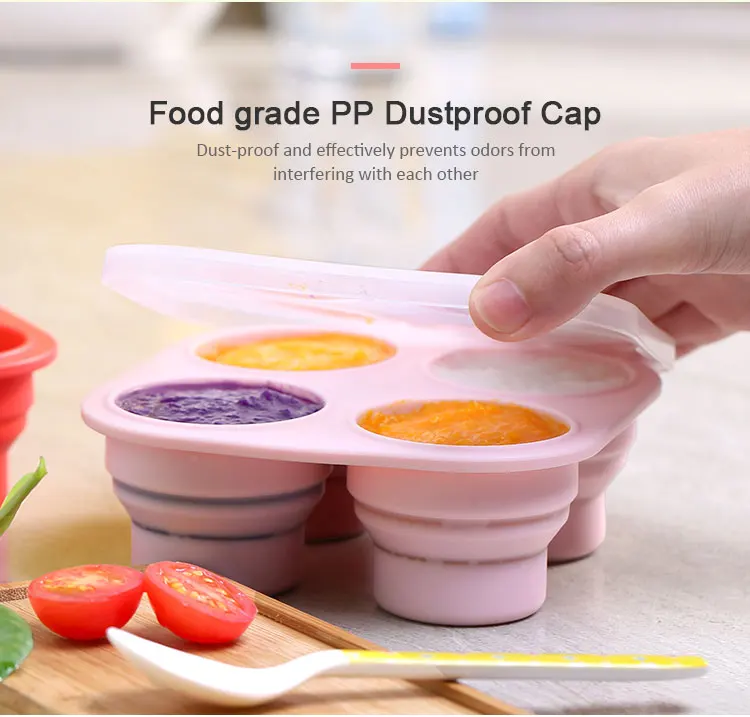 When you come across a good recipe with the addition of wine, think about the preparation in the refrigerator.
Fruit and berry puree
Frozen fruit or berry puree is added as a sweetener to cereals, cottage cheese or kefir. This option is a good alternative to sugar or syrups.
To prepare, wash the fruit, if necessary remove the skin, pit, core and chop with a blender or food processor. Pour into a mold and place in the freezer. This puree is excellent from apricots, peaches, apples and pears. Of the berries, strawberries, blueberries, blackberries and raspberries are suitable.
Defrost sweet cubes at room temperature before use.
Yoghurt
Yoghurt after freezing resembles ice cream, so we recommend pouring it into molds with sticks. You can use a fermented milk product without additives to mix with puree from fresh berries - they are more fragrant.
If you sprinkle the base of the yogurt with granola, then at the end it will be something nice to crunch, and the ice cream itself will melt a little slower.
Flowers
Frozen flowers look incredibly beautiful, so they are used not only to flavor drinks, but also as decoration. Such ice will look picturesque in a cocktail, so take note if you want to surprise guests.
A bottle of champagne surrounded by flower cubes will be the centerpiece of a table for a romantic dinner.
To keep the ice perfectly clear, use distilled boiled water. If you want the buds to be exactly in the middle, fill them with water in two stages. First, fill the molds halfway, lay out the flowers and drown them a little. Put in the freezer for 12 hours. Then take out and fill with water to the brim. Freeze again. Unusual ice is ready!
Lemon and mint
Citrus and fresh herb preparations must be kept in the refrigerator in summer. Cubes with lemon and mint are good to add to tea or water for a spicy sourness.
Change the composition of the ice duet according to your mood: combine lemon balm and lime, orange and mint, rosemary and lemon.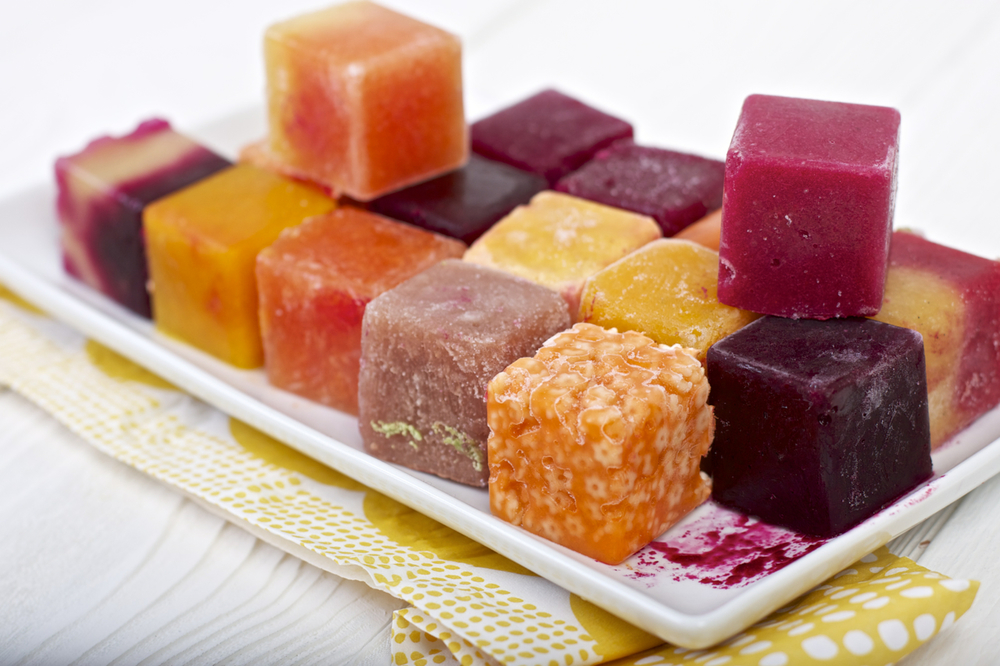 The main thing is to use clean filtered or boiled water for filling.
Fresh berries
Ice cubes with berries look very original in cocktails and homemade lemonades.
Freezing them is easy: put the washed fruits in a tray and fill with filtered or mineral water. Berry icicles are combined with mint-citrus cubes, so experiment!
Tomato paste
You must have thrown away leftover tomato paste often. The recipe basically calls for one to two scoops, and then an almost full jar sits in the fridge until the contents get moldy.
To save food, freeze in individual serving containers or an ice cube tray. One cell just fits one tablespoon. Use as needed.
Herb oil
By the way, freezing herbs in olive oil has been practiced for a long time in the South of France. Oregano, rosemary, thyme and sage are stored in this way. Spicy cubes are convenient to use when cooking: in a hot frying pan they quickly melt and turn into fragrant oil.