Do you cook pears for baby food
Pear Puree for Baby (Pear Baby Food)
Published: · Modified: by Laura · This post may contain affiliate links.
Jump to Recipe
This homemade pear puree is an easy baby food recipe that's made with only two ingredients- pears and water! Making homemade pear baby food costs so much less than store-bought jars! It's easy to make it organic too, by using organic pears!
Pears are one of the first fruits I introduce to my babies, and they all go crazy for them. They are sweet, and full of fiber to help keep things moving in the digestive tract (if you know what I mean), plus it's so easy to make baby pear baby food at home!
I always have made my baby food from scratch, from sweet potatoes, to baby food carrots, to combinations like pumpkin apple baby food, I always prefer homemade over store bought! Not only does making your own baby food save SO much money, but it's also easy to make it organic with minimal ingredients! 
This homemade pear puree is an easy baby food recipe that is great for little ones of all ages.
It's made with only two ingredients- pears and water - with the option of adding some cinnamon once you're certain your baby isn't allergic to pears! 
How to make Pear Puree for Baby
There are two ways to make baby food pears. For younger babies with sensitive tummies, I recommend cooking the pears first. For older babies who still love their purees, you can simply blend fresh pears with water, no cooking required! I will show you how to make baby food pears that are cooked!
Cut and Cook the pears
Begin by cutting each pair into about six pieces. Then place the pears into the container of a slow cooker.
Add water
When using 8 small pears (which measured to be about 6 cups), add ½ cup of water.
Cook
Next, cook the pears (if desired). I have used two methods to cook pears to make pear puree: 
Slow cooker - Cook the pears on high for 1-2 hours, or until the they are soft. Notice they will change color as they cook! I love this method because I just toss them in the slow cooker and walk away. No need to watch them as they steam! 
Steam on the stovetop - If you'd prefer, simply put the pears in a pot with the water, or in a steaming basket, and steam the pears on the stovetop for about 10-20 minutes, until they are soft. 
Blend
Place the contents of slow cooker (water and cooked pears) into a Vitamix Blender (or anther high-powered blender). Blend for 30-60 seconds until smooth.
Store or serve to baby
Transfer the pear puree to ice cube trays to freeze, or individual containers to store in the refrigerator. I love these silicone ice cube trays. I found them after I had baby #4 and I couldn't believe I went so long using floppy, difficult trays! These silicone ice cube trays have a firm outer rim, making them easy to transport, and a lid for storage! The wells hold a good amount of puree too! 
To reheat frozen pear puree:
Reheat one or two cubes of pear puree in a glass container in microwave for 40-60 seconds.
You could also warm it on the stovetop or let it thaw at room temperature for several hours! 
FAQS: Pear Puree for Baby
Here are some frequently asked questions about pear baby food!
Do you have to cook pears for baby food?
The answer to this question depends on the age of your baby and softness of the pears. I prefer to cook pears to make pear puree until my baby is 8-10 months old because it makes them easier on their tiny little tummies. If you buy soft, juicy pears, you can blend them without cooking them! 
Can I give raw pear to my baby?
Once your baby is 8-10 months old, you can feed him or her raw, peeled pears. I recommend peeling to reduce the risk of gagging and choking. Also, be sure to stay very near your baby when you feed her finger foods, to prevent choking. Before 8 months, I recommend cooking the pears before feeding them to your baby for easier chewing and digestion.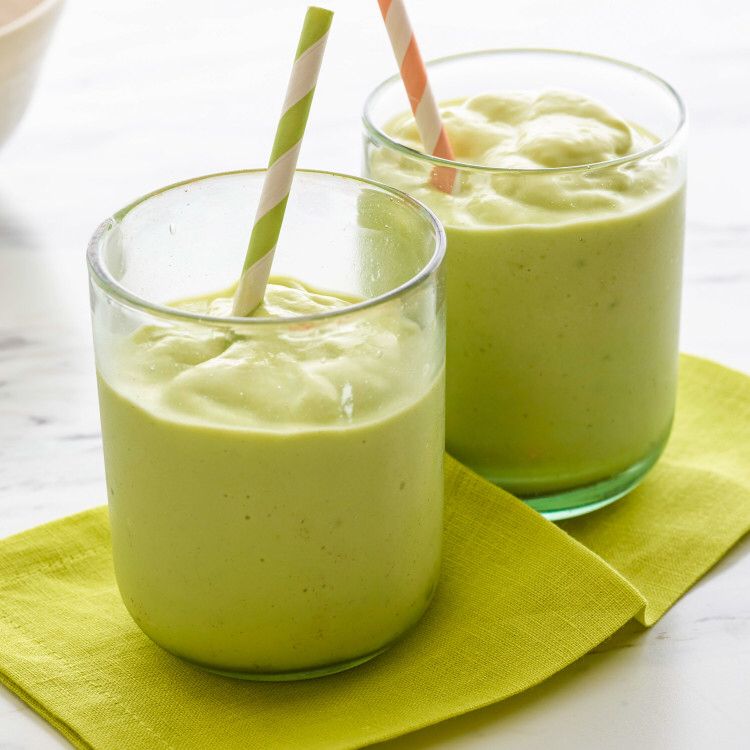 What age can my baby eat pears?
You can feed cooked and pureed pears to your baby at 6 months old! 
Are pears constipating for babies?
No! Quite the contrary! I find the fibrous nature of pears keeps the systems flowing (if you know what I mean)!
What kind of pears are good for baby food?
I recommend using organic pears, especially if you will be cooking and pureeing them with the skins on. My babies have loved all pears, but I try to stick to soft, sweet varieties like Anjou, Bartlett, Bosc, and Comice!  
If you make and love our recipes, it would mean so much to me if you would leave a comment and rating! And don't forget to follow along with us on Instagram, Pinterest, Facebook, and Youtube - be sure to tag @joyfoodsunshine and use the hashtag #joyfoodsunshine so we can your creations!
Pear Puree for Baby (Pear Baby Food)
Laura
This homemade pear puree is an easy baby food recipe that's made with only two ingredients- pears and water! Making homemade pear baby food costs so much less than store-bought jars! It's so easy to make it organic too, by using organic pears!
5 from 1 vote
Prep Time 10 mins
Cook Time 2 hrs
Total Time 2 hrs 10 mins
Course baby food
Cuisine American
Servings 19 Servings (2 TBS per serving)
Calories 43 kcal
▢

Vitamix blender

▢

silicone ice cube tray
▢ 8 small pears about 6 cups
▢ ½ cup water
Cut pears into slices.

Add pear slices and water to the container of a slow cooker.

Cook in slow cooker on high for 2 hours.

Place the contents of slow cooker into a Vitamix Blender (or anther high-powered blender).

Blend for 30-60 seconds until smooth.

Transfer to ice cube trays to freeze, or individual containers to store in the refrigerator.
What kind of pears are good for baby food?
I recommend using organic pears, especially if you will be cooking and pureeing them with the skins on. Stick to soft, sweet varieties like Anjou, Bartlett, Bosc, and Comice!  
How to steam pears on the stovetop 
If you'd prefer to not use a crockpot, simply put the pears in a pot with the water, or in a steaming basket, and steam the pears on the stovetop for about 10-20 minutes, until they are soft. 
How to store pear puree
Transfer the pear puree to ice cube trays to freeze, or individual, airtight containers to store in the refrigerator.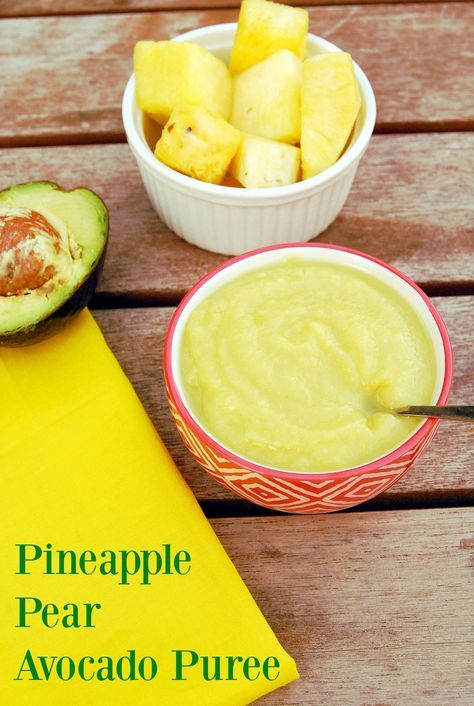 To reheat frozen pear puree:
Reheat one or two cubes of pear puree in a glass container in microwave for 40-60 seconds. You could also warm it on the stovetop or let it thaw at room temperature for several hours! 
Serving: 2TBSCalories: 43kcalCarbohydrates: 11gProtein: 1gFat: 1gSaturated Fat: 1gSodium: 1mgPotassium: 87mgFiber: 2gSugar: 7gVitamin A: 19IUVitamin C: 3mgCalcium: 7mgIron: 1mg
Tried this recipe?Let us know how it was!
This post contains affiliate links, which means that if you purchase a product through a link you clicked on here, I receive a portion of the sale. Thank you for supporting JoyFoodSunshine! 
Did you make this recipe?
Leave a comment and review below, then take a picture and tag @joyfoodsunshine #joyfoodsunshine on Instagram so I can see it! Sign up here to receive weekly e-mails!
Reader Interactions
Pear Baby Puree (4+ Months - Stage One)
This Pear Baby Puree is so creamy and delicious that you will want to eat it as well! A healthy and homemade puree filled with wholesome pears, this recipe is a wonderful first puree for your baby.
It's a great Stage One Baby Food for 4-6+ month olds.
Medically reviewed and co-written by Jamie Johnson, Registered Dietitian Nutritionist (RDN), and Lauren Braaten, Pediatric Occupational Therapist (OT).
Pear Baby Food Puree
Level up the yumminess of your baby's purees with pears! 👊
This is a simple recipe filled with simmered pears paired with a pinch of warming spices. It delivers an irresistible, delicious combo that easily hits the one-for-one status — one bite for your baby 👶, one bite for you 👩!
Is it your first time making homemade baby food? Then I suggest you start this journey by reading my in-depth Guide on how to Make Homemade Baby Food. The detailed guide goes over all the important information such as the best cooking tools to have on hand, safe storage, how to know when baby is ready for solids, how to introduce purees, the best first foods for baby, and more! You can also check out my best-selling cookbook for even more information and recipes!
Pear Baby Food Video
Watch this video to see how easy this Pear Puree is to make!
Reasons to Love this Pear Baby Puree
great baby food for 4-6+ months
1-ingredient recipe
super smooth and creamy
delicious
great for digestion
simple and easy to make — less than 20 minutes
freezer-friendly
budget-friendly
homemade
healthy
organic – you can use organic pears in this recipe
Health Benefits of Pears
Good source of immune-boosting vitamin C
Great source of fiber that helps with digestion and improves constipation
Protects your baby's heart by providing antioxidants, vitamins, and fiber
Provides vitamin K to help strengthen bones
Ingredients
Make sure to read the recipe card below for full ingredients and instructions!
Pears: Pears are inexpensive fruits that you can easily find at almost any grocery store year-round. You can use any pear variety you prefer for this recipe. Since organic pears are just a fraction more than conventional ones, I recommend going with an organic variety as they have more polyphenols and antioxidants, but that is completely up to you.
Warming Spice: We are kicking up the flavor profile of the pears by pairing them with a warming spice such as cinnamon, nutmeg, cloves, or cardamom. To be clear, you don't add them all; just pick one and add a pinch. Trust me, they all taste amazing with pears, and I will not be surprised at all if I find you in your kitchen eating a bowl of this puree. 😉 But you can always skip adding the spices to your baby food if you prefer (see more below).
Type of Pears to Use: While my favorite pear to use for this recipe is Bartlett pear, you can use any type of pear you prefer — whether it's Bosc Pear, Taylor's Gold Pear, Anjou Pear, Asian Pear, or Comice.
Step-by-Step Instructions
Prep: Peel and roughly chop the pears.
Mix: Place the pear chunks, spices (if preferred), and water into a medium saucepan.
Cook: Cover and heat for 10-15 minutes or until tender.
Blend: Let it cool slightly and then transfer to a blender and puree until smooth.
Eat: Serve or freeze for another meal.
Other Cooking Methods
While I love the crisp and slightly sweet flavor of simmered pears, there are several ways you can cook pears for baby food. 
Steaming
Peel and roughly chop 6 pears. Place the cubes into a steamer basket over 2 inches of boiling water for 8-10 minutes or until tender when pricked with a fork. Puree in a blender as directed below. 
Roasted
Cut 6 pears in half. Place them into a medium roasting tray with the cut side down. Add enough water to cover the very bottom of the tray. Cook at 400 degrees F for 30-40 minutes or until tender when pricked with a fork.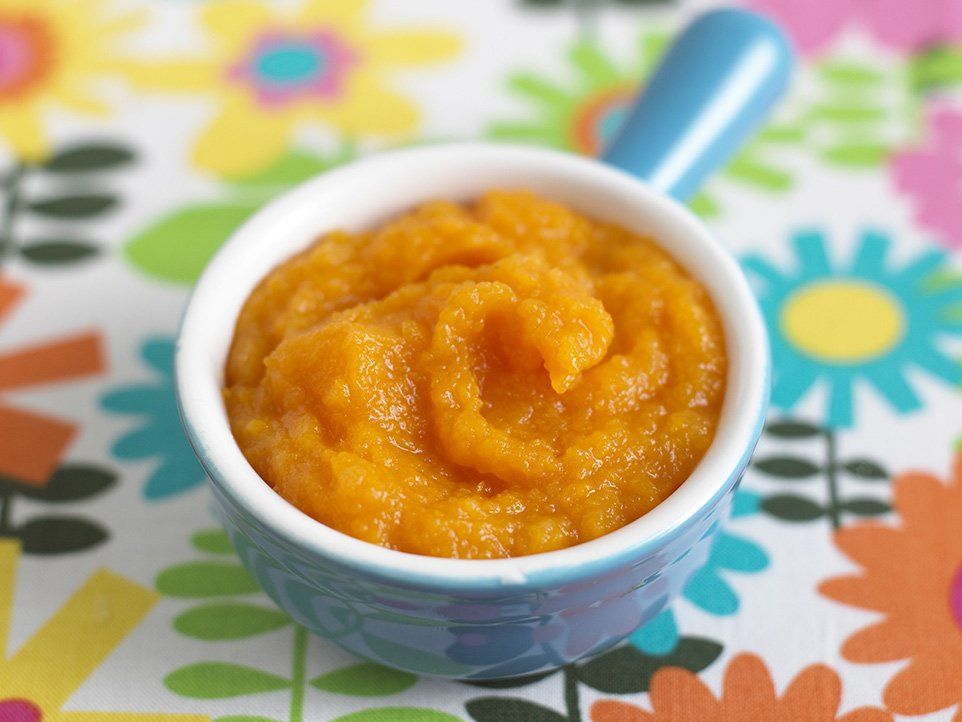 Puree in a blender as directed below.
Frequently Asked Questions
When can baby eat pears?
Babies can have pears as one of their first foods. When a baby can start on solids is determined by their own rate of development, which generally comes between 4-6 months of age. Some of the developmental milestones babies need to reach in order to start solids include: if your baby has solid control of their head and neck, if your baby has doubled in weight, and if your baby is reaching for or opening their mouth when you eat (see my guide here). Before you start your baby on purees, you should consult with your pediatrician to make sure your child is developmentally ready.
Can pears be baby's first food?
Pears can 100% be your baby's first food if you want it to be. It is recommended to wait to introduce the top eight allergen foods to your baby once a few other well-tolerated foods have been introduced, but otherwise, foods can be introduced in any order so choose whatever you are most excited for your baby to have.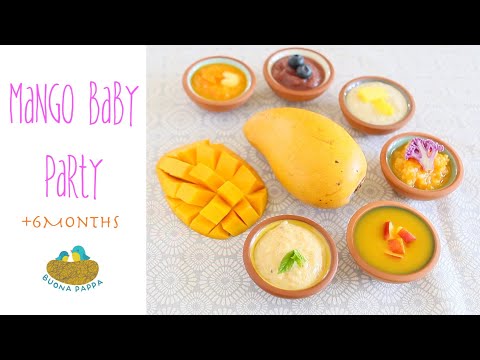 Are pears a common allergen for baby?
No, pears are not a common allergen, however, as with any food, start with a small portion and be aware of any signs that might be an allergic reaction after introducing it.
Do pears cause constipation for babies?
Pears are not known to cause constipation in babies, but are actually one of the "P" fruits known to help alleviate constipation.
Tools Needed
These tools will make it a lot easier for you to make this healthy Green Bean Puree. For more of my favorite kitchen tools make sure to check out my shop.
Steamer insert with lid
Blender or Food Processor
Freezer Tray
Storage Containers for Fridge
Stasher Bag
Bib with catch pocket
Reusable pouches
Adding Spices
While the most popular option is adding cinnamon to pear baby food, you can also add in cloves, nutmeg, cardamom, fresh mint, fresh basil, freshly grated ginger, or even allspice (see quantity recommendations in the recipe card).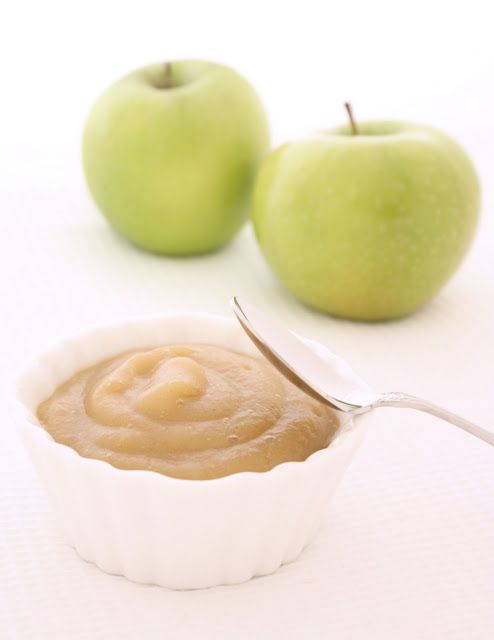 Tip on Spices: I always add spices or herbs to my baby food purees, but you can choose to leave them out in all of your baby food. You do you! Either way, this puree will surely taste amazing. 
How to Store Pear PureeRefridgerator
You can store this puree in an airtight container in the fridge for 3-4 days. 
Freezer
This puree can be frozen for up to 4 months.
Spoon puree into a freezer storage container. Do not overfill. 
Place the lid on the storage container or cover it with a piece of saran wrap, and label it with the date and recipe name. 
Place the tray into the freezer and let it freeze completely — preferably overnight. 
Pop-out the baby food cubes and place them in a ziplock baggie or stasher bag. Don't forget to relabel the baggie or stager bag for future reference.
Need more information on how to store your baby foods? Head over to my Best Baby Food Storage Containers – Plus 6 Tips on Freezing and Thawing post!
Label Tip: Don't forget to label your purees before you place them in the fridge or freezer with the name of the puree and the date you made it.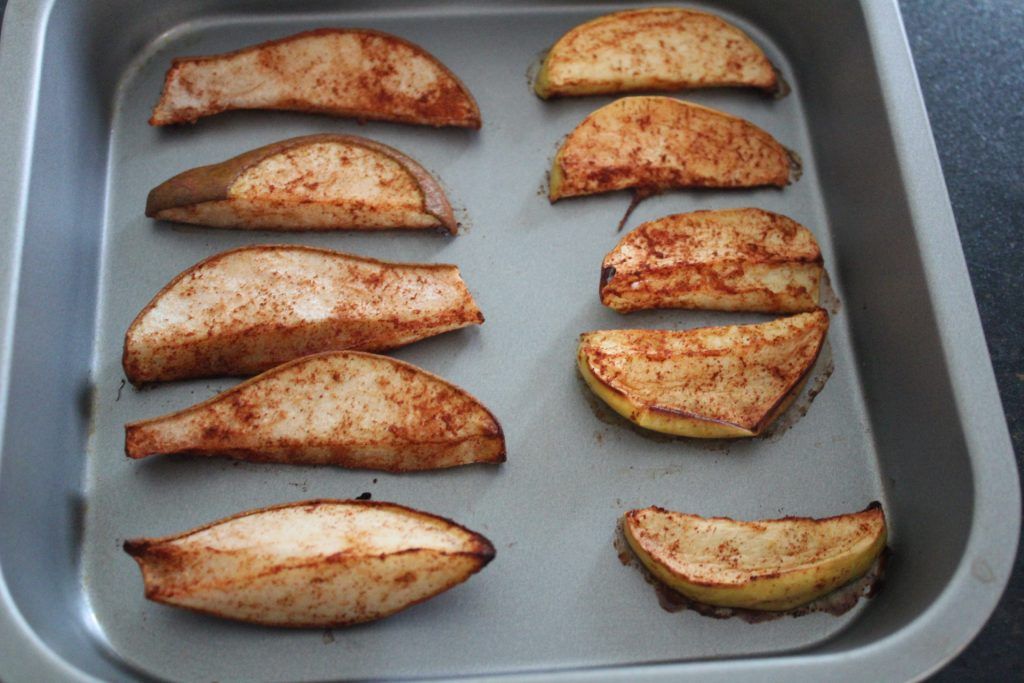 Take it from me; by the end of the week, you will completely forget what is in your freezer and how long it's been there… because you know… mommy brain. 😉
Great Pear Combination Purees
While this pear puree is flavorsome and great by itself, it's also super easy to mix and match with other nutrient-dense baby food purees. So give these fun Stage 2 flavor combos a try!
Apples
Apricots
Blueberry
Bananas
Quinoa Baby Cereal 
Prunes
Kiwi
Sweet Potato
Soft Tofu
Oats
Pumpkin 
Mango
Strawberry
Yogurt
PUREE FEEDING TIPS
Try adding a little seasoning or spice to purees – babies like flavor! Or consider changing the temperature of purees from time to time, to slightly warmed or slightly chilled. Varying these aspects adds to the sensory experience!
Place a small amount of puree on the tray during spoon-feeding, so that your baby can dip their fingers or hands in the puree. Allowing your baby to explore foods in this way helps them learn to self-feed and can help them be more willing to try new textures and foods in the future.
Purees are great to keep in your baby's regular rotation of foods – but if you start feeding with traditional weaning using purees, make sure to progress beyond eating ONLY purees. Once your baby can safely and comfortably swallow purees (usually by 7 or 8 months) it's time to introduce other textures, such as teething biscuits and soft-cooked finger foods. Moving onto additional textures in a timely manner may help prevent feeding difficulties at a later age.
Or watch a shortened version of this video here.
6 pears
1/8 tsp cardamom or other spice (see notes)
1/4 cup water
Prep: peel and roughly chop the pears.

Combine: place the pear chunks, spices (if using) and water into a medium saucepan, cover.

Cook: heat on medium-low heat for 10-15 minutes or until tender when pricked with a fork

Transfer: let cool slightly. Using a slotted spoon, scoop the pears out of the saucepan, leaving the excess water behind, and place in a blender or food processor.

Blend: turn on the machine and blend for 1-2 minutes until you have your desired consistency. If your pear puree is too thick, add the leftover cooking water in 1/4 cup increments.

Eat: serve to baby or freeze for another meal.
Age: 4-6 months and up
Yield: roughly 20 ounces
Additional Spices: You can also use 1/4 tsp cinnamon, 1/8 tsp nutmeg, 1/8 tsp cloves, 1/8 tsp cardamom, 1/8 tsp allspice, 1/4 teaspoon freshly minced ginger, or a pinch of freshly chopped basil or mint.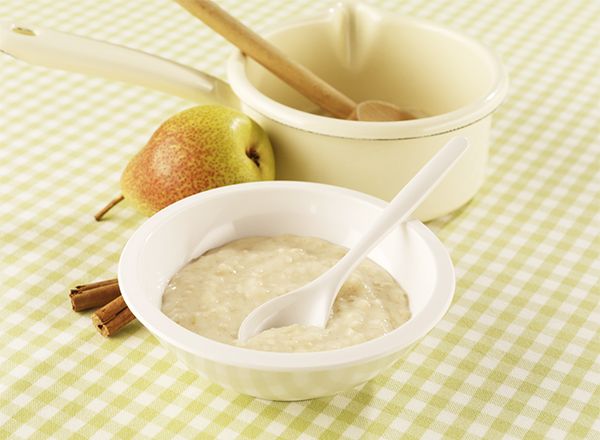 Note on Pears: while my favorite pear to use for this recipe are Bartlett pears, you can use any type of pear you prefer – Bosc Pear, Taylor's Gold Pear, Anjous Pear, Asian Pear or Comice.
Storage: Fridge – store in an airtight container in the fridge for up to 4 days. Freezer – can be frozen for up to 4 months.
Blender
Tripp Trapp High Chair
Freezer Tray
Silicone Baby Bibs
Did you make this recipe?
Tag @babyfoode on Instagram and hashtag it #babyfoode!
Pin Recipe Email a Friend
NEW TO MAKING PUREES? THEN CHECK OF MY GUIDE ON WHICH KITCHEN TOOLS YOU ACTUALLY ARE GOING TO NEED TO MAKE THE CREAMIEST AND SMOOTHEST BABY PUREES. HINT, IT'S NOT MANY!
Pears in baby food - Encyclopedia Baby food
Viktoria Levchuk©
Very often, the first fruit food is a green apple, but the next fruit is traditionally a pear.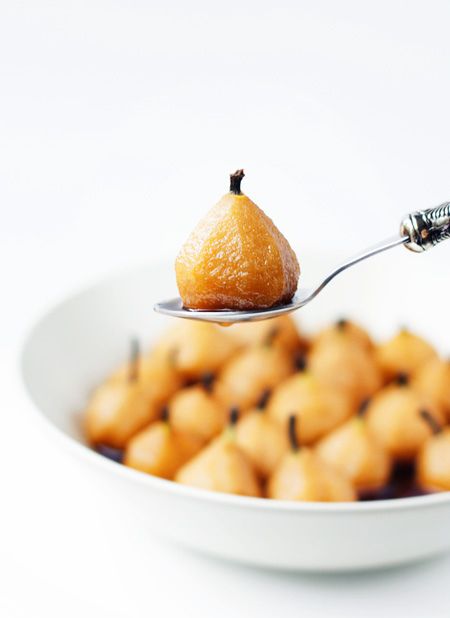 Pears in baby food pair well with apples, as they are smooth in texture, easy to digest, and rarely cause allergies. They are rich in fiber and vitamin C, and are great for relieving constipation. Pears in baby food are a versatile fruit that can be combined with many other ingredients to make a delicious baby puree.
What are pears?
Contents:
Pears are soft sweet fruits with a fibrous center. They are rich in antioxidants, flavonoids and fiber. This autumn fruit is ideal for baby food.
There are about 4000 registered varieties of pears, most of them strictly ornamental, leaving only 30 or more species that are edible. This fruit is from the Rosacea family, which includes many other fruits (some quite unlike pears) such as cherries, raspberries and even almonds. Edible pears come in two main varieties: Asian and European. The Asian varieties are usually firm and juicy, while the European type is usually soft and juicy when ripe.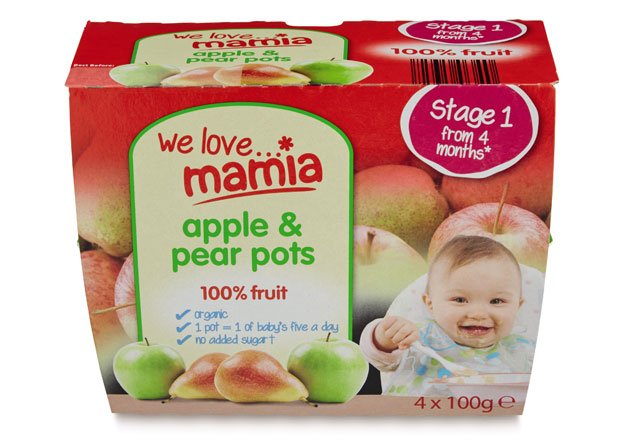 Pears come in a variety of colors including many different shades of green, red, yellow/gold and brown. Many cultivars do not change color as they mature, making it difficult to determine ripeness.
History of pears
The birthplace of the pear has not been precisely established. Someone believes that it grew between the Black and Caspian Seas. The cultivated pear species came to us from ancient Greece. Until the 16th century, only a wild pear variety was known, which first had to be boiled in order to be eaten, since such a pear was poorly digested when fresh. Later, edible pears appeared in Italy and France, which could be consumed raw.
Benefits of pears in baby food
Pears are delicious fruits, but they are also an excellent source of fiber, vitamin C and potassium. These essential nutrients are vital for a healthy heart, immune system and baby's digestive tract! Many practicing pediatricians even recommend pears as the first fruits of complementary foods, as they are easily digested in the digestive tract.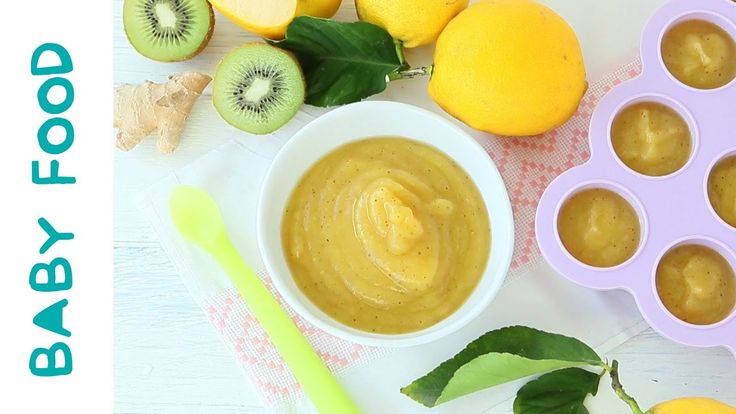 Pear skin contains three to four times more antioxidants than flesh and has anti-inflammatory and anti-cancer properties! The peel of the fruit is thin and has a good taste, and also contains more than half of the dietary fiber.
Pear is excellent for reducing the risk of cancer and heart attack and maintaining healthy cholesterol levels. The fruit is suitable for relieving constipation in babies.
Pears do not contain sodium, saturated fat or cholesterol. They contain two types of sugar: glucose and fructose. The pear is very nutrient-dense, meaning there are more nutrients per calorie content than there are calories per nutrient. It is not necessary to peel the pear if the pear is introduced into the baby's diet after 7 months. The peel of a pear is easily digestible.
Pear contains minerals and vitamins:
Vitamin C - strengthens blood vessels and helps the rapid healing of wounds and scratches.
Vitamin K is vital for blood clotting and bone health.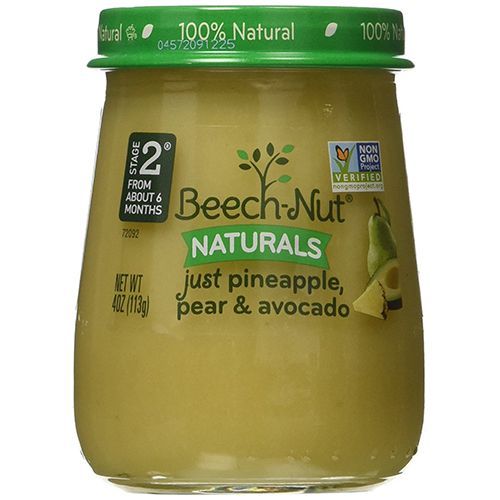 Vitamin B1 - essential for the development of the child's brain and helps the normal functioning of the nervous system, muscles and heart.
Vitamin B2 is important for baby's muscle and bone health and helps promote growth and good vision.
Copper - helps form collagen, which is essential for healthy bones and connective tissue.
Potassium - Works with sodium to help control body water balance and help maintain healthy blood pressure.
Calcium - Needed to build strong bones and teeth and to convert food into energy.
Magnesium - This mineral is essential for maintaining a steady heart rate and strong bones.
pears in baby food
Pears in baby food appear immediately after the green apple. Usually, the age at which pears are introduced into complementary foods is 7 months. At first, the child is offered mashed pear, which was previously steamed, in the oven or in a saucepan.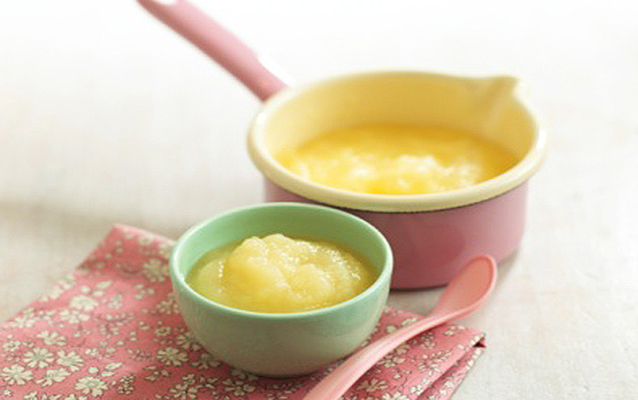 Pears can be steamed until the baby is 8 months old to make the fruit easier to digest and to get the baby used to the new food. After 8 months, peeled, raw pears can be offered and cut into small pieces as finger food if the child is ready to eat it. If the child does not like ordinary pear puree, it can be mixed with cereals or combined with other fruits such as apple, bananas, peaches, etc. With a peel, the fruit is best offered closer to the baby's year of life.
Pear puree should be introduced gradually into the baby's diet, starting with ½ tsp. up to 70 grams, if the child is 7 months old, 80 grams for 8 months, in more detail we look at the table of the volume of food consumed by months. Although there is an opinion among mothers that it is better to give pear puree up to a year in an amount of no more than 40-50 grams - the daily norm, it is up to parents to decide, we look at the well-being of the baby.
You can give pear puree 2-3 times a week, we look at the child's well-being, and his stool, if everything is fine, then alternate the pear with an apple and other fruits.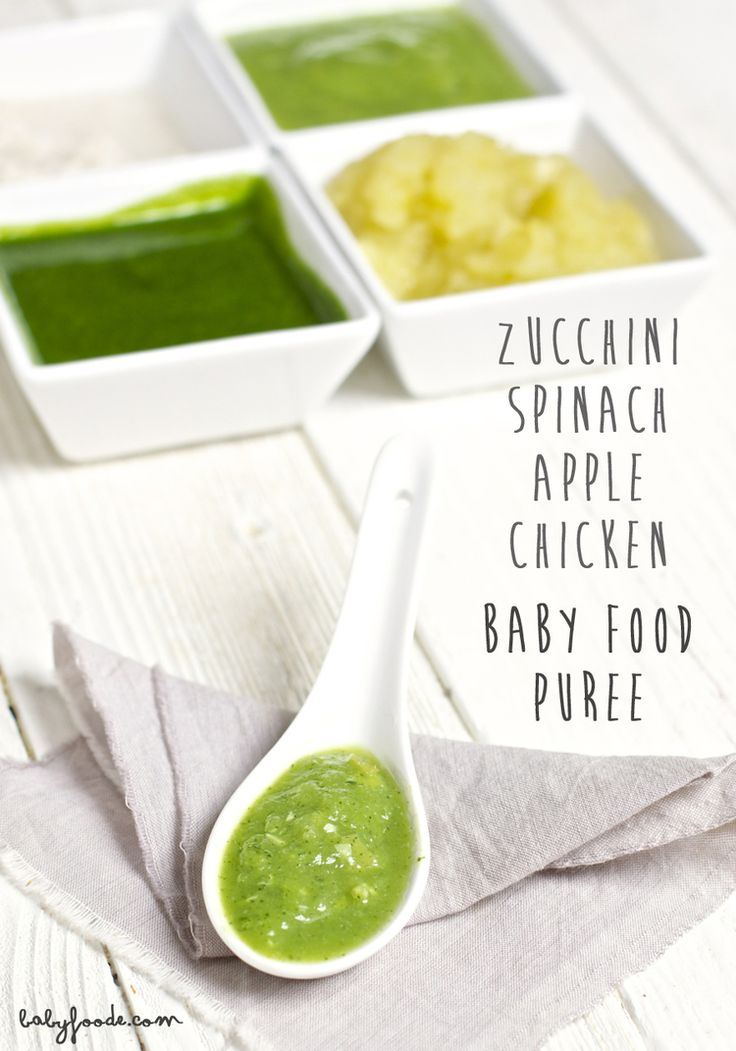 After 12 months, the baby can be offered no more than 1-2 pears (no more than 200 grams) per day.
pears complementary food
Allergy to pears
Practicing pediatricians are delighted with pears, as they have a low potential for an allergic reaction on the part of the baby. Since pears are more digestible than other fruits and seem to have a reduced allergic response, it's easy to see why they are a great choice for a 7 month old baby as a first or second fruit. However, we still monitor the baby's reaction to a new product, observe the standby mode when introducing a pear into the baby's complementary foods.
If a child is prone to allergies, then the pear should be given only in a baked form, since heat treatment removes the allergenicity of the product.
How to choose and store pears for baby food
Today, pears are available all year round, which is certainly good, but not suitable for complementary foods. Since the baby is best introduced to local varieties of pears, in their season, which starts from the end of July and ends in November.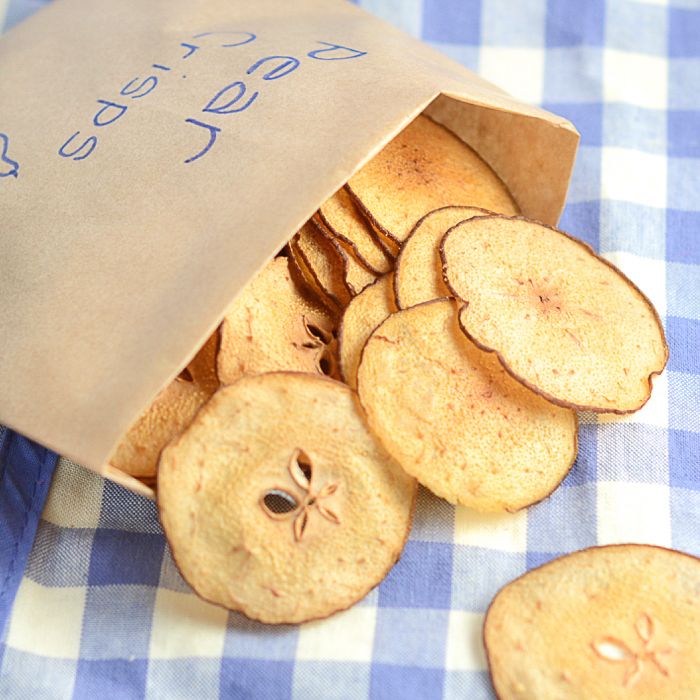 It is better not to give overseas varieties of pears to a baby until 5 years old.
When shopping for pears at the market or grocery store, look for pears that are slightly ripe but not too soft. It is unripe pears that will lie down a little, since this fruit always deteriorates quickly.
The fruit must have a smooth skin that is free from dents, dark spots, rot, mold and punctures.
Some pears are multicolored and have brown mottled spots, which may indicate that the pear has a more intense taste. Since pears are a very perishable product, they are sold solid in stores. To speed up the ripening process, place the pears in a paper bag and keep them at room temperature.
Do not store pears near strong-smelling foods, as the fruit tends to absorb other people's odors.
Pears are best stored at room temperature so they can last a couple of days. If the pears are wrapped in a paper bag and put in the refrigerator, then you can keep the fruit for 4-7 days, depending on the variety.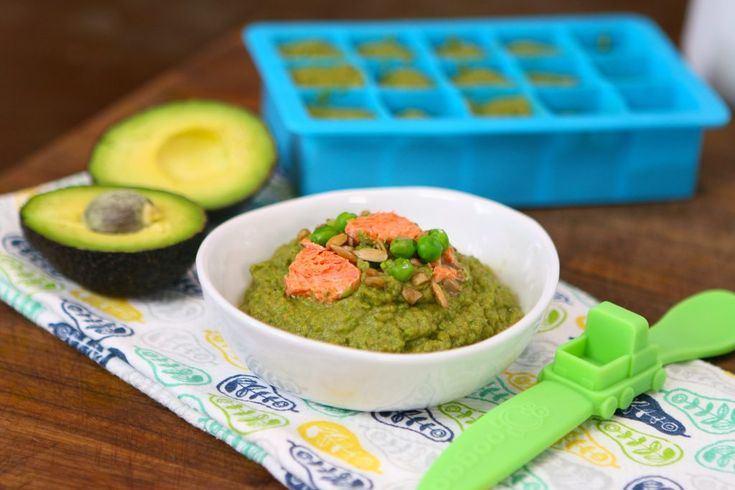 Pears can still be stored frozen and as dried fruits.
Freezing pears
Pear purée may change color when pureed, taste may also change, freezes well, may be gritty/liquid when thawed. It is best to mix pear puree with other fruits. You can also freeze the slices and then grate them before cooking. Pear puree can be stored for about 3 months, and frozen pear slices can be stored in the freezer for up to 6 months.
Dried fruits from pears
Excellent dried fruits can be made from pears, which are suitable for children's compotes. And you can also eat such dried fruits just like that, they are sweet, tasty, suitable as a snack for tea. True, not every child will taste this delicacy, and it is best to offer it to a child older than 2 years of age, since you can choke on dried fruit.
Dried fruits are easy to prepare in the fruit dryer or in the oven.
Canned pears
Pear puree can be preserved, but baby puree is not very tasty.
As I already wrote in the article about preservation, pears must be 100% sweet, otherwise the puree will not be tasty. Moreover, pear puree does not stand well in the refrigerator, after a month almost all the jars fermented and exploded. Therefore, I think that conservation of pear puree is not worth such work, in winter it is easier to get frozen pear slices and prepare fresh puree, albeit from frozen pears. Or to make it even easier, go and buy a jar of baby food.
Contraindications
Do not use overripe varieties of pears, as acetic, lactic acids, and methyl alcohol begin to form in it, these compounds have a bad effect on the intestines.
It should be borne in mind that pears should be given to babies after a full meal, after 30 minutes, while taking pear puree, you should also not give the baby water to drink. Pears also do not interact well with meat, dairy products.
How to cook a pear
There are several easy ways to make pear puree.
Steamer . Peel the pear, remove the core and cut into pieces. Place the cooked pear in a double boiler and cook until tender.
Cooker . Peel the pear, chop, then place in a saucepan with enough water to cover the pieces. Cook until tender over low heat.
Baking . Peel and remove the core, cut into quarters and wrap in foil. Bake until done.
Microwave. Peel and core the pear, then cut into slices. Place in a microwave dish and add some water. Cook at high temperature until the pear is soft (time will vary depending on microwave power).
Prepare the pear in one of the above ways, then put the fruit in a blender, blend until smooth, adding additional liquid as needed. You can use a sieve to achieve a puree mass.
Suggested method of consuming pears in baby food
Fresh pears are delicious and can be offered to a baby after 12 months. As a finger food, you can give this fruit from 8 months of age.

Since pears are prone to oxidation and quickly change their color to brown, to preserve their color and taste, you can sprinkle them with lemon juice (lemon should be introduced into the baby's complementary foods). Pears are also perfect for baby purees and can be added to baked goods like muffins or bread. The combination of porridge with pears, zucchini and pear, yogurt and pear, cottage cheese and pear are also excellent.
Pear compote and juice
Pear juice is best given after the child reaches 12 months of age, with a good reaction to pear puree. But with pear compote, the baby can be introduced a little earlier, for example, closer to 8 months, but again with a positive introduction of pear puree into complementary foods. The daily norm of pear compote is about 100 ml, which can be divided into several doses and offered to the baby.
Foods that go well with pears:
How to cook pear puree for the winter for children?
Ingredients:
ripe and soft pears - 2. 9 kg;
white or brown sugar - 150 g;
ground - 5 g;
purified water - 950 ml.
Cooking
To prepare baby pear puree for the winter according to this recipe, we select the softest and most ripe pears, rinse them thoroughly, get rid of the peel and the inner seed box with seeds. Cut the pulp into small pieces and place in a saucepan or saucepan. In another bowl, combine water and sugar and stir until all crystals are dissolved. Pour prepared pear slices with sweet liquid and put the bowl on the stove. Cook contents until soft. Depending on the variety and ripeness of the fruit, this may take from twenty to forty minutes.
If desired, for taste, you can add a little ground cinnamon or a couple of clove buds during the cooking process. We pack the finished pear puree in sterile and dry containers, cork, turn it over under a "fur coat" for self-sterilization until it cools completely.
If you are preparing mashed potatoes for a very young child, then in this case we recommend that you do without adding granulated sugar, cinnamon and other additives.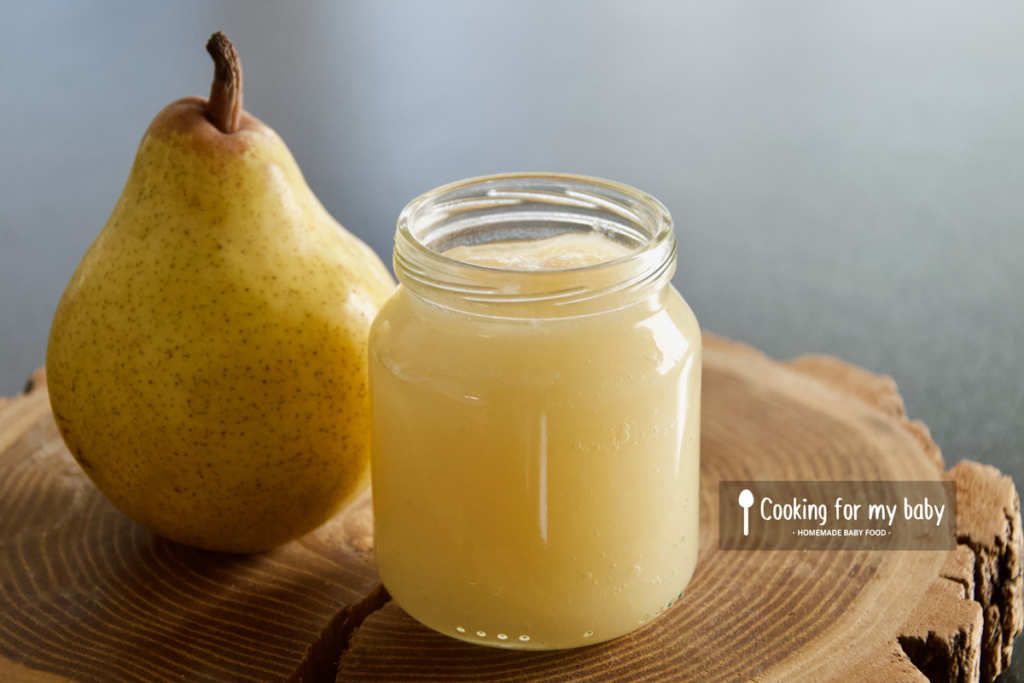 But with such a preparation of the product, it must be sterilized for fifteen minutes in a container with boiling water, and only then sealed. After cooling, store in a cool place.
Pear puree with condensed milk flavor - a recipe for the winter
Ingredients:
ripe pears (peeled) - 2.5 kg;
sugar - 1.5 kg;
whole milk - 1.5 l;
baking soda - 5 g.
Cooking
Pear puree prepared according to this recipe tastes like condensed milk, but has a pronounced pear flavor. To implement the idea, we get rid of ripe soft pears from the peel and entrails with seeds, after which we measure the weight of the resulting pear pulp and cut it into medium-sized arbitrary slices. According to the proportions of the recipe, add granulated sugar, mix it with the fruit mass and place the bowl on the stove. After boiling, we simmer the pear mass with sugar with barely noticeable signs of boiling, stirring occasionally, for an hour.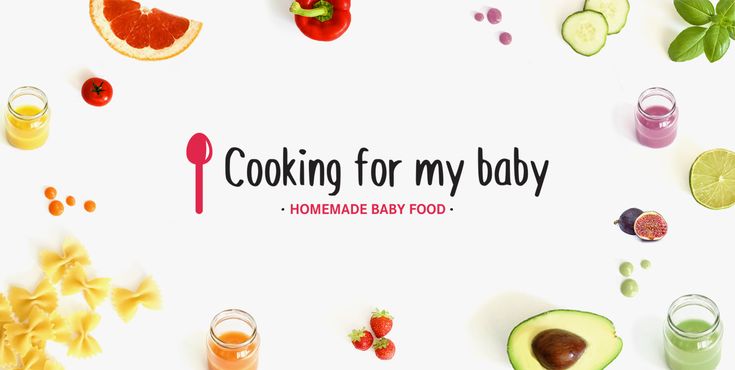 Then pour baking soda, pour in milk, let the workpiece boil again and continue to languish after boiling for another four hours.
We break the resulting puree to a homogeneous creamy texture with a blender, boil for another minute and lay it out in dry and sterile glass containers. Having corked the jars immediately with boiled lids, turn them upside down and wrap them thoroughly until they cool completely.
Pear puree for the winter at home - a recipe in a slow cooker
Ingredients:
ripe pears - 995 g;
sugar - 180-260 g;
- a small pinch;
vanillin - a small pinch.
Cooking
If you have a multicooker, it is advisable to cook pear puree in it. To do this, we prepare the pears by washing them, peeling and peeling the seeds with a core and cutting the flesh into cubes or arbitrary slices. We put the fruit mass in the multicooker container and add granulated sugar and citric acid, the amount of which can be varied depending on the sweetness of the pears or your taste preferences.
We mix the contents of the multi-pan and set the device to the "Extinguishing" function. After fifteen minutes of the program, mix the pear mass and extend the same mode for another fifteen minutes. We repeat the fifteen-minute "Quenching" a couple more times, alternating with stirring, after which we transfer the puree base to a convenient container, punch it with a blender, and then return it to the device and stew the workpiece again for fifteen minutes. We pack the puree hot in sterile jars, cork and turn it upside down under a "fur coat" for self-sterilization and slow cooling.
After the introduction of vegetable complementary foods into the diet of a six-month-old baby, it is the turn of fruit purees. As the first sweet homogeneous dish, pears fit perfectly in the crumbs menu. Moms who have tried making classic pear puree for babies do not have to persuade their picky tasters to take another spoonful. Having chosen a good recipe, the peanut chef will be able to make a delicate honey mass from a juicy pear, which will conquer any picky eater.
In addition, there is not a single reason to doubt the benefits of this product for the immature body of any child - here you have a whole vitamin complex (A, C, B1, B2, B3, B5, B6, B9, B12, E, K), and an extensive set of trace elements (potassium, boron, lead, cobalt, rubidium, nickel, sodium, phosphorus, iron, copper, calcium, zinc, magnesium), and phytosterols that reduce the amount of absorption of cholesterol in the intestine, and mono- and disaccharides.
Pear dishes are easily absorbed by the child's body, contribute to the normal functioning of his kidneys and liver, and also improve the digestive process.
Today, there are thousands of varieties of pears, among which there are ornamental and fruit trees. Not all representatives of the many fruit varieties are suitable for preparing fruit foods for an infant.
Juicy soft specimens are best suited for baby food (Conference, Williams Summer (Duchess), Grand Champion, Komis).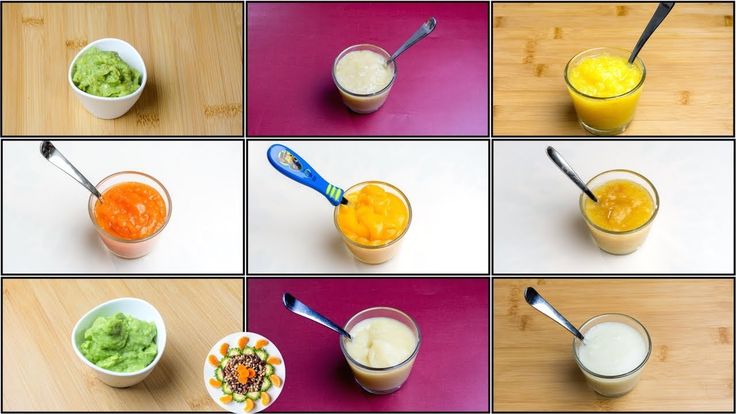 A wonderful dish with a sweet and sour or dessert flavor is obtained from ripe fruits with a green skin without a pink blush and with melting pulp.
The main thing is to prepare it for the baby, preserving the maximum amount of useful substances in the composition of the pear.
Preparation of pear food
The recipe for pear puree is very simple. The hostess needs to do the following:
Wash the affected fruit under running water.
Peel the skin off the pear.
Cut the fruit in half and remove the core with a knife.
Cut the remaining flesh into small pieces.
Bring a pot of clean, filtered water to a boil. Water should be used in such quantity that the pieces of fruit are barely covered with it.
Throw fruit slices into boiling water, cover the pan with a lid.
After boiling again, reduce the gas and let the pear simmer on low heat, covered, for about 7-10 minutes (the recipe calls for ripe soft pears).
Remove the boiled pear from the syrup and cool slightly.
Grinding the pieces with a blender or grinding them through a meat grinder will help prepare an air puree. You can also mash the pieces until smooth with a fork.
If the mass turned out to be thick, you can add a little syrup in which the pear was boiled.
It is not worth supplementing this recipe with butter, sugar or other ingredients for a better perception of the baby. It is permissible to add a few drops of lemon juice to the finished puree to dilute the excessive cloying sugary varieties of pears.
Pear puree is introduced into the baby's diet in the same way as the first food from vegetables. A portion of half a spoon will be enough to start, even if the baby insists on continuing the banquet. It is necessary to increase the daily volume gradually if the child does not have a reaction to the product in the form of skin rashes or stool disorders.
If the acquaintance with the pear was successful, include it in multi-component fruit purees, and later in cereals that the baby has had time to try.
Recipe for mashed potatoes for the future
When pears growing in local latitudes are not to be found, and overseas products waxed with gloss shine on supermarket shelves, we regret that we did not make our stocks of natural fruits for the winter or spring to introduce complementary foods to babies. But it is very easy to prepare several jars of excellent pear puree, and it turns out at the peak of beriberi it is much more useful than using products of unknown origin, and much cheaper than buying baby food in stores.
So, how can you get through the winter without need, thanks to your ability to preserve food? The recipe for making pear puree described above remains unchanged. One caveat: we increase the amount of "raw materials". In a word, you need to take as many pears as you want to prepare mashed potatoes for the winter or spring.
Put the finished puree into an empty pan, add a little syrup, let the mass boil over low heat and warm up well.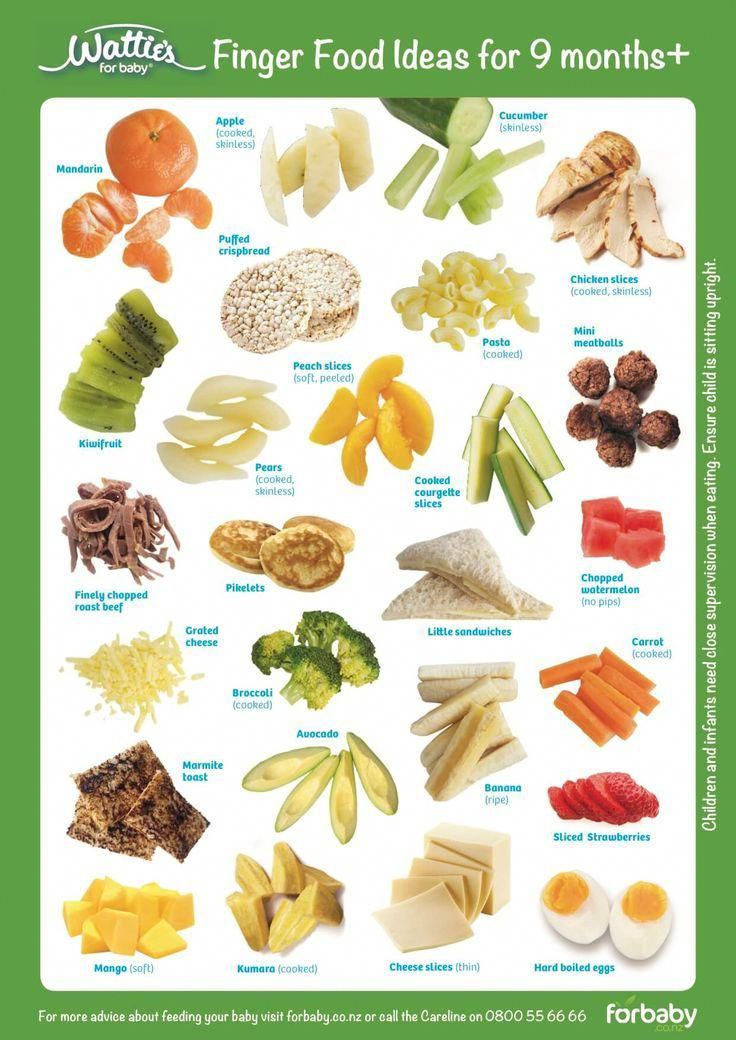 In the meantime, we are preparing containers for blanks for the winter: we wash small jars well and sterilize them. Water should be boiling in the other pot by now.
Pour the finished puree in hot form into jars and put them to sterilize in a pot of boiling water, while reducing the gas. Lids should also be placed in boiling water. At the end of the process, we take out the jars, twist them with lids and wrap them with a blanket until they cool completely. That's all - pear puree for your gourmet for the winter is ready!
For older children, the water in which pears are boiled for the winter can be replaced with apple juice. You can also add vanilla sugar.
As you know, kids love fruits for their lightness and sweetness. Our recipe, which reveals the secrets of making pear puree in summer and autumn, as well as preparations for the winter, will help you please the little one until he can gnaw fresh fruit on his own.
How to get rid of stretch marks after childbirth?
Until the baby is six months old, its menu is monotonous and consists of mother's milk or formula.
From the age of 6 months, the baby tries the first products from the adult table, gets acquainted with fruits that are rich in fiber, contain pectins, and bind radionuclides. Sweet and fragrant pear purees are becoming a favorite treat for children. When deciding on the introduction of pear puree into the diet of a toddler, it is necessary to understand what properties the fruit has, whether it is beneficial, how to cook it properly and prepare it for the winter.
Pear - a fruit with a composition rich in useful substances. It is useful to give a fragrant product in a timely manner, and the baby will definitely like the sweetish taste of the fruit. The vitamins of groups B, C, K, A, E and PP contained in it have a beneficial effect on the condition of the skin. Also, the fruit is rich in trace elements: zinc, copper, fluorine, natural sugars, organic acids, fiber, tannins. Due to this composition, the fruit has the following effect on the body:
strengthens the baby's immune system;
improves the functioning of the digestive system;
detoxifies;
acts as a building material for cells;
normalizes the functioning of the nervous and cardiovascular systems;
improves mood and increases vitality.
Carefully choose the fruit you are going to prepare for your baby. Clean, ripe, free of dents, stains and damage will bring the most benefit. It is better to buy fruits harvested in your area.
Pear is characterized by antiseptic, diuretic and antipyretic effect, strengthens the baby's stool. An overripe fruit, on the contrary, causes an upset, can weaken, therefore pear puree is recommended for babies who have constipation.
The fruit has many benefits for the growing organism, but it is important to remember that there are cases when eating the fruit can be harmful. It should not be eaten if the child is diagnosed with gastritis or colitis. In addition, fresh in excess causes heaviness in the stomach.
Sailors of ancient Greece used pears to reduce the symptoms of motion sickness. The sailors cut the fruits into small portions and sucked for a long time during the entire sea voyage.
Pear allergy in infants
Pear is a hypoallergenic product that rarely causes a reaction in a child's body.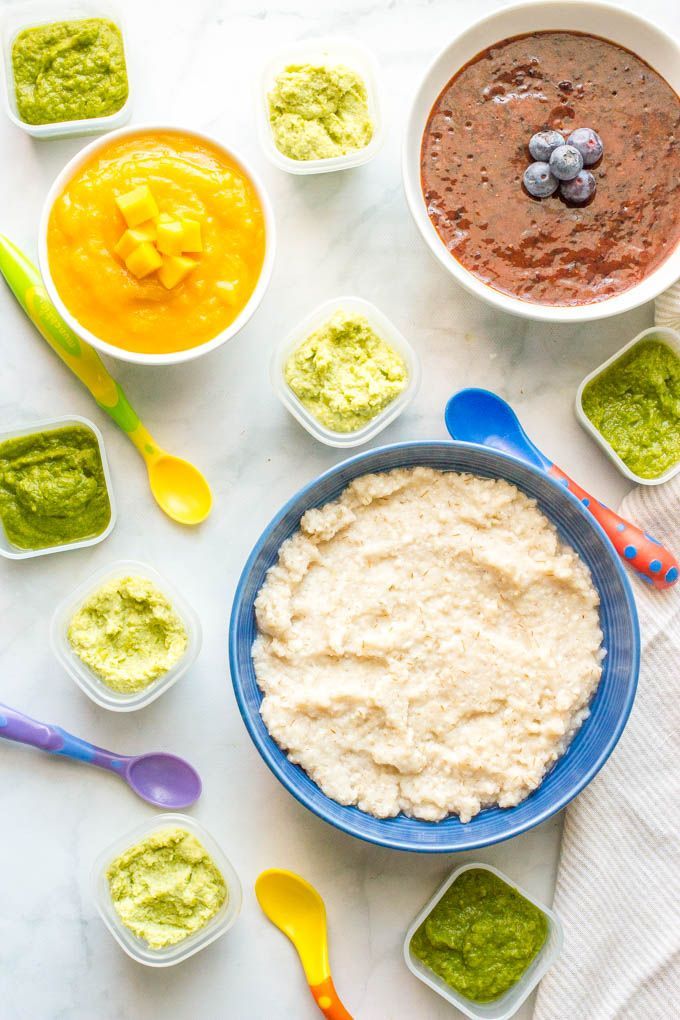 However, statistics say that one in twenty newborns is allergic to this fetus. It may pass with age. The fruit belongs to the group of products with a low degree of allergenicity. For example, a negative reaction to a banana is much more common.
Green varieties are in the safe category. More often than others, an allergic reaction to the Williams pear occurs. It has a bright red barrel, and red fruits, vegetables and berries are contraindicated for babies under one year old.
You can reduce the risk of an adverse reaction by following certain allergenicity reduction measures:
Soaking. The fruit must be washed, processed and cut, pour water. It is necessary to stand the product in water for 2-4 hours. During this time, the liquid will take over all the harmful substances, so you need to periodically change the water.
Heat treatment. Allergens are destroyed by high temperatures. Therefore, it is necessary to try the fruit for the first time not fresh. Baked fruit retains beneficial properties.
Allergy to a pear in a baby is not a frequent phenomenon, but mothers should be careful when introducing fruits and vegetables into the child's menu, observe all safety measures. It is better to give pear puree to a toddler for the first time in the morning. During the day, parents will be able to observe the reaction of the crumbs, if necessary, seek medical help.
Sweet fruit contains complexes of substances that are similar in their effect on antifungal drugs and antibiotics. This property allows you to rid the intestines of pathogenic microflora, improve digestion. An important condition for this is to use the pear separately from other products.
Principles of introduction into the diet, features of preparation, freezing
A baby will respond well to a pear if you introduce the fruit into complementary foods carefully, adhering to all the rules and simple recommendations:
pear puree should be fed to the baby when he has already become acquainted with the apple and some vegetables;
offer a homogeneous product starting at 1 teaspoon per day, gradually increasing the portion;
a baby can be given 80–100 g of fruit puree per year;
the fruit must be thermally processed and have a uniform consistency, for this a sieve or blender is used;
the fruit goes well with other fruits (apple, peach), so you can prepare multi-component purees;
it is possible to use combined purees containing dairy additives and cereals in the nutrition of children of the first year of life. Combined fruit purees are given from 7 months of age;
before cooking, the fruit must be thoroughly washed, poured over with boiling water.
Pears can be cooked in a slow cooker or on the stove, baked in the oven or microwave, cooked in a double boiler. Each mother independently chooses the most simple and convenient option.
Pear puree can be preserved.
Another option for harvesting for the winter is freezing. The fruit must be peeled, washed, cut into slices or cubes, put in a sealed bag and sent to the freezer. It is better to use the method of emergency freezing, so more useful substances and vitamins are stored in fruits. You can store fruit all winter. The product is packaged in portions so that after thawing the rest of the fruit does not have to be frozen again. This is strictly prohibited. Properly prepared and frozen pieces of fruit pulp make a wonderful puree that the baby will consume in the winter.
Recipes
There are many recipes for making pear for a child under one year old.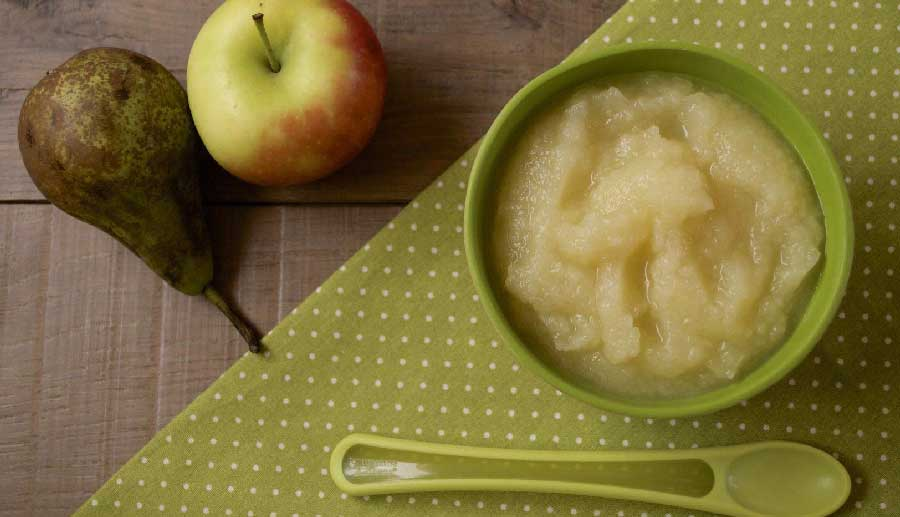 It is best to try several options, determine which dish the baby likes. You can cook an interesting and beautiful treat with your baby.
Boiled pear
For cooking, you need 1 ripe green pear. Be sure to check the fruit for the presence of paraffin. They process the fruits to give a presentation. To make sure that there is no harmful substance, scrape the peel with a knife. There should be no white marks on the blade.
Wash the pear, peel it, remove the seed box.
Cut the flesh into small squares or slices.
We put the chopped fruit in a ladle or pan, fill it with water.
After boiling, cook for 10 minutes.
Drain the water, beat the pulp with a blender and serve.
Oven baked pear
Baked fruits are useful not only for babies. It is also better for a nursing mother to consume fruits after processing in the oven. The cooking principle is simple:
We process one or several pears and prepare for cooking (washing, removing the skin and seeds).
Preheat the oven to 180 degrees.
We send a baking sheet with a pear in the oven for 15 minutes.
After the signal from the oven, we take out the fruit and let it cool, remove the pulp with a fork and rub it through a sieve.
Later, as the baby grows up and his gastrointestinal tract develops, this dish can be made more interesting and varied by adding banana, oatmeal, nuts, honey to it. The use of the last two products in the baby's diet requires special care, because they are classified as highly allergenic.
Pear puree with apple
To prepare this delicious and healthy dessert you will need:
Wash fruit thoroughly, peel and remove cores.
Cut into cubes and put in a saucepan or multicooker bowl.
Under a closed lid, simmer for 7-10 minutes, in the case of a multicooker, set to the "quenching" mode.
Cool the boiled pulp, beat with a blender and treat the baby.
Only when the child's body gets used to boiled or baked pear, you can try it raw. To do this, the fruit is washed and cleaned, rubbed on a fine grater. If the baby did not like it or an allergic reaction appeared, give up the fruit for a while and consult a doctor.
It's no secret that the best food for a baby is mother's milk. But the baby grows, and there comes a time when breastfeeding is no longer enough. And here various cereals and mashed potatoes are already in use. Every mother approaches the introduction of complementary foods very seriously. Store shelves with baby food delight with variety - there is plenty to choose from. But buying all the necessary products noticeably hits the pocket of a young family, and one cannot be sure for sure that all these products are harmless. But after all, mashed potatoes can easily be made at home and prepared for the winter.
so that you do not have to add sugar to the puree, you should choose soft and maximally ripe fruits. Doctors recommend taking green or white apples, as they are the most hypoallergenic. Ideal varieties such as "Semerenko" or "Antonovka".
Recipe for baby puree from apples and pears for the winter
One of the most common fruits is an apple, and if you prepare several types by mixing this fruit with a pear, the baby's menu will become not only natural and tasty, but also varied. Check out this easy recipe for kids.
Ingredients
Servings: - +
Apples 2 kg
Pears 2 kg
Purified water 500 ml
Per serving
Calories: 41 kcal
Proteins: 0.4 G
Carbohydrates: 9.8 G
1 hour. 10 min. Video recipe Seal
Rate this article
Did you like the recipe?
Gorgeous! Gotta fix it
do not rush to throw away the peel and cores from the fruit! From them you can cook a wonderful compote. At the end of cooking, just strain it through a sieve, and a delicious, and most importantly, healthy fruit drink will be ready. Fans of experimenting can even try to make jam from the leftovers. Believe me, the taste will turn out just as good as when cooking from whole apples or pears.
Recipe for baby puree of apples and zucchini for the winter
Try to make mashed potatoes from seemingly incompatible products: apples and zucchini! It will turn out very tender, tasty and healthy.
Cooking time: 1 hour 30 minutes
Servings: 20
Energy value
calories - 32.5 kcal;
proteins - 0.42 g;
fats - 0.31 g;
carbohydrates - 6.63 g.
Ingredients
apples - 2 kg;
zucchini - 1.5 kg;
filtered water - 2.5 cups.
Cooking step by step
First, prepare the container for the puree. Jars and lids must be sterilized. For baby puree, 100-gram containers are ideal. It will take about 20 pieces. Due to their small size and large quantity, it will be most convenient to simply boil them.
Thoroughly wash the apples, peel them, cut out the cores from the fruits. Cut the fruit into arbitrary pieces of the same size (so that they evenly boil).
We cut off the tips of the zucchini, remove the whole peel - it is definitely useless in baby puree. Cut into small pieces.
Cook the ingredients in different pots as they have different cooking times. We arrange vegetables and fruits in containers. Pour zucchini with a glass of water, but apples will need at least one and a half glasses of liquid.
Cook until the ingredients are completely softened, about 25 minutes. The cooking time of apples depends on their variety, on average, it takes about a quarter of an hour, but, for example, Antonovka requires more time.
Now, using a colander, drain the broth from both pots, but do not pour it out, as we still need it. We combine vegetables and fruits, beat them into a homogeneous mass with a blender. You can use a meat grinder, but if you want to make the puree homogeneous, then repeat the scrolling at least 2 times, or even more. If the puree is too thick, add the broth, adjusting the consistency of the dish.
Now put the saucepan with fruit and vegetable mass on the stove. Cook for about half an hour, stirring constantly. During the boil, the puree will splatter quite strongly, so the fire should be minimal, and it is better to cover the dishes with a lid.
Puree is ready. We lay it out on prepared banks. During the packaging process, small bubbles form in the puree, they must be eliminated with a knife or a small spoon. If you do not do this, then the workpiece will not stand idle for a long time. Corked jars should be placed upside down, wrapped. We transfer everything to a place prepared for storage after it has completely cooled down.
Apple and plum puree recipe for children for the winter
Plums are an excellent folk remedy for normalizing digestion, and in tandem with apples, you will get a healthy afternoon snack for your baby.
Cooking time: 2 hours
Servings: 50
Energy value
calories - 42. 79 kcal;
proteins - 0.58 g;
fats - 0.34 g;
carbohydrates - 9.33 g
Ingredients
apples - 3 kg;
plums - 3 kg;
water - 150-200 ml.
Step by step preparation
The first thing you need to do is sterilize the jars. One of the most popular methods is steam sterilization. The presence of a double boiler or multicooker with the "Steam cooking" function and a special nozzle will greatly simplify the process. Banks are usually placed over the steam with the neck down for about 20 minutes, and the lids are boiled.
When the crockery is ready, you can safely start cooking. Let's start with apples. They need to be peeled, cut out the seed box. Cut the fruit into arbitrary pieces and transfer to a saucepan.
Wash plums, remove pits. We send fruits, which can also be cut, to apples.
Pour everything with a glass of purified water and set to boil. It will take an hour and a half to prepare the puree. During this, you need to constantly monitor the amount of water and, if necessary, add it so that the puree does not turn out too thick.
Now we need a blender. It is most convenient to use submersible. We puree the mass.
Puree is ready. We lay it out in jars and tightly roll up the lids. You need to cool the blanks under a warm blanket or blanket - this will contribute to additional sterilization.
small jars (100, 120 or 150 ml) are suitable for preparing puree. You can use the container from the purchased baby food. Before conservation, they must be thoroughly washed with soda, and also make sure that there are no defects (chips, cracks, etc.). Lids should preferably be new.
Homemade baby fruit puree is best stored in the refrigerator as it is free of various preservatives and sugar. But if your pantry is dark and cool enough, the blanks will be perfectly preserved there. Strictly follow the recipe, boil and chop the fruit well, then your puree will turn out not only not worse than the purchased one, but dozens of times better, tastier and healthier.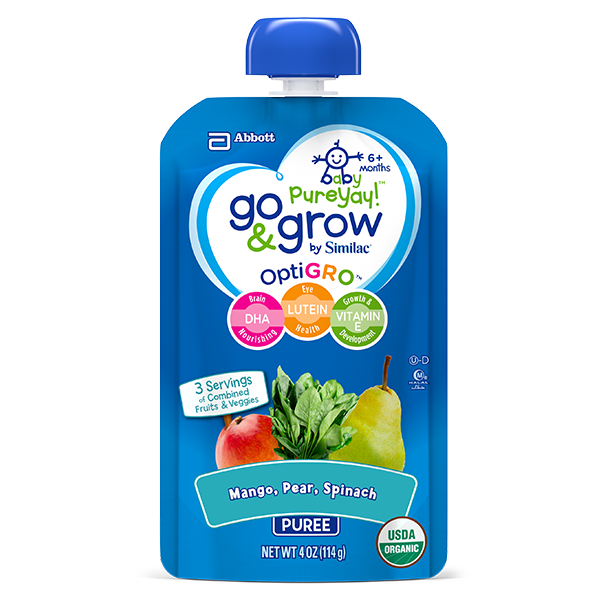 At least the baby will definitely gobble up such a delicacy on both cheeks.
Rate article
Did you like the recipe?
Gorgeous! Gotta fix it
Puree from various fruits is a good alternative to jams and marmalade, which housewives usually prepare for the winter. They can be used as a filling for pies and small pies, donuts and cakes. They work great as an independent dessert or addition to ice cream and butter creams.
And if there is a small child in the house, then the preparation of such a tasty and tender dessert is a must. Especially if you have an indispensable assistant in the kitchen. In a slow cooker, cooking any dish is not difficult.
Laughing Pears Puree
Pears are different in that they do not cause allergic reactions in children, unlike some varieties of apples or other fruits. In addition, according to this recipe, pear puree is prepared without sugar.
Ingredients
Ripe pears - 1 kg.
Citric acid - ½ tsp.
Acid can be replaced with 2 tbsp. l. lemon juice.
Cooking
Wash the pears well, cut into slices and remove the seeds.
In the slow cooker, set the stewing mode and cook the pears with a little water until soft.
Using a blender, beat the mass and bring to a boil again, adding citric acid or juice.
In order to prepare pear puree for the winter, you need to properly prepare the jars to prevent fermentation or "blooming" of the finished product.
Wash thoroughly with baking soda, rinse under running water and sterilize in a microwave or slow cooker. Cover the lids with boiling water.
Pour boiling puree into jars and seal immediately.
Pear treat "Family Joy"
There are two options for this recipe. Consider both, as the puree is tasty, but with unexpected notes.
Piquant Pear
Products:
Ripe pears - 3 kg.
Purified water - 1 liter
Sugar (preferably brown) - 100 gr.
Cinnamon - ½ tsp
Use other spices as well to add flavor and spiciness. It can be cloves, star anise, cardamom.
Preparation:
Pears wash, peel, seeds and seed flakes. Cut into small cubes to speed up the cooking process.
In the multicooker, set the "Extinguishing" mode and pour water with sugar. You need to wait for the sugar to completely dissolve.
Add pears and simmer covered for 30 minutes. The time is average and depends on the power of the device. To determine readiness, pay attention to the consistency of the workpiece. It should become mushy.
Using a blender, puree pear and add spices. Bring to a boil.
Pour boiling pear puree into sterile jars and roll up immediately.
Fruit tenderness
Such apple-pear puree for the winter can be prepared without the addition of citric acid, which is a preservative.
After all, it is already present in apples. She will act as a conservative.
Products:
Pears - 10 pcs. medium soft
Apples - 10 pcs. (sour varieties)
Sugar - 3-4 tbsp. l.
Water - ½ cup
Cinnamon, cloves - optional.
Preparation:
Wash pears, cut into quarters, remove seeds and amniotic scales.
Also wash apples and cut into smaller pieces than pears. This way the applesauce will cook faster.
In the multicooker, set the "Stew" or "Baking" mode for 40-60 minutes, depending on the power of the device. Add water, close the lid and cook until you hear a beep.
After that, open the lid and let the apple-pear blank cool completely.
Pour the mass into a blender or other chopper that is at hand. We bring to a homogeneous puree-like consistency.
If you want to stock up on this yummy for the winter, you need to boil it again, arrange it in sterile jars and seal it hermetically.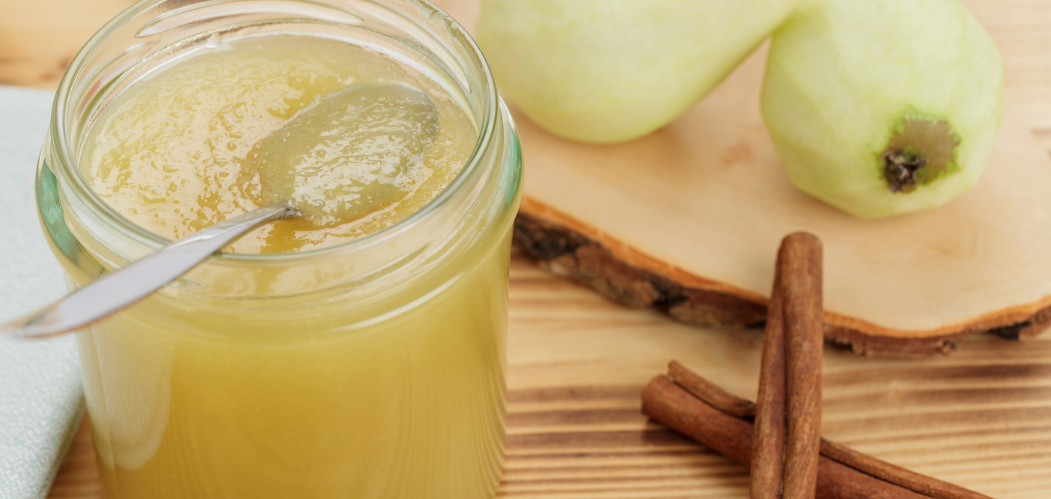 If you have prepared apple-pear puree for immediate consumption, but it is too much to eat at one time, place the cold puree in clean jars, close with tight lids and store in the refrigerator. The shelf life of such a treat is up to 2 weeks.
Baby fruit puree
The modern industry offers mono and multi-component fruit purees for the first feeding for babies in small portion jars. But the benefits of such a product are very doubtful, since the shelf life suggests that preservatives are still present in them. And they can become a source of food allergies for a child.
It is not difficult to prepare fruit puree on your own, especially in a slow cooker. You can also prepare it for the winter, using natural preservatives.
Ingredients
Sour apples - 3-4 pcs. ripe
Soft and ripe pears - 3-4 pcs.
Water - 1/3 cup clean, filtered.
Use an additional ¼ tsp. for winter harvesting. citric acid as a preservative or add 1 tsp.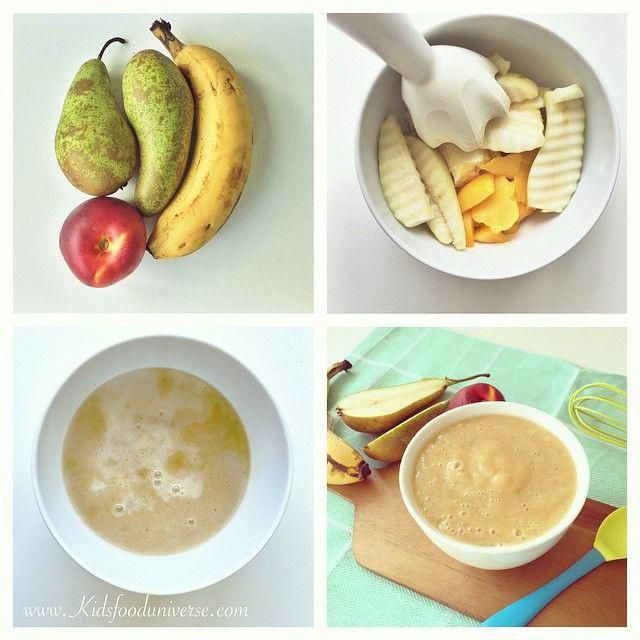 freshly squeezed lemon juice.
Cooking
Wash fruit thoroughly. You can even use baking soda to remove all pathogenic bacteria (because puree is prepared for babies).
Peel, cut and remove seeds and flakes from pears and apples. Cut into strips of medium size.
In the multicooker, set the "Baking" or "Stew" mode for 40-50 minutes. Add water, close the lid and cook until you hear a beep. Sugar for baby food is not added. The taste will be sweet anyway - because pears have a lot of glucose.
We take out the fruit from the bowl along with the liquid - there will be not only water, but also juice from apples and pears. We transfer them to a blender and carefully grind until a homogeneous mass without lumps.
Small jars need to be sterilized and pureed. Close with tight lids and place in the refrigerator. The shelf life of such apple-pear puree for babies is no more than 3 days.
If you want to store such puree of apples and pears for the winter, you need to boil the ready-made puree again in a slow cooker with the addition of citric acid or lemon juice.