Feeding baby in highchair
The Right Way To Feed Your High Chair Baby
Feeding Problems & Solutions | Parenting
Share this! Your friends will love it...
The idea of training a child to eat seems pretty simple until you have a screaming baby in a high chair throwing food around. There are a few things to consider when feeding babies in high chairs: preparation, food, and safety. There are a lot of ways to feed your baby, but here are helpful tips to make it a more enjoyable experience for both parent and child.
Table of Contents
High Chair Baby Feeding Guide | Factors to Consider
Choosing The Right High Chair
https://www.instagram.com/p/BV5O4c6F9PP/?tagged=highchairs
First, make sure to buy a high chair baby seat that is both functional and comfortable. There are many different kinds on the market but do not get easily swayed by a chair just because it looks cute or is on sale.
Check for adjustable heights, seatbelts or harnesses, a wide table or tray, and a comfortable chair.
If you travel a lot but would like to train your child to eat in a high chair, use a portable travel high chair designed for babies and toddlers.
With all the high chair styles and brands available today, some moms opt for stylish designs while others choose the one that seems easiest to clean. While these are all good to have in a high chair, it's important to consider its safety features above all.
Food
https://www.instagram.com/p/BjmVqiDAVbC/?tagged=highchairs
Prepare the food beforehand. Don't put the baby in the high chair first, then move around the kitchen. Having the food ready helps the baby understand that once he or she is seated, it is time to eat.
Cut food into small, easy-to-grip pieces. If your baby is capable of holding his food and bringing it to his or her mouth, make sure to cut up food in pieces he can easily hold, bite, and chew. Allowing the baby to eat on his or her own helps develop their motor skills and eye-hand coordination.
Safety
https://www.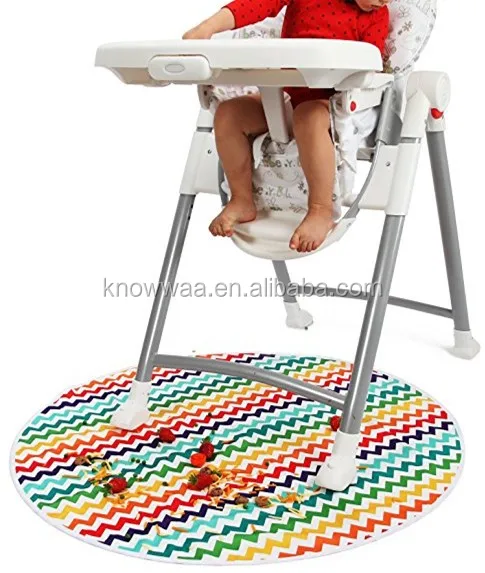 instagram.com/p/BjnK5-pFtVA/?tagged=highchairs
Have the baby's drink, wipes, and extra baby utensils within your reach. It is never wise to leave a baby in a high chair, no matter how quick you think it is. Let the baby hold a rubber or silicone baby spoon and fork so he won't insist on getting the one you are feeding him with. This lessens eating time and conflicts.
Make sure that your baby is strapped in snugly. If the baby has room to move around within the seat belts, he will be able to slip out of it easily which can be dangerous.
If you have a used high chair from friends or relative, make sure to check all the parts to see if everything is still working properly. If you are planning to purchase a new one, choose only the best high chairs for babies and toddlers. Always remember that the safety of your child depends on the quality of the high chair along with proper guidance.
Tips for Feeding a Baby in a High Chair
When training a baby to eat in his high chair, include him in regular mealtime with the family. This will not only encourage him to eat, knowing that everyone around him is doing the same thing, but it also strengthens the bond of the family.
Make it a rule that he only gets down from his chair if he is already done eating. If he insists on getting down from the chair, put his food away and tell him mealtime is over. This is to establish a rule that he has to be seated and secured during meals.
Not sure what food you should give your baby and when to give it? Here is a guide from Gerber on how and when to introduce solid foods to your baby:
https://www.youtube.com/watch?v=zod3pG8a4Wc
There is no right way to feed a baby. All these are tips and guides to help you and your child get started. What works for one baby may not be the right method for another. The important thing is that you don't force your baby to eat just because the baby book says he is supposed to at his age. Check to see if he is ready. Introduce the high chair subtly until he feels comfortable seating and eating in it.
Do you have fun or memorable stories about feeding your baby in a high chair ? We'd love to hear them! Post your questions, stories, and helpful tips in the comments section below.
Up Next: Prevent Food Allergies By Introducing Peanuts And Eggs At An Early Age
Share this! Your friends will love it...
Similar Posts
Parenting
Tips For Flying With Kids to Make it a Great Experience for All
There is almost nothing worse for a traveler than being on a plane next to a screaming child. As a parent it is up to…
Read More Tips For Flying With Kids to Make it a Great Experience for AllContinue
Baby | Baby/Toddler News & Advice | Feeding Problems & Solutions | Food Safety | Health | Solids & Finger Foods
'Baby-led' weaning doesn't raise choking risk: study
(HealthDay)—Babies who feed themselves solid foods early on may not be at increased risk of choking, a new clinical trial suggests.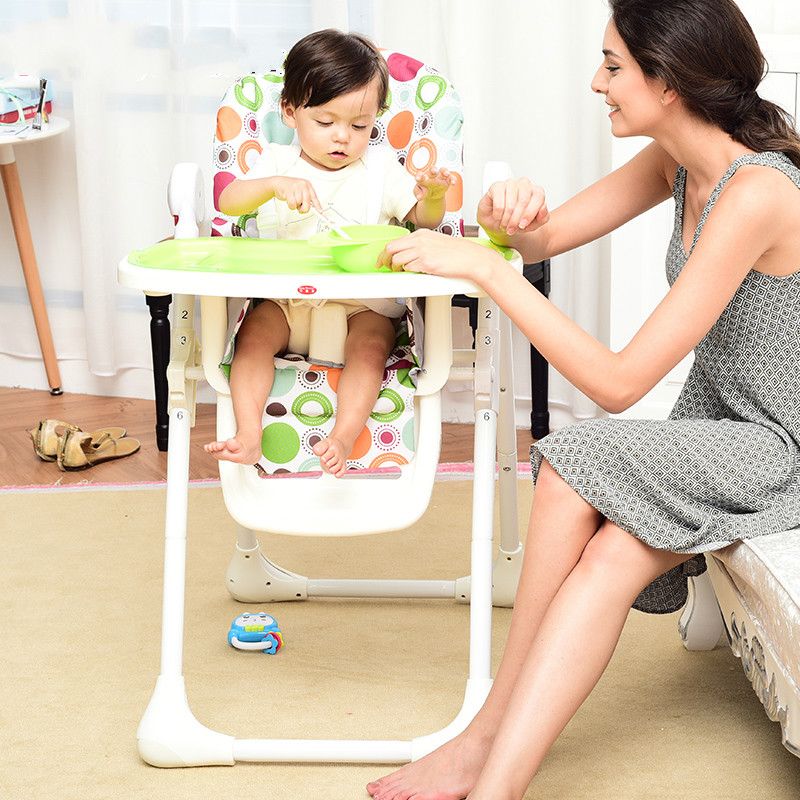 The study tested a…
Read More 'Baby-led' weaning doesn't raise choking risk: studyContinue
Parenting
Want Your Most Restful Night's Sleep Yet? Treat Yourself Like A Kid
Every new parent finds tricks to make his or her baby fall asleep, from swaddling and shushing to driving around in the car. But when…
Read More Want Your Most Restful Night's Sleep Yet? Treat Yourself Like A KidContinue
Childcare | Parenting
7 Baby Room Ideas For Your Little One's Space
Pulling together the best baby room ideas is part of every mom's to-do list. While most women prepare by splurging on the luxury baby items, it…
Read More 7 Baby Room Ideas For Your Little One's SpaceContinue
Childcare | Parenting | Play & Toys | Stages | Toddler
Add These 11 Toddler Bath Toys For More Bath Time Fun
These toddler bath toys prove that learning and having fun doesn't stop in the bathroom. This article lists the best tub toys for toddlers, from…
Read More Add These 11 Toddler Bath Toys For More Bath Time FunContinue
Parenting | Safety & Childproofing
Toddler Car Seats | Consider Safety And Style With These 7 Models
Toddler car seats are essential when your children are riding with you in your vehicle.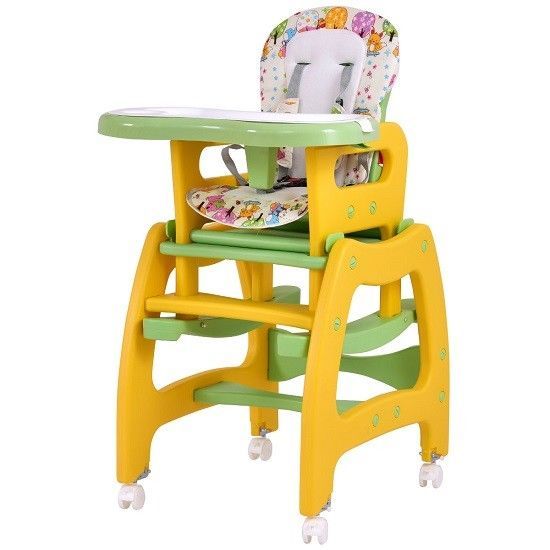 One consideration in choosing toddler car seats is car seat…
Read More Toddler Car Seats | Consider Safety And Style With These 7 ModelsContinue
BLW High Chair Position for Feeding and Why Sitting Independently is Important
I'm sure we've all done our fair share of browsing for the best baby led weaning high chair, looked at the different styles, and wondered if the real expensive ones are actually worth it. 
We might be browsing a lot of options, or have specific wants in mind. Maybe we're looking at a toddler chair, a booster seat, a wooden high chair, or even a dining room chair that works with a booster seat we already have. 
The fact is, we know our baby needs someplace they can safely sit to eat when starting solid foods – they obviously can't just sit in a regular chair! 
But did you know that there is an optimal position for feeding? Or that your baby needs to be able to sit upright independently for starting solids? Tip one: skip the high chair that reclines!
Let's go over all you need to know about high chair positioning for your little eater.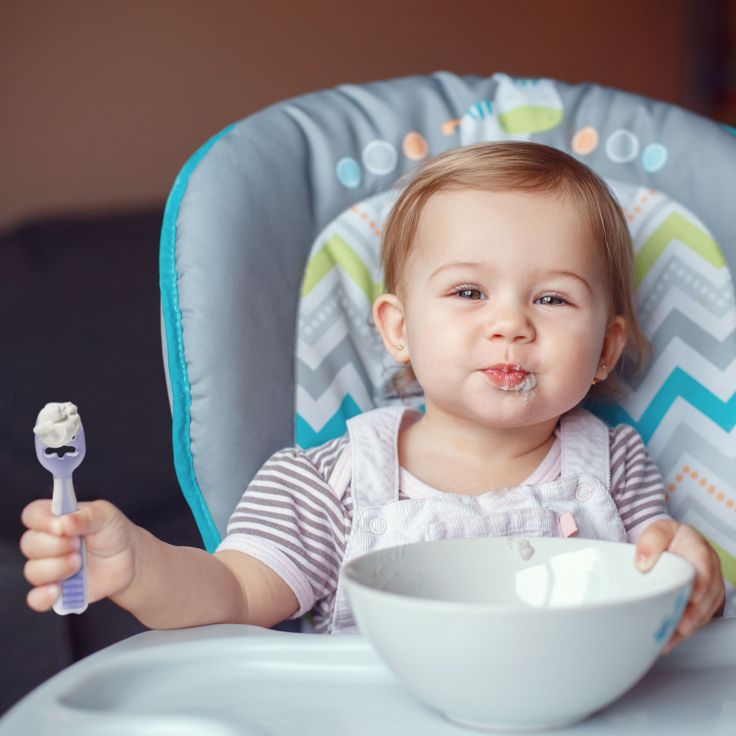 And know that whether you choose to start with purées or baby led weaning – my tips are the same!
One of the readiness signs for starting solids is that your baby can sit up in a proper sitting position, independently. This is true whether you decide to start with purées or baby led weaning. This usually happens right around 6 months of age, but can be different for every baby. 
In my opinion, it's probably THE most important sign of readiness, mainly because it's the biggest indication that they can eat safely without a high risk of choking.
While safety is always my number one priority, being able to sit up independently also means that feeding will be more successful. 
In fact, there are certain things that can be done with regards to positioning and support that actually help your baby advance in eating skills, stay in the high chair for longer, remain comfortable, and enjoy the process so much more.
But most parents that are just starting their baby led weaning journey are confused by what this actually means.
Does this mean they have to be sitting upright for a certain period of time? Should I set a timer to see how long? How "independent" are we talking here (AKA can I support them in any way)? What if they topple over after a couple minutes?
These are all very valid questions.
Let's start by explaining what the best position for starting solids is (for both baby led weaning and purées), and why it's important.
The best position for starting solids with baby led weaning or purées
No matter what the particular high chair is that you choose to use, these are the key points you need to assess for, in order to ensure your baby is seated properly and safely. Therefore, the best position for starting solids with purées and baby led weaning, is one that allows your baby to:
Hold their head up straight and steady independently, without tiring themselves
Sit at a right angle where their bum and pelvis are positioned directly under their hips
Sit with their torso upright so their airway is unrestricted (no reclined positioning in the high chair needed)
Have their shoulders positioned just slightly in front of the hips
Have their arms unrestricted and free to move
Be able to lean forward, and turn slightly to the left or right without major restriction
Have feet supported with an adjustable foot rest
Alright, now let's break down the reasons for all this.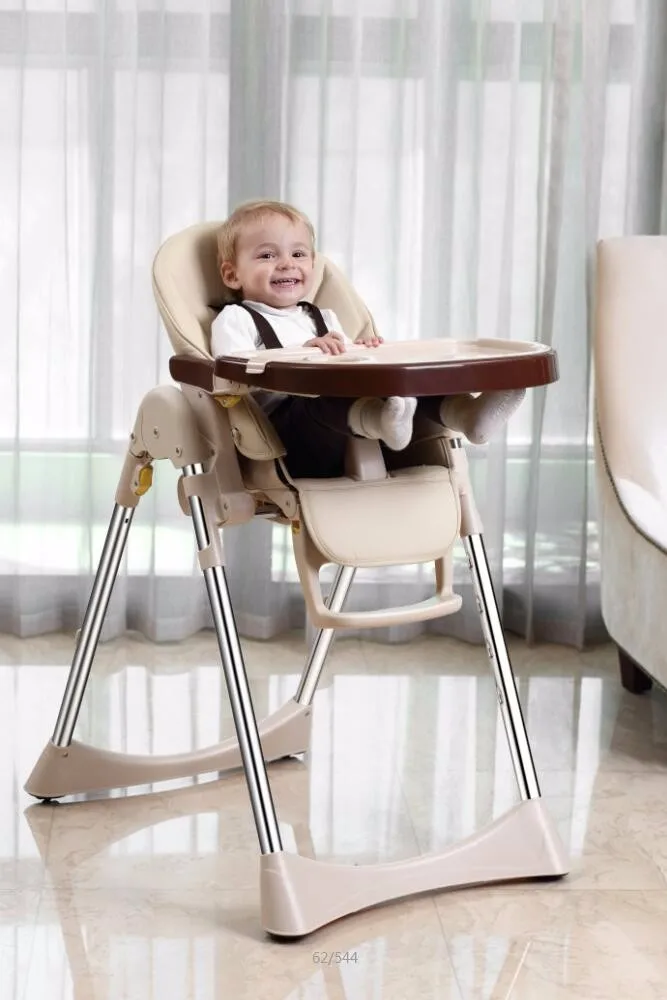 Proper high chair positioning begins with allowing for independent head, neck and trunk control
First off, does your baby have the ability to hold their head up nice and still, independently, or do you have to support them? 
If you have to support them at all, your baby is definitely not ready to start using a baby high chair (or begin eating solid food). 
Even the most supportive high chair would require a reclined position for a baby that cannot hold their head up independently, and as we know now, that is not recommended.
Independent head control decreases choking risk
It's important that your baby can hold their head steady and be able to sit upright with good trunk stability, so they can safely eat without running a high risk of choking on their food.
This is also why I mention that proper high chair positioning cannot include reclined positions, as this would give support to your baby's head and neck, creating a false sense of security.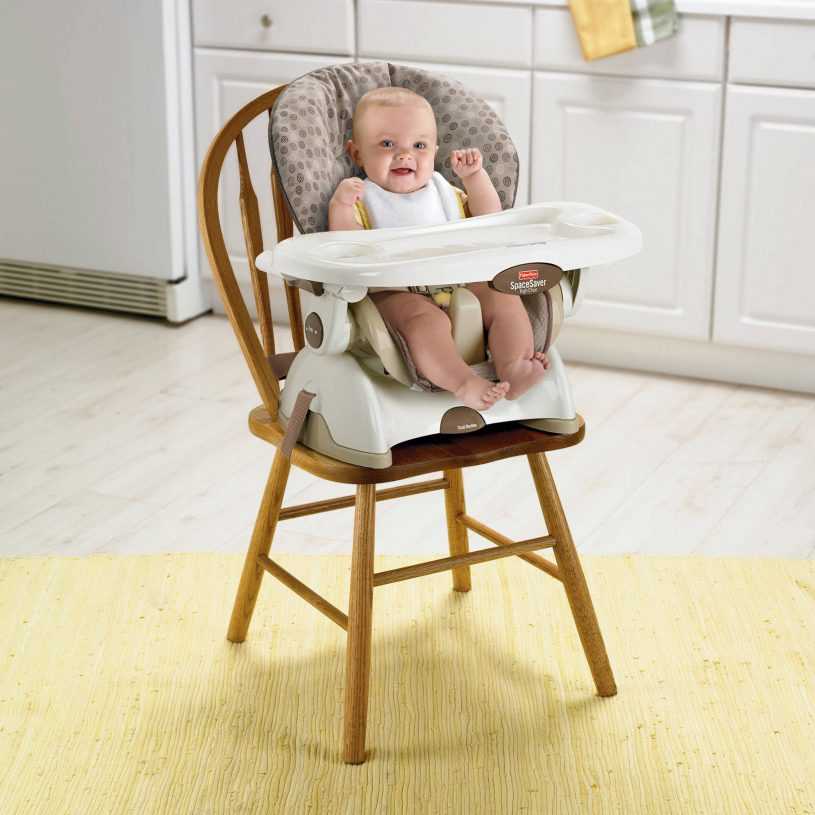 Yes, your baby's head will be still, BUT their airway is not completely open in this position, and a reclined position puts them at more of a risk for choking. That's why this is not a position for baby led weaning or for purée feeding.
Head control also means they have more fine motor skills to successfully eat
The gross motor skill of holding their head, neck, and torso up steadily is needed in order for your baby to be able to practice their fine motor skills (like chewing, picking up objects, scooping with a spoon, etc.).
Without it, it would be very difficult to eat! 
Think about if you were to slouch back in a chair and have your head hanging over to one side or down low. It would be near impossible to eat properly – let alone learn how to do it for the first time! 
As my good friend and speech language pathologist Catherine at ChiKids Feeding says, "Stability at the hips = success at the lips!". Independent movement of the jaw, lips, and tongue (which is absolutely key to being able to learn how to chew and move food around in the mouth) only happens when your baby develops the strength to hold their head, neck, and torso up first.
It's a sequential developmental process, so waiting for one to happen in order for the other to happen, is necessary.
Stages of development required for safe eating in high chairs
The best position for starting solid foods is based on the 90-90-90 rule
As mentioned earlier, your baby needs to be positioned in a high chair in a way that keeps their bum directly under their hips, and their shoulders slightly in front. 
In addition to actually being successful at eating, having the head align over the shoulders and having the core strength to keep the torso upright and open, means your baby's airway is open as well. 
Therefore, food can be easily directed down the right pipe (esophagus), rather than the wrong one (airway)…thereby reducing the risk of choking!
Occupational therapists call this the 90-90-90 rule.
Meaning, your baby should have a 90-degree angle at their hips, a 90-degree angle at their knees, and a 90-degree angle at their ankles while sitting in an infant high chair for baby led weaning or purées.
This is why I would never recommend using a Bumbo floor seat for your baby at meal times (or for "helping" your baby sit). 
Why? 
Because when your baby sits in a Bumbo floor seat, take a look at your child's posture, and specifically, how their head, neck, trunk, and pelvis are aligned. 
Notice how their bum is positioned below and behind the hips, which compresses their torso (hello choking risk and regurgitation of food!), and constricts movements of their hands and body.
If you want to use a floor seat, or an infant positioning seat, to help your baby develop those core muscles that they need to be able to sit up independently, please opt for the Upseat over Bumbo floor seats. 
The Upseat is designed with the help of physical therapists, and actually promotes proper upright posture, healthy hip development, and allows your baby to continue to move their upper body – crucial for feeding! 
It does come with a removable tray as well, so you can use this seat for feeding, if you choose.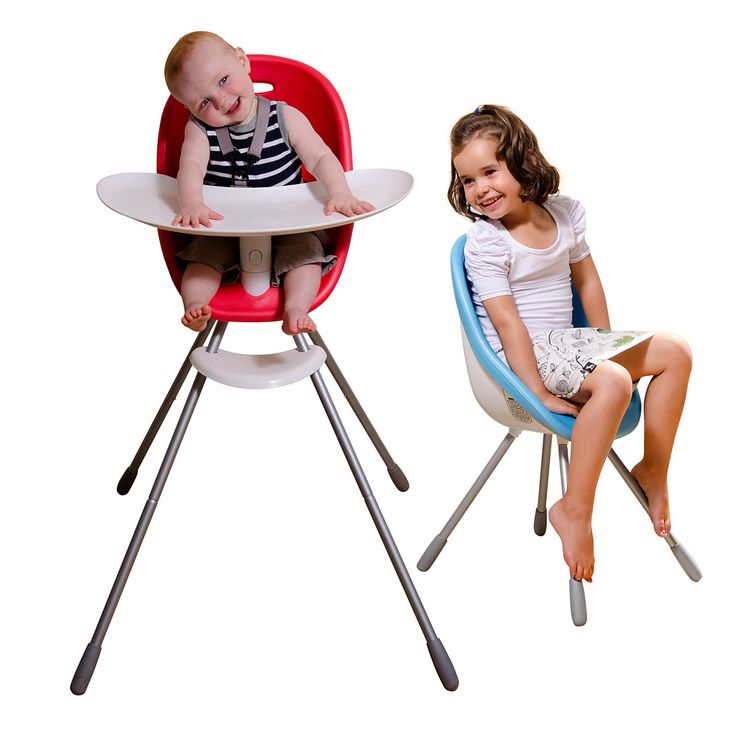 When it comes to using a baby chair seat for practicing sitting independently, I'm always going to recommend the Upseat. 
And, it's safe to begin using from around 4 months when your baby has developed head and neck control, so you can start developing those necessary muscles to be ready for solids around 6 months of age!
I know that floor seats are so convenient for parents, and I genuinely love The Upseat so much that I did get a coupon code for you to use as well! Enter in code MYLITTLEEATER10 at checkout to receive 10% off your purchase.
High chair foot rest for foot support
Finally, babies should have their feet supported by some type of adjustable foot rest when eating in their baby led weaning high chairs. As you can see in the above image, the Ikea Antilop high chair has been modified to add on foot support because it really is so important. 
Here's why….
Think about if you were to eat off a really tall bar stool.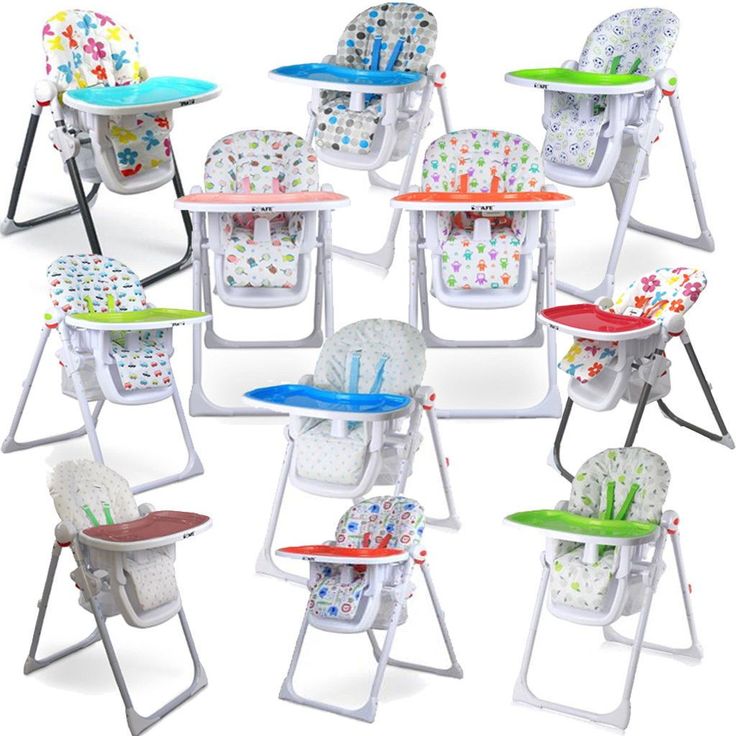 Ever notice how you automatically wrap your feet around the pole, or on a bar, to provide stability and comfort?
You wouldn't be able to concentrate on a fine motor activity (like eating) if you had dangling feet with no support. And it would certainly be harder to maintain good posture and core strength. 
Babies and toddlers are the same. Having no support for your baby's feet means that it requires so much more focus to just sit up – let alone having to concentrate on learning a new task, like eating!
Unrestricted arm movement in baby led weaning high chairs
Speaking of restricting movement…when your baby sits, we want their arms to be unrestricted and for them to be able to lean forward, as well as for them to be able to angle their body ever so slightly to the left and to the right without feeling struggle or strain. 
This is for a couple of different reasons: 
1) Leaning slightly forward and having good range of motion with their arms, actually makes grabbing pieces of food easy for self-feeding.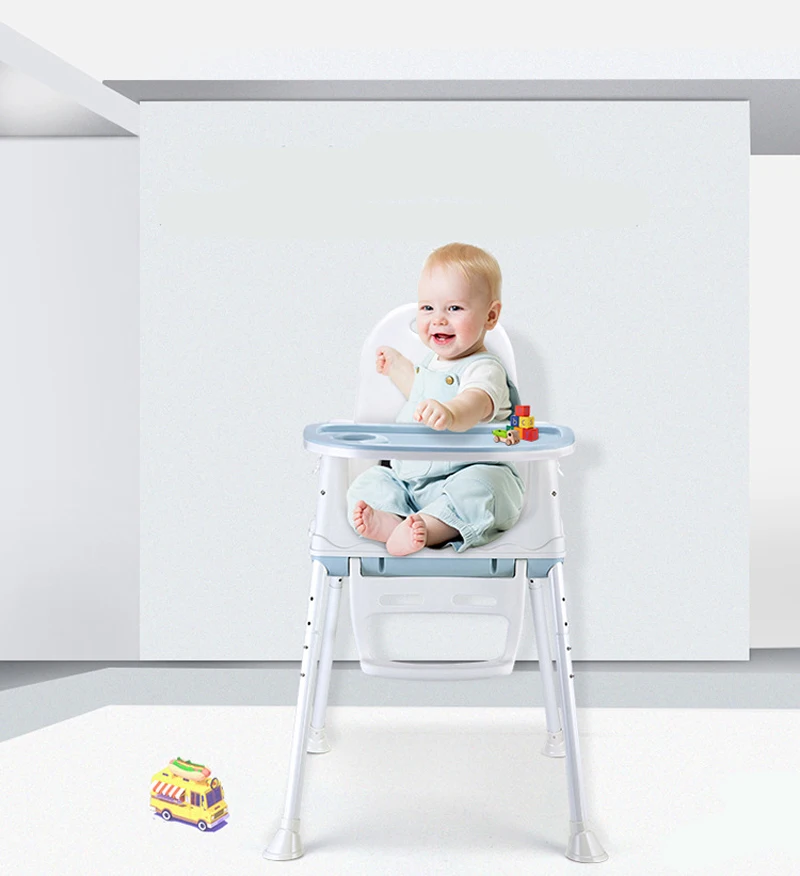 2) Most babies can use their body language to communicate and tell us if they want more (they'll lean in for a bite), if they're full, bored, tired or don't like it (they'll turn away). 
These are key communication strategies that are all part of allowing your baby to be an active participant in feeding (which allows us to be responsive to their needs) – a key factor in my Baby Led Feeding method.
A few tips for making sure you get proper high chair positioning
1. Make sure the back of the high chair is set to a fully upright position
NEVER FEED YOUR BABY IN A RECLINING POSITION (even if your blw high chair has this ability). 
As I mentioned above, if they're in a reclined high chair, they're at an increased risk of having a piece of food get stuck in their airway and cause choking. 
It's also not very comfortable. Imagine if you had to do an ab crunch every time you wanted to lean forward and grab a piece of food!
2.
Use a rolled up towel to fill in any gap between your baby's back and the back of the high chair
If you find that even when they're fully sitting upright in the blw high chair, your baby has a large gap between the back of the high chair and their back (see first photo above). Or, it still looks like they aren't sitting in a 90 degree hip to torso position, placing a folded towel between the back of their shoulders and the high chair back works well. 
This gives them support and makes it less work to eat by keeping them forward a bit (see second photo above). It could be way too uncomfortable, and tiring for them, to have to use all that core power to maintain an independent, upright position for an entire meal. 
In the same way, if they're bum is so far back in the seat in order to keep their back up against the back of the high chair, then every time they want to lean over and grab a piece of food, they'd be using lots of ab power – which is also exhausting.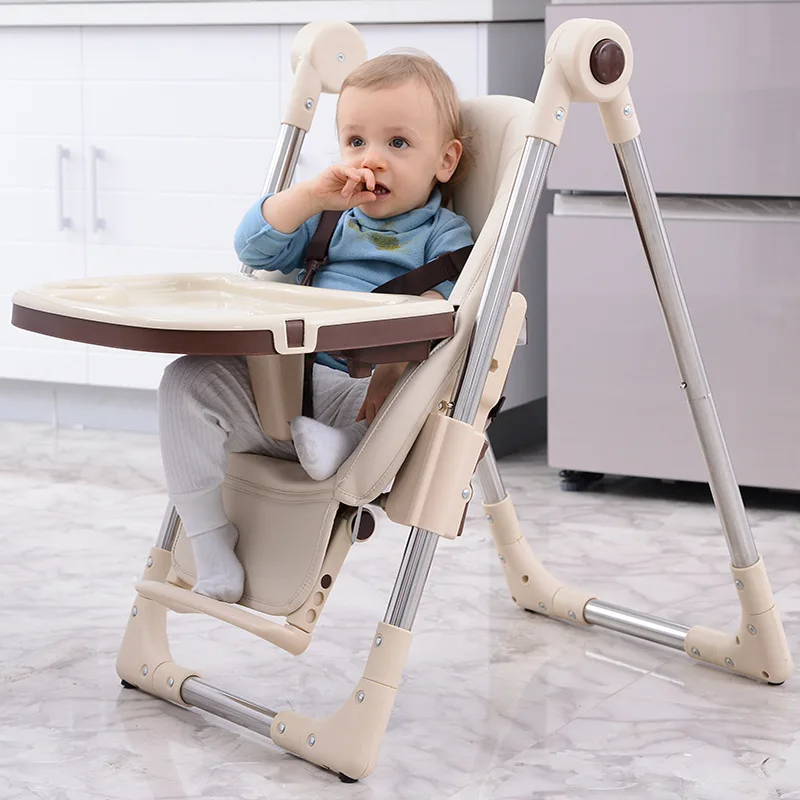 Placing a towel in between their back and the high chair means they can still sit upright, but closer to the tray.
3. Use a rolled up towel to wrap around baby's hips to support them and prevent them from sliding or toppling over
As you can see in the first photo above, this baby actually kept sliding forward in her baby led weaning high chair. This was fixed by wrapping a towel around either side of her hips to fill in the gaps on either side, and secure her more in place (seen in the second and third photos). 
This is also a good trick to use if your baby gets tired after a few minutes of completely independent sitting, and starts to topple to one side or another. 
Helping them sit with assists like this to help them last through the entire meal is totally fine, as long as they still have free range of motion in their torso and arms.
4. Ensure that your baby's high chair tray is positioned about halfway between their belly button and the breast
Adjusting the high chair tray so that it's positioned halfway between your baby's belly button and breast will ensure that they can rest their elbows comfortably on the tray.
This will allow them to reach for things easily, and gives their hands something to rest on during the meal.
5. Ensure there's proper foot support on the infant high chair
This can either be from a high chair with built-in, adjustable high chair foot support, or you can set up your own using a cut pool noodle (see here). Or by attaching a tea towel across the bottom of your baby's high chair (like this one here). 
Babies eat so much better, and are way more comfortable, when they have something grounding them to help provide them with that core stability in their high chair.
Positioning your baby for feeding (in a nutshell)
To sum it all up, knowing when it's safe for your baby to sit in a high chair really depends on their readiness to do so. Remember that this process can only be done when they're developmentally ready, so don't rush it! 
And make sure that when your baby sits in a high chair, they're sitting using the 90-90-90 rule, and never reclining backwards.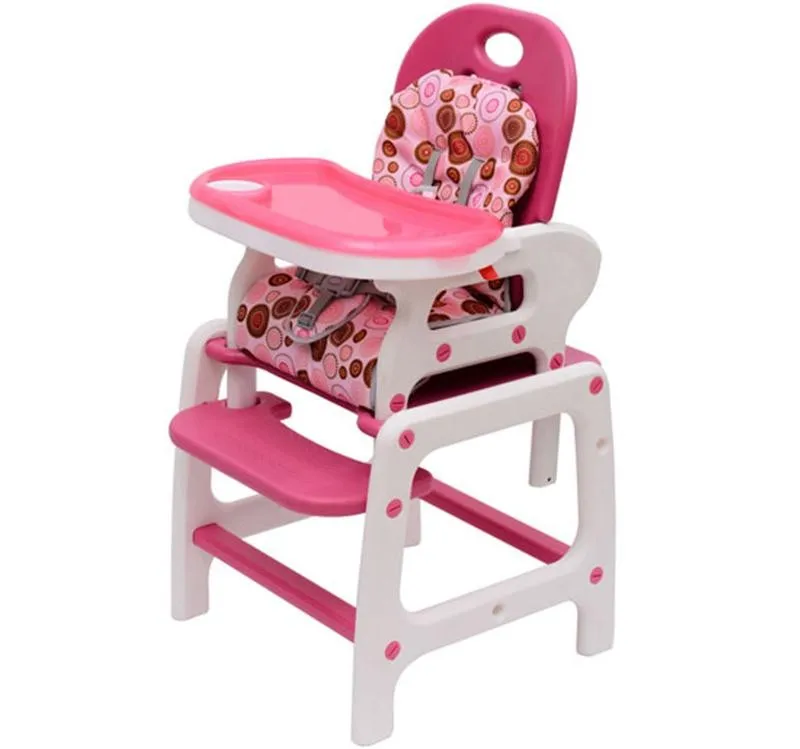 If you found the tips I gave here helpful, you'll love all the tips I have for you on my Instagram page! And if you're looking for a complete plan for how to feed your baby purées or finger foods, the baby-led way, take the Baby Led Feeding online course to walk you through everything you need to know, step-by-step!
Happy feeding!
Pin this to save these tips for when you're starting solid foods with your baby!
High chair, when can I start?
When can your child sit in a high chair?
Every baby will be a little different, but most parents can expect their little one to be ready to sit in a high chair between 4 and 6 months of age. You may be able to start a little earlier with a reclining highchair.
Many parents look forward to this time because moving into a chair can free you up a bit in the kitchen and at the table. It also allows your child to participate in some family activities, which is very beneficial for social development.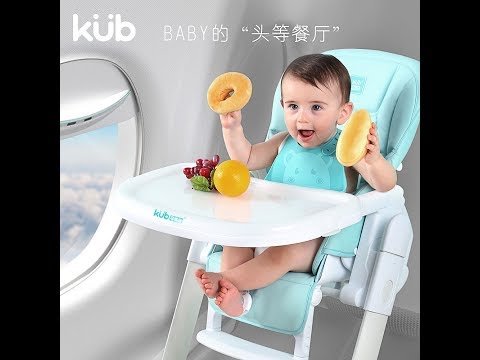 In order to know when the time is right, there are a few key things to look out for before putting your baby in the highchair.
Each chair manufacturer has an age recommendation for each chair. Most recommend waiting until your baby is 6 months old before using a high chair. This is a good starting point, but you need to make sure your child is ready. After all, every child develops at a different rate. For security reasons, take your time.
It's easy to tell when your baby is ready to sit upright. Her physical development between 4 and 6 months should begin to show that she can sit well with some support. When seated, it should show fairly good stability and control, with only a slight sway. The ability to hold your head is also necessary.
Using a highchair with a reclining backrest
If your child has not yet reached this stage and you want to start using a highchair, consider purchasing a reclining highchair. They can also be used vertically, so you'll get a lot of use out of them as you grow.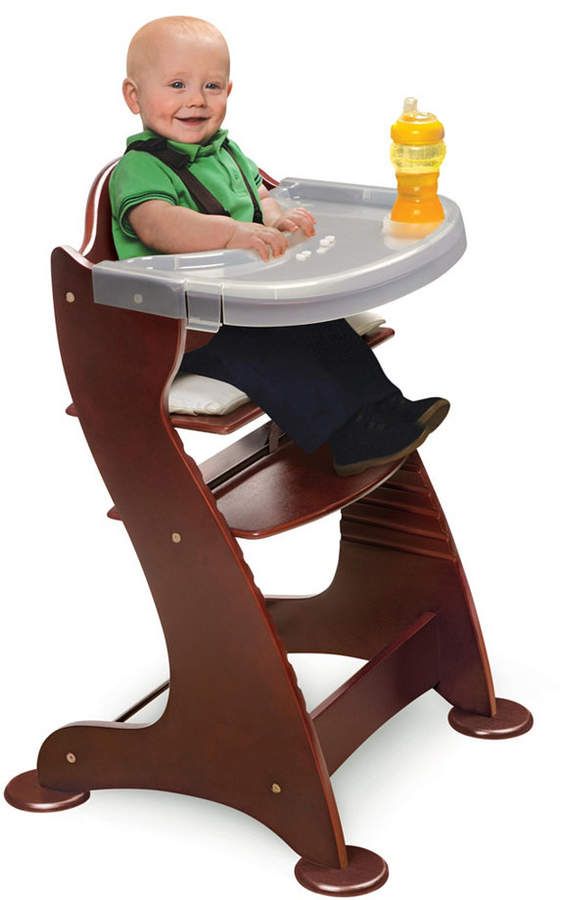 Many parents find the recumbent position to be convenient as a resting place for their child. Perhaps a reclining highchair makes for a nice seat with a view while Mom or Dad cooks dinner. It can also work for those rush moments when you bottle feed your baby with one hand while eating dinner with the other.
It is not recommended to use the lying position when you start feeding baby food.
Choose a good quality high chair
Whether you choose a reclining chair or a standard high chair, be sure to explore all the options. You want something strong and durable for at least two years of use. It should also be easy to clean and use. In the prone position, a five-point safety harness is a must for young children. When seated, a well-secured seat belt should be used.
Be sure to write down the brand and model number of your child's high chair after purchase. It's also a good idea to register it with the company. This is a simple step you can take in case a manufacturer has recalled a product for safety reasons or for any other reason and will allow you to take immediate action.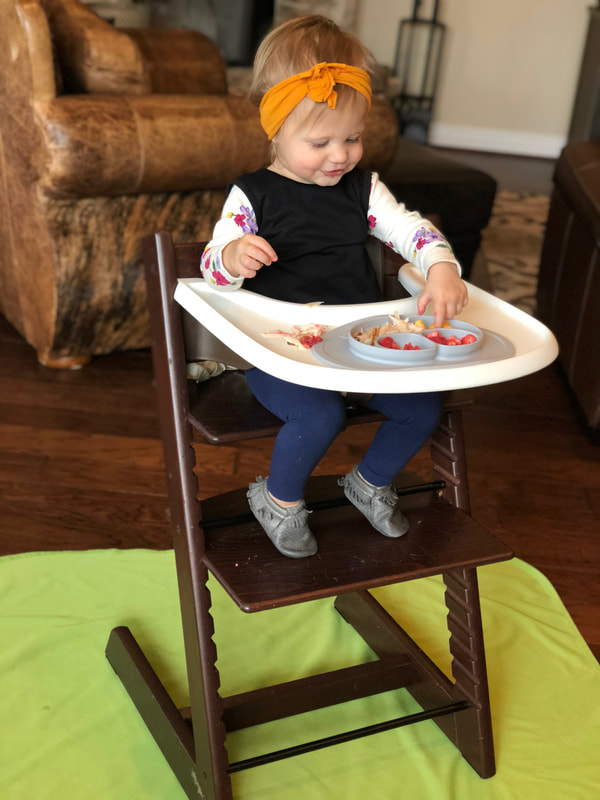 Putting your baby on a high chair
A great tip for starting solid foods is to teach your baby to sit on a high chair a few weeks before you start eating solid foods. Let her take the chair for a "test drive" and let her settle into her new throne. Give her a plate, cup, and spoon to play with and you'll have one less obstacle when it's time to start.
As important as it is for the child to feel comfortable in the high chair, it is equally important that anyone who will look after the child during meals is familiar with its operation.
Is it foldable and where is the locking mechanism?
How are the child restraint straps adjusted and secured so that the child does not slip out?
How fast does the tray come off?
Is it easy to make a child sit down and get up from a chair without touching the little fingers of any of its parts?
This is not something you want to learn when a child is sitting in a chair.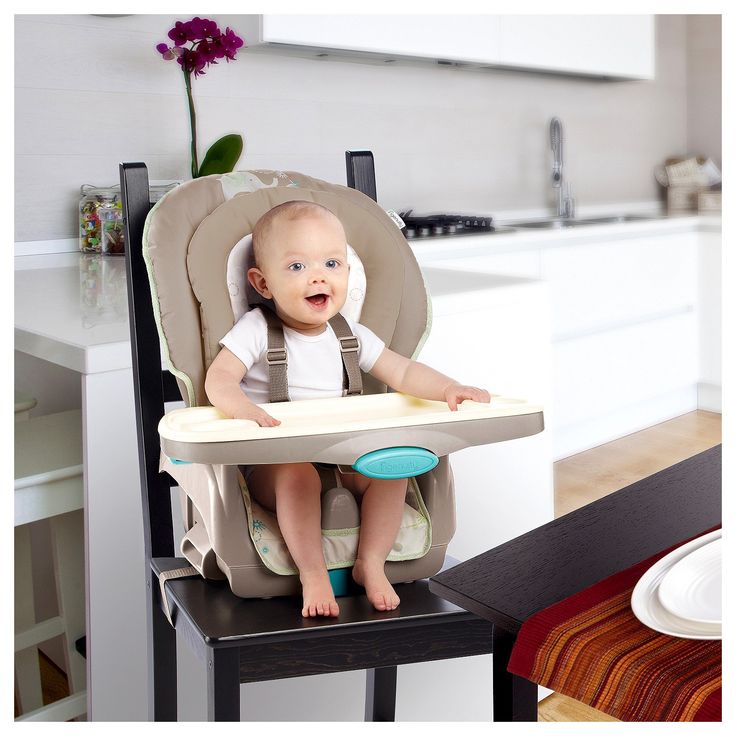 These are also things that you will want to show to everyone who will be around at the time of the baby's meal.
High chairs on wheels are very convenient, especially if one of the parents is alone at home with the child and needs to perform several tasks at the same time while the child is eating. Be careful to test the wheel lock mechanism and know how to do it on the fly.
For some infants, engaging in social interaction while eating is key to ensuring that everyone can eat in relative peace. Make sure the chair is set up so that the child can see you and feel like part of the party, but not within reach of hot or sharp objects on the table.
Highchair Safety Tips
When transferring your baby to a highchair, remember a few important safety tips:
Always fasten infants with a five-point seat belt or seat belt.
Take a moment to inspect the chair before each use. Make sure everything is in place and the chair is not damaged.
Always keep the highchair close to you. You must see your child wherever you are. Make sure it is out of reach of the table or countertops.
Never leave babies on a high chair unattended.
Once your baby is ready to sit on the high chair, it will make meal times much less hectic for mom and dad. You may even be allowed to finish your meal for a change. Just make sure your child (and you) are ready for this important step.
When do you need a high chair?
December 16, 2020
Feeding a baby is a serious process that requires special attention, patience and time. Comfort for the baby during meals plays a paramount and most important role. A baby can be fed much easier and faster if he sits in a comfortable chair.
Of course, you can put your baby on a regular chair with a pillow or on your lap. Not all parents immediately buy a chair for feeding. At what age should you start using a chair? - moms ask pediatricians a question and study all kinds of ratings.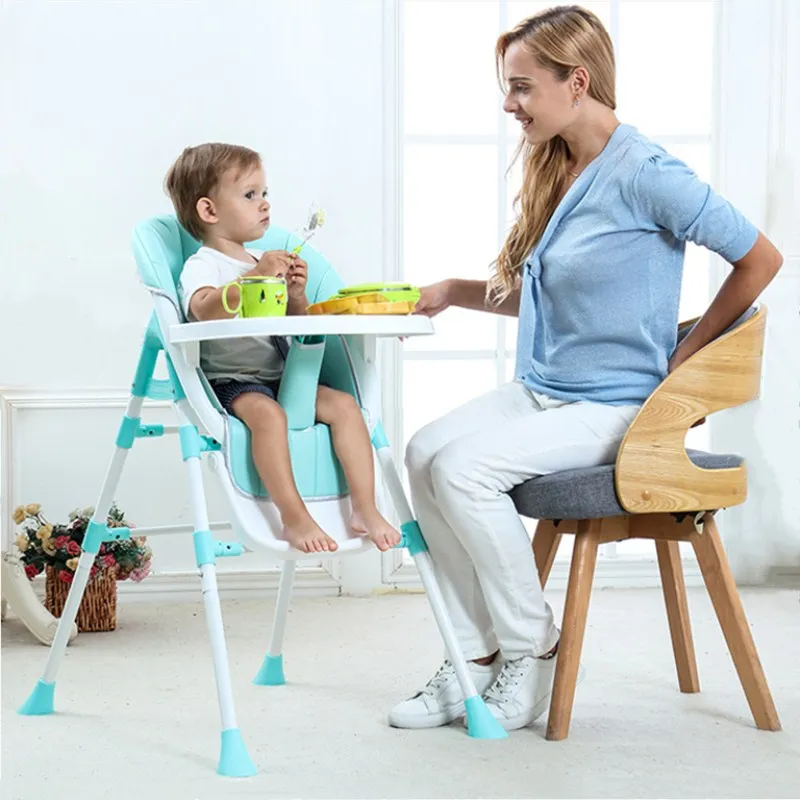 In the meantime, the choice is not made, parents feed the children where they have to - on the sofa in the living room, in the crib, etc. This is inconvenient from all points of view - the baby is distracted all the time, playing, food falls on the floor, clothes get dirty. There is a high probability of a fall and injury to the child and the formation of an unhealthy posture.
When should I buy a high chair for my baby? Experts give an unequivocal answer - immediately, when complementary foods begin. Advantages of special models adapted for children:
anatomical shape and body support in the desired position;
convenience for children and parents;
the possibility of maintaining cleanliness in the house and neatness of clothes;
safety.
What else you should pay attention to when choosing - you can find out from this article
How much do you need a high chair? It is better to buy a suitable model immediately after the birth of the baby and seat him in a chair when he begins to sit up on his own.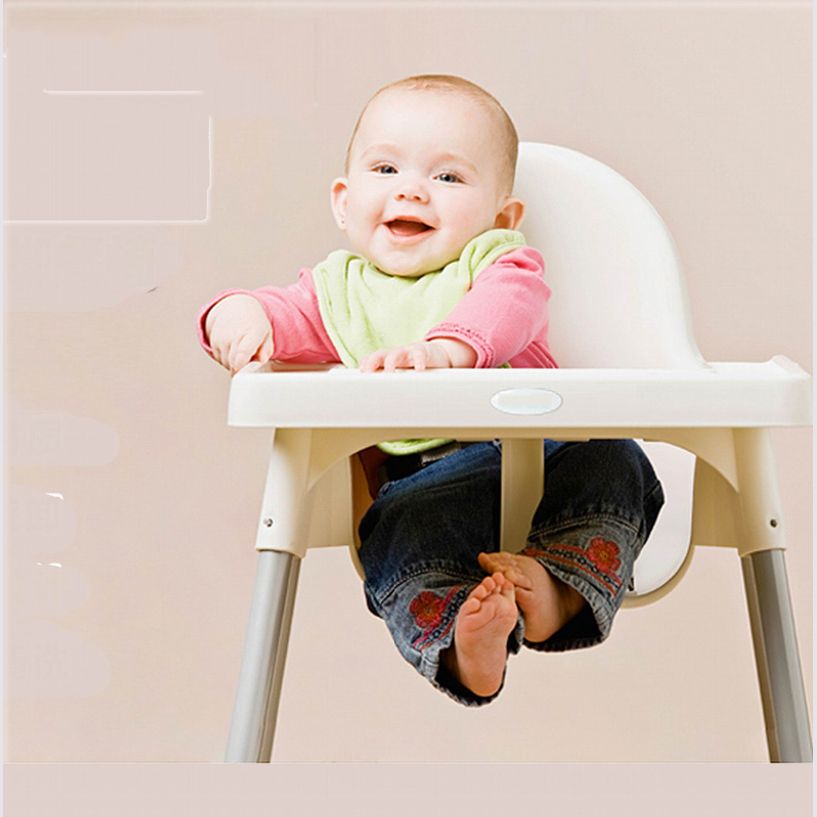 Parents can leave their child behind such a chair without worrying about his safety. Babies do not turn over cups and plates on the floor, do not fall onto the floor, reaching for toys, etc. , a small armchair and a convenient removable table in the form of a tray. The design features of the product are a large seat height, the ability to adjust and fold the chair for storage.
When to buy a high chair? Please note that the child will grow rapidly. Therefore, parents need to take care of a comfortable seat in advance.
It is wiser to choose a multifunctional model that can "grow" with the baby.
The restraints prevent the baby from falling, and thanks to the convenient removable table, the child can play and eat. Such a transformer is at the same time a chair for feeding the smallest, serves to form a healthy posture and develop the habit of sitting correctly. It has undeniable advantages over conventional chairs, hanging models, boosters, etc.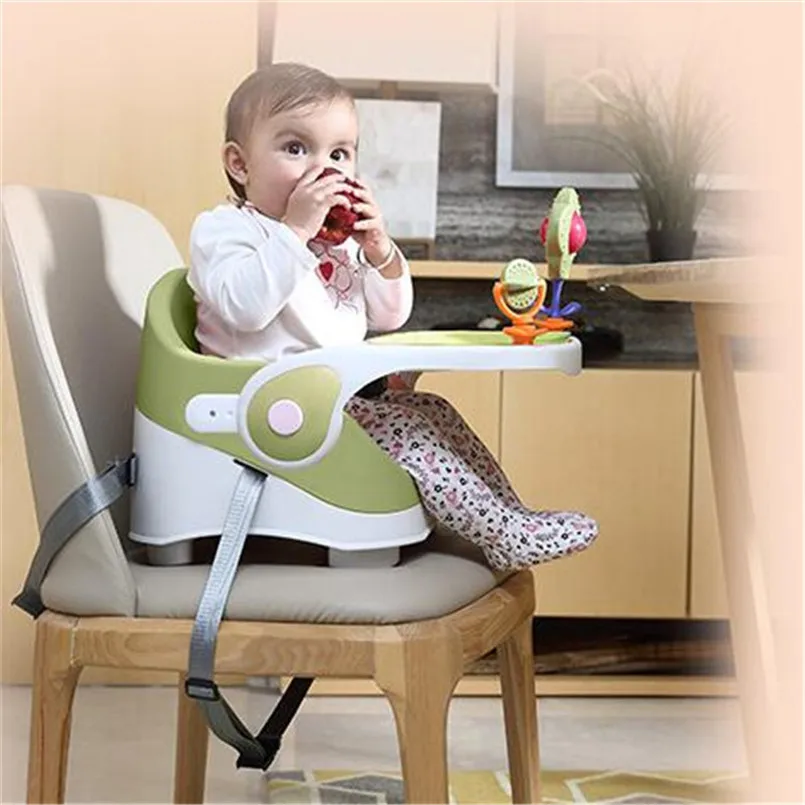 Therefore, the answer to the question - what time you need a high chair, sounds like this - buy a high-quality "growing" chair as soon as possible, which will last for many years.
Before buying, you should study the ratings and read the reviews. When compiling the list of the best "growing" models, many parameters were carefully taken into account - safety and structural strength, ergonomics, manufacturing materials, the possibility of adjusting the product for anatomical features, age, height and weight, environmental safety of the coating, duration of operation, particular care for a particular model, etc. .
How to choose the right growing chair, you can read in this article
Why you need a high chair for feeding - the opinion of children's orthopedists and will prevent the development of many negative consequences of improper sitting at the table.
How to choose a high chair.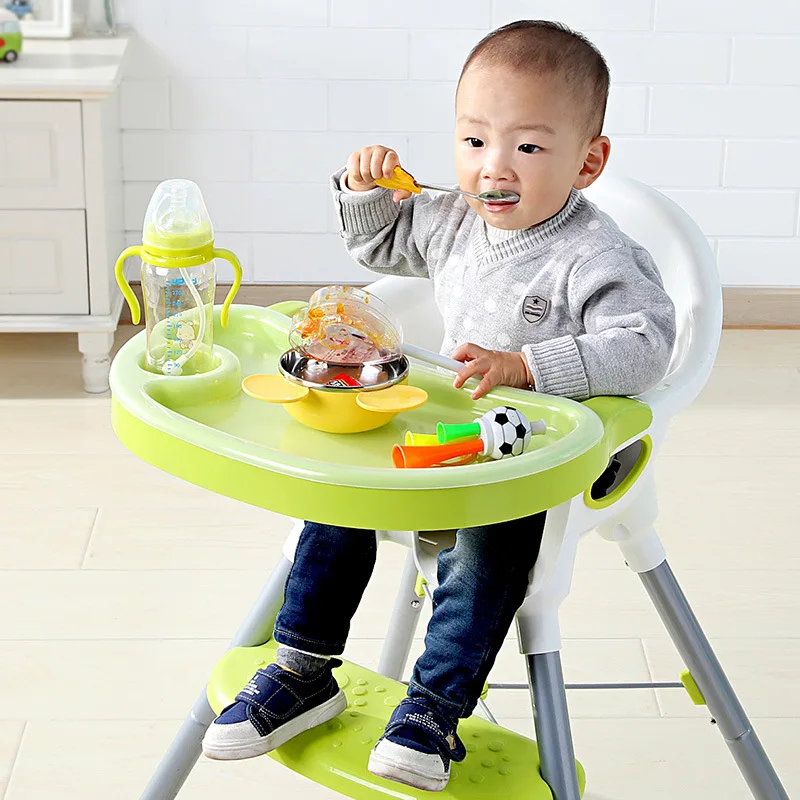 Expert Tips
If we sum up all the recommendations of specialists in different fields, the advice will look like this:
Production materials. Pay close attention to the quality of the material. Children are not suitable for affordable furniture made of cheap and harmful plastic or boards made from toxic sawdust and shavings impregnated with binders in the form of formaldehyde resins.
Settings. Chairs for children are selected based on the possibility of adjusting the back, seat and footrest. Only in this case the child will be able to maintain the correct posture. Parents can easily adjust all the necessary parameters if necessary.
Security. The product should be free of sharp corners and poorly processed surfaces with burrs. The design itself must be stable and reliable. This will prevent the possibility of accidental injury and damage.
Fittings. Components and accessories are one of the important characteristics of a quality model. Serious manufacturers use the highest quality parts. Good fittings do not go out of service after a couple of weeks or months and serve for many years without requiring replacement.
Coating. In the manufacture of children's furniture, only safe finishing materials and water-based paints are allowed. They do not emit harmful fumes into the space and exclude the possibility of developing an allergic reaction, both in the child and in all family members.
Important! Often in the manufacture of ordinary children's chairs and chairs used toxic paints and varnishes, cheap and harmful materials, as well as unreliable fittings that quickly break down. In addition, the product has to be replaced very quickly, as the child grows.
Conclusions. Highchair and child's age
Highchair - when is it needed? From five to six months or even earlier. Such models have adjustments based on the anatomical features and age of the child and are able to withstand a sufficiently large load.