Food chart for 6 month old baby boy
6 Months Baby Food Chart
Start your little one's journey into solid foods the right way with our 6 months Baby Food  Chart! Includes healthy and nutritious Indian recipes too!
Things to Remember before Weaning your Baby
Basic Tips for Feeding your 6 Month Old Baby:
6 Months Baby Food Chart with Indian Recipes
Week 1 – 6 Months Baby Food Chart
Week 2 -6 Months Baby Food Chart
Week 3- 6 Months Baby Food Chart
Week 4- 6 Months Baby Food Chart
How do you know that your baby has an allergy to a particular food?
What to do if your baby is allergic to a particular food?
Buy Healthy Nutritious Baby, Toddler food made by our own Doctor Mom !
So your baby is 6 months old – congratulations, she's ready to start solid foods! Many Moms eagerly wait for that moment when their little ones start eating new foods. It's so much fun to watch the expressions on those little faces change as they taste new flavors!
Things to Remember before Weaning your Baby
Be sure that your baby is ready for starting solids by checking her physical developmental milestones.
Please remember that at this age, breast milk is still the major part of your baby's diet. WHO recommends exclusive breastfeeding till 6 months of age, and breast milk to complement solids for the next year or more.
Make sure you are well prepared with all the essentials for weaning your baby.
Your baby's immune system is still weak and she is vulnerable to all kinds of germ attacks. So, ensure that all your baby's feeding utensils are absolutely clean and sterilized. If you're confused about how to do it, then this video on how to sterilize the feeding utensils for babies should help. 
Initially, it can be difficult to know exactly how much solid food for 6 month old . You don't really need a lot of solid food for your baby at this age. About 90 ml per feed twice a day should be enough to begin with. Before starting out, you may want to check our post on how to introduce solids to Baby for some useful tips and tricks.
Here is a look at the foods you can introduce this month:
Basic Tips for Feeding your 6 Month Old Baby:
You can make any of the purees or porridge runny by adding breast milk or formula milk
Thicker purees will help add calories
Follow a routine to feed baby, like tying on the bib, putting him in his chair, etc.
Continue to breastfeed on demand
Here is the 6 months baby food chart for indian babies.
Week 1 – 6 Months Baby Food Chart
Day 1 – The best choice for a baby's first food is fruit. Start with 1 tablespoon of Apple puree once a day.
Day 2 – Increase to 2 tablespoons of Apple Puree twice a day.
Day 3 – Increase to 3 tablespoons of Apple Puree twice a day.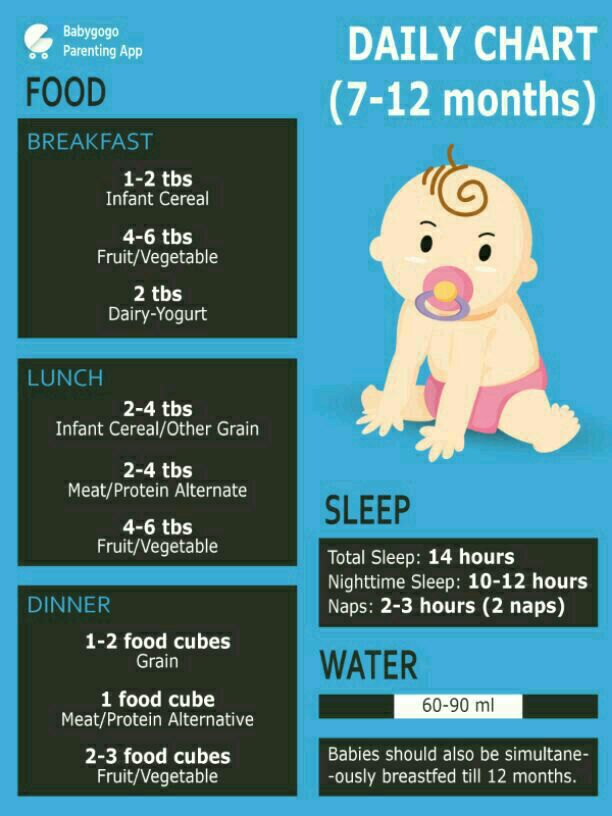 Day 4 – You can now introduce a new solid, a vegetable. You can start with carrot, by giving 1 tablespoon Carrot Puree once a day.
Day 5 – Increase to 2 tablespoon of carrot puree twice a day.
Day 6 – Increase to 3  tablespoon of carrot puree twice a day.
Day 7 – Go with apple puree in the morning and carrot puree in the evening.
Week 2 -6 Months Baby Food Chart
Now that your baby has gotten used to a texture other than that of milk, you can continue with two solid meals a day. The recommended feeding schedule for 6 month old babies is somewhere during mid morning and early afternoon ,around 3:00 PM, but you can adjust it to your baby's liking. You can find the recipes mentioned in the chart by clicking on the links below.
Week 3- 6 Months Baby Food Chart
Continue with the same timings as earlier, with two solid meals per day. You can introduce some new grains, fruit and vegetables this week. Get the recipes of the dishes in the chart by clicking on the links below.
Week 4- 6 Months Baby Food Chart
This week, you can continue with baby's familiar foods, and introduce some new ones. If anyone in the family has celiac disease, gluten intolerance or any kind of wheat allergy, talk to your doctor before introducing wheat. Get the recipes by clicking the links below.
Please note that these meal plans aren't written in stone! This is just a guide that gives you an idea about what to feed your baby, when to feed and how much to feed. You can customize these meal plans to your baby's convenience and routine. If she doesn't like a food, wait a few weeks before introducing it again. Be patient, don't expect your baby to polish off the plate at every meal! It'll take another two months for her to completely finish the portions, so don't try to force feed the remaining food on the plate.

However, do consider the risk of food allergies. You can't be sure if your baby is allergic to any food, so always follow the 3 Day Rule before introducing any new food to your baby.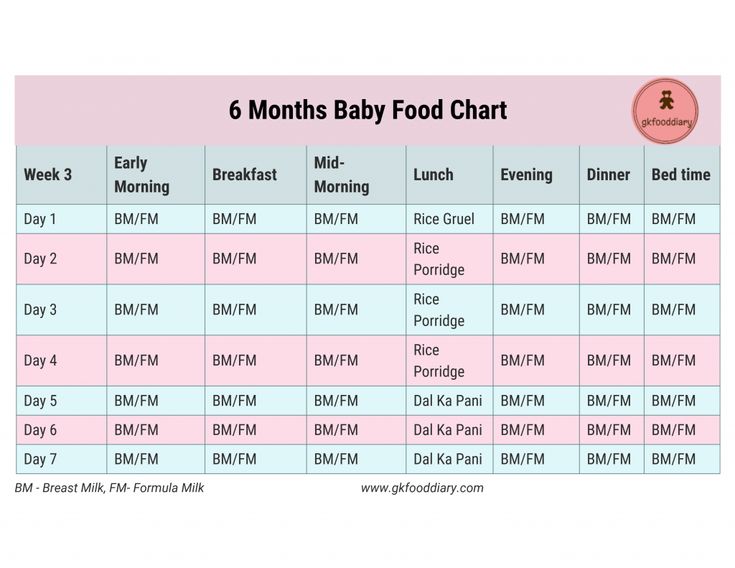 This will also help you rule out any foods that are causing indigestion in your baby.
How do you know that your baby has an allergy to a particular food?
If a food doesn't suit your baby, your baby may present with the following symptoms:
Diarrhea
Constipation
Vomiting
Rashes
Incessant Crying (due to stomach pain)
What to do if your baby is allergic to a particular food?
If your baby is allergic to a particular food, stop it immediately and restart it after 2 months. At every point, be sure to follow the 3 day rule – whether introducing a new food or reintroducing an old one. You can start a "Baby Food Diary" to keep track of your little one's favorite recipes and specific food allergies.
Please click this link for other 6 months Baby Food Recipes.
Looking for best first baby foods ? We have got you covered,  I make baby food in my own kitchen and we sell through LittleMoppet Foods ! A brand of wholesome and pure homemade baby food products, made without preservatives, added flavors, added sugar or salt.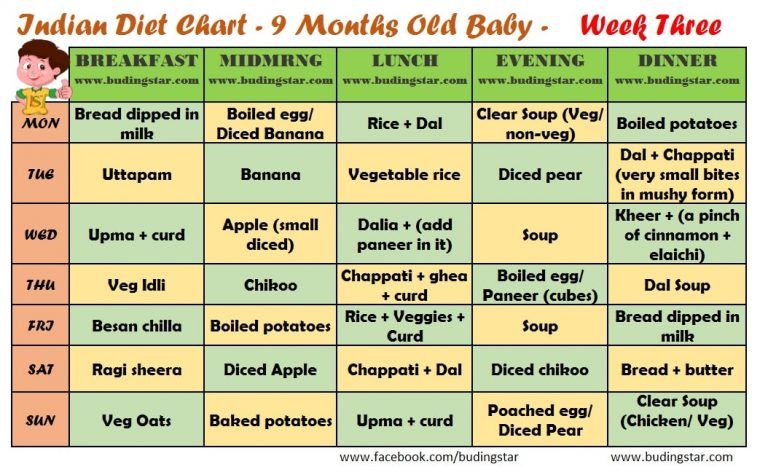 100% Organic & Natural.
No time to prepare baby food at home? Don't worry, we prepare it hygienically and ship it to your doorstep. All food products are made FRESH only after the order is placed
Buy Now
Use these food charts and plan your baby's meals using a Printable Meal Planner. You can also keep a "Baby Food Diary" to track your little one's favorite recipes and food allergies if any.
If you wish to get a 6 months baby food chart pdf then you can sign up here
Check out 6 to 12 months baby food chart pdf here:
7 Months Baby Food Chart
8 Months Baby Food Chart
9 Months Baby Food Chart
10 Months Baby Food Chart
11 Months Baby Food Chart
1 Year Baby Food Chart
Many moms ask about food for 6 month baby to gain weight, we have covered that also in this article, let us know if you find it useful.
Post Updated on – 11 June 2019, 19 May 2021, 20 March 2022
Post first published on – 7
Make life easier with our eBook, '50 First Foods for Babies' that has recipes and meal suggestions for every stage of weaning.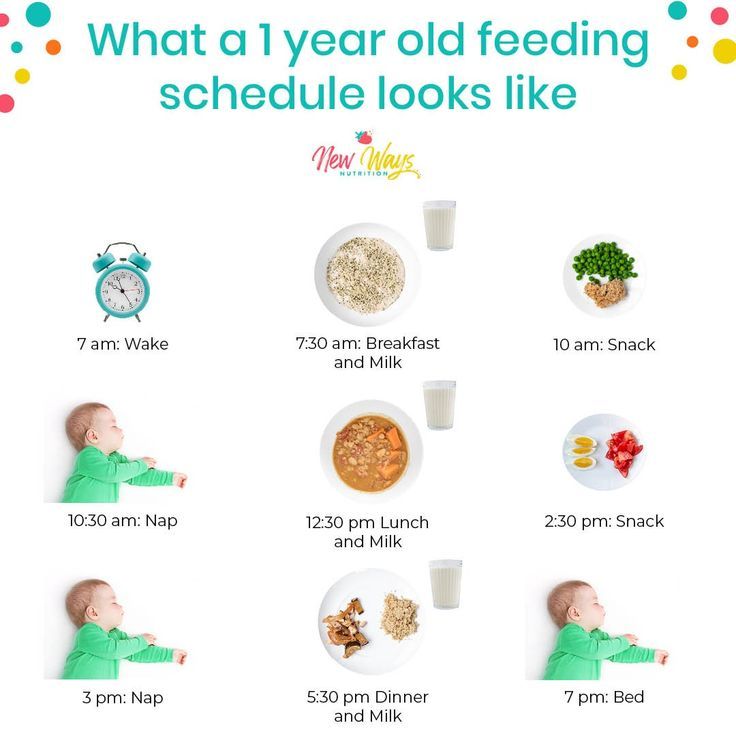 You can download it for free here.
The information presented here is meant to be a guide and does not replace professional medical advice. You should always discuss your baby's dietary requirements with your doctor.
Buy Healthy Nutritious Baby, Toddler food made by our own Doctor Mom !
Shop now!
6 months baby food chart with baby food recipes
By Swasthi on August 6, 2022, Comments,
6 months baby food chart with baby food recipes. The best time to start solids for babies is after 6 months. There are many sources suggesting introduction of solids from 3 to 4 months. But an early introduction of solids can lead to more colic, digestive troubles and allergies.
A baby develops digestive enzymes in between 4 to 6 months which are crucial for digestion of foods. It is a good choice to wait until the baby develops these enzymes completely.
A baby typically begins to develop head control from 3 to 4 months and gains strong head to neck muscles by 6 months.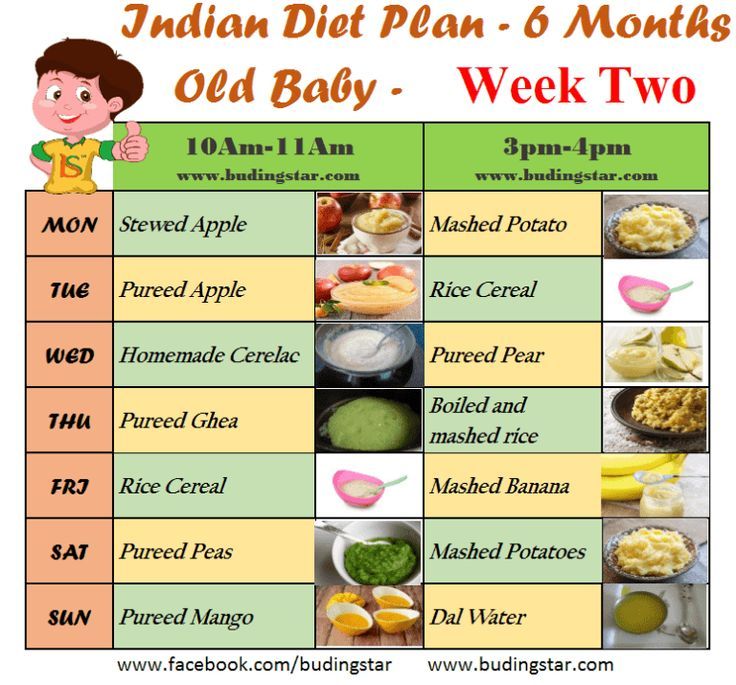 A strong head to neck control helps the baby to accept solids well and can easily swallow.
So by 6 months a baby has a better digestive system and a good head control which are needed before the introduction of solids.
Breast milk is the best bet for the overall growth of a baby. It is recommended to exclusively breast feed a baby for the first 6 months.
As an exception, formula milk is an alternate for women who cannot breast feed baby due to professional, personal or medical reasons.
If you have a baby older than 7 months, you can follow this complete
baby food chart for 8 months old and above
How do you know your baby is ready for solids?
1. The baby's head & neck are stable. This means baby can accept food and swallow.
2. Baby must be able to sit stable with or without support.
3. Shows interest in food when others are eating.
4. Baby must be able to open the mouth when food is offered.
5. Baby is still hungry after breastfeeding or formula feed.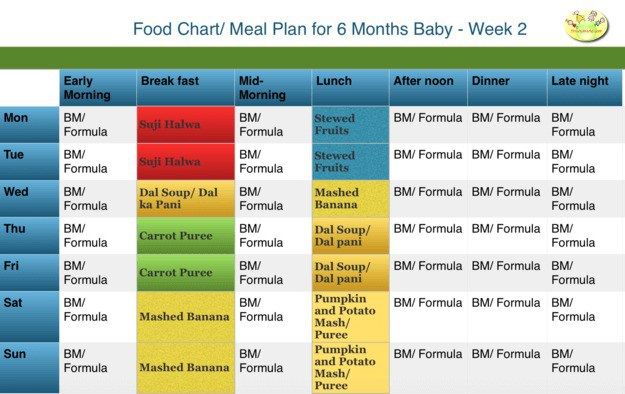 Tips on how to start solids for baby
First consult your pediatrician to confirm if your baby is ready for solids. It is very important to plan well before you introduce any other foods apart from breast milk.
Make your own feeding schedule along with the foods you intend you try and get an approval from your pediatrician. Most clinics and hospitals also provide a diet chart or at least a guide.
I have made this from the guidelines I got from the Clinics here in Singapore. I have followed the same for both my babies.
1. Always start with a single food. Either a fruit, vegetable or grain. Avoid a mixture of foods. You can start with mashed fruit first. The presence of digestive enzymes in fruits helps the baby to digest them better.
2. After a week, while you continue feeding fruit, you can start rice water (kanji), after a week clear dal soup or boiled vegetable broth / water.
3. Always follow the 3 day wait rule for every food you introduce.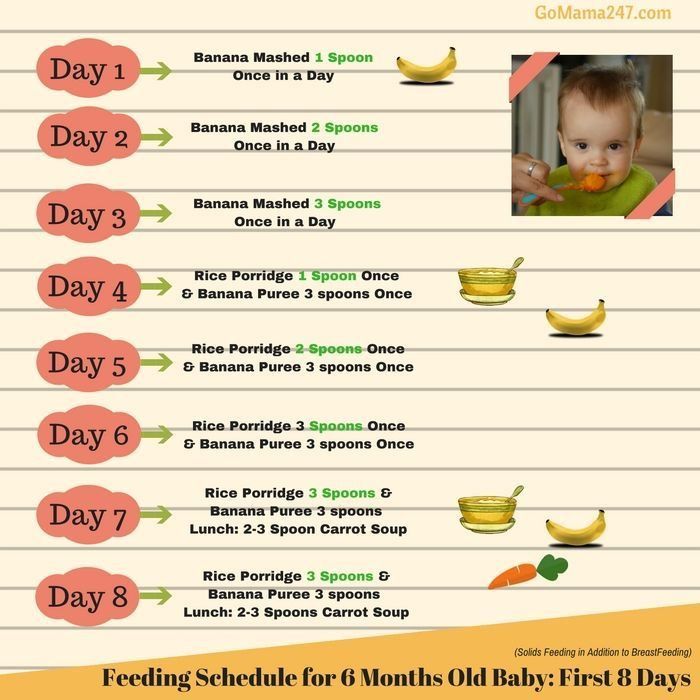 Wait for the results until the 4th day. Please see the doctor immediately if your baby develops rashes, runny nose, watery eyes, colic etc.
4. Introduce new foods to your baby during breakfast or lunch. Avoid trying new foods during the later time of the day as it is easy to get a control over the problems.
5. A 7 month old baby can eat only a tsp of mashed food initially. Slowly by 4 weeks increase the quantity to a tbsp and then more.
Helpful tips – introducing solids for baby
1. Use stainless steel or glass bowls and cups for preparation of baby foods. Avoid plastic ware even made of any superior material, including virgin plastic or graded as BPA free. Any kind of plastic ware consists of plasticizers that are used to make the containers flexible.
Plasticizers are similar to BPA and are an endocrine disruptor. Even BPA free plastic and virgin plastic ware have chemical plasticizers. Please use google search for more info.
2. Always feed the baby in a calm, quite environment and in a steady place like – on the lap, in a high chair or on the floor.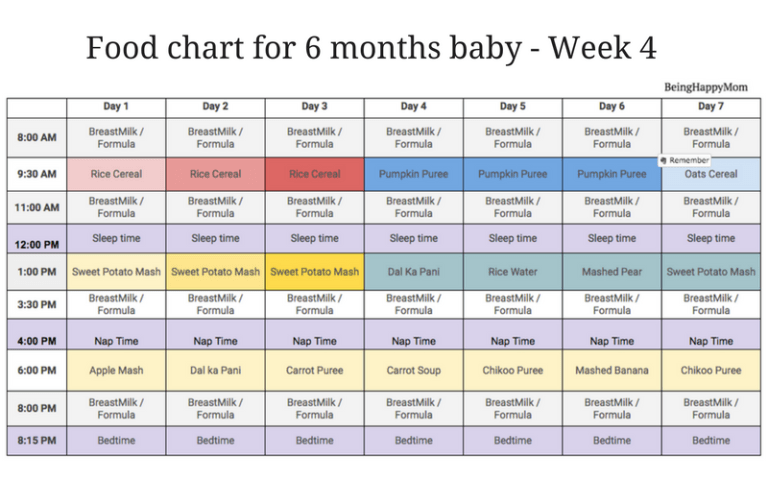 3. While feeding, refrain the baby from activities like watching a TV show, playing with a hand held gadget like mobile, and tablet or game devices. Some of these emit radiation that is not good for the baby.
4. Meal time has to be a learning for the baby, speaking to your baby about the food – its texture, taste and color helps the baby to develop a liking for the food. Or narrate a good story to the baby, do not encourage the baby to talk while eating. This may seem to be over disciplined but this is the only way i have found to grow fuss free kids. They will begin to love any food that is served.
5. Introduce water from a steel cup or a glass not from a feeding bottle or sipper. A 90 ml cup is best suited. This makes the transition from teat to cup easy when the baby grows up.
6 months baby food chart
To follow this baby chart please ensure your baby has completed 6 months and you have an approval from your pediatrician for the same.
A baby usually consumes milk every 2 to 3 hours.
Solids should be served in between the feeds. Use plain boiled and cooled water to puree the fruits if needed. Avoid mixing milk or any other ingredient with fruit.
The combination of fruit and milk products results in indigestion, loss of appetite, no weight gain and accumulation of toxins.
Clear soups can be used to make pureed rice, oats or ragi cereal. Feeding only clear soups regularly is not a good idea as they lack the nutrition that is provided by a semi solid food or milk.
I have shared a sample baby food chart below which shows the quantities of fruits and vegetables. From the chart (day 13 to day 20), you can replace potato with rice porridge (kanji) or dal soup or ragi porridge.
This is an alternate table which you can follow if your baby is in between 6 and 7 months.
Wake up
Breastfeed or formula milk. What ever time your baby wakes up.

breakfast
7.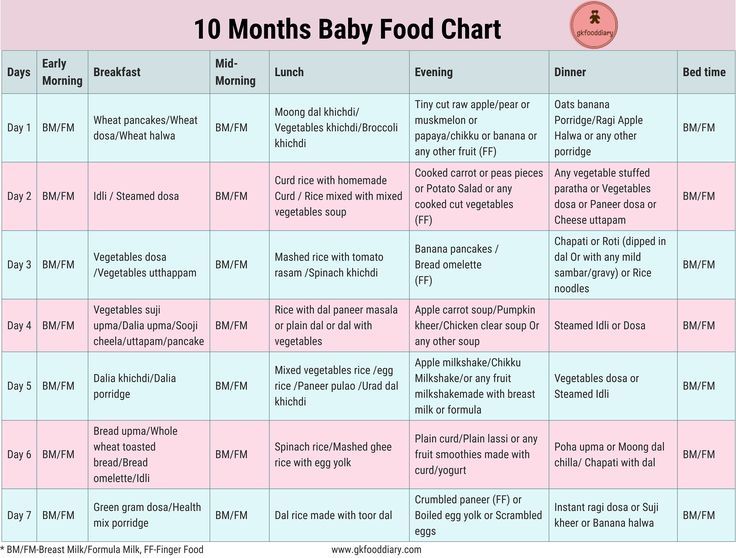 30 to 8 am fruit puree
One of the following: (only after 1½ to 2 hours of milk). You can use boiled cooled water to thin down the puree.
1. Banana- mash with a fork or run in a blender.
2. Apple- peel,core,steam for about 5 to 6 minutes. Puree in a blender
3. Chickoo (sapota)- mash with a fork and spoon
4. Pear- peel and core, steam for 5 to 6 minutes
5. Papaya – mash with a fork or blend
6. Ripe avocado – add it to a blender and puree

lunch
11.30 to 12.30 pm
After introducing fruits, you can try these. Continue to feed fruits for breakfast.
first 1 week – rice cereal
2nd week apple rice  or rice cereal with boiled carrot
3rd week ragi porridge Or apple ragi or oats porridge Or apple oats Or clear moong dal soup
4th week – Repeat the foods mentioned above. You can also introduce soupy khichdi. You will have to make it following the same method I mentioned for rice cereal above.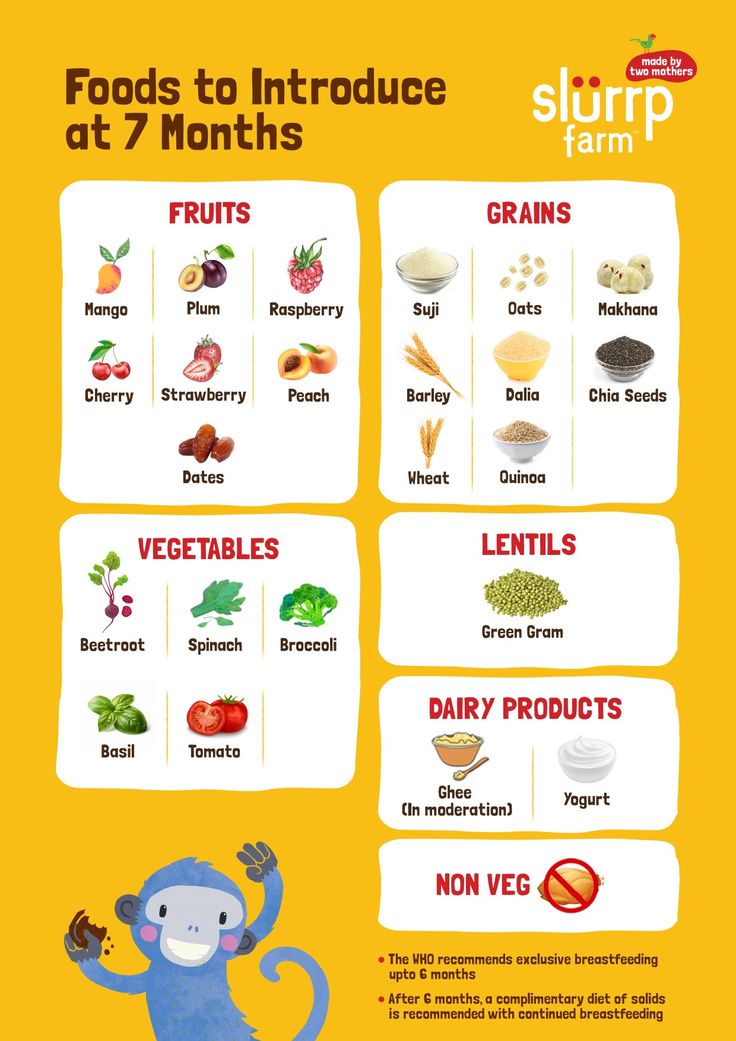 rest of the day
Breast feed or formula (only after 1.5 to 2 hours of lunch)

Baby food recipes for 6 months old along with ingredients and instructions to prepare
These are the quantities i followed for my kids i got from the Health Promotion Board,Singapore.Use any one
Quantity of fruits for 6 months to 9 months
½ small apple
½ small pear
½ cup sapota
½ cup papaya
½ medium banana
How many times can the same fruit be given in a week?
Including a variety of fruits will provide different kinds of nutrients to the baby.
Banana – 3 to 4 times
Apple – daily
Chickoo- daily
Pear- 3 to 4 times
Papaya – 4 to 5 times
Avocado- 3 to 4 times or daily
Do read the complete post before you attempt any of these recipes
More tips on preparing Lunch
from 3 rd week – Rice, ragi or oats.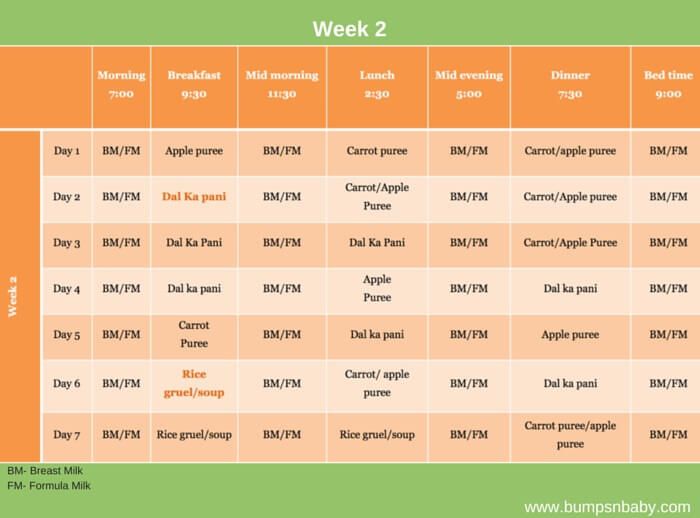 Clear dal soup with veggie.
first 7 days (from 3rd week) -Single grain with milk (formula or breast milk). You can also use gluten free or baby oats or ragi to make porridge.
next 7 days – Rice with a single veggie or apple. You can use steamed or boiled carrots.
VEGETABLES to prefer
1. carrots
2. pumpkin
LENTIL/ DAL to prefer
1. moong dal
2. toor dal
About Swasthi
I'm Swasthi Shreekanth, the recipe developer, food photographer & food writer behind Swasthi's Recipes. My aim is to help you cook great Indian food with my time-tested recipes. After 2 decades of experience in practical Indian cooking I started this blog to help people cook better & more often at home. Whether you are a novice or an experienced cook I am sure Swasthi's Recipes will assist you to enhance your cooking skills.
Follow Swasthi's Recipes
Sign up to receive awesome Swasthi's Recipes in your inbox *
Popular Recipes
Featured Recipes
diet for a 6-month-old baby with breast and artificial feeding, an approximate menu for a week in the table, a diet for a day
Published: 02/10/2021
Reading time: 4 min.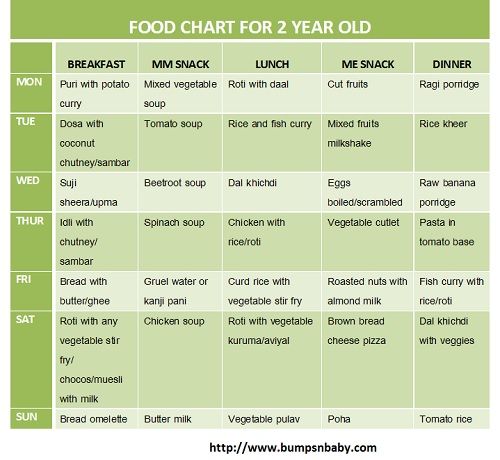 Number of reads: 180866
Author of the article: Ponomareva Yuliya Vladimirovna
Pediatrician, candidate of medical sciences, allergist-immunologist
Changes in a child in the first year of life are very rapid, and each month is not like another. The 6-month milestone is very important, it is largely evaluative and transitional. By this age, most babies have doubled their birth weight, are about 15 cm tall, and some babies have already erupted their teeth. The age of 6 months is also transitional in terms of nutrition. Breast milk or an adapted formula is still the basis of the diet, but with the beginning of the second half of life, all children, without exception, should begin to receive complementary foods. Despite the general graph of growth and weight gain and indicators of psychomotor development, the status and diet of children at 6 months can be very different.
Content: Hide
The first feeding of 6 months
The start of complementary foods at 4-5 months
The second half of the life
for a week for a child at 6 months
The first feeding of
If the baby is healthy and breastfed, and his mother eats a full and varied diet, exclusive breastfeeding is possible until this age.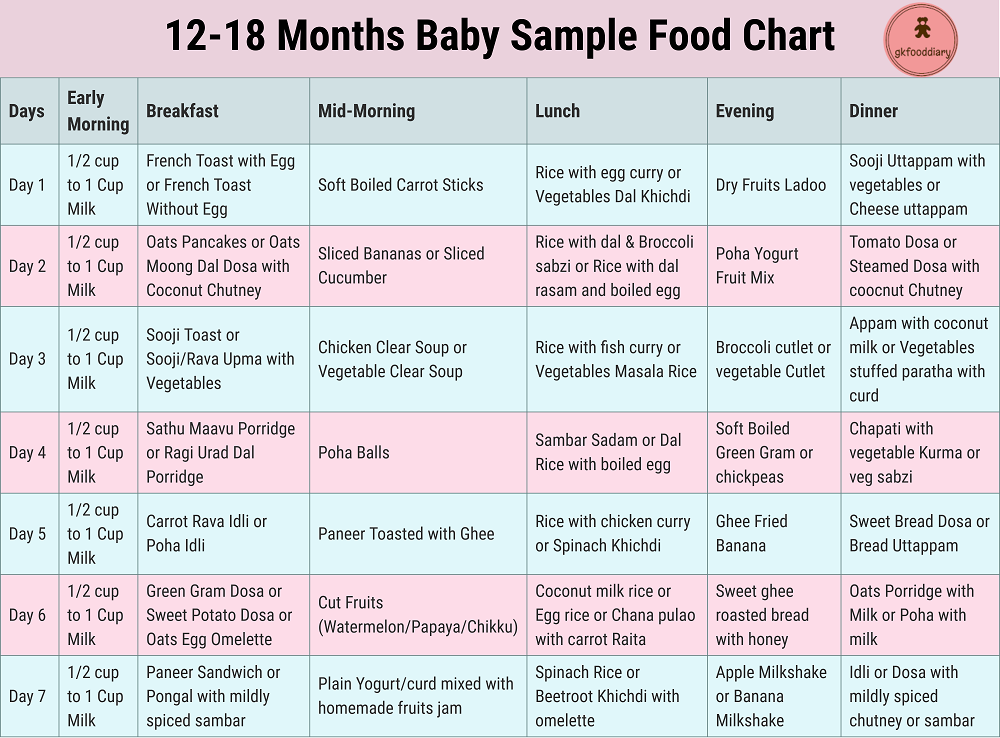 Cereal complementary foods in this case are preferable to start. This is due to the high energy and nutritional value of cereals, the ability to significantly enrich the baby's diet with a delayed start of the introduction of complementary foods.
However, the rate of expansion of the child's diet in this situation will be accelerated. Before the 8th month of life, it is necessary to introduce all basic food groups into the baby's menu, since in the second half of the year the need for additional intake of nutrients and micronutrients is very high. Another reason explaining the importance of the rapid introduction of complementary foods is the formation of immunity of the immune cells of the intestine to ordinary food. If a child is introduced to these foods at the age of 4-8 months, the risk of developing food allergies has been proven to be reduced.
Complementary feeding starts at 4-5 months
In today's life, the nutrition of a nursing mother, unfortunately, is not always complete.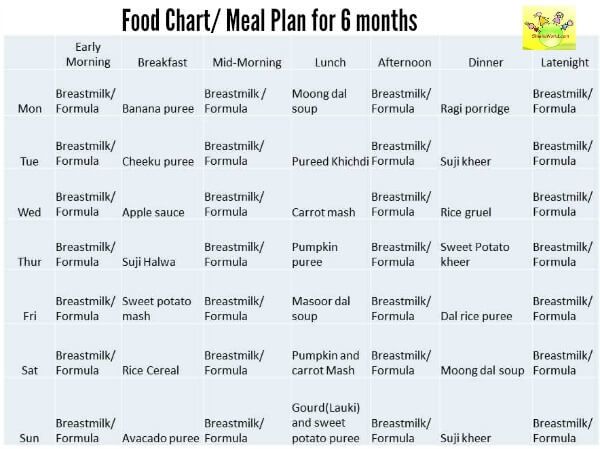 Therefore, for most breastfed babies, complementary foods already need to be introduced from 5 months in order to prevent deficient conditions.
If a child is bottle-fed, then by the 4th month of life, the baby will not have enough adapted formula alone, and in this group of children, the timing of the introduction of complementary foods usually shifts a month earlier than in breast-fed babies. Accordingly, by 6 months, children will have vegetable puree and gluten-free porridge (buckwheat, corn and rice) in their diet. In the first half of life, monocomponent meals are used (that is, from one type of grain and vegetables), prepared on the basis of water, breast milk or an adapted mixture.
Fruit puree and juice can be another possible complementary food for children under 6 months of age without allergy symptoms. In a child with a risk of developing or manifesting allergies, the timing of the introduction of fruit complementary foods is shifted to the 8th month.
Second six months of life
Children over 6 months of age can supplement their diet with cereals containing gluten.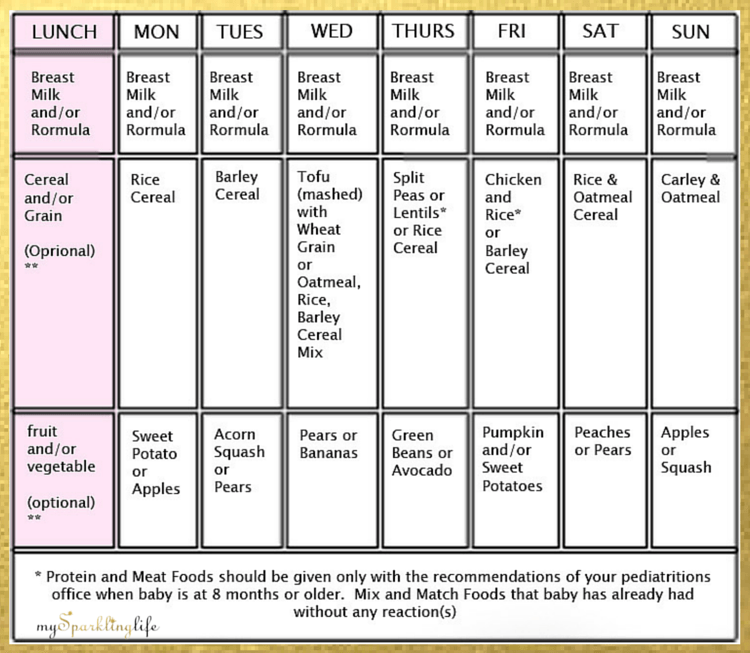 First of all, these are oatmeal and wheat porridge, and then multi-cereal dishes with the addition of other cereals (millet, barley, rye). If the child does not have any manifestations of allergies, milk porridge can be included in the menu at this age. Bebi Premium industrial baby food products include specially prepared milk that is safe to use in healthy babies in the first year of life.
From the age of 6 months, the baby's diet is expanded with such important products as meat and cottage cheese. These products are a source of high-quality protein, fats, and are also rich in minerals such as iron, calcium, and phosphorus. Pediatricians and nutritionists recommend introducing meat and cottage cheese as part of combined dishes based on a fruit and vegetable and / or grain component in a ratio of 1 (cottage cheese / meat): 4–5 (fruits / vegetables / cereals).
To enrich the diet with polyunsaturated fatty acids in the second half of the year, the menu includes vegetable oil in the amount of 3–5 grams per day, which can be added to the complementary food dish.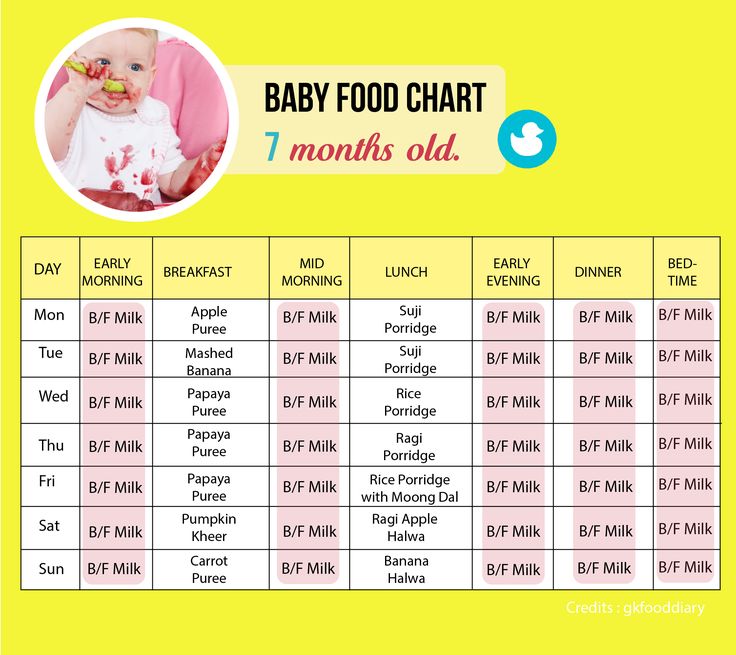 The volume of each feeding is approximately 150-170 ml, and the child can already stand up to 3.5 hours between meals.
In the table below, we offer a menu of 6 months for a week for a child who started receiving complementary foods at the age of 4-5 months, and by the time the second half of life begins, dairy-free gluten-free cereals, vegetable and fruit purees have already been introduced into his diet.
1st day
Seeing
0065 50
Lunch (12.30)
vegetable soup with beef, olive oil
100/30/3
compot of drocked 9006, 9006 9
Afternoon snack (16.00)
Plum puree with cottage cheese
60/40
Breast milk/formula
60 062
food reception
menu
ml/g
Early morning
breast milk/mixture
150
Milki
& Bashas Breakfast (09 cherry Bebi Premium»
100
0065 Breast milk/mixture
150
children's soluble cookies "BEBIKI" Classic
GRUSHERS with rice and Claus
GRUSHIOUS WITH RISE and CRETURE 30
Bebi Premium Kids Instant Herbal Tea
50
Bedtime 065 Breast milk/formula
150
Rate the article
(Number of votes: 20, average 4.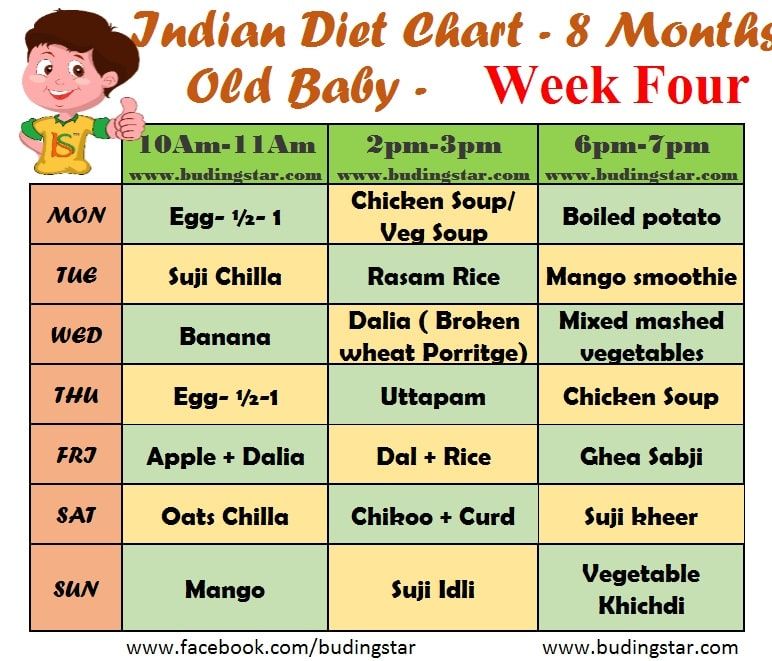 8)
Share with friends:
Menu for 6 month old baby
go back
| | |
| --- | --- |
| | The author of the menu for a child of 6 months pediatrician Marina Turupaeva Marina. Experience 11 years. Twice mother. Graduated from the Yaroslavl State Medical Academy. District pediatrician of the children's polyclinic, chief district pediatrician, neonatologist of the maternity ward. She teaches at the "School of Motherhood" and works with expectant mothers on children's health issues. |
Today, probably, only the lazy one does not give advice on how to feed a child and what should be on the menu of a six-month-old baby. It is interesting that there are a lot of opinions on this topic and, perhaps, it is sad that even medical professionals often give different nutritional recommendations from each other.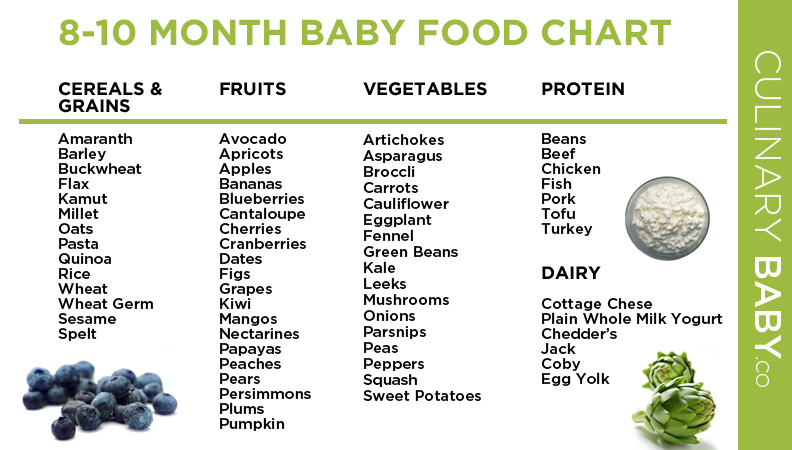 What is a young mother to do?
What should be on the menu of a 6 month old baby?
How to choose the right option and, most importantly, how not to harm your baby?
I am a pediatrician and mother of two children. When my eldest daughter was born, I had no time to think about what to feed her, I then listened to my mother and, despite my medical education, relied only on her experience. After all, she raised her children and knows better. As a result, I got digestive problems and allergies in my baby. Which only added to the difficulty for me.
When I was pregnant with my son, even then I began to think about how to avoid most of the problems in the first year of his life. After all, as they say in a well-known advertisement, when the baby is comfortable, then his mother is happy and calm. I'll tell you honestly, having a medical education interferes with my life in many ways, because you know less - you sleep better. However, it also certainly helps by the fact that I can delve into the essence of the process taking place in the child's body literally at the cellular level.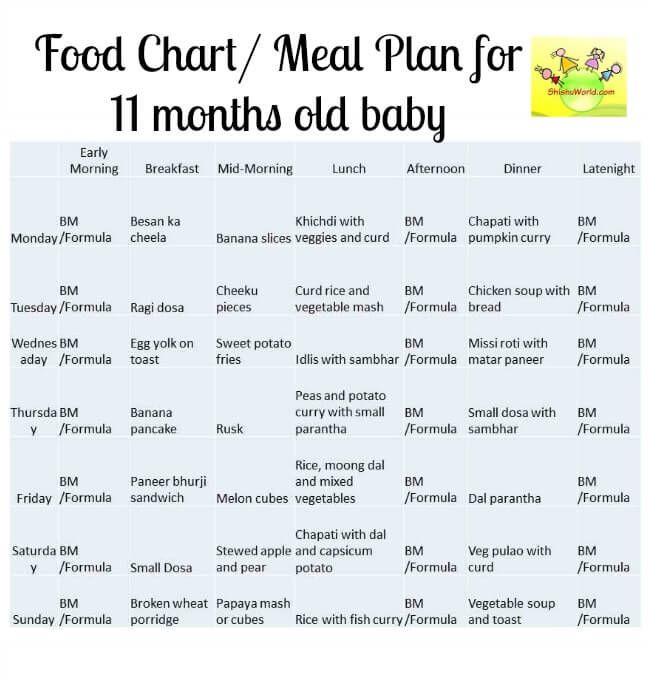 Now it will not be enough for me only someone's experience. Exact explanations and justifications are needed. And friends, I figured it out. As you know, science is moving and what was considered useful 5-10 years ago has now turned out to be unhelpful, and some even harmful. Today I really want to share with you my observations and modern aspects in the nutrition of children at the age of 6 months.
I really hope that until 6 months your baby had only breast milk on the menu. If so, then get your grade, you are "five plus". If you are feeding your baby only an adapted milk formula because for some reason you had to stop breastfeeding, you also get a high five. I imagine and have experienced in my own skin what it is like to resist the pressure of all close and not very close relatives, girlfriends, neighbors and just acquaintances. "What, you're not giving the baby juice yet?" or "Have you tried egg yolks yet? Poor child!".
I want to praise you and say that you did absolutely the right thing, that you did not succumb to their provocations and did not cause problems with the chair and sleep in your own child.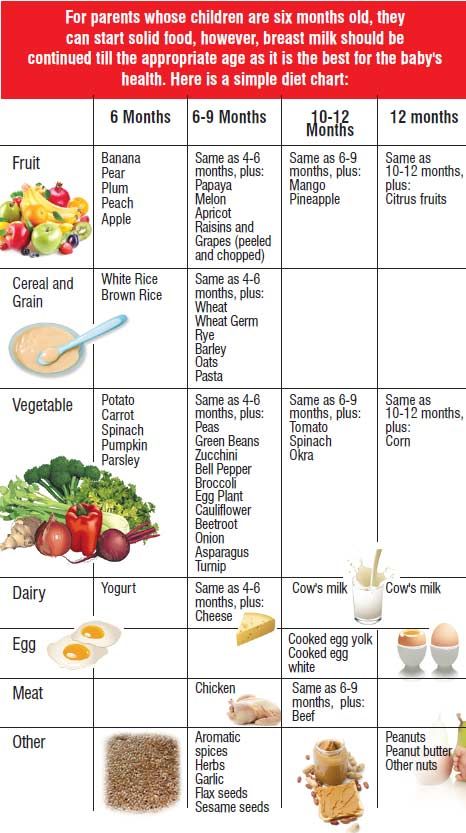 Rule #1.
Until the age of 6 months, the baby does not need any food,
except breast milk or adapted formula.
Withstood, withstood. What's next? It is necessary to decide on the product of the first complementary foods. Considering all modern research and observations, porridge is the ideal first complementary food product. They are easily absorbed by his immature children's body and cause the least number of allergies.
Rule #2. We start with porridge.
Which porridge to choose? Pediatricians around the world advise starting with gluten-free cereals, these are buckwheat, rice and corn porridge. Why is gluten dangerous? In a nutshell, these are abdominal pains, bloating, diarrhea, as well as an allergic reaction in the form of a skin rash and many other various unpleasant symptoms. I hope I convinced you, we will postpone gluten cereals for later.
What does complementary feeding look like? We start giving any new product with 1 teaspoon to assess the child's reaction to it.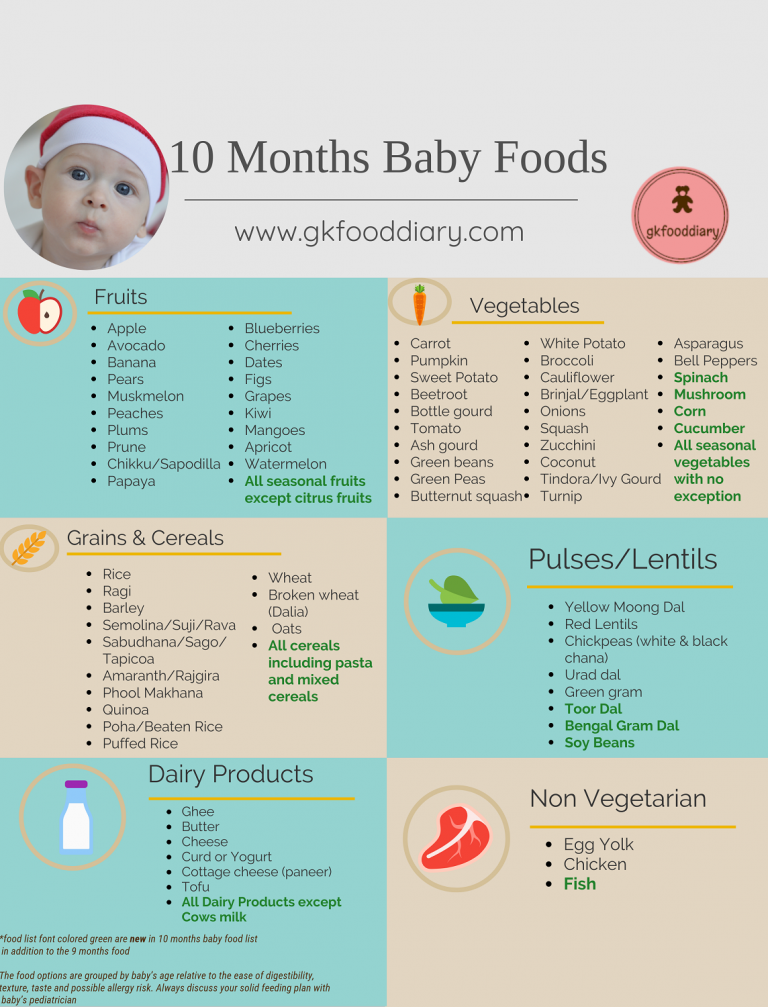 If the stool and sleep are not disturbed, and the skin remains clean, gradually increase the amount of porridge eaten and bring it to a full serving, replacing one breastfeeding or formula, that is, up to 200 ml.
Rule #3. Start with 1 teaspoon and increase gradually!
In our shops there is a great variety of different boxes with cereals. There are dairy and dairy-free, from one cereal and several, with and without fruits. You can get confused, so which one to choose? We always start with monocomponent porridge without milk and fruits. And why spend money on these new-fangled boxes, if you can cook porridge yourself. Then you will be 100% sure of its composition. Just take the selected cereal and grind it in a coffee grinder. You will get flour, which you will then cook.
Recipe for buckwheat porridge.
Take 2 tsp. buckwheat flour, dissolve in 2 tbsp. warm boiled water, stir so that there are no lumps, and pour into 120 ml of boiling milk.