Food plan for baby
Baby Meal Plan: 6 to 9 Month Old
What should you know about feeding your 6- to 9-month-old?
Learn about how to introduce solid foods to your baby

Know that what foods you introduce now help influence baby's preferences in the future

Explore menus that help you understand the transition from purees to soft solids
Starting solid foods is an exciting time for you and your baby. The American Academy of Pediatrics and the World Health Organization recommend introducing solid foods around 6 months of age.1, 2  Check out our signs of readiness article and speak with your baby's pediatrician to help determine when your little one is ready to start solids.  
While starting solids, you will continue to provide most of the essential nutrition and hydration your baby needs from breast milk or formula, while also exposing your baby to a new world of diverse flavors and nutrients. In fact, this is one of the most influential periods in your baby's taste development.
3, 4 Your baby will most readily try and accept all kinds of foods at this age so it's important to offer a variety of different flavors from meal to meal.
There are two meal plans below: One for starting solids with purees, and one for when your little one starts to advance textures. Both have snack and recipe ideas to help you get started. They also have plenty of flavor variety to help maximize your baby's taste
development.
Read more: Learning to Love Healthy Foods
Pro tips for 6- to 9-month-old baby meal plans:
Eating solids at this age is mostly about letting your baby explore new flavors and textures. Breast milk or formula will remain your baby's primary nutrition source during their first year, so continue to give breast milk and/or formula just as you were before starting solids. Your little one will begin to reduce how much formula or breastmilk they take as they get closer to 1 year.5, 6, 7  
For breastfed babies, introduction of solids at 6 months helps your little one get enough of certain nutrients.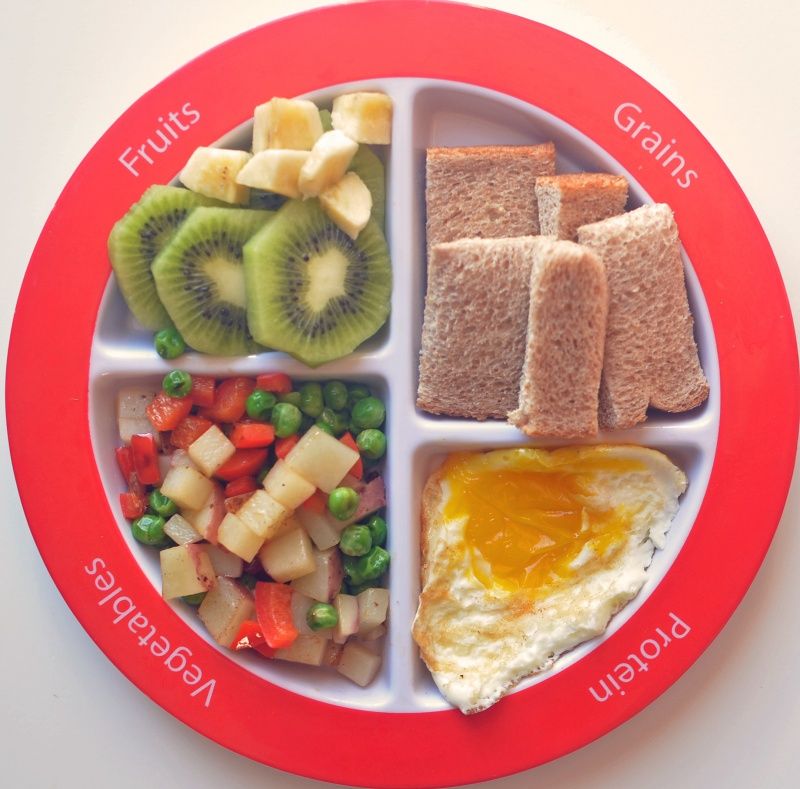 For example, at 6 months stored iron begins to diminish. Since breast milk is not a good source of iron, including some iron-rich foods, such as fortified cereals and pureed meats, will help your little one get enough.8 For more information, chat with baby's health care provider for their recommendations.
For more information on the nutrient needs of your older baby, check out: Nutrients to Look for at 6-12 Months
How much should I feed my baby?
At around 6 months old, you can start by offering 1 to 2 tablespoons of food once or twice per day. Once your little one gets the hang of eating and shows more interest, slowly begin offering foods 2 to 3 times per day and ¼ to ½ cup at a time.9, 10
Remember to listen to your baby's hunger and fullness cues throughout their feeding journey, rather than go by specific portions. Your little may take more or less each day; by responding to their feeding cues you'll be providing them with just what they need.11
It's important to advance texture once your baby is comfortable.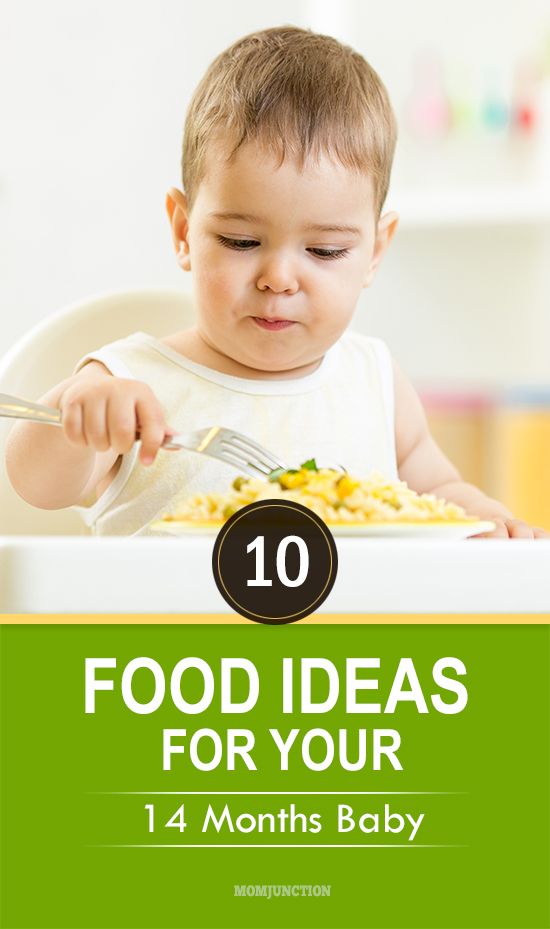 Start with thin, pureed foods, thickening them a bit as baby gets used to eating. Next, move to lumpy, mashed foods; followed by finely chopped, soft foods.12
Read more: Introducing Solids: First Foods & Textures
Introduce one single-ingredient new food at a time

Allow for 2 to 3 days before introducing another new food to make sure your baby is not allergic or intolerant to these foods. Foods most often associated with allergies are eggs, soy, peanuts, tree nuts and seeds, wheat, fish, shellfish, and cow's milk (drinking cow's milk is not recommended before 12 months, but milk can be used in small amounts in baked or cooked foods, and baby can also eat yogurt and cheese as long as there is no allergy or intolerance).13
Read more: Introducing Major Food Allergens to your Infant
By 9 months of age, your baby should be eating foods from all food groups and be able to handle small, soft pieces of finger foods. Pay attention to your baby's cues, have fun, and let your baby set the pace while offering your baby healthy foods that contain important nutrients to set the standard for healthy eating patterns.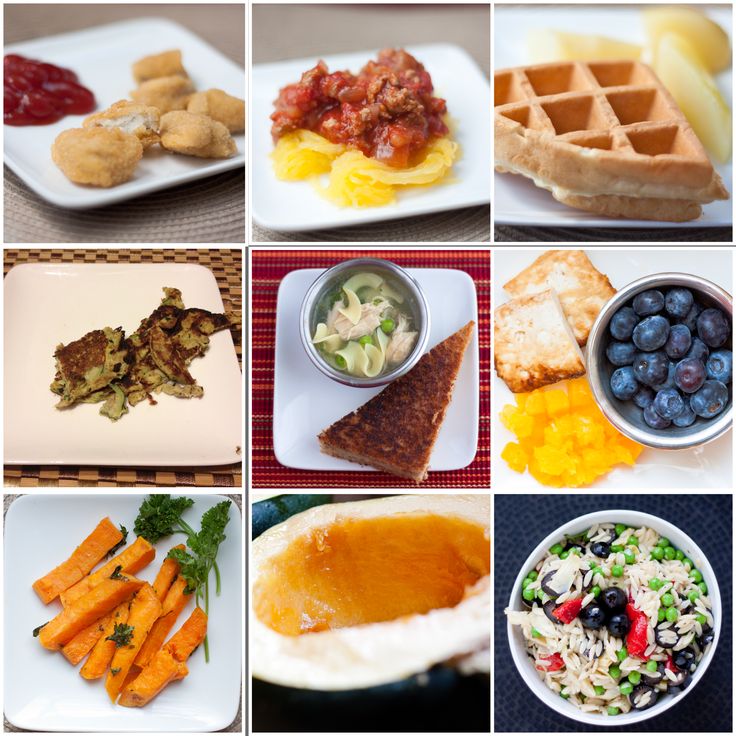 Baby doesn't like a food? Try, try again!
Your baby may grimace, wrinkle their nose, or make other faces when they try new foods and textures. Know that this is completely normal and doesn't mean your little one dislikes the food or is being picky. Babies may need to taste a food up to 10 or more times before they start to accept it, so just keep offering (though not forcing) that food.14
Remember, starting solids is mostly about introducing a variety of flavors and textures – and keeping it fun and stress-free!
If you have questions about introducing solids or advancing textures, reach out to our team of registered dietitians for free! They are here to help on our free live chat from Monday through Friday, from 8am–6pm ET. Chat now!
Around 6-month old meal plan: First foods and purees
Breakfast:
Option 1: Whole Ancient Grain Baby Cereal

Option 2: Mashed avocado

Option 3: Avocado and Pea Puree

Option 4: Apple and acorn squash mash (pureed apples and squash mixed)

Option 5: Pureed peaches or soft cooked pears
Lunch:
Option 1: Root Vegetable Puree

Option 2: Unsweetened whole milk yogurt

Option 3: Avocado and Pea Puree

Option 4: Pureed apples

Option 5: Quinoa cereal
Dinner:
Option 1: Mashed "Banacado" (banana and avocado mashed together)

Option 2: Baby Muesli with Peach Yogurt

Option 3: Tropical medley (mashed papaya and mango)

Option 4: Garden veggie and fruit combo (mix mashed/pureed apples, spinach and peas)

Option 5: Beet and Cantaloupe Puree
7-9 months-old-menu: Advancing Textures
Breakfast:
Option 1: Unsweetened yogurt with mashed peaches

Option 2: Oatmeal cereal

Option 3: Whole grain waffle strips

Option 4: Orange Sunny Soup

Option 5: Soft scrambled egg
Lunch:
Option 1: Soft cooked whole grain pasta with olive oil and parmesan cheese

Option 2: Slivers of turkey with peas

Option 3: Unsweetened applesauce and shredded or cubed cheese

Option 4: Chickpea and Carrot Spread

Option 5: Cottage Cheese with Cinnamon and Diced Strawberries
Dinner:
Option 1: Soft cooked slivers of chicken, with steamed carrots

Option 2: Ginger Carrot & Sweet Potato Mash + Lean Beef

Option 3: Small chunks of low mercury fish, like cod

Option 4: Soft steamed chunks of broccoli or green beans

Option 5: Lumpy, mashed kidney or black beans
Let's Chat!

We know parenting often means sleepless nights, stressful days, and countless questions and confusion, and we want to support you in your feeding journey and beyond.

Our Happy Baby Experts are a team of lactation consultants and registered dietitians certified in infant and maternal nutrition – and they're all moms, too, which means they've been there and seen that. They're here to help on our free, live chat platform Monday - Friday 8am-6pm (ET). Chat Now!
Read more about the experts that help write our content!
For more on this topic, check out the following articles and recipes:
Starting Solids: Purees versus Baby Led Weaning
Starting Solids: Baby Led Weaning
The Division of Responsibility: Helping Avoid Picky Eating
Feeding Tips for Healthy Weight Gain in Babies and Toddlers
Our meal plans offer recipe and meal suggestions for your child. They are not designed to replace your doctor's recommendations, nor do they take into account special nutritional needs, including allergies and intolerances. The meal plans suggest serving sizes that may or may not be appropriate for your child.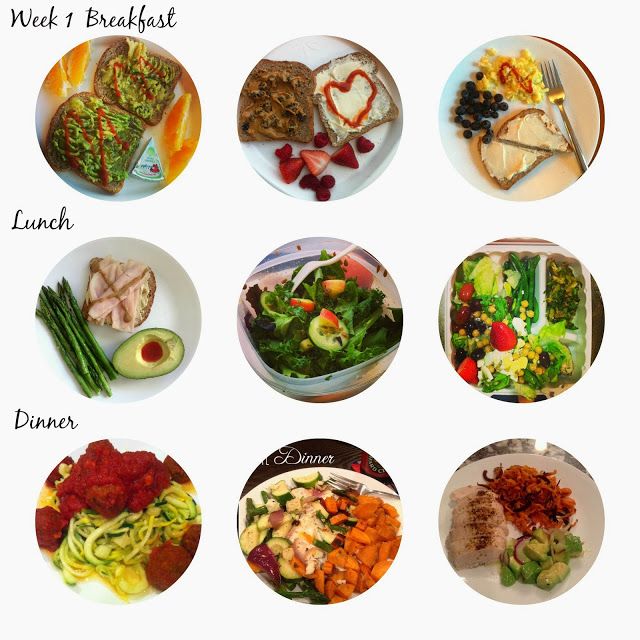 Please consult your doctor to determine what is best for your child.
Sample Meal Plans for Feeding Your Baby
**** Dietitian support during COVID-19****
Advice for the general public on COVID-19 nutrition
Many dietitians offer services virtually and they are covered by most employee health benefit plans. Find a dietitian here.
---
Need some meal ideas for your baby? Use these sample meal plans for babies 6 to 9 months old and 9 to 12 months old to help you feed your baby.
How much should my baby eat?
Every baby is different. The amount that your baby eats can change from day to day. Your baby may also eat more or less than other babies. Use the sample meals as general guidelines only. Trust your baby to let you know when they are hungry or full. You are responsible for the foods that are offered as well as when and where.
Your baby is responsible for if they eat and how much.
Sample Meals for Baby: 6 to 9 months old   
Meal Times
 
6 to 9 months
 
Early morning
 
Breastmilk or infant formula
Vitamin D drops for breastfed babies
 
Breakfast
 
Breastmilk or infant formula, iron fortified infant cereal mixed with breastmilk, formula or water
Mashed fruit like banana or pears mixed with full fat plain yogurt
 
Snack
 
Breastmilk or infant formula
 
Lunch
 
Breastmilk or infant formula, iron fortified infant cereal mixed with breastmilk, formula or water
Mashed vegetables (sweet potato, squash or carrots)
Cooked ground beef, chicken, pork or fish
Well-cooked chopped egg or silken (soft) tofu
 
Snack
 
Breastmilk or infant formula
 
Dinner
 
Breastmilk or infant formula, iron fortified infant cereal mixed with breastmilk, formula or water
Cooked vegetables (carrots, pieces of soft-cooked green beans or broccoli)
Cooked, minced chicken or turkey or canned or cooked legumes (beans, lentils or peas)
Fruit like unsweetened applesauce, mashed banana or pureed melon mixed with full fat plain yogurt
 
Bedtime snack
 
Breastmilk or infant formula
 
Sample Meals for Baby: 9 to 12 months old 
Mealtimes

9 to 12 months

Early morning

Breastmilk, infant formula or 3. 25% homogenized whole cow's milk
Vitamin D drops

Breakfast

Iron fortified infant cereal mixed with breastmilk, formula, 3.25% homogenized whole cow's milk or water
Full-fat plain yogurt, unsalted cottage cheese or grated cheese
Cooked chopped egg
Soft fruit (chopped banana, avocado, peach, seedless watermelon, cantaloupe, papaya, plum or kiwi)
Breastmilk, formula or 3.25% homogenized whole cow's milk

Morning Snack

Strips of whole-grain bread or roti
Grated apple or chopped strawberries
Breastmilk, formula or 3.25% homogenized whole cow's milk

Lunch

Infant cereal mixed with breastmilk, formula, 3. 25% homogenized whole cow's milk or water
Minced or chopped soft-cooked meat (lamb, pork, veal or beef)
Cooked whole wheat pasta, rice or pita bread
Cubed avocado or peeled and chopped cucumber
Breastmilk, formula or 3.25% homogenized whole cow's milk

Afternoon Snack

Cheese cubes (full fat mozzarella, Swiss or cheddar) with pieces of unsalted whole grain crackers or toast
Breastmilk, formula or 3.25% homogenized whole cow's milk

Dinner

Infant cereal mixed with breastmilk, formula, 3.25% homogenized whole cow's milk or water
Diced or cut up cooked or canned flaked fish or pieces of firm tofu or chicken
Cut up vegetables (soft-cooked green beans, okra, cauliflower, broccoli or carrots)
Soft fruit (chopped banana, ripe peach or mango or quartered grapes)
Breastmilk, formula or 3. 25% homogenized whole cow's milk

Bedtime Snack

Small pieces of whole grain toast, bread, crackers or unsweetened dry O-shaped cereal
Breastmilk, formula or 3.25% homogenized whole cow's milk
Babies and High Mercury Fish
Children under the age of one should eat less than 40 grams (1.4 oz) of canned white (albacore) tuna, frozen or fresh tuna, shark, swordfish, marlin, orange roughy and escolar per month. These fish are high in mercury.
Key points when feeding your baby
Continue to breastfeed on demand. Offer solid foods with breastmilk or formula feedings or in between as snacks.
Offer food 2-3 times a day and work towards 3-5 times a day.
Start with iron-rich foods like meat and fish, well-cooked chopped eggs, tofu and iron fortified cereals. After iron-rich foods introduce vegetables, fruit, other cereals and grains, full fat cheese and yogurt.
Try a small amount such as 1 tsp (5 mL). If your baby wants more food, give them more.
Start with soft foods that have been pureed, mashed, minced or ground. Offer a variety of textures no later than 9 months.
Always supervise your baby and cut foods into small pieces to avoid choking.
Offer one new food at time. If you are concerned about food allergies, introduce one food per day with a two-day period in between. 
Once your baby is 9 to 12 months old and is eating a variety of iron-rich foods every day, you can offer 3.25% homogenized whole milk in a regular cup.
By 12 months your child should be eating most of the foods (mashed, minced, lumpy, ground and soft) that are prepared for family meals. Your baby can enjoy the same herbs, spices and flavours as the rest of the family.
Bottom Line
Every baby is different when it comes to learning to eat solid foods. It may take many tries before your child accepts them. Offer food without pressure. You are responsible for what foods that are offered as well as when and where. Your baby is responsible for if they eat and how much. 
 
If you have questions or concerns, talk to your health care provider or dietitian.
You may also be interested in:
Introducing Solids to Your Baby: Safety Tips
Transitioning Your Baby From Breastmilk to Cow's Milk
All About Homemade Baby Food
All About Store Bought Baby Food
 
Last Update – May 1, 2020
Proper nutrition of a child is a guarantee of health - Children's City Polyclinic No. 1
Every parent wants his child to grow up healthy, smart, happy.
From childhood, we must teach our children to choose from the variety of foods that are really good for health.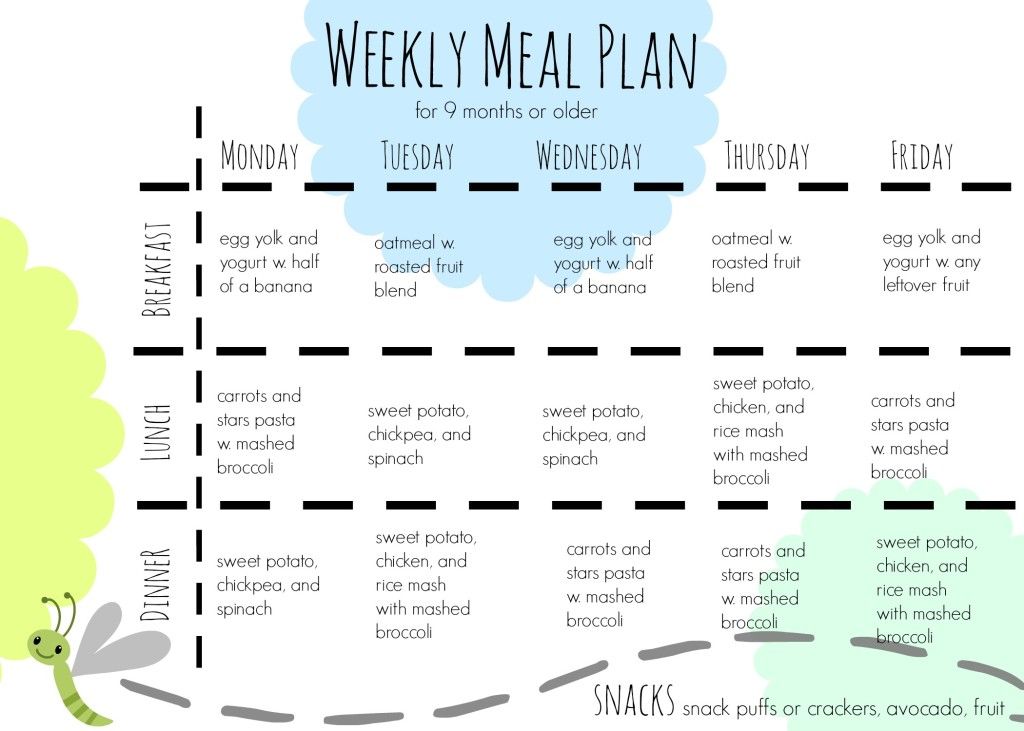 The nutrition of children is somewhat different from the nutrition of adults. If the child's nutrition system is built correctly, then the child develops normally, both physically and mentally.
Make your family's way of life by introducing your child to proper nutrition every day. There is no need to arrange constant lectures from this on the topic of what is useful and what is harmful. By actively communicating with your child, setting an example, you instill good eating habits.
Only good things should be spoken at the table. The situation should help the child to relax, then the appetite will be good and the mood will be friendly. Children can help you with serving and decorating dishes. When serving vegetables and fruits, ask the children what vitamins and minerals they contain and why they are so useful. In order to organize the proper nutrition of the child, you need to follow several important rules:
Rule 1
Food should be varied.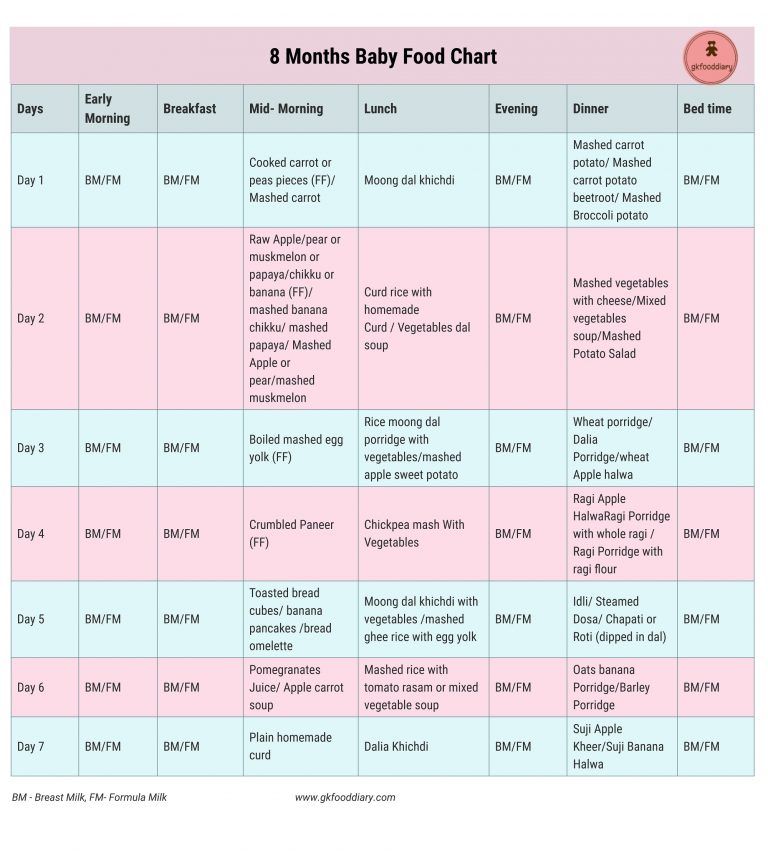 This is an important condition for the child's body to receive all the substances necessary for growth and development. Every day, the child's menu should include: fruits and vegetables; meat and fish; milk and dairy products; grain products (bread, cereals, cereals). Insufficiency or excess of food consumed by a child can adversely affect the activity of the gastrointestinal tract, contribute to metabolic disorders, increase overweight (even to various degrees of obesity) or lead to malnutrition.
If the child refuses, there is a healthy dish, offer him to experiment and make the dish unusual.
So, with the help of dried fruits and nuts, you can put a funny face on porridge, use ketchup and greens to draw a pattern on scrambled eggs, put mashed potatoes on a plate in the form of a snowman figure, etc.
What should not be used in children's nutrition:
Offal, except liver, tongue, heart; blood, liver, raw smoked sausages.
Deep-fried foods and culinary products, chips.
Curds, condensed milk with vegetable fats.
Koumiss and fermented milk products containing ethanol (more than 0.5%).
Cream confectionery containing vegetable protein.
First and second courses based on fast food concentrates.
Vinegar, mustard, horseradish, hot peppers and other hot spices and food products containing them, including hot sauces, ketchups, mayonnaises and mayonnaise sauces.
Pickled vegetables and fruits.
Natural coffee and carbonated drinks, apricot kernels, peanuts.
Products, including confectionery, containing alcohol.
Food products containing a large amount of food additives in their composition (information is indicated by the manufacturer on consumer packaging).
Dry concentrates for cooking first and second courses (soups, Dosherak vermicelli, cereals).
Rule 2
The child should eat regularly.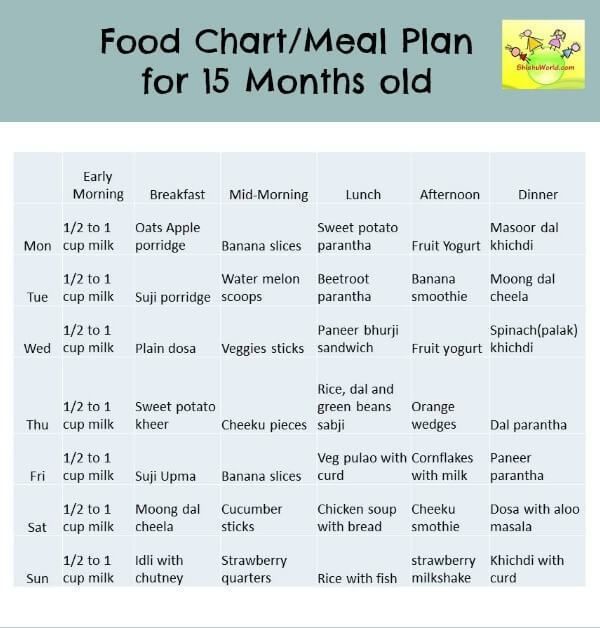 Compliance with the diet of children is of great importance for the absorption of nutrients by the body. Preschool children are recommended to eat 4-5 times a day, every 3 hours, at the same time, distributing the diet as follows: breakfast - 25%, lunch - 35%, afternoon snack - 15%, dinner - 25% . At school age, it is advisable to have four meals a day, every 4 hours with an even distribution of the daily ration: breakfast - 25%, second breakfast - 20%, lunch - 35%, dinner - 20%.
Try to stop snacking and teach your child to eat only at the table. If this still doesn't work, offer fruit, biscuits, juice for a snack - food that will help drown out hunger, but will not ruin your appetite.
Proper organization of meals at school in the form of hot school breakfasts and lunches is an important health-improving measure for student children in extended day groups, whose diet should be 50-70% of the daily norm, which, unfortunately, parents do not have enough are paying attention.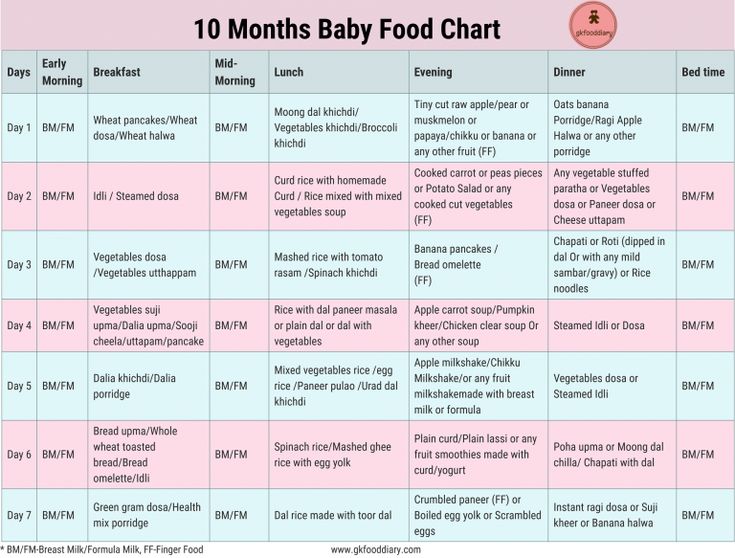 Eating sandwiches, pizza, chips, chocolate bars is harmful because - this food is inferior in composition and also irritates the stomach, contributing to the development of gastritis.
Rule 3
A child's diet should replenish his daily energy expenditure.
If your child is overweight, limit the amount of sweets and high-calorie desserts, empty the refrigerator. Put a bowl of fruit on the table, a plate of whole grain bread. Children can eat fruits without any restrictions, it is almost impossible to overeat them, and they are very useful. With a lack of any mineral substance or vitamin, the child himself will ask for the apple or even greens he needs.
Try to get your child involved in sports, take walks together, even if little by little, but regularly.
Thus, building proper nutrition for children requires taking into account the characteristics of the child's body, knowledge of certain rules and principles of healthy nutrition.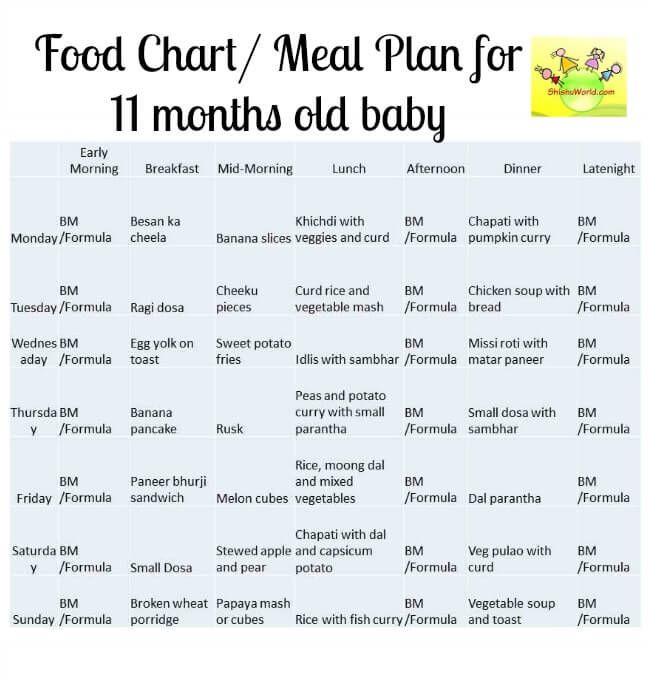 The material was prepared by the editorial and publishing department of GBUZ JSC "CMP" - 2020
The Union of Pediatricians of Russia
0007
Nutrition for children aged 1 to 3 years
The period from 1 to 3 years of life is a crucial stage in the transition to an adult type of nutrition, which has certain features. In order to ensure that all the necessary nutrients enter the child's body and at the same time prevent an excess of individual nutrients, nutrition should be balanced and varied.
The daily amount of food for children aged 1 to 1.5 years should be 1000-1200 g, from 1.5 to 3 years - 1200-1500, the amount of food in one feeding should not exceed 300-350 ml. The diet consists of three main meals per day and two snacks. It is considered optimal when breakfast is 25% of the total energy density of the diet, lunch is 30–35%, dinner is 20%, and additional meals are about 10%. In general, the child can eat the same food as the rest of the family.
In the diet of a child 1-3 years of age must be present daily : animal or poultry meat, dairy and sour-milk products, vegetables, fruits, bread, cereals, vegetable and butter; fish and eggs are included in the diet 2-3 times a week.
Cereal products: bread - 2-3 servings per day, cereals and side dishes - 1 time per day
Fruit and/or vegetables: at least 5 times a day
Dairy products: at least 3 servings per day (including those used to make cereals, yoghurts, fermented milk drinks, cottage cheese, infant formula or breast milk).
Domestic pediatricians recommend, when compiling a diet for children aged 1–3 years, preference should be given to specialized children's dairy products of industrial production that meet high quality requirements and safety indicators for this age. Most children's dairy products are additionally enriched with vitamins and/or minerals and other biologically active components, taking into account the physiological needs of children of this age.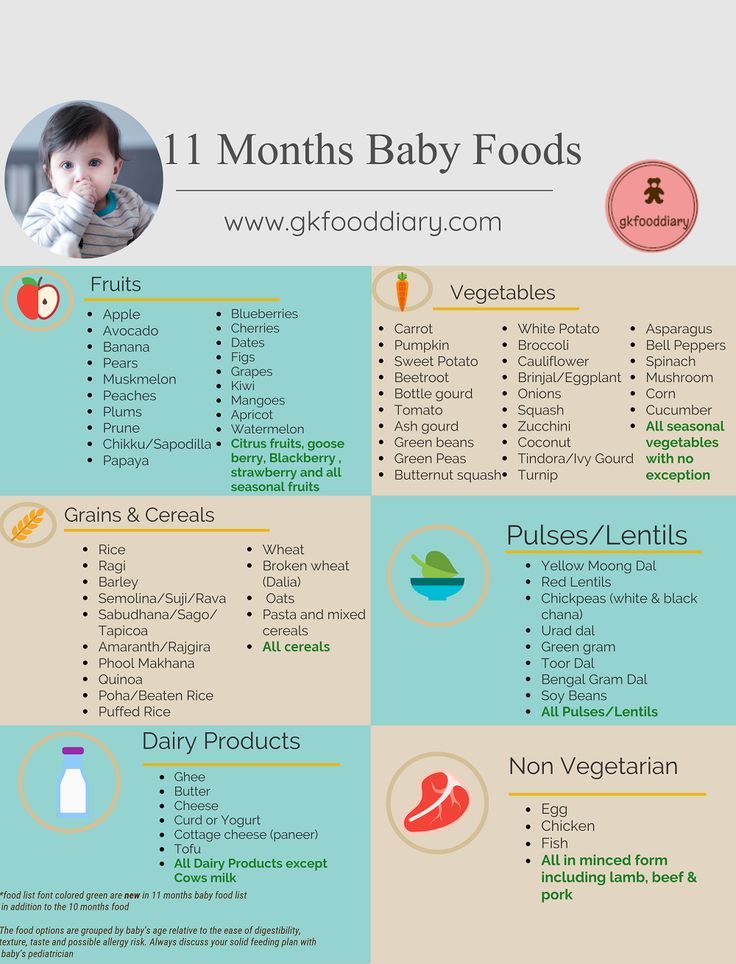 At the same time, in foreign recommendations, children over 1 year old are offered the gradual introduction of whole cow's milk, which is rich in fats necessary for proper growth and development, the absorption of vitamins A and D, the development of the child's brain and nervous system.
Meat dishes: 2-3 times a day
Fish dishes: 2-3 servings per week
Eggs: 2-3 per week
Dietary fats: 3-4 teaspoons of butter and/or vegetable oils per day
When cooking, use the minimum amount of salt and sugar, and do not add them to industrial products.
Offer your child a variety of foods and let them choose their own. Children love to eat on their own, so if possible, offer food that the child can eat with their hands.
It is important to remember that a baby can choke on pieces of food, so whatever you give your baby should be crushed or cut into small pieces that can be easily chewed.
Do not give to a young child: nuts, whole grapes, cherry tomatoes (unless quartered), whole carrots, seeds (such as pumpkin or sunflower seeds), round candies, legumes, raisins, because a child can eat them choke.