Frozen spinach for baby food
Spinach Baby Food (So Easy and Iron Rich!)
Transform simple ingredients into yummy iron-rich Spinach Baby Food with just a few minutes of cooking and zero special kitchen tools!
Spinach Baby Food
Offering up iron-rich foods is important in the months when babies are first eating solids—the iron stores they're born with start running out around 6 months, so they need to take more iron in through their food. This spinach puree is a great option to have in the mix with other iron-rich foods since it's easy to make and is easy to freeze.
Ingredients You Need
To make this baby food recipe, you need spinach—I prefer baby spinach but any works—and frozen peas. I like combining these too ingredients so that the flavor of the spinach is mellowed out a bit and the overall consistency is smoother. The peas also add protein, which is a nice element to have in the mix.
Step-by-Step Instructions
Here's a look at how to make this recipe.
Scroll down to the bottom of the post for the full information.
Add the spinach, peas, and water to a medium pot.
Cook just until the spinach is wilted and the peas are warmed through.
Puree smooth, adding in any of the optional flavorings desired.
Serve or store in the fridge or freezer for later.
TIP: You can add avocado, lemon juice, or olive oil to add more flavor and nutrients to this recipe if you'd like.
Can babies eat spinach?
Yes, though it would need to be pureed since they can't chew the leaves straight up. Serving it in a puree (or in a Simple Green Smoothie) is a great option.
Can a 6 month old baby eat spinach?
Introducing savory foods along with sweet ones when kids start solids around 6 months is a great plan and spinach is a nutritious food to introduce early.
Can I use frozen spinach to make baby food?
Yes, though since it's very condensed you can add a smaller amount.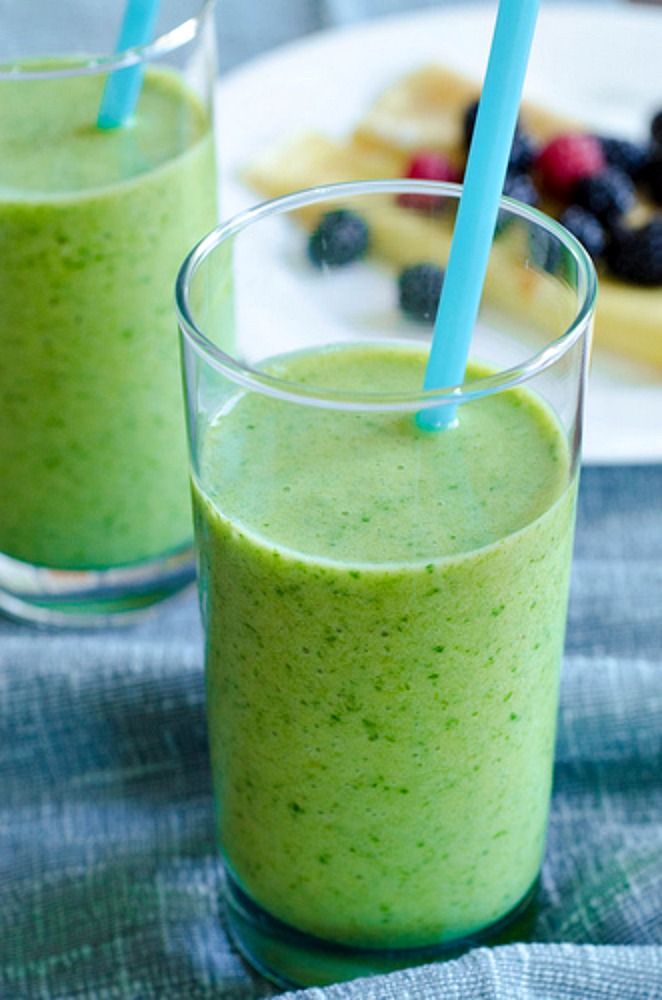 See the Notes section of the recipe for more information. (I prefer the flavor of this puree when making it with fresh spinach, but see what you think!)
How to Store Spinach Baby Food
You can add this puree to small airtight containers and store in the fridge for 3-5 days or portion into a silicone ice cube tray and freeze overnight. Transfer the frozen cubes to a freeze bag and seal, removing as much air as possible, and keep frozen for up to 6 months. Find more tips on storing baby food here.
How can I use leftover Spinach Puree?
In addition to serving it straight, you can stir some of it into pasta or rice as a simple sauce (you could add a little butter, olive oil, and/or Parmesan cheese). You could also spread some onto toast before making grilled cheese to add some veggies!
Tips for Making the Best Spinach Baby Food
Store in the fridge in small airtight containers for 3-5 days.
To freeze: Portion into a silicone ice cube tray and freeze overnight. Transfer the frozen cubes to a freeze bag and seal, removing as much air as possible, and keep frozen for up to 6 months.
Add avocado, lemon juice, or olive oil to add more flavor and nutrients to this recipe if you'd like.
Mix half and half with Apple Puree or Pear Puree to make a baby food combination.
Sprinkle on a little grated Parmesan cheese for older babies to add flavor.
Stir leftovers into pasta or rice or quinoa as a simple sauce.
Serve off of a spoon or in a reusable pouch.
I'd love to hear your feedback on this baby food recipe if you try it out, so please comment below to share.
Prep Time 5 minutes
Cook Time 5 minutes
Total Time 10 minutes
Author Amy Palanjian
Cuisine American
Course Baby Food
Calories 58kcal
Servings 6 -12 servings
▢ 4 cups lightly packed baby spinach
▢ 2 cups frozen peas
▢ 2 tablespoons avocado optional
▢ 1 teaspoon lemon juice optional
▢ 1 teaspoon olive oil optional
Bring 1 cup water to a boil in a medium pot. Add the spinach and peas and stir.

Cover and reduce heat to medium-high and cook for 4-5 minutes or until spinach is just wilted. (When you add the frozen peas to the boiling water, the water will stop boiling. It will take a minute or two to get back up to boiling, then another minute or two to wilt the spinach. Keep an eye on it to avoid overcooking.)

Transfer mixture to a blender and blend very smooth, starting on low and working up to high.

Blend in any optional ingredients as desired.

Let cool and serve or store for future meals.
Vitamix Blender

Silicone Ice Cube Tray

Calphalon 5-Quart Pot
Store in the fridge in small airtight containers for 3-5 days.
To freeze: Portion into a silicone ice cube tray and freeze overnight. Transfer the frozen cubes to a freeze bag and seal, removing as much air as possible, and keep frozen for up to 6 months.
To make this thicker, remove 1/4-½ cup of the water from the pot after Step 2 so you puree with less water. Add just as much as you need to get the mixture to blend.
To use frozen spinach, replace the fresh spinach with 1 cup frozen spinach. Stir into the boiling water just until warmed through for about 1-2 minutes in Step 1. Skip Step 2 to avoid overcooking. Transfer the spinach and peas to the blender with a slotted spoon and add a little water at a time as needed to make the puree. (You likely won't need as much liquid since the spinach is already condensed.)
Add avocado, lemon juice, or olive oil to add more flavor and nutrients to this recipe if you'd like.
Mix half and half with Apple Puree or Pear Puree to make a baby food combination.
Sprinkle on a little grated Parmesan cheese for older babies to add flavor.
Stir leftovers into pasta or rice or quinoa as a simple sauce.
Serve off of a spoon or in a reusable pouch.
Calories: 58kcal, Carbohydrates: 8g, Protein: 3g, Fat: 2g, Saturated Fat: 1g, Polyunsaturated Fat: 1g, Monounsaturated Fat: 1g, Sodium: 19mg, Potassium: 255mg, Fiber: 3g, Sugar: 3g, Vitamin A: 2253IU, Vitamin C: 26mg, Calcium: 33mg, Iron: 1mg
Tried this recipe?Rate in the comments and tag @yummytoddlerfood on IG!
How to make a spinach puree for baby in 20 minutes
Your baby that you just brought home five or so months ago is growing like a weed! Before you know it, it is time for them to eat solids, which can be as young as six months. There are so many things that you can try, from carrots and squash to beets and spinach. A spinach puree can hold a plethora of vitamins that are wonderful for helping to feed and nourish your baby. We're sharing an easy way to make a spinach puree for baby that won't have you spending hours in the kitchen.
Contents
How to make a spinach puree for baby
Feeding your baby
How to make a spinach puree for baby
To begin: Select your spinach
The first thing you'll want to do when you are getting ready to make the spinach puree for your baby is to select the kind of spinach that you would like to use.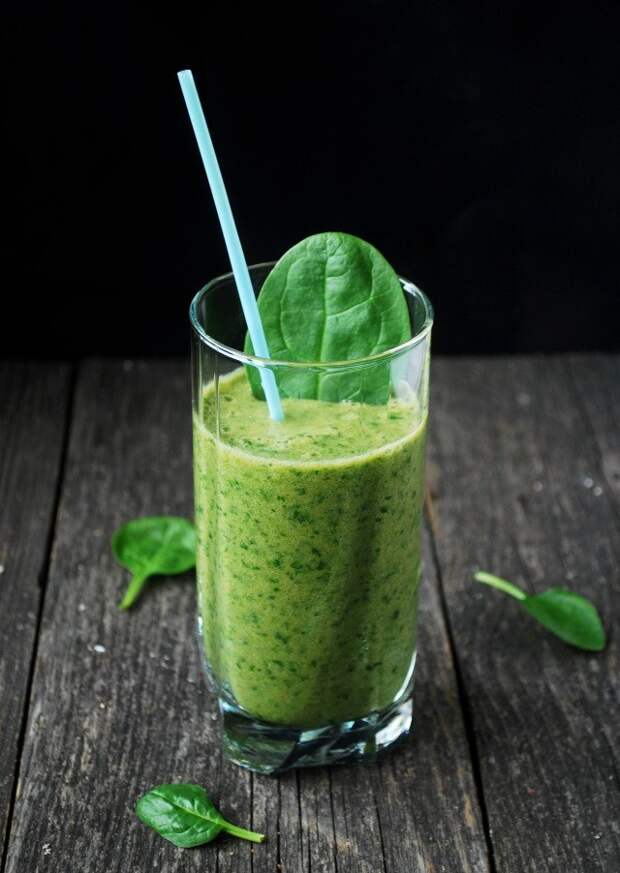 You could choose from full-grown spinach leaves to baby spinach or even frozen spinach. It is entirely up to you with what you want to use. Some quick tips about choosing your spinach, make sure the leaves are looking green and crisp. Also, avoid any leaves that look dark or limp. Remove the stems from the spinach if you have bought fresh spinach.
Wash the spinach
It is very important to wash the spinach that you are about to use to make baby's spinach puree. However, when you have any extra spinach, it is important not to wash it before placing it into the refrigerator for freshness, as this can make the leaves deteriorate faster. Be sure to shake off any excess water from the spinach when you are finished washing it off. When it comes to frozen spinach, there is no need to wash it off.
Steam (or boil) the leaves
Steaming
Now comes the fun part! If you are going to steam the leaves, put them into a steamer basket and be sure that you keep an eye on it.
Let it steam for about three to five minutes. Make sure that the leaves look wilted and pretty tender for your little one. You may need more time or you may need less time, depending on your cooktop and how quickly it heats up. Once the spinach has steamed, run it under cold water to stop the cooking process of the spinach. Drain it, and you are ready to go.
Boiling
If you do not have a steamer basket, that is perfectly fine. Instead of steaming the spinach, you can just as easily blanch the spinach by putting it into a pot of hot boiling water for around a minute or so. Stop the cooking process by placing the leaves into a bowl of ice water, which is what stops the cooking process on the spinach when you are using boiling water.
Pureeing the spinach
A great way to puree your spinach is to have a blender or a food processor ready at your disposal when you are ready. You will want to take your cooked and wilted spinach leaves and transfer them straight into the blender or food processor.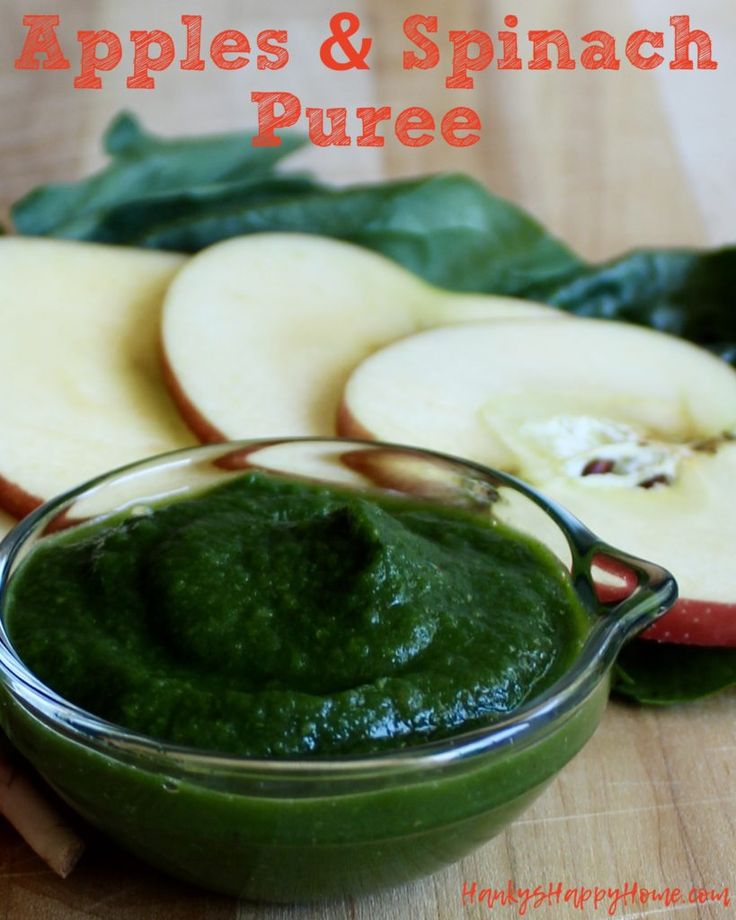 Then it's time to blend the spinach until it is smooth. You can even easily add a bit of water or even some breastmilk to give it the consistency that you desire.
Feeding your baby
You can now introduce your finished spinach puree to your baby. Once baby becomes accustomed to the taste, you might want to start to mix other purees in with your spinach puree. Plenty of other vegetables go quite well with spinach, like carrots, apples, parsnips, and more. The excess spinach puree will stay fresh for approximately three to five days when it is sealed within an air-tight container. Another idea for the spinach puree is to freeze it in ice cube trays, where you can easily grab and defrost one in one easy swoop just in time for lunch or dinner. After being frozen, save the spinach cubes from the tray by tossing them into a freezer bag and sealing it. The cubes will stay good for up to two months.
Spinach is a great resource of folic acid, vitamin C, vitamin K, iron, calcium and so many minerals that will help your baby grow into a strong and healthy child.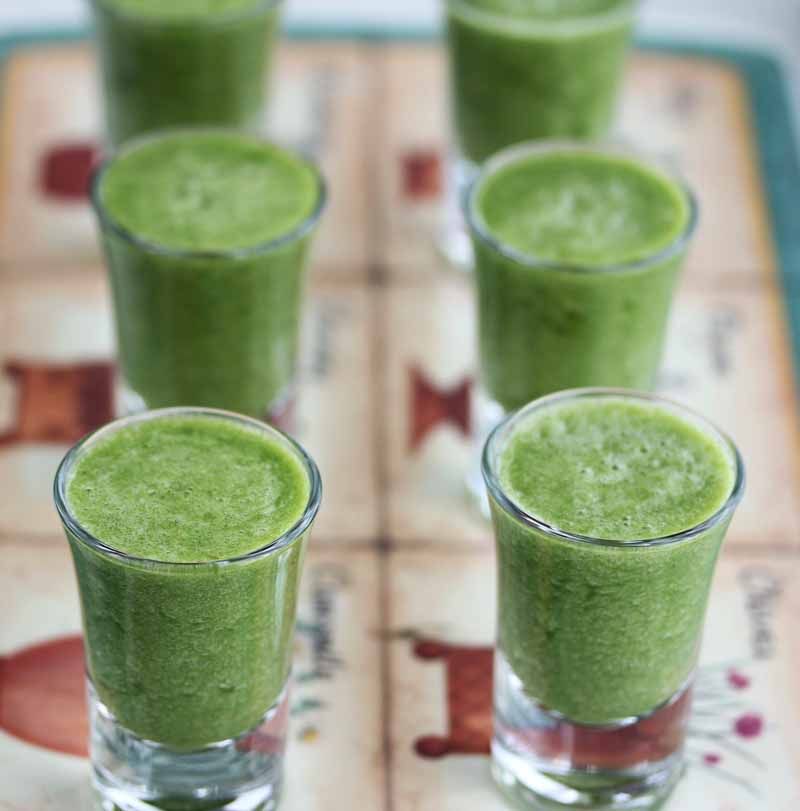 Spinach has also been found to help with eye health and help to reduce the risk of cancer. It truly is a delicious vegetable powerhouse that will help introduce your little one to green vegetables. Other nutritional vegetables that you can add to spinach purees are peas and other green vegetables. It's a wonderful way to put your little one on the path to eating healthy solids and pave the way for their tastes down the road when they get older.
Editors' Recommendations
8 birthday party ideas for 5-year-olds to have at home
Feeding toddlers when sick: What to feed a toddler with a fever
Tasty fall recipes to warm up your belly and your table
9 incredible birthday party food ideas when you're on a budget
Transform a boring meal with these inventive but cheap ramen noodle recipes
in 1 year, as well as before and after, what is the benefit, when is it harmful and how to cook - step by step recipes Russian farmer
Spinach is a real treasure trove of vitamins and microelements.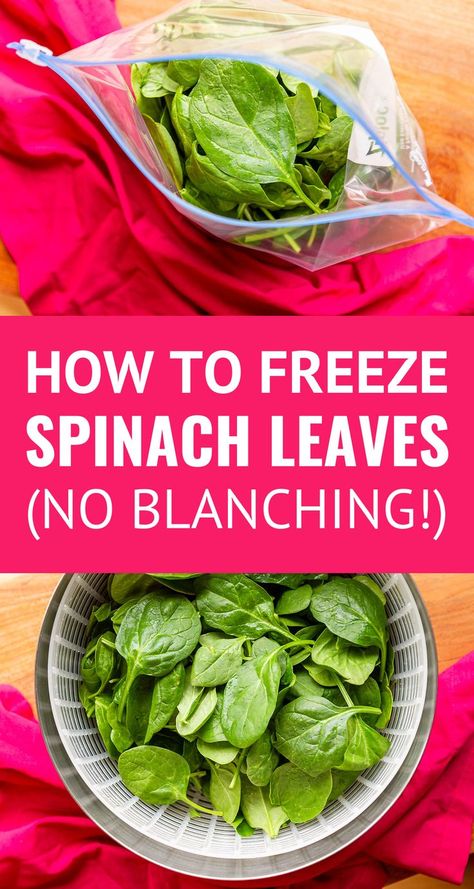 Its benefits for the growing body of a child can hardly be overestimated.
It refers not to greens, as is commonly believed, but to vegetables and is very popular in European and American cuisine.
In Russia, few people know about the beneficial properties of this plant and the possibility of including it in the children's diet. In the article we will tell you what the benefits of spinach are, and at what age it can be introduced into complementary foods.
Show content

At what age can you give?
Benefit
Can it be harmful and when?
What is combined with and how to use?
Step-by-Step Baby Meals

Smoothies Chicken Soufflé Casserole

Other Leafy Vegetables

At what age can it be given?

The unique composition of this vegetable makes it especially beneficial for the health and development of the child. It has a beneficial effect on the formation of the central nervous system of the child, his cardiovascular system, and the work of the gastrointestinal tract. This leafy vegetable also helps children suffering from constipation, as it contains a lot of fiber.

Most Russian pediatricians agree that children should be given spinach from the age of six months only after the child has tasted other leafy vegetables. But foreign manufacturers of baby food include spinach in dishes with potatoes intended for children from 4 months old.

It is necessary to start the introduction only with a thermally processed vegetable, that is, in the form of mashed potatoes or soup. For the first time, the minimum dose (1 tsp) is sufficient. Although spinach is not an allergic product, individual intolerance is not excluded. In the absence of a reaction, the daily dose can be gradually increased to 50 g.

Fresh spinach leaves are introduced into the menu of a child over two years old. Greens are recommended to be added to salads in the proportion of 50g of leaves per 200g of lettuce.

Important! Dishes with spinach are not recommended to be given to a child more than twice a week.

Only a freshly prepared dish can be offered to a baby.

Benefits

The benefits of spinach are related to its composition. Nutrient content (per 100g of product):

Vitamins (mg):

A - 0.75;
B1 - 0.1;
V2 - 0.25;
C - 55;
E - 2.5;
B3 - 1.2;
B4 - 18;
B5 - 0.3;
B6 - 0.1;
B9 - 80;
K - 483;
N - 0.1.

Minerals (mg):

Kaliy - 774.
calcium - 106.
Magnesium - 82.
phosphorus - 83.
sodium - 24.
Iron - 3.5.
Zinc - 0.53.
Selenium - 0.001.
Copper - 0. 013.
Manganese - 9.
Iodine - 0.02.

Nutrition value (per 100 g of product):

Calories - 23 kcal.
Squirrels - 2.9 g.
Fat - 0.3 g. Read the chemistry here.

So spinach in baby food promotes:

normalization of metabolism;
prevention of rickets and the formation of strong bones and teeth;
strengthening immunity;
treatment of anemia;
relief from constipation.

Spinach also contains lutein, which improves immunity, dietary fiber. It is believed that the antioxidants contained in the vegetable prevent the occurrence of oncology. The advantages of spinach include its low calorie content, so overweight does not threaten the child.

In addition, we must add to this list a tonic effect, a mild diuretic effect, help with stress and mental stress, maintenance of the thyroid gland.

Learn more about the benefits and harms of spinach and how to eat it here.

Can it cause harm and when?

The main disadvantage of spinach is the presence of oxalic acid in it. Because of this, it should not be offered to babies with kidney or urinary problems. Also, this leafy vegetable can harm the health of children with liver diseases, gastrointestinal ulcers. However, an excess of oxalic acid is observed only in old spinach leaves, while in young ones it is very small.

Important! Oxalic acid can be neutralized by adding milk or cream to the dish. These are essential ingredients in all children's dishes with spinach.

What is combined with and how to use?

Fresh spinach goes well with first and second courses. But in a freshly picked form, children do not like it because of insipidity. Before use, it is necessary to sort out the leaves, removing the old ones. You can store fresh spinach only in the refrigerator for no more than 2 days, after wrapping it in parchment or in a damp cloth. Otherwise, salts are formed in it, which are harmful to the body not only of the child, but also of adults.

It is better not to give fresh spinach to children at an early age. You can add it to the menu for children from two years old, no more than twice a week and only young leaves no more than 5 cm in length.

Dried spinach is used as a seasoning for fish and meat dishes, cereals and side dishes. Fresh leaves are carefully selected, washed and dried in the fresh air or in a special dryer.

Dried herbs are stored in an airtight container in a dark place and, if necessary, crushed, added to the dish a few minutes before the end of cooking. Dried spinach is recommended to be offered to children from 1 year old as part of the main dishes.

Frozen Spinach is great because it retains its nutritional value and taste when frozen. Frozen greens can be added to baby food. But you can't store spinach in the freezer for more than 3 months. When cooking, keep in mind that frozen spinach should be taken 2 times less than fresh.

After taking it out of the freezer, it must be immediately lowered into a hot dish, because. When pre-thawed, spinach loses more vitamins.

Boiled spinach , like frozen spinach, does not lose its nutrients. The first water must be drained and continue to boil in new water. This will get rid of the nitrates in the leaves. Fresh leaves with a uniform color are suitable for cooking for children. Spinach cooks quickly, so the laying in the dish occurs at the end of cooking.

For babies up to a year old, they prepare mashed potatoes and soufflés with spinach and meat or vegetables, add it to mashed soups. Older children willingly eat omelettes with herbs, pies, salads and just spinach leaves with various fillings, such as egg pate or cheese.

Click here for tips on eating and cooking spinach.

Step-by-step recipes for children's meals

Smoothies

Ingredients:

young spinach - 1 bunch;
banana - 1 piece;
milk - 1. 5 tbsp.;
honey - 1 tsp;
lemon juice - 2 tbsp.

Preparation:

Wash the spinach well, remove the old leaves and place in a blender.
Add sliced ​​banana, honey and lemon juice to the spinach.
Grind everything with a blender, then pour in the milk and beat the contents of the blender again.

Serve immediately as smoothies During storage, spinach loses color and useful properties.

We offer you to watch a video about that. how to make spinach smoothie for baby:

chicken soufflé

Ingredients:

spinach - 1 bunch or 1 tbsp. frozen;
egg - 1 pc.;
milk - 30 ml;
boiled chicken minced in a blender - 0.5 tbsp;
a pinch of salt;
butter for greasing the mold.

Preparation:

Steam the spinach briefly in a covered container.
Add the egg yolk, salt and milk to the chicken, beat thoroughly.
Separately beat the egg white until foamy and, after stirring, add to the mixture.
Then pour everything into a pre-oiled mold.
Steam soufflé with the lid on. Or place the form in a container filled with water and put in the oven for 30 minutes at a temperature of 180 ° C).

This delicate soufflé will be appreciated by little gourmets who do not yet know how to chew their food well.

Casserole

Ingredients:

fresh spinach - 500 gr;
sugar - 2 tablespoons;
egg - 2 pcs.;
noodles - 100 gr;
juice of one lemon;
butter for greasing the mold;
a pinch of salt.

Preparation:

Wash spinach leaves, chop and boil for 3-5 minutes. Squeeze out the water and grind in a blender.
Pour in the lemon juice.
Beat eggs with sugar.
Boil the noodles, drain the water.
Mix everything, salt.
Place the resulting mass in a pre-oiled form.
Bake in the oven for 20 minutes at 180°C.

Casserole is an independent dish and is suitable for feeding children from 1.5 years old.

Spinach is an amazing herbaceous plant, widely known throughout the world for its incredibly beneficial properties and chemical composition. Why do men and women eat spinach and whether the vegetable will help with weight loss - read in our materials.

Other leafy vegetables

In addition to spinach, there are many other leafy vegetables that are very good for children. Peking and cauliflower, broccoli, lettuce, watercress, leaf beets are very rich in easily digestible iron, calcium and vitamins, especially necessary for the development of the child.

Thus, spinach is one of the richest leafy vegetables in terms of composition. Vitamins and minerals it contains in large quantities. But due to the lack of a pronounced taste, children often refuse to eat it. However, even a small amount of this product in the daily children's menu will significantly improve the health of the child and favorably affect his development.

Top

Go to channel
Spinach recipes for kids
Published:
Photo: UGC
When introducing solid foods to your baby, start with spinach. Spinach, the recipes for which we recommend trying, will benefit the baby's body. Thanks to its vitamin complex, you will forget about problems with the tummy, strengthen the bones of the child, and simplify the process of forming and teething.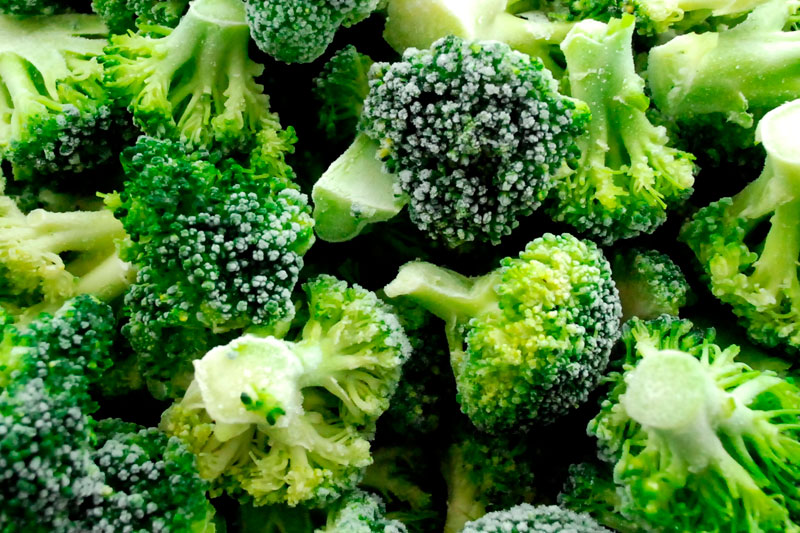 How to cook spinach for a baby under one year old
The first complementary foods are a real headache for a mother. Not only should the products be prepared without sugar, salt and oil, but also the taste of not all products will appeal to little fussy eaters.
Spinach is just the product that not all kids will like. However, this is not a reason to refuse it.
To be successful in this task, it is important to know how to cook spinach so that your baby will like it.
Photo: prochado.ru: UGC
Therefore, before starting to create dishes with spinach, learn the basic rules for its storage and preparation:
If you bought spinach in reserve, then put it in a container or wrap it in parchment and store in the refrigerator on the vegetable shelf.
At room temperature, it will lose its beneficial properties.
Spinach dishes for babies should be prepared with dairy products - milk, cream or butter.
This product contains oxalic acid.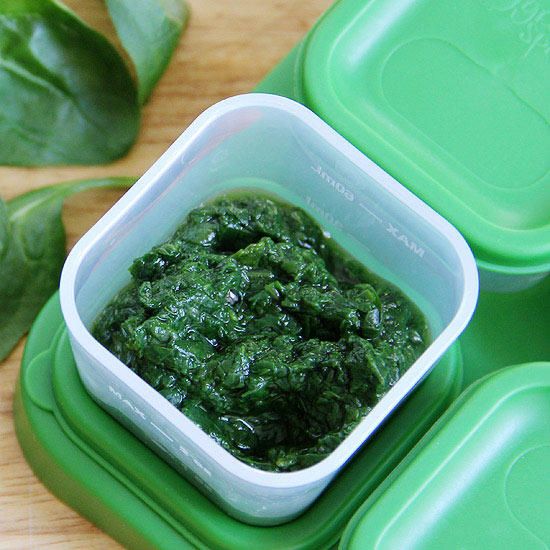 It can cause discomfort in the child.
Milk neutralizes the effect of acid, promotes the absorption of vitamins A and E.
It is advisable to use fresh leaves.
If you do use frozen spinach, sort through and remove the hard stems.
Only the tender part of the leaves should be used in the baby's diet.
Spinach for the kids menu takes up to 15 minutes to cook.
If your child has any health problems, please consult your pediatrician before introducing spinach into your diet.
For babies, it is generally recommended to cook mashed dishes. This condition is optimal for a baby who has not yet erupted teeth.
Here are some dishes you can make:
Spinach mousse
Photo: sunny7.ua: UGC
How to cook this dish? For him, take:
spinach - 100 g;
butter - 10 g;
milk - 100 ml.
To prepare this dish, proceed as follows:
Melt the butter in a saucepan and put the washed spinach leaves (without stems) into it. Simmer over low heat for 15 minutes.
Whisk the mixture with a blender.
Pour in ½ cup boiled milk, heat until thickened.
Mix of zucchini and spinach
Photo: maggi.ru: UGC
For this puree use:
zucchini, spinach - 100 g each;
onion - ½ heads;
cream or milk - 50 ml;
water - 150-200 ml.
Cook like this:
Peel the zucchini and cut into cubes. Put in a saucepan.
Wash the spinach, remove the leaves and add to the courgettes.
Sprinkle finely chopped onions over the vegetables.
Cover the mix with water and simmer for 15 minutes. Blend the vegetables in a blender.
Add milk or cream and simmer for another 5-7 minutes.
You can experiment with this puree: for example, add a little orange to it - carrots, pumpkins. Combine broccoli and spinach, cauliflower and spinach.
Potato-spinach soup
Photo: abedik.ru: UGC
Take for it:
potatoes - 1 pc. ;
spinach - 100 g;
butter - 1 tsp;
cream - 50 ml;
water - 300 ml.
The cooking algorithm is as follows:
Peel the potatoes and cut into cubes. Fill with water and boil for 15 minutes.
Melt the butter in a saucepan and add the spinach. Simmer for 10 minutes over low heat.
Peel potatoes and put spinach on them. Add cream and simmer for 5 minutes.
Take advantage of these recipes. Dishes on them can be offered to babies from six months.
Remember that spinach should be given to babies no more than 2 times a week.
Do not exceed 100 g of this product per serving.
See also: Milk rice porridge: a recipe for children
Spinach dishes for children from one year old
For older children, offer delicious and appetizing dishes with spinach and a variety of vegetables and protein products - cottage cheese, eggs, chicken fillet.
Spinach goes well with them, it becomes more nutritious because its beneficial properties are activated.
We recommend trying the following dishes:
Spinach Soufflé
Chicken lovers will love this delicious dish. To make it easier for the body to cope with protein foods, add spinach to the chicken.
For the soufflé you will need:
chicken fillet - 80 g;
spinach - 150 g;
egg - 1 pc.;
milk - 30 g;
butter - 1 tsp.
You can add salt to this dish, but do not oversalt it.
Cook like this:
Boil the chicken fillet in lightly salted water. Take out and grind with a blender or cut into small pieces.
Simmer the spinach in a saucepan with butter. It takes 5-7 minutes to cook it.
Separate the yolk from the protein, mix with minced meat, add spinach to the mixture. Whisk the whites and gently mix with the fillet and spinach.
Grease a mold with butter and place in the soufflé mixture.
Bake at 180°C for 20 minutes.
Healthy omelet
Photo: recept-duhovka.ru: UGC
Prepare a delicious steamed omelet. For one serving you will need:
chicken egg - 1 pc.;
milk - 50 ml;
spinach - 100 g;
butter - 1 tsp.
Add a little salt to the dish.
To get a fluffy, tasty and dietary omelet, do this:
Melt the butter in a saucepan and put the spinach in it. Simmer in your own juice for 10 minutes.
Beat egg with milk.
Mix milk and egg mixture with cooked spinach.
Brush the bottom and sides of a small pot or saucepan with butter. Pour the omelet mixture into it. Put everything on the steam bath and close the lid.
After 20 minutes, a delicious omelette is ready.
Cottage cheese and spinach casserole
Photo: divomix.com: UGC
For its preparation you will need:
spinach - 300 g;
cottage cheese - 400 g;
eggs - 2 pcs.