Grapeseed oil for baby food
Using Grapeseed Oil for Baby: Benefits & Precautions
It is crucial to understand when you're taking care of your baby's skin that his skin is far more delicate than the adult skin. Therefore, it becomes essential to take extra care of his soft and supple skin. There are many ways you can care for your little one's skin and use different creams and oils to do so. Have you heard about the wonders of grapeseed oil? If you have not, this article will provide you with information on the benefits of grapeseed oil for your baby's skin. We shall also discuss the precautionary measures you might need to take while using this oil for your baby.
Benefits of Using Grapeseed Oil for Babies
Grapeseed oil is derived by compressing the seeds of grapes. It is used in various cosmetic ingredients, for cooking, and personal use. Here are the reasons why grapeseed oil is good for your baby's skin:
1. Keeps Your Baby's Skin Safe
As mentioned above, babies have extremely delicate skin, and it is important to provide it with moisture and nourishment.
However, some oils available to massage a baby can trigger problems like rashes or other allergic reactions. Grapeseeds contain linoleic oil and oleic oil – essential oils that are considered the safest options with no reported side-effects.
2. Heals Your Baby's Dry Skin
Your baby's skin is tender and thus more prone to rashes, infections, and dryness. Babies can easily lose their skin moisture when exposed to warm air, cold weather, or dry heat. Grapeseed oil is the perfect remedy for these problems, as it is easily absorbed in the skin and does not leave a sticky residue. This makes it the best solution for treating your baby's dry skin problems.
3. Great for Your Baby's Hair
Just like the skin, your baby's hair is soft and delicate and requires extra care. Babies may sometimes suffer from hair and scalp issues such as cradle cap, which is a common issue among newborns. Massaging your baby's hair and scalp with this oil can help get rid of this problem.
4. Helps Keep Your Baby's Skin Healthy
Grapeseed oil is loaded with anti-inflammatory, anti-microbial, antioxidant, and anti-allergic properties. Applying this oil on your baby's skin will not only help to keep his skin healthy but can also help in keeping skin problems like baby eczema at bay.
Apart from offering several benefits to your baby, grapeseed oil is equally great for the mommy too. This oil is excellent for providing moisture to dull skin; it also has anti-ageing and skin tightening properties. Some studies also support that consumption of this oil can lower bad cholesterol and increase good cholesterol in the body.
How Is Grapeseed Oil Better than Other Oils for Babies?
When there is a large variety of oils to choose from, why go for grapeseed oil? Here are some comparisons that might help you make the right decision:
1. Grapeseed Oil Compared to Coconut Oil
Both these oils are widely used for massaging baby's skin. While coconut oil works best for chapped skin, grapeseed oil is great for removing skin dryness.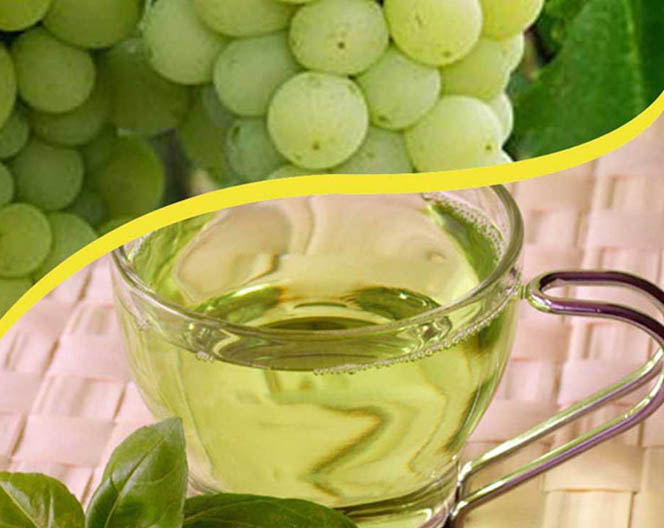 Also, coconut oil tends to solidify at room temperature, making it tedious to apply on the skin. That is not the case with grapeseed oil.
2. Grapeseed Oil Compared to Mineral Oil and Olive Oil
Mineral oils tend to give a heavy feel on the skin and can also clog pores. However, grapeseed oil is very light and gets easily absorbed into the skin, and does not leave any residue or cause clogging of the baby's pores. Grapeseed oil has a higher percentage of linoleic acid, which makes it better than olive oil for your munchkin's soft skin.
Precautions to Take While Using Grapeseed Oil on Your Baby
Grapeseed oil is loaded with several benefits; however, when it comes to using grapeseed oil for newborn babies, we suggest that you exercise caution. Here are some things to keep in mind before using the oil:
Do not go overboard while using this oil for your baby; use it in moderation.
Ask your doctor before using this oil on your baby.
Use the right method of massaging to obtain maximum benefits.
Natural ingredients may provide immense health benefits to your baby, but make sure you use them with discretion and in consultation with your doctor. In case you see any rashes on your baby's skin after using this oil, stop using it immediately and consult a doctor.
Also Read: Key Benefits of Using Olive Oil for Baby Massage
The Benefits of Using Grape Seed Oil
Massaging baby using food-grade grape seed oil is a fantastic way to keep baby's skin from drying out, while being safe and digestible if baby gets some in their mouth or on their lips. Products using all-natural grape seed oil are perfect as all around skin moisturizers that do not clog tiny baby pores.
The Benefits of Using Grape Seed Oil
Grape seed oil is the byproduct of wine making, pressed from the seeds and extracting the oils. Many stores sell grape seed oil for its many applications, including cooking, cosmetics, massage lotions and aromatherapy.
In cooking it has a moderately high smoking point, and a light, clean taste. It also has a high polyunsaturated fat content. Cosmetically, it is perfect for controlling moisture of the skin. Using as a massage oil, it acts as a wonderful carrier for aromatherapy. It is also used in sunblock and sunburn ointments.
Culinary & Cosmetics
The main two purposes for this oil are culinary and cosmetic, so when purchasing for cooking make sure you buy food grade oil.  It is polyunsaturated, light in flavor and color, and contains benefits such as linoleic acid. Grape seed oil is a high source of vitamin E, protein, and minerals.  Some studies have shown a decrease in bad cholesterol and in increase in HDL in people who consumed grape seed oil. For people who use it less, refrigeration is advised, otherwise store in a cool dark place.
For Mommy
In cosmetics it is used for its properties in moisturizing and gliding smoothly across the skin.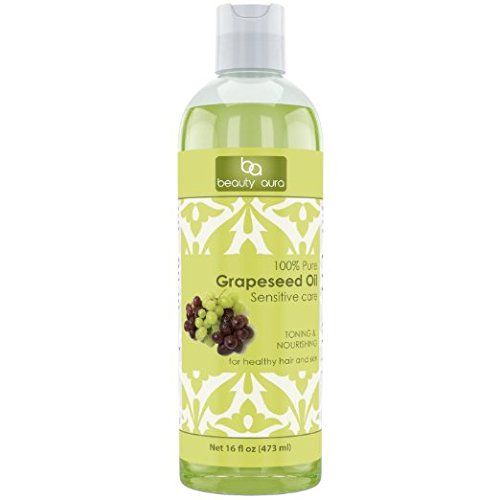 With its mildly astringent and antiseptic qualities it assists in mild skin repair and helps tighten the skin. It contains vitamin E to soften the skin, help reduce the signs of aging, and is easily absorbed by the body to help with stretch marks, age spots, and wrinkles. It is used in facial, hair and skin products for its anti-inflammatory and anti-aging properties.
For Baby
Grape seed oil is also used in the care of your newborn infant. While treating your stretch marks (if that occurred during your pregnancy), it is also perfect for the typically dry skin of your baby. While the massaging of your baby is a bonding experience for the two of you, make it easy and fun by using grape seed oil which glides smoothly onto their skin, is absorbed easily and is digestible if they should suck on their fingers. Make sure it is a food grade oil!
Grape seed oil is a better choice than baby oil or mineral oil because those oils tend to clog the pores and using a nut-based oil could spark an allergic reaction.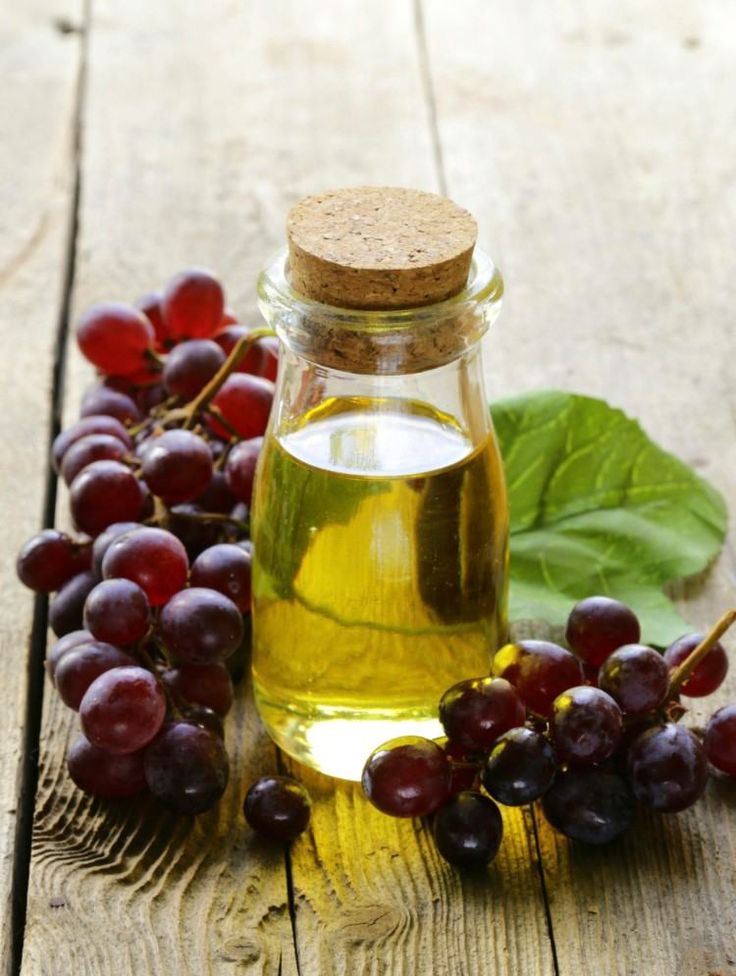 Another benefit is that is doesn't leave a greasy residue on baby. Cradle cap is a common situation to find yourself in, and using a little grapeseed oil on baby's scalp will take care of it!
Some babies are born with very sensitive skin, so choosing an oil for them is very important. Grape seed oil is high in linoleic acid which is much easier on baby's skin than one high in oleic acid, such as olive or sunflower oils that are harsher and can cause redness – even on skin that is not sensitive.
Grape seed oil has been shown in studies to contain properties to help with numerous health issues due to its anti-inflammatory, anti-aging, anti-oxidant, anti-histamine and anti-allergic activity. It has been used as the grape, the seeds, and the leaves in home remedies for centuries. 
properties and use for the face and hair, benefits and harms, whether it is possible inside
Various fats are of considerable importance in skin care.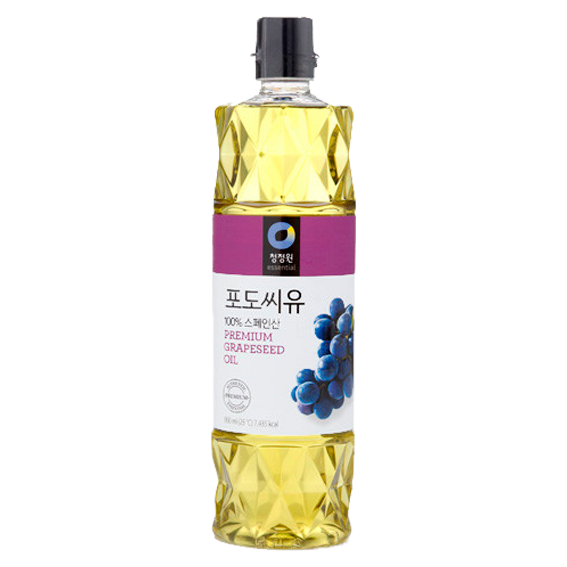 Grape seed oil in cosmetology is very popular due to its unique composition. The product includes oleic and linoleic acids, vitamins B and E, as well as flavonoids. The latter have a structure similar to the female hormone - estrogen. These substances have an exceptionally strong antioxidant effect.
Used for face, hair and body care. It is also popular in cellulite control programs as it stimulates blood circulation and improves lipid metabolism. The oil has a very light structure, therefore it is used to care for both dry and normal and oily skin.
Content
Composition
Application in cosmetology
Benefits and harm
Contraindications
How to do it yourself
Conclusions
GINOME OIC OI are removed from the bones of the berry. The latter, as a rule, are not eaten, but in vain, since they contain many valuable substances. The seeds are small, so at least 500 kg of grapes are required to obtain 1 liter of oil.
Read more about the Pamiati Dombkovska grape variety here.
Grapeseed oil is a product made from the seeds of the berry by hot extraction.
In fact, grape oil is preferred to be obtained by chemical extraction, this method causes some change in taste. But this makes the product more accessible to a wide range of users.
The product has a light green color due to chlorophyll and a light, slightly tart aroma. Consistency and composition are close to sunflower.
The composition of the product is as follows:
Omega-6 polyunsaturated acids, in particular, linoleic acid - about 70%. The use of oil in cosmetology is mostly due to the properties of this substance, linoleic acid maintains optimal skin moisture and promotes rapid regeneration;
Omega-9 acids - oleic acid. The oil contains up to 15% of the substance. Together with linoleic acid, it has an immunomodulatory and anti-inflammatory effect, stimulates the functioning of blood vessels, and is also involved in lipid metabolism;
palmitic acid - up to 7%. It has a moisturizing effect and prevents skin flaking;
other acids - stearic, linoleic Omega-3, arachidic, in total up to 3%. All of them are participants in lipid metabolism and normalize the process of skin renewal;
bioflavonoids - the structure of the compound is similar to estrogen, the female hormone. Flavonoids, like hormones produced by the human body, contribute to the active synthesis of collagen and elastin fibers, normalize the sebaceous glands, accelerate skin regeneration, and so on. For its high content, this substance is sometimes called the hormone of youth;
vitamin E - the product contains a record amount of it: a tablespoon of oil is enough for a daily dose of the vitamin. Everyone knows about its importance for the beauty and health of the skin: it is vitamin E that plays a decisive role in suppressing the activity of oxidizing agents, thereby preventing aging and aging of the skin;
Veratrol. It has a pronounced anti-inflammatory and antithrombotic effect. Moreover, versatrol has an antitumor effect;
chlorophyll is a biologically active substance that has a general stimulating effect.
Cosmetology use
Thanks to its regenerative properties, grapeseed oil allows faster healing of burns, cuts and wounds. Also, the remedy is included in the course of treatment of trophic ulcers, psoriasis, and various dermatitis. Learn about the characteristics of Sauvignon Blanc grapes here.
In cosmetology, the application is based on essentially the same properties, that is, the acceleration of regeneration, the improvement of blood circulation and the ability to retain moisture by preventing evaporation. Moreover, the product is used for the care of the face, body, and hair.
The main forms of application are as follows:
Masks - grape oil has a very light structure: it does not burden the skin, has a liquid consistency, does not leave a greasy sheen. Accordingly, it can be used to care for both dry and oily skin. Owners of the first are advised to mix the product with more viscous and heavier oils - jojoba, avocado. Girls with oily skin should use the product "solo". The skin is simply lubricated and left until completely absorbed or for 20 minutes - as a rule, there are no traces left on the dry and there is nothing to remove.
Oil masks are also used for hair care. The product is rubbed into the scalp 20 minutes before washing, and then the curls are washed in the usual way. The composition normalizes the work of the sebaceous glands, so that the hair restores its shine, softness and volume.
Lotions - cleansing and toning. The oil easily dissolves the oily base of cosmetics and removes their residues from the skin. It also guarantees moisture retention.
Can also be used alone as a cleaning agent. Before use, it is advisable to warm it up, moisten a cotton pad and wipe your face with it.
Cream - Many anti-aging creams include grape seed oil as an antioxidant and new cell growth stimulator. Such a composition is quite easy to make at home: just add up to 15% of the volume of grape oil to the usual moisturizer or baby cream.
Hair balms - Grapeseed oil is added to the composition of both shampoos and balms. However, in the latter version, its efficiency is higher. The balm stays longer on the curls and on the scalp, so it is better absorbed, and, therefore, has a stronger effect.
Another popular use for a product that is more of a beauty treatment than a remedy is oil wraps. They are popular as part of anti-cellulite programs, and as a method of care. The combined effect of temperature and unique composition provides the best effect: the skin becomes soft and tender after the first session. Learn about the characteristics of the Baikonur grape variety at this link.
Benefits and harms
Beauticians drew attention to the valuable properties of the grape product in antiquity and actively use it to solve a wide variety of problems.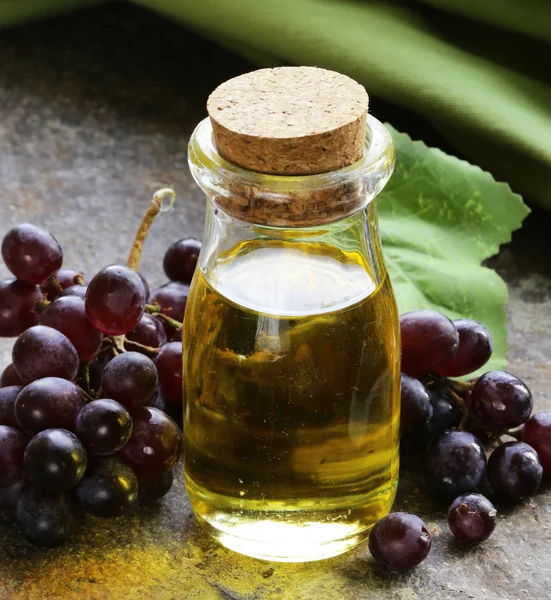 First of all, grape oil is used, of course, to moisturize the skin. And not even so much for moisturizing, but for retaining moisture in the dermis. If the water balance is disturbed, the skin loses too much moisture. It is important to prevent losses before proceeding to fix this problem. Polyunsaturated fatty acids such as omega-6 and 9 are great for this.
Elimination of wrinkles - refers to fine epidermal wrinkles that form due to excessive dryness of the skin. Accumulated horny scales on the surface of such a wrinkle make it noticeable. Linoleic and oleic acids soften the stratum corneum, respectively, the wrinkle is smoothed out.
Anti-wrinkle grape oil contains flavonoids, vitamins A and E, fatty acids and other substances that cause regenerative, antioxidant, immunomodulatory and antimicrobial effects of the product.
Treatment of acne, skin inflammation, cuts, burns - oils and vitamin E, contained in a large amount in the product, have a strong healing effect. Due to this quality, the product is used in cosmetology and dermatology.
Pigmentation Removal - Since grapeseed oil has an anti-oxidant effect, it can be used to get rid of age spots or too bright numerous freckles.
Stimulation of blood circulation - that is, a healthy skin color, getting rid of the gray shade of pallor. This effect is provided by oleic acid. The effect is so noticeable that grape oil is used to treat rosacea and prevent spider veins.
The excellent antioxidant properties of flavonoids literally return youth to the face. Substances stimulate the production of collagen and elastin, that is, they increase the elasticity and tone of the skin, accelerate blood circulation, which means that they provide tissues with nutrition and accelerate the growth of new skin cells. In addition, the product tightens pores, which provides a purely aesthetic effect of skin rejuvenation.
The same qualities provide grape oil with another application - it is readily used in anti-cellulite programs.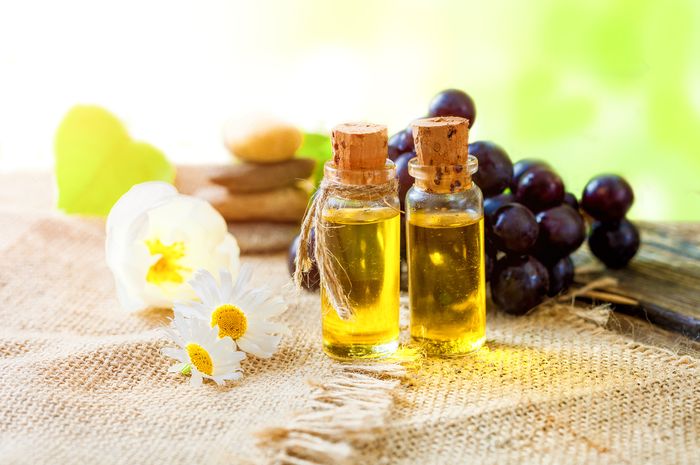 This is what distinguishes the massage tool - the substance is light, absorbed, but not too quickly, and a blood circulation accelerator, and massage of problem areas is done in order to speed up the flow of blood and lymph. This material will tell about the cultivation and care of the Livadia grape variety.
Grapeseed oil is one of the few products that can be used for eyelid care. The light structure of the product does not weigh down thin skin and provides it with moisture.
If there is no allergic reaction to any components of the product, the oil cannot cause harm. Side effects are possible, such as nausea, diarrhea, headache, with excessive ingestion, but this problem is no longer related to cosmetology.
Contraindications
The only contraindication for the use of grape oil and red onion is hypersensitivity to it. In this case, the product acts as an allergen: it irritates the skin, causes swelling and an inflammatory reaction.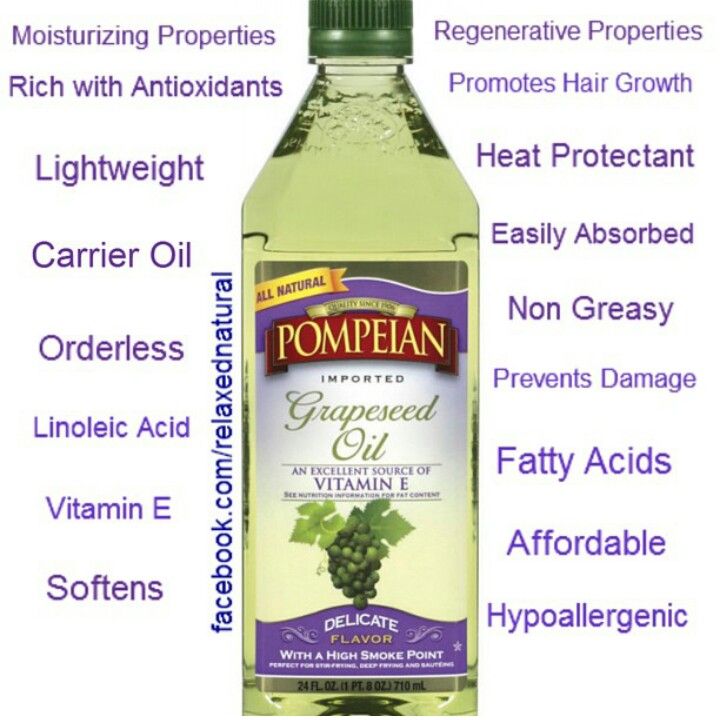 Another limitation is related to the mechanism of action of the composition. The product is used to lighten the skin and eliminate age spots. Accordingly, if a girl aims to tan, then at this time it is impossible to use grape seed oil. Otherwise, all efforts will be in vain. Read about the pink Muscat grape variety in this article.
How to make it yourself
Grapeseed oil is produced in 2 ways:
cold pressing - the most vitamin-rich product is obtained by cold pressing. At the same time, they will receive a smaller volume, but retain all the qualities;
extraction method - the seeds are first crushed to remove the seed coat, and then the oil is extracted with organic solvents. This option is more often used for the food industry.
At home, the second method is difficult, but the first is impossible in principle. Of course, such a volume as at the oil plant cannot be made, but still a certain amount can be obtained.
Only dark grape seeds are used (Marinovsky, Alfa, Rochefort). They are taken out and washed.
Then dry the bones on a towel and grind in a juicer.
The resulting pomace is placed in an oven at a temperature of +60 C. As the seeds dry, they are constantly stirred to prevent the appearance of mold.
Dry bones are ground in a coffee grinder and then placed in a glass jar. The grape mass is poured with sunflower oil to cover the seeds by 4 centimeters.
The jar is placed in a water bath and heated at a temperature not exceeding +70 C. It is very important not to let the mixture boil. Warming up takes about a day. Then the top layer is drained - this is the extracted grape oil, and the next portion of sunflower oil is added to the jar.
The procedure is repeated three times.
Making grape seed oil is a very laborious and time consuming process, so in most cases it is preferable to buy the finished product from a pharmacy or a specialized store.
Video
This video explains the benefits and uses of grape seed oil.

Conclusions
Grapeseed oil is used as a face mask, hair mask, as a massage oil, and is also included in creams, lotions, balms and other care products.
The oil has outstanding antioxidant properties due to its very high content of vitamin E.
Contains flavonoids. Their effect as a cell growth stimulant has earned the oil the name "hormone of youth".
Grape oil, like Indian onion, is used for skin and hair care.
The product can be obtained by yourself. However, the process of its manufacture is very time-consuming, so it is more profitable to purchase a ready-made composition.
Stilla grape seed oil, 500ml (ElitNovaFood)
Just a couple of drops of delicate grape seed oil can give a unique flavor to rich pastries and add unusual notes to the taste of everyday dishes, such as cereals and side dishes of cereals, mashed potatoes.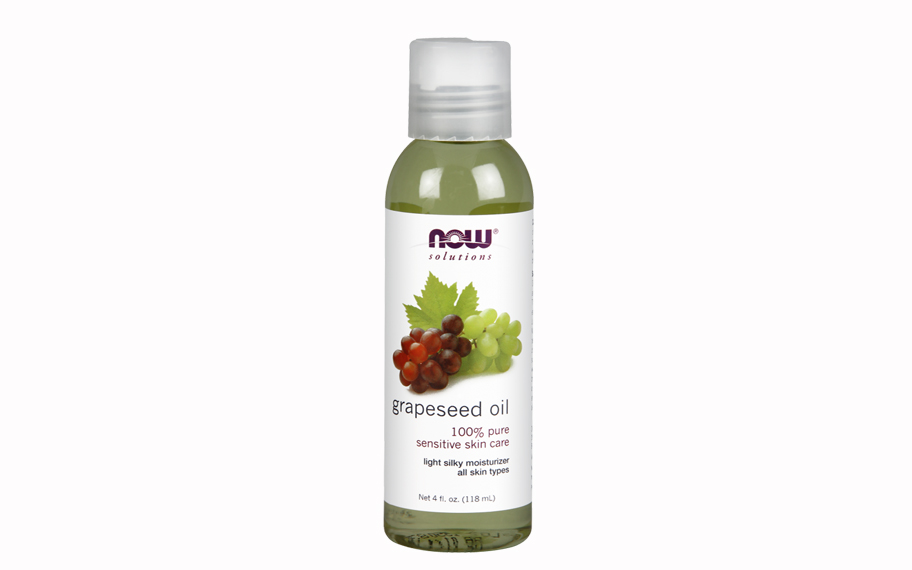 Seed oil is often used in cooking and as a substitute for sunflower or peanut butter.
Grapeseed Healing Oil has found its way into many industries. It is most actively used in cosmetology. It has a good healing and preventive effect.
The consistency of oil is slightly viscous, reminiscent of olive oil, has a yellow-greenish color. Opening the bottle, you can enjoy the unobtrusive nutty aroma.
Grape seed oil is obtained in two ways: by hot pressing or by cold pressing.
Hot pressing of is a very common oil production process due to its relatively low cost and high yield. Dried and crushed bones are processed, but at the same time they lose a lot of useful substances.
Cold pressing is more expensive. For its preparation, grape seeds are pressed without the participation of chemicals. This method allows you to save all the amazing properties of the oil.
Composition of grape seed oil:
• Linoleic acid - moisturizes the skin and activates its regeneration, relieves inflammation and improves immunity, strengthens blood vessels and lowers blood cholesterol.
• Vitamins A, C, E - rejuvenate and tone the skin, regulate fat production, have a positive effect on hormonal levels.
• Proanthocyanides - protect the body from free radicals, have strong antioxidant properties.
• Resveratrol - has anti-cancer, anti-inflammatory and antiviral properties, improves immunity, accelerates collagen production and strengthens female hormones.
• Chlorophyll - tones the body, fights bacteria, activates skin regeneration and promotes wound healing.
• In addition, grape seed oil contains phenols, steroids, saturated fatty acids, enzymes, phytoncides, flavonoids and tannins.
Cosmetic use:
Unrefined grapeseed oil is used in many skin, nail and hair care products. It is often added to nourishing elixirs, creams, lotions, and mascaras.
• Has a powerful anti-aging effect. Nourishes, tones and refreshes the skin, improves elasticity, fights wrinkles by activating the production of its own collagen and elastin.