Healthy first baby foods
Dos and Don'ts for Baby's First Foods
Wavebreak Media/Thinkstock
Breastfeeding has been shown to improve infant, child and maternal health outcomes and help control healthcare costs, but how long should breastfeeding last and when should parents introduce solid foods?
The Dietary Guidelines for Americans recommend exclusive breastfeeding, meaning the infant receives only breast milk, during the first six months of life for optimal nutrition and health benefits.
Once solid foods are introduced, health professionals recommend continuing breastfeeding through 12 months of age and, after that, as desired by mother and baby. Introducing your baby to solid foods is an exciting milestone. When you start introducing children to the world of solid foods, you are helping them shape their relationship with food and establish a healthy eating style. The timing for introducing solid foods will depend on the infant, but it is not recommended before the age of four months or after the age of six months.
Not sure how to get your baby started on solid foods? Consider these helpful tips.
Is Your Baby Ready to Transition?
Each child's readiness for solid food depends on their own rate of development. Signs a baby may be ready to start solid foods include sitting up with minimal support, demonstrating good head control, bringing objects to the mouth or grasping at small objects. Check with your pediatrician before starting solid foods.
Getting Started With Solids
Solid foods may be introduced in any order. However, puréed meats, poultry, beans and iron-fortified cereals are recommended as first foods, especially if your baby has been primarily breastfed, since they provide key nutrients. Only one new single-ingredient food should be introduced at a time.
Softer textures are very important when first introducing foods. Infants usually start with pureed or mashed foods around six months. As infants develop chewing and motor skills, they are able to handle items like soft pieces of fruit and finger foods.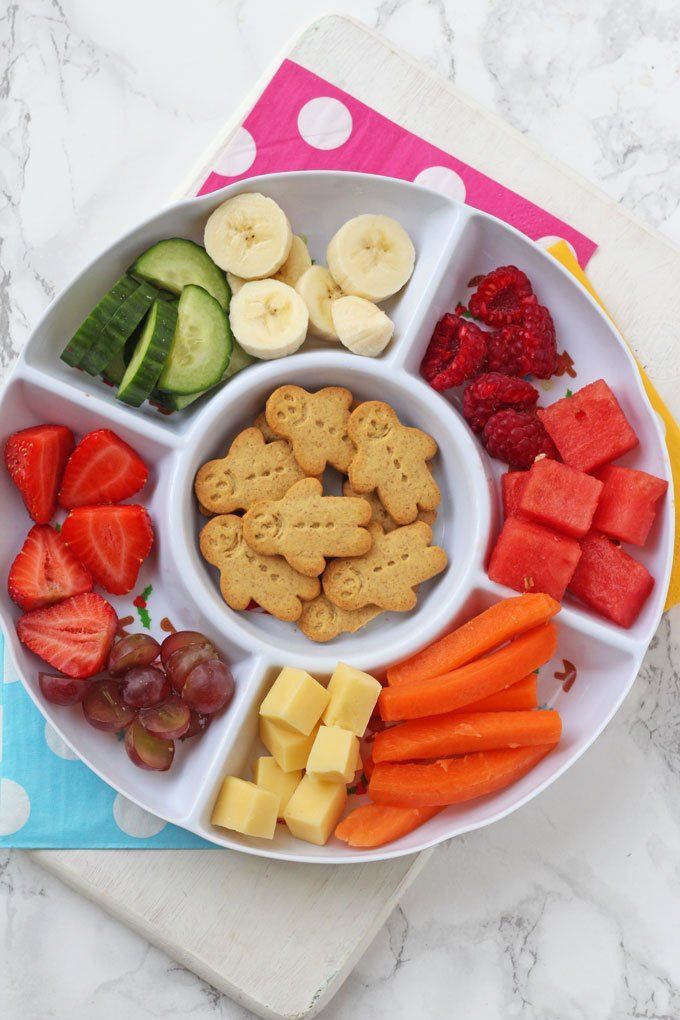 As the child ages, a variety of healthful foods is encouraged.
Weaning From Breastfeeding
When deciding if you should wean your baby to a bottle or a cup, consider their developmental readiness. Between 7 and 8 months, most infants will drink small amounts of liquid from a cup or a glass when someone else holds it. Older babies and toddlers often have the coordination to drink fluids from a cup by themselves.
If your baby is under 12 months of age and you are not continuing to breastfeed, wean from breast milk to iron-fortified infant formula. If your baby is 12 months or older, whole cow's milk is appropriate.
Food Safety Do's and Don'ts
Food safety concerns for infants and toddlers include food allergies, choking and risks for foodborne illness. Keep the following safety tips in mind:
Do talk with your pediatrician about the risk of food allergies. Introducing one new food at a time, every several days, allows time to monitor for allergic reactions.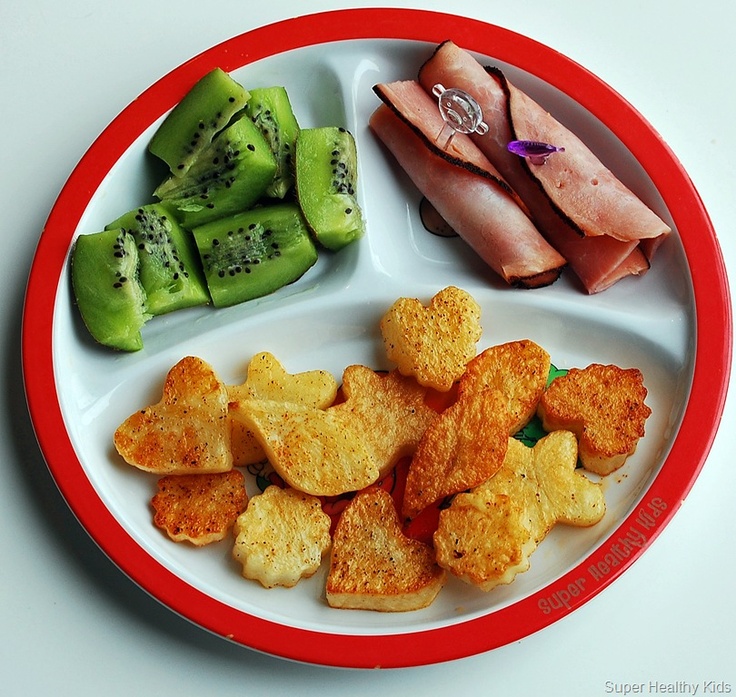 Current evidence does not indicate needing to wait beyond 4 to 6 months before introducing potential allergy-causing foods such as eggs, dairy, soy, peanuts and fish. In fact, introducing peanut-containing foods as early as 4 to 6 months of age may help prevent a peanut allergy. The Dietary Guidelines for Americans recommends introducing potentially allergenic foods when other complementary foods are introduced to an infant's diet. Parents with concerns about food allergies should discuss how to include these foods with their pediatrician.
Don't feed your baby solid foods from a bottle. It can be a choking hazard and despite a popular misconception, putting cereal in a baby's bottle won't help with sleeping through the night. Other foods that are considered to be choking hazards are listed below.
Do supervise your child while eating. Infants should be able to sit upright and face forward when you first introduce solid foods. This makes swallowing easier and choking less likely.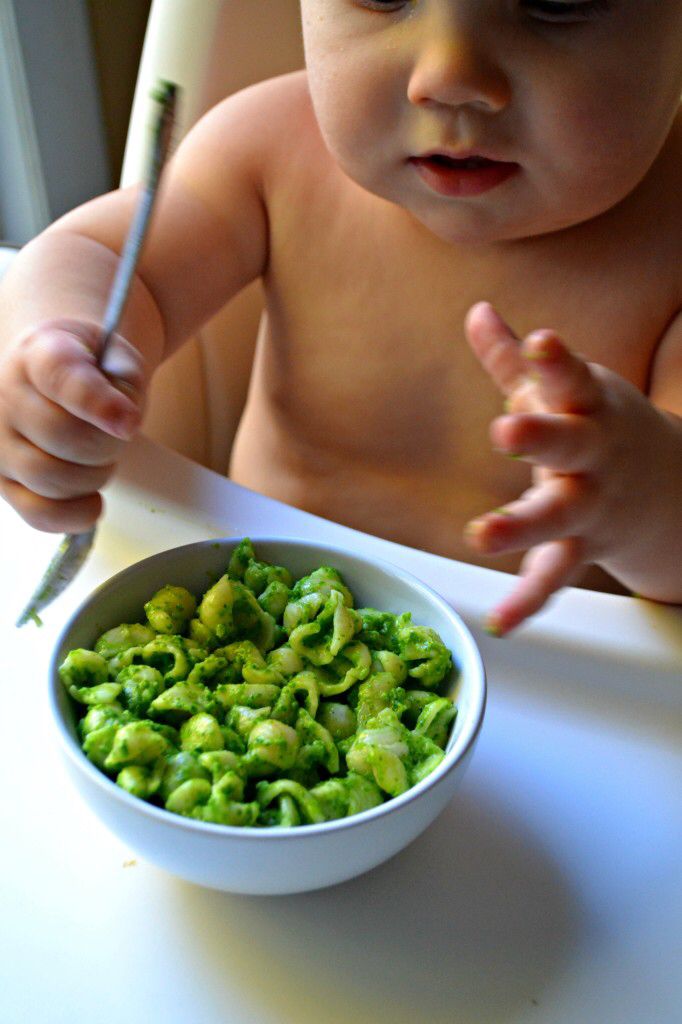 Don't feed directly from the jar of food but instead spoon some food into a separate dish first. Feeding directly from the jar may introduce bacteria from your baby's mouth to the spoon and back into the food, creating a food safety issue.
Don't feed honey to children under 12 months of age due to the risk of foodborne illness.
Examples of appropriate solid foods listed by age:
6 months:
Well-cooked and pureed meat, poultry or beans
Ground, cooked, single-grain cereal or infant cereal with breast milk or formula
Cooked and pureed vegetables
Mashed banana or avocado
9 months:
Well-cooked, minced or finely chopped meat, poultry or beans
A variety of cooked vegetables cut into small, ½ inch pieces, such as squash and green beans
Sliced and quartered bananas or small pieces of other soft fruits
12 months:
Soft, shredded meat, poultry or fish
Small pieces of cooked vegetables
Small pieces of soft, easy to chew fruits
Mixed food dishes the family is eating in appropriately sized pieces
Not recommended for those under 4 years of age due to the risk of choking:
Popcorn and whole kernel corn
Nuts and seeds
Large chunks of meat, poultry and cheese
Candy, gum drops and jelly beans
Hard, raw fruits or vegetables such as apples, celery and carrots
Whole grapes and cherry tomatoes, unless cut into quarters
Hot dogs, unless cut into strips and age appropriate, bite-size pieces
Sticky foods, such as peanut butter, which can get stuck in the back of the mouth – peanut butter is okay if spread thinly on bread
For toddlers and preschoolers, chop grapes, meat, poultry, hot dogs and raw vegetables and fruits into small pieces (about ½ inch or smaller).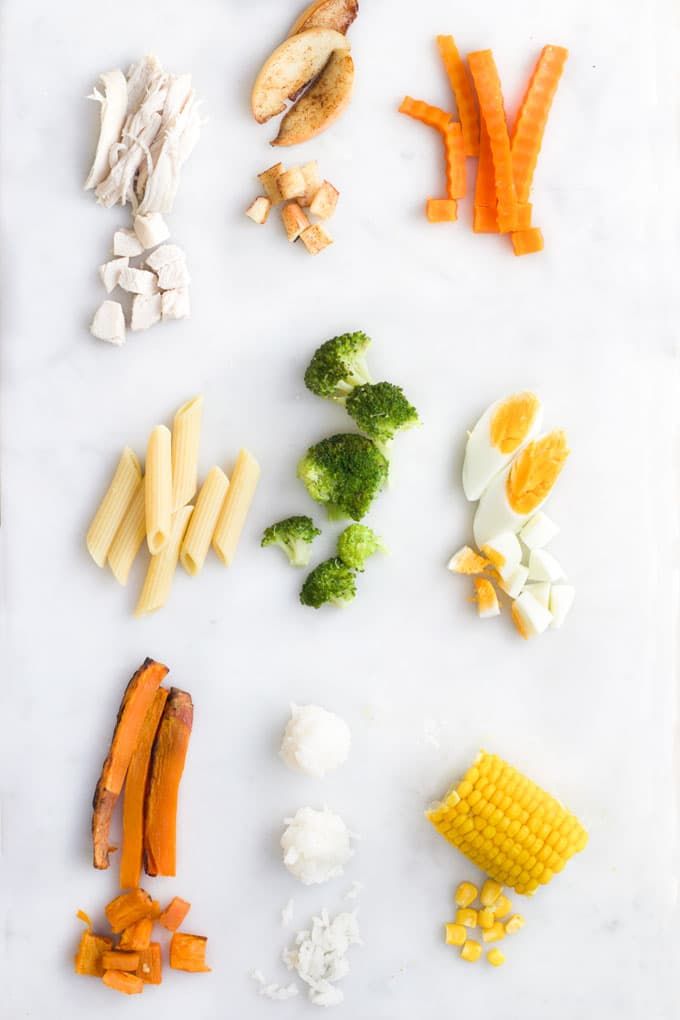 Nurturing Healthy Relationships with Food
Establishing a positive feeding relationship during infancy can have lifetime benefits. Keep in mind that children are responsible for how much and whether they eat so always wait for your baby to pay attention to each spoonful before you feed them. Don't be afraid to let your baby touch the food in the dish and on the spoon. You wouldn't want to eat something if you didn't know anything about it, would you? In addition, know the cues that your baby is done eating. A common cue babies are full is head turning.
Whatever happens, don't get discouraged and enjoy the experience. With a little patience and creativity, you can make your baby's first solid food eating experience fun for everyone involved!
The (Surprising) Best Foods to Start With
Is baby ready for solids? Here are the top eight real and healthy first foods to start your baby on the right foot. Plus, three common first foods to avoid.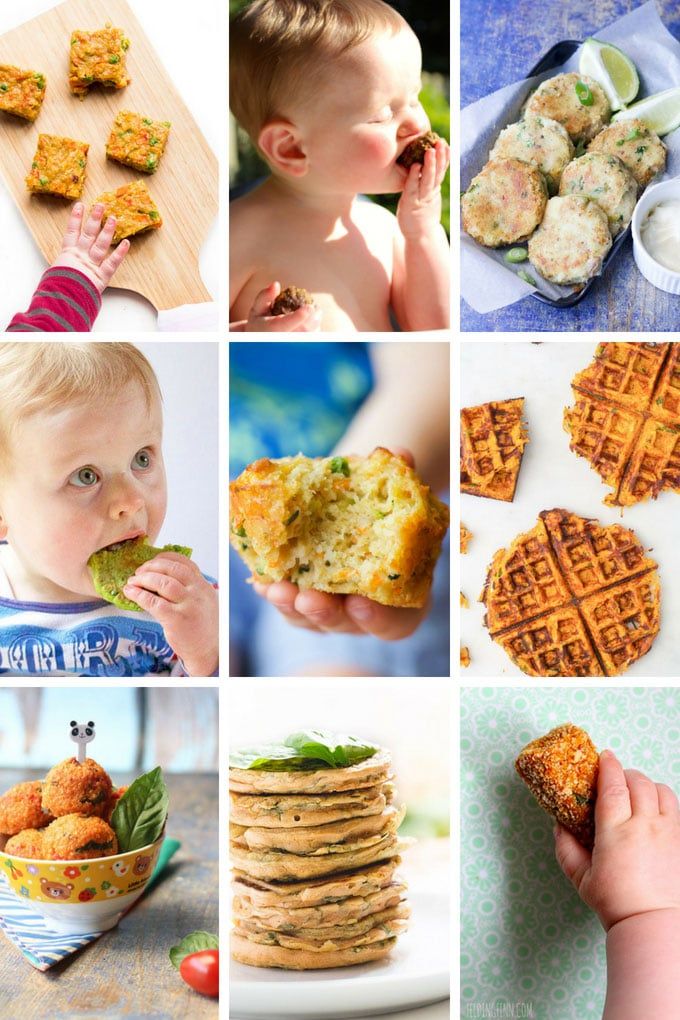 Once you know your baby is ready to try some solid food, the question becomes, what is the best first food? (No, it's probably not a smash cake.)
Baby's First Food
For most of us moms, we can't wait till baby is 6 months old to introduce solids, at which point we may give baby pureed apples or avocado, or go the baby-led weaning route and give baby a few pear slices to gnaw on.
Good nutritional choices, right? Yes, but keep in mind that babies have special nutritional needs that benefit from a blend of animal and plant foods. (Our digestive tracts are designed for an omnivore diet, after all.) While kale and quinoa are great, they're not necessarily the best first foods for baby.
Best First Foods for Baby
The foods below are extremely nutrient-dense. This is crucial, since baby's digestive tract is still very small and immature—baby needs the biggest nutritional bang for his or her buck.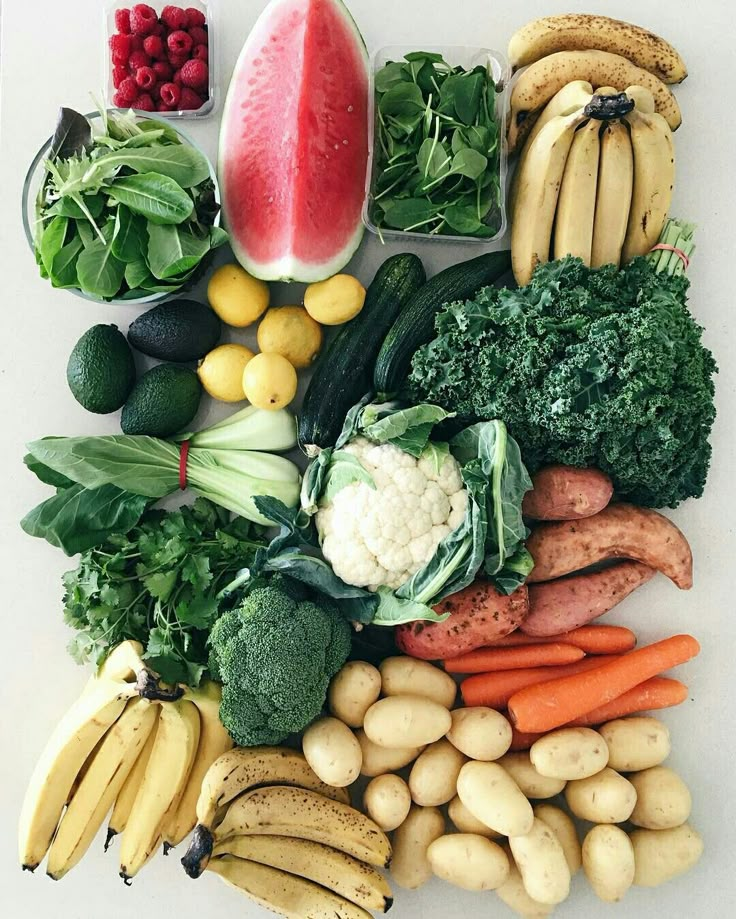 1. Egg yolk
While many parents might pause at introducing a highly allergic food like egg to a 6-month-old baby, new research shows that early introduction is critical to actually reduce the likelihood of food allergies. (source)
Start with the egg yolk, since it's the easiest to digest and contains the most nutrients like choline (great for baby's brain and eyes) and necessary cholesterol—the building block for all hormones. (source) Egg yolks also contain important minerals that baby needs right now, like calcium, zinc, selenium, phosphorus, and vitamins E and B6.
To prepare: Gently poach or cook egg yolks with a little butter, ghee, or coconut oil on the stovetop. Keep the egg yolk soft and a little runny for easier digestion.
2. Avocado
When it comes to baby's first food, avocado is a great choice. It contains lots of healthy fats, as well as the almighty mineral magnesium, which is so crucial to our health yet is harder to get through food.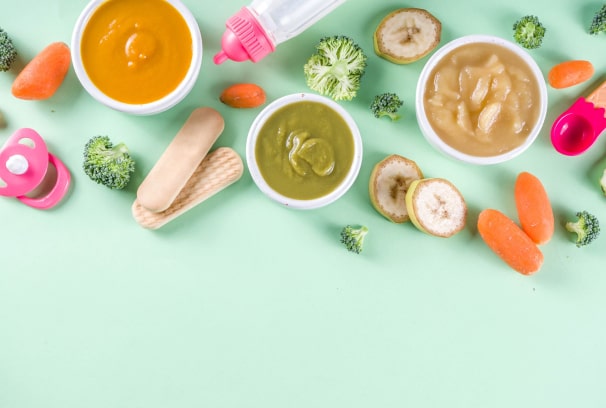 Avocado also contains B vitamins, including niacin, vitamin E, vitamin K, potassium, folate, and fiber.
To prepare: Peel and cut into long slices if you want your child to self-feed. You can also mash and spoon-feed. It's delicious with banana for a 1:1 ratio.
3. Blended red meat
Why red meat? It's one of the only foods high in three key nutrients that babies can be deficient in: iron, zinc, and vitamin B12. (source)
Keep in mind that breastmilk is low in iron (unlike formula), so baby must get it through his/her diet, but plant sources of iron are difficult to convert to a usable form, especially in a baby's immature digestive tract.
To prepare: Get organic, pasture-raised beef or lamb. Ground beef, a tender roast, or lamb chops are all great options. Cook gently and chop into tiny pieces if baby is self-feeding. Or, put it in a blender with some broth or water and blend into a creamy puree to spoon feed.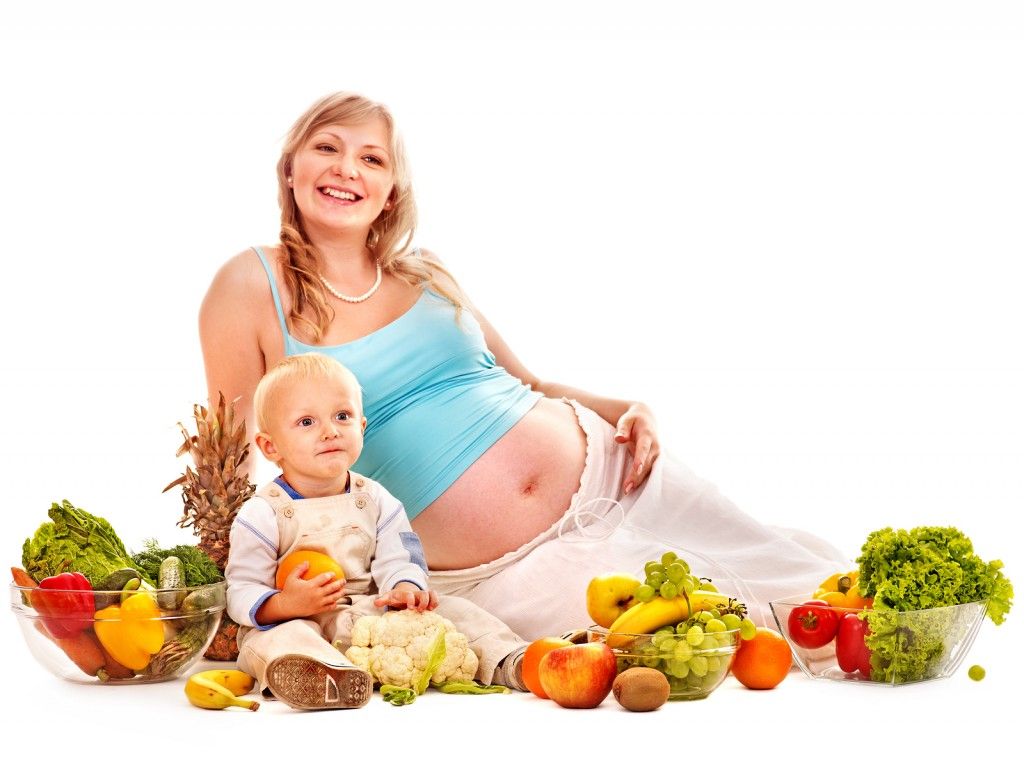 4. Banana
Some people believe that baby's first foods shouldn't include any fruit, because baby show a preference for the sweetness. Truth is, baby already has a preference for sweetness, thanks to breastmilk. Don't worry about baby becoming a sugar bug because of fruit. Bananas are a great first carbohydrate source for babies, because they contain amylase, an enzyme necessary for the digestion of carbohydrates (like bananas). Bananas are also a great source of vitamin B6, vitamin C, manganese, magnesium, and potassium.
To prepare: Serve very ripe bananas with brown spots—the starch has converted to a simple sugar, making it easier to digest. Peel and cut in half for self-feeders, or mash up with a little avocado or breast milk.
5. Winter squash
Another easy-to-digest carbohydrate is well-cooked winter squash (i.e. acorn, butternut). And due to its low nitrate content, it's a safe first food for baby. Squash is also high in vitamin A, vitamin C, magnesium, potassium, and manganese.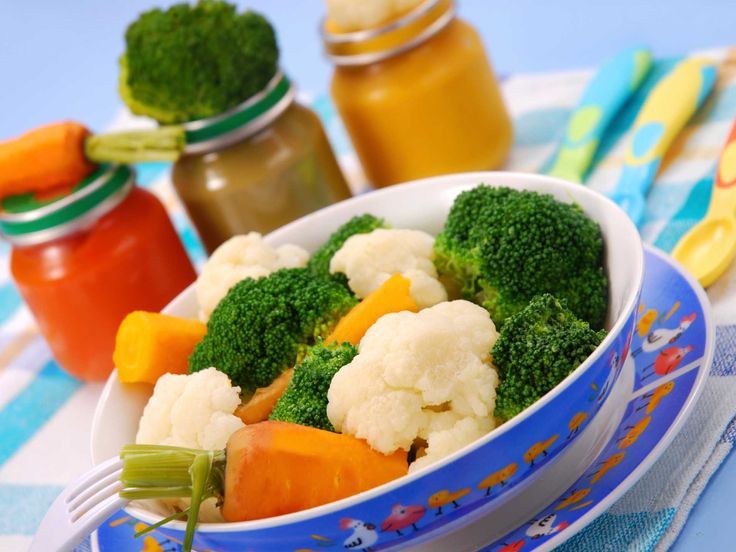 To prepare: Cut open the squash and remove the seeds. Roast it in the oven for about an hour at 350 degrees, or until the squash is soft and the skin easily separates from the vegetable. Alternatively, put it in your Instant Pot with 1 cup of water and cook for 7 minutes. Let cool and scoop out the flesh. Cut it into slices for self-feeders or mash with a little butter or fat, which helps convert the beta-carotene into usable vitamin A. (source)
6. Yogurt
Organic whole yogurt is an excellent first dairy food, because it's pre-digested and easier for baby to consume. It'sa well-balanced food with healthy fat, protein, and milk sugar to nourish baby. Plus, it's high in calcium, vitamin D, and phosphorus. Yogurt is also naturally rich in health-promoting probiotics to help colonize baby's gut with beneficial bacteria.
Note: Conventional wisdom said to wait until baby hit 8 or 9 months before serving yogurt, but new research shows that earlier introduction of common allergen foods, like dairy, may help prevent food allergies.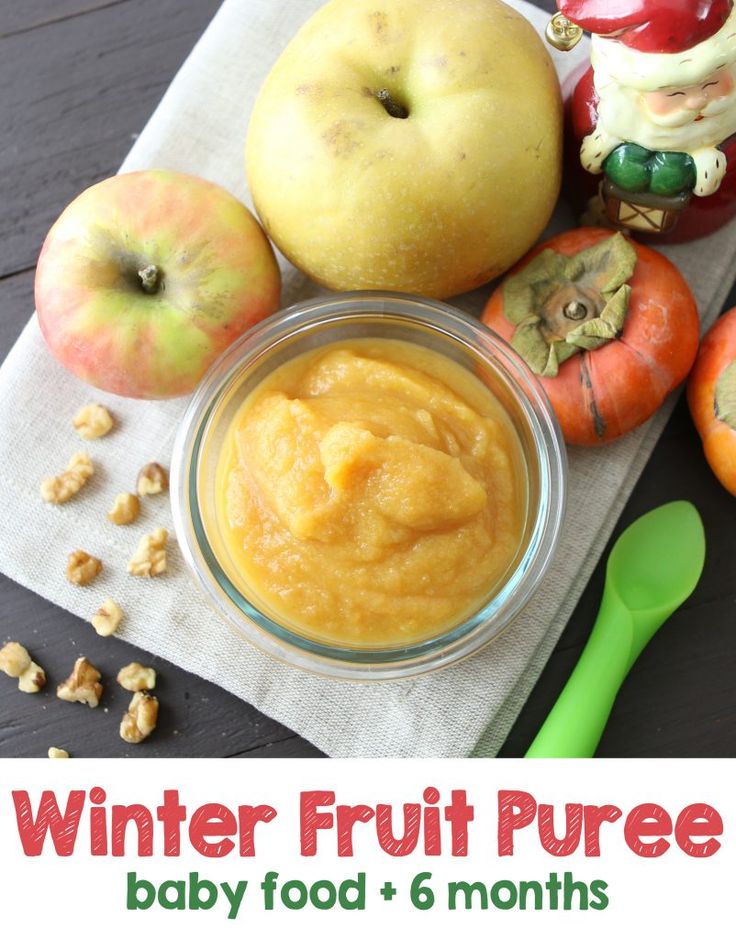 (source) Of course, if you have a family history of dairy allergies or your child is immune compromised, it's vital that you speak with your child's pediatrician regarding best first foods for baby. Your doctor may recommend something like Ready Set Food as a safer and more scientific approach to introducing allergens.
To prepare: The key to introducing dairy is to go slow and watch for reactions. Start with 1 teaspoon of yogurt and serve to baby. Wait a day or two and slowly increase the quantity until you can serve 1/4 cup a day.
7. Green peas
If you want to introduce baby to green foods, start with green peas, which are high in resistant starch. Just as it sounds, this means they're resistant to digestion, and pass through the stomach and small intestine into the large intestine, where it feeds good gut bacteria.
You may be surprised to learn that this small legume contains a wide range of vitamins and minerals.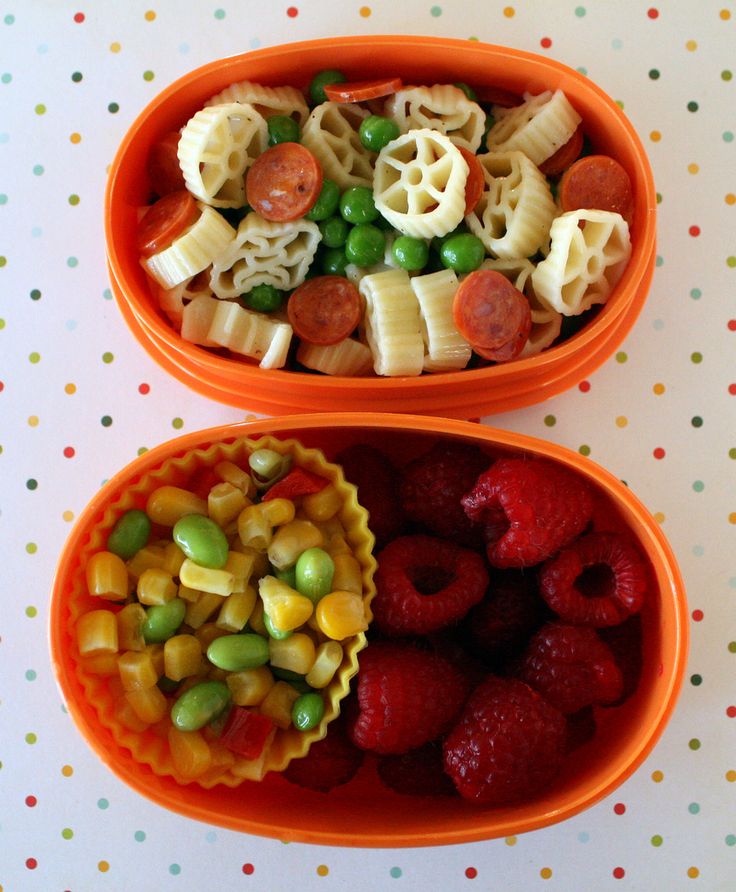 Just 1/2 cup of peas has 4 grams of fiber, 4 grams of protein, 34 percent of your daily value of vitamin A, and 34 percent of your daily value of vitamin K—a nutrient that can be particularly low in babies. (source)
If baby resists the taste, sweeten the deal by pureeing the green peas with some squash.
8. Organ meats
OK, I know this sounds out there, but organ meats are the most nutrient-dense of all animal foods. They used to be part of the American diet, but fell out of favor in the '60s and '70s. Most organ meat is high in true vitamin A, which is extremely important to baby's development. Liver also contains vitamin A, D, all B vitamins, folate, zinc, and CoQ10. Chicken liver has a good amount of iron as well.
To prepare: A little goes a long way. Purchase high-quality, grass-fed chicken, beef, bison, or lamb liver. Cook over medium heat in a frying pan in a little ghee or coconut oil.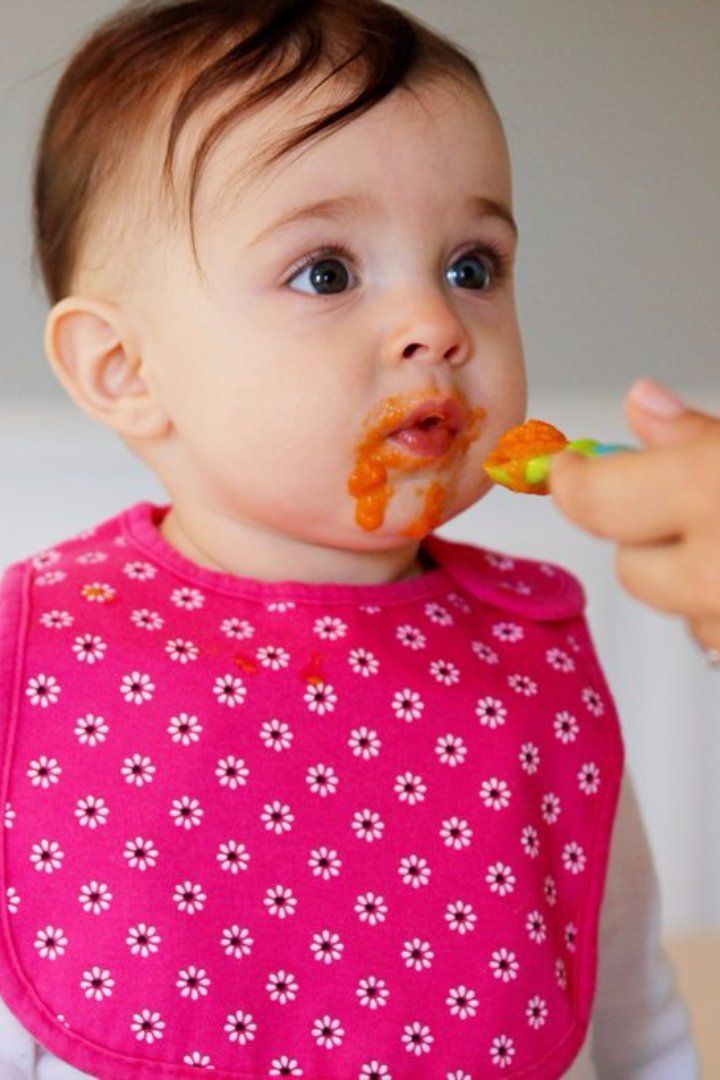 Once one side is brown (not browned or burnt), flip the liver and brown the other side. (It cooks fast, so keep your eye on it.) Allow to cool and grate 1 tsp to 1 TB of liver over baby's egg yolk or banana mash. Or, chop it into small pieces if baby is self-fed.
The (Surprising) Best First Foods for Baby – baby post by Mama Natural Pinterest
Get free updates on baby's first year! – Free Updates on First Year [In-article]
Sign me up!
Nutrients for Baby
Want to expand baby's menu beyond these eight items? There's a saying: "food before one is just for fun," and while that may be true when compared with an adult's consumption, there are some important nutrients that baby needs from solids as he/she moves beyond 6 months of age.
According to Weston A. Price's research (a dentist who spent 10 years researching the diets of different cultures to see what nutrients children most need to develop optimally), nursing babies at around 6 months of age need:
Protein
Fat
Iron
Zinc
B6
Niacin
Vitamin E
Calcium
Phosphorus
Magnesium and other trace minerals
Omega 3 and omega 6 fats (in the proper balance)
At around 8 months, baby also needs:
Vitamins A, B, C, D, and K
Potassium
Foods to Avoid
While baby's palate may be quickly expanding, baby shouldn't have free reign.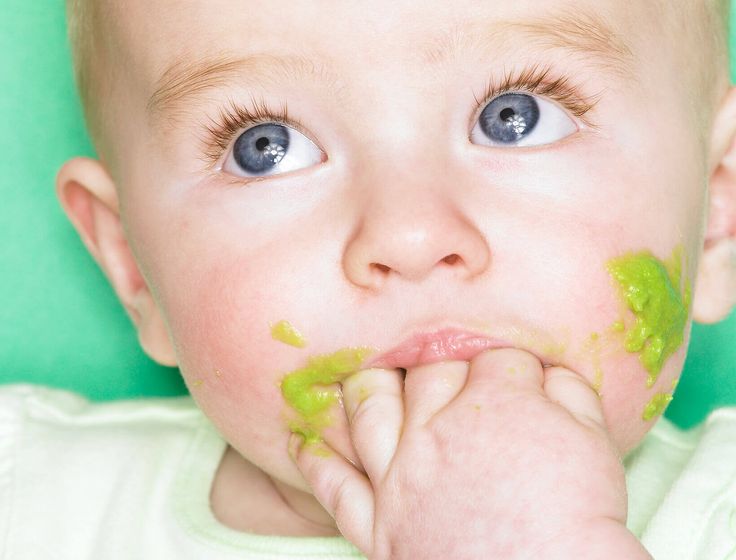 Here are a few foods parents should not feed to babies (some of them are rather surprising!):
1. High-nitrate foods
Root and leafy vegetables—think spinach, celery, lettuce, radishes, beets, turnips, and collard greens—are all very high in nitrates. Nitrates can turn into nitrites, which then turn into nitrosamines (a known carcinogen) in the stomach.
When to introduce? Wait until 6-8 months to give baby root vegetables; wait a year to give baby leafy greens. It's also helpful to serve these foods with vitamin C-rich foods to avoid this nitrate to nitrite to nitrosamine conversion.
2. Acidic foods
Tomatoes and citrus can irritate the digestive tract in young babies.
When to introduce? Wait until at least 9 months.
3. Sweeteners
You obviously want to avoid giving your child too many sweets or processed foods. However, there is a time and place for a treat… for example their smash cake.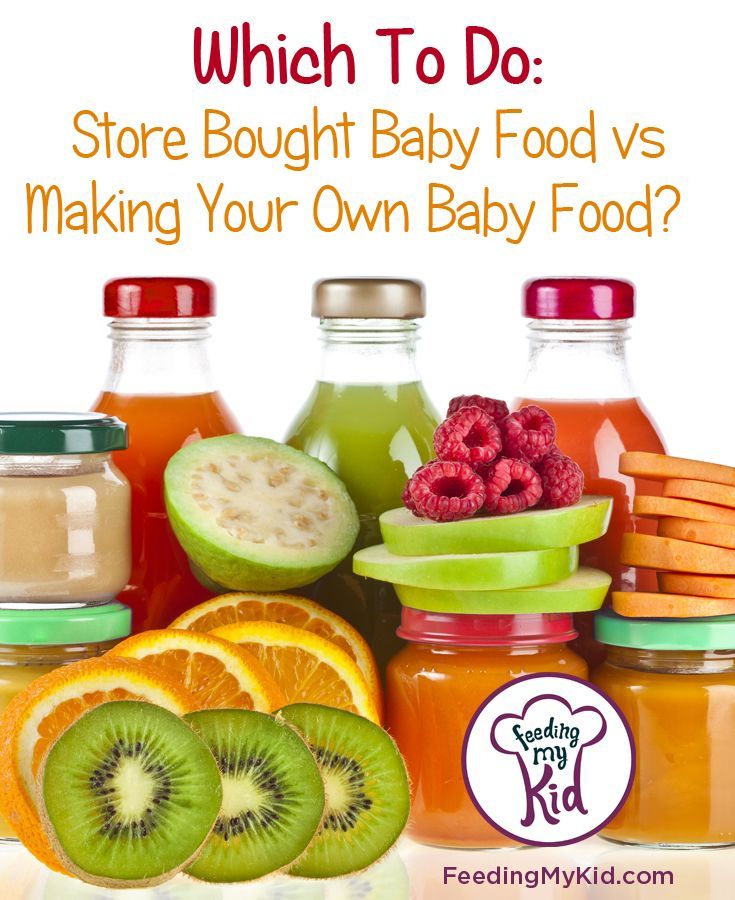 When to introduce? Natural sugars—think honey, maple syrup, or blackstrap molasses—may be introduced after baby's first birthday in very small doses. (Raw honey can be very dangerous if offered to baby before the age of one.) You can also sweeten things using fruit (date, banana, applesauce, etc.).
What About Grains?
Whole grains can round out a healthy diet for young children, but don't rush to serve them as a primary source of solid fuel. Newborns have almost no pancreatic amylase, a important enzyme that digests complex carbohydrates. (They do make plenty of salivary amylase by 6 months, which is designed to digest simple forms of carbohydrates found in fruits, vegetables, and breastmilk.)
So babies can't digest grains?
While baby's pancreas may not digest complex carbs very well, studies show that very little undigested starch is left in their poop. This may imply that the good bacteria in the colon uses this undigested starch as "food," helping to populate their large intestine with good bacteria.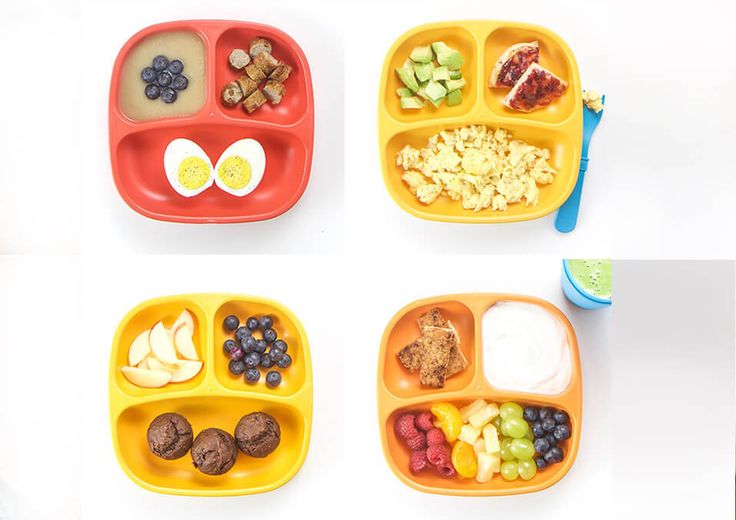 We all know the benefits of a diverse and robust microbiome, including lower risks for just about every inflammatory disease out there, so incorporating pre-soaked, well-cooked grains to infants can be a good practice.
When to introduce? You can introduce grains at 6 months with a tablespoon or two of cooked grain a day. By 7-8 months, you can increase as appropriate, balancing with healthy fats, proteins, and fruits and veggies.
To prepare: Soak millet, quinoa, oats or barley in filtered water overnight with a dash of raw apple cider vinegar to help pre-digest grain. Cook long and slow so that the grain mixture turns into a type of porridge. Once cooled, add breastmilk to increase amylase content (yes, breast milk is rich in this starch-eating enzyme) and serve with a spoon.
What About Allergens?
Unfortunately, food allergies are on the rise. In fact, according to a new report, emergency room visits for anaphylaxis (an acute allergic reaction) more than doubled in children from 2010 to 2016.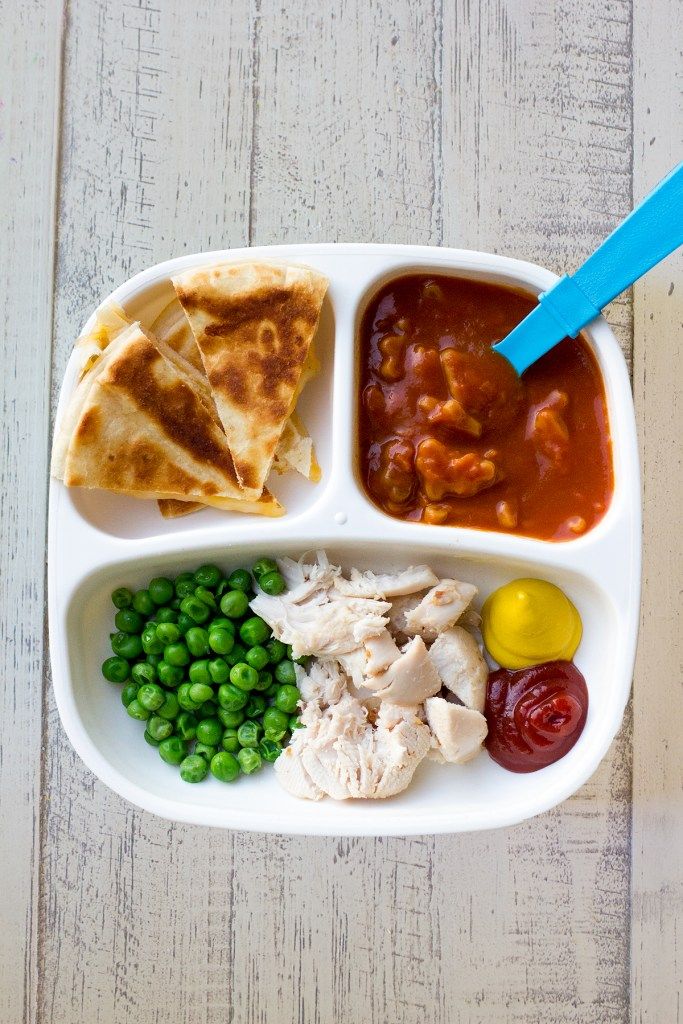 Those are some scary statistics when you're thinking about what to feed your little one. The good news? There's growing evidence that when babies are introduced to common allergens before their first birthday, they are less likely to develop allergies.
The importance of early and frequent allergen introduction starting at 6 months
As noted above, new studies about food allergy prevention show you can lower your child's risk of developing a food allergy by up to 80 percent through early and sustained allergen introduction. What qualifies as early? Research shows that pregnant moms who eat nuts are less likely to have babies with nut allergies. And further research shows that once baby is ready to eat solid food around 4-6 months (See why Mama Natural recommends waiting until at least six months.), children at high risk of developing a peanut allergy were far less likely to develop an allergy when introduced to peanuts before they turned 12 months.
The key to prevention is not only dependent on timing, but also what you're feeding baby and how often.
Start with peanut, egg, and dairy foods like cheese or yogurt (don't give baby cow's milk to drink until they're 12 months old), since they represent over 80 percent of the most common childhood food allergies. If you're not sure how to get started, check out companies like Ready, Set, Food  that have scientifically proven programs to help parents gently and slowly introduce known allergens. (Read more about allergen introduction.)
A Final Word on the Best First Foods for Baby
Babies thrive by eating solids from both the plant and animal kingdom. By nourishing your little one with nutrient-dense foods, they will have brighter minds and moods, physical strength, healthy immune systems, and protective microbiomes. Getting things off to a great start now, with these best first foods for baby, will help ensure lifelong health.
References
https://www.westonaprice.org/modern-diseases/how-to-restore-digestive-health/
https://www. westonaprice.org/childrens-health/nourishing-a-growing-baby/
https://www.westonaprice.org/health-topics/the-liver-files/
https://ndb.nal.usda.gov/ndb/nutrients/index
https://bmjopen.bmj.com/content/6/5/e010665.full
First baby food for your baby
When your baby is five or six months old, it's time to start thinking about introducing semi-solid foods into his diet. Up to this point, mother's milk is the best food for the baby.
Breast milk is easy to digest and contains a rich supply of vitamins and antibodies that fight infections in the baby's body. It also promotes a close relationship between the infant and its mother.
While most mothers have enough milk to satisfy their baby's hunger, the decision to breastfeed is deeply personal. Breastfeeding may not be the preferred option for all women. For mothers who are not breastfeeding or who decide to switch to infant formula, this is a healthy alternative.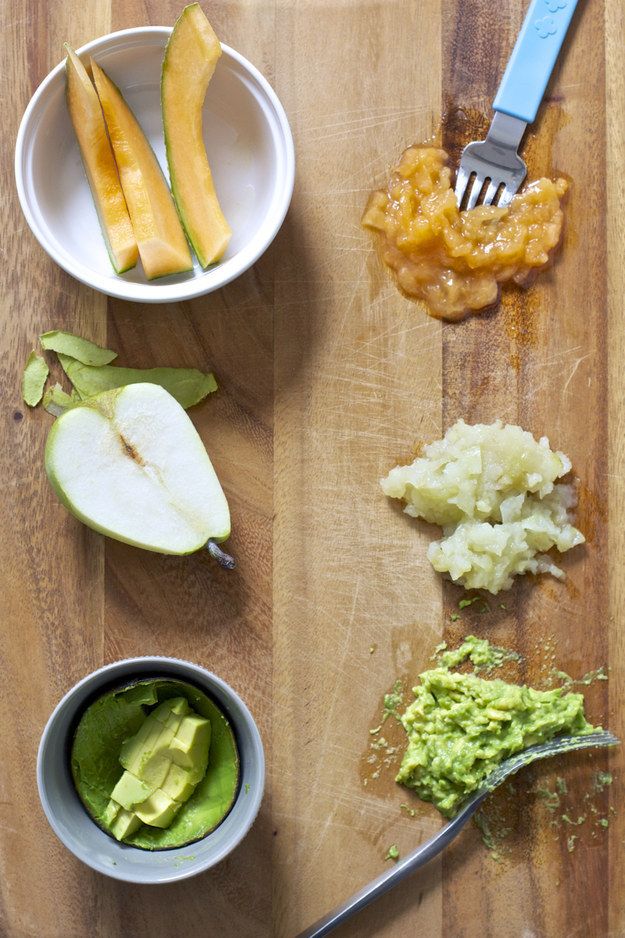 Similac - similac.ru has proven itself as a good baby food for many years. in more detail than you can feed your baby besides infant formula.
Babies should become familiar with semi-solid foods after processing them in a blender.
This is best done in the fifth or sixth month of a child's life, when the sucking instinct wears off. The first feeding is mostly chaotic, because the child is often unusual and incomprehensible to the taste and texture of such food.
Some babies will cry because they can't get food fast enough, and others will spit because of unfamiliar semi-solid food. You need to be patient as your child develops a taste and appetite for the new kind of food you introduce into his diet.
It is a good idea to minimize the use of ready-made baby food sold in stores
Many of these jars have additional starch additives and high sugar levels. If you decide to make your own baby food, hygiene is your first concern.
Rinse all equipment with hot water.
Disinfect utensils such as spoons and knives.
Do not store cooked food in the refrigerator for extended periods.
Throw away any leftover baby food, as bacteria spreads quickly in uneaten foods.
Make sure you introduce new foods slowly and in small doses.
Start with porridge; then enter vegetables and fruits; and then add the meat.
When you start introducing semi-solid foods to your baby, the baby should be reasonably hungry at mealtimes, but not overly hungry.
You can try mixing rice cereal with breast milk or special infant formula. Then try to offer vegetables, fruits, meat.
In the beginning, children should eat finely pureed foods so that they can comfortably chew with the number of teeth they have. Later, you can introduce more solid food, do not chop it so.
Video: Lure! Baby's first meal, where to start?
If your baby refuses what you offer him, try to replace this product with another one. You will be able to enter everything else in a few weeks or a month.
Although baby food is quick and easy to make while at home, not all parents have the opportunity and time to do it. For them, there are several options on the market for replacing the first baby products with purchased ones.
Baby food manufacturers understand the wishes of parents and create very healthy food for babies. Such products are natural and organic, which will be very useful for young children, and will be a healthy alternative to homemade food.
Related materials
You can save the article or share it by clicking on one of the buttons below
Details

Parent category: Children
Category: Breastfeeding
Are you here:
home
Breast-feeding
Your baby's first baby food
How to introduce new formula to a baby | Changing from one mixture to another: scheme
The diet and diet of a formula-fed baby require special attention and constancy. However, quite often there are situations when transferring a child to another mixture becomes a necessity. In this article, we will tell you how to make the transition to a new diet comfortable and safe for your crumbs.
Why shouldn't the mixture be changed frequently?
The reasons for the transfer of an artificial child from one mixture to another must be strictly argued. Usually, the pediatrician gives recommendations on changing the diet if the child's health condition requires it.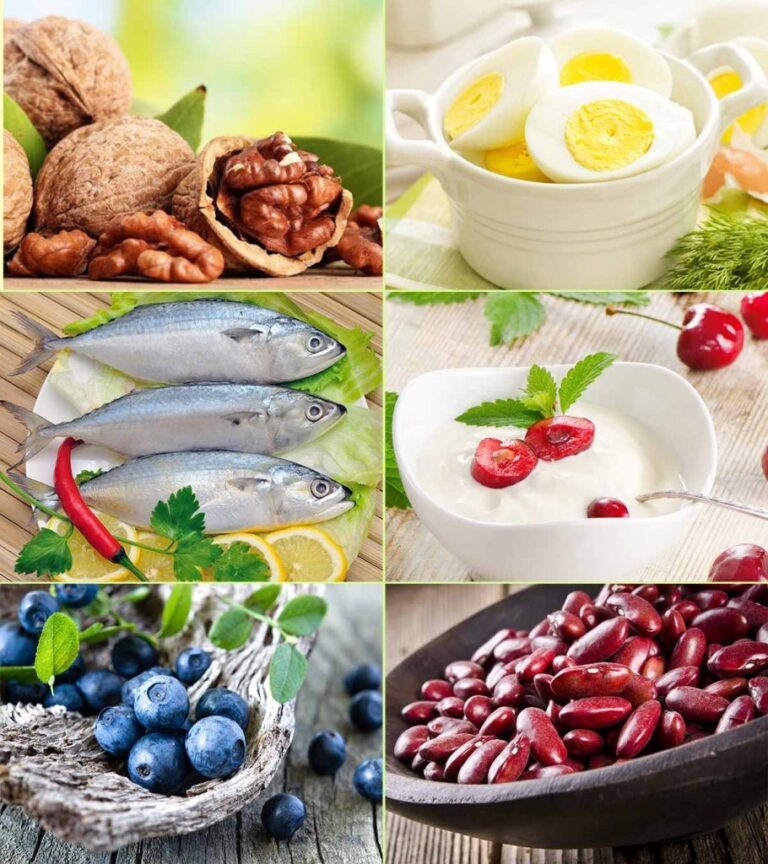 Frequent and unreasonable transitions to a new mixture is a real stress for the child's body, such jumps can provoke digestive problems in the baby.
Reasons for switching a baby to new formula
Situations that require replacement of infant formula with another one may be the following:
symptoms of allergy to the first mixture;
the need to introduce a therapeutic mixture, in connection with the detection of any disease in a child;
the need to replace the therapeutic mixture with an adapted one in the event that the baby has eliminated the disease or condition in which it was prescribed;
milk protein intolerance or lactase deficiency;
refusal of the child from the usual mixture, insufficient weight gain;
the need to transition to a new stage of nutrition in connection with reaching a certain age (6, 12 months).
Switching to a new diet: how long does it take?
Transferring a baby from one mixture to another takes up to two weeks.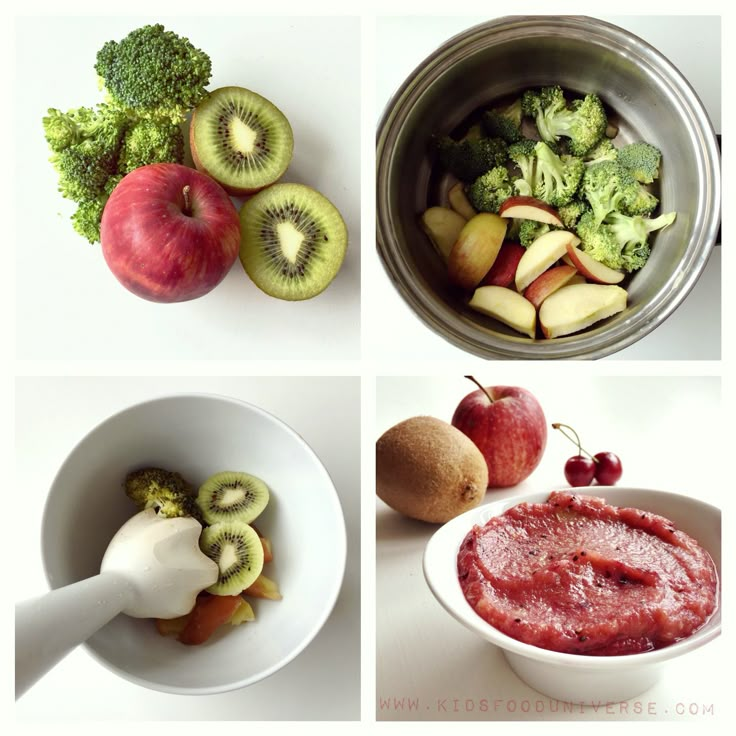 During this time, the following changes are possible in the child's condition:
change in stool - such a reaction is considered temporary and is not a reason for refusing to transfer;
change in the child's appetite;
changes in the mood of the crumbs.
In order to make sure that the new food suits your child, at least a month should pass. Carefully monitor the baby's reaction: appetite, activity, sleep, digestion, skin condition. If, after feeding with a new mixture, the child becomes restless, sleep worsens, rashes or other allergic reactions appear on the skin, immediately consult a pediatrician for advice.
What is the total daily amount of formula and the amount of one serving for a IV baby?
The first thing they are guided by when determining the sufficiency and quality of nutrition of an artificial baby is the monthly indicators of increased growth and weight gain. According to current standards, for the first 2 months of life, a child should consume a volume equal to 1/5 of his weight per day.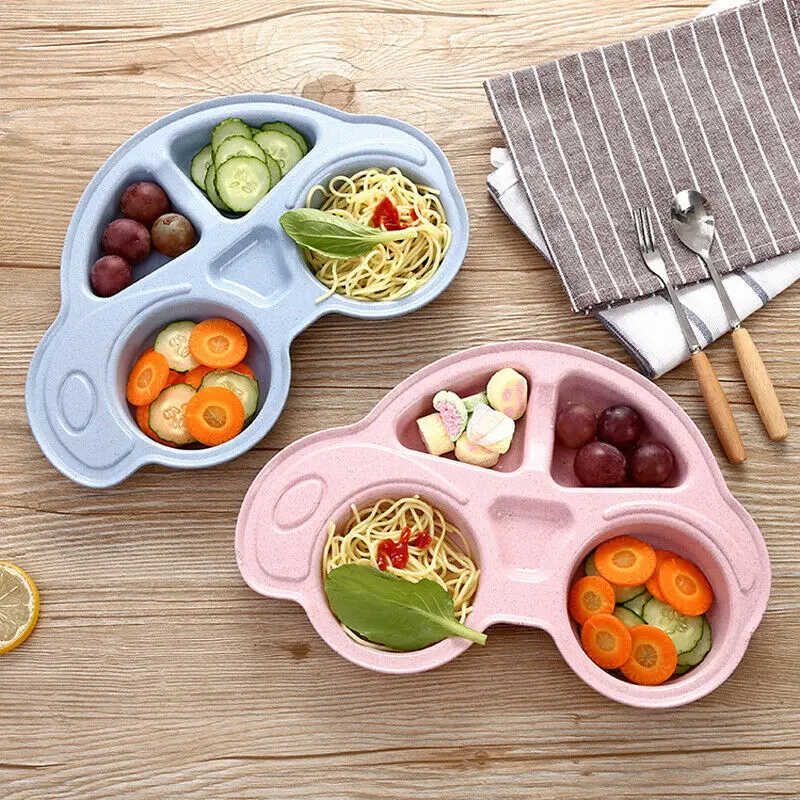 Example: baby weight 3 kg - 600 ml (3000/5=600) - the total amount of formula per day.
The norm of formula for children of the first year of life:
from 2 to 4 months is 1/6 of body weight,
4 to 6 - 1/7,
after 6 months -1/8-1/9.
The size of 1 serving is determined according to the following principle: divide the total amount of food by the frequency of feeding. It is possible that in one of the feedings the child refuses to eat up the prescribed norm, and the next time he drinks a little more than usual. Such deviations in one direction or another are quite acceptable.
Healthy Transition Rules
Experts recommend a phased transition to a new diet within one week, the frequency of feeding is 7 times:
1 day: at the first feeding - only the old mixture, the second feeding - a new one, the rest of the feedings - the old mixture. Monitor the child's condition, there should be no anxiety and sleep disturbances;
Day 2: new formula - second and fourth feedings;
Day 3: new formula - second, fourth and sixth feedings;
Day 4: new formula - first, second, fourth and sixth feedings;
Day 5: new formula - first, second, third, fourth and sixth feedings;
Day 6: new formula - every feeding except the fifth;
Day 7: new formula every feeding.