Purple sweet potato baby food
Okinawan Sweet Potato Baby Food Puree
Please share!
37 shares
This recipe is for stage 2 Okinawan Sweet Potato Baby Food Puree. This purple potato is loaded with vitamins and antioxidants, and is a must for your 6 month+ baby!
Jump to Recipe
What is an Okinawan sweet potato?
Okinawan sweet potato…the delicious, purple sweet potato of my childhood. Growing up in Hawai'i, this was a staple. It's more common there than the orange or white sweet potato. It is so delicious, it is often just steamed or baked whole, and served sliced up (with no seasoning).
They are not as easy to find in other parts of the U.S., but it's definitely possible! If they are not available at your local grocery store, there's a really good chance you'll find them at an Asian store near you. If going to the Asian store isn't normally your thing, make the trek…it's so worth it!
Okinawan sweet potatoes are sometimes (mis)labeled as "purple yams".
What's the difference? Not much! They look and taste very similar, so they are interchangeable in recipes. So, use which ever one you find to make this baby food puree. The only way to tell the difference is that the skin of the purple yam is much darker than the Okinawan sweet potato. You may have heard of Ube (a trendy dessert flavor from the Philippines), which is made from purple yams.
If you absolutely can't find Okinawan sweet potatoes in your area, you can substitute the orange or white sweet potato in this recipe.
What health benefits does Okinawan Sweet Potato baby food puree provide for my baby?
Okinawan sweet potatoes are one of Dr. Oz's favorite super foods, since it contains 150% more antioxidants than blueberries! It's also rich in vitamin A, which is great for vision and heart health, and vitamin C, which helps to boost immunity and prevent the common cold and flu.
Ginger helps with indigestion and can help prevent a tummy ache for your baby.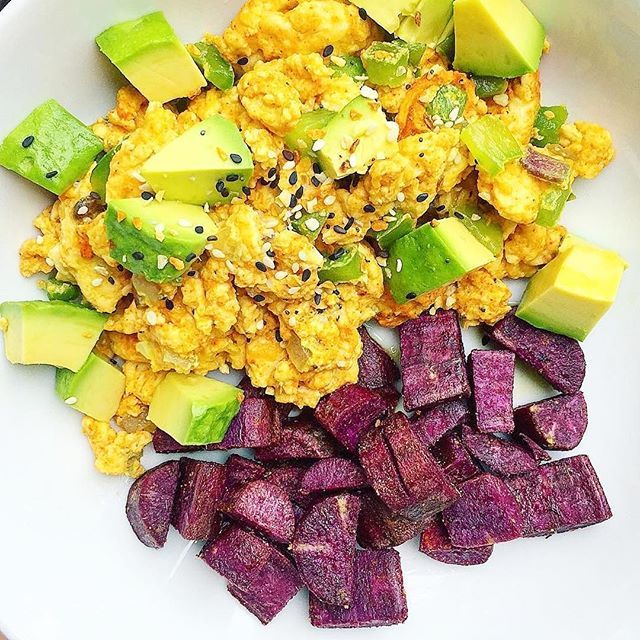 Coconut milk contains antibacterial, antifungal and antiviral properties and although it is high in fat, it is known to help with heart health.
6-month-old Emmalee enjoying Okinawan Sweet Potato baby food puree.
Are all coconut milks the same?
No, not all coconut milk is created equal! Depending on the brand, the ratio of coconut milk to water will vary, which affects the flavor, consistency and nutritional value. Some brands only contain coconut milk and water, while others have sweeteners and preservatives added. It is really disappointing to open a can (or carton) of coconut milk and have it taste watery and artificial. It can completely ruin the flavor of your dish.
I recommend using Aroy-D brand (from Thailand), which can be found at any Asian store. You can also buy it online here. It is contains 60% coconut milk and water, and that's it. It is delicious and creamy, and tastes very natural.
How long will homemade baby food last?
Fresh, homemade baby food will last in the refrigerator for 3 days.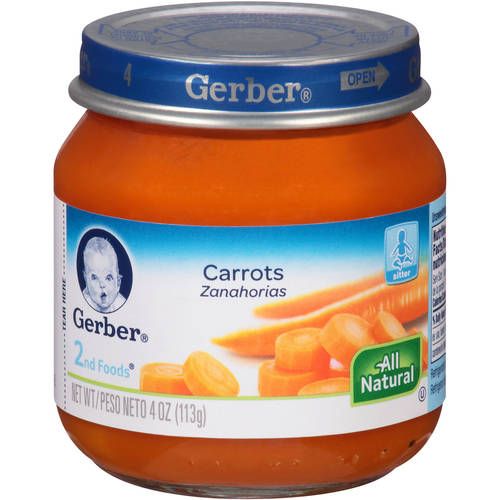 Once the 3 days have passed, the remaining food should be disposed of for safety reasons.
If you make this or any other baby food recipes in bulk, it can be stored it the freezer for up to 3 months. Click here for more information, tips and tricks on storing homemade baby food.
By the way, these baby food freezer storage trays are PERFECT for freezing baby food. They come with snug fit lids that prevent spills and freezer burns, and they stack so easily.
Try these recipes for the whole family!
Corn & Black Bean Quesadilla
Raspberry & Cream Popsicles
Mango Smoothie Bowl
Vegan Sweet Corn Fritters
Teriyaki Glazed Corn
What else can I do with Okinawan Sweet Potato baby food puree?
This puree is so delicious, you can make a large batch of it and serve it as a side dish. Also, change it up and try it with cinnamon instead of ginger!
How do you make Okinawan sweet potato baby food puree?
Ingredients:
1 cup of Okinawan sweet potato
1/2 teaspoon of grated ginger
2 tablespoons of canned coconut milk
water, baby formula or breast milk as needed
Equipment:
Baby Bullet, Food processor or Blender
Sheet Pan
Foil
Step 1: Preheat your oven to 400º F.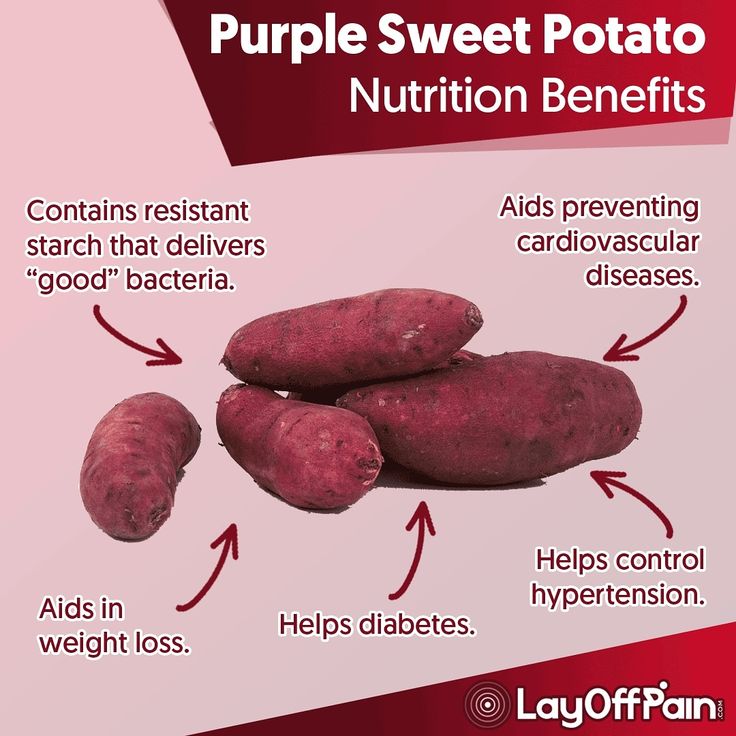 Step 2: Wash and dry your Okinawan sweet potato. Then, prick the outside with a fork a few times to create steam vents (you don't want it to explode while baking..!) and wrap it in foil.
Step 3: Place it on a sheet pan, and bake it for an hour to hour and a half (the time will depend on the size of your Okinawan sweet potato). Poke it with a fork to make sure it is soft all the way through. Take it out of the oven and let it cool.
Step 4: Add one cup of  the Okinawan sweet potato, along with the coconut milk and ginger.  Puree until smooth, adding liquid as needed. 
Note: Keep in mind that a blender will give you a smoother puree than a food processor.
If you're looking for a super smooth puree, you will need a high-powered blender.
Although I am using a high-powered blender to showcase this recipe, I made a lot of baby food for my kids in a food processor.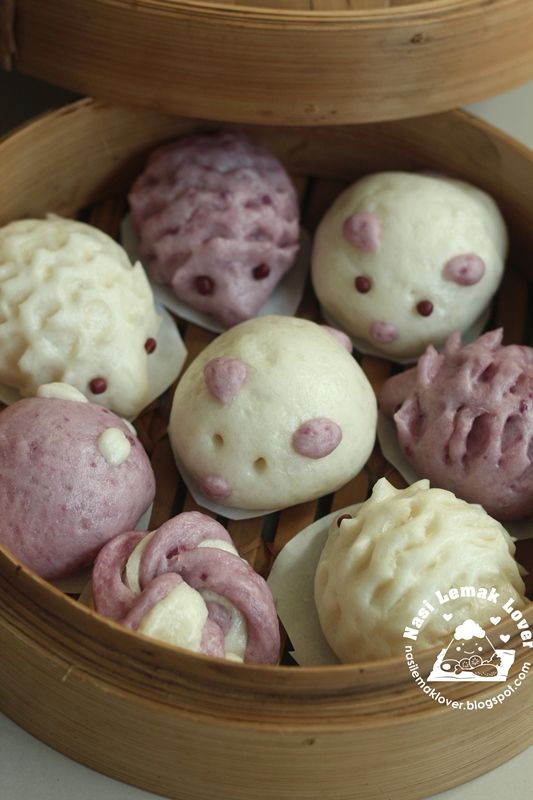 I liked to give my babies lots of different textures because I didn't want them to get accustomed to super smooth purees all the time.
In fact, this KitchenAid food processor is what I used. I LOVE it because it is very compact (I have a small kitchen) but it's still powerful.
But, the tool you choose to puree your baby food in is totally up to you! It's just a matter of personal preference.
Most of the sweet potato's nutrients are found close to the skin, so it's best to bake or steam it whole, in its skin.
This recipe calls for 1 cup of cooked Okinawan sweet potato. You can easily adjust the recipe to use your whole sweet potato, or just enjoy the remainder as a delicious and healthy snack!
Try these other great baby food recipes!
Peanut Butter + Banana Oatmeal Baby Cereal
Red Lentil + Carrot Baby Food Mash
Pear + Ginger Baby Food Puree
Mango Baby Food Puree, Three Ways
Cauliflower + Pea Baby Food Puree
A Quick Reminder About Baby Food…
Don't be afraid to experiment with herbs and spices! It will expand your baby's palate and set her up to be an adventurous eater in the future.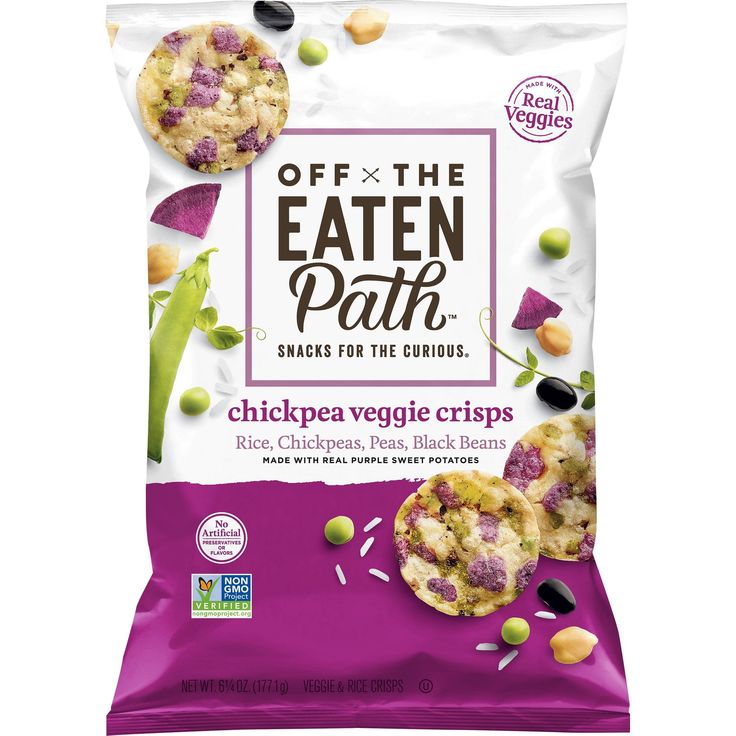 You should always consult your pediatrician before giving your baby new foods.
1 cup Okinawan sweet potato cooked
1/2 teaspoon fresh grated or chopped ginger
2 tablespoons coconut milk
water, breast milk or baby formula as needed
Preheat oven to 400º F.

Wash and dry Okinawan sweet potato. Then, prick it in a few places with a fork and wrap it in foil. Place it on a baking sheet and bake in the oven for 1 – 1.5 hours, depending on its size. Test it with a fork to make sure it's soft all the way through. Let it cool.

Add 1 cup of cooked Okinawan sweet potato, 1/2 teaspoon of grated ginger, and 2 tablespoons of coconut milk to a blender. Blend until smooth, adding liquid as needed.
You can steam the Okinawan sweet potato instead of baking it. Most of the sweet potato's nutrients are found close to the skin, so it's best to bake or steam it whole, in its skin.
This recipe calls for 1 cup of cooked Okinawan sweet potato. You can easily adjust the recipe to use your whole sweet potato, or just enjoy the remainder as a delicious and healthy snack!
If your baby is ready for more textured food, you can also mash the Okinawan sweet potato instead of using a food processor.
If you're looking for a super smooth puree, you will need a high-powered blender.
Not all coconut milk has the same ingredients nor tastes the same.  I highly recommend using Arroy-D coconut milk.
Tried this recipe? I'd love to see it!Mention @raising.veggie.lovers or use #raisingveggielovers!
As always, sharing is caring! Please click on the buttons below to share this post with your friends!
Please share!
37 shares
Purple Power Purée - Béaba USA
View all posts filed under Recipe by Age By Age5-6 Months6-9 months7-9 months10-12 months12-18 months18 months+
View all posts filed under Recipe by Ingredient By Ingredient1/2 limeacaiacai pureeagaveagave nectarall purpose flouralmond butteralmond flouralmond milkalmondsappleapple cider vinegarapplesapplesauceapricotsartichokeartichoke heartsasparagusasparagus spearsavocadobaby carrotbaby carrotsbaby cerealbaby formulababy spinachbaking powderbaking sodabananabananasbananas, slicedBanza chickpea pastabartlett pearbasilbasil leavesbeansBeefbeetsberriesblack beansblack cherriesblack pepperblack plumblack riceblack sesame seedsblackberriesblackberries (or mixed berries)blood orangeblue majikblueberriesblueberries or blackberriesblueberrybok choy, choppedbreadbreadcrumbsbreast milk or formulabrewed espressobroccolibroccoli floretsbrown ricebrown sugarbrussels sproutsButterbutter or coconut oilbutter, cut into 1/4 inch cubesbuttermilkbutternut or acorn squashbutternut squashcacao powdercannellini beanscantaloupecardamomcarrotcarrotscashewscauliflowercayenne peppercelerycelery stalkschamoycheddar cheesecheesecherriescherry tomatoeschervilchestnutchia seedschick peaschickenchicken breastchicken breast, cubedchicken brothchickpeaschili powderChinese cabbagechiveschopped red onioncilantrocinnamoncinnamon and/or nutmegClamatocoarse sea saltcoarse sea slat flakescocoa powdercocoa powder (unsweetened)coconutcoconut aminoscoconut creamcoconut flour or flour of choicecoconut meatcoconut milkcoconut oilcoconut oil or buttercoconut sugarcoconut sugar or brown sugarcoconut watercoconut water or milk of choicecoconut yogurtcodcod filletcollard greenscontainer non-fat Greek yogurtCooked beetscooked hamcoriandercorncorn flakes (no sugar)corn kernelscottage cheesecouscouscranberriescranberry juicecream cheesecreamy peanut buttercréme fraichecrumbled feta cheesecrushed tomatoescucumbercumincured spanish chorizocurrycurry powdercurry powercute into cubesdark chocolatedatesde-boned salmondiced bacondiced tomatoesdilldried apricotsdried basildried cranberriesdried dilldried figsdried lavender budsdried parsleydried white beansdurianedamameeggegg whiteegg whitesegg yolkeggplantEggselbow pastaendivesevaporated milkextra virgiin olive oilextra virgin olive oilfava beansfennelfeta cheesefeta cheese crumblesflat-leaf parsleyflaxseedflourflour or vanilla protein powderformula, breast milk or creamfresh basil leavesfresh blueberriesfresh cherriesfresh chivesfresh cilantrofresh coconut meatfresh cranberriesfresh dillfresh garlicfresh gingerfresh ground peanutsfresh ground pepperfresh lemon juicefresh lime juicefresh mintfresh mint leavesfresh mint, dill or cilantrofresh parmesanfresh parsleyfresh peachesfresh peppermintfresh pumpkinfresh rapsberriesfresh raspberriesfresh salmonfresh spinachfresh strawberriesfresh thymefrozen bananafrozen bananasfrozen bananas, slicedfrozen dragon fruit (pitaya)frozen peasfrozen pineapplefrozen strawberriesfull-fat coconut milkgaram masalagarlicgarlic clovegarlic clovesgarlic powdergarlic powder or 1/2 clove of garlicgingergingerbread spicegoat cheesegolden beetsgooseberriesgraham crackersgranny smith appleGreek gourygreek yogurtgreen applegreen beansgreen oniongreen pepperground cardamomground cinnamonground cinnnamonground clovesground corianderground cuminground flax seedground flaxseed or ground chiaground gingerground nutmegground nutmeg or cinnamonground sea saltground turkeyground white pepperguavahaddock fillethalbuthamheavy creamHoneycrisp applehoneydewice cubesItalian dressingjalapeñojalepenokalekiwikumquatsLamblarge carrotLaughing Cow cheeseleekleeksleeks (white parts only)lemonlemon juicelemon slicelemon zestlentilslettucelimelime juicelimesloosely packed kalelycheesmangomango, choppedmangosmaple syrupmatcha powdermedium tomatoesMexican lagermilkmilk of choicemilk of choice or carrot juicemilk or formulamini mozzarella ballsmintmint leavesMix-In Packmixed berriesmolassesmonterey jack cheese blendmozzarella cheesemuesli oatsmushroomsnectarinenon-fat Greek yogurtnoodle of choicenopal/prickly pears (washed, outer skin and seeds removed and cubed)nutmegnutritional yeastoat flouroat milkoatmealoatsof 1-2 horned melonsof one lemonokra podsolive oilolive oil or avocado oiloniononion powderonionsorangeorange juiceorange pepperorange zestoreganoorzopapayapaprikaparmesanParmesan cheeseParsleyparsnipPastapeachpeach or kumquatpeach or nectarinepeachespeanut butterpearpearspears or applespeaspeeled applespeeled carrotspepperpersimmonspine nuts or walnutspineapplepineapple (preferably frozen)pitted datesPlain Cream Cheeseplain greek yogurtplumplum tomatoplum tomatoesplumspomegranate seeds (fresh or frozen)pork tenderloinpotatopotatoespotatoes, cubedpowdered sugar for toppingprepared formulapumpkinpumpkin pie spicePumpkin pureepumpkin pureeepumpkin spice seasoningpurple (Benimo) sweet potatopurple cabbagepurple carrotspurple cauliflowerpurple potatoespurple sweet potatoesquick-cooking oatsquincequinoaraisinsraspberriesraw chia seedsraw chickenraw honeyraw pecansraw unsalted cashewsraw walnutsred bell pepperred onionred pepperred pepper flakesred peppersred potatored seedless grapesrhubarbricericottaripe bananaroast turkeyrolled oatsroquefort cheeserose waterrosemarysage leavessalmonsaltSalt & peppersalt & pepper to tastesalt and peppersalt and pepper to tastesalt to tastescallionssea saltsea salt and pepper to tasteseasoned bread crumbssemi-sweet or dark chocolate chipssemisweet chocolatesesame oilsesame seeds to garnishshallotshallot, mincedsharp white cheddarsherry vinegarShiitake mushrooms, slicedshortbread cookie or biscuitShredded Mozzarellashrimpskim milkslivered almondssmall onionsmall sweet potatosoy saucespinachsplash of watersquashstale breadstarfruitSteviastrawberriessugarsugar or natural sweetenersugar pumpkinsugar, dividedsugar/nautral sweetenersummer squashsunflower oilsweet applesweet applessweet paprikasweet potatosweet potato or yacónsweet potato, cubedsweet potatoessweetened condensed milkswiss chardTabasco saucetahinitajintamarind candy strawstamarind pastetarragontender kale leavesthin crust pizza doughThymetomatotomato pastetomato saucetomatoestoppings of choice (we love coconut, chia seeds and almond butter for toddlers and adults!)tortillatumericturkeyturkey, white meat onlyturmericturnipturnipsugli fruit juice or guava juiceuncooked beetunsalted butterunsweetend coconut flakesunsweetened cocoa powderunsweetened coconutunsweetened coconut milkunsweetened vanilla almond milkvanillavanilla bean extractvanilla bean podvanilla extractvanilla Greek yogurtvanilla yogurtvealveegetable brothvegan chocolatevegetable brothvegetable oilvegetable stockvegggie stockveggie brothwalnut oilwalnutswarm waterwaterwater, breast milk or stockwater, pineapple juice, or milk of choicewatercresswatermelonwheat flourwhipped toppingwhite beanswhite chocolatewhite mushroomswhite onionwhite or brown ricewhite potatowhite sugarwhole milkwhole wheat flourWhole wheat shell pastaworcestershire sauceyamyellow bell pepperyellow onionyellow onion, choppedyellow pepperyellow squashyogurtyoung spinachZa'atarzucchinizucchini, sliced
View all posts filed under Recipe by Type By TypeAppetizerBreakfastDessertDrinkMainMain DishSideSnackFishFruitsGrainsItalianMediterraneanPorkPoultrySweetsThaiVegetarianVeggies
//in #EatYourColors, 10-12 months, 12-18 months, 18 months+, 6-9 months, 7-9 months, Guest Bloggers, Homemade Baby Food Recipes | BÉABA USA Honeycrisp apple, purple (Benimo) sweet potato, purple carrots Main, Main Dish, Side, Snack Fruits, Vegetarian, Veggies 0 stars /by Julianna Klepacki
We're excited to have yet another yummy purée recipe from Sasha Houseman of Paleo Superfood Synergy! Read Sasha's explanation of what makes this recipe so wonderful below:
Purple potatoes are obviously more colorful than white (Russet) potatoes, but did you know what they have about four times as many antioxidants as well? Anthocyanin is the pigment that gives purple sweet potatoes their bright, beautiful color… and their amazing antioxidant benefits! Combined with the purple antioxidant pigments from the purple carrots, this delicious puree isn't just protecting your child from disease, it's also providing lots of healthy carbohydrates for energy to run and play!
Course Main, Main Dish, Side, Snack
Cuisine Fruits, Vegetarian, Veggies
We're excited to have yet another yummy purée recipe from Sasha Houseman of Paleo Superfood Synergy! Read Sasha's explanation of what makes this recipe so wonderful below:
Purple potatoes are obviously more colorful than white (Russet) potatoes, but did you know what they have about four times as many antioxidants as well? Anthocyanin is the pigment that gives purple sweet potatoes their bright, beautiful color… and their amazing antioxidant benefits! Combined with the purple antioxidant pigments from the purple carrots, this delicious puree isn't just protecting your child from disease, it's also providing lots of healthy carbohydrates for energy to run and play!
Ingredients
Instructions
Place the sweet potato, carrots and apple into the steaming bowl.
Pour water into the tank (level 3).
Start the cooking process.
When the sweet potato, carrots and apple are cooked, place them in the blending bowl and set aside some of the cooking liquid.
Blend, adding some of the cooking liquid to bring the purée to the desired consistency and blend.
Recipe Notes
As always, please check with your pediatrician before introducing new foods to your baby.
Share this entry
https://beabausa.com/wp-content/uploads/2018/12/Sasha-Houseman_3-scaled.jpg 2560 1695 Julianna Klepacki https://beabausa.com/wp-content/uploads/2021/07/beaba-logo-07-2021-300x84.png Julianna Klepacki2018-12-23 04:21:122019-01-30 17:01:05Purple Power Purée
cooking recipes and age limits
› ›
Sweet potatoes or sweet potatoes are great choices for baby food.
It is pleasant in taste (reminiscent of a mixture of potatoes and pumpkin or carrots with added sugar) and creamy texture (in the form of a puree), is liked by many babies and rarely causes allergies. But since this product is still a curiosity in Russia, our mothers will need explanations. So at what age can you give sweet potato to children and how to cook it properly for complementary foods?
Content
From what age to give
The composition of the product
Is the battery useful for children
Can sweet potatoes cause allergies
How to choose for children's nutrition
Subtleties of storage
how to prepare for primacy
Sweet Potato Baby Recipes

Smooth Sweet Potato Puree
Carrot and Sweet Potato Puree
Sweet Potato Chicken Soup
Sweet Potato Milk Rice Porridge
Sweet potato with peas and cauliflower

Video: how to make sweet potato for baby food
At what age to give
American parents start giving sweet potatoes to their baby, starting at six months.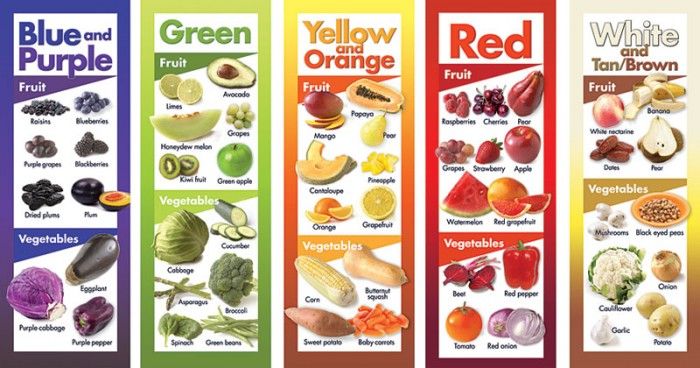 This is one of the first complementary foods introduced to a baby in the US after weaning.
The first sample (1 teaspoon is enough) is offered in the form of a thin, homogeneous puree. It is easily absorbed by the body of the baby. The delicate creamy texture makes it easy for the baby to swallow and digest such food.
After that, they wait three days without introducing other new foods into complementary foods. That allows you to track the negative reaction and stop feeding sweet potatoes in time.
After about 2 months, the baby can try boiled sweet potatoes, mashed with a fork or grated on a fine grater. Almost all children like its moderately sweet taste.
After a year sweet potatoes are good to combine with rice or oats to increase the nutritional value of dishes.
Can a child eat sweet potatoes raw?
Sweet potatoes contain complex carbohydrates, so the glycemic index (GI) of the product is lower (55) than that of the usual potato (from 70).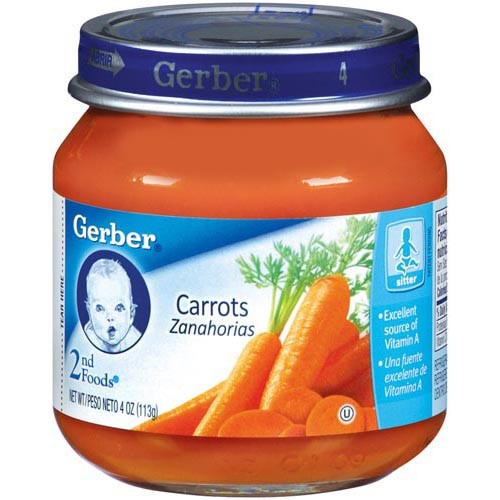 Is sweet potato good for kids
Baby likes sweet potato puree with turmeric
Sweet potatoes can bring many health benefits to a child if they are part of a child's diet. Key properties:
Fights constipation. Sweet potatoes are a valuable source of fiber. 100 g of the product contains about 3 g of dietary fiber, which prevent constipation and strengthen the baby's digestive tract.
Source of beta-carotene (provitamin A). This vitamin is essential for healthy vision. Its presence in the children's menu is a must and helps to improve eye health.
Strengthens the immune system. Vitamins C and E in the composition increase the body's defenses, help the child fight infections.
Good for the skin. Makes her look healthy and radiant.
Healthy calories. Sweet potatoes contain only 0.1 g of fat at 86 kcal per 100 g. Therefore, they are among the healthy foods for babies, especially those with insufficient weight (hypotrophy). High-calorie sweet potato promotes weight gain and physical development of children.
Prevents the development of anemia. Iron in the composition prevents anemia in a child with insufficient intake of a trace element with food or after severe blood loss (abdominal operations, injuries, etc.).
Strengthens bones. Calcium, which is also found in sweet potatoes, is vital for the growth and development of children's musculoskeletal system.
Can sweet potatoes cause allergies
Sweet potatoes rarely cause allergic reactions in babies. That is why it is suitable for complementary foods. However, it is possible.
Signs of sweet potato allergy:
vomiting,
rash (including around the anus),
diarrhea,
bloating due to indigestion.
Vomiting and diarrhea can sometimes cause not only allergies, but also intestinal infections in the finished dish. For example, with insufficient sanitation of tubers or children's dishes.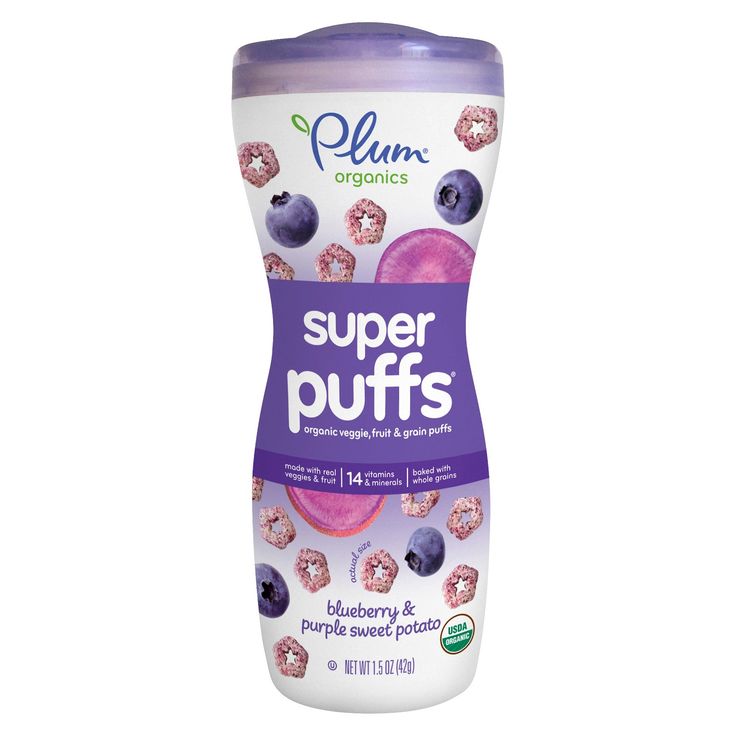 Babies may spit out sweet potato puree when switching to solid foods for a variety of reasons.
There may be other side effects, which are usually minor and easily manageable.
Caution! With ulcerative colitis and some other serious diseases of the gastrointestinal tract, sweet potato dishes are prohibited. Be sure to discuss the possibility of introducing sweet potatoes into complementary foods with your pediatrician.
Excessive consumption can provoke the formation of kidney stones.
How to choose baby food
The choice of food for a child's table should be taken seriously. If possible, choose organic sweet potatoes grown without the use of pesticides and other chemicals.
Here are a few tips to help you make your choice:
Choose medium-sized tubers with firm, smooth skins. If they are not on sale, take small ones (large ones have a lot of starch).
Set aside specimens that are too soft with brown spots on the skin, punctures, signs of rot, and emit an unpleasant odor.
The richer the color of the potato skin (white/cream, pink, red and purple), the more valuable antioxidants the product contains.
Storage details
In this case, the refrigerator is not the right place. Sweet Potato Storage Options:
in a covered box in the kitchen at room temperature for up to 1 week;
in a cool pantry or cellar at +13-16°C - up to 2 weeks.
Sweet potato purée can be frozen in ice cube trays
Boiled sweet potato purée can be frozen in advance (a drop of lemon juice is added to prevent browning). It can be kept in the freezer for up to a year, but it is better not to use it for feeding children - during the defrosting process, bacteria quickly begin to multiply in the starchy mass.
How to cook for weaning
The first thing to do is wash the tubers thoroughly before peeling and cutting. Then remove the skin or leave (for baking) and thermally process (until soft) in one of the following ways:
Baking. Preheat oven to 220°C. Pierce each tuber in several places and place on a baking sheet. Bake for 45 minutes. Cool and remove the skin.
Cooking. Peel sweet potatoes, cut, boil in clean water.
Pressurized (pressure cooker). Peel the sweet potato, cut into slices or cubes, place in a pressure cooker and wait for 1-2 whistles (guided by softness).
For a couple. Peel and cut the product, place in a double boiler and cook.
Microwave. Peeled potatoes cut into small slices and do in each hole. Place in the microwave and turn on the maximum power for about 10 minutes.
Puree cooked sweet potatoes with a blender, potato masher or regular fork. If necessary, add some boiled water.
Baby sweet potato recipes
Let's see what can be done with sweet potato for a child.
Smooth sweet potato puree
One-component sweet potato puree
Ingredients:
1 medium sweet potato,
1 glass of water or vegetable broth.
Cooking method:
Prepare the sweet potato using any of the available methods.
Mash while still warm.
Add half a glass of water or vegetable stock and beat or stir well.
Add the rest of the water/broth to make a thin, smooth puree that a child can easily swallow.
Carrot and Sweet Potato Puree
This puree is rich in vitamin A. It is suitable for babies from 7 months old who have already become familiar with mixed foods (containing two or more ingredients).
Two-component puree with carrots and sweet potatoes
Ingredients:
1 medium sweet potato,
1 medium carrot,
1 glass of water or vegetable broth.
Method of preparation:
Thoroughly washed and peeled carrots, grate, and peeled sweet potatoes cut into small pieces.
Boil them together in the same water until soft.
Cool and puree.
Sweet potato chicken soup
This dish contains a nutritious broth rich in protein.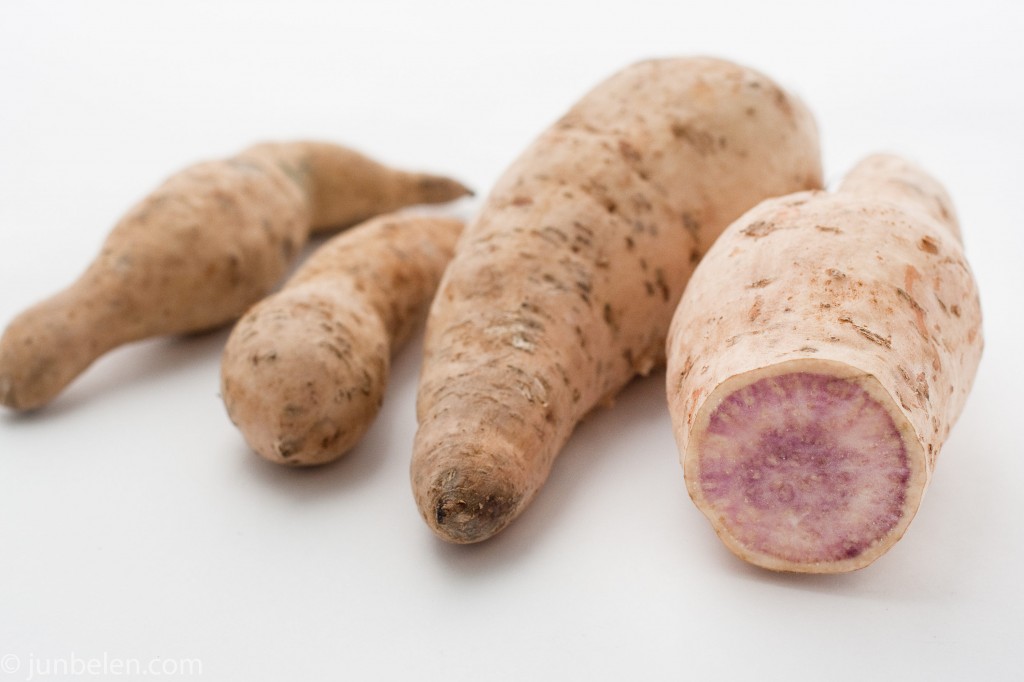 But it is only suitable for children who are accustomed to non-vegetarian food.
Sweet Potato Chicken Soup
Ingredients:
100 g lean chicken mince,
5 cups water,
1 cup boiled sweet potato.
Cooking method:
Boil the minced chicken in a saucepan with a little water. Don't forget to skim off excess fat while boiling.
Transfer the boiled sweet potato to a blender and add the prepared chicken broth to it.
Blend until smooth.
If the soup is too thick, add boiled water.
Rice porridge with milk and sweet potatoes
This recipe is rich in dietary fiber, which helps prevent constipation. It is also a healthy dessert option for toddlers without the use of sugar.
Sweet potato rice porridge for children
Ingredients:
1 cup rice
4 medium sweet potatoes
3 cups water
1 cup breast, goat, coconut or cow milk.
Cooking method:
Boil diced sweet potatoes and rice in a little water.
10-15 minutes after boiling (when the food is half cooked), add milk and stir.
Let stand 10-15 minutes.
Cool slightly to serve to a child.
Sweet potato with peas and cauliflower
Another great recipe for babies from 7 months old. The dish has absorbed the virtues of three vegetables: sweet potatoes, peas and cauliflower.
Sweet potato puree with green peas and cauliflower
Ingredients:
1 medium sweet potato,
1/4 cup green peas,
1/2 cup cauliflower flowers, 9013 water
(depending on desired consistency).
How to cook:
Wash, peel and dice sweet potatoes.
Boil all vegetables in water.
Allow the mixture to cool slightly.
Blend with a blender until smooth.
Video: how to make sweet potatoes for baby food
Sweet potatoes also combine with other foods suitable for baby food, such as apples, pumpkin, zucchini, legumes, corn, cabbage and broccoli.
Nutritionists recommend pairing high-carbohydrate sweet potatoes with high-fiber greens (spinach, dill, and parsley). More recommendations and recipes in our Instagram. We look forward to visiting!
Parsley for children: from what age can it be given.
Share with friends:
Author: Yakusheva Tatyana
Purple sweet potato from Japan
Have you ever Have you tried sweet potatoes? And no, we are not talking about stylized Soviet cookies, but about yam , aka "sweet potato". He was so called because of the large number glucose, which gives the fruit the appropriate taste. It would seem, and here chocolate, but everything is simple - among the Okasi tiles there is one incredible purple color , which is undoubtedly the merit of the sweet potato.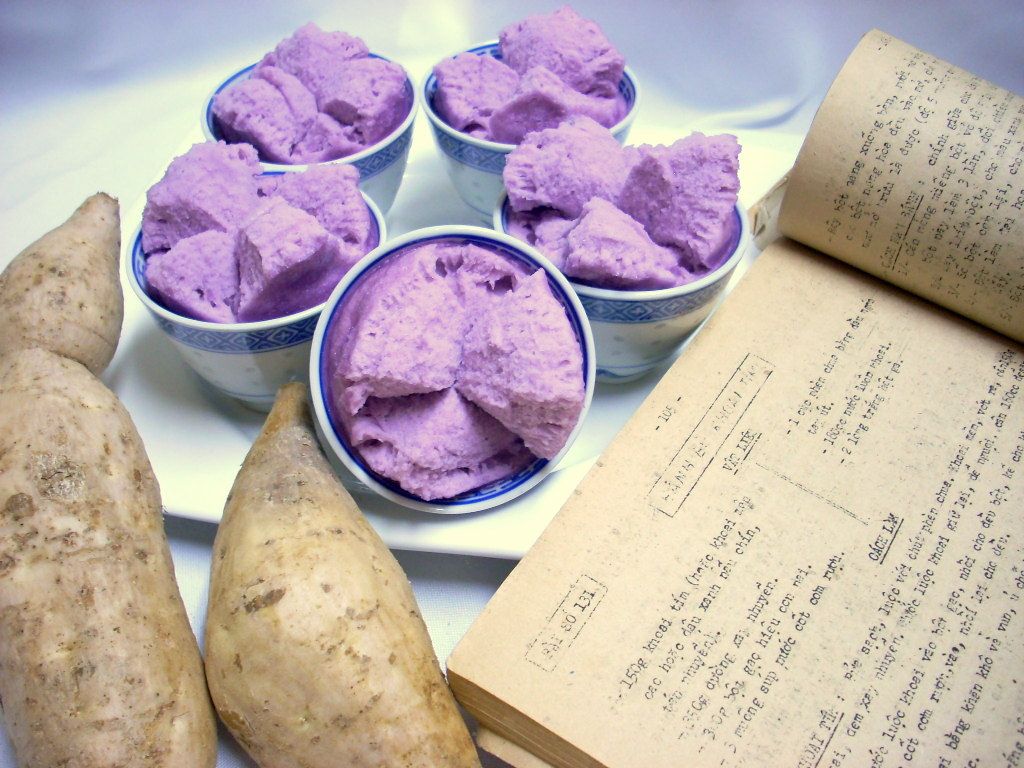 We will talk about it in more detail today.
Sweet potato first appeared in Peru and Colombia , its root vegetable began to be used in the preparation of various dishes, also make flour, sugar, alcohol and molasses from it. characteristic a feature of the fruit has always been their bright color, which depended on the variety plants. Another unusual property of sweet potato is that when cooked it is better to leave the peel, otherwise the pulp will turn into mucus and become inedible. Very often sweet potatoes are compared with potatoes, but this wrong, because sweet potato is much more useful. It contains a large amount carbohydrates, iron, potassium, and this is not to mention a number of vitamins, but due to protein tubers stay fresh for a long time. Among other things, a sweet root crop can be eaten raw, but probably the main difference from ordinary potatoes it is worth considering the conditions under which sweet potatoes are grown and stored.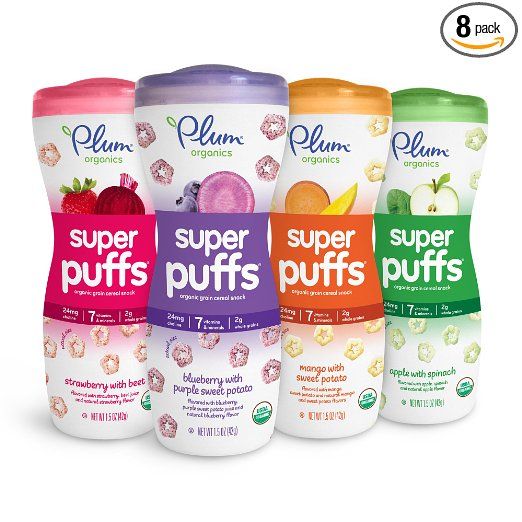 To the plant felt comfortable a warm climate is very important, even after harvest harvest, the fruits are not stored in a dark, cool cellar, but in a warm room with about sixteen degrees.
A lot is cooked from the tuber different dishes, including desserts , but what is interesting is the low glycemic index of the sweet plant. It is allowed to be eaten by people with diabetes, however, they may not be afraid to exceed the permissible value of sugar in the blood. Of course, unlike ordinary potatoes, sweet potatoes also use leaves for food, pre-soaked to get rid of bitter juice, but with in the preparation of chocolate, we use tuber powder, so we are interested in this part of the plant. Why did we choose sweet potato as ingredient for our chocolate? It's all about the unique properties, because, as it is known that the Japanese are very careful about their health and prefer only healthy foods. So Sweet potatoes contain many vitamins A, C, B6, B5, B3 and E, and due to its high potassium content, it acts as an excellent antidepressant.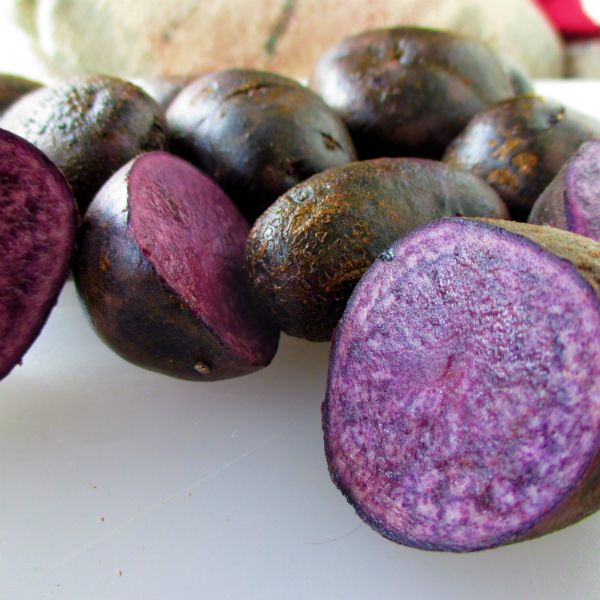 And times we are talking about a healthy lifestyle, do not forget about the glycemic starch index, which is much lower than that of ordinary potatoes. Exactly therefore, sweet potato is recommended to be included in the diet for the duration of the diet. Thanks to carbohydrates in the composition, saturation comes faster, in addition, sweet potato reduces appetite and removes toxins from the body.
Sweet benefits potatoes is undeniable, but it's not the first thing that catches your eye when you unwrap chocolate bar Okasi with sweet potato . Intense Violet Here's what's amazing. And then involuntarily thoughts about dyes, but no, it's all about the sweet potato powder, it is he who gives our chocolate is such an exotic shade. The roots of this plant may have different colors - for example, purple skin and bright orange flesh or cream shade outside and yellow inside. It all depends on the variety, including taste. Some species resemble a chestnut, others are something between a banana and walnut.