Stage 1 carrot baby food
Carrot Puree Recipe for Baby (Stage One)
Home » Feeding Style » Baby Food Purees » Stage One » Carrot Puree Recipe for Baby
This Carrot Baby Food Puree is a great starter puree for your baby! Filled with nutritious steamed carrots and a pinch of nutmeg, this easy-to-make and fresh-tasting recipe is a great starter puree for your baby. Great for Stage One or 4-6+ months.
Medically reviewed by Jamie Johnson, Registered Dietitian Nutritionist (RDN), and Lauren Braaten, Pediatric Occupational Therapist (OT).
This baby food puree is sssoooooo fresh, colorful, and full of essential nutrients for your baby that it's almost too intense to look at 🧡 seriously, #nofilter!
But believe me, this mouthwatering carrot puree is for real!
This fresh-tasting homemade puree is made with steamed carrots and a pinch of nutmeg that brings out the earthiness of the carrots. Honestly, they're a flavorful combo made for each other. 😋
If you compare the color, taste, or texture of this homemade recipe to its store-bought counterpart, you would be shocked at the difference🙅‍♀️… and not in a good way.
The good thing about realizing the difference is that it will get you completely hooked on making your little one their own homemade baby food purees.
After all, we only want the best 🏆 for our babes!
Is it your first time making homemade baby food? Then, I suggest you start this journey by reading my in-depth Guide on how to Make Homemade Baby Food. The detailed guide goes over all the important information such as the best cooking tools to have on hand, safe storage, how to know when baby is ready for solids, how to introduce purees, the best first foods for baby, and more! You can also check out my best-selling cookbook for even more information and recipes.
Carrot Baby Food Video
Watch this video to see how easy it really is to make this homemade Carrot Baby Puree!
Reasons to Love this Carrot Puree
creamy and smooth
nutrient-dense — good source of fiber, vitamin C, and potassium, high in vitamins A and K, and contains folate and vitamin B6
baby food for 4-6 months and up — stage 1 baby food puree 
freezer-friendly
fast to make — done in less than 20 minutes
great for baby's first bite
tastes yummy — your baby will love it
Ingredients
Carrots: This star ingredient is easy to find and usually very inexpensive. If your budget allows, I recommend going for the organic version as the cost per ounce is only pennies more than the conventional version. You can also use frozen carrots, you will just need to add in a few minutes to the cooking time.
Nutmeg: We are going to add a pinch of nutmeg to this puree to tone down some of the carrot's natural sweetness with earthy spice. You can always skip the nutmeg if you prefer.
Tips on Peeling Carrots: It's totally up to you if you peel the carrots or not. Since we are pureeing the cooked carrots until smooth, there will not be any difference in the taste or texture. However, there will be a little more fiber in the baby food, so if it's your baby's first time eating carrot puree, you may peel the carrots just so you don't overload your baby's tummy with too much fiber.
Health Benefits of Carrots
They contain a ton of beta-carotene, the precursor to vitamin A, which is necessary for protecting eye health and immune function.
High source of antioxidants to help strengthen immunity
Good source of fiber, which helps keep the digestive system working properly
High in vitamin K, which is necessary for blood clotting
Contains calcium to help strengthen bones
Step-by-Step Instructions
Peel and Chop: Wash, peel and roughly chop the carrots into pieces the same size.
Steam: Place the carrots inside a steamer basket and steam for 10-12 minutes or until tender.
Transfer: Transfer the cooked carrots into a blender, then add nutmeg.
Blend: Puree until smooth, adding water if needed to thin out the puree.
Serve: Serve or freeze for later.
Tools Needed
These tools will make it a lot easier for you to make this healthy Sweet Potato puree.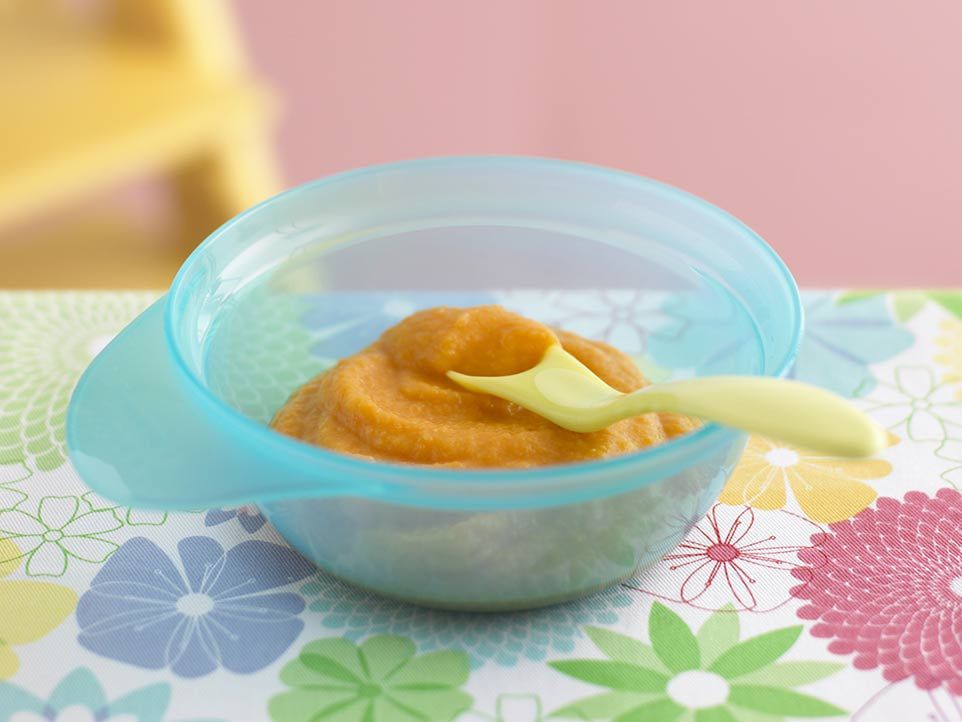 For more of my favorite kitchen tools make sure to check out my shop.
blender or food processor
saucepans
knives
veggie peeler
spatula
freezer tray
storage containers for fridge
stasher bag
reusable pouches
Other Cooking Methods
While I love the crisp flavor you get when you steam the carrots, there are several ways you can cook carrots for baby food. 
Roasting
Peel and roughly chop 2 pounds of carrots before placing them onto a baking sheet. Drizzle with 1-2 teaspoons of high-quality olive oil and sprinkle with spice (if preferred). Roast in a preheated 425-degree F oven for 20 minutes or until tender when pricked with a fork. Puree in a blender as directed below. 
Boiling
Place 2 pounds of peeled and roughly chopped carrots into a medium saucepan, fill with water until the carrots are covered, and bring to a boil.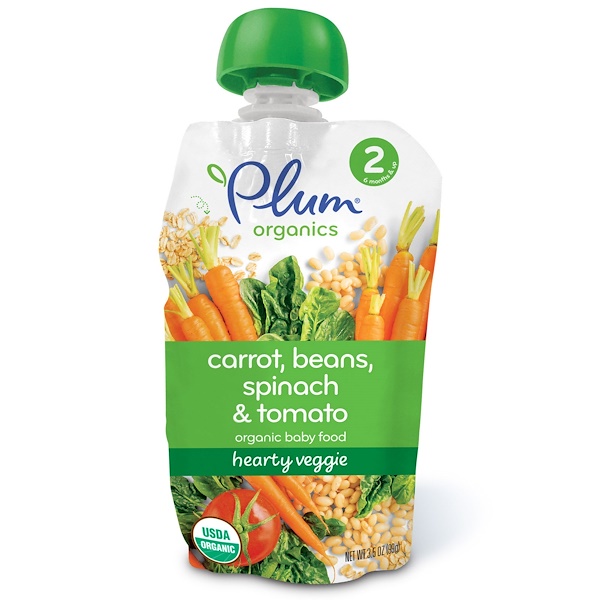 Reduce to a simmer and cook for 15 minutes or until tender when pricked with a fork. Puree in a blender as directed below. Note that boiling tends to leave foods less nutritious since much of the nutrients leach into the water while cooking, and then that water is typically discarded. To preserve maximum nutrients, you may want to choose roasting or steaming. If you prefer boiling, save some of the water so you can use it as your liquid for thinning out the puree. 
Frequently Asked Questions
Can carrots be baby's first food?
Carrots can 100% be your baby's first food if you want it to be. It is recommended to wait to introduce the top eight allergen foods to your baby once a few other well-tolerated foods have been introduced, but otherwise, foods can be introduced in any order so choose whatever you are most excited for your baby to have.
When can babies have carrots?
Babies can have carrots as one of their first foods.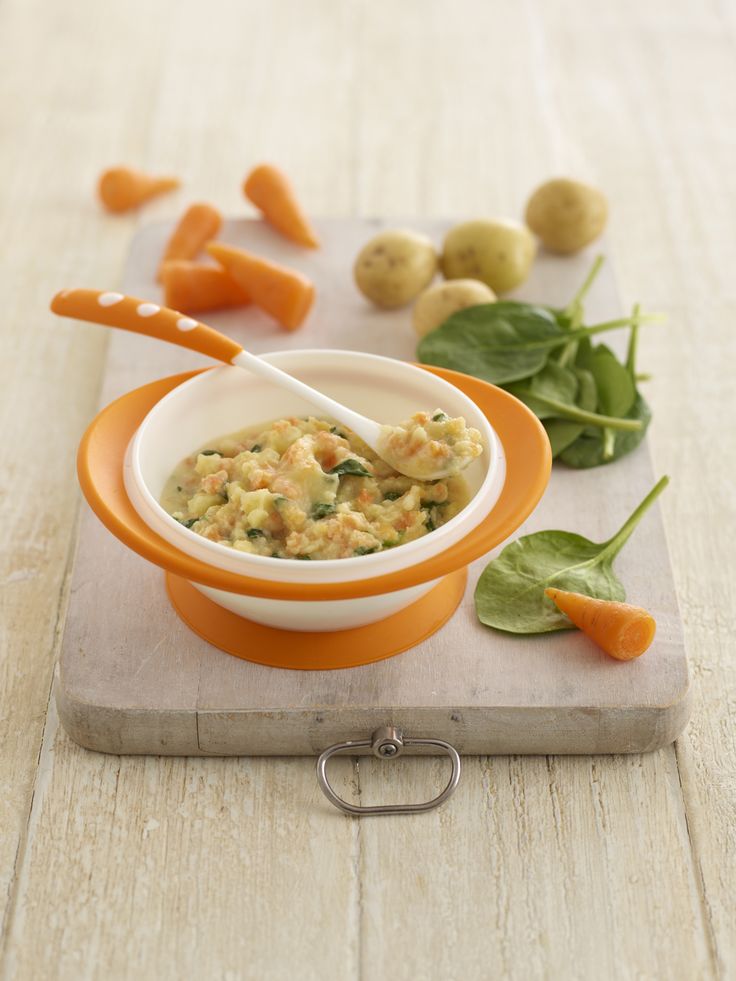 When a baby can start on solids is determined by their own rate of development, which generally comes between 4-6 months of age. Some of the developmental milestones babies need to reach in order to start solids include: if your baby has solid control of their head and neck, if your baby has doubled in weight, and if your baby is reaching for or opening their mouth when you eat (see my guide here). Before you start your baby on purees, you should consult with your pediatrician to make sure your child is developmentally ready.
Are carrots a common allergen for baby?
No, carrots are not a common allergen, however, as with any food, start with a small portion and be aware of any signs that might be an allergic reaction after introducing it.
Do carrots cause constipation for babies?
Steamed carrots, though unlikely, may cause constipation in some babies, so avoid giving too much.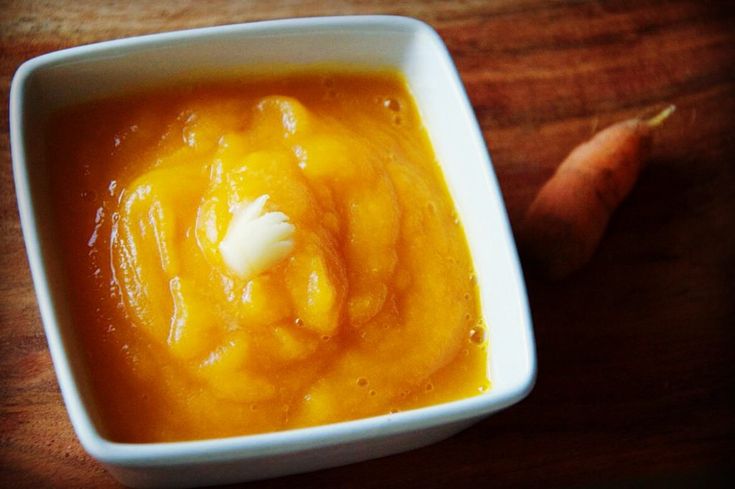 Can you add spices/herbs to this puree?
Yes! In this recipe, we are adding a pinch of nutmeg, but feel free to use the following spices instead: cumin, cinnamon, cloves, garlic, thyme, rosemary, or fresh ginger (see quantity recommendations in the recipe card). 
Tip on Spices: I always add spices or herbs to my baby food purees, but you can choose to leave them out in all of your baby food. You do you! Either way, this puree will surely taste amazing. 
How to Store Carrot Baby PureeRe
frigerator
You can store this puree in an airtight container in the fridge for up to 4 days. 
Freeze
r
This puree can be frozen for up to 4 months.
Spoon puree into a freezer storage container – do not overfill. 
Place the lid on the storage container or cover with a piece of saran wrap, and label with the date and recipe name.  
Place the tray into the freezer and let it freeze completely — preferably overnight. 
Pop-out the baby food cubes and place them in a ziplock baggie or stasher bag. Don't forget to relabel the baggie or stasher bag for future reference.
Need more information on how to store your baby foods? Head over to my Best Baby Food Storage Containers – Plus 6 Tips on Freezing and Thawing post!
Label Tip: Don't forget to label your purees before you place them in the fridge or freezer with the name of the puree and the date you made it. Take it from me; by the end of the week, you will completely forget what is in your freezer and how long it's been there. 😉
Great Carrot Combination Purees
While Carrot Puree is great and satisfying by itself, it's also super easy to mix and match with other nutrient-dense baby food purees. So give these fun flavor combos a try!
Apples
Sweet Potato
Pears
Parsnips
Peach
Multigrain Baby Cereal
Chicken
White Beans
Soft Tofu
Pumpkin 
Mango
Cauliflower
Yogurt
Beef
Carrots for Baby-Led Weaning: Carrots are also a great food to serve to your baby whole for baby-led weaning (6+ months) or as a finger food (9+ months).
You can always serve baby a combination of purees and finger foods right from the start.
Puree Feeding Tips
Place a small amount of puree on the tray during spoon feeding, so that your baby can dip their fingers or hands in the puree. Allowing baby to explore foods in this way helps them learn to self-feed and can help them be more willing to try new textures and foods in the future.
Have a spare spoon (or three!) – even very young babies often want to be involved in feeding themselves as much as possible. Giving baby an extra spoon to hold can be helpful in giving her a sense of control and also promotes hand-eye coordination.Allow baby to use spoons as a teether during the meal. There are many great options out there but a few we particularly love include the Olababy 3 Piece Set, the NumNum Pre-Spoon GOOtensils, and the ChooMee FlexiDip Baby Starter Spoons.
Try adding a little seasoning or spice to purees – babies like flavor! Or consider changing the temperature of purees from time to time, to slightly warmed or slightly chilled. Varying these aspects adds to the sensory experience!
Or watch a shortened version of this video here.
1 lb carrots, trimmed, peeled and roughly chopped
pinch nutmeg (optional)
1/2-1 cup reserved water, fresh breast milk, formula or fresh water
Steam: In a medium saucepan, bring 2″ of water to a boil over medium heat. Place the carrots into a steamer basket, cover and cook for 9-11 minutes or until tender. Reserve steamer water. Let cool slightly.

Transfer: Place the cooked carrots into a blender or food processor and add a pinch of nutmeg, or any spice/herb you are using. Add in 1/2 cup of liquid

Puree: turn on the blender or food processor and puree for 1-2 minutes on medium. If puree is too thick, add in 1/4 cup liquid at a time, until you achieve desired consistency. I had to add in 1 1/4 cup water.

Eat: Serve and enjoy, or freeze some for later.
Age: 4-6 months and up
Yield: roughly 24 ounces
Notes on Nutmeg: adding spices to your baby's first purees is completely optional but totally safe. Nutmeg rounds out the acidic taste carrots sometimes have and make this puree taste grounded and full-bodied. 
Additional Spices: Feel free to substitute in a pinch or two of ginger powder,  freshly minced ginger, curry powder, cloves, finely minced fresh chives, or 1/4 minced garlic clove.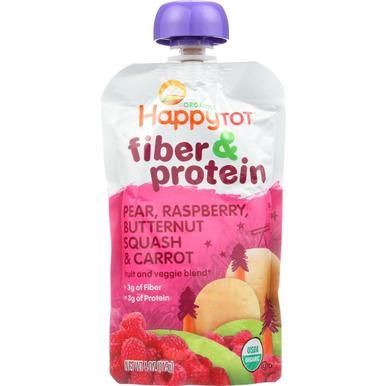 Freezer Tray
Blender
Tripp Trapp High Chair
Saucepan
Bumkins Baby Bowl
Did you make this recipe?
Tag @babyfoode on Instagram and hashtag it #babyfoode!
Pin Recipe Email a Friend
How to Make Carrot Baby Food (Carrot Puree)
How to make carrot baby food by cooking and blending carrots into a smooth and creamy puree. Carrot puree make a great stage 1 starter food for babies.
A couple weeks ago I shared all about introducing solids to baby, my approach with Olivia and what foods we'd tried so far. Honestly, I had no intentions of sharing baby food recipes, but I've been having so much fun making it for Liv and everyone has seemed really interested so here we are.
For this first post, I thought I would share a simple recipe for an easy stage 1 food for babies 4 month and up, homemade carrot puree.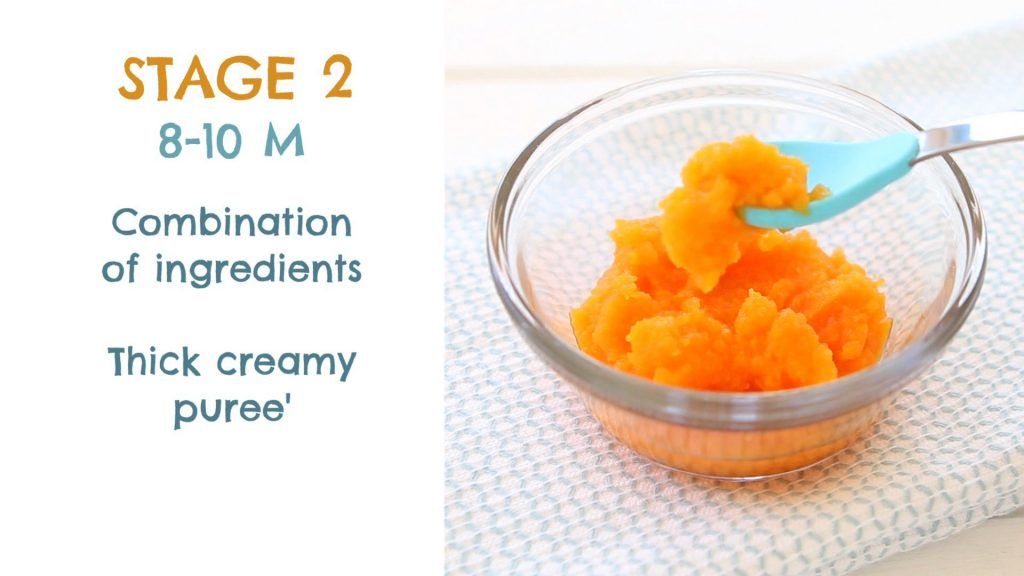 Like sweet potato and winter squash, carrot puree makes a great stage 1 food for babies because it can easily be pureed until thin. Carrots are also low on the allergy scale and easily digested by a tiny tummy.
Olivia's first food was sweet potato puree and then avocado, but carrots came quickly after these two foods.
Homemade Baby Food
Let me start by saying that I know homemade baby food isn't always an option and that's okay. When we were on vacation I bought a couple baby food pouches for Olivia. She gobbled them up. That said, the majority of her food is homemade because I really enjoy cooking and making food for Liv has been really fun for me. I also like knowing that she's eating fresh, nutrient-rich food that's been made with love. That might sound corny, but it's true.
When researching how to make homemade baby food I also researched how shelf-stable baby food is made. The shelf-life of jarred store-bought baby food is 2 years, which means you could be feeding your baby shelf-stable food that's older than they are! Isn't that wild to think about?!
And while I haven't tasted store-bought carrot baby food, I imagine that this homemade carrot puree tastes way better!
Carrot Nutrition for Infants
Carrots are a such a nutritious first food! They are high in beta-carotene, a red-orange antioxidant that converts to vitamin A in the body.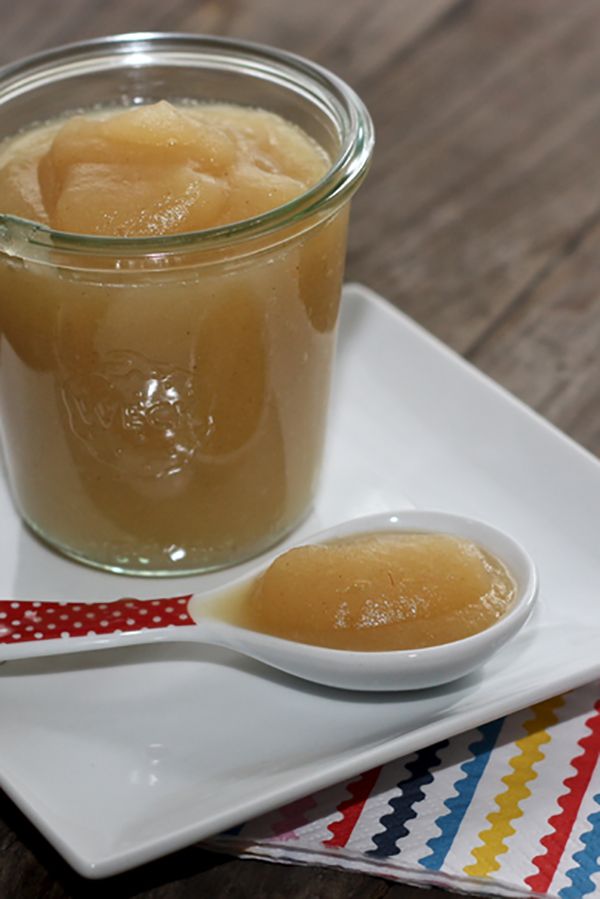 Vitamin A is known to boost eye health and support the immune system. Carrots also contain vitamin C, iron, calcium and fiber, which can be helpful for normal bowel movements in babies.
What Kind of Carrots to Use
I like to use fresh, organic whole carrots. Just wash the carrots well and peel them before chopping and cooking. I know it's an extra step, but I do recommend peeling them to remove any dirt particles and/or pesticide residue. I also think removing the peel of the carrots makes them taste better. They taste super earthy to me when the peel is on. You can also use baby carrots, which makes the chopping process faster because they've already been peeled.
I personally like to buy organic foods for making homemade baby food, but also realize this isn't an option for everyone so buy what you can afford.
How to Make Carrot Puree
Peel and chop carrots.
Cook the carrot chunks by steaming, boiling or roasting.
Transfer cooked carrots to a blender or food processor. I've been loving my Vitamix for blending up baby food. It gets the purees super smooth!
Blend until smooth, adding breast milk, formula or water to thin – the carrot puree will likely be a bit too thick for stage 1 eaters without adding some sort of liquid to thin the puree. I like using breast milk or formula for extra nutrients, but you can use water as well (water used for the steaming or boiling process works great).
Let carrot puree cool and serve right away or portion into storage containers or ice cube trays for later use.
Carrot puree an be stored in the fridge for 3 days or in the freezer for 3 months.
How to Store Carrot Baby Food
Once you have the carrot puree blended to the consistency you want, let the mixture cool and then transfer into BPA-free storage containers or into an ice cube tray. I've been using silicone ice cube trays and these 4 oz glass storage containers.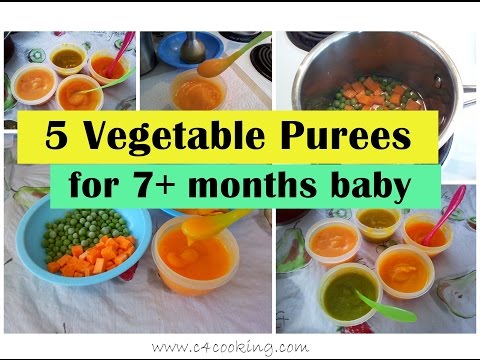 The ice cube trays are great for younger babies who aren't eating as much volume because you can defrost one cube at a time. While the 4 oz jars are great for older babies who are eating more than 1 oz at a time.
We had the ice cube trays on hand and I just recently bought the WeeSprout glass storage containers that are specifically for baby food. I like that they have measurements on the side of the jars and that they're glass instead of plastic (no worry about BPA). They are also freezer, dish-washer and microwave-safe. Plus they come with colorful lids that you can write on with a dry eraser marker to note the item and date.
The fresh carrot puree will keep in the fridge for 3 days and in the freezer for up to 3 months.
Don't Forget to Label
I highly recommend labeling any baby food you make before storing! It's amazing how quickly you forget what day you prepped the food once it goes into the fridge or freezer. #mombrain
How to Reheat or Thaw Frozen Carrot Puree
To thaw frozen pureed carrots, I recommend taking the jar out of the freezer the night before you want to use it so it can defrost in the fridge overnight.
If you need to use it right away, you can thaw it using a water bath. Some people will recommend microwaving the frozen puree using the defrost seating but I prefer these two methods:
Defrost in the refrigerator: Place frozen puree cubes into a jar or baby's serving dish, cover, and place in the refrigerator overnight. If you stored the puree in a jar or storage container, simply place the jar the fridge.
Water bath: Place frozen pureed cubes in a small container and set in another larger container with warm water. Replace the water as needed. Once defrosted, portion the food into individual bowls, cover, and refrigerate until serving.
Be sure to use any of the defrosted food within 48 hours of being defrosted and do not re-freeze.
Baby Food Combinations with Carrots
Once your baby is ready for stage 2 foods that are combinations, you can blend different fruits and veggies into the carrot puree. Here are some ideas of foods and spices  that pair well with carrots.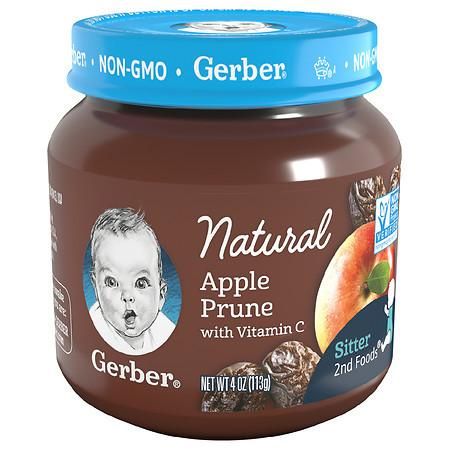 Green veggies – peas, broccoli, green beans, zucchini, spinach
Orange veggies – butternut squash, sweet potatoes
Fruits – apples, peaches, pears
Carbs – brown rice, lentils, quinoa
Protein – beef, chicken
Herbs and Spices – cinnamon, ginger, cardamom, cumin, paprika, nutmeg, curry, mint
More Baby Food Recipes and Resources
Baby Oatmeal
Introducing Solids to Baby
6 Baby Food Combinations (Stage 2)
Sweet Potato Puree
Avocado Puree
Butternut Squash Puree
Pea Puree
Peach Baby Food
Banana Puree
Smash Cake
Banana Pancakes For Babies
Baby Yogurt Melts
Carrot Baby Food
4 from 39 votes
How to make carrot baby food by cooking and blending carrots into a smooth and creamy puree. Carrot puree make a great stage 1 starter food for babies.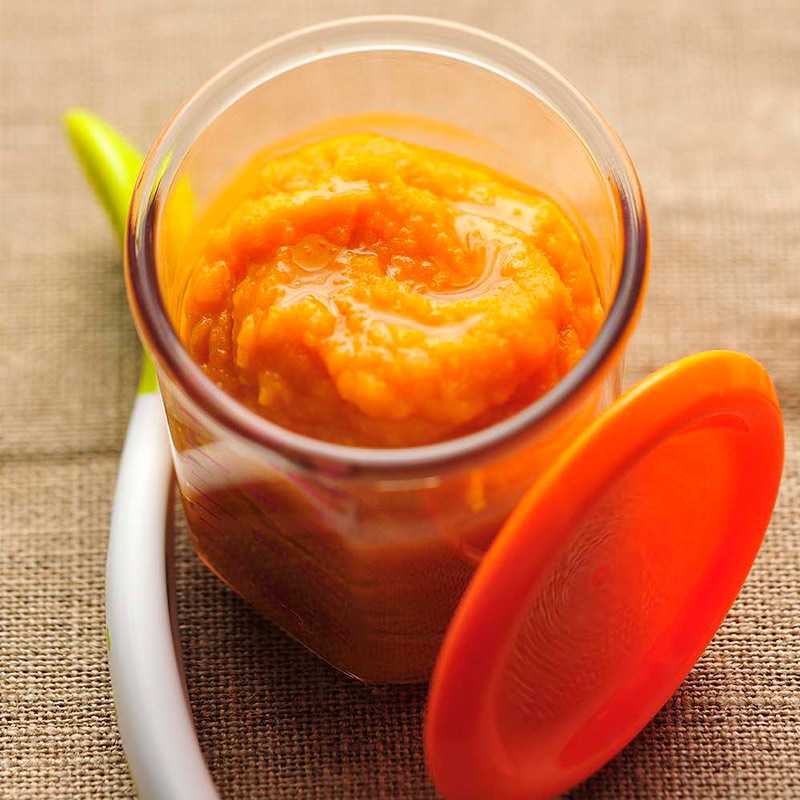 Print Recipe Pin Recipe
Prep Time 5 minutes
Cook Time 20 minutes
Total Time 25 minutes
Servings 12 oz
1 lb fresh organic carrots
1/4 – 1/2 cup breast milk, formula or water, to thin
spices or herbs of choice, optional
Peel carrots and chop into chunks. Try to make the carrot chunks around the same size so they will finish cooking around the same time. The smaller the chunks, the faster they will cook.

Fill a pot with about 1 inch of water, add carrots to a steamer basket and place inside of the pot. Bring water to a low boil, cover with lid and steam carrots for 15-20 minutes, or until fork tender. The cook time will depend on the size of your carrots.

Once carrots are tender remove pot from heat and allow carrots to a cool a bit before transferring to a blender or food processor. Puree carrots in the blender or food processor, adding liquid (breast milk, formula or water) as needed to get the desired consistency. If using water, the water leftover from steaming or boiling the carrots works great.

Transfer carrot puree into storage containers and store in the fridge for 3 days or freezer for 1 month.
You can boil or roast the carrots instead of steaming. See my tips in the blog post above.
Serving: 4oz Calories: 62kcal Carbohydrates: 14g Protein: 2g Sodium: 116mg Fiber: 4g Sugar: 9g
Author: Brittany Mullins
Course: Side
Cuisine: Baby Food
Keyword: carrot baby food
DID YOU MAKE THIS RECIPE?
Please leave a comment and star rating on this post and share on social media using the hashtag #eatingbirdfood. I love seeing your recipe shares!
Introduction of complementary foods: Carrots - Encyclopedia Baby food
Levchuk Victoria ©
Carrots in complementary foods are among the first foods with an average level of allergy.
Therefore, most parents wait 7-8 months to offer carrot baby food. For the Russian consumer, the introduction of carrots into complementary foods is very important, since most of our Russian dishes consist of carrots. Therefore, when introducing carrots, you should not rush and rush, carefully introduce them into complementary foods.
Types of carrots
Table of contents:
Carrots are one of the ten most economically important vegetable crops in the world. In today's world, there are two different categories of carrots: Cultivated Carrots (domesticated) and Wild Carrots. Cultivated carrots are the second most popular vegetable in the world after potatoes. Mostly in Russia, orange carrots are eaten. But there are a huge number of varieties and types of carrots.
They differ in color and shape. So you can meet black or white carrots, small or huge. Moreover, different countries have their favorite varieties. In Russia, they prefer to use ordinary orange carrots, such varieties as Tushon, Alenka, Karotel, Samson, Autumn Queen, September, Imperator, Nandrin, etc.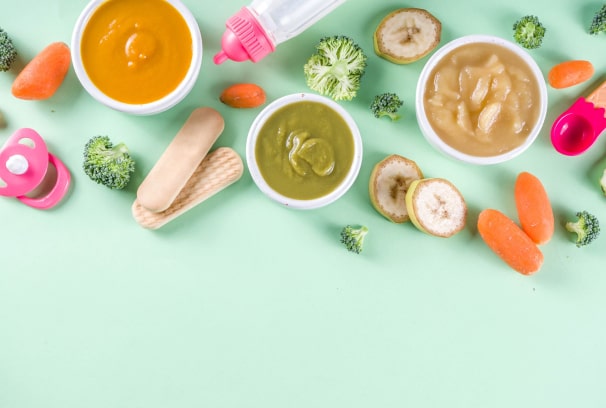 This is the usual carrot that we are used to seeing in stores. But Americans, for example, love finger carrots, or baby ones. We often see in films how they eat it instead of chips. We have such carrots can be found in large supermarkets, often frozen, rarely fresh.
carrot humor
Season of carrots
Carrots are available for cooking all year round, but the freshest carrots can be sold from the end of June to September-October, it all depends on the time of planting and areas of our vast country. For example, early spring, late February and early March or early summer.
History of carrots
Like all modern vegetables, carrots are descended from their wild ancestor, which is nothing like modern carrots. Although this vegetable is classified as a root vegetable, but its wild version looks very unusual, long, twisting, thin roots, something vaguely resembling a root vegetable.
Ancient carrots ranged in color from black, white, red and purple, and it wasn't until the 17th century that orange carrots were grown as a tribute to the ruling House of Orange.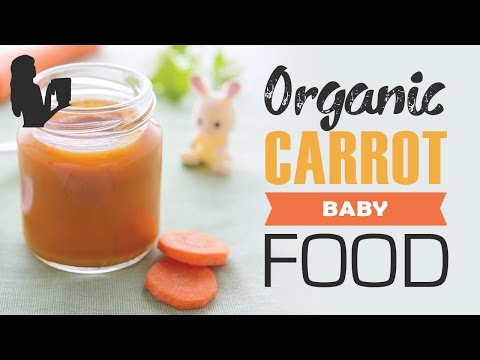 This type of carrot called "Daucus carota" quickly gained popularity throughout Europe and soon became a popular product.
Early records show that carrots were used as a food source in 3000 BC - carrots have been found in pharaonic tombs and ancient Egyptian wall paintings.
The modern orange carrot was perfected in Holland in the 16th and 17th centuries. Carrots became very popular in Europe during World War II due to the scarcity of other foods and because they are relatively easy to grow in private gardens.
carrots humour. By the way, old carrots contain more beta-carotene than young ones.
It contains vitamins A, B, C, calcium, potassium, etc. Carrots have a positive effect on vision, growth of the child, strengthens the immune system, increases the body's resistance. And also this vegetable has a beneficial effect on the digestive tract, has a slight laxative effect on constipation, and also kills pathogenic bacteria contained in the intestines.
Carrots are credited with many medicinal properties. It is said to cleanse the intestines and have diuretic, remineralizing, antidiarrheal, tonic and antianemic effects. Carrots are rich in alkaline elements that purify and revitalize the blood. It nourishes the entire system and helps in maintaining the acid-base balance in the body. Carrots also have a reputation as a vegetable that helps maintain good eyesight.
Eating this root vegetable is also useful for allergies, anemia, rheumatism, and has a tonic effect on the nervous system. But that's not all: tasty carrots are useful for diarrhea, constipation (a lot of fiber), intestinal inflammation, blood cleansing, toning the immune system. Carrots are traditionally recommended for weak, sickly or rickety children, convalescent or pregnant women, anti-anemic properties have been known for a long time.
Boiled carrots are also a very good source of vitamin A and beta-carotene, and according to my mother, carrots improve eyesight.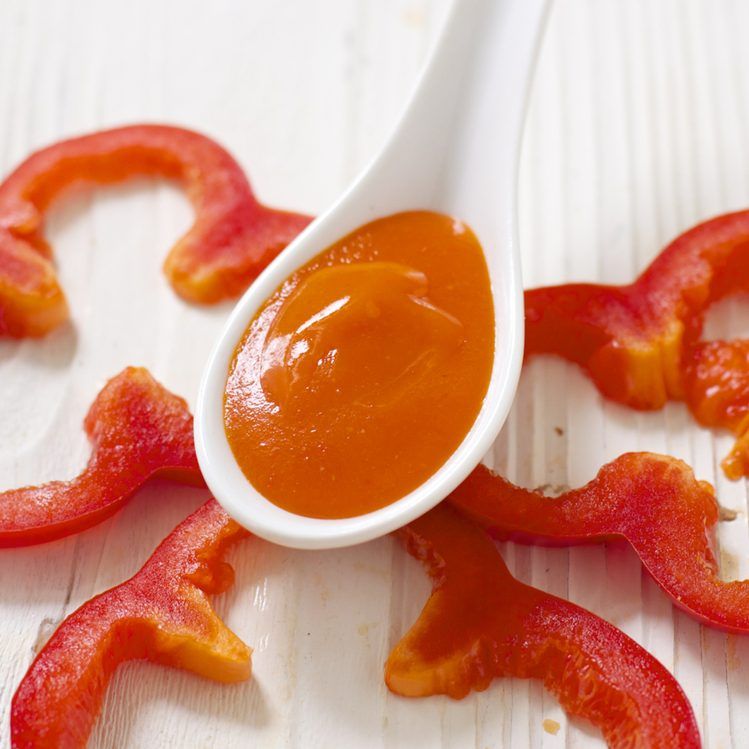 Carrots are added to the baby's diet around 7-8 months of age. True, it should be administered carefully, since this is the first product that is not green in color and the baby may have an allergic reaction. Usually carrots are cooked for quite a long time, so they are either grated or cut into circles and boiled until cooked without spices, salt, sugar or oil.
Tiny pieces of boiled carrots are a great product for small hands to eat on their own, starting from nine months. In nibbler, this root crop will also appeal to the baby, but in boiled form. You should not give raw carrots up to a year, because of a possible allergic reaction, and also because of the density of the product, suffocation may occur. Just like giving carrot juice, pediatricians advise to abstain so as not to get an allergy in a child, at least up to a year.
Carrots are one of the first favorite vegetables because of their sweet taste and amazing bright orange color. It is necessary to introduce complementary foods gradually starting from 1 tsp.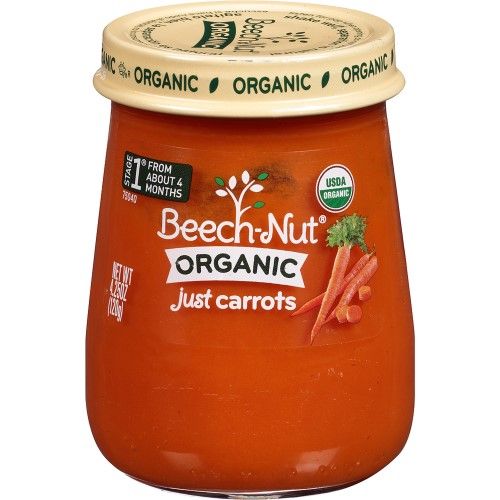 We follow the rule of waiting 4-7 days.
Please note that carrots cannot be the first complementary food.
However, daily consumption of carrots in large quantities can harm and have a bad effect on the child's liver. Therefore, we offer carrot puree or vegetable mixes with carrots a couple of times a week. However, if children's soup is cooked with several circles of carrots, then there will be nothing wrong with that, up to 30 grams per day the baby can consume this vegetable without fear for his health.
It is important to pay attention if the baby's skin has become orange, this is especially clearly visible on the feet and palms, therefore, there is an excess of carotene in the body. You need to contact the pediatrician so that he prescribes sorbents for the rapid removal of carotene from the body and, of course, remove carrots from the baby's diet for a while.
carrot complementary foods
Allergy to carrots
An allergic reaction to carrots is possible in a child.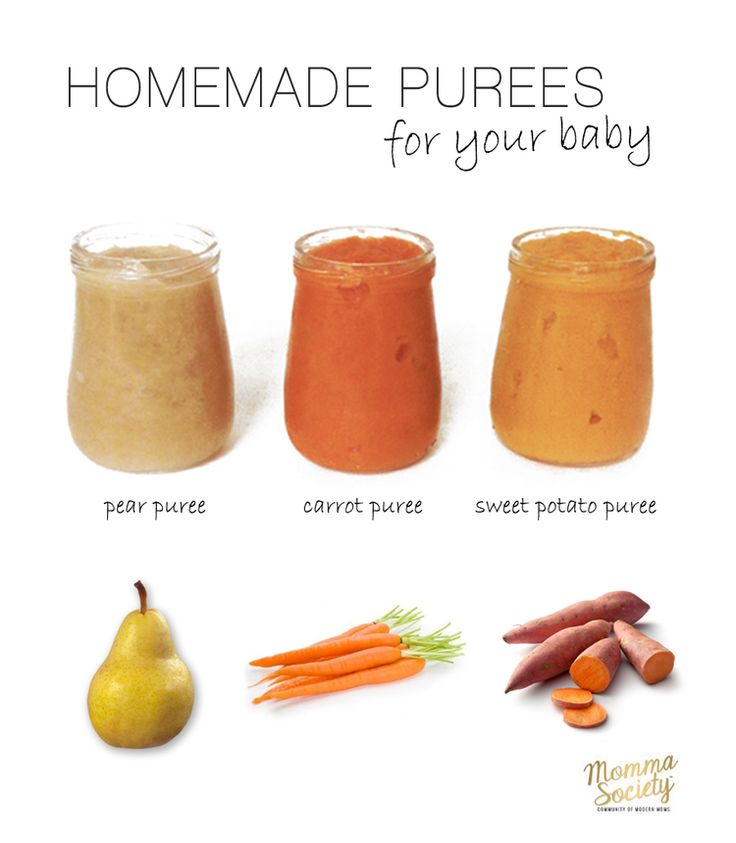 It is important to note that in complementary foods this is the first or second non-green product with an average degree of allergy. But it is very rare for an allergy to boiled carrots, usually if this happens, then the parents also suffer from this ailment. This is because cooking breaks down the allergenic proteins in carrots and reduces the impact they have on the immune system. But on fresh carrots or carrot juice, very often the child simply pours out, and by the age of three this allergic reaction can pass.
This usually happens when parents just give a lot of fresh carrots for the first time after a year. Thinking that since the baby eats boiled carrots well and without reactions, then you can safely give fresh ones. Therefore, pediatricians advise giving fresh carrots after 12 months, and giving carrot juice diluted 1:1 with boiled water also after 12 months. If a child has symptoms such as a rash on the body, cheeks, around the mouth, eyes, swelling in the mouth, coughing, breathing problems, sore throat, swollen gums, sneezing, runny nose, etc.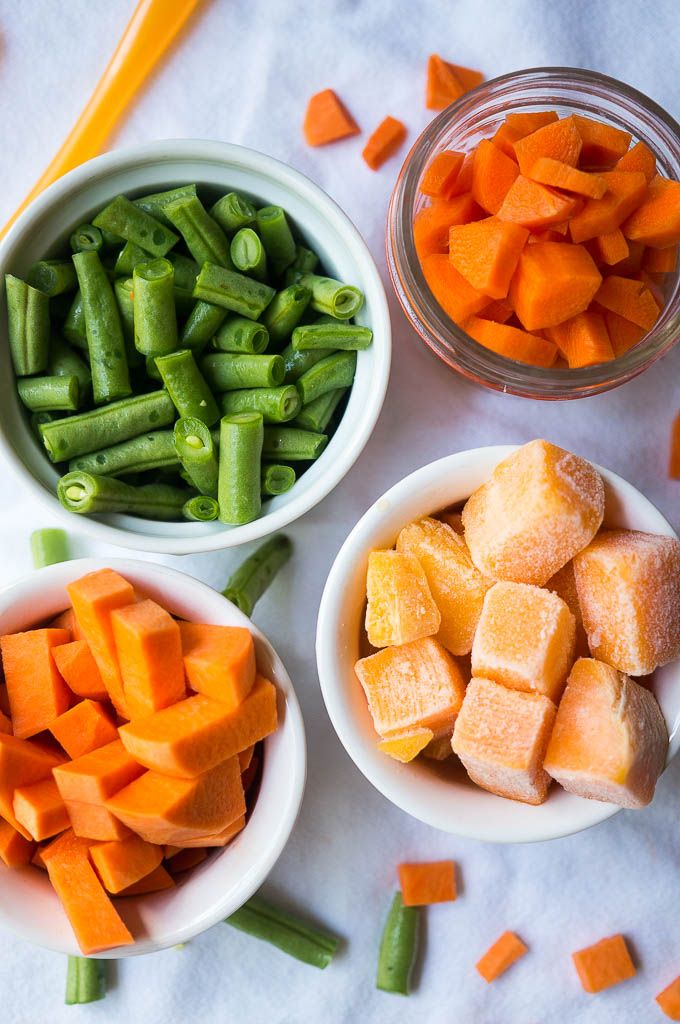 In rare cases, anaphylactic shock is possible. In the latter case, we call an ambulance, and if there are no breathing problems and a danger to the life of the child, then we go to the attending physician.
If a child is allergic to carrots, the child will also react badly to parsley, coriander, parsnips, celery, dill and anise - or, in other words, to the entire carrot family. Another interesting fact about carrot allergies is that if a child has it, they are at a higher risk of developing an allergy to birch and mugwort pollen. The opposite is also true. Therefore, it is better to wait until the child is seven months old before adding carrots to complementary foods.
carrot humor
Nitrates in carrots
In today's world, nitrates are a very common and familiar word. So how do you choose nitrate-free carrots for complementary foods? To begin with, we select small root crops. Usually carrots with nitrates are very large, light in color, the middle is also unusually light, closer to white.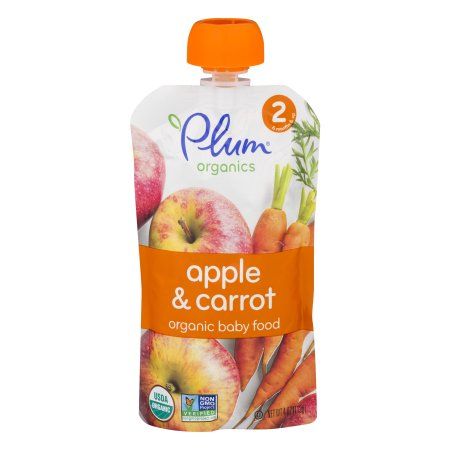 Nitrates are collected at the top closer to the leaves, this is especially clearly visible if the green border. The core of carrots contains the most nitrates. Of course, the ideal option is to use carrots grown in your garden, or organically. There is another option - this is a purchased baby food, where manufacturers carefully check products for nitrates.
You can also soak carrots in salted water for 20-30 minutes to get rid of 20-40% of nitrates, which is also good. Residues of nitrates will disappear after the heat treatment of the product. At least the cooked product has 80% lower nitrates than the raw one. However, some sources claim that no, nitrates do not disappear after cooking the product, and even a water filter will not help rid the water of them.
Blue Baby Syndrome
I would also like to discuss "Blue Baby Syndrome" . This syndrome occurs due to excessive deposition of nitrates in the body. This results in a temporary discoloration of the skin, mainly around the mouth and nails.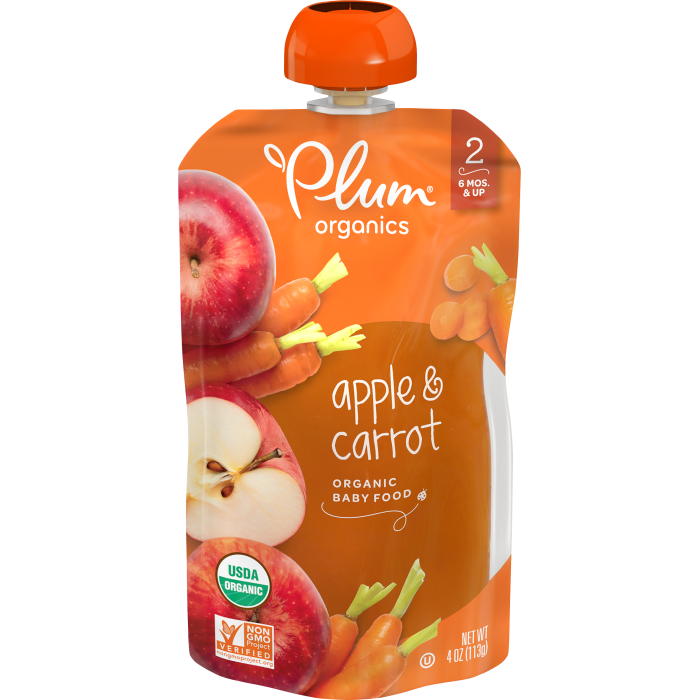 Children under the age of one are most susceptible to this health problem. Even serious complications are possible if not treated on time. "Blue Baby Syndrome" is usually caused by drinking nitrate water. But on the Russian Internet, the "Blue Child Syndrome" or Methemoglobinemia is very often associated with carrots, as the product most often susceptible to nitrate contamination. But the appearance of the disease from carrots in Russia has not been recorded, especially in children under one year old. Although a case of carrot juice was reported in the United States in 1973 years old in a small child, which he used in large quantities. As I understand it, it is necessary to drink well water with nitrates, which will lead to the deposition of nitrates in the child's body and, accordingly, to the "Blue Child Syndrome".
It should also be noted that in the USA there is an age that is most at risk, these are children under the age of 6 months, in Russia this age is 4 months.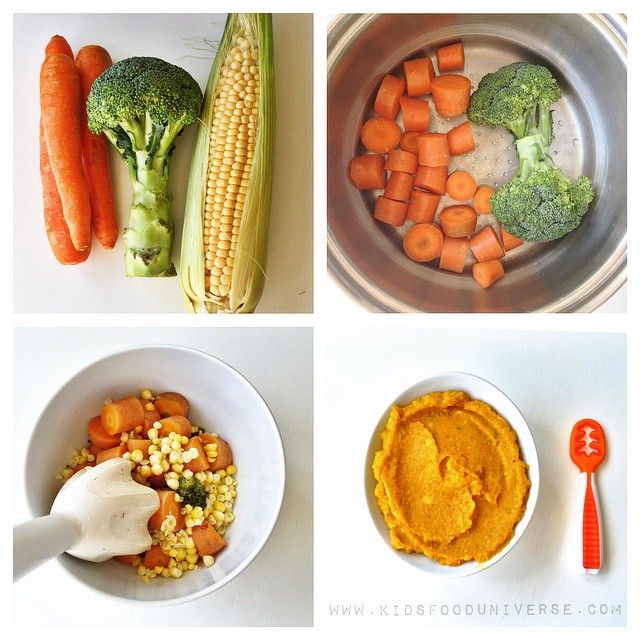 Children over the age of 6 months produce certain enzymes necessary to combat methemoglobinemia, which prevent the formation of methemoglobin and subsequent nitrate poisoning. Most often, the disease occurs in rural areas, where water is used from a well that has been contaminated with nitrates. Therefore, most doctors advise the use of bottled water for the preparation of baby food, especially for artificial feeding.
What conclusion can be drawn. If the product contains a large amount of nitrates, then the development of Methemoglobinemia is possible in children under 2-3 years of age. From any vegetable or fruit with nitrates, the development of the disease is possible. In rural areas, it is best to use bottled water when preparing baby food. Most cases of disease in rural areas from water, not vegetables or fruits, have been recorded. It is also important to try to choose the right carrots for baby food and feed the child with the prescribed norms of 100-150 grams per week or 30 grams per day.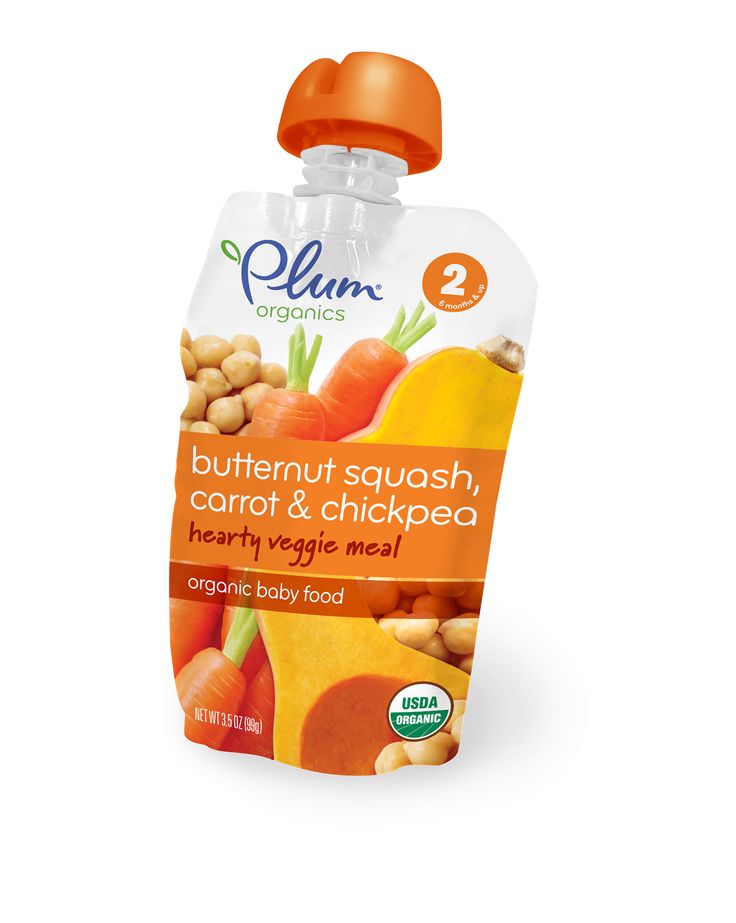 Well, and the last thing, if you are afraid of everything, then why did you give birth to children. It is very dangerous to live in the modern world, from a plane that can crash on our house to dangerous food. Less panic, notified means forewarned. Carrots humor ). The brighter the color, the more carotene in the product.
Size. The larger the fruit, the more it absorbs nitrates. We choose medium, thick, not long.
View. Carrots should be smooth, firm and fresh. The presence of cracks, tops, softness and growths indicates that carrots are not suitable for baby food.
Carrots keep well in the refrigerator in regular bags. Before storage, carrots can be washed, dried well, put in a bag and closed tightly.
Freezing carrots for feeding
Carrots are excellent for freezing without losing their taste. For freezing, carrots are washed from dirt, cleaned:
Tinder on a grater
Cut into circles, straws, stars, any shape as desired.
Then the complementary foods are placed in bags and frozen in a quick freeze. You can store the product in the freezer for about 12 months.
Baby carrot puree can also be frozen, usually in plastic containers. However, the ice mold is also perfect, after freezing, the puree cubes can be put in a regular bag and stored. Carrot cubes can be used to make cereals, various vegetable and fruit purees, it is enough to defrost at room temperature. The texture can be a little watery, then add a little oatmeal to thicken the puree.
How to cook carrots
Carrots should be thoroughly washed, preferably with a small brush to remove any remaining soil, then peeled and cut into manageable pieces, cubes or grated. A vegetable can simply be boiled over a fire in a small amount of water, in a slow cooker, pressure cooker or double boiler, the choice is up to the parents.
After the carrots are cooked, leave a little vegetable broth (if the carrots are from your garden), and pass the carrots through a press or beat with a blender.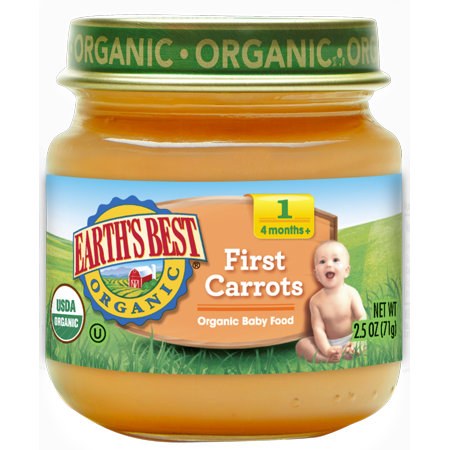 Add vegetable broth until the desired consistency is obtained. (Since nitrates penetrate from carrots into vegetable broth, so if you are not sure about the environmental friendliness of the product, then you should replace the broth with breast milk, milk formula or plain boiled water.) You can add a little butter to help better absorption of vitamin A, only if the oil is introduced into the baby's diet.
Contraindications
Carrots should not be used in case of individual intolerance, acute form of allergy, inflammation of the small intestine, carotene intolerance, stomach ulcer, pancreatitis, duodenal ulcer, with caution in gastritis with high acidity.
How to give carrots
Until the age of 10 months, it is best to give the baby carrot puree 1-2 times a week. Up to a year, feed the baby with soups with a couple of rings of carrots and offer carrot puree once a week in the form of mixes with other vegetables, without exceeding the norm. After a year, you can slowly introduce the child to fresh carrots by rubbing it on a grater.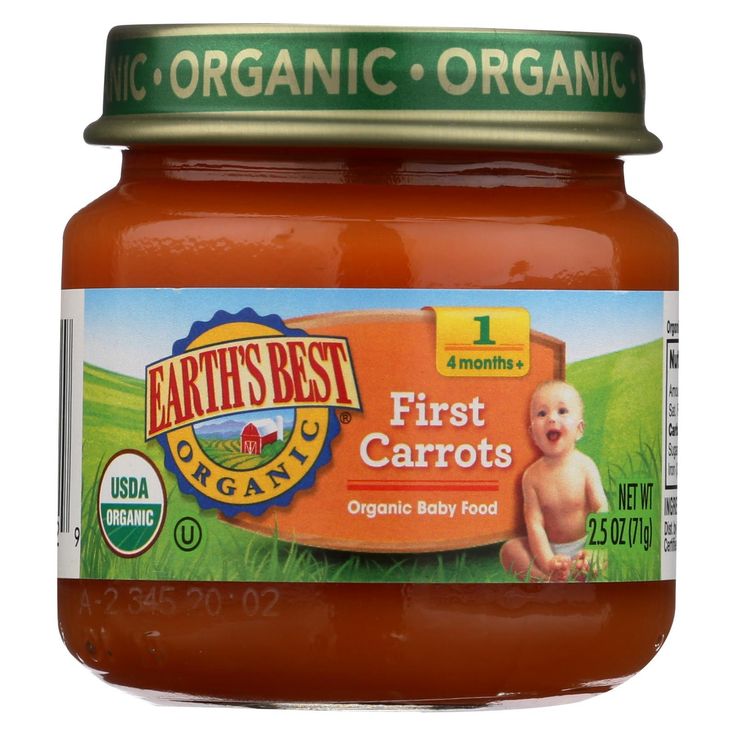 As soon as the baby can normally use it without allergies and suffocation, carrot juice can be introduced into the diet. Make salads from carrots 1-2 times a week, combining with other vegetables. Do not forget about soups and borschiki. An omelette with carrots or a casserole is also very tasty. You can add carrots to cutlets, meat stews, make vegetable cutlets, etc.
Raw carrots
Raw carrots should be introduced into the child's diet after 12 months, or later. So that there is no allergic reaction, as well as suffocation, for the first time raw carrots are best given shabby on a fine grater, no more than 1-2 tsp. We introduce raw carrots for 3-5 days in complementary foods.
Carrot juice
Carrot juice is best introduced to a child after 12 months, diluted with boiled water in a ratio of 1:2. You should not rush with the introduction of carrot juice. Better late than never. Therefore, the ideal introduction to carrot juice is the season of the product, approximately its middle.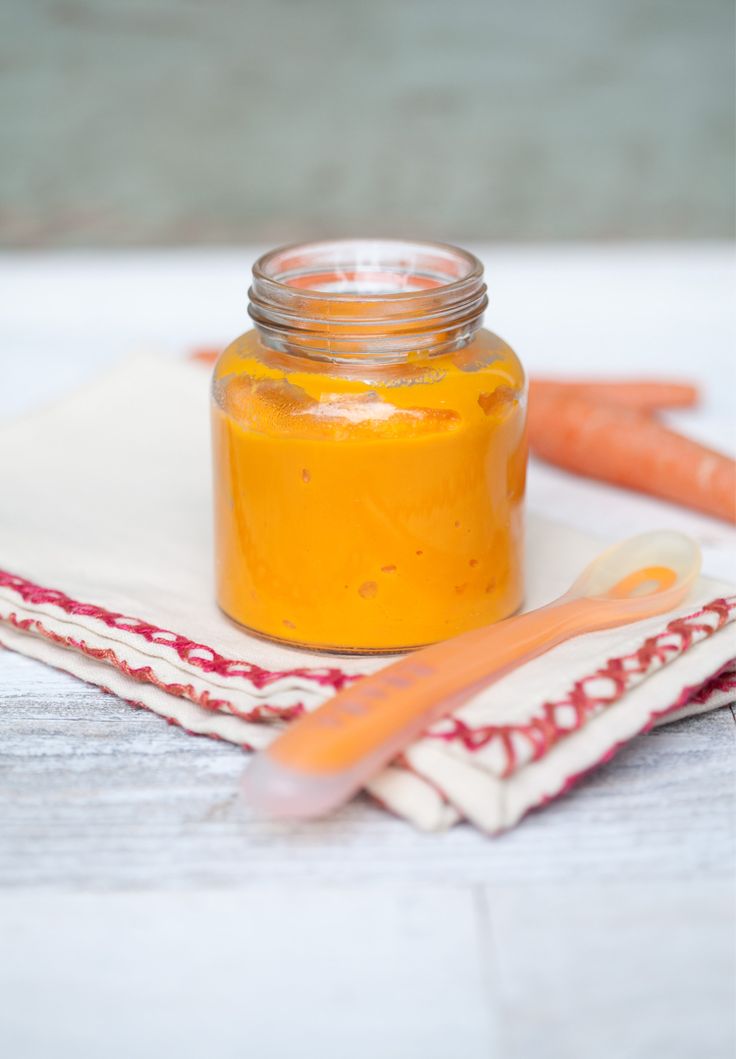 It is important to note that the juice from this product is very useful for digestion, it stimulates the appetite, there is a benefit from the product during the season of colds and viruses.
The child is always offered freshly squeezed juice, after successful introduction into the diet, not more than 50 ml, 1-2 times a week. It is better not to store the juice in the refrigerator. We look after the condition of the child, if the color of the skin has changed, or the stool has worsened, then we stop giving carrot juice.
Preparing juice is very simple, rubbed on a fine grater, put the product in cheesecloth, twisted and squeezed out the juice. Approximately one medium carrot yields 50 ml.
I would like to draw your attention to the fact that when I was a year old I also decided to introduce the baby to carrot juice, and as a result, we spilled out. Everything is very simple, I did not follow the rule of expectation and volume, i.e. gave immediately a whole glass of juice, as a result - a rash.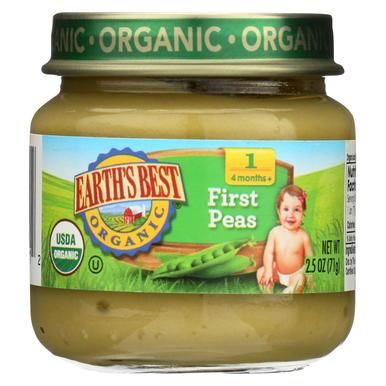 So don't make my mistakes, everything is gradual. First, we introduce 3-5 days slowly carrot juice, which is diluted with water. Never give undiluted juice. And do not add salt or sugar to carrot juice, this is superfluous. Then, after a week, we offer 50 ml of carrot juice, which is approximately 150 ml of diluted juice, almost a whole glass. We give juice between meals. I think the child will enjoy and be able to get drunk.
Canning Carrots
Normally we rarely can clean carrots. It freezes easily, usually enough for housewives. It can also be used in complex dishes for preservation, for example, frying for borscht.
Carrot puree is rarely preserved in baby food because carrots are available all year round. Therefore, it is worth thinking a hundred times before preserving carrot puree for a child, is it worth the time spent?
Foods that go well with carrots:
Don't forget to bookmark us! (CTRL+SHIFT+D) Subscribe to the site, comment, share in social networks.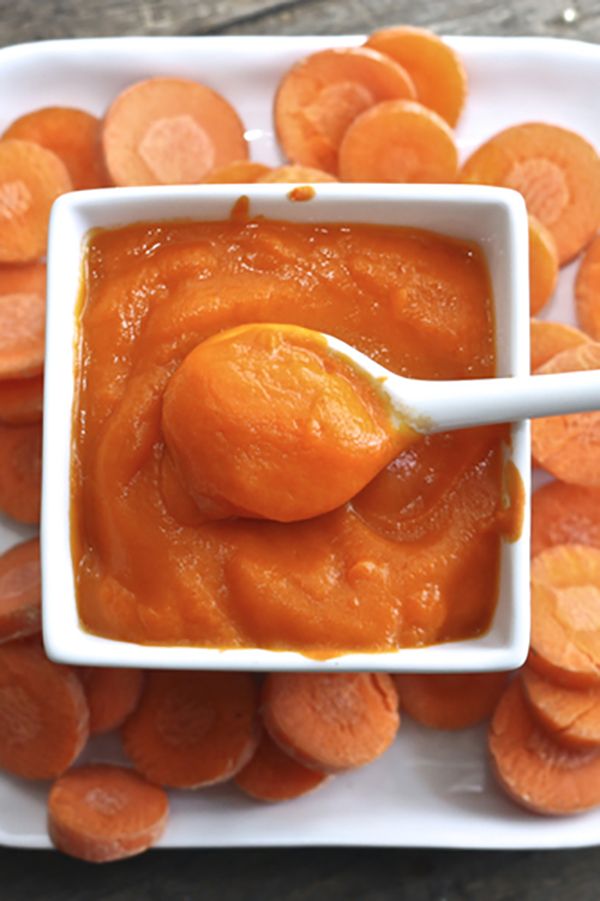 Our website Encyclopedia Baby Food has useful information on the nutrition of your children, which is useful for everyone, and we update the website "Encyclopedia Baby Food" constantly and try to search and write only excellent, verified and necessary information for you and your children.
Disclaimer No. 1: It must be understood that the author of the articles on the Baby Food Encyclopedia website is not a medical staff, "I am not a doctor." The information I share is based on my own experience. My goal is not to teach you how to eat or feed your child, but to talk about how we did it, what new things I learned or read. This expands the picture of Baby Food knowledge, gives you a glimpse of the whole process so you can decide if you like it or not.
Disclaimer No. 2 : However, the above does not replace visiting a pediatrician. Before you start complementary foods, you need to get his professional opinion on the best way to introduce new foods for your baby.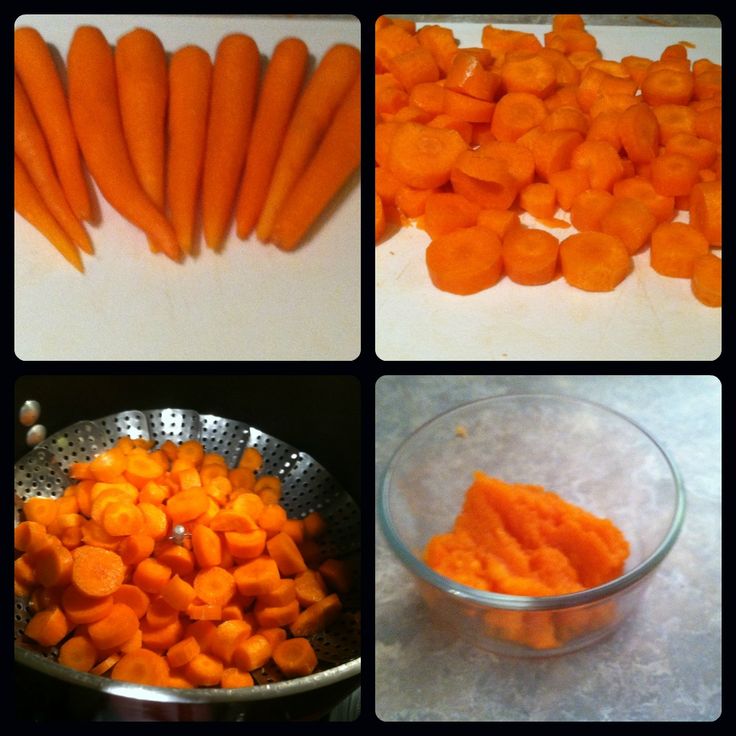 I also draw your attention to the fact that you need to look at the original date of the published articles, because some of the "best practices" may have changed. Always check with your child's pediatrician about complementary foods and their health.
Disclaimer #3: Keep in mind that every family is unique, every situation is also completely unique. There are no universal solutions. Only you can find what works best for you. Certain goals require certain sacrifices and priorities - not everyone wants to make those choices, and that's GREAT! Just know what you want to achieve, and be ready to get to work, putting the best of your strength!
Disclaimer No. 4: On the Encyclopedia Baby Food website, photos from books on baby food with attribution are used to better understand the information (Article 1274, paragraph 1, part four of the Civil Code of the Russian Federation). Literature on baby food is found in the public domain on the Internet.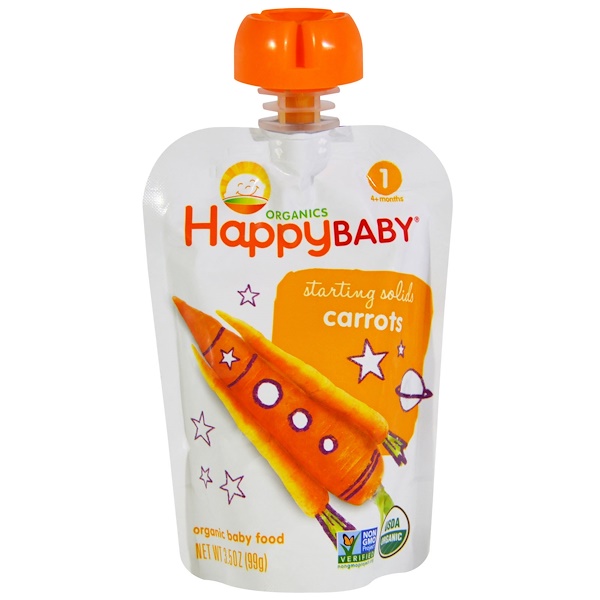 Apricot puree with chicken
Banan-global puree
Banana puree
borsch
broth with peas and rice
Boturbrod with kohlrabi
Quick dessert from zucchini with strawberry
Generals Buckwheat porridge with apricots
Buckwheat porridge with banana
Buckwheat pilaf
Children's sausage
Children's milk porridge with banana
Children's vinaigrette
Children's ketchup
Children's cucumber salad
Children's salad Olivier
Children's porridge biscuits
Children's puree of strawberries, bananas, yellow cherries, yogurt and biscuits with cereals
Children's puree with cottage cheese and fruit
Homemade yeast bread with flax flour
Homemade cheese
Homemade pizza
8 Breakfast1 outside Kohlrabi appetizer
Roasted cauliflower
Roasted carrots
Roasted carrots and cherries with millet
Winter salad with Jerusalem artichoke
Cabbage with white beans
Cabbage salad like in a canteen
Mashed potatoes
Quinoa and pumpkin porridge
Quinoa porridge
Breakfast cereals
Quinoa and apple
Strawberry puree
Strawberry puree with banana
Strawberry compote
Wild apple and raspberry compote
Thermo-steamed dried fruit compote for children 8 months
Corn porridge
Corn porridge with pear
Corn porridge with pumpkin
Corn porridge with pumpkin and carrots
Corn porridge with apple and carrots
Chicken liver in the oven
Chicken cutlets with carrots
Chicken with carrots, sweet peppers and potatoes
Navy pasta
Macaroni with orange sauce
Muffins with vegetables and egg
Baby potatoes in their skins
Vermicelli milk soup
Carrot-potato casserole-carrot 9028
Carrots with chicken
Amanita from eggs and tomatoes
Meat envelopes
Homemade Tarragon drink for children
Vegetable puree from cauliflower and carrots
Vegetable soup with maize semolina
Vegetable soup with cheese and corn semolina
Vegetable soup with spinach
Vegetable puree soup with bell pepper
Oatmeal porridge
Pollack fritters
Hot kefir fritters
Omelette in a bag
Omelet with broccoli and cauliflower cheese

Omelette Pancake
Peach Puree
Baked Apples 7 months +
Zucchini and Carrot Pie
Zucchini Pie
Rice and Zucchini Pie
Fish Pie
Fish and Potato Pie
Pizza with white cabbage
Pizza with lavash
Pizza with zucchini, tomatoes and sausage
Pizza with tomatoes and olives
Pizza with spinach
Pilaf with rabbit
Pilaf with chicken with green peas and corn
Puree 90 banana and cherries , cottage cheese and cereals 4 cereals
Broccoli (cauliflower) puree
Broccoli, courgette and cauliflower puree
Blueberry puree
Pear puree
Pear and banana puree
Pear and banana puree, baked
Pear and pumpkin puree 7 months +
Pear, pumpkin and peach puree
Pear, apple, plum and prunes puree
Blackberry puree
Turkey puree
Zucchini puree
Zucchini and broccoli puree 902 carrot and potato puree
Quinoa and banana puree
Quinoa and carrot puree
Quinoa, banana and carrot puree
Quinoa, courgette and carrot puree
Quinoa, peach and raspberry puree
Quinoa, cauliflower, apple, pea puree and mint
Quinoa, apple, pear and raisin puree
Quinoa, apple, carrot puree
Rabbit, broccoli and cauliflower puree
Chicken, carrot, potato, apple and pea puree
Raspberry, cherry and banana puree
carrots
Carrot and apple puree
Carrot, potato, broccoli puree with cheese
Carrot, potato, apple and quinoa puree
Carrot, pumpkin, apple and prunes puree
Carrot, apple and potato puree
Turnip and carrots
Plum puree
Cottage cheese, strawberry and banana puree
Pumpkin puree
Pumpkin and banana puree
Pumpkin and zucchini puree
Pumpkin and apple puree
Pumpkin, apple and banana puree
Cauliflower and broccoli puree
Cauliflower puree and potatoes
Cauliflower and rice puree
Cauliflower and apple puree
Cauliflower, green peas and squash puree
Cauliflower, turkey and potato puree
Cauliflower, potato and squash puree
Cauliflower, Carrot and Broccoli Puree
Cauliflower, Carrot, Cheese and Rice Puree
Cauliflower, Apple and Squash Puree
Zucchini Puree
Zucchini and Potato Puree
Zucchini, Carrot and 81 Apple Puree 902 cherries
Blueberry puree
Prune puree
Apple, pumpkin, carrot and some curry puree
Apple and pear puree
Apple and strawberry puree
Apple, strawberry and cherry puree
Apple, peach and banana puree
Carrot and pumpkin puree
Cottage cheese and banana puree
Turkey, potato and carrot stew
Zucchini, carrot and broccoli stew
Fish, potato, carrot and broccoli stew
Rice porridge
Whole grain rice porridge
carrot
Rice porridge with pumpkin
Rice porridge with apples
Rice porridge with apple and pear
Rice porridge with apple and pumpkin
Fish cakes with vegetables
Semi-cooked fish
Fish meatballs with ketchup
Baby Fish Soup
Salmon and Celery Fish Soup
Carrot and Kohlrabi Salad
Chickpea Salad
Chickpea and Cabbage Salad
Laziest Soup
Creamy Kohlrabi Soup
Oatmeal Smoothie1 Sauce in Pot
Cheese Pizza
Pea and Bacon Soup
Baked Vegetable Soup
Kohlrabi Soup
Salmon Soup
Cauliflower Soup
Turnip Potato Soup
Meatball Soup for the Picky Eater
Green apple kohlrabi soup
Rabbit, pumpkin, potato, broccoli and cauliflower soup
Beetroot soup
Pumpkin mushroom soup
Broccoli and celery soup
Soup/stew Pork with Potatoes and Carrots
Cheburek Chebureks
Pumpkin Cheese Sauce (Annabelle Carmel Recipe)
Buzz Lightyear Sandwich
Pumpkin Apple Puree
Pumpkin Apple Juice
Pumpkin Cake
Pumpkin Soup9 Fruit Puree
8 Fruit Salad 81 Bread Lavash
Colored cabbage with cheese
Lipa tea and thyme
Experimental soup-puree with vermicelli and lentil
Apple puree
Apple juice


90,000 puree of carrots- Encyclopedia Children's Nut delicious, healthy and nutritious, which is why kids love carrots! A small child is offered only boiled carrots, namely carrot puree, homogenized, homogeneous, without lumps.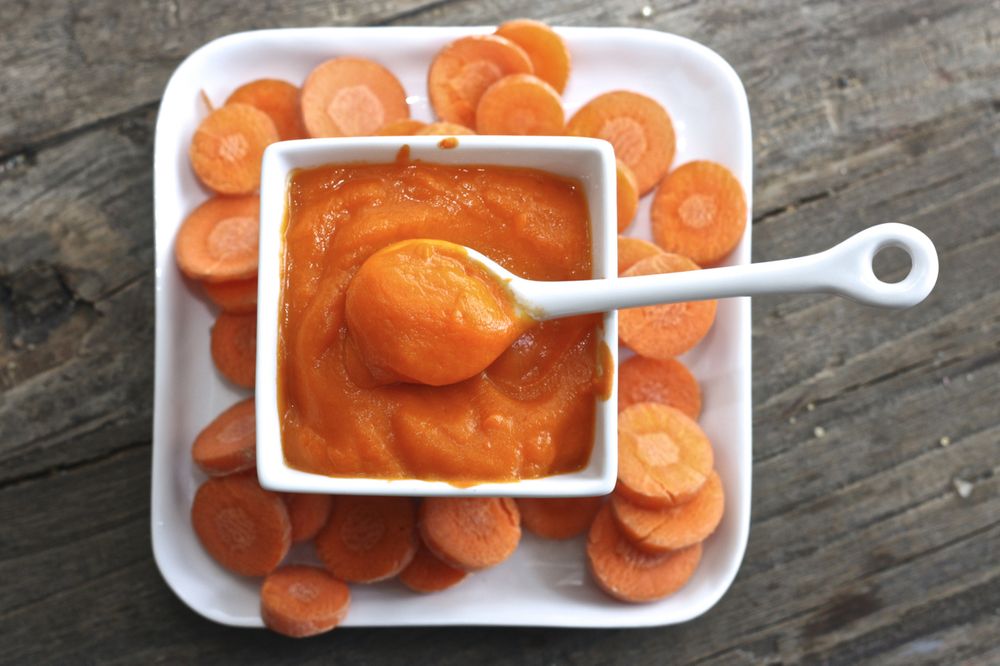 Carrots are among the foods to which an allergic reaction is possible on the part of a young growing body. Therefore, we carefully observe the waiting regime for 4-7 days, monitor the condition of the baby, and with any change, cancel the carrot puree.
The approximate age of introduction of carrots is about 7-8 months, however, if in doubt, you can introduce it later in the child's diet. The main thing we do not forget is that it is rich in beta-carotene and other useful vitamins.
Clean the carrots and cut into small pieces

Place the pieces in a pot with sufficient water or in double -tank steering wheel

Cook until

POTES PODIT PODIT PODITS POTES , beat, purée

Add water or breast milk/formula as needed to achieve a smooth consistency
We are not afraid and add me to VK and Odnoklassniki, Instagram!
Like this article? Subscribe to site updates
"Encyclopedia Baby Food"!
Don't forget to bookmark us! (CTRL+SHIFT+D) Subscribe to the site, comment, share in social networks.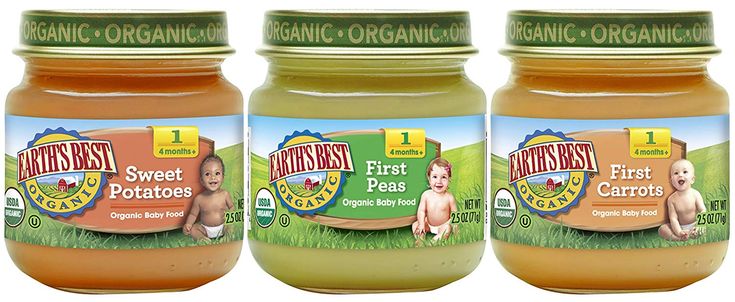 Our website Encyclopedia Baby Food has useful information on the nutrition of your children, which is useful for everyone, and we update the website "Encyclopedia Baby Food" constantly and try to search and write only excellent, verified and necessary information for you and your children.
Disclaimer No. 1: It must be understood that the author of the articles on the Baby Food Encyclopedia website is not a medical staff, "I am not a doctor." The information I share is based on my own experience. My goal is not to teach you how to eat or feed your child, but to talk about how we did it, what new things I learned or read. This expands the picture of Baby Food knowledge, gives you a glimpse of the whole process so you can decide if you like it or not.
Disclaimer No. 2 : However, the above does not replace visiting a pediatrician. Before you start complementary foods, you need to get his professional opinion on the best way to introduce new foods for your baby.
I also draw your attention to the fact that you need to look at the original date of the published articles, because some of the "best practices" may have changed. Always check with your child's pediatrician about complementary foods and their health.
Disclaimer #3: Keep in mind that every family is unique, every situation is also completely unique. There are no universal solutions. Only you can find what works best for you. Certain goals require certain sacrifices and priorities - not everyone wants to make those choices, and that's GREAT! Just know what you want to achieve, and be ready to get to work, putting the best of your strength!
Disclaimer No. 4: On the Encyclopedia Baby Food website, photos from books on baby food with attribution are used to better understand the information (Article 1274, paragraph 1, part four of the Civil Code of the Russian Federation). Literature on baby food is found in the public domain on the Internet.