Baby avoiding food
Foods to avoid giving babies and young children
Salt
Babies should not eat much salt, as it's not good for their kidneys. 
Do not add salt to your baby's food or cooking water, and do not use stock cubes or gravy, as they're often high in salt.
Remember this when you're cooking for the family if you plan to give the same food to your baby.
Avoid salty foods like:
bacon
sausages
chips with added salt
crackers
crisps
ready meals
takeaways
Sugar
Your baby does not need sugar. 
By avoiding sugary snacks and drinks (including fruit juice and other fruit drinks), you'll help prevent tooth decay.
Saturated fat
Do not give your child too many foods that are high in saturated fat, such as crisps, biscuits and cakes.
Checking the nutrition labels can help you choose foods that are lower in saturated fat.
See more on food labels.
Honey
Occasionally, honey contains bacteria that can produce toxins in a baby's intestines, leading to infant botulism, which is a very serious illness.
Do not give your child honey until they're over 1 year old. Honey is a sugar, so avoiding it will also help prevent tooth decay.
Whole nuts and peanuts
Whole nuts and peanuts should not be given to children under 5 years old, as they can choke on them.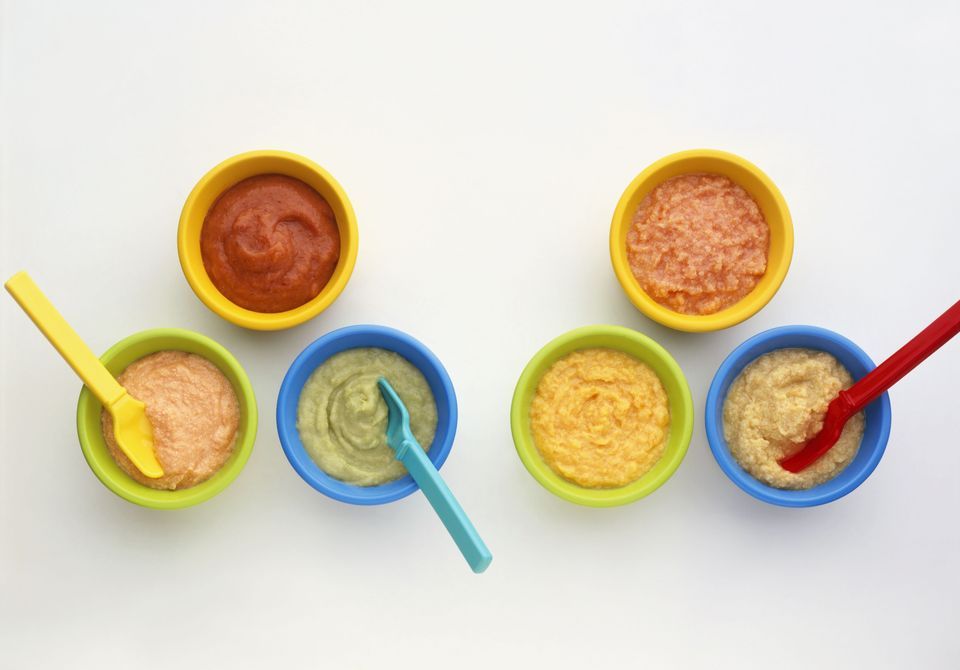 You can give your baby nuts and peanuts from around 6 months old, as long as they're crushed, ground or a smooth nut or peanut butter.
If there's a history of food allergies or other allergies in your family, talk to your GP or health visitor before introducing nuts and peanuts.
See more on food allergies in babies and young children.
Some cheeses
Cheese can form part of a healthy, balanced diet for babies and young children, and provides calcium, protein and vitamins.
Babies can eat pasteurised full-fat cheese from 6 months old. This includes hard cheeses, such as mild cheddar cheese, cottage cheese and cream cheese.
Babies and young children should not eat mould-ripened soft cheeses, such as brie or camembert, or ripened goats' milk cheese and soft blue-veined cheese, such as roquefort.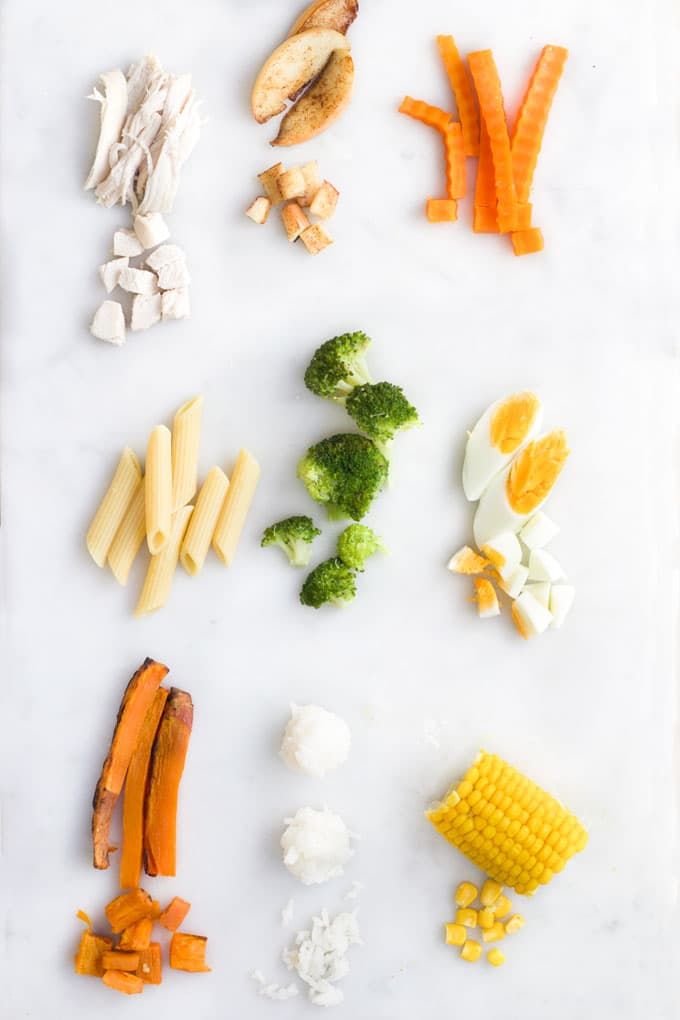 There's a higher risk that these cheeses might carry a bacteria called listeria.
Many cheeses are made from unpasteurised milk. It's better to avoid these because of the risk of listeria.
You can check labels on cheeses to make sure they're made from pasteurised milk.
But these cheeses can be used as part of a cooked recipe as listeria is killed by cooking. Baked brie, for example, is a safer option.
Raw and lightly cooked eggs
Babies can have eggs from around 6 months.
If the eggs are hens' eggs and they have a red lion stamped on them, or you see a red lion with the words "British Lion Quality" on the box, it's fine for your baby to have them raw (for example, in homemade mayonnaise) or lightly cooked.
Hens' eggs that do not have the red lion mark should be cooked until both the white and yolk are solid.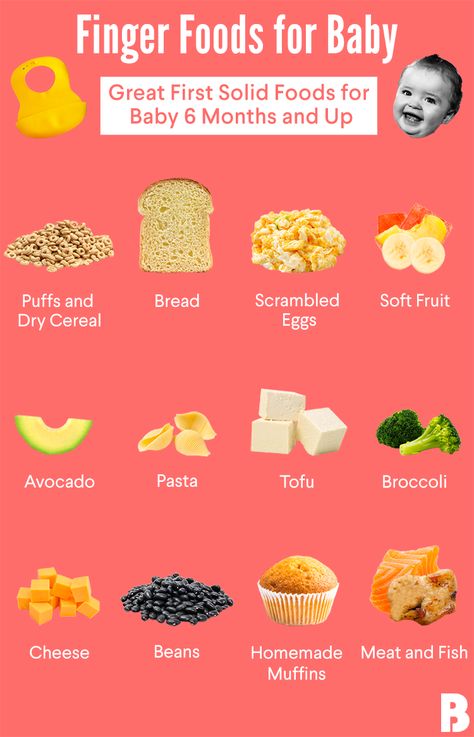 So should duck, goose or quail eggs.
Avoid raw eggs, including uncooked cake mixture, homemade ice creams, homemade mayonnaise, or desserts that contain uncooked egg that you cannot confirm are red lion stamped.
Rice drinks
Children under 5 years old should not have rice drinks as a substitute for breast milk or infant formula (or cows' milk after 1 year old) as they may contain too much arsenic.
Arsenic is found naturally in the environment and can find its way into our food and water.
Rice tends to take up more arsenic than other grains, but this does not mean that you or your baby cannot eat rice.
In the UK, there are maximum levels of inorganic arsenic allowed in rice and rice products, and even stricter levels are set for foods intended for young children.
Do not worry if your child has already had rice drinks.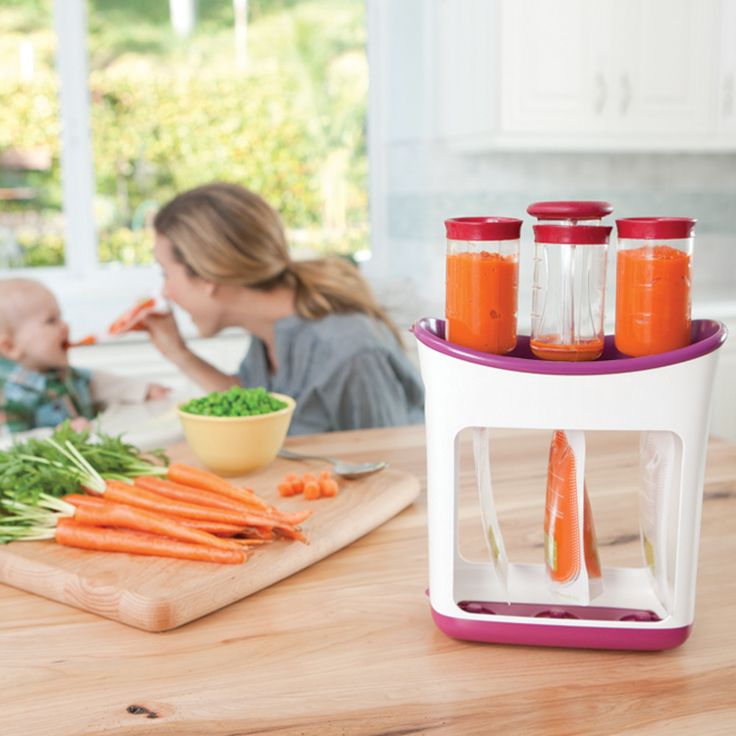 There's no immediate risk to them, but it's best to switch to a different kind of milk.
Raw jelly cubes
Raw jelly cubes can be a choking hazard for babies and young children.
If you're making jelly from raw jelly cubes, make sure you always follow the manufacturers' instructions.
Raw shellfish
Raw or lightly cooked shellfish, such as mussels, clams and oysters, can increase the risk of food poisoning, so it's best not to give it to babies.
Shark, swordfish and marlin
Do not give your baby shark, swordfish or marlin. The amount of mercury in these fish can affect the development of a baby's nervous system.
Further information
For more information and advice about babies and food, see:
food allergies in babies and young children
your baby's first solid foods
baby and toddler meal ideas
Why Your Baby Won't Eat
Reviewed by Dan Brennan, MD on August 01, 2020
It's just a fact of life: "Children come equipped to reject new foods," says Elizabeth Ward, MS, RD, author of The Complete Idiot's Guide to Feeding Your Baby and Toddler.
To help your baby accept new foods, start with tiny portions. Also try to make new food look similar to a familiar favorite. If they like pureed carrots, try pureed sweet potato.
Cereal on the floor and peas in baby's hair? Congratulations, your little one is showing signs of independence. At about 9 months, many babies start wanting to control feeding time and where they put their food. While it may be hard to sit back and watch the mess grow, take heart, this is an important step for your baby's learning, growth, and self-reliance.
It's normal for babies to spit up a little, especially newborns. Babies' digestive systems are still developing. Babies can also get reflux, which is when food in the stomach backs up into the esophagus. To help manage reflux, try feeding your baby more slowly or feed them less at each sitting, loosening their diaper, and keeping them upright after they eat. Reflux almost always resolves without treatment by 12-14 months of age.
You offer your little one a bit of food and they turn their head, swat at the spoon, or clamp their mouth shut.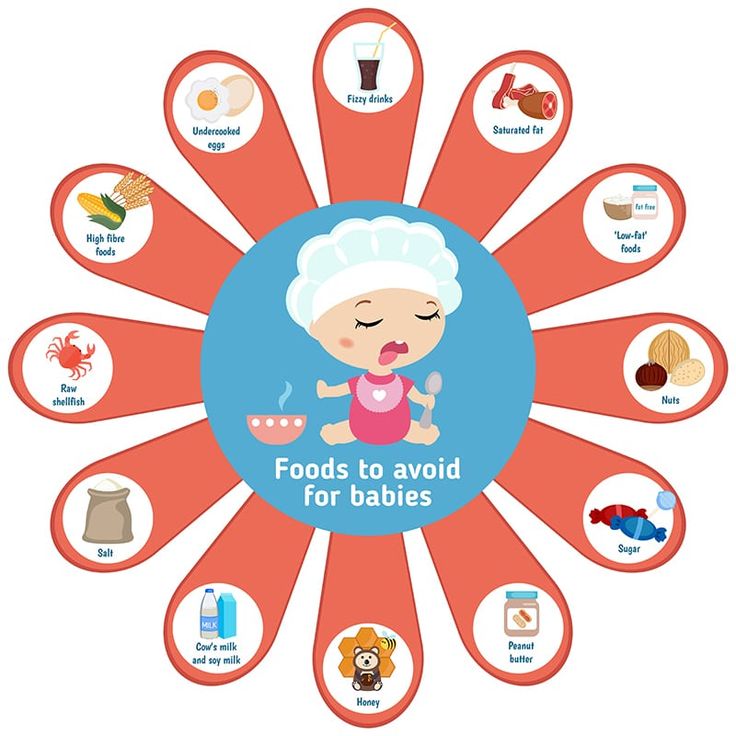 Babies refuse to eat every now and then for lots of reasons: They're tired, sick, distracted, or just full. Don't force-feed your baby, but do talk to your child's doctor if you're worried.
While picky eating may linger for weeks, even months, it rarely lasts. Your baby can become a picky eater for lots of reasons, says Ward. When babies aren't feeling their best -- like when teething -- familiar foods provide comfort. Or maybe your baby just isn't ready to try a new food. Make sure you don't give the baby junk food just because that's all they want. Offer healthy foods, and a hungry baby will eventually eat them.
Up to 8% of children have food allergies. Symptoms such as rash, diarrhea, vomiting, or stomach pain can show up suddenly. Though kids can be allergic to any food, milk, nuts, eggs, soy, wheat, and shellfish are the most problem foods. Food intolerances are more common than allergies and may cause gas, bloating, and belly pain. If you suspect a food allergy, work with your child's doctor to find safe foods.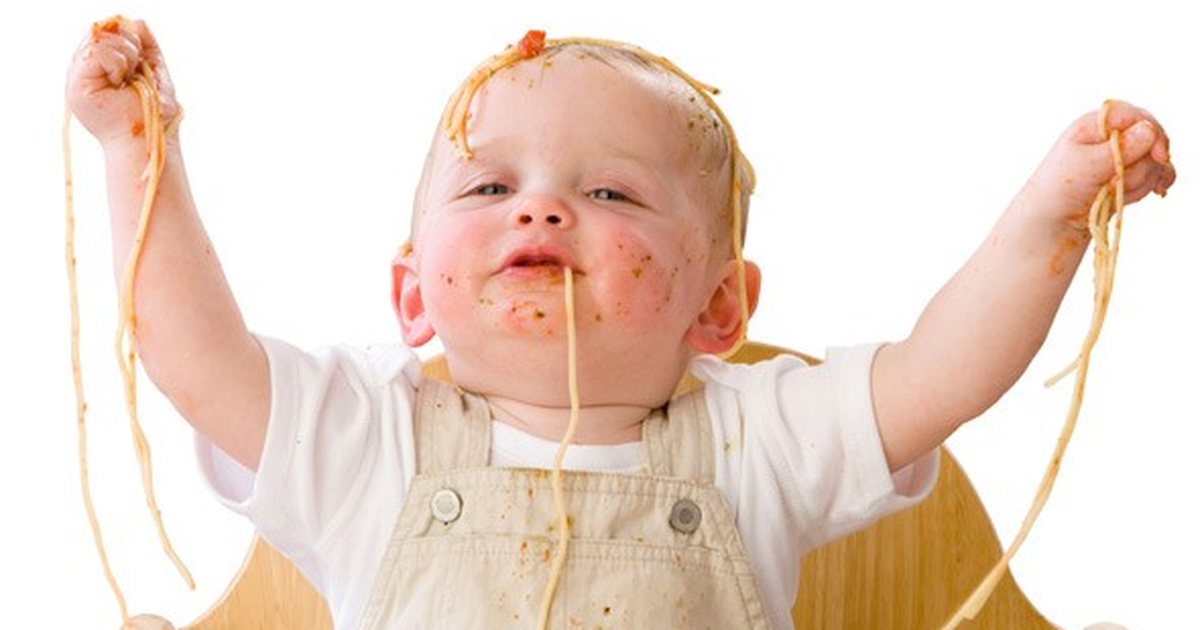 As many as 2 out of 5 babies cope with colic -- crying for hours at a time. Colic can start when a baby is 3 weeks old and usually goes away by their 3rd month. While colic won't affect your baby's appetite or ability to suck, a colicky baby may need time to calm down before they eat. And they may be inclined to spit up a little once they do. However, call their doctor about vomiting, diarrhea, fever, weight loss, or blood or mucus in their stool. These are not symptoms of colic.
Diarrhea can quickly lead to dangerous dehydration. Signs include dry mouth, decrease in urination or wet diapers, no tears with crying, weight loss, lethargy, or sunken eyes. All are worth a call to baby's doctor.
Babies are rarely constipated. And it can be hard to tell if they are because how often babies have bowel movements can vary. For example, babies who only breastfeed may have a firm stool just once a day. Signs of constipation include hard stools that can be large and painful, and blood around the stool.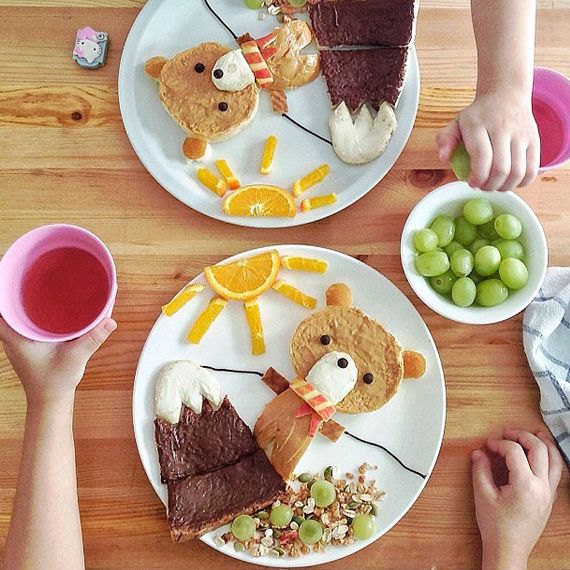 Before trying home remedies, talk to your baby's doctor.
Is jarred baby food the cause of your baby's digestive issues? It could be if you feed them directly from the food jar and save the leftovers for another meal. Doing that can introduce bacteria from your baby's mouth into the food where it waits until the next time your baby eats it. When baby eats the leftover food it can lead to tummy trouble such as vomiting, diarrhea, and other symptoms.
Sometimes mom and dad may be the source of baby's feeding problem. "There's a temptation to give older infants the same foods you're eating," says Ward. But that's never a good idea if what you're eating is junk. Start giving baby sweet, salty, or fatty foods now and it'll be hard to keep break your child's unhealthy eating habits when they are a toddler.
A baby's undeveloped gastrointestinal system can't deal with some foods that an adult's body can. Honey, for example, may lead to infant botulism, which can be fatal. Always steer clear of chunky foods that pose choking hazards such as popcorn, hot dogs, raw fruits and veggies, raisins, and meat or cheese chunks.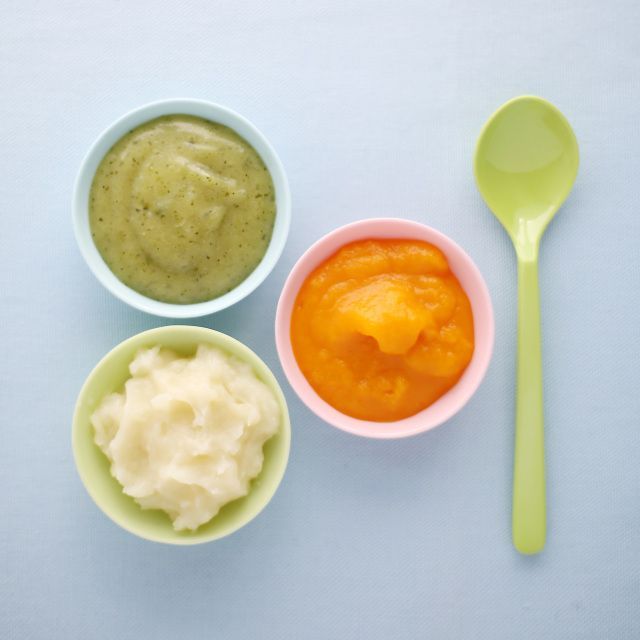 Because so many things could be causing your baby's feeding problems, it's a good idea to talk to your doctor if you're worried. Always call your child's pediatrician right away if your baby is losing weight; if they gag or vomit when they have certain foods; if you suspect diarrhea, dehydration, or constipation; or if you think they have reflux. You shouldn't feel shy about talking with your child's doctor if you have any questions or concerns.
IMAGES PROVIDED BY:
1)    Pixtal Images / Photolibrary
2)    Christoph Ermel / iStock
3)    Julian Winslow / Ableimages
4)    Harald Eisenberger / LOOK
5)    Ryan McVay / Stone
6)    Kevin RL Hanson / DK Stock
7)    Terry Vine / Blend Images
8)    SimplyMui Photography / Getty
9)    Betsy Van Der Meer / Taxi
10)  Peter Cade / Iconica
11) Jason Edwards / National Geographic
12)  Purestock / Getty
REFERENCES:
Elizabeth Ward, MS, RD, registered dietitian; author, The Complete Idiot's Guide to Feeding Your Baby and Toddler.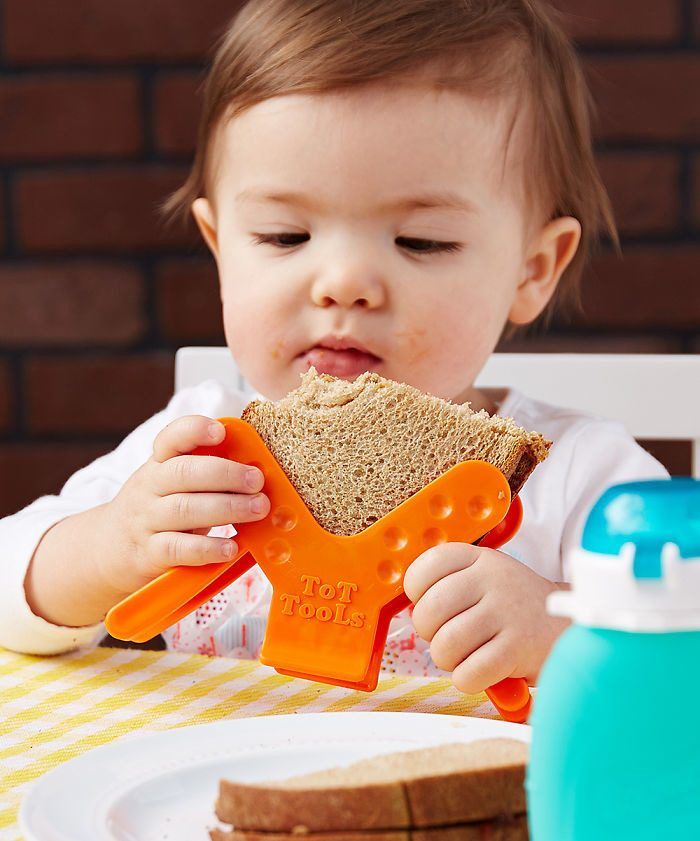 Piette, L. Just Two More Bites: Helping Picky Eaters Say Yes to Food, Three Rivers Press, 2006.
American Academy of Pediatrics. Caring for Your Baby and Young Child: Birth to Age 5, Bantam Books, 2009.
Children's Hospital Boston: "Newborn Gastrointestinal Problems."
National Digestive Diseases Information Clearinghouse, National Institutes of Health: "Gastroesophageal Reflux in Infants."
National Society for Pediatric Gastroenterology, Hepatology, and Nutrition:  "Pediatric Gastroesophageal Reflux Clinical Practice Guidelines."
Mackonochie, A. The Practical Encyclopedia of Pregnancy, Babycare and Nutrition for Babies and Toddlers, Lorenz Books, 2006.
National Institutes of Health: "Food Allergy."
American Academy of Family Physicians: "Feeding Problems in Infants and Children."
KidsHealth.org: "Your Colicky Baby."
ADD American Academy of Pediatrics, healthychildren.org: "Diarrhea" and "Constipation"
Children's Hospital Boston: "Newborn Gastrointestinal Problems.
"
American Dietetic Association: "Don't Feed Baby from the Jar," "Introducing Solid Foods."
Dr. Greene.com: "Honey and Infant Botulism."
The New York Times: "Labels Urged for Foods That Can Choke."
Children's Physician Network: "Picky Eaters."
© 2020 WebMD, LLC. All rights reserved. View privacy policy and trust info
What to do if the child does not eat well.
Child from birth demands to eat instinctively . If the child is healthy, he eats as much as his body requires. Over the years, our instincts weaken and eating behavior begins to rely not only on the needs of the body, but also on:
socio-psychological environment
experience
emotional state
It is very important to be able to distinguish between a true decrease in appetite and a false one. If false, there are no problems with food or health, but at the same time, parents are unhappy with the amount of food eaten.
To diagnose a child's eating behavior, it is necessary, first of all, to clarify the general state of the child's health, his activity, growth and weight indicators and their dynamics, and especially the rhythm of nutrition.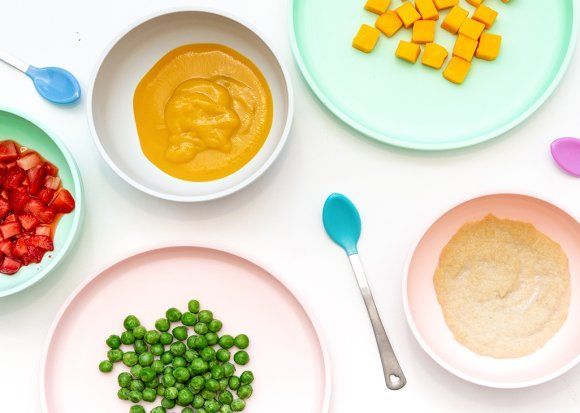 Types of refusal to eat:
A child older than 1.5–2 years does not eat certain food groups. For example, refuses vegetables, meat or cereals.
The child bites and eats mainly junk food: sweets, fast food and processed meat (sausages, sausages).
A child older than one and a half years old eats only liquid, homogeneous food (for example, milk, formula or puree).
The child refuses any food and goes on hunger strikes
The child experiences fear when eating due to some trouble that occurred while eating.
For diseases of the oral cavity and disorders of the digestive system. The child avoids pain when eating or after eating.
The child may not eat well when he is not feeling well. This is a normal human reaction to the disease.
Increased nervous excitability. An excited child can hardly secrete the required amount of saliva, so it is difficult for him to have dryish food. If you are under a lot of stress, you may have trouble swallowing due to throat spasms.
Consequences of refusal to eat:
the child does not gain weight for a long time, growth and lags behind in physical development
chronic eating disorder, deficiency of vitamins and microelements layer is very thin. There is a decrease in immunity, a tendency to frequent infections and their protracted course; fatigue and general weakness.

If diseases are ruled out, in most cases the problem of the child's selective appetite can be solved by parents on their own.

What to do?

Lots of recommendations. To normalize the appetite will have to spend a lot of time and effort. Therefore, be patient.

There is one simple rule that helps to determine the amount of food a child needs: the number of spoons of each meal eaten must be at least the number of full years0004 . You can conclude a kind of contract to comply with this rule. If the child understands the agreements, he can correctly calculate his strength and build expectations . Large plates can scare a child, as can huge portions.
Think about how a child usually eats. If it is filled with persuasion, quarrels, threats of punishment, then a decrease in appetite is quite natural. Our psyche is arranged in such a way that the emotional coloring of events occurring at the same time is mixed and attached to each other . If food becomes a cause of conflict with parents, the child experiences unpleasant emotions - resentment, shame, anger, etc. These emotions are superimposed on all meals. Try not to force him to finish his plate, do not threaten punishment. The more you force, the more the child will resist. Make your meal a pleasant event of the day in a warm family circle with a beautiful table setting.
However, the opposite situation also happens: the mother, on the contrary, does not offer food too persistently. There is an opinion: you need to make 8 to 15 unobtrusive attempts, preferably in a playful way, so that the child gets used to unfamiliar food. Use little tricks. Offer new foods to your child to choose from - for example, from 2-3 dishes. This will help him understand that his opinion is taken into account in the family. Replace products. Try different types of meat - the child will surely choose something for himself, because he needs iron in an easily digestible form, which can only be obtained from meat products. Add mince to vegetables. Use different cooking methods.
Selective appetite develops in children of parents who use food as a reward or as blackmail: "If you don't eat soup, you won't go for a walk." Pediatricians emphasize that food is a source of nutrients, fuel for the body, and not a means of manipulation.
You should not feed a child mechanically when he is engrossed, say, in playing or watching a movie - many children eat well under advertising or on a tablet, not feeling the taste of food at all, which ultimately only reduces their appetite.
Children are much more willing to eat what has been cooked with them, so feel free to involve them in the cooking process. Turn cooking into an exciting joint creativity, and you will see how the child gradually changes his attitude to food.
If a child does not want to eat, it means that he did not spend enough energy and did not have time to get hungry. To awaken the appetite, you need to increase energy consumption: walk in the fresh air, ride the slides or offer classes in the sports section. The more energy children expend, the better their appetite.

Do not forget also that small children always imitate their parents, and if they are picky in food, their children will adopt this habit from a young age.




Have questions? Write to the doctor.

Application sent

This field must be at least 2 characters long.

This field must be at least 2 characters long.

This field must be at least 2 characters long.

I agree to receive information from the medical center "Angio Line"

The child does not eat well - what to do?

Main

\

Angelina Sinelnikova

\

The child does not eat well - what should I do?

\

Healthy eating

All articles in the Healthy eating category Especially if children are forced to eat "more". Sometimes the child is naughty and refuses to eat lunch in favor of a snack. And sometimes the loss of appetite becomes already chronic. And, of course, parents are worried that the child is not eating well - what to do in this case?

If your child is not eating well, but does not refuse food, first of all, reconsider the portion size. It is set individually for each, and sometimes it is better for a child to eat smaller amounts of food at a time. But then you can add an additional light meal.

If the baby's appetite has become worse, this may be due to some diseases. For example, SARS or intestinal dysbacteriosis. But these patterns are easy to spot. It is unlikely that anyone will be surprised that during the illness the child began to eat poorly. Most often, on a seemingly even place, the appetite disappears when the child is strongly pressed. It just so happens that children, like adults, have an instinct to be stubborn. They do not like it if they are persuaded for a long time to eat something else. As a result, the child has bad associations with food, and as a result, he already avoids the kitchen table.

What to do if the child does not eat well for this reason? Try loosening control a bit. When offering your baby food, do not force him to empty the plate. Also, try to serve breakfast, lunch, and dinner at the same time.