Baby feeding schedule chart template
A Newborn Feeding Chart That Works (With Printable!)
What's in this post...
Inside you'll find all you need to know to put into a newborn feeding chart and then have a printable one for yourself! Whether or not you are interested in sleep training, this will get you started on a great solid routine. 
---
I gave birth to my firstborn in a hospital in Aberdeenshire, Scotland.
With a midwife whom I'd never met.
It all happened so fast and no one thought I was actually near 10 cm because they hadn't checked dilation since I wasn't in much pain. Must not be close, they assumed.
But really I'm a redhead and my pain signals are all jacked up so then it was go time before we knew it.
"But I don't even have the paperwork ready…" she said in a sort of sweet and confused voice.
"IT'LL WAIT!" I yelled.
Fast forward a few days…
Fast forward a few days and I was ready to start tracking my baby's feeds.
I couldn't remember which side she had fed from or if she was feeding enough and I felt stressed.
I wanted to write it down and keep it in her nursery. So I used a pen and a little notepad and over the next few weeks kept diligent track to make sure things seemed okay.
They were!
Read: The ultimate newborn napping, feeding, and sleeping schedule
Newborn Feeding Chart
Use this simple printable chart to track your feeds to make sure baby is fed, your supply is up, and everyone is well.
Basic Feeding Tips For The Early Weeks
(Psst… you can scroll down and get your free downloadable newborn feeding chart).
Here are some basic rules of thumb when it comes to feeding newborns. Talk to your pediatrician or nursing consultant if you have any issues, but for most babies these principles will help you have a calm, contented baby.
Read: 8 reasons you've got a fussy whiny little one
Focus On Filling Baby Up
Newborns are sleepy.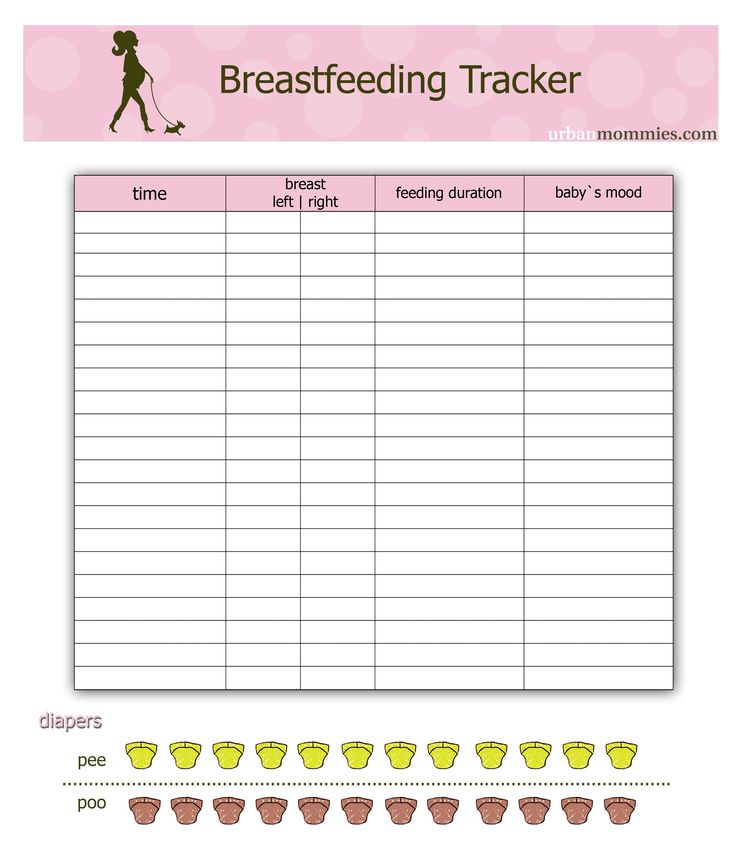 They want to feed a bit then nod off. This is not a good idea for a few reasons, listed below.
To keep track of whether or not your baby is taking full feeds, scroll down and get your free newborn feeding chart so you can keep track.
Babies do not get the breast milk most rich in fat and calories (the hind milk) because if they nurse for a short period they're only getting the fore milk (less density which means less filling).
Also, they will not go into a deep sleep (which takes around 20 minutes) and then when they transition through sleep cycles (around 45 minutes or so after they've gone to sleep) they'll wake up out of hunger.
You will be feeding baby every hour all day long.
Related Reads:
What To Do When Baby Is Feeding Every Hour (& Not Sleeping!)
Feeding Baby Through One Year
Newborn Settling Guide
Tried-and-true *hands on* newborn settling strategies that even the most fussy (or wide-awake-sleep-refusing) newborns cannot resist!
Learn More
Feed Unswaddled By Day And Swaddled By Night
We want our babies to know the difference between night and day so they'll have their wake times in the day and sleepy time at night.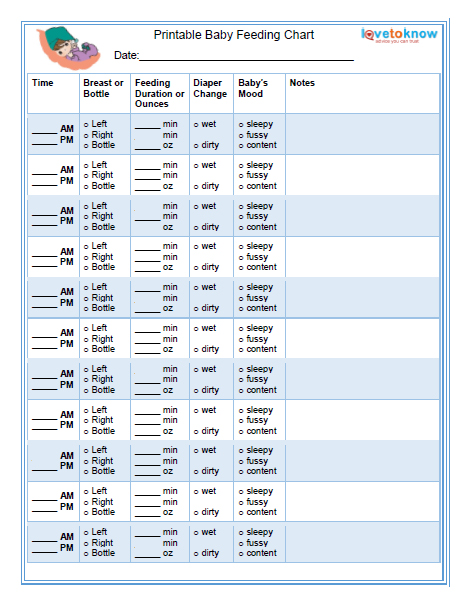 This means that we create certain associations with being awake and other associations with sleep. One of those is the swaddle. You should swaddle from Day One because this will decrease the likelihood your baby "fights the swaddle."
I had 5 babies and none fought the swaddle because we did it from Day One and there simply wasn't an option. 
Babies who are not swaddled will wake frequently or nap lighter since the startle reflex (moro reflex) will cause their arms to rise up and "startle."
If they aren't in a deep sleep cycle this might be enough to wake them.
During the day unswaddle them to feed so you're communicating wake time. At night, unswaddle the bottom of their swaddle (the swaddles perfect for this shown below) to change their diaper, then reswaddle them and feed swaddled. This means baby will essentially sleep through the feed. Voila!
Read: How to clear up daytime and nighttime confusion in babies
Bring Baby To You, Don't Lean Towards Baby
Those midwives in Scotland had it going on.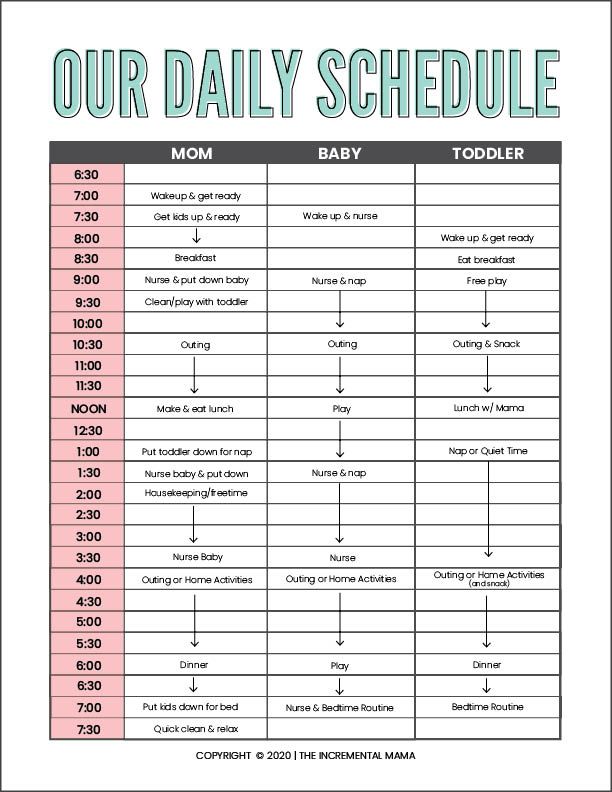 Not only did they give you all the logistics while you were in the hospital, they visited you for a few weeks AT HOME during the postpartum period.
You could ask them absolutely anything about anything and they helped make it all work. One thing they gave me in my welcome packet was a DVD on how to get baby to latch properly.
With 5 babies I have had 0 issues with latching on and I'm telling you this works.
Instead of leaning down onto baby, position the breast and the baby's head so that you push the baby onto your breast.
This means your bringing baby where the milk is, not trying to bring the milk down to baby. And, it means this will make for a better latch.
Related Reads:
The Difference Between Midwives And Doctors
How To Get Your Newborn To Sleep Well From Day One
Newborn Feeding Chart
Use this simple printable chart to track your feeds to make sure baby is fed, your supply is up, and everyone is well.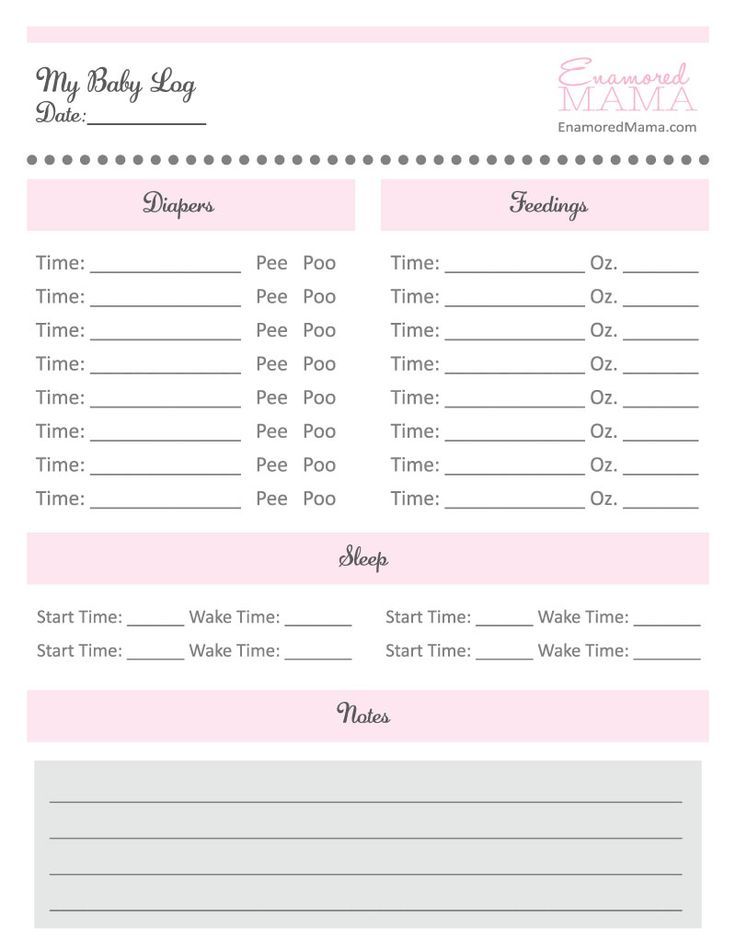 Example Daily Rhythm
Newborns have tiny tummies. You'll be feeding baby around the clock for weeks at a time. However, by giving full feeds and keeping baby awake during feeds (which can be a feat) you'll be able to increase the time between feeds providing baby with more restorative naps.
Initially you want to aim for feeding baby every 2.5 to 3 hours. So you may feed at 6 am, 8:30 am, 11:00 am, then 2:00 p.m.
The only reasons baby should feed less than 2.5 hours apart are these:
Baby is not feeding enough at each feed (not getting calorie rich hind milk or enough ounces of formula)
They are going through a growth spurt.
You are cluster feeding in late afternoon early evening on purpose.
Read: The Easy Peasy Newborn Routine That Makes For Happy Babies
A Printable Chart That Works Like A Charm
I've created a newborn feeding chart below where you can record what times your baby is feeding and use that to find a good rhythm for you and your baby.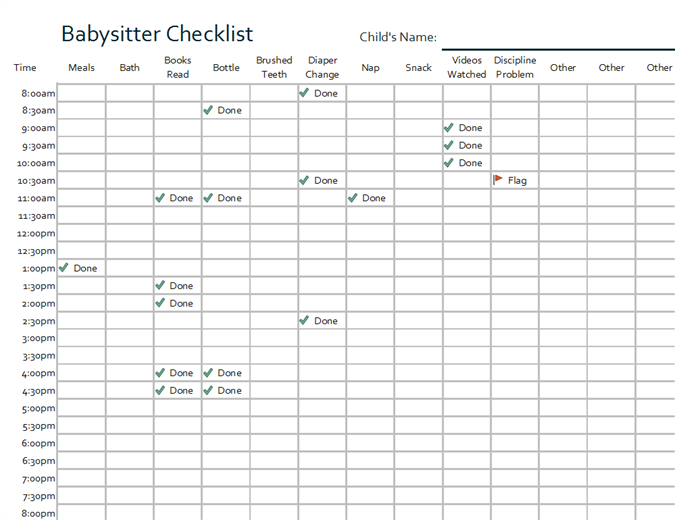 Read: The Dreamfeed: The Why, The How, & When To Stop
Is baby sleeping okay?
Baby bedtime can begin to feel like an actual nightmare.
Moms just want baby to sleep well. You just want to have some peace and quiet after a long day of momming and yet you are spending so much time trying to comfort an exhausted baby and wondering where it all went to pot.
Because moms with babies are busy (and tired) I created a set of nitty gritty baby sleep checklists that get straight to the point.
Things to look for if your baby is sick.
Habits to check if your baby won't sleep at night.
What to do if your baby won't go back to sleep at night.
And so much more!
It's not usually some major problem that's causing baby sleep issues, it's usually something small. Use these checklists and get some clarity today.
Read: Cocooning a Newborn & 7 Reasons Why it Can Be Good For The Family
Newborn Feeding Chart
Use this simple printable chart to track your feeds to make sure baby is fed, your supply is up, and everyone is well.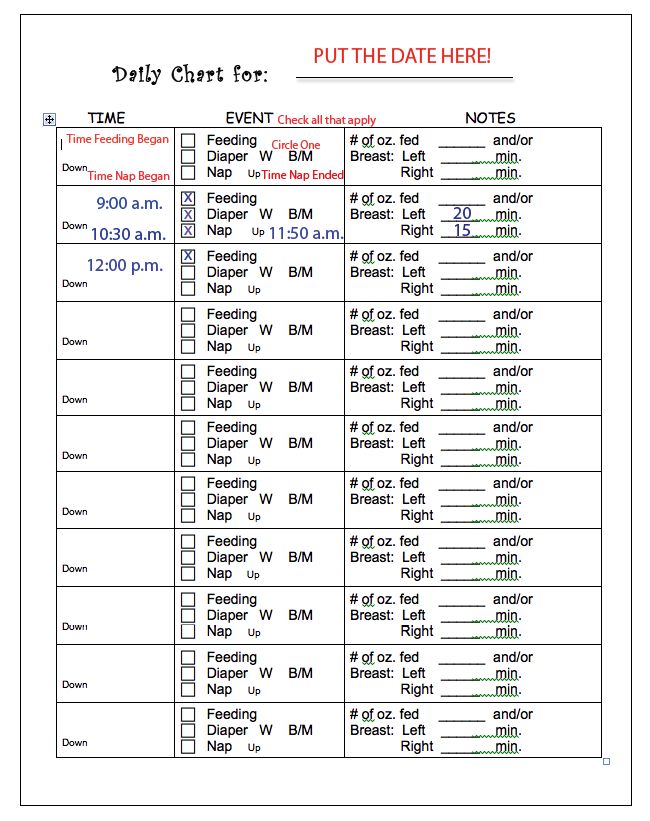 Sources:
The importance of schedules and routines
Routines minimize chaos which promotes resilience and regulation
Routines indicators of predictable family life contributing to childhood development
Family Routines Reboot
Take our 3 day challenge to create life-giving family, child, and self-care routines.
Learn More
::
Download Breastfeeding Log With Feeding Guide Excel Template
Breastfeeding Log is a ready-to-use excel template that helps a mother to record feeding times easily along with a recommended feeding schedule for the first year for a newborn.
This template also consists of a printable version of the Breast Feeding Log that helps you maintain a record without any smart device.
An adequate amount of breastfeeding is necessary for a newborn child. Hence, doctors recommend maintaining a log of breastfeeding.
This time of the newborn is crucial for the growth and if adequate amounts are given at proper intervals helps in proper growth of the newborn.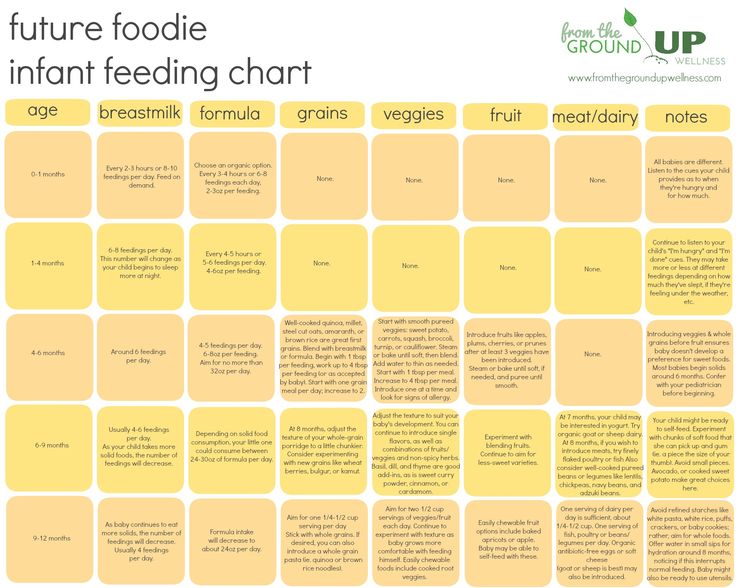 You can find applications on mobile phones that help to do so, but as it is advisable to keep the newborn away from the radiation of smartphones.
Why Breastfeeding Is Important?
There are many benefits of breastfeeding. First and foremost is that it is the natural source and has no side effects. It is most advisable for a mother to breastfeed the child rather than providing external formula feeding.
Health Benefits of Breastfeeding
It provides nutrients required by the newborn in proper proportions.
Protects from allergies, obesity, and sickness.
Easily digestible and hence fewer chances of diarrhea.
Babies have healthier weights.
Other Benefits of Breastfeeding
Available as and when required subject to conditions.
It is at the right temperature that a newborn requires.
It is clean and free.
No wastage.
Strengthens the bond with children.
Source: https://www.
health.ny.gov
Breastfeeding and Food Schedule
Giving solid foods at an early stage is not advisable. Please consult your child's healthcare provider before you do so. External foods shall not be given to the newborn for the initial 4 months.
The reasons are:
The intestines of a newborn aren't developed enough to digest solid foods.
It can lead to obesity and improper growth.
The Lucile Packard Children's Hospital has given detailed research about which food to give and when to give along with their proportions that are advisable for the newborn.
You can read the research here:
Feeding Guide for the First Year
Breastfeeding Log Excel Template
We have created a simple and easy Bay Feeding Log Excel Template that will help you record the date, time and duration of the feeding.
In addition to this, there is also a printable version of the same that will help you maintain the record on a printed sheet. This printed sheet you can carry to when you visit your pediatrician.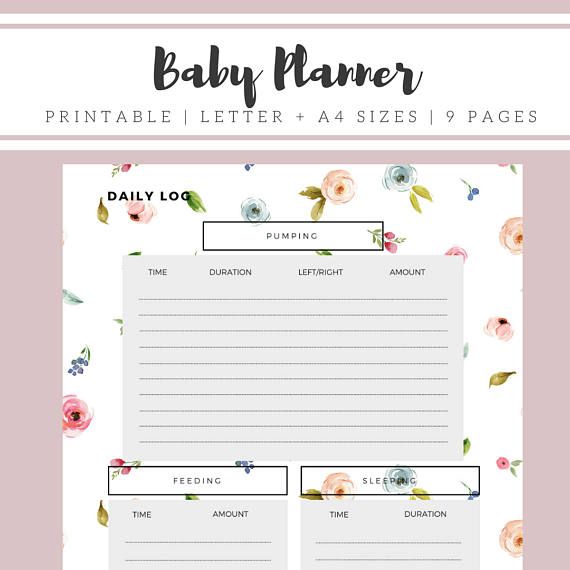 Furthermore, it also consists of a recommended schedule of feeding that you must follow for the proper growth of the child.
Click here to download the Breastfeeding Log Excel Template.
You can download other health & fitness templates like Baby Food Log, Blood Sugar Log, Blood Pressure Log, Food Calorie Calculator, Weight Loss Log and much more.
Let us discuss the contents of the template in detail.
Contents of Breastfeeding Log Excel Template
This template consists of 3 sheets:
Daily Feeding Log.
Printable Feeding Log
Recommended Feeding Schedule for the First Year.
Daily Feeding Log
In this sheet, you can maintain a record of daily feeding with the date, time and duration of the feed. There are two sections in this sheet, one is for the personal information of the child and the second section is for daily feeding log.
In the personal information you just need to enter 2 details; the name of the child and his/her birthdate.
Once you enter the birthdate, it automatically calculates the age of the child in terms of years, months, and days.
The second section is for a daily feeding log. It consists of the following columns:
Date: Insert Date.
Day: This field is auto-populated. It will fetch the day according to your entered date.
Time: Insert Time.
AM/PM: Select AM or PM of time from the drop-down list.
Breast Side: Select the breast side, left or right from the drop-down.
Duration: Duration of feeding.
Complications (if any): If there are any problems, you can note them in this place to report to your pediatrician.
Printable Breastfeeding Log
This sheet is the replica of the previous sheet. It is a colorless and ink-saker format. You can print the sheet and keep it beside your baby's cradle or your bed.
Click here to download the Printable Breastfeeding Log.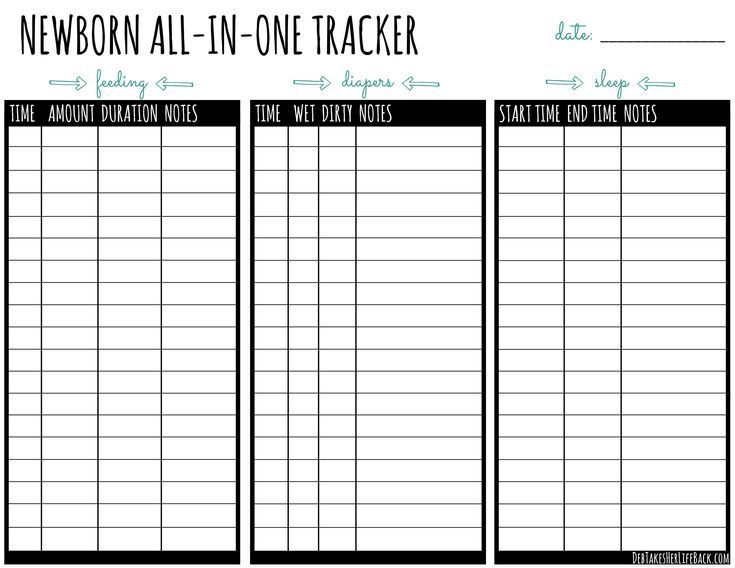 Recommended Breastfeeding Schedule for the First Year
This list has been compiled from the research described earlier. It provides the age-wise recommended amount of feeding a newborn must get along with feeding times.
This template can be helpful to mothers and pediatricians can also share the same with their patients.
Disclaimer: This template has been created with a general overview. It is highly recommended that you consult your Pediatricians or Health Care Professional for the limits of giving breastfeeding and other related issues. 
We thank our readers for liking, sharing and following us on different social media platforms.
If you have any queries please share in the comment section below. We will be more than happy to assist you.
Free Excel Schedule Templates
Schedule is an important part of our life. With the help of schedules, we not only allocate our time, but also reduce stress, assess our progress in doing work, and prepare ourselves for unforeseen events.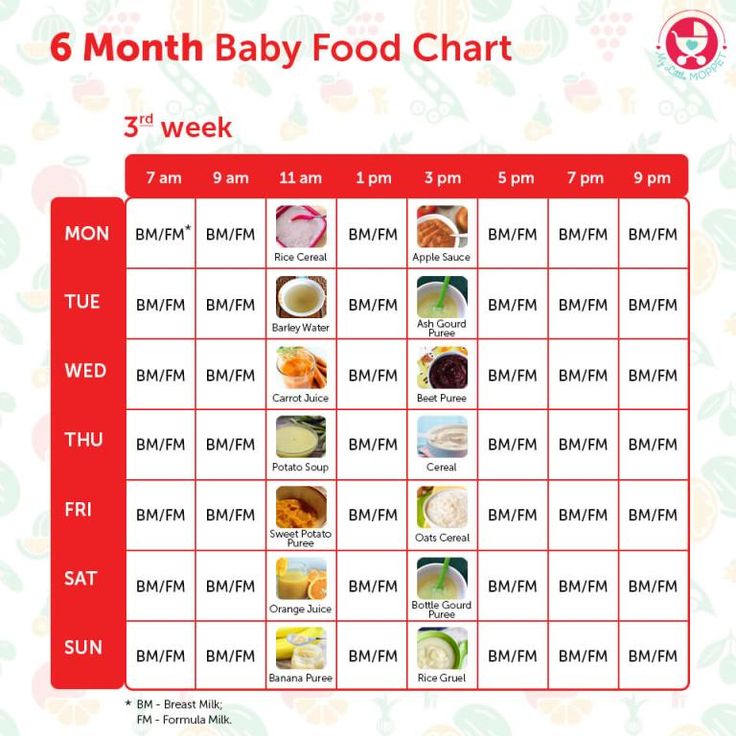 Whether you're creating a to-do list or planning an event. Whatever you do, a schedule will help you stick to your goals and never lose sight of anything.
A template is the easiest way to create a schedule. In this article, you will find a description of the best schedule templates for the day, week, and month in Excel, as well as step-by-step instructions for finding the templates that suit your tasks and customizing them.
You'll also learn how to use the schedule template in Smartsheet, a spreadsheet-based work management tool that lets you create schedules faster than Excel, while offering more formatting options and collaboration options.
Download a daily, weekly, or monthly schedule template in Excel
You can find a large number of schedule templates in Excel, including monthly, weekly, and note-based schedules. These templates already contain formatting, so you only need to add your data to them.
So how do you know which of the available schedule templates is the easiest to use? We have already looked through existing templates and found the best daily, weekly and monthly schedule templates in Excel.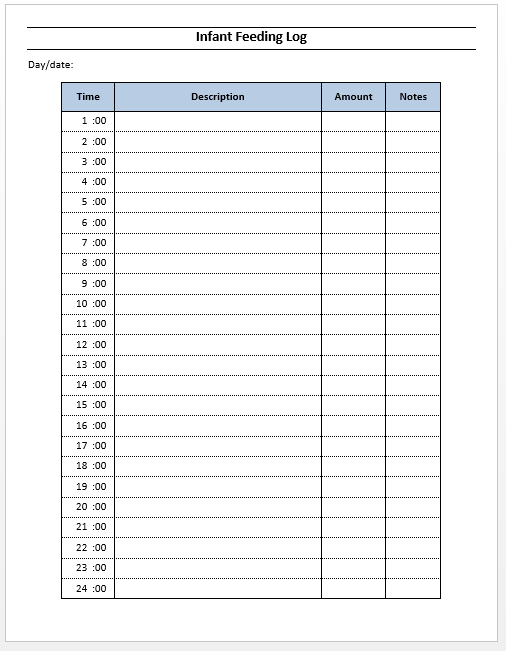 Excel Weekly Schedule Template
The Excel weekly schedule template breaks each day into morning, afternoon, and evening, so you can adjust the amount of space needed for each of these parts.
Main uses:
School/University Schedule: Class Schedule is a high level view of all your classes. You can quickly populate your schedule with subject information such as subject name, classroom number, and class times, and thus better manage your time throughout the week.
Housework Schedule: Organize your household to-do list. To do this, print out a weekly schedule template, fill it out with daily tasks such as vacuuming, mopping, dusting, and then designate a family member to be responsible for each task.
Worker Shift Schedule: With the Worker Shift Schedule you can always make sure that your employees go to work on the correct schedule. Assign working hours for each employee and determine their workplace or position (manager, cashier, technical support, work in the reception). You can even add a column for weekly hours worked for each worker.
Travel itinerary: with a weekly itinerary you will never miss a plane, train or bus. Track departure and arrival locations, flight numbers, airport locations, hotel room reservations and more. All important data will be in one place, and you will not be late anywhere.
Project Schedule: Coordinate tasks, deliverables, due dates, assignees, and other project elements with a project schedule. Be sure that your project will be completed on time and manage the allocation of resources.
 Download Free Weekly Excel Template (Mon-Fri)
 Download Free Weekly Excel Template (Sat-Sun)
Excel Daily Schedule Template
The daily schedule template usually also covers Saturday and Sunday and includes hours in 30-minute intervals. This type of schedule offers the most detailed view, allowing you to keep track of even the smallest tasks throughout the day.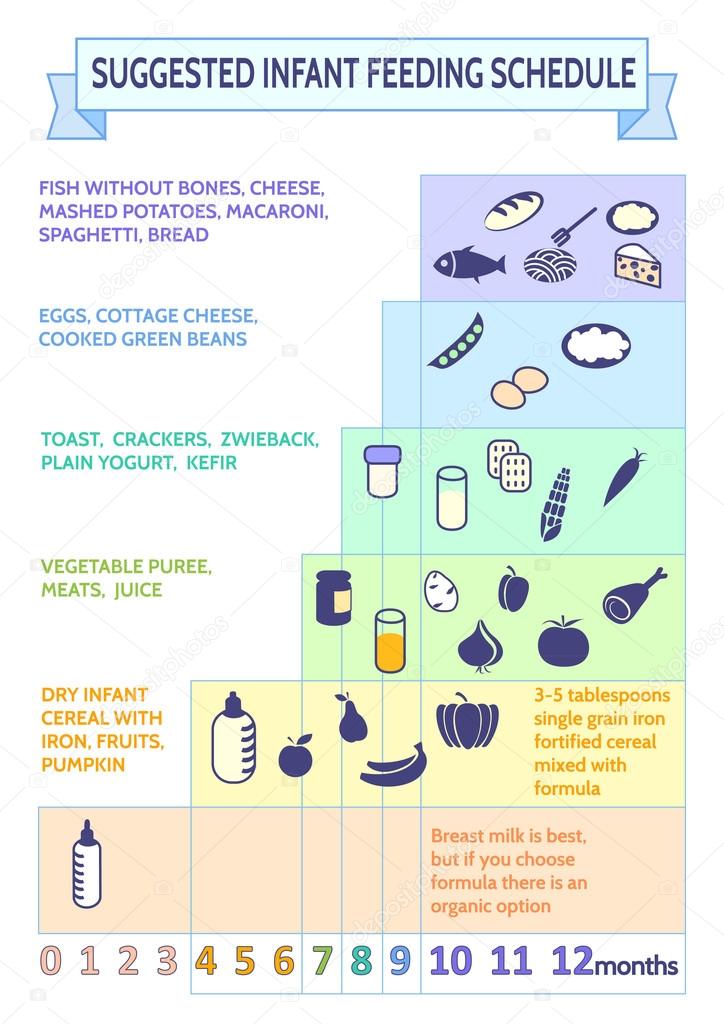 Main uses:
Personal appointment/meeting planner: manage all your daily personal appointments and meetings. The schedule for the day can be printed and carried with you so that it is always at hand.
Task List Planner: Instead of writing down all your tasks in an endless list, break them down and distribute them by day of the week so that you know exactly what needs to be done every day. Assign tasks at different times of the day and cross off those that have already been done.
Baby Feeding Schedule: Record the exact time your baby feeds throughout the day so you can keep a proper schedule. You can also track the duration of feedings and add the total number of feedings per day.
 Download Free Excel Daily Schedule Template
Excel Monthly Schedule Template
The Monthly Schedule Template offers very detailed details of the whole month.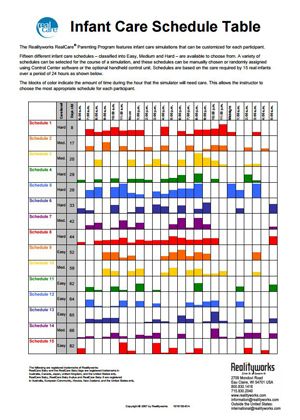 Each of the 12 months in 2016 has its own Excel file tab.
Main uses:
Seasonal maintenance: Remind yourself when it's time to change the filters or oil in your car, prepare your house or summer cottage for winter, change batteries in fire detectors, etc. using the seasonal maintenance schedule. Add all the tracking items at the beginning of the year and hang the schedule in your garage or fridge.
Monthly menu planner: plan your meals for the whole month with the menu planner. Write down your ideas for breakfast, lunch, afternoon tea and dinner for each day of the month, print out this schedule and use it as a shopping list the next time you go to the store.
Event Schedule: Use the Monthly Event Schedule to coordinate dozens of scheduled events and tasks. Add deadlines and performers to make sure you stay on schedule.
Download Free Monthly Excel Template
Smartsheet Weekly Schedule Templates
These weekly schedule templates cover all 7 days of the week, Monday through Sunday.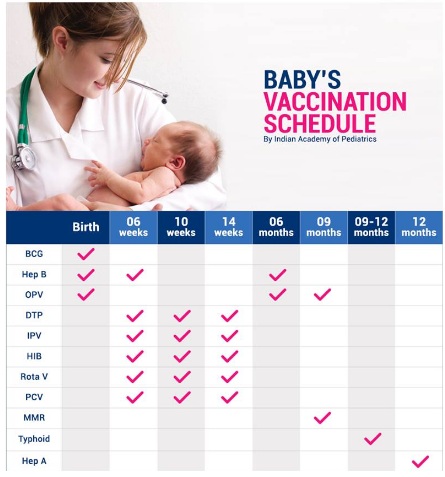 Many templates use hierarchies to organize information, containing child rows that you can collapse or expand to hide or display specific dates or tasks.
All of these templates highlight the collaboration features of Smartsheet. For example, in the weekly class schedule, you can choose to color-code the class so that you can quickly visualize your weekly schedule. In the lunch planner template, you can add links to your favorite recipes for quick access, and in the weekly house cleaning schedule, you can assign household tasks to specific people so that the whole family has something to do.
Liner planner for week
Schedule of house cleaning for week
Classes for week
Work schedule for week
Similar schedule for week
Schedule of work shifts for week
Travel route 9000 9000 9000 9000
scheduled schedules per day in Smartsheet
Weekly schedules in Smartsheet are broken into 30-minute intervals between 7:00 AM and 9:00 PM.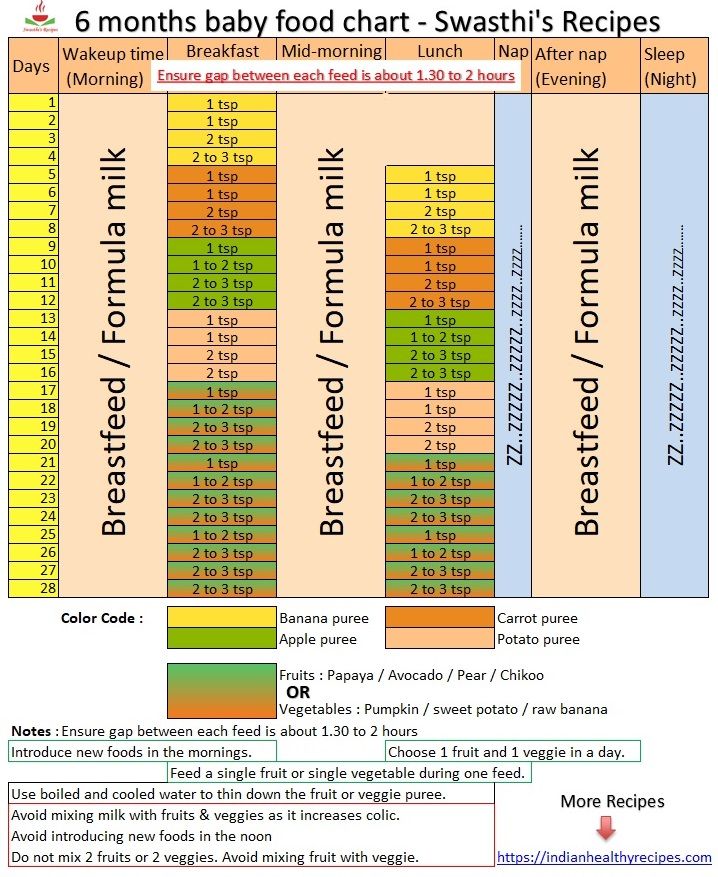 If you need a schedule covering more or less time, just right-click on a cell and choose Delete Row or Insert Row. Use the symbols (stars) on your daily to-do list to prioritize and set reminders for your daily appointments, meetings, and work tasks so you never miss anything.
Working schedule for day
List of cases for day
Schedule of meetings and techniques for day
Schedule templates for a month in Smartsheet
These templates include all months of 2016, and you you can determine how much space you want to allocate for each month by adding or deleting rows. If you want to change any date in the schedule (for example, you need to change the year), just enter the first few dates manually, then select those cells and drag the bottom right corner of the selected group of cells down to autofill.
Add discussions directly to your project schedule template to offload your email inbox, automatically create dynamic Gantt charts, and use symbols to quickly communicate current status, priority, and progress.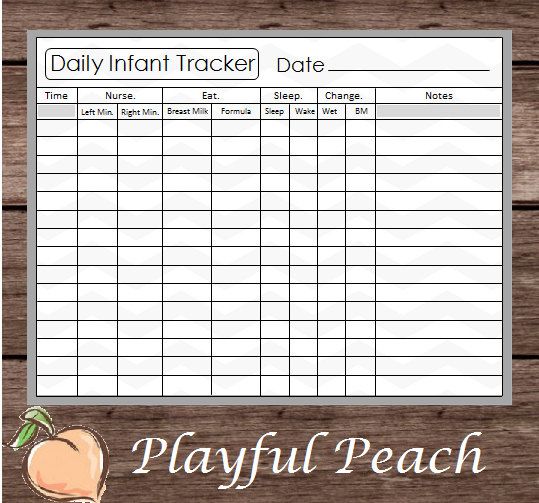 Monthly event schedule
Monthly project schedule with Gantt chart
Sports roster and weekly schedule
Project schedule template
Which schedule template to use?
So, the schedule that suits you has been chosen. It can be a daily, weekly or monthly schedule. Now you need to define the structure, the type of duration (Monday-Friday or Saturday-Sunday), configure the settings for sharing and printing. All of these factors need to be taken into account, so choosing which template to use can be tricky.
When looking for a suitable template, pay attention to the following:
1. The time span or duration of the schedule.
First of all, you need to determine what schedule you need: for a day, a week or a month. Daily schedule is the only template that contains duration in hours (at 30 minute intervals), weekly schedule duration is a breakdown into morning, afternoon and evening, while the monthly template contains the minimum granularity - duration is measured in days .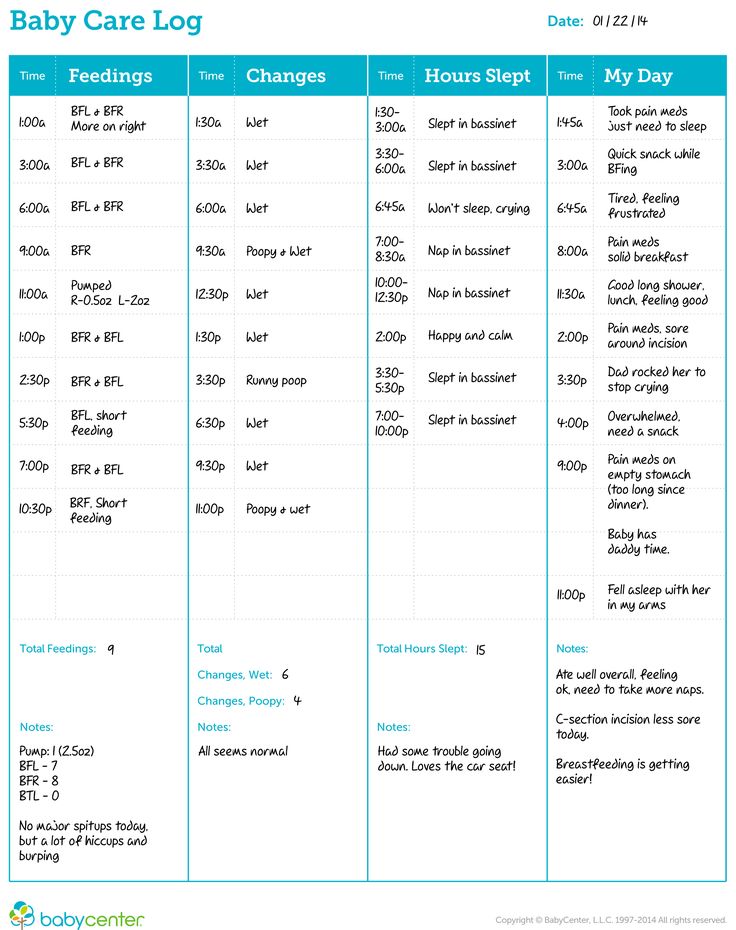 Choosing the right template for the type depends on the events, tasks, and projects that you want to track with the schedule. For example, if you need to structure your to-do list or appointments, daily schedules are best. If you need to track longer tasks or recurring events, you need a template that spans a longer period of time.
2. Who will use this schedule?
Consider who will have access to your schedule? Will it be a document just for you, where you will track personal tasks? Or is it a homework and task schedule that you plan to print out and stick on your kitchen fridge or email to your family members? Or will it be a document that you will use at work and that your colleagues and freelancers can use and edit?
If you plan to share a document with more than one person, we recommend finding an online version of this template to make it easier for you to share, collaborate, and edit the document in real time. If it's going to be your personal document, make sure you find a template with the most customization options and printing options for your needs.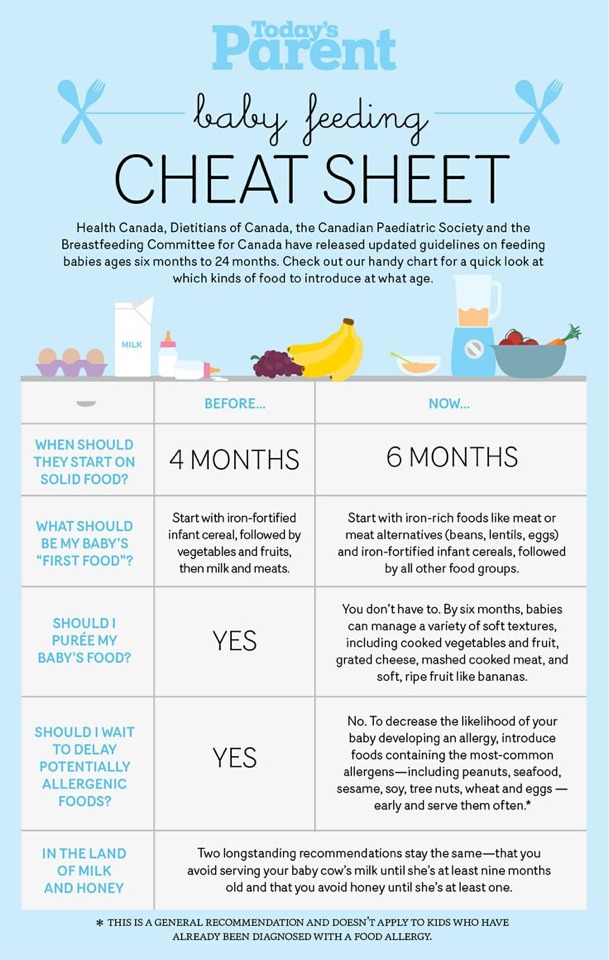 3. What events and projects should be monitored?
You can choose the level of detail for the duration of your schedule, but you also need to specify what details to add to your template and the number of items the template should display.
To get an idea of ​​how complex and detailed your events or projects will be, write down on a piece of paper a few events that you plan to add to the schedule. Specify all the details that you want to mark in the schedule (task name, details, person responsible for the execution, due date, location, contact details, etc.). This exercise will help you understand how much space you can have in your schedule. If only the top level of detail is sufficient, you can use a monthly schedule. If you keep track of multiple tasks each day, consider using a daily schedule template.
How to personalize your template in Excel
It's easy to customize your schedule for a day, week, or month in Excel. You can choose a color code for certain elements, such as doctor appointments or birthdays, or change the font type and size.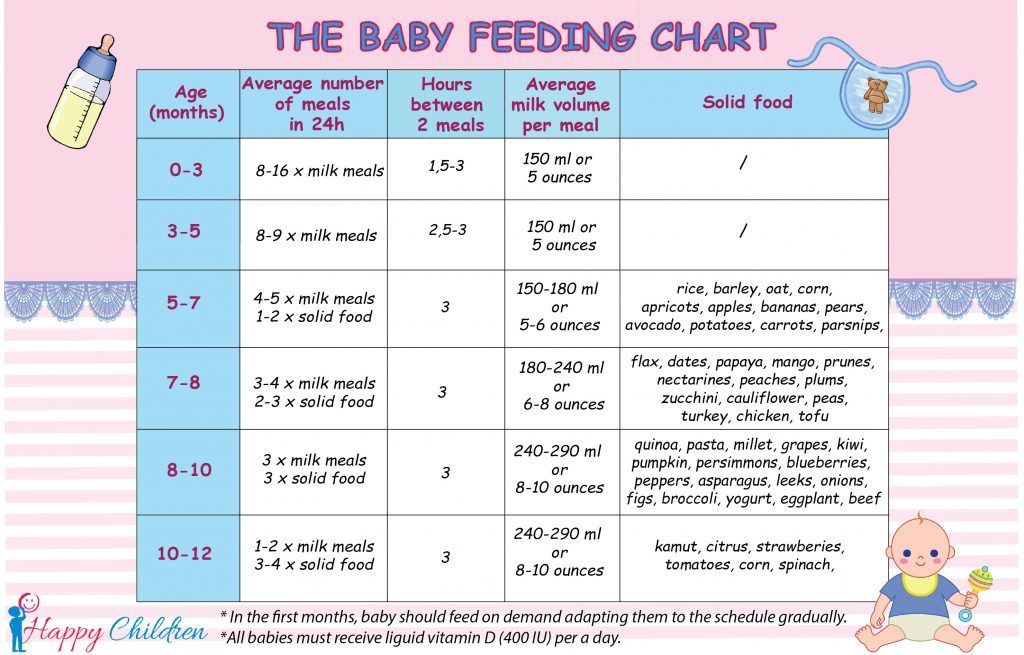 You can also add a logo to your calendar if you use it while working with clients.
1. Font Formatting
To change the font size of the headings, select all the headings. On the Home tab, you can choose the font type and size.
To format date or time markers, select an entire column or all date fields. On the Home tab, you can change the font type and size.
2. Change color
You can change the font or background color of your schedule. The use of a color code can be helpful in highlighting certain activities or tasks.
To change the background color of an entire line, click on the paint bucket icon and then select a fill color.
To select a color code for an event, place the task or appointment information in the date field. Then select the text, click on the paint bucket icon and choose the appropriate fill color.
3. Adding an image
Personalize your schedule by adding images such as your company logo.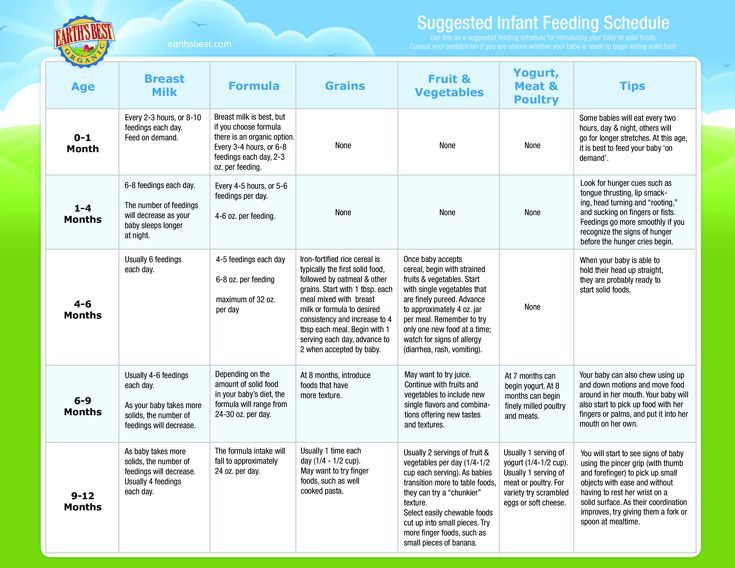 On the Insert tab, select Illustrations. Upload the image you want to use.
The image will be added to your table, after which you can move it to the desired location.

If you want to add a logo or image to the top of the schedule, you may need to first add space to place this element.
Right-click on the first row of the entire table and select Paste.
Select Insert Row.
Repeat these steps to add the desired number of lines.
To make the background for new lines white, select the new lines, click on the paint bucket icon and choose white.
To remove the marking lines above the title bar, select the title row, click on the "Borders" icon and select the "No Border" option.
You now have an extra empty space at the top to place your image.
Schedule templates: available for print or online
In addition to choosing the best schedule template for your needs, you'll need to decide what print and online sharing options the template will have.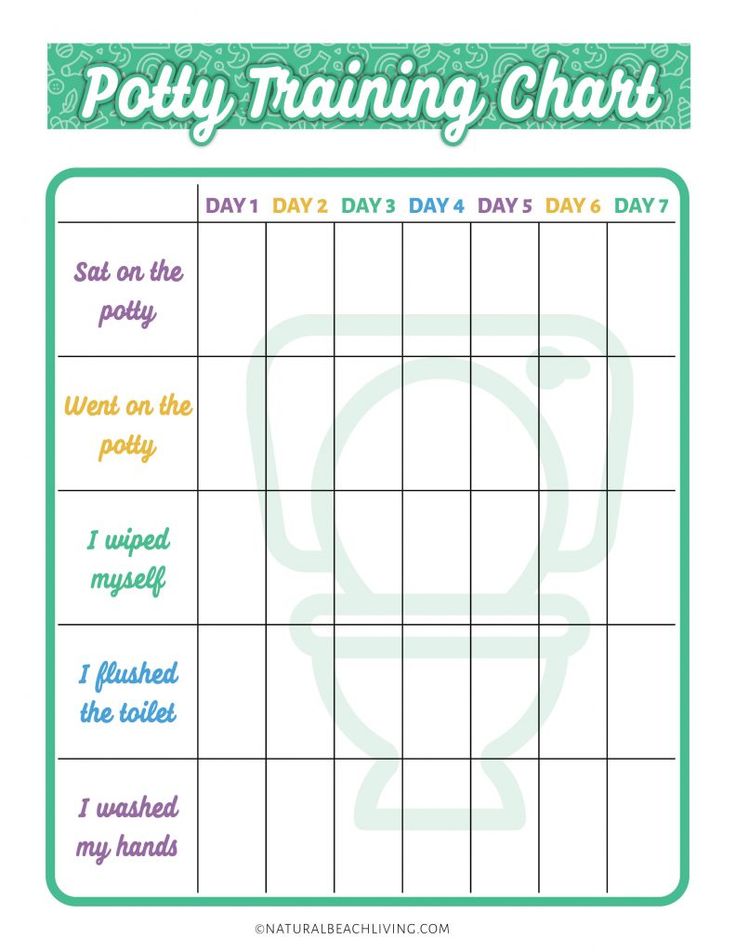 Many people print out their schedules and then hang them on the wall or refrigerator. When it comes to a to-do list planner or personal appointments and meetings, many people keep them in their wallet or purse for easy access and use.
A printed and accessible schedule can be helpful, but in general a paper calendar is more likely to make your life more chaotic and disorganized. If you forget or lose your calendar, you will have to start over from the beginning. If someone wants to edit or add data to the calendar, you won't know who made those changes, unless you can recognize the person by their handwriting. And finally, the place in such a calendar is always limited, it will quickly fill up and look untidy, with a lot of changes and additions.
If you need guaranteed access to your schedule at any time of the day, choose a cloud-based collaboration solution. You need to be able to view and edit your schedule at any time on your smartphone or computer.
In addition, by transferring the schedule to the cloud, you can save a lot of paper.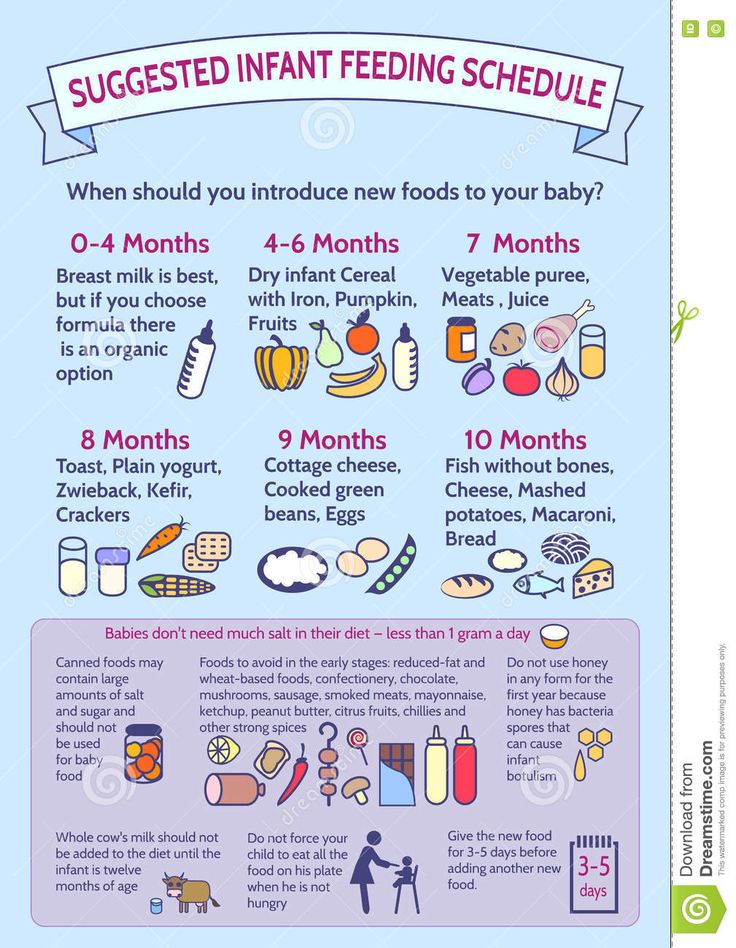 If you plan to share this calendar with other people, an online tool will help you communicate more effectively and make changes. You will be able to see what has been edited, as well as choose the level of rights granted by assigning users the rights of an observer, editor or administrator.
Finally, many online tools offer collaboration features that let you add discussions, set reminders or notifications, switch from regular view to Gantt view or calendar view, and attach attachments.
Create simple, collaborative schedules with Smartsheet
Smartsheet is a spreadsheet-based work management tool that offers a suite of powerful collaboration and communication features. With dozens of built-in templates and sharing features, Smartsheet is ideal for both simple task scheduling and more complex project schedules. Customizing templates is very easy: just right-click on a column to rename a header, or double-click on any cell to add the required information. You can also change colors, fonts, or switch between Gantt, calendar, or grid views.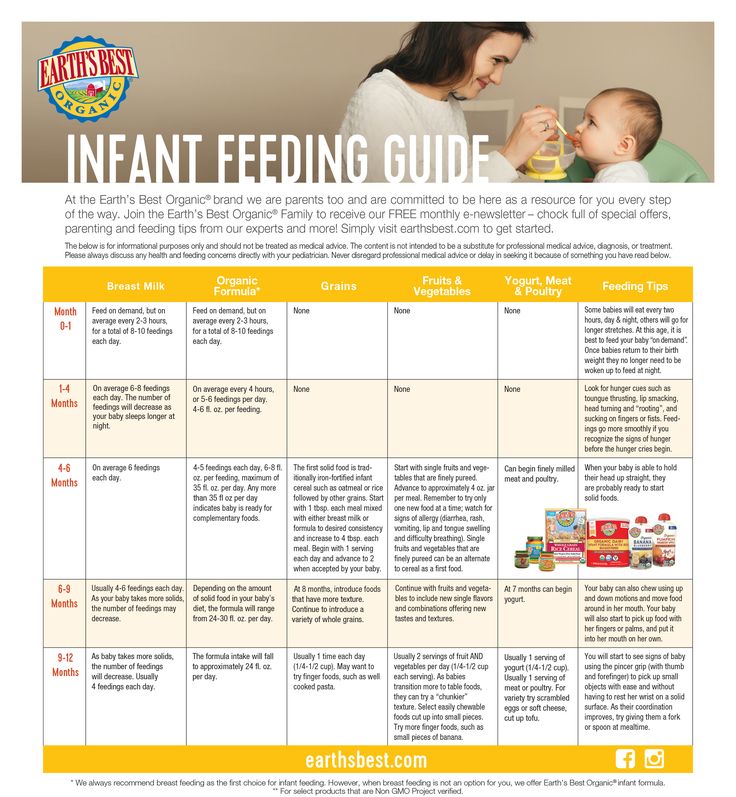 Here are 14 schedule templates in Smartsheet:
The easiest way to create a schedule
Smartsheet helps you improve collaboration and speed for everything from simple task management and project scheduling to comprehensive resource and portfolio management, enabling you to achieve more. The Smartsheet platform makes it easy to plan, capture, manage, and report on work to help your team be more efficient and achieve more, no matter where you are. Report on key metrics and get real-time performance insights with summary reports, dashboards, and automated workflows specifically designed to keep your team collaborative and informed. When teams have clarity about the work to be done, it is impossible to predict how much more they can get done in the same amount of time. Try Smartsheet for free today.
Daily routine for a child under 1 year old
Daily routine is a system for distributing periods of sleep and wakefulness, meals, hygiene and health procedures, activities and independent human activities throughout the day.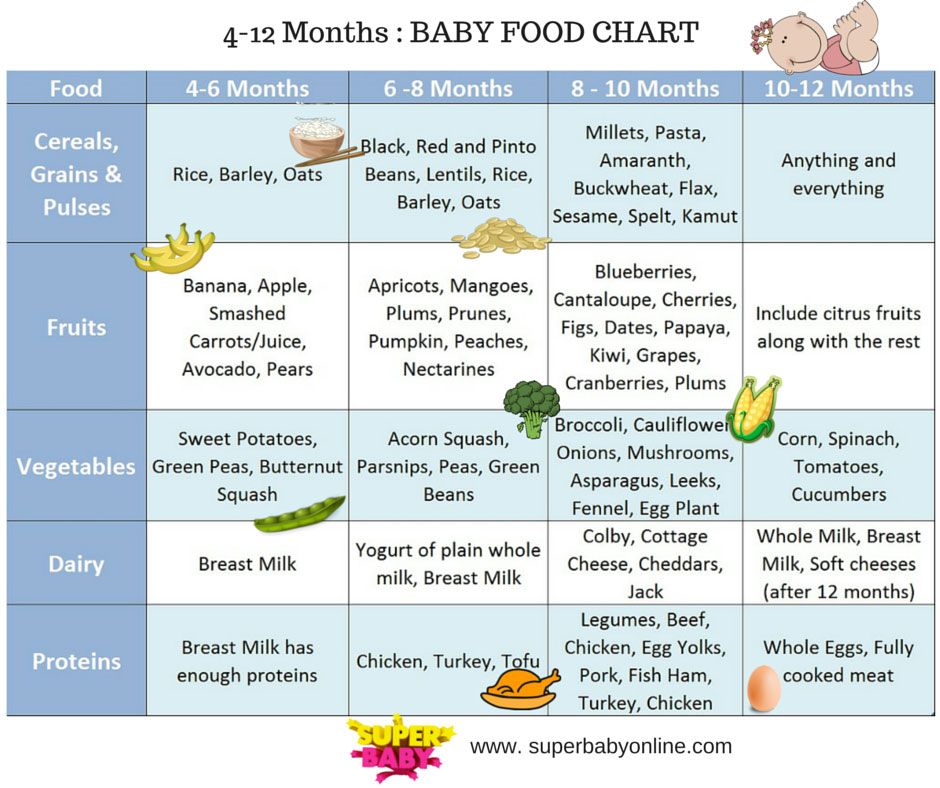 Compliance with a rational daily routine corresponding to the age characteristics of the child contributes to his healthy growth and development. Getting used to performing various types of activities at the same time, the child is prepared for the upcoming type of activity at every moment of time, which ensures their easier and faster implementation. Compliance with the correct daily routine provides a good mood for the child and maintains a keen interest in the study of the world around him, contributing to his normal motor and psychoverbal development.
The child's daily routine includes the following obligatory elements: diet, time spent outdoors during the day, frequency and duration of sleep, mandatory classes to develop skills in accordance with age, free time.
In the first months after birth, a healthy newborn baby sleeps for most of the day, since all external stimuli are very strong for the nervous system of a child, accustomed to a cozy intrauterine environment, and cause its rapid exhaustion.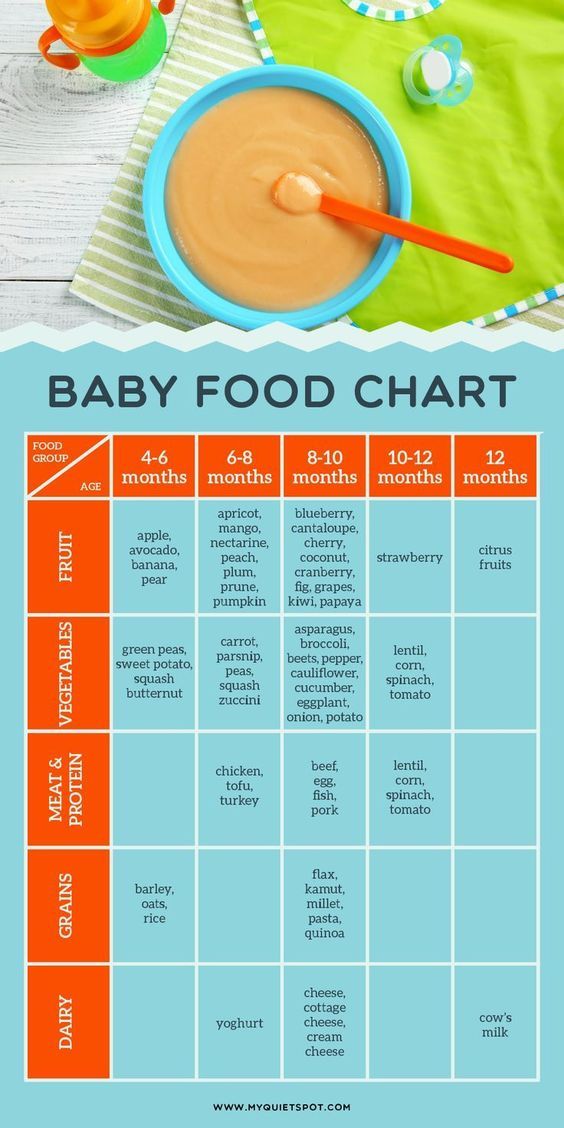 As the child grows older, the duration of sleep gradually decreases and the time of wakefulness increases.
| | | | |
| --- | --- | --- | --- |
| Age | Daytime sleep mode | Night sleep | Wake mode |
| Birth to 2 months | 6 x 2.5 hours | 6 hours | During feeding |
| 2-4 months | 5 times 2-2.5 hours | 6.5 hours | 4 x 1.5 hours |
| 4-6 months | 4-5 times for 2 hours | 7 hours | 4 times 2 hours |
| 6-9 months | 3-4 times for 1.5-2 hours | 8 hours | 4 x 2.5 hours |
| 9-12 months | 2 x 1.5-2 hours | 9-10 hours | 4 times 3-4 hours |
Closely related to the sleep-wake mode is the feeding mode of the baby. The sleep of a child in the first months of life is very sensitive and is easily disturbed under the influence of various extraneous stimuli, including hunger.
Age
Mode
Example
Birth to 2 months
7-8 times, every 3 hours
6,9,12,15,18,21,24 (no night feeding)
2 to 6 months
6-7 times every 3.5 hours

6, 9.30, 13, 16.30, 20, 23.30 (without night feeding)

6, 9.30, 13, 16.30, 20, 23.30, 03 (with night feeding)

From 7-12 months
5 times, every 4 hours
6,10,14,18,22
The child's stay in the fresh air is essential in the daily routine. The total duration of stay in the open air for children under 1 year of age should be at least 5-6 hours a day. Fresh air has a calming effect on the baby, improves metabolic processes, and increases the body's defenses. In the summer, all games and activities should be held outdoors; in the cold and transitional seasons, two one-time walks of 1.