Beechnut organic baby food stage 1
Beech-Nut Naturals Jar Variety Pack Stage 1 Baby Food
back
5 (8 Reviews)
Beech-Nut Naturals® is made with real ingredients, gently cooked. In this Beech-Nut Naturals® jars variety pack you'll find 16 jars of our favorite Non-GMO Project Verified Stage 1 purees, perfect for starting baby on solids: 4 apple, 4 pear, 4 sweet potato, and 4 green bean. These baby food jars are made with real fruits and vegetables with nothing artificial added, making them a great choice for your child starting at 4 months old. With every purchase of this Naturals® baby food jar variety pack until January 31, 2022, we will donate 25 cents from your purchase to No Kid Hungry to help fight child hunger in America.
16, 4 oz Jars
Stage 1: for babies 4 months and up
Real ingredients, gently cooked™
Non-GMO Project Verified
Nothing artificial added
Made with real fruits & vegetables
WIC™ Eligible: In CA, CO, FL, IN, KY, ME, MI, MN, MO, NC, NM, NY, OR, PA, RI, SC, TN, UT, VT, WV, WY
Included Inside
Ingredients: Apple, Pear, Sweet Potato, Green Beans.
For the most accurate and up-to-date product information, please always refer to the label on the package itself.
Overall:
5 (8 Reviews)
5 month old loves it

Bbeaver6

I'm not a crunchy mom by any means, but something about feeding my son and the ingredient label just stating one thing: APPLES, and nothing more, makes me feel like such a good mom!! I want to give him the best of the best, and on a busy schedule, I am able to do so with Beechnut. I'm so grateful I found this brand, and my baby loves every jar!! (If he doesn't finish them even I look forward to finishing the jar haha). I am really excited to try all the other items beechnut has to offer, and for my son to grow with the brand.

Love it!!

BrittRose

I gave my 4mo old baby the sweet potato flavor for the first time ever today.. She LOVED it.. I'm so happy with this product.

This variety pack was PERFECT!

kdt1986

This variety pack was perfect for my 6-month-old daughter, great starter pack. I totally recommend it to any parents for their baby's first solids, the variety is just right for starting out! The texture is smooth and it is not watery, like some brands I've tried. The ingredients are simple and wholesome, nothing weird added, just real food. I bought this pack three times before I moved on to other Beech-Nut flavors and I trust the quality of every Beech-Nut product I buy to be the best for my baby.

Great Product

lucas

I BOUGHT THIS A COUPLE OF TIMES. LOVE THE VARIETY PACK. MY INFANT LOVES THIS PRODUCT

Tastes like Bananas

Bananma1990

I fed my baby, who only likes bananas, and he thoroughly enjoyed it. I wasn't sure if it tasted like bananas or not, so I gave it a try. It was yucky, but banana-ey and baby loves it!

Fresh taste

Zainab

I just bought it one week ago and my baby love it and its smell really nice Highly recommended

Fresh ingredients

Ensley21

I bought this yesterday and my 4mo loves them! Highly recommend

perfect set

Kelsey28

This is the first solid food my son ever tried and he loves every single flavor! In fact there isn't one flavor from beech-nut that he doesn't like! He loves the food and I love that there is nothing added!
See More

more like this
X
search
Beech-Nut® Organics pear Stage 1 Organic Baby Food
back
4.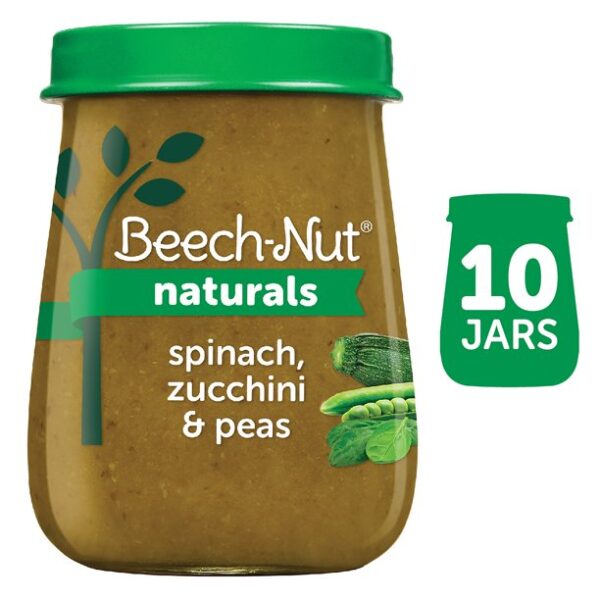 9 (16 Reviews)
Beech-Nut® Organics is made with real ingredients, gently cooked™. Simplicity at its most delicious. Our Organics pear baby food is nothing but fresh, USDA organic and non-gmo pears pureed to perfection—and nothing artificial. We cook the fruit puree over indirect heat to protect color, flavor and nutrients. We believe simple, pure food is the best for baby. As a Stage 1 puree, this food is ideal for babies starting at about 4 months. All Beech-Nut® baby food jars are vacuum-sealed for freshness. This jar can be stored in the refrigerator for up to 3 days after opening.
Single, 4 oz Jar
Stage 1: for babies 4 months and up
Real ingredients, gently cooked™
Non-GMO Project verified & USDA Organic
Nothing artificial added
Made with fresh pears
WIC™ Eligible: In CA, CO, CT, DC, FL, HI, IA, IN, KY, LA, MA, MD, ME, MI, MN, MO, MT, NC, NM, NY, OR, PR, SC, TN, TX, UT, VA, VT, WA, WV, WY
Included Inside
Pears
Ingredients: Organic Pears.

For the most accurate and up-to-date product information, please always refer to the label on the package itself.
Overall:
4.9 (16 Reviews)
He loves this flavor

Momoftwo12

My 7 months old loves this and even my 3-year-old likes to share with him.

Yummy for her tummy

LilBean1

She really loves to eat these pears by themselves or with cereal. It really seems to look and smell just like pear. I love that she is happy.

Yummy

mj bee

My granddaughter loved this product! Keep making these quality products!

Great Breakfast Meal

chanchan

I bought this a couple weeks ago, along with a couple other fruit flavors. This is by far my daughters favorite morning meal. She started eating it by itself, and has moved on to having some in her oatmeal. I like that it doesn't have the gross smell or texture that you can find in some baby foods.

Pears are great

Jescalante1113

All the organic safe more watery for some reason but it's my sons favorite flavor by far.

Baby loves it!

Mpk1994

I've always bought beech but products since my first child. Babies love them! I haven't found one they don't like yet. They're affordable and delicious.

Amazing Product!!

Tabitha

My baby LOVES the taste of Beech-Nut Organics Pear!! Not only is it delicious, but also helps get her going when her tummy gets stopped up. ;p

Great

Tracylynn22

I really love it the baby's love it too thereby again cuz I really do like it

Baby approved

Stardance

My little girl loves pears more than any other! She is a fan of all beech-nut products!

Yumm--o

TMomma

Our picky girl, she loves the texture, smooth and nice!
See More

more like this
X
search
New Hampshire WIC Approved List for 2022
Choose the combination that best matches our total ounces in your benefit balance.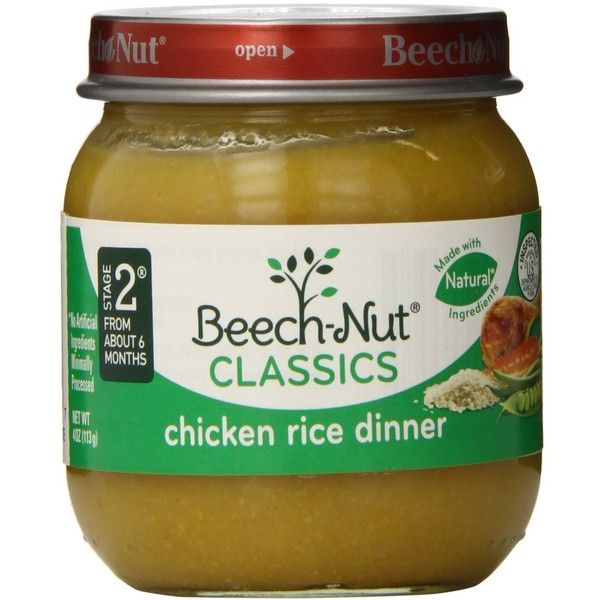 12 ounces or more only
Ways to buy 36 ounces of flakes
General MILLS
Cheerios *
13
Touch-OF-FRIIT MINI WHEATS

Raspberry*
Unpreceded mini-Psenitsa*
Mom Brends
Crumbing rice
9001 SOMPLESS mini Spoons *
Strawberry Cream mini Spoons *
Quaker
Cornbread
14
Oatmeal
Toasted Oatmeal*: Best Yet, Food Club, Great Value, IGA,
Market Pantry, PIC, Price Rite, Shurfine, Signature Select
Hahn flavors * Market Basket
Wheat Groats
Nutty or Crispy Nuggets*: Big Value, Hannaford, Market Basket,
Market Pantry, PIC, Signature Select
Wheat, Squares or Cookies* 0005 Hannaford, Great Value, Market Basket, Market Pantry, Price Rite, Safeway, Shurfine, Signature Select
Frosty Bite (Original* or Strawberry*): Best value for money,
Hannaford, IGA Market Basket, PIC, Price Rite, Shurfine, Signature Select
Frozen Broken Wheat*: Food Club
Hot Cereal
No Single Use Packs, Bags or Pouches
B JI FUDS
wheat cream
instant, source 1, 2.
5 and 10 minutes
Cream from rice
Ordinary
wheat cream from whole grain *
Farina Mills
Original Creamy Spicy Wheat Flakes
Maipo
Instant Maple Oatmeal*
Vermont Oatmeal*
MAMA Brands
Original Hot Wheat
Creamy Hot Wheat
Quaker
2 Minute Oats
Plum Organics Pea, Kiwi, Pear & Avocado Puree/Pea, kiwi, pear & avocado. STAGE 2. - "The most unusual puree we have tried."
Good time everyone!
When I saw pea, pear, kiwi and avocado puree, I was surprised. An unusual combination. We don't come across this. It became most interesting what it tastes like, and at the same time, this is a great opportunity to diversify the child's menu.
Organic baby food: peas, kiwi, pear and avocado; stage 2 from Plum Organics.
Key features.
Brand - Plum Organics.

Puree type.

Type of puree - fruit and vegetable.

Energy value - 70 kcal (per serving).

Volume - 99 grams.

Packing - pouch. Does not contain bisphenol-A.

Shelf life - 2 years. It is recommended to keep an open jar in the refrigerator for 24 hours.

Country of manufacture - USA.

Recommended age - from 6 months.

Weaning stage - second (multi-component).
Description:
Feed your child a nutritious fruit and vegetable mix - perfect for little tasters.

Nutrition: 30% DV potassium, 20% DV vitamin C
Ingredients:
Organic peas, organic kiwi puree, organic pear puree, organic avocado puree, organic lemon juice concentrate.
Packaging.
The packaging has an interesting design. In the center of the package there is a transparent window through which you can see what the puree looks like. Made without BPA.
Appearance and texture. Taste.
The puree has a lime color and looks delicious. Soft on the palate and velvety on the tongue.
And the taste itself is very unusual. Some neutral with sourness with a gentle oily aftertaste of avocado.
Conclusion.
The older child did not like the taste. And the youngest (he was then a year and a half) ate with great pleasure. We then introduced complementary foods. And it was a great variety in his diet. Therefore, we often bought it for dinner.
From this, I conclude that mashed potatoes will be interesting even during the introduction of complementary foods and a little later.