Best books on feeding baby solids
7 Best Baby Food Books – Healthy & Delicious Cookbooks (2022 Reviews)
Table of Contents
Updated on by Lyric Fergusson
Introducing solids is an exciting milestone for your little one, especially as they experience the delightful tastes and textures of their first foods. While some parents prefer to start with simple purees, others choose the baby-led weaning approach. No matter the technique, there are plenty of books that provide insight, guidance, and healthy recipes to get you started. So, snap on that bib and grab a spoon! Here are the seven best baby food books.
Best Baby Food Cookbooks
1. Simple & Safe Baby-Led Weaning by Malina Malkani

(Best for first-time parents — $)

Why it's great: This book introduces readers to the concept of baby-led weaning, which encourages parents to let their little one lead the way through starting solids. This book offers a basic overview on how to get started, as well as a discussion on safe practices and healthy food options. Readers will also find a chapter on how to identify and prevent allergies and food sensitives early on.

Keep in mind: This book doesn't have a lot of recipes, but rather guidance and insight on how to begin baby-led weaning.

Good for: Parents just starting solids with their little one as this is a great beginner's manual.

View on Amazon.com ➜

2. Make-Ahead Baby Food Cookbook: Meal Plans & Recipes for Every Stage by Stephanie Van't Zelfden

(Most practical — $$)

Why it's great: This cookbook is practical and useful and takes the guesswork out of baby's first mealtimes. Packed with useful advice on how to introduce solids, detect food sensitivities, and discourage picky eaters, this book also includes recipes, meal plans, and grocery lists. Designed to simplify parents' lives, this book also provides guidance on batch cooking and freezing and reheating food for your baby.

Keep in mind: This book follows a staged approach to introducing solids, starting with purees.

Good for: Parents who like to plan as this book provides meal plans and recipes for cooking in advance.

View on Amazon.com ➜

3. What Mummy Makes: Cook Just Once for You and Your Baby by Rebecca Wilson

(Highest-rated recipes — $$$)

Why it's great: One of the highest-rated baby cookbooks on Amazon, this book offers over 130 recipes for the whole family. Based on the logic that parents shouldn't have to cook more than one meal for their family, this book is packed with quick, easy recipes that can be adapted for children as young as six months old. Parents praise this cookbook for featuring recipes that are easy to follow and delicious to eat.

Keep in mind: This book follows the baby-led weaning approach to starting solids.

Good for: Parents looking for some kitchen inspiration, not just for baby's meals but theirs too!

View on Amazon.com ➜

4. The Big Book of Organic Baby Food by Stephanie Middleberg

(Most comprehensive — $$)

Why it's great: Featuring over 200 kid-friendly recipes, this book focuses on organic and whole-food ingredients. Divided into chapters based on children's ages and stages, this book covers all the developmental phases from infancy to toddlerhood and provides FAQs to guide your meal plans accordingly. Recipes include purees, smoothies, finger foods, and beyond, with over 70 recipes for the whole family to enjoy together.

Keep in mind: Some customers report that the puree recipes can feel a little repetitive.

Good for: Parents who want to explore different approaches and recipes when introducing solids as this book covers it all.

View on Amazon.com ➜

5. The Pediatrician's Guide to Feeding Babies and Toddlers by Anthony Porto M.D. and Dina DiMaggio M.D.

(Most informational — $$$)

Why it's great: Written for first-time parents, this book is an all-inclusive manual that offers clarity, guidance, and peace of mind on feeding your infant solids for the first time. Written by two pediatricians, this book offers practical advice on nutrition, medical conditions, and parental concerns. Accessible and informative, this book also includes personal anecdotes and healthy recipes.

Keep in mind: This book doesn't include as many recipes as other baby food books available.

Good for: Parents who have lots of questions about starting solids as this book provides up-to-date answers from a team of pediatricians.

View on Amazon.com ➜

On An Important Side Note… Asher and I (pictured) feel it's necessary to highlight the value of life insurance for parents with young kids. After extensive research, we discovered that parents can get insured for as little as $10 per month. We use Ladder Life who offers coverage up to $3M per parent (without a medical exam, just a few health questions) and you can apply 100% online.

Get a quote in less than 30 seconds at LadderLife.com ➜

6. Super Easy Baby Food Cookbook by Anjali Shah

(Easiest recipes — $)

Why it's great: This book offers over 150 recipes that are simple and nutritious and can be made in thirty minutes or less. Recipes include make-ahead purees, five-ingredient toddler recipes, and sample menus designed to fulfill the nutritional requirements for children ages four to eighteen months. Parents praise this cookbook for being well-organized and easy to follow.

Keep in mind: This book doesn't feature as many pictures of the recipes included.

Good for: Parents who don't have a lot of time to prepare complicated meals for their little eaters.

View on Amazon.com ➜

7. The Complete Baby and Toddler Cookbook by America's Test Kitchen Kids

(Best for the whole family — $$$)

Why it's great: A baby and toddler cookbook from the popular series, America's Test Kitchen Kids, this book offers countless recipes that have been tested and approved by kids, themselves. Recipes include purees, smoothies, finger foods, and family meals to share together. This book also includes recipes kids can help prepare as well as school lunch ideas for preschool and beyond. Chock full of pictures and easy-to-follow instructions, this book is praised for appealing to even the pickiest of eaters.

Keep in mind: This book offers less guidance on starting solids but does include recipes for babies.

Good for: Parents who need a cookbook to keep the whole family happy as this book features recipes for all ages.

View on Amazon.com ➜
Best Overall
Simple & Safe Baby-Led Weaning by Malina Malkani
The Simple & Safe Baby-Led Weaning by Malina Malkani is our overall top recommendation. It's the highest quality product we have found with the most affordable price making it the best value on our list..
View on Amazon.com ➜
FAQs about Baby Food Books
1. What age should I introduce solids?

For the first few months of life, babies get all the nutrients they need from breastmilk or formula. Most doctors recommend waiting to introduce solids until your little one is between four and six months old. You'll know your baby is ready if they are able to hold their head up on their own, sit up with little or no support, and bring objects to their mouth on their own. If you're not sure whether your little one is developmentally ready for solids, check in with your pediatrician.

2. What's the best way to start my baby on solids?

The American Academy of Pediatrics says there's no specific type of food that's best to start with. You'll want to use some baby-friendly utensils, and you'll also want to count on things getting a little messy. Start with a very small amount of one ingredient, so as not to trigger your little one's reflex response. Don't worry if your baby spits it back out, it may take a few tries before they understand how to swallow what you're offering. If your little one is extra hesitant, try mixing food with breast milk or formula for an easier transition.

3. What are the best foods to start with?

It's best to start your little one with a single ingredient food, so as not to overwhelm their tastebuds. Fruit and vegetables are a great place to begin, followed by yogurt, pasta, beans, and tofu. Don't forget to introduce peanut butter and eggs early on, too. The American Academy of Pediatrics recommends starting allergenic foods before a child's first birthday as this reduces the likelihood that they develop an allergy to that particular food.

4. What's baby-led weaning?

Baby-led weaning is an approach that relies on following your infant's lead on eating solids. Instead of feeding purees with a spoon, parents are encouraged to give small strips and slices of food. This allows babies to explore tastes and textures as they learn how to feed themselves. Proponents of the practice say that baby-led weaning promotes the development of motor skills and establishes a healthy relationship with food early in life.

5. What's the best way to prevent choking?

The potential for choking is definitely the scariest part of introducing solids. To avoid any unnecessary risk, be sure to supervise your little one very closely during mealtimes. Cut food in appropriately sized pieces, and always make sure your baby is sitting down while they eat. In the beginning, stick to foods that are a little softer so your little one can easily mash them down to swallow.
Conclusion
Introducing solids doesn't have to be scary or overwhelming.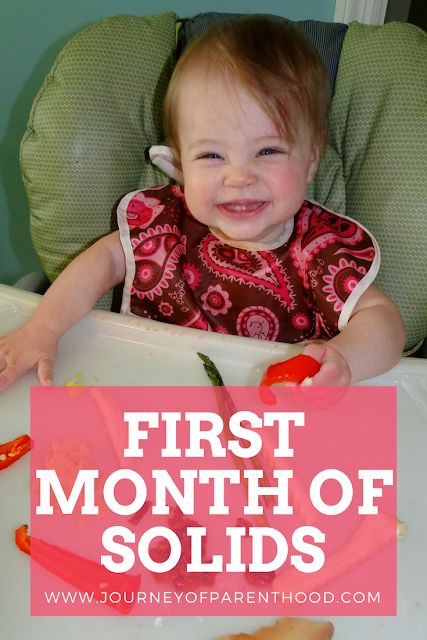 In fact, with the proper tools and guidance, it can be a fun (if messy) adventure for both you and baby. There are a variety of books on the market that feature delicious recipes that are easy-to-follow and quick to make. Some baby food books even include recipes for older kids and adults to make mealtime simpler and more inclusive. Most baby food books offer practical advice and helpful tips on introducing solids, and parents are sure to find a variety of titles that preach the baby-led weaning approach. While there's no right food or process to start your baby on solids, you'll definitely want to keep an eye out for potential allergies and choking hazards. Thanks to the wide selection of baby food books available, raising a little foodie has never been easier, and as their appetite grows, your recipe repertoire will too!
The Top 10 Baby-Led Weaning Books: Beginner's Guides, Cookbooks, & More
Updated on 31 January 2022 • 14 minute read
42
Overview
Are you a baby-led weaning newbie figuring out how to get started? A pro trying to shake up your BLW finger foods combos? 
Whatever your needs are, we might have the book for you.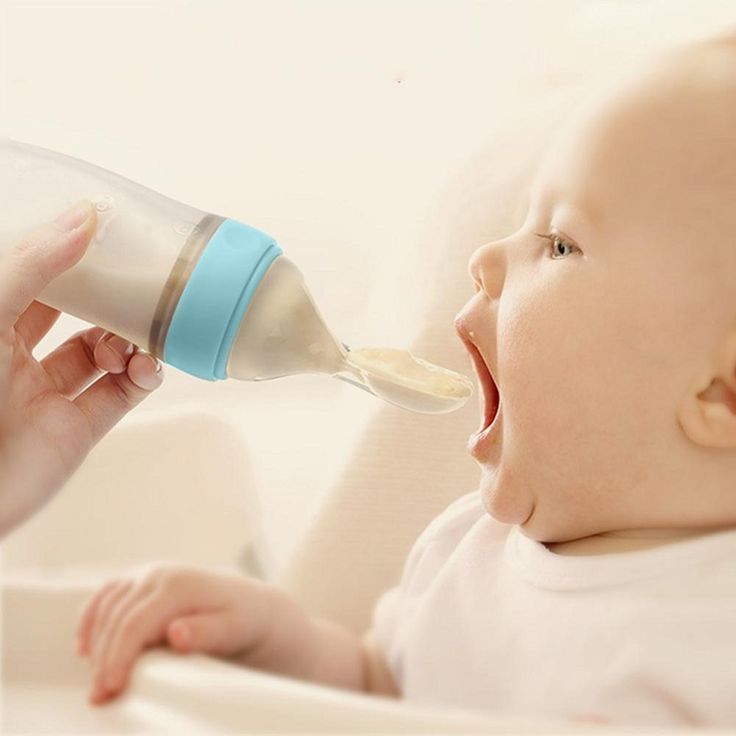 We've compiled our top 10 picks for the best books to answer any of your baby-led weaning (BLW) concerns. 
We have baby-led weaning beginner's guides, books on baby-led weaning safety, nutrition, and more. We also have cookbooks to keep you excited about planning your baby's weaning meals.
So, let's scroll and get started.
Why Choose BLW?
Baby-led weaning suggests babies jump straight to age-appropriate, safely prepared finger foods and skip spoon-fed puréed foods. While it may seem exciting to start this method, experts advise proceeding with caution. 
BLW may not be suitable for all babies. There are certain factors to consider before giving it a try. 
The AAP (American Academy of Pediatrics) recommends that babies may be given finger foods when they can sit up without support and can bring their hands or other objects to their mouth. (1)
To know more about the signs of readiness, you can read our comprehensive BLW guide. 
Best BLW Beginner's Guides
1.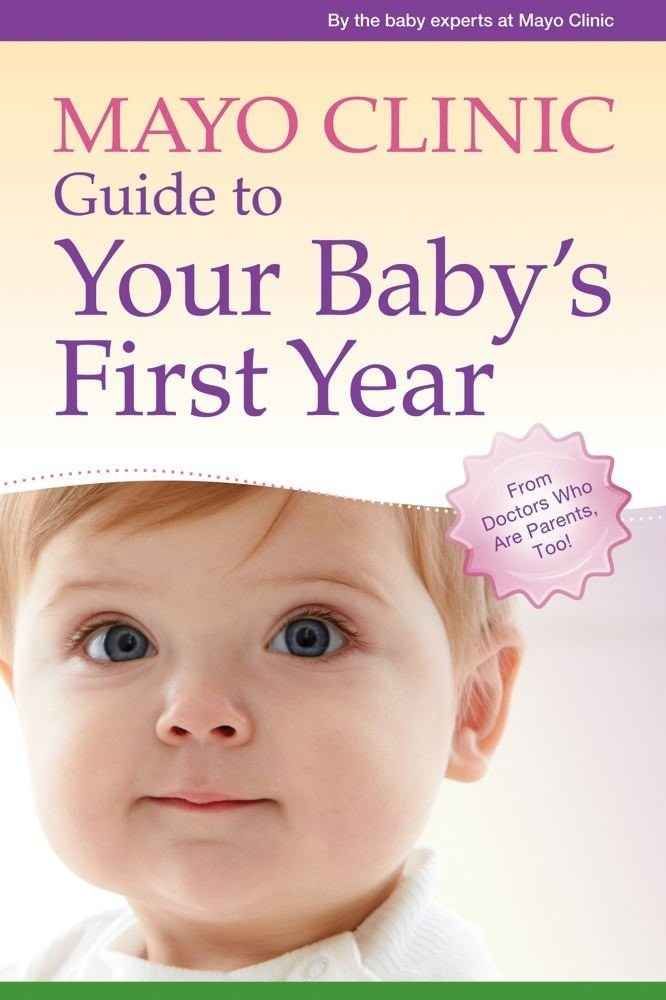 'Baby-Led Weaning: The Essential Guide―How to Introduce Solid Foods and Help Your Baby to Grow Up a Happy and Confident Eater'
by Gill Rapley Ph.D. and Tracey Murkett
Still not sure if BLW  is for you? Let Gill Rapley, the generally acknowledged pioneer of baby-led weaning, walk you through this approach. Together with writer and journalist Tracey Murkett, Rapley introduces her readers to a definitive BWL book.
If you want to understand the history and theory behind baby-led weaning, this could be the one for you. The book goes into the essentials and basic principles of why the method works. It also explains in detail the benefits your little one can get by following baby-led weaning.
The book uses an easy and clear tone. Its claims are backed with science-based facts. The topics are clearly divided, so you can skip forward or just choose a topic you like. 
The updated edition includes the latest research on allergy prevention and safety. This thick, big book can be a good reference or a go-to book for your BLW  questions.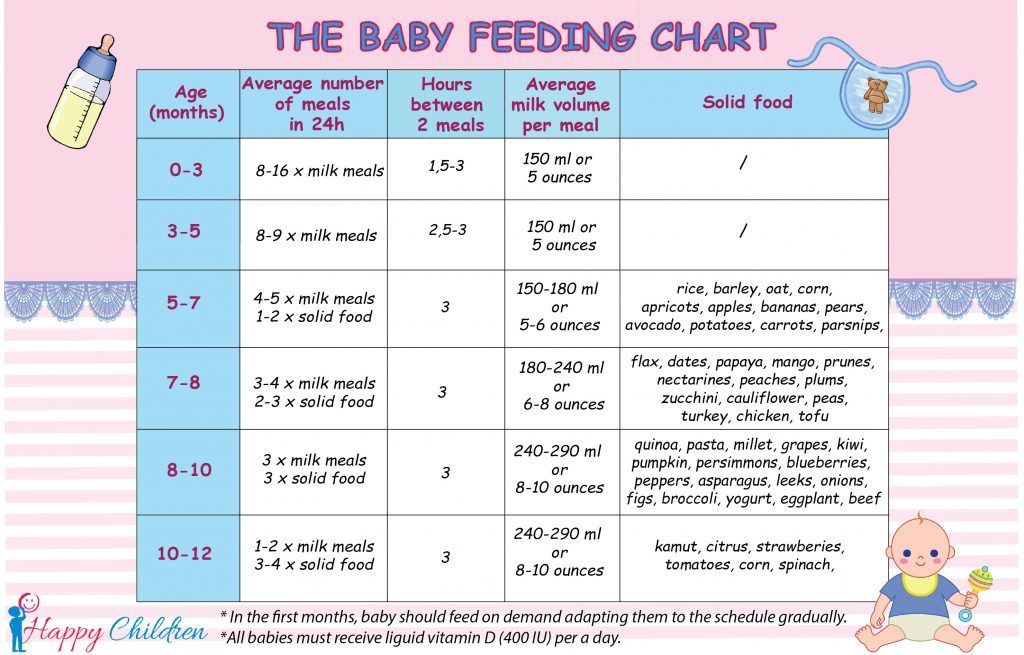 What Customers Say 
Positive Review 
"Great book on how to introduce solids to your baby offering an alternative to the popular spoon feed puree method we have come used to. I definitely plan on using a baby led weaning style to introduce food to Zachary and this book provides the right dose of information and reference to begin this process in the coming weeks." – Reviewer on Walmart.
Negative Review 
"I thought this would contain recipes and actual practical feeding advice such as when to introduce each type of food, but it seems mostly to be about the idea of baby-led weaning. Probably my fault for not researching properly but I was hoping for a guide on what to actually give my baby, rather than a book about why the author thinks baby led weaning is best" –Review on Amazon.
2.
'Baby-Led Feeding: A Natural Way to Raise Happy, Independent Eaters'
by Jenna Helwig 
If you're looking for a more laid-back approach, this title might suit you.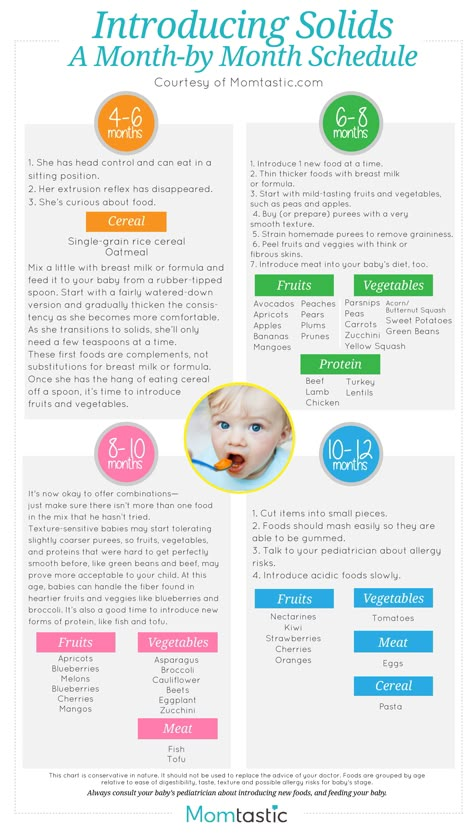 Unlike other "strict" baby-led weaning books, this one gives a friendly and flexible approach. 
Written by Jenna Helwig, food director at Real Simple and a culinary instructor, this book is filled with beautiful photos and age-appropriate recipes. 
A "visual glossary" helps parents and caregivers cut the foods into safe sizes and shapes. The book uses a friendly and simple tone in explaining important topics like choking, nutrition, allergies, proper food preparation, and more. 
It has over 100 recipes you can try for your baby and family. Recipes are clearly described, complete with estimated preparation and cooking time. 
If you plan to make plan-ahead meals, the book states if the recipe freezes well and how long it can be kept. It also has a daily meal outline you can follow. 
What Customers Say 
Positive Review 
"This is the book I wish I'd had when I started feeding my son solids! I was curious about baby-led weaning, but still also wanted to feed him purees (especially at daycare).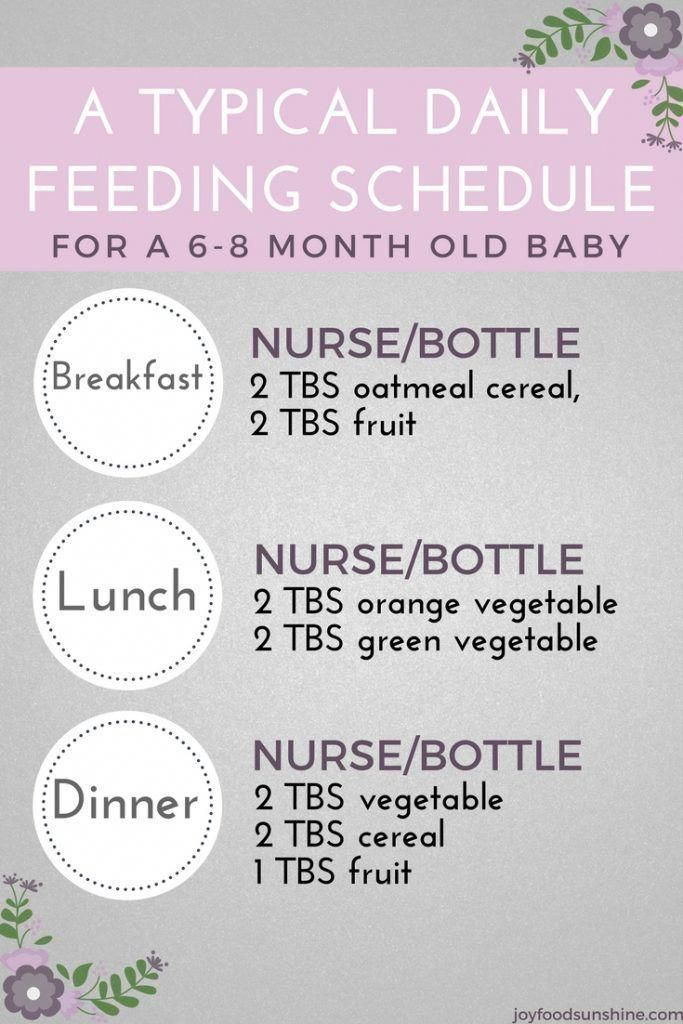 This book offers a nice, flexible approach that let's you do both–and tells you the best way to make finger foods safe for Baby. The recipes are healthy, easy-to-prepare and my son has liked the ones I have made so far. I'd recommend buying this and the author's other baby food book, if you want a really comprehensive recipe repertoire." – Review from Amazon
Negative Review
"It's an ok book. Not too clear of size of foods and when appropriate to feed. Not enough pictures if it's supposed to be more of a cookbook. The recipes look great but they don't address food allergies which are very common in babies being exposed to foods for the first time. Doesn't provide ideas on substitutions for many allergens"  – Review from Amazon.
3.
'Baby-Led Weaning Made Easy: The Busy Parent's Guide to Feeding Babies and Toddlers with Delicious Family Meals'
by Simone Ward
If you're a parent or caregiver who has lots of questions, but little time to read, this might be the book for you.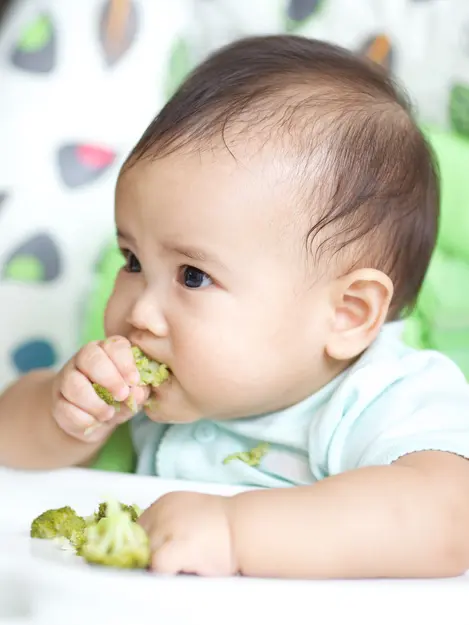 Simone Ward is the mom behind the popular Instagram account Zayne's Plate, where she shares healthy kids' meals. 
This book's main theme is "ultrapracticality." It shows that baby-led weaning is achievable, and meals don't have to be expensive. 
It also  promises to show how to do BLW  in a "safe and realistic way." 
It has 50 practical recipes and suggests the best first foods. The layout of recipes is great in identifying nutritional facts. The recipes are not intimidating and can easily be made. It also gives time-saving tips and experts' advice on preparing your baby's meals. 
Using less scientific terms, this explains the dos and don'ts of the method. At the same time, it also encourages you to trust your baby's instincts. 
If you enjoy browsing beautiful images, this one has 50-full pages of photos to keep you interested.
What Customers Say:
Positive Review:
"I checked this book out from the library to give it a try before purchasing, and the first two recipes I made were delicious! I made the Spiced Carrot and Lentil Fritters and the Herby Hummus Dip and since both recipes I tried were successes, I've ordered the book to try the rest of the recipes.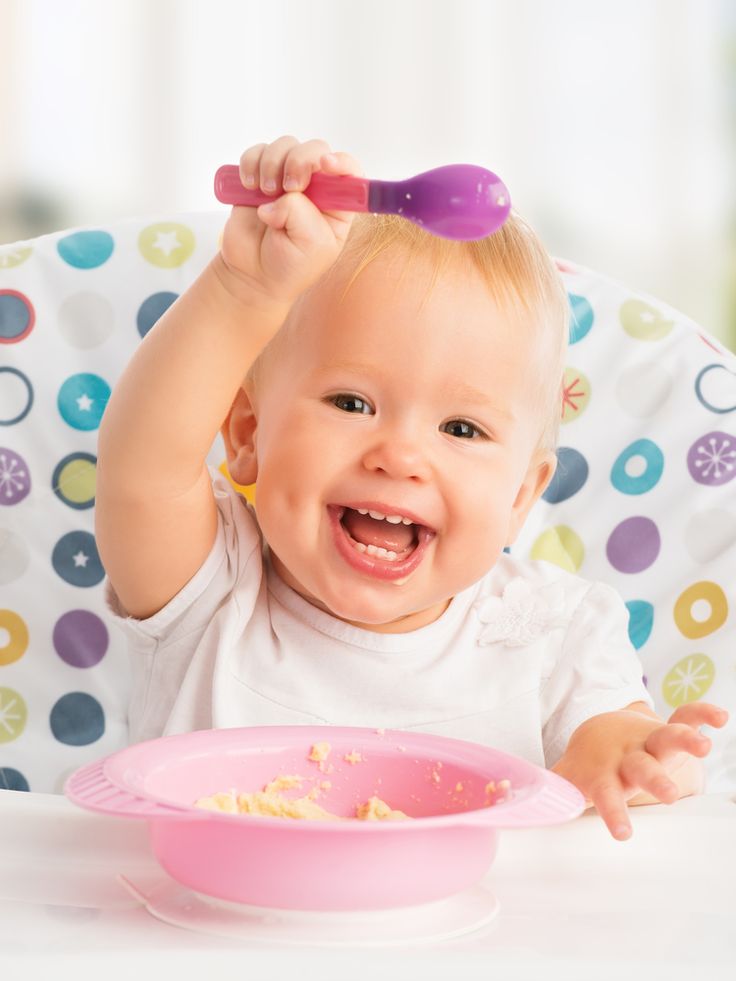 The layout is great for identifying the key nutrition like iron and protein, and the recipes aren't intimidating. Can't wait to try more of the recipes!" -Review on Amazon.
Negative Review:
"Some of these menus will make great family meals when baby is abit older. In terms of taking you through the weaning process which is what I was looking for it really doesn't do it. There's one short paragraph on allergens. Charlotte Stirlings book how to wean your baby is much more informative." – Review on Amazon.
Books On Safety & Allergies
4.
'Simple & Safe Baby-Led Weaning: How to Integrate Foods, Master Portion Sizes, and Identify Allergies'
by Malina Malkani MS RDN CDN 
If you prefer something quick and easy to read on baby-led weaning, this might be the one for you. Written by Malina Malkani, a registered dietitian nutritionist, the book gives practical advice for creating safe and balanced meals.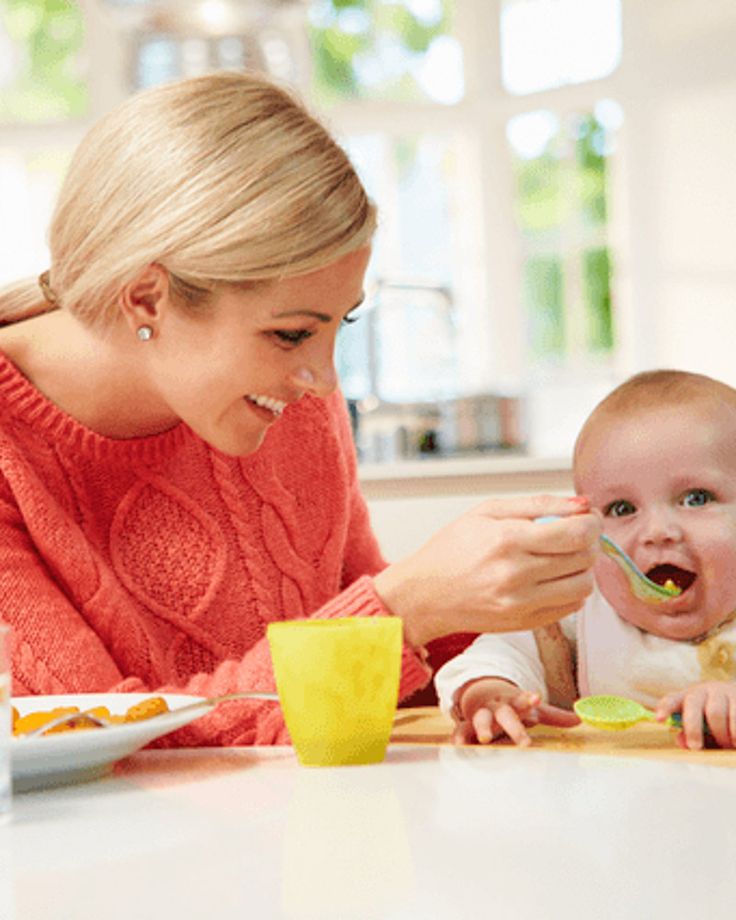 True to its title, it gives a "simple" introduction to baby-led weaning. With less than 150 pages on paperback, some readers say they can finish the book overnight. 
This book provides a basic overview of baby-led weaning but focuses on safe food preparation and good kitchen habits. It illustrates the suggested portion sizes. 
The book will also help you identify allergies and risks. It contains practical tips on keeping your baby safe as they try their first solid food. 
What Customers Say
Positive Review
"Very helpful information on the basics of starting solids. This book would be great as a foundation for a menu of foods/meals to prepare for baby (I will definitely use it as such to help reduce some of the stress around buying and preparing nutritious food for my baby). I'm feeling more confident on what/how to serve in a way that promotes self-regulation and a healthy relationship with food!" – Review on Good Reads.
Negative Review
"I appreciated the portion size and serving suggestions that were pictured to scale, I found the overall book lacking.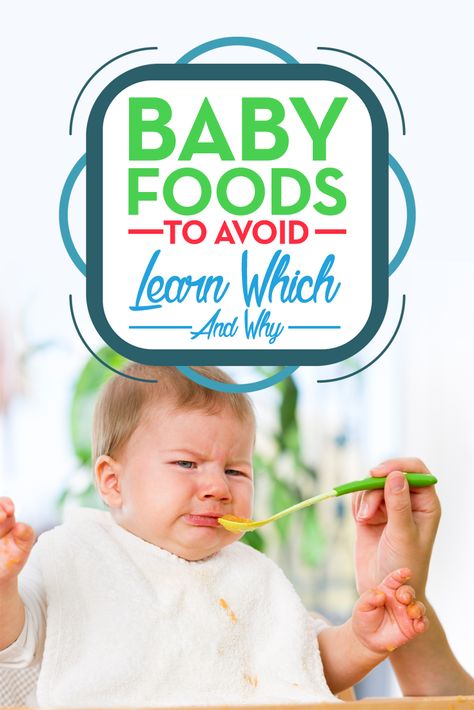 It didn't make me feel more confident about baby-led weaning or fully addresses some of my questions and concerns. I So Liked It for a basic overview, but not as a go-to resource. This is one I'd suggest getting from the library, rather than buying." – Review from GoodReads.
5.
'Baby Led Weaning in 5 Easy Steps: A New Parent's Guide'
by Courtney Bliss
With so much information there is to know about baby-led weaning, this book sums it up in five steps. Courtney Bliss is a pediatric registered dietitian and a mom of two. This book is another quick and easy read on the basics of BLW. It can be helpful for new parents or caregivers unsure of where to start. 
It uses a friendly and encouraging tone that can help boost parents' and caregivers' confidence to start BLW. An excerpt of the introduction goes, "I want you to feel like I'm there with you at the table cheering you on…"
The safety, allergen, and "troubleshooting" sections are a great addition.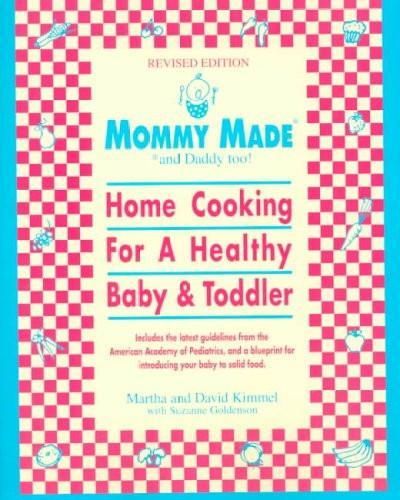 It illustrates the size of the foods for different developmental stages. The differences between gagging and choking are clearly explained. 
It has meal plans that cover the baby's transition to sharing family meals. The sections are color-coded, so it's easier to find and go back on a topic you like. This book can be your easy-to-use guide when you want simple answers to your questions. 
What Customers Say
Positive Review:
"This book is a great resource for parents who are in the moment and trying to figure out baby-led weaning. Having babies and learning a new process like this can be overwhelming and some resources out there can overcomplicate things but this really does break it down into 5 easy steps. I also love the troubleshoot guide in the back! Overall I would recommend this book and love the recipes that I can use with my toddler as well to get extra nutrition in! – Review on Amazon
Negative Review:
"I don't know much about BLW and this book was a good introduction to BLW and how to know if your baby is ready to start solids.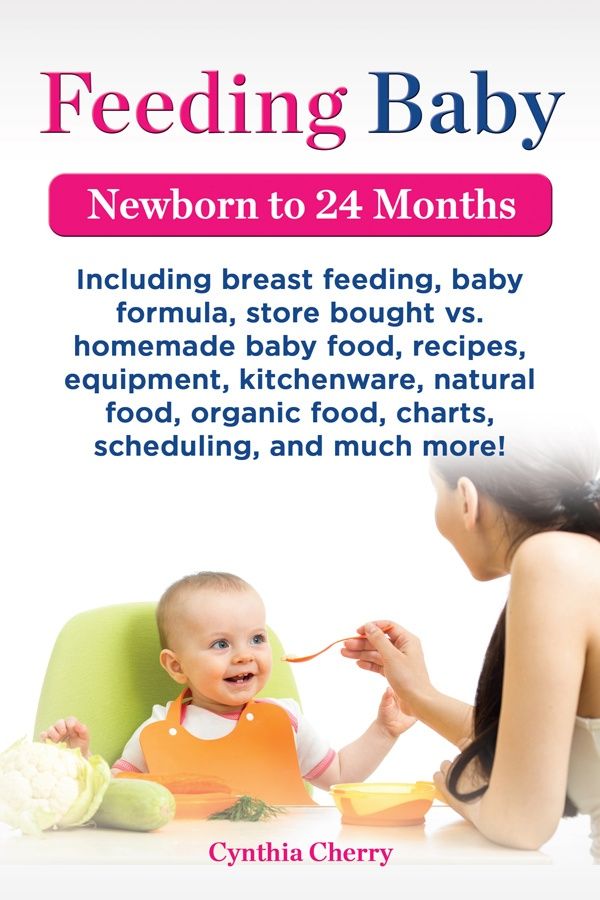 However, I was under the impression that salt should be avoided until the baby was 2 years of age and many of these recipes include salt or reduced sodium soy sauce, which still has 590mg of sodium in one tablespoon." -Review on Amazon
Books On Whole Food Nutrition
6.
'The Big Book of Baby Led Weaning: 105 Organic, Healthy Recipes to Introduce Your Baby to Solid Foods'
by Aubrey Phelps MS RDN CLC
If you're looking for healthy, whole-food meals, this might be the book for you. The author, Aubrey Phelps is a dietitian specializing in perinatal and pediatric nutrition. This "big book" is filled with organic meal plans. It has complete sample menus and even grocery lists. 
The book also has money-saving tips so you'll get the most out of what you pay for. 
It also has a step-by-step guide on introducing new flavors and textures to your baby. 
 It highlights the importance of cue-based feeding and trusting babies to self-regulate.
Aside from the vegan options, the book also has plenty of gluten-free, nut-free, and dairy-free options. Disclaimers are placed in recipes with common allergens. Recipes have no photos but a detailed explanation of how to serve them safely.
The book's tone is reassuring, acknowledging that each baby is unique. Some babies may quickly grasp the method, while some may need time–it's ok. 
The author reminds readers to stop focusing on food but the experience of baby-led weaning. Many readers also enjoy the heartwarming short stories shared by the author. 
What Customers Say
Positive review:
"What a great resource this book is for not just baby food but also transitioning into those different phases of your child's diet and an excellent source to continue to use for the entire family as our babies grow! So many recipes!! I cant wait to try them! This gave me so many ideas on what, when, and how to feed my kids. It was informative, organized and an easy to follow book.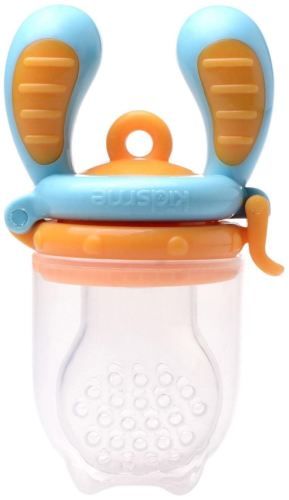 I'll be referring back to this one for sure!" -Review on Amazon
Negative review:
"Not one picture of the recipes, no clear outline on food groups baby can eat depending on their month only recipes pertaining to the certain month. Also the recipes are not for me I only thought a couple were worth trying. Will keep searching for another one." – Review on Amazon
BLW Cookbooks 
7.
'The Baby-Led Weaning Cookbook: Delicious Recipes that'll Help Your Baby Learn to Eat Solid Foods―and That the Whole Family Will Enjoy'
by Gill Rapley PhD, Tracey Murkett
Gill Rapley's Baby-Led Weaning Cookbook is more than just a cookbook. Before getting to the recipes, you will also be given a comprehensive guide on baby-led weaning. 
It's like a summary of Rapley's Essential Guide to remind you what to consider while preparing meals. The book details the importance of baby nutrition and safety.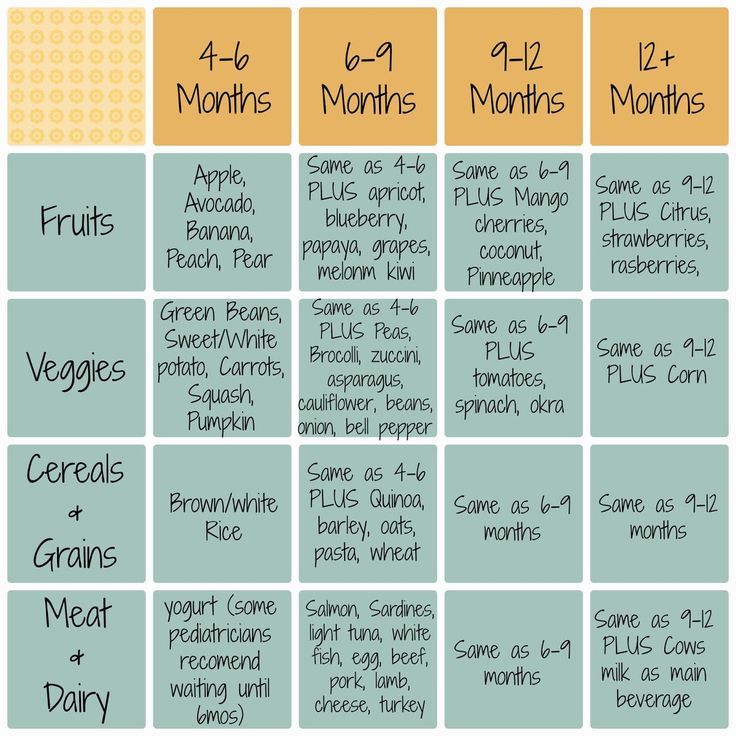 Recipes are made not just for the baby but also for the rest of the family. The book provides a huge range of recipe ideas. It offers simple meals and healthy and nutritious store-cupboard meals to new recipes. 
With more than 130 recipes, there's always something for everyone. Even your family's picky eaters can find something they might enjoy. This big book has plenty of meal plans from baby snacks, healthy sweets, and filling meals for the family.
There are stories and messages from parents who practice baby-led weaning to keep readers inspired. There are also easy-to-follow tips on minimizing the mess during the baby's feeding time.
What Customer Says:
Positive Review:
"I heard about baby-led weaning from a friend in England and wanted to know more about it, so I bought this book. It is extremely useful, easy to read, and you can skip around chapters if you wish. It also includes stories from parents who have used baby-led weaning, as well as adorable pictures of babies eating.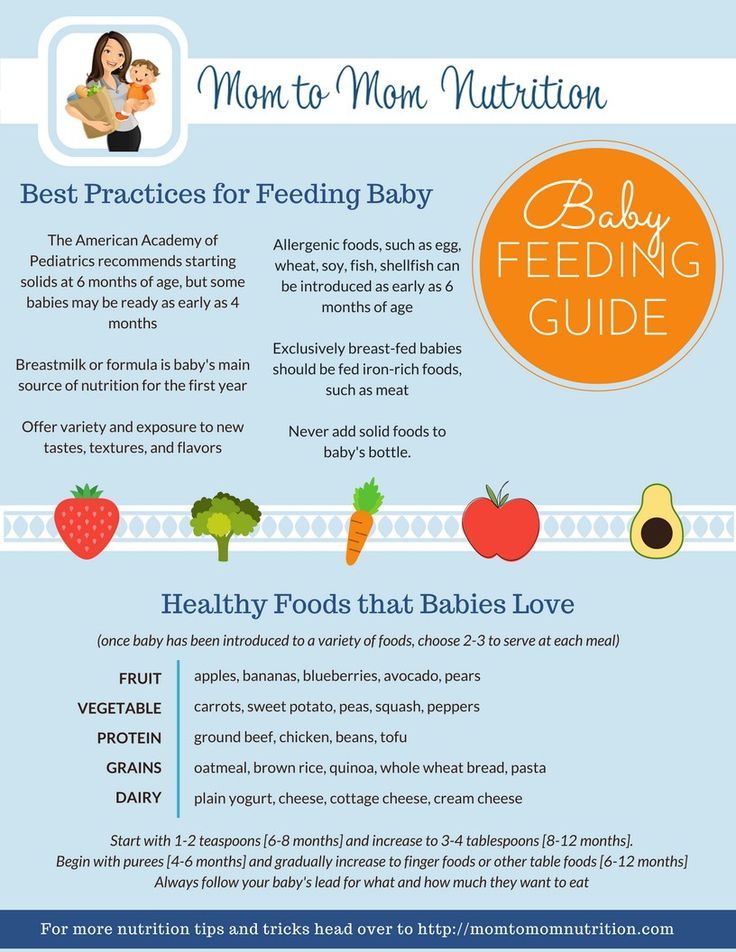 I highly recommend this book to any parent looking for an alternative way of introducing solids without purees." -Review from Barnes and Nobles
Negative Review:
"Informative for someone who has no knowledge of BLW, but I feel a lot of this information could be gathered by researching online. As a FTM, I was hoping this book would be more of a step-by-step guide with tips on BLW but it has more facts/info about BLW. If you don't feel like researching different online sites then this would be a good purchase but if you already have researched BLW then this won't have anything new." – Review from Amazon
8.
'Annabel Karmel's Baby-Led Weaning
Recipe Book: 120 recipes to let your baby take the lead'
by Annabel Karmel
Bestselling author Annabel Karmel shares more than a hundred baby-led weaning recipes. Karmel has become one of the UK's No.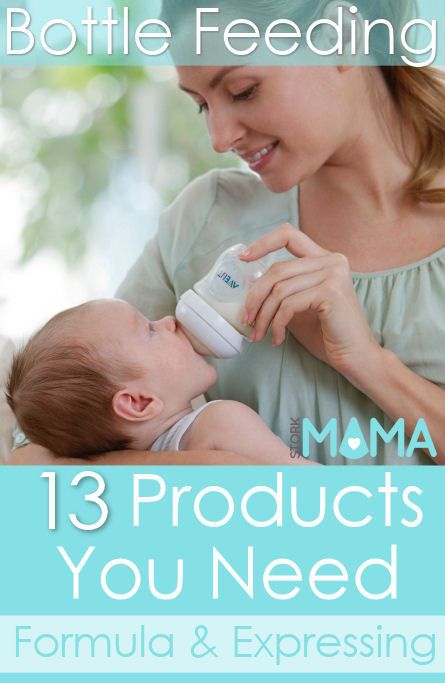 1 children's cookery authors with 43 cookbooks under her name. The book suggests ensuring babies get optimum nutrition while developing motor skills. 
Recipes vary from easy-to-make baby meals to fancy meals that can be shared with the family. Karmel focuses on flavors, tastes, and textures using herbs and clever food combinations. 
Baby foods don't have to look and taste bland. Karmel's recipes are creative, appealing, and healthy. Foods also don't fall apart and have age-appropriate sizes and textures for babies.
 Some of the recipes are Salmon Quinoa, Mini Energy Balls, Spinach Balls, Broccoli Chicken, and more. If you're looking at shaking up your baby's food options, this book might be for you. 
What Customers Say
Positive Review:
"I had this & used it a lot during my baby's first year (then it got destroyed by me accidentally dropping some water on it!) The recipes are good & inventive & healthy, a good resource for a first time mum who wants to learn about weaning.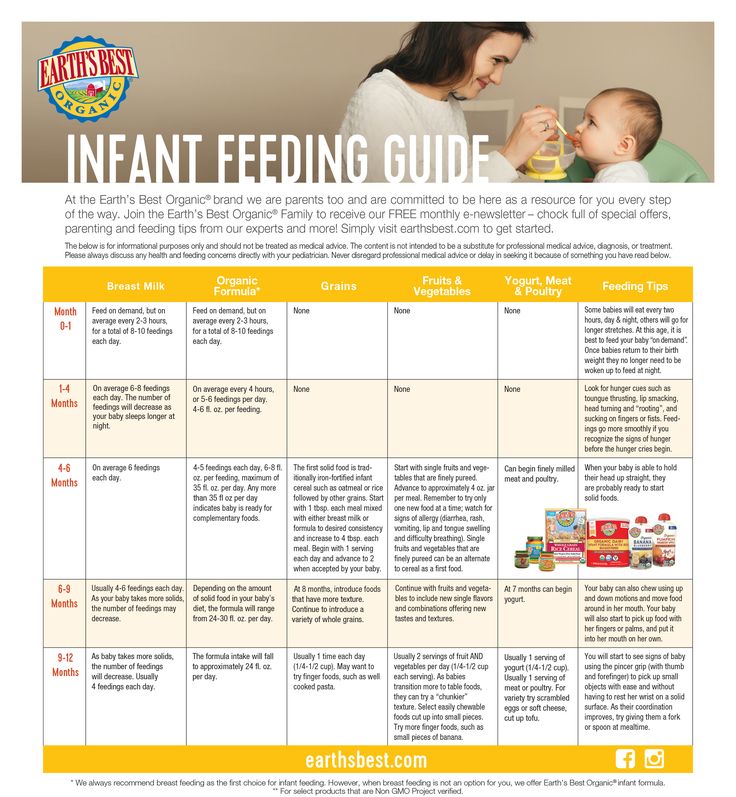 I gave it 4 stars instead of 5 because some of the recipes are a bit over the top, i.e. too complicated (for god's sake, you don't make home-made stock when you're a new mum with a non-sleeping 6 month old!) But all in all, I would recommend this, at the very least, it's inspiring." – Review from Walmart
Negative Review:
"I was expecting a book of simple baby-led weaning balanced meal ideas for my baby. This book has fancy recipes that require too many ingredients and are far too time-consuming and complicated for preparing for a baby daily. This book is for someone that likes spending all day in the kitchen cooking and cleaning up. Has a few good kid-friendly recipes." – Review from Amazon
9.
'The Super Easy Baby Led Weaning Cookbook: 55 Simple Recipes to Introduce Your Baby to Solids'
by Tok-Hui Yeap RD CSP LD
As the title says, recipes are meant to be no-fuss, easy-to-prepare meals.
This can be your go-to recipe book if you don't have enough time to whip up creative baby foods. 
Tok-Hui Yeap, the author, is a registered dietitian and pediatric nutritionist. Her goal is to make baby food meals hassle-free but packed with nutrition.
The book also provides detailed guidance on safe preparation and good healthy habits. It provides practical tips to prevent choking and recipes for each developmental stage.
Recipes are simple and easy to remember. This book can be good for those parents or caregivers who don't have the time and patience to be creative. 
This book offers a wide selection of protein-rich meals for babies. Most of the meals are baked rather fried. 
Recipes are easy to follow, and ingredients may already be in your cupboard. Some recipes included in the book are Banana Oat Waffles with (optional) Peanut Butter and Easy Blueberry-Oat Blender Muffins.
What Customers Say:
Positive Review:
"Love the quick and easy recipes.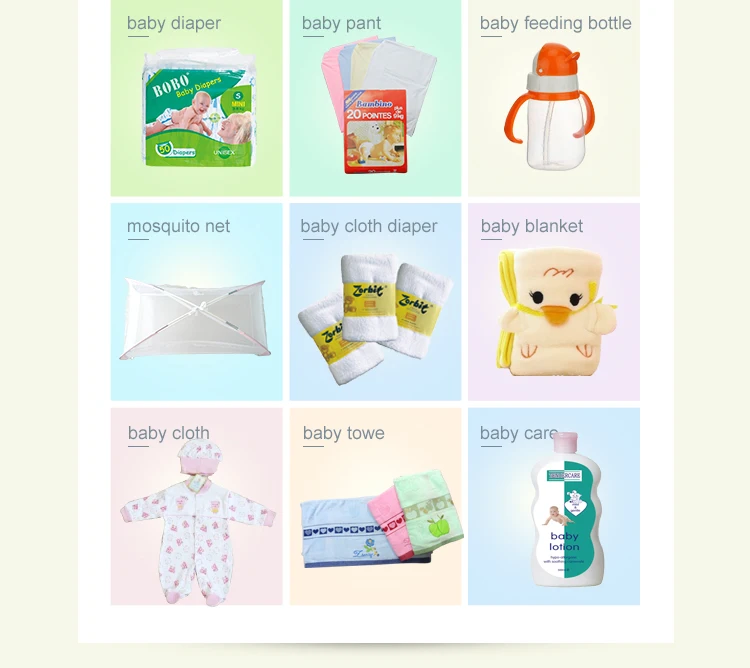 One major highlight of this book which I found different from other BLW books is the incorporation of flavors and seasonings and introducing the baby to textures at different stages. Also Tok Hui gives alternative to dietary allergies. Tok Hui was a huge resource when my preemie son was dealing with long standing feeding issues post NICU and airway surgery. He is now discharged from her care as he is doing so much better but I'm so glad we get to keep her with us in the form of an awesome book! Thank you for this and I'm sure many other moms will benefit from this"– Review on Amazon.
Negative Review:
"Returned almost immediately after receiving. I was looking for easy recipes but these are not easy nor includes ingredients that are easy to acquire." – Review on Amazon
10.
'BLW
Baby Food Cookbook: A Stage-by-Stage Approach to Baby-Led Weaning with Confidence'
by Ellen Gipson MA RDN LD, Laura Morton MS RDN LD 
This book encourages feeding babies with the right whole foods appropriate for the stage.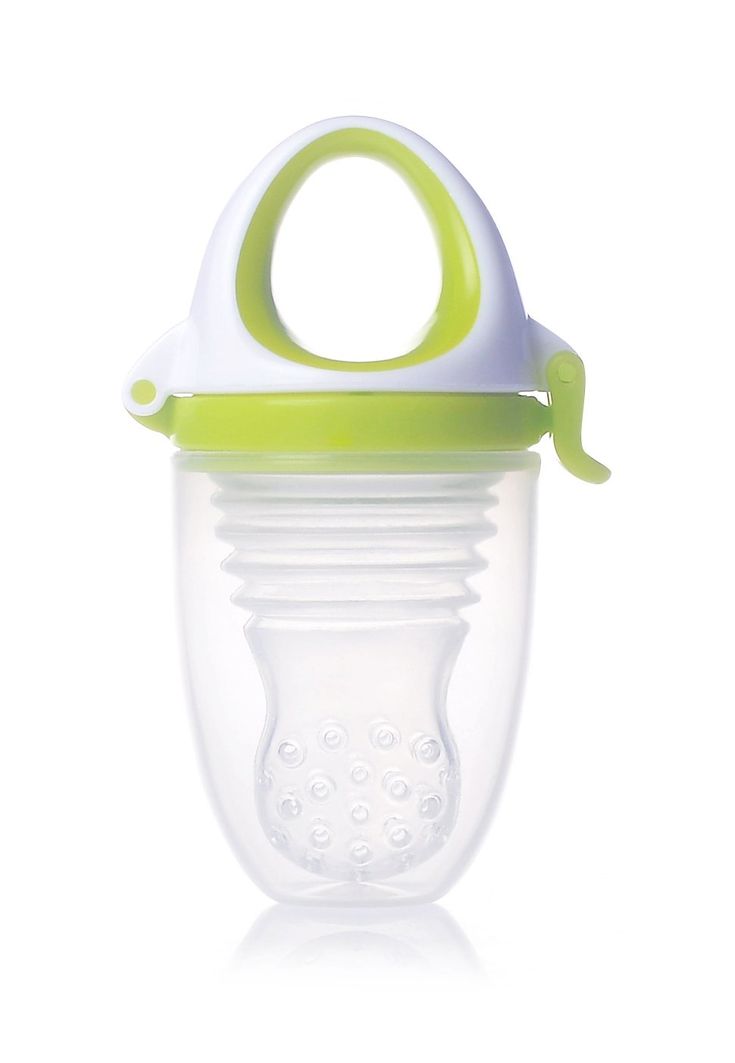 The author, Ellen Gipson is a dietitian and the founder of Square One Wellness, a center that offers BWL workshops and classes.  The book says their simple recipes are "served with a side of fun!" It reiterates throughout the book that it's just a guide, not a hard set of rules.
 Aside from the information on safe food preparation, it also gives more practical guides, like performing CPR.
The book also uses research to recommend the early introduction of common allergens to help prevent the development of allergies. Recipes have "at-a-glance labels" as warning signs for common allergens.
It has 102 recipes arranged according to the baby's stage-by-stage transition. It also provides gluten-free and dairy-free alternatives. 
Recipes explore a variety of tastes and flavor combinations so that babies can't develop a "sweet only" preference. Some recipes are Better Than Boxed Macaroni and Cheese, Sweet Corn Fritters, Mashed Sweet Potatoes, and more.
What Customer Says
Positive Review:
"With three kids ages 3 and under, I am always looking for fun, healthy recipes to keep my kids eating a variety of foods.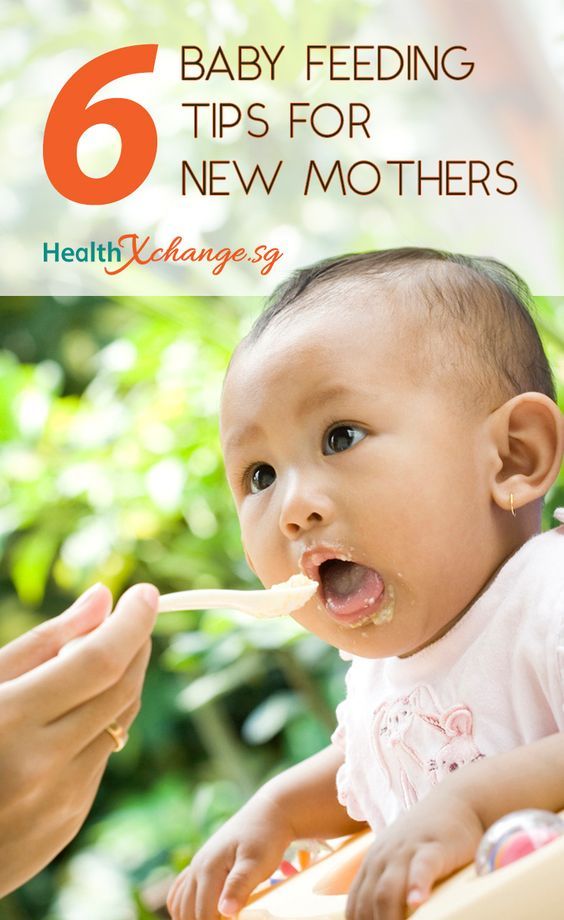 This book offers tons of intel about feeding little bodies and so many amazing recipes. It also helps that recipes are labeled with helpful tags like gluten or nut free. Introductory paragraphs about each recipe also help you learn more about it.".- Review on Amazon
Negative Review:
"The information about BLW was good, but the recipes are terrible. A lot of the recipes call for a fair amount of sugar, salt or are fried, many are extremely time consuming, and three of the dishes got thrown directly into the trash after my family tasted them – lots of wasted time, food and money." – Review on Amazon
FAQs On BLW
Is Baby-Led Weaning Evidence-Based And Safe? 
There are many studies focusing on the benefits and safety of BWL. Studies have shown that baby-led weaning doesn't lead to more choking incidences than spoon-feeding baby purées. Still, experts advise parents or caregivers to learn how to prevent and handle choking episodes.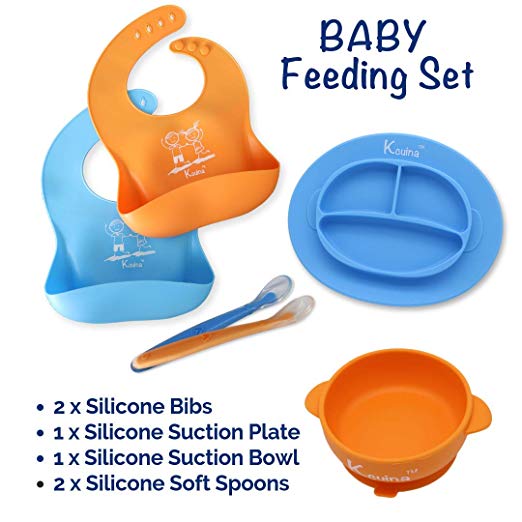 (3)(4) 
If you want to learn more safety and choking prevention tips, here are detailed pieces on baby-led weaning choking and baby-led weaning's safety. 
Will My Baby Get Enough Nutrients? 
Some parents or caregivers fear that baby-led weaning might not give the necessary nutrients for proper growth and development. This may not be the case. Studies show no significant difference in nutrient intake between baby-led and spoon-fed babies. (5)
What Are The Benefits Of Baby-Led Weaning?
It may prevent babies from becoming picky eaters. Because babies learn to self-regulate, they might also have a lower risk for obesity or becoming overweight. It's also a good opportunity to bond during mealtimes with the rest of the family. To better understand the benefits, we've written a comprehensive BWL Guide.
Does The AAP Recommend Baby-Led Weaning?
The AAP (American Academy of Pediatrics) recommends that babies start exploring solid foods at six months of age.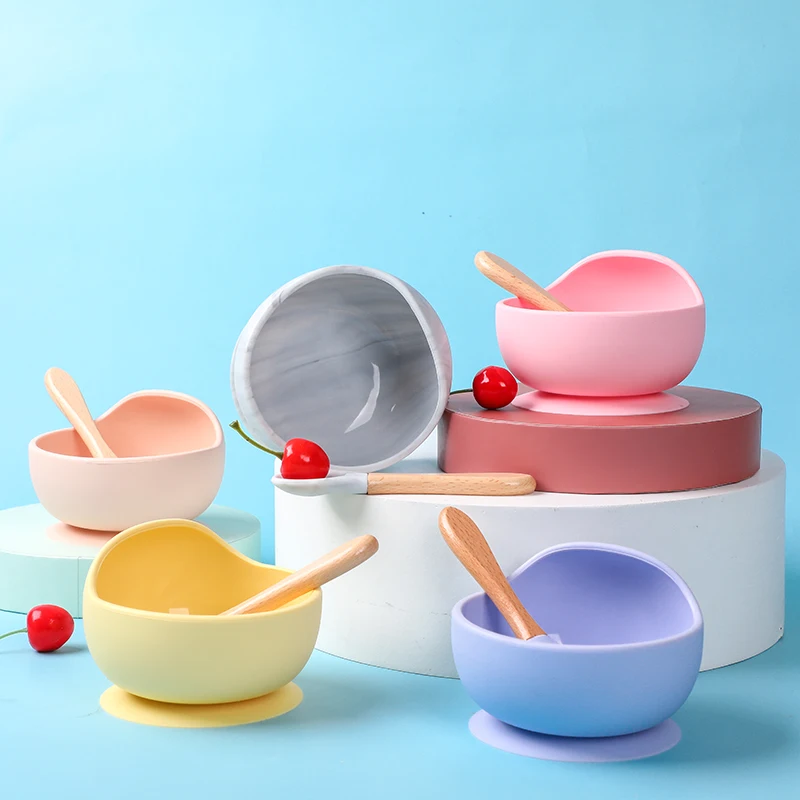 However, many pediatricians and experts already give the go-signal at four months. If you want to know if your baby is ready, you can check the sign of readiness. (6)
BLW isn't suitable for all babies, though. It can be helpful to talk with your pediatrician about your approach to starting solids, especially if your baby is younger than six months old. It's recommended that babies continue breastfeeding or formula-feeding until one year old. (6)
How Do I Start Baby-Led Weaning?
After making sure your baby is ready for solids, you can start preparing. You need a good quality high chair. Choose food-grade silicone, stainless steel, or at least BPA-free utensils, bowls, and cups. BPA is a compound in plastics that can be harmful to babies. (7) 
In preparing baby-led weaning foods, there are important factors to consider in order to lower choking risks. . For starters, foods must be cut in sticks or slices the size of adult fingers. For a complete guide, our BLW Guide might help you.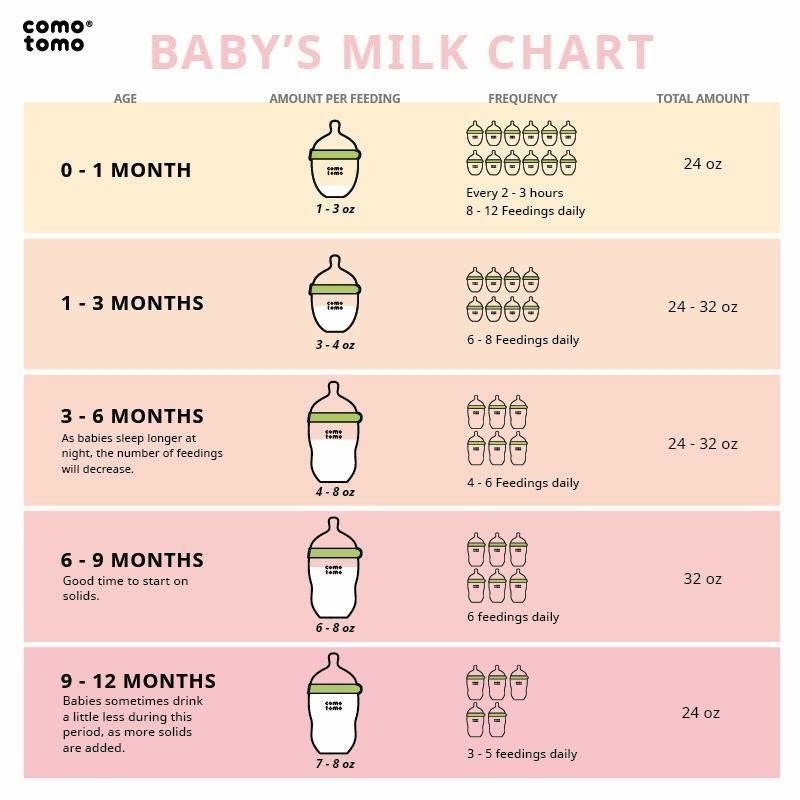 What Are The Best Baby-Led Weaning Foods I Should Try First?
Wherever possible, try to choose organic whole foods or foods that are minimally processed, unrefined, or contain additives. Some best first foods are:
Avocado
Banana
Eggs
Baked oatmeal strips
Pork
Beef
Poultry like chicken or turkey
For more food options and proper preparation, we've also written a piece on baby-led weaning foods. It's best to ask your pediatrician's approval before giving any solid foods to babies under six months.
Safety Tips To Keep In Mind When Practicing Baby-Led Weaning
While there's no one-size-fits-all approach for babies, there are basic dos and don'ts to ensure our babies' safety. Here are some basic tips:
Self-feeding teaches your baby to self-regulate. Babies don't have to be forced to finish their portions.
Offer healthy foods according to their age and developmental stage. Wherever possible, choose organic and/or non-GMO foods that are minimally processed, or with additives. 
It can be helpful if you learn more about identifying choking hazards, allergens, and food safety. 
Your baby should be in a fully upright highchair during mealtimes.
Let your baby eat at his/her own pace. Teach good eating habits.
Offer pieces of food that your baby can grab and hold.
Supervise your baby during feeding time, or even better, let them join family mealtimes.
Let your baby try a variety of foods in small portions.
Watch out for any allergic reactions, especially when trying out new food.
Don't stick your finger inside your baby's mouth to check on the food.
Raise an adventurous eater. Let your baby explore and be messy!
References:
https://publications.aap.org/pediatrics/article/141/1_MeetingAbstract/101/5461/Chew-on-This-Not-All-Products-Labeled-First-Finger
http://www. rapleyweaning.com/
https://pubmed.ncbi.nlm.nih.gov/29205569/
https://publications.aap.org/pediatrics/article-abstract/138/4/e20160772/52372/A-Baby-Led-Approach-to-Eating-Solids-and-Risk-of?redirectedFrom=fulltext
https://www.ncbi.nlm.nih.gov/pmc/articles/PMC5438437/
https://www.cdc.gov/nutrition/infantandtoddlernutrition/foods-and-drinks/when-to-introduce-solid-foods.html
https://www.mayoclinic.org/healthy-lifestyle/nutrition-and-healthy-eating/expert-answers/bpa/faq-20058331#:~:text=Exposure%20to%20BPA%20is%20a,2%20diabetes%20and%20cardiovascular%20disease.
Read online "My child eats by himself. Complementary food with pleasure", Polina Kazimirova – LitRes, page 3
Chapter 7. Fly in the ointment
We live in an imperfect world. Self-feeding is also not ideal, although it is close to it. There should be a winking smiley, but in the book such liberties are unacceptable. But I'm sure you caught the tone of this phrase.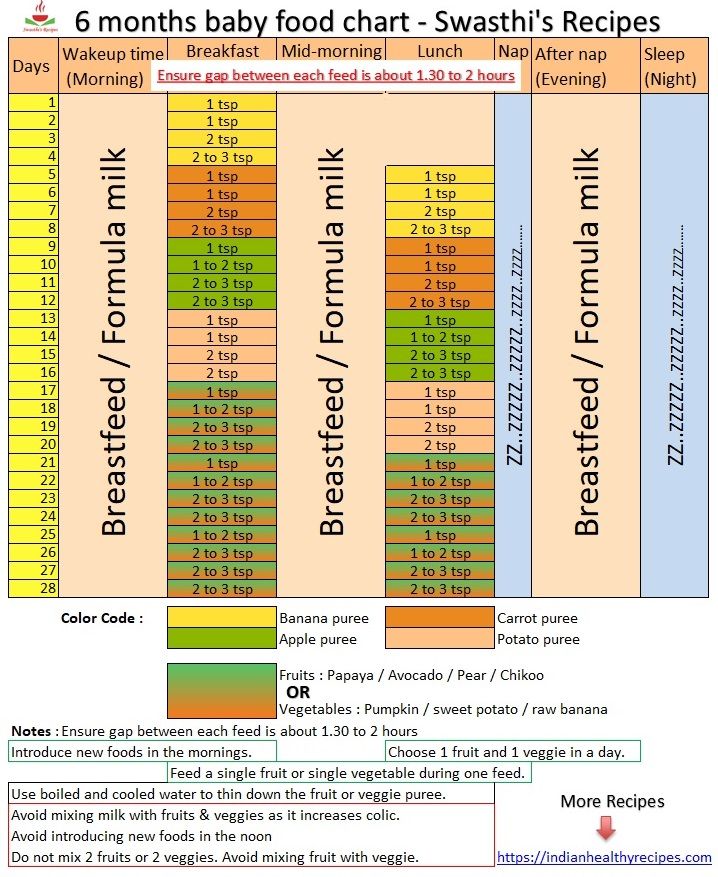 Self-feeding in its usual form is dirty. Especially at the very beginning of the journey. The child still does not quite understand what is expected of him, what he should do with this green thing, which his mother called the funny name "broccoli". Therefore, this curly-haired temptress of all self-baiters will be everywhere: on a young researcher, on a table and chair, on the floor and, if your baby can boast of impeccable accuracy, on the walls. But it's not a fact that mashed potatoes will be much cleaner with complementary foods. There, if the baby aptly slaps on the approaching spoon with mashed potatoes - hold on, the window is opposite!
By the way, clutter can always be turned from a disadvantage into an advantage: you will simply have to regularly clean the floor in the kitchen so that it does not turn into a "story in stone" of all your self-feeding exploits.
The good news is that pollution can be reduced. We'll talk about this a little later. And yes, it won't last long.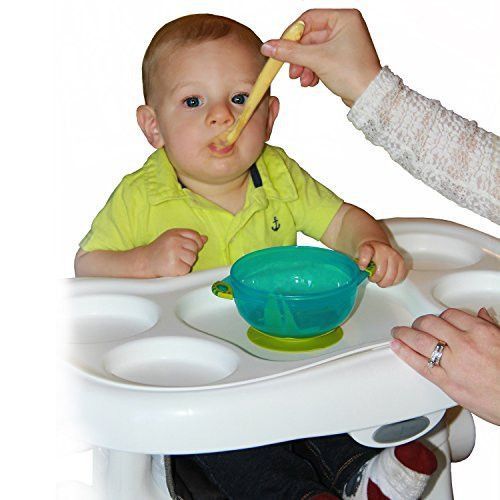 By the age of ten or twelve months, children eat quite cleanly. You can already show your grandmothers.
* * *
Self-feeding is still going against the current. Despite the fact that in English-speaking countries this approach has already become the norm, in the Russian-speaking space it is still a curiosity. And everything new causes mistrust and rejection.
Get ready for the fact that you will not be understood, you will be dissuaded and accused of being "a worthless mother and wanting evil for your child." Believe me, this rejection will end exactly when you meet your girlfriends and children in a cafe and your year will quickly eat spaghetti on your own, while you enjoy your rolls, and the other mothers will nervously feed their children puree from a jar of the best manufacturer and look at you with envy.
Self-feeding is not a magic wand. Most likely, the baby will not eat huge portions from the first day. At first, he may not eat at all.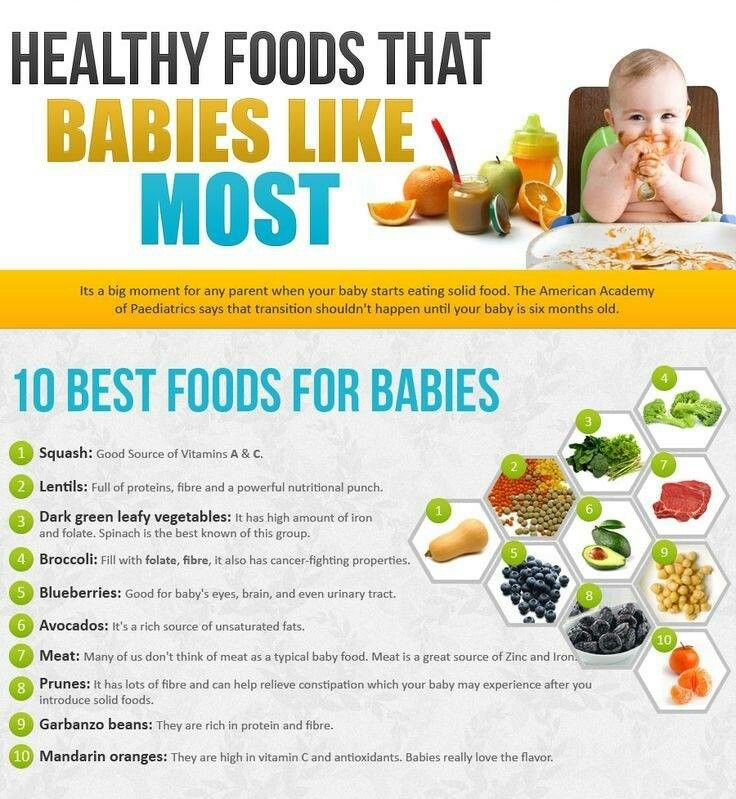 Yes, it is normal. Children experience the world by touch. Therefore, your baby may first want to flatten, smear and grind everything that you offer with handles. This will allow him to study new objects, get acquainted with their properties and learn to trust all these mysterious squash and meatballs. And only then start eating it. Tune in to the fact that the initial portions will be tiny, but children at six months of age do not need more.
Giving control to a child is also a task for mothers! After all, we always strive to "lay straws" in everything. And here: let the six-month-old peanut eat by himself, and even in pieces! Watch with the calmness of the Egyptian sphinxes how the gag reflex works. To slip ammonia to fainting grandmothers, whose hearts cannot stand the sight of a long-awaited granddaughter with a chicken leg in her hands instead of the treasured jar of mashed potatoes from a well-known manufacturer.
Parents of formula-fed children will find it especially difficult to let go of the situation.
They are used to knowing exactly how much their child eats. Measure each serving in milliliters. Self-feeding does not imply such control. There is no way we can count the grams of food that has entered the stomach of the eater. And even a look at the plate "before" and "after" can only conditionally give you an idea of ​​how much the little one really ate. Because it will be difficult to estimate how much food has been treacherously dug into the folds of the upholstery of a chair or has been carefully licked off the floor by a pet. By the way, the close friendship of the self-baiter and pets is guaranteed to you. Cats and dogs will stand guard at every meal and, with the diligence of Cinderella, pick up any crumb that has fallen from the baby's plate.
It will not be easy for those parents who, before the introduction of complementary foods to the child, themselves ate what they had to, unsystematic and disorderly. Working on yourself and your own eating habits is the most difficult part of the journey.
After all, a child is looking at you, and it depends only on you what kind of relationship he will have with food and what choices he will learn to make regarding food.
You will also meet the envy of those who are not as informed as you and are still afraid of bits of food. And also you will suffer from an irresistible desire to share with all the gastronomic heroisms of your self-feeder. So don't be surprised if after thirty videos sent to your favorite friend during the day, she stops responding to you.
Any disadvantages of self-feeding are temporary. But the benefits that he brings with him will pop up here and there throughout the life of the baby, manifesting themselves in the form of a child's high self-esteem, independence, developed motor skills, developed early speech, healthy eating habits and many other goodies.
Chapter 8. Pieces in complementary foods: evil or good?
Every day they write to me with the question: is it bad for the gastrointestinal tract of a six-month-old baby to eat pieces? Is food digested in chunks?
There is not a single study that claims that the pieces are well digested.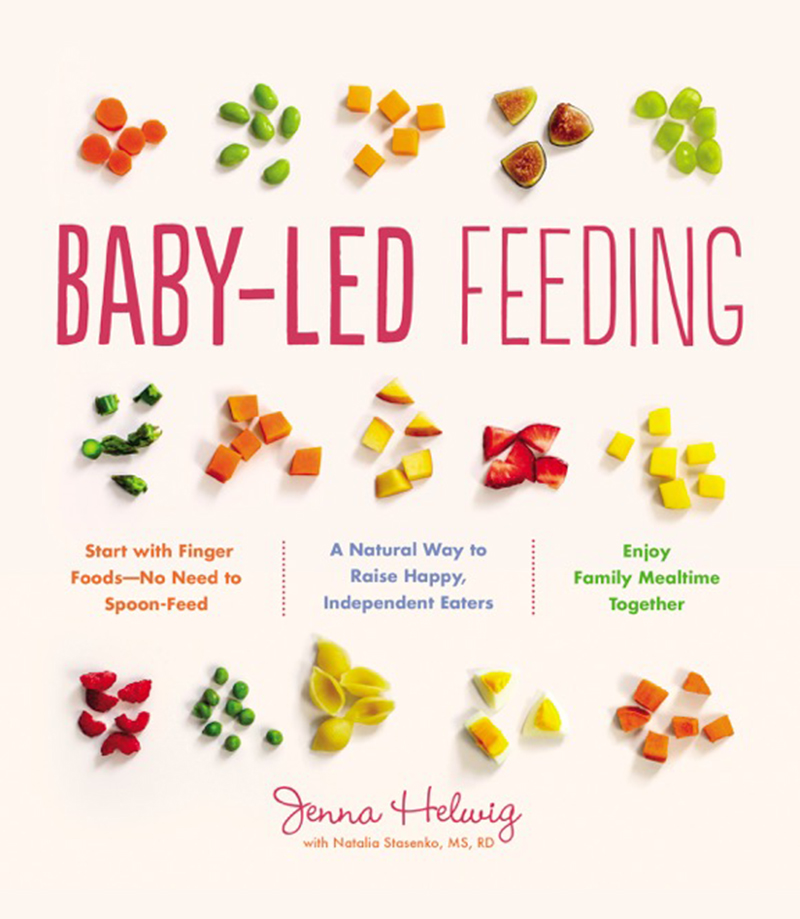 As there is not a single study that says otherwise.
Our knowledge of physiology forces us to accept the fact that ground food is absorbed by the body much better than unground food. This is how nature works, it has programmed us this way. That is why we know how to chew. And that is why the food that self-feeding children eat does not enter the stomach in pieces - children grind it before swallowing it. We are so arranged: physiologically we cannot swallow large pieces.
Hence the conclusion that self-baiters also digest food very well. Simply because they chew it. How can toothless babies chew? Gums and tongue. Don't believe in the power of gums? Try putting your finger in the baby's mouth when he has closed his jaws with force. Painfully? Q.E.D!
Most babies can chew by six months. This skill appears in babies between four and seven months. Therefore, they do not need mashed potatoes. Yes, it is possible that at the initial stage they will swallow large pieces that will not be completely absorbed by their body.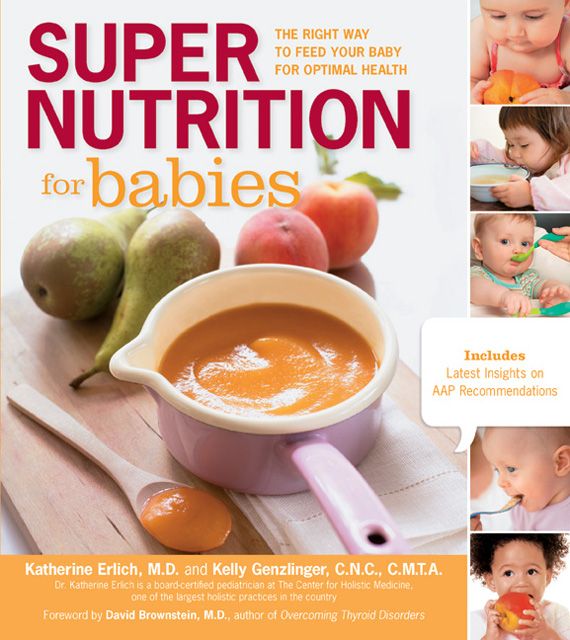 But this is not necessary. In the first months of complementary feeding, its nutritional role is extremely low - the child should receive the main food from milk feedings. The role of complementary foods in the first months is to introduce the child to foods, textures and tastes and teach them to chew. And to learn to chew, you need to regularly train this skill. Puree does not teach children to chew, but pieces do. As the baby improves his skills, he will grind food more and more thoroughly. And by the time when complementary foods have nutritional value, the baby will be able to fully chew food.
How do children know what to eat? How to teach them this?
Babies are born with a sucking reflex. They don't know how to hold food in their mouths. That is why sucking is organized in such a way that milk immediately gets deep enough into the throat of the baby so that he can immediately swallow it and he does not need to be moved anywhere else. By four months, the structure of the larynx of children is modified so that there is a little more space in the mouth.

Children can already hold food in their mouths, but they are not yet able to chew.
Everything changes by six months! The baby has new skills:
- the pushing reflex disappears;
- the ability to move the jaw vertically up and down appears;
- by 7 months, the baby can move his tongue left and right, which helps him move food in his mouth.
By six to nine months, babies learn how to move food closer to the esophagus to swallow it. In the same period, the ability to swallow appears separately from the sucking reflex.
All of these developmental features of the newborn prove the fact that babies can cope with pieces from the very beginning of the introduction of complementary foods at six months. All these skills are innate, they do not need to be specially taught to children, and the ability to chew is in no way connected with the presence of teeth. Moreover, the gag reflex is on the protection of children, which we will talk about in more detail a little later.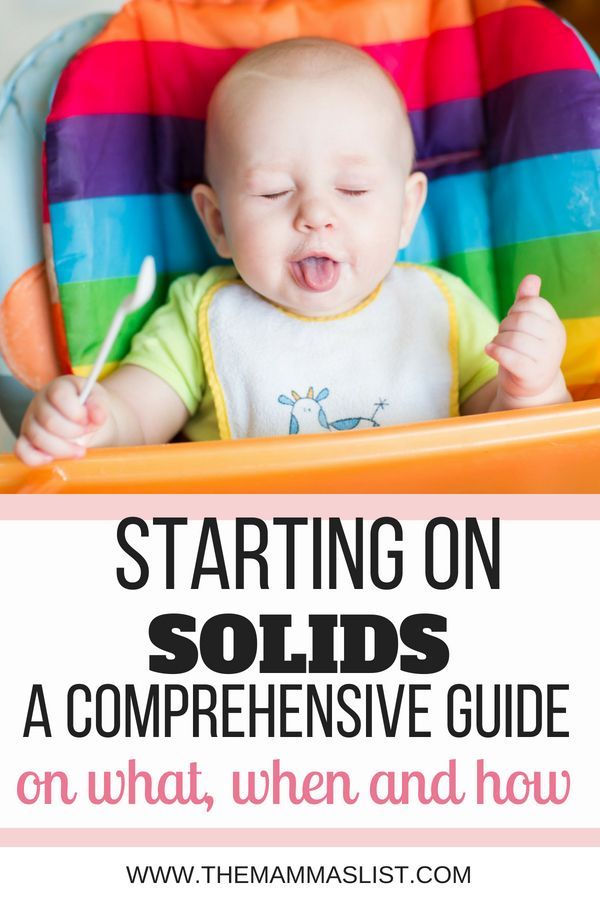 The only important point is that the chewing skill must be trained as soon as it appears in a child. After all, when a baby tries to crawl, we do not put him on a treadmill to make it easier for him. This would only slow down its development. With mashed potatoes in complementary foods, the same story. It only prevents kids from developing their skills in a timely manner.
Interestingly, there has been a huge amount of research done on when to start introducing complementary foods. Until now, there is not a single intelligible explanation why it is customary to start with mashed potatoes. It seems that it just happened in a certain period of history - that's all.
And now I will shock you: there are studies confirming the harm of mashed potatoes in the diet of a child. I will share with you the main aspects.
Puree does not develop chewing skills
I talked to Xenia Pushkina, an orthodontist, about the importance of chewing from the early months of life.
Ksenia is engaged in functional orthodontics - this is the influence of a function (swallowing, chewing, breathing, posture) on the formation of bite, facial proportions and its beauty, and overall health of the body. She mastered this system in the UK, went through hundreds of trainings in Russia and around the world. Mom of two and creator of the @focus.dalshe blog.
♦ Xenia, you say that chewing is extremely important for jaw development. Please tell me when children should start chewing and how to do it right?
As soon as the child can take food in his hand and bring it to his mouth, then he should start learning to chew. That is, the food should be such that the child learns to chew it. It can be soft vegetables and fruits, bread, pasta, cheeses. And gradually you need to move on to more solid vegetables, fruits, meat. For each bite there should be at least ten, and preferably fifteen chewing movements. Thus, each meal will be, in addition to filling the body with nutrients, also a workout for the muscles and jaws.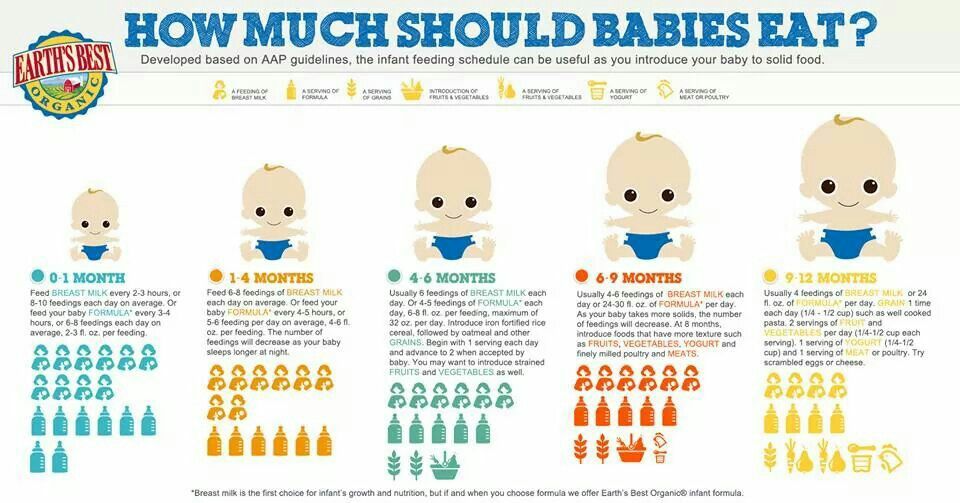 So, a signal for their growth and eruption of even teeth in the future.
Our jaws and teeth grow because we use them, that is, we chew. During chewing, impulses enter the brain, which give a feedback to our jaws and start the growth processes. The chewing function creates the shape. If we do not function, that is, chew, our jaws will have nothing to grow and develop. As a result, narrow jaws with crooked teeth and malocclusion.
This is easy to explain with an example: when a person breaks his leg and does not use it for three weeks, when the cast is removed, the broken leg is smaller and thinner than the healthy one. People say that she "shrunken".
We don't use our jaws and teeth for many years, some even in adulthood prefer soft food because they can't chew hard food. I have had patients who ate only mashed foods until the age of seven. Starting with complementary foods up to seven years! As a result, we got narrow, underdeveloped dental arches, crooked teeth, malocclusion, a violation of the volume of the respiratory tract and, as a result, a weak and susceptible to infections organism and a constantly ill child.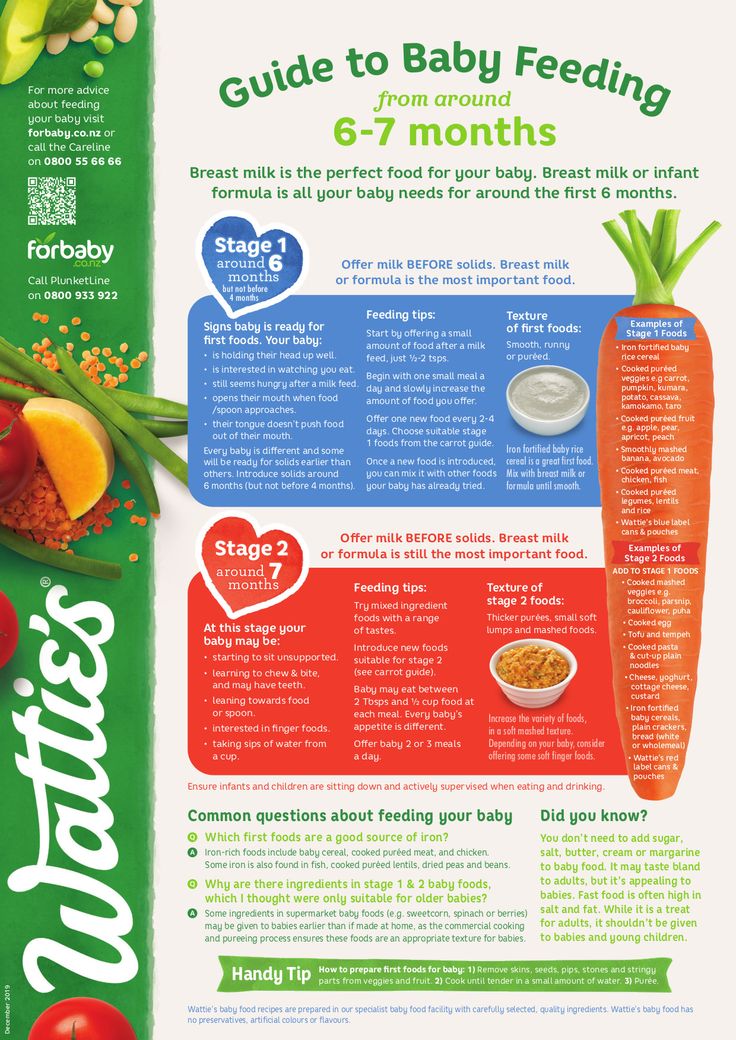 For thousands of years, mankind has not known problems with bite and teeth just because they chewed: roots, raw meat, etc. Chewing is a basic function that is necessary for proper jaw growth. Therefore, the introduction of complementary foods should be carried out taking into account the need to learn to chew.
♦ Are all products suitable for chewing?
Products such as crackers, dryers and the like are not suitable for chewing, because, at first glance, they are hard, but in fact they do not start any chewing process. The child simply breaks off a piece with his teeth and then dissolves this piece in his mouth without doing any active muscular work. He sucks them, not chews them.
An important point is how the child chews. He must chew with closed lips. Otherwise, the lower jaw will simply hang out in free flight and will not receive any adequate muscle load.
♦ Are teethers or nibblers enough to teach a baby to chew?
No teether or nibbler is suitable for teaching chewing.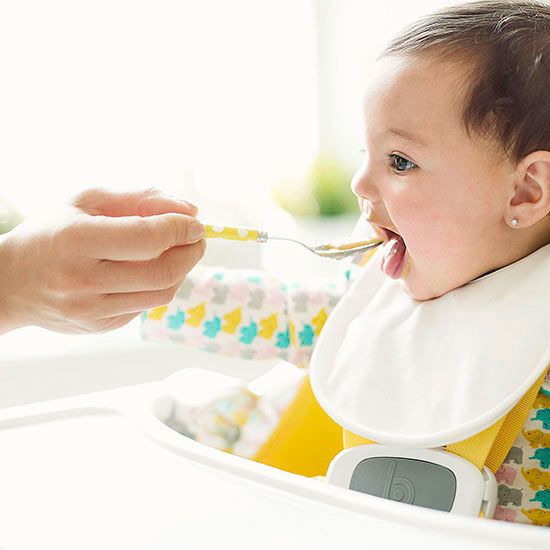 With a teether, a child is only able to scratch the gums during teething, and a nibbler is designed exclusively for sucking, and not for chewing. Therefore, no device can teach your child to chew, except for the right food offered to him.
♦ What other functions does early chewing have besides jaw formation? I remember you talking about stimulating teething.
Chewing is necessary for growing jaws with straight teeth, self-cleaning of teeth and, accordingly, prevention of caries, as well as for timely teething. Because if the gums do not receive constant stimulation in the form of chewing, teething may be delayed. Our body will simply decide: why do you need teeth if you don't use them anyway?
Speech therapists also talk about the importance of chewing. After all, the muscles involved in the process of chewing are also involved in speaking. And if these muscles are not trained regularly, they will be in a weak tone. This can lead to a delay in speech development.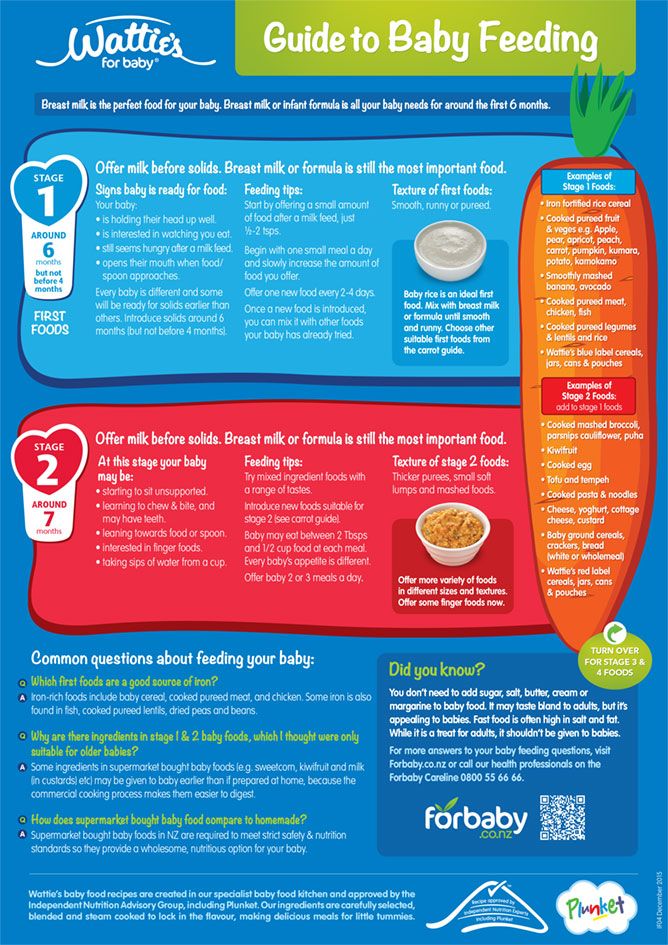 And the sooner the child begins to fully chew, the sooner he will pump up his "talking muscle".
Another disadvantage of puree food is the fact that such a monotonous consistency negatively affects the recognition of products and the emergence of an associative series in the child's brain: appearance - consistency - smell - taste.
Every day, when a baby comes in contact with new products, he creates an archive of edible food: he puts all the products on the shelves - "liked", "didn't like", "need to try again" and so on. And first of all, he evaluates the food offered to him externally and tries to find something similar on his shelves in order to decide whether this food inspires confidence.
Here's the catch: mashed foods always have the same consistency. And orange puree, for example, can be made from carrots, pumpkin, sweet potato, and from melon, apricot. If today you give your baby carrot puree and he doesn't like it, then tomorrow there is a high probability that the baby will refuse apricot puree just because it is the same color!
Can you imagine how much we limit a child's ability to love a variety of foods? Moreover, studies suggest that the emergence of food neophobia (when children refuse familiar and favorite foods and begin to exclude entire food groups) in children may be the result of long-term feeding of pureed foods.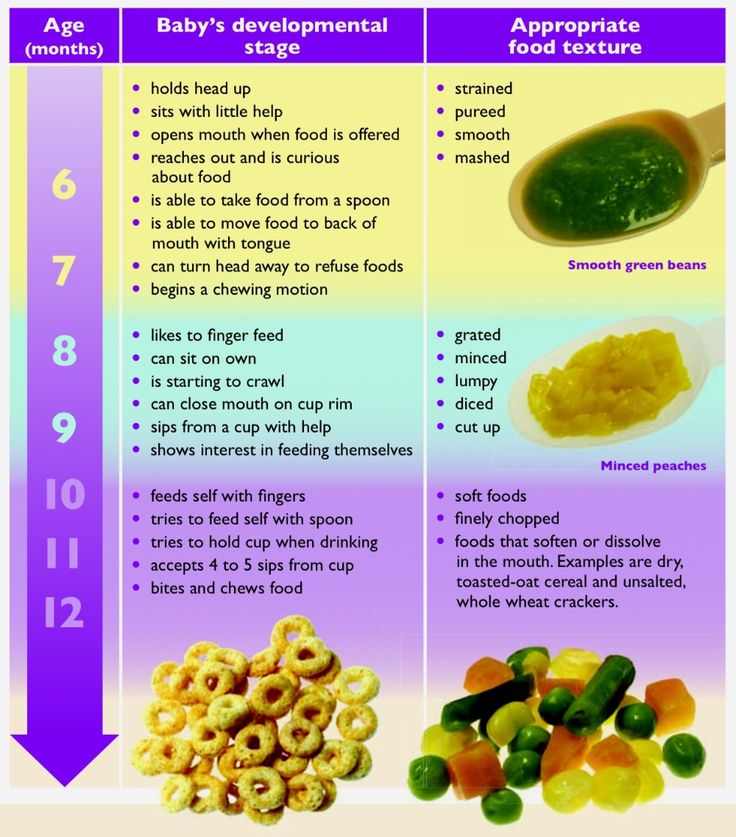 Research shows that pureeing food also affects the food itself. Homogenization not only changes the appearance of food and its consistency, but also its cellular structure. Food becomes more viscous and difficult to swallow. In fact, puree is not always as easy and pleasant to swallow as it seems. It has been observed that the skill of swallowing such viscous consistency appears even with time. But the skill of chewing pieces is improving every day.
Another pitfall of puree viscosity can be the fact that parents often thin the puree to make it easier to swallow, drastically reducing the nutritional density of the product.
Pureing affects the flavor intensity of the product. That is, it makes all flavors more vibrant, which can often be too spicy. Thus, it can negatively affect the baby's perception of a particular product. In addition, a constantly homogeneous mass and the absence of the need to chew reduce the level of pleasure that we get from the process of eating.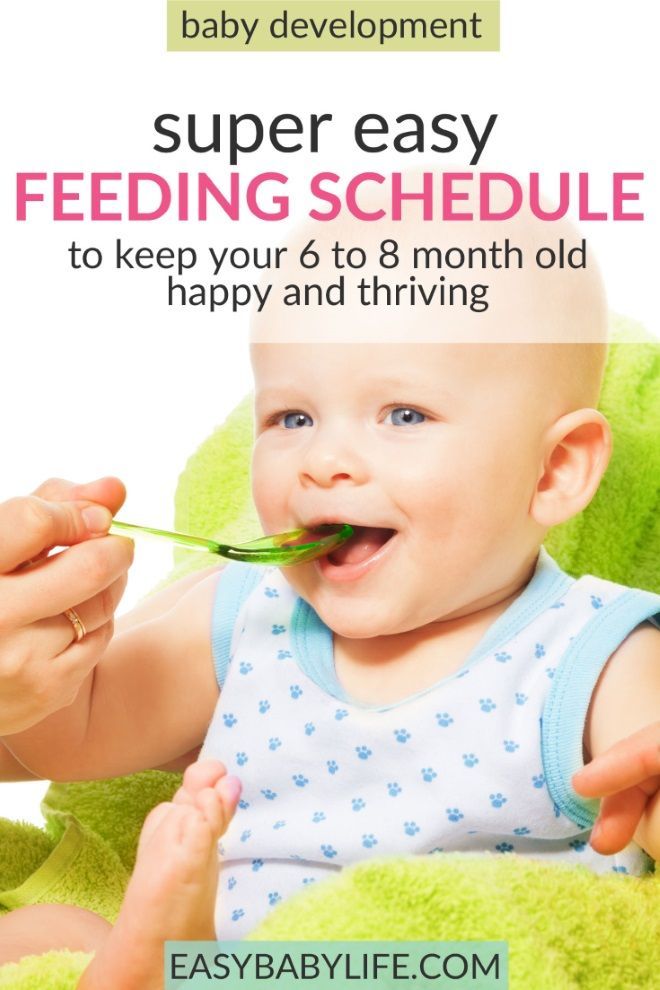 But our main goal is just to enjoy the meal.
Industrial purees have nothing to do with the real taste of the products due to the processing they go through during production. Experiment at home: blindfold yourself and ask your husband to feed you some canned puree. I am sure you will not immediately determine what it is made of. What can this lead to? To the absence of those very associations "appearance - smell - taste". When you finally give your child real food in pieces, your baby may simply not match the tastes of familiar food names with what he feels. That is, it will have to be re-acquainted with all the products.
Alexandra's mother's story:
"My acquaintance with self-feeding began with a post about pomegranates in your blog. My son was somewhere a little over four months old, I carefully studied the tables and sequences for entering products. One Q&A consultant answered moms' questions each week about when to introduce which food based on the information she found in the recommendations of the MoH (Ministry of Health) and other blogs about complementary foods.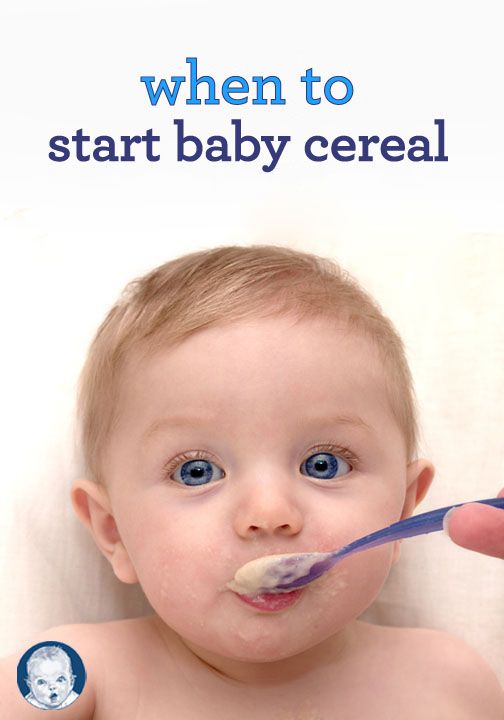 I carefully absorbed everything, because I was about to introduce complementary foods to the child. It was this consultant who referred to your blog with information about the grenade. What is most interesting, I signed up myself, also sent all the mothers I know a link to your profile and postponed the study for later. Postponed and forgotten… One of the new mothers thanked me several times for the link to your blog, but I still put off studying. And then, once my attention was attracted by a post about the "vomit reflex", it almost coincided with the introduction of complementary foods. Yes, yes, we started with purees on the recommendation of a pediatrician, also at five and a half months. I became interested, plus I remembered that one of the mothers was very interested in this method of introducing complementary foods. And I "got hooked" on stories with children who ate food in pieces with great pleasure. And I saw that my son, frankly, mashed potatoes, so-so, purely out of interest, he tried every time, but then this interest quickly faded away, and it became more and more difficult to put a spoon into it every day.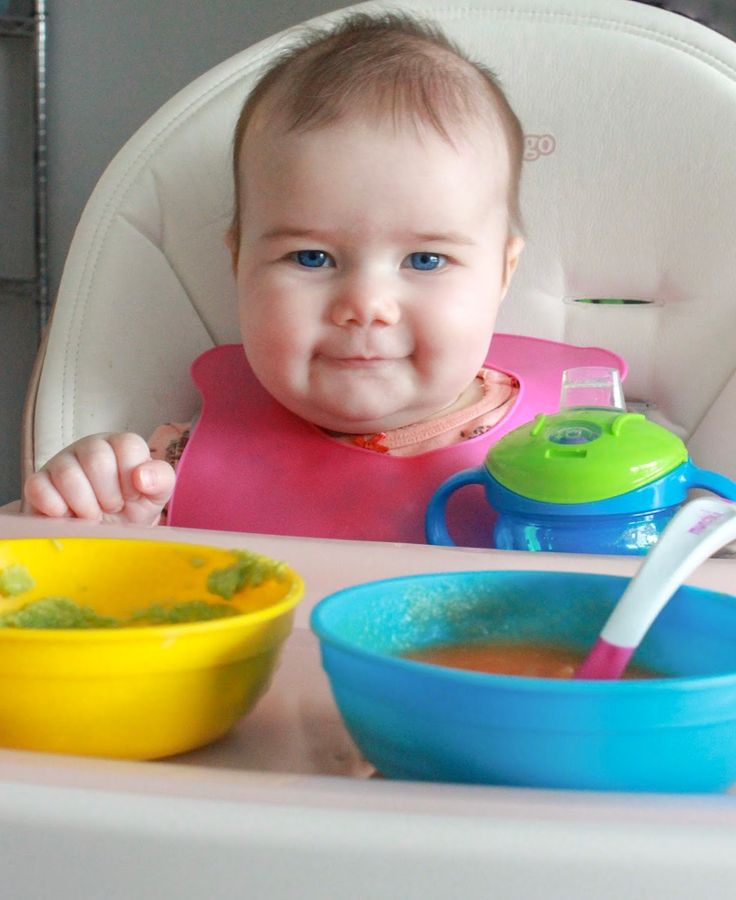 Well, to be honest, I didn't feel comfortable with myself from the fact that I constantly give the same thing to the child (the doctor said to give potatoes, carrots and meat - so-so soup, well, a banana with an apple; and so a month and a half until the next visit). My husband and I don't eat like that, we change products, and give the child the same food. First, I began to add zucchini, broccoli to that ill-fated soup, alternating them. But this did not add appetite to the son. It got to the point that she already put some kind of toy nearby to distract the child.
And then in the stories you reminded me about safety, and I realized that I was making a mistake. So I started to study all the posts, I didn't sleep at night - I got so carried away! And you know, the next day I gave my son a few slices of tangerine, I didn't have a bit of fear that he would choke / swallow and so on. I just trusted my son and carefully watched how he eats. The son ate them with pleasure (he sucked the juice and - lo and behold! - spat out the skins).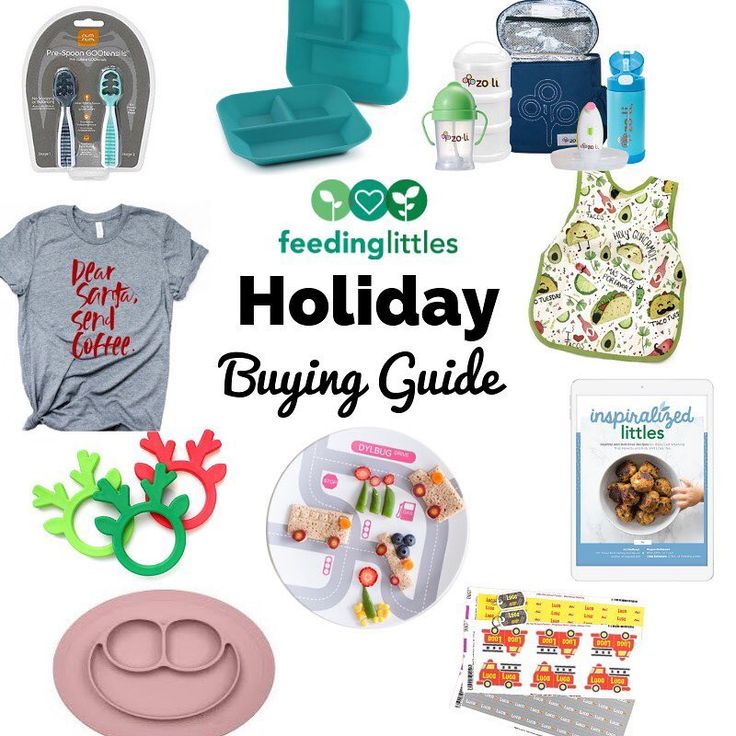 Of course, with pleasure, because my mother fed the same purees for two weeks! Then I started to give new products one by one - and my son liked it. Yes, the gag reflex was somewhere in the first three weeks. But everything passed, the son learned to chew with his gums. I felt that we are on the right track, my husband trusted me in this matter. Grandmothers cautiously tried to offer a nibbler and purees from jars. Ha! I firmly stood my ground, throwing them photos and videos with what pleasure my grandson eats every day. And they reconciled.
Over time, I began to eat with my son, my husband has a different schedule, so he does not go to all meals with us. We expanded our range of products, I began to cook new dishes: everything is simple, but varied. Secretly, I don't like to cook, but now I'm interested in it. In ten days we are ten months old - and the son eats well on his own. True, he still throws cutlery, turns over plates and glasses, but we have everything ahead of us.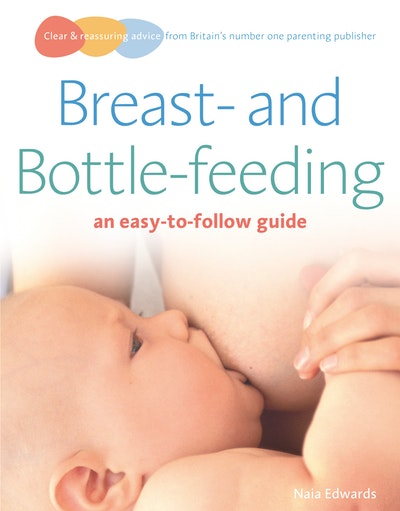 By the way, the next thing the pediatrician said was to continue to give the same set of products (potatoes, carrots and meat, and a banana with an apple), only add milk rice porridge for dinner (from a pack, of course). And at nine months she said to add crushed cookies to the fruit puree (its composition: flour, egg and sugar !!!), and add flour to the soup and give a crust of bread to gnaw. And so on for a year. Pieces here and does not smell, alas!
We live in a foreign country, and this approach to nutrition surprised and shocked me. Now it is clear why they practically do not eat fish. Once again, I was convinced that I was on the right track. Self-feeding has made our lives so much easier! I'm so glad we went this route! I don't cook separately, just save for my son before salting. My only problem for today is what to do with pre-frozen zucchini? He's so watery! I can't find any other cons. Even scattered food does not scare me - I put a sheet under the chair, then brushed it off, and that's it.
My husband's sister, a mother of three, says that I have iron nerves to watch how a child puts food aside, throws it, smears it on the face, loses it on the way to the mouth. But for me it's all the little things. After all, the son eats HIMSELF, funny collects products, repeats after me. I feel an emotional connection with him. I like it so much, I get high every meal. And yes, with the transition to self-feeding, I came to the realization that these tables with the sequence of entering products are a tradition of the CIS countries, and since we live in Slovakia, it was not easy for me to find this zucchini! Slovaks don't really eat it, I barely found it. And only then I realized, but somewhere exotic apples, and they start complementary foods with mangoes or pineapples. So it's all conditional. It is correct to enter what the family eats.
This is our story. Trust the child! The fear of choking is in the mother's head (subject to safety rules, of course), he learns to eat like that.

In the same way, a child falls when he learns to walk."
Maybe it's time to reconsider our idea of ​​how to introduce solid foods to children, what do you say?
Read the book My child eats by himself. Lure with pleasure by Polina Kazimirova: online reading
Current page: 4 (total book has 12 pages) [accessible reading passage: 4 pages]
Chapter 9. Spoon: harm or benefit?
Why not? Can. Moreover, at first glance, a mother feeding her child with a spoon looks like a caring and loving parent, this picture seems to be the embodiment of the natural stage of a child's development.
But I will now ask a tricky question: why spoon-feed a child? Have you ever thought about it? There is a very simple answer to this simple question: NO WAY!
The tradition of spoon-feeding babies began when babies were mistakenly introduced to complementary foods at three to four months of age. At such an early age, a child cannot yet sit up on his own, is unable to swallow anything other than liquids, and certainly cannot eat on his own.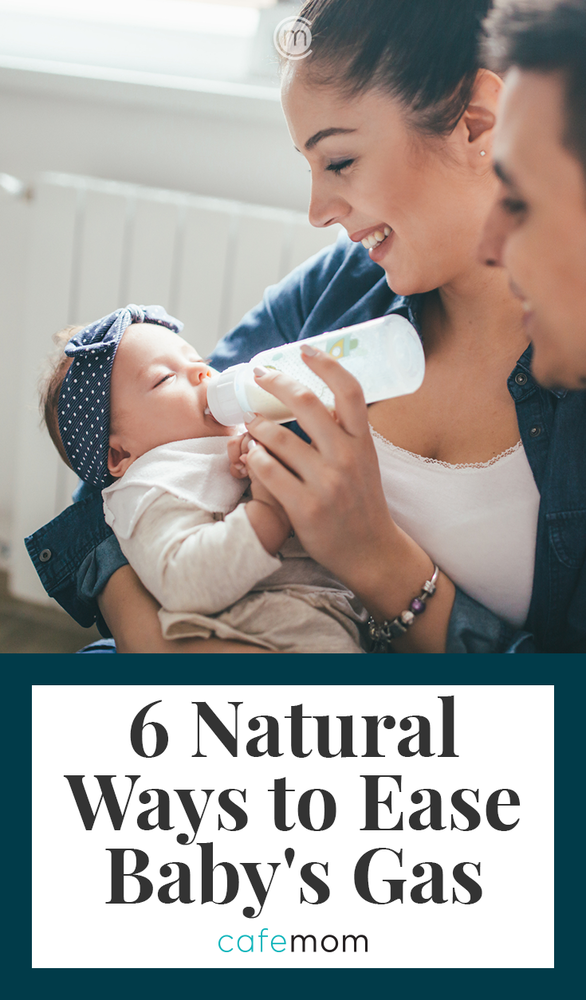 This manner of introducing complementary foods has become so firmly established in our lives that no one even asks about its expediency. Did you know that not a single scientific study has been conducted confirming the correctness of such feeding? Unbelievable, but it is a fact! Science does not stand still, every day scientists give out some new discovery, but nothing here! No one has ever addressed the question of how safe and justified it is to feed small children with a spoon.
Here are a few things to think about about spoon feeding:
♦ When a baby is being fed, he has no control over his eating, does not choose his own pace of eating, so he often eats faster than he should and overeats. In the future, this can lead to obesity.
♦ Spoon feeding is a parent-controlled process. The parent chooses what and how much to put in a spoon. The child can only accept the choice of the parent. He himself is not given the opportunity to choose what to eat and what not.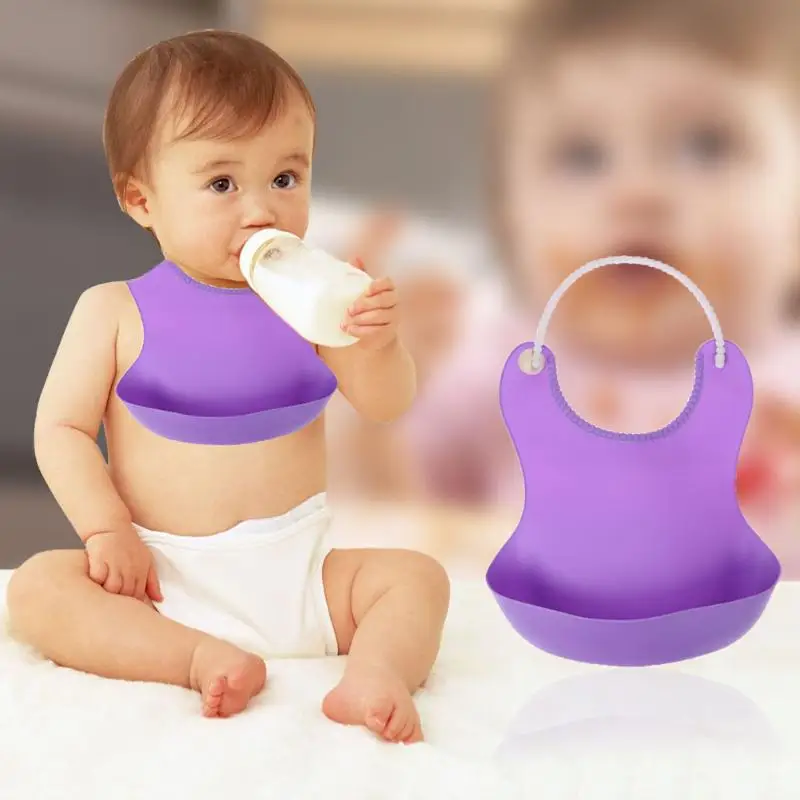 ♦ Puree from a spoon is best sucked into the mouth. Thus, it goes straight to the throat. And this means that the child does not chew, that is, does not train the skill of chewing. It is more difficult for such children to switch to pieces at an older age. From here we observe three-year-olds who continue to eat exclusively mashed potatoes, which are fed to them by their mother, who is already pretty tired of prolonged complementary foods.
♦ Pureed food from a spoon goes directly to the larynx, which means that it does not mix with saliva in the mouth, does not go through the first stage of digestion, which complicates its further processing in the stomach and intestines. After all, saliva contains enzymes that start the process of splitting food.
♦ Teaching a child to eat from a spoon first, we do double work: first we teach the child to eat with our help, and then we retrain the child to eat on his own. Wouldn't it be easier and more logical to do the job only once and let the baby eat on its own from the very beginning?
♦ By spoon-feeding with the help of parents, the child becomes only a passive part of the process; thus we inhibit his natural desire to become independent as quickly as possible.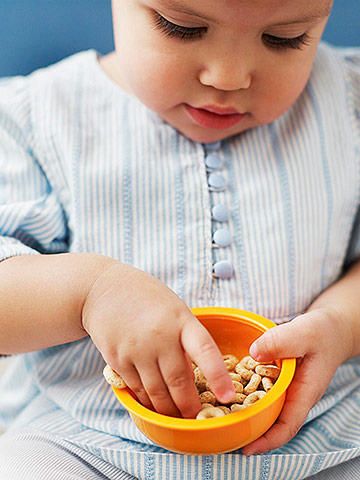 By giving the child the opportunity to eat with his hands, we allow him to explore the world around him, learn textures and enjoy food as a game.
Yes, at first the baby will eat with his hands. Let! This is his way of knowing.
"But that way he will never learn to eat with a spoon!" - anxious grandmothers will be indignant. Have you ever seen an adult who can't eat with cutlery? Well, maybe Tarzan from the jungle.
In November 2016, the medical journal Early Child Development and Care published an article by Jill Rapley, Starting Complementary Feeding: Does Feeding Method Matter? In this article, Jill talks about a small study they did to evaluate whether the approach to introducing complementary foods could have any effect on the success of introducing babies to solid foods. The fact is that in the course of her research work, Jill discovered that the influence of feeding style and the form of food presentation on how easy it is for a baby to accept new foods has never been studied.
Ten children took part in the study. Broccoli was chosen as the new product. Children were offered it in two formats: a whole inflorescence by hand and pureed from a spoon. For each stage, the kids were given about four minutes.
Curious facts were discovered during the study: most of the children showed dislike for mashed broccoli and refused it immediately, while all the subjects readily tasted the whole floret of broccoli and even seemed to like it.
This fact suggests that the point is not the taste of broccoli at all, but the way it was offered to children. Spoon-feeding in a situation where all control over the process is in the hands of the parent can be perceived by the child as forcing to eat without the slightest opportunity to study the product.
While broccoli, offered in the form of an inflorescence, gave the baby the opportunity to explore all its characteristics. Children, before trying the inflorescence, examined it, sniffed, licked, sucked, that is, they studied it from all sides.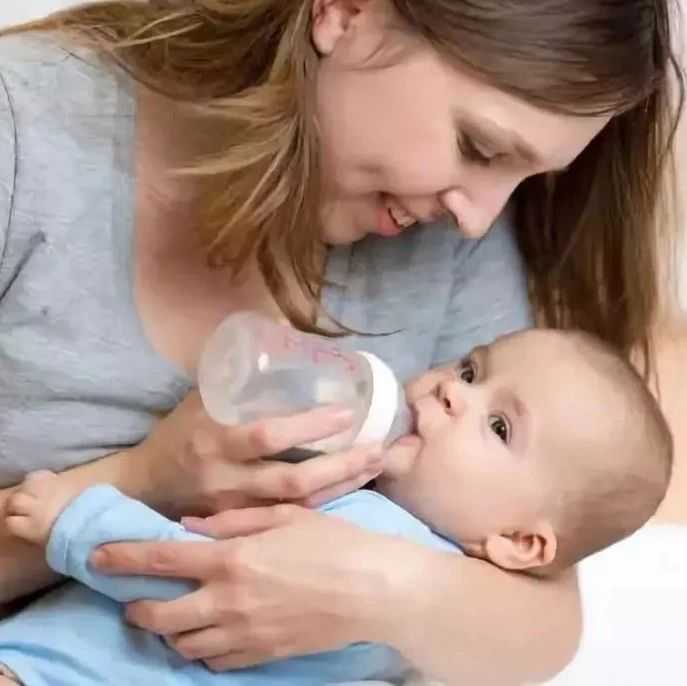 These activities reflect behavioral patterns known as infant exploration of new objects. It turns out that the child does not perceive food as such at the initial stage. For him, this is just another object for study. And spoon-feeding deprives children of this important stage.
Tactile contact with food and playing with food while eating is a limitless simulator of creativity and knowledge of the world.
Zlata says:
"When I was three or four months old, I realized that I wanted to know as much as possible about complementary foods. I wanted to administer according to WHO, but I didn't understand why a child should eat everything tasteless, colorless without animal protein, etc. until the eighth month. When a friend shared a blog about self-feeding, I began to actively study it. But I still didn't believe it was possible. When the baby was six months old, I decided to try. At first, she played exclusively. Now we are eight, and I am very glad that I decided.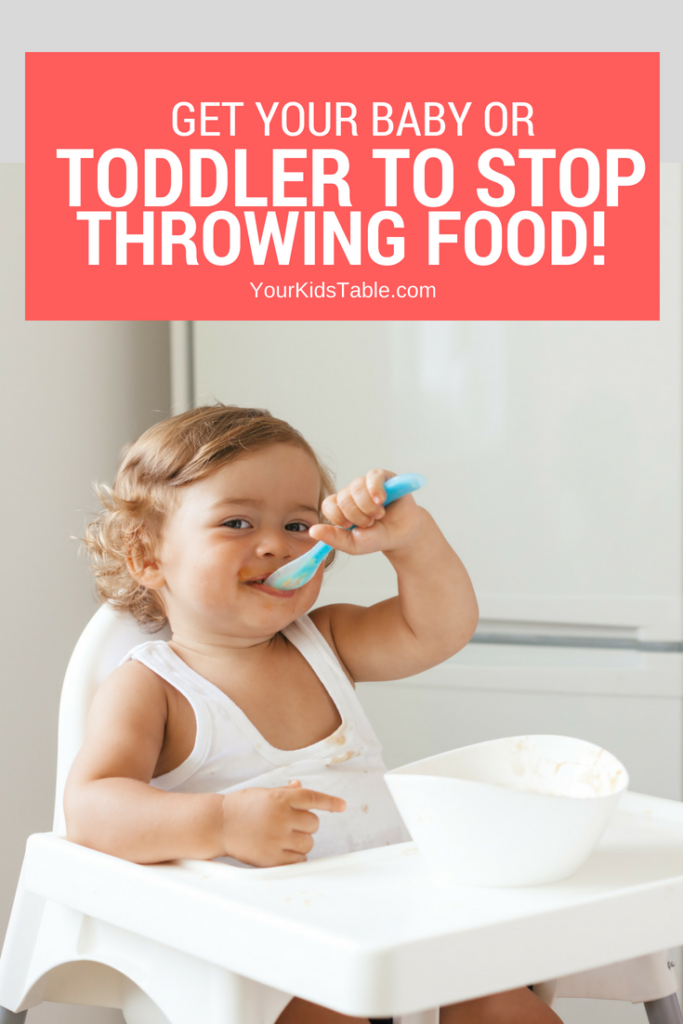 Frankly, we also ate mashed potatoes. The coolest thing is that the child repeats after us. Understands what a fork and spoon are and why they are. Already have favorite products. And I know for sure that we avoided a huge number of problems. The bomb! Believe in your child. Children are much more capable than we think."
Chapter 10. Is self-feeding suitable for everyone?
To clarify: can all children at six months be offered food in pieces? The question is not really whether it is possible. Let's start with security considerations. Can all babies SAFELY self-feed at six months? No, unfortunately not all. Let's see for which categories of children it may not be safe to start complementary foods at six months with pieces:
♦ babies born prematurely (before 37 weeks). These babies usually need a little more time to get ready. Most often, they are fully "ripe" for self-feeding at the age of six months according to the estimated date of birth, and not according to the real one.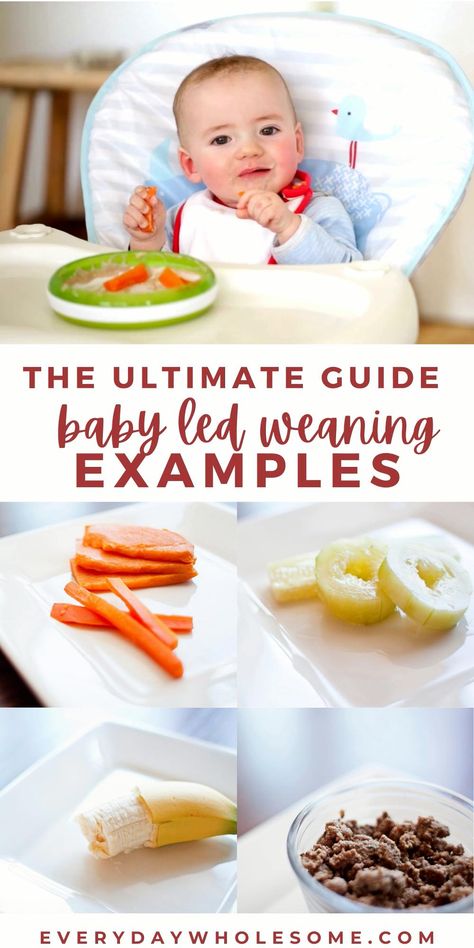 Often, hasty babies are not only slightly delayed in their psychomotor development (for objective reasons), but are also born with a small weight. And by six months they are still fighting for every hundred grams gained. Often, these children may need additional nutrients and micronutrients to ensure full growth and development, which can be integrated in the form of nutritional supplements and drugs.
♦ children with developmental delays. They may simply not be physically ready to sit on their own and "get" their own food. They probably need to give them a little more time. It might make sense to start solids with puree and gradually move on to pieces. Often children with delayed motor development can benefit from self-feeding, as it stimulates the development of fine motor skills, the eye-hand-mouth relationship. If it may not be safe to offer pieces to children with some severe motor delays, they may be encouraged to try to feed themselves on pureed foods. Each individual case must be carefully examined.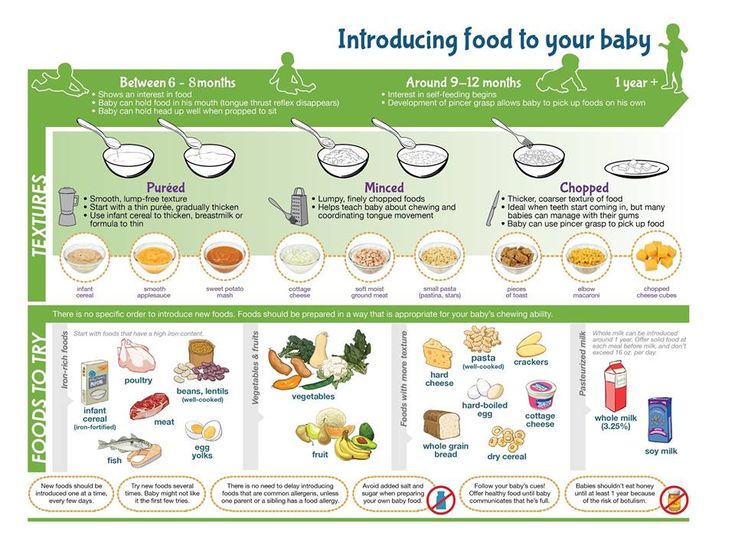 The safety of self-feeding in each case should be evaluated by the child's doctor.
♦ children with tongue tie. This is a congenital anomaly. It is expressed by the fact that the tip of the tongue is tightly fixed at the bottom of the oral cavity. This prevents the child from fully moving his tongue in his mouth. At the initial stage, a short frenulum interferes with effective sucking, and in the future it will become an obstacle on the way to complementary foods. The child simply will not be able to move the pieces in the mouth and knead them, will not be able to push food into the depths of the mouth, from where this food can be swallowed. Subsequently, this pathology can interfere with the development of speech. Curing a short frenulum is easy - children are usually examined by an ENT and incised if necessary.
♦ children with low muscle tone (hypotonics). They may not yet be able to stand upright on their own and cough effectively when needed by six months.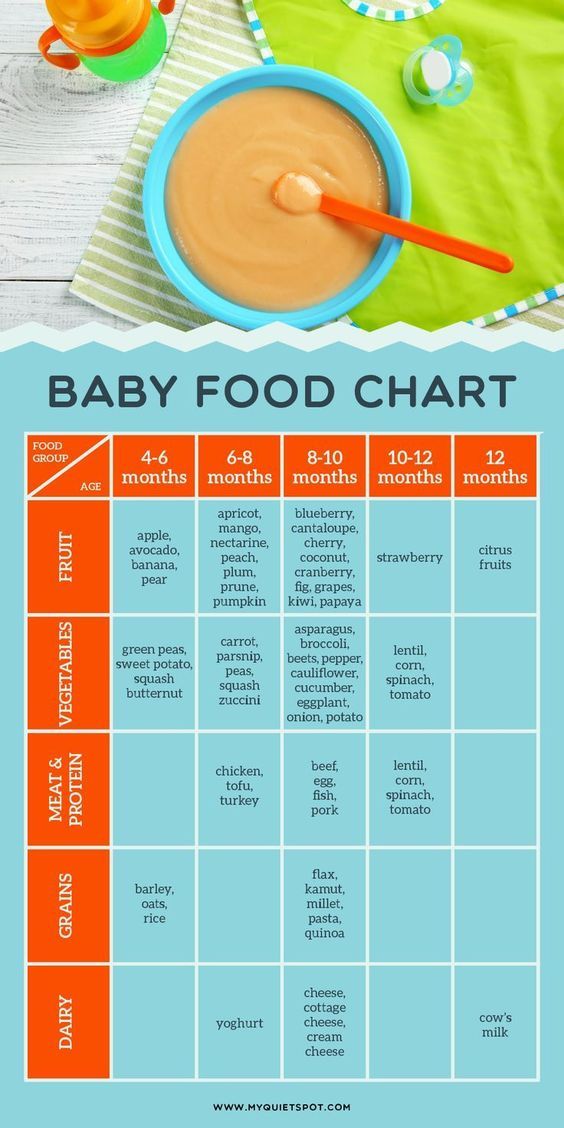 They will need more time to be ready to feed safely on their own.
♦ children with dysphagia. Dysphagia is a disorder of the act of swallowing. It is manifested by difficulty in swallowing, or even its impossibility. There may be pain during swallowing, food or liquid may enter the trachea, nose or larynx. In children, dysphagia most often occurs due to diseases of the muscles, connective tissue, or rings.
These babies are usually just physically unable to swallow complex textures. In such cases, it is necessary to undergo treatment and discuss the possibility of complementary foods with the attending physician.
♦ children with cleft palate. Since in the process of grinding food, babies knead food on the gums and palate, the cleft is a direct and objective obstacle in this process. But after the problem is eliminated and the rehabilitation period, the baby can freely switch to complementary foods in pieces.
Self-feeding is considered safe for healthy term babies.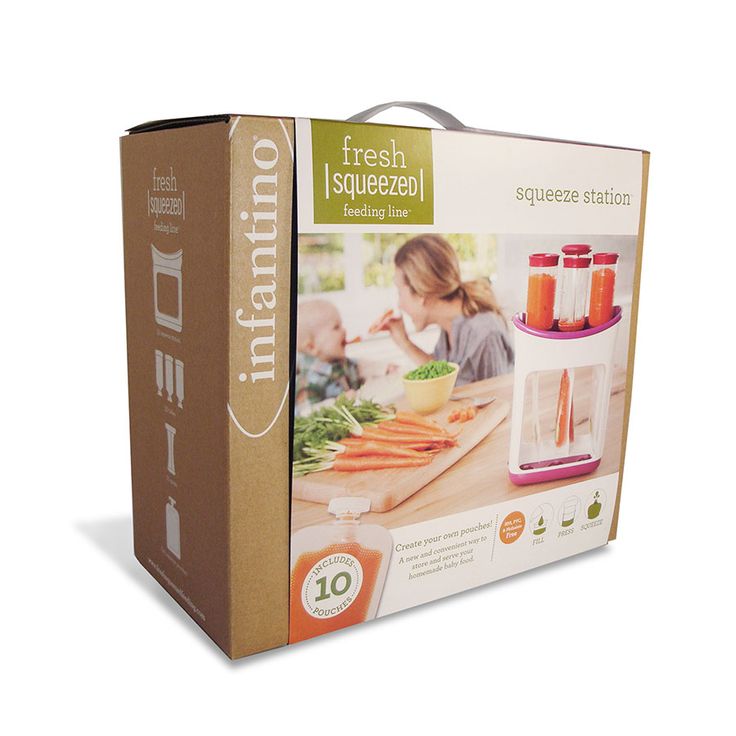 If you have any doubts about the safety of this approach for your baby, consult an appropriate pediatrician.
Chapter 11. The benefits of self-feeding for the whole family
I often say in my open webinars that self-feeding triggers a domino effect. It all starts with our desire to offer a six-month-old baby the healthiest and most wholesome food possible, and ends with ... yes, exactly. Doesn't end. Because the family is so accustomed to healthy eating, so addicted that no one remembers how they ate before.
Positive changes occur for all participants in the event. First, we start adding less salt and sugar to our food, then we get used to eating more vegetables and fruits. We refuse the fried crust and switch to baking in the oven. After all, our baby is looking at us, but we want him to eat "right".
So this baby becomes a trigger that sets off a series of events that lead us to healthy eating. We begin to eat not only healthy foods, but also set a certain schedule for meals.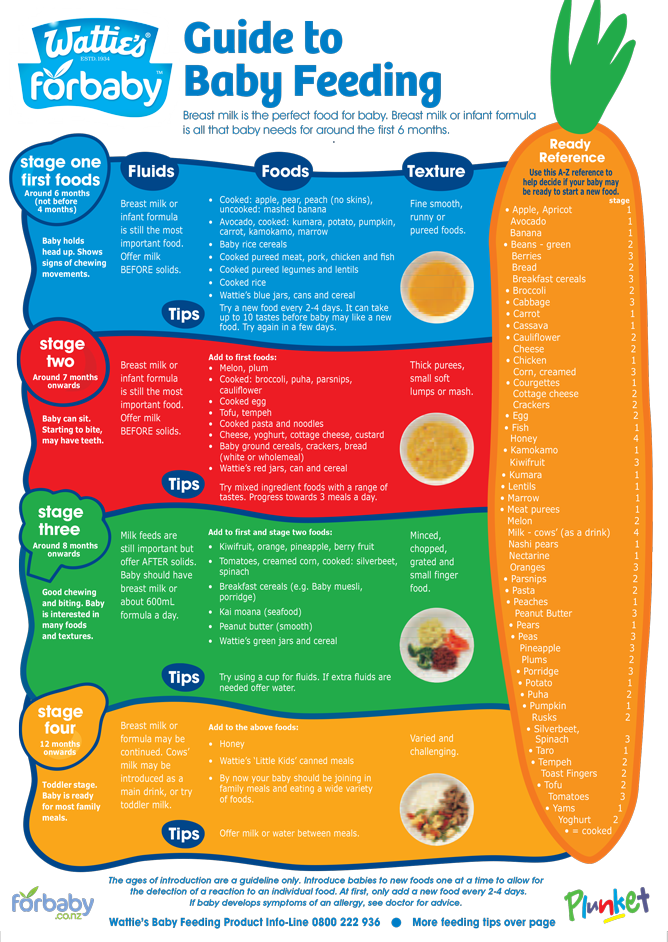 We slow down, sit down at the table, enjoy our meals. We stop grabbing food on the go and begin to feel the tastes again, enjoy the aromas.
Older children who have eating problems, looking at the younger ones, also begin to try new dishes.
This is exactly what happened to us, and it's amazing. Gosha, who had already gathered a bunch of "I don't like", "I don't want", "fu, I won't", gradually began to try again the food that he had previously refused.
Here are just a few testimonials from mothers who practice self-feeding with their children.
Ekaterina writes:
"And I want to share the joy of self-feeding. We just started and it's great! The child studies food very concentratedly, trains to eat with a spoon and is BUSY. I can eat in peace and even drink coffee! In addition, eating in the company is always more pleasant, this is some kind of unity with the child.
And Irina shares:
"Thank you very much self-feeding for transforming my plate. "
And a very touching story from Elena M.:
"During my second pregnancy, with the start of maternity leave, I began to study more and more information about breastfeeding, as I faced a lot of difficulties with my first son, and our gv (approx. ed. breastfeeding) ended earlier than I would like , at ten months. Part of the fault was the incorrectly introduced complementary foods at four months with persuasion, cartoons, not to mention constipation. And so one of the consultants on GW recommended going to the blog, where a webinar on complementary foods will be held soon. A beautiful smiling woman talked about the fact that jars of mashed potatoes and juices are not needed for complementary foods. But it was my nightmare that all this would happen again, that the second son would have to buy fruit purees in spiders and jars for up to three years and buy juices in packages so that the child could drink at least something. The eldest son ate fruit puree from cans every day until the very kindergarten, he hardly ate ordinary food.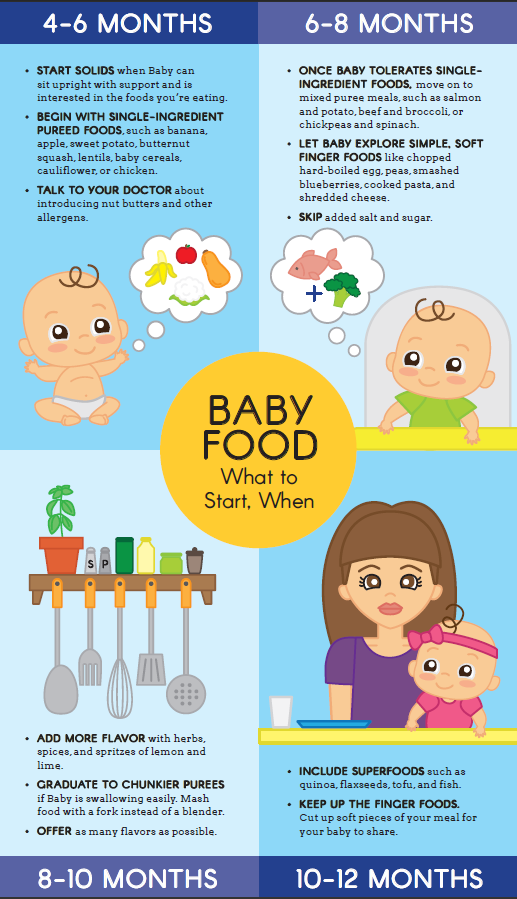 Not only is it not cheap, I already dreamed of transferring it to the general table. Nutrition problems accompany us to this day, for six years now. Therefore, I waited for the feeding of my youngest son with a shudder in my heart. I listen to the webinar further, and the complete break of the patterns was that the baby can have all the usual food from the beginning of the introduction of complementary foods, you can immediately give pieces, and the child can eat on his own without outside help! This revelation was for me just a thunder on a clear day, no less (in a good way).
The self-feeding blog has become a very valuable find and a treasure trove of useful information that I have not seen anywhere else. And the more I read, the more all these principles of nutrition seemed logical and natural to me. But the fear of the new still remained. For the New Year, I made myself a gift - I bought a course on complementary foods. The closer the half year of my son was, the more terrible it was for me to face all the difficulties that I experienced with the elder.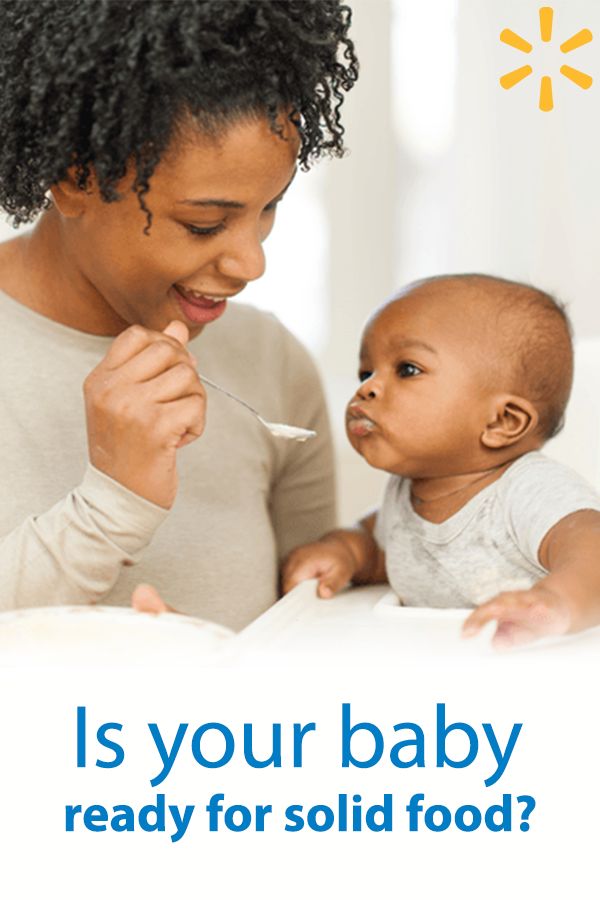 Therefore, I wanted clear and understandable instructions for the start of complementary foods, so that everything would work out for sure (this is how the consultant on guards and the blogger presented her course).
My son is five months old, I studied all the lessons on complementary foods, and began to take him to the table with me. He did not have an active food interest, but I did not lose heart, I continued to eat every meal with him. At six months, my son was not yet sitting, but I began to give microdoses from a spoon. He opened his mouth very reluctantly, and it seemed that he did not like the whole process of stuffing a spoon into his mouth at all. But what I clearly liked was putting my hand on my plate. Then I began to cook myself porridge for breakfast on the water, so that my son could calmly put his hands into the plate and pull the contents into his mouth. At the very beginning of complementary feeding, my son and I ended up in the hospital. Naturally, in the dining room of the hospital they do not cook adapted for babies under one year old.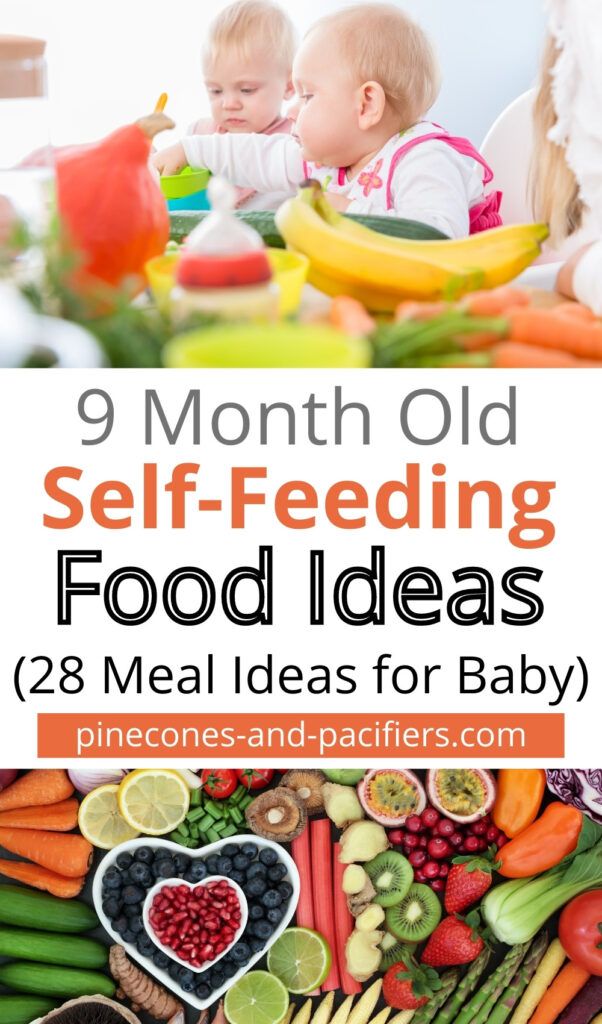 Therefore, we continued to develop food interest: I ate, and my son sat in my arms and looked into the plate. Upon returning home, it was completely impossible to hold my son, he began to grab my food with his hands and drag it into his mouth. Then I remembered the self-feeding blog, moved away from the pediatric model, from food introduction tables, from the volumes that the baby should eat, and exhaled.
Immediately, my son's meals became more varied and interesting, the son willingly tried new things, over time, his preferences in food began to appear, he tries new things very boldly.
Now my son is almost ten months old. It is already difficult to have a meal without him, as he will crawl and demand that he also be given a taste of what we eat. Self-feeding turned out to be a big bold experiment for me, as it is a departure from the usual jars, purees, eaten "two hundred grams" at a time. Looking at my son, I can safely say that he is happy and comfortable, he does not cry and does not turn away from food, he behaves naturally and calmly.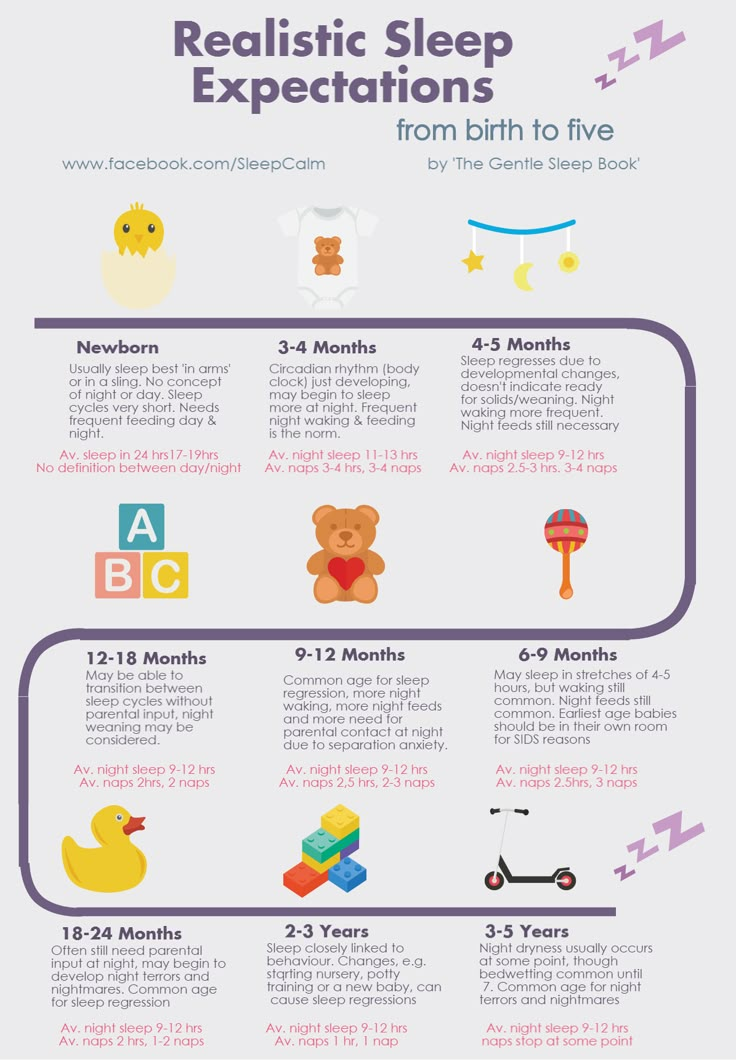 Isn't that what happiness is for a mother? It's like bungee jumping: scary at first, but exciting and very cool! The main thing is to trust and relax. I sincerely wish that over time, self-feeding will become for everyone the natural beginning of introducing complementary foods to children.
Part two. The connection between complementary foods and milk feeding in the first year of life
Chapter 1. The Importance of Breastfeeding
Many of you may be wondering, "What about breastfeeding? We're talking about food." You are right, this book is about complementary foods. Complementary foods are just an addition to breastfeeding. In English, complementary feeding is called "complementary feeding". Literally translated as "complementary (additional) feeding." Please note: not a replacement, but an addition.
What does WHO say about breastfeeding?
"Breastfeeding is an ideal way to provide young children with the nutrients they need for healthy growth and development… Exclusive breastfeeding is recommended for the first six months, and then continued with appropriate complementary foods until two years of age or beyond ".
Got the WHO message? Until six months, we offer the child exclusively milk feeding, and then we continue to breastfeed in parallel with complementary foods. That is, we do not seek to immediately replace breastfeeding with complementary foods and displace it from the child's diet.
Why is breastfeeding so important? To quote WHO again:
"Breastfeeding has numerous health benefits for both mother and child. Breast milk contains all the nutrients a baby needs in the first six months of life. Breastfeeding provides protection against diarrhea and a common childhood illness such as pneumonia, and may also have long-term health benefits for both mother and child, such as reducing the risk of becoming overweight and obese in childhood and adolescence. Breastfeeding is also associated with higher IQ scores."
I talked more about breastfeeding with Nina Zaichenko, the most famous "milk fairy" in the Russian-speaking world. Nina is a breastfeeding and complementary feeding consultant and maintains a popular YouTube vlog and Instagram account @ninazaychenko.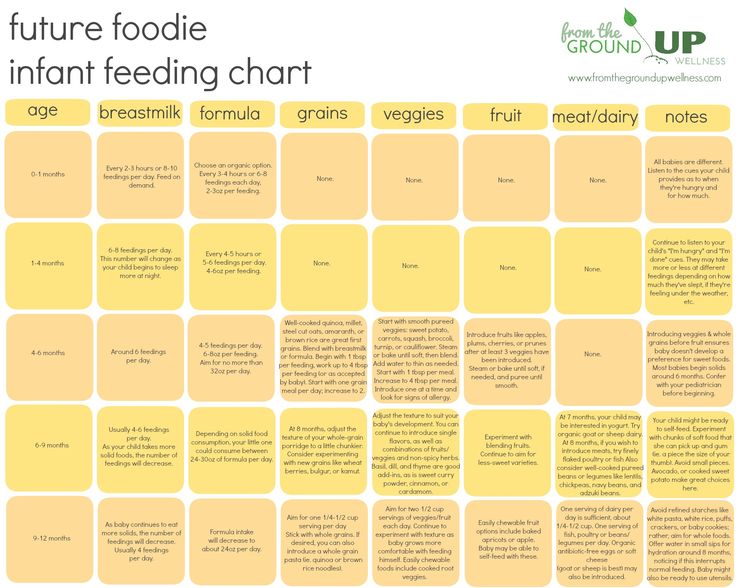 ♦ Nina, please tell me what is so special about breast milk? Why is it better than a mixture?
In order not to bore you with long stories, I will name only a few main features of breast milk that distinguish it from formula. For example, breast milk contains up to seven hundred species of living microorganisms that inhabit the gastrointestinal tract of a child. This will never happen with a mixture. That is why the gastrointestinal tract of a child can fully work only on breast milk.
Another interesting fact: the composition of breast milk fat contains myelin fat - a special type of fat that creates a sheath of nerve endings, thanks to which connections are created in the brain, as well as signals from the nervous system that pass both through the brain and through everything body. There are studies that show that it is thanks to this property of breast milk that children who have been fed it for a long time show better results at school age.
Another feature: the presence of the amino acid taurine in mother's milk, which positively affects the child's vision and the development of his brain.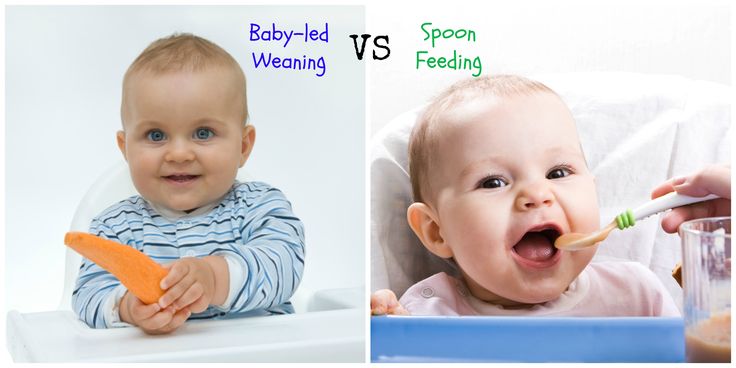 And it can be obtained in the form in which it is absorbed as much as possible only from breast milk.
Another important benefit is the bioavailability of all the nutrients and trace elements found in breast milk. This means that all these substances are absorbed from breast milk much better than from formula. For example, despite the fact that there is not so much iron in breast milk, it is absorbed by 50-75%, while from the mixture - only 4%.
Breast milk is constantly changing in composition. It is tailored to the needs of the child. If the baby is sick, breast milk "knows" about it thanks to your immunity, and antibodies to the current illness of the child appear in it.
You can go on and on. And I'm not saying this to make formula-feeding mothers feel like bad mothers. Your "goodness" has nothing to do with the type of feeding you choose for your baby. I say this so that you understand exactly what you are fighting for, and so that you can fight back those who advise you to switch your child to formula when it can be avoided.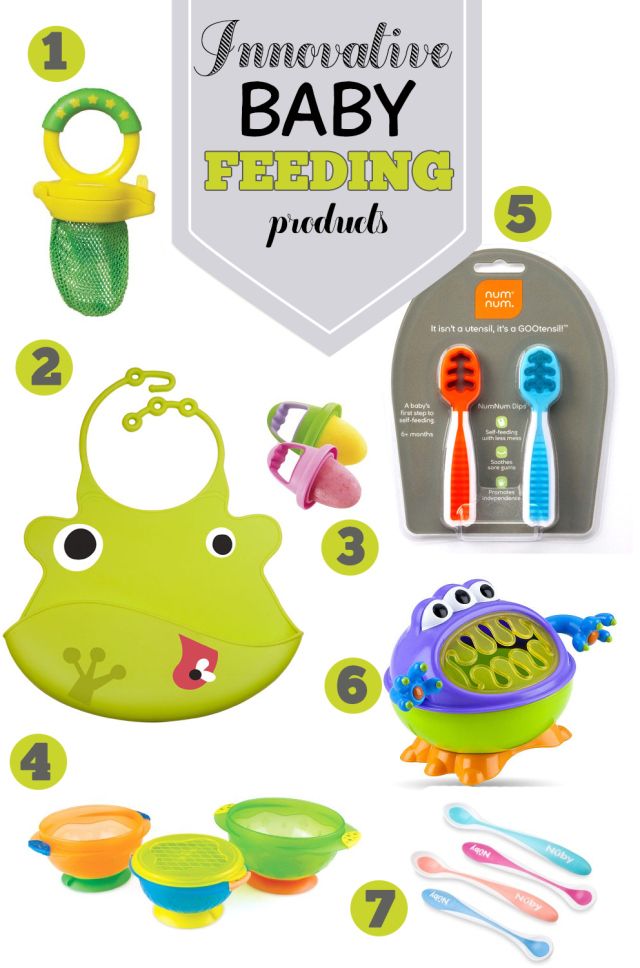 Chapter 2. Breastfeeding and complementary foods
We already know that complementary foods can be started from the age of six months. Up to this point, we stick exclusively to milk feeding, ideally, feeding with mother's breast milk. This is due to the fact that the baby's enzyme system is not ready to process any other food other than breast milk or its substitute. I also forwarded this topic to Nina Zaichenko.
♦ Nina, at what age can and should complementary foods be introduced. Are there any exceptions?
Complementary foods can be introduced for all children on the planet from six months of age, provided all other signs of readiness are present. Or, as the WHO says, in a full 26 weeks. Yes, there are exceptions to this rule. Premature babies are recommended to introduce complementary foods later: some at seven, some at eight months, depending on their gestational age.
♦ If complementary foods can be introduced from six months, then why are so many jars of branded purees labeled "from 4 months"?
It's just a marketing ploy to sell you two months early and make more money.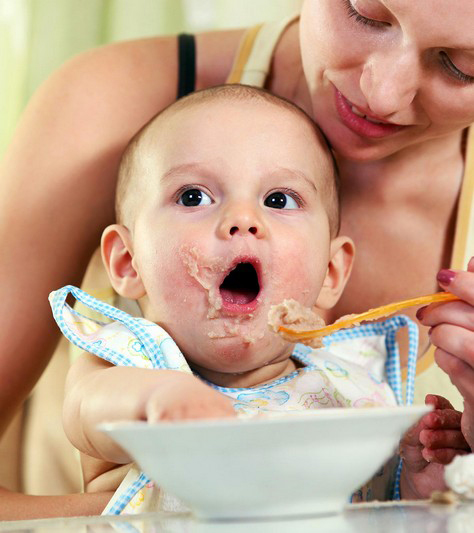 Moreover, such labeling violates the International Code of Marketing of Breast-milk Substitutes, adopted in 1981. According to it, manufacturers should not advertise food products for children under six months of age. Unfortunately, not all countries have adopted laws that implement these rules, some countries have legalized only certain points from the code.
♦ Why can't complementary foods be introduced before 6 months?
Premature introduction of complementary foods contributes to the early termination of breastfeeding, because we begin to give increasingly large doses of complementary foods instead of milk. The liver is not mature enough to process something other than breast milk or its substitutes, so the risk of allergic reactions increases many times over.
Enzyme deficiency in the child's gastrointestinal tract increases the risk of digestive disorders. Iron from breast milk begins to be absorbed worse with the introduction of complementary foods.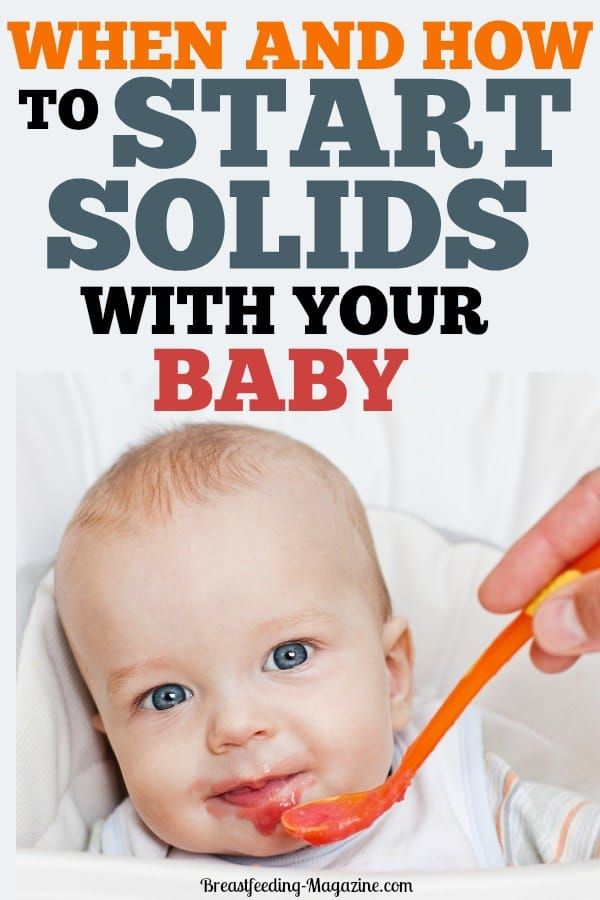 That is why all competent organizations strongly recommend offering children with the introduction of complementary foods as much iron-rich food as possible.
♦ What if the baby is not gaining enough weight and the pediatrician says to start complementary foods before six months?
To begin with, it is important to understand whether the child is really gaining little. Very often, pediatricians of the old school are guided by outdated norms for the growth of children. I advise you to focus on the WHO recommendations, according to which the child in the first six months should gain 500-600 grams per month. You can also check for "wet diapers". A child who eats enough breast milk should wet at least eight, and preferably ten to twelve, diapers during the day. This will let you know that the baby is getting enough nutrition. If according to these two indicators everything is normal for you, then there is no reason to believe that the child does not have enough breast milk.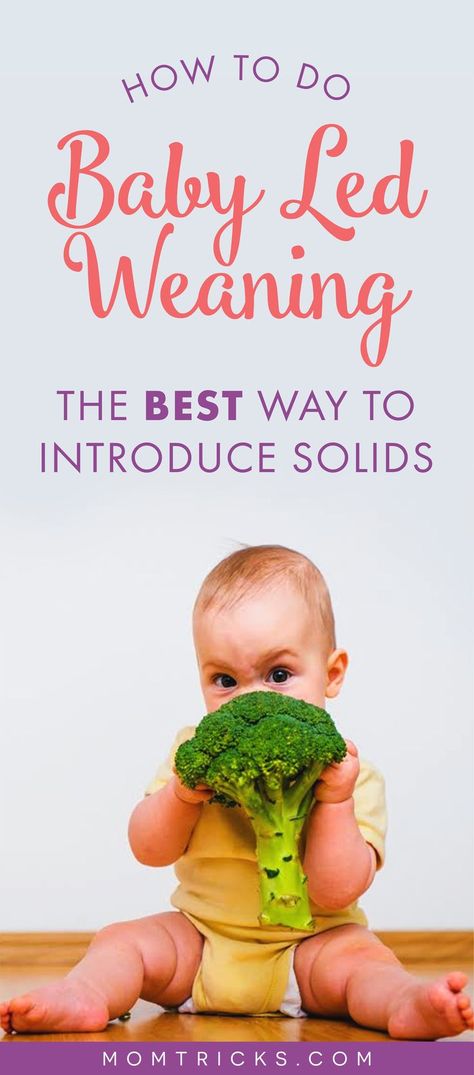 Low weight gain is not a reason to introduce complementary foods early. It is important to find the cause of small increases and eliminate it. This may be improper attachment, feeding by the hour, sleep separated from the child. If the cause cannot be eliminated and the child is still gaining very little weight, then it is important to introduce supplementary feeding with a mixture, but not earlier than six months.
♦ Up to what age does the amount of complementary foods eaten matter, that is, until how many months can only breast milk be enough for a baby?
Until the age of one, a child can eat exclusively breast milk, while receiving from it all the necessary components for development and growth. But this does not mean that during this period it is not necessary to introduce him to solid food. Be sure to introduce complementary foods at six months if there are other indicators of readiness. Remember that at the initial stage the child should not, and will not eat much.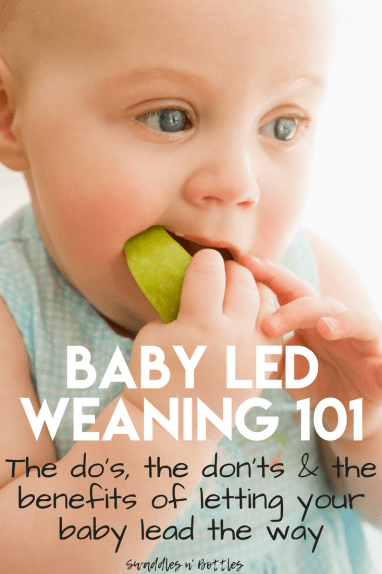 The introduction of complementary foods is an introduction to new foods. This amount has no energy value. We start complementary foods not to immediately feed, but to let the baby know that there is some other food besides breast milk. That it can be of a different color, a different smell, that it can be seen, because the child does not see milk - it immediately enters the mouth. And most importantly, this food is of a different consistency, not as fluid as milk.
But I want to note that this does not mean that a child should not eat well until the age of one. Complementary foods are a way to compensate for the lack of certain elements in breast milk. We should strive to ensure that by the year the child has already switched to three full meals.
♦ Nina, what if the child is already a year old, and he continues to hang on his chest and breast milk predominates in his diet. Refuses solid food. Weaning in the hope that he will start eating "adult" food?
No way! If you take your baby's breast and he continues to refuse solid food, you will simply starve him to death.