Best silicone baby food feeder
5 Best Silicone Baby Food Feeders To Buy 2020
A baby feeder is used to introduce solid food to babies without worrying about the risk of choking.
A food feeder looks pretty similar to the shape of a baby pacifier but much bigger than that.
The food feeder comes with either a mesh or silicone pocket where you fill your solid food in.
Every food feeder comes with a cover that closes at the bottom to hold the food inside the pocket.
The food feeders also feature an easy to grip handle for babies to hold and gnaw the food. Some food feeders have a cover that goes over the pocket for hygiene.
Table of Contents
How Do Baby Feeders Work?
Food feeders serve a pretty simple purpose and are not complicated to use.
Choose some age-appropriate food you want to feed your baby
Clean the baby feeder
Open the lid and put the solid food inside the mesh or silicone pocket
Close the lid, remove the cover (if your feeder has one)
Hand it over to the baby and watch them make funny faces while trying new foods.
Once they are done, dump the excess food, wash, dry and repeat.
Sounds simple, right? 
Are Food Feeders Good For Babies?
There are a million baby gadgets in the market today, and you are probably wondering if you need one more. Hear me out.
I swear the baby feeders are AWESOME! For the price they cost, they do a fantastic job, and babies enjoy them.
Here are 5 reasons why you need a baby feeder.
1. Teething:
If you have a teething baby, then you might already know that teething babies love to bite on everything. Baby feeders, especially when served with cold food, can be soothing to aching gums and relieve their teething pain.
If your baby has not yet started solids, then you can fill the feeder with frozen breast milk or formula ice cubes. 
2. Prevents Choking:
One of the scariest things that I faced while introducing solid food to my babies was when they started to gag or appeared to choke.
By using food feeders, you are not exposing your infant to big portions of food particles, which creates a safe feeding environment for them to try new food.
3. Develop Motor skills:
Food feeders encourage babies to practice self-feeding. It develops the hand-eye coordination that is needed to master spoon or finger feeding.
4. Keep Them Busy:
This has to be my favourite reason!
When I ran out of ways to keep them busy, I would just put some frozen fruit in the baby feeder and hand it over to them.
They happily enjoy their snack while I get some time to finish my work.
5. Sensory Experience:
Food feeders also provide a good sensory experience which babies love. It also instils a positive attitude towards trying new food.
Silicone or Mesh? Which one to Choose?
I am 100% team silicone, and I would highly be using silicone feeders because they are easy to clean and a plastic-free option to use.
Mesh feeders are a pain to clean, food gets stuck in between the mesh, and it is challenging to get them out.
I tried mesh feeders before; I was naive enough to try them with bananas.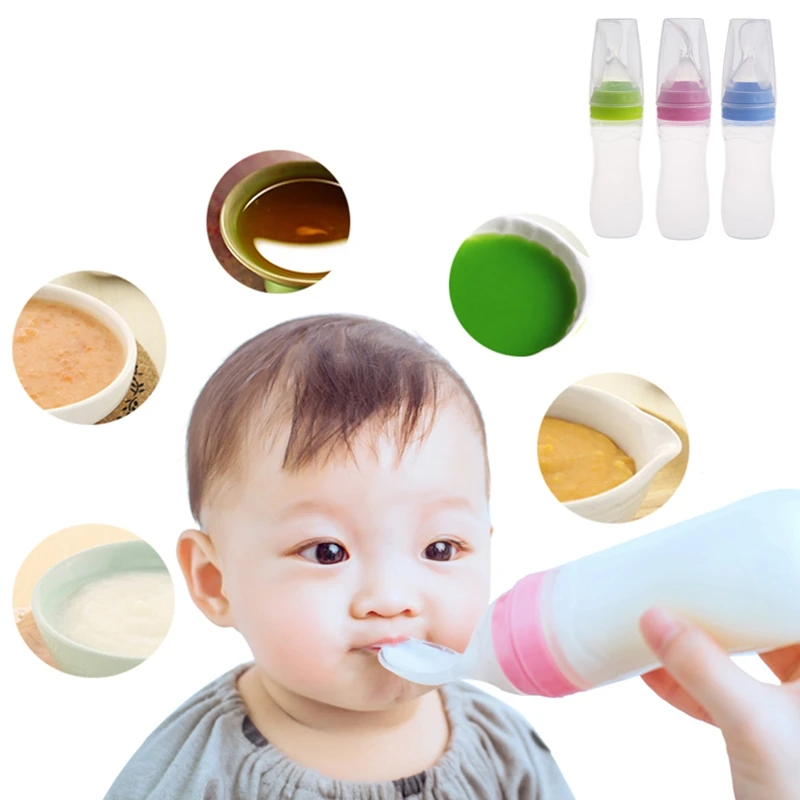 I let them sit on the counter before washing them.
Let's say that I had to throw the mesh feeder away; I went and bought a silicone feeder and never looked back again.
If you still want to try mesh feeder, then munchkin ones are hands down the best.
Best Silicone Baby Feeders:
1.Boon:
BUY NOW
Boon is one of my favourite brands. They really care about their customers and only use safe materials to make their products.
Their silicone feeder is particularly my dearest. The feeder itself is made of soft, food-grade silicone with small holes through which your baby can taste the food.
It comes with a firm handle for babies to grab and enjoy their treat.
Boon feeder was perfect when we started with solids and was great relief during the teething phase.
Some parents complain that they find it small, I did not find it so and you can always refill and offer seconds if they want more.
I did find that my kids had a hard time getting any solid food like solid apples out of the boon feeder, so I always offerred food that were soft and juicy like berries.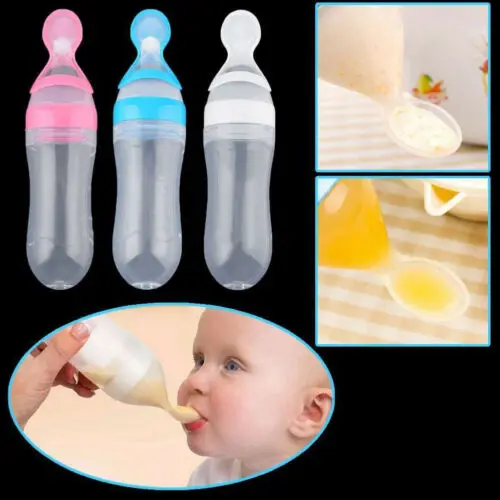 2.Kids Me Food Feeder:
BUY NOW
Kids me feeder comes very close to Boon feeder for me. For serving at home, I usually alternated between both Boon and Kidsme.
When I am out and about, Kidsme was the winner for various reasons.
1. Boon does not come with a cover, but Kids me does. You can easily keep the feeder closed, hygienic using the cap.
2. Kidsme feeder also comes with a hole between the handles that attach to clips or holders to prevent dropping on the floor.
3. Kidsme comes in two different sizes, medium and large; you can use the appropriate size based on your baby's age.
4. My babies seem to love the double handle, and they found it easier to grab them with both the hands.
The sac itself is made from food-grade silicone and FDA certified. You can also buy replaceable silicone sacs to use instead of buying the whole feeder if you want.
The textured silicone sac is also great for teething babies. Seriously, it is a lifesaver when you offer chilled or frozen foods in this feeder.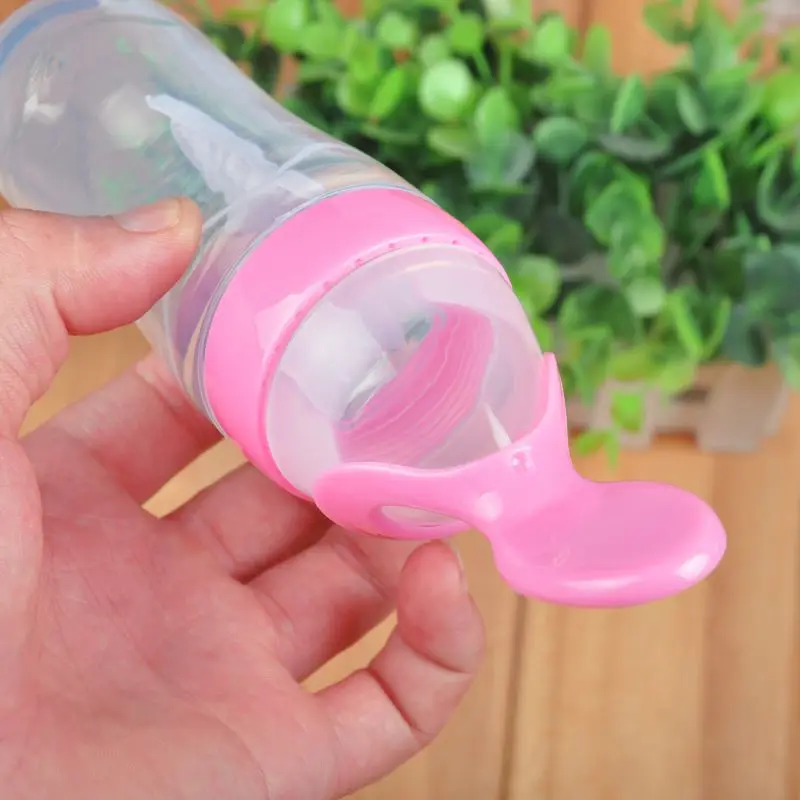 Your babies will thank you and may even reward you with 30 minutes of fuss-free time. 
3. Ashtonbee  Baby Feeder:
BUY NOW
AshtonBee Feeder looks pretty similar to Kidsme. AShtonBee also comes with a cap to cover the silicone sac and a safety lock that 'clicks.'
Ashtonbee is marketed as a silicone feeder and pacifier because it clams your child down during teething pain.
The silicone sac itself is food-grade silicone that is free of BPA, Lead, Petroleum, Phthalates, so it is safe for your baby to nipple.
4.Nature Bond Fruit Feeder:
BUY NOW
If you dislike the idea of buying different size feeders as your baby grows and wondering if there is a product that grows with your baby, then Nature Bond food feeder is where it is.
You get two pack baby feeders, and it comes with 3 different pair of sizes-small, medium and large.
The sac is made of food-grade silicone that is BPA Free, Latex Free, Phthalates Free, and Lead-Free.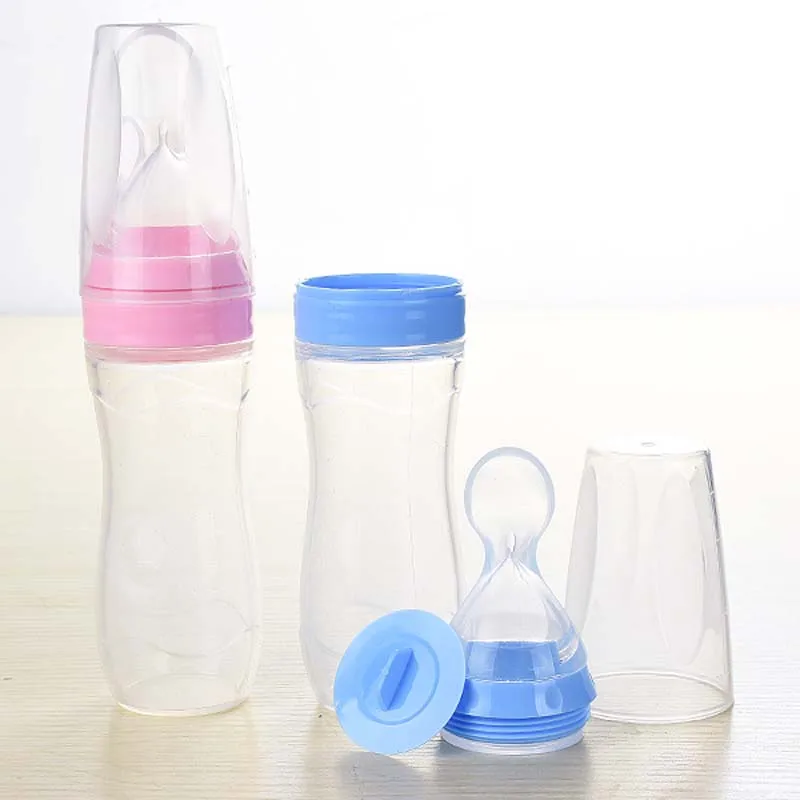 Nature bond feeders come in fun colors (think candy!) that your kids will love.
5. Moss and Fawn Forage Feeder:
BUY NOW
We at ANM, love supporting mom businesses and that's why this brand is special to me. Sofia, the owner of Moss and Fawn, sent me her forage feeder to try and I loved it.
Please note that I only received the product for free; I was not compensated to write this post; all opinions are my honest views.
The product comes with a feeder and three silicone sacs that grow with your baby.
The forage feeder comes neatly packed in a cloth bag and also contains a booklet that guides on how to use the feeder and offers suggestions on best foods to try.
I love the company how this brand believes in sustainability and makes a conscious choice at every step of making the product.
Their packaging is recyclable, the booklet is printed in a wind-powered facility, and printed with vegetable ink on recycled paper.
They also use 100% cotton bags to pack their feeder and 100% natural wood strands as filling that are easily compostable.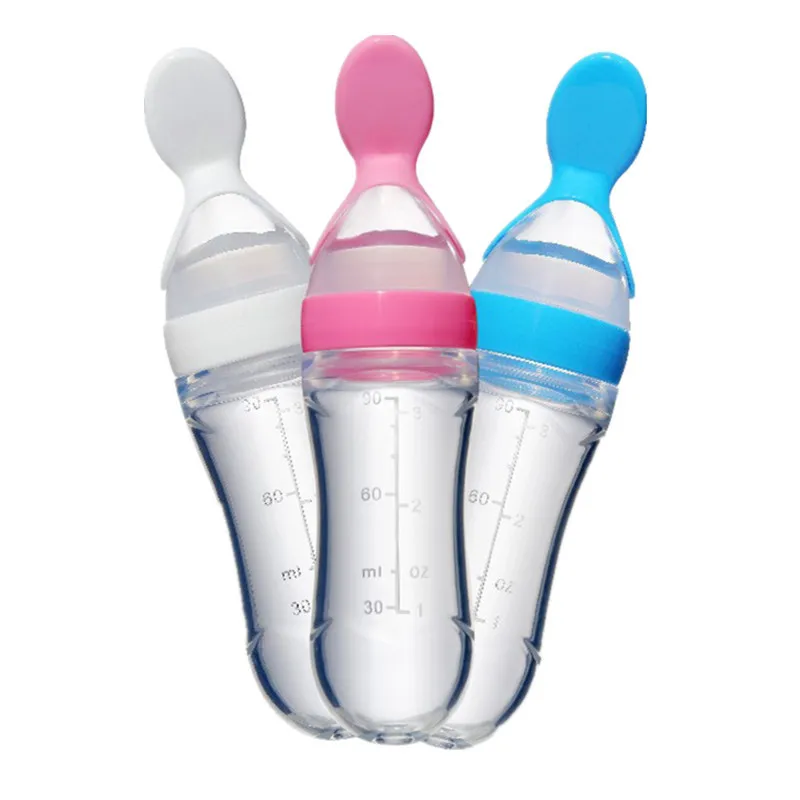 The forage feeder is made of safe, non-toxic food-grade silicone, tested free of BPA, PVC, Phthalates, and Lead and is also FDA and CPSIA compliant.
Yay! for this company for looking out for your baby and the environment.
Let's Wrap Up:
Silicone feeders are safer and easier than using mesh baby feeders, in my opinion. They are perfect to introduce solid foods to your baby and works wonders during teething.
Not all silicone feeders are made the same, though. It is important to look for one that is made with food grade silicone without any fillers.
Also, I highly recommend using a one that is free of unwanted chemicals like BPA, phthalates, lead and pvc.
Considering all the above points,
Here is my list of Best Silicone feeders to Buy (2019):
Boon Silicone Feeder
Kids Me Food Feeder
AshtonBee Feeder
NatureBond Food Feeder/ Pacifier
Moss and Fawn Forage Feeder.
Did you use any food feeder? Which one did you use and how did you like it?
Sharing is caring!
108 shares
11 Best Baby Food Feeders In 2022
Introducing your child to solid foods is now easy.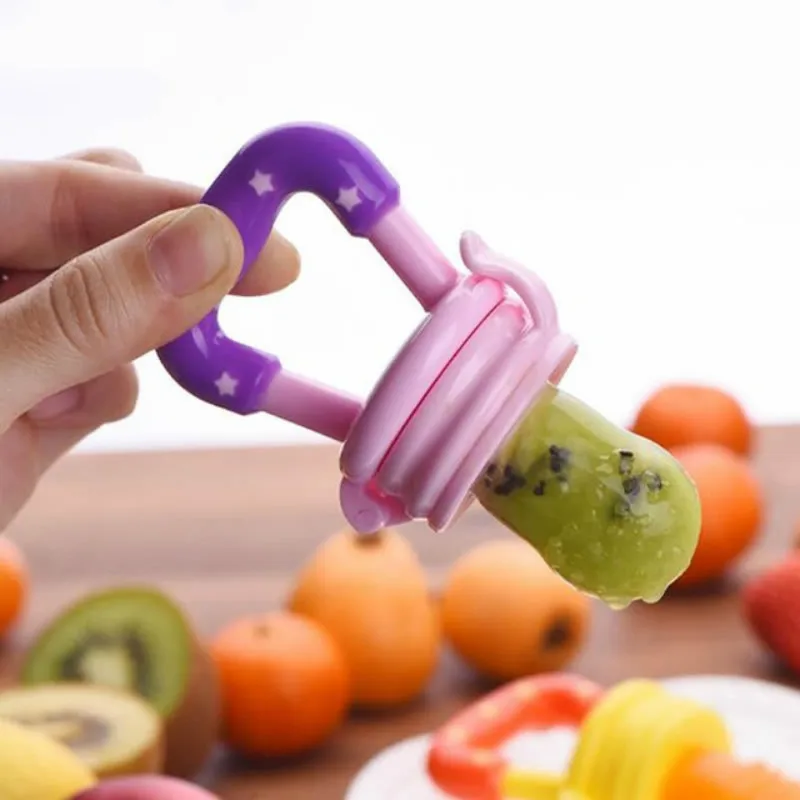 All products recommended on MomJunction are independently selected by our editorial team. If you make a purchase through any of these links, we may receive a commission. Learn more about our product selection process here.
If you plan to introduce your child to solid foods, a food feeder can be helpful in the process. We have created a list of the best baby food feeders to help you choose the right one. They help promote self-feeding and develop your child's teething and motor skills. A food feeder can prevent choking by maintaining the food portion, and it massages the baby's gums to develop healthy teeth.
Safe and secure, these items also feature an ergonomic handle and a silicone or mesh reservoir. It holds the food for convenience and offers small amounts for effective feeding. You can explore our list to encourage your child's healthy eating habits.
Our Top Picks
Best For Safe Teething: NatureBond Baby Food Feeder
Best Easy-To-Use: Munchkin Fresh Food Feeder
Dr.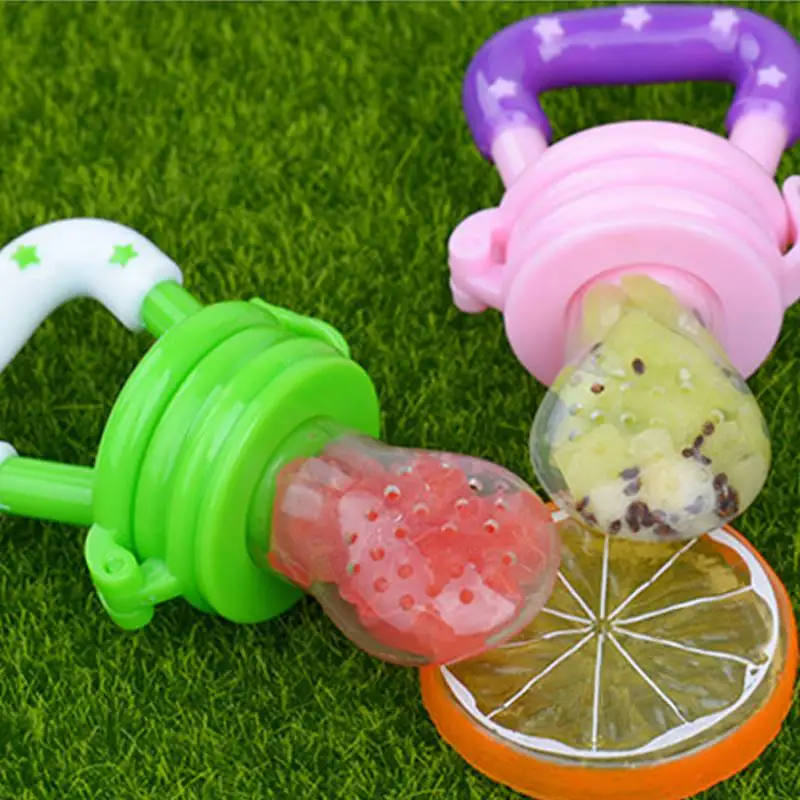 Brown's Fresh First Silicone Feeder
Best Bite-Resistant: Ashtonbee Baby Fruit Feeder
Best For Easy Cleaning: Jochebed Baby Fruit Feeder Pacifier
Best Capacity: Termichy Baby Food Feeder Set
Best Sterilizer-Safe: Gaodear Silicone Squeeze Cereal Feeding Bottle
Best Travel-Friendly: PandaEar Baby Food Dispenser
Best For Hand-Eye Coordination: Koshine Baby Food Feeder Set
Best Temperature-Resistant: Aryigour Baby Fruit Feeder
11 Best Baby Food Feeders
1. Best For Safe Teething: NatureBond Baby Food Feeder 
Courtesy of NatureBond
Crafted in colorful designs, the Naturebond baby food feeder helps enhance your baby's appetite to consume natural nutrients. It is a safe way to introduce your child to solid foods. The product is made in the United States, inspired by lollipop design, and is easy to handle.
In addition, it has a one-of-a-kind turner feature that allows you to customize different foods' positioning for safer teething. The nipples are available in different sizes for babies of four months and above. Click here to check out a detailed personal review of this product.
Pros
Easy to dismantle
Easy to clean
Food-grade silicone
BPA- and lead-free
Phthalate- and latex-free
Ergonomic design
Certified testing
Giftable 
Cons
Set up may be complicated 
Buy on Amazon
2. Best Easy-To-Use: Munchkin Fresh Food Feeder
Courtesy of Munchkin
The Munchkin Fresh Fruit Feeder allows you to feed your baby fresh fruits and vegetables without the risk of choking, making it an ideal solution for your teething baby.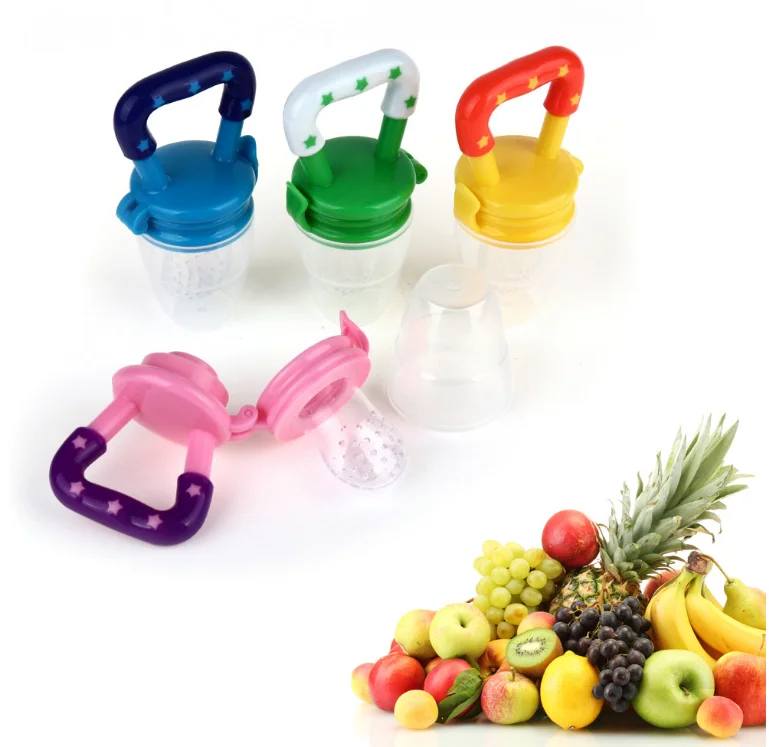 Available in a set of two blue and green colors, it aids in stimulating your baby's appetite. You can use the soft mesh design bag to keep the food for the baby to chew or suck, and it also serves as an excellent alternative to a teether. Here's a review video to help you get a better understanding of the product.
Pros
BPA-free
Stain-free
Simple to use
Odor-free
Easy-grip handle 
Cons
Hard to clean in crevices 
Buy on Amazon
Related: Best Baby Spoons For Self-Feeding
3. Best For Self-Feeding: Dr. Brown's Fresh First Silicone Feeder 
Courtesy of Dr. Brown
Introduce your baby to solid foods by using Dr. Browns Silicone Feeder. It is an alternative to teether, and the silicone nipple can hold from fresh food to frozen treats.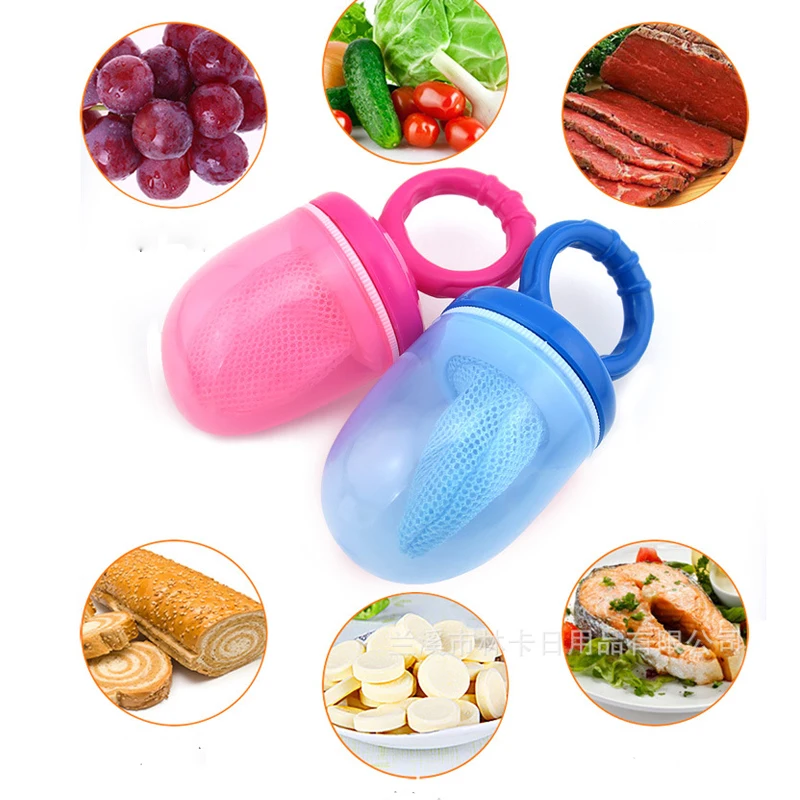 The bulb-shaped design is suitable for little mouths, and the tiny holes allow the baby to feed safely. The ergonomic handle is easy for tiny hands to hold. These feeders are dishwasher-safe hence easy to clean. Need more information? Watch this video to make an informed decision about the product.
Pros
Promotes self-feeding
Soft
Durable
Lightweight
Mesh-free design 
Cons
Buy on Amazon
4. Best Bite-Resistant: Ashtonbee Baby Fruit Feeder
Courtesy of Ashtonbee
With its one-of-a-kind design, this two-pack Ashtonbee baby fruit feeder may be the best solution for a teether and a feeder. It has easy-grip handles in green and pink to keep little hands firmly in place. The mess-free feeder comes with three different size nipples: small, large, and medium.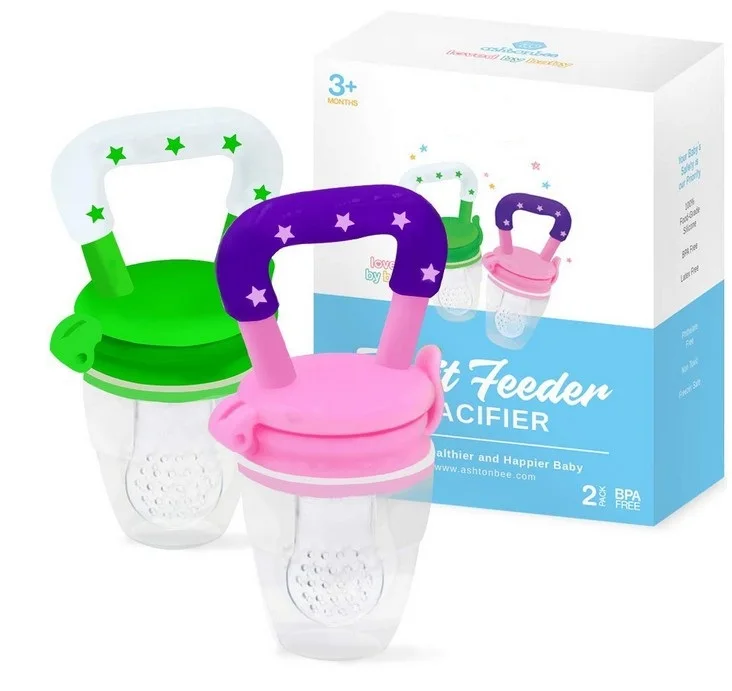 The textured surface helps relieve aches and pain during teething. In addition, the practical feeder has a snap-lock closure to keep food safe and prevent food leakage. 
Pros
BPA- and phthalate-free
FDA-approved
Lead- and latex-free
Soothing to use
Bite-resistant
Easy to clean 
Cons
Buy on Amazon
5. Best For Easy Cleaning: Jochebed Baby Fruit Feeder Pacifier
BUY ON AMAZON | $9.99
Place your diced fruits and vegetables and snap it shut to give your baby the ultimate diet. This baby food feeder from Jochebed is engineered to allow the tiniest of food to pass through the holes safely. Available in a pack of two, it includes six-piece silicone pouches for comfortable use.
The product is safe for your baby as it is BPA-, latex-, and phthalate-free. In addition, you can dismantle the mess-free feeder for easy cleaning. 
Pros
Choke-resistant
USA-approved
Unique design
Multifunctional
Food-grade silicone 
Cons
Buy on Amazon
6. Best Capacity: Termichy Baby Food Feeder Set
Courtesy of Termichy
The advanced feeder from Termichy teaches your baby to absorb nutritious food and learn to self-feed. It has a buckle design and a silicone sealing ring to ensure food safety and security. With a 30ml fruit feeder and 90ml spoon feeder, it helps eliminate the need for frequent refilling. The bottle's squeeze design encourages self-feeding and regulates food intake. It also includes a pacifier clip that you can clip to the stroller to prevent loss.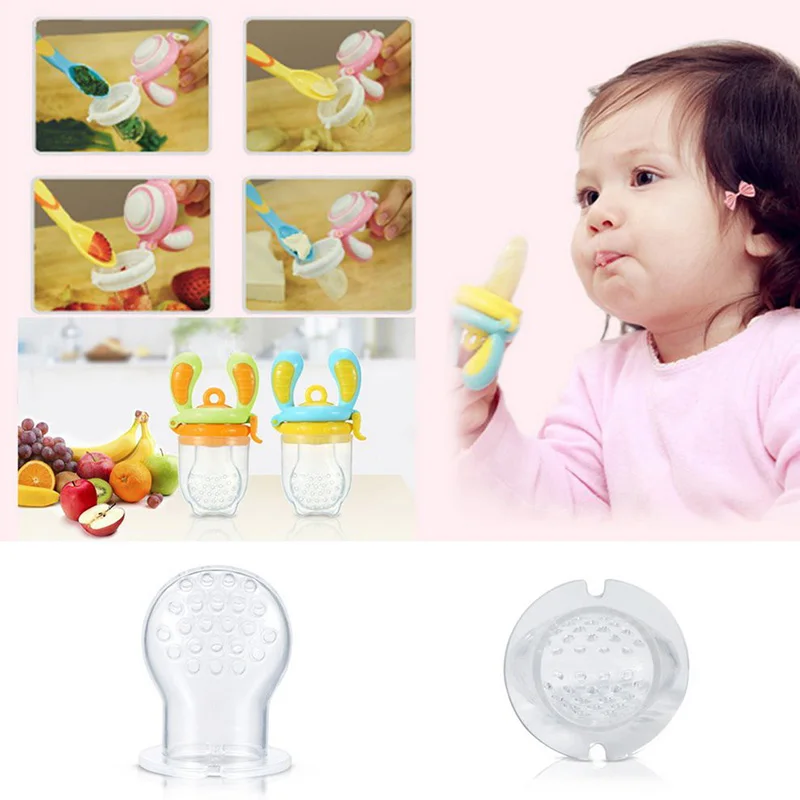 Pros
BPA-free
Eco-friendly material
Strong seal
Large capacity
Leak-proof
Made in the USA
Easy to clean 
Cons
Buy on Amazon
7. Best Sterilizer-Safe: Gaodear Silicone Squeeze Cereal Feeding Bottle
BUY ON AMAZON | $9.88
Gaodear's feeding bottle with a spoon is made of food-grade quality PP and silicone and encourages your child to self-feed. The materials used are environmentally friendly and safe for your child. The squeezable bottle with scales allows for precise measurement while preventing spills. In addition, it strengthens the child's hand-eye coordination. The feeder is ideal for introducing semi-solids to your children, such as cereal, rice, fruits, and vegetables.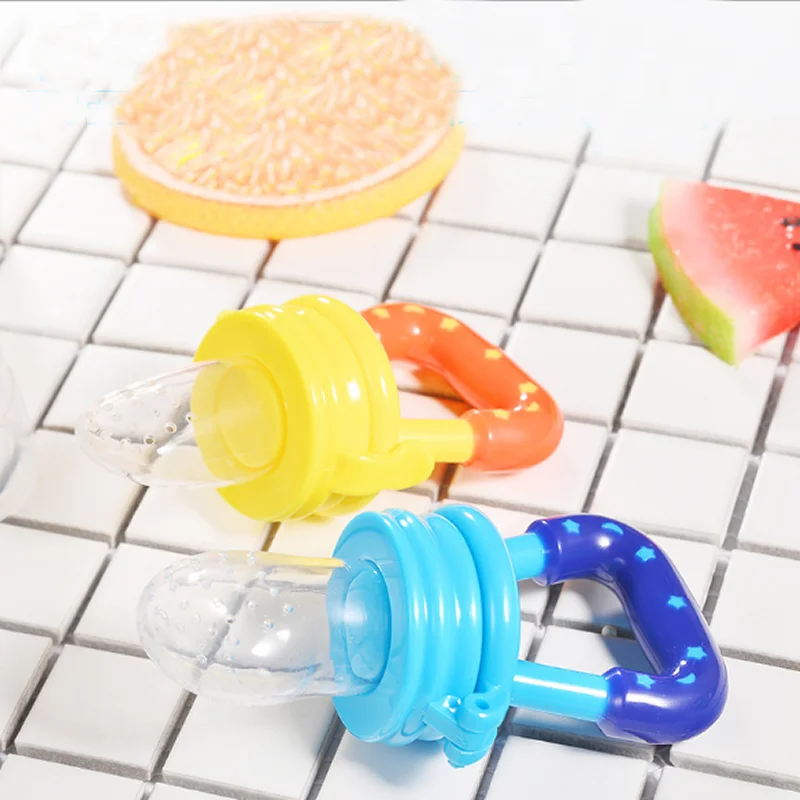 The bottle can stand upright on the table to promote convenience and hygiene. 
Pros
Sterilizer-safe
BPA-free
Safe material
Leak-proof
Dishwasher- and microwave-safe
Includes cleaning brush 
Cons
Buy on Amazon
8. Best Travel-Friendly: PandaEar Baby Food Dispenser 
BUY ON AMAZON | $7.98
If you are looking for a multifunctional food feeder that functions as a pacifier and a teether, PandaEar's Baby Food Dispenser could be the right choice. The bottle has a large capacity for storing various foods, and the spoon promotes feeding and massages gums. PandaEar's food reservoir comes in a set of two and is suitable for girls and boys. It is made of completely safe materials and allows mess-free eating while preventing choking hazards.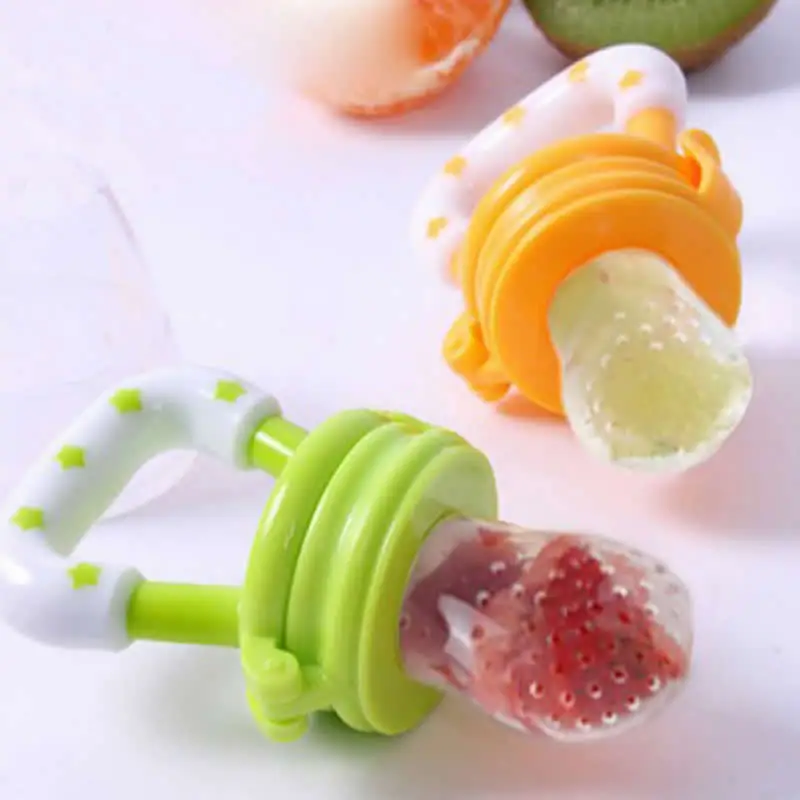 In addition, the protective cap keeps the silicone cap clean and hygienic. 
Pros
BPA- and PVC-free
No metals and latex
No phthalates and toxins
Rust-free
Easy to clean and store
Travel-friendly 
Cons
Buy on Amazon
9. Best For Hand-Eye Coordination: Koshine Baby Food Feeder Set
BUY ON AMAZON | $12.99
Made from certified food-grade material, this feeding set from Koshine is free of BPA, toxin, PVC, and lead.  The colorful eight-piece set includes one shake rattle feeder,  one green baby feeder, three pacifiers in size small, medium and large with two spoons. The unique design of this set encourages comfortable and natural chewing in your child.  It also acts as a teether and pacifier to stimulate teeth growth.
The rattle improves the sensory organs of the child, and the spoon promotes hand-eye coordination. 
Pros
Anti-lost chain
High-quality silicone
Phthalate-free
Dishwasher-safe
Travel-friendly
Choke-free 
Cons
Buy on Amazon
10. Best Temperature-Resistant: Aryigour Baby Fruit Feeder
BUY ON AMAZON
Available in four beautiful colors, this feeder from Aryigour helps in enhancing color perception in your child. The two-in-one formula can be used as a teether and feeder. All parts are made of food-grade silicone material for the child's safety, preventing choking hazards. The banana-shaped feeder is simple to grasp and can be disassembled to serve as teething chewers.
Pros
BPA-free
Temperature-resistant
Multifunctional
Easy to clean 
Cons
Buy on Amazon
11.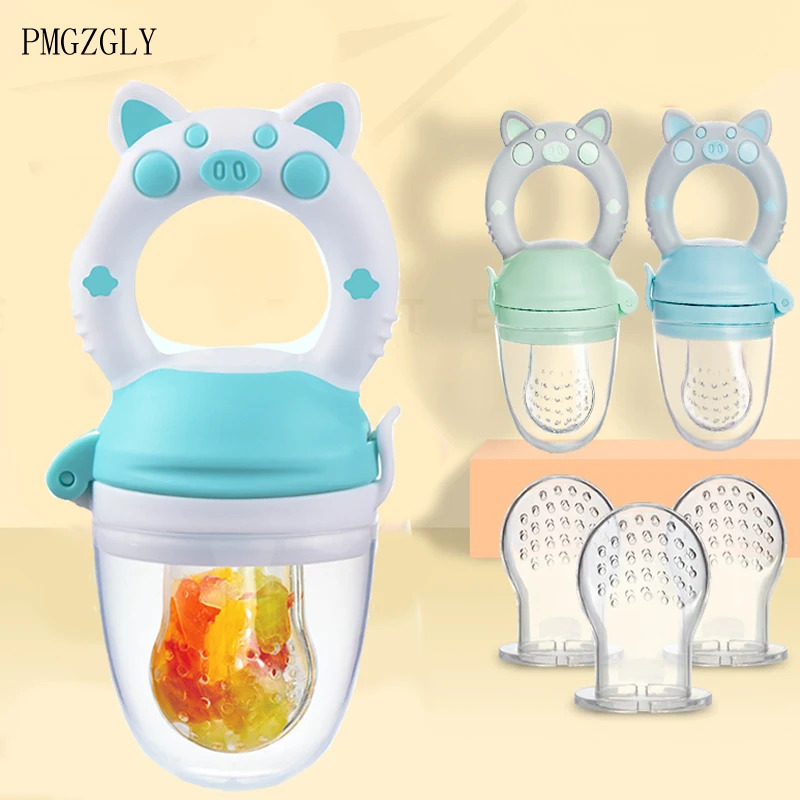 Best For Different Age Groups: FuDaDaddy Baby Food Fruit Feeder Pacifier
BUY ON AMAZON
Give your baby independent feeding time by using this fun food feeder from Fudadaddy. The holes on the silicone nipple allow babies to eat fruits and vegetables and promote a healthy and hygienic diet. The feeder comes in three silicone nipples in small, medium, and large to suit different age groups. It is easy to dismantle for cleaning. 
Pros
Petroleum- and latex-free
Phthalate- and lead-free
High temperature-resistant
BPA-free
Cons
Buy on Amazon
How To Choose The Right Baby Food Feeders?
Here are a few factors to consider before choosing the best baby food feeder. 
Material: The material used for making these feeders should be free of BPA, phthalates, or other toxic materials because the baby put it in their mouth.
Maintenance: These feeders should be simple to clean. They should be made in such a way that the food does not accumulate in the grooves. It should be cleaned and sterilized after every use.
Design: It should be ergonomically designed to allow the child a firm grip.
Leak-proof: The feeder's locking mechanism should be carefully examined. If the baby feeder leaks, it will be ineffective. 
Why Trust MomJunction?
Vibha Navarathna, our in-house baby products writer and reviewer, believes in curating informative and research-backed content. Being a mother herself, she comprehends the requirements of new parents. Here, she has listed some of the best baby food feeders after carefully analyzing the safety, design, and health-related aspects. Vibha has also shared the pros and cons of each product along with a buying guide to assist you in choosing the most appropriate baby food feeder.
Having the best baby feeders by your side is essential when you plan to transition them from liquid to solid foods. It helps promote self-feeding and is a safe way for them to eat without choking. Not only is it practical, but it is also extremely comfortable as it comes with an ergonomic handle and soft materials. But before choosing the ideal feeder, ensure it is free of BPA, phthalates, or other toxic materials, easy to clean and maintain, and leakproof.
Recommended Articles:
Best Bibs For Babies
Best Baby Food Pouches
The following two tabs change content below.
Vibha is a coder turned content writer. She holds a Masters degree in Computer Applications from Osmania University, Hyderabad and a certificate in 'Introduction To Child Psychology'. Her passion for writing fresh and informative content made her a full-time writer. Holding certifications in content writing and creative writing, she writes on electronics, baby and health products for MomJunction.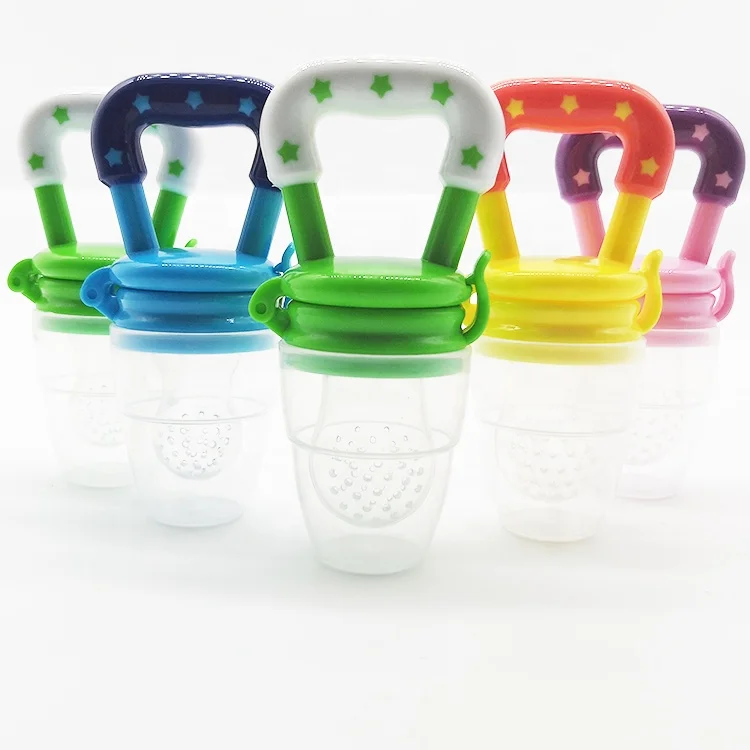 Apart from...
View Profile ›
Overview of petoneer feeders and drinkers. Features and functions
While there are no full-fledged androids, the car will never replace a cat or dog of a loved one. But already now, gadgets provide four-legged water and food. We are talking about Petoneer brand gadgets for animals: Nutri Feeder automatic feeder and Fresco Ultra and Fresco Mini drinkers.
Automatic feeder
Smart feeder Petoneer Nutri Feeder pours dry food into a removable plastic bowl - in the specified amount, at the appointed time. The feed is stored in the "bunker tower". Three cats and one corgi successfully tested the device at Madrobots. For dogs of large breeds, the device is not suitable, as they can knock over the feeder. There are no problems with medium and small pets.
The dimensions of the bowl are 16 × 12.5 cm, the feeders are 24.6 × 23 × 35.2 cm. Inside there is a removable feed container with an impeller that separates the portions.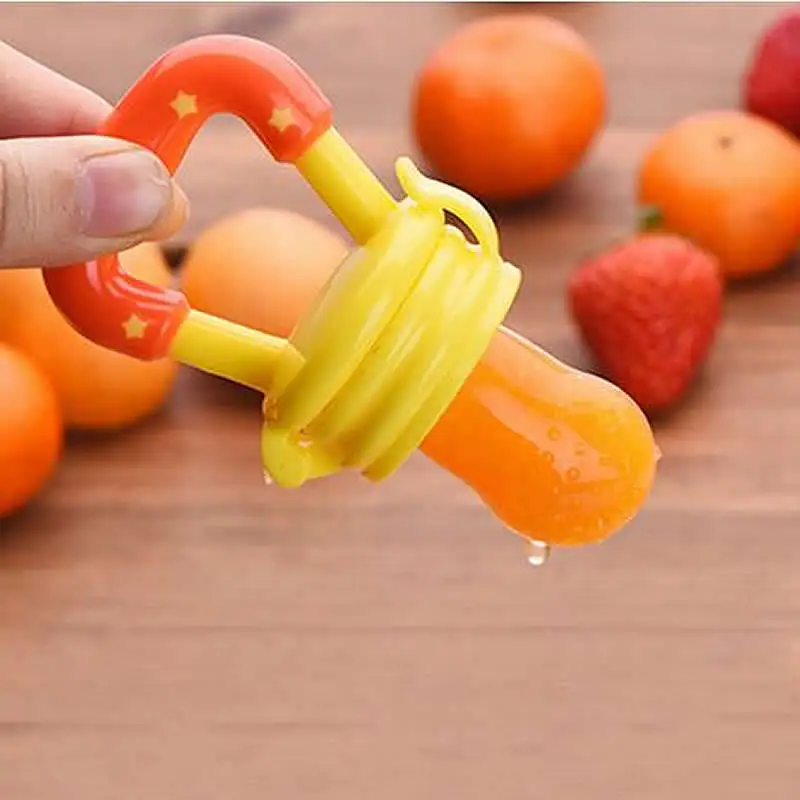 Both the container and the bowl must be washed periodically so that they do not become salted.
The feeder holds 3.7 liters of dry food. The amount depends on the size and shape of the granules. The size of one serving is about 10 grams. The feed is poured from above, and "windows" for infrared sensors are provided in the side of the container. Sensors are built into the body and monitor how much food is left.
The USB power input is safely hidden from curious animals at the bottom of the device: a cat or dog will not pull it out. The feeder has a compartment for a power bank. If you connect the Nutri Feeder to an external battery, then power outages will not be terrible.
The feeder has one physical button for immediate feed delivery. The feeding schedule is set through the free Petoneer mobile app. In the application, you can register by mail, or log in with your Google or Facebook account.
Nutri Feeder connects to the Internet via Wi-Fi, and according to the instructions, the device must be located one meter from the signal source.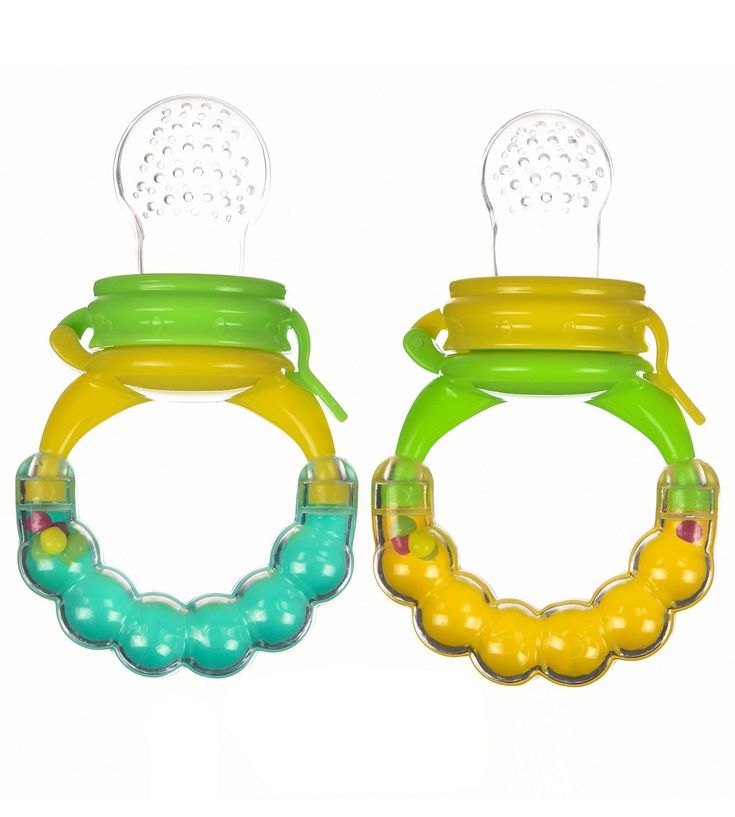 Then everything is simple: in the application translated into Russian, a tab with schedules opens, where the portion size and feeding time are set.
All! Now, when the time comes, the feeder feeds the animal and sends a food notification to the smartphone. The application will warn you if there is not enough food left, or if the feeder is jammed. There is a button to dispense food directly from your smartphone: as long as the feeder is connected to the network, the owner will be able to pamper the pet remotely.
Drinker
Cats and dogs on dry food definitely need clean water. In the smart drinking fountain Petoneer Fresco Ultra, it constantly passes through the filter and is disinfected. So the animal has a source of clean, running water. The device works quietly and does not scare away pets.
The Fresco Ultra fountain is divided into several parts. A removable water tank is inserted into the body, a pump and an ultraviolet lamp are attached to it from the inside.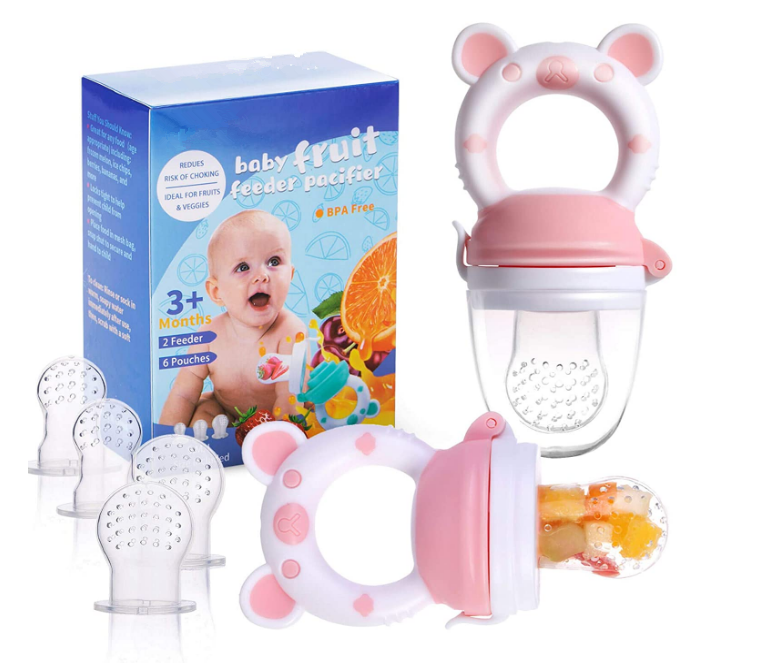 From above, the structure is covered with a stand for the filter and a lid.
All parts, except for the body, are washable. The bucket cannot be washed in a dishwasher, as the electronic parts of the device are built into it, and there are contacts for power supply at the bottom. It can and should be rinsed under the tap without wetting the contacts.
The power cable connects to the USB input on the bottom of the case. Same precaution as Nutri Feeder to keep animals from turning off the gadget.
Water is poured into the tank. There, an ultraviolet lamp sterilizes it periodically to kill harmful bacteria. The pump ejects the fountain onto the lid of the Fresco Ultra, after which the water flows back. In the process, a carbon filter cleans it of wool, debris, hardness salts, chlorine and organic matter.
The fountain is beautifully lit. This is necessary in order to better see the water level through a transparent "window", and to monitor the condition of the filter.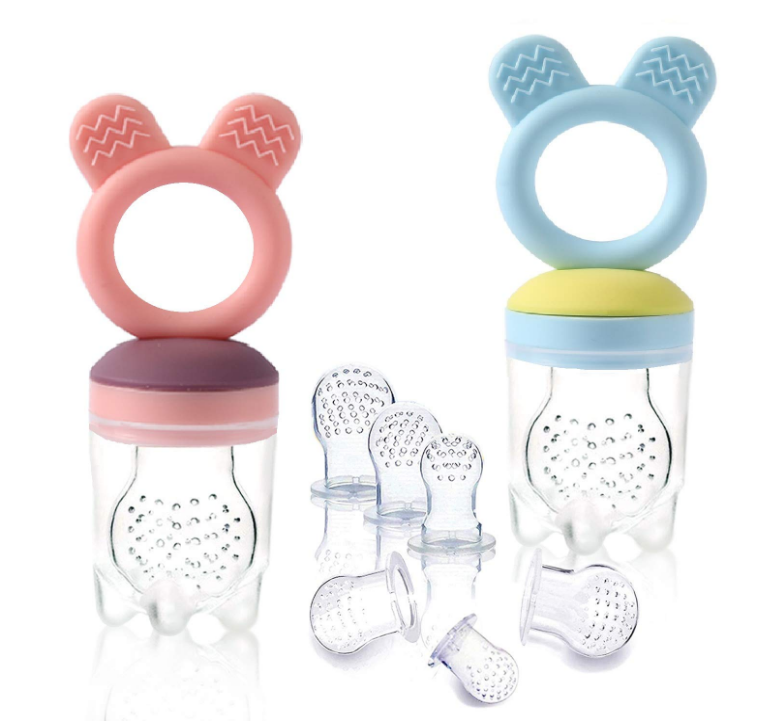 Red color - it's time to change the filter! The application allows you to check the status of the device and consumables in more detail (and remotely). It's simple: just install the Petoneer app, connect Fresco Ultra to Wi-Fi and add the fountain to the list of devices.
Water will spurt out without a Wi-Fi connection. The network is needed only for settings and remote control.
The application shows the water level and its hardness: sensors in the bucket determine the indicator. The hardness indicates the quality of the water. The menu at the bottom tracks filter life and pump maintenance time. When necessary, the application will remind you to update the water, replace the filter and clean the pump, including notifications. From the application, you can start UV sterilization, set the operating time of the fountain and its backlight.
The volume of the fountain is 2 liters, dimensions - 20.8 × 19.8 × 18.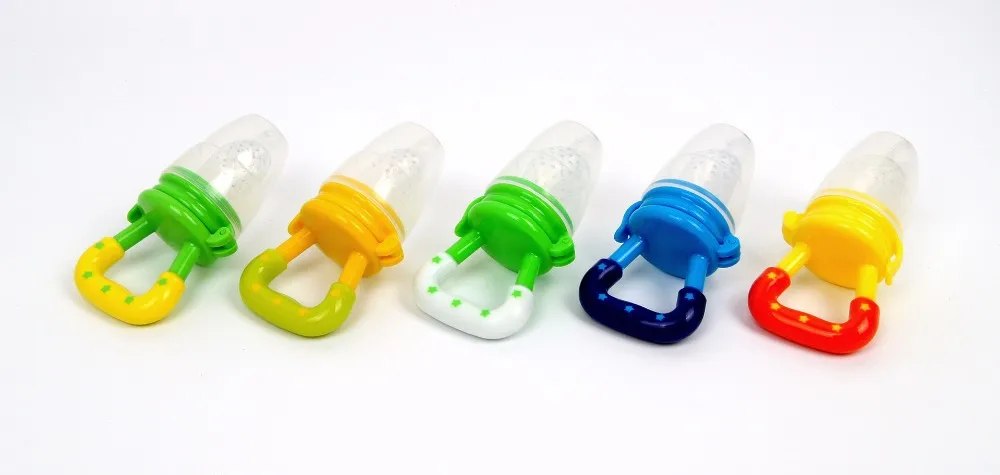 1 centimeters. The gadget is suitable for cats and small dogs.
Cat drinker
Petoneer Fresco Mini is a minimalistic version of Fresco Ultra. There is no application and no UV lamp, but there is a four-stage cleaning system. Polypropylene cotton removes large pieces of debris and wool, activated carbon, ion exchange resin and a KDF copper-zinc filter deal with organics, chlorine, hardness salts and heavy metals.
The fountain works in a similar way: it pumps water onto the lid and purifies it in the process. The drinking bowl is disassembled into parts, washed, filled with water. Silicone feet do not slip on the floor. The device will remind you that it is time to replace the filter: the backlight will flash blue. A red LED flashing will indicate the lack of water.
The volume of Fresco Mini is 1.9 liters. This is enough for 5-7 days for small dogs and cats, and for 3 days for medium-sized dogs. The dimensions of the drinker are 18 × 17.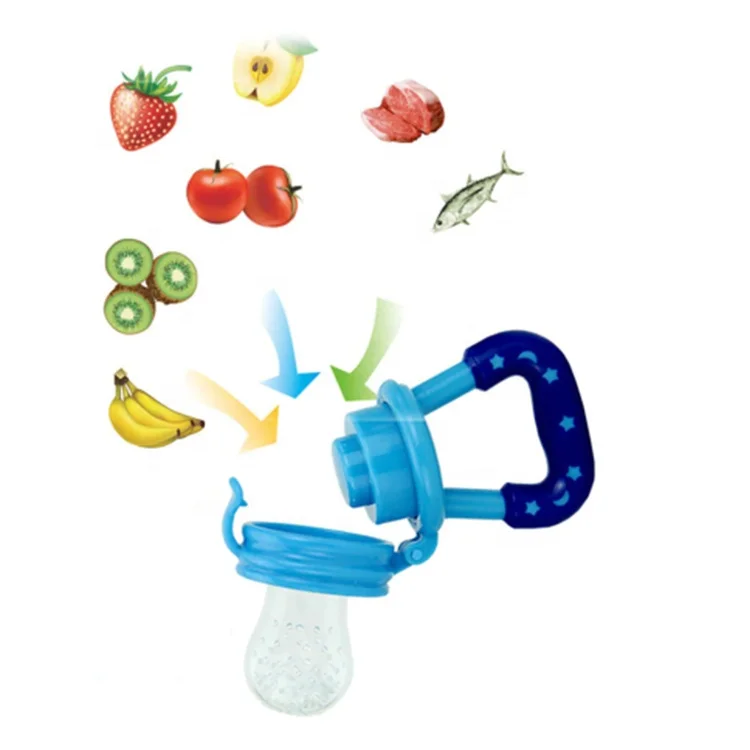 5 × 14.7 centimeters.
You can purchase Nutri Feeder, Fresco Ultra and Fresco Mini in our online store.
Especially for readers of our blog, a 5% discount on the entire range of the store with a promotional code OHMYBLOG
China Milk Baby Toddler Natural Sucking Silicone Feeder Manufacturers
Milk Baby Toddler Natural Sucking Silicone Feeder
This silicone feeder has a simulated nipple that is closest to the reality of breast milk. The soft touch of silicone can also make your baby feel warm. This silicone feeder has 43℃ ​​automatic temperature sensitivity technology. When the temperature exceeds 43℃, the silicone temperature bottle will gradually turn white. When the temperature is lower than 43℃, the bottle body will restore its own color. At the same time, the bottle body is also equipped with accurate scales, so that parents can master the amount of milk every time and give the baby a better feeding experience.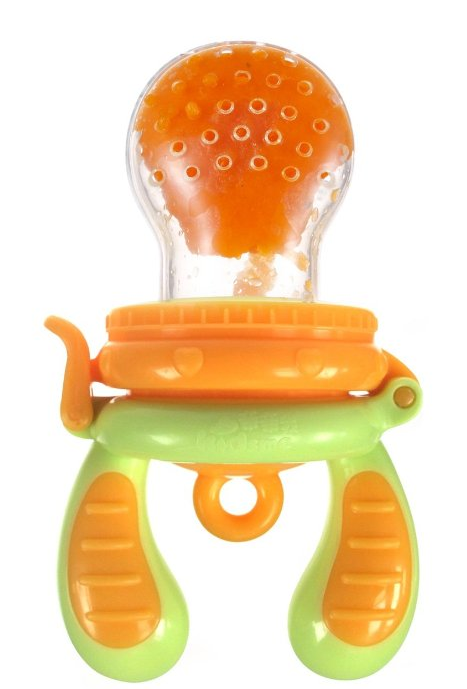 Aiwell is committed to the research and production of silicone baby room, silicone baby bowl, silicone baby dish, silicone baby cup, silicone baby spoon and other baby silicone products. We provide one-stop service from graphic design, proofing, production, sales and delivery. If you have any needs, please feel free to contact us.
Design Details:
1.SAFE MATARKE: Made of high quality food grade PP + silicone. / LFGB approved, non-toxic,BPA free, easy to clean and environmentally friendly. The safety of the child is our top priority.
2. Embedding Set: Designed with two different size pacifiers, parents can easily change different pacifiers according to their baby's age and other needs.
3. Smaller: This baby feeder has 30ml large capacity and suit for soft food, milk, ice chip and fruit. Enough space ensures that you don't have to fill the feeder all the time.

Product Group : Silicone Feeder
Company Overview
Daxin Industrial (HK), established in 2003.