What to feed a 6 month old baby for dinner
6-Month Baby Food Ideas Every Mom Needs to Know
279photo Studio/Shutterstock
Mealtime is such a fun part of the day for you and Baby. We've got all the details on what to feed your 6-month-old, plus plenty of tips.
It's so exciting when your baby becomes curious about food. She grabs at your plate and silverware—making it nearly impossible for you to eat your own meal! Typically, this behavior begins around the six-month mark. And at this point, it's time for you to start experimenting with solid foods.
Interested in baby-led weaning? Here's what to expect.
When should I start feeding my baby solid foods?
Before you begin solid foods, ensure that your baby can hold his head up and sit upright in a high chair. Always supervise your baby during mealtimes.
In addition to breast milk and formula, you can begin offering your baby many different foods as you start sharing mealtime together.
Find more info on when you should start with solid food here.
What should my 6-month-old eat?
Some of the first foods offered to babies are brown rice cereal and oatmeal. These bland options allow your baby to practice using a spoon and discover how her tongue works.
Start by introducing dry cereal or grain puffs during mealtime, and let your baby feed herself.
Once your baby is comfortable with cereal, offer:
Cheese
Beans
Muffins
Pureed or strained fruits (banana, pears, applesauce, peaches, avocado)
Pureed or strained vegetables (well-cooked carrots, squash, sweet potato)
Pureed protein (chicken, pork, beef, tofu or fish)
Small amounts of unsweetened yogurt (Keep in mind your baby should not have cow's milk until he is at least one year old. )
Scrambled eggs (Here's why eggs are a good option!)
Pasta
Learn more about the foods you should (and shouldn't!) start your baby on.
How much should my baby be eating?
Babies around six months of age will eat approximately 6-12 ounces of pureed baby food per day. (Here's how to make baby food at home). But the exact amount depends on your child.
Bonus: 6-month baby food meal plan
No, meal planning isn't just for adults. We've laid out a super simple meal plan for you to follow with your baby.
You'll want to continue offering your baby breast milk or formula as needed, then start to add in solid foods at breakfast, lunch and dinner.
Breakfast: Rice cereal or oatmeal
Lunch: Pureed fruits and/or veggies
Dinner: Pureed meats and veggies
Psst! You should avoid these foods when breastfeeding.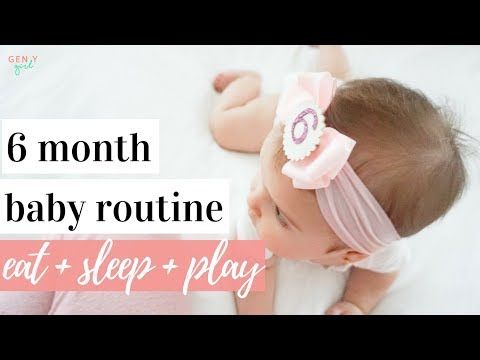 Popular Videos
ⓘ
Originally Published: May 07, 2019
Kristin George
Kristin George is a lifestyle + parenting writer and content creator living in Milwaukee, WI, with her husband and three boys. She is the founder of Dotted Comma, a marketing consulting agency driven to "cause a pause." In addition to her family and writing, she loves coffee, yoga, traveling, and making lists. You can connect with Kristin at dottedcomma.com.
Baby Meal Plan: 6 to 9 Month Old
What should you know about feeding your 6- to 9-month-old?
Learn about how to introduce solid foods to your baby

Know that what foods you introduce now help influence baby's preferences in the future

Explore menus that help you understand the transition from purees to soft solids
Starting solid foods is an exciting time for you and your baby. The American Academy of Pediatrics and the World Health Organization recommend introducing solid foods around 6 months of age.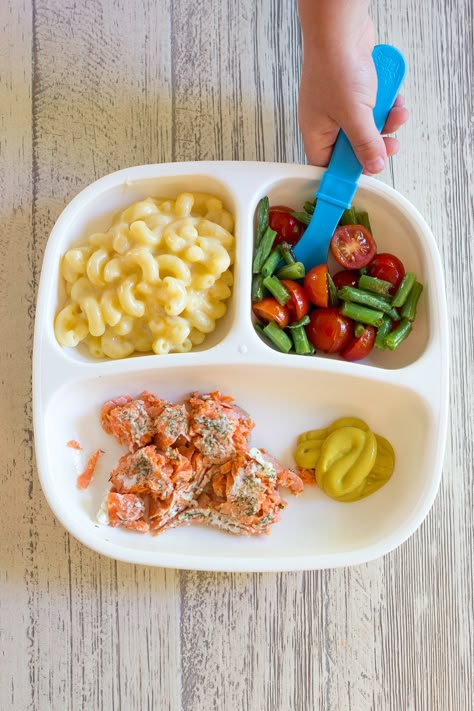 1, 2  Check out our signs of readiness article and speak with your baby's pediatrician to help determine when your little one is ready to start solids.  
While starting solids, you will continue to provide most of the essential nutrition and hydration your baby needs from breast milk or formula, while also exposing your baby to a new world of diverse flavors and nutrients. In fact, this is one of the most influential periods in your baby's taste development.3, 4 Your baby will most readily try and accept all kinds of foods at this age so it's important to offer a variety of different flavors from meal to meal.
There are two meal plans below: One for starting solids with purees, and one for when your little one starts to advance textures. Both have snack and recipe ideas to help you get started. They also have plenty of flavor variety to help maximize your baby's taste
development.
Read more: Learning to Love Healthy Foods
Pro tips for 6- to 9-month-old baby meal plans:
Eating solids at this age is mostly about letting your baby explore new flavors and textures.
Breast milk or formula will remain your baby's primary nutrition source during their first year, so continue to give breast milk and/or formula just as you were before starting solids. Your little one will begin to reduce how much formula or breastmilk they take as they get closer to 1 year.5, 6, 7  
For breastfed babies, introduction of solids at 6 months helps your little one get enough of certain nutrients. For example, at 6 months stored iron begins to diminish. Since breast milk is not a good source of iron, including some iron-rich foods, such as fortified cereals and pureed meats, will help your little one get enough.8 For more information, chat with baby's health care provider for their recommendations.
For more information on the nutrient needs of your older baby, check out: Nutrients to Look for at 6-12 Months
How much should I feed my baby?
At around 6 months old, you can start by offering 1 to 2 tablespoons of food once or twice per day. Once your little one gets the hang of eating and shows more interest, slowly begin offering foods 2 to 3 times per day and ¼ to ½ cup at a time.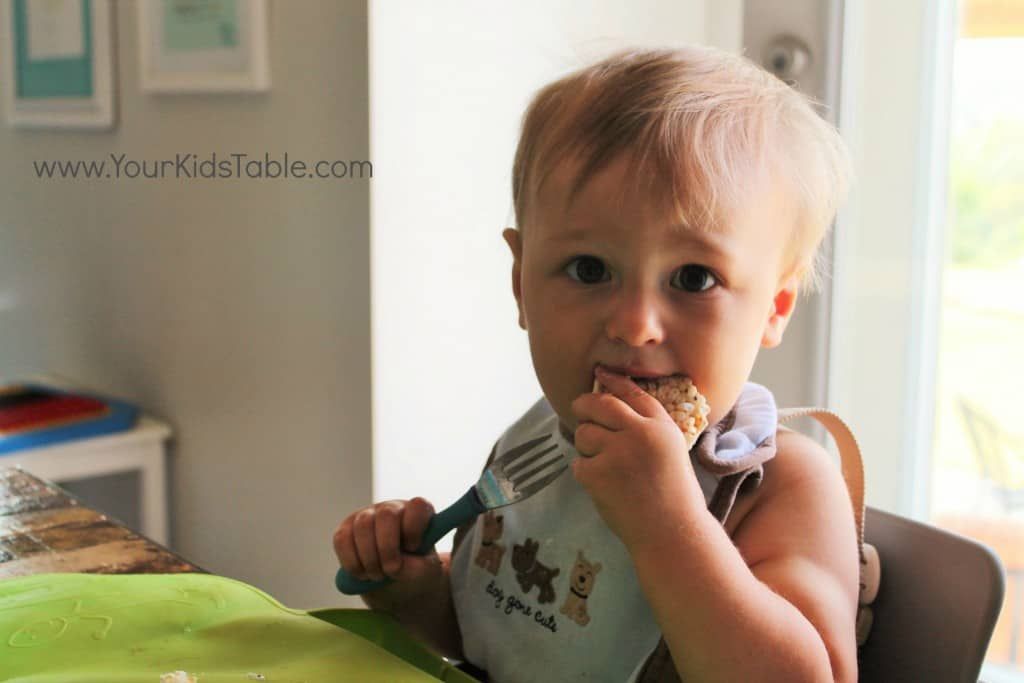 9, 10
Remember to listen to your baby's hunger and fullness cues throughout their feeding journey, rather than go by specific portions. Your little may take more or less each day; by responding to their feeding cues you'll be providing them with just what they need.11
It's important to advance texture once your baby is comfortable. Start with thin, pureed foods, thickening them a bit as baby gets used to eating. Next, move to lumpy, mashed foods; followed by finely chopped, soft foods.12
Read more: Introducing Solids: First Foods & Textures
Introduce one single-ingredient new food at a time

Allow for 2 to 3 days before introducing another new food to make sure your baby is not allergic or intolerant to these foods. Foods most often associated with allergies are eggs, soy, peanuts, tree nuts and seeds, wheat, fish, shellfish, and cow's milk (drinking cow's milk is not recommended before 12 months, but milk can be used in small amounts in baked or cooked foods, and baby can also eat yogurt and cheese as long as there is no allergy or intolerance).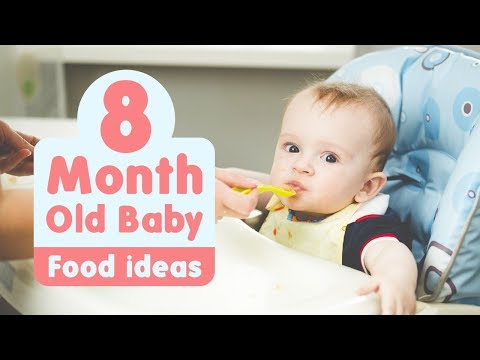 13
Read more: Introducing Major Food Allergens to your Infant
By 9 months of age, your baby should be eating foods from all food groups and be able to handle small, soft pieces of finger foods. Pay attention to your baby's cues, have fun, and let your baby set the pace while offering your baby healthy foods that contain important nutrients to set the standard for healthy eating patterns.
Baby doesn't like a food? Try, try again!
Your baby may grimace, wrinkle their nose, or make other faces when they try new foods and textures. Know that this is completely normal and doesn't mean your little one dislikes the food or is being picky. Babies may need to taste a food up to 10 or more times before they start to accept it, so just keep offering (though not forcing) that food.14
Remember, starting solids is mostly about introducing a variety of flavors and textures – and keeping it fun and stress-free!
If you have questions about introducing solids or advancing textures, reach out to our team of registered dietitians for free! They are here to help on our free live chat from Monday through Friday, from 8am–6pm ET.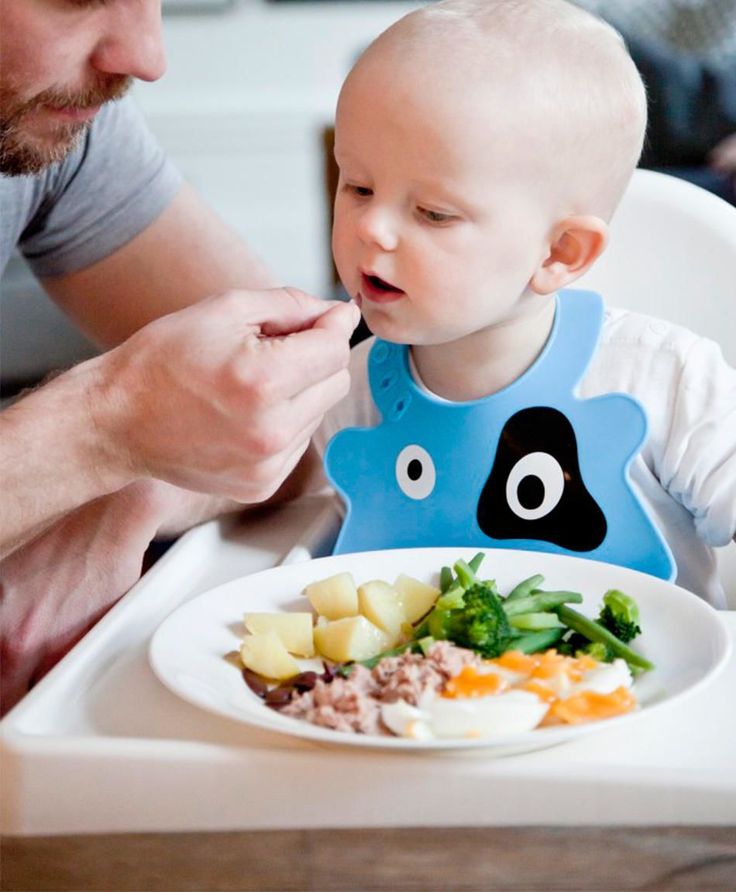 Chat now!
Around 6-month old meal plan: First foods and purees
Breakfast:
Option 1: Whole Ancient Grain Baby Cereal

Option 2: Mashed avocado

Option 3: Avocado and Pea Puree

Option 4: Apple and acorn squash mash (pureed apples and squash mixed)

Option 5: Pureed peaches or soft cooked pears
Lunch:
Option 1: Root Vegetable Puree

Option 2: Unsweetened whole milk yogurt

Option 3: Avocado and Pea Puree

Option 4: Pureed apples

Option 5: Quinoa cereal
Dinner:
Option 1: Mashed "Banacado" (banana and avocado mashed together)

Option 2: Baby Muesli with Peach Yogurt

Option 3: Tropical medley (mashed papaya and mango)

Option 4: Garden veggie and fruit combo (mix mashed/pureed apples, spinach and peas)

Option 5: Beet and Cantaloupe Puree
7-9 months-old-menu: Advancing Textures
Breakfast:
Option 1: Unsweetened yogurt with mashed peaches

Option 2: Oatmeal cereal

Option 3: Whole grain waffle strips

Option 4: Orange Sunny Soup

Option 5: Soft scrambled egg
Lunch:
Option 1: Soft cooked whole grain pasta with olive oil and parmesan cheese

Option 2: Slivers of turkey with peas

Option 3: Unsweetened applesauce and shredded or cubed cheese

Option 4: Chickpea and Carrot Spread

Option 5: Cottage Cheese with Cinnamon and Diced Strawberries
Dinner:
Option 1: Soft cooked slivers of chicken, with steamed carrots

Option 2: Ginger Carrot & Sweet Potato Mash + Lean Beef

Option 3: Small chunks of low mercury fish, like cod

Option 4: Soft steamed chunks of broccoli or green beans

Option 5: Lumpy, mashed kidney or black beans
Let's Chat!

We know parenting often means sleepless nights, stressful days, and countless questions and confusion, and we want to support you in your feeding journey and beyond.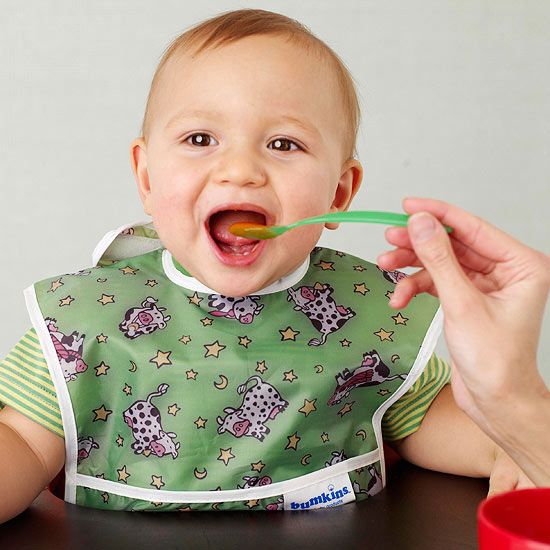 Our Happy Baby Experts are a team of lactation consultants and registered dietitians certified in infant and maternal nutrition – and they're all moms, too, which means they've been there and seen that. They're here to help on our free, live chat platform Monday - Friday 8am-6pm (ET). Chat Now!
Read more about the experts that help write our content!
For more on this topic, check out the following articles and recipes:
Starting Solids: Purees versus Baby Led Weaning
Starting Solids: Baby Led Weaning
The Division of Responsibility: Helping Avoid Picky Eating
Feeding Tips for Healthy Weight Gain in Babies and Toddlers
Our meal plans offer recipe and meal suggestions for your child. They are not designed to replace your doctor's recommendations, nor do they take into account special nutritional needs, including allergies and intolerances. The meal plans suggest serving sizes that may or may not be appropriate for your child.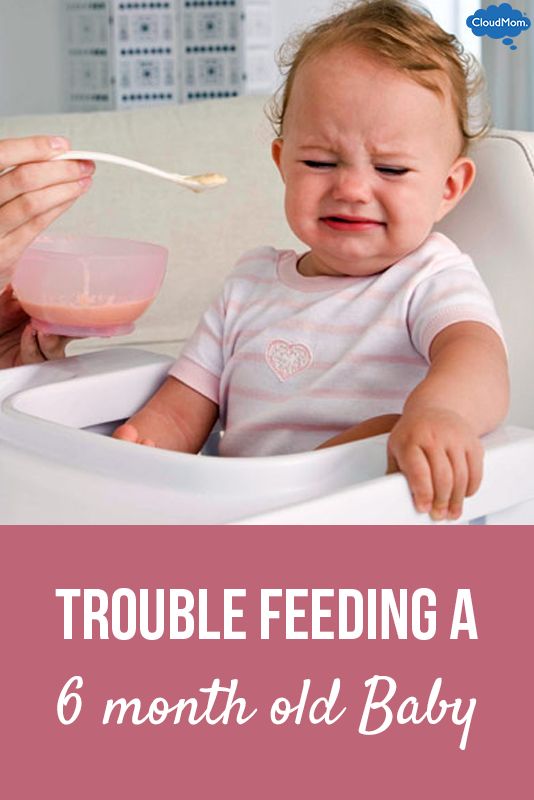 Please consult your doctor to determine what is best for your child.
diet for a 6-month-old baby with breast and artificial feeding, an approximate menu for a week in the table, a diet for a day
Published: 02/10/2021
Reading time: 4 min.
Number of reads: 183569
Author of the article: Ponomareva Yuliya Vladimirovna
Pediatrician, candidate of medical sciences, allergist-immunologist
Changes in a child in the first year of life are very rapid, and each month is not like another. The 6-month milestone is very important, it is largely evaluative and transitional. By this age, most babies have doubled their birth weight, are about 15 cm tall, and some babies have already erupted their teeth. The age of 6 months is also transitional in terms of nutrition. Breast milk or an adapted formula is still the basis of the diet, but with the beginning of the second half of life, all children, without exception, should begin to receive complementary foods.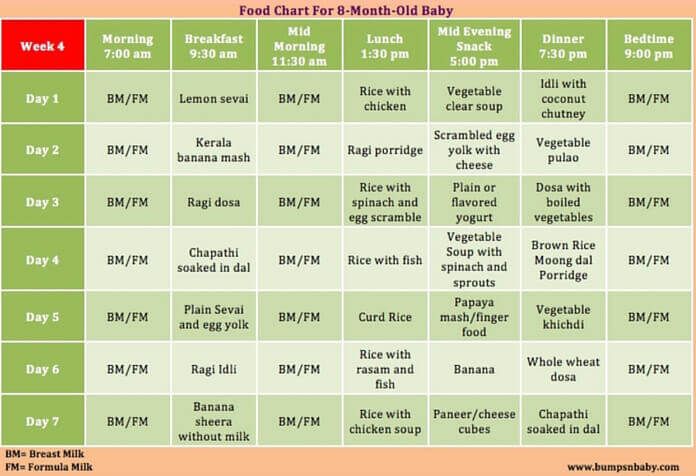 Despite the general graph of growth and weight gain and indicators of psychomotor development, the status and diet of children at 6 months can be very different.
Content: Hide
The first feeding of 6 months
The start of complementary foods at 4-5 months
The second half of life
for a week for a child at 6 months
The first feeding of 6 months
If the baby is healthy and breastfed, and his mother eats a full and varied diet, exclusive breastfeeding is possible until this age. Cereal complementary foods in this case are preferable to start. This is due to the high energy and nutritional value of cereals, the ability to significantly enrich the baby's diet with a delayed start of the introduction of complementary foods.
However, the rate of expansion of the child's diet in this situation will be accelerated. Before the 8th month of life, it is necessary to introduce all basic food groups into the baby's menu, since in the second half of the year the need for additional intake of nutrients and micronutrients is very high.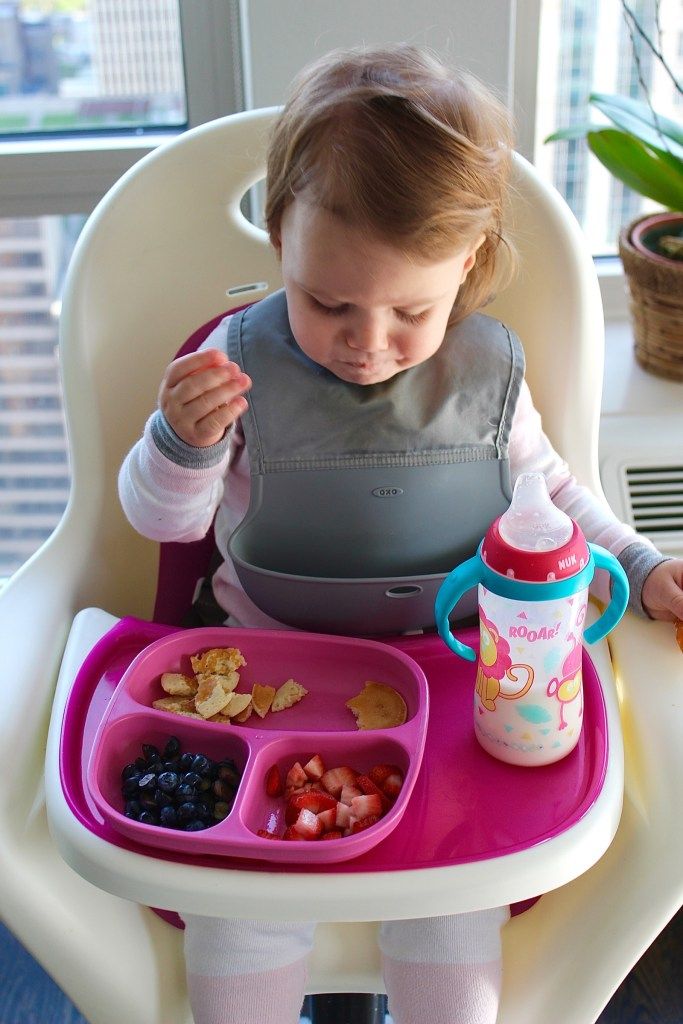 Another reason explaining the importance of the rapid introduction of complementary foods is the formation of immunity of the immune cells of the intestine to ordinary food. If a child is introduced to these foods at the age of 4-8 months, the risk of developing food allergies has been proven to be reduced.
Complementary feeding starts at 4-5 months
In today's life, the nutrition of a nursing mother, unfortunately, is not always complete. Therefore, for most breastfed babies, complementary foods already need to be introduced from 5 months in order to prevent deficient conditions.
If a child is bottle-fed, then by the 4th month of life, the baby will not have enough adapted formula alone, and in this group of children, the timing of the introduction of complementary foods usually shifts a month earlier than in breast-fed babies. Accordingly, by 6 months, children will have vegetable puree and gluten-free porridge (buckwheat, corn and rice) in their diet. In the first half of life, monocomponent meals are used (that is, from one type of grain and vegetables), prepared on the basis of water, breast milk or an adapted mixture.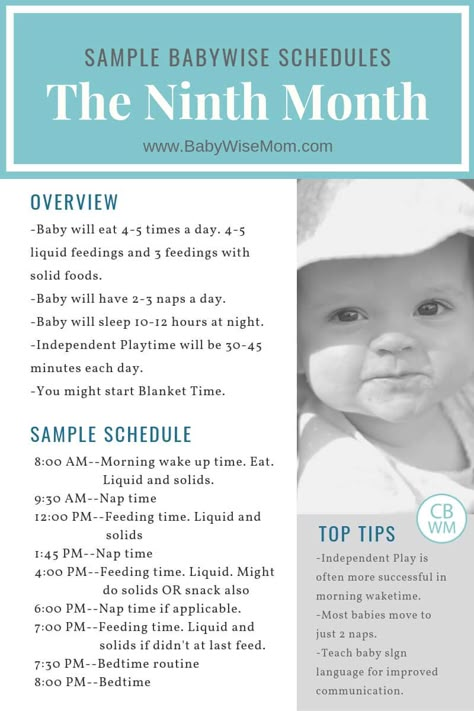 Fruit puree and juice can be another possible complementary food for children under 6 months of age without allergy symptoms. In a child with a risk of developing or manifesting allergies, the timing of the introduction of fruit complementary foods is shifted to the 8th month.
Second six months of life
Children over 6 months of age can supplement their diet with cereals containing gluten. First of all, these are oatmeal and wheat porridge, and then multi-cereal dishes with the addition of other cereals (millet, barley, rye). If the child does not have any manifestations of allergies, milk porridge can be included in the menu at this age. Bebi Premium industrial baby food products include specially prepared milk that is safe to use in healthy babies in the first year of life.
From the age of 6 months, the baby's diet is expanded with such important products as meat and cottage cheese. These products are a source of high-quality protein, fats, and are also rich in minerals such as iron, calcium, and phosphorus.
Pediatricians and nutritionists recommend introducing meat and cottage cheese as part of combined dishes based on a fruit and vegetable and / or grain component in a ratio of 1 (cottage cheese / meat): 4–5 (fruits / vegetables / cereals).
To enrich the diet with polyunsaturated fatty acids in the second half of the year, the menu includes vegetable oil in the amount of 3–5 grams per day, which can be added to the complementary food dish. The volume of each feeding is approximately 150-170 ml, and the child can already stand up to 3.5 hours between meals.
In the table below, we offer a menu of 6 months for a week for a child who started receiving complementary foods at the age of 4-5 months, and by the time the second half of life begins, dairy-free gluten-free cereals, vegetable and fruit purees have already been introduced into his diet.
1st day
Seeing
0065 50
Lunch (12. 30)
vegetable soup with beef, olive oil
100/30/3
compot of drocked 9006, 9006 9
Afternoon snack (16.00)
Plum puree with cottage cheese
60/40
Breast milk/formula
60 062
food reception
menu
ml/g
Early morning
breast milk/mixture
150
Milki
& Bashas Breakfast (09 cherry Bebi Premium»
100
0065 Breast milk/mixture
150
children's soluble cookies "BEBIKI" Classic
GRUSHERS with rice and Claus
GRUSHIOUS WITH RISE and CRETURE 30
Bebi Premium Kids Instant Herbal Tea
50
Bedtime 065 Breast milk/formula
150
Rate the article
(Number of votes: 20, average 4.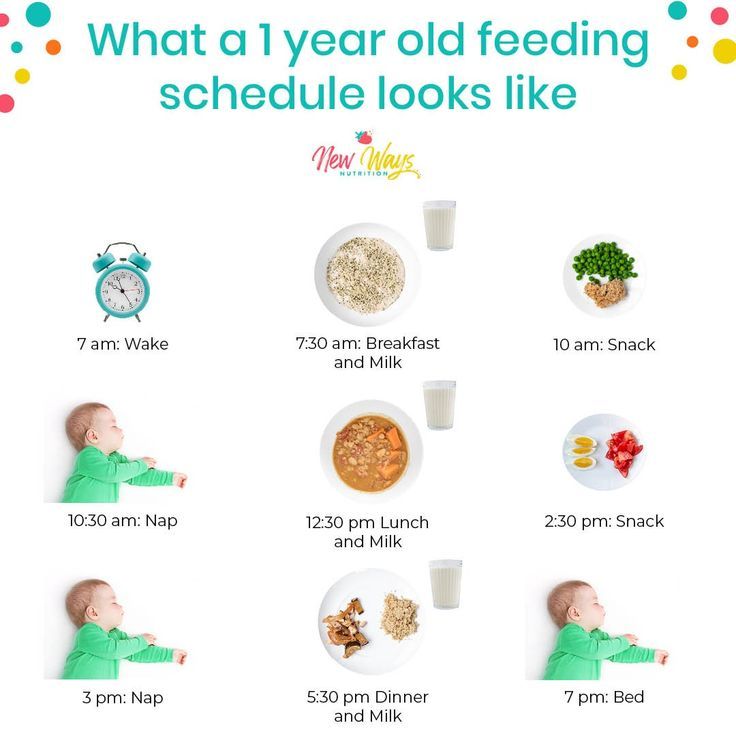 8)
Share with friends:
Menu for 6 month old baby
go back
| | |
| --- | --- |
| | The author of the menu for a child of 6 months pediatrician Marina Turupaeva Marina. Experience 11 years. Twice mother. Graduated from the Yaroslavl State Medical Academy. District pediatrician of the children's polyclinic, chief district pediatrician, neonatologist of the maternity ward. She teaches at the "School of Motherhood" and works with expectant mothers on children's health issues. |
Today, probably, only the lazy one does not give advice on how to feed a child and what should be on the menu of a six-month-old baby. It is interesting that there are a lot of opinions on this topic and, perhaps, it is sad that even medical professionals often give different nutritional recommendations from each other.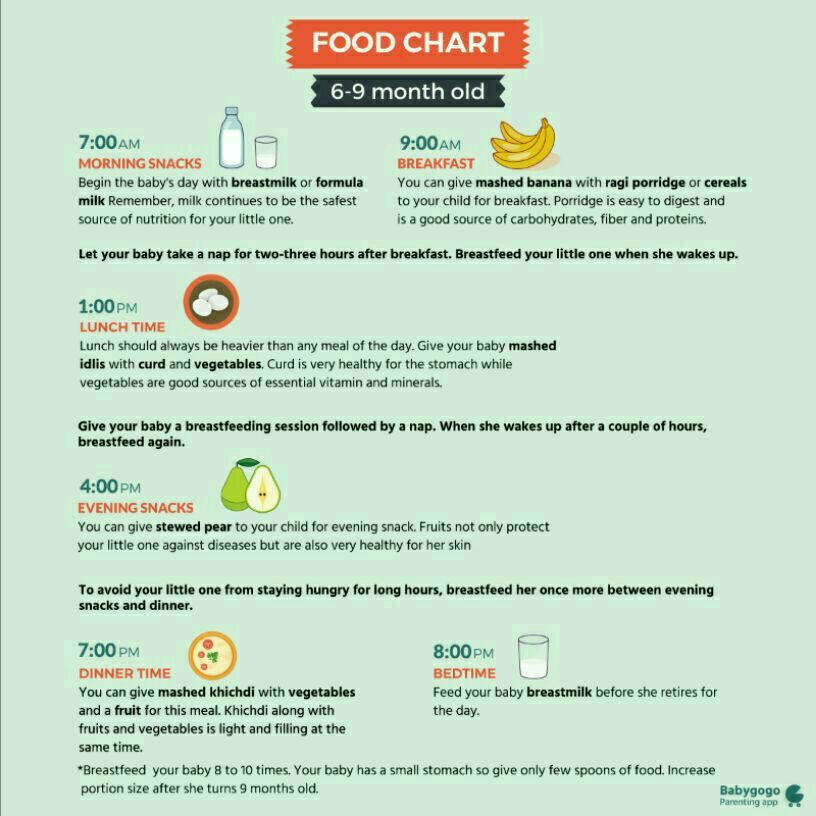 What is a young mother to do?
What should be on the menu of a 6 month old baby?
How to choose the right option and, most importantly, how not to harm your baby?
I am a pediatrician and mother of two children. When my eldest daughter was born, I had no time to think about what to feed her, I then listened to my mother and, despite my medical education, relied only on her experience. After all, she raised her children and knows better. As a result, I got digestive problems and allergies in my baby. Which only added to the difficulty for me.
When I was pregnant with my son, even then I began to think about how to avoid most of the problems in the first year of his life. After all, as they say in a well-known advertisement, when the baby is comfortable, then his mother is happy and calm. I'll tell you honestly, having a medical education interferes with my life in many ways, because you know less - you sleep better. However, it also certainly helps by the fact that I can delve into the essence of the process taking place in the child's body literally at the cellular level.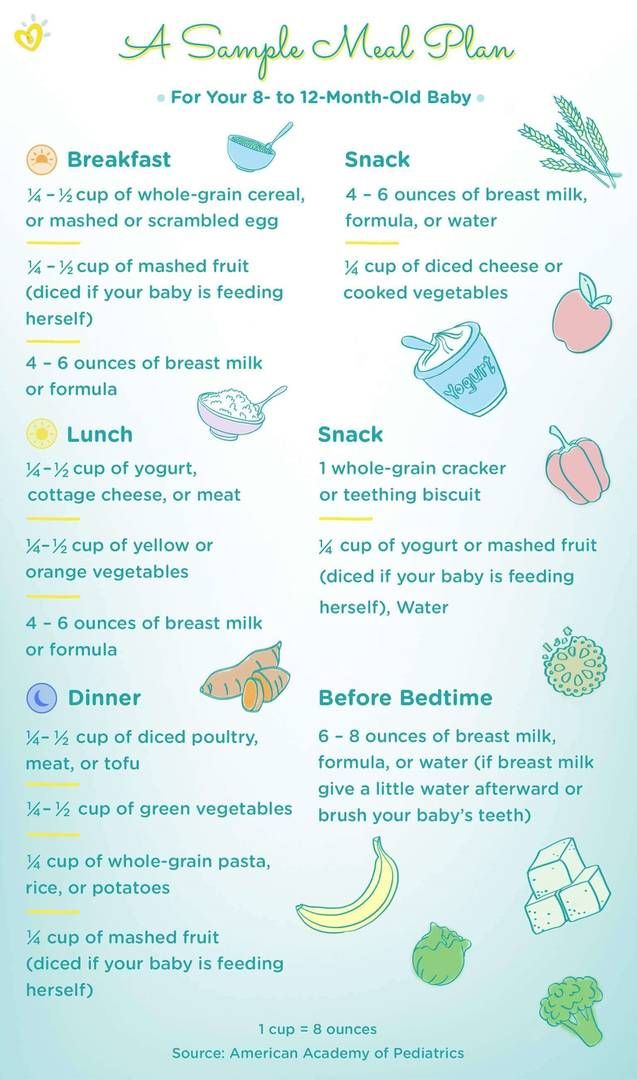 Now it will not be enough for me only someone's experience. Exact explanations and justifications are needed. And friends, I figured it out. As you know, science is moving and what was considered useful 5-10 years ago has now turned out to be unhelpful, and some even harmful. Today I really want to share with you my observations and modern aspects in the nutrition of children at the age of 6 months.
I really hope that until 6 months your baby had only breast milk on the menu. If so, then get your grade, you are "five plus". If you are feeding your baby only an adapted milk formula because for some reason you had to stop breastfeeding, you also get a high five. I imagine and have experienced in my own skin what it is like to resist the pressure of all close and not very close relatives, girlfriends, neighbors and just acquaintances. "What, you're not giving the baby juice yet?" or "Have you tried egg yolks yet? Poor child!".
I want to praise you and say that you did absolutely the right thing, that you did not succumb to their provocations and did not cause problems with the chair and sleep in your own child.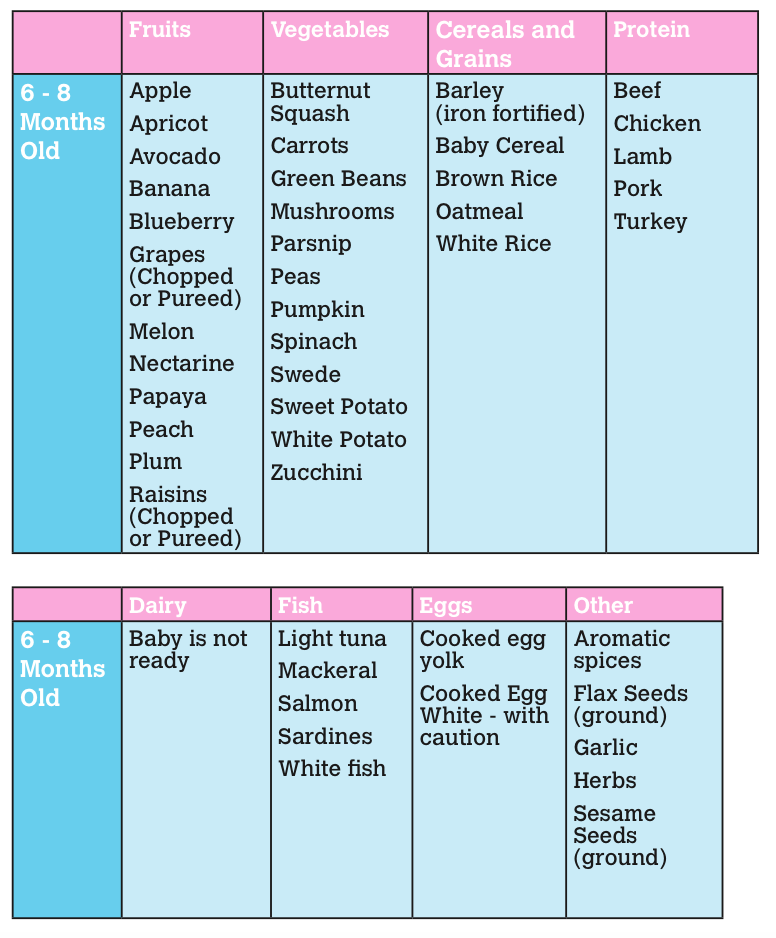 Rule #1.
Until the age of 6 months, the baby does not need any food,
except breast milk or adapted formula.
Withstood, withstood. What's next? It is necessary to decide on the product of the first complementary foods. Considering all modern research and observations, porridge is the ideal first complementary food product. They are easily absorbed by his immature children's body and cause the least number of allergies.
Rule #2. We start with porridge.
Which porridge to choose? Pediatricians around the world advise starting with gluten-free cereals, these are buckwheat, rice and corn porridge. Why is gluten dangerous? In a nutshell, these are abdominal pains, bloating, diarrhea, as well as an allergic reaction in the form of a skin rash and many other various unpleasant symptoms. I hope I convinced you, we will postpone gluten cereals for later.
What does complementary feeding look like? We start giving any new product with 1 teaspoon to assess the child's reaction to it.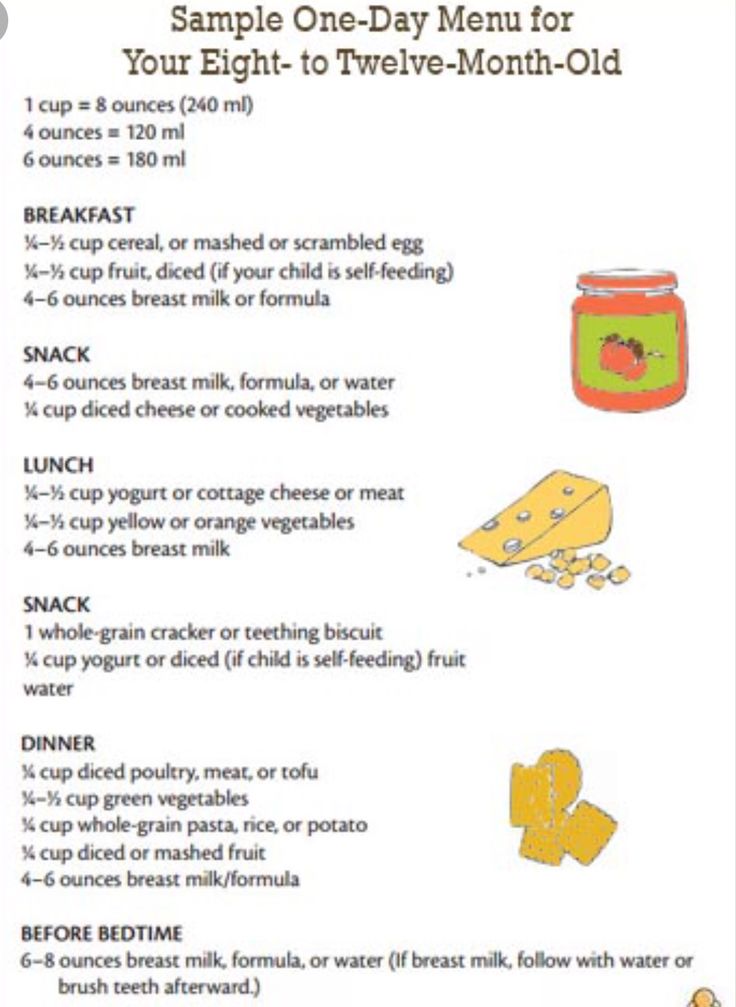 If the stool and sleep are not disturbed, and the skin remains clean, gradually increase the amount of porridge eaten and bring it to a full serving, replacing one breastfeeding or formula, that is, up to 200 ml.
Rule #3. Start with 1 teaspoon and increase gradually!
In our shops there is a great variety of different boxes with cereals. There are dairy and dairy-free, from one cereal and several, with and without fruits. You can get confused, so which one to choose? We always start with monocomponent porridge without milk and fruits. And why spend money on these new-fangled boxes, if you can cook porridge yourself. Then you will be 100% sure of its composition. Just take the selected cereal and grind it in a coffee grinder. You will get flour, which you will then cook.
Recipe for buckwheat porridge.
Take 2 tsp. buckwheat flour, dissolve in 2 tbsp. warm boiled water, stir so that there are no lumps, and pour into 120 ml of boiling milk.