Can you reuse baby food
Ways to use leftover baby food
By Kathryn Doherty
This post may contain affiliate links. As an Amazon Associate I earn from qualifying purchases. Please read my disclosure policy
Tons of ideas and recipes for ways to use leftover baby food, plus tips on how to store leftover baby food safely.
We are just back from a long weekend in Florida, a family reunion with my husband's side of the family, and we had SO much fun! Lots of beach time, family time, play time, and tons of great food!
But whew, I'm worn out and feel like my house is half upside-down. We got home late yesterday afternoon, I immediately went to the grocery store to stock us up, made some overnight oatmeal jars to have on hand for the week, made dinner, caught up on some emails and then settled in for Game of Thrones.
I'm back at work today but feel like I need another day to get us back on track. Isn't that always the case after being away? Ah well, we'll just figure out as we go this week.
The laundry isn't going anywhere 😉
But I'm so excited to bring you today's post about ways to use leftover baby food! It's something I've been meaning to post about ever since I started my homemade baby food series a couple of years ago (lots of which I revamped earlier this year).
Let's start with a quick Q&A with some common questions on how to use leftover baby food:
Can I reuse leftover baby food? Yes, if it's not contaminated. If you've put a spoon in the jar or container that was in your baby's mouth, you need to throw it out. (The germs from your baby's mouth can turn the baby food bad.) But if it's unopened or unused or untouched, it can be reused.
Can I store leftover baby food? Yes! If you have an open jar or container that wasn't contaminated (see above), you can refrigerate it for 3-5 days or freeze it for up to 4-6 months.
How do I store leftover baby food? It's best to store homemade baby food in small containers with a tight seal.
This allows you to portion out just a bit at a time to avoid wasting food. If freezing, you can use ice cube trays to make small cubes. Once they are frozen, transfer the cubes to a labeled freezer-safe bag.
Can you freeze leftover baby food? Yes! You can freeze leftover baby food for up to 4-6 months. Transfer it to an ice cube tray or small freezer-safe containers. And be sure to label it!
Things to do with leftover baby food jars — I never had any because I did all homemade baby food but I found some cute ideas here and here if you want to check them out.
So now that we've covered the basics, what are you gonna actually do with those extras once your sweet baby has moved beyond purees?
Well, I've got tons of ideas for you! I got creative because I had kept a freezer stocked with baby food (I had two BIG eaters) and I hate wasting food! So all those little cubes got repurposed into new dishes that my budding toddlers could eat themselves.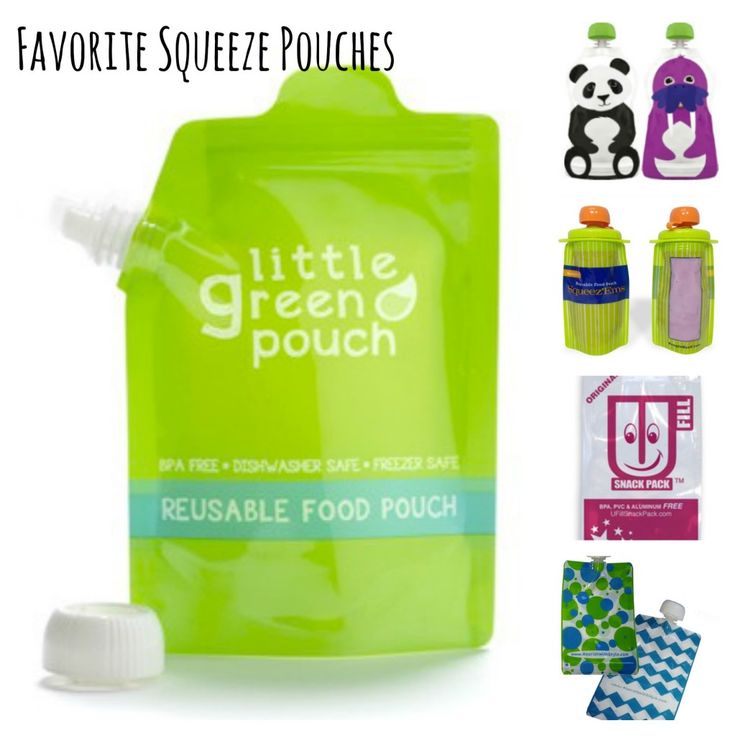 👍
So here are lots of ideas for you on using up leftover baby food!
(I've also got a free printable if you want to save this for later!)
Ways to use leftover baby food:
Transform any favorite combinations into homemade baby food pouches for on-the-go eating (and see 5 more baby food pouches for more ideas)
Mix fruit baby food into oatmeal, yogurt, cottage cheese and smoothies
Mix fruit purees into unsweetened applesauce for a new flavor
Add fruit purees into muffins
Use fruit purees as a spread for toast or a dip for crackers or cut fruit pieces
Add veggie purees to tomato or marinara sauce and mix it with pasta or use it to make pizzas (I still do this for my kids, who are ages 4 and 6)
Use vegetable purees to make sweet potato or squash or zucchini pancakes
Mix vegetable purees with brown rice to make rice balls or rice patties (perfect for dipping!)
Use vegetable purees in muffins
Use veggie purees to bind together casseroles and add some extra nutrition
Add extra vegetable purees to eggs for omelets, egg muffins or frittatas
Mix corn, carrot or squash purees into mashed potatoes or mac and cheese.
Stir vegetable purees into soups, stews or chili (all kinds of veggies can go here)
Add meat purees into chili, soups or stews
Use meat purees to make baby meatballs or baby hamburgers
Use baby food meat purees to make savory muffins with meat, veggies and cheese
See, there's tons of things you can do! And if you are looking for a little more guidance…
Here are a few specific recipes that use or could be adapted to use leftover baby food:
Berry beet smoothie with broccoli
Homemade applesauce: 5 fruit flavors
Spinach banana mini muffins
Almond butter zucchini muffins
Apple and butternut squash muffins
Butternut squash and kale mac and cheese
Veggie mac and cheese muffins
White turkey chili
Hobo stew
Be sure to check out this video, too, to see how easy it is to make some of these leftover baby food recipes! Press play 👇
I would love to hear if you have other ideas for using up leftover baby food! Please share them with me in the comments below!
XO,
Kathryn
P.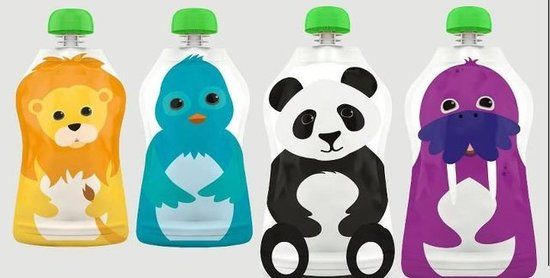 S. Here's that one-pager free printable again!
Keeping your baby's food safe
Eileen Haraminac, Michigan State University Extension -
Infants less than a year don't have fully developed immune systems, because of this bacteria that may not cause illness in an adult or older child, can cause serious illness in infants and consequently they are often susceptible to food-borne illnesses.
Infants are often susceptible to food-borne illnesses. Infants less than one year of age do not have fully developed immune systems and because of this bacteria that may not cause illness in an adult or older child, can cause serious illness in infants. Parents and caregivers can reduce this risk with safe food handling practices. It is always important to safeguard food for infants and youth Michigan State University Extension and Foodsafety.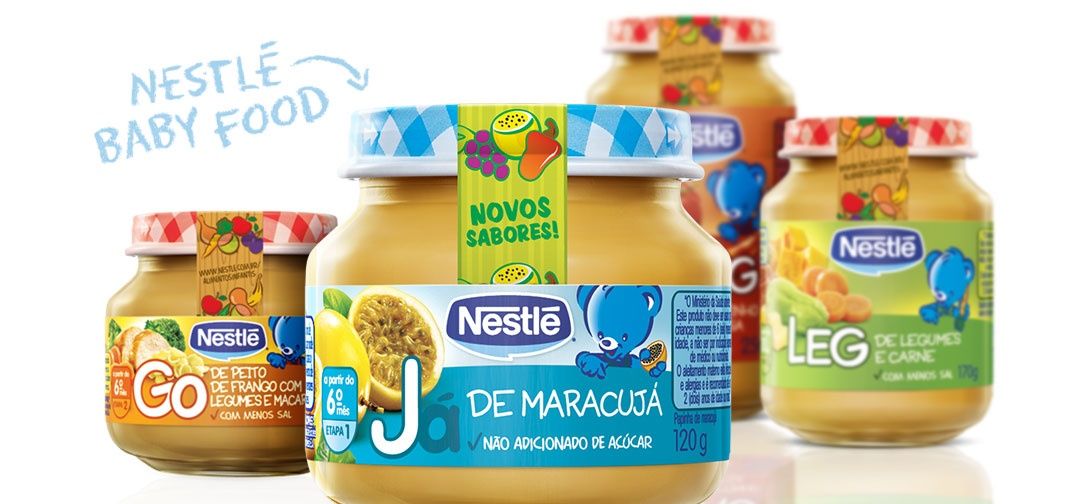 gov offer these guidelines.
The most important practice you can do to keep food safe is to wash your hands. Your hands can pick up harmful pathogens and bacteria from tasks like diaper changing, feeding the dog, going to the bathroom or preparing raw meat or eggs. Always wash your hands after completing any of these tasks and especially when preparing infant foods.
For infants under six months old, the safe storage times for formula and expressed breast milk are between three to eight days in a refrigerator at 35 degrees Fahrenheit to 40 degrees F. Breast milk can be frozen for up to six to 12 months at 0 degrees F. However, do not freeze formula. If you plan to give an infant water, it should be boiled water during the first three months of the infant's life. Milk and formula for six to 12 month old babies may be stored for 48 hours in the refrigerator. The same three to eight day time limit applies for milk, and the "do not freeze" rule applies to formula.
For unopened cans of formula observe and follow the "use by" dates. For baby food, check "use by" dates when storing unopened jars. Check to see that the safety button on the lid is down before opening. If the lid does not "pop" when the jar is opened or if the jar is not sealed, do not use the food.
For plastic pouches: Discard any packages that are swelling or leaking.
Don't feed your baby directly from the jar of baby food. Instead, put a small serving of food on a clean dish and refrigerate the remaining food in the jar. If the baby needs more food, use a clean spoon to serve another portion. Throw away any food in the dish that's not eaten. If you do feed a baby from a jar, always discard any remaining food. The baby's salvia mixed with the unused food in the jar can start producing bacteria.
When traveling, keep milk and formula cold (less than 41 degrees F) by transporting bottles in an insulated cooler with an ice pack
For microwave heating, transfer food from unopened jars to bowls or dishes. For adequate heating, heat four ounces of food on high for 15 seconds, stir, and let stand for 30 seconds. Stir again and check the temperature (more than 140 degrees F) before feeding food to the infant.
Never allow opened jars of food to sit at room temperature for more than two hours.
Solid baby foods that have been opened may be stored in the refrigerator for a maximum of three days. Strained fruits and vegetables can be refrigerated for two to three days and stored in the freezer for six to eight months. Strained meats and eggs may be stored one day in the refrigerator and one to two months in the freezer. Meat and vegetable combinations are good for one to two days in the refrigerator and one to two months in the freezer.
Homemade baby foods will keep for one to two days in the refrigerator and three to four months in the freezer.
Please remember that once commercial formulas or foods are opened you need to use them immediately and refrigerate the unused portion quickly after you are done. When you use the refrigerated leftovers, heat them quickly to 165 degrees F to prevent growth of bacteria.
Following these food safety practices will safeguard your baby's food, keeping them safe from potential pathogens that cause food borne illness. 
This article was published by Michigan State University Extension. For more information, visit https://extension.msu.edu. To have a digest of information delivered straight to your email inbox, visit https://extension.msu.edu/newsletters. To contact an expert in your area, visit https://extension.msu.edu/experts, or call 888-MSUE4MI (888-678-3464).
Did you find this article useful?
---
Baby food leftovers - Encyclopedia Baby food
Victoria Levchuk©
Offering tons of ideas and recipes for using leftover baby food, as well as tips on how to safely store leftover baby food.
Store-bought puree can be stored in the refrigerator for up to 24 hours. At the first feeding, a jar of baby food is opened each time a new one, with the introduction of 2-3 new products, you can store baby puree in the refrigerator for 24 hours and give the baby during this period.
The main thing is to let the child adapt to a new product without pathogenic organisms inside the baby puree for the first time, which appear during long-term storage in the refrigerator.
Usually, when a certain amount of complementary foods is introduced into the child's diet, mothers transfer the baby to homemade baby puree, which is prepared every day, after 8-9 months - every other day.
Good to know!

How to make baby puree thick in consistency
Clean Plate Syndrome - why it is harmful to force a child to finish eating.
Tasty tales, if the child does not eat well - fairy tales that can be read to the baby.
Fish food is all about introduction to fish food.
Day 1: Child's breakfast - a step-by-step guide for parents on how to return healthy food to the family.
Leftover baby food, both industrial and homemade, can be easily frozen and used within 3 months of freezing.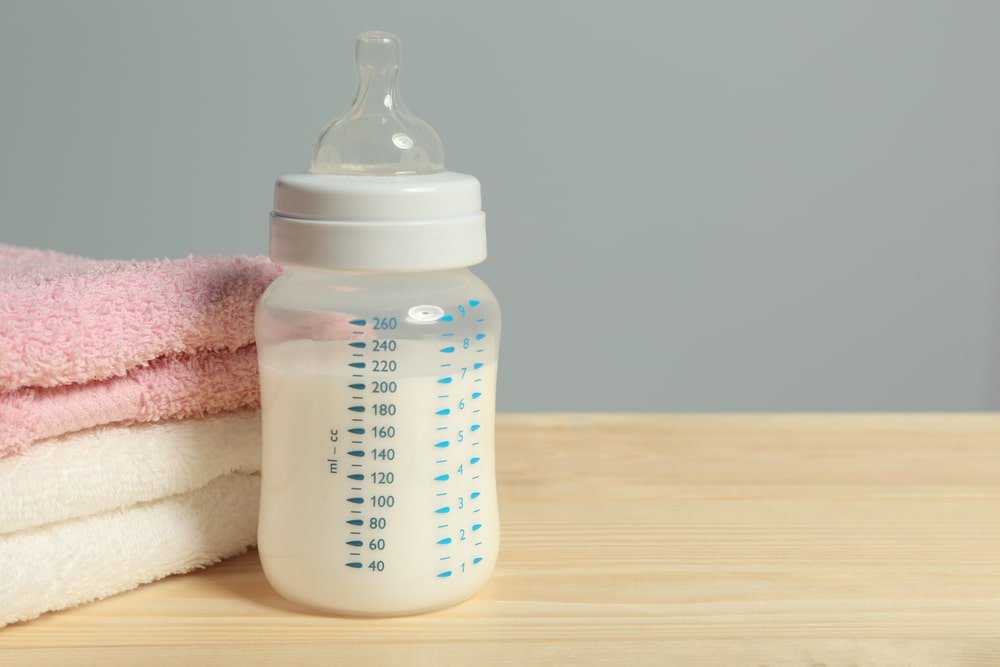 The main thing is to follow all the rules and regulations for freezing baby food, which can be read here.
And now let's get down to the fun part, how to use leftover baby food, we'll describe everything in more detail.
Table of contents:
Can leftover baby food be reused? Yes, if the product is not a first food and is not contaminated. If the baby was fed directly from the jar, and a spoon that was in the child's mouth often fell into it, you need to throw away the baby food or finish eating it yourself. Microbes from a child's mouth can make baby food an ideal breeding ground for pathogens.
If the jar was warmed up with baby food, then it is also better to refuse long-term storage of baby puree. But if the right amount of baby food is laid out with a clean spoon on a plate, and then immediately closed with a lid and put in the refrigerator, then baby puree can be used within 24 hours from the moment the jar is opened.
Leftover baby food can be used within 24 hours or frozen for up to 3 months.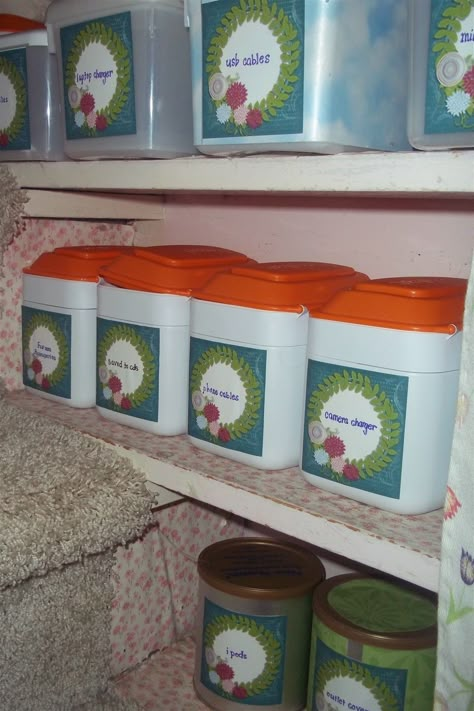 How do I store leftover baby food? Homemade baby food is best stored in small containers with tight lids. Store-bought baby food is best stored in the same glass jar it was sold in. It is best to freeze baby food in special freezer jars or ice molds to make small cubes. Once they are frozen, transfer the cubes to a bag and leave in the freezer. Be sure to note the date of freezing baby food.
What can be made with leftover baby puree:
1. Leftover fruit baby food can be used as a regular breakfast jam, or simply spread on bread or toast with baby puree. Various spices can be added to these baby purees to enhance the taste, for example, cinnamon can be added to applesauce.
2. Mix baby food fruit puree with oatmeal, yogurt, cottage cheese or milkshake. Perfect for smoothies, the remains of baby porridge for thickening, will also add nutrition and nutrients.
3. Add leftover fruit puree to a cake or any other pastry. Baby food adds moisture and extra flavor to the flour product.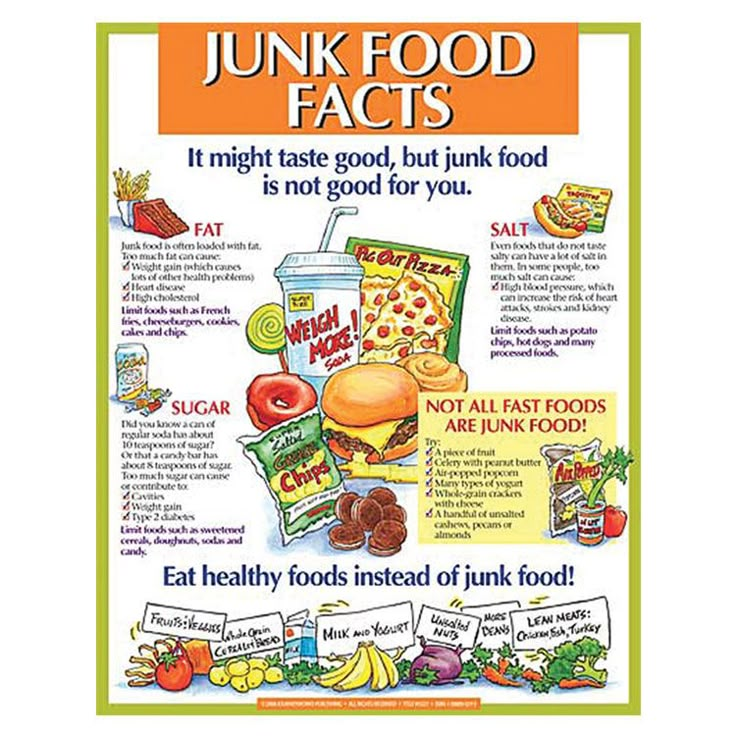 You can make cookies, cake, pancakes or bread.
4. Use the fruit puree as a jam and dip crackers or other pieces of fruit into it.
5. Use leftover applesauce to make homemade ketchup.
6. Add leftover vegetable puree to the tomato sauce and mix with pasta or use on pizza. For example, zucchini or zucchini baby food pairs perfectly with spaghetti sauce.
7. Use leftovers to make mashed potatoes.
8. Use leftover mashed vegetables to make zucchini, carrot or other vegetable pancakes.
9. Mix mashed vegetables with rice to make rice balls or rice cakes.
10. Add leftover vegetable puree to the omelet.
11. Add vegetable, meat and fish purees to soup, stew.
12. Use leftover mashed meats to make baby meatballs or baby burgers.
13. Use baby food puree to make savory meat, vegetable and cheese muffins.
14. Marinate meat in leftover baby puree for a rather savory dish.
15. Fish complementary foods are ideally combined with cereals, for example, if you mix the leftover red salmon from a jar with boiled buckwheat, you get an amazingly tasty adult dish.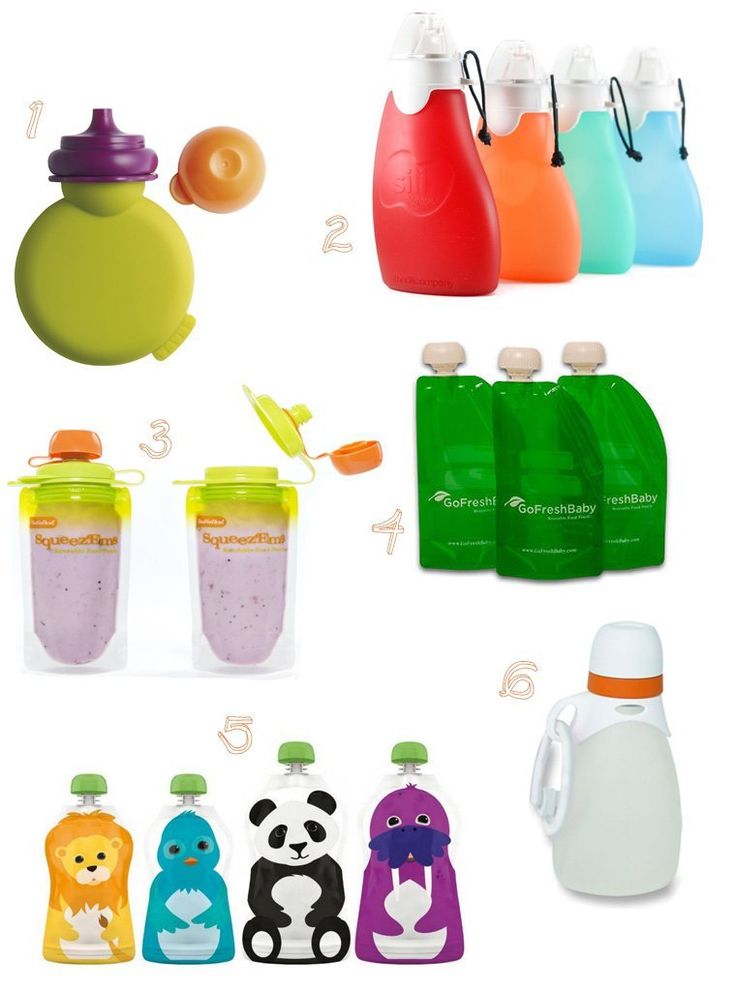 Sometimes we just buy a couple of cans of salmon to eat with buckwheat, although we are already big.
Where else can you use leftover baby puree?
1. The leftover baby porridge can be used as a face mask, or put in the leftovers directly into the bath and take it. For example, oatmeal is good for soothing irritated skin, and is suitable as an excellent light peeling.
2. Mix any leftover baby food with essential oil (a couple of drops) and add a scrub ingredient, mix everything. Use within a week. Sugar, salt, coffee, coconut flakes, tangerine or orange peels, etc. can be used as a scrubbing ingredient.
3. Use leftover baby food as sensory material, the baby can get used to the textures and feel the food in a small basin.
4. Use instead of paints, give the child a sheet of paper and baby puree, let him draw with his hands. True, the works of the young artist are best thrown away after, and the baby himself is well washed.
Remains of baby food and the older child
Also, don't forget about the older child, if complementary foods are introduced for the younger one, then the first baby can safely eat up the baby purees, especially those he likes.
And leftover baby puree is a great way to add some vegetables to your older child's diet. After all, you can do it very discreetly and almost imperceptibly, cook pasta with a unique vegetable puree sauce. Fruit purees can be served to a child with pancakes, hash browns or cookies for breakfast.
You can serve the puree in a separate bowl for dipping the product, or pour the puree over pancakes or make funny faces, etc. Also, oatmeal porridge with a natural sweetener, in the form of fruit puree, is perfect for breakfast. Moreover, baby puree can be kept in the refrigerator for 2-3 days without loss of taste and quality, the main thing is to follow the rules for use, and the older child who has gone through kindergarten is not afraid of such pathogens.
What else to do with leftover baby puree?
Baby food is perfect for losing weight and sick people who, for one reason or another, need to eat pureed food. After childbirth, women are put on a mashed diet temporarily so that the body recovers.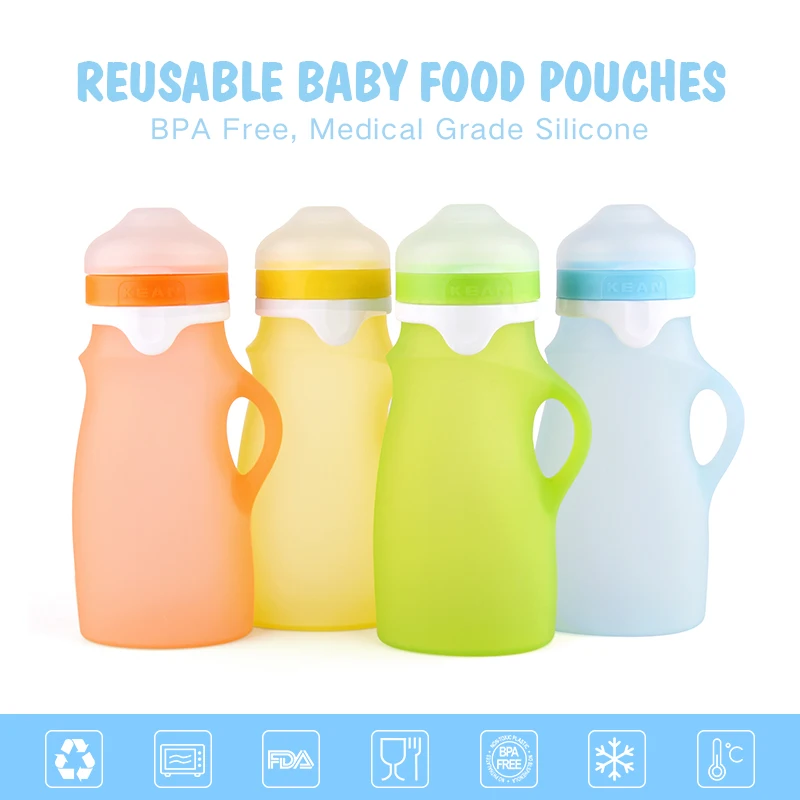 Also, do not forget about pets who will like the leftovers of baby food, not only meat purees, but also vegetable and fruit, the main thing is to offer.
I also heard that fishermen use baby food as bait for fish, mixing it with cereals and other products.
And also if a bodybuilder lives in the house, then you can safely feed him with the remnants of baby food, especially milk mixtures and baby cereals, which for some reason did not go into the baby's complementary foods.
I hope I have fully answered the question of how to store and use leftover baby food, what to cook with leftover baby puree, whether leftover baby puree is thrown away, what to do with leftover baby food, etc. Everyone has their own way of using the leftovers of baby purees, someone finishes eating after the child, someone throws it away, someone, in order to save money, uses the leftovers of mashed potatoes in the preparation of new delicious dishes, it's up to the parents themselves to decide what to do, we offered only a couple of practical ideas, that can be applied in life.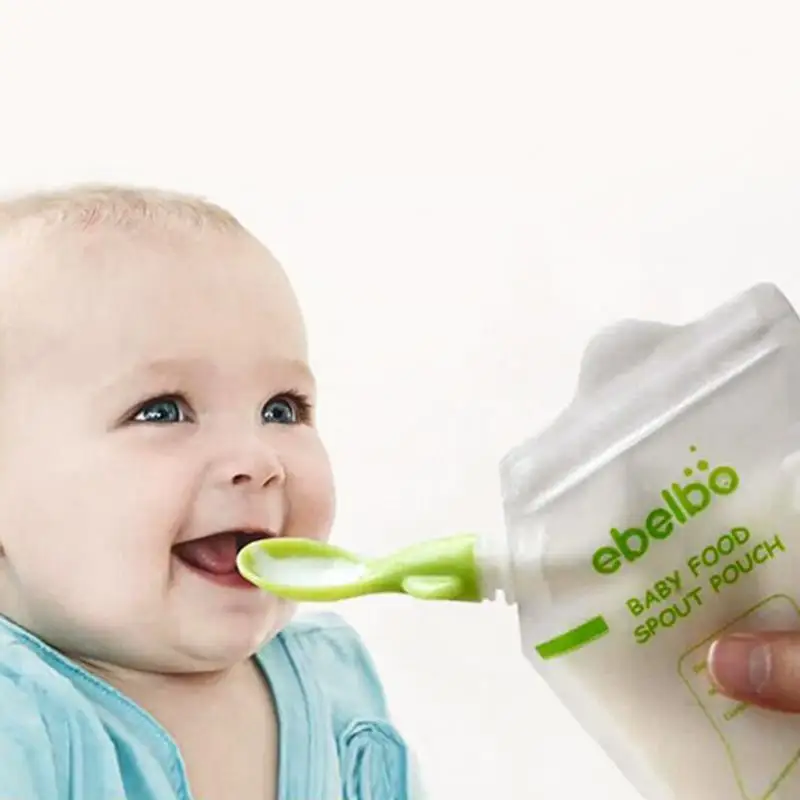 How much and where to store baby food in jars?
Some manufacturers write detailed storage guidelines for sealed and unopened baby food directly on the label. These rules must be observed, even if they differ from the rules for storing similar products from other manufacturers. If there is no detailed instruction, use the following recommendations.
Once again, we remind you that even unopened packaging must be stored in a dark, cool place. At temperatures above +25°C, products may deteriorate even in their original packaging.
Porridges for breeding:
The main enemy of dry mixes and porridges is moisture. Therefore, always make sure that the spoon for the porridge set is absolutely dry, and the bag itself is tightly closed after use;
Try to release as much excess air as possible before closing, so that moisture from it is not absorbed into the product;
Keep an opened bag of porridge in a dry place at room temperature. There is no need to store cereals in the refrigerator, they quickly become damp and spoil there;
Ready diluted porridge can be stored for no more than an hour or two. An opened package can be stored for 2-3 weeks (see manufacturer's instructions). But if after a few days you notice that the powder has become damp, lumps are noticeable in it - throw it away. Even if the product looks normal, but was opened more than three weeks ago, it is dangerous to feed it to a child. You can use leftovers in adult homemade cakes.
Choose cereals for your baby
Industrial purees
An unopened can can be stored at room temperature in a dark place. An opened jar of fruit and vegetable puree will live in the refrigerator for no more than a day, and only if you follow simple rules.
Select baby puree
Do not bottle feed your baby. Put the desired portion with a clean spoon into a separate container, close the jar with the rest and put it in the refrigerator.
Reheat reserved food if needed. You don't need to heat the whole jar.
If you fed your baby directly from a jar, the shelf life of such puree is only a few hours even in the refrigerator, because the baby's saliva and bacteria got into the food on the spoon.
Important!
The shelf life of mashed meat after opening is only 24 hours, subject to the same rules. If you bought puree in a metal package, be sure to transfer it to a clean, dry jar and close the lid. It is undesirable to store opened puree in its original packaging and it is recommended to use it immediately. Closed - store in accordance with the manufacturer's instructions.
Homemade cereals
Same rules as for diluted cereals. In the process of cooking, the porridge is ground with a blender and rubbed through a sieve. At this time, microorganisms get into the porridge from the air, so you can't store such porridge for a long time.
Home-made puree
It is possible to increase the shelf life if the finished puree is poured into small sterilized containers, covered with cling film and immediately placed in the freezer.