Great baby shower food
21 Baby Shower Food Ideas {Brunch and Lunch!}
When you're planning a baby shower, the most important thing aside from Mommy, the new baby, and the baby shower theme is the food. To keep the guests happy, the food needs to be fantastic. 
So, if yours is an afternoon baby shower (or a lunch hour shower at work), brunch or lunch foods are ideal. Plus, the foods are so much more fun than the typical baby shower fare.
From delicious breakfast items like mini pancakes, scones, and muffins, to easy appetizers like mini quiches, cucumber sandwiches and cheese boards, you're going to love these easy baby shower food ideas.
Throw the best party ever to welcome a baby with these ideas for brunch and lunch. 
Baby Shower Finger Foods
If you plan on serving a baby shower lunch, you'll love these appetizers, finger foods, and other main course ideas in the savory recipes category.
1) Mini Quiches
Quiche is a classic brunch item, but when it comes to a baby shower menu, mini quiches are even better.
You don't have to fuss with cutting them because they're individually-sized.
Make these mini quiches from Dinner at the Zoo ahead of time; they can be served warm, cold, or at room temperature, making them perfect for any gathering.
The ingredients can be adjusted to make several different variations, like Mexican quiche, ham and cheese, or sausage and peppers.
2) Ham and Rosemary Scones
Who says scones have to be sweet? Savory scones are just as delicious. It's the best thing ever when it's served warm, just from the oven, but you can easily reheat them if you make them ahead of time.
The ham and rosemary scones by Recipes from a Pantry are flavorful, savory, and full of flavor from the Parma ham, Parmigiano Reggiano cheese, and fresh chopped rosemary. 
3) Cucumber Sandwiches
Do you want a food idea that's elegant enough to serve at any brunch or tea but is crazy simple to make?
Your go-to should be these cucumber sandwiches from Christina's Cucina.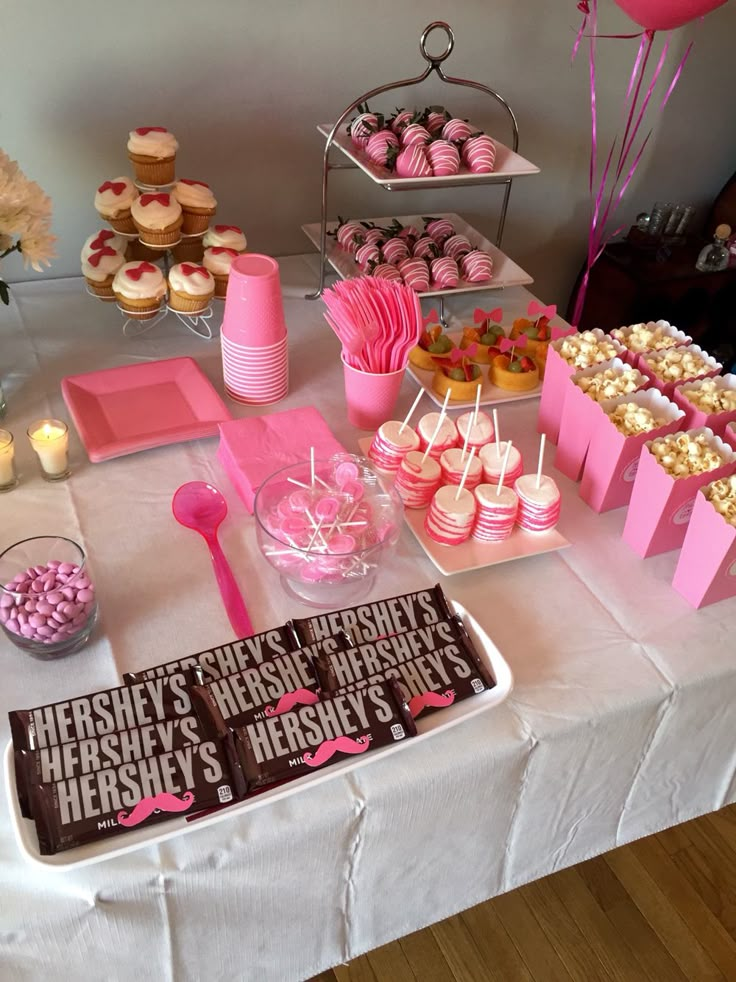 They're seriously so easy and are a popular choice for showers and tea parties!
PRO TIP: Make sure to cut the crusts off the bread and slice them diagonally or in half to make elegant little sandwiches.
As the post says, don't reserve these for special occasions. They're tasty enough — and easy enough — to make anytime. Add variety by using flavored or herbed cream cheeses.
4) Cheese Board
A cheese board is a tasty appetizer and a great way to show off your impressive culinary skills (even if you can't actually cook). Here's how you can make one:
Start by choosing a variety of cheeses. You can go for soft cheeses, hard cheeses, blue cheese, or any other kind you like.
Next, add some cured meats and charcuterie. This will add some flavor and texture to your board.
Finally, add some complementary items like fresh fruit, nuts, and breads. This will give your board a nice variety of flavors and textures.
If you're stumped or want an exact recipe to follow, this cheese board from Dinner at the Zoo is incredible. 
Here's another SIMPLE version of a meat / cheese / fruit tray that you can make in minutes >> Easy Fruity Charcuterie Board 
You can't go wrong with simpler ingredients arranged in a pretty way! 
5) Cheese Bites
Cheese bites are easy baby shower appetizers that are great for any gathering. You just can't go wrong with fried cheese, folks.
They're super easy to make using string cheese, and you don't even need a deep fryer for this recipe from Dancing Through the Rain. A skillet works just fine.
6) Jalapeno Popper Wonton Cups
For an appetizer with a little more kick, these jalapeno popper wonton cups from Spend with Pennies are just the ticket. They're the perfect mix of easy, cheesy, spicy, creamy, and crispy!
7) Crock Pot Meatballs
These simple crock pot meatballs pack a little bit of heat and a yummy honey garlic flavor that's definitely not your typical party meatball.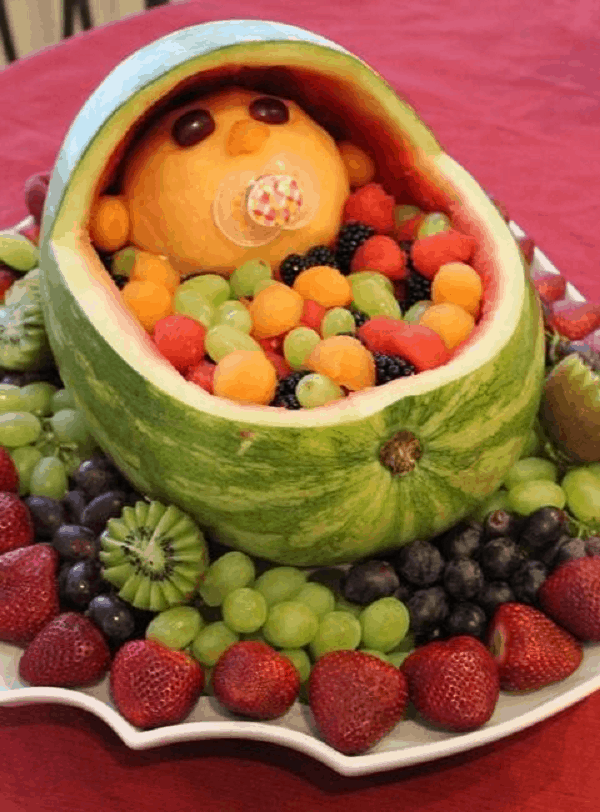 The great thing about this recipe is that it works with beef, chicken, turkey, or even veggie meatballs. They're all delicious in this sauce from Persnickety Plates.
8) Veggie Pinwheels
Veggie pinwheels are a popular baby shower food idea that I've seen many times. They're tasty, easy, and require no cooking at all. That's a win in any hostess's book!
You can use any combination of veggies you have on hand. This recipe calls for broccoli, carrots, and cheddar cheese, but I've also seen them with bell peppers and spinach as well.
It's always nice to have a vegetarian option or two for those who don't eat meat or have certain dietary restrictions.
9) Southwest Egg Rolls
Spicy chicken and melty cheese fill these crispy Southwest egg rolls from Baking Beauty. Serve with avocado ranch, queso blanco, or your favorite dips that pair well with Mexican foods. 
Sweet Treats for a Baby Shower Brunch
Feed that sweet tooth with these delicious treats that include both breakfast foods and desserts.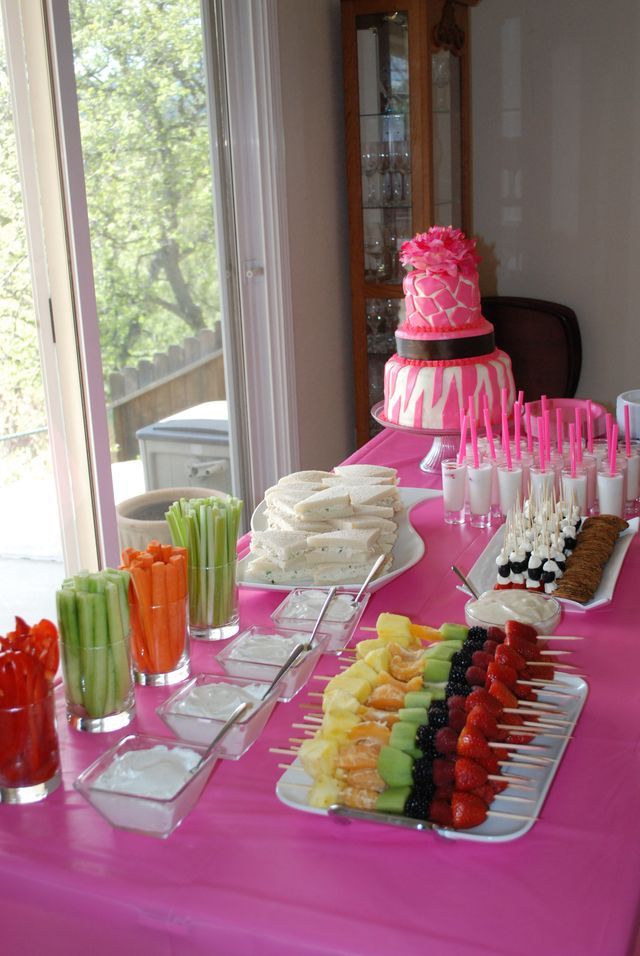 10) Mini Pancakes
There's  a recent TikTok trend making pancake cereal, but the truth is, mini pancakes have been around for quite a while. Moms have made them for picky toddlers for ages!
But nevertheless, mini pancakes (or pancake cereal) is a great option for a baby shower brunch. 
They can be served on kabobs with fruit, dusted with powdered sugar, or served with syrup or jam. 
11) Blueberry Breakfast Bread
Is there anything better than a thick slice of blueberry bread with a cup of coffee? It's all the flavor of blueberry muffins but in a sliceable bread form.
Of course, you can just do muffins, if you prefer, but this bread from Mommy Musings is perfect for adding a pat of butter or a drizzle of syrup to.
12) French Toast
This raspberry peach baked French toast is a great choice and can be prepared the night before so that all you have to do before the baby shower is pop it in the oven to bake.
The recipe from Powered by Mom is full of crusty French bread and delicious fruit. It's perfect for summertime when peaches are at their most delicious.
13) Banana Chocolate Chip Muffins
How about some moist banana muffins full of chocolate chips to add to the food table?
These gorgeous golden brown muffins from Spicy Southern Kitchen are not only totally YUM, but they're quick, easy, and can be made ahead of time.
14) Lemon Blueberry Hand Pies
Lemon blueberry hand pies are a delightful, quick dessert that is perfect for spring and summer.
These hand pies have a puff pastry crust and an easy-to-make filling made from blueberries, fresh lemon juice, and sugar. These yummy treats can be found at Amanda's Cookin'. 
15) Fruit Kabobs with Cream Cheese Dip
For an easy, healthy, and always delicious option, try these fresh fruit kabobs with cream cheese dip from Marathons & Motivation.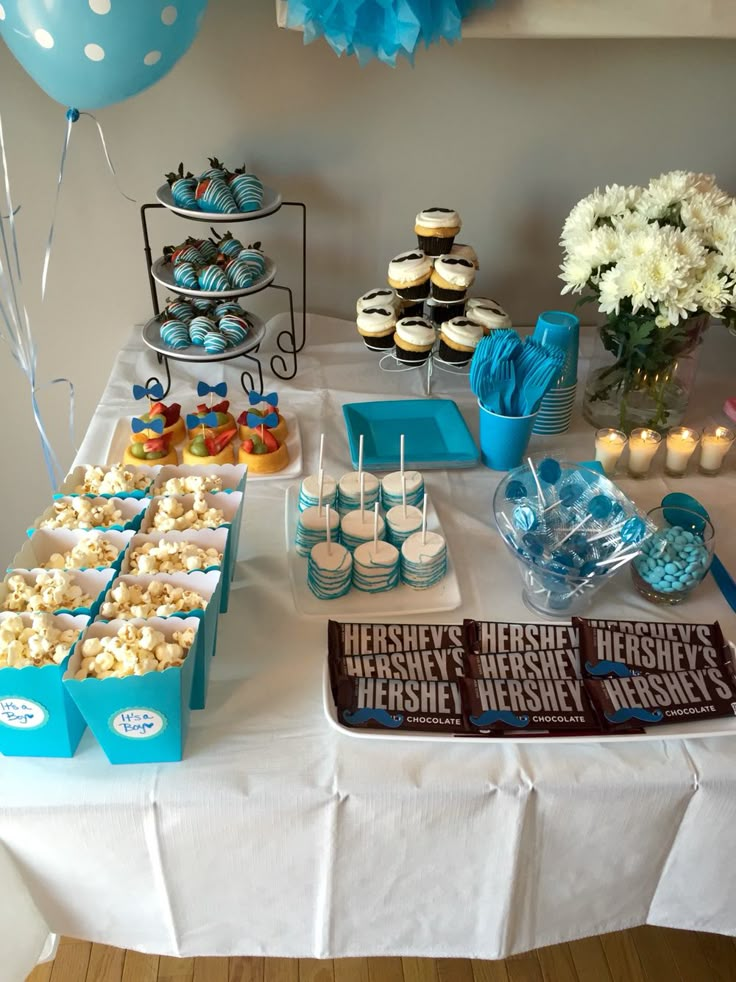 Combine your favorite fruits (like strawberries and blueberries) with cubes of cheese and a delightful dip that brings out the sweetness of the fruit even further.
If you prefer not to do kabobs, this chocolate cream cheese dip will also be great on a fruit platter.
16) Strawberry Scones
There's nothing quite like the smell of freshly baked scones, especially when they're made with strawberries! They're crumbly, sweet, bursting with strawberry flavor, and pair perfectly with a cup of coffee.
Try this recipe from Little Sunny Kitchen for the flakiest scones and sweet vanilla glaze. It's the perfect food for a lovely brunch with the expectant mom.
17) Strawberry Cheesecake Cookies
These Strawberry Cheesecake Cookies from Practically Kidding are a snap to make and are the perfect sweet treat for a baby girl shower.
Even better, you can easily customize the flavor to make blueberry for a boy!
18) Cinnamon Roll Monkey Bread
Use store-bought cinnamon rolls to make this super easy breakfast or dessert option.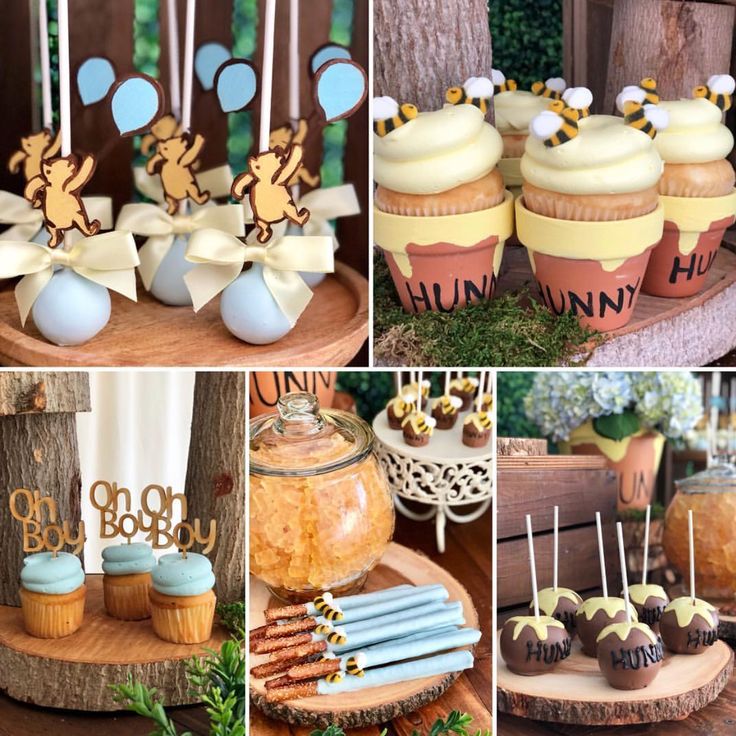 Monkey bread, also known as pull-apart bread or breakfast bread, is so easy to make.
You're going to dress up those store-bought cinnamon rolls with extra brown sugar and cinnamon, and of course, you get bonus points if you make extra homemade glaze to pour over the top.
Baby Shower Brunch Drink Ideas
Of course, you can't have a celebration without some delicious drinks to wash down all that yummy food. Your baby shower guests will love these punches.
19) Party Punch
This colorful party punch by The Typical Mom is made with Sprite, orange juice, and rainbow sorbet.
It's the perfect drink when you don't know the baby's gender or if it's just a very colorful baby shower theme.
20) Non-Alcoholic Sangria Punch
Keep it classy and sophisticated with this gorgeous non-alcoholic sangria punch from Somewhat Simple.
Cranberry juice, orange juice, lime juice, pink lemonade mix, and lemon lime soda are mixed with fresh fruits for a tasty, sweet drink everyone will enjoy.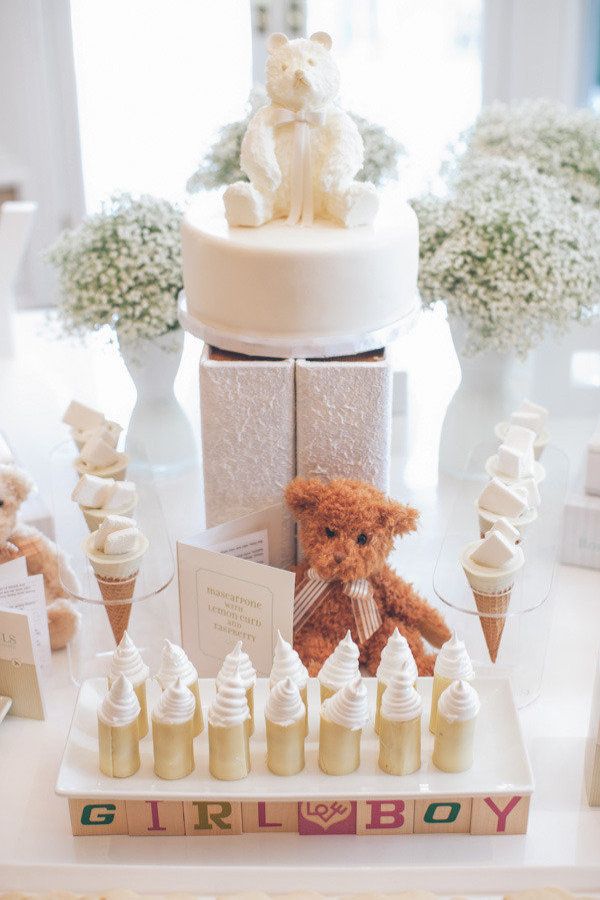 21) Raspberry Sherbet Punch
Isn't this raspberry punch the most gorgeous pink color you've ever seen?
It's just perfect for a little girls baby shower, but you can easily swap out the raspberry sherbet for lime to make a green punch for a boy baby shower. 
We hope you've found plenty of yummy food ideas for your upcoming baby shower food menu. If you enjoyed this post, here are a few more you may like below!
Related Posts:
Pretty Floral Baby Shower Food Table Sign
10 Fun Games + Prize Ideas for Baby Showers
10 Expensive Baby Things I Would Have Bought If Money Was No Object
Cute and Modern Baby Announcements and Invitations
Lena Gott
I'm a CPA turned SAHM of 3 little ones ages 4, 6, and 9. I'm a mommy by day, blogger by night. Join me as I write about fun kids activities, family finances, and losing 50 lbs after baby #3.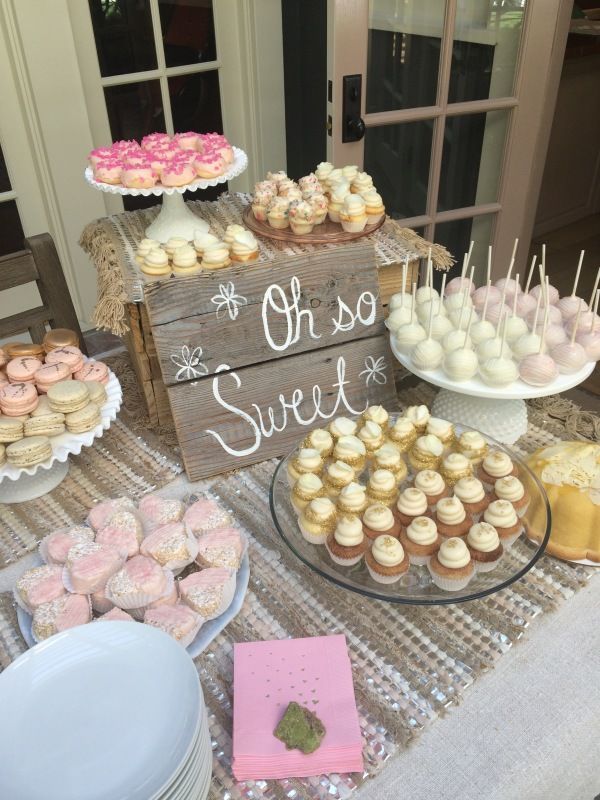 Latest posts by Lena Gott (see all)
25 Perfect Baby Shower Food Ideas on a Budget – Instacart
Throwing a fun, memorable party to celebrate the new arrival in your life doesn't have to break the bank. You can decorate a party or backyard and prepare a tasty menu affordably without compromising on quality—it just takes planning. If you're stuck and don't know where to start, these baby shower food ideas on a budget will get the ball rolling.
How to throw a baby shower on a budget
Before we get into baby shower food ideas, these are our cost-cutting tips for throwing a wonderful baby shower on a budget.
1. Don't host at mealtimes
If you host a baby shower at mealtimes, you'll have to serve full meals, which can be expensive. Instead, throw your baby shower between meals, so you can serve only appetizers and sweet snacks. 2 p.m. is a popular time for these events.
2. Keep a pared-down guest list
On average, guests eat around 5 pieces of food at baby showers.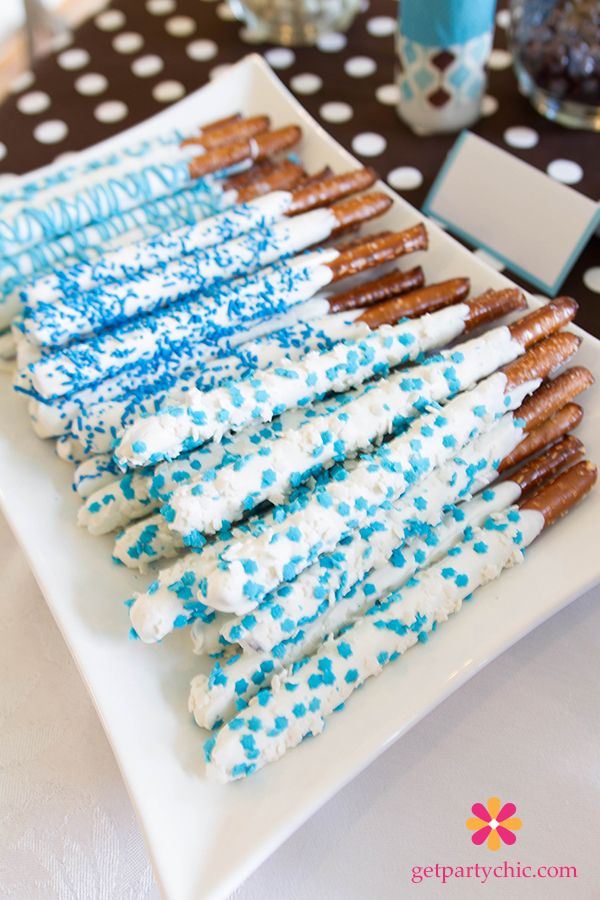 The more people you invite, the costlier the event will be.
3. Ask guests to bring food or drinks
If you still want a full party but can't afford to feed everyone, ask your guests to bring over food or drinks. It will be a baby-shower-meets-potluck type of event, which can be a lot of fun.
4. Choose local, seasonal ingredients
The cheapest food for a baby shower is the one that's local and in season. Research what fresh produce is cheapest, then come up with recipes using those ingredients.
Following a themed menu can help you pinch pennies. For example, if you're using chicken for 1 appetizer, make sure to include it in another snack. This way, you don't have to buy as many ingredients and end up saving money.
6. Ditch the fully stocked bar
Choose just 1 or 2 drinks to serve—preferably non-alcoholic for baby showers. No need to keep a handful of spirits and mixers on hand.
7. Make your own decorations
DIY the décor using things you already have at home.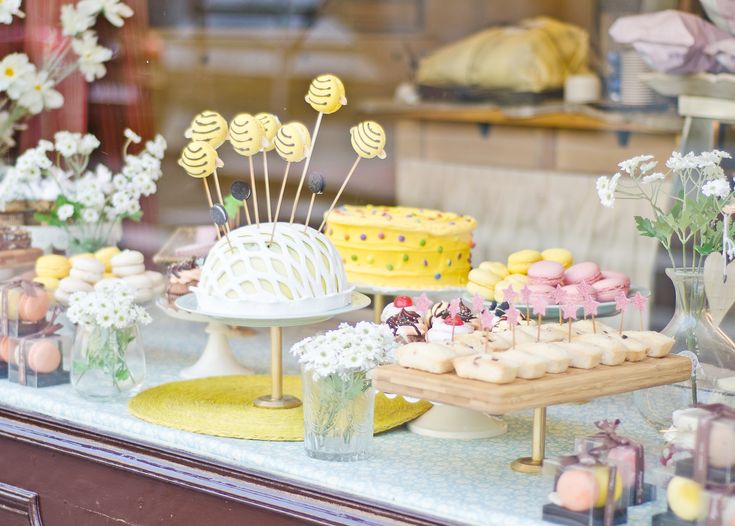 Visiting a thrift store can also help you throw a stylish baby shower for cheap.
Affordable appetizers for a baby shower
Plate up these tasty, budget-friendly appetizers for your guests.
1. Ham and cheese sliders
Ham and cheese sliders are simple, easy to make, and affordable.
2. Pulled pork buns
Pulled pork sliders are also a popular snack for baby showers. Don't skip out on the barbecue sauce.
3. Turkey cheddar hot pinwheels
With pre-made pizza dough, deli turkey slices, and cheddar cheese, you can make this comforting finger food.
4. Tomato and broccoli mini quiches
Quiches are sophisticated but surprisingly cheap to make. For this version, use ripe sliced tomatoes and broccoli florets for the filling.
5. Hummus and roasted veg toast
Spread homemade or storebought hummus on toasted bread and top with an assortment of roasted veggies.
6. Build-your-own chili
If you're looking for a more filling snack, chili is the way to go.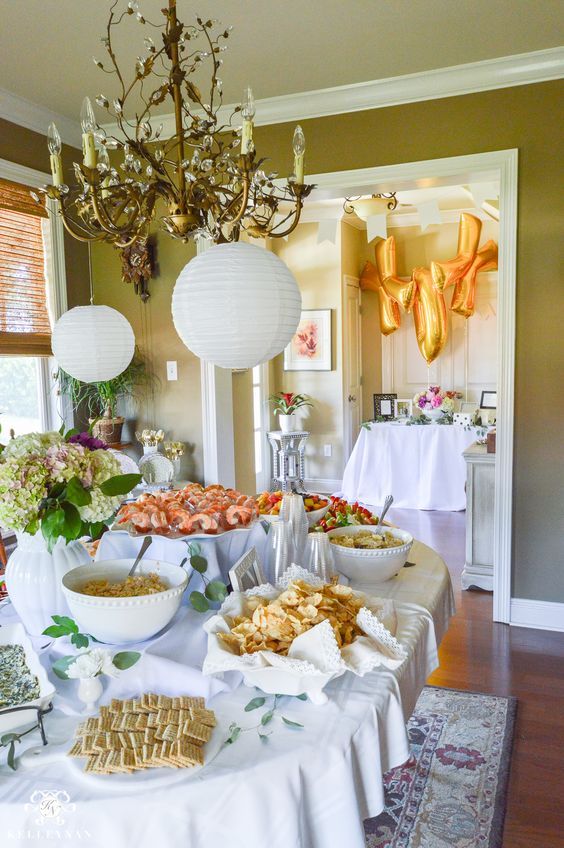 Let your guests add their own toppings.
7. Potato skins with bacon
Hollowed-out baked potatoes, bacon, and sour cream make the perfect appetizer. It's easy to eat and packed with flavor.
8. Summer pasta salad
For something lighter, serve individual portions of pasta salad. Toss fusilli and whatever veggies are in season in olive oil and a pinch of salt.
9. Deep-fried pickles
Pickles are a popular satisfying snack among many moms-to-be. Set out a plate of deep-fried pickles with ranch dressing on the side.
10. Babies in a blanket
Give pigs in a blanket a twist. Wrap the dough around the sausage so it looks like a swaddled baby and add chocolate sprinkles for the eyes.
11. Grape jelly wieners
Toss smokies in a grape jelly and ketchup mixture, then serve on toothpicks.
12. Barbecue meatballs
Another hearty appetizer, meatballs doused in barbecue sauce are a crowd-pleaser.
13. Tater tot casserole
Tater tot casserole is pretty inexpensive to make.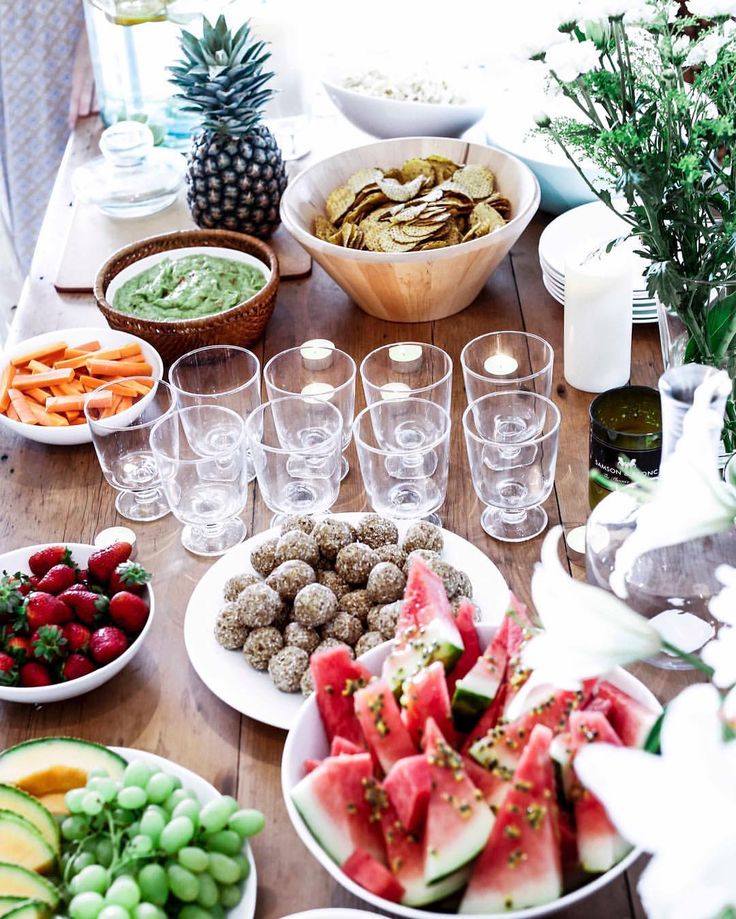 Use a blend of affordable cheeses to take this comfort food to the next level.
14. Chicken salad sandwiches
Spread chicken salad on soft white sandwich bread and serve with an olive and a toothpick on top.
15. Pesto chicken tea sandwiches
Grilled chicken and basil pesto is another great combination. Cut the sandwiches into quarters so they're easier to eat.
16. Hamburger meat empanadas
Pie crust and hamburger meat can be turned into delicious empanadas. Salsa makes for a great dipping sauce.
17. Cheese pizza bites
Make finger food pizza bites using a cupcake tin, pizza dough, pizza sauce, and shredded cheese.
Cheap desserts and treats for baby showers
What's a party without something sweet? These cheap recipes for a baby shower will satisfy your sweet tooth without going over budget.
1. Gendered rice crispy treats
Rice crispy treats are cheap to make. They only call for margarine, marshmallows, and puffed rice.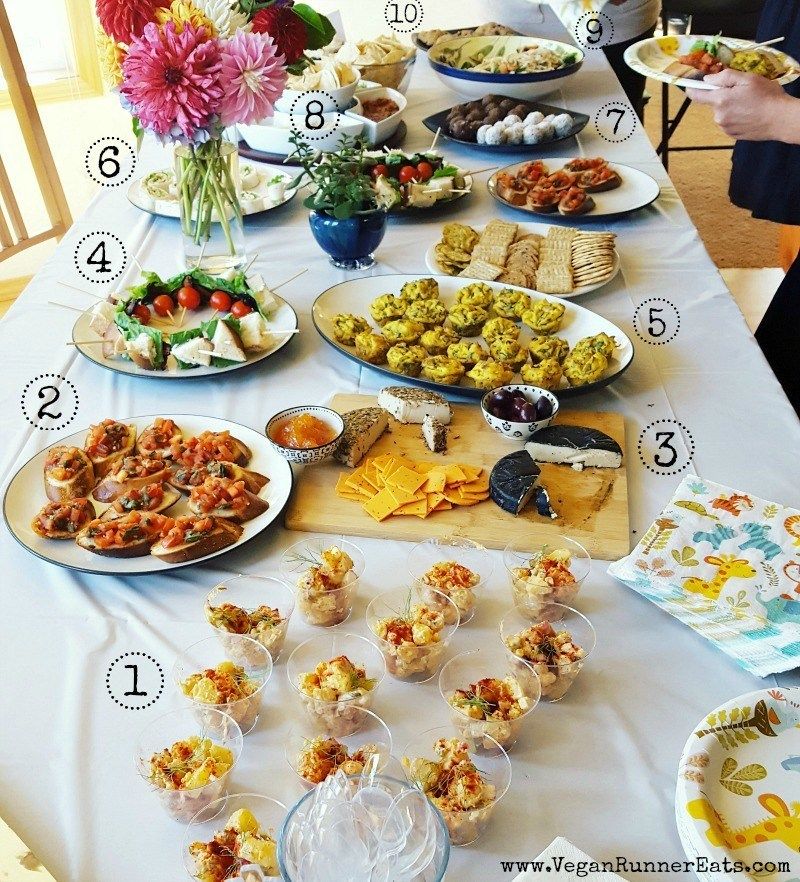 Add red or blue food dye for a gendered twist.
2. Carrot cupcakes
Not into gender-themed desserts? You will probably love carrot cupcakes. Making your own is cheaper than getting it from the store—and surprisingly easy!
3. Fruit on a skewer
Pierce a skewer through pieces of fruit for a healthy snack. Grapes, banana, strawberry, apple—whatever is in season.
4. Caramel apples
In the fall, when apples are abundant, caramel apple slices hit the spot. 
5. Waffle bites
Waffle mix is inexpensive, so why not make waffle bites? Cut a waffle into fourths and top with fruits, caramel, or chocolate.
6. Decorated sugar cookies
Take sugar cookies to the next level by decorating them. All you'll need is icing, food dye, and a piping bag.
7. Ice cream sundaes
Sundaes are perfect for summer baby showers. Choose 1 ice cream flavor and let your guests pick their toppings—pretzels, caramel drizzle, and chocolate chips are just some of the options.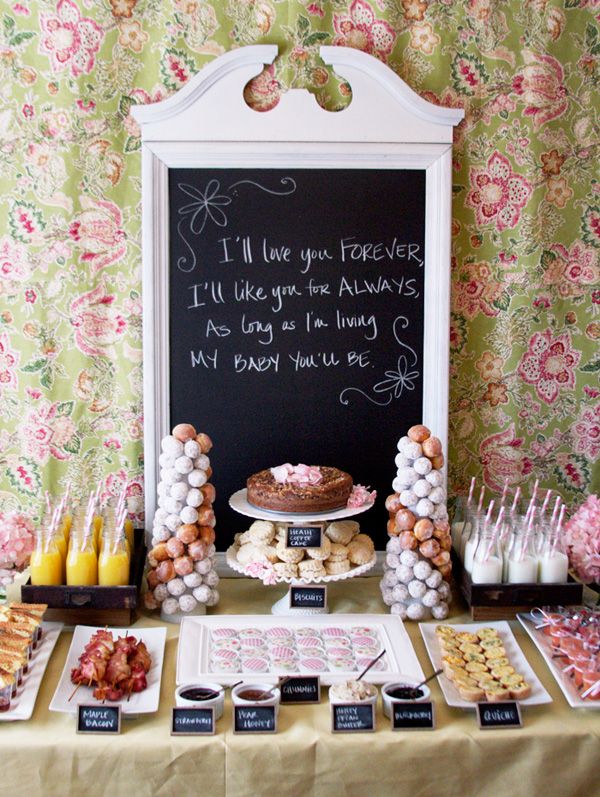 8. S'mores bar
Set up a s'mores bar for a DIY dessert. You'll need graham crackers, chocolate bars, and marshmallows. Don't forget skewers and a few candles.
Save time and money with a little help from a friend
You probably have a clearer picture of what you'll serve at your budget-friendly baby shower, right? Now comes the fun part: creating invites, making a playlist, and decorating the space. What's not so fun is doing the grocery runs—but, fortunately, you can leave that to Instacart. Order everything you need with just a few clicks and focus on the party. You may also want to check out current deals from our retailers.
Grab it now on Instacart:
Instacart
Instacart is the leading grocery technology company in North America, partnering with more than 900 national, regional and local retail brands to deliver from more than 75,000 stores across more than 13,000 cities in North America.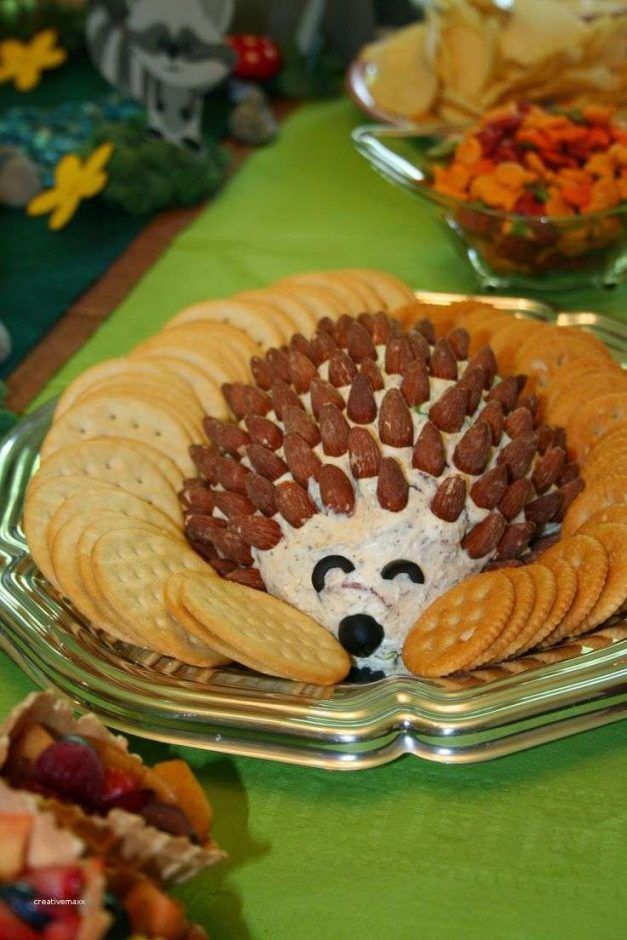 To read more Instacart posts, you can browse the company blog or search by keyword using the search bar at the top of the page.
30 recipes from Eat at Home. Cooking articles and life hacks
A picnic is a great opportunity to relax mentally in nature with friends and family. To make everyone not only have fun, but also taste delicious, the editors of Eat at Home have prepared a large selection of snacks and snacks. We tried to collect a variety of recipes in one place so that everyone will definitely find something to their liking. We hope you did!
Choose your favorite ideas, get inspired and experiment.
Italian eggplant rolls
We offer to cook a well-known dish with filling with Mediterranean notes. The crushed pasta is so tasty that it's hard to resist the temptation to eat it right away!
Detailed recipe.
Falafel in a pita with lettuce and tomato
Falafel is a good alternative to a meat patty and can be served with a sauce made from tahini paste with lemon juice and spices.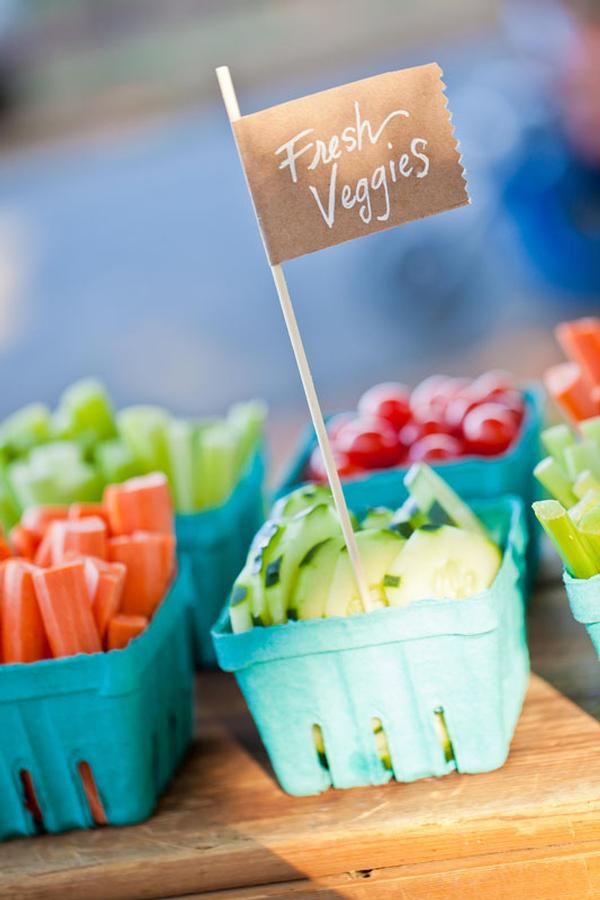 Detailed recipe.
Onion rings
Such an appetizer is suitable for home friendly gatherings, and for going out of town. The dish will be eaten with pleasure even by those who do not really like onions, because the rings are very tasty and crispy.
Detailed recipe.
Grilled lavash à la khachapuri
If you are going on a picnic, be sure to bring along a few sheets of lavash and a simple cheese filling in a container. The collected snack will scatter instantly!
Detailed recipe.
Baked liver pâté with mushrooms
Delicate liver pâté goes well with any bread or flatbread. Take it with you to nature for a hearty snack.
Detailed recipe.
Chicken Pepper Bacon Pita
If you have some holiday chicken left and don't know what to do with it, turn the leftovers into an amazing snack. A sauce of mustard and smoked paprika will enhance the taste of the dish even brighter, and red wine vinegar will add spice.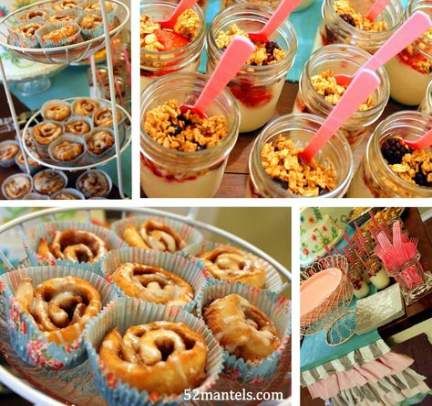 Detailed recipe.
Suluguni rolls with cheese
Appetizer stuffed with Serbian cheese is suitable not only for the dinner table, this fragrant cheese dish will also be appropriate at a picnic. Before going outdoors, place the rolls in a container and refrigerate for an hour.
Detailed recipe.
Mini puff pastry
Mini puff pastry can be prepared with any filling. We offer a recipe based on Italian motives: with mozzarella, pesto sauce and tomatoes.
Detailed recipe.
Paprika Chicken Roll
A worthy alternative to sausage. A quick, economical and easy chicken roulade recipe. You can use the breast, but a juicier roll is obtained from a whole bird. Make an appetizer in advance and it will definitely help you out on a picnic.
Detailed recipe.
Snack cake with sun-dried tomatoes, olives and spinach
Unusual bread improvisation, which can also be prepared for a festive table. It goes well with grilled fish or meat.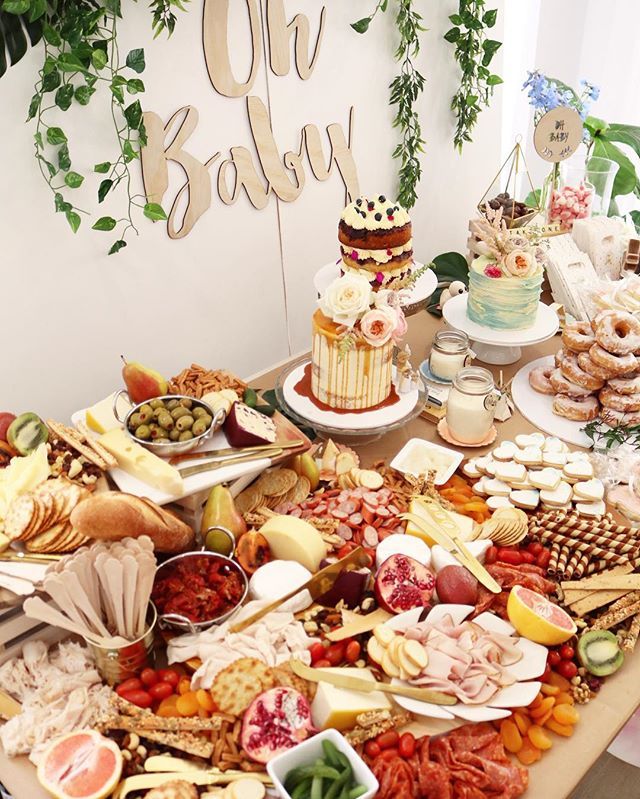 Detailed recipe.
Guacamole
Hearty veggie Mexican avocado dip to go with corn tortillas, crackers and veggie sticks.
Detailed recipe.
Salmon Spring Rolls
Treat your friends to this popular Asian snack. Remember to soak rice paper in water before use to make it soft and pliable.
Detailed recipe.
Egg, cheese and onion biscuit
Even a novice cook can cope with the preparation of a biscuit. Universal dough goes well with any fillings, but boiled eggs with young onions and greens are the most summer option!
Detailed recipe.
Vegetable salad "Three cabbages"
The best addition to shish kebab is fresh vegetable salad. Instead of the usual duet of cucumbers with tomatoes, we recommend preparing cabbage platter with carrots and green peas.
Detailed recipe.
Spring Sandwiches
Bright sandwiches will delight your friends and relatives with their unusual look. Such a treat is easy to make at home and take with you for a walk or a trip.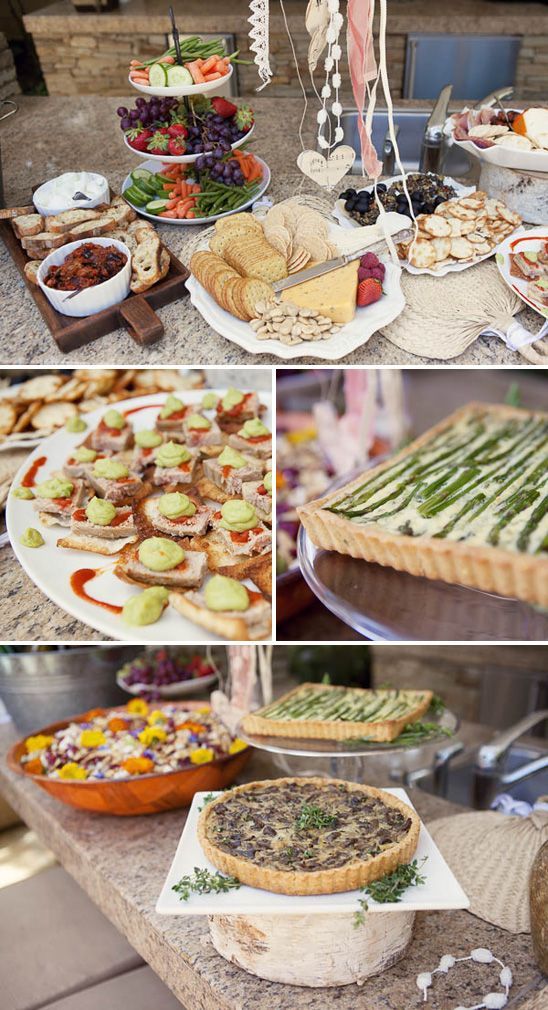 Detailed recipe.
Stuffed Mushrooms
For stuffed mushrooms, it is better to use mushrooms with large caps. Decorate the appetizer with sour cream and fresh herbs.
Detailed recipe.
Salad bread rolls
This recipe can be filled with any salad you like. Fantasize!
Detailed recipe.
Elementary pie with young cabbage
Appetizing homemade pie with young cabbage will be especially good in nature with hot tea.
Detailed recipe.
Baked beetroot mousse
An easy-to-make but very original spread with baked beetroot, curd cheese, herbs and walnuts.
Detailed recipe.
Lightly salted cucumbers
A quick recipe for lightly salted cucumbers in a bag. You will need currant leaves, dill, horseradish and garlic. You can serve it to the table in 3 hours!
Detailed recipe.
Potato biscuits with cheese and herbs de Provence
Choose the shape of cuts at your discretion: squares, rhombuses, circles.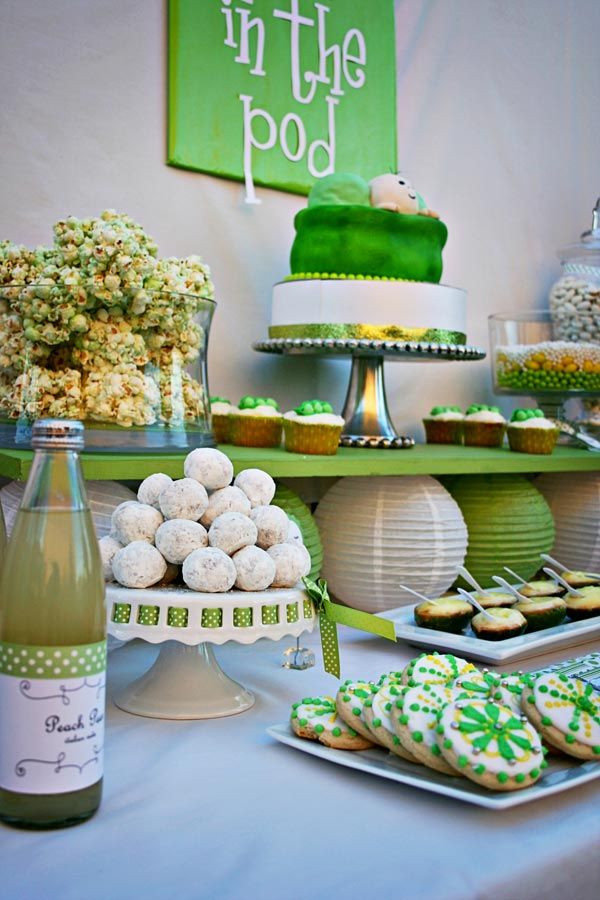 If you roll out the dough very thinly, the cookies will turn out more crispy. Any cheese will do.
Detailed recipe.
Puff ears with parsley pesto
Appetizer of puff pastry with pine nuts and pesto to whet your appetite. Such pastries can still be prepared as a treat for tea for those who do not like sweets.
Detailed recipe.
Baked corn
Corn on the cob is usually boiled, but when baked with olive oil and paprika, the cobs are even tastier.
Detailed recipe.
Mozzarella Garlic Tortilla
Fragrant homemade garlic, mozzarella and herb tortilla to complement fresh vegetable salads, fried chicken or grilled meats.
Detailed recipe.
Baked aromatic zucchini
Baked vegetables are always delicious! Introducing a quick and easy way to prepare zucchini with parmesan, herbs and dried garlic.
Detailed recipe.
Battered cauliflower
In nature, while waiting for the meat to be cooked, it will be very nice to have a bite of crispy battered cauliflower with sparkling water.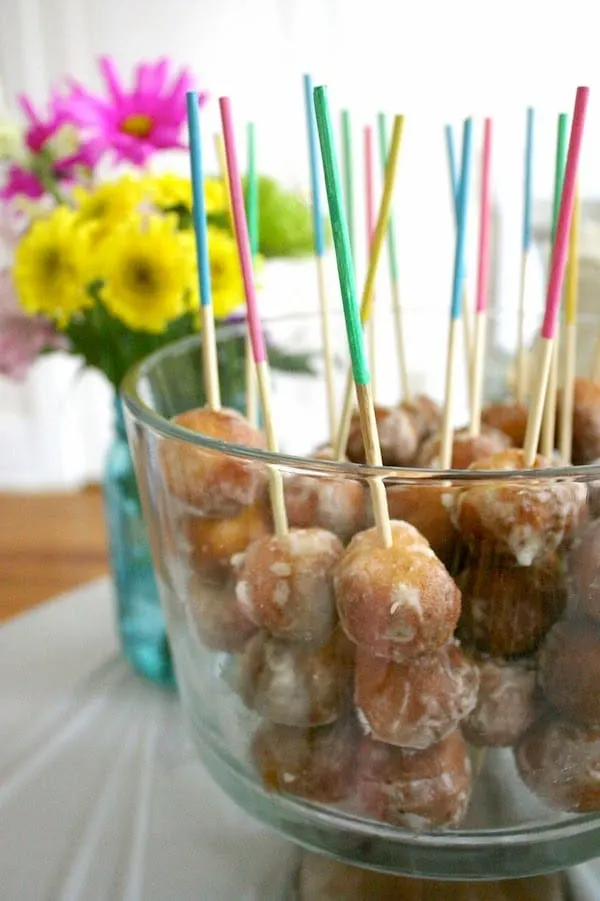 Detailed recipe.
Baked salmon riete
Riette is a heritage of French cuisine. It differs from pate in that it does not have a uniform smooth texture, but a coarser fibrous texture.
Detailed recipe.
Cheese and curd braids
Adults and children alike will be happy to enjoy these pigtail sticks. Serve instead of regular bread.
Detailed recipe.
Mediterranean Tuna Tortilla
Canned tuna, olives, red onion and tomato tortillas are juicy even without additional sauce. Add greens as desired.
Detailed recipe.
Herb Snack Pies
These lovely baby pies are a real find for a picnic in nature. Different types of greens are perfectly combined with each other in the filling, and cream cheese with Parmesan gives the pastry a delicate and piquant taste.
Detailed recipe.
Thanks to all the contributors for the great recipes and advice. Let the weather be sunny and the picnic treats sure to be delicious!
Children's vegetable dishes
Cooking for children: seven delicious vegetable dishes
Vegetables should be in the child's diet every day.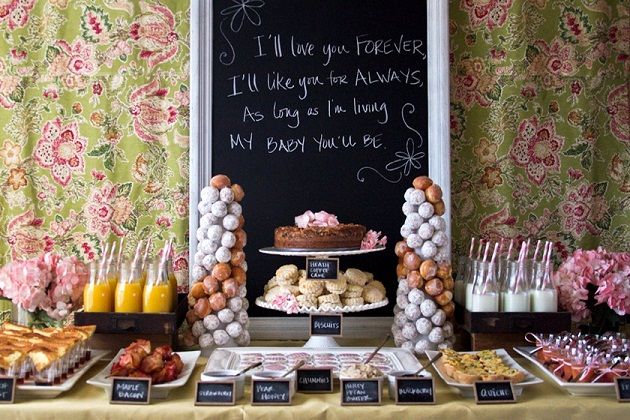 But what if he strikes and stubbornly rejects these products? We offer to cook vegetable dishes for children, which even the most picky will not refuse.
Golden zucchini
Zucchini is one of the most popular vegetables, especially in baby food. It is great for making purees and soups. However, sometimes you can cook something more interesting, such as a casserole. Grate 2 zucchini and squeeze out the liquid. Mix them with grated carrots, 3 eggs and 150 g of sour cream. Gradually introduce 7-8 tbsp. l. flour, stirring the base with a whisk. You can lightly beat it with a mixer - so the casserole will turn out more airy. Pour the dough into a greased form and put in an oven preheated to 200 ° C for 45-50 minutes. This children's zucchini dish can be given to babies from 2 years old. For older children, grated cheese can be added to the dough.
Cabbage instead of meat
White cabbage also deserves a place in the children's diet. And so that the kids make friends with her faster, make vegetable cutlets.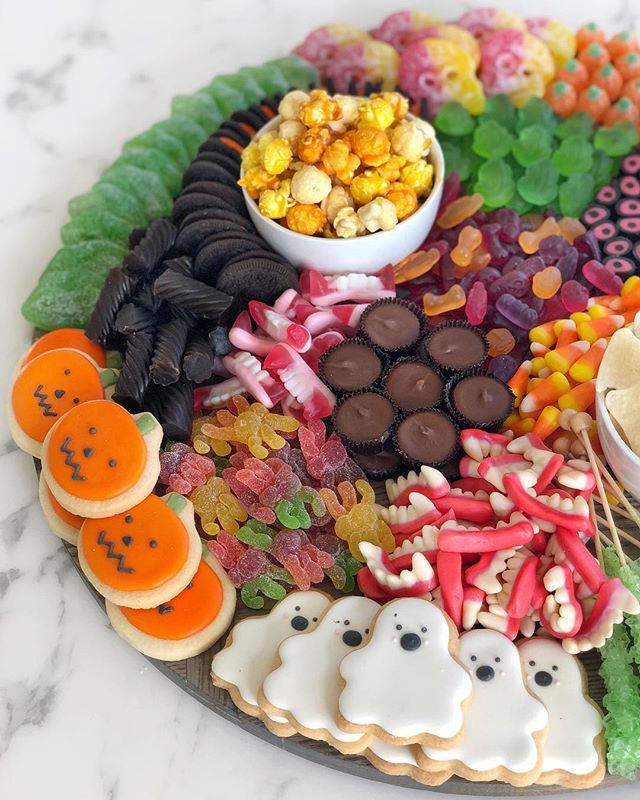 Scald with boiling water 500 g of cabbage leaves and pass through a meat grinder. We spread the minced cabbage in a pan with 10 g of butter and 3 tbsp. l. milk. We pour out 3 tbsp. l. semolina and simmer the mixture for 10 minutes. When the semolina swells, remove the pan from the heat. We combine the cabbage base with 1 egg and 2 tbsp. l. flour, beat into a homogeneous mass and form cutlets. Roll each in flour and bake for 20 minutes at a temperature of 180 ° C. With sour cream, this baby cabbage dish will disappear in half the time.
Vitamin Pizza
Children's cauliflower dishes are often not very popular with children. But not vegetable pizza. Grind 400 g of raw cabbage in a blender and put it in the oven for 5 minutes at a temperature of 180 ° C. Then cool it, drive in 1 egg, 2 tbsp. l. olive oil, 100 g grated cheese and a pinch of salt. From the resulting dough, roll out 2-3 cakes with a thickness of 5-7 mm and bake in the oven for 20 minutes at a temperature of 180 ° C.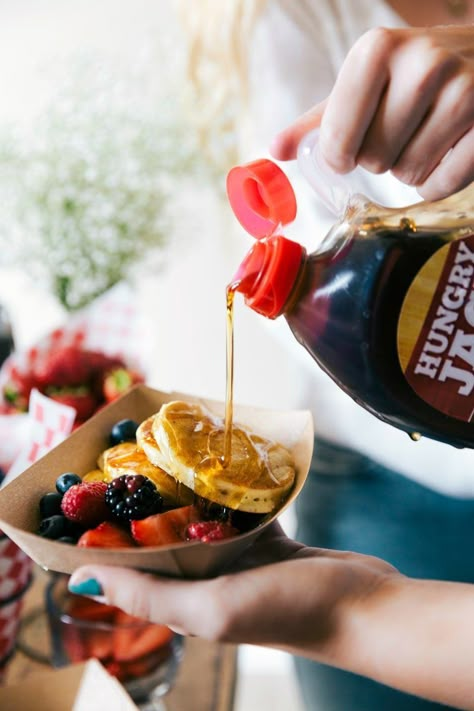 Lightly coat them with tomato paste and lay out any vegetables and toppings that your children like best. Put the pizzas back in the oven for 5-7 minutes. Kids love pizza, and this variation will surely intrigue them.
Variegated pudding
Vegetable broccoli pudding is another interesting cabbage variation. We disassemble 100 g of cabbage into inflorescences. Grate the same amount of carrots and potatoes. Cut into cubes 1 yellow bell pepper, 150 g of ham. Pour boiling water over 30 g of oatmeal for 15 minutes. We combine them with broccoli, chopped vegetables and ham and lightly add. Lubricate the baking dish with oil, sprinkle with ground breadcrumbs and lay out the vegetable base. First, bake the pudding in the oven for 20 minutes at 180 °C. Then fill it with a mixture of 50 ml of milk, chicken eggs and 1 tsp. vegetable oil and return to the oven for 10 minutes. By the way, cabbage pudding can be put in a lunchbox for children, sending it to school.
Potato with a surprise
Many children's potato dishes are to the liking of the little ones.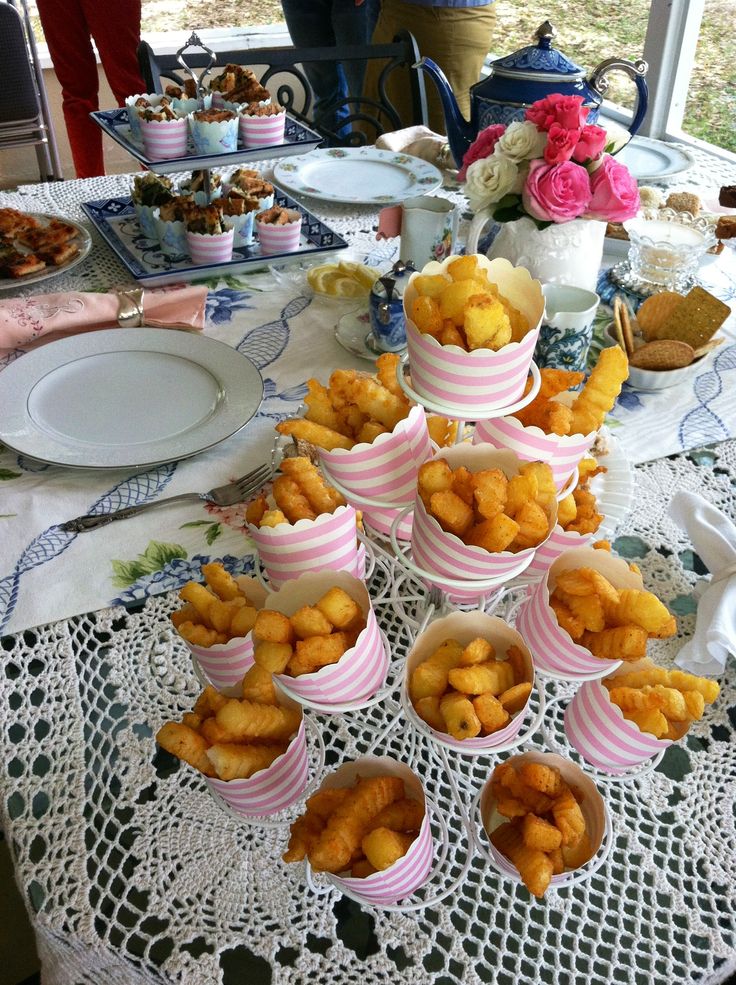 So that they do not become boring, sometimes you can surprise them with something unusual. For example, potato roll. Boil 400 g of peeled potatoes and 2 hard boiled eggs. Fry the chopped onion until translucent. Puree the potatoes with a blender, add 2 tsp. butter and a pinch of salt. We make a filling from eggs: finely chop and mix with bright vegetables, such as red pepper, green onions, cabbage, also finely chopped. We spread the puree on baking paper with a layer 4-5 mm thick, tamp the egg-onion filling on top and roll up the roll. We transfer it to a greased baking sheet, sprinkle with breadcrumbs and put it in the oven for 30 minutes at a temperature of 180 ° C. Even the pickiest little gourmets will appreciate this dish.
Sunny soup
When you want to diversify your child's menu, think about children's pumpkin dishes. Delicate pumpkin cream soup is exactly what the body needs in the fall. Cut into cubes 250 g of pumpkin pulp and 100 g of carrots. Pour the vegetables into boiling water and cook for 20-25 minutes until they soften.