How to bottle feed a baby after breastfeeding
Introducing a Bottle to a Breastfed Baby
The information in this post is also contained in our Working & Breastfeeding.
Here is one approach to beginning pumping and introducing bottles that has worked well for many mothers as they prepared to return to work:
Once breastfeeding is well established – usually after about four weeks – begin pumping after one feeding a day where your breasts still feel a little full. Remember you are pumping "leftovers" and should only expect a small amount.
Freeze that first pumping immediately. You can add other pumpings to it after they have been cooled in the freezer.
Your pediatrician may have given you a total number of ounces your baby may feed in a day or a range from the smallest probable amount to the largest, based on your baby's weight.

If dealing with a total volume over a 24-hour period, divide that by the typical number of times your baby feeds for a target volume for the first bottle.
If dealing with a range, store volumes of the lower amount.
Store some extra small volumes in case baby is hungrier than expected.
When you have enough stored to equal the expected volume and a bit more, you can begin to plan a time to introduce a bottle.
EXAMPLE for offering the first bottle:

Your pediatrician suggests that your baby probably takes about 24 ounces a day.
You know that he feeds between eight and 12 times a day.
That means he could take anywhere from 2 to 3 ounces.
You pump until you have a 2-ounce bottle and then have several 1/2 ounce bottles to equal at least three ounces or more saved.
Choose a day that your primary support person will be available and a feeding time where baby tends to be more pleasant and patient for his feeding.
Baby may accept a bottle more easily from someone other than you. He knows milk comes from you and may not understand why he's not going there instead of to this foreign object.
Thaw out the 2-ounce bottle in the refrigerator overnight.
When baby begins to stir, place the bottle from the refrigerator in a bowl of warm water (bath temperature) or a bottle warmer while the person offering the bottle goes to get baby from his bed, changed and ready for the feeding.
Often it helps to run the bottle nipple under warm water, if it was also in the refrigerator, to make it more acceptable to the baby.
Baby should be held in an upright, almost sitting, position that is similar to the position usually used by the support person.
The warmed bottle should be held at an angle tilted just enough to fill the nipple to allow baby to keep control of when and how fast the milk comes.
Tickle the baby's mouth to encourage an open mouth then bring baby up onto the bottle nipple, aiming the nipple toward the palate.
Some have found that it can help to have an article of clothing you have worn, like a nightgown or t-shirt, to place on their arm, shoulder, or chest where the baby can smell your scent.
It is usually best if you are close but not present in the room during this first "experiment" with bottle feeding. Your baby is very wise and will wait for you to come feed her if she knows you are nearby.
Once the feeding is completed, you will pump to create a bottle equal to what the baby consumed. Remember that the baby is always better than a pump! If you do not pump as much as the baby took, it is more likely a pump issue than an issue of not enough milk. Just pump after another breastfeeding and add that amount to what you pumped to get the amount baby took.
You will continue this pattern until you have enough milk stored in your freezer to get you through a normal work day plus a few extra for any hectic day at work where you may not have been able to pump as often. Plan to fully breastfeed for all feedings when not separated from your baby.
Working and Breastfeeding 
Feeding Breastmilk From a Bottle
Pumping 
Cleaning and Sanitizing Pumping Accessories
Hand Expressing
Published August 2018.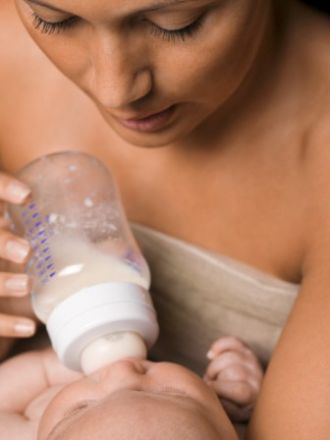 How to bottle feed the breastfed baby • KellyMom.com
…paced bottle feeding tips for a breastfeeding supportive style of bottle feeding
PDF version (great for child care providers)
by Eva Lyford. Reprinted with permission from the author.
Often, as infant feeding specialists, lactation consultants and other experts in the field of human lactation are asked how to properly bottle-feed a baby. Direct breastmilk feedings from the mother's breast are always preferred to any artificial source or substance. In addition, there are often alternatives to bottle-feeding, such as cup feeding, which should be explored. For the baby who has to be bottle-fed, following is some information to help make the experience a good one for the baby and also to make sure that breastfeeding is fully supported even when artificial feedings are used. This information can also be useful in evaluating infant care providers and for instructing them on how to bottle-feed a breastfed infant.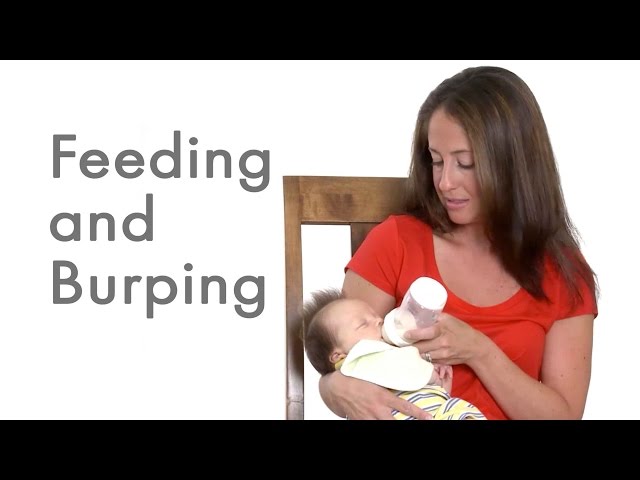 Note that when working through any feeding difficulties with an infant, a lactation consultant is an excellent resource for evaluating methods for their appropriateness to the specific situation. While useful for any bottle-fed infant, this information is particularly targeted towards infants under 6 months of age. Babies should be bottle-fed:
Now infants can get
all their vitamin D
from their mothers' milk;
no drops needed with
our sponsor's
TheraNatal Lactation Complete
by THERALOGIX. Use PRC code "KELLY" for a special discount!
When their cues indicate hunger, rather than on a schedule.
Held in an upright position; it is especially important to avoid letting the baby drink from a bottle when lying down. Such a position is associated with bottle caries and an increased frequency of ear infections. Note also that babies should be held often at times when they are not being fed, to avoid the baby being trained to eat in order to be held.
With a switch from one side to the other side midway through a feed; this provides for eye stimulation and development, and thwarts the development of a side preference which could impact the breastfeeding mother.
For 10-20 minutes at a time, to mimic the usual breastfeeding experience. Care providers should be encouraged to make appropriate quantities last the average length of a feeding, rather than trying to feed as much as they can in as short a time as possible. This time element is significant because the infant's system needs time to recognize satiety, long before the stomach has a chance to get over-filled.
Gently, allowing the infant to draw nipple into mouth rather than pushing the nipple into the infant's mouth, so that baby controls when the feed begins. Stroke baby's lips from top to bottom with the nipple to illicit a rooting response of a wide open mouth, and then allow the baby to "accept" the nipple rather than poking it in.
Consistent with a breastfed rhythm; the caregiver should encourage frequent pauses while the baby drinks from the bottle to mimic the breastfeeding mother's let-down patterns. This discourages the baby from guzzling the bottle and can mitigate nipple confusion or preference.
To satiation, so that baby is not aggressively encouraged to finish the last bit of milk in the bottle by such measures as forcing the nipple into the mouth, massaging the infant's jaw or throat, or rattling the nipple around in the infant's mouth. If baby is drowsing off and releasing the bottle nipple before the bottle is empty that means baby is done; don't reawaken the baby to "finish."
The benefits of bottle-feeding in this manner:
The infant will consume a volume appropriate to their size and age, rather than over- or under-eating. This can support the working and pumping mom who then has an increased likelihood of pumping a daily volume equivalent to the baby's demand.
This can minimize colic-like symptoms in the baby whose stomach is distended or over-fed.
It supports the breastfeeding relationship, hopefully leading to longer durations and increased success at breastfeeding particularly for mothers who are separated from their nurslings either intermittently or recurrently.
Bottle feeding Myth 1: Bottle feeding lets me know how much nutrition the baby has had.
Moms who bottle-feed, whether using expressed breast milk or anything else, should be aware that while artificial feeding may seem to be a very accurate measure of volume consumed, in fact it is often not. Bottle-fed infants more often regurgitate some quantity of a feed, or get a less than perfect balance of fore and hind milk than they might if feeding directly from the breast. If a substance other than breastmilk is used, the increased metabolic workload for the baby, lower digestibility of nutrients and increased waste substantially dilute the benefit of a feed, although it is more easily measured.
Bottle feeding Myth 2: It is simple to bottle-feed safely.
Bottle-feeding caregivers face certain challenges in feeding a baby safely.
Wash hands before handling bottles or feeding baby.
Wash bottles and nipples/teats with hot water and soap, and rinse well. Some sources recommend sterilization of all feeding equipment, particularly bottle nipples/teats.
If infant formula is used:

Wash, rinse, and dry the top of the formula can before you open it. Make sure that all equipment used has been thoroughly cleaned: can opener, measuring cups/spoons, mixing container, etc.
Lot numbers should be kept for any infant formula or bottled water fed to the baby, so that parents can determine whether the product was subject to a recall.
For powdered formula, a clean source of water must be available, free from bacteria. If tap water is used, the caregiver must decide whether to boil the water to eliminate bacteria (which may concentrate any heavy metals in the water), or to use unboiled water. Because powdered infant formula is not sterile, it should be mixed with water that is at least 70°C/158°F to kill any harmful bacteria that may be present in the formula (to reduce the risk of infection, do not mix with cooled water–even if it is bottled or has already been boiled). Cool formula before feeding to baby.
Quantities the baby will need should be carefully estimated, since unused formula must be discarded after the feed.

If you are using both breastmilk and infant formula during the same feed, it's best not to mix them in the same bottle. This is simply to avoid wasting breastmilk when baby does not finish the bottle (since it contains formula, contents must be discarded at the end of the feed). Feed the breastmilk, then follow with formula.
More information here from the American Academy of Pediatrics and UNICEF UK
For more information on infant feeding myths, see Dr. Jack Newman's Breastfeeding Myths
Additional resources
There are a number of options for feeding baby when you are unable to directly breastfeed – a bottle is only one of them. If your baby is older than 4-6 months old, consider going straight to a cup. If your baby is younger than 3-4 weeks old, consider alternative feeding methods for a couple of reasons:
Regular use of a bottle instead of breastfeeding can interfere with mom's efforts to establish a good milk supply
Bottle use also increases baby's risk of nipple or flow preference
One study has shown that babies fed by bottle (whether the contents are breastmilk or formula) tend to gain too much weight: Li R, Magadia J, Fein SB, Grummer-strawn LM. Risk of bottle-feeding for rapid weight gain during the first year of life. Arch Pediatr Adolesc Med. 2012;166(5):431-6. The paced, baby-led method of bottle feeding described here and in the resources below should help to prevent overfeeding.
Tips for bottle feeding the breastfed baby
Paced bottle feeding video by Jessica Barton, IBCLC
Baby-led Bottle Feeding from NurturedChild.ca
Boosting Bottle Feeding Bonding – 5 top tips… from AnalyticalArmadillo.co.uk
The Babe's Guide to Bottle Feeding by Fleur Bickford, BSc., RN, IBCLC
Bottle Feeding Breastfed Babies by Tanya Lieberman, IBCLC, with Amy Peterson, IBCLC
Bottles and Bottle Nipples that Minimize Nipple Confusion or Flow Preference from LowMilkSupply.org
Bottle-feeding as a tool to reinforce breastfeeding (PDF) by Dee Kassing, from J Hum Lact. 2002 Feb;18(1):56-60.
Tips for encouraging your baby to accept a bottle
Offering Your Breastfed Baby a Bottle by Becky Flora, BSed, IBCLC
Tips on Offering Bottles by Paula Yount
Introducing Your Breastfed Baby To Bottle-Feedings by Marianne Neifert, MD, et al.
Introducing Bottles and Pacifiers to a Breastfed Baby by Anne Smith, BA, IBCLC
Tips for combining breast and bottle feeding
Combining breast and bottle feeding by Anne Smith, BA, IBCLC
Partial Weaning & Combination Feeding @
Should I use a bottle if baby is refusing to nurse? from "Help — My Baby Won't Nurse!" @
Updated on Filed Under: Feeding baby
Baby won't take the bottle | Philips Avent
search support icon
Search Keywords
Home ›› What to do when your baby refuses a bottle
↑ top

any problems. If your breastfed baby refuses a bottle, don't worry. This is a common occurrence in many babies who are used to breastfeeding. Obviously, this can create certain difficulties for moms, especially if you need to return to work in the near future.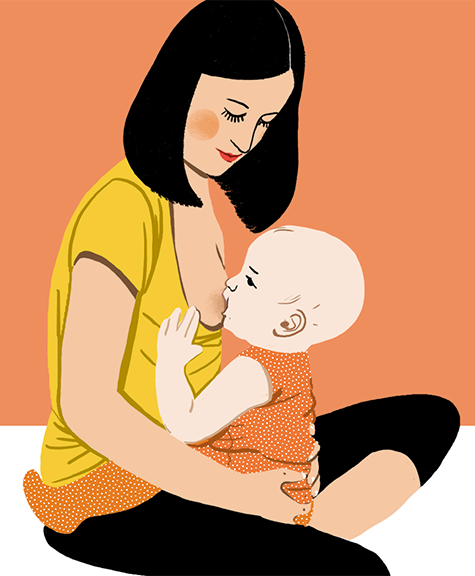 3 Philips Avent products to help you bottle feed:
So why is your baby refusing to bottle and crying? There are many ways to quickly and easily teach a breastfed baby to a bottle. Here are important tips on what to do when your baby refuses a bottle.
Is the baby refusing the bottle? Take a step back

If your baby cries while bottle feeding, the first thing to do is to start over and rethink your feeding approach and technique. Try the following steps when bottle feeding your baby: [1]
Lift and tilt your baby's head forward. Before inserting the pacifier into the baby's mouth, make sure that the baby's head is raised and tilted over his body to avoid choking: so that the baby does not choke and have the opportunity to burp during bottle feeding.
Insert the pacifier. Bring the pacifier to the baby's lips and gently guide it into the baby's mouth. In no case do not try to press the nipple on the baby's lips and try to push it into his mouth. After touching the pacifier to the baby's lips, wait for the baby to open his mouth and take the pacifier.
Hold the bottle at an angle. Tilt the bottle at an angle so that the nipple is only half full. So the child can eat at his own pace.
Let the baby burp during and after feeding. It can be useful for a child to burp not only after feeding, but also approximately in the middle of the process. This will help reduce gas or tummy discomfort that your baby may experience from swallowing too much air.
Stop in time, do not overfeed the baby. If the baby begins to turn his head away from the bottle or closes his mouth, then he is full and you need to stop feeding.
Perhaps the flow of milk from the nipple to the baby is weak or, on the contrary, too fast, so he is naughty and refuses the bottle. Try changing the nipple to a nipple with a different flow.​
Other tips if your baby refuses the bottle

If you've followed the steps above and your baby still refuses the bottle, don't worry.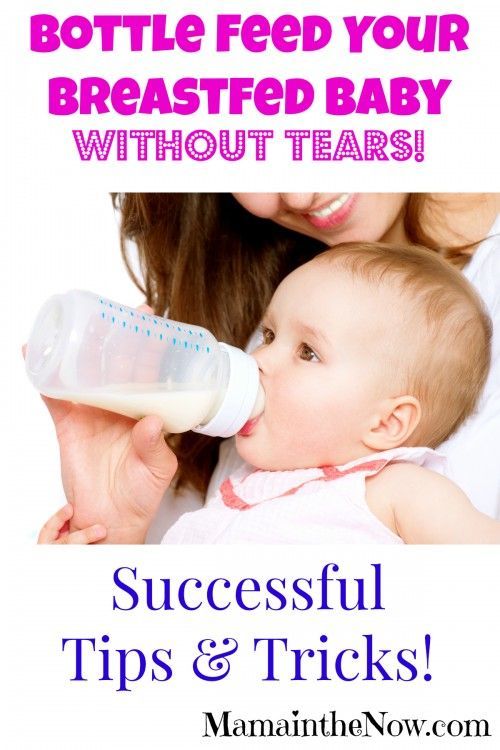 There are other ways to help bottle feed your baby. Here are some simple tricks you can add to your bottle feeding process. [2]
1. Remind your child about mom.
Sometimes a child can be fed by someone other than his mother - dad, grandmother or, for example, a nanny. If your baby fusses while bottle feeding, try wrapping the bottle in something that smells like mommy, like a piece of clothing or some fabric. This will make it easier to feed the baby when the mother is not around.
2. Try to maintain body contact while bottle feeding.
Some babies need contact with their mother, so try bottle feeding while leaning against you. However, some babies are better at bottle feeding when they are in the exact opposite position than when they are breastfed. For example, there is a position with bent legs. Lay the child on your bent knees, facing you, pointing the child's legs towards your stomach.
During feeding, the baby will be able to look at you and contact you in this way. If your baby refuses a bottle, experiment to see which works best.
3. Move while feeding.
Sometimes all it takes to get your baby to take the bottle is a little wiggle or walk. The next time your baby starts crying while bottle feeding, try moving around a little rhythmically to calm him down.
4. Try changing the milk temperature.
If the baby still does not want to take the bottle, check if the milk in the bottle is too hot or too cold. Before feeding, put some warm breast milk on the inside of your wrist to check the temperature. Milk should be warm, but if it seemed hot to you, just place the bottle for a short while under a stream of cold water.
Choosing the right bottle for your baby If you plan to combine bottle feeding with breastfeeding, it is advisable to choose bottles with a nipple that will have a wide base as the bottle will grip closer to the breast.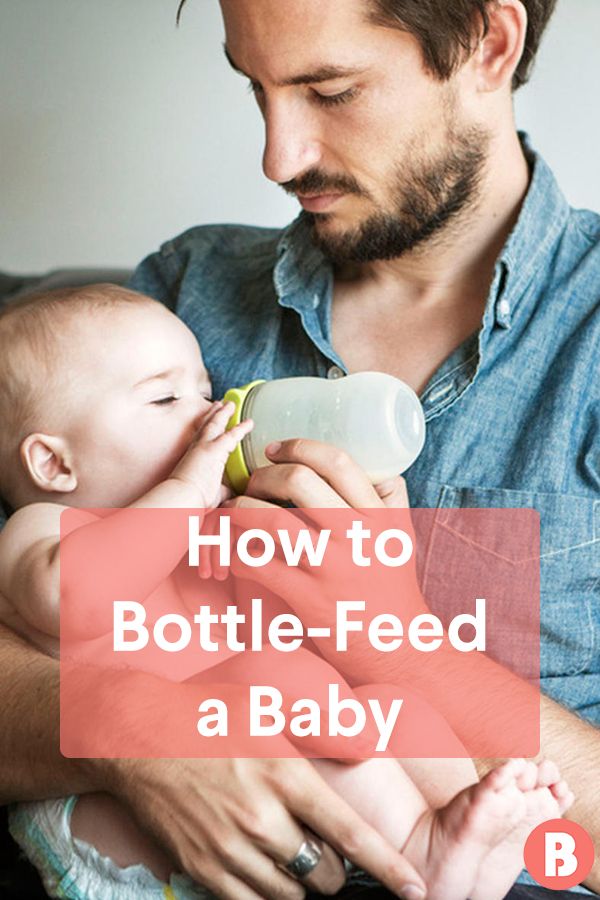 Also pay attention to the fact that the nipple is firm and flexible, the child must make an effort to drink from the bottle, as well as from the breast. Give preference to nipples with an anti-colic valve that vents air out of the bottle.
​Natural bottle allows you to combine breast and bottle feeding. 83.3% of babies switch from a Natural bottle to breastfeeding and back.*

If you choose a bottle for artificial feeding, traditional bottles are fine, but it is desirable that the nipple is made of a hypoallergenic material, such as silicone, has an anti-colic valve and did not stick together when bottle fed. In case your baby spit up often, then use special bottles with anti-colic and anti-reflux valve, which reduces the risk of spitting up and colic.​​
Bottle with unique AirFree valve reduces the risk of colic, gas and spitting up. With this bottle, you can feed your baby in an upright or semi-upright position to reduce spitting up. Due to the fact that the nipple is filled with milk and not air during feeding, the baby does not swallow air, which means that feeding will be more comfortable.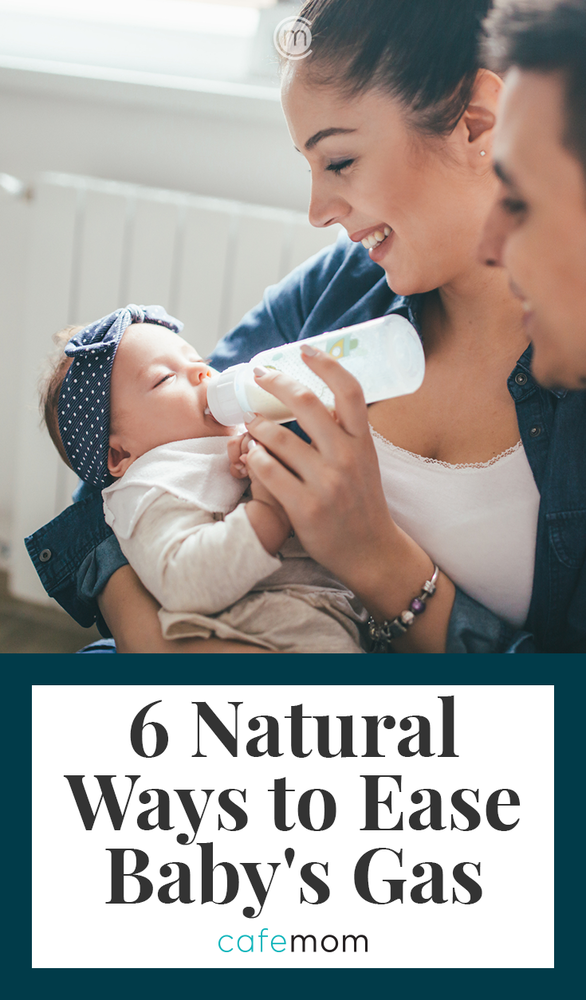 Both bottles are indispensable if you want to breastfeed, bottle feed or just bottle feed your baby.
"My baby refuses to breastfeed but bottle feeds – help!"
Sometimes a baby gets used to bottle feeding and refuses to breastfeed. Therefore, it is important to use bottles that are suitable for combining breastfeeding with bottle feeding. If, nevertheless, you are faced with the fact that the child refuses to take the breast, try using silicone nipple covers to make the transition from the bottle to the breast and back more imperceptible.

Remember that if you want to combine breastfeeding and bottle feeding, it is worth waiting at least a month before offering a bottle, so that you are lactating and have time to get used to each other and develop a breastfeeding regimen.​
Breastfeed and bottle feed your baby with pleasure

Remember that it takes a while for your baby to get used to bottle feeding.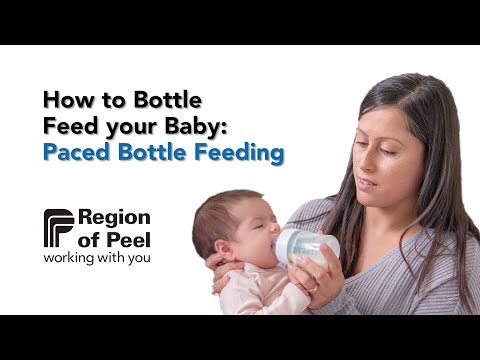 This is completely normal. If you have to go to work, be sure to set aside enough time to bottle train your baby beforehand.

Remember that every child is different, so what works for one may not work for another. With a little time and patience, you will find out what works best for your baby when he refuses a bottle.

You will identify your child's unique needs. However, if your baby still refuses the bottle after all the steps above, check with your pediatrician.
Articles and tips from Philips Avent
References:

*O.L. Lukoyanova, T.E. Borovik, I.A. Belyaeva, G.V. Yatsyk; NTsZD RAMS; 1st Moscow State Medical University THEM. Sechenova, "The use of modern technological methods to maintain successful breastfeeding", RF, 10/02/2012 3 llli.org - The Baby Who Doesn't Nurse
llli.org - Introducing a Bottle to a Breastfed Baby
Baby+ app
Download the app and track your child's development and growth with trackers and save those special moments forever.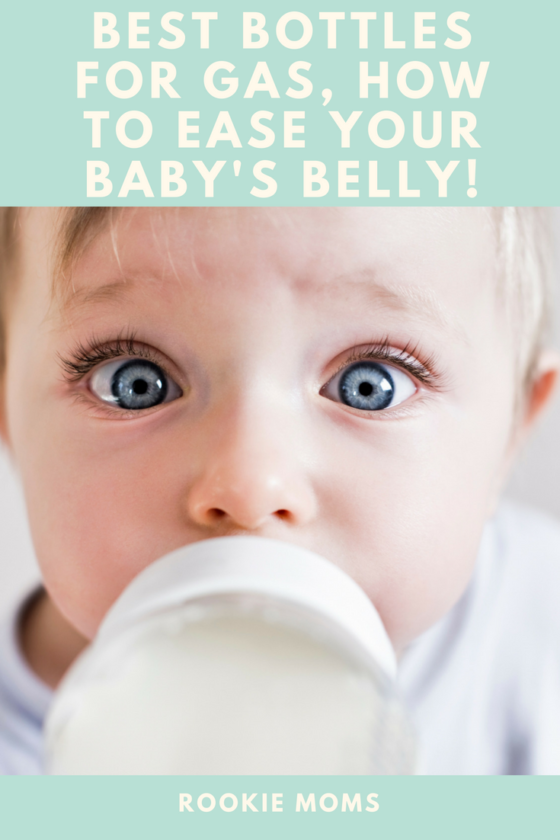 Download app:
You are leaving the Philips Healthcare ("Philips") official website. Any links to third party websites that may be included on this site are provided solely as a convenience to you. Philips makes no warranties regarding any third party websites or the information they contain.
I understand
You are about to visit a Philips global content page
You are about to visit the Philips USA website.
Bottle feeding
When breastfeeding is not possible, or there is not enough breast milk and supplementary feeding is required, the use of infant milk formulas allows you to establish good nutrition for the baby.
The mixtures contain all the necessary nutrients, vitamins and trace elements. As a rule, they are well tolerated and digested, especially if the feeding process is properly established.
If you plan to bottle feed or supplement your baby with formula, our article will help you navigate the basic rules and intricacies of artificial feeding.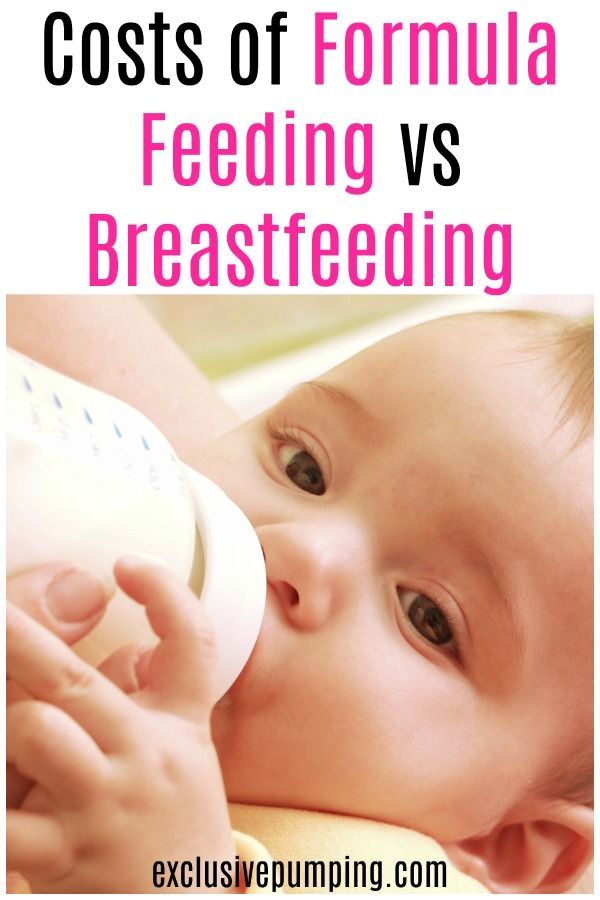 How to choose a teat (nozzle) for a bottle
Teats differ in composition (silicone, latex), shape and flow rate. While the shape of the nipple and the material are often chosen according to the preferences and needs of a particular baby, the flow rate is strictly determined by the age category.
Babies are fed from birth using the slowest flow nipple (these are usually labeled from 0 and one drop). Next, the teat flow rate in most bottle manufacturers increases at 3 months, 6 months, 12 months.
In order not to be mistaken, pay attention to the labeling and the age group for which the nipple to the bottle of the selected manufacturer is intended.
Whether such a nipple is right for you, you will also probably be able to understand during feeding.
The baby should be able to comfortably grasp the nipple and drink formula confidently (without too much effort).
He should not choke/choke frequently.
The mixture should flow well. If the mixture does not flow until you shake the bottle, the hole may be clogged with powder.
If the mixture flows too much, check if the nipple is not torn.
How to treat the bottle
For newborn babies in the first months of life, it is recommended to sterilize the bottles before each feeding. Sterilization is the immersion of all feeding accessories (bottles, nipples, other parts) in boiling water for about 5 minutes to destroy pathogenic microflora.
You can choose any convenient method of sterilization: using a special device (sterilizer), in a microwave oven, dishwasher, ordinary boiling. Read more about how to properly sterilize bottles in our other article.
It is important to ensure that the baby bottle you use is made of safe plastic that can be heated. Some types of plastic release harmful chemicals when heated. As a rule, information about the possibility of sterilization and heating is indicated on the packaging. If there is no such information, it is not worth the risk.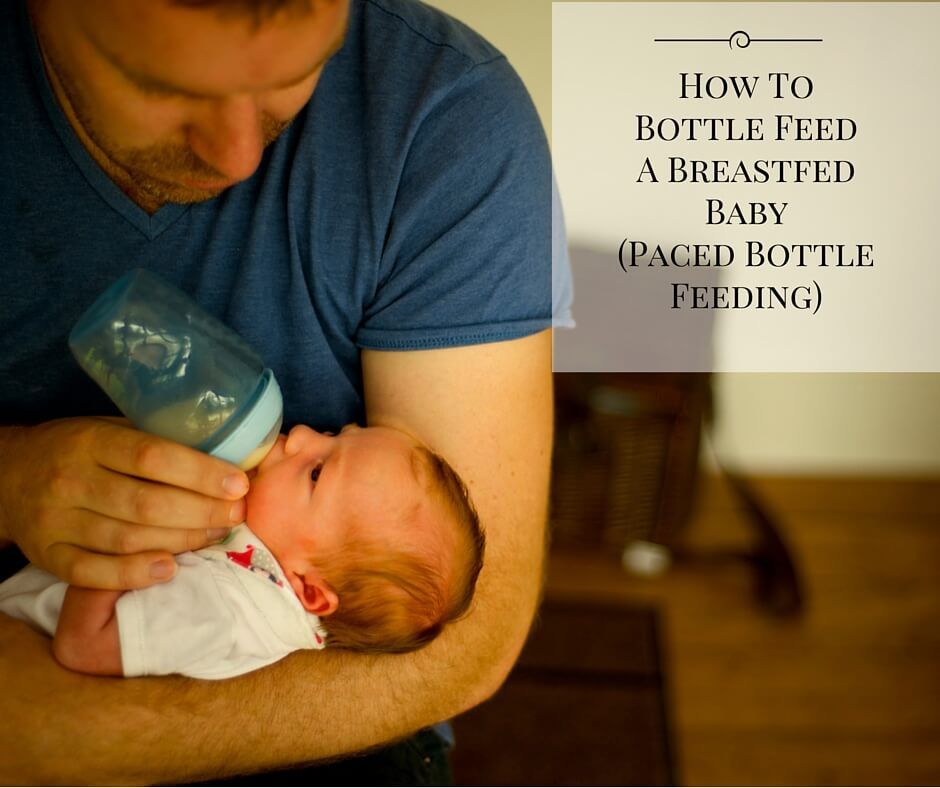 Use special baby bottles from well-known manufacturers. For example, a Dino Reno feeding bottle with nipple can be sterilized completely by any of the listed methods.
How to prepare formula and feed your baby
Wash your hands with soap and water and dry with a dry towel.
Remove the bottle and nipple from the sterilizer using the special holder (tweezers), assemble the bottle with the nipple, being careful not to touch the part that will go into the baby's mouth with your hands.
Take boiled or special baby water heated to body temperature, dilute the mixture in the proportion indicated on the package.
Use the special measuring spoon for preparation (it is included in each box with the mixture).
Dilute the mixture strictly in the proportion indicated by the manufacturer. A thicker or thinner formula can harm your baby and cause stomach problems.
Shake the bottle thoroughly to mix the contents evenly. Make sure that there are no lumps and clots left in the liquid and on the walls of the bottle.
Check the temperature of the prepared mixture by dropping a little liquid on your wrist, it should not burn.
Hold the bottle at the right angle. So that the tip of the nipple is always filled with milk and not with air.
After feeding, hold the baby upright, let him burp the excess air.
Feed your baby only fresh formula. According to the recommendations of the European Society of Pediatric Gastroenterology, Hepatology and Nutrition (ESPGHAN) of 2004, the reconstituted dry formula can be stored in a sealed bottle at a cool temperature for no more than 4 hours.
If the mixture has cooled down, it can be warmed up with a special heater or in a water bath.
If you are going on a long trip or outing, do not prepare the formula ahead of time. Better just pour the required amount of water into the bottle, and pour the right amount of the mixture into a separate container. Mix before feeding.
You will also find recommendations on the amount of formula to eat at a time, taking into account the age of the child, on the package.