How to prepare pear baby food
Pear Baby Puree (4+ Months - Stage One)
This Pear Baby Puree is so creamy and delicious that you will want to eat it as well! A healthy and homemade puree filled with wholesome pears, this recipe is a wonderful first puree for your baby. It's a great Stage One Baby Food for 4-6+ month olds.
Medically reviewed and co-written by Jamie Johnson, Registered Dietitian Nutritionist (RDN), and Lauren Braaten, Pediatric Occupational Therapist (OT).
Pear Baby Food Puree
Level up the yumminess of your baby's purees with pears! 👊
This is a simple recipe filled with simmered pears paired with a pinch of warming spices. It delivers an irresistible, delicious combo that easily hits the one-for-one status — one bite for your baby 👶, one bite for you 👩!
Is it your first time making homemade baby food? Then I suggest you start this journey by reading my in-depth Guide on how to Make Homemade Baby Food.
The detailed guide goes over all the important information such as the best cooking tools to have on hand, safe storage, how to know when baby is ready for solids, how to introduce purees, the best first foods for baby, and more! You can also check out my best-selling cookbook for even more information and recipes!
Pear Baby Food Video
Watch this video to see how easy this Pear Puree is to make!
Reasons to Love this Pear Baby Puree
great baby food for 4-6+ months
1-ingredient recipe
super smooth and creamy
delicious
great for digestion
simple and easy to make — less than 20 minutes
freezer-friendly
budget-friendly
homemade
healthy
organic – you can use organic pears in this recipe
Health Benefits of Pears
Good source of immune-boosting vitamin C
Great source of fiber that helps with digestion and improves constipation
Protects your baby's heart by providing antioxidants, vitamins, and fiber
Provides vitamin K to help strengthen bones
Ingredients
Make sure to read the recipe card below for full ingredients and instructions!
Pears: Pears are inexpensive fruits that you can easily find at almost any grocery store year-round. You can use any pear variety you prefer for this recipe. Since organic pears are just a fraction more than conventional ones, I recommend going with an organic variety as they have more polyphenols and antioxidants, but that is completely up to you.
Warming Spice: We are kicking up the flavor profile of the pears by pairing them with a warming spice such as cinnamon, nutmeg, cloves, or cardamom. To be clear, you don't add them all; just pick one and add a pinch. Trust me, they all taste amazing with pears, and I will not be surprised at all if I find you in your kitchen eating a bowl of this puree. 😉 But you can always skip adding the spices to your baby food if you prefer (see more below).
Type of Pears to Use: While my favorite pear to use for this recipe is Bartlett pear, you can use any type of pear you prefer — whether it's Bosc Pear, Taylor's Gold Pear, Anjou Pear, Asian Pear, or Comice.
Step-by-Step Instructions
Prep: Peel and roughly chop the pears.
Mix: Place the pear chunks, spices (if preferred), and water into a medium saucepan.
Cook: Cover and heat for 10-15 minutes or until tender.
Blend: Let it cool slightly and then transfer to a blender and puree until smooth.
Eat: Serve or freeze for another meal.
Other Cooking Methods
While I love the crisp and slightly sweet flavor of simmered pears, there are several ways you can cook pears for baby food. 
Steaming
Peel and roughly chop 6 pears. Place the cubes into a steamer basket over 2 inches of boiling water for 8-10 minutes or until tender when pricked with a fork. Puree in a blender as directed below. 
Roasted
Cut 6 pears in half. Place them into a medium roasting tray with the cut side down. Add enough water to cover the very bottom of the tray. Cook at 400 degrees F for 30-40 minutes or until tender when pricked with a fork.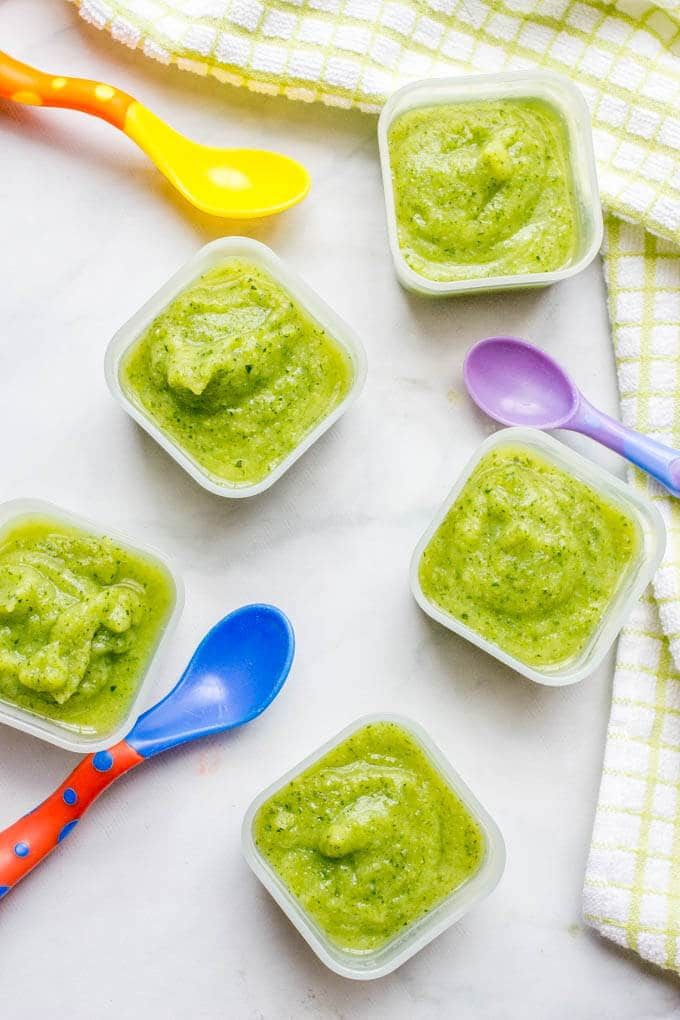 Puree in a blender as directed below.
Frequently Asked Questions
When can baby eat pears?
Babies can have pears as one of their first foods. When a baby can start on solids is determined by their own rate of development, which generally comes between 4-6 months of age. Some of the developmental milestones babies need to reach in order to start solids include: if your baby has solid control of their head and neck, if your baby has doubled in weight, and if your baby is reaching for or opening their mouth when you eat (see my guide here). Before you start your baby on purees, you should consult with your pediatrician to make sure your child is developmentally ready.
Can pears be baby's first food?
Pears can 100% be your baby's first food if you want it to be. It is recommended to wait to introduce the top eight allergen foods to your baby once a few other well-tolerated foods have been introduced, but otherwise, foods can be introduced in any order so choose whatever you are most excited for your baby to have.
Are pears a common allergen for baby?
No, pears are not a common allergen, however, as with any food, start with a small portion and be aware of any signs that might be an allergic reaction after introducing it.
Do pears cause constipation for babies?
Pears are not known to cause constipation in babies, but are actually one of the "P" fruits known to help alleviate constipation.
Tools Needed
These tools will make it a lot easier for you to make this healthy Green Bean Puree. For more of my favorite kitchen tools make sure to check out my shop.
Steamer insert with lid
Blender or Food Processor
Freezer Tray
Storage Containers for Fridge
Stasher Bag
Bib with catch pocket
Reusable pouches
Adding Spices
While the most popular option is adding cinnamon to pear baby food, you can also add in cloves, nutmeg, cardamom, fresh mint, fresh basil, freshly grated ginger, or even allspice (see quantity recommendations in the recipe card).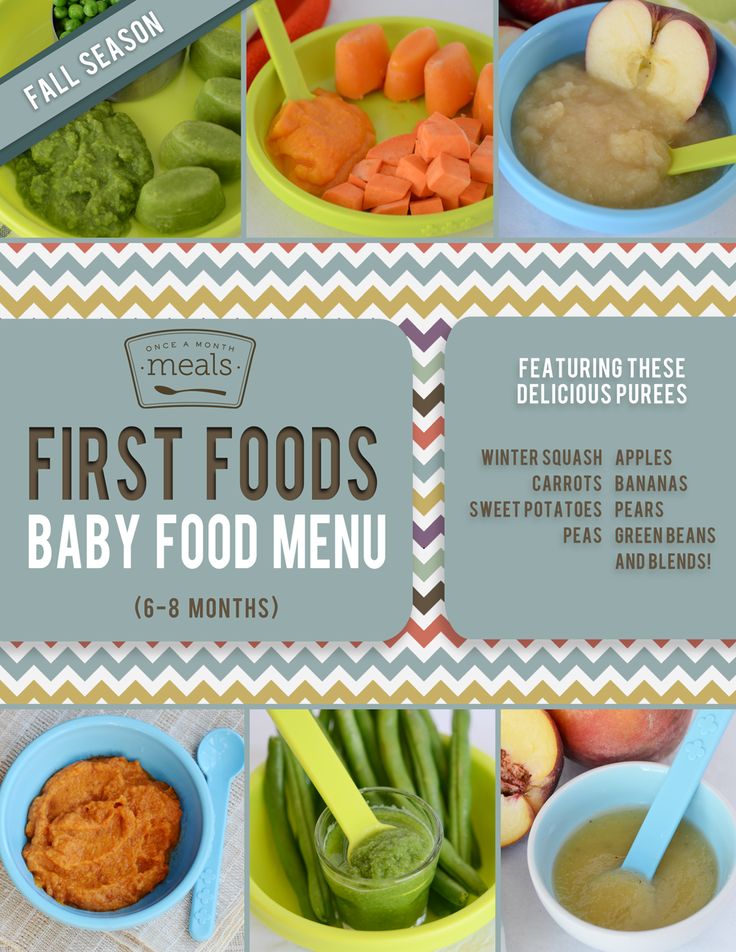 Tip on Spices: I always add spices or herbs to my baby food purees, but you can choose to leave them out in all of your baby food. You do you! Either way, this puree will surely taste amazing. 
How to Store Pear PureeRefridgerator
You can store this puree in an airtight container in the fridge for 3-4 days. 
Freezer
This puree can be frozen for up to 4 months.
Spoon puree into a freezer storage container. Do not overfill. 
Place the lid on the storage container or cover it with a piece of saran wrap, and label it with the date and recipe name. 
Place the tray into the freezer and let it freeze completely — preferably overnight. 
Pop-out the baby food cubes and place them in a ziplock baggie or stasher bag. Don't forget to relabel the baggie or stager bag for future reference.
Need more information on how to store your baby foods? Head over to my Best Baby Food Storage Containers – Plus 6 Tips on Freezing and Thawing post!
Label Tip: Don't forget to label your purees before you place them in the fridge or freezer with the name of the puree and the date you made it.
Take it from me; by the end of the week, you will completely forget what is in your freezer and how long it's been there… because you know… mommy brain. 😉
Great Pear Combination Purees
While this pear puree is flavorsome and great by itself, it's also super easy to mix and match with other nutrient-dense baby food purees. So give these fun Stage 2 flavor combos a try!
Apples
Apricots
Blueberry
Bananas
Quinoa Baby Cereal 
Prunes
Kiwi
Sweet Potato
Soft Tofu
Oats
Pumpkin 
Mango
Strawberry
Yogurt
PUREE FEEDING TIPS
Try adding a little seasoning or spice to purees – babies like flavor! Or consider changing the temperature of purees from time to time, to slightly warmed or slightly chilled. Varying these aspects adds to the sensory experience!
Place a small amount of puree on the tray during spoon-feeding, so that your baby can dip their fingers or hands in the puree. Allowing your baby to explore foods in this way helps them learn to self-feed and can help them be more willing to try new textures and foods in the future.
Purees are great to keep in your baby's regular rotation of foods – but if you start feeding with traditional weaning using purees, make sure to progress beyond eating ONLY purees. Once your baby can safely and comfortably swallow purees (usually by 7 or 8 months) it's time to introduce other textures, such as teething biscuits and soft-cooked finger foods. Moving onto additional textures in a timely manner may help prevent feeding difficulties at a later age.
Or watch a shortened version of this video here.
6 pears
1/8 tsp cardamom or other spice (see notes)
1/4 cup water
Prep: peel and roughly chop the pears.

Combine: place the pear chunks, spices (if using) and water into a medium saucepan, cover.

Cook: heat on medium-low heat for 10-15 minutes or until tender when pricked with a fork

Transfer: let cool slightly. Using a slotted spoon, scoop the pears out of the saucepan, leaving the excess water behind, and place in a blender or food processor.

Blend: turn on the machine and blend for 1-2 minutes until you have your desired consistency. If your pear puree is too thick, add the leftover cooking water in 1/4 cup increments.

Eat: serve to baby or freeze for another meal.
Age: 4-6 months and up
Yield: roughly 20 ounces
Additional Spices: You can also use 1/4 tsp cinnamon, 1/8 tsp nutmeg, 1/8 tsp cloves, 1/8 tsp cardamom, 1/8 tsp allspice, 1/4 teaspoon freshly minced ginger, or a pinch of freshly chopped basil or mint.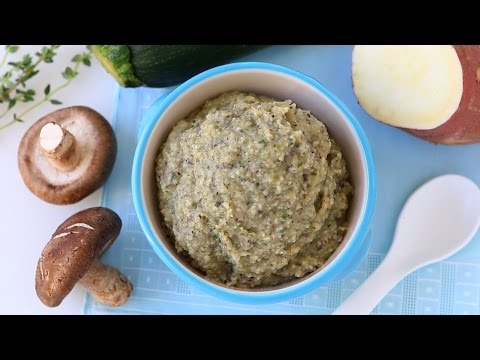 Note on Pears: while my favorite pear to use for this recipe are Bartlett pears, you can use any type of pear you prefer – Bosc Pear, Taylor's Gold Pear, Anjous Pear, Asian Pear or Comice.
Storage: Fridge – store in an airtight container in the fridge for up to 4 days. Freezer – can be frozen for up to 4 months.
Blender
Tripp Trapp High Chair
Freezer Tray
Silicone Baby Bibs
Did you make this recipe?
Tag @babyfoode on Instagram and hashtag it #babyfoode!
Pin Recipe Email a Friend
NEW TO MAKING PUREES? THEN CHECK OF MY GUIDE ON WHICH KITCHEN TOOLS YOU ACTUALLY ARE GOING TO NEED TO MAKE THE CREAMIEST AND SMOOTHEST BABY PUREES. HINT, IT'S NOT MANY!
Pear Puree for Baby (Pear Baby Food)
Published: · Modified: by Laura · This post may contain affiliate links.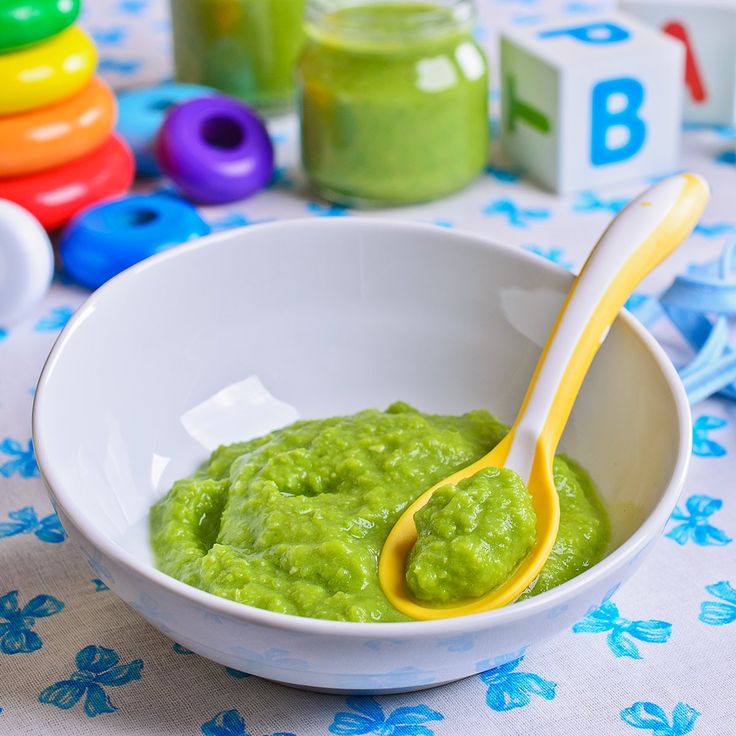 Jump to Recipe
This homemade pear puree is an easy baby food recipe that's made with only two ingredients- pears and water! Making homemade pear baby food costs so much less than store-bought jars! It's easy to make it organic too, by using organic pears!
Pears are one of the first fruits I introduce to my babies, and they all go crazy for them. They are sweet, and full of fiber to help keep things moving in the digestive tract (if you know what I mean), plus it's so easy to make baby pear baby food at home!
I always have made my baby food from scratch, from sweet potatoes, to baby food carrots, to combinations like pumpkin apple baby food, I always prefer homemade over store bought! Not only does making your own baby food save SO much money, but it's also easy to make it organic with minimal ingredients! 
This homemade pear puree is an easy baby food recipe that is great for little ones of all ages. It's made with only two ingredients- pears and water - with the option of adding some cinnamon once you're certain your baby isn't allergic to pears! 
How to make Pear Puree for Baby
There are two ways to make baby food pears.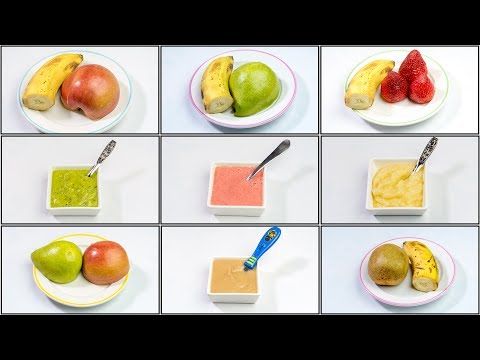 For younger babies with sensitive tummies, I recommend cooking the pears first. For older babies who still love their purees, you can simply blend fresh pears with water, no cooking required! I will show you how to make baby food pears that are cooked!
Cut and Cook the pears
Begin by cutting each pair into about six pieces. Then place the pears into the container of a slow cooker.
Add water
When using 8 small pears (which measured to be about 6 cups), add ½ cup of water.
Cook
Next, cook the pears (if desired). I have used two methods to cook pears to make pear puree: 
Slow cooker - Cook the pears on high for 1-2 hours, or until the they are soft. Notice they will change color as they cook! I love this method because I just toss them in the slow cooker and walk away. No need to watch them as they steam! 
Steam on the stovetop - If you'd prefer, simply put the pears in a pot with the water, or in a steaming basket, and steam the pears on the stovetop for about 10-20 minutes, until they are soft.  
Blend
Place the contents of slow cooker (water and cooked pears) into a Vitamix Blender (or anther high-powered blender). Blend for 30-60 seconds until smooth.
Store or serve to baby
Transfer the pear puree to ice cube trays to freeze, or individual containers to store in the refrigerator. I love these silicone ice cube trays. I found them after I had baby #4 and I couldn't believe I went so long using floppy, difficult trays! These silicone ice cube trays have a firm outer rim, making them easy to transport, and a lid for storage! The wells hold a good amount of puree too! 
To reheat frozen pear puree:
Reheat one or two cubes of pear puree in a glass container in microwave for 40-60 seconds. You could also warm it on the stovetop or let it thaw at room temperature for several hours! 
FAQS: Pear Puree for Baby
Here are some frequently asked questions about pear baby food!
Do you have to cook pears for baby food?
The answer to this question depends on the age of your baby and softness of the pears.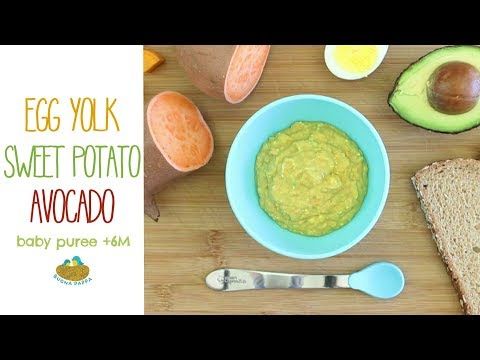 I prefer to cook pears to make pear puree until my baby is 8-10 months old because it makes them easier on their tiny little tummies. If you buy soft, juicy pears, you can blend them without cooking them! 
Can I give raw pear to my baby?
Once your baby is 8-10 months old, you can feed him or her raw, peeled pears. I recommend peeling to reduce the risk of gagging and choking. Also, be sure to stay very near your baby when you feed her finger foods, to prevent choking. Before 8 months, I recommend cooking the pears before feeding them to your baby for easier chewing and digestion. 
What age can my baby eat pears?
You can feed cooked and pureed pears to your baby at 6 months old! 
Are pears constipating for babies?
No! Quite the contrary! I find the fibrous nature of pears keeps the systems flowing (if you know what I mean)!
What kind of pears are good for baby food?
I recommend using organic pears, especially if you will be cooking and pureeing them with the skins on.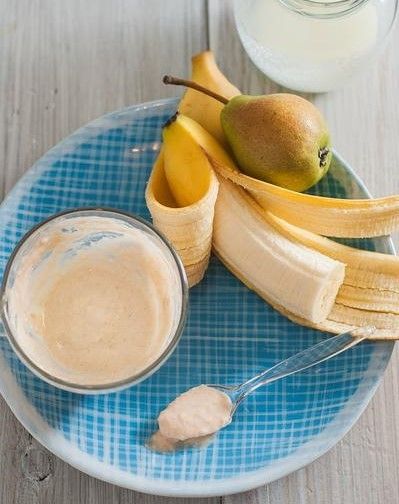 My babies have loved all pears, but I try to stick to soft, sweet varieties like Anjou, Bartlett, Bosc, and Comice!  
If you make and love our recipes, it would mean so much to me if you would leave a comment and rating! And don't forget to follow along with us on Instagram, Pinterest, Facebook, and Youtube - be sure to tag @joyfoodsunshine and use the hashtag #joyfoodsunshine so we can your creations!
Pear Puree for Baby (Pear Baby Food)
Laura
This homemade pear puree is an easy baby food recipe that's made with only two ingredients- pears and water! Making homemade pear baby food costs so much less than store-bought jars! It's so easy to make it organic too, by using organic pears!
5 from 1 vote
Prep Time 10 mins
Cook Time 2 hrs
Total Time 2 hrs 10 mins
Course baby food
Cuisine American
Servings 19 Servings (2 TBS per serving)
Calories 43 kcal
▢

Vitamix blender

▢

silicone ice cube tray
▢ 8 small pears about 6 cups
▢ ½ cup water
Cut pears into slices.

Add pear slices and water to the container of a slow cooker.

Cook in slow cooker on high for 2 hours.

Place the contents of slow cooker into a Vitamix Blender (or anther high-powered blender).

Blend for 30-60 seconds until smooth.

Transfer to ice cube trays to freeze, or individual containers to store in the refrigerator.
What kind of pears are good for baby food?
I recommend using organic pears, especially if you will be cooking and pureeing them with the skins on. Stick to soft, sweet varieties like Anjou, Bartlett, Bosc, and Comice!  
How to steam pears on the stovetop 
If you'd prefer to not use a crockpot, simply put the pears in a pot with the water, or in a steaming basket, and steam the pears on the stovetop for about 10-20 minutes, until they are soft. 
How to store pear puree
Transfer the pear puree to ice cube trays to freeze, or individual, airtight containers to store in the refrigerator.
To reheat frozen pear puree:
Reheat one or two cubes of pear puree in a glass container in microwave for 40-60 seconds. You could also warm it on the stovetop or let it thaw at room temperature for several hours! 
Serving: 2TBSCalories: 43kcalCarbohydrates: 11gProtein: 1gFat: 1gSaturated Fat: 1gSodium: 1mgPotassium: 87mgFiber: 2gSugar: 7gVitamin A: 19IUVitamin C: 3mgCalcium: 7mgIron: 1mg
Tried this recipe?Let us know how it was!
This post contains affiliate links, which means that if you purchase a product through a link you clicked on here, I receive a portion of the sale. Thank you for supporting JoyFoodSunshine! 
Did you make this recipe?
Leave a comment and review below, then take a picture and tag @joyfoodsunshine #joyfoodsunshine on Instagram so I can see it! Sign up here to receive weekly e-mails!
Reader Interactions
Children's pear puree for the winter.
Pear puree for the winter - a recipe for preparation
Fruit purees for babies are already introduced into the first complementary foods at the age of 6-7 months. Apple, banana and pear are great for this. These fruits are very healthy and less allergenic. In addition, they are easily absorbed and digested, do not disturb digestion and stool.
In the first weeks of complementary feeding, fruit puree should consist of one component. You can find detailed feeding rules, and in this article we will find out the recipe for pear puree for babies. Consider how this fruit is useful for babies, and at what age you can give such food.
Useful properties of pear
Pear is a healthy fruit with a high content of vitamins, minerals and mineral salts, fiber and tannins, pectins and other useful elements. Slightly colored fruits rarely cause allergies. In addition, they are easy to digest and do not cause fermentation in the intestines.
Pear performs a number of important functions in the intestines:
Normalizes digestion;
Regulates the liver and kidneys;
Strengthens the immune system;
Accelerates material exchange;
Removes harmful substances and cleanses the body;
Helps babies with;
Improves hematopoiesis;
Positive effect on the functioning of the heart and lungs, normalizes heart rhythm;
Tones the body, improves mood and invigorates;
Pear juice or compote strengthens blood vessels.
Pears taste sweeter than apples but contain less sugar. Therefore, the fruit does not threaten an increase in weight and blood sugar, it is not dangerous for people with diabetes. But in any case, it is impossible to overeat the baby, even the safest and most hypoallergenic product can cause a negative reaction. To avoid allergies or digestive problems, follow the recommendations for nutrition and cooking for babies
How to introduce pear puree into complementary foods
Pear puree is given to a baby not earlier than six months, to a baby on artificial or mixed feeding - from five months;
Pear is administered after apple and vegetable purees from zucchini and cauliflower;
For the first time, let the baby try ½ - 1 teaspoon of puree in the morning and observe for two days if an allergic reaction occurs;
Gradually increase the dosage, at 7-8 months the norm of puree is 50-60 grams, and by the year - 100;
If you have a food allergy to pears, do not give the puree to the baby and consult a pediatrician for advice. You can repeat the injection attempt no earlier than a month later;
Choose your product carefully and rinse before cooking. Take only fresh fruit without rot and black dots;
Choose green sweet fruits, avoid sour and tart varieties;
Peel the fruit, as it is there that harmful substances accumulate;
One-component fruit puree is introduced first, then pear compote can be included. Use different combinations with apple, banana, peach or apricot in your puree. Bake pears and let them fresh;
If you are giving fruit fresh, be sure to peel and grind the flesh with a grater or blender;
It is advisable to prepare a new puree each time. You can store the finished dish for no more than 24 hours in the refrigerator;
It is advisable to prepare puree yourself, so you will be sure of the composition and shelf life of the product. If you buy ready-made mashed potatoes, carefully check the contents and storage rates, the integrity of the package and age recommendations.
Pear puree recipe for babies
Rinse and peel the pears, remove the core and stones. Cut the fruit, put in a bowl and fill with water so that it hides the pieces. Boil for 10-15 minutes and grind the resulting mixture in a blender. This is the optimal cooking time, which will retain the beneficial properties of fresh fruit and soften the fruit. Puree for babies should not be salted or peppered. Add some vegetable oil for taste.
After the introduction of this puree, you can sometimes give your baby a fresh pear. To do this, peel the fruit and rub the pulp on a fine grater. You can also add fresh apple juice to the finished pear puree or mix fresh pear slices with apple juice and simmer under the lid for five minutes. Then pass the mass through a blender.
By the way, a pear is also very useful for a nursing mother. Fruit can be included in the diet as early as the first month of breastfeeding. The product is also used for making compotes and juices.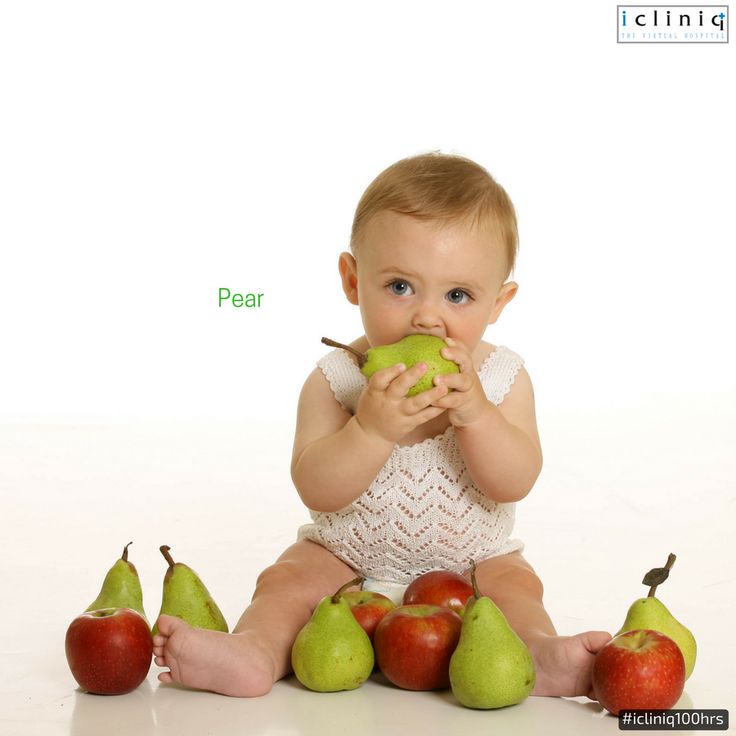 The pear is baked and eaten fresh. Detailed recipes with photos for nursing mothers can be found at the link.
Today we will tell you how to make your own baby pear puree for the winter. Then you will be sure of the quality and benefits of such a dish.
Winter pear puree for children
Ingredients:
pears - 2 kg;
- 105 ml;
sugar - 55 g;
water - 110 ml.
Cooking
Wash the pears, cut out the seeds and stems, and leave the peel. Pour cold water into the bowl of the multicooker, put the cooked fruits on top and close the appliance with a lid. We select the "Extinguishing" mode in the menu and detect 65 minutes. Having heard the signal, we shift all the contents into a bowl, throw in the sugar and beat with a blender until a homogeneous puree is obtained. We cool the finished delicacy, add condensed milk, stir and serve the child for an afternoon snack, or put it in jars, twist the lids and store in the refrigerator for about 2 months.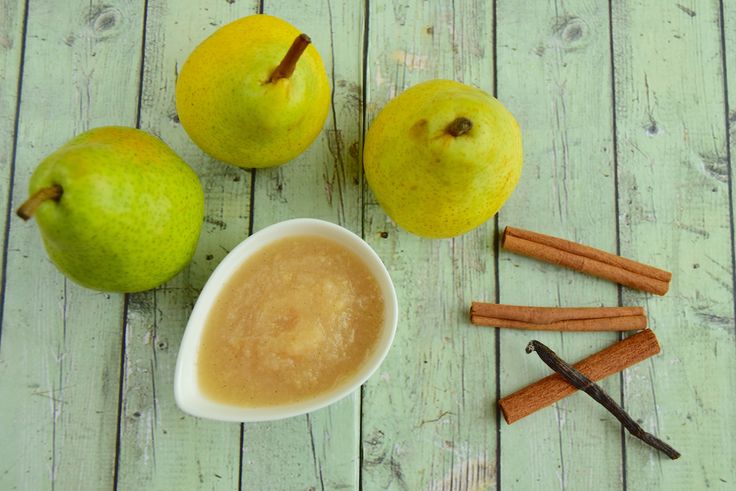 Pear-plum puree for the winter for babies
Ingredients:
fresh pears - 1.2 kg;
yellow plum - 1 kg;
water - 255 ml.
Cooking
Fruits are washed, processed and cut into slices. We shift the fruits into a saucepan, fill with water and bring to a boil, covering with a lid. Boil the mass for 10 minutes, and then rub gently through a sieve. Pour the finished puree into jars and sterilize them for 10 minutes. After that, we roll up the workpiece and cool it upside down.
Winter apple and pear puree
Ingredients:
juicy pears - 2 kg;
fresh apples - 1 kg;
brown sugar - 105 g;
drinking water - 1 l;
- 20 ml;
ground cinnamon - a pinch.
Cooking
Pears and apples are washed, processed, cut into slices and put in a bowl.
Simultaneously dissolve the brown sugar in water, pour in the lemon juice and put the syrup on the stove.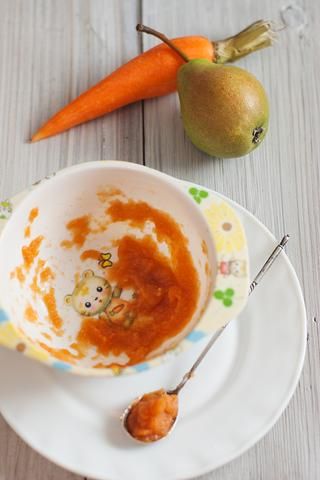 After it boils, pour the prepared fruits in portions, mix and boil for about 20 minutes. At the very end, add a little cinnamon, remove from the stove and puree the contents with a blender. The finished product is poured into jars and sealed.
In many ways, the health and harmonious development of a child depends on his nutrition. In the first 5-6 months, the baby's diet is breast milk or milk formula. With the start of the introduction of complementary foods, parents have a lot of questions related to what kind of food, how and how much can be given to the baby, because his digestive system is still developing and is not ready for all adult food. Despite the fact that fruits are a source of vitamins, you should also be careful with them when adding a baby to the menu. This also applies to such fruit as a pear. It has its own nuances that should be taken into account when introducing it into complementary foods.
Pear - one of the first fruits for baby feeding
Benefits and harms of pears
Fragrant and juicy pears boast not only sweet taste, but also their content.
The main part of the nutrients contains the peel of the fruit, so they are unpeeled and of great value. These fruits are rich in:
potassium and calcium;
organic acids and tannins;
phosphorus, chlorine and iodine;
pectin and carotene;
sodium and magnesium;
sulfur and manganese;
fiber;
silicon, iron and zinc;
vitamins A, B1, B2, B5, B6, B9, C, E;
mono- and disaccharides.
Benefits for the child's body
The pear causes allergies in very rare cases, therefore it is recommended by pediatricians for baby food and benefits the body:
in rare cases may cause an allergic reaction;
it is characterized by easy digestibility in the child's body, without causing fermentation;
improves metabolism, normalizes the functioning of the pancreas and improves intestinal microflora;
has an anti-inflammatory, diuretic and even expectorant effect;
helps to strengthen the immune system;
renews the composition of the blood;
strengthens and holds;
strengthens bones and teeth, improves hair and skin;
removes toxins from the body;
supports the nervous system.
Contraindications and influence on the child's stool
Despite all the benefits and such a storehouse of vitamins and minerals, pears have their drawbacks and contraindications.
Firstly, eating fresh fruit can cause a feeling of heaviness in the stomach.
Secondly, overripe pears can lead to loose stools, although the fruit itself is usually hard. Plus, a large amount of fruit eaten at one time also loosens the stool.
Also, their use is contraindicated in case of colitis, gastritis, ulcers or individual intolerance.
In addition, it is not recommended to feed a child with a pear on an empty stomach, only after he has eaten, as a dessert. The combination of this fruit with meat dishes is also undesirable, since this combination gives a big load on the stomach. You should not drink pears with water yet.
Introduction to the diet
Dear reader!

This article is about typical solutions to your questions, but each case is unique! If you want to know how to solve your particular problem - ask your question. It's fast and free !

Pears are among the hypoallergenic regional fruits, so they are among the first to be introduced into the baby's diet. Usually they begin to give immediately after the apples.

If the baby is breastfed, this can happen at 6-7 months. In artificial children, they may appear on the menu as early as 5-6 months.

The pear should be introduced to the baby following the generally accepted rules for introducing new products, namely:

It is better to give a new product for the first time in the first half of the day. This will allow you to understand whether the child tolerates it.
The initial serving should be no more than half a teaspoon. In the future, if no negative reaction is observed, the volume can be gradually increased. As for pears, at the initial stage of input, the portion reaches 30 grams per day. Children under one year old are entitled to 60 g of pear puree, up to two years of age - 1-2 pears.
For baby food, you need to choose a quality product. The fruit should be ripe, moderately soft, without damage and rotten areas. What quality it is can be determined visually, plus, by smelling it.
Wash any fruit or vegetable well before cooking.



The introduction of pear into the child's diet should be gradual, starting with half a teaspoon of puree

It is best and most convenient to introduce a pear in the form of puree made from baked or boiled fruit. Heat treatment helps to reduce allergens in the product. It can also be added to fruit puree that the child has already tried, for example, to apples.

In addition to puree, there are other ways to introduce this fruit to your baby:

Fresh fruit. Pieces of fresh pear can be given from 11 months.
Dried fruit compote. Allowed from 6-7 months, not exceeding 100 ml per day.
Pear juice. You can try at 8-9 months.

Pear puree and compote recipes

Pear puree for a small child can be made from baked or boiled pear. Even after heat treatment, the fruits retain many useful elements. For puree, it is worth choosing pears of sweeter varieties, with a peel, preferably green, and a pulp of a uniform structure.

In the case of roasting in the oven, the recipe is very simple. The core with seeds is removed from the previously washed fruit. Then bake it in the oven for about 15 minutes. After the baked pear has cooled, it should be mashed into a puree.



It is important to carefully peel the pear so that the baby does not choke on it

In the second case, the recipe is as follows:

It is necessary to remove the peel from a thoroughly washed fruit and remove the core and all the seeds.
Cut the pears into cubes and place in a cooking container.
Fill with water so that the cubes are completely under water.
Bring to a boil and simmer for about 10 minutes. During this time, the fruit will have time to soften.
Allow to cool and grind the pear with a blender, fork or meat grinder until smooth.
You can add a little water to the puree, in which the pear pieces were boiled. This will make the puree more liquid.

When the child gets older and gets used to the pear, you can switch to fresh fruit puree. To do this, it is enough to grate it on a special food grater made of high-quality plastic. Metal analogues of the grater, reacting with the fruit, deprive it of nutrients and vitamins.



A pear can also be given to a child in a nibbler, which will not allow the baby to choke (we recommend reading: )

Preparing mashed potatoes for the winter

Naturally, preparing fruit puree in the summer season is not difficult (we recommend reading: ). However, what if the feeding time fell in the winter. Fruits and vegetables in stores are processed with chemicals and it is better for children, especially babies, not to take them for the first time. In such a situation, preparations for the winter will come in handy. You can use frozen fruit, or you can:

Cut the washed fruit into small pieces.
Pour in some water.
Simmer over low heat until the fruit is soft.
Divide into sterilized jars. For convenience, it is better to take small jars. So you don't have to store them in the refrigerator after opening.

Making compote

Another way to introduce this fruit to your baby is to cook compote. To do this, you need to take:

apple - 1 piece;
pear - 1 pc.;
water - 0.5 - 0.7 liters.



Dried fruits can also be added to the compote, but only those that the baby has already tried before should be used.

Wash and peel the fruits. Remove core and finely chop. Pour water into a saucepan. Put the pot on the fire and boil. As soon as the water boils, remove from heat and leave to cool and infuse. Sugar is added if the child is over a year old.

Fresh fruit can be replaced with dried fruit. They will need about 50 grams. Dried fruits should be washed and rinsed with hot water. Then pour warm boiled water and leave overnight. In the morning add sugar and compote is ready.

Pear allergy

Although the pear is considered non-allergenic, it can cause an allergic reaction. More often, an allergy to this fruit occurs in children in whose family at least one of the parents is allergic.

The main signs of allergy are as follows:

Digestive problems. Manifested in the form of diarrhea, vomiting, constipation, gas formation, frequent regurgitation.
Skin manifestations. Include reddening spots, peeling, peeling of the skin.
Respiratory problems. Runny nose with clear discharge, asthma, bronchitis.
Possible conjunctivitis and swollen lymph nodes.

An allergy to pears in a baby is not yet a verdict. The child may well outgrow this intolerance and in the future calmly eat these fruits. Perhaps the crumbs simply have not fully matured the digestive system. Children also have pseudo-allergy, which has the same symptoms, but is not associated with immunology. Otherwise, the product will have to be excluded from the baby's diet.

After the introduction of vegetable complementary foods into the diet of a six-month-old baby, it is the turn of fruit purees. As the first sweet homogeneous dish, pears fit perfectly in the crumbs menu. Moms who have tried making classic pear puree for babies do not have to persuade their picky tasters to take another spoonful. Having chosen a good recipe, the peanut chef will be able to make a delicate honey mass from a juicy pear, which will conquer any picky eater.

In addition, there is not a single reason to doubt the benefits of this product for the immature body of any child - here you have a whole vitamin complex (A, C, B1, B2, B3, B5, B6, B9, B12, E, K), and an extensive set of trace elements (potassium, boron, lead, cobalt, rubidium, nickel, sodium, phosphorus, iron, copper, calcium, zinc, magnesium), and phytosterols that reduce the amount of absorption of cholesterol in the intestine, and mono- and disaccharides.

Pear dishes are easily absorbed by the child's body, contribute to the normal functioning of his kidneys and liver, and also improve the digestive process.

To date, there are thousands of varieties of pears, among which there are ornamental and fruit trees. Not all representatives of the many fruit varieties are suitable for preparing fruit foods for an infant.

Juicy soft specimens (Conference, Williams Summer (Duchess), Grand Champion, Komis) are best suited for baby food. A wonderful dish with a sweet and sour or dessert flavor is obtained from ripe fruits with a green skin without a pink blush and with melting pulp.

The main thing is to prepare it for the baby, preserving the maximum amount of useful substances in the composition of the pear.

Preparation of pear food

The recipe for pear puree is very simple. The hostess needs to do the following:

Wash the affected fruit under running water.
Peel the skin off the pear.
Cut the fruit in half and remove the core with a knife.
Cut the remaining flesh into small pieces.
Bring a pot of clean, filtered water to a boil. Water should be used in such quantity that the pieces of fruit are barely covered with it.
Throw fruit slices into boiling water, cover the pan with a lid.
After boiling again, reduce the gas and let the pear simmer on low heat, covered, for about 7-10 minutes (the recipe calls for ripe soft pears).
Remove the boiled pear from the syrup and cool slightly.
Grinding the pieces with a blender or grinding them through a meat grinder will help prepare an air puree. You can also mash the pieces until smooth with a fork.
If the mass turned out to be thick, you can add a little syrup in which the pear was boiled.

It is not worth supplementing this recipe with butter, sugar or other ingredients for a better perception of the baby. It is permissible to add a few drops of lemon juice to the finished puree to dilute the excessive cloying sugary varieties of pears.

Pear puree is introduced into the baby's diet in the same way as the first vegetable food. A portion of half a spoon will be enough to start, even if the baby insists on continuing the banquet. It is necessary to increase the daily volume gradually if the child does not have a reaction to the product in the form of skin rashes or stool disorders.

If the acquaintance with the pear was successful, include it in multi-component fruit purees, and later in cereals that the baby has had time to try.

Recipe for mashed potatoes for the future

When pears growing in local latitudes cannot be found, and overseas products waxed with gloss shine on supermarket shelves, we regret that we did not make our stocks of natural fruits for the winter or spring to introduce complementary foods to babies. But it is very easy to prepare several jars of excellent pear puree, and it turns out at the peak of beriberi it is much more useful than using products of unknown origin, and much cheaper than buying baby food in stores.

So, how can you get through the winter without need, thanks to your ability to preserve food? The recipe for making pear puree described above remains unchanged. One caveat: we increase the amount of "raw materials". In a word, you need to take as many pears as you want to prepare mashed potatoes for the winter or spring.

Put the finished puree into an empty pan, add a little syrup, let the mass boil over low heat and warm up well. In the meantime, we are preparing containers for blanks for the winter: we wash small jars well and sterilize them. Water should be boiling in the other pot by now.

Pour the finished puree in hot form into jars and put them to sterilize in a pot of boiling water, while reducing the gas. Lids should also be placed in boiling water. At the end of the process, we take out the jars, twist them with lids and wrap them with a blanket until they cool completely. That's all - pear puree for your gourmet for the winter is ready!

For older children, the water in which pears are boiled for the winter can be replaced with apple juice. You can also add vanilla sugar.

As you know, kids love fruits for their lightness and sweetness. Our recipe, which reveals the secrets of making pear puree in summer and autumn, as well as preparations for the winter, will help you please the little one until he can gnaw fresh fruit on his own.

How to get rid of stretch marks after childbirth?

The pear has a hard skin and coarse fibers, so some mothers prefer not to include it in the baby's diet - and very much in vain. The fruit belongs to hypoallergenic products, and the high fiber content will only have a positive effect on the baby's digestion. The only condition for use is the variety of pears from the region where the baby lives. "Glossy" copies are best left on the shelves in the store.

Benefits of pears

There is an opinion that a large amount of dietary fiber in the diet leads to bloating and colic. In fact, fiber has absolutely nothing to do with it, because pain occurs due to the stabilization of processes in the gastrointestinal tract in an infant. And after 3 months, the problems disappear without a trace, although it is still far from complementary foods and the first acquaintance with fruits.

Pediatricians note a lot of positive aspects when eating pears:

Fiber is an effective prophylactic against constipation
The fruit is fully digestible by the child's body
You can introduce a pear into the child's diet immediately after an apple
Essential oils contained in pear enhance immunity
It contains more fructose than glucose, so the pancreas will not receive an additional load
Pear is hypoallergenic and does not have a bright color, and its qualitative composition is as close as possible to vegetables that are already familiar to babies
Does not cause fermentation and flatulence in the intestines
Promotes the normalization of metabolic processes

It remains to add a huge amount of useful vitamins and minerals - and the picture of the value of pears will become complete:

water-soluble PP and C, as well as the entire range of group B
fat-soluble E, A and K
folic acid
pectins
tannins
mineral salts, including iron

Pears retain their useful properties even in canned form, if the preparation for the winter is carried out correctly, using any recipe you like.

Nuances of cooking pears in winter

Mothers are used to making jams and compotes from fruits, but puree is the best option for baby food. If the first feeding falls on the cold season, the child's diet should be taken care of in advance. It is enough to choose a proven recipe and prepare a dish for the winter, because pear puree rarely causes an allergic reaction in a baby.

Usually the baby is offered grated raw or pre-processed fruit. To do this, bake the pears in the oven or boil until soft. Then separate the seeds and skin and mash the fruit.

However, preparation for the winter implies not only the safety of mashed potatoes, but also the safety of the baby when eating treats. Containers for dessert, along with lids, must be sterilized, and then processed already with a fruit "filling". Choose unspoiled pears as raw materials, because the dish is intended for babies, and food poisoning at this age is extremely difficult to tolerate and rarely goes away without consequences.

Healthy pear puree recipes for the winter

Regular puree in jars

For regular puree you will need:

ripe pears
citric acid in crystals

The recipe does not involve much time and effort:

Wash fruit, peel, remove seeds, cut into cubes
Transfer to an enamel bowl, add some water
Simmer until soft, stir until pureed
Boil fruit mixture
Add citric acid at the tip of a knife
Reheat the puree to 90 C, spread hot into pre-sterilized jars
Sterilize for 12 minutes in jars, roll up

By itself, pear puree for the winter can turn out to be too sweet and even cloying, so citric acid is indispensable. In addition, she will act as a preservative so that the jars do not swell and the dish does not deteriorate. There are small jars with threaded lids on sale - you can use them by choosing the minimum volume. The first complementary foods should be started with half a teaspoon, so the portions should be small. Although a delicious pear dessert is unlikely to be lost, because adults will also eat it with pleasure.

Use the video recipe for harvesting pears for the winter.

Pear puree for the winter with honey

Puree can be medicinal if you use the recipe with honey:

2 kg of ripe pears
liquid honey

Preheat the oven to 50 C before cooking:

Wash the fruit, remove the peel and core, cut into slices.
Place on a baking sheet greased with butter.
Roast the pears for an hour in the oven until they are soft.
Remove, let cool and grind with a blender.
Add honey to taste, pour the puree into pre-sterilized jars.
Leave for additional sterilization for 10 minutes and roll up.

The recipe for this preparation for the winter is unique in that pear dessert retains all the beneficial properties of the fruit to the maximum. Roasting is a more gentle method than boiling, and honey will help fight infections in cold weather. It is much better for the child and his endocrine system to eat foods without sugar. However, this recipe is only suitable in the absence of allergies to honey and bee products.

Vanilla-flavoured pear puree

Can be prepared for the winter with a savory vanilla-flavored puree with mild sourness:

15 pears
½ glass of water
1 tsp citric acid
2 cups sugar
1 vanilla pod

The recipe is slightly modified if the same amount of natural apple juice is added instead of water:

Wash the fruit, remove the core and peel, cut into small slices.
Pour water (or juice) into an enamel bowl, add citric acid and add pears.
Boil for no more than 20 minutes, then remove the container from the heat and puree the fruit.
Boil again, adding sugar and vanilla.
Cook over very low heat until thickened.
Transfer to sterilized jars, sterilize in boiling water for about 10 minutes and roll up.

Because of the vanilla, the recipe is unlikely to be suitable for first foods, but as a healthy treat, the dish is suitable for a one-year-old baby and preschool children.

Store-bought mashed potatoes, sauces and mustard cans can be used as containers for preparations for the winter, but they must be thoroughly washed beforehand. It is undesirable to use ordinary dish detergent, it is much better to replace it with ordinary soda. "Water procedures" must go through both jars and lids, on the threads of which dirt can accumulate. Subsequently, poorly washed places can lead to the growth of harmful bacteria.

Small pieces of peel that get into a child's mouth can cause a gag reflex, which will turn the baby away from healthy fruit for a long time.

For the sterilization of regular standard jars, a special disc is used, which is mounted on the saucepan. However, small containers will easily slip through a large opening. Boiling the jars completely and then scooping them out with a spoon, burning your fingers and splashing hot water, is not a good idea. You can ask your husband to cut a hole in a tin lid for a standard jar that matches the size of the neck of a container for baby puree. And already in the process, place a circle for sterilization on the pan, and put a lid with a cut hole on it. Sterilize each jar for about 2 minutes, and the lids can be completely immersed in boiling water for 5 minutes.

Fruit is mashed with a fork, masher or blender. But after grinding, they must be boiled again, and poured into jars only when hot. Then lightly cover the jars filled with puree with lids and leave to sterilize for at least 10 minutes. The containers should be immersed in hot water by about 2/3. After that, pull out the jars, roll up the lids with a special machine or with your hands (if the thread is carved), turn the dishes with pear delicacy over and wrap them with a warm blanket. When warm, the jars should cool completely, and then they can be rearranged in their usual position for the winter in the pantry or cellar.

The recipe was used exactly, but the mixture is runny? It's not scary, you can try to boil it to a thicker state. It will take a little more time to cook, but the excess liquid will evaporate, and the finished dish will delight the baby with a delicate texture and rich, pleasant taste. You should not worry about an insufficient amount of vitamins in preparations for the winter - there are even fewer of them in store-bought baby food, and there are much more preservatives and additives. In addition, home-made puree is more useful for a child than fruit of dubious quality, flaunting on supermarket shelves in the cold season.

You will learn about the benefits of pears from the video.

Read also...

Shanezhki: recipes
Azu in a Pot How to cook Azu in a Pot
What to cook with minced meat and pasta: interesting recipes and reviews
Oven baked apples in puff pastry
Pear puree: how to make homemade pear puree
AnyutaN - Feb 21st, 2017
Categories: Puree
Tags: Pear puree
Pears are an ideal fruit for the first feeding.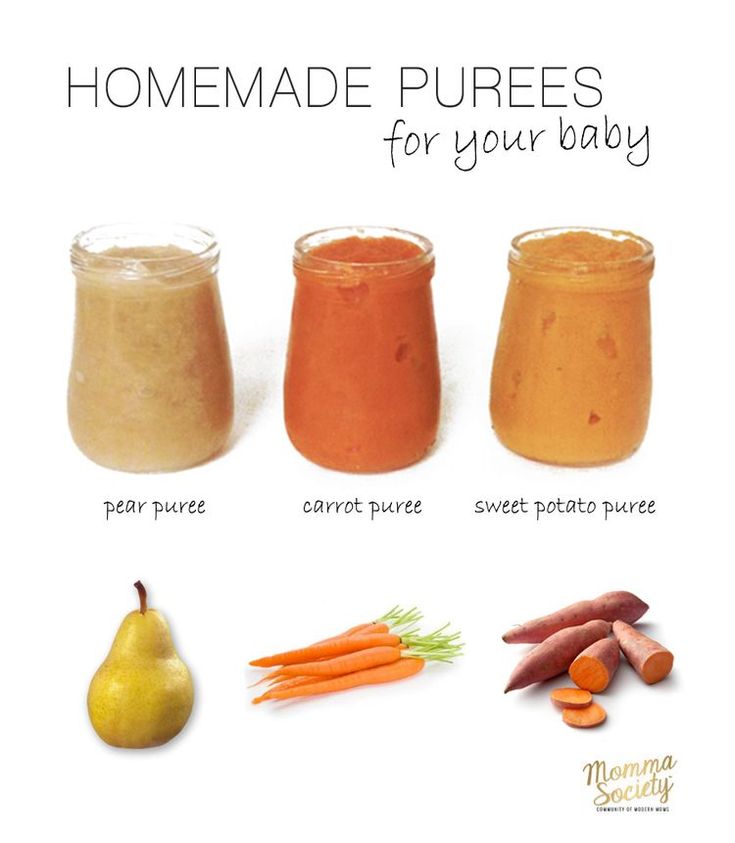 They are hypoallergenic and do not cause bloating in children. Adults, along with kids, also love to enjoy delicate pear puree. A selection of recipes presented in this article will please both children and adults.
Ingredients: pears, citric acid, sugar
Time for laying: All year

Content
1 Choose pears for puree
2 puree from pears for the first feeding

2.1 from baked fruits
2.2 from boiled fruits
2.3 With natural apple juice

3 Pear puree for the winter in jars

3.1 Natural puree for the winter
3.2 Puree with sugar and citric acid
3.3 Pear puree with milk

4 How to freeze puree
Choosing pears for puree
For adults, puree can be prepared from absolutely any variety of pears. The main thing is that the fruit is as ripe as possible. In case of a lack of natural sweetness, the workpiece can be flavored with granulated sugar.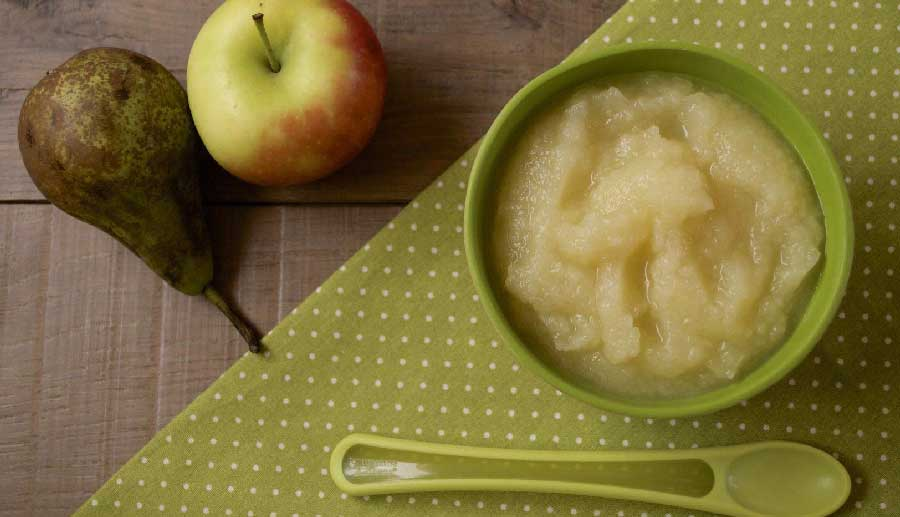 When it comes to feeding your baby, the choice of raw materials needs to be taken more seriously. Pear varieties with green skins will not cause allergies. Preference should be given to fruits with juicy and tender pulp. Such properties are possessed by fully ripe varieties Williams, Komis and Conference.
In addition to varietal diversity, attention should be paid to the integrity of the skin. It must be undamaged. Fruits should not have dents, traces of rot or wormholes.
Pear puree for first feeding
Roasted fruit
Well-washed pears are cut into halves and the seed box is removed. Right with the skin, the fruits are sent to the oven, heated to 180 degrees. After 15 minutes, the pulp will completely soften and can be scraped out with a dessert spoon.
Instead of an oven, you can bake pears in the microwave at the maximum power setting. The cooking time is reduced by 5 times! The pear will be ready for further processing in 3 minutes.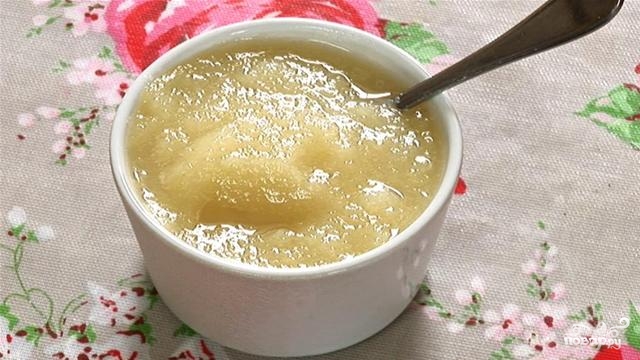 The softened pulp is ground through a sieve or punched with a blender until smooth. If the puree is too thick, then it is diluted with clean boiled water.
Boiled fruit
Rinse the pear thoroughly under running water and peel. Then each fruit is cut into two parts and freed from seeds. The slices are crushed into small cubes or strips. Fruit slices are folded into a saucepan and poured with a small amount of water. Cook the mass under a tightly closed lid over medium heat for 10 minutes. The finished pieces are removed from the bowl with a slotted spoon and ground to a homogeneous consistency. The broth can later be used to prepare a delicious vitamin compote or jelly.
With natural apple juice
The technology for preparing this puree differs from the previous recipe only in that the pear is boiled not in water, but in freshly squeezed apple juice. Such puree is offered to the baby at a later date of complementary feeding.
Recipe for children's pear puree without cooking, see the video from the Golder Electronics channel
Pear puree for the winter in jars
Natural puree for the winter
citric acid.
Fruit is boiled and ground in a blender. The homogeneous mass is again put on fire and boiled for 10 minutes. In the meantime, sterilize the container. The hot mass is placed in containers and covered with boiled lids. Tightly twist the jars only after 20 minutes of sterilization in a water bath.
Puree with sugar and citric acid
pears - 1 kilogram;
granulated sugar - 250 grams;
water - 2 tablespoons;
citric acid - 1/3 teaspoon.
Pieces of peeled pears are placed in a thick-walled saucepan. Add water to the cut. The container is put on fire and stewed under the lid for 15 minutes.
The boiled mass is crushed until smooth. Add sugar and acid to it. Before packing in jars, the puree is kept on fire a little more, 5 minutes will be enough.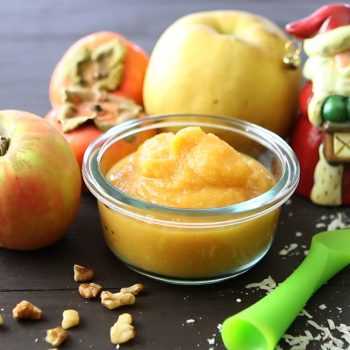 Tightly twisted jars are covered with a warm blanket and left for a day.
For more information about this recipe, see the video from the channel "Family Menu"
Pear puree with milk
pears - 1.5 kilograms;
milk 3.5% fat - 1.5 liters;
granulated sugar - 1.5 kilograms;
water - 50 milliliters;
soda - 5 grams.
Peeled pears are cut into random pieces, poured with water and put on fire for 1 hour. After boiling, add the right amount of sugar and continue heating the mass. When the fruit slices are well boiled, soda and milk are added. Bring the workpiece to a boil over high heat, and then reduce the heat to a minimum. Cook puree for 3 hours.
After the specified time, the mass is crushed with a blender to a creamy state, heated again on fire for a couple of minutes, and sent to sterile jars.