Ideas to use baby food jars
50+ Fantastic Ways to Re-Use Baby Food Jars
Home » Crafts for kids » 50+ Creative Ways to Re-Use Baby Food Jars
Last updated on
22.6Kshares
50+ baby food jar crafts and creative ways to re-use baby food jars so you don't have to put throw them in the trash.
If you've had a baby in recent years, there's a good chance you've acquired quite a collection of baby food jars. Baby food jars ares so cute and chubby, and such a great size. If you're like me, you find it hard to thrown them away. If that's the case, your baby food jar collection could be growing at an alarming rate, and you're probably looking for things to make with all of those jars.
Well, you're in luck! One of my Facebook followers recently asked for ways that she could re-purpose her baby food jars, and the HH community responded with dozens of great crafts made with baby food jars along with practical ways to use baby food jars in and around the home.
I've gathered up their best suggestions and added a few of my own favourite uses for baby food jars, and I've come up with this long list of ideas for you.
From the craft room to the classroom to the bathroom and beyond, here are over 50 ways for you to use leftover baby food jars so you don't have to toss them out.
50+ Baby Food Jar Crafts
Click on the links below to see project details.
Ways to use baby food jars in the classroom or craft room:
Crayon Caddy: Paint several baby food jars and store co-ordinating, coloured crayons in them.
Fill baby food jars  with water, and set on the art table to rinse paint brushes in.
Give each student in the class a baby food jar filled with cream, and make homemade butter together.
Make a mini "ocean in a jar" in a baby food jar. Pretty on classroom window sill or fun to play with.
Soak dried out markers in baby food jars to make liquid watercolour paint.
Make and store homemade finger paint in baby food jars.
Baby food jars make great paint and glue pots at the easel. Lids keep them from drying out between uses.
Punch holes in the lids (with a nail) and use jars to store and dispense glitter.
Make I-Spy Jars in baby food jars.
Make  collection jars for the preschool classroom.
Fill with small amounts of water for syringe transfer work trays in preschool or kindergarten
Paint tall baby food jars with  food coloring, water and glue for a frosted look. Store pens, pencils and paintbrushes in them.
Things to make for kids with baby food jars:
Play dough jars:  fill several baby food jars with different colours of homemade play dough for a kids'  gift basket.
Set some baby food jars out in the rain and make this scented rain paint.
In the play kitchen: fill baby food jars with flour, rice, lentils etc. Glue the lids on, and kids can pretend-cook with them.
Bug Jars – wrap a pipe cleaner handle around the top, and go exploring in the yard.
Make these cute and quirky emoji jars for a kid's dresser or desk.
Glue painted toy animals on baby food jar lids, use as party favours.
Fill with homemade slime or silly putty to put in loot bags.
Make a tooth fairy jar.
Teach kids how to manage their allowance with 3 tall baby food jars labeled SPEND, SAVE, BANK.
Make an advent or countdown calendar.
Fill baby food jars with layers of "coloured sand" (ground sidewalk chalk mixed with salt).
Use baby food jars to make mini lava-lamps.
Ways to re-use baby food jars in the kitchen:
Make magnetic spice jars to store on the refrigerator door
Organize your spice drawer with baby food jars.
Make Smore's treats in baby food jars. Hand them out around the campfire or at a party.
Make a window-sill herb garden with baby food jars.
Fill baby food jars with condiments for camping or a bbq.
Sterilize jars and lids, and reuse baby food jars for homemade baby food. The serving sizes are perfect.
Gifts and party favours to make with baby food jars:
Baby food jars make great wedding favours. Decorate and place at each table setting.
These baby food jar lanterns were hung in a tree at an outdoor wedding.
Make Lego Head Jars as party favours for a Lego party.
Make mini calming jars for kids or co-workers
Make a wish jars or dream jars for your family and friends.
Give a gift of homemade bath salts or sugar scrub in a baby food jar.
Make these cupcakes in a jar to give to teachers, neighbours and friends.
Make a craft kit for a child by filling jars with pom poms, sequins, foam stickers, and beads.
Hot Cocoa in a baby food jar: layer hot chocolate, shaved chocolate and mini marshmallows in a jar. Cover the lid with a swatch of fabric tied with a ribbon.
Other ways to use baby food jars around the home and garden:
Store pony tail holders, Q-tips, and hair clips in baby food jars on the bathroom counter.
Make a spill proof nail-polish remover kit with a baby food jar.
Plant succulents in baby food jars to display on a porch or patio.
Hang these colourful baby food luminaries from a tree in your yard.
Baby food jars are great for storing seeds for the garden.
Make Photo Globes by placing your child's photo inside a baby food jar.
Organize your spare change: each jar holds a different type of coin.
Use baby food jars to hold paper clips, thumb tacks etc. on a desk or in a drawer in an office.
Travel jewelry keeper for earrings and rings.
A Mini sewing kit in a baby food jar is great for travel or the office.
Fill baby food jars with Puffs, fishy crackers, Cheerios, nuts etc. Keep in the diaper bag for the kids.
Nail the lids of baby food jars to the underside of a shelf to store screws, nails and craft supplies.
 Store several baby wipes in a baby food jar and keep in your purse or diaper bag.
Baby food jar Christmas crafts:
Turn a baby food jar into a snowman Christmas tree ornament.
Make festive holiday votive candle holders.
Make sparkly tea light luminaries in baby food jars.
Baby food jars make great miniature  snow globes.
Make Reindeer food for Christmas Eve.
What if you STILL have leftover baby food jars?
If you have more baby food jars than you could possibly ever use, even after reviewing all of the ideas, please consider giving your collection to a teacher, a crafter or a daycare provider. Most will be happy to put your little glass jars to good use.
Looking for more crafts to make with your recyclables? Check out:
Re-purposed Denim Craft Aprons 
Re-purposed Denim Bibs
25 Creative Ways to Re-use your Keurig's K-Cups
22 Ways to Re-Use Cardboard Tubes
Follow the Hooligans on Facebook!
Jackie Currie
Jackie is a mom, wife, home daycare provider, and the creative spirit behind Happy Hooligans.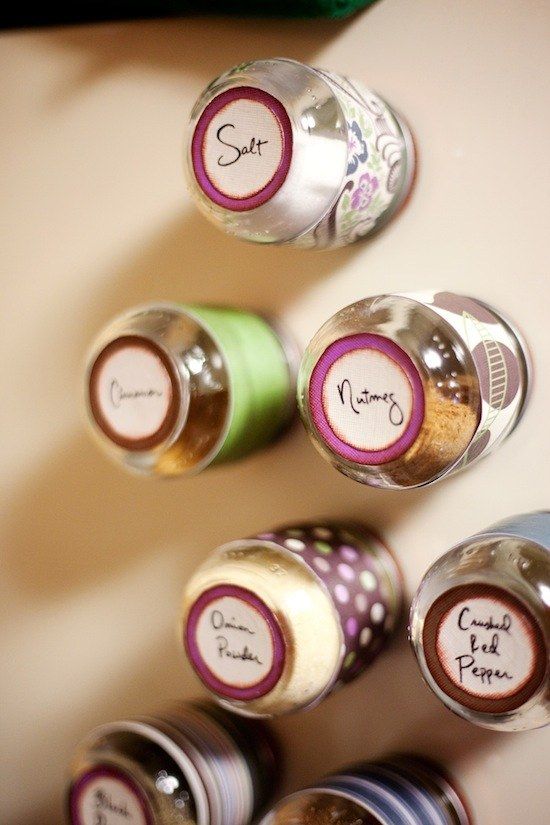 She specializes in kids' crafts and activities, easy recipes, and parenting. She began blogging in 2011, and today, Happy Hooligans inspires more than 2 million parents, caregivers and Early Years Professionals all over the globe.
22.6Kshares
Reader Interactions
30 Different Ways To Use Baby Food Jars
Home
Living
Buy Now
Instead of throwing out those little baby food jars, utilize them to their fullest! Clean then out and start getting creative. From tiny gifts to crafting and organizing, let's see some spectacular ways of using these bits. We've compiled a list of our favorite 30 baby food jar crafts and hopefully, you'll grab some inspiration and be creating something new out of your old jars.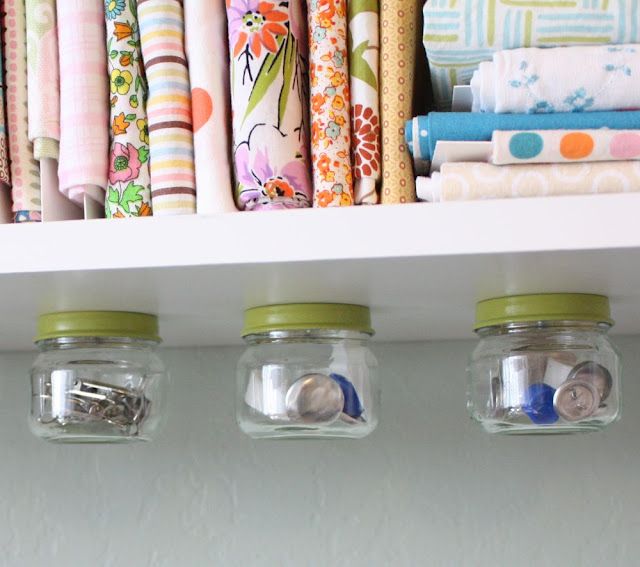 1. Vintage Jars
At the Picket Fence shows us how to turn those little glass jars into something fresh and unique for your kitchen or craft room. It's quite the transformation, don't you think?
2. Shower Favors
What better way to pass out the baby shower favors than using baby food jars? These princess cuties are quite the addition and thanks to The Diva Dish, you know how to make it happen.
3. Snow Globe
Craftaholics Anonymous shares an adorable DIY for all to see. Create these mini snow globes as decor for the house throughout the holidays or tiny gifts for friends and family.
4. Wall Vase & Candleholder
Used for either candles or flowers, this wall piece was made with some glass jars and a piece of wood. It's rustic, it's stylish and completely unique and thanks to Make Life Lovely, you can make it too!
5. Cheesecake
Use those jars as holders for some delicious treats.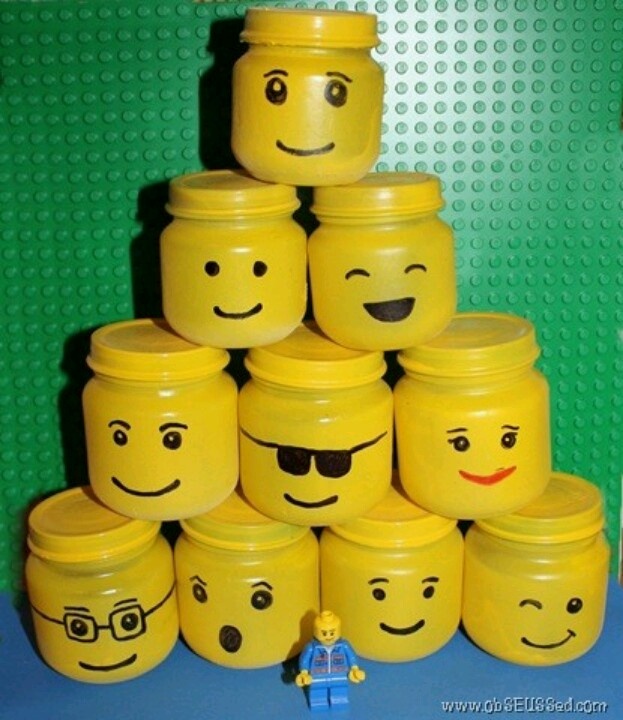 At I Am Baker you can learn how to create some no-bake cheesecake right inside for the perfect bite.
6. Topiarys
Sugar Tot Designs shows off a great way to utilize the jars as party favors but also a way to create small, topiary decor as well! It's easy and festive!
7. Gift Packaging
Little Miss Momma featured such a beautiful, genius idea that we had to show it off too! Use those baby food jars as a way to wrap small gifts. And then have fun embellishing, of course.
8. Glitter Slime
We're in absolute love with these family-friendly design from The 36th Avenue. Use them as fun, birthday party favors or just as an afternoon project!
9. Lemon Scrub
Use some jars to hold your homemade sugar scrub! At Cincy Shopper  you'll learn not only how to create your own lemon scrub but also how to utilize a food jar for safe keeping.
10. Pencil Holder
Create something fun for the kid's room or play area with some leftover food jars.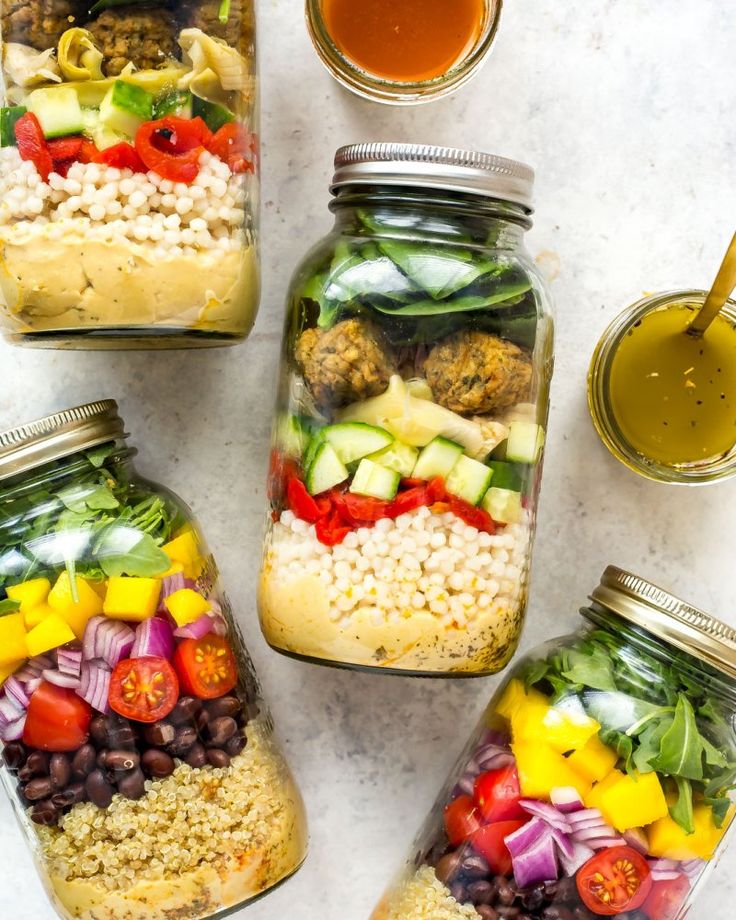 From Lego-themed to barbie, you can use this tutorial from Handmade Charlotte for inspiration!
11. Bubble Jar
Here's another charming idea to use as small gifts or party favors. These bubble jars from Chickabug Blog are too cute!
12. Lanterns
We snagged this idea from Jamie + Loren and we're in love. It's romantic, it's easy, it's inexpensive and perfect for a variety of events.
13. Pin Cushions
This baby food jar pin cushion from Craft Pudding is charming and functional. Have fun creating this for your craft room or as a tiny gift for a friend.
14. Advent Calendar
Craftaholics Anonymous made this Christma advent calendar out of baby food jars and we were completely inspired. You could use for a variety of events from birthdays to Halloween!
15. Sand Art
Make your own sand art with some older baby food jars! This is a great family crafts and thanks to Kix Cereal we have the inspiration to get started.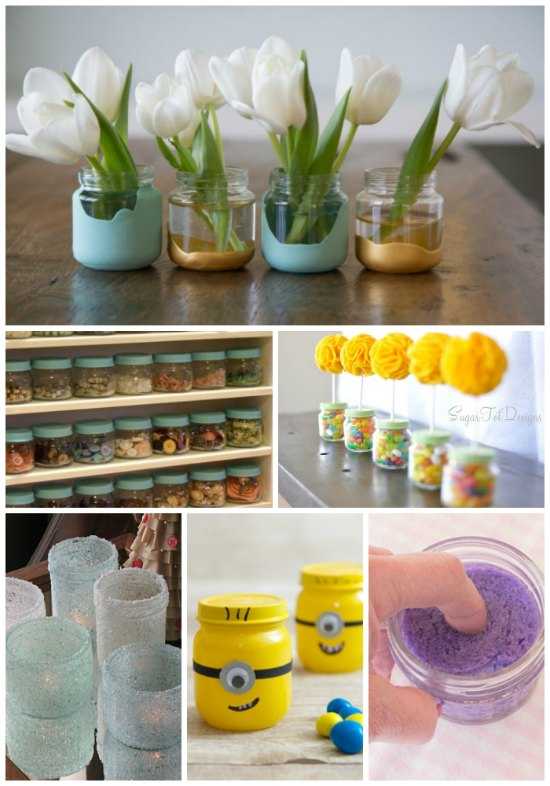 16. Tissue Paper Candle Holders
Tinker Lab gave us another wonderful way to turn those jars into tiny candle holders. Cover them with tissue paper, ad some mod podge and have yourself a romantic scene.
17. Glitter Covered
Delicate Construction shows us how to upcycle those jars and make them into something a lot more stylish. Dip them in glitter, of course!
18. Pecan Parfait
Fill up those jars with a delicious treat for your next dinner party or shower. These pecan parfaits look delicious and can be found at Celebrations at Home.
19. Craft Rack
Crafty Nest shows us some great inspiration for your craft room. You can make an entire shelving space and fill it up with your odds and ends using baby food jars for easy organizing.
20. Ponytail Organization
Here's a great way to keep your hair accessories organized and ready to grab. Tidy them up by color and use chalkboard paint to label them just like they did at Popsugar.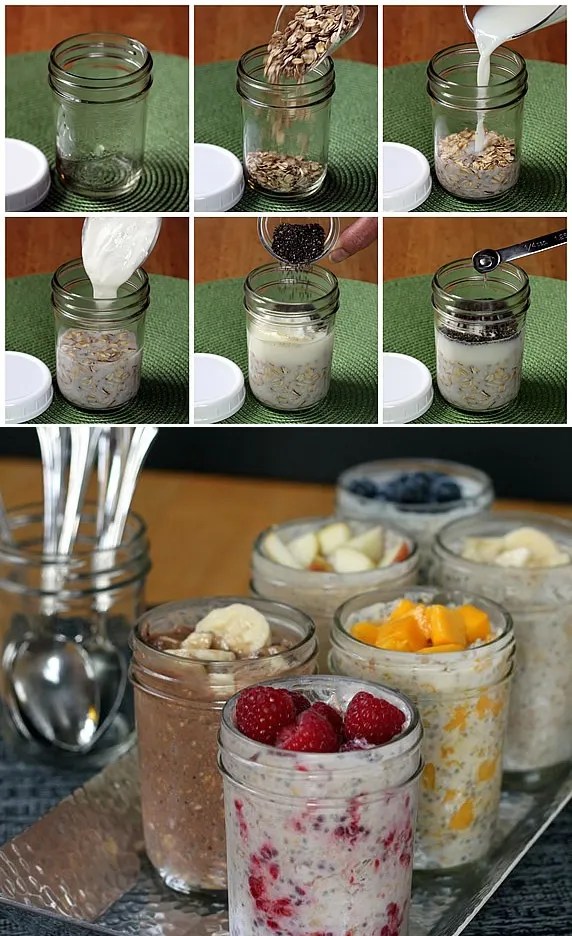 21. Rice Shaker
An easy toy to make for your baby that will keep them involved and stimulated for awhile …. a rice shaker! Thanks for the inspiration over at How We Montessori.
22. Gumball Favors
Fill them with gumballs and top them with embellishments of your choice – according to the party's theme – as favors! That's what Make It Lovely did and with love the simplicity and also the creativity.
23. Rainbow Cake
Make Life Lovely also gives us inspiration concerning baked good. These rainbow cakes are adorable but delicious too and can be used for a variety of occasions.
24. Crayon Storage
Monkey See Monkey Do gave us some colorful and festive organization idea for the kids playroom or our own craft rooms! Paint the jars and then tidy things up a bit!
25. Magnetic Jars
Used for spices or crafts storage, these magnetic jars are the perfect way to help organize small things in small spaces.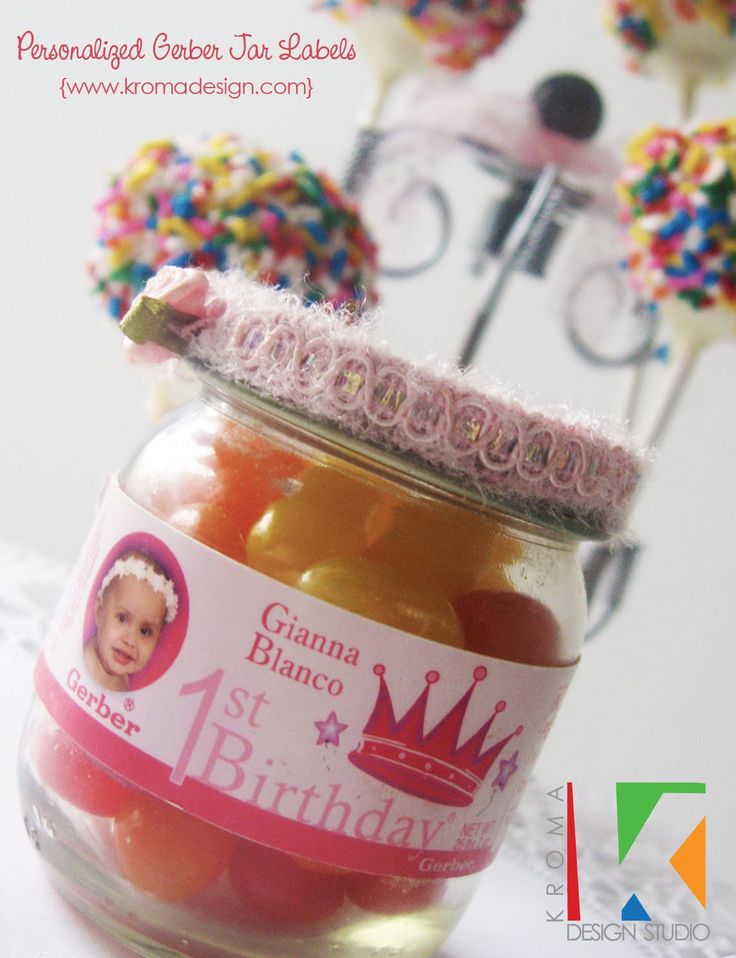 Check it out at DAV.I.SON.
26. Hummingbird Feeder
Check out this awesome DIY from Birds & Blooms! Feed the hummingbirds you love out in the garden with these easy and adorable tutorial.
27. Dipped Vases
These gorgeous vases from Apples & Onions are, possibly, my personal favorite from the list. They're inspired, they're stylish and totaly doable at home.
28. Salt & Pepper Shaker
Add a bit of charm to your table with these baby food jar salt & pepper shakers from Dream A Little Bigger. This is such a great way to upcycle and give yourself another functional item.
29. Votive Holders
This photo from Flickr inspires us to create votive holders out of older jars. Paint a design and use them around the house for a pop of romance and warmth.
30. Spice Jars
Pinterest shows us how to use all of those old food jars for organizing the pantry. With a bit of chalkboard paint, you'll have a great way to keep your spices easy-to-reach and tidy in a drawer.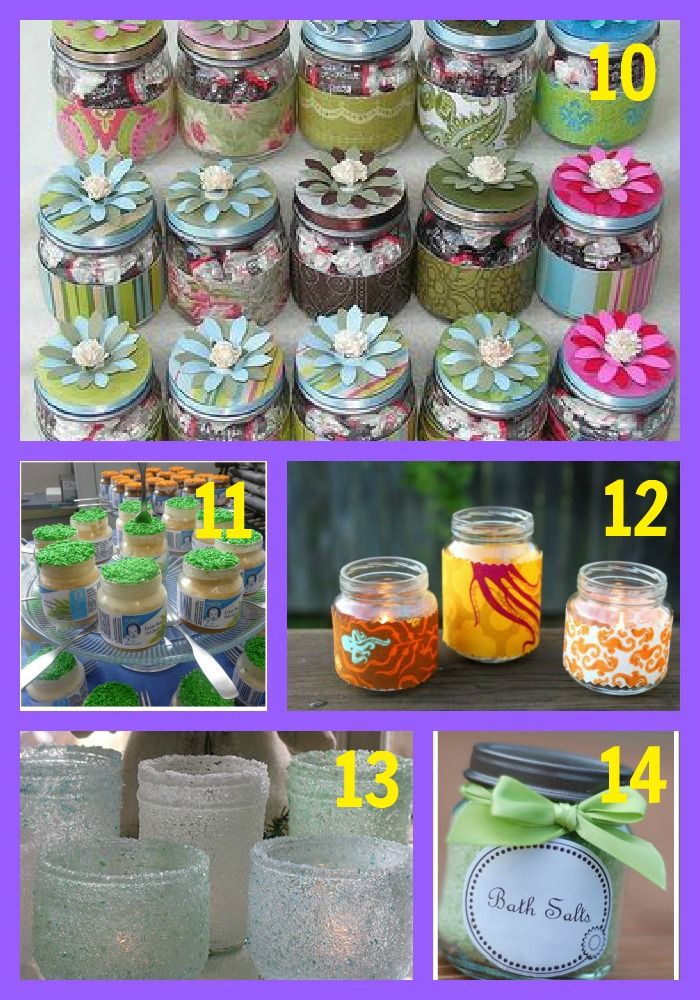 26 ideas on how to use baby food jars
The child has grown up, eats with everyone at the same table, and there is no longer a need to buy baby food in jars for him. During the time while you accustomed him to various tastes, a huge amount of containers for juices and purees accumulated. Where to put jars of baby food? InterestsPortal invites you to take advantage of our ideas.
Candle holders from jars
The simplest idea that most often comes to mind is to make candle holders. Place colored sand, beautiful pebbles, decorative glass pebbles on the bottom and light tea candles.
DIY candle holders
Baby food jars can be decorated to fit any theme. In this photo, the candlestick is made in a marine style. Paint the jar with paint. Apply colorless varnish around the bottom and, while the varnish is still wet, sprinkle sand on it. Tie the neck of the baby food jar with pretty ribbon or twine. Glue decorative glass pebbles, shells, starfish.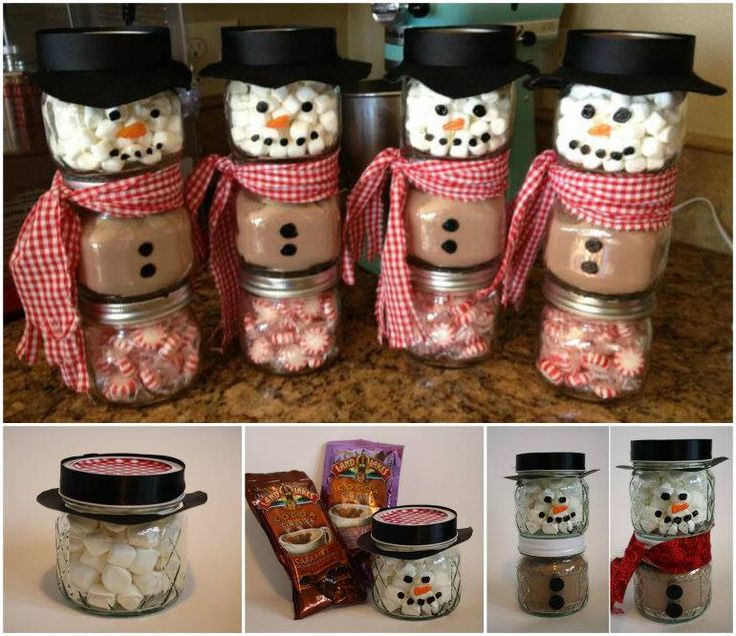 Vase for your interior
It is always a pleasure to keep fresh flowers in different parts of the house. You can decorate small vases with your own hands to match the style of your interior.
A group of vases for an original interior
We are used to having a bouquet of 5-7 flowers in vases. Try using several juice bottles. Put one flower in each jar, and you will get a bouquet of vases. Is it really original?
For table setting
Use the idea of ​​table setting. Place cutlery and napkins in each bottle. If you also write the names of the guests on the jar with a permanent marker, then you will also get cards for seating guests at the table.
For bathroom utensils
Place ear buds, cotton pads and other small things that are needed for daily hygiene in glass jars and you will see the contents. By screwing beautiful handles to the lids, you will no longer need to unscrew the lid of the jar every day - just cover it.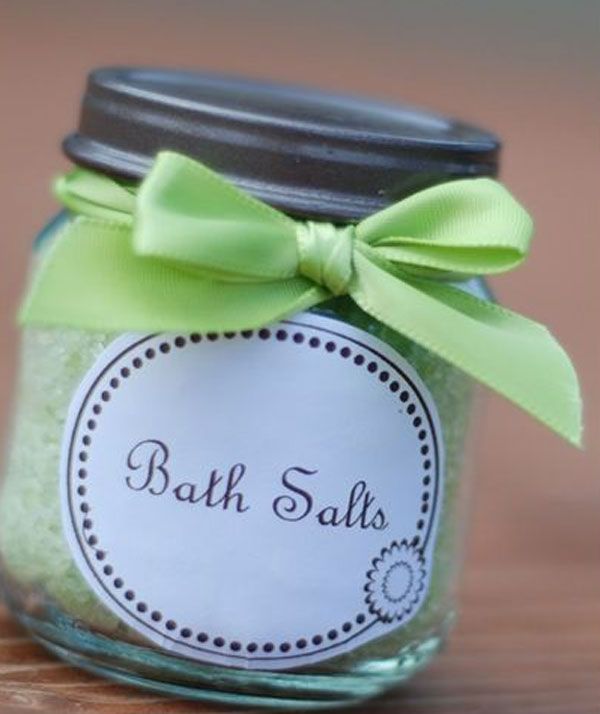 Brilliant idea for organizing space in the bathroom.
DIY napkin holder
Paint the baby bottle your favorite color. Make a slit on the lid of the jar, twist the napkins and place inside. Pull the center napkin through the slot. Such a napkin holder can be used both for table setting and placed on an office desktop.
Lunch to go
Use the food jar as a food container. Our idea is to prepare a healthy cheesecake and put it to the children at school. Place crumbled shortbread cookies on the bottom, then curd cheese, decorate with berries from cherry jam on top. We think your kids will definitely like this dessert to take away.
Healthy food to go
It's always nice to start every morning with a healthy breakfast, like this smoothie. Can't have breakfast? Close the lid and take it with you.
Here are some more healthy smoothie recipes.
Baby food jars as glasses
Why buy wine glasses or drink glasses when you have a huge number of bottles? Pour cold lemonade into them, insert a straw and treat your friends.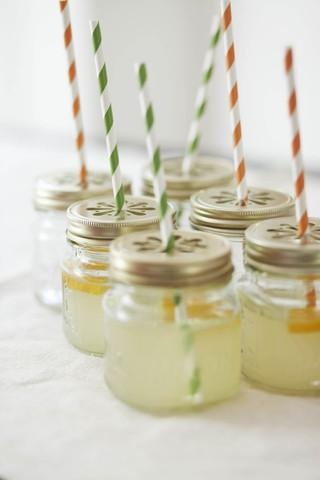 Spice jars
Another idea for using baby food jars is to use them as spice containers.
Storage box for buttons, needles and threads
Organizer for all sewing accessories in one jar. Use this idea to lose nothing and find quickly.
Nails, screws, bolts container
Screw the jar lid to the bottom of the shelf in your shed. Now you don't have to look for anything, all content will be immediately visible. Why not a paradise for a perfectionist?
Garden lights
Twist the handles for the candlestick out of the wire. Place a tea candle in a jar - the lantern for your garden is ready.
Romantic garden
Do you want to create a romantic atmosphere in your garden? Hang these lanterns over your resting place.
Here are some more ideas for creating garden seating areas.
Garden Party
By combining the two previous ideas, create a blooming fragrant garden.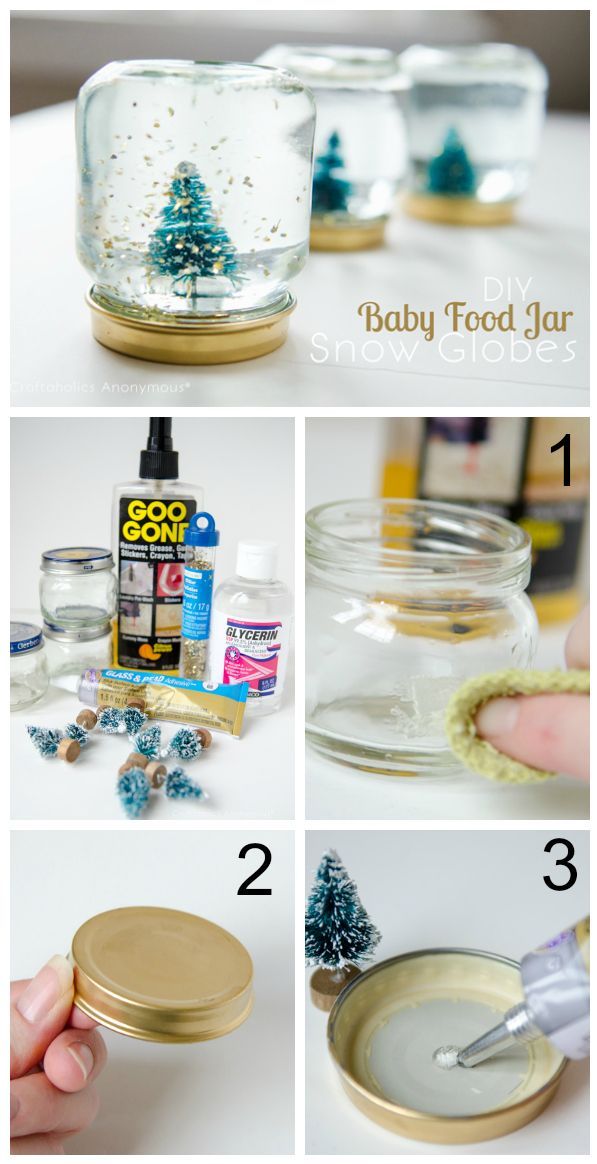 Use bottles as vases.
Pencil holder
Colored jars are the perfect solution for storing stationery. These glasses can hold pens, pencils, crayons, scissors and more.
Do-it-yourself small terrarium
You can make such a terrarium with your children on vacation.
More ideas on what to do with your child during the holidays read here.
New Year's decor
Preparations for the celebration of the new year always begin with decorating your home with themed decor. Glass jars provide an incredible amount of ideas.
DIY gift for the New Year
Every year we spend a lot of money buying souvenirs for loved ones. Make a New Year's gift with your own hands from a baby bottle. Place artificial snow, a spruce twig, a snowman toy, glass beads inside - an original gift is ready!
Girl's birthday
Rinse bottles that used to contain juice. Fill them with a milkshake or other drinks for a girl's birthday party.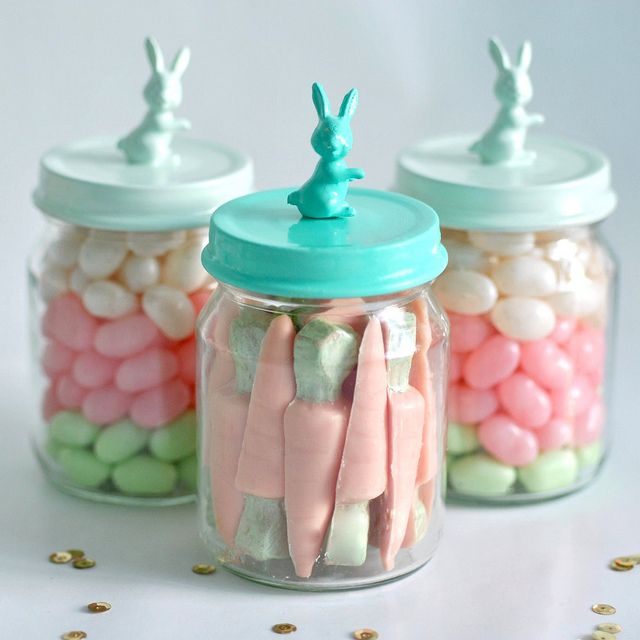 Insert tubes. Your princess's guests will be delighted.
Boy's birthday party
Have you already decided that the boy's party will be pirate-style? Then this idea is for you. You can place such candy bottles in a candy bar, or give out to little guests as birthday gifts.
Healthy dessert
What's a party without dessert? Place the berries in portions in baby food jars, add curd cheese or natural yogurt. No one will refuse such a dessert.
DIY gift for Valentine's Day
It is customary to give heart-shaped sweets on Valentine's Day. Pack your gift in a glass jar and tie a crochet heart. It's so cute.
Small present for a colleague
Succulents are said to relieve static energy accumulated on the desktop. Give a colleague such a plant in a glass jar pot. Tie with a pretty ribbon.
Change box
How do you like the idea of ​​collecting change money? How often do you find her at home in various places? Collect and put it in such a cute piggy bank.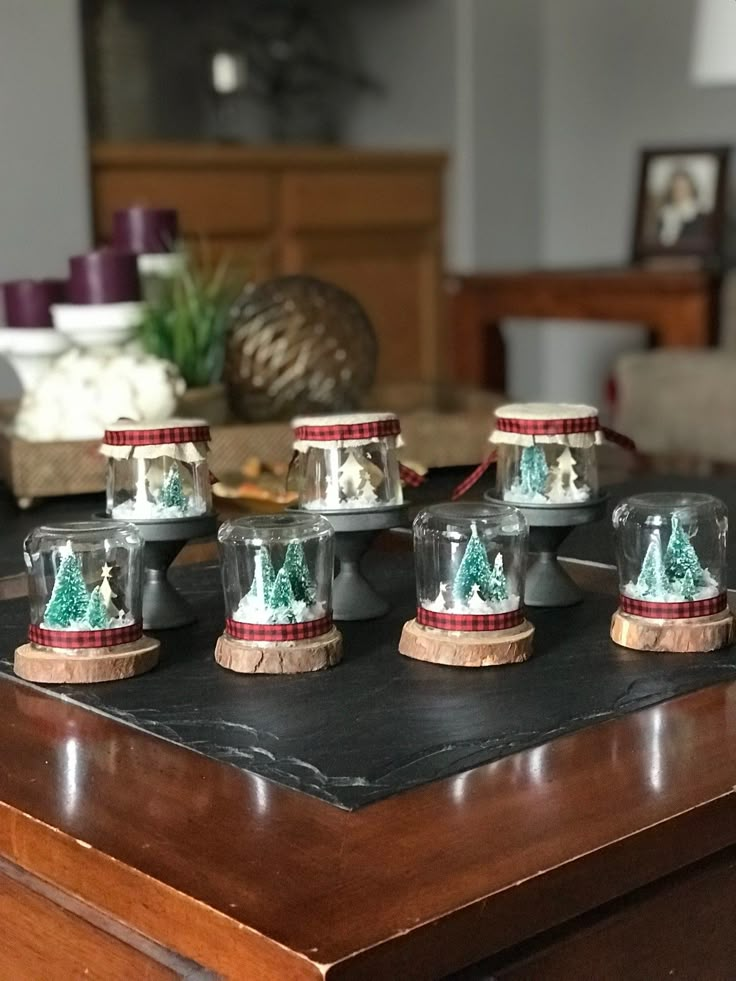 In truth, a penny saves a ruble. By giving a second life to baby food jars, you save on buying accessories and items that you can easily make yourself. To do this, you just need a little time and imagination. Dare, and you will succeed!
10 fun ideas for using baby food jars in everyday life
Families with small children must have a lot of baby food jars and/or puree jars. Many of them are simply thrown out as unnecessary. However, if you show creativity and imagination, these jars can be very profitable and useful to use in everyday life. Let's consider some options.
Contents
Christmas decorations
Planters

glycerine

Seedling pots

Baby food jars are great for growing all sorts of seeds and seedlings. Pour black earth, fertilizers into containers and build a mini-version of the botanical garden.

seedling soil

Garden candlesticks

The options here are only limited by your imagination. For a candlestick on the table in the gazebo (or on the terrace), decorate the jar with decoupage, pour some sand, seashells or river pebbles inside. And then install a candle in an aluminum sleeve.

candle

Pencil holder

To make a beautiful container for pencils, pens, felt-tip pens on a children's table, you will need a tin (or several) from baby food. To decorate it, use gift wrapping paper or colored cotton fabric. Wrap the jar and glue the edges. You can also wrap a piece of twine (ribbon) and tie a beautiful bow.

colored paper

Comb cup

Take a glass or tin jar. Glue it completely with non-standard buttons of various shapes and sizes. Then cover with gold spray paint. It is advisable to apply 2-3 coats of paint.

spray paint

For towels

Iron cans are painted with acrylic paints. For decorative decoupage, use napkins, decoupage cards, fabric. Glue paper or fabric edging tape around the top and bottom of the jar. Attach the finished containers with screws to a piece of plywood or chipboard and hang on the wall in the bathroom.

decoupage wipes

Organizer for men

A great option if there are a lot of little things in the garage (nails, screws, bolts, nuts, screws, washers, engravers), which are constantly scattered. Screw the bottom shelves of the lids from glass jars and sort all the little things. Screw the jar into the lid. Everything will be visible and always at hand.

screw

Fireflies

You will need a luminous paint prepared on the basis of a phosphor, which has the property of accumulating light energy during the day and releasing it at night. Inside the glass jar, make tiny dots with this paint (the more, the more beautiful it will be). Another option: cut a neon stick, pour the contents into a jar, then add sparkles. To start the firefly, just shake the jar, after closing the lid.

Glow Paint

Seasoning Storage Containers

Sort the spices into baby food jars/puree, stick on nice labels with their name or image to avoid confusion.