Party food for a baby shower
37 Crowd-Pleasing Baby Shower Food Ideas
Planning a baby shower is lots of fun, especially when it comes to brainstorming food ideas. Whether you're looking for food ideas that match your chosen baby shower theme or you're just looking for quick, easy, and flavorful options that everyone will love, you've come to the right place. Check out our 37 baby shower food ideas, including savories, sweets, and thirst-quenching drinks.
9 Tips and Ideas for Planning a Baby Shower Menu
When planning a baby shower, you can be as creative as you like with the food ideas, but it's also important to consider some practical aspects.
As the host, you'll have a lot to take care of, including decorating the venue, so it's good to plan food that is quick to make and easy to serve and eat.
Here are some tips to help you think about the types of food to choose, how to serve it, and more:
Savory Baby Shower Food Ideas
Whether you plan on having only finger foods or an entire menu at the baby shower, here are some ideas for the savory food:
Baby Shower Dessert Table Food Ideas
Besides having a baby shower cake as a centerpiece, you may want to have a dessert table with an assortment of other sweet offerings.
Here are some ideas for crowd-pleasing sweets and desserts:
Drinks
Beyond serving the usual wine spritzer or sparkling wine at the baby shower, consider some alcohol-free drinks, like mocktails, punch, and homemade sodas:
The Bottom Line
You'll no doubt have lots of fun planning and serving the food for the mom-to-be's baby shower.
If you've decided to prepare most of the food, round up some of the mom-to-be's friends and family to help. Make it easier on yourself by using some store-bought elements, too. You could also make some of what's on offer but ask each guest to bring a small plate to share.
Set up food and dessert tables so that guests can serve themselves buffet style, and stick to foods that aren't too messy to eat while standing up and mingling.
If you have a set theme, you can tie the food into the theme by using colored frosting, or by piping lettering onto foods like "Oh, Baby!" Cookie cutters are your friend! Cut everything from brownies to sandwiches into shapes that match the theme.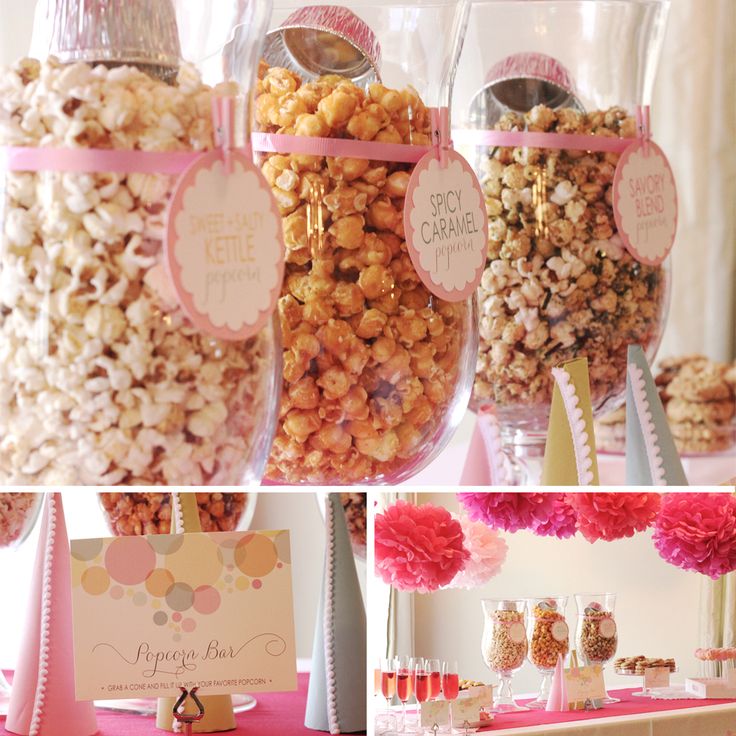 You can also connect the food and drinks to the theme based on the colors you choose for the straws, napkins, and cupcake liners.
Having a chocolate fondue fountain or a soda bar can create an interactive element that guests will love.
Have fun with it! Your options are endless, and you might find you really get into it once you get started. And, always remember, no matter what food and drinks you serve, your guests — especially the guest of honor — will really appreciate your efforts and thoughtfulness.
While you're here, check out our baby shower checklist to double-check that you've covered everything for the upcoming event.
50 Best Baby Shower Party Foods
Hosting a baby shower and planning your baby shower party menu? You're in the right place! Whether you're hosting a shower for a boy or a girl or gender neutral, you'll find the perfect baby shower party foods to feed mom-to-be and your party guests!
Always be sure to ask the soon to be parents and baby shower guests of any dietary restrictions or food allergies.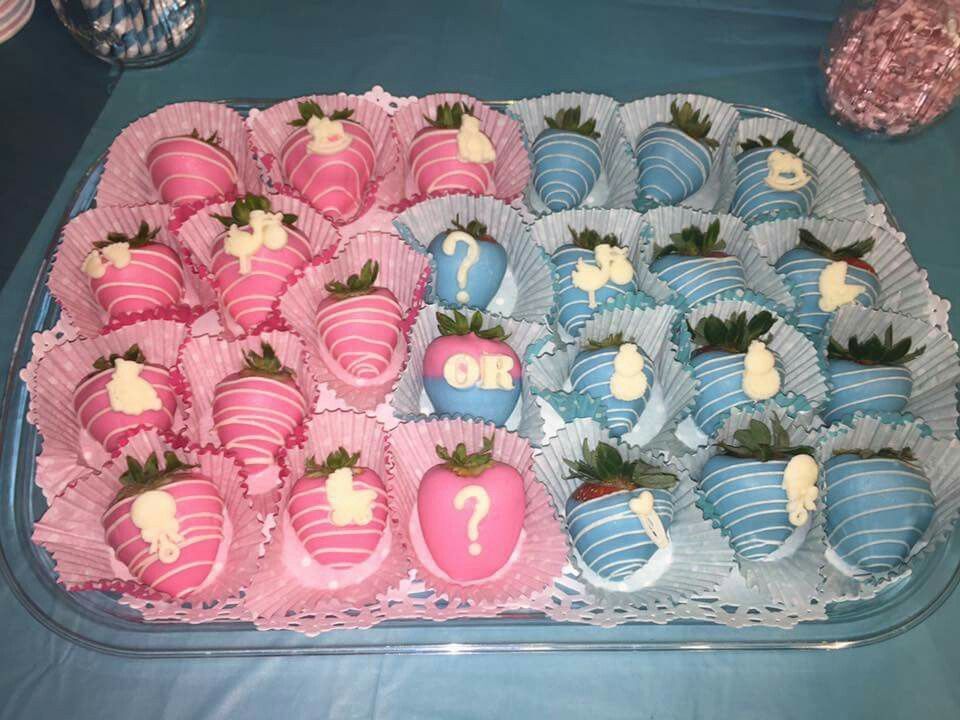 It's always nice to be sure everyone at the party has options to enjoy.
Serve your baby shower foods on a dining table or kitchen island on a variety of tiered trays or platters. Down South, we love to use our grandma's gigantic silver trays and you can find similar ones at just about any estate sale! Simple white platters or even large plates will do the trick too!
Another hostess tip? Print out simple food tent cards to label your foods so guests know what you're serving! You can find super cute themed food label cards on Etsy too. This is always a welcomed addition to any party food table and it can help carry out your theme!
Baby Shower Party Appetizers
Appetizers are perfect for baby showers. Whenever I host baby showers, I like to offer 3 to 5 different party appetizers along with a couple of desserts and a signature cocktail. I find that's the perfect amount for guests to enjoy while mixing and mingling with mom-to-be!
Here are a few of my go-to party appetizers for baby showers!
Pimento Cheese Sausage Balls
A Southern twist on the classic sausage ball, these pimento cheese sausage balls are completely fool-proof and so delicious!
Get the Recipe
Baked Brie Bites
Always a winner, these phyllo cups are filled with baked brie and fig jam.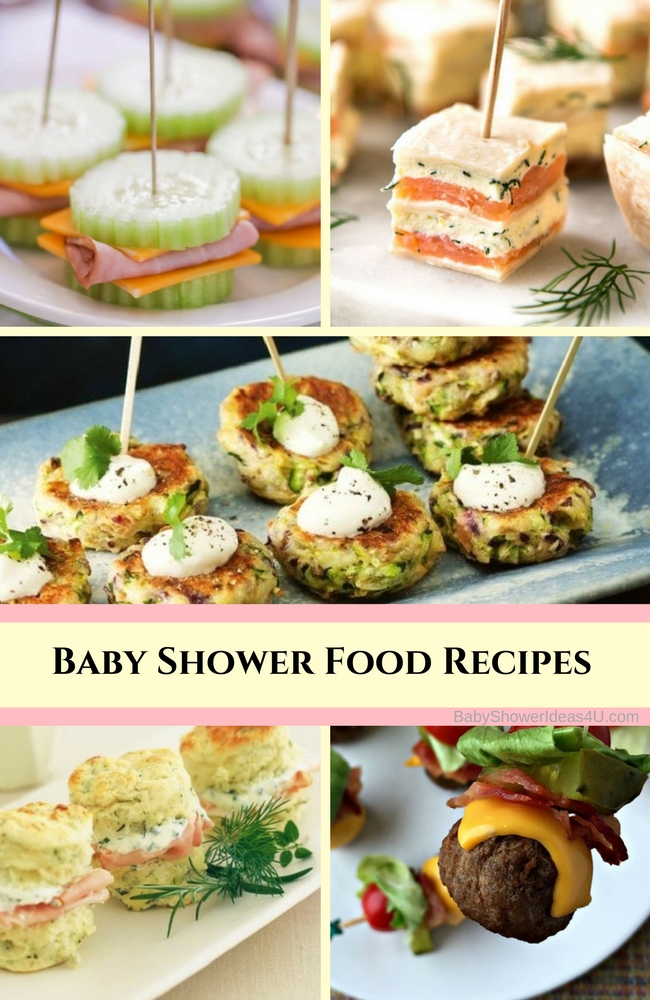 So simple to make and so delicious!
Get the Recipe
Cream Cheese & Pepper Jelly Phyllo Cups
Another phyllo cup appetizer that's ready in minutes are these cream cheese and pepper jelly bites topped with a toasted pecan. These are much easier to eat than serving a block of cream cheese topped with pepper jelly.
Get the Recipe
Whipped Ricotta Crostini
An elegant and simple crostini topped with whipped ricotta, thinly sliced apple, chopped pistachios and a drizzle of honey!
Get the Recipe
Party Toast Cups
Fill these little party toast cups with any prepared spread or dip like pimento cheese, spinach and artichoke dip, etc. They're so simple, twice baked and extra crispy!
Get the Recipe
Blueberry Goat Cheese Log
The gorgeous bright blue color of this goat cheese log makes such a beautiful baby shower appetizer! You could also recreate with raspberries for a gorgeous pink hue.
Get the Recipe
Spinach Cheese Squares
This old-fashioned party appetizer is making a comeback! I love these spinach and cheese squares!
Get the Recipe
Avocado Toasts
Mini Avocado Toasts
Simple to make and perfect for a baby shower appetizer idea, these mini avocado toasts are perfect.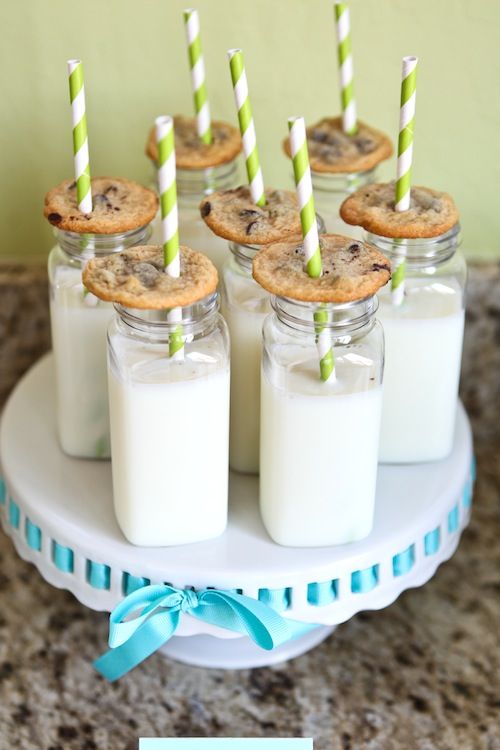 Tip, sprinkle on everything bagel seasoning to take them over-the-top!
Get the Recipe
Easy Goat Cheese & Honey Bites
These elegant goat cheese and honey bites make the perfect baby shower appetizer!
Get the Recipe
Mini Cheeseburgers
Always a hit, serve up mini gourmet cheeseburgers with all the toppings!
Get the Recipe
Nacho Wonton Cups
Mom-to-be craving all her Mexican favorites? Serve up these nacho wonton cups!
Get the Recipe
Pink Popcorn
Hosting a baby girl shower? This pink popcorn is perfect for serving on your food table or packaging up as a cute favor! Don't worry, boy mamas, you can make it blue too!
Get the Recipe
Chicken Salad Cups
Recreate these adorable chicken salad cups with tuna salad, egg salad, or any other type of salad!
Get the Recipe
Watermelon Feta Bites
Simple and easy to eat, these watermelon and feta bites are the perfect bite sized appetizer for a baby shower!
Get the Recipe
Veggie & Dip Cups
These party-ready veggie cups are always a hit! Fill up mini cups with your favorite dips or hummus then load it up with fresh veggies!
Get the Recipe
Chicken and Waffle Bites
Turn this Southern brunch favorite into the perfect baby shower appetizer!
Get the Recipe
Cuban Sandwich Skewers
Skewers are always a good idea, they're easy to eat and these Cuban Sandwich Skewers also happen to be easy to make in advance for your baby shower!
Get the Recipe
Brie and Fruit Skewers with Prosciutto
Another skewer favorite are these Brie, Fruit and Prosciutto Skewers!
Get the Recipe
Baby Shower Desserts
Serve up a little something sweet for mom-to-be and the baby shower guests! Here are a few ideas for your baby shower dessert menu…
Bubbly Champagne Cupcakes
Champagne Cupcakes
This delicate and moist champagne cupcake recipe is sure to be the superstar of the dessert spread at your baby shower.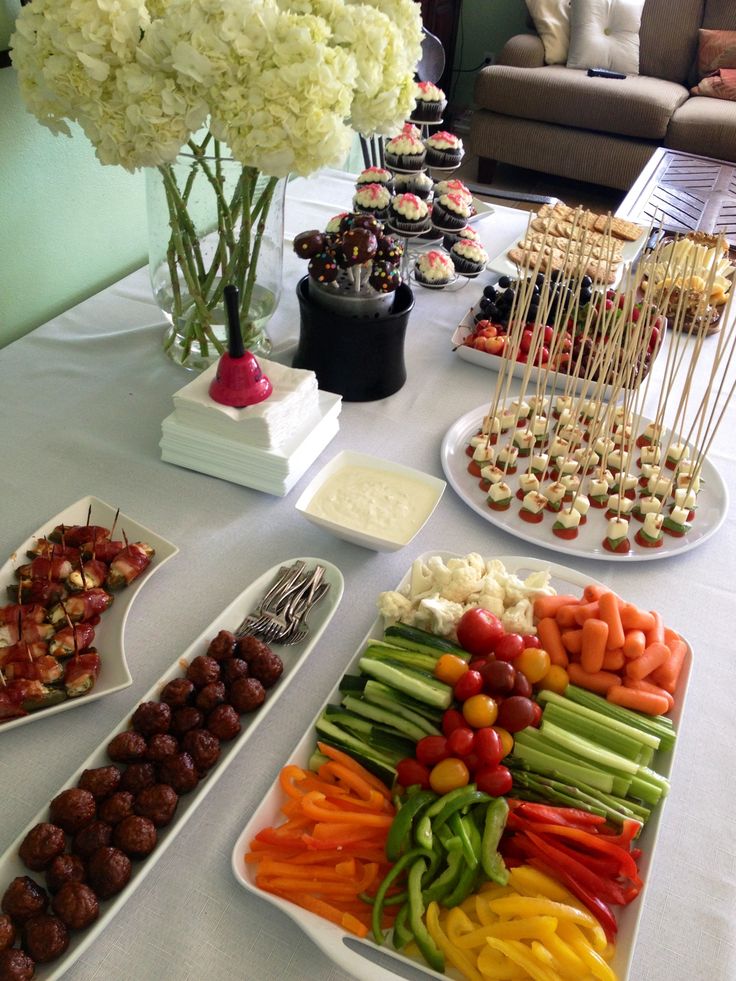 Tint the frosting pink or blue if desired!
Get the Recipe
Mini Vanilla Crème Brûlée Cheesecakes
For a show-stopping dessert, make these bite sized Vanilla Crème Brûlée Cheesecakes and garnish with edible flowers!
Get the Recipe
Baby Shower Sugar Cookies
There's nothing better than classic baby-themed sugar cookies at a baby shower. Whether you serve them on a platter to enjoy during the baby shower or wrap them up in a little bag for a baby shower favor, these are a must at any shower!
Get the Recipe
Southern Cream Cheese Pound Cake
In the South, there isn't a baby shower that doesn't include a pound cake make from a family recipe book. My favorite? My Cream Cheese Poundcake! It's absolutely delicious!
Get the Recipe
Pink Covered Strawberries
Chocolate, white chocolate or yogurt covered strawberries are an elegant and easy baby shower dessert that can be jazzed up by tinting the color pink or blue and adding sprinkles or sugar!
Get the Recipe
Mini Strawberry Bundt Cakes
I love mini desserts, especially for baby showers because they're easy to serve to a crowd.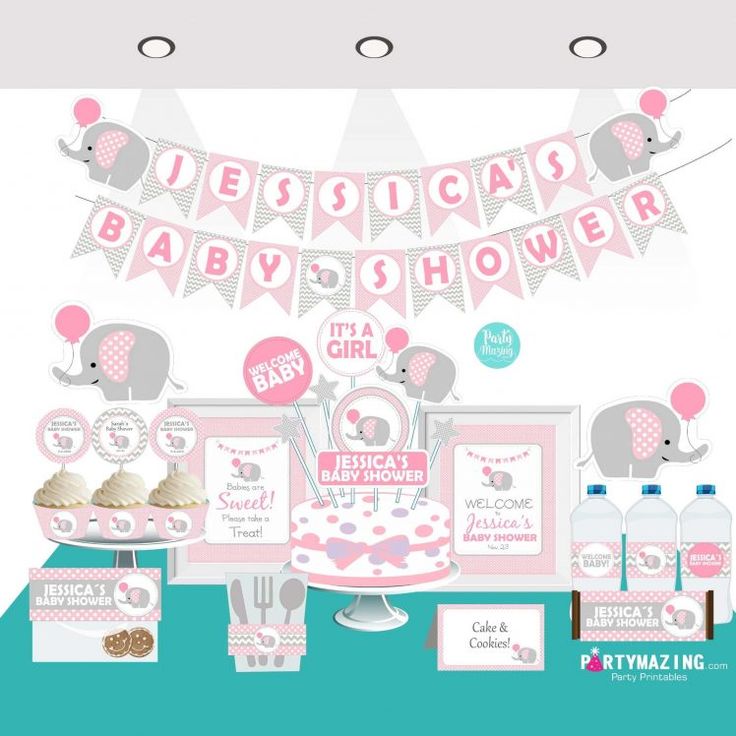 These mini bundt cakes with pale pink strawberry frosting would be a huge hit at a baby shower for a girl!
Get the Recipe
Chocolate Chip Pastry Puffs
Delicious bite-sized pastry puffs complete with a chocolate chip filling? Yes, please! These are so pretty when drizzled with pink or blue candy melts.
Get the Recipe
Baby Rattle Cake Pops
Adorable cake pops that look just like baby rattles? Absolutely! These are such a cute baby shower dessert!
Get the Recipe
Vanilla Snowball Cake
I made this vanilla snowball cake for my brother's baby shower. You know those powdered sugar cookies that look like snowballs? They are his favorite, so I had to top my vanilla almond cake with them! I LOVE how it turned out!
Get the Recipe
Blackberry Cookies (naturally blue!)
How cool are these naturally blue cookies? PERFECT dessert for a baby boy shower.
Get the Recipe
Blueberry Vanilla Cupcakes
Blueberry treats – like these blueberry vanilla cupcakes – are absolutely perfect for baby boy shower dessert!
Get the Recipe
Neapolitan Cupcakes
Perfect for a baby girl shower, these cupcakes are a twist on the classic neapolitan dessert!
Get the Recipe
Strawberry Cake
This strawberry cake is loaded with fresh berries and topped with a light whipped frosting.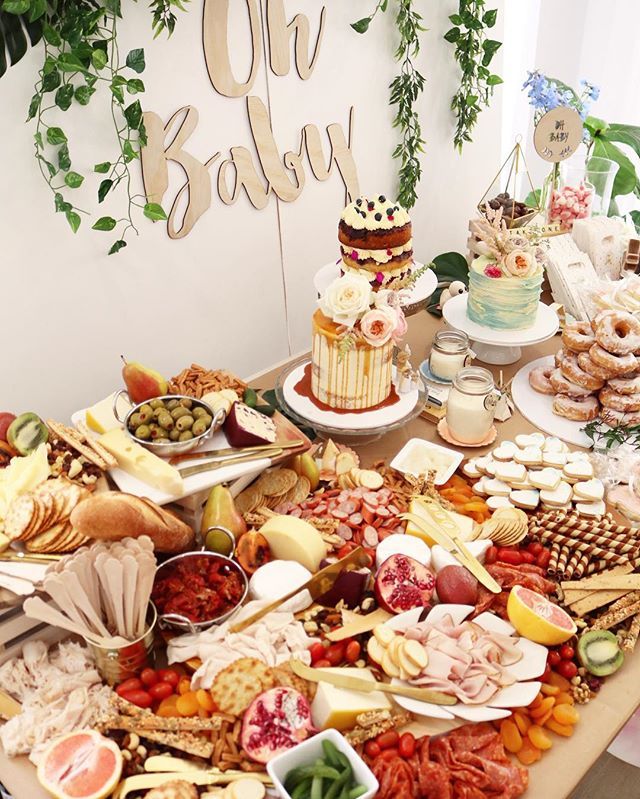 The pink color is so beautiful for a baby shower dessert!
Get the Recipe
No-Bake Blueberry Cheesecake
A light and refreshing cheesecake that is super simple to make, no oven required! You'll have enough on your to-do list hosting a baby shower, let dessert be simple and delicious!
Get the Recipe
Rosewater Cupcakes
These beautiful pink rosewater cupcakes are soft, delicate, floral and so unique! They are made with rosewater and a simple rose and vanilla buttercream!
Get the Recipe
Pink Ombre Cake
This beautiful cake boasts the prettiest shades of pink! It would make a lovely baby shower dessert!
Get the Recipe
French Macarons
Albeit a bit more tedious to make than simple cupcakes or other desserts, these French Macarons are gorgeous and a perfect baby shower favor!
Get the Recipe
Baby Shower Drinks and Cocktails
While Mom-to-be can't partake in a cocktail, your guests will certainly enjoy the offering so my suggestion is to have a signature cocktail for the baby shower as well as at least one festive mocktail or non-alcoholic drink option.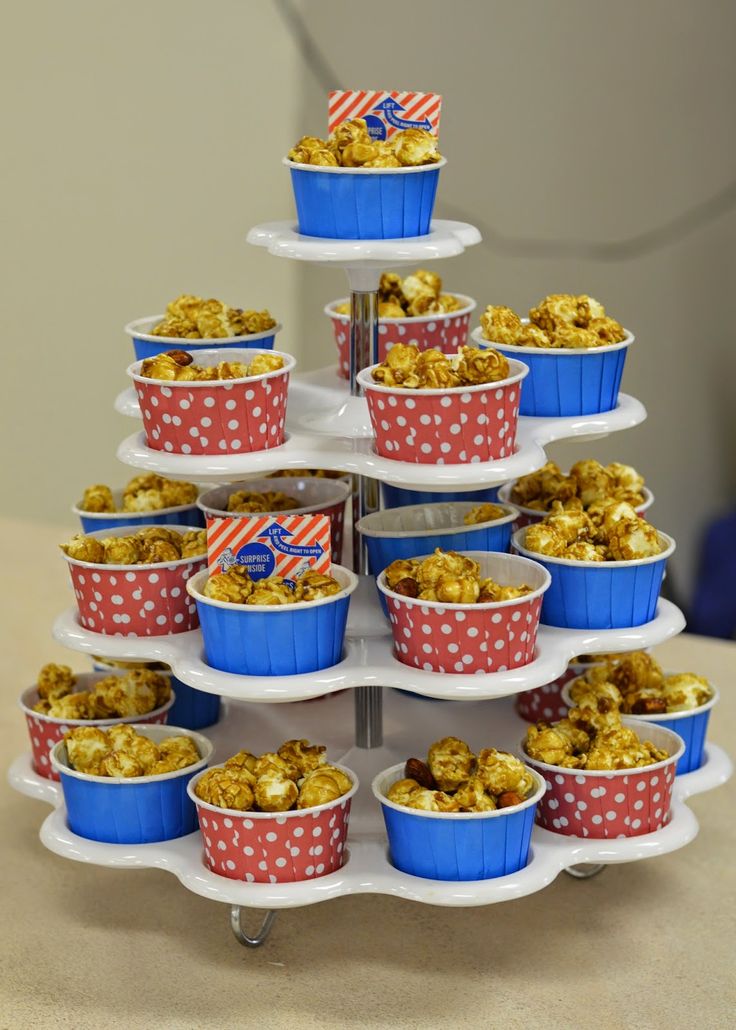 Keep a pitcher of ice water on hand as well.
Mint Julep Punch
A classic Southern cocktail that's oh so pretty when garnished with fresh fruit slices and an edible flower!
Get the Recipe
Champagne Punch
You can't go wrong with a simple champagne punch. It's naturally a gorgeous pink so it's the perfect pink baby shower cocktail!
Get the Recipe
Pink Party Punch
This punch punch is a go-to winner for a baby girl's shower! Best part? It's made with only 2 ingredients!
Get the Recipe
Sweet Tea Sangria
Hosting a baby shower in the summer? Serve up a refreshing baby shower cocktail like sweet tea sangria! Set up a sweet tea sangria bar with all the mix-ins like fresh fruit and mint sprigs. Mom-to-be can opt for just sweet tea all jazzed up with her favorite fruit slices and refreshing mint!
Get the Recipe
Old Fashioned Lemonade
Want a delicious non-alcoholic drink to serve? You can never go wrong with lemonade.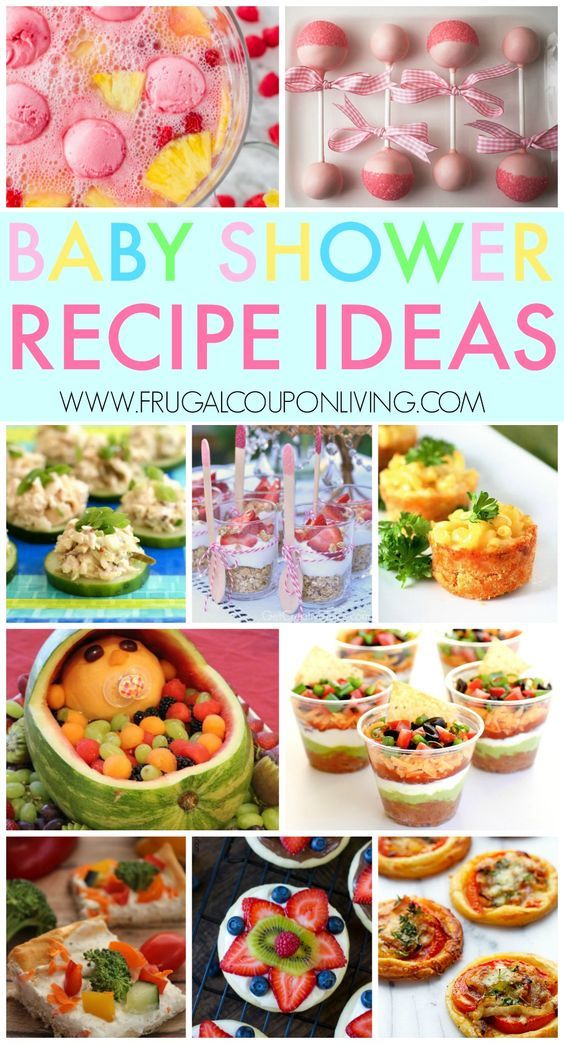 It was one of my pregnancy cravings too! Serve it up with fresh fruit slices for garnishing!
Get the Recipe
Strawberry Mocktail Spritzer
I love this baby shower mocktail spritzer idea – and it turns out the most beautiful pink color!
Get the Recipe
Kir Royale Cocktail
This elegant champagne cocktail is perfect for toasting mom-to-be!
Get the Recipe
Sparkling Raspberry Lemon Mimosas
An elegant twist on the classic mimosa, try this raspberry lemon version for a gorgeous pink colored baby shower drink!
Get the Recipe
Baby Shower Blue Punch
Finding a blue drink can be a little difficult, but not to worry – this blue punch will be a hit at your baby boy shower!
Get the Recipe
Blue Mermaid Cocktail
Now mom-to-be can't partake in this festively blue cocktail but the guests will surely love the offering! Serve up a mocktail version for mom on the side!
Get the Recipe
Pink Lemonade Mimosas
Make "momosas" for mom – pink lemonade style!
Get the Recipe
More Baby Shower Party Foods
Not quite fitting into appetizers or desserts are these delightful additions to any baby shower party menu! Some are fitting for a morning baby shower (think brunch or breakfast foods) but can certainly be served any time of day!
Granola Parfaits
You can never go wrong with a make-ahead granola parfait! Adjust the berry colors to pink or blue for an extra festive touch!
Get the Recipe
Mini Cinnamon Rolls
Use crescent dough to make these mini cinnamon rolls in mere minutes!
Get the Recipe
Waffle Bites
Delightful little waffle bites with decadent brie cheese up the ante on this classic brunch favorite!
Get the Recipe
Mini Blueberry Muffins
You can never go wrong with a basket full of mini muffins, especially these blueberry mini muffins!
Get the Recipe
Looking for more baby shower inspiration? Check out these baby showers below!
How to Host a Virtual Baby Shower
Elegant Blue & White Baby Shower
Baby Shower Crafts: Decorate Onesies
Planning a Baby Shower? Start Here!
what to cook for a 10 year birthday
How much do children need to be happy? To spend a wonderful holiday, the most anticipated of all, with family and close friends, and even in such a way that it will be remembered for a long time.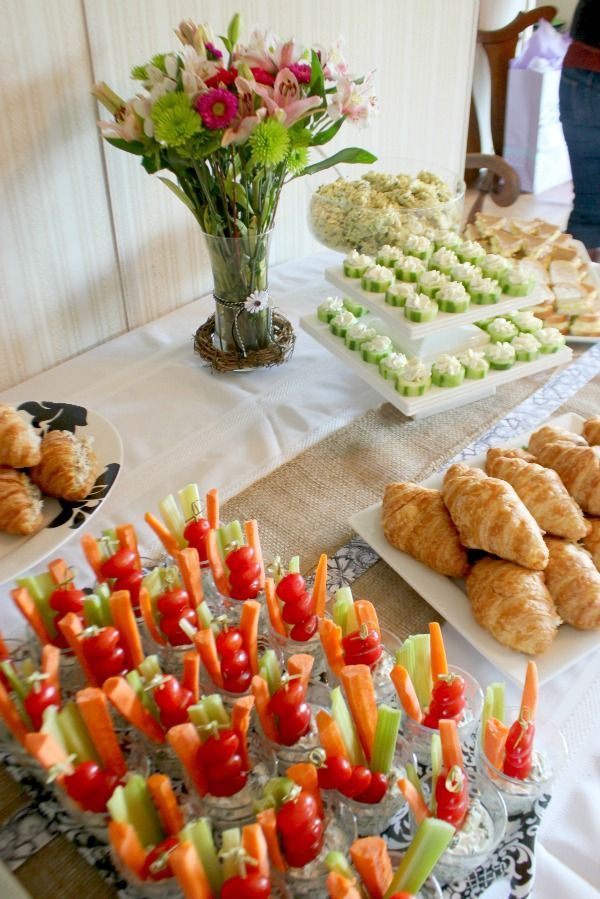 And caring parents will help in this - for this they need to prepare in advance and carefully plan everything. On the eve of a child's birthday, especially such a round date as 10 years old, every mother wonders, so what to cook on the table? And if you decide to celebrate this event at home, then the tips of the Zatusim resource will be useful to you.
Contents
What you need to know when choosing meals
Setting up a table for a 10-year-old child's birthday is, of course, easier than for younger children, for whom the list of food is limited. But it is still important to choose fresh and high-quality ingredients for cooking.
Try not to use extravagant foods and recipes when composing the menu, especially if you are not sure that your child and guests will want to eat it.
It is best to choose food familiar to your baby, but prepared in a special way.
By nature, we tend to separate food, and in children this is especially pronounced.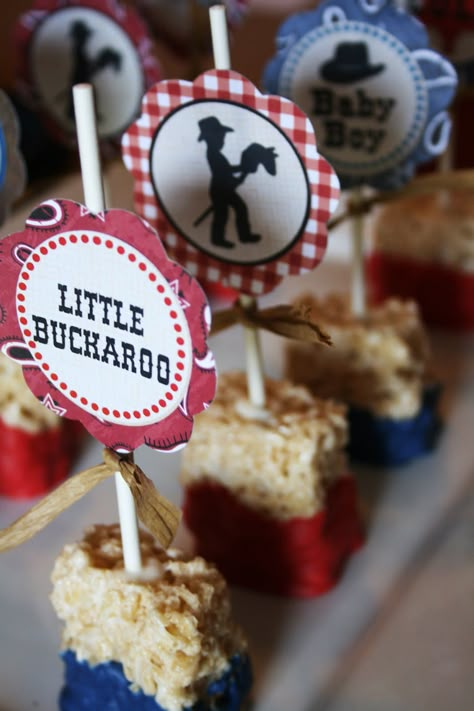 Therefore, the simpler the treats are, the more the guys will like them.
Choose less fatty foods and try not to use frying when cooking, because tasty food can be prepared correctly and be healthy.
If other children were invited to the birthday party, it would not be superfluous to ask mothers about the presence of allergic reactions or other restrictions on products.
Another important aspect is safety. Keeping track of active children in the heat of the holiday is not easy, so make sure your food and table are as safe as possible.
Children are very fond of fresh fruits and vegetables - when serving them, make sure that the treats are well washed and, if possible, pitted.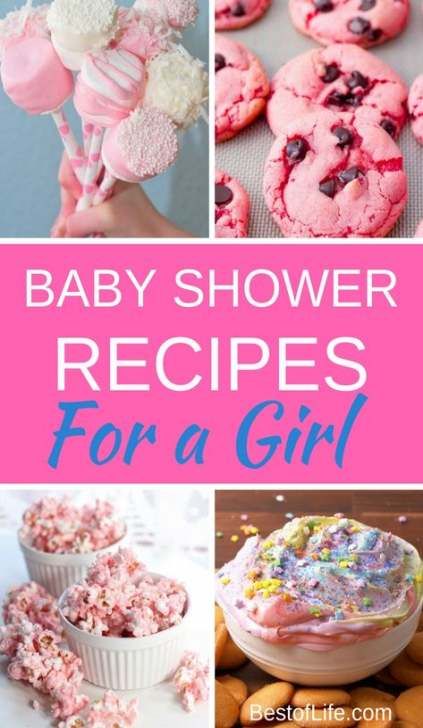 Avoid fish with bones, complex sandwiches, spicy foods, and foods with strong allergens.
Fish dishes should be discarded, because even after a thorough check, small bones may remain, and if someone chokes, the holiday may be completely ruined. And not all children like to eat fish.
Children's birthday menu options
Chicken dishes are a great option for a hot dish - most children have a positive attitude towards it.
Battered baked legs will definitely appeal to 10-year-olds - they are tasty and easy to eat with your hands. This treat is easy to prepare and can be fun to decorate with paper tassels.
Give preference to simple salads that can be put into bowls. Arrange the filling in shortbread baskets or tartlets.
It is much more interesting for children to treat themselves to such snacks than to sit in front of a plate full of heavy salads.
Make small sandwiches with homemade pork, cheese or pâté. But it is better to avoid smoked meats and sausages.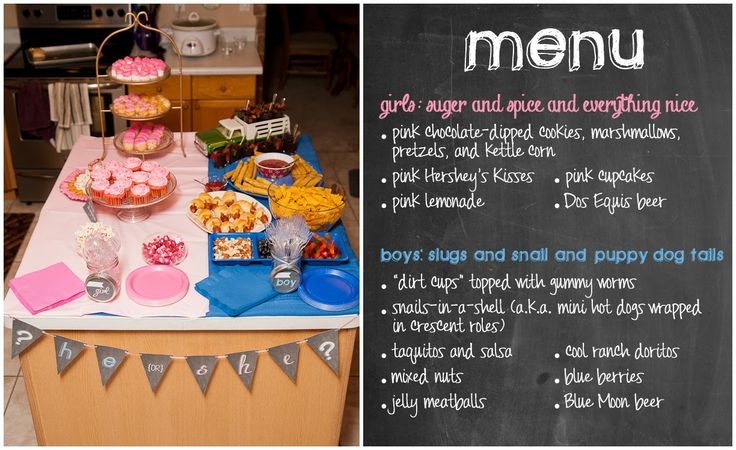 An excellent solution for a festive table are various canapes decorated on skewers - such a treat will definitely be eaten.
Avoid the abundance of store-bought sweets and candies, many delicious desserts can be prepared at home.
The birthday menu for a 10-year-old girl can be varied with all kinds of fruit and berry jellies, mousses. Milkshakes and chocolate puddings also make great table decorations.
It is better to replace carbonated drinks with natural juices and fruit drinks. The time of bottled cola and forfeit on the tables is over, and every mother who cares about the health of her children is able to prepare delicious and healthy drinks.
Cooking meals that children love
Almost any healthy dish can be transformed into a children's menu for 10-year-old guests. But there are treats that children especially like. We will include them in our menu.
Snacks, sandwiches and canapes
Small snack sandwiches and canapes make a great menu item for a 10 year old's birthday.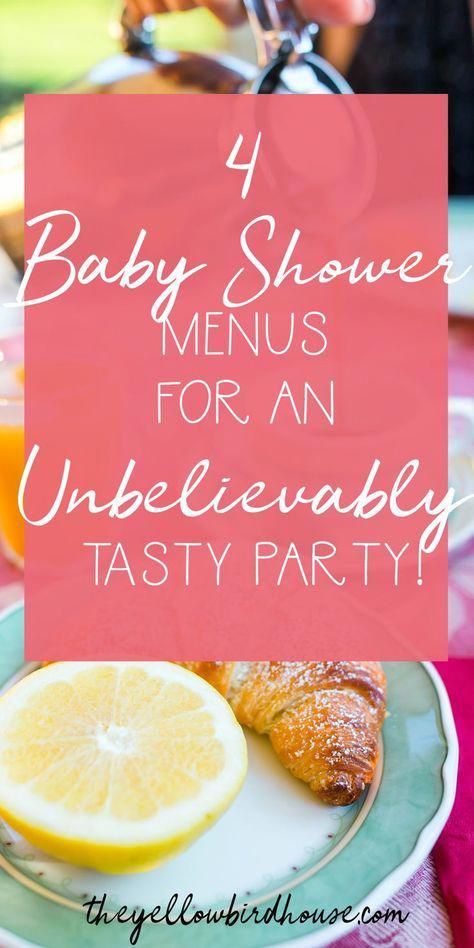 Make small sandwiches. The ideal size is 5x5 cm, so they are much more convenient to eat.
Products can be cut into various shapes (stars, circles, fish) using cutters and put on skewers. It is desirable that the skewers are not very sharp, which will exclude injuries.
You can string anything on skewers: fruits, vegetables, cheese, cold cuts, bread. Alternate colors - so the appetizer will look much more interesting.
Even more recipes in the material 7 sandwiches that are impossible to resist.
If the party is outdoors or in the woods around a campfire, prepare covered sandwiches - burgers and sandwiches delight children.
Homemade pizza for a birthday
For a 10 year anniversary, a girl or a boy can have pizza. Children simply adore it, and will prefer it to many other dishes.
This Italian open pie can be both the main treat on the table and a small snack. It all depends on the filling you choose and how you serve it.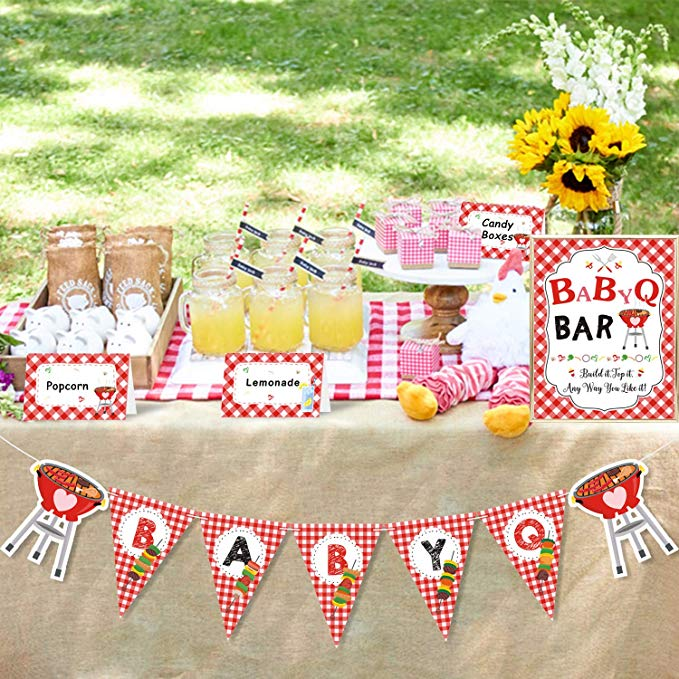 You can bake one large pizza or make small portioned treats.
The golden rule of baby food is the simpler the better. Therefore, chicken, cheese, pickled cucumbers, tomato sauce are perfect as ingredients for pizza.
Do not overload it with olives or onions - children often do not eat these foods.
Homemade lemonade
Cooling drinks are indispensable in summer. This is where homemade lemonade comes in handy.
To make lemonade you will need:
The proportions of the ingredients are arbitrary. Usually, juice and zest of 1 lemon is enough for 1 liter of water. But everything will depend on the size and freshness, acidity of the fruit. Add sugar to taste as well. For 3 liters of drink, 1 glass of granulated sugar is consumed.
Wash the lemon thoroughly and scald it with boiling water. Remove the zest from the citrus on a grater.
Squeeze out all the juice, then strain to remove the pits.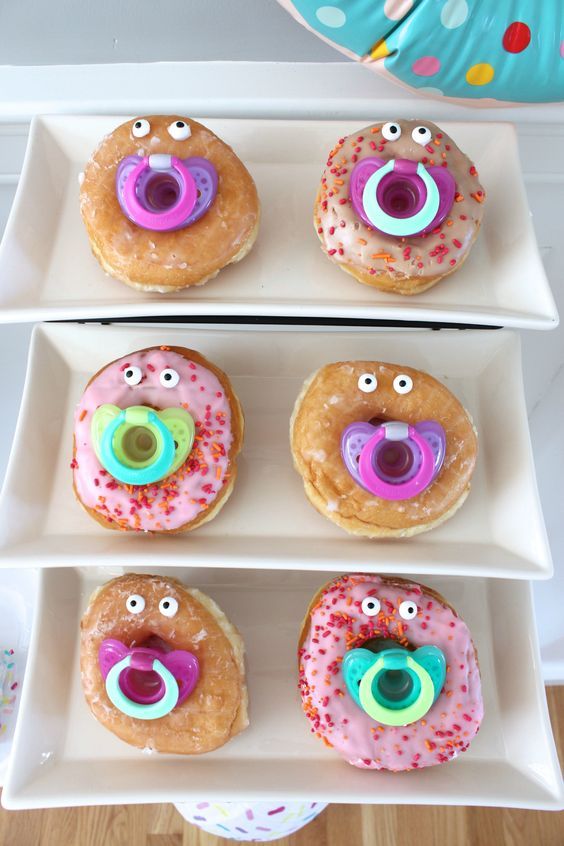 Boil water and add zest and sugar. Continue to boil the drink for another 10 minutes.
Cool the syrup and pour in the squeezed lemon juice.
Lemonade is ready! Store in the refrigerator in a sealed container.
Berry smoothie
You will need 1 kilogram of ripe strawberries. You can use wild strawberries or wild strawberries, or other berries that are in season.
To make a delicious smoothie, mix 2 cups of juice (fruit drink), berries, melon pieces, banana in a tall bowl.
Beat the resulting mixture well with a blender until smooth.
Pour into tall glasses and garnish with fruit. This drink will be a great addition to any appetizer or dessert.
Interesting recipes with the use of berries in the material Dishes of gooseberries and raspberries on the festive table.
10th birthday cakes
What birthday is complete without a cake - its appearance almost always becomes the culmination of the holiday.
Of course, mothers always have a choice - to order a birthday cake for a 10-year-old boy in a pastry shop or bake it at home on their own.
If you have free time, the second option is preferable, as you will know exactly what ingredients the cake for children is made from.
The rules for the safety of components and the preparation of a cake for the 1st anniversary of the baby remain relevant for the first anniversary.
In addition, there are recipes for amazingly delicious and easy-to-prepare treats, from classic cakes to funky gingerbread, desserts, cupcakes, muffins.
No-Bake Jelly Cake
Even if you don't have experience with complex pastries, making a jelly cake is easy. In addition, there is a place for creative experiments and the embodiment of the most incredible ideas.
For cooking you will need:
butter;
shortbread biscuits;
cinnamon;
fruits;
gelatin;
chocolate;
heavy cream;
curd mass;
powdered sugar.
Prepare butter, cookies and cinnamon for the base. Mix the ingredients thoroughly and tamp in a detachable cake mold. We send it to the freezer for 15-20 minutes.
For the next jelly layer, you can choose any filler - fruits, berries, chocolate. The most beautiful cake will turn out if you combine several layers.
Prepare the gelatin mixture according to the instructions on the package, add melted chocolate and heavy cream - 200 ml. Stir and send to simmer over low heat, not bringing to a boil.
In a blender, mix 200 g of the curd mass with the prepared chocolate mixture and add 50 g of powdered sugar. Put it on the base of the cake and send it to harden in the cold.
At this time, prepare the next layer.
Add berry juice, chopped fruits and berries to the new gelatin mixture. Let it brew a little and fill it with the first layer after it has hardened.
You can combine the number of layers and their content as you wish.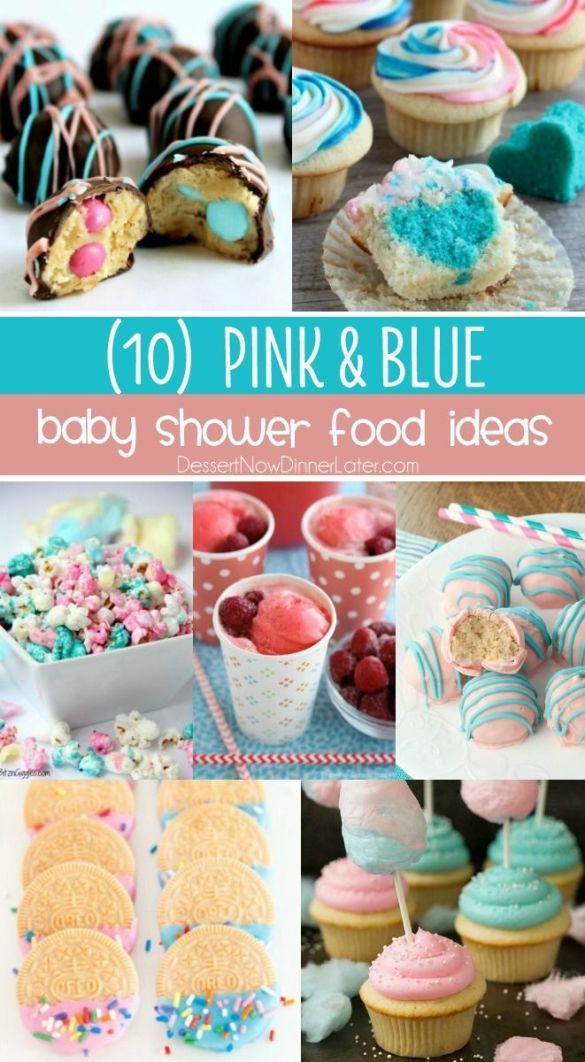 Decorate the cake to your taste - with fresh berries or almond flakes, chocolate chips or marzipan figurines.
A 10 year old girl's birthday cake can be not only a delicious treat, but also a great activity for your child.
Involve the young birthday girl in the cooking process, giving her the freedom to be creative.
Such joint chores on the eve of the holiday will definitely please girls and even some boys.
Festive table setting
It is important to remember that children are not adults who are ready to sit at the table for hours on end.
Most likely, the holiday will not do without competitions and games, where only at intervals the kids will run up to the table and have something to eat and chew on the go. Try to create comfortable conditions for them.
Unbreakable plastic dishes will help out, small portions of food that are convenient to take from the table.
Drinking cups can be inscribed with guest names, resealable cocktail and smoothie bottles with straws.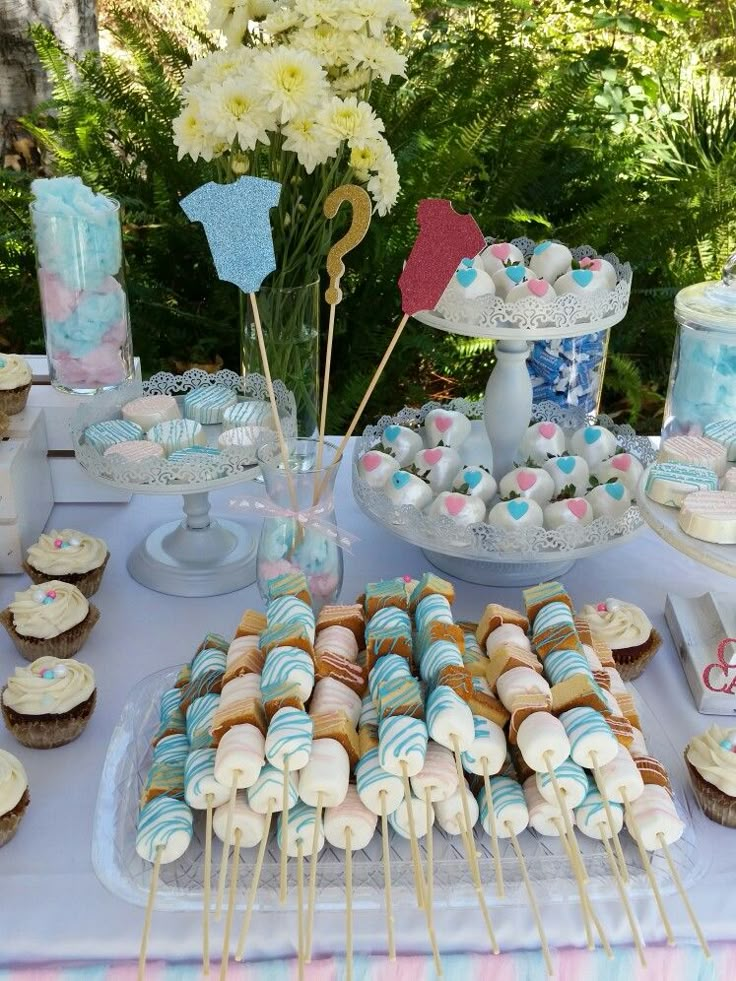 Treats can be decorated in the shape of animals or cartoon characters. Fruits and vegetables are fun to cut with the help of special kitchen utensils.
Summing up, let's highlight the main points that must be taken into account when compiling a children's birthday menu:
Think over the dishes for the birthday of a 10-year-old child in advance.
Avoid complicated recipes and extravagant ingredients.
It is better to serve familiar foods, but prepared in an original way.
Homemade pizza will be a great treat for a 10 year old child's birthday.
Use less store-bought sweets - delicious desserts can and should be prepared at home.
Carbonated drinks are easy to replace with fruit drinks, compotes or juices.
Try the delicious no-bake cake.
Beautifully set the table and dishes, then your child and guests will definitely be satisfied.
Video: children's holiday menu
What and how to cook for a children's party is shown in detail in the video:
tips, recommendations and examples of dishes
Contents
What should not be on the holiday table Beautiful and tasty 10 snacks
Every mother wants a special day of the year - her child's birthday - to be bright, special and memorable. At 2 years old, the child does not have any special wishes about what the holiday should be, so the mother herself must carefully think through and organize everything so that it is interesting to everyone who is invited, especially children.
A child's birthday should be bright, colorful and interesting
Most parents prefer to spend the holiday at home, it's more convenient. Contests, clown, animation - all this can be ordered at home, but the menu is a little more complicated. It is necessary to prepare such dishes that would be tasty, healthy and served on the table in a special way in order to attract the attention of children, and they wanted to try them.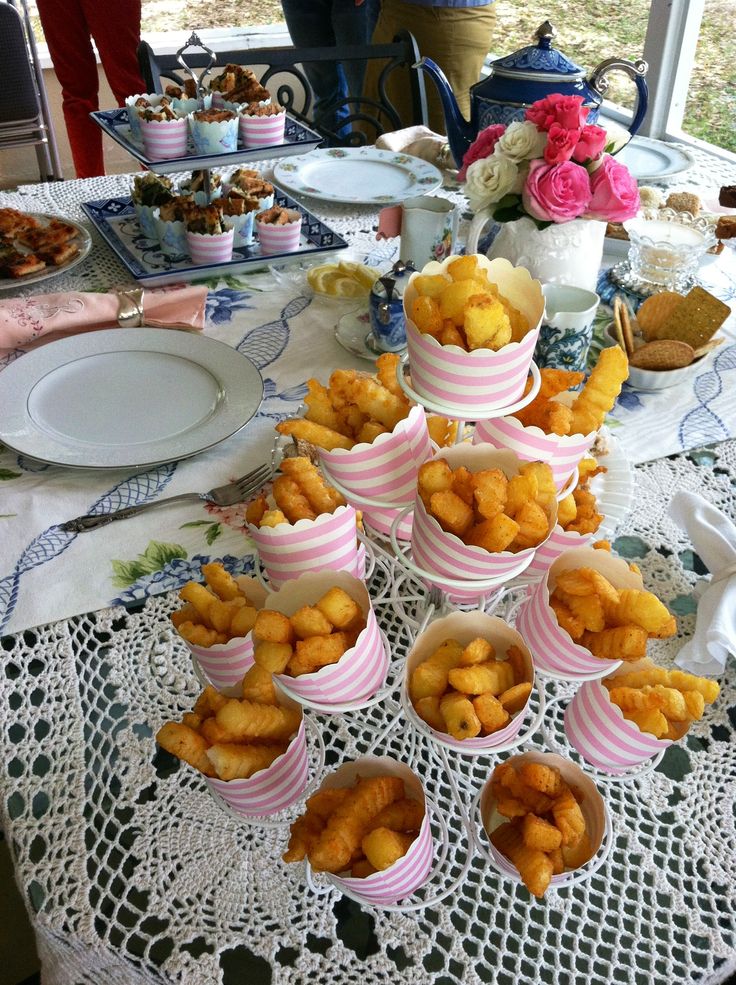 What dishes to choose, what to serve first at the table and how to serve everything, all these questions are asked by all mothers who are preparing a birthday for their 2 year old baby.
What should not be on the holiday table
There are small food restrictions that every mother must adhere to if she wants to organize a holiday for a 2 year old child and his friends. At this age, not all foods and dishes can be eaten, so the main thing when making a birthday menu:
no salty, spicy and fatty dishes;
dishes with pepper, mayonnaise sauce and garlic are not welcome on the table;
smoked meats are also better to remove;
do not experiment by mixing many different foods in one dish;
remove fresh fruits and vegetables from the menu that can cause allergies;
do not put on the table fish dishes with bones, grapes, fruits with a rough skin and things that a child can choke on, set aside for the holidays of the older generation;
Fruits and vegetables that can stain clothing should be kept to a minimum.
Beautiful and delicious snacks
Canape sandwiches have recently become very popular in the children's menu. In order for them to interest children, it is desirable to perform them in an unusual form of boats, stars or bugs. In addition, only safe products will be needed for their preparation, and it will take a little time to create them.
Canape sandwiches are very popular in the children's menu.
Canape is prepared only from fresh bread, preferably white, butter, slices of boiled pork, but not fried, but baked, delicate varieties of cheese and vegetables or fruits. Turn on your imagination and prepare canapes from those products that your beloved baby loves more.
It is important for children to never use skewers and toothpicks for canapés, the child may prick themselves with them.
Tasty and healthy salads for children's parties
Healthy salads can be arranged on a plate in the form of an animal or a flower, and little children will like this serving.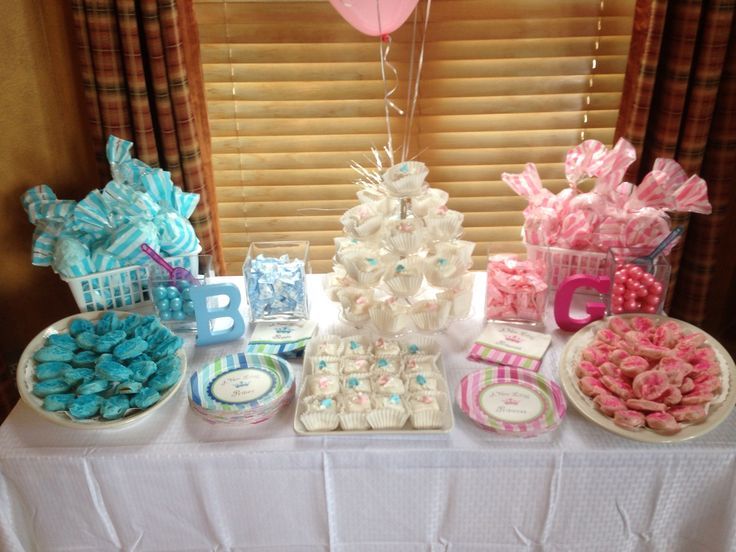 There are a large number of salads, each mother can choose from this list for her menu those that she likes, but pay attention to this salad.
Salad "Sun"
The first thing I want to say is that it contains orange and lemon, so for children prone to allergies it is better not to cook it, otherwise it is very light, satisfying and tasty.
For its preparation you will need:
orange - 2 pcs.;
chicken eggs - 2 pcs., but they can be replaced with 8 quail eggs, which will make the salad even more useful;
boiled chicken - 300 g;
cucumber;
apple.
As a dressing, you can use a sauce made from yogurt, olive oil, a couple of drops of lemon juice and egg yolks.
Prepare the salad as follows: oranges, cucumber and apple, peeled and cut as small as possible. Peel the egg, finely chop and add to the rest of the ingredients, do the same with the chicken. Salt, mix and beautifully lay out in the form of a sun on a plate, pour sauce on top.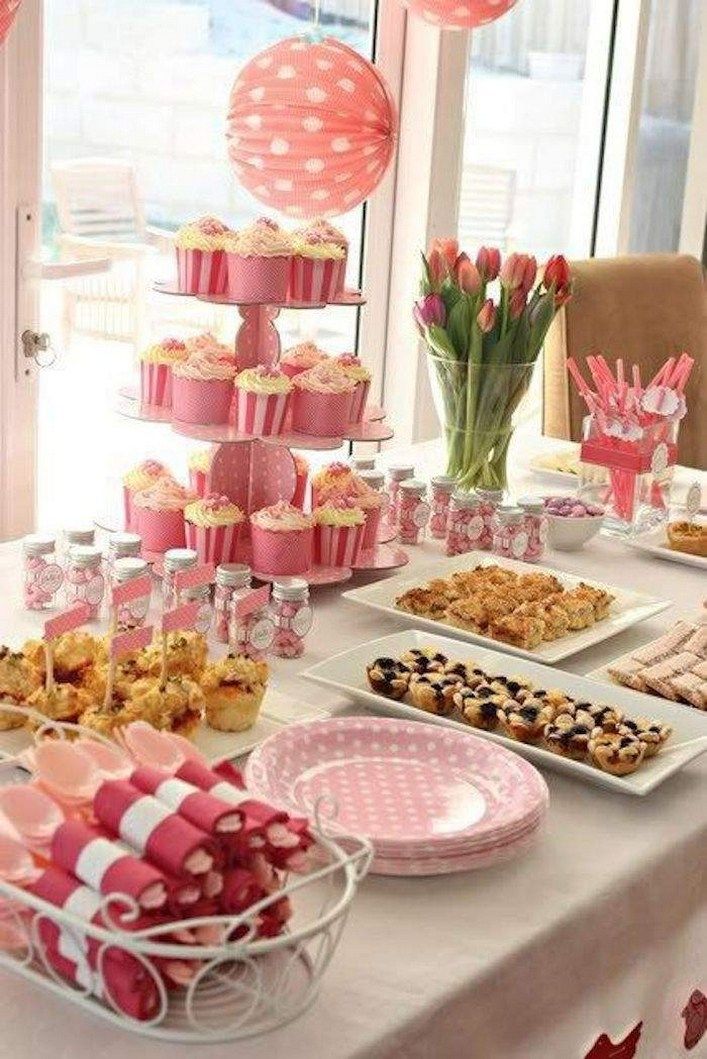 The salad is ready to be served to the kids. But remember that citrus fruits can cause allergies, so ask mothers invited to the kids' holiday about whether they can eat fruits that can provoke such a reaction. Be sure to adjust the menu based on this.
Tropics salad
The menu for the birthday of children of 2 years of age should be varied, hearty and light, so parents should pay attention to the Tropics salad, which almost all children love and eat it with great pleasure. The recipe is quite simple and easy, does not require much high costs, as it contains a small amount of ingredients.
To prepare it you will need:
300 g chicken, boiled only;
300-400 grams of pineapples;
1 apple, green is better;
grapes in the amount of 1 cup.
Peel the apples, finely grate them and sprinkle lightly with lemon juice. Grind pineapple and add to apples, do the same with meat. Cut the grapes in half and add to the dish.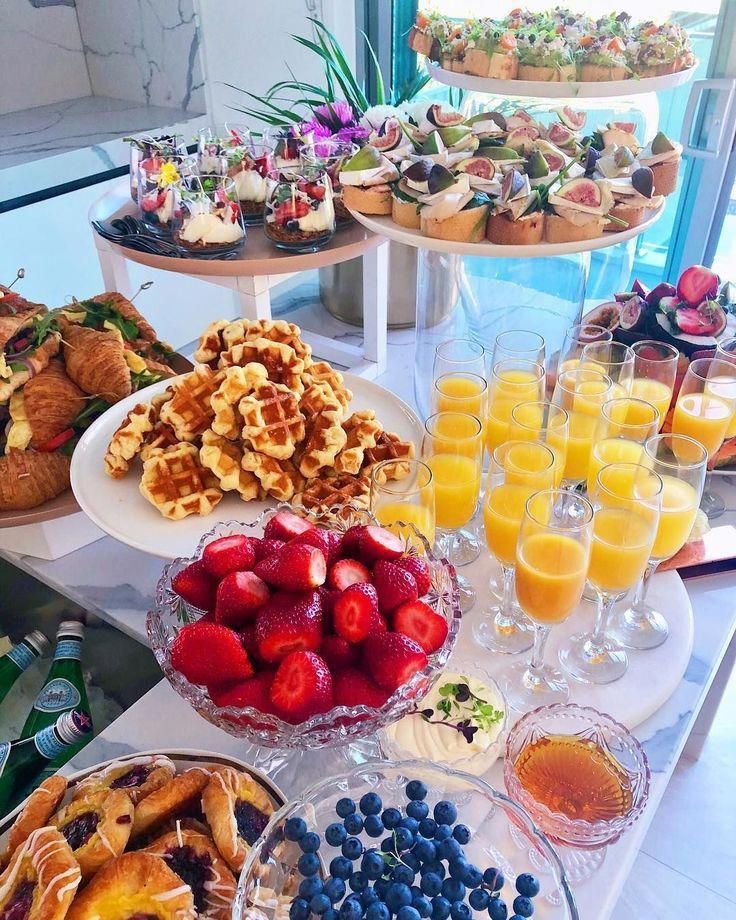 You can fill with mayonnaise, but only homemade or yogurt.
Children eat sweet fruit salad with great pleasure!
You can also add a vegetable salad of tomatoes, cucumbers, cabbage and greens to the festive menu, but only chop the vegetables finely and season them with olive oil. It is better to serve salad on the table in small salad bowls for each child separately.
Sweet Fruit Salad
This tasty salad will be eaten by the child with great pleasure. It is prepared immediately before the guests arrive, as the fruit may lose its color, and the salad will not look very attractive. It is worth asking the parents of invited children if they are allergic to bee products and nuts, if not, then honey is added to the bottom of the salad bowl, and the top of the salad is sprinkled with chopped nuts.
For the salad you will need:
green apple, banana;
1 cup sultana grapes;
1 pear;
cup of yogurt.
Take fruit without peel and cut into small pieces. Divide the grapes in half, combine with fruit. Mix everything, put in small salad bowls, and pour yogurt over the top of the dish. This delicious and at the same time light dish is prepared quickly and is sure to please children.
A child's birthday happens once a year, and 2 years once in a lifetime, and every mother wants to make this day special, so the menu for this day is selected carefully.
Salads are ready, but what a holiday without second courses, but what to cook for a children's birthday, what would be beautiful, tasty and liked by children.
Second courses
For a children's birthday, you should not cook a lot of hot dishes, because children eat little, they are more interested in entertainment than a festive table. Therefore, for a children's holiday, you can cook only a side dish and a meat dish.
For a child's birthday, when the child is only 2 years old and almost all guests are of the same age, it is better to choose meat dishes with minced meat. They cook quickly, the meat is tender, soft, a child at 2 years old will eat it with pleasure.
Each mother decides which recipe to choose for her child's birthday, but perhaps this one will be liked more.
Chicken zrazy with quail egg
Little children will definitely like these zrazy, because they are very tender and tasty, besides, they have a little secret inside that will interest the children and make them eat the food.
Chicken zrazy with quail egg will surely appeal to children!
To make them you will need:
400 g minced chicken;
1/3 cup rice;
small carrots;
bulb;
12 boiled quail eggs;
2 tomatoes.
Zrazy is prepared as follows:
Grind the onion with a blender and add to the minced meat.
Add cooked rice to minced meat.
Season with salt, mix well until minced meat is tender.
Roll the minced meat into a ball, hide the peeled quail egg inside and roll up.
Boil in boiling water for 10 minutes, put them into the water gently on a spoon.
Fry carrots and tomatoes in a pan.
Put the zrazy in the gravy, add the broth so that it completely covers them.
Simmer for 20 minutes, then put the pan into the oven for 5 minutes.
Surprise zrazy can be served with any of the side dishes, but the child will definitely like the multi-colored mashed potatoes, it is also very healthy, as it is prepared from natural products. It is very easy to prepare it.
Svetofor potato puree
Every mother should like dishes from natural products enriched with useful substances, besides, bright colors perfectly decorate the table, attract children who come to the holiday to it.
What a birthday without sweets! Preference should be given to light, not too sweet pastries and cakes.
To make colorful potato puree you will need:
potatoes - 1 kg;
butter - 50 g;
cream - 200 ml;
carrot juice - 3 tbsp. l.;
beetroot - 3 tbsp. l.;
spinach juice - 3 tbsp. l.
Boil the peeled potatoes until tender, add salt during the cooking process. After the water has been drained, it is necessary to mash the potatoes by adding butter and cream to it. Beat everything well so that the mass is light and homogeneous. Divide the puree into three parts: in the first add carrot juice, in the 2nd - beet juice, in the third - spinach. Put the puree in the form of balls into a pan, put in a preheated oven for 10-15 minutes.
For a child's birthday, you can not bake multi-colored puree balls, but simply beautifully put on a plate for each baby. This puree will decorate any table.
The birthday of a child, especially who turns 2 years old, should be interesting, the menu is ready, now you need to choose drinks and sweets.
As for drinks, milkshakes of different colors with the addition of fruits are well suited, here everything depends on the mother's imagination.