Preparing avocado baby food
Avocado Puree - Healthy Little Foodies
All Posts, by Date » Baby Friendly Recipes » Puree Recipes » Avocado Puree
Jump to Recipe Print Recipe
Avocado puree is one of the easiest purees to prepare with no cooking or special equipment needed. The buttery, creamy texture is perfect for babies and it combines great with a range of other sweet and savoury purees.
Choosing an Avocado
Avocados need to be soft to mash or blend easily. Hard avocados will become grainy when pureed so it is important to allow them to ripen first. 
They should be soft to touch but not "mushy". When the fruit is opened, the flesh should be bright green, with no bruises.
How to Prepare an Avocado
Hold the avocado gently with one hand. With a large, sharp knife in the other hand, slice the avocado down the middle, lengthwise, working around the avocado pit. Twist to separate the two halves. 
Remove the pit by carefully hitting the base of your knife into it. Twist to remove it from the flesh.
Scoop the flesh out of the avocado using a spoon.
How to Make Avocado Puree
One of the greatest thing about avocado puree is how easy it is to make.
Remove the flesh from the avocado (see above for instructions) 
Mash with a fork or puree in a blender/food processor until smooth. 
To thin the puree and add extra creaminess mix the avocado with breast milk or formula. 
Avocado Nutrition
Avocados…
Contain an assortment of vitamins and minerals, including vitamins C, E, and K; B vitamins; magnesium; zinc; and manganese
Are a good source of fibre
Are a rich source of poly and mono-unsaturated fats (the "good" fats. ) Their high-fat content makes them a fantastic option for babies, since babies have increased fat needs (1)
When Can Babies Have Avocado Puree?
Avocado is a wonderful first food for babies. It has a mild flavour, creamy texture and is nutrient-dense.
What to Mix with Avocado Puree
Avocado has a mild flavour and creamy texture that makes it perfect for mixing with a range of purees. Try mixing/pureeing it with 
Banana Puree / Mashed Banana
Sweet Potato Puree
Apple Puree
Yoghurt
Pea Puree
Strawberry Puree
Cooked Chicken
Cooked Fish
Quinoa
Mashed Boiled Eggs
Basil, parsley or coriander (cilantro) all pair well with avocado, try blending together to expose your baby to a range of different flavours
Storage Instructions
Avocado puree is best eaten straight away. I would recommend mashing a little for baby and allow the family to enjoy the leftovers.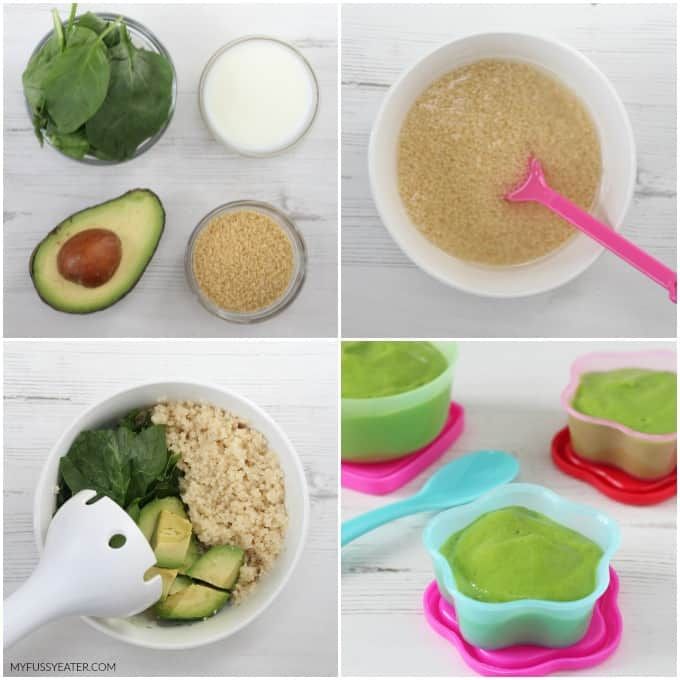 Why not try using leftovers to make
Avocado Dip
Guacamole
Avocado Quesadillas
Chocolate Avocado Mousse
Avocado Egg Salad
If you do have leftovers and wish to store then you can
REFRIGERATE
To extend the freshness:
Mix a little fresh lime or lemon juice into the puree before storing.
Hit the container on a surface to knock out any air pockets, cover and make sure a lid or plastic wrap is touching the surface of the puree. (To prevent oxidation)
Refrigerate for up to 24hours
FREEZE
Although freezing avocado is safe and most nutrients are preserved during freezing,  avocado does change texture when frozen and can become a little mushy. It may also brown during storage or thawing. 
For best results:
Squeeze a little lime or lemon juice into the puree and stir to combine. 
Spoon the puree into flexible ice-cube trays, tap the tray on the counter to knock out any air pockets and freeze until solid.   (Freezing in ice cube trays allows you to defrost the small amounts when you need it.)
Once they're fully frozen, quickly pop them all out and place the frozen cubes into a freezer bag or container and return to the freezer.
Freeze for up to 3 months.
Thaw in the refrigerator.
Moving on from purees? You may also like this post on Avocado for Babies, which shows how to prepare and serve avocados and includes some great baby-friendly avocado recipes.
Looking for more healthy kid recipes?Sign up for my free recipe newsletter to get new family friendly recipes in your inbox each week! Find me sharing more kid-friendly inspiration on Pinterest and Instagram.
5 from 1 vote
Avocado Puree
Avocado puree is one of the easiest purees to prepare with no cooking or special equipment needed. The buttery, creamy texture is perfect for babies and it combines great with a range of other sweet and savoury purees
Print Recipe Pin Recipe
Cut the avocado in half and remove the pit. Scoop the flesh of the avocado out with a spoon.

Mash on a chopping board/ plate, with a fork, until desired consistency is reached. Alternatively, blend in food processor/blender until smooth.

Add baby milk to thin out if required.
Nutritional information is a ROUGH guide only, calculated using an online nutrition calculator. 
Nutrition Facts
Avocado Puree
Amount Per Serving
Calories 80 Calories from Fat 63
% Daily Value*
Fat 7g11%
Saturated Fat 1g5%
Sodium 4mg0%
Potassium 244mg7%
Carbohydrates 4g1%
Fiber 3g12%
Sugar 1g1%
Protein 1g2%
Vitamin A 73IU1%
Vitamin C 5mg6%
Calcium 6mg1%
Iron 1mg6%
* Percent Daily Values are based on a 2000 calorie diet.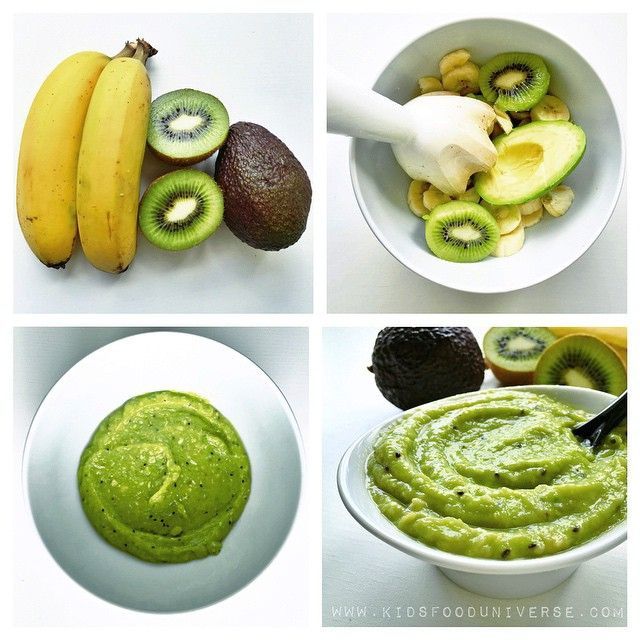 Course:Puree
Cuisine:Puree
Keyword:Avocado Puree, Baby Puree
Did you make this recipe?Mention @WPRecipeMaker or tag #wprecipemaker!
References
Elenberg Y, Shaoul R. The role of infant nutrition in the prevention of future disease. Front Pediatr. 2014;2:73. doi:10.3389/fped.2014.00073
Meet Amy
Amy Whiteford runs the blog Healthy Little Foodies. She is a mum to two, has a BSc (Hons) Food Science, PGDE Primary Education and a Certificate in Childhood Nutrition. She uses her experience and knowledge to create healthy and delicious recipes for kids. Explore the site for creative ideas, tips, and inspiration! Read more
How to raise a Healthy Little Foodie
Receive family friendly recipes, delivered weekly to your inbox, for FREE! And receive this FREE ebook - "How to Raise a Healthy Little Foodie"
Reader Interactions
Homemade Baby Food Recipes: Avocado Puree
By Anjali Shah on · Last Updated on
This post may contain affiliate links.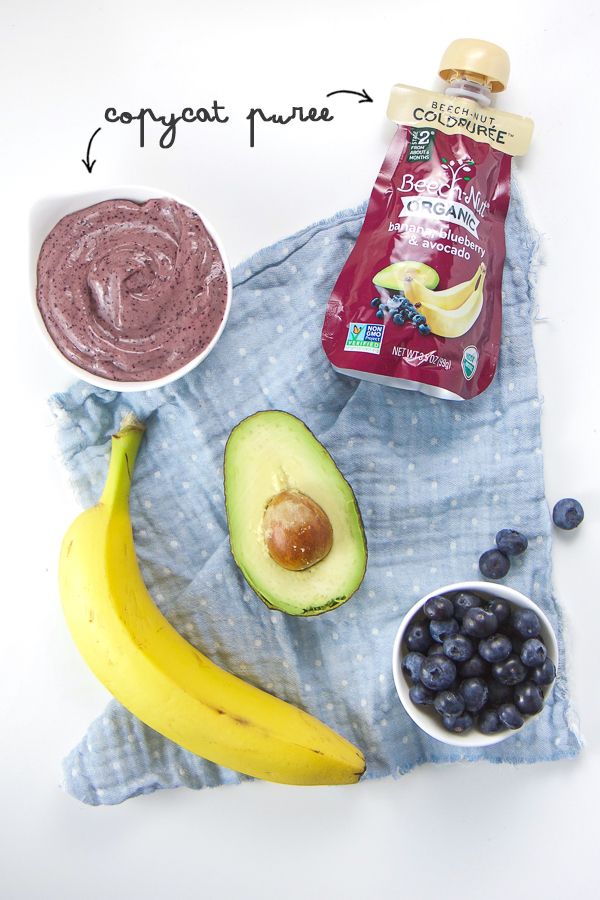 As an Amazon Associate, I earn from qualifying purchases. Please read my disclosure.
About 2 months ago, we gave Layla her first solid food: Avocado! Since then she has had a variety of fruits and veggies: Sweet potato, Butternut squash, Zucchini, Carrot, Fuji Apples, Plums, Pears, Bananas, Green Beans, Peas, Spinach, Broccoli, Pumpkin, Apricot… and we've also given her Oatmeal and Organic Whole Milk Plain Yogurt. She has turned into a wonderful eater! Gobbles up almost everything we give her (peas and green beans have to be disguised in yogurt with a little bit of pear, but then she downs them like you wouldn't believe).
And since I've been making all of her food at home from scratch, I thought I'd start a Baby Food Recipes section on my blog!
I'll be adding the baby food recipes in the order that we introduced them to Layla – to the extent that I can remember 🙂 Avocado was definitely first – because it was the easiest, and because it's so nutritious for your little ones.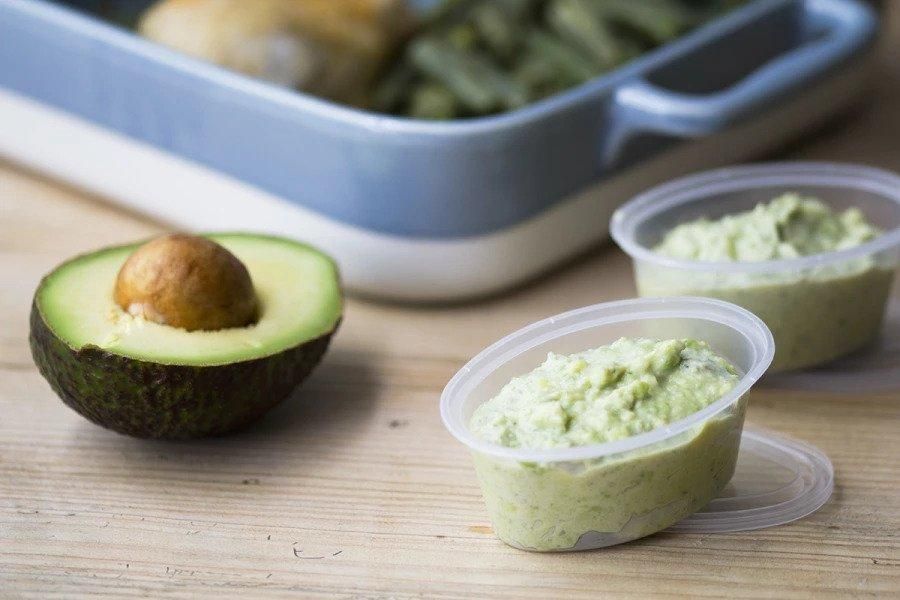 1/5th of an avocado has only 50 calories but 20 vitamins and minerals! Talk about nutrient dense. Avocados also contain:
Folate
Fiber
Potassium
Vitamin E
Iron
Healthy fats that help with brain and nervous system development
I mashed up the avocado raw, and fed it directly to her mixed with a little bit of breast milk (you can also mix it with formula or water to thin it out at first). Here's how she reacted 🙂
The first time she was like "what are you giving me??" but soon she couldn't get enough avocado. It's definitely one of her favorites. And since avocado gets oxidized so easily, I actually tried freezing it and it worked great!
I used these Mumi & Bubi
ice cube trays for freezing. I love them because they come with a cover, a recipe book, and the cubes are super easy to get out. One ice cube = 1oz of food. And once I started making this puree in bulk, I used a Vitamix to puree large quantities of it at the same time – which was super convenient!
Also, if you can afford it, I'd recommend using 100% organic ingredients for your baby's food.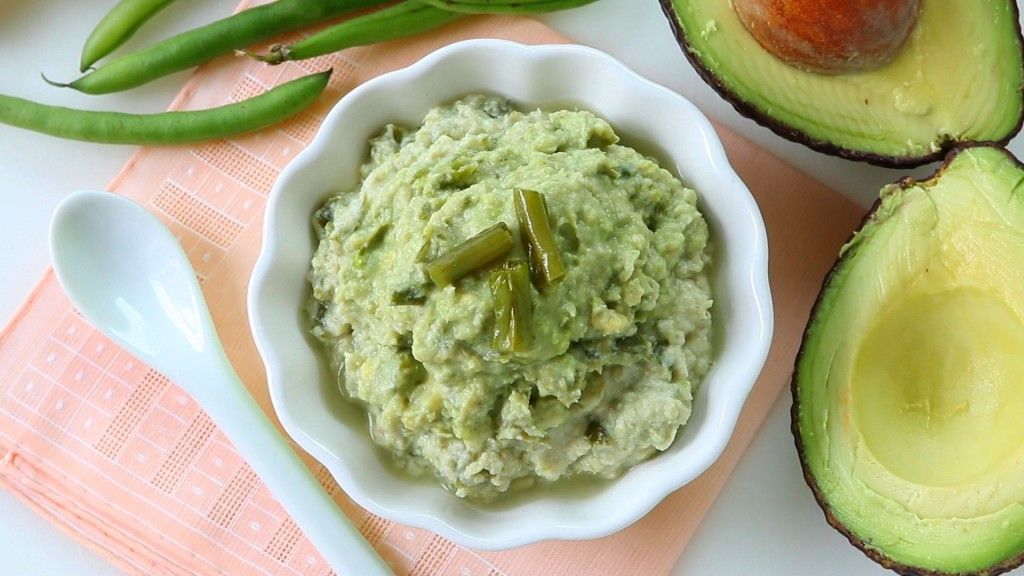 That way you can leave the peels on various fruits and veggies (e.g. you won't have to peel apples and pears before pureeing them), and it's much more nutritious for your baby.
Of course, there will be times when you're on the go and need a healthy pre-made option for your little one. And in those cases, I'd recommend buying one of the pouches on my list of the healthiest baby food pouches!
Below is my recipe for super simple avocado: a perfect first food for babies!
Looking for 150+ more baby and toddler food recipes? Check out my Baby Food Cookbook here!
Thinking about switching to formula and looking for the best organic formulas to feed your baby? Click here!
Or, are you looking for ideas for healthy, easy family meals that your little one can eventually help prepare in the kitchen? If so, pick up a copy of my newest cookbook: Kid Chef Junior (will arrive on your doorstep on October 9th 2018!)
Print Recipe
4.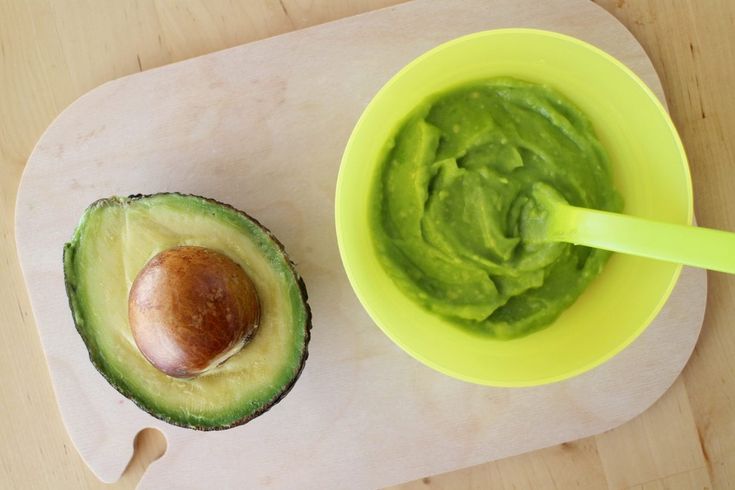 93 from 13 votes
Avocado is a perfect first food for baby! Healthy fats for their development, and also amazing texture and flavor.
Prep Time5 mins
Total Time5 mins
Course: Baby Food
Cuisine: American
Servings: 2 servings
Author: Anjali Shah
▢ 1 organic avocado mashed
If Serving Fresh / Immediately
▢

Mash the avocado with a fork or blend it in a food processor.

▢

Mix with breastmilk, formula or water to reach desired consistency.
If Freezing
▢

Mash the avocado with a fork or blend it in a food processor.

▢

Divide into ice cube trays, wrap/cover, and freeze.

▢

Thaw in the fridge the night before use, or thaw by putting the ice cube in a bowl over a bowl of hot water on the counter to defrost.

▢

Once defrosted, mix with breastmilk, formula or water to reach desired consistency
Each ice cube = 1oz of food.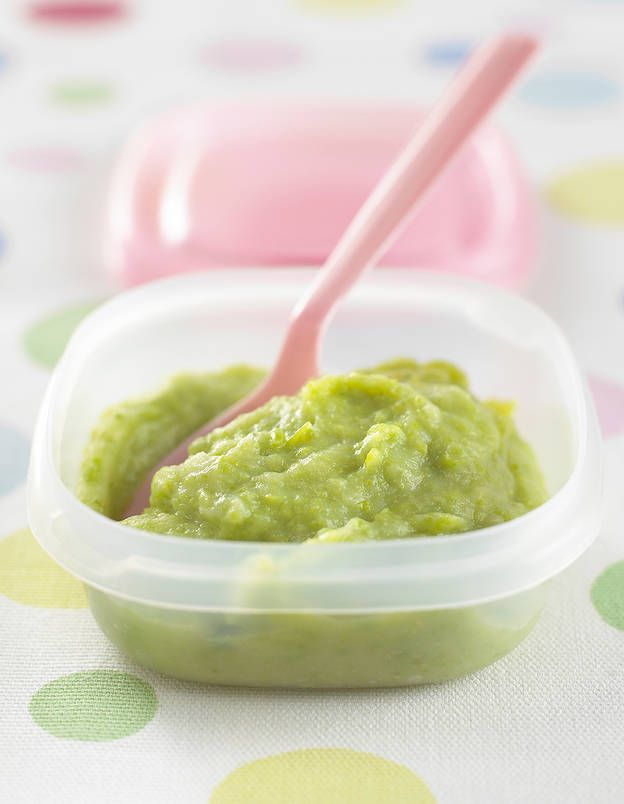 Also, as your baby gets used to solids, you don't have to thin out the avocado at all.
Avocado and banana puree with yogurt, step-by-step recipe for 249 kcal, photos, ingredients
Add recipe
Recipe
Advertisement
and capers
The turkey breast should preferably be at room temperature before cooking. Subscribe to the YouTube channel "Eat at Home", which contains all the episodes of your favorite show!
Yulia Vysotskaya
Recipe from Yulia Vysotskaya
Rabbit with apples, bacon and white wine warm up the table. If you have unpeeled chestnuts, you need to cut the skin and bake
Yuliya Vysotskaya
Wash and peel banana and avocado.
Remove the pit from the avocado.
Cut fruit into pieces.
Add yoghurt and beat everything together in a blender or mixer.
share photo
agree?
Recipe tags
The main dishes of the Detach -DECTITIC PITERICT Julia Vysotskot 1 to 1.5 letterships
Advertising
Advertising
Recipe rating
Tell friends
9000
Proper nutrition (pp-recipes)
Cooking hodgepodge
Appetizing salads with chicken
Delicious homemade pizza
Warming tea
Ingredients
Add to search
and or
Exclude ingredient
Users
Display
Avocado recipes for kids
1
El avocado is one of the healthiest fruits we can find within our reach to give to the little ones in the house.
. This fruit is a source of vitamins and minerals, and also contains fiber and healthy fats.
In today's post We offer a selection of different recipes with avocados for children to suck their fingers. . Avocado is a food item that offers a wide range of uses in the kitchen.
Index
1 Recipes with avocado for the smallest

1.1 Guacamole
1.2 Chicken salad with avocado
1.3 Avocado ice cream
1.4 TOTOST or BURTADE with avocado
1.5 AVOKA0274
1.6 Avocado cream with carrots
We all know that it happens that children refuse food because of its color. In this case, this problem may arise, since, as we say, the green color in some cases causes rejection in the smallest. To prevent this from happening, These types of products must be presented in a way that is fun and appealing to children.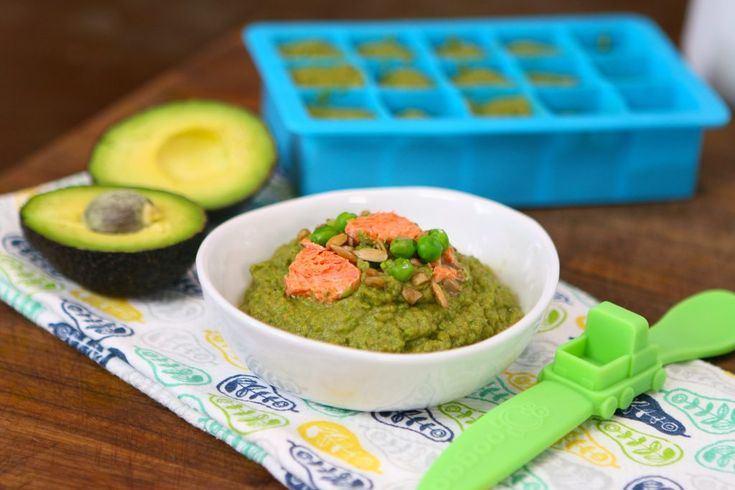 avocado source of vitamin E, in addition to potassium, magnesium and sodium . Including them in children's diets will promote their development and provide them with essential nutrients.
Next, we will name different recipes with this food.
Guacamole
One of the most famous recipes in which this fruit is the main ingredient. . To prepare a classic recipe, you will need only avocado, lime, tomato as ingredients. Chili pepper is also added, but we advise you not to add it, since the recipe is designed for young children.
You just have to mash the avocado, cut the onion and tomato into very small pieces . Add the juice of half a lime, salt and stir until all ingredients are well combined.
Avocado Chicken Salad
One of the easiest recipes for kids to enjoy avocado . For this salad, you will need lettuce leaves, strips of chicken fillet and avocado.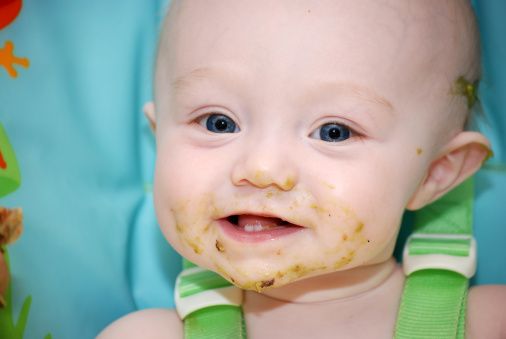 If you're looking for a vegan option, you can add tofu, textured soy, lentils, etc. Cut these three ingredients into very small pieces to make them easier to take.
When these three ingredients are well cut, it's time to make a vinaigrette for them, you can make it with different flavors or just with oil and vinegar.
Avocado ice cream
What a little one, he does not like to eat ice cream for a snack. With avocado, we can also make ice cream quickly and tasty.
Cut the avocado, we recommend using at least 3, remove all the meat from the inside and place in a container with two glasses of milk, a glass of liquid cream, sweetener to taste and lemon juice. It remains only to beat it well, distribute it into molds and put it in the freezer.
Avocado toast or sandwich
Here is a recipe that can be prepared for children for breakfast or dinner. It can be plain toast with a crushed avocado, or you can add other ingredients like egg, tuna, tomato, salmon, etc.
It's very simple, just take an avocado, scoop out the flesh and crush it with a fork. On bread your kids love, spread avocado puree and add their favorite ingredient, or just leave it at that.
Avocado and Chocolate Dessert
The combination of these two products may seem a bit strange to you, but the truth is that they go very well together. We will teach you how to make a sugar-free and nutritious dessert for children.
With avocado, pure cocoa powder, natural sweetener and coconut milk, you get a finger-licking mousse. You will need to put the pulp of the avocado into a mixing glass, add two to three tablespoons of cocoa, natural sweetener to taste, and 50 ml of coconut milk. Mix and enjoy this unexpected dessert.
Avocado Carrot Cream
Carrots and avocados are two great sources of vitamins for babies. yes All you need to make this recipe is one large carrot and one avocado cut into small pieces.