Spoon attachment for baby food pouch
[Product Review] Baby Food Dispensing Spoon for Plum Organics
by christiekiley 3 Comments
After yesterday's baby food pouch giveaway, our winner informed me there is now a product on the market that makes it even easier to feed babies when you're out and about.
Say hello to the Boon Baby Food Dispensing Spoon (made for Plum Organics baby food pouches):
As you can see, it comes in a 2-pack and allows you to instantly turn a Plum Organics baby food pouch (which usually has a hard straw on the end) into a spoon-tipped baby food dispenser.
Look at the difference:
Just screw on the spoon attachment and you can then squeeze the food out of the pouch and onto the spoon in order to spoon-feed your traveling baby.
This 2-pack of Boon Dispensing Spoons is sold for anywhere between $3.49 and $3.99 depending on where you buy it.
You can find it at Target (right next to the Plum Organics baby food pouches if you go in the store), Diapers.com, or Amazon.com (subscribe & save to get them at lower cost per 2-pack).
Okay, so since this a product review, I want to note a few things I like and don't like about this product as both a mom and an occupational therapist:
I like…
…that it comes in a case that can easily be clipped on a ring or handle of the diaper bag. Easy storage, minimizes mess after use.
…that it minimizes equipment needed in order to create a travel spoon, unlike other squeezable dispensing spoons.
…that it's easier to wash than those squeezable dispensing spoons that hold an entire jar's worth of baby food, because all you have to wash is the spoon tip.
…that it allows you to spoon-feed an out-and-about younger baby who perhaps isn't quite ready to be fed straight from the straw of the pouch.
…that it's free of BPA, phthalates, and PVC.
…that it fits on brands other than Plum Organics' baby food pouches (definitely the Gerber pouches and likely all other brands since the straws tend to all be the same sizes).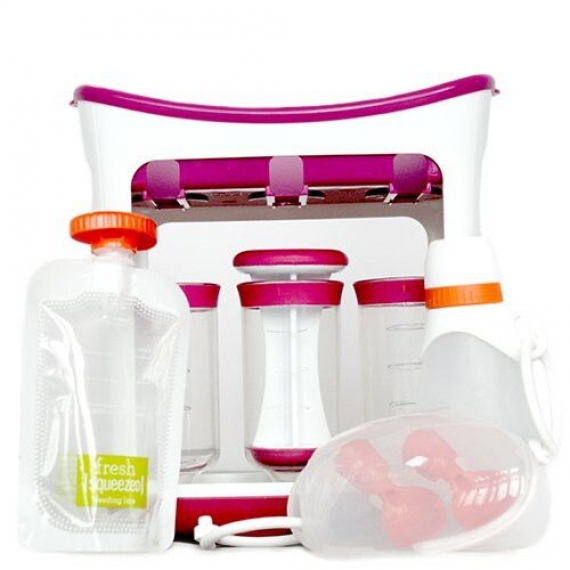 I don't like…
…that the bowl of the spoon is a little too deep. According to feeding therapy expert Diane Bahr, babies should ideally use a spoon that is mostly flat (I like the Gerber rubber-tipped baby spoons). This allows them to close their lips around it and remove the food with their top lip as the spoon is pulled straight out of their mouth (horizontally), as opposed to scraping the puree off with their teeth or gums as the adult swoops the spoon diagonally upward to remove the spoon. That diagonal swoop prevents them from having to close and work their upper lip (which is needed for the development of more complex feeding and speech skills) and is often associated with using a spoon that has a bowl that's too deep for the baby. It's only a big deal if you end up using these screw-on spoons all the time, but still something to note.
…that it has the potential to get lost or accidentally thrown away because of how small it is. Feeding baby while traveling can be pretty chaotic, and now you have to remember where you put the mini spoon before you stuffed everything in the diaper bag and headed back home (even if you remember to bring that cute little plastic case).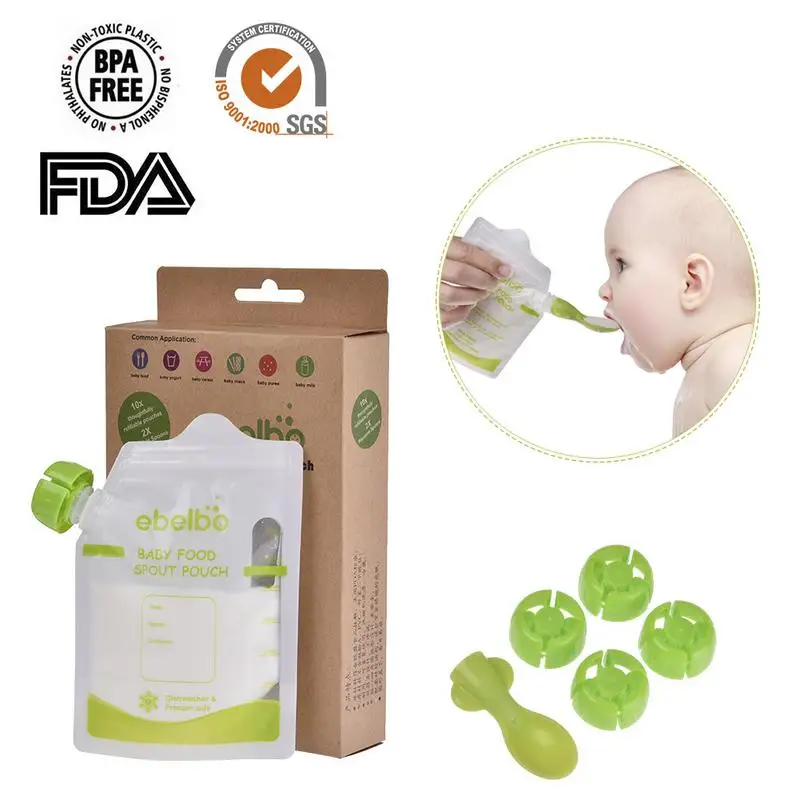 …that it's a little redundant. Baby food pouches are already convenient. The spoon attachment seems a little bit like overkill to me.
…that it has the potential to create more mess than if you didn't use it. Once you put puree on a spoon it has the potential to go flying, thanks to grabby little baby hands. You might actually save yourself a potential mess if you don't use this product and just feed your baby straight from the pouch.
All in all, I think this is a pretty cool, inexpensive product that may be worth having on-hand for on-the-go babies who are eating stage 1 and stage 2 baby food purees. If you think you and your baby would benefit from using this product, then I'd recommend giving it a try!
What do you think of this product? 
Share your thoughts in the comment box below!
Boon + Plum Organics = Baby food pouch organizational zen (coolmompicks.com)
Filed Under: 01. Infants (0-1), 09. Feeding & Mealtime, 14.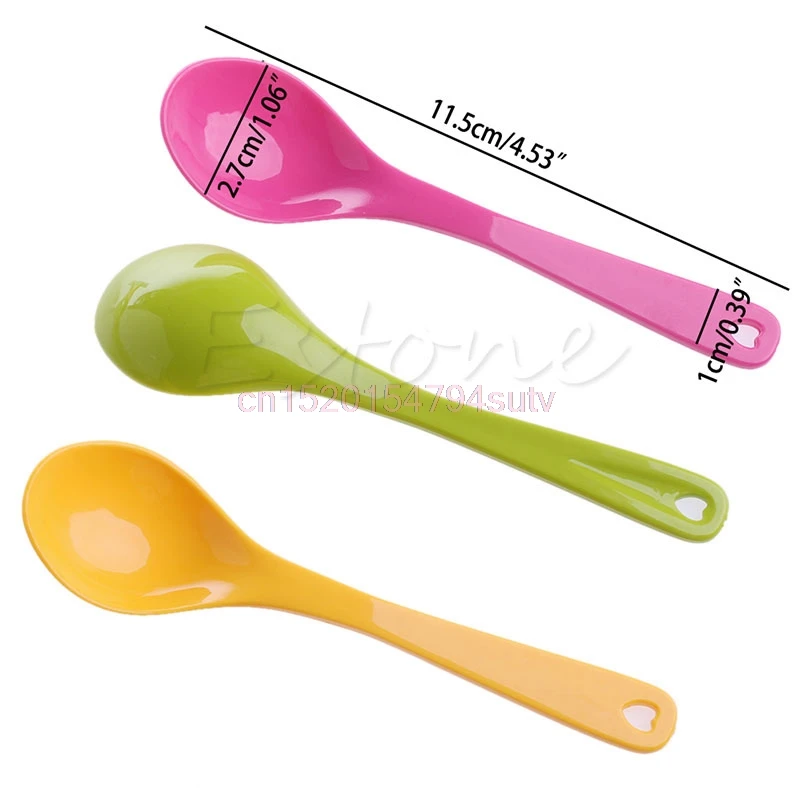 Product Reviews Tagged With: Baby food, Boon, feeding, Food, parenting, Plum Organics, Spoons
Trackbacks
Baby Food Pouches: Pros, Cons and Practical Advice
Should you give your child a baby food pouch?
It hasn't taken long for baby food pouches to show up in grocery stores and superstores everywhere.  You can even find them at some Starbucks!
In fact, it's safe to say they've become part of the nutrition mainstream for babies and toddlers.  
Baby food pouches may provide a good source of fruits and/or veggies, with many brands boasting no added sugars, juices, salt or artificial colors and use of all organic ingredients. 
Some companies claim their products are cooked at lower temperatures than jarred baby food, increasing their nutrient content.
While the possibilities are endless with these convenient creations, others advise caution when using them.
In this article, you'll learn:
The pros and cons of using baby food pouches
Why it's important to connect through feeding
5 pointers for effective use of food pouches
The Pros of Baby Food Pouches
Pouches are easily portable and re-sealable for handy feeding at home or on the go.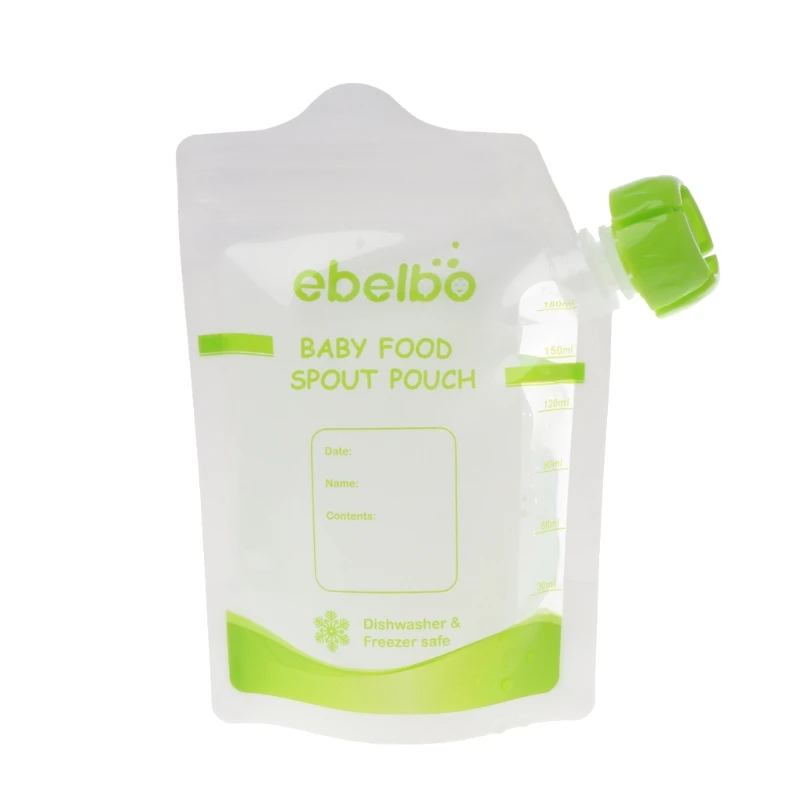 They don't get crushed like some whole fruits and vegetables or break like glass jars. 
Storage is a snap; you can refrigerate or freeze any partially used containers.  They can be eaten cold, at room temperature, or heated up in warm water. 
They make fruits and vegetables more accessible to toddlers when fresh options are not available or when time is limited. 
It's easy to complement your own cooked meals or restaurant fare with these blends to boost your child's fruit and vegetable content.
Concerns about Food Pouches 
Even though I think they are a wonderful option overall, I do have a few concerns about how these products are used. Like all baby food, the single-ingredient fruits or fruit and vegetable blends should be introduced around 6 months, when your baby shows developmental signs of readiness. 
For infants, spoon feeding utilizes mouth muscles necessary for proper speech.  Additionally, toddlers can learn how to use a spoon to build fine motor skills.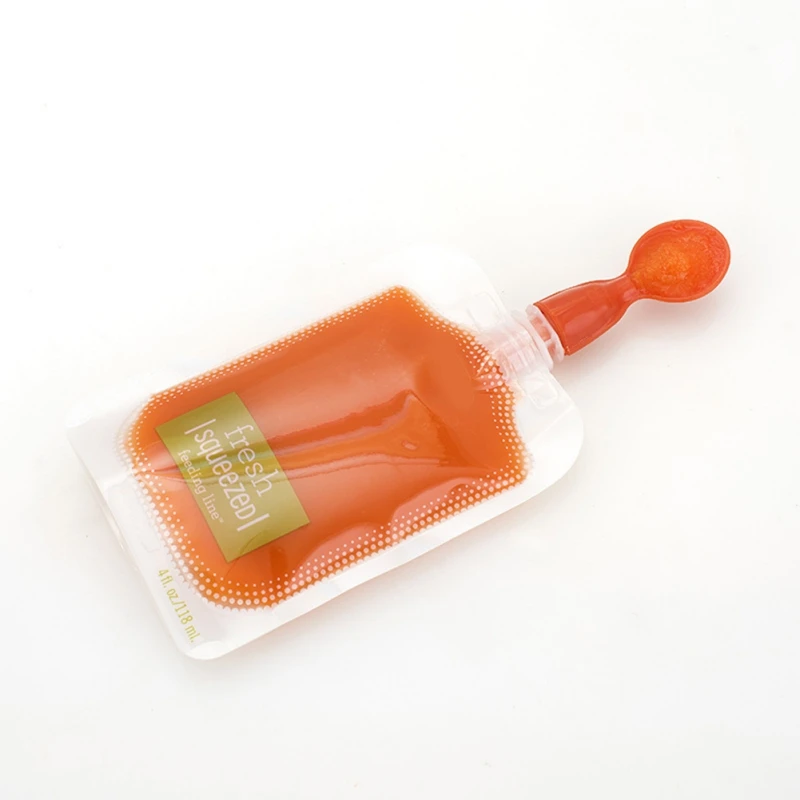 I recommend using a spoon when feeding these purees. 
It is ok for toddlers to "suck" on these pouches occasionally.
However, make sure your tot has started spoon-feeding themselves, eating finger foods, and drinking from a cup with minimal spilling before giving them a pouch to "suck on." 
Don't depend on pouches as a sole source of your child's fruits and veggies, you want him or her to recognize and accept whole fruits and vegetables, too!
Get the Food & Nutrients for Baby's Brain!
Keep Your Baby's Nutrition in Mind
As baby food pouches become more popular, however, parents want to make sure they fit them into the overall goals for their child's nutritional needs and developmental progress.
Starting solids is a very important phase and there are a few overarching goals to keep in mind:
Support your baby's growth and development by supplying the nutrition he needs, especially for critical nutrients like iron, DHA and vitamin D.
Advance your little one along with feeding skills. By a year of age, your baby should be self-feeding with utensils (and his hands), drinking out of a cup and eating a wide variety of flavors and textures.
Setting up healthy eating habits.
Feeding is as Important as Food
With the fast-paced world we live in, it's easy to put feeding on the back burner and give your youngster foods they can eat without your help. 
Remember, feeding is a chance to connect and enhance attachment. When your child eats in the back seat while you drive, you miss out on an opportunity to connect.   
A positive feeding relationship in infancy sets the stage for future healthy eating in toddlerhood, childhood and the teen years. 
5 Pointers for Using Baby Food Pouches
I've got a few pointers for using baby food pouches so your baby becomes the healthy, self-feeder he was meant to be!
1. Incorporate the Spoon
The original intent when baby food pouches came out on the market was to use them with a spoon.
Parents could squeeze a bit of baby food onto the spoon and feed it to their infant.
Today, the spoon is skipped and sucking from the pouch is the norm. This misses the opportunity to teach baby how to eat off a spoon and use his mouth muscles to manage, propel and chew food.
All babies need diversified texture so they learn to chew, self-feed and advance their feeding skills.
Babies who do not advance to more textured food by 9 months of age have been shown to have a greater likelihood of having feeding problems later.
Using a pouch won't hurt your baby if you keep moving forward with feeding skills, such as introducing finger foods, offering the spoon, and encouraging self-feeding.
2. Mix in More Texture
Add textured foods such as chopped and cooked veggies, rice, noodles or shredded meats in a bowl with baby food from pouches to increase the texture experience.
These varied textures will stimulate your baby's sensory system and train his mouth muscles to handle a wide range of food textures.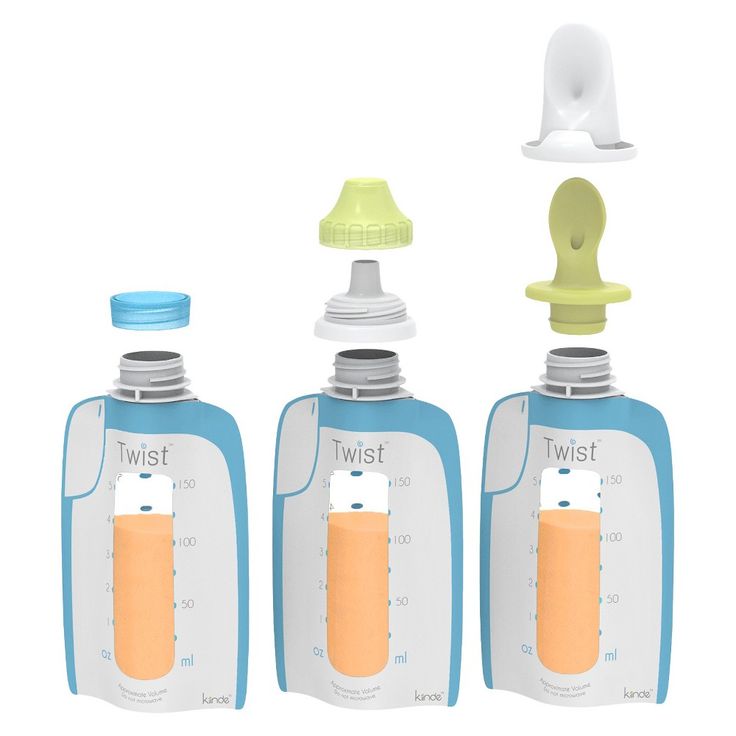 3. Monitor Baby when Eating a Baby Food Pouch
No matter what, when, or how you feed your baby, he or she needs to be monitored to watch for choking and to continue to enhance the parent-child connection and bond.
4. Start Finger Foods Between Six and Eight Months
Between six and eight months, babies develop their hand grasp and can hold a finger-shaped, or long, thin rectangle of soft food, such as buttered toast, soft cooked vegetables like sweet potato, or ripe fruit like banana or avocado.
By eight months, the pincer grasp emerges, and your baby can pick up small bits of food with his thumb and forefinger.
At this stage, introduce finer foods like strips and small cubes of soft food to your baby's meal routine.
Use this opportunity to introduce singular veggies and fruits so your baby can appreciate the flavor and texture of these foods.
5. Always Sit to Eat
This is good advice for any child at any age (even adults), but especially for the new eater who is learning to handle food.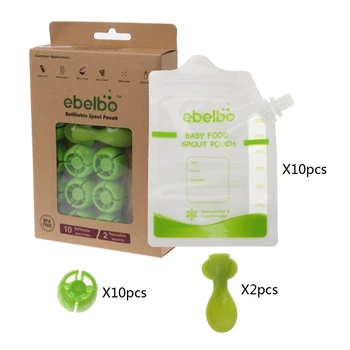 Sitting for meals and snacks helps children pay attention to their food and eating, learn to eat mindfully, and stop eating when full.
Your job is to provide quality nutrition and establish a good eating environment. Use developmentally appropriate feeding utensils and food textures to foster lifelong eating habits.
Need More Help with Feeding Baby?
Check out our nutrition booklets, workshops, and courses and my book, The Smart Mom's Guide to Starting Solids.
You may also enjoy reading:
Is Rice Cereal for Babies Safe?
Toxins in Baby Food: What You Need to Know
This article was updated on January 26, 2020.
How to choose a baby food bag - Product information - News
How to choose a baby food bag and how to choose the best quality baby food bag for your baby:
customized): PA/PET/PE or PA/PET/CPP

1).SafetyFoodGradematerial& PerfectPrinting.
2).
Greattopreventleakage, excellent moisture resistant
3). SSTRONGSEALINGOTTOM & GoodDIdisPlayEffect
Normal child Food size of the bag (accept order):
volume (ml)
Packet for baby food
Size
Twes
40

Special form
9*12

15
140
Get up

15*10+6
16
18
other tools for baby food bag:
diameter 0.8 mm).
2.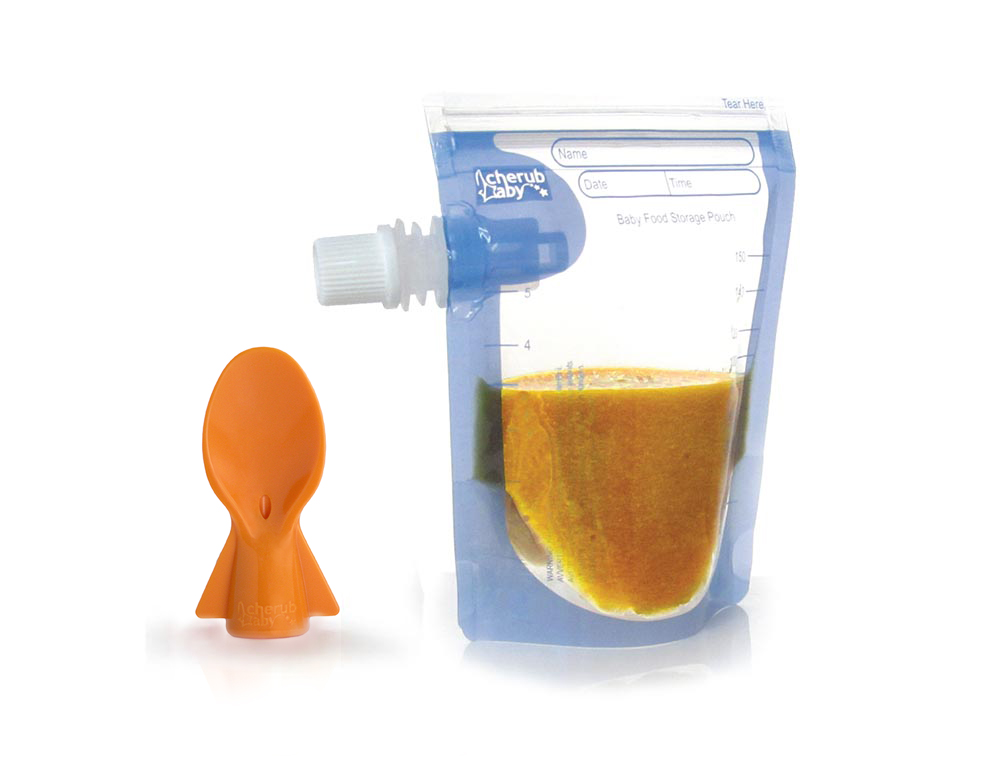 pouch' silicone spoon:

There is a hole on the spoon so you can squeeze the baby food directly onto the spoon so that the baby can eat the food easily.
3. spout bag' cleaning brush:
Special baby food brush' cleaning brush for cleaning the nozzle' on the inside of the spout.
4. funnel for baby food bag:
Adjustable funnel for easy filling of baby food.
5. Double zipper for baby food bags:
Use the double zipper on the baby food bag with spout to make the bag strong and safe to store baby food and make it airtight.
6.Customize spout paper box:
Usually our customers will pack baby food bag into paper box, so our factory can not only spout bag but also packing paper box.
How do I check baby food packaging for defects?
When buying baby food, pay attention not only to the composition of the product and the expiration date, but also to its packaging.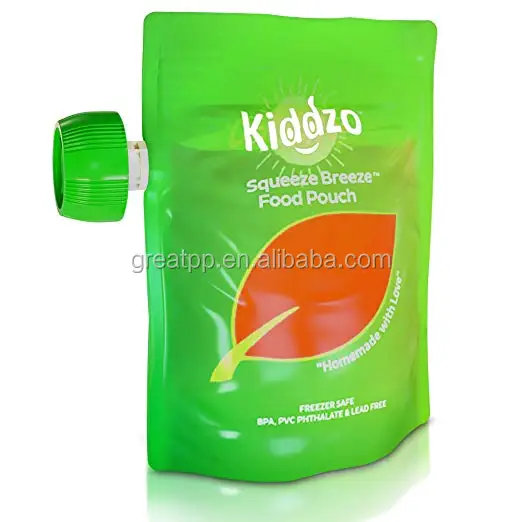 The product in a convenient package will make parental life a little more comfortable. And by checking the integrity and tightness of the container, you will avoid buying a product that cannot be eaten.
Baby food can be found on store shelves in a variety of packaging. Classic glass jars for one snack, tetra-pack boxes, plastic cups and bottles, soft pouch bags - each type of packaging has its own characteristics, pros and cons. Let's take a look at how the material from which the packaging is made affects the characteristics of the product you buy.
Glass
Typically, baby food manufacturers pack fruit, vegetable, meat purees, as well as everything that is similar in consistency, such as pâtés, into glass jars. It is convenient to heat the product in a water bath or in a special heater. The advantages of glass containers are in the environmental friendliness and safety of the material. Glass is chemically neutral and does not react with the contents of the jar, it is easy to recycle.
It ensures the safety of the product throughout the entire shelf life, if the storage mode is observed correctly (do not allow freezing or exposure to direct sunlight, twisting or damage to the lid). Glass jars are great for feeding your baby at home when you have a spoon and utensils handy to warm up the food. The disadvantage of glass is its fragility: there is hardly a single parent in the world who has never accidentally broken such a jar of food.
How to check glass packaging?
Improper transport or storage can cause defects even in safe glass containers. From impact, shaking or temperature changes, the lid may be deformed, and the jar will no longer be airtight. Incorrect storage or an expired expiration date may cause the lid to bulge. Jars with cracks, chips, swollen or bent lids should not be bought. And be sure to pay attention to the sound when you open the lid - you should hear a light but distinct pop. This is a guarantee that the contents can be given to the child.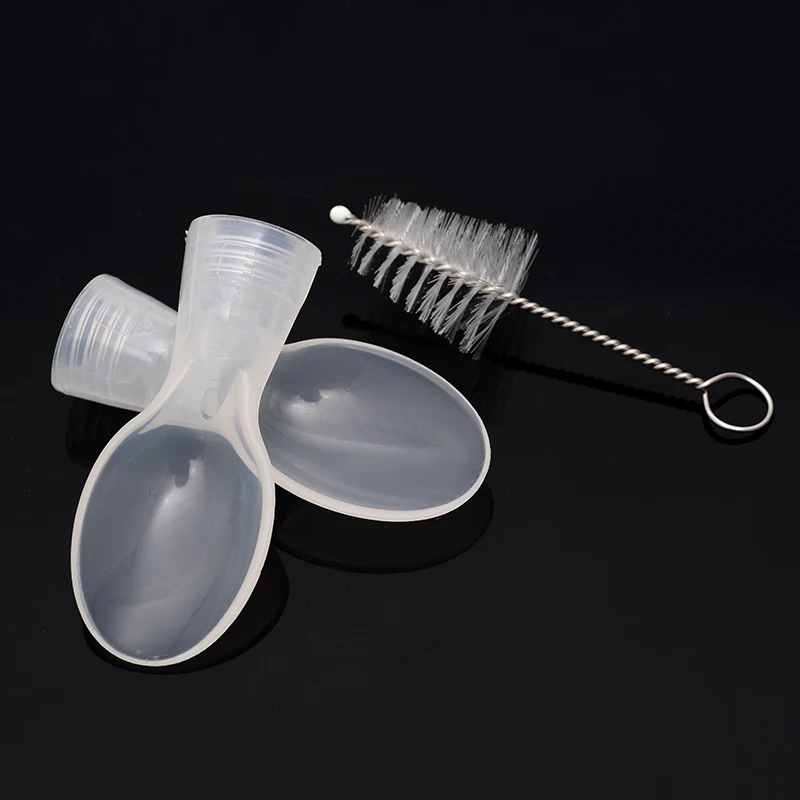 No cotton? Such food should not be given to a child.
2. Cardboard
Carton boxes are usually filled with products of a liquid consistency - juices and nectars, milk, milkshakes, compotes, fruit drinks. They also pack vegetable and fruit puree soups, cereals. Although the box is called a cardboard box, in fact, the packaging consists of several layers of different materials - in addition to cardboard, it has a thin plastic film and aluminum foil. Such a "layer cake" becomes an effective barrier against the external environment. Sealed packaging retains all vitamins and useful trace elements and does not let the sun's rays through, unlike transparent glass. Boxes are easy to store, withstand impact better, and weigh less than glass containers. True, recycling composite materials is much more difficult than glass.
How to check cartons?
Often the boxes are equipped with a plastic tube and a hole for it - or a lid with a "window" covered with a foil membrane.
It happens that unscrupulous buyers in the store open this membrane or it is torn during transportation. Be sure to check that the foil is in place, does not move away from the edge or is torn. If the box has a screw-on plastic lid, make sure that the lid fits snugly on the package and does not move away from it, and that all the "locks" under the lid are intact. There should be no cracks, dents, swellings on the box..
3. Plastic
Plastic containers and bottles usually sell children's dairy and fermented milk products - cereals, biocurd, drinks like yogurt or kefir. As a rule, they are closed with a special foil membrane. Such jars are light weight and do not break when dropped - this is their big plus. But upon impact, the plastic can be deformed, and the foil lid can tear, and then pathogenic microorganisms from the external environment will enter the contents.
At the production stage, the ingress of pathogenic microorganisms into the product is completely excluded: all processes are completely closed and automated, and the finished product undergoes strict control.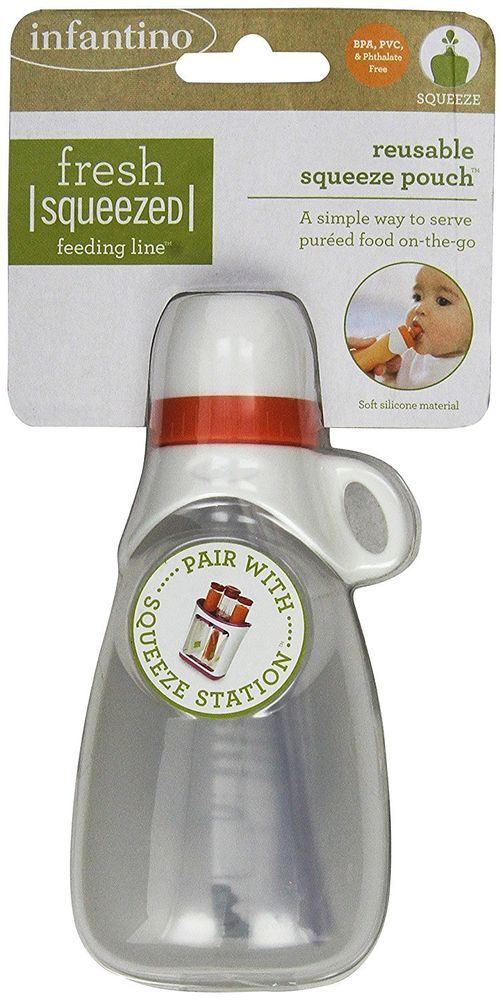 When buying, it is very important to check the integrity of food packaging to make sure that you are buying a healthy, tasty and safe product", — comments Olga Krasnikova , Quality Director of PROGRESS JSC (FrutoNyanya brand).
How to check plastic packaging?
When visually inspected, plastic cups and bottles must be intact, without dents. Pay attention to the lid - it should fit snugly on the package and not be torn anywhere.
4. Puree Pouches
Pouches are a relatively new type of packaging, but many parents have already appreciated its absolute convenience. These are pouch-like bags made of soft but dense plastic with a screw-on plastic lid. Mashed potatoes and pureed desserts are packaged in such bags - something that can be given to the baby on the road so that he holds the pouch with his hands, squeezes food out of it and can eat on his own. Thanks to a special spout, parents can forget about the risk of getting everything dirty.