Tips for feeding baby solids
Sample Menu for a Baby 8 to 12 Months Old
Log in | Register
Ages & Stages
Ages & Stages
Listen
Español
Text Size
Now that your baby is eating solid foods, planning meals can be more challenging. At this age, your baby needs between 750 and 900 calories each day, of which about 400 to 500 should come from breast milk or formula (if you are not breastfeeding)—roughly 24 ounces (720 mL) a day. Breast milk and formula contain vitamins, minerals, and other important components for brain growth.

At about eight months, you may want to introduce foods that are slightly coarser than strained pureed foods. They require more chewing than baby foods. You can expand your baby's diet to include soft foods such as yogurt, oatmeal, mashed banana, mashed potatoes, or even thicker or lumpy pureed vegetables.
Eggs (including scrambled) are an excellent source of protein, as are cottage cheese, Greek yogurt, and avocado.

Sample menu ideas for an 8- to 12-month-old baby:
1 cup = 8 ounces = 240 ml
¾ cup = 6 ounces = 180 ml
½ cup = 4 ounces = 120 ml
¼ cup = 2 ounces = 60 ml
Breakfast
2 to 4 ounces cereal, or 1 mashed or scrambled egg

2 to 4 ounces mashed or diced fruit

Breastmilk or 4 to 6 ounces formula
Snack
Lunch
2 to 4 ounces yogurt or cottage cheese, or pureed or diced beans or meat

2 to 4 ounces cooked pureed or diced yellow or orange vegetables

Breastmilk or 4 to 6 ounces formula
Snack
Dinner
2 to 4 ounces diced diced poultry, meat, or tofu

2 to 4 ounces cooked green vegetables

2 to 4 ounces cooked soft-whole grain pasta or potato

2 to 4 ounces diced or mashed fruit

Breastmilk or 4 to 6 ounces formula
Before bedtime
Breastmilk or 6 to 8 ounces formula, or water.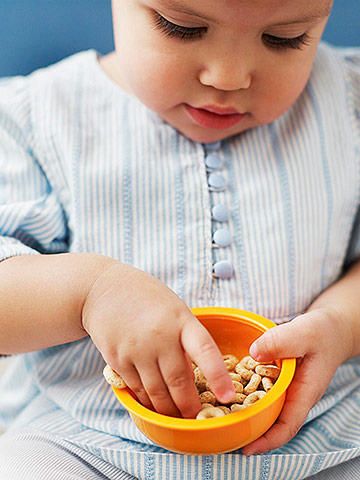 (If breastmilk or formula, follow with water or brush teeth afterward).
More information
Sample Menu for a One-Year-Old
Starting Solid Foods
Breastfeeding Mealtime Milestones
Ask the Pediatrician: Is it OK to make my own baby food?
Last Updated

8/12/2022
Source

Caring for Your Baby and Young Child: Birth to Age 5 7th Edition (Copyright © 2019 American Academy of Pediatrics)
The information contained on this Web site should not be used as a substitute for the medical care and advice of your pediatrician. There may be variations in treatment that your pediatrician may recommend based on individual facts and circumstances.
When can I start giving my baby peanut butter?
Log in | Register
Tips & Tools
Tips & Tools
Listen
Español
Text Size
Question
Amanda Cox, MD, FAAAAI
Answer
​Many parents have questions and concerns about when peanut butter can be safely introduced, because it is the leading cause of fatal and near-fatal food allergic reactions in the United States.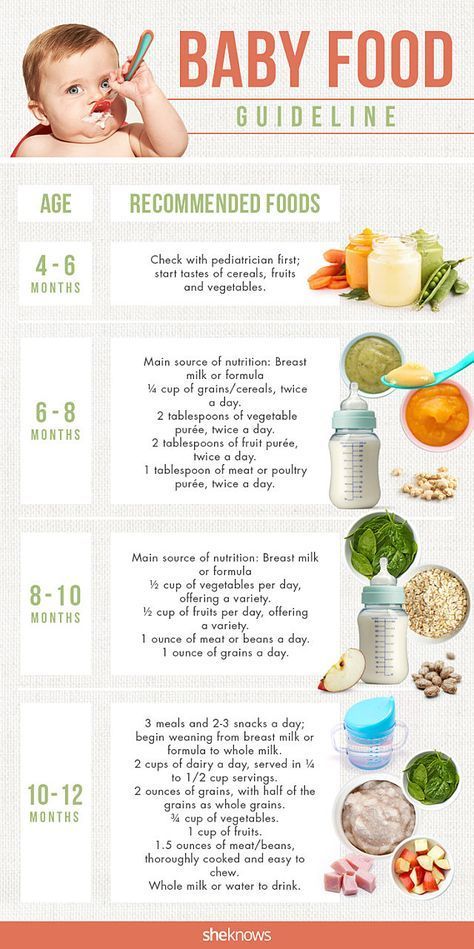 New Guidelines on the Introduction of Allergenic Foods:
For many years, experts thought that the best way to fight peanut allergy was to avoid peanut products in the first years of life. At the time, it was thought that delaying introduction would possibly prevent the development of other allergic conditions, especially eczema. However, more recent guidelines show that there is no benefit to delaying the introduction of allergenic foods. In 2015, an important study showed that early introduction and regular feeding of peanut prevented the development of peanut allergy in infants at "high risk" for peanut allergy (meaning infants who had severe eczema and/or an egg allergy).  
Advice to Parents:
Start solids with a few foods that are of low allergy risk—for example, infant cereal, puréed bananas, or puréed prunes. Give your baby one new food at a time, and wait at least 2 to 3 days before starting another. After each new food, watch for any allergic reactions such as diarrhea, rash, or vomiting. If any of these occur, stop using the new food and consult with your child's pediatrician.

If there is no special reason to be concerned that your baby is at increased risk for food allergies, after a few first foods have been tolerated, you can start to introduce the more highly allergenic foods (milk, egg, soy, wheat, peanut, tree nuts, fish, and shellfish). It is important that these—and all foods—are in forms and textures appropriate for infants. For instance, while whole cow's milk is not recommended before 1 year of age; you may introduce processed dairy products such as whole milk yogurt or Greek yogurt mixed with a fruit that your baby has already had in his or her diet.

If your baby has or had severe, persistent eczema or an immediate allergic reaction to any food— especially if it is a highly allergenic food such as egg—he or she is considered "high risk for peanut allergy." You should talk to your child's pediatrician first to best determine how and when to introduce the highly allergenic complementary foods. Ideally peanut-containing products should be introduced to these babies as early as 4 to 6 months. It is strongly advised that these babies have an allergy evaluation or allergy testing prior to trying any peanut-containing product. Your doctor may also require the introduction of peanuts be in a supervised setting (e.g., in the doctor's office).

Babies with mild to moderate eczema are also at increased risk of developing peanut allergy. These babies should be introduced to peanut-containing products around 6 months of age; peanut-containing products should be maintained as part of their diet to prevent a peanut allergy from developing. These infants may have peanut introduced at home (after other complementary foods are introduced), although your pediatrician may recommend an allergy evaluation prior to introducing peanut.

Babies without eczema or other food allergies, who are not at increased risk for developing an allergy, may start having peanut-containing products and other highly allergenic foods freely after a few solid foods have already been introduced and tolerated without any signs of allergy. As with all infant foods, allergenic foods should be given in age- and developmentally-appropriate safe forms and serving sizes.
Choking Prevention:
Whole peanuts themselves are choking hazards and should not be fed to babies. They can block the air passages, and if whole or partially chewed peanuts are inhaled into the lungs, they can cause a severe and possibly fatal chemical pneumonia. Avoid whole peanuts until your child is old enough to be counted on to chew them well (usually at least 4 years and up). ​

A good way to introduce peanut in infancy would be mixing and thinning-out a small amount of peanut butter in cereal or yogurt. Dissolving peanut butter puffs with breast milk or formula and feeding it by spoon is another good option.
Remember:
The highly allergenic foods should initially be given to your baby in small tastes at home, and the amount can gradually be increased in a developmentally appropriate manner if there are no signs of intolerance or allergic symptoms.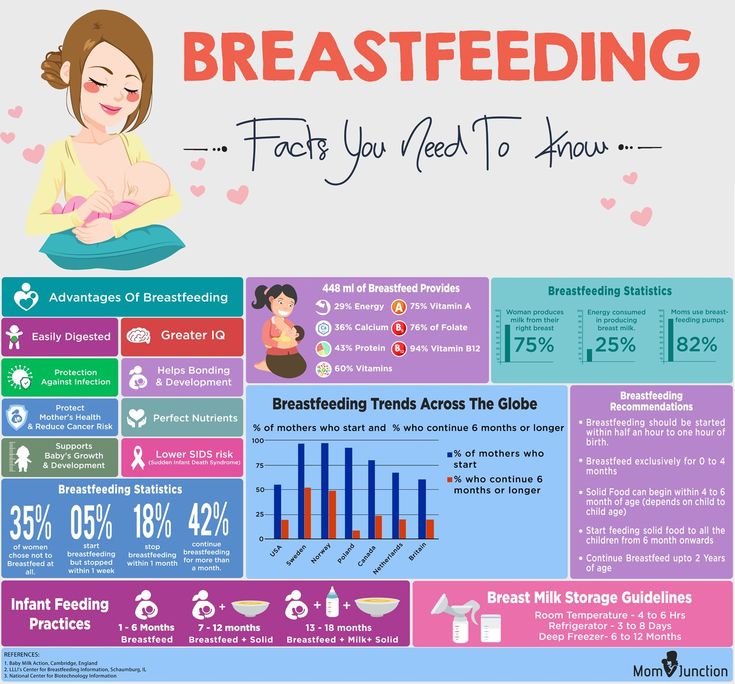 NOTE: The AAP recommends breastfeeding as the sole source of nutrition for your baby for about 6 months. When you add solid foods to your baby's diet, continue breastfeeding until at least 12 months. You can continue to breastfeed after 12 months if you and your baby desire. Check with your child's doctor about vitamin D and iron supplements during the first year. Remember that each child's readiness for solid foods depends on his own rate of development. 
Additional Information & Resources:
Working Together: Breastfeeding and Solid Foods 

Sample Menu for an 8 to 12 Month Old

Infant Allergies and Food Sensitivities

Peanut Allergies: What You Should Know About the Latest Research

The Effects of Early Nutritional Interventions on the Development of Atopic Disease in Infants and Children: The Role of Maternal Dietary Restriction, Breastfeeding, Hydrolyzed Formulas, and Timing of Introduction of Allergenic Complementary Foods (AAP Clinical Report)

Amanda Cox, MD, FAAAAI
​Amanda Cox, MD, FAAAAI is an Assistant Professor of Pediatrics in the Division of Pediatric Allergy and Immunology at the Icahn School of Medicine at Mount Sinai in New York and a practicing pediatric allergist at Jaffe Food Allergy Institute.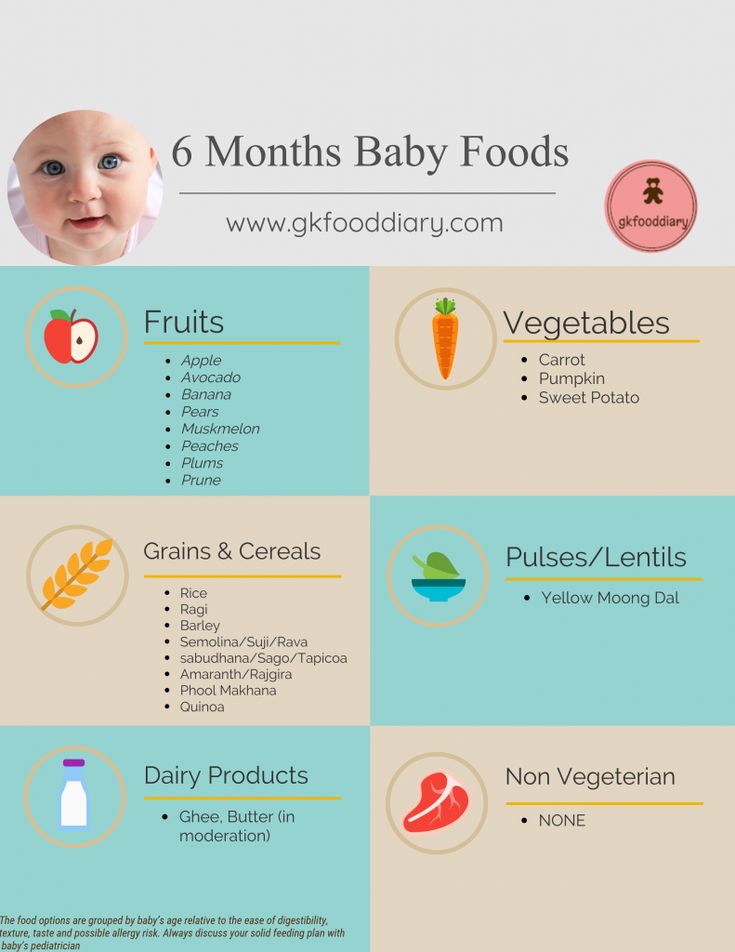 She is a former president of the New York Allergy & Asthma Society and a fellow of the American Academy of Allergy Asthma & Immunology where she serves on the Adverse Reactions to Foods Committee. Dr. Cox is a contributing writer to The Pediatrician's Guide to Feeding Babies and Toddlers and has written several book chapters and review articles in the area of food allergy. ​
Last Updated

3/17/2019
The information contained on this Web site should not be used as a substitute for the medical care and advice of your pediatrician. There may be variations in treatment that your pediatrician may recommend based on individual facts and circumstances.
Weaning Tips for Babies
Search Support Icon
Search Keywords
Home ›› How to Wean Your Baby
close communication. You are now preparing for another exciting milestone - introducing solid foods to your baby's diet.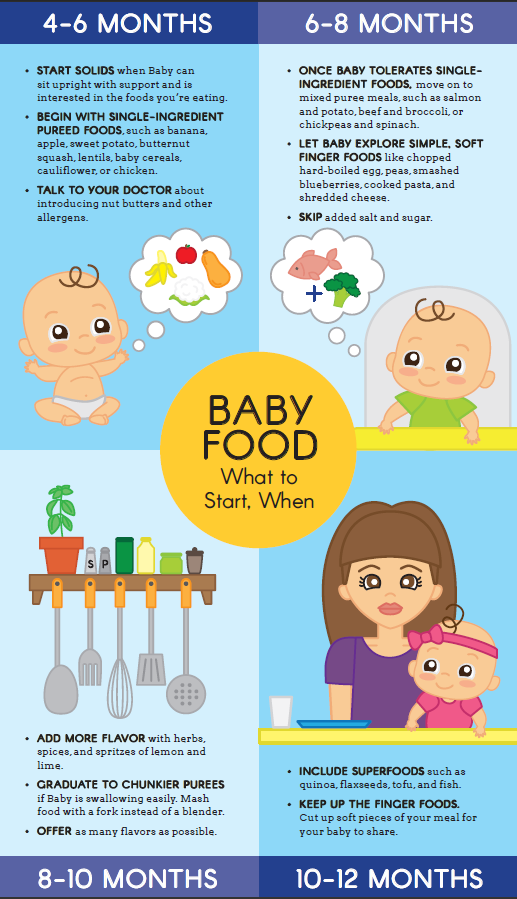 This is an exciting moment when your baby becomes more independent in eating. But, like all other stages of a child's development, this period requires a long adaptation. Like most parents, you probably want to know when to start introducing solid foods and how to introduce solid foods to your baby.
This article contains important information about introducing solid foods to your baby's diet (age-appropriate), tips for introducing complementary foods, and techniques to help you and your baby transition smoothly to the next level of nutrition.
At what age should complementary foods be introduced?

Be sure to check with your doctor when you think your child is ready to introduce new foods. There is no exact age at which complementary foods should be introduced. However, the introduction of complementary foods to children, both breastfed and bottle-fed, is recommended to start at the age of 4-6 months. At 6 months of age, a baby's energy and mineral needs increase.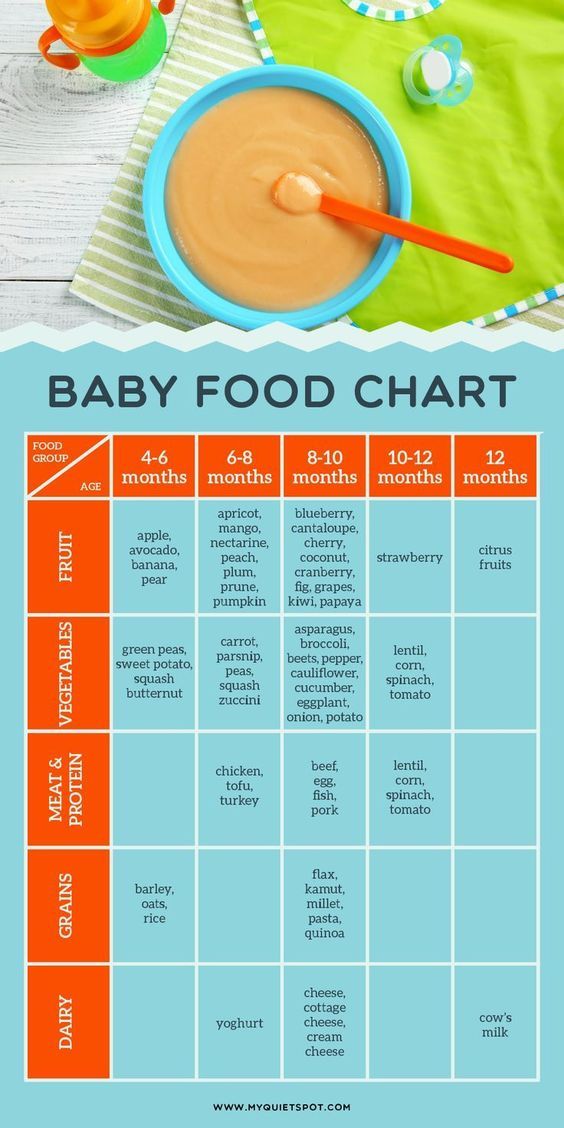 However, all babies are different and some may be ready for it as early as four months. Four months is the earliest age at which complementary foods can be introduced. Until then, the baby's gastrointestinal tract is not ready to absorb any other food besides breast milk or formula. Only a doctor will be able to assess the individual readiness of each child; no matter what his decision is, it is important to continue breastfeeding, gradually introducing solid foods along with it.
The doctor will try to identify key signs that your baby is ready for solid foods: [1]
The baby can sit up without assistance or can sit on mom's lap and hold her head.
The "spoon push" reflex, a natural reaction of rejection of food, in which the child pushes the spoon out with the tongue (the child no longer sticks out the tongue when eating), has disappeared in the baby.
The child has an active food interest (desire to try something from the table while adults are eating).
After your baby has mastered the skills necessary for independent feeding, including holding his head well, you can begin to introduce more solid foods into the diet.
Your baby's first foods

The moment you've been waiting for is finally here: your baby is ready to try solid food! Usually the products of the first complementary foods are vegetables and cereals.

If the baby is healthy, has no digestive problems and is gaining weight well, then, as a rule, weaning foods start with the introduction of vegetables.
Monocomponent vegetable purees are good for the first feeding. Vegetables are a source of organic acids, potassium, iron, fiber. It is recommended to start vegetable complementary foods with zucchini, broccoli and cauliflower. Initially, vegetable puree should consist of one type of vegetable. Then you can make a combination of different vegetables. Start with 1 spoon, then bring the volume to 180 grams.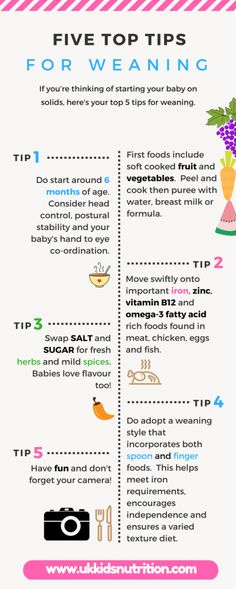 By the year, the amount of vegetable purees consumed per day is 200 grams.

If the child is underweight or anemic, industrial cereals can be given as the first complementary food. As the first cereals, in order to avoid allergic reactions, it is recommended to introduce dairy-free gluten-free cereals. Mix one to two tablespoons of single-grain cereal with breast milk, or infant formula, or water. If the child is breastfed, give him complementary foods only after the main feeding, so that the child can first get enough breast milk; keep doing this until he is about
[2]

Once your child is used to their first meal, continue to introduce new foods such as fruit purees, cottage cheese, eggs, dairy products, and meat and fish purees. Before introducing each next product, you must wait three to five days to find out if the child is allergic to the previous one.
Steaming!

The inclusion of various foods in the diet is very important for the formation of taste habits in the baby.
Steam a variety of healthy meals!

Steaming is one of the healthiest ways to cook baby food. Steamed products are very soft and juicy, unlike fried products, which, of course, is very popular with children. And most importantly, steamed foods preserve the most important vitamins and minerals.

Make healthy cooking easy and enjoyable with the Philips Avent 4 in 1 Steamer Blender. The 4 in 1 healthy baby food maker allows you to steam and grind food in one jug. In addition, with the Philips Avent Steamer Blender, parents can make solid foods for babies of all ages, from purees to chunks. Jug with a volume of 1l. designed to cook several servings at a time. So you can prepare several meals at once to feed your baby now, and also freeze the puree for next time in a special container that comes with the steamer. The defrost and keep warm functions will help you prepare lunch or dinner for your baby even faster.
The 4 in 1 Steamer Blender also comes with a recipe booklet developed with pediatric nutritionist Emma Williams.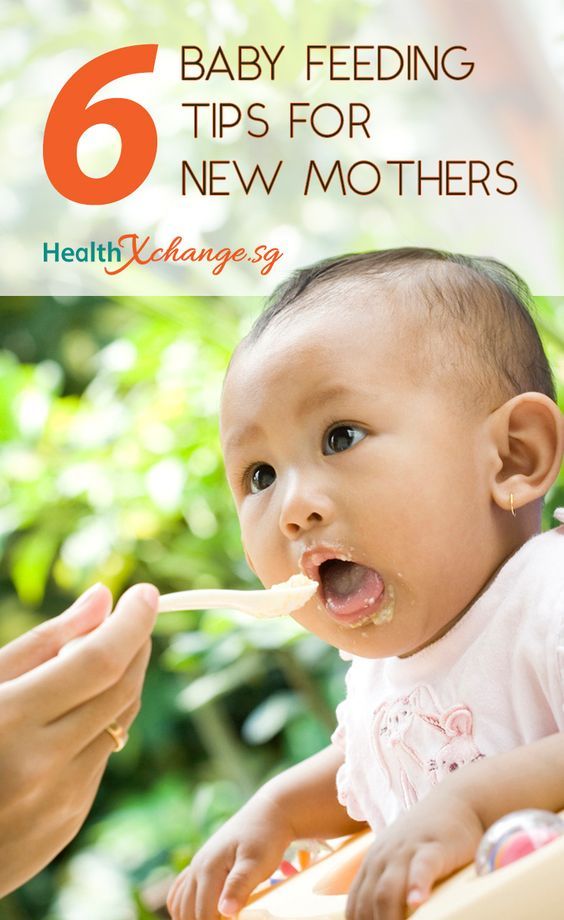 In the brochure you will find interesting recipes for preparing tasty and fresh children's meals, as well as useful tips on the introduction of complementary foods and interesting menu ideas. Instill healthy habits in your baby from an early age for healthy development.
In addition to the joy your child will experience from a change in diet, it is important to be aware of the various food allergies that can occur during the introduction of complementary foods. Experts recommend starting to introduce commonly known food allergens when the baby is 4-6 months old. In addition, recent studies have shown that with a later introduction of complementary foods in children, the risk of developing food allergies increases, therefore, it is necessary to introduce such foods into the baby's diet on time and not put them off for later. The most well-known G8 food allergens include: [2] [3]
cow's milk;
chicken eggs;
fish;
seafood;
nuts;
peanuts;
wheat;
soybeans.
If you or a family member has a food allergy, be sure to consult your pediatrician for the best solution for introducing the foods listed above to your child's diet.
In addition to introducing new foods into the child's diet, it is also necessary to teach him to drink water from the age of 6 months. During the first six months of a child's life, mother's milk provides him with the necessary amount of fluid, even in hot climates. But once your baby is 6 months old, you can start giving him little by little to drink from a non-spill cup.
Check out Avent's Soft Non-Spill Training Cup from the Natural series with comfortable handles to help your child learn to drink without help. It is easy to drink from it, because the liquid begins to flow out only when the child bites or sucks on the spout of the cup. The design of the cup makes it easy to hold with little hands.
From Puree to Finely Chopped Foods

Once your child has mastered the motor skills needed to eat more solid foods, you can move on to finely chopped foods.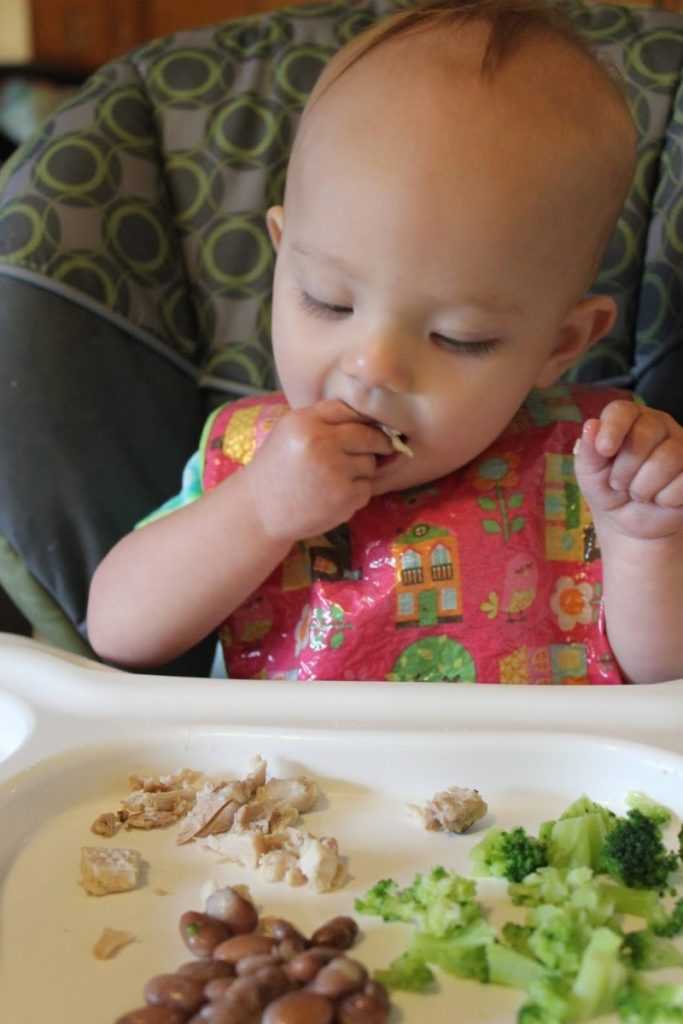 Each child is different, but usually chopped vegetables and meat can be introduced into the diet from nine months. [4]
When you introduce crushed foods into your child's diet, try to get your child to take an active part in family meals. The baby can be offered boiled vegetables, pieces of soft fruit, well-boiled pasta, or small pieces of chicken.
Remember to check that the ground food is soft and well cooked so that the child can easily grind it into mush with his mouth. Meat, for example, has a tougher structure and fibers, and therefore requires more thorough grinding compared to fruits that are delicate in texture.
With the Philips Avent 4 in 1 Steamer Blender, you can customize your food consistency from puree to chunks. Also, the recipe book that comes with the double boiler will allow you to easily choose the right recipe for the age of the child.
Tips for getting started with solid foods

Here are some basic tips for introducing complementary foods to infants.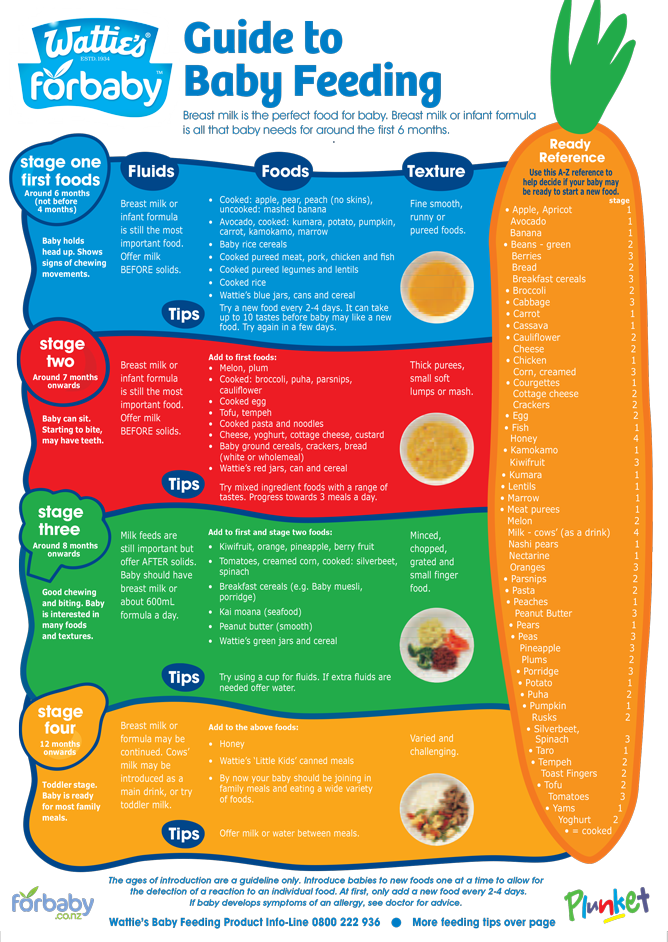 As you introduce solid foods into your child's diet, we also recommend following other tips to help your child get used to the new food: [1]
Offer food only when the child wants it. In a quiet environment or when other family members are having lunch, offer your baby a new product if he wants to try it.
Introduce a new product in small portions in the morning. A new product should be administered in the morning to monitor possible reactions to the product. Remember that the introduction of new foods into the diet should not be considered a complete meal for the child. It is only about giving the child the opportunity to taste different foods, as well as to get a feel for their structure, gradually increasing their portions as the baby grows older.
Offer your child a new product only when they are healthy. Do not introduce new foods when the child is sick or during the vaccination period.
If the child does not like the product, postpone the tasting until a later date. This is a new experience for your baby, associated with new tastes and sensations. Therefore, do not be discouraged and do not worry if the child did not like the food the first time! Simply postpone taking this product until a later time.
Never leave your child alone with food. Although the child is already taking the first steps in independent nutrition, this does not mean that he can be completely independent.
Do not give your child foods that are too hard or slippery, rounded or choking. These precautions will prevent the child from suffocation. Any rounded foods, such as grapes or carrots, should be cut into two or four pieces.
Goodbye liquid diet!

Proper weaning is an unforgettable experience for you and your baby. Complementary foods are very different from breastfeeding and bottle feeding, and you will certainly feel a sense of pride as your baby matures.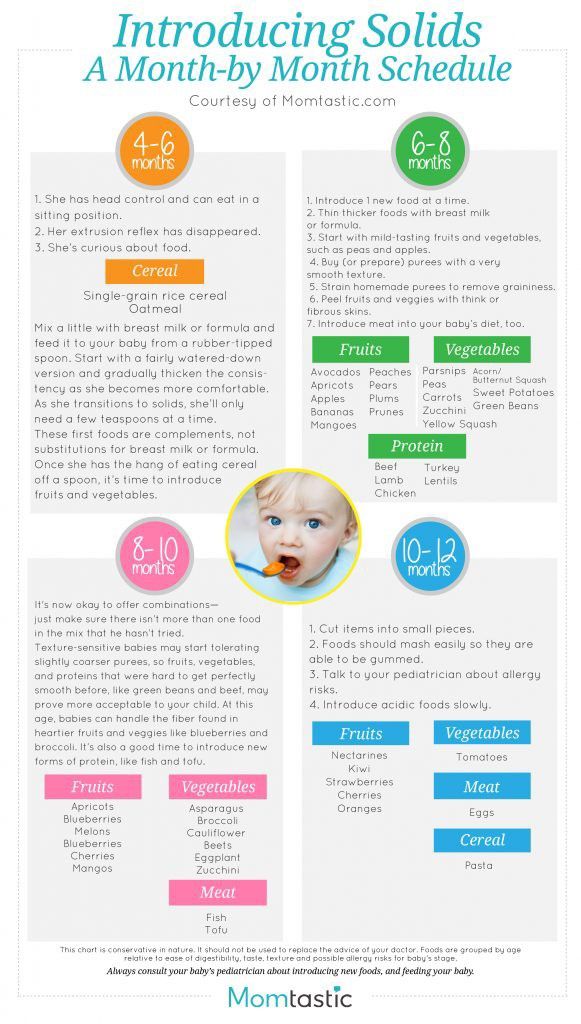 Enjoy these precious moments. After all, before you know it, your child will grow out of his highchair and move on to a full three-course meal!
Download the app and use trackers to track your child's development and growth, and keep those special moments forever.
Download app:
You are leaving the Philips Healthcare ("Philips") official website. Any links to third party websites that may be included on this site are provided solely as a convenience to you. Philips makes no warranties regarding any third party websites or the information they contain.
I understand
You are about to visit a Philips global content page
Continue
You are about to visit the Philips USA website.
I understand
How to transition a child to solid foods - what is BLW
The BLW theory was introduced in 2010 in the book Baby-Led Weaning by Jill Rupley and Tracey Marquette.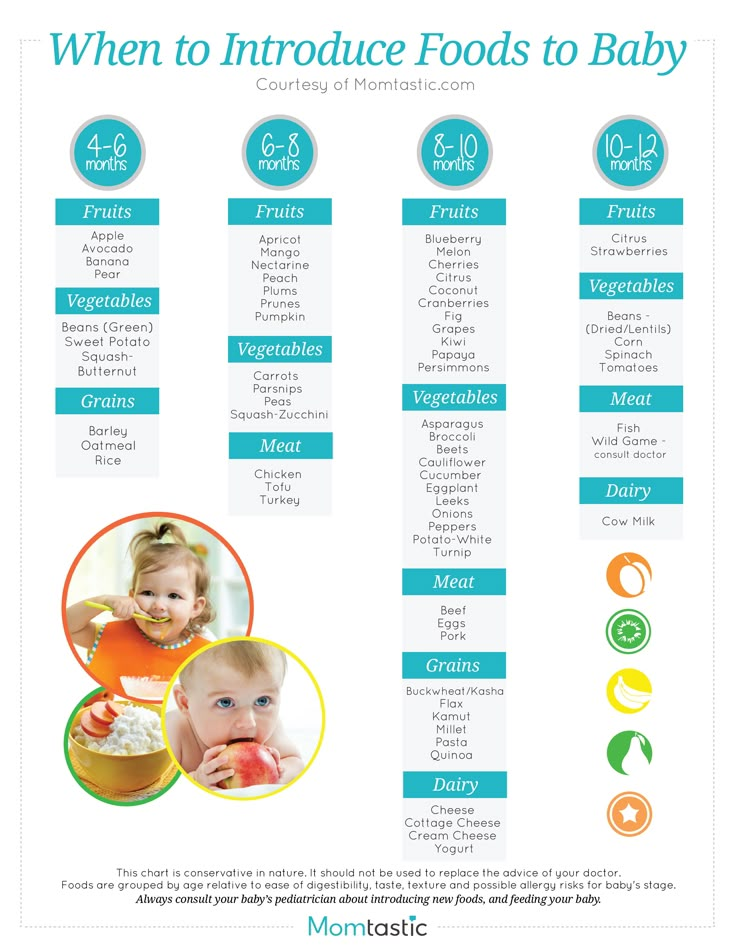 This approach to first foods is popular in the US, while there is not much information about it on the Russian-language Internet. In this article, we will talk about what are the features of BLW, what foods can be given to a child and what should not be, what precautions should be taken into account.
Baby-Led Weaning can be translated as "baby food of choice". You can apply this method no earlier than six months of age, it is better - from eight months. According to BLW, from this age, the child can be given regular food (which one - we will discuss below), while continuing to breastfeed or feed formula milk.
Benefits of BLW
Compared to baby purees, BLW has a number of advantages, in particular:
You don't have to spend time preparing baby purees.
The child can be at the family table from the very beginning and eat the same food as the parents.
This feeding method promotes the development of visual and fine motor skills.
The child learns to chew, swallow and decides what and how much to eat - this is how the foundations of healthy eating behavior are laid.
See also: From 1 year old and older - what and how to feed a small child
How to understand that a child can be given solid food
There are several signs - how to understand that a child can already be given regular food:
Child can sit up alone with little or no support.
The child wants to chew something, even if he does not yet have teeth.
He takes food with his thumb and forefinger instead of his palm.
The child shows interest in food, grabs food from the table.
It is advisable to consult a pediatrician before giving a normal meal to a child.
What foods can be given as first complementary foods
Of course, not all foods can be given as first complementary foods. Foods that are suitable for first foods according to BLW are:
Steamed or baked vegetables (broccoli, carrots, pumpkin pulp, zucchini).
Ripe fruits (apple, banana, avocado, mango, watermelon, peach, pear, plum).
Protein food (natural cheese, egg yolk, meat, liver).
Carbohydrates (gluten-free pasta, brown rice, millet, buckwheat, gluten-free bread).
Also read: 6 Months and Older - What Dairy Foods to Give to Young Babies
BLW First Feeding Rules - Do's and Don'ts
Make Sure Baby is Ready to Eat Regular Foods .
Continue breastfeeding or formula feeding until at least 10–12 months of age.
Sit the child in a comfortable position - he should sit upright without leaning back.
Cut the food into large pieces so that it is easy for the child to take them.
Start with soft foods: ripe fruit, steamed vegetables.
Take your child to the family table.
Get ready for a mess.
Take your time and don't rush your baby - the meal will take at least 10-15 minutes.
Pay attention to signals - for example, if a child scatters food, he may have already eaten.
Do not offer complementary foods if the child is tired or in a bad mood.
Do not coax your child to eat another bite and do not offer too much food at a time.
If your child doesn't want to eat regular food and likes baby purees more, don't be upset. Fortunately, there are many foods available for children today that can be spoon-fed, such as baby yogurt, cottage cheese spreads, and others.
See also: Baby food - 7 dairy products for young children
Precautions - things to consider
Avoid foods that a child can choke on, such as nuts, grapes, cherries, grape tomatoes.
If you want to give your child foods such as cherries and grapes, cut them in half and remove the pits.
Hard foods that a child cannot chew should be boiled (eg carrots).
Find out in advance how to give first aid if a child chokes.
Be careful with foods that can cause allergies: foods containing gluten, peanuts and other nuts, egg whites, seafood and some types of fish, citrus fruits.
Do not give your baby junk food and fast food: chips, popcorn, sugary foods, candy.
Banned honey, sugar and chocolate. Salt - in very small quantities with the permission of a doctor.
Never leave a child with food unattended.
Based on materials from parents.com, mamanatural.com, malyshi.livejournal.com
The information and recipes contained in this Blog may not meet the user's expectations, are presented for use without regard to the individual characteristics of the user's health and are used by the user at their own discretion and under personal responsibility.
Information, documents and related graphics and recipes taken from other sources and published on this site https://milkalliance.com.ua/ may contain technical errors and typographical errors.