Twelve month baby food
Baby Meal Plan: 12 Month Old
Most of your toddler's calories and nutrition should now be from solid foods

Cow's milk or soy milk can be introduced at this age

Family meals encourage healthy eating and trying new foods
Your baby has made their way into toddlerhood and is starting to master the ability to eat solid foods. By their first birthday, formula and breastmilk should be reducing while solid foods will start providing most of your little one's calories and nutrition.1,2 Expect your toddler to be eating 3 balanced meals with 2-3 healthy snacks each day.Between ages 1 to 2 years, toddlers have a great need for fat (which includes DHA), protein, and other nutrients such as iron, calcium, and choline to support their development.
For more information on nutrient needs of your young toddler, check out: Nutrients to Look for at 6-12 Months
Need some ideas for healthy snacks? Healthy Snacks for Babies and Toddlers
Transition to cow's milk
Formula fed babies are encouraged to transition to whole milk or unsweetened soy milk at the one-year mark, while breastfed babies can continue to drink breast milk.
If you're making the switch to milk, the American Academy of Pediatrics recommends 16 ounces with a maximum of 24 ounces (2 to 3 cups) of whole milk daily,4 and breastfeeding moms can continue to breastfeed as long as mom and baby desire.5,6
Learn more: What Type of Milk Should My Toddler Drink?
The below 12-month-old toddler meal plan provides snack and recipe ideas to help you provide your little one with nutritious choices that will continue to influence their taste development and food preferences.
Pro tips on healthy family meals
By 12 months, your baby will be eating more and more of the foods you are. So eating as a family may become easier! In fact, making time for family meals is an important way to encourage healthy eating and appropriate mealtime behavior.7 Babies and children who are part of regular family meals are often more willing to try new foods.8
Keep in mind that even at this age, slight adjustments may be needed in the texture and size of certain foods to help prevent choking.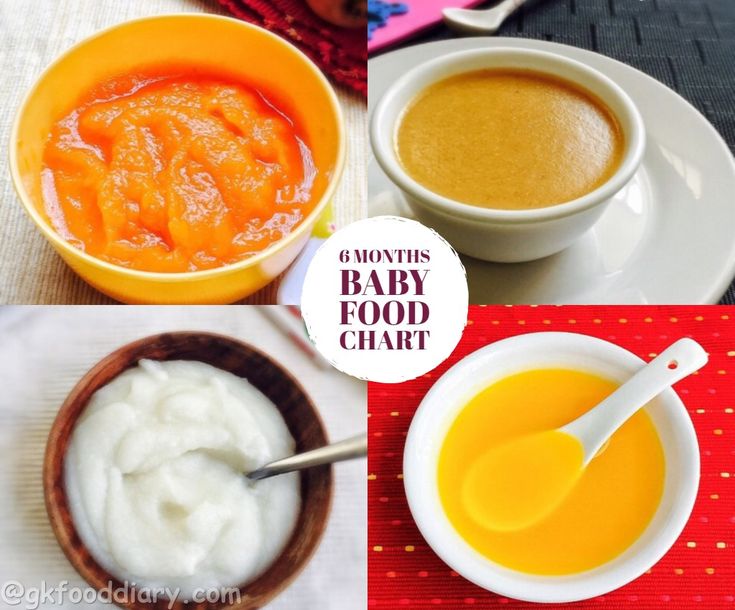 9
Read more: Family Meals: Developing Healthy Eating Patterns
If you have questions on how to prevent picky eating, reach out to our team of registered dietitians for free! They're here to help on our free, live chat from Monday through Friday, from 8am–6pm ET. Chat now!
For more information on picky eating, please visit our  Picky Eating Hub.
Breakfast
Option 1: Whole Grain Pumpkin Waffle Dippers with nut butter and 100% fruit spread

Option 2: Unsweetened yogurt with sliced berries and granola

Option 3: Oatmeal topped with diced cinnamon apples

Option 4: Easy Cheesy Egg Roll-Ups

Option 5: Banana pancakes (combine 1 ripe banana, 1 egg and 2 tbsp. whole wheat flour. Cook 3 minutes on each side over medium heat)
Lunch
Option 1: Quesadilla made with whole-wheat tortillas, cheddar cheese and cubed avocado

Option 2: Shredded or diced chicken or turkey with black beans and corn

Option 3: Hard boiled egg, cubed butternut squash, sliced grapes

Option 4: Whole grain pita "pizza" topped with tomato sauce, mozzarella cheese, spinach and broccoli

Option 5: Easy-Peasy 5 Veggie Pasta for Baby
Dinner
Option 1: Baby's First Bolognese

Option 2: Baked Seasoned Chicken Tenders & Sweet Potatoes

Option 3: Baked fish "fingers" with roasted carrots and quinoa

Option 4: Cheeseburger (ground beef, chicken or turkey), cut up in pieces on a whole grain roll and soft roasted zucchini

Option 5: Fork mashed salmon and soft cooked cauliflower
Snacks
Option 1: Baked Seasoned Tofu

Option 2: Hummus with steamed or soft cooked veggies

Option 3: Banana & Yogurt Muffins

Option 4: Diced, ripe fruit

Option 5: Shredded or cubed cheese
Let's Chat!
We know parenting often means sleepless nights, stressful days, and countless questions and confusion, and we want to support you in your feeding journey and beyond.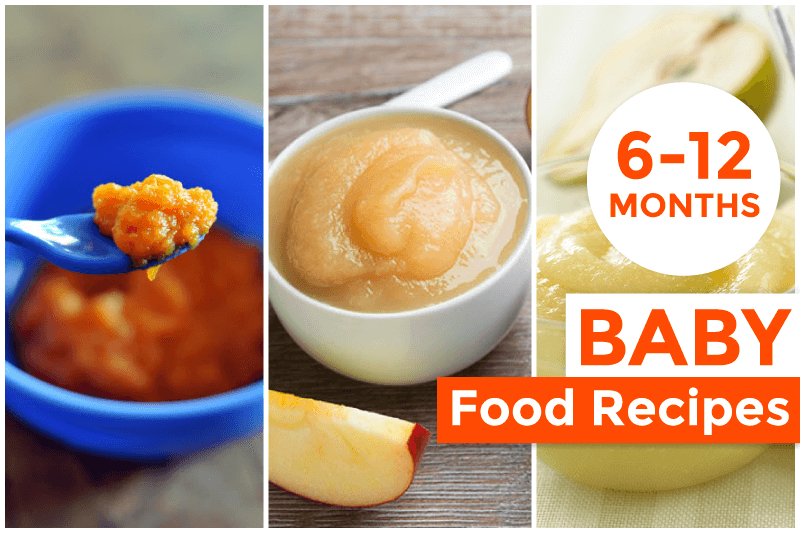 Our Happy Baby Experts are a team of lactation consultants and registered dietitians certified in infant and maternal nutrition – and they're all moms, too, which means they've been there and seen that. They're here to help on our free, live chat platform Mon-Fri 8am-6pm (ET), and Sat-Sun 8am-2pm (ET). Chat Now! 
Read more about the experts that help write our content! 
For more on this topic, check out the following articles and recipes:
Strategies for creating a healthy kitchen
High quality dietary fats good for you and baby
Why folate matters for babies, tots and mama
Why do omega 3s matter for babies, tots and mama
Healthy snacks for babies and toddlers
The Division of Responsibility: Helping Avoid Picky Eating
Why does choline matter for babies, tots and mama
Family meals: Developing healthy eating patterns
Nutrition needs and feeding tips for 6 to 12 month olds   
Our meal plans offer recipe and meal suggestions for your child.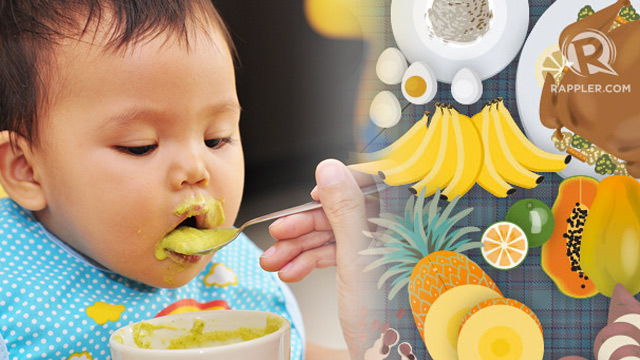 They are not designed to replace your doctor's recommendations, nor do they take into account special nutritional needs, including allergies and intolerances. The meal plans suggest serving sizes that may or may not be appropriate for your child. Please consult your doctor to determine what is best for your child.
Sample Menu for a Baby 8 to 12 Months Old
Log in | Register
Ages & Stages
Ages & Stages
Listen
Español
Text Size
Now that your baby is eating solid foods, planning meals can be more challenging. At this age, your baby needs between 750 and 900 calories each day, of which about 400 to 500 should come from breast milk or formula (if you are not breastfeeding)—roughly 24 ounces (720 mL) a day.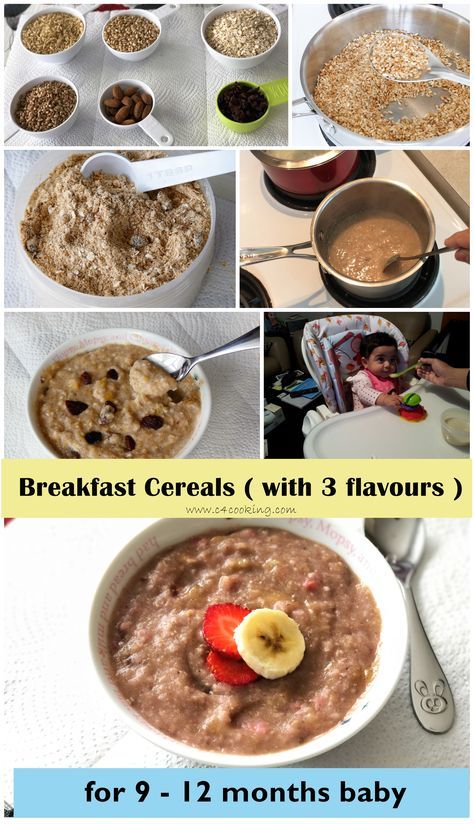 Breast milk and formula contain vitamins, minerals, and other important components for brain growth.

At about eight months, you may want to introduce foods that are slightly coarser than strained pureed foods. They require more chewing than baby foods. You can expand your baby's diet to include soft foods such as yogurt, oatmeal, mashed banana, mashed potatoes, or even thicker or lumpy pureed vegetables. Eggs (including scrambled) are an excellent source of protein, as are cottage cheese, Greek yogurt, and avocado.

Sample menu ideas for an 8- to 12-month-old baby:
1 cup = 8 ounces = 240 ml
¾ cup = 6 ounces = 180 ml
½ cup = 4 ounces = 120 ml
¼ cup = 2 ounces = 60 ml
Breakfast
2 to 4 ounces cereal, or 1 mashed or scrambled egg

2 to 4 ounces mashed or diced fruit

Breastmilk or 4 to 6 ounces formula
Snack
Lunch
2 to 4 ounces yogurt or cottage cheese, or pureed or diced beans or meat

2 to 4 ounces cooked pureed or diced yellow or orange vegetables

Breastmilk or 4 to 6 ounces formula
Snack
Dinner
2 to 4 ounces diced diced poultry, meat, or tofu

2 to 4 ounces cooked green vegetables

2 to 4 ounces cooked soft-whole grain pasta or potato

2 to 4 ounces diced or mashed fruit

Breastmilk or 4 to 6 ounces formula
Before bedtime
Breastmilk or 6 to 8 ounces formula, or water.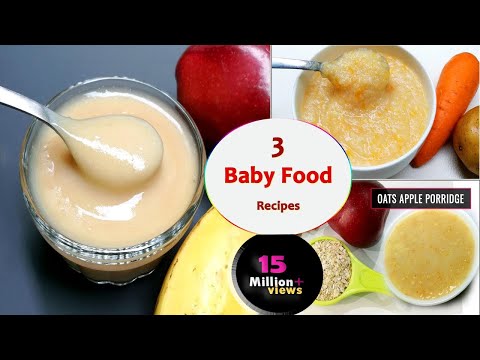 (If breastmilk or formula, follow with water or brush teeth afterward).
More information
Sample Menu for a One-Year-Old
Starting Solid Foods
Breastfeeding Mealtime Milestones
Ask the Pediatrician: Is it OK to make my own baby food?
Last Updated

8/12/2022
Source

Caring for Your Baby and Young Child: Birth to Age 5 7th Edition (Copyright © 2019 American Academy of Pediatrics)
The information contained on this Web site should not be used as a substitute for the medical care and advice of your pediatrician. There may be variations in treatment that your pediatrician may recommend based on individual facts and circumstances.
Seven Months Menu
Contents
Breastfeed your baby every 3-4 hours.
If you give your baby expressed breast milk, he needs approximately 710 grams per day. With 5-6 meals a day, this is about 120 to 200 grams of milk per meal.
If the baby is formula-fed (FW), he needs 170 to 230 grams of formula up to 4 times a day, provided that 2 more feedings replace complementary foods. To find out how much mixture you need, be guided by the instructions on the package, the recommendations of the pediatrician.
From the age of 6 months, only mother's milk or adapted infant formula is not enough for a baby - he needs a variety of complementary foods. Introduce no more than one new product per day into the child's menu at 7 months and consult a pediatrician first. After getting acquainted with different foods, up to three complementary foods can be given daily: this can be one or two tablespoons or 115-170 grams (8-12 tablespoons), depending on the baby and the specific product.
Important The calculation of servings and the number of feedings depends on the individual characteristics of the development and needs of the child.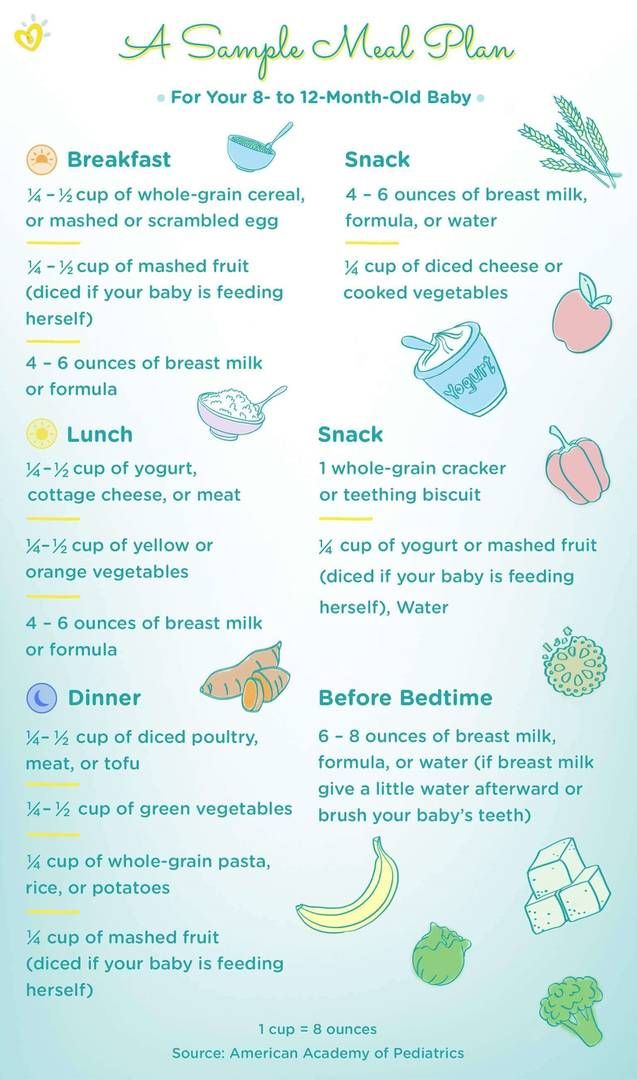 Therefore, first of all, be guided by the recommendations of your pediatrician and the needs of the baby.
Baby's menu at 7 months: introducing new products
The basis of the diet is still breast milk or infant formula. To diversify the menu, children's adapted food will help: fruit and vegetable purees, milk and dairy-free cereals, juices, as well as some products from the "adult table".
Kashi
At 7 months, dairy-free and milk porridges, along with breast milk, are the basis of a child's nutrition. To start complementary foods, choose gluten-free liquid one-component cereals with a high iron content: rice, buckwheat, oatmeal. A little later - corn and semolina. Start complementary foods with half or a whole teaspoon, gradually increasing the serving to 150 grams.
Important Dairy-free porridge is diluted with breast milk or milk formula, milk - with purified boiled water. Find out more: Gerber® Baby Cereals: product range
Vegetable and fruit purees
Vegetable and fruit purees will diversify the diet and introduce new tastes to the baby.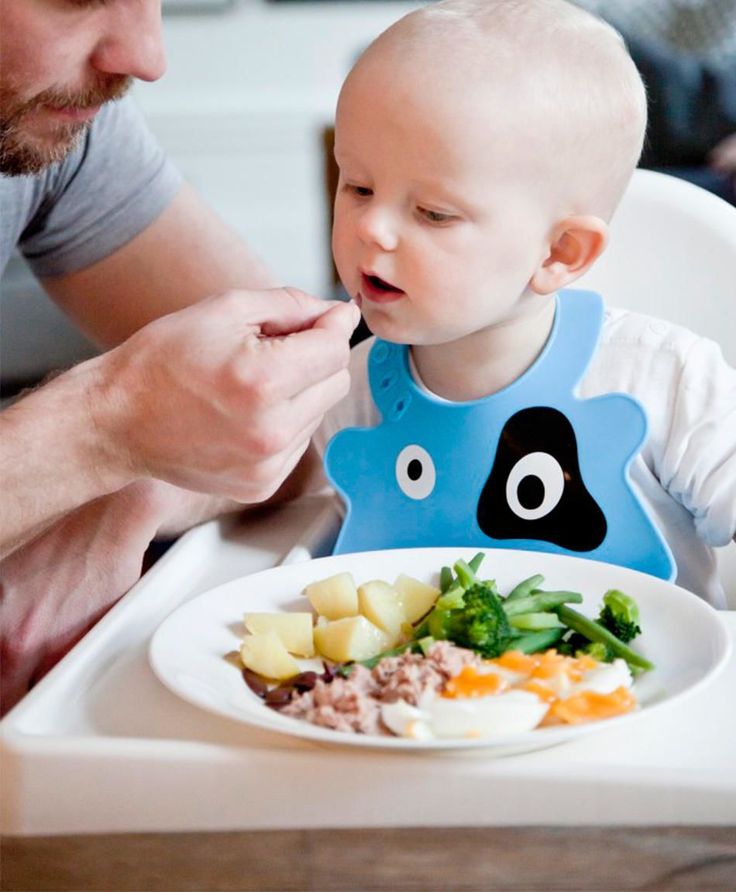 According to WHO recommendations, the best product to start with is a one-component vegetable puree made from zucchini, broccoli, cauliflower or potatoes. These vegetables are less allergenic than other foods. If the child does not have allergies, pumpkin, carrot, pea and tomato puree can be given a little later.
Find out more: Gerber® Vegetable Purees
After introducing vegetable purees into your diet, it's time for your little one to get to know sweet and healthy fruit purees. Like vegetable, fruit complementary foods are also recommended to start with one-component low-allergenic foods. Apple, pear or banana puree is best for this. Start with half or a whole teaspoon and gradually increase the serving to 100-150 grams.
Learn more: Gerber® 9 fruit purees0004 
Your baby's introduction to a variety of flavors is the best place to start with Gerber® vegetable purees, specially formulated for baby's first foods.
In the composition - only the vegetable that is indicated on the package, without extraneous additives.
DETAILS
Meat
Meat is a product necessary for development, rich in iron and protein, which is well absorbed in the body. Start with homogenized options. The product must contain only one type of meat (diet turkey, rabbit, chicken, veal) and no additional components. If the crumbs have a tendency to food allergies, choose meat very carefully, it is better to consult a doctor in advance. Pay attention to the composition of baby food and its age-appropriate baby. First, let the baby try half a teaspoon. If no adverse reactions occur, gradually increase the meat rate to 60 grams.
Find out more: Gerber® Meat Purees
Juices
Fruit juice is great for snacking and menu variety. Young children tolerate clarified apple and pear juice better, so they should be introduced first. Give the baby adapted baby juices: they do not contain sugar or other additives undesirable for the child.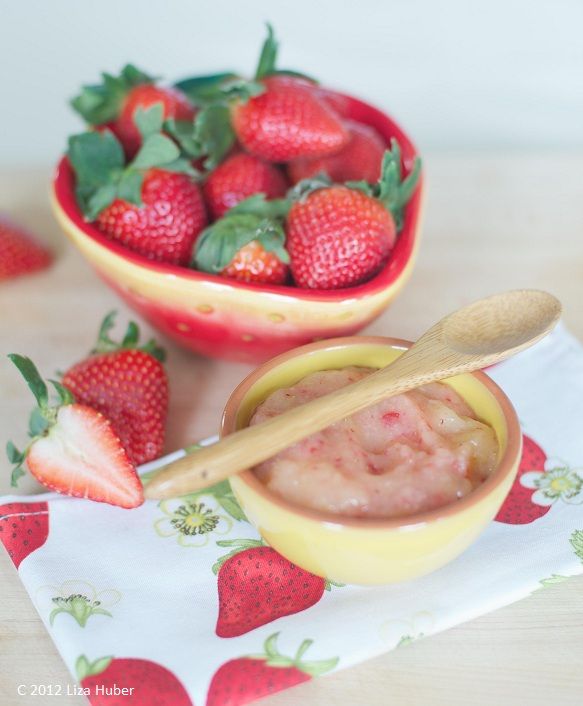 Ordinary store-bought juices can only be drunk by children over three years old.
0004 Tip Introduce your baby to juices after the introduction of cereals and vegetable purees. Often the child gets used to sweet juices and then does not eat foods with a less bright taste. Learn more: Gerber® Juices
Egg Yolk
In addition to cereals and purees, boiled egg yolk is introduced at 7 months of age as it is an excellent source of omega fats, selenium, phosphorus and vitamins. Please note that you need to give the egg not the whole, but only the yolk. But, like any other product that you give to try for the first time, it should be introduced carefully and little by little to make sure that the baby does not have an allergy. Do not combine with other food! Only when you "test" the yolk, it is allowed to add it to cereals and vegetable purees.
Important It is believed that allergic children can be fed quail eggs.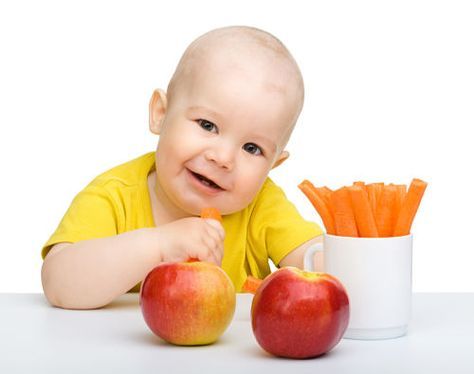 But it is important to remember that quail eggs can also be allergic, as they also contain egg white - an allergen that is found in chicken eggs. Therefore, do not experiment, but seek the advice of a pediatrician. See also: Introduction of complementary foods to children with food allergies
Baby biscuits and crackers
At seven months, some babies begin to erupt their first teeth. Therefore, you can add crackers and children's cookies to food. But do not forget that they should not be too hard so that the child does not get hurt and choke. It is also better to choose special products without added salt, sugar, synthetic leavening agents and preservatives.
Important The child should eat solid food in a sitting position and strictly under adult supervision.
Consistency of dishes
The main component of the diet remains liquid and homogeneous (without lumps) - breast milk or milk formula, milk and dairy-free cereals.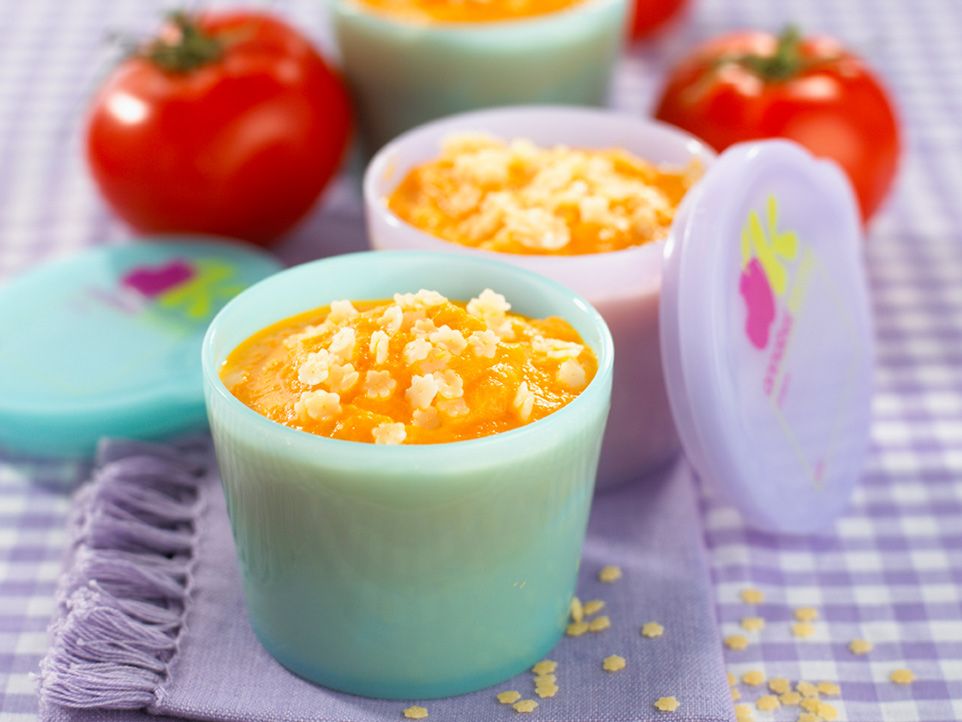 As the baby grows, the baby's food should change from liquid and homogeneous to thicker and puree, mashed. When the body adapts and is able to digest solid food, they begin to carefully introduce small, medium and coarsely ground foods, give children's cookies and crackers.
At 7 months, some babies already have teeth, but they cannot yet chew thoroughly and safely swallow vegetables, fruits and meat. Therefore, solid food should be given only in a grated form. It is important that the puree is not too thick, otherwise the child may accidentally choke.
Tip If you are preparing puree yourself, carefully remove everything that is not frayed and can get into the respiratory tract of the crumbs: bones, fat, veins, skin, films. To make the puree easier to swallow, add some boiled water, unsalted vegetable broth, vegetable puree already familiar to the baby, or breast milk (milk mixture).
By about 7 months of age, the baby has mastered the "palm grip" skill and can independently hold solid food in the handle.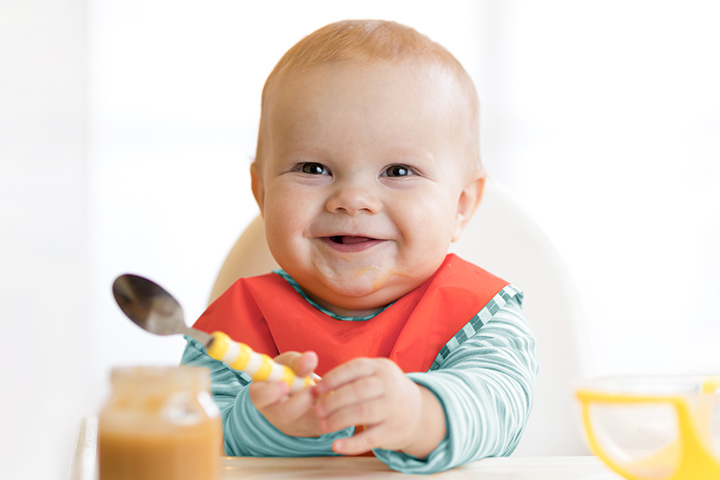 From now on, you can give your child special baby cookies or snacks. At the same time, make sure that the baby eats slowly, in a sitting position and does not choke.
Important The baby should be ready to receive more viscous or solid food. Therefore, before changing the consistency of food for a child, consult a pediatrician.
Meal schedule and approximate daily menu
What can be given to children at 7 months and at what time to feed? Parents can begin to form a classic division of food consumption per day. But at 7 months, the baby needs to be fed not three or four, but five times a day at intervals of four hours. The first and final feeding is mother's milk or formula. Complementary foods are not given at this time in order to prevent overeating.
*Dairy-free porridge should be diluted with breast milk or infant formula given to the baby. Milk porridge is diluted with water.
Tip Do not salt or sweeten food.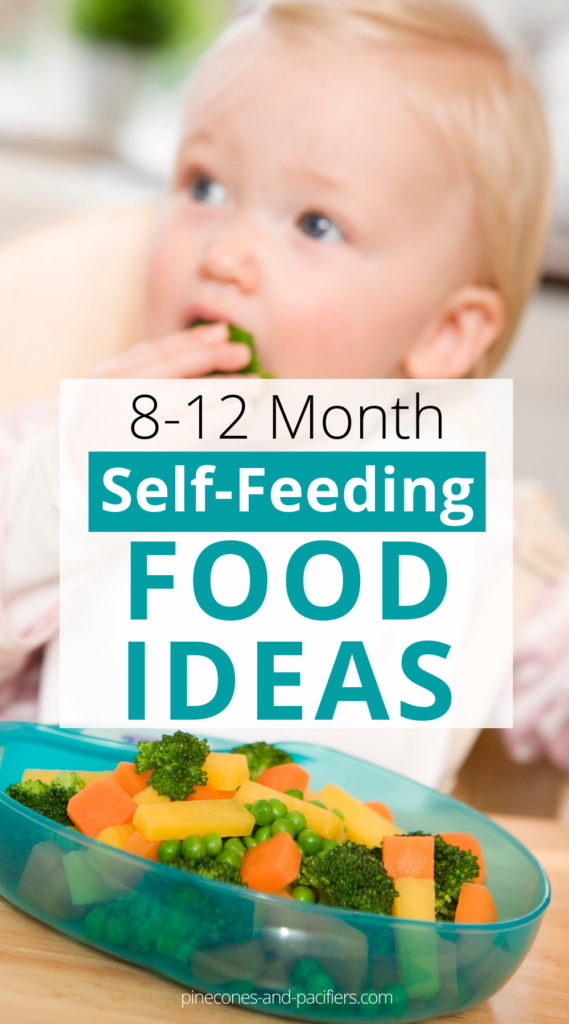 It is better to introduce the baby to sugar and salt after a year.
Sample diet for a 7-month-old baby allergic to cow's milk proteins: table
Nestle® Dairy-Free Rice Cereal*
Vegetable Oil (add to meal)
Gerber® Apple or Williams Pears Fruit Puree
130 g
approx. 1 tsp.
70 g
III feeding
14 hours
Gerber® vegetable puree Broccoli, Cauliflower
Vegetable oil (add to the dish)
Gerber® meat puree 170 g024 with rabbit 90 g02
about 1 tsp.
30 g
IV feeding
18 hours
Vegetable puree or dairy-free porridge**
Vegetable oil (add to meal)
Gerber® Tender Turkey Meat Puree
170 g
approx. 1 tsp.
20 g
V feeding
22 hours
Breast milk or formula for infants with intolerance to cow's milk proteins
200 ml
**you can either alternate porridge or vegetables, or offer a mixed dish - porridge with vegetables.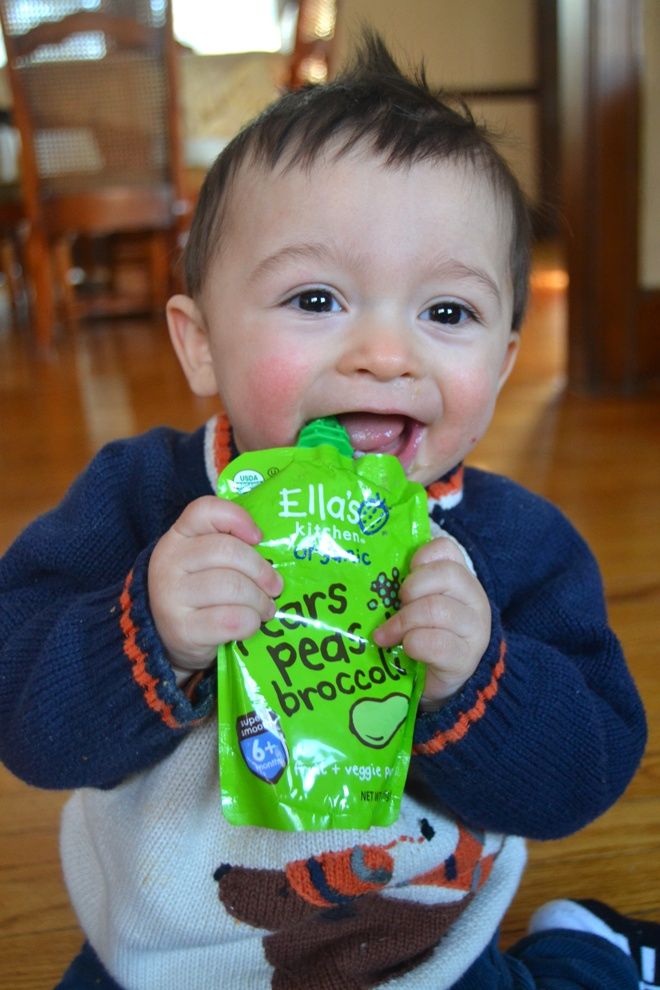 Now you know what products and in what form can be introduced into the menu of a child at 7 months. It is preferable if it is certified baby food that meets all age requirements and high safety standards.
See also: Do ​​we cook ourselves or use baby food?
Frequently Asked Questions
1. At what age should complementary foods begin?
The World Health Organization (WHO) recommends introducing complementary foods to your baby's menu at 6 months of age.
2. How to start complementary foods?
Experts advise starting complementary foods with one-component homogenized vegetable purees.
3. How much should a 7-month-old baby eat?
At 7 months, a baby needs a portion of food per day, which is equal to about ⅛ of body weight.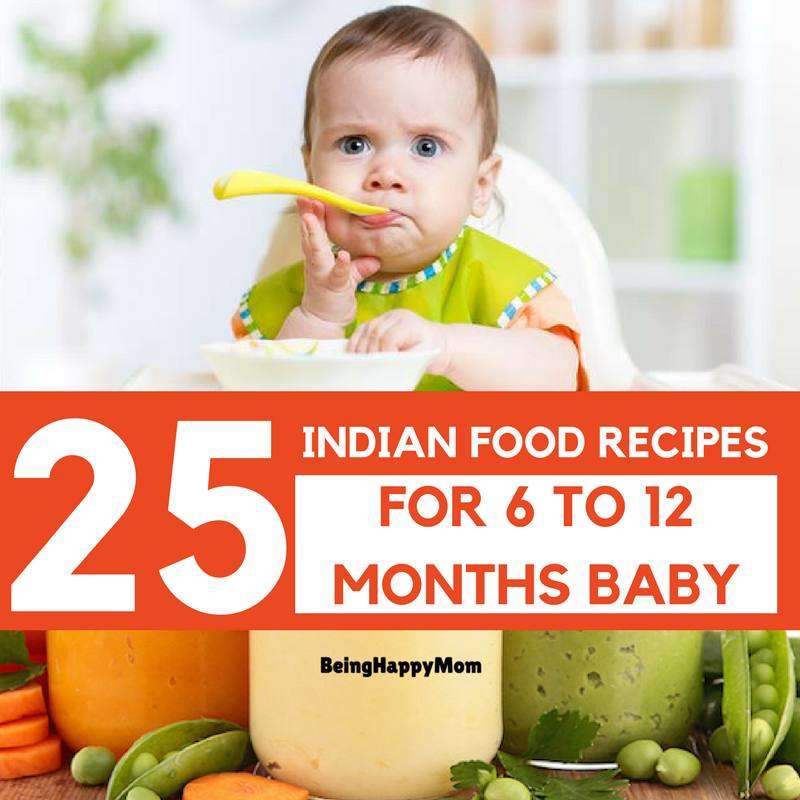 This is 1000-1200 ml of food, excluding water, juices, children's tea. Divide this amount by 5 feedings and you will get an estimated amount of food per meal - 200-210 ml.
Related articles:
12 month old baby menu: baby food.
The menu of a 12-month-old baby is already almost the menu of an adult. The baby has teeth, he can chew a little and loves a variety of tastes. Feeding through the nipple in the past: now he eats only from a spoon, and drinks from a cup.
The majority of a 12-month-old's diet consists of milk and dairy products. He must drink at least 0.5 liters of milk, kefir or yogurt per day. Cook porridge with milk, use cottage cheese. A one-year-old child can already be given some hard cheese.
Eggs in the menu of a 12-month-old baby so far only include chicken eggs: either hard-boiled or as part of a pudding or casserole. Up to a year and a half, try to experiment, and give eggs of other birds or in a different form.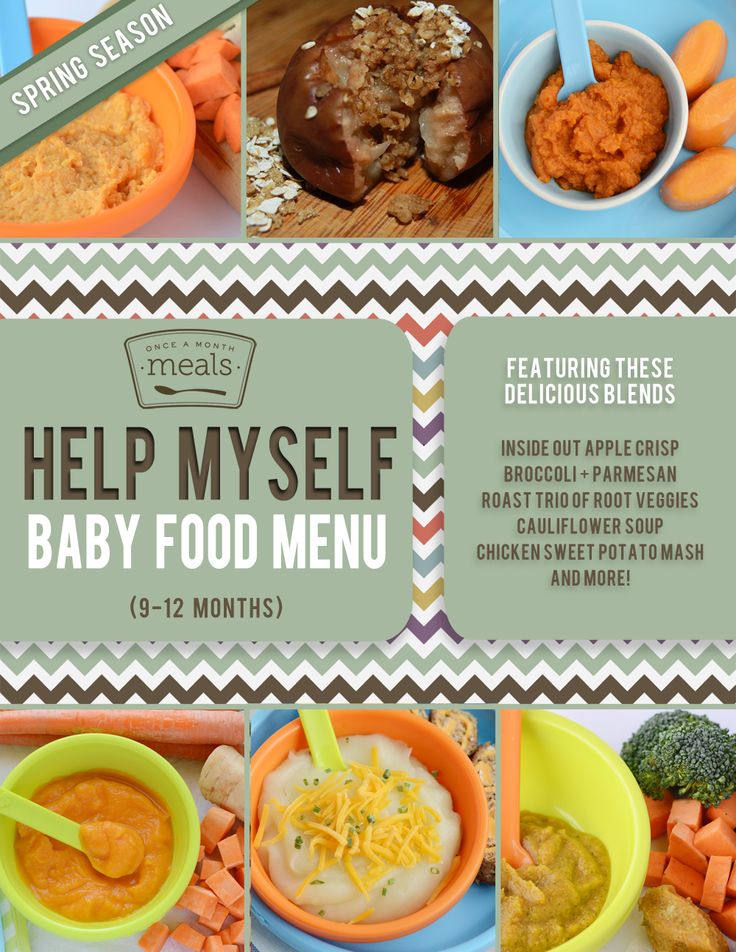 Meat at this age is better to give at lunchtime so that by the evening it has time to be digested. Use low-fat varieties: turkey, rabbit, veal, chicken. Basically, these are minced meat dishes: cutlets, meatballs, meatballs. Up to 3 years, the child needs no more than 85 g of meat per day.
Fish replaces meat dishes 1-2 times a week. You can also make cutlets out of it, or give it boiled and mashed. Make sure all bones are removed.
Vegetable oil can be used raw - added to salad, soup or puree. You can give both sunflower and olive oil. Up to a year and a half, a child needs 1 tsp. oils per day.
Read also: 10 month old baby menu: almost like an adult
Cereal porridges are must-have dishes in the children's menu. They are quite satisfying, so they should be given no more than once a day. Use different cereals, mix porridge with vegetable and fruit puree, cottage cheese or grated cheese.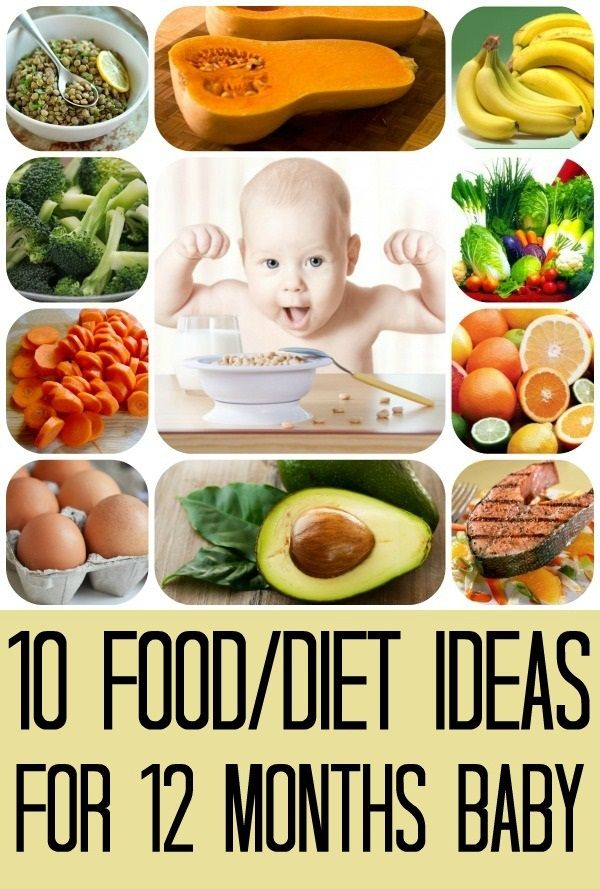 Vegetables A 12-month-old baby can eat not only boiled , but also raw. Raw vegetables in the form of salads can be given for lunch, and steamed and stewed for dinner. At this age, you still should not offer your baby white cabbage, which provokes gas formation, tomatoes, which burden the kidneys, and vegetables with a sharp taste: radish, radish, garlic or onion.
Fresh fruit - a real benefit. But only if they are seasonal fruits and they are not on the list of allergens. We are not talking about any exotic fruits for a one-year-old child.
Breastfeeding in the menu of a 12-month-old baby may still be present once or twice a day. But this is more of a psychological element, an act of unity with mom, than a menu item.
The amount of food for a 12-month-old child is 1200 g per day. Breakfast is 260 g, lunch is 360 g, afternoon tea is 220 g and dinner is 360 g. If you feed your baby 5 times a day, then each meal is about 250 g.