Woodland baby shower food menu
Woodland Themed Baby Shower Food Table
Creative and delicious Woodland Themed Baby Shower Food ideas that everyone will love! Perfect fit for any budget, large or small! Post contains helpful affiliate links at no extra cost to you.
I had the opportunity to help throw a woodland themed shower (click on the link for more details!) for a friend expecting her first little boy. You can read about all the activities and decor in the link above. I did help with a lot of the decorating but I can't take any credit for the adorable woodland themed food table… it was all my friend Caden!
She arranged and displayed everything handsomely. The touches of woodsy shrubbery and little forest friends, the treats/food she chose, all the way down to the food labels and banner she made, I loved every single aspect of it! So dang cute! 
Those baby moccasins are so tiny and adorable! 
Let's just start off by saying you can go CRAZY with food ideas for a woodland themed party! There are just so many possibilities and your imagination is the only limit! 
We served a variety of creative, delicious munchies that were spot on with our theme.
It helped that the baby shower was in between breakfast and lunch so there wasn't a need for a set menu but rather a few sweet and savory goodies.  
HEDGEHOG
Can we please stop and talk about how cute this cheeseball hedgehog is?! I mean, how adorable is he!
And not too complicated to make either. Any cheeseball recipe will do then form the cheese ball into an oval with a point. Top with a few pecans and walnuts (halved almonds work too!), and finish him off with three raisins for the eyes and mouth.
So darling! It was such a pity the poor thing lost it's head rather quickly and most of it's body because it was so delicious! 
TWIGS
People will definitely be snapping a twig or two while walking in this forest, especially if they have chocolate in them! Pirouline Wafers were used for the "twigs".
ACORNS
These "acorns" are merely Hershey Kisses and Mini Nutter Butters with a tad bit of chocolate frosting to stick them together.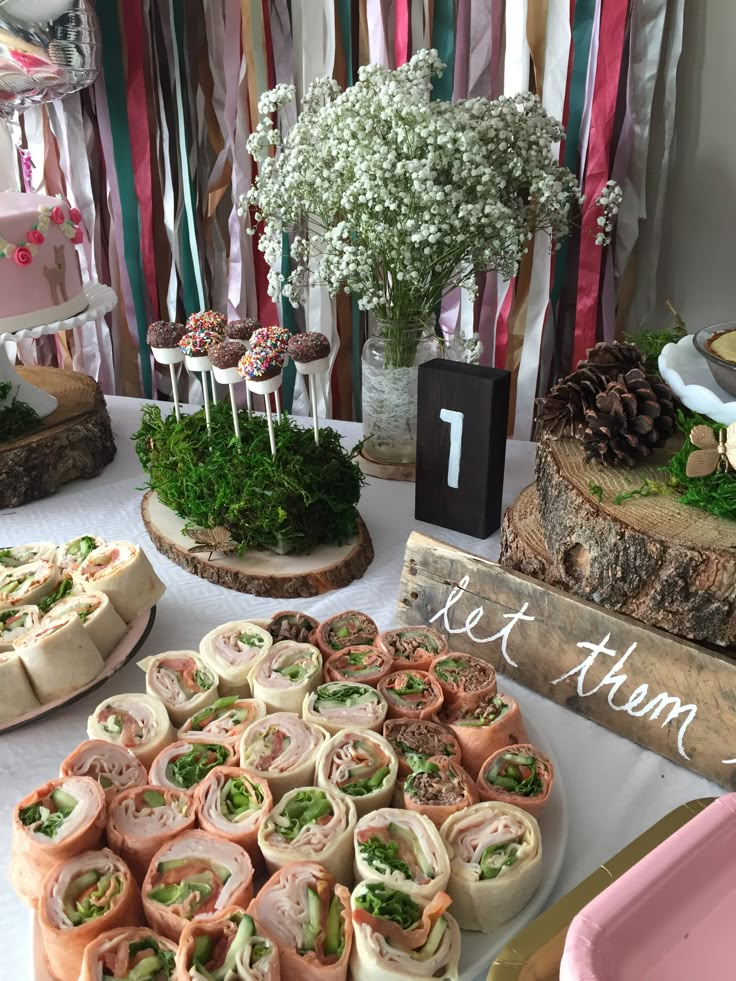 Super easy to assemble and so on point with the forest theme! 
TRAIL MIX
What better thing to munch on while walking in the forest than trail mix! Buy a prepared mix or make your own by combining any of the following: raisins, variety of nuts (like almonds, cashews, peanuts), m&ms, dried fruit (cranberries, apricots, coconut), pretzels, seeds, chocolate covered nuts/candies, marshmallows, and anything else you are hankering for!
You can always add a few 'bears' (teddy grahams or gummy bears) and 'twigs' (pretzel sticks) to create the perfect woodland trail mix!
MOOSE MUNCH
Slap a label to some popcorn (this is my favorite!)- BAM, "moose munch". I'm not exactly sure what moose eat… but popcorn is always good right?
FOREST BERRIES
It's always a treat when you find some tasty forest berries! The colorful array of blackberries, strawberries, blueberries, and raspberries was definitely a fan favorite.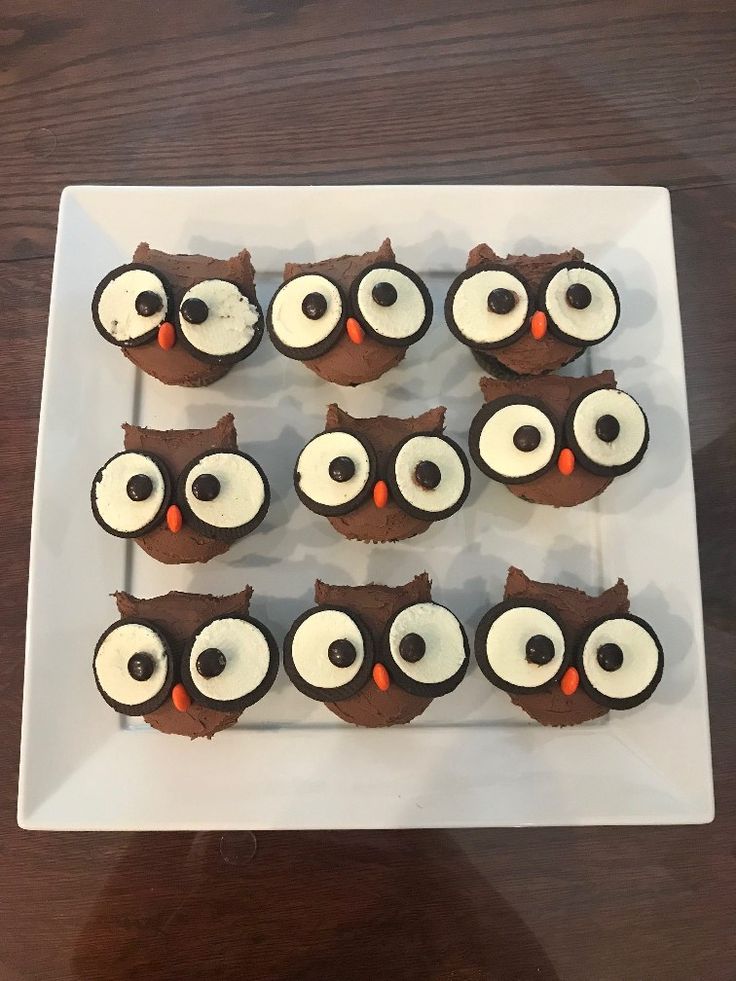 DEER DROPPINGS
Chocolate covered candies in a dish aren't all that impressive. But create a fancy sign for them and label it "deer droppings" and you have taken that chocolate to a whole new level of fun!
CUPCAKES
Every party needs a treat and these fruit topped cupcakes were just the thing to satisfy every sweet tooth! The cupcakes were displayed on a wicker basket which brought some great texture to the table and it also added a fun picnic feel. 
WOODLAND INSPIRED CAKE
And always the crowning piece, the cake!
If you are not a cake decorator, this is right down your alley! All it is is a white box cake with white frosting with that "naked cake" feel. Then dressed up with a bit of moss, acorns, and pinecones and displayed on a wood slice cake stand (which is just a thick wood slice she place on top of a white cake stand). Super simple and yet absolutely perfect! 
It is actually the same type of cake she made for the Floral Baby Shower.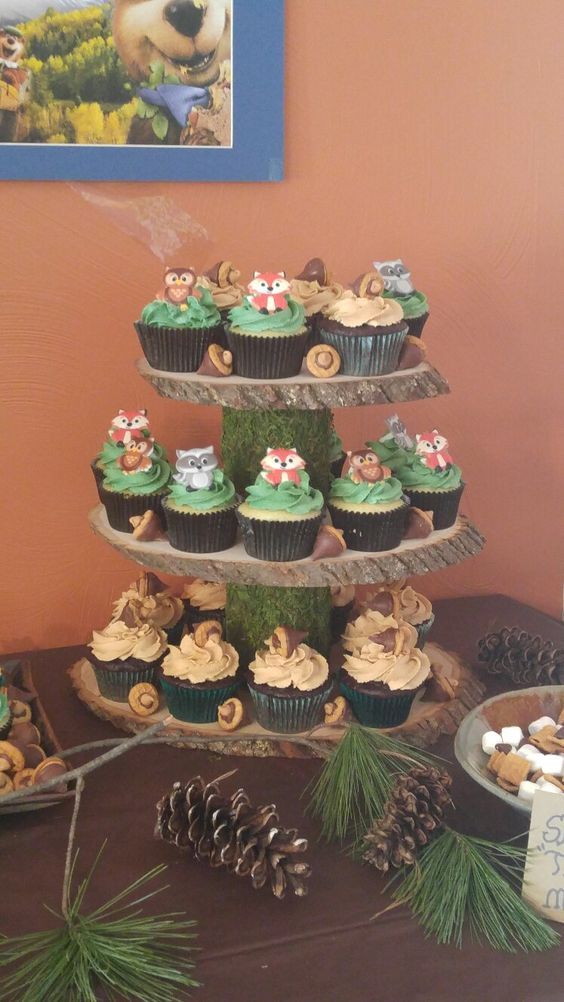 I love how versatile it is!
DRINKS
Water was dressed up with these fox water bottle labels. Originally we had all discussed serving "pond juice" to go with the theme. You may have seen "pond juice" floating around on Pinterest if you have been searching through woodland parties. It's just a light green punch. 
Anyways when going over details, I asked Caden if she wanted to use my drink dispenser. She said no because she was just serving water. She added that she didn't want any "pond juice" spilt on her floors. I don't say I blame her! 
And just a helpful hint with the water bottle labels, since I did print the labels on paper, there is the risk of them getting wet and then peeling off. So I used scotch tape to go around the label. Result? Waterproofed labels. 🙂
And there you have it! Our Woodland themed Baby Shower food spread! I hoped you loved these ideas… probably not as much as we enjoyed the food though! 😉 
What are some awesome
woodland party food
that you want to create?
Let me know in the comments below! And be sure to tag @aspenjay on Instagram on your woodland party photos.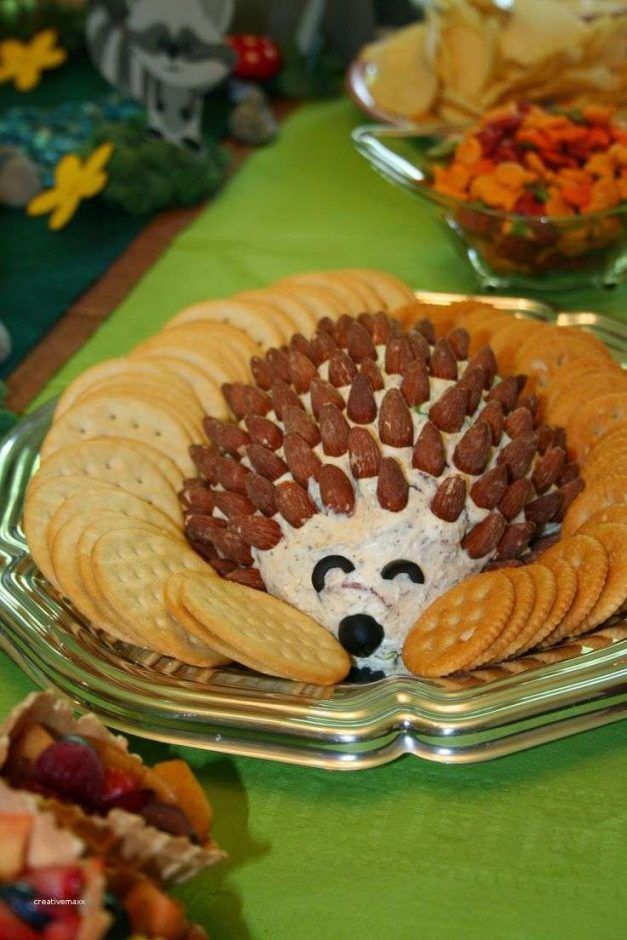 I WANNA SEE THE FUN!!!   
How about an alternative guest sign in at your party? Download this cute fox guest book for free!
Hosting a baby shower? Grab this Woodland 8 games pack in the shop!
This entry was posted in Baby, Baby Showers, Party and tagged baby shower, baby shower ideas, boy baby shower, girl baby shower, woodland, woodland baby shower, woodland food.
Woodland Themed Baby Shower
Recently, we showered my niece with a really fun and beautiful Woodland Themed Baby Shower for her baby boy arriving in October! With rustic decorations and a simple, but delicious party menu, we had a wonderful day celebrating baby Grayson!
My niece is having a baby boy in October and myself, my sister, my mom, and niece's boyfriend's mother decided to throw her a shower to celebrate! It was a beautiful day and we had so much fun planning for the shower! Lots of laugh and fun family time together is always my favorite.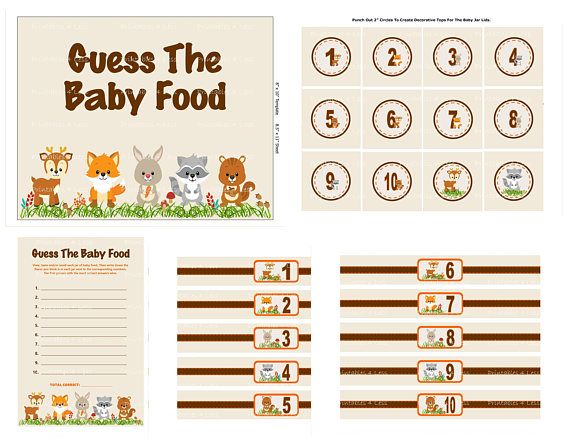 We are so excited to have another baby to love on in the family and we cannot wait for his arrival!
My mom, sister, and I split up the menu and decided what each would bring. We all had to travel with our food, so the challenge was to make food that we could make in advance and travel with! I think we nailed it and everyone seemed to love the menu! We took some traditional menu items and made them to fit the woodland theme.
My sister arranged her veggies like an owl which was adorable and took the popular caprese skewers and made them look like mushrooms on a log! It was so cute!
My niece Alexis made these chocolate covered pretzel birch branches. They tasted great and looked adorable served in mason jars!
Everyone loves fruit salad but my mom added them to waffle cones to give them that woodsy look!
My sister made some amazing homemade breads to serve alongside the main courses of tuna and lemon almond chicken salad.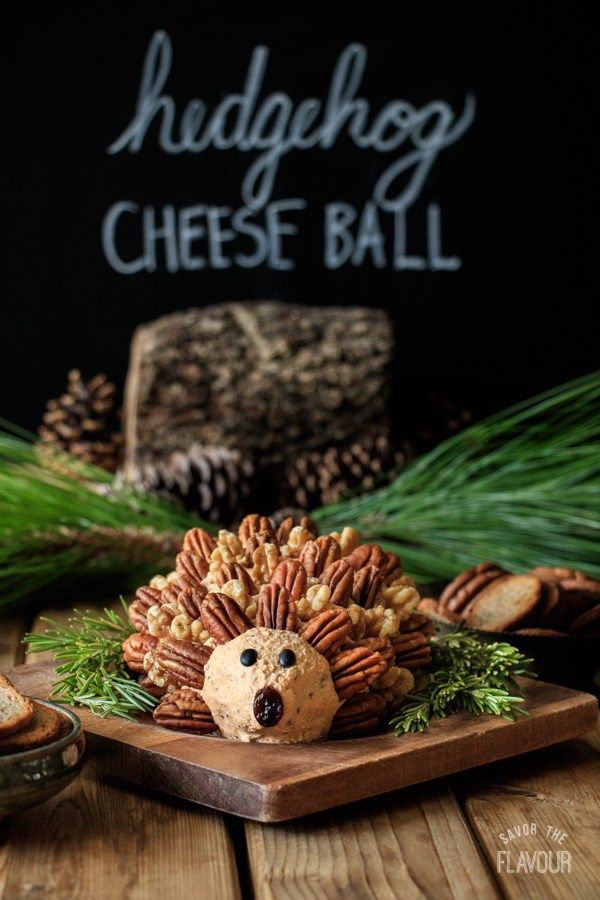 Woodland Themed Baby Shower Menu
Owl Veggies
Caprese "Mushrooms"
Birch Pretzel Branches
Bear Tracks (Chocolate PB No Bake Cookies)
Spicy Oyster Crackers
Peanut Butter Cup Cheeseball
Harvest Salad
Lemon Almond Chicken Salad
Tuna Salad
Homemade Breads
Cone Fruit Cups
Mediterranean Orzo Salad
Almond Cake (from Batter Bake Shop)
Woodland Animal Cookies (From Batter Bake Shop)
I loved these simple log holder place cards from Amazon. They were inexpensive and I saved the logs to use again! The Pond Punch was a big hit with the kids and adults!
Woodland Themed Baby Shower for a Boy
For serving decor, we used clear glass containers and then varied their heights using pieces of wood. Fortunately, my sister was having trees taken down a week before the shower, so she asked them to save her some wood! And yes, we got a lot of laughs over the number of times the word wood was said at this shower 🙂
I added some moss and mushrooms from Michael's, which rounded out the rustic decor.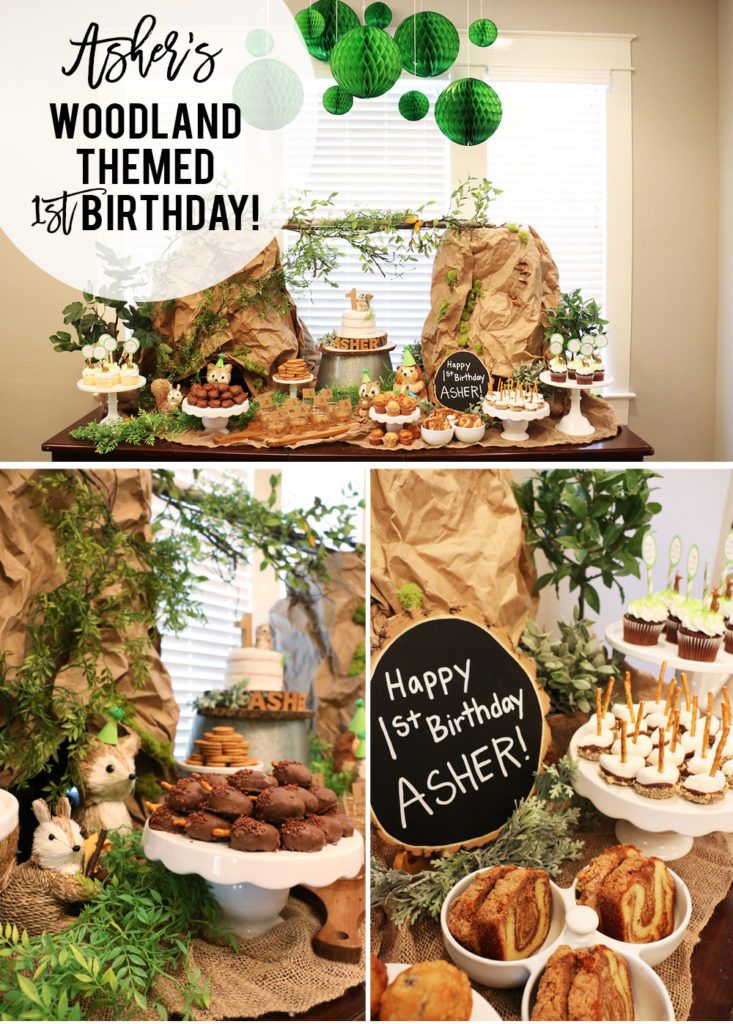 You are already so loved baby Grayson! We can't wait to meet you!!
Looking for more fun parties?
A Mickey Mouse Clubhouse Birthday Party Decorations
One in a Melon Party 
A Princess Party for My Favorite Little Girl!
A Disne Inside Out Party!
Restaurant Dusha on Lesnaya Street (metro Belorusskaya): menu and prices, reviews, address and photos - official page on the site
report a bug
About the institution
Photo
restaurant Dusha on Lesnaya street
Restaurant Dusha (Dusha) on Lesnaya street photo 1
Restaurant Dusha on Lesnaya street photo 2
Restaurant Dusha on Lesnaya street photo 3
Restaurant Dusha on Lesnaya street photo 4
Restaurant Dusha on Lesnaya street photo 5
Restaurant Dusha on Lesnaya street photo 6
Restaurant Dusha on Lesnaya street photo 7
Restaurant Dusha on Lesnaya street photo 8
Restaurant Dusha on Lesnaya street photo 9
Restaurant Dusha on Lesnaya street photo 10
Restaurant Dusha on Lesnaya street photo 11
Restaurant Dusha on Lesnaya street photo 12
Restaurant Dusha on Lesnaya street photo 13
Restaurant Dusha on Lesnaya street photo 14
Restaurant Dusha on Lesnaya street photo 15
Restaurant Dusha on Lesnaya street photo 16
Restaurant Dusha on Lesnaya street photo 17
Restaurant Dusha on Lesnaya street photo 18
Restaurant Dusha on Lesnaya street photo 19
Restaurant Dusha on Lesnaya street photo 20
Restaurant Dusha on Lesnaya street photo 21
Restaurant Dusha on Lesnaya street photo 22
Restaurant Dusha on Lesnaya street photo 23
Restaurant Dusha on Lesnaya street photo 24
Restaurant Dusha on Lesnaya street photo 25
Restaurant Dusha on Lesnaya street photo 26
Restaurant Dusha on Lesnaya street photo 27
Restaurant Dusha on Lesnaya street photo 28
Restaurant Dusha on Lesnaya street photo 29
Restaurant Dusha on Lesnaya street photo 30
Restaurant Dusha on Lesnaya street photo 31
Restaurant Dusha on Lesnaya street photo 32
Restaurant Dusha on Lesnaya street photo 33
Restaurant Dusha on Lesnaya street photo 34
Restaurant Dusha on Lesnaya street photo 35
Description
New restaurant with a full kitchen, two halls and background music.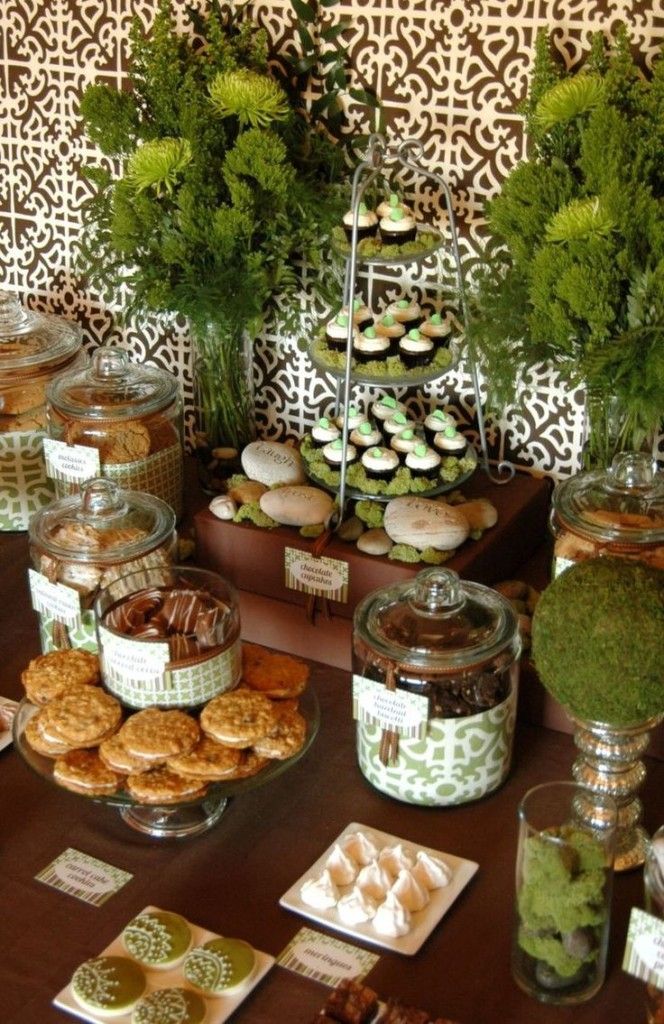 The stylish interior is decorated in an unsurpassed classic style: old comfortable furniture, flowing curtains, the walls of the fireplace room are decorated with panels with large relief images of biblical scenes. Huge panoramic windows allow you to admire the charming views of Moscow. The menu of mixed cuisine includes a wide selection of delicious snacks, delicious desserts and gourmet dishes according to European and author's homemade recipes. The bar list is rich in a selection of expensive drinks.
Ded Pikhto is an extravagant mix of the latest ideas and culinary masterpieces! The new Moscow institution, which opened on Lesnaya Street, 7, pleased me with its refined atmosphere, comfort, warmth and sparkling streams of hospitality emanating from friendly staff. My mischievous kids and I enjoyed the romantic atmosphere, the incredible taste of roasted rabbit meat in wine, especially delicious salads and light desserts of dried apricots with large almonds in homemade cream.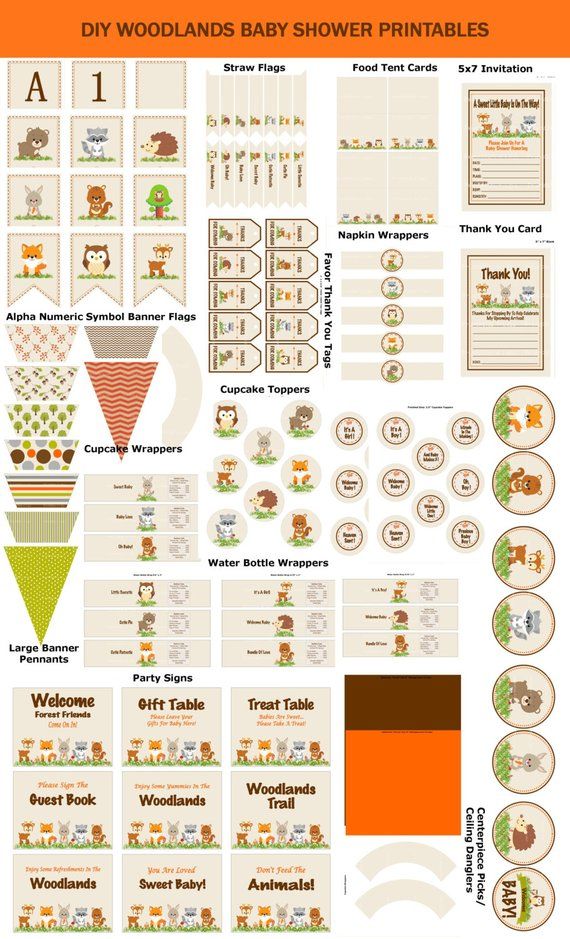 At your service: a children's menu, a hookah, issuing bonus cards to customers on their birthday, hearty breakfasts, a wide selection of various dishes: meat, lean, vegetable and fish.
Show all
prices, menu, photo, address. Book a date for free!
Wedding pavilion Lesnoy (restaurant is closed)
Remove from favorites
from 3 500 rubles.
The main service we offer is the rental of a stylish space wedding tent "Forest" . We give couples in love the opportunity to organize a marriage registration not just unusual, but unforgettable. In our execution, a tent for a holiday is not just a place that can accommodate a large number of guests, but a whole arena where talented organizers bring their ideas to life to make every holiday unusual, luxurious and easy to organize.
The space of the "Forest" tent is organically divided into 2 zones: a lounge zone, ideal for receptions and guests' relaxation, and a banquet zone.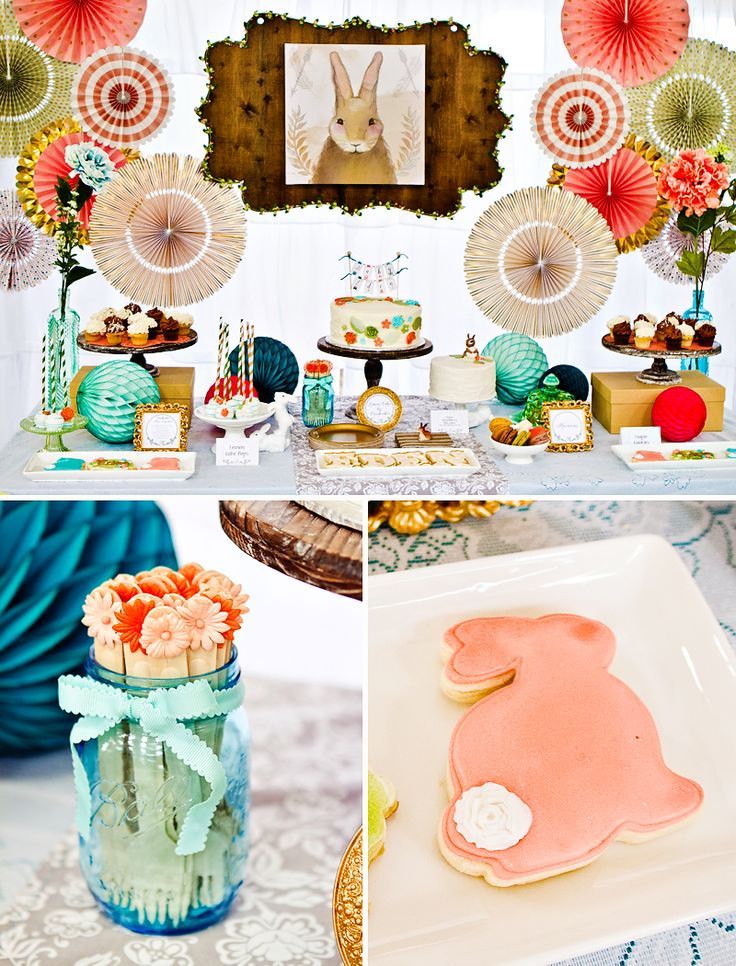 Snow-white tablecloths and napkins on original tables (round, cocktail, rectangular), exclusive chairs, high-quality musical equipment, cleanliness during the holiday - all this is included in our services.
Even the most demanding and whimsical customers will be able to choose the right options for treats, because our menu offers the best European cuisine. When preparing for a banquet, we take into account all the wishes of the customer - our culinary masterpieces will appeal to everyone.
It is also worth noting the fact that none of the guests will have to worry about security - the tent is guarded all the time while the guests are enjoying the celebration, and an entire room is allocated for gifts and valuables. You can invite artists to the celebration - a dressing room is provided for them.
You might be interested in
Country Hotel 1047 Type: Banquet hall
Cuisine: Author's, European
Number of seats: 35/40/60/100/150/500
District: East
Metro: Domodedovskaya
from 4,000 rubles
Banquet menu
per person
Country banquet complex park hotel Orlovsky Type: Banquet hall
Cuisine: European, Russian
Number of seats: 30/30/50/70/80/100/120/ 180/400
District: Leninsky
Metro: Domodedovskaya
Address: Moscow Region, Leninsky district, Kashirskoye shosse, 13 km.