Age for stage 4 baby food
Baby Food Stages: Age-By-Age Guide to Feeding Your Baby
Everything comes in stages; even baby food. As your little one develops, he or she would go through various developmental changes that determine the kind of food in his/her diet. This transition period is really important for babies due to their unique nutritional demands.
In this article, you'd learn everything there is to know about baby food stages; the duration, recipes, landmarks, and milestones. You'd also find essential nutritional tips for your baby and reliable info on when to introduce solids.
Let's Get Started!
Table of Contents:
The Baby Food Stages
Baby Food Stages & Age

Stage 1 Baby Food (4-6 Months)
Stage 2 Baby Food (7-9 Months)
Stage 3 Baby Food (9-12 Months)
Stage 4 Baby Food (12 Months & Above)

How Can I Introduce Solid Food To My Baby?
Essential Baby Nutritional Tips
Conclusion
The Baby Food Stages
Here's the fact: your baby's diet will change as he/she develops.
baby-suckling
Like every other developmental milestone, dietary changes occur in stages. The phrase 'Baby Food Stages' simply refers to the age-based classification of your baby's diet. Most nutritional experts, and baby food brands, classify baby food stages into:
Stage 1
Stage 2
Stage 3
Stage 4
Although these stages are age-based, it is important to remember that there's no ultimate standard that determines the stages.
Baby Food Stages & Age
As we mentioned earlier, the baby food stages are determined based on your child's age. However, other important factors like developmental milestone achievement and weaning methods are just as important.
In fact, the American Academy of Pediatrics places the following guidelines on baby food stages; They recommend that your baby should be able to:
Sit up properly
Take food from a spoon
Rest between bites
Stop when full
Following these recommendations would help your baby transit seamlessly between baby food stages and develop healthy eating habits throughout life.
The baby food stages are determined in this way:
Stage 1: 4-6 Months
Stage 2: 7-9 Months
Stage 3: 9-12 Months
Stage 4: Above 12 Months
Stage 1 Baby Food (4-6 Months)
In the first 4 to 6 months of life, breast milk ( or formula) is all your baby needs to stay healthy and grow properly. In fact, we recommend exclusive breastfeeding until your baby becomes a Stage 1 Baby.
For most parents, the Stage 1 Baby Food period is simply a trial phase.
In this window, you can introduce single-ingredient meals that are highly strained and pureed. Stage 1 Baby foods are usually thin, runny, and low on the allergy scale. Another key feature of baby food in this stage is that it is easily digestible.
Major features of Stage 1 Baby Food:
Single-ingredient recipes
Smooth consistency
Thinned out nature
Well-pureed
baby-food-puree
Popular examples of Stage 1 baby foods include:
Rice cereal
Carrots
Winter squash
Butternut
Here are 10 easy stage 1 baby food recipes for you.
Stage 2 Baby Food (7-9 Months)
At this point, your baby's tummy is now developed enough to handle simple food combinations. In most cases, stage 2 baby food combines two or more ingredients to create the perfect meal for your little one.
baby-eating
Stage 2 Baby foods are slightly thicker and made of multiple ingredients like fruits and veggies. You can even include yogurts, grains, or proteins.  
Features of Stage 2 Baby Food:
Combination of multiple ingredients
Smooth Texture
Thicker consistency (compared to stage 1 foods)
New flavors
Natural Additives (yoghurts or grains)
Common examples of stage 2 baby foods include:
Apples
Bananas
Chicken
Oats
Peaches
It is important to begin with small amounts and increase progressively. You can even add some breast milk to your baby's oats to improve palatability and stimulate your child's appetite.
Stage 3 Baby Food (9-12 Months)
At this stage, your baby should be ready for meals with more texture that encourage chewing. Stage 3 meals combine purees with well-cooked chunks of food which develop your child's chewing and swallowing reflexes.
Furthermore, a stage 3 baby is expected to have a larger appetite that must be met by the right diet and in the right quantity.
Features of Stage 2 Baby Food:
Combination of purees and well-cooked food chunks
New colors
Additional flavors
Includes whole fruits, veggies, and grains.
happy-baby
Types of Stage 3 Baby food:
Soft pasteurized cheese
Vegetables
Potatoes
Black beans
Once your little one is about 9 months old, you can expect that he/she would have around 3 meals a day.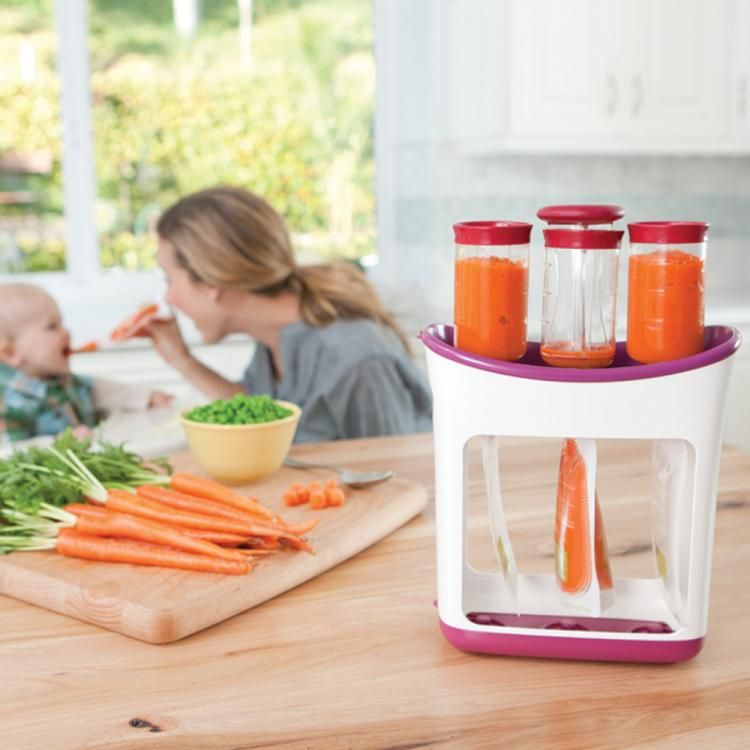 This is important to keep up with the massive physical and mental changes that occur in this period. As you serve your child stage 3 meals, remember to provide enough fruits and veggies.
Stage 4 Baby Food (12 Months & Above)
Now, your baby can join you at the dinner table.
In fact, stage 4 baby foods are adult foods served in baby portions.
At the end of his/her first year (or the beginning of the second), your child can now eat what you eat. In this stage, a child's digestive system is developed enough to handle most adult meals.
A stage 4 baby can eat:
Sliced fruits
Vegetables
Grains
Protein-rich meals
How Can I Introduce Solid Food To My Baby?
The American Academy of Pediatrics recommends exclusive breastfeeding in the first six months of life. This is because breast milk, in the right supply, contains all the nutrients and minerals your baby needs for a healthy life.
In fact, some parents continue to offer breast milk to their babies for up to a year.
However, by the 6th month, your baby's digestive system is ready to receive certain solids in addition to regular breast milk or formula.
As you help your baby make the transition from breast milk to solid food, it is important to start simple, start small, and increase progressively.
Before you introduce solids to baby, make sure he/she can:
Sit upright without assistance.
Show a desire to receive food.
Hold his or her head in a stable position.
Once your baby ticks all of these boxes, you can speak with your pediatrician before introducing solids. This would confirm that you're giving the right baby food in the right way and in the right quantity, In addition, checking in with your doctor before introducing solids to your baby would reduce the risk of possible food allergies.
baby-teething
Essential Baby Nutritional Tips
We understand how new and confusing this transition may be for you and your little one. To help you ease off some of the stress, we've compiled a few nutritional tips for you and your baby as you move through the baby food stages.

Here we go:
Start Small: As you introduce purees and other solids, remember to offer small portions first, watch for response, and then progress accordingly
Go for Energy & Nutrient-Rich Meals: As we mentioned earlier, your baby needs loads of nutrients on this journey. Always go for meals that contain enough fruits, vegetables, healthy oil or fat.
Don't Force It: If your child outrightly refuses a new food option or even spits it out, don't force it. Just let it go and try again in a few days. You may even add in a little breast milk for stage 1 and stage 2 baby food.
Conclusion
Just like you, your baby is trying to navigate through life and make sense of it all. As you introduce solids and watch your little one move through the different food stages, it is important to remain patient, observant, and loving.
Finally, if you notice that your baby's weight isn't increasing, or your baby isn't eating as well as he or she should, please contact your doctor.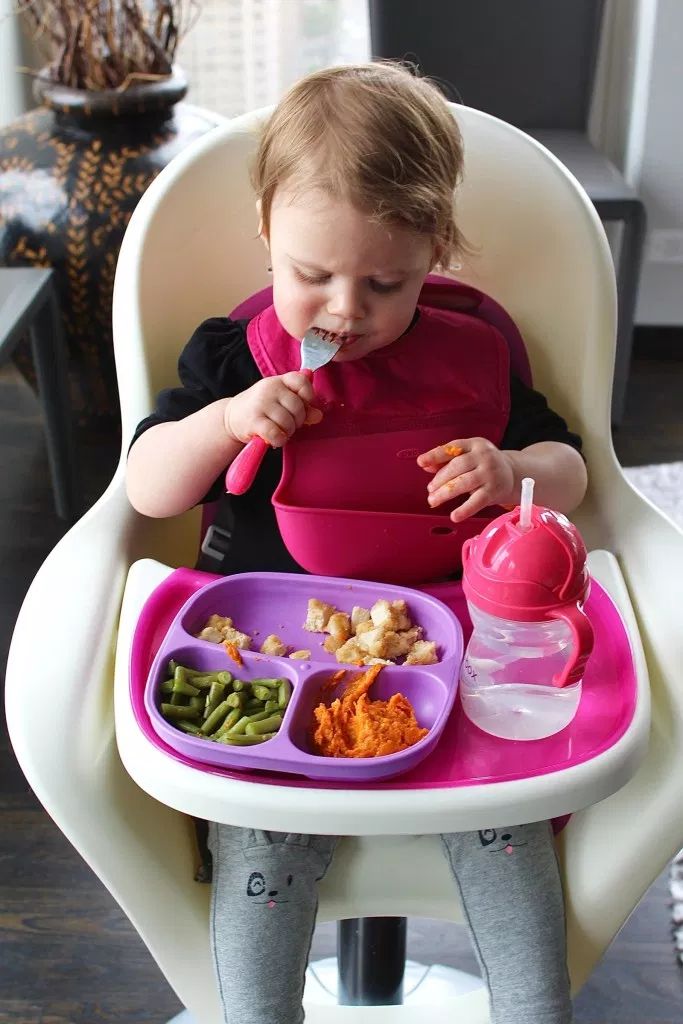 We are always here to lend a helping hand.
References
Alvisi P, Brusa S, Alboresi S, Amarri S, Bottau P, Cavagni G, Corradini B, Landi L, Loroni L, Marani M, Osti IM, Povesi-Dascola C, Caffarelli C, Valeriani L, Agostoni C. Recommendations on complementary feeding for healthy, full-term infants. Ital J Pediatr. 2015 Apr 28;41:36. doi: 10.1186/s13052-015-0143-5. PMID: 25928205; PMCID: PMC4464122.
Dogan E, Yilmaz G, Caylan N, Turgut M, Gokcay G, Oguz MM. Baby-led complementary feeding: Randomized controlled study. Pediatr Int. 2018 Dec;60(12):1073-1080. doi: 10.1111/ped.13671. PMID: 30074671.
AAP. 2020. Starting solid foods. American Academy of Pediatrics. https://www.healthychildren.org/English/ages-stages/baby/feeding-nutrition/Pages/Switching-To-Solid-Foods.aspx [Accessed September 2021]
USDA and DHHS. 2020. Dietary Guidelines for Americans, 2020-2025. 9th Edition. U.S. Department of Agriculture and U.S. Department of Health and Human Services.  https://DietaryGuidelines.gov [Accessed September 2021]
USDA. 2019. Infant nutrition and feeding. U.S. Department of Agriculture. https://wicworks.fns.usda.gov/sites/default/files/media/document/Infant_Nutrition_and_Feeding_Guide.pdf [Accessed September 2021]
Guide to Baby Food Stages (Purees and BLW)
Learn everything you need to know about Baby Food Stages in this easy-to-read, comprehensive guide. It explains the different feeding stages, going over what every stage — Stage 1, Stage 2, and Stage 3, Finger Foods, and Baby-Led Weaning — is all about.
Medically reviewed by Jamie Johnson, Registered Dietitian Nutritionist (RDN)
Baby Food Stages
Are you finding the baby food feeding stages confusing?
Well, you are not alone!
Stages 1, 2, 3, table foods, finger foods, baby-led weaning… ahhh… help! What does it all even mean? 🤯
Don't worry; I'm here for you!
I broke down each stage into an easy-to-digest (pun intended) guide.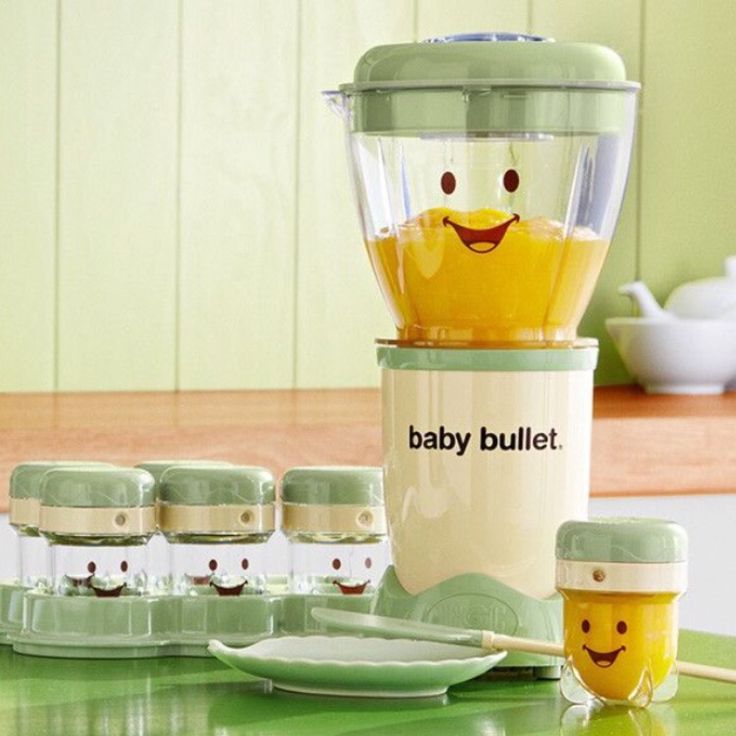 👊
What is in this guide:
Baby Food Ages
When Can Baby Start Solids?
Overview: Purees – Stages 1, 2 and 3
Overview: Baby-Led Weaning or Finger Foods
Stage 1 Purees
Stage 2 Purees
Stage 3 Purees
Baby-Led Weaning or Finger Foods
Baby Food Stages Video
Watch this video to see how the different baby food stages compare.
Baby Food Ages
Stage 1 Purees: 4-6+ months
Stage 2 Purees: 6+ months
Stage 3 Purees: 9+ months
Finger Foods: 10+ months
Baby-Led Weaning: 6+ months
WHEN CAN BABY START SOLIDS?
When a baby can start on solids is determined by their own rate of development. Generally, it occurs between 4-6 months of age for purees and 6+ months for baby-led weaning. Some of the developmental milestones babies need to reach in order to start solids include: if your baby has solid control of their head and neck, if your baby has doubled in weight, and if your baby is reaching for or opening their mouth when you eat (see my guide here).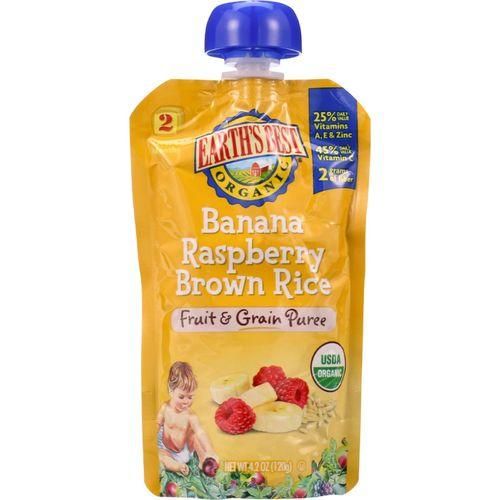 But remember, before you start baby on solids, you should consult with your pediatrician to make sure your child is developmentally ready.
Purees – Stages 1, 2, and 3
So, to start, Baby Food Purees are grouped into 3 different stages — Stage One, Stage Two, and Stage Three. Without a doubt, they all consist of baby food purees. But they actually range from single-ingredient smooth purees to chunky combination purees filled with soft-cooked foods. Here's a quick reference:
Stage One
the first stage of feeding
single-ingredient thin purees
smooth and easy to swallow
Stage One Products We Love
high chair
suction bowl
spoons
bib with food catcher
Stage Two
slightly thicker
combination purees made up of several different ingredients like fruits and vegetables
may also include yogurt, grains, and proteins
Stage Three
combination purees with soft-cooked chunks of food
perfect for babies that need to practice chewing and swallowing foods
A NOTE TO FIRST-TIME BABY FOOD PREPPERS
First time making homemade baby food? Then, I would suggest that you start by reading my very in-depth Guide on how to Make Homemade Baby Food – which goes over all the important information such as the best cooking tools to have on hand, safe storage, how to know when baby is ready for solids, how to introduce purees, the best first foods for baby, and more! If you are doing Baby-Led Weaning, then be sure to check out my Complete Guide to Baby-Led Weaning – which covers what exactly is baby-led weaning, to every parent's concern of baby-led weaning and choking, this guide goes over it all.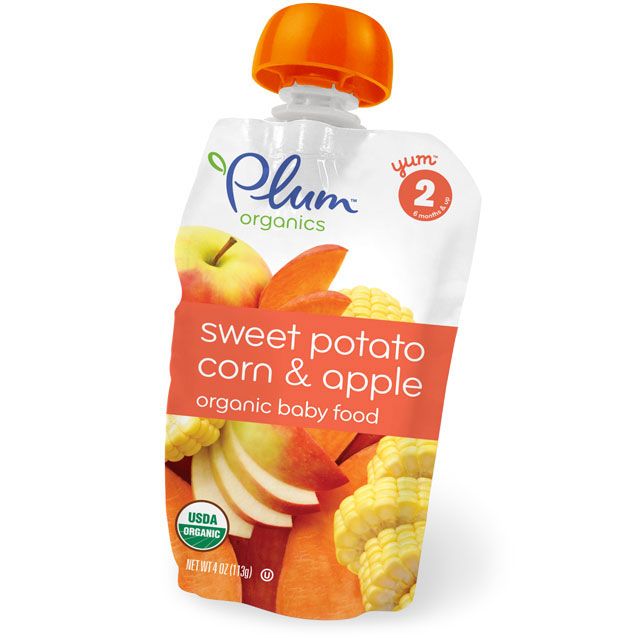 I will also share how to know when baby is ready for BLW, the top 10 best first foods, a helpful sample blw feeding schedule, helpful tools to have on hand, and much much more!
Baby-Led Weaning or Finger Foods
Basically, Baby-Led Weaning and Finger Foods are the same types of food; they're just served to your baby at different times. Baby-Led Weaning is a newer approach to feeding your baby where you skip the puree stages altogether. Rather, you serve baby chunks of cooked food. Whereas Finger Foods, or sometimes referred to as Table Foods, are typically served to your baby after they master Stage 3 baby food purees.
In short, finger foods are served at 10+ months and baby-led weaning starts at 6+ months.
You can read more here: The Ultimate Guide to Finger Foods for Baby-Led Weaning.
Baby-Led Weaning Products We Love
high chair or clip-on chair
mat for under high chair
suction plate
self-feeding spoons
long-sleeved bib
Stage 1 Purees
Stage 1 baby food is the first type of puree you will be introducing to your baby.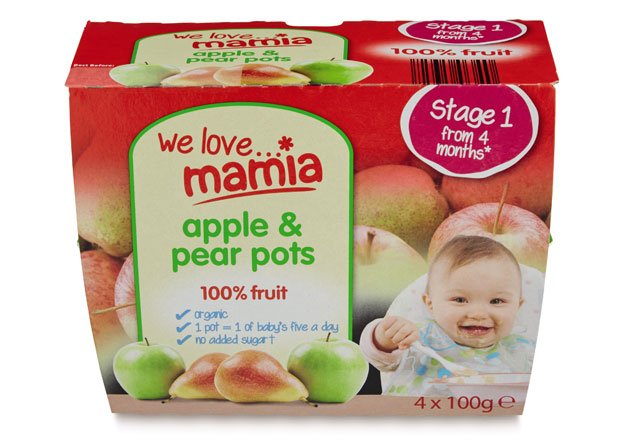 Made with a single ingredient and pureed until smooth, these simple purees are perfect for your budding eater. Besides, they are nutritious and full of flavor!
age: 4-6+ months
single-ingredient recipes
smooth texture
can be thinned out (similar to a thick soup but dripping off the spoon)
first bites can be fruits, veggies, or grain cereal
Here are a few tips:
first, offer your baby one puree at a time to watch for any allergic reactions
also, consider offering different colors of food and flavors to start developing their palette
Stage One Recipes
15 Stage One Baby Food Purees (4-6 months)
4 Homemade Baby Cereal Recipes (4+ months)
36 Healthy + Homemade Baby Food Recipes (4+ Months)
Stage 2 Purees
Meanwhile, Stage 2 purees will make your baby's mealtime more exciting with multiple ingredients. This time, you can focus on exposing your baby to various fruits, veggies, grains, and proteins.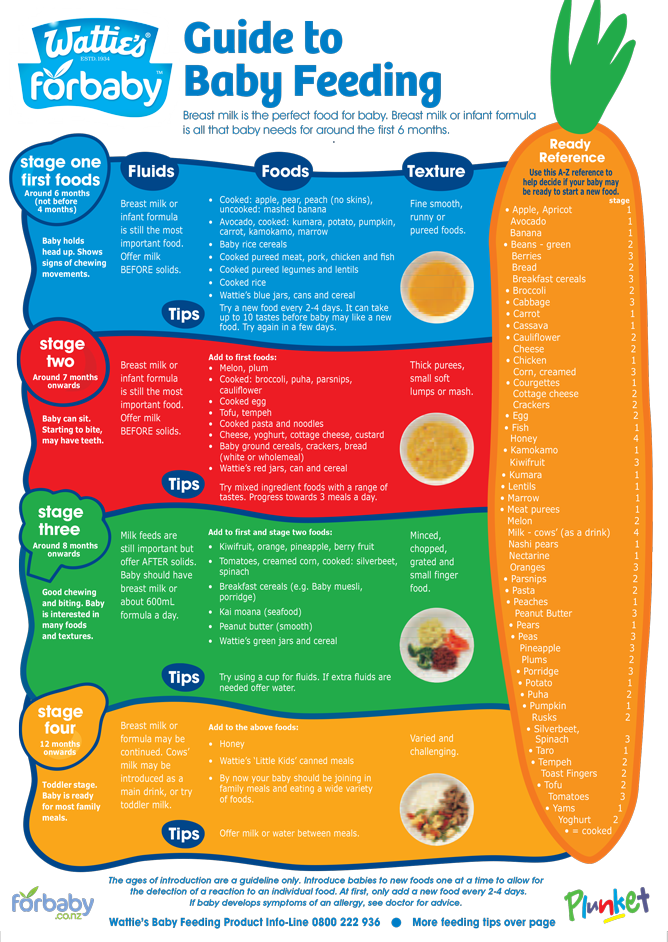 Plus, you can also add spices and herbs to come up with appetizing and unique flavor combinations.
age: 6+ months
combination of multiple-ingredient purees
smooth texture
can have a thicker consistency than stage one purees
great way to expose your baby to a variety of flavors and food colors
may include plain yogurt, grains, and proteins
Stage Two Recipes
18 Stage 2 Baby Food Purees (That Baby Will Actually Eat)
15 Fast + Easy Baby Food Recipes (made in under 15 minutes!)
18 Breakfast Ideas for Baby (6+ months)
Stage 3 Purees
In contrast, Stage 3 is full of hearty meals with multiple-ingredient purees plus soft-cooked chunks of food. This stage is all about giving your baby time to learn how to chew and swallow small pieces of soft foods. Then the next step will be finger foods or table foods.
age: 9+ months
combination purees and soft-cooked chunks of food
also a great way to expose your baby to various food flavors and colors
features wholesome fruits, vegetables, grains, meats, yogurt, even spices
easy to make — simply pulse your own meal with a blender to turn it into a baby meal
Stage Three Recipes
18 Stage 3 Baby Food Recipes (Easy, Delicious + Homemade)
Baby-Led Weaning or Finger Foods
As mentioned, Baby-Led Weaning is actually a newer approach to feeding your baby where you skip the puree stages altogether.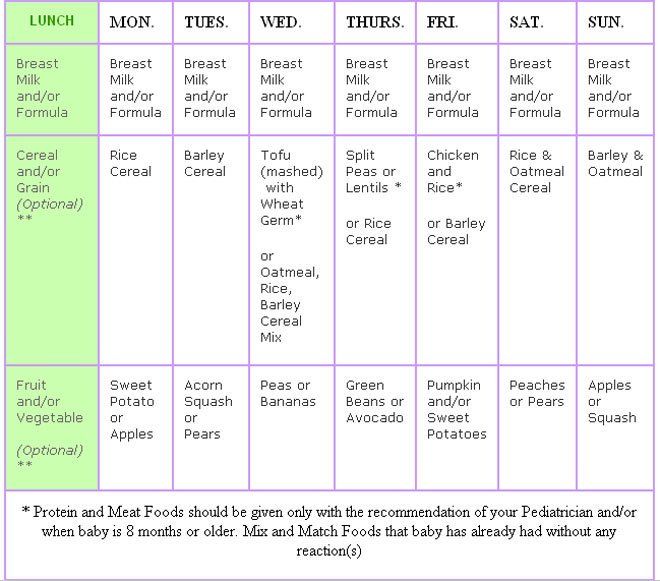 Instead, you serve small chunks or strips of cooked food right from the very start. Ultimately, you would be feeding your baby the exact food you are having at that meal.
However, finger foods can be served to your baby after Stage 3.
To sum up, finger foods and the food you serve to baby for Baby-Led Weaning are the same foods. But they are served at different times during your baby's eating journey. Finger foods are served at 10+ months, while baby-led weaning starts at 6+ months.
If you want to learn more, check out my Ultimate Guide to Finger Foods for Baby-Led Weaning.
baby-led weaning age: 6+ months
finger food age: 10+ months
both include chunks of cooked foods
can be served in 2-3 inch strips or chopped to pea-sized pieces
Remember, avoid hard foods such as hot dogs, popcorn, dried fruit, nuts, etc., that can be choking hazards.
Baby-Led Weaning (Finger Food) Recipes
125 Baby Led Weaning Foods (Starter Foods + Recipe Ideas)
8 Baby-Led Weaning Meal Ideas for Baby + Toddler
6 Baby-Led Weaning Breakfast Ideas
4 stages of development of children's intellect according to Jean Piaget
As soon as we talk about child development, its periods and laws, the name of the Swiss psychologist and philosopher Jean Piaget immediately pops up. He managed to actually find out, and find out exactly, by experience: how children develop, what tasks they face at different stages, and in general - how we learn to think.
Young Jean Piaget loved biology since childhood, constantly observed various living beings and wrote articles about them. At the same time, he received a Ph.D. and was interested in psychoanalysis. All these activities and hobbies seemed to prepare him for what became the main business of Piaget's life - to observe children. The young Ph.D. becomes a teacher at an all-boys' school in Paris run by Binet, the inventor of the IQ test.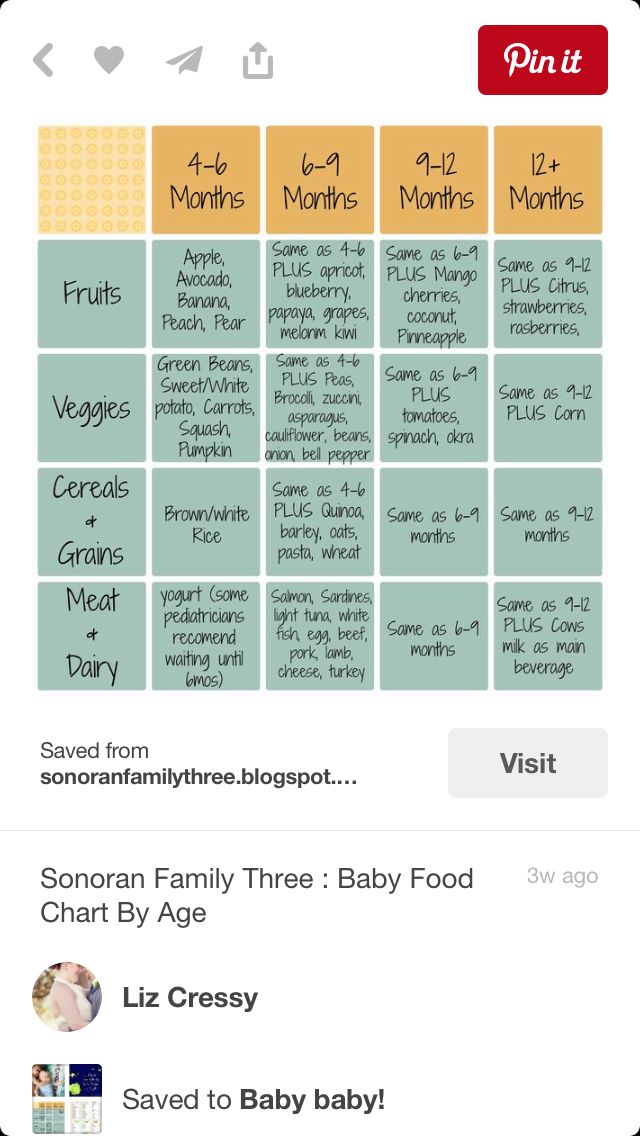 Piaget helps Binet process the results of the test and draws attention to the fact that children of the same age constantly make similar mistakes. Mistakes adults don't make. This led Piaget to the idea that cognitive development overcomes certain steps common to all, that our mind only gradually matures to understand certain concepts, and this happens in approximately the same way for all people. Later, in addition to other people's children, Piaget also observed three of his own from birth.
Jean Piaget
Piaget's method combined rigorous scientific observations and experiments (to which he was accustomed in his youth) and free conversation (as in his favorite psychoanalysis). Piaget's own method was called "clinical conversation," and it was excellent for studying children's thinking.
What Piaget found out
According to Piaget, the central core of the development of the psyche is the intellect. The child develops and forms an increasingly adequate scheme of the situation - and thus, actively interacting with the environment, adapts to it.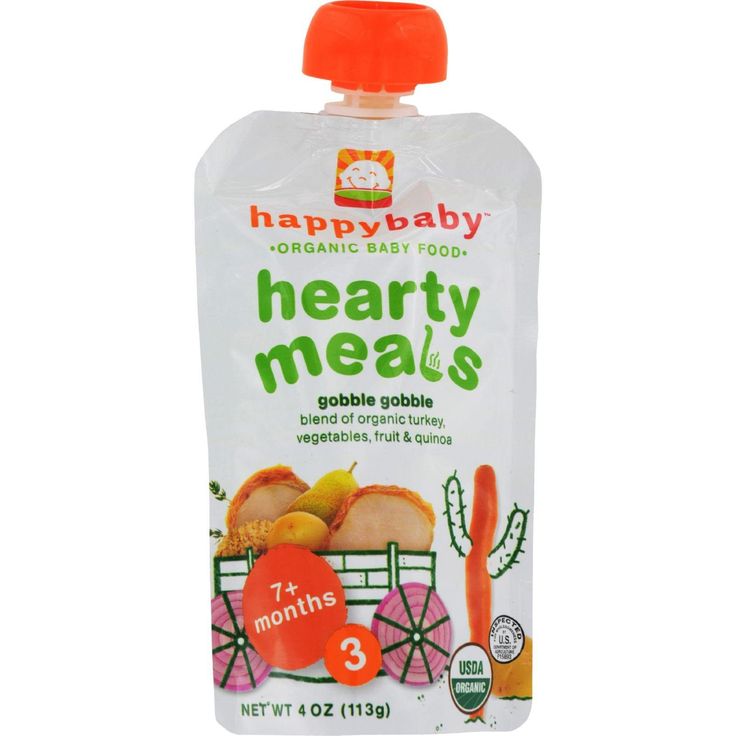 During this process, the child gradually begins to understand some of the laws that operate in the world of things and people. Each stage of development is characterized by typical errors (limitations) of thinking.
Stages of development of children's intellect
1. Stage of sensorimotor intelligence (0-2 years)
With the help of the senses and their movements, the child discovers the world around him, begins to see the connection between his own actions and their consequences. He begins to understand that he himself is something separate from the outside world. But the "inner plan" is not yet available to the child, he manipulates only specific objects.
2. Period of pre-operational submissions (2-7 years)
The child gradually begins to form an "inner plan". Now he is learning to use symbols: a pencil is a thermometer, and a box lid is a boat. This stage is called preoperational because the child is not yet able to perceive certain types of experience.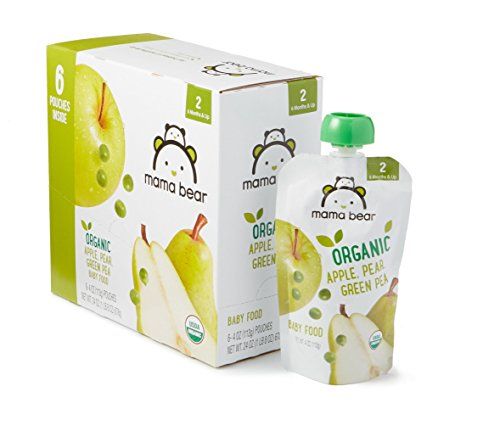 For example:
objects that lie in a row, according to the child, become larger if they are arranged at large intervals;
Even after several tests, the preschooler is unable to understand that if you pour water from a tall and narrow glass into a low and wide one, then the amount of water will not change;
the child believes that a piece of plasticine will decrease if it is rolled out of a ball into a sausage. And the rope will become shorter if it is bent.
If you teach a preschooler the correct answer and explanation, he will perceive this information. But it is worth slightly changing the experiment, and the child will again begin to give the same answers. At the same time, he begins to understand the law of conservation of the number of objects (for example, balls) earlier than the law of conservation of matter (for example, water or plasticine) and the reversibility of operations.
The child's thinking at this stage is self-centered: he can hardly understand that someone has a different point of view than his own.
This partly explains the limitations of its capabilities at the pre-operational stage.
For example, Piaget showed children taken one at a time a model of three mountains, each of which had some distinguishing feature: a house, a river, or a snowy peak. He also gave them several photographs, in which the mountains were depicted from different sides. The child was asked to choose a photograph in which the mountains were seen as the child himself sees them, from the same side. Usually the child was not mistaken. After that, Piaget planted a doll on the other side of the model and asked the child to choose a photo in which the mountains are depicted as the doll "sees" them. The preschoolers couldn't do it and chose their photo again. Even if the child and the doll were swapped, everything was repeated: the child chose his picture correctly and could not take the "doll's point of view".
Piaget emphasized that egocentrism does not go away when the child has more experience, but only when he begins to realize that his point of view is only one of the possible ones, that he is not the only center, but one of many centers.
Piaget called this transition from egocentrism to decentration the law of development.
3. Period of specific operations (7-11 years)
The child can already not only use symbols, but also manipulate them on a logical level. For example, add and subtract non-existent cows, combine objects into classes. He begins to understand the conservation of matter (if you divide a lump of plasticine into many small lumps, it will not become smaller) and the reversibility of operations. However, it still solves all the tasks separately, and the solution depends on the content of the task. The child still does not know how to generalize.
After solving a problem about Vasya and apples, a first-grader may get hung up on the same problem about Lucy and cucumbers, simply because for him these are still different problems. A second grader is already quite able to understand why a square is a kind of quadrilateral, and a duck is a kind of bird. But if you ask him who is more numerous in the world, ducks or birds, squares or rectangles, then he most likely will not find an explanation and will begin to argue that there are "a lot" of both ducks and birds.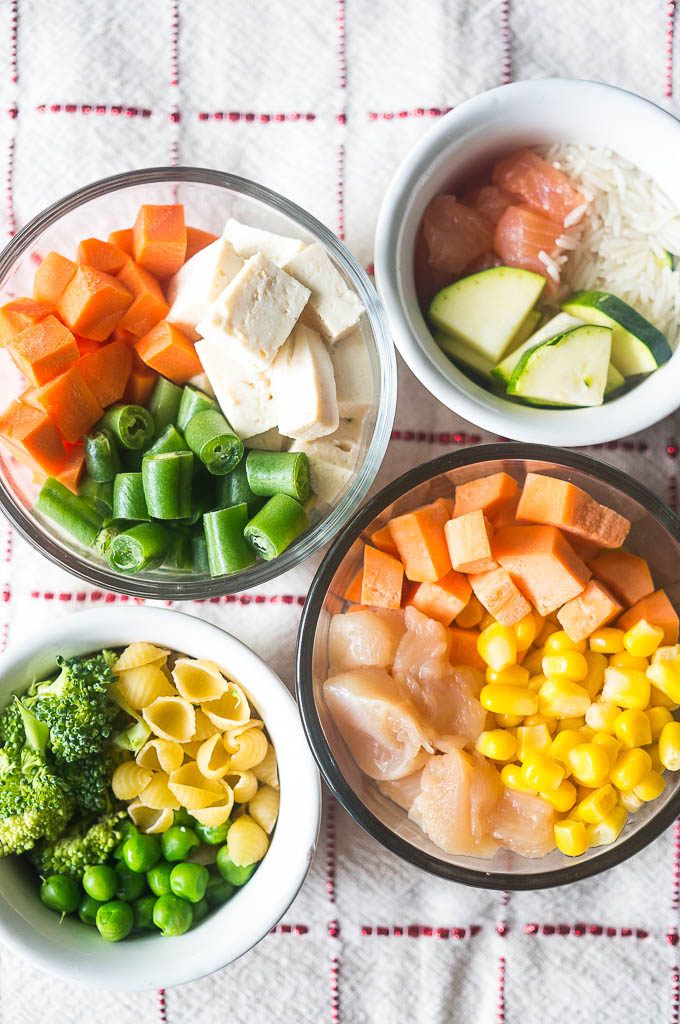 And he has every right to do so. After all, although an eight-year-old can classify, understanding the relationship between part and whole requires something more - logical thinking. And it develops later.
4. Period of formal operations (after 12 years)
Now concrete and abstract logical thinking is available to the teenager. He can imagine non-existent objects, think by analogy, understand metaphors, take the point of view of another person. Now he can solve problems "in a general way", and he does not need apples with dogs for example. To think, a teenager no longer needs a connection with real physical objects or actual events. Operations have completely moved to the internal plan.
How children's thinking is connected with speech
Piaget was the first to talk about the fact that the development of thinking is connected not with speech, but with the development of mental operations. That is why a non-speaking child does not mean an undeveloped child.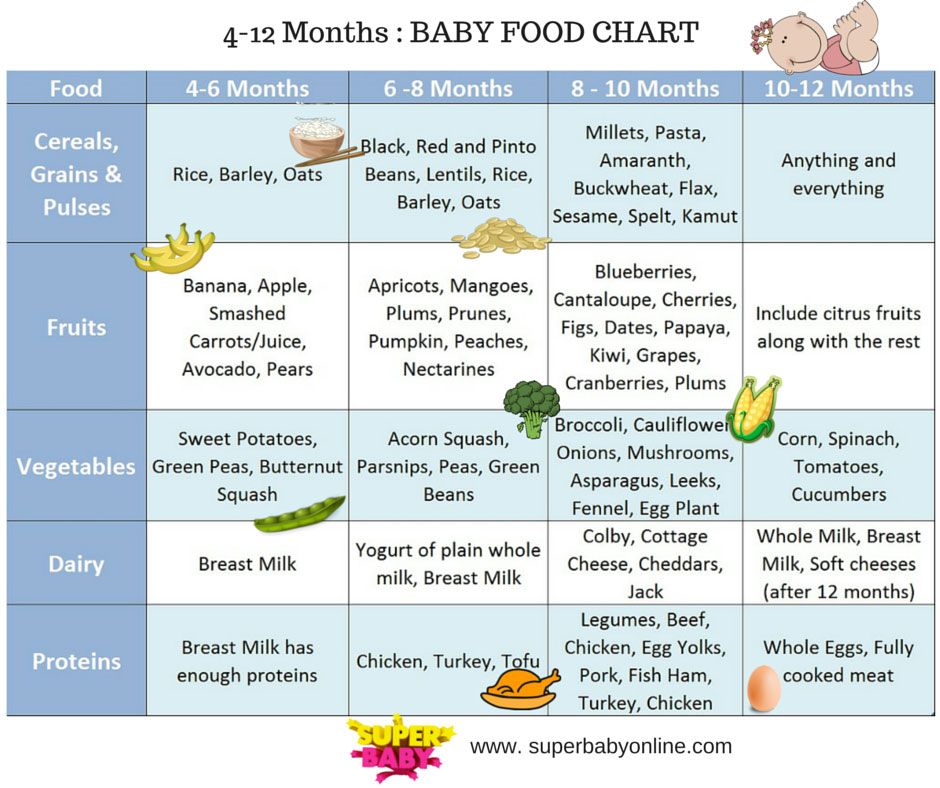 Not speech, but operating with objects and concepts is the basis on which the intellect develops. And this development always goes from outside to inside, from the concrete to the abstract.
Since the time of Piaget, his methods have been improved, and his conclusions have been repeatedly verified, corrected and supplemented. Now analogues of clinical conversations are being used with might and main in diagnosing the development of children. Well, we should remember that it is impossible to either skip the stage of development or accelerate its passage. Although at the end of the previous stage, it is quite possible for children to begin setting tasks for the next one. For example, playing "phone" with two-year-olds, putting not a real phone to their ear, but its replacement symbol. Or to show five or six-year-olds that a large object can be light, and a small one can be heavy. Or write with 10-11-year-olds an essay "from the point of view of my dog." After all, in the end, there is no clear boundary between the stages.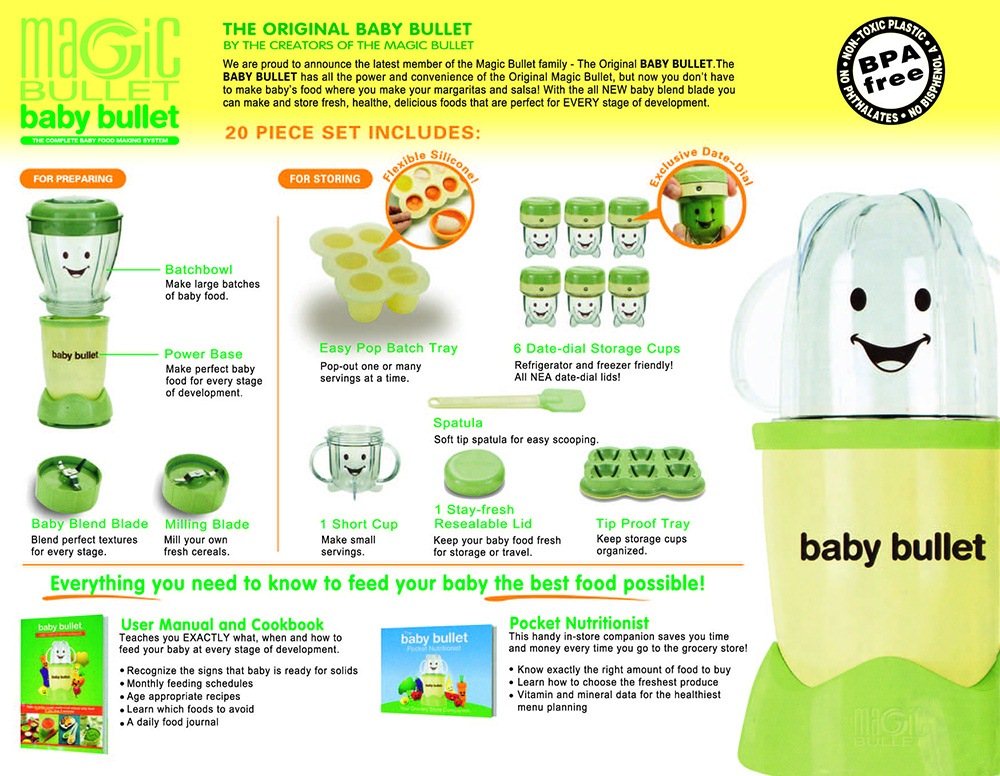 The main thing is not to make gross mistakes that speak only about our adult egocentrism, which has no explanation from the point of view of development theory and therefore is not so forgivable.
Photo: Wikimedia Commons, iStockphoto (Jovanmandic, mzoroyan, djedzura)
Cover image: iStockphoto (KenDrysdale), Wikimedia Commons
Steps to grind complementary foods | Nestle Baby
The child grows up, he has more and more milk teeth, which means that biting and chewing skills appear. Accordingly, the consistency of baby food is also changing. And if at the beginning of the introduction of complementary foods, vegetable and meat puree were homogeneous and tender in composition, then gradually the food becomes less homogeneous, and then the child completely switches to pieces.
Monday, January 27th, 2020
For the smallest children, the children's food industry produces homogenized baby food.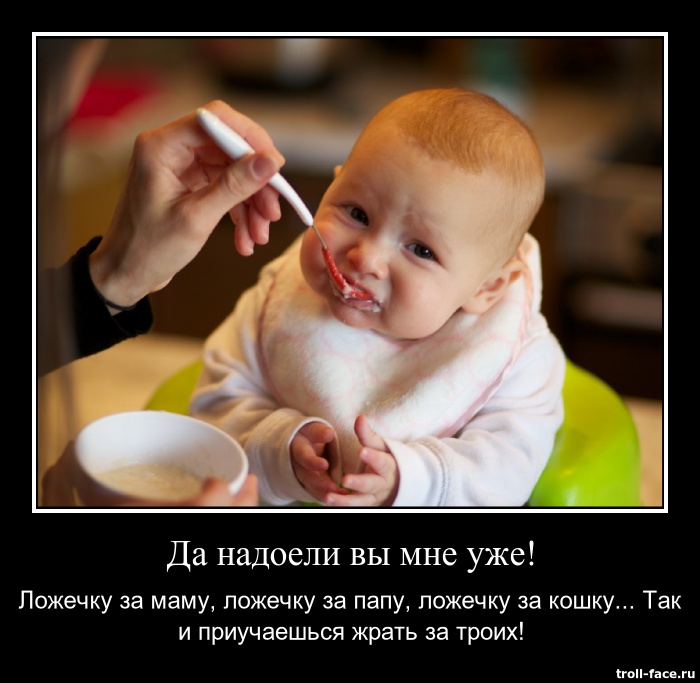 Some mothers confuse the words "homogenized" and "genetically modified." Don't be afraid, they are completely different things.
Homogenized nutrition is a homogeneous product consisting of very fine particles, no larger than 0.3 mm. It is not easy to prepare a product with such grinding at home. You need to grind the vegetables with a blender, rub through a very fine sieve and mix.
Homogenized purees for babies from 6 months. The packaging often says "from 4 months", but this figure is the minimum age at which such puree can be offered to the baby.
Important!
At what age to start complementary foods should be decided jointly by the mother and the pediatrician observing the baby.
Homogenized vegetable baby food is ideal for first feeding. The technology of production of homogenized puree is very interesting. Almost all processes in it take place without air access. Thanks to this, more vitamins and other useful substances are retained in the products.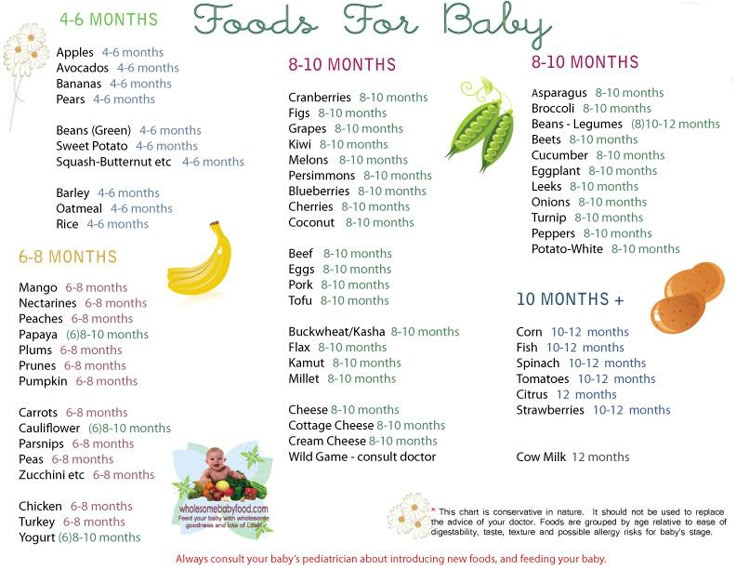 Due to the high degree of grinding, homogenized food is better absorbed and less likely to cause discomfort in the tummy. For older children, homogenized meat nutrition is produced.
Discover new flavors for your little one with Organic Apple, Peach & Apricot Puree. Only organic fruits and no dyes are all you need to supplement your child's diet.
MORE INFORMATION
Outwardly, it almost does not differ from homogenized, but experts do not recommend giving pureed vegetable and fruit products to children under 7 months old. At home, you can puree food with a regular blender. Almost all foods from the baby's diet can be ground with a blender. The exception is potatoes, they must be pounded by hand or use a special potato nozzle. In an ordinary blender, mashed potatoes turn into a very tasteless jelly.
Advice
At 7-9 months it is time to switch to less homogeneous foods. The particle size in such nutrition is up to 1.