Baby chicken water feeder
What's the most cost effective feeder option for baby chicks?
Home
Brooder Care
Feeders
Chicks are messy and tend to kick their food all over the place. So which feeder will work best in your brooder for eliminating waste and saving money?
When first in the brooder, chicks are best left with food sprinkled on the brooder floor.
That way, they learn to react to the sound of crumbs dropping - which is what a mother hen would teach them - and to distinguish between food and bedding.
But once they've got the hang of what to eat, it's time to add containers into their lives. 
The problem is, chicks are messy.
They kick food everywhere, which can lead to massive waste. They climb on top of whichever feeder they're given, which leads to poop in their feed, and the need to clean it out several times a day.
So is there a solution to this in the feeders available on the market today, or is wasting grain (and therefore money) just a fact of life when raising chicks?
I've tried almost all versions of the chick feeder that I know of, some of which work better than others.
Here, I review four feeders I've used to assess whether it's possible to prevent waste in the brooder.
If you purchase a product through links on the rest of this page, I receive a small commission at no extra cost to you. I only recommend products I have purchased or would purchase myself and which I believe would benefit you. To learn more please see my disclosure policy.

The long, plastic feeder.
If you have more than four or five chicks, these long feeders are good. While chicks are small, they can sit side by side to eat from them, and because the holes are fairly small, it's not possible for them to climb inside the container - which they will, if they can!
It's red, the colour all chickens instinctively want to peck at, so it encourages immediate feeding (once they've got used to it). And the covered top means the chicks are less able to waste feed by kicking it around. 
But it's made of a fairly light plastic, which means it can be shoved around and pushed over, wasting the feed inside.
And despite it being slippery plastic, my experience is that chicks nevertheless choose to sit on top of it.
Long plastic feeder: verdict.
Pros: It's inexpensive, long enough to feed a lot of chicks all at once, easy to clean and stops feed from being kicked out. And being plastic, it's built to last!
Cons: It's light, so easily topples over, and chicks can (and do!) sit on top of it and poop into their food.
Who's it good for? Great as a first feeder if you have a dozen or more chicks to feed. But you'll need to move to something larger within a couple of weeks.
Long metal trough chick feeder.
As the chicks begin to grow, you'll find they need a larger, heavier, more accessible feeder to allow room for everyone.
My chosen feeder then is this long metal trough. Its openings are larger than for the first stage, which gives everyone a turn, and it's covered by metal bars which prevent the chicks from sitting in it.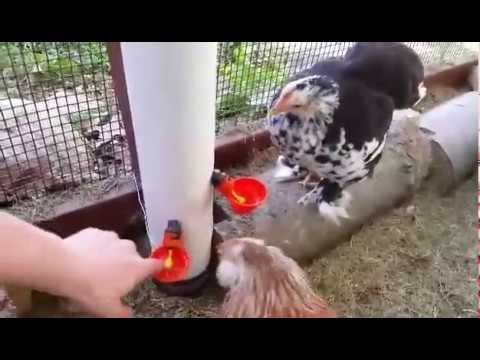 The chicks in the pic below were two weeks old when I introduced them to my metal feeder. It took them about ten seconds to get used to it and start eating!
I bought this one at my local feed store, and I wouldn't be without it.
Long metal feeder: verdict.
Pros: It allows larger chicks to feed since the gaps between bars are wider than the plastic feeder. It's sturdy and the bars are too narrow for chicks to perch and poop!
Cons: The larger openings do allow bedding to be kicked into the feed which means it has to be cleared regularly, to stop the chicks eating their bedding.
One way round that is using sand in the brooder, which causes less disruption as it falls beneath the grain.
Who's it good for? If you have growing chicks this is a good option. I've used this feeder for as many as 27 chicks until they were about five to six weeks old.
Buy one at your local feed store if possible. They're very common and likely to be a better price than online.
Mason jar chick feeders.
Feeders like the round one below, which are a base into which you can put your own upturned mason jar as a silo for the grain, are very popular.
They're useful because the design allows grain to disperse into the feeder as the chicks eat, so you don't need to keep topping it up every couple of hours.
I find that the holes are quite large, which gives chicks the perfect opportunity to kick grain out and bedding in.
And it's definitely better to use them with a mason jar in that large centre hole - otherwise this is what happens...
Mason jar feeder: verdict.
Pros: Doesn't need topping up as frequently, and it's very sturdy - it won't get knocked about anything like as much as the plastic and metal trough feeders. Good for a smaller number of chicks. If you have more than ten you'll need two of these.
Cons: It's still a ground feeder, so bedding will get kicked into the fairly large holes. And it can be hard to find a jar which fits it well.
Who's it good for? A small flock of up to ten chicks, until about four to six weeks old.
Top tip: fill the jar with grain and put the metal base on it while the jar is still upside down - then invert it. That way, you avoid grain spilling all over the brooder as you try to fit the jar into the middle hole.
The hanging feeder.
Most chick feeders are floor-based, and that leads to issues with feed being kicked out of, and bedding being kicked into, the feeder - not to mention the issue of chicks pooping into the containers where they are able.
So any feeder which hangs away from the floor has to be a winner. 
The problem is that very few do. So when I came across this clever device, I knew I'd found a winner.
The harness straps around a plastic feeder (or waterer, but it doesn't work as well with waterers) and is strong enough then to be hung from the top of your chick brooder.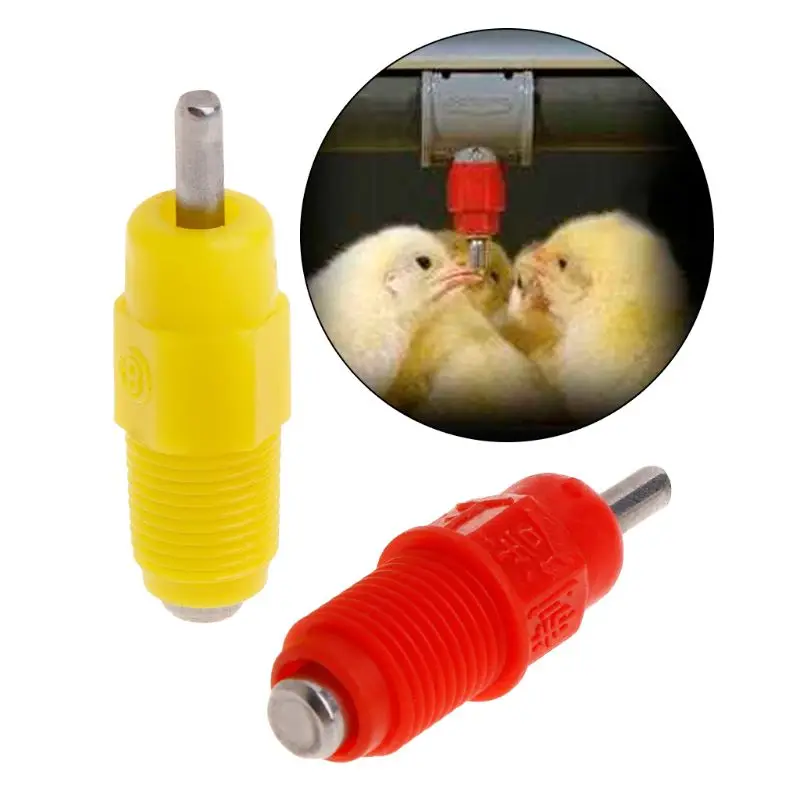 And therein lies the only issue. If your brooder doesn't have a top, it may be difficult. I get around this by placing a sturdy branch diagonally across the corner of the brooder and hanging any items from it, including treats and feeders.
Hanging feeder: verdict - this is hands-down my winner!
Pros: Keeps the feeder well off the ground, so minimising the likelihood of chicks kicking bedding into or grain out of the feeder - so it's more cost effective than the other feeders. The length of the strap can be lengthened or shortened to suit the height of your brooder and the size of your chickens.
Cost-effective: This design will suit chicks from a very young age until they're old enough to leave the brooder altogether - and even after!
Cons: Can only be used with plastic feeders and it relies on having somewhere to hang it from. And it's not as effective when used as a waterer.
Who's it good for? Everyone! 
Top Tip: Be sure, if you order it, that you order the harness with the plastic feeder (not waterer). That way, you can be sure the two will fit perfectly together.
Or click here to buy from the Amazon UK store.
More information about baby chick care.
Home
Brooder Care
Feeders
Best Chick Waterers To Prevent Drowning
From the day your chicks hatch, they will need a good chicken waterer to help them have 24 hour access to water. 
You don't want them getting dehydrated!
There's lots of options, which are all equally good. Whichever you decide, you've got to pay attention to the amount of water and the size of the waters as your chicks grow older. 
I'll introduce the best options out there(at least I think they're the best options), but towards the end, I've even thrown in another option for your consideration.
In this article, we'll answer the commonly-asked question: "What is the best waterer for my baby chicks?"
(For a full review of several waterers out there, you can read this article.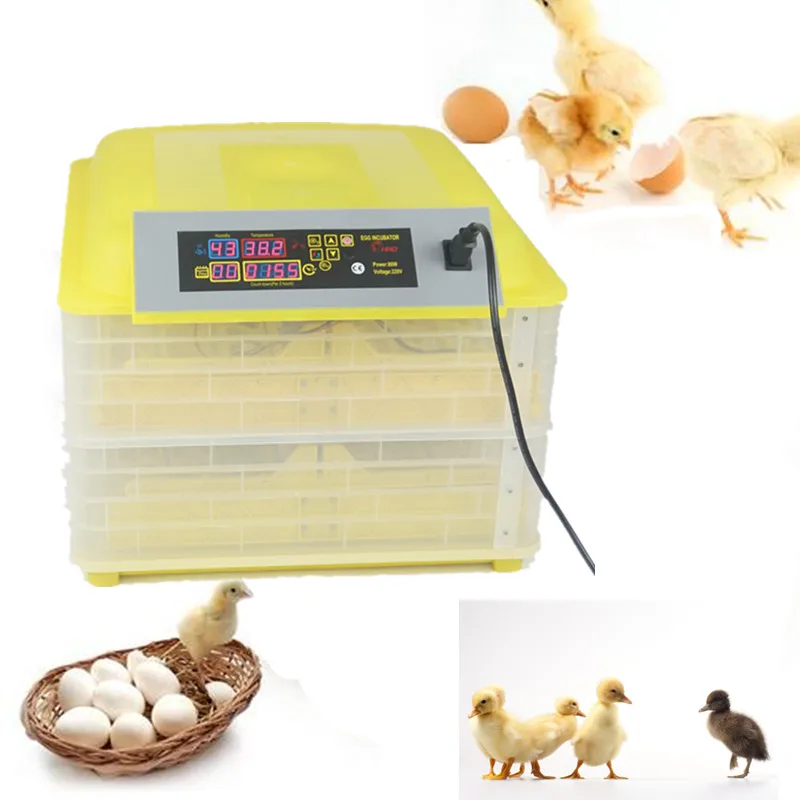 )
Table of Contents (Quickly Jump To Information)
Mason Jar Waterers
Mason jar waterers are good when you have itty bitty chicks that are day-olds. I like these because they're shallow, and with anything deeper, your chicks might fall in the water. 
Earlier this year, we actually did have somebody fall in the water (even though we use mason jar waterers). It was quite the tempest in a teapot with that chick, and although it was unharmed, it was very upset. We actually had to blow it dry to make sure that it was warm enough.
The problem with the Mason jar waterers is that your chicks will outgrow them pretty quick. But they're cheap and easy to find at your local farm store, and they're what I recommend using the first couple weeks of your chick's life.
Bell Waterers
You will see bell waterers for sale at farm stores. I call them bell waterers. I'm not sure what everyone else calls them, but that's what I call them because they're kind of shaped like a bell.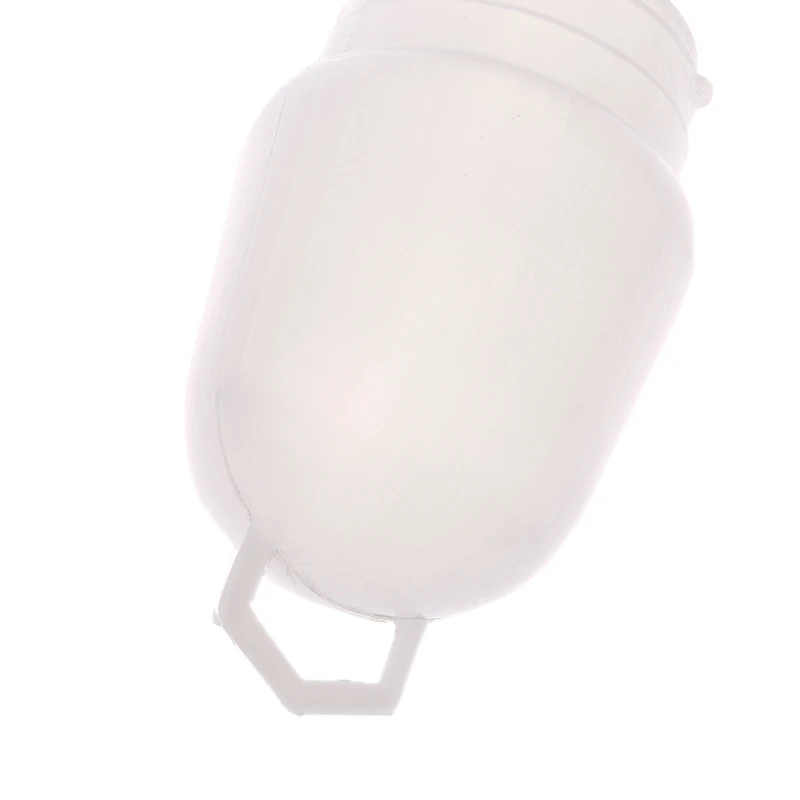 You can use those with day-olds, but are really good all the way up to 16 weeks, which gives them a bit more of a lifespan.
The problem with bell waterers with the day-olds is how deep they are. They're about an inch and a half deep. 
It's important to remember that when your chicks just come out of the incubator, they can't walk very well. So, they can fall into it. 
The other nice thing about these waterers is its handle. You can hang them, and your chicks won't kick shavings in their water. (The only time they're not going to get shavings in their waterers and feeders is if you use something like newspaper, which isn't the best bedding out there.)  
You will want to use a bell waterer if you have a lot of chicks. If you have 30 chicks, for example, the little mason jar waterer probably isn't going to cut it after a couple of days. 
It's just going to be not enough water and not everybody can get to it. In that case, the bigger bell waterer is better.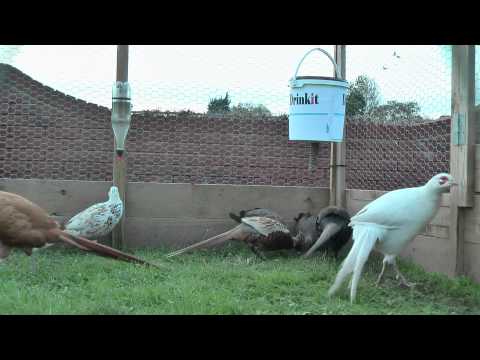 Kitchen Pan
Sometimes, I have more chicks than waterers, so I need to find a pinch hitter. I've found ceramic kitchen pans and baking dishes to be good options. They're also free and you won't need to buy extra equipment.
I prefer a ceramic baking dish that's no more than 1 inch deep. That's shallow enough that the chicks can't fall into it, and they can easily access the water (this works great with ducklings, too). 
If they DO fall into it, they can easily get out. Additionally, they can't tip it over, since the baking dishes are relatively heavy. 
If we want to use a water from the kitchen, just like a bowl, that's what we use because it's just simpler.
Keeping Chicks From Falling Into Waterers
Yes, chicks can drown, especially if they're weaker or they're getting trampled. But you can easily prevent your chicks from falling into their waterer by putting a bunch of rocks in there. 
Many farm stores use rocks they found outside, but I think it's best to use smooth river stones that you can buy at the store.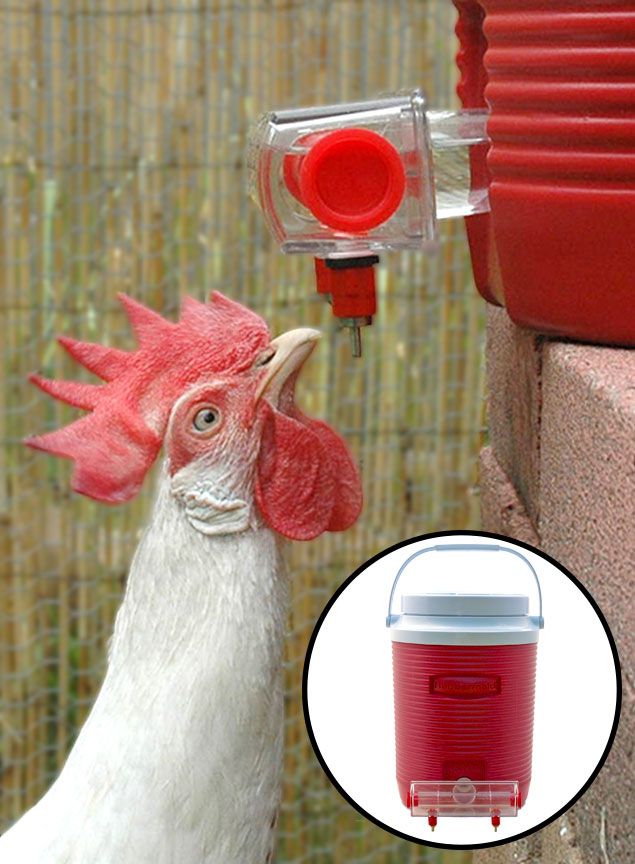 Your chicks can still get to the water, but they won't try to climb in, and if they fall in, they won't fall very far.
You can remove the stones after a few days. 
So how many stones? Well, it depends on how deep your waterer is. 
A single layer of stones is usually enough, especially with mason jar waterers. I've just found that with the mason jar waterers, you don't really have to put in as many stones. 
Personally, with the mason jar waterers, I don't use rocks, and I've never had a chick drown in one of those smaller waterers. 
In some cases, it can actually prevent them from drinking, and I want my day-olds to be able to get to the water all the time. But with the bell waterers, you can do that. 
So there you have it! There's 3 different waterers for chicks that'll keep your new flock hydrated and happy!
Maat van Uitert
Maat van Uitert is a backyard chicken and sustainable living expert. She is also the author of Chickens: Naturally Raising A Sustainable Flock, which was a best seller in it's Amazon category.
  Maat has been featured on NBC, CBS, AOL Finance, Community Chickens, the Huffington Post, Chickens magazine, Backyard Poultry, and Countryside Magazine. She lives on her farm in Southeast Missouri with her husband, two children, and about a million chickens and ducks. You can follow Maat on Facebook here and Instagram here.
Post Tags: #Baby Chick Series#chicken waterer#chicks#mason jar waterers#waterers
Do-it-yourself feeder for chickens from improvised materials: photo and video
01/28/2022 18 788 2 0 Chicken coops, cages and feeders
so that it is comfortable for the birds. There are ready-made products that can be purchased in stores, but it is much more pleasant to make a feeder yourself. How to do it? What materials will be needed? All this and much more in our article.
Content:
1

Medical from improvised materials

2

Plastic bottles

2. 1

Tools and materials

2.2

9000

9000

3.1

Tools and materials

3.2

Step-by-step instructions

4

Photo gallery

5

Video "Chicken feeders"
Feeder made from local materials
Feeders for chickens have different modifications. They depend on the types of feed supply, and the position of the structure itself in the cage. For example, they are divided by size, how they are attached, or how you will serve food.
Here is their classification:
floor;
wall-mounted;
suspended;
tray.
Making a product with your own hands is very simple.
General rules for creation:
Little chickens must not be able to climb into the food bowl, otherwise they will leave their droppings there and will not eat food.
The design itself should be comfortable in everyday use.
The volume of the structure should be enough for all the chickens and preferably for the whole day, and most importantly, the size should be such that there is enough space for everyone to eat.
There are many types of homemade feeders from scrap materials, here are a few:
Feeder based on a plastic sewer pipe. It can be left lying around for example after repair, or you can buy it at any store. And the assembly process is very simple and within the power of any craftsman. To do this, you will need a pipe with a sufficient diameter, a plastic pipe tee, a cap to fit the pipe and a file to cut it all.
You can also make a feeder using a small bucket left over from ice cream, for example.
They are also of the bunker type, to create them you need a bucket of construction mixtures, not metal, for example, a sectional dog bowl, and most importantly, a very sharp knife.
Ordinary canteen, made very simply, a hole is cut in a simple, for example, 5 liter plastic canister.
For the more experienced, there is a plywood fixture, its production will take you more time and effort, but the reliability of this design will serve you for more than one year.
With plastic, we can make many different feeders.
Next, we will tell you how to make a feeder from a plastic bottle.
Plastic bottle feeder
DIY bottle feeder for chicks is an easy solution for beginner poultry farmers. This method is the most popular and easily accessible, you can do it too, and now we will tell you how easy it is.
Tools and materials
To get started on creating a design based on a plastic bottle, we need things that are at hand in every home:
An eggplant with a capacity of 2 to 10 liters, at your discretion.
Metal bowl, preferably a large basin.
We also need a plastic funnel.
And the most important thing is a hammer and up to 20 nails.
We will also need a very sharp knife, which we mentioned earlier.
Step-by-step instructions
Cut a few holes in the bottom of your chosen bottle. It is with the help of them that the food will get enough sleep for our chicks.
Next, take the nails and heat them up, then insert them on the bottom of the bottle at the same level with the basin in order to delimit the approach of the chickens to the dish. The main thing is that the gap between the nails should be exactly for one bird.
We attach a funnel-shaped dish to the neck, with the help of which the food will evenly fill the bottle. All this is shown in the photo below.
That's it, this feeder should be enough for 20-25 chickens, it remains only to place it in a cage with livestock.
Loading ...
Automatic chicken feeder
It is very important to provide chickens with good nutrition from the very beginning and the main thing is that it be on a constant basis, that is, at any time of the day, an automatic feeder will help us with this.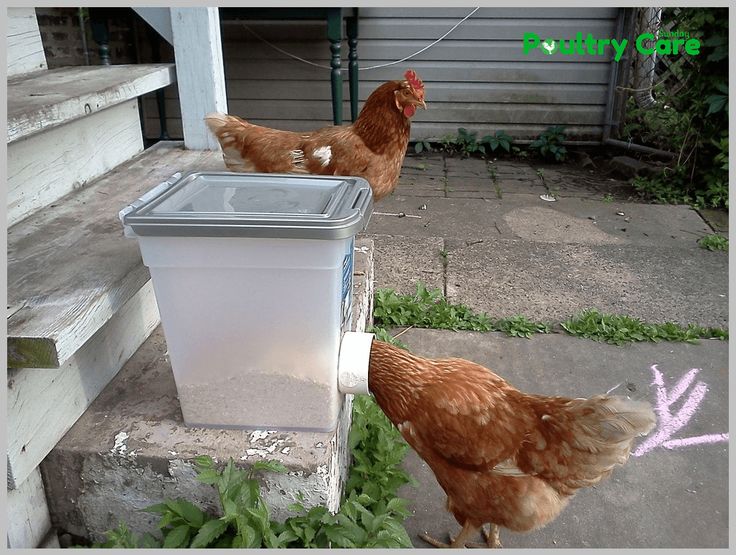 Tools and materials
We need:
sharp knife;
1.5 or 2 liter bottle;
food bowl, one and a half times the width of the chosen bottle;
screw.
Step by step instructions
Cut off the bottom of the bottle.
Cut off the neck about 7 cm from the edge.
Cut out holes so that the feed can flow evenly.
Punch the cap with a screw.
We connect them as shown in the photo.
Everything can be filled with food and put on your chicks. Feed should be enough for the day and you do not need to check every five minutes for its availability.
Here we have told you one of the intricacies of poultry farming. In the video below, we have selected several more types of feeders to create at home, which will certainly interest you.
Photo gallery
photo 1. Chickens eat food
photo 2. Feeding for feeding chickens
photo 3. Chicken and plastic feeder
photo 4

Photo 5. Chickens in a cage eating food

Photo 6. Dimensions of a homemade structure for chickens

Video "Chicken feeders"

This video describes the creation of several types of feeders from plastic containers.

DIY chicken feeder from a plastic bottle: photos, original ideas

Contents:

Basic requirements
Types of feeders
DIY
Video

In professional and amateur poultry farming, one of the essential elements of equipping a brooder or chicken coop is a chicken feeder, which provides convenient and safe distribution of feed, protecting it as much as possible from scatter and contamination. The design must meet the needs of the reared livestock, take into account the characteristics of the breed of chickens and the age of the young. The high activity of chicks, especially during feeding, the natural need to rake and scatter everything around with their paws, constant defecation, including in their own food, require a thoughtful and balanced approach from the farmer when choosing this device.

The photo shows various types of factory-made devices for feeding chickens

Basic requirements

When choosing or making your own feeder, you need to pay attention to a number of parameters:

limited access be arranged in such a way that the bird could peck freely, but did not have the opportunity to get inside the structure, rake food and shit on it; high sides, special turntables, mesh can serve as protection;
ease of use - simple design, providing convenient frequent filling with food, periodic cleaning and washing of food residues; the material for manufacturing should be selected light and durable, with a smooth and hygienic surface;
appropriate dimensions - the container must meet the constant needs of the livestock for feed, be of a size that allows all pets to get simultaneous access to food.

Around 3 cm per chick in a circular bowl, when using a rectangular design with a tray, each head will need more space - from 5 to 7.5 cm

Types of feeders

Can be floor-mounted, wall-mounted, or suspended from the ceiling. On this basis, they are classified as floor, hanging and wall.

According to the way food is served, the following main types are distinguished:

bunker (automatic) - is a tank with a supply of food complete with a feeding area, usually in the form of a round tray. As soon as the level of feed in the dispensing tank decreases, the next portion is automatically added from the hopper. Designs of this type are well suited for dry bulk mixes and whole or crushed grains;
tray - made in the form of a tray with a limiter that prevents chicks from raking and contamination of food; suitable for feeding young animals with wet and dry mash;
fluted - consist of a chute and a revolving bar installed above it or a removable grate that protects birds from climbing inside, contamination and shoveling out feed; are used for feeding chickens of various breeds, including broilers, with wet and dry mashes.

Grooved structures are most often placed outside the brooder or cage, which ensures cleanliness and ease of maintenance.0006

wet stirrers - pre-cooked, steamed or wet-cooked food is best placed in plastic containers or galvanized iron trays, which are easier to clean and disinfect;
dry food - whole or crushed grains, cereals, bulk or combined mixtures are preferably poured into metal or plastic bunkers;
greens and herbs - for freshly harvested as well as dried grass, special hanging or wall-mounted feeders made of plastic (metal) mesh are used, designed for long-term preservation of green fodder and its protection from chick waste.

The presence of protective elements that help avoid contamination of food, including droppings, significantly reduces the risk of intestinal diseases in poultry , conditions of detention and the type of feed used.

Do-It-Yourself

Despite the wide range of ready-made products available in specialty farm shops and even in the hardware department of supermarkets, many owners prefer to make their own chick feeders. Firstly, the household will always find improvised materials and suitable tools for the construction of a fairly simple design (plastic bottles, old buckets, basins, plywood, CD containers, cutting PVC pipes of different diameters). Secondly, the chicks grow very quickly, so it is not economically feasible to spend money on buying a device that can last only a few weeks, especially since the work will not take much time.

Homemade trough feeder equipped with a barrier, great for giving dry and wet mash to chickens up to 1.5-2 months of age

Hopper feeder from a plastic bottle

One of the easiest and fastest to make is a feeder from a plastic bottle with holes cut out along the bottom, installed in the bowl for food, and replenished automatically as it is pecked by the chicks. Such a device is suitable even for the smallest, day-old chicks.

To create it, you only need a clean plastic bottle of 1.5 or 2.0 liters (it is better if it is from mineral or purified water) and a dispensing container, which can be used as an enamel or aluminum bowl, deep plate, round plastic box, cut off the bottom of a larger plastic bottle (5-6 liters). From the tools you need to prepare scissors or a clerical knife, a glue gun, liquid nails or other neutral universal glue.

How to make a chick feeder from a plastic bottle at home, see step by step instructions :

Prepare the bottle - thoroughly wash, disinfect and dry.
Cut off the tapered top of the bottle (cone with cork) to a level where it becomes cylindrical.
In the lower part near the bottom of the bottle, make 5-6 holes in a circle, each with a diameter of 1.5-2 cm; melt the edges of the incisions to protect the bird from injury.
Firmly fix the bottom of the bottle in the bowl with any non-toxic glue or sealant, wait until it sets.
Fill the prepared hopper to the top with compound feed, cereals or grain mixture.

When distributing feed, it is very important to choose a stable round bowl to avoid tipping over the entire structure. With the correct bowl diameter for the number of birds available, all chicks will have free access to food, even if they gather around it at the same time. And for a large number of chickens, you need to build several feeding areas and put them in the house in different places.

Well-made and properly selected practical feeders contribute to high productivity and maintaining the health of the bird, ensure rational use of feed.

Video

We offer several videos that detail how to make comfortable and functional chicken feeders with your own hands from available materials:

About the author:

Svetlana Verba

Born and raised in a private home at a time when cilantro or lettuce, adjacent to dill and parsley in the garden, were considered exotic, and getting a new plant for growing in a garden or flower bed was a great success. Now retired, I spend most of my time in the country. There is enough space on the plot for a small garden and a spacious vegetable garden. Near the house, she arranged an alpine hill with a lake, a wonderful rose garden. In the fall, after harvesting and preparing the site for winter, I like to sit on the Internet and slowly choose new plants. I like to share my observations, achievements and experience with other people who are not indifferent to nature.

Found a mistake? Select the text with the mouse and press:

Ctrl + Enter

Did you know that:

Compost - decomposed organic residues of various origins. How to do? Everything is put in a pile, a pit or a large box: kitchen leftovers, tops of garden crops, weeds mowed before flowering, thin twigs. All this is interbedded with phosphorite flour, sometimes straw, earth or peat. (Some summer residents add special composting accelerators.) Cover with foil. In the process of overheating, the pile is periodically stirred or pierced to bring in fresh air. Usually compost "ripens" for 2 years, but with modern additives it can be ready in one summer season.

Share:

Subscribe to our VK group:

Read also

Interesting How to grow a mango from a seed

Cucumber Growing cucumbers on a windowsill

Calendar Should we trust the lunar seed calendars?

Peony How to feed peonies in autumn

Interesting Garden crop rotation

Grape Wild grapes

Currant How to increase the yield of currants: 4 basic rules

Other What flowers are planted in autumn

Interesting How bees make honey

Interesting Growing ginger at home

Interesting Decorations for the garden and cottages: 20 best products from AliExpress

Other How to treat a greenhouse in the fall from diseases and pests

Interesting Pharmacy preparations in the garden: benefits and harms

Interesting How to grow an avocado from a seed

Interesting Ways to use 5-liter plastic bottles in the country

siderates Siderates for the garden in autumn

Grape How to feed grapes in autumn

Interesting How to properly water trees and shrubs in the garden

Interesting Novelties for growing seedlings with Aliexpress

Garlic What to plant after garlic next year

Questions from readers

Question: In the spring we bought a piece of land with a house.