Baby feeding chart schedule
Tips for the First Year
Eat, sleep, pee, poop, repeat. Those are the highlights in a day of the life of a brand new baby.
And if you're a new parent, it's the eating part that may be the source of many of your questions and worries. How many ounces should your baby take? Do you wake a sleeping baby to eat? Why do they seem hungry all the time? When can your child start solids?
Questions abound — and, despite Grandma's insistence, the answers have changed since you were a tot. It's now recommended that newborns, even formula-fed ones, eat on demand (consider it good preparation for the teenage years) and that babies wait to start solid foods until they're 4 to 6 months old.
On day one of life, your baby's stomach is the size of a marble and can only hold 1 to 1.4 teaspoons of liquid at a time. As your baby gets older, their stomach stretches and grows.
It's hard (or impossible, really) to know how much milk your baby is taking in while breastfeeding.
But if you're bottle feeding due to any number of valid reasons, it's a bit easier to measure.
Here, from the American Academy of Pediatrics (AAP), a typical feeding schedule for bottle-fed babies.
| Age | Ounces per feeding | Solid foods |
| --- | --- | --- |
| Up to 2 weeks of life | .5 oz. in the first days, then 1–3 oz. | No |
| 2 weeks to 2 months | 2–4 oz. | No |
| 2–4 months | 4-6 oz. | No |
| 4–6 months | 4–8 oz. | Possibly, if your baby can hold their head up and is at least 13 pounds. But you don't need to introduce solid foods yet. |
| 6–12 months | 8 oz. | Yes. Start with soft foods, like one-grain cereals and pureed vegetables, meats, and fruits, progressing to mashed and well-chopped finger foods. Give your baby one new food at a time. Continue supplementing with breast or formula feedings. |
Every baby is unique — but one thing that's pretty consistent is that breastfed babies eat more frequently than bottle-fed ones. That's because breast milk is easily digested and empties from the stomach a lot quicker than formula.
Breastfed babies
There's no rest for the weary. According to La Leche League International, you should begin nursing your baby within 1 hour of birth and provide about 8 to 12 feedings daily in the first few weeks of life (yeah, we're exhausted for you).
At first, it's important not to let your baby go more than 4 hours without feeding. You'll likely need to wake them up if necessary, at least until breastfeeding is well established and they're gaining weight appropriately.
As your baby grows and your milk supply amps up, your baby will be able to take in more milk in less time at one feeding. That's when you might start to notice a more predictable pattern.
1 to 3 months: Your baby will feed 7 to 9 times per 24 hours.
3 months: Feedings take place 6 to 8 times in 24 hours.
6 months: Your baby will feed around 6 times a day.
12 months: Nursing may drop to about 4 times a day. The introduction of solids at about 6 months helps to fuel your baby's additional nutritional needs.
Keep in mind that this pattern is just one example. Different babies have different paces and preferences, along with other factors that influence the frequency of feedings.
Bottle-fed babies
Like breastfed babies, bottle-fed newborns should eat on demand. On average, that's about every 2 to 3 hours. A typical feeding schedule may look like this:
Newborn: every 2 to 3 hours
At 2 months: every 3 to 4 hours
At 4 to 6 months: every 4 to 5 hours
At 6+ months: every 4 to 5 hours
For both breastfed and bottle-fed babies
Don't give liquids other than formula or breast milk to babies under a year old. That includes juices and cow's milk. They don't provide the right (if any) nutrients and can be upsetting to your baby's tummy. Water can be introduced around 6 months when you start offering a cup.
Don't add baby cereal to a bottle.

It can create a choking hazard.
A baby's digestive system isn't mature enough to handle cereal until about 4 to 6 months of age.
You could overfeed your baby.

Don't give your baby any form of honey until after their first birthday. Honey can be dangerous for a baby, occasionally causing what's called infant botulism.
Do adjust your expectations based on your baby and their unique needs. Premature babies are likely to follow feeding patterns according to their adjusted age. If your baby has challenges like reflux or failure to thrive, you may need to work with your doctor on the appropriate feeding schedule and amount they should be eating.
Schedules are the holy grail of every parent. Your child will naturally start to fall into a feeding pattern as their tummy grows and they can take in more breast milk or formula at one sitting.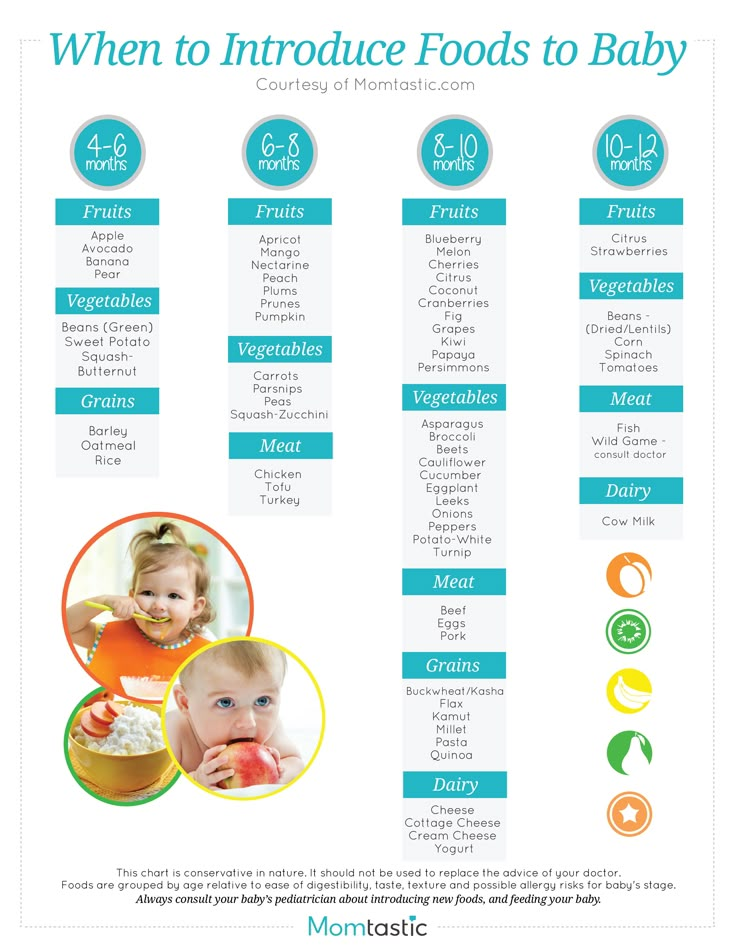 This may begin to happen between 2 and 4 months of age.
For now, though, focus on learning your baby's hunger cues, such as:
rooting around your chest, looking for a nipple.
putting their fist in their mouth
smacking or licking their lips
fussing that can escalate quickly (don't wait until your baby's hangry to feed them)
Once your baby is a few months old, you may be able to introduce a sleep/feed schedule that works for you.
Let's say, for example, your 4-month-old wakes every 5 hours for a feeding. That means if you feed at 9 p.m., your baby wakes around 2 a.m. But if you wake and feed the baby at 11 p.m., just before you go to bed, they may not rouse until 4 a.m., giving you a decent chunk of nighttime winks.
In general, if your baby seems hungry, feed them. Your baby will naturally eat more frequently during growth spurts, which typically occur around 3 weeks, 3 months, and 6 months of age.
Some babies will also "cluster feed," meaning they'll feed more frequently during certain periods and less at others.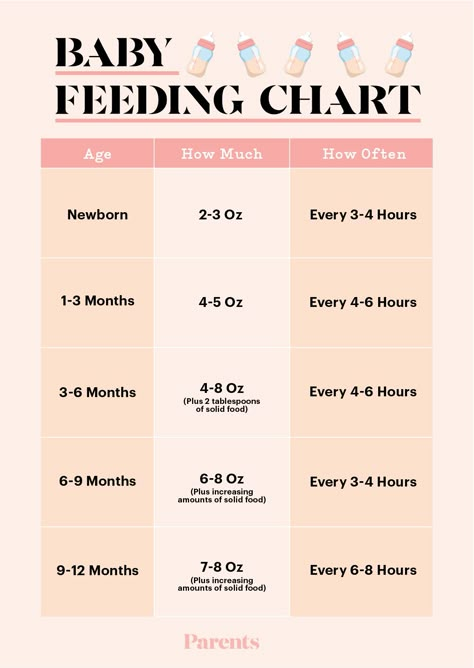 For example, your baby may cluster feed during the late afternoon and evening and then sleep longer at night (yay!). This is more common in breastfed babies than bottle fed babies.
Worried about overfeeding? While this isn't really possible to do with an exclusively breastfed baby, you can overfeed a baby who's taking a bottle — especially if they're sucking on the bottle for comfort. Follow their hunger cues, but talk to your pediatrician if you're worried your little one may be overeating.
Your baby is probably ready for solids if they're 4 to 6 months old and:
have good head control
seem interested in what you're eating
reach for food
weigh 13 or more pounds
Which food to start with? The AAP now says it doesn't really matter much in what order you introduce foods. The only real rule: Stick with one food for 3 to 5 days before offering another. If there's an allergic reaction (rash, diarrhea, vomiting are common first signs), you'll know which food is causing it.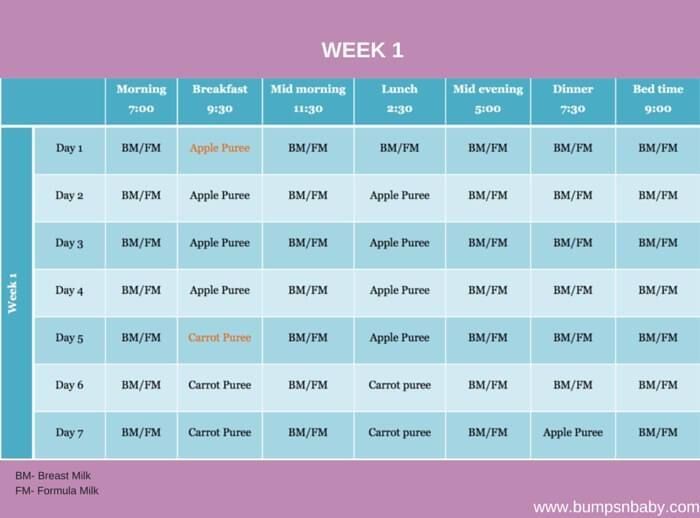 As your baby grows, move from pureed baby food to ones that have more texture (for example, mashed banana, scrambled egg, or well-cooked, chopped pasta). This generally happens around 8 to 10 months of age.
Your supermarket offers a variety of baby food products, but if you want to make your own, keep it sugar and salt free. Additionally, at this stage, don't feed your baby anything that could be a choking hazard, including:
hard foods, such as popcorn or nuts
hard, fresh fruits, like apples; cook to soften or chop into very small pieces
any meat that isn't well cooked and very well chopped (this includes hot dogs)
cheese cubes
peanut butter (though talk to your pediatrician about this one — and the benefits of introducing diluted peanut butter before the age of 1)
As your baby nears their first birthday, they should be eating a variety of foods and taking in about 4 ounces of solids at each meal. Continue to offer breast milk or formula.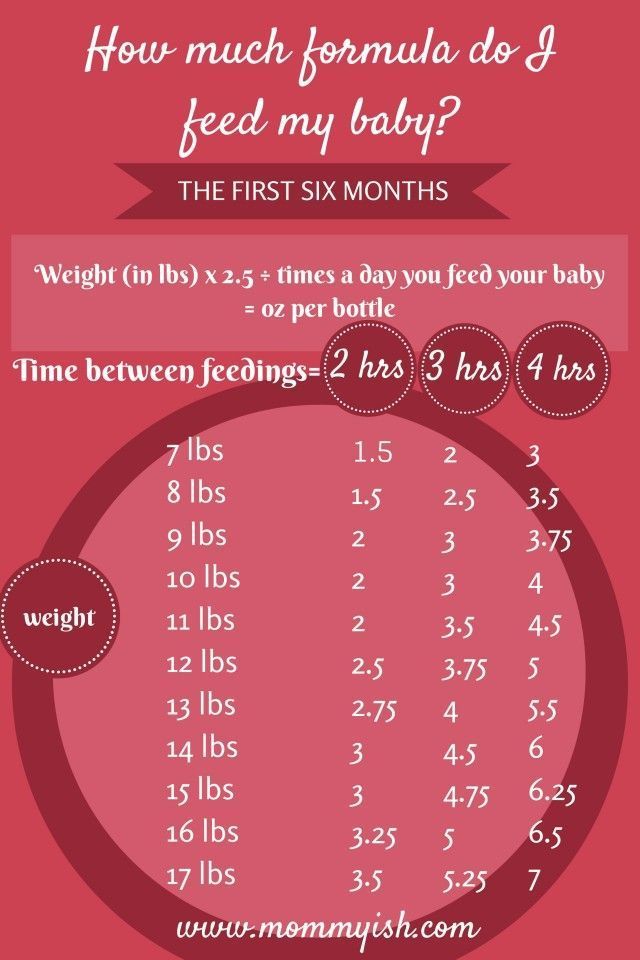 By 8 months, babies are drinking about 30 ounces a day.
Oh yeah, and buy some stock in a company that makes stain-fighting laundry detergent. It'll pay for college.
Babies aren't cookie cutter. Some will gain weight easily, while others will have problems. Things that can affect a baby's weight gain include:
having a birth defect like a cleft lip or palate, which creates problems feeding
having a milk protein intolerance
being premature
being fed with a bottle versus the breast
A 2012 study of more than 1,800 babies found that the infants who were fed with a bottle — regardless of whether the bottle contained breast milk or formula — gained more weight in the first year than babies who nursed exclusively.
Your baby's doctor is the best one to advise you on a healthy weight range for your baby.
How, when, and what to feed a baby are top worries of every parent — but there's good news: Most babies are pretty good judges of when they're hungry and when they're full — and they'll let you know it.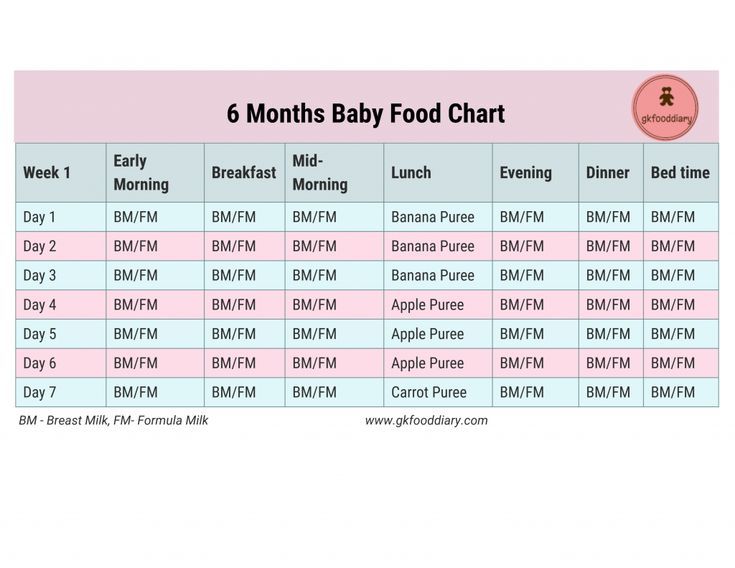 You just need to present them with the right choices at the right time and pay attention to their cues. If you have any questions or concerns, your pediatrician is there to help you along the way.
Newborn and Baby Feeding Chart in the 1st Year
Whether you're a first-time parent or a seasoned caregiver, figuring out why your baby is crying can feel like a guessing game. Fortunately, paying attention to your baby's daily feeding schedule can help reduce some of the guesswork.
By following a feeding schedule, you might be able to avoid some of the fussiness associated with hunger, and you'll be able to more easily tell whether he's more likely to be wet or tired instead.
Whether your little one's a newborn, a 6-month old, or even a 1-year-old, read on to find out how to come up with a feeding schedule and adjust it to your baby's needs as he grows and develops.
Baby Feeding Chart at a Glance
As you watch for those delightful baby milestones — from first smiles and giggles to sitting and crawling — it can be hard to keep track of everything related to your baby's feeding schedule.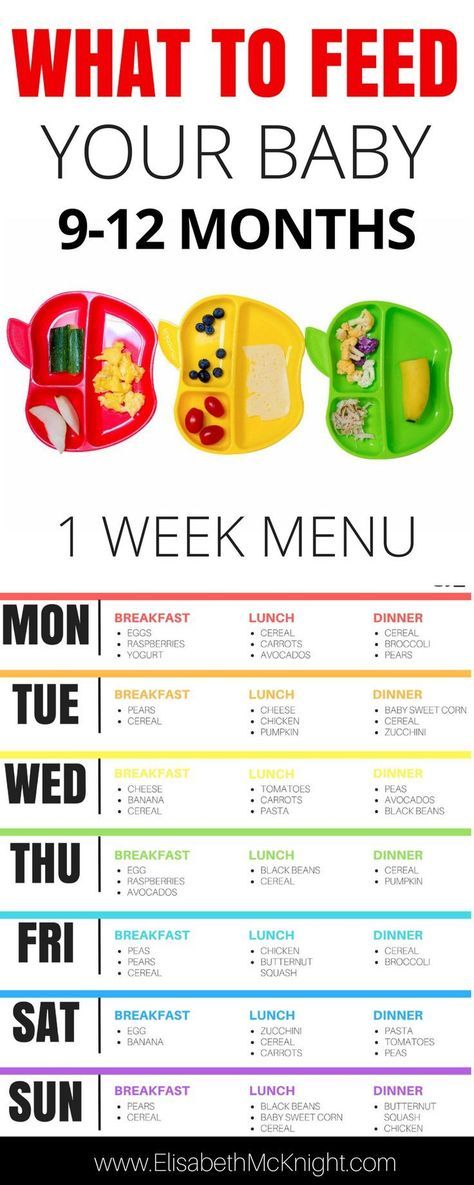 Fortunately, you don't have to. We've assembled all the necessary details in the chart below, including feeding frequency and portion information.
related baby tool
Keep an eye on your baby's average growth by tracking height, weight, and head circumference with our simple tool.
Fill out your baby's details*:
What is your child*
Boy Girl
This is a mandatory field.
Age (between 0 and 24 months)
This is a mandatory field.
Weight (lbs.)
This is a mandatory field.
Height (in.)
This is a mandatory field.
Head circumference (in.)
This is a mandatory field.
*Input details of your baby's last measurements.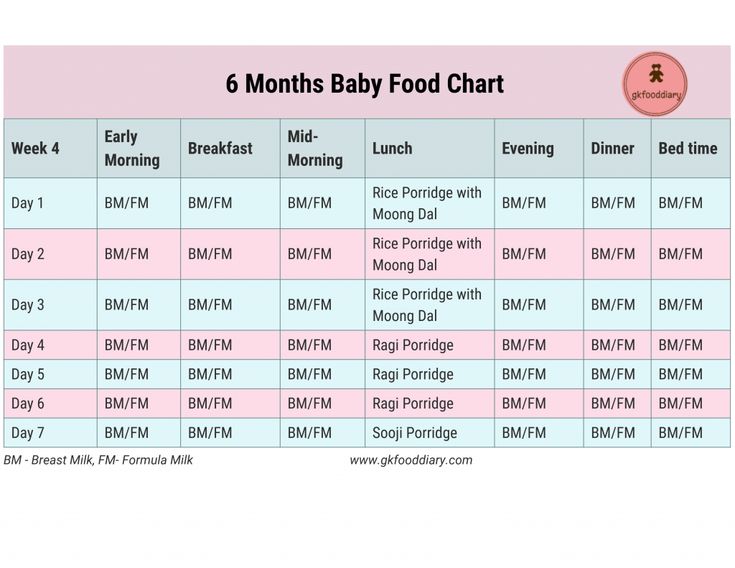 **Source: World Health Organization
Feeding Schedule for Breastfed Newborns
From the moment your baby is born, she begins to grow at a surprisingly quick pace. To fuel her development and keep her well fed, be prepared to nurse about every two to three hours.
By the time she's a week old, your little one may begin to nap for longer periods, giving you more time between feedings. If she's sleeping, you can maintain your baby's feeding schedule by waking her up gently when it's time to feed.
Tips to keep in in mind if you're breastfeeding:
The length of time between feedings is measured from when your baby begins nursing, not when she stops.

Ensure your little one latches on properly. This can be difficult when you're starting out, especially for first-time moms, but over time your baby may begin to latch comfortably. Speaking to a lactation consultant could be helpful.

As your baby grows she may nurse at a faster rate.

Alternate between breasts during each feeding.

Look for signs that your baby is full. She may turn away from the breast, nurse at a slower rate, or lose interest. Once she seems full, end the feeding

Your baby's healthcare provider may recommend adding vitamin D oral supplements to your baby's diet. Follow the provider's instructions to ensure your baby gets the proper dosage.
Nursing your baby on demand or every couple of hours around the clock can seem like a lot—and it is! At the newborn stage, your baby can't take in much milk in a single sitting, so frequent feeding is needed to make sure she's getting enough. Later on, as your baby's daily routine (including her sleep and awake time) becomes more predictable, you'll have an easier time following a regular feeding schedule.
Feeding Schedule for Formula-Fed Newborns
Formula-fed newborns will need about two to three ounces (60 – 90 milliliters) of formula per feeding to start with.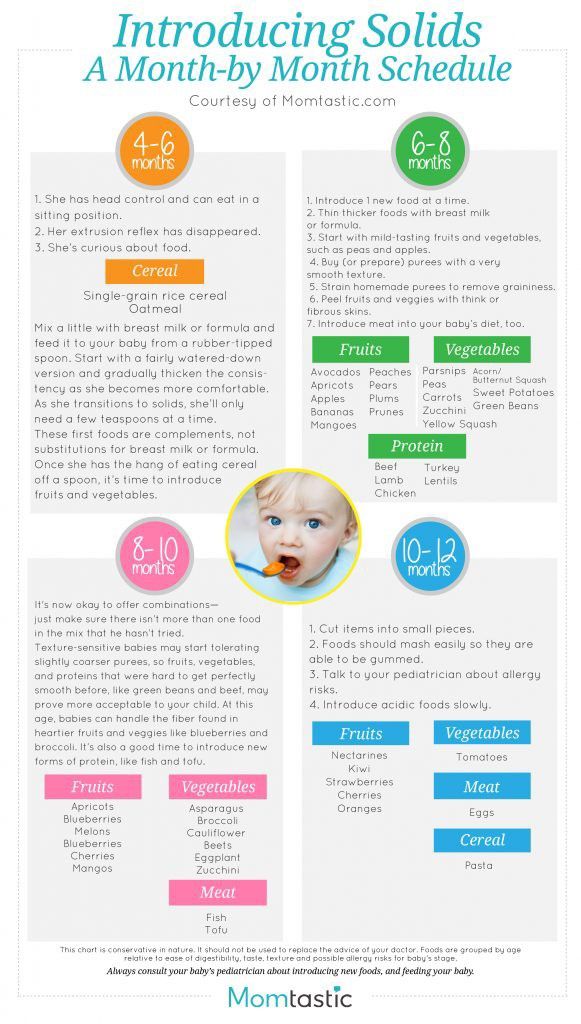 Newborns, fed from bottles are able to take in more during a feeding than a breastfed infants. This allows you to space out feedings by about three to four hours.
As your baby reaches her 1-month milestone, she will need at least four ounces per feeding to get the nourishment she requires. Your newborn's feeding schedule will gradually become more predictable over time, and you'll need to adjust the amount of formula as she grows.
3-Month-Old Feeding Schedule
Now that you and your baby have begun to develop a routine, it can be difficult to make slight alternations. However, as your baby grows and her feeding needs change, you'll need to adjust your baby's feeding schedule accordingly.
For Your Breastfed Baby
At 3 months, your baby is becoming more active, will begin to breastfeed less often, and may sleep for longer periods of time at night.
You may have to nurse just six to eight times per day at this stage (or about every three to four hours).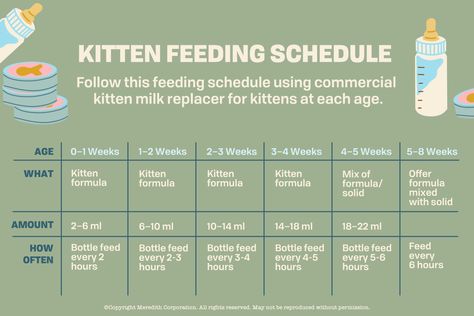 If your baby's healthcare provider sees that he's gaining weight and growing at a regular pace, then he's probably getting the right amount of nutrition.
The number of wet and soiled diapers is also a great indicator as to whether or not he is eating well. Your baby should have about four to six wet diapers a day.
See your baby's healthcare provider if you're concerned that your little one may not be getting enough to eat.
For Your Formula-Fed Baby
As your little one continues to grow, you'll notice that he wants to eat more during each feeding and begins to sleep for longer intervals at night.
Slight adjustments to your 3-month old's feeding schedule may include:
Increasing the amount of formula to about 5 ounces per feeding

Giving your baby formula about six to eight times per day

Switching the newborn nipple size or style on your baby's bottles to make it easier for him to drink from the bottle.
6-Month-Old Feeding Schedule
At this stage, your baby's healthcare provider may recommend you expand your baby's diet to include solid foods.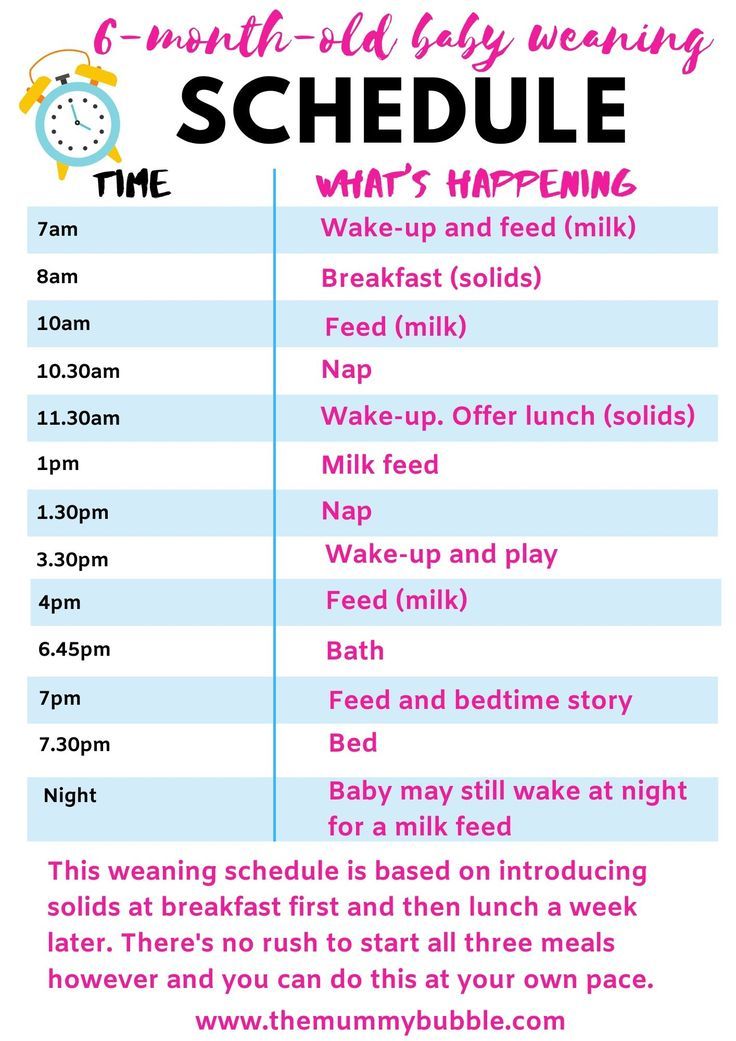 With these menu additions on the horizon, having a 6-month-old feeding schedule will come in handy!
When a baby ready to try solid foods, a single grain baby cereal mixed with breast milk or formula has traditionally been the first solid food to be introduced, followed by pureed vegetables and fruits. However, there's no medical evidence that indicates introducing foods in any special order offers any benefits.
Keep in mind that solids are only a supplement at this stage, and that breast milk or formula is still your baby's most important source of nutrition. Continue to include about 32 ounces of breast milk or formula in your 6-month-old's feeding schedule of three to five feedings per day to ensure your baby gets the necessary vitamins and minerals.
You may be able to start weaning your baby off of night feedings; however, every baby is unique. Speak to your baby's healthcare provider to see if it's time to cut down on nighttime feedings and to learn what you can do to encourage the process.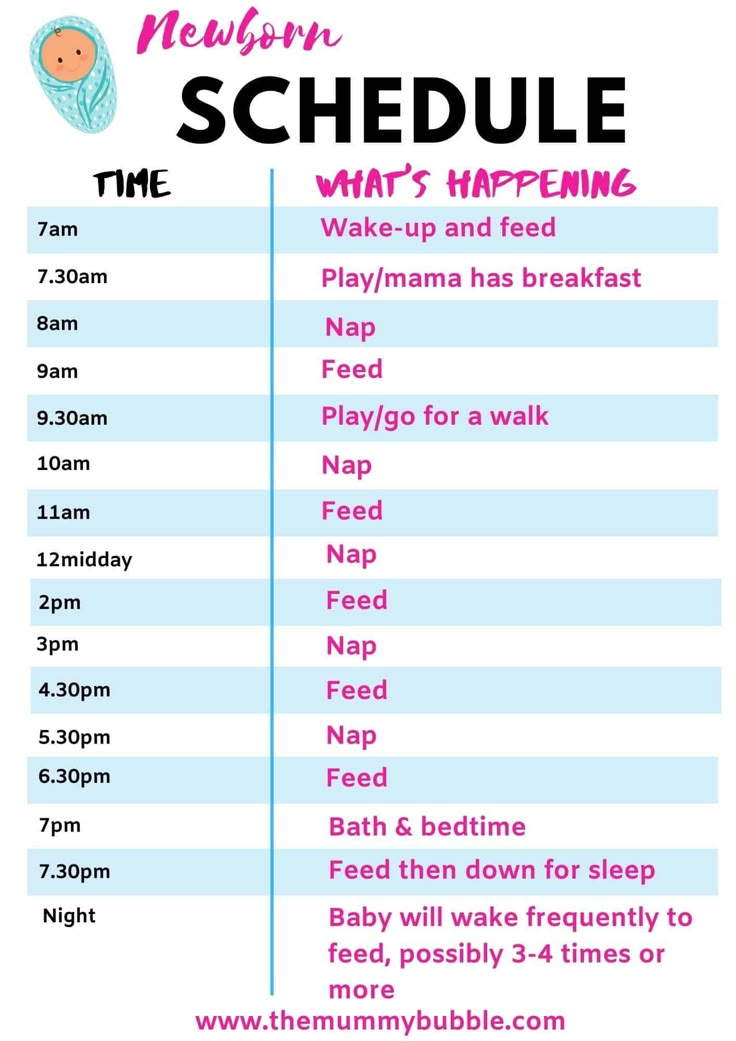 7 to 9-Month-Old Feeding Schedule
Months seven through nine can be a good time to add a greater variety and quantity of solid foods to your baby's diet. He may need fewer daytime feedings, now — about four to five.
Purees of meats, veggies, and fruits are recommended at this stage. Introduce your baby to these new flavors as single ingredient purees then gradually add combinations to his meals.
Your baby may slowly begin to wean off breast milk or formula as his growing body demands solid foods for nutrition.
There is no correct time to wean off breast milk or formula. Speak to your baby's healthcare provider to learn more about the cues and signs that can let you know when your baby is ready for more solid foods.
10 to 12-Month-Old Feeding Schedule
Exploring new textures may now be a big part of your little one's meals. As he grows, he may begin to self-feed with finger foods such as cut-up bananas, dry cereal, and pasta and even demand certain flavors that he enjoys more.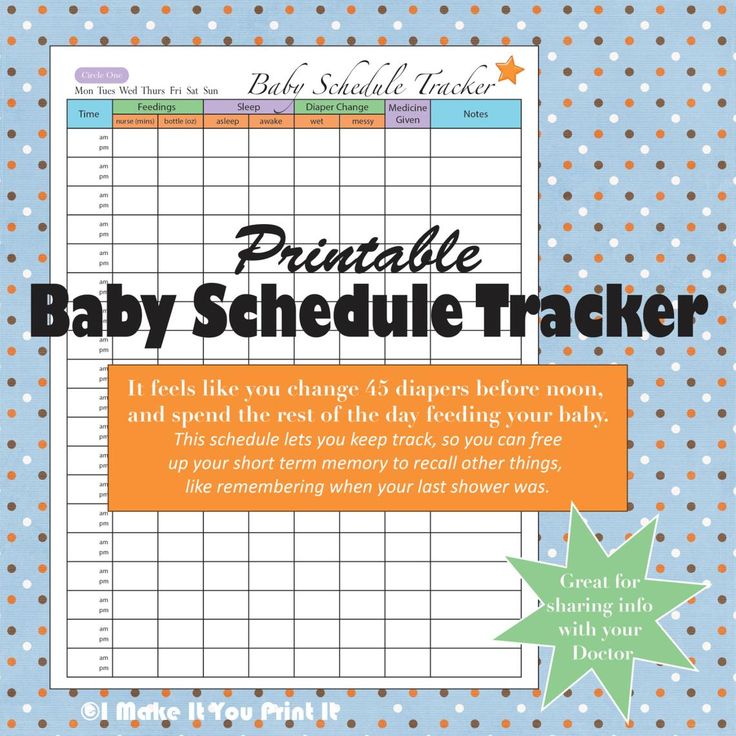 As you continue to replace breast milk or formula with solids, your baby's healthcare provider can help determine how to balance out your baby's meals.
Blends of different foods can be introduced during mealtime and added to your baby's feeding schedule. Your baby may eat about three to four times per day. Be sure to avoid offering foods that pose choking hazards such as grapes, peanuts, and popcorn.
Finger feeding can be fun for your little one. Always be sure that his food is cut up into pieces that are small enough for him to be able to pick up and chew without being at risk of choking. After some practice, he'll be on his way toward wholesome, independent eating habits.
1-Year-Old Feeding Schedule
Now that you're celebrating your baby's first birthday, it's also time to celebrate his feeding accomplishments. Your baby's feeding schedule can now include almost all the healthy and nutritious foods you eat, with a few minor exceptions such as raw honey and choking hazards like nuts.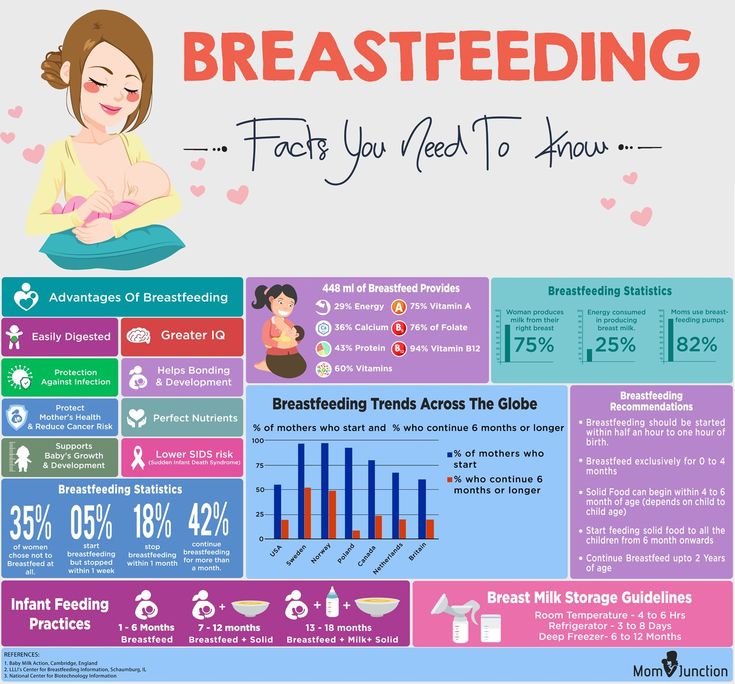 Your baby may be eating less frequently now, as he is able to take in more food in one sitting. Give your 1-year-old approximately three meals and about two or three snacks a day.
This is the time to add cow's milk to your baby's diet. However, too much milk is not always good, and should be kept to about 16 to 24 ounces per day if your baby is able to tolerate lactose. Check with your baby's healthcare provider if you have any questions about how and when to introduce cow's milk.
You can continue to nurse your baby if you wish. There is no correct time to wean him off of breast milk; rather, it is recommended that to continue breastfeeding for as long as it is right for you and your little one. Consult with your baby's healthcare provider if you have questions about the weaning process.
As your baby grows and develops, his feeding needs will change. Having a baby feeding schedule at the ready can help you track your baby's mealtimes and anticipate when he'll start to be hungry.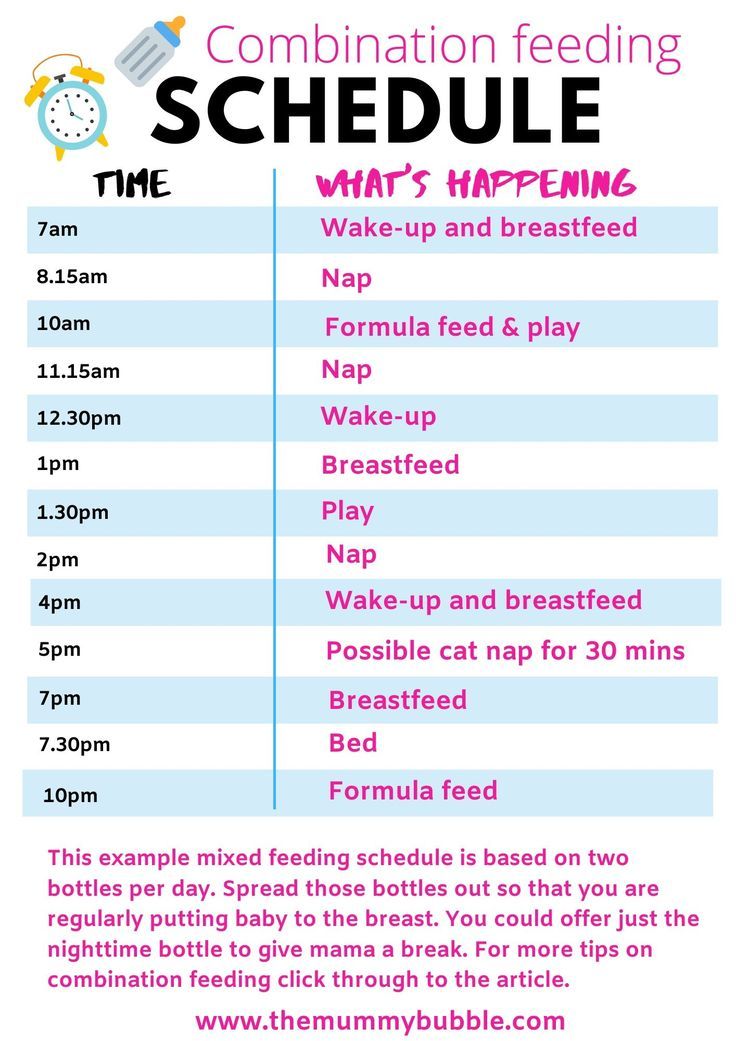 This is just one of the ways you can help keep your little one happy and developing well. Having a feeding schedule in place also gives you some extra freedom to spend more time enjoying his many milestones.
Of course, if at any time you have questions or concerns, reach out to your baby's healthcare provider for personalized guidance and advice.
WHO recommendations for the introduction of complementary foods
08.08.2019
Readiness of the child to complementary foods According to the WHO recommendation, existing for 2018, it is optimal to introduce complementary foods to an infant at 6-8 months. Until six months, the baby's gastrointestinal tract is still not sufficiently formed, all the necessary enzymes are not produced for the assimilation of food other than mother's milk or formula. And by 9-10 months, the child can already form stable stereotypes of eating only liquid food, and overcoming them will be painful and difficult for the baby.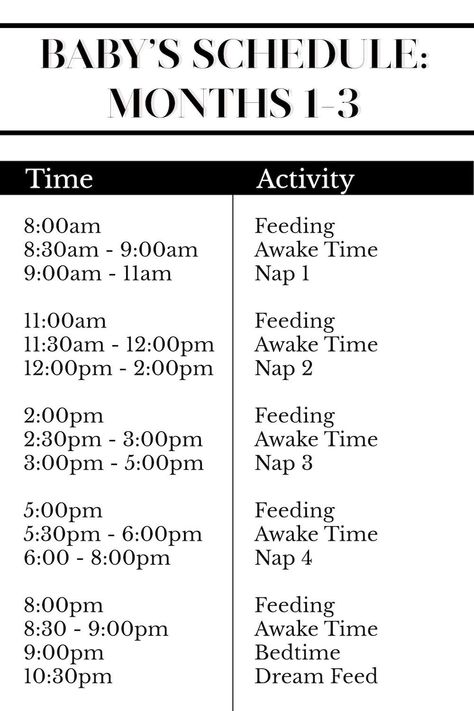 Thus, WHO defines the following signs of a child's readiness for the introduction of complementary foods: the maturity of the digestive system; extinction of the solid food ejection reflex; the appearance of the first teeth, making it possible to chew; the readiness of the baby to be stable in an upright position; emotional readiness for new tastes and sensations.
Complementary feeding system WHO has developed recommendations for three complementary feeding options: cereals, vegetables, and meat.
Fruit complementary foods are not recommended for cereals and vegetables. This is due to the fact that up to 8-9 months the gastrointestinal tract of the baby is not ready for the absorption of raw fruits and fruit juices. It is vegetables and cereals that will populate the intestines with the necessary bacteria for the absorption of fruits.
Kefir, according to the WHO, is not considered complementary foods because it is not a solid food.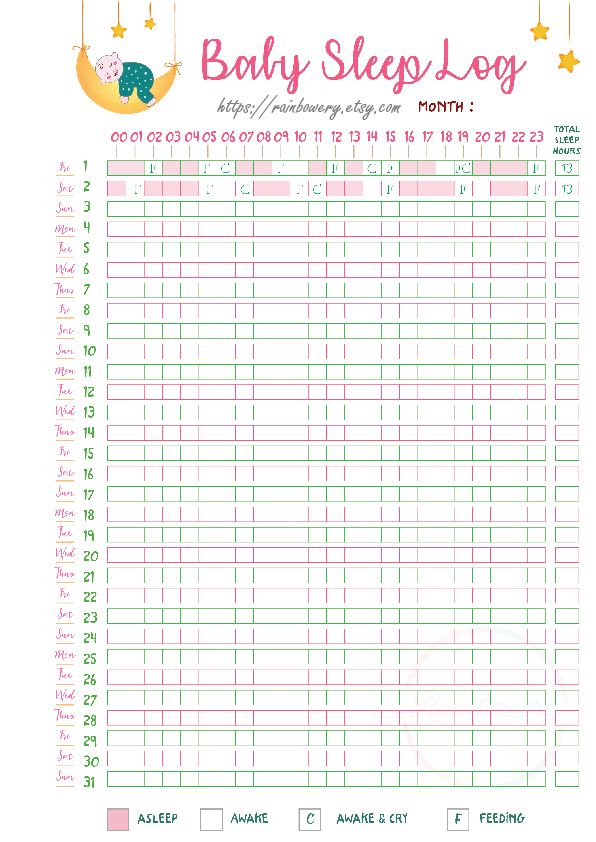 The WHO complementary feeding scheme includes kefir only as an additional food from 8 months. The introduction of cow's milk is recommended by WHO only from 12 months.
Any complementary feeding scheme assumes that portions of complementary foods will systematically increase from half a teaspoon to 100-200 g. The first dishes for complementary foods are prepared exclusively with one-component. Each next component is introduced only after complete addiction to the previous one (6-7 days).
Product sequence
The following sequence of introduction of complementary foods is proposed.
Vegetables at 6 months.
Porridges on the water (oatmeal, buckwheat, corn) at 6.5 - 7 months.
Fruit puree, yolk at 8 months.
Milk porridge at 8-9 months.
Meat puree at 9 months.
Meat by-products at 9-10 months.
Kefir, cottage cheese, yogurt at 9-10 months.
Fish at 10 months.
Juice at 10-12 months.
Berry puree at 12 months.
Meat broths at 12 months.
The introduction of vegetable oil (olive, sunflower) in puree and porridge is allowed from 6 months: a scheme with 1 drop with a gradual increase to a volume of 1 teaspoon. The introduction of butter begins at 7 months: the scheme is from 1 g to 10 g in porridge.
For formula-fed babies, the first feeding schedule is similar, with a few exceptions. For these babies, it is better to introduce complementary foods from 5 months, because the milk mixture does not give the small body all the "building material". The introduction of complementary foods differs only in terms: vegetable purees and cereals are introduced a month earlier.
First cereals
If the child's weight is significantly less than normal, WHO recommends starting complementary foods with non-dairy cereals.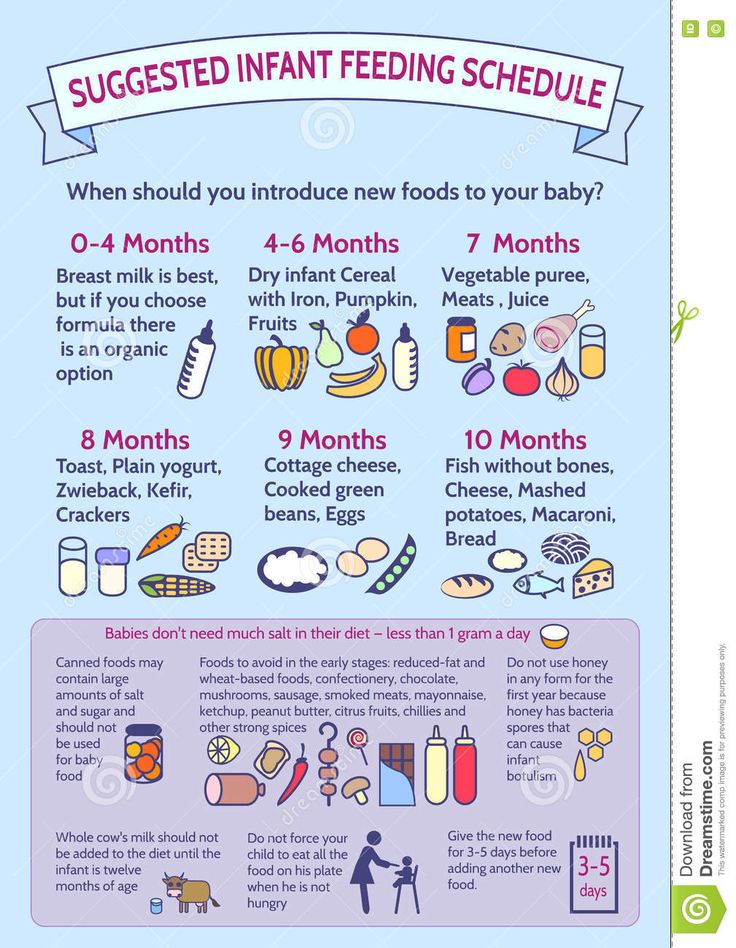 For babies, cereals are prepared only with non-dairy, unsalted, semi-liquid, absolutely homogeneous in consistency. The first cereals are prepared from cereal flour (the sorted and washed cereals are carefully ground and crushed).
The following sequence of introduction of cereals is proposed: buckwheat, rice, corn, oatmeal, semolina. It is recommended to cook semolina porridge only once a week, because it contains practically no nutrients, but it is rich in gluten, which can cause problems in the intestines. Proportion for the preparation of the first porridge: 5 g of cereal flour per 100 ml of water. After slightly cooling the finished porridge, chop again. In the finished porridge, you can add 1-2 drops of vegetable oil or a little expressed breast milk.
From 9 months, the baby's nutrition system involves multicomponent cereals, from products already well known to the child. You can already add vegetables and fruits familiar to the baby to cereals. At 9 months, it is allowed to cook barley and millet porridge for babies.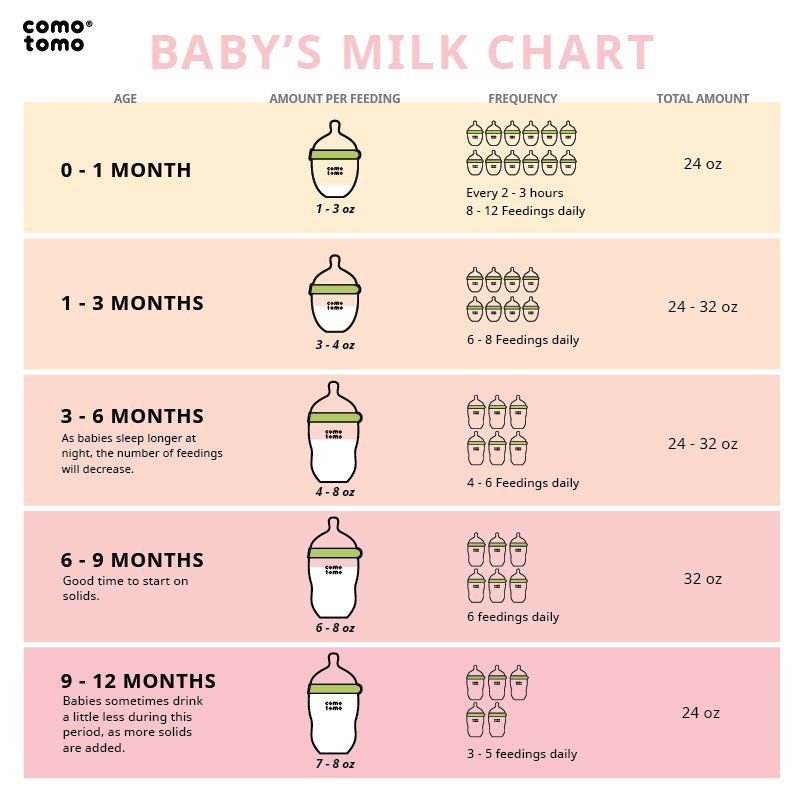 And by 10-11 months, cereals on the water will be a great addition to meat and fish meatballs and steam cutlets.
Vegetable food
The first purees are made from one vegetable.
The sequence of introducing vegetables into complementary foods for babies suggests the following order: zucchini, cauliflower, pumpkin, potatoes, carrots, green peas, beets. These vegetables are introduced within 6-9baby months. After 1 year, you can give your child cucumbers, eggplants, tomatoes, sweet peppers, white cabbage. After preparing the puree, make sure that the mass is completely homogeneous, there are no fibers and small particles, the consistency is semi-liquid. Don't salt. Add 1-2 drops of vegetable oil or expressed milk.
If the child refuses vegetable complementary foods, cancel this product for 1-2 weeks. Try to temporarily replace it with another and return to it after a while.
Meat supplements
From 9 months old, the first meat purees are recommended for babies.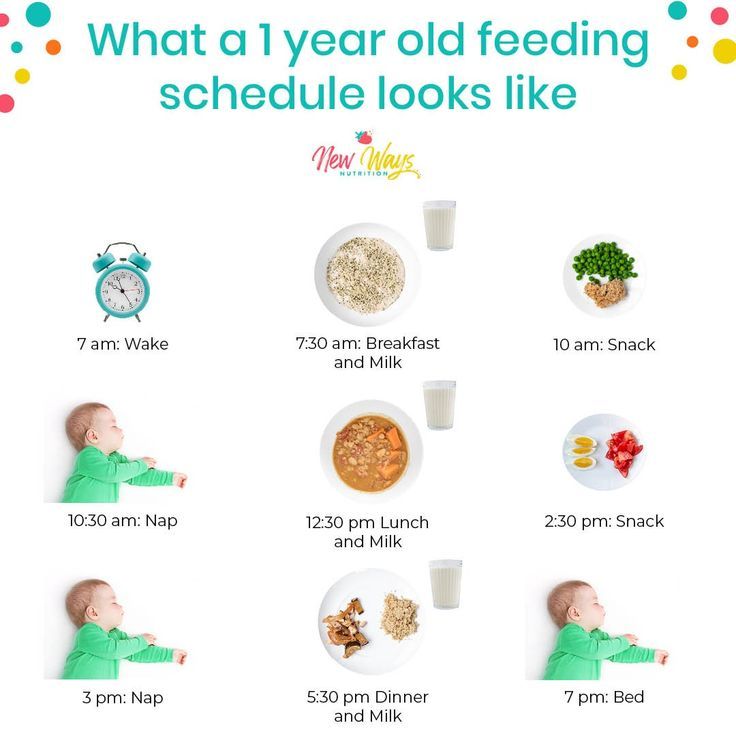 The first courses are recommended to be prepared from lean meats: rabbit; quail; turkey; chicken.
Complementary foods for a 6-month-old baby are recommended to be introduced in the morning. This will allow you to track the child's reaction to an unfamiliar product before a night's sleep: is there a rash, intestinal disorders, anxiety in the baby, profuse regurgitation. It is better to give vegetables or porridge first, and then saturate with breast milk or formula. Gradually, porridge and a vegetable dish will replace one full meal. The dish must be warm and freshly cooked. Gradually, by the age of 1, your baby will develop taste preferences. You will know what dishes he eats with pleasure. In the meantime, try to fully expand the child's diet with products necessary for growth and development.

Be healthy!!!
The most complete food table for babies
When and where to start complementary foods is a question that worries any mother.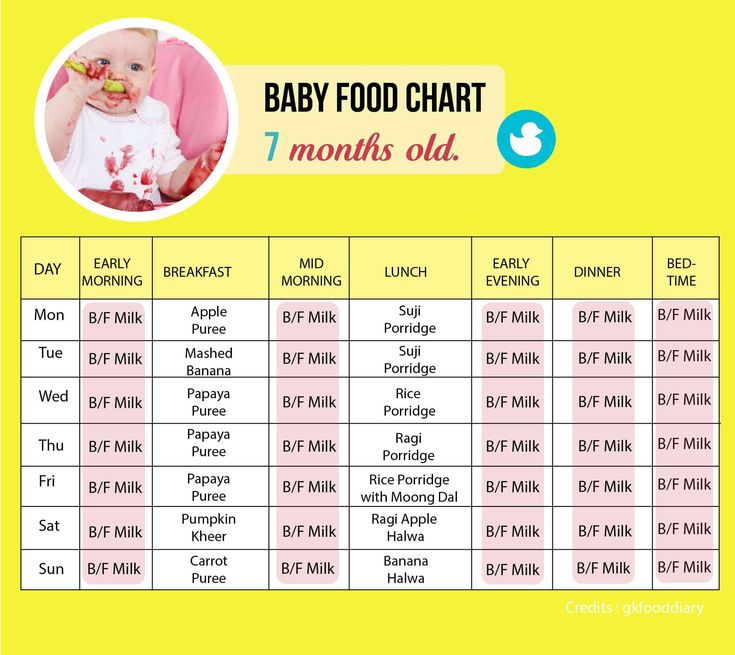 Pediatricians in the clinic advise one thing, friends with grown-up children - another, and their own mothers and grandmothers - the third. Of course, all opinions have a place to be, but you need to listen to the advice of the World Health Organization (WHO). Based on many years of research, she deduced an almost ideal table for the introduction of complementary foods in the first year of a child's life. Why practically? Because do not forget that every baby is an individual, and you need to follow the WHO recommendations, adjusted for the health of the crumbs.
Register and get a detailed program of the course "Allergies in a child" All pediatricians agree that the minimum age for an infant to be introduced to food other than milk or formula is 4 months. It is better, of course, to wait until the baby is six months old. Up to this point, the crumbs simply do not have enzymes that help digest third-party food. This is fraught not only with the indigestibility of the proposed food, but also with digestive disorders that will have to be treated with medication.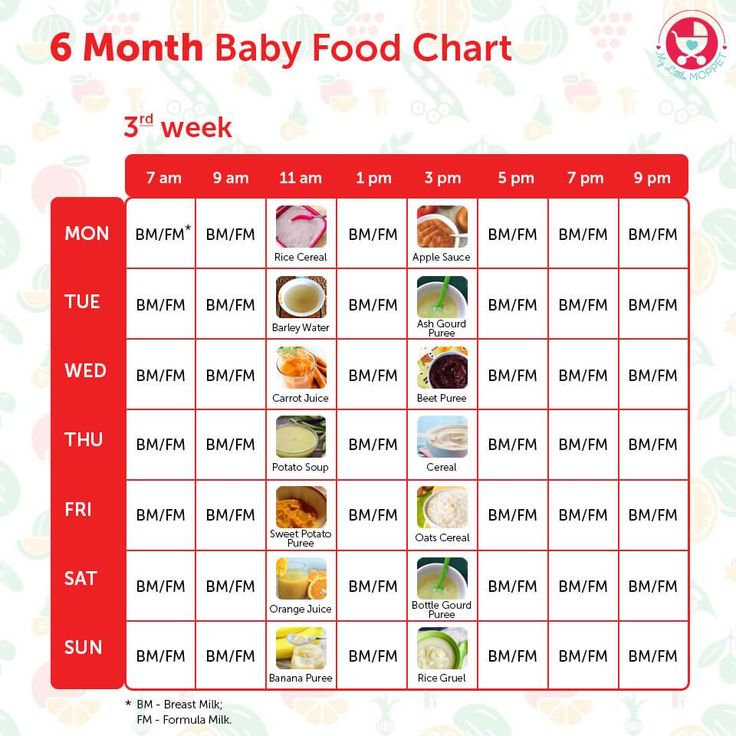 If you start complementary foods closer to a year, then this will result in a lack of vitamins and nutrients for the baby. Because of this, his development, both mental and physical, slows down.
Output. Start introducing your baby to adult food when he is 6 months old if he is breastfed, and at 5 if he is artificially fed (in such children, the digestive system matures a little earlier).
No matter how much you look at forums and thematic sites, you won't find specific information on them, what kind of food can definitely be given to a baby as the first complementary foods. This is due to the fact that the main basis for the selection of products is the health of the child, his level of development and much more, including susceptibility to allergies, stool disorders, the number of kilograms gained.
Before starting to give the baby a new food, consult with the local pediatrician, who knows the baby from birth and is aware of all the possible violations of his health.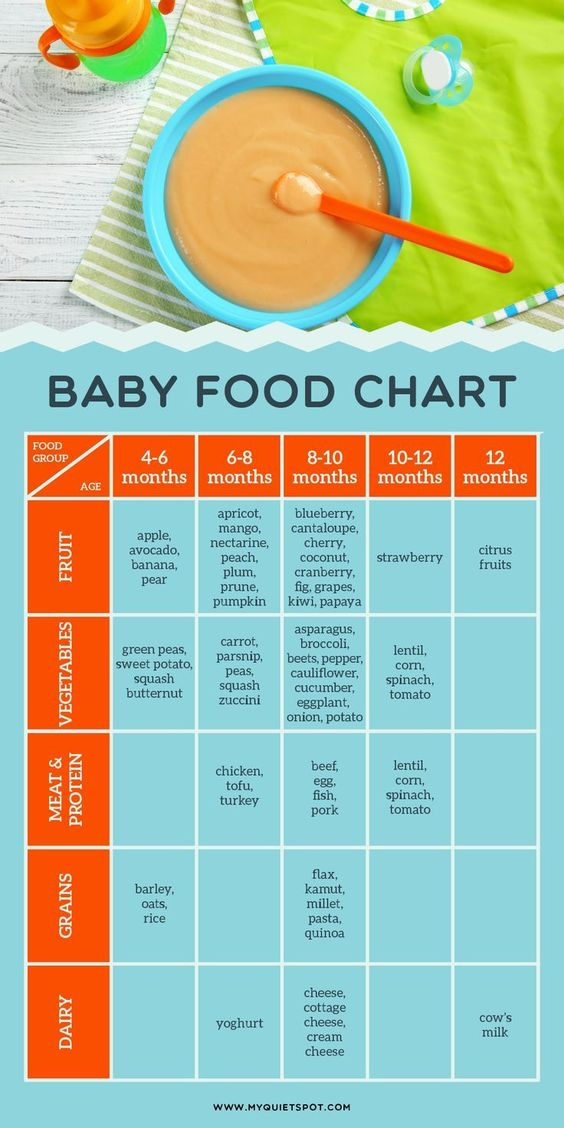 Weaning food
Most doctors advise offering the crumbs vegetable puree from zucchini, cauliflower, broccoli as the first meal. Later, try to give pumpkin and carrots, observing the reaction of the body, since these vegetables are allergenic. Puree helps to cope with constipation, saturates the body with vitamins. It is also recommended for babies who gain weight too quickly.
In second place in terms of optimality for the digestion of the child are cereals. Buckwheat, rice without milk and sweet additives are perfect for underweight babies suffering from frequent loose stools. These cereals do not contain gluten (a protein found in many cereals) and therefore do not cause allergies.
Let's try fruit purees for a baby no earlier than 7-8 months and start with an apple and a pear (the most low-allergenic foods). Having tasted sweet food, the child will be reluctant to eat vegetables or refuse them altogether, and this cannot be allowed.
Read on our blog: "How to choose dishes for a baby"
Meat purees are introduced into the diet no earlier than 8 months.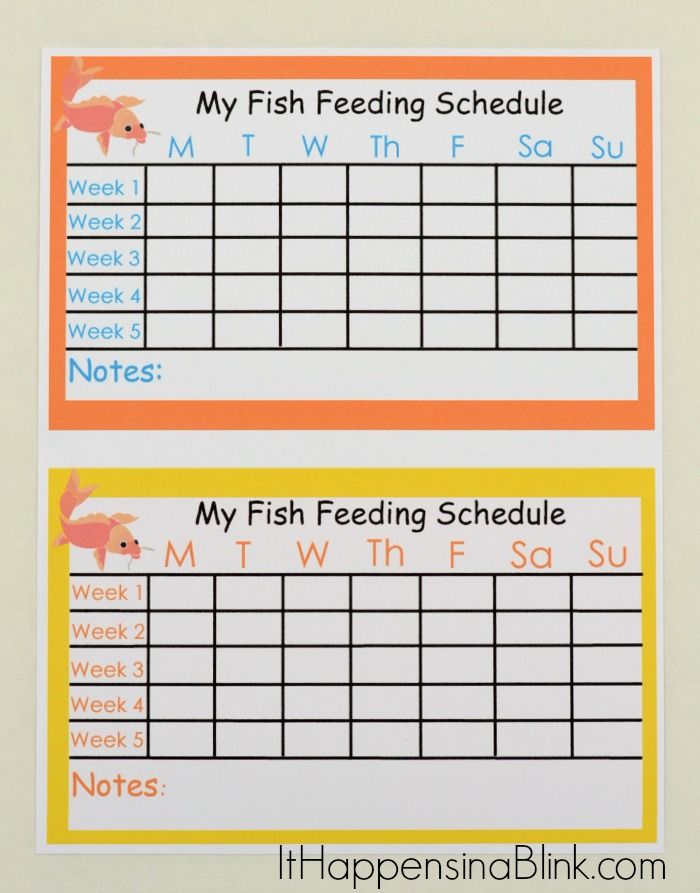 This is quite heavy food for the baby's stomach. The first meat that you should introduce your child to is rabbit fillet. It is hypoallergenic, has a pleasant taste and does not contain a lot of fat. In addition to this type of meat, the introduction of a turkey is acceptable. Pork should not be given until the age of one and a half years because of its high fat content.
Eggs are tasty and nutritious, but they are strong allergens. Therefore, enter them with extreme caution. It is better to give preference to the yolk of a quail egg. It is not as allergenic as chicken. In its pure form, the baby may refuse to eat it, so add the yolk to the porridge or grind it with formula or breast milk. For the first time, a few grains will be enough.
It is better to offer cottage cheese, kefir and other fermented milk products no earlier than 8 months of age. This advice is due to the recommendations of gastroenterologists. The abundance of protein foods at an early age adversely affects the functioning of the kidneys.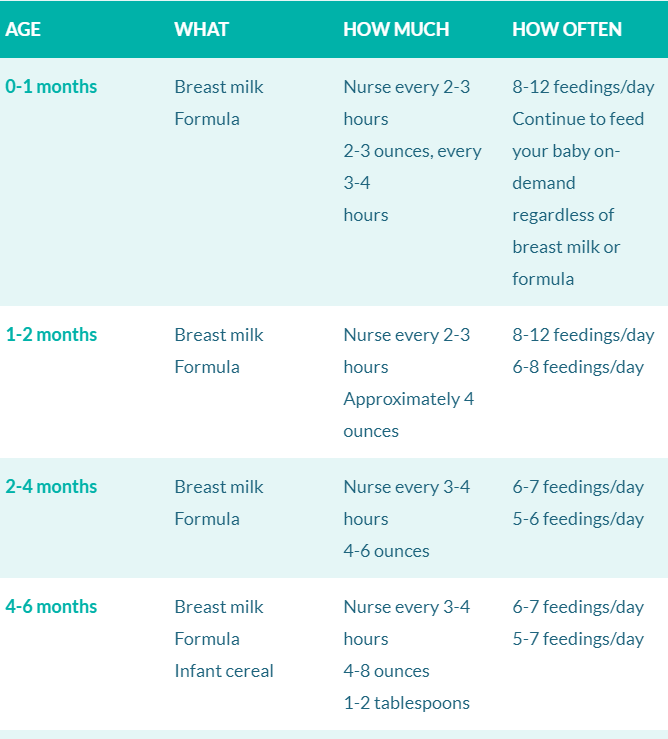 After 8 months, you can buy cottage cheese created exclusively for baby food. Only it is properly balanced and does not have any unnecessary additives and preservatives.
Fish is a storehouse of vitamins and minerals. But because of the specific smell and taste, few parents give it to their babies for testing. But it is necessary for the full development of crumbs from 8-9 months. At least once a week, puree white fish without a strong smell.
Beverages. It used to be thought that juices are the best product for the first complementary foods, but this is not so. They are generally not recommended to give up to 2 years. Instead of juices, give your child herbal tea (mint, chamomile, rosehip) and dried fruit compote (pears, apples, prunes, dried apricots). Drinks are introduced into the diet of crumbs when they reach seven months.
Output. Start the first complementary foods with those foods that are shown to the baby in accordance with his state of health.