Baby food bowls and spoons
21 Best Baby Spoons, Bowls and Plates of 2022
Is baby showing signs that it's time to introduce solid foods? Get ready for your next parenting adventure! But before you dive into mushy solids and first foods, you'll want to stock up on child-friendly utensils and tableware. There's tons of feeding accessories on the market, but a baby plate, bowl and spoon are the basic essentials you'll need right away. (Oh and a high chair, of course!)
Ready to take the puree plunge? Here's a list of our favorite baby feeding essentials to help reduce the mess and stress of mealtime.
In this article:
Best baby spoons
Best baby bowls
Best baby plates
Best Baby Spoons
When it comes to giving baby those first bites of food, things tend to get messy, fast—which is why it's helpful to have a stash of top-notch baby spoons.
The best baby spoons dole out perfect bite-size portions, and fit easily inside your little one's mouth. And since most infants begin teething around the same time they're being introduced to solids (around the four- to six-month mark), you'll want to opt for baby utensils with soft tips made from silicone or other food-grade materials to avoid irritating sore gums.
Whether you're gearing up for self-feeding or want something affordable and easy to clean, these clever utensils are mealtime must-haves.
Image: Courtesy Munchkin
Munchkin White Hot Infant Spoons
You're probably already familiar with Munchkin's colorful line of baby gear. But did you know they make baby spoons and tableware too? The tips of these White Hot Infant Safety Spoons turn white if baby's food is too hot (hence the product name). The tapered shape of the spoon is great for little mouths, and the soft tips are gentle on irritated gums. Plus, these utensils are dishwasher-safe as well as BPA- and phthalate-free, making these some of the best baby spoons around.
Buy it: $5, Munchkin.com
Image: Courtesy Olababy
Olababy Training Fork + Spoon Set
Once your little one has gotten used to eating bite-sized morsels, it may be time to introduce them to training utensils. This baby spoon has a flexible tip that lets your hungry little one scoop up food from any angle.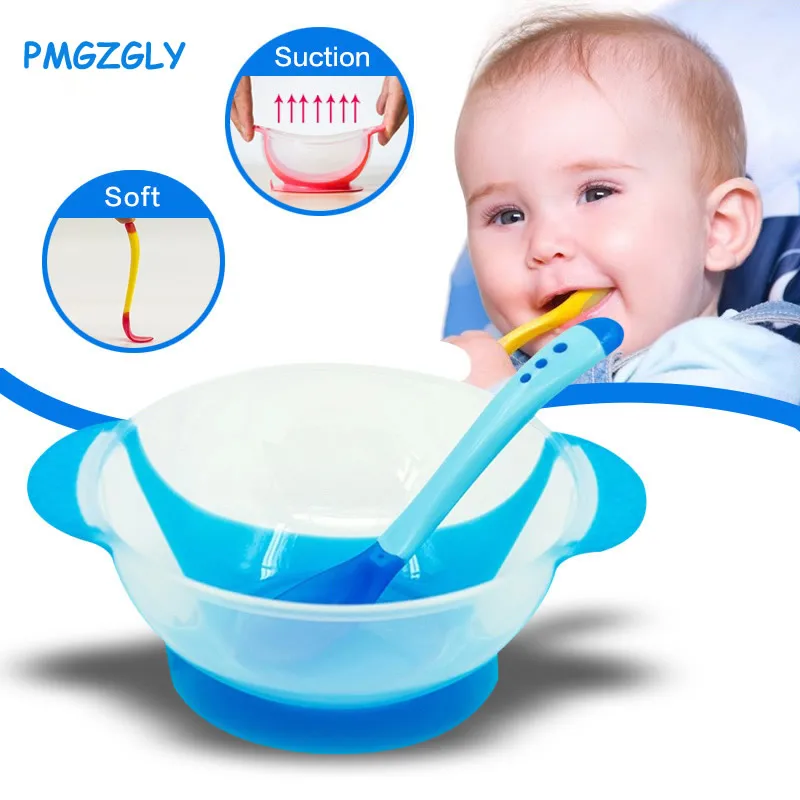 Meanwhile, the metal-free fork is easy to wield with soft spears that won't poke or prod baby's mouth. Plus, both utensils are made from BPA-free, food-grade silicone that's dishwasher safe. Is it any wonder that this set won a Best of Baby award?
Buy it: $17, Amazon.com
Image: Courtesy Boon
Boon SQUIRT Silicone Food Dispensing Spoon in Mint
Taking baby food on the go is a piece of cake with the Boon Squirt Silicone Baby Food Dispensing Spoon. These baby spoons hold up to three ounces of pureed baby food, and dispense one mouthful at a time for easy one-handed feeding. They're dishwasher safe, free from harmful chemicals and come with a storage cap.
Buy it: $10, buybuyBABY.com
Image: Courtesy Beaba
BEABA First Stage Baby Utensil Feeding Spoon Set
Crafted from ultra-soft silicone, the BEABA First Stage Baby Spoons are gentle on baby's gums and teeth and have no rough metal edges. The shallow spoon design lowers the risk of choking by limiting how much food baby can scoop up at once.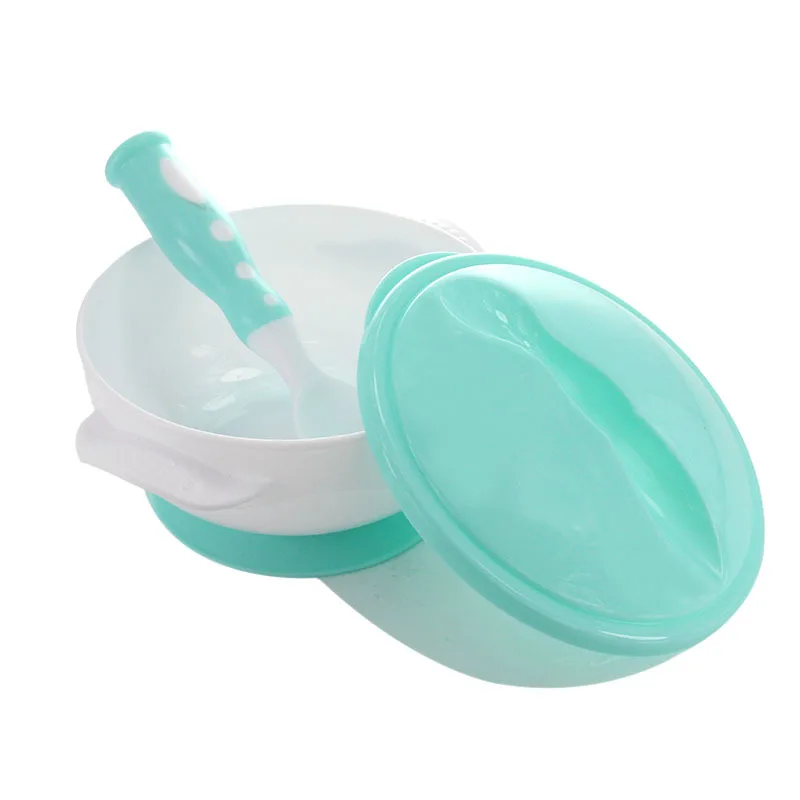 And, yes, these are dishwasher safe and BPA-, lead- and phthalate-free.
Buy it: $21 for a set of 4, buybuyBABY.com
Image: Courtesy NumNum
NumNum Pre-Spoon GOOtensils
A great way to introduce your baby to self-feeding, GOOtensils are sold in a dual-stage set: Stage one GOOtensil for beginners, and stage two GOOtensil for kids who've mastered the food-to-mouth motion. Their flat design makes them easier to use than a regular spoon; there's no "wrong" way to hold them, so food doesn't fall off. Plus, the contoured handles are designed to comfortably fit in a small hand. Parents will love that they're dishwasher safe as well as PVC-, BPA- and phthalate-free.
Buy it: $13, Amazon.com
Image: Courtesy Oxo Tot
Oxo Tot Fork & Spoon Set
If you're eager to teach your toddler how to use a fork as well as a spoon, opt for OXO Tot's utensil set. The soft, non-slip handles are easy for little hands to hold, and the fork is effective without having sharp tines.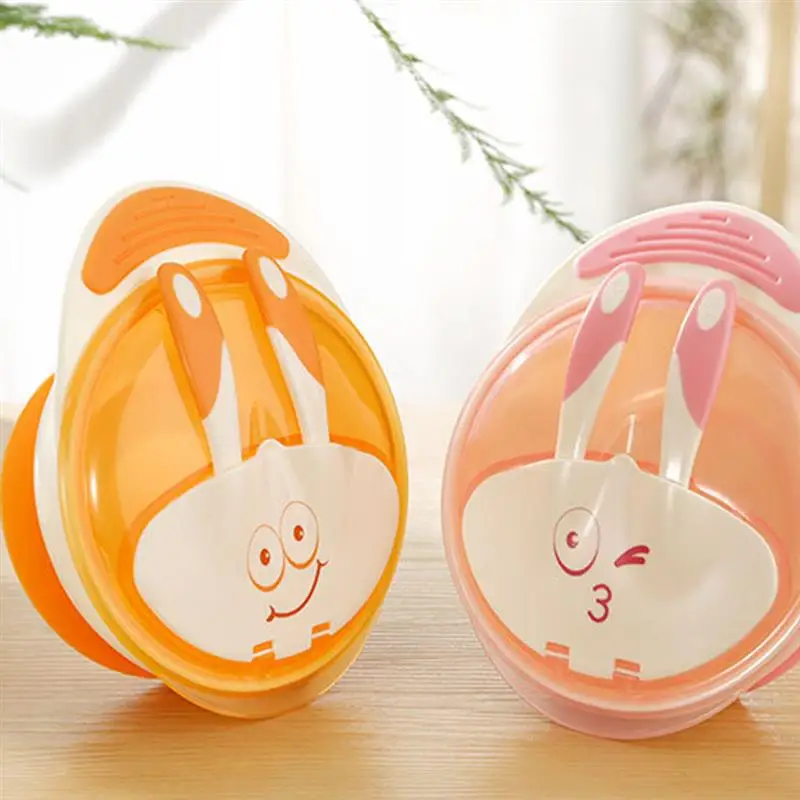 These baby utensils have BPA-, phthalate- and PVC-free silicone handles and are dishwasher safe.
Buy it: $9, Oxo.com
Image: Courtesy Avanchy
Avanchy 5-Pack Infant Bamboo Spoons
Avanchy's feeding spoons are crafted from bamboo, and finished with a soft silicone tip that's gentle on tender gums. Each spoon also has a long, ergonomic handle that helps reduce hand or wrist pain from awkward feeding angles.The only drawback is that—like most wooden items—the spoons aren't dishwasher safe and should be hand-washed.
Buy it: $20 for a set of 5, Maisonette.com
Best Baby Bowls
When baby is staring at a bowl of food, it's hard to nix their instinct to grab it and throw it across the room. Good news: Baby bowls with suction bases, high sides and lids can help keep the mess in check. Here, some of our favorite baby dishes on the market today.
Image: Courtesy Munchkin
Munchkin Stay Put Suction Bowls
First up is Munchkin's set of three different-sized bowls.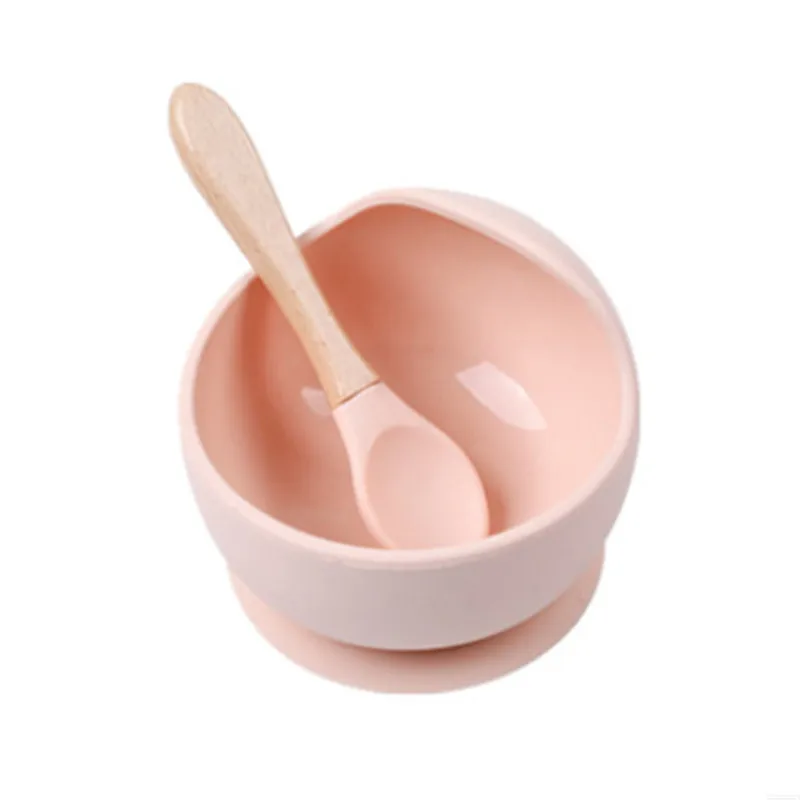 The strong suction base keeps baby from being able to throw it across the room, but the quick-release tabs make it easy for parents to remove. These baby bowls are BPA-free as well as microwave and dishwasher safe.
Buy it: $9, Munchkin.com
Image: Maisonette.com
Avanchy Baby Bamboo Stay Put Suction Bowl + Spoon
If you like the idea of a plastic-free baby bowl, but still want it to stay put, the Avanchy Bamboo Spill Proof Stay Put Suction Bowl is an excellent choice. The bowl itself is made out of organic, biodegradable bamboo, and the BPA-free silicone suction base easily attaches to any flat surface. Included with the bowl is a bamboo and silicone spoon that's perfectly sized for baby's hands, but not so small that parents will find it difficult to use. Note that this option is not dishwasher safe.
Buy it: $20, Maisonette.com
Image: Courtesy Nuka
NUK Mash & Serve Bowl with Masher to Prep and Serve Baby Food
Interested in making your own baby food but don't want to invest in extra appliances? Go with the NUK Mash and Serve Bowl.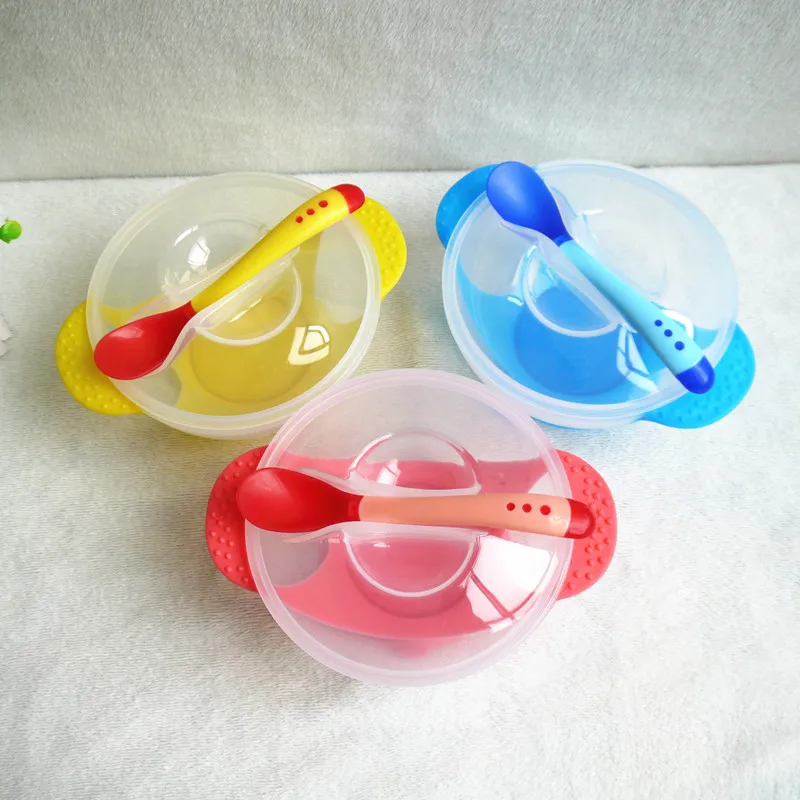 Toss in some steamed fruit or veggies and use the included masher to prep the food to whatever consistency you desire. The non-skid base makes the baby bowl super-easy to use. Plus, it's microwave and dishwasher safe as well as BPA-free.
Buy it: $14, Walmart.com
Image: Courtesy Bella Tunno
Bella Tunno Get in my Belly Suction Bowl
Next up is a baby bowl that combines style and function. Wonder bowls come in a range of fun options, but we like this bright yellow version that reads "get in my belly." The dishwasher safe pick has a suction base and curves inwards to prevent spillage. Better yet, Bella Tunno is a brand that gives back. For every product sold, Bella Tunno provides a meal to a child in need.
Buy it: $18, Maisonette.com
Image: Courtesy SkipHop
Skip Hop Easy-Grab Bowls
Designed with parents' comfort in mind, Skip Hop's baby bowls feature a unique comfort-grip handle to take the hard work out of feeding time.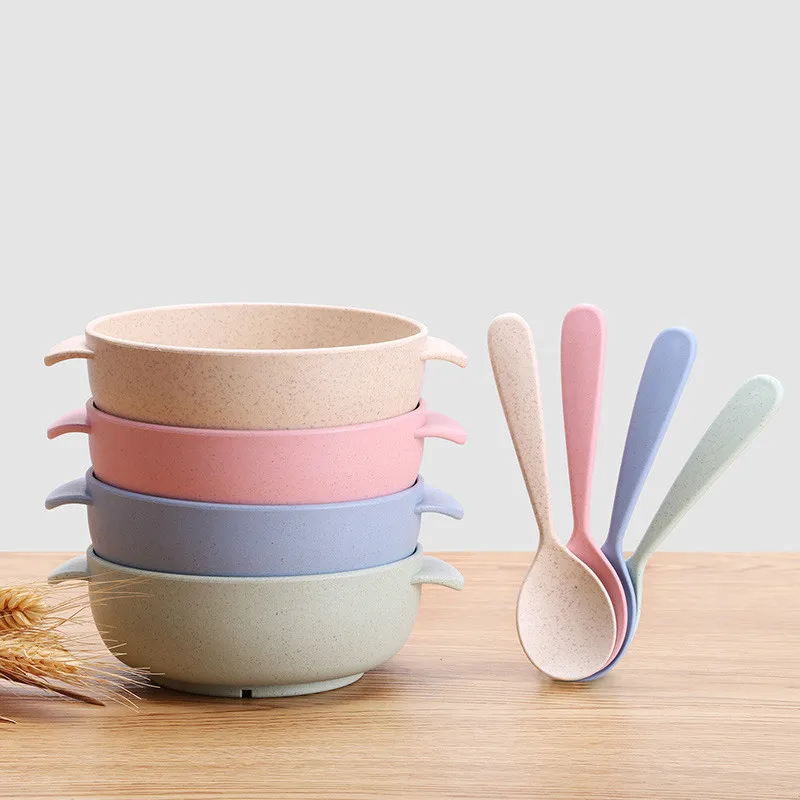 Thanks to the ergonomic design, you can easily grip the bowl in one hand, leaving the other hand free to coax baby to eat. The set includes two phthalate- and BPA-free bowls complete with lids, so storing leftovers is easier than ever.
Buy it: $12, SkipHop.com
Image: Courtesy Lalo
Lalo Suction Bowl
This next product ticks every box when it comes to finding the best baby bowl. Suction base to keep it in place? Check. Non-toxic BPA-free materials? Check. Curved sides to prevent spillage? Check. Dishwasher and microwave safe? Double check! Lalo's suction bowl also comes in three cute colors and can be bought in multi-packs too.
Buy it: $13, MeetLalo.com
Image: Courtesy Wild and Stone
Wild and Stone Baby Bamboo Bowl and Spoon Set
Searching for a baby bowl made from eco-friendly materials? Check out this tableware set made from sustainably sourced bamboo and food-grade silicone. Designed to look like a smiling sun, the bowl has a removable suction base that adheres to any smooth surface.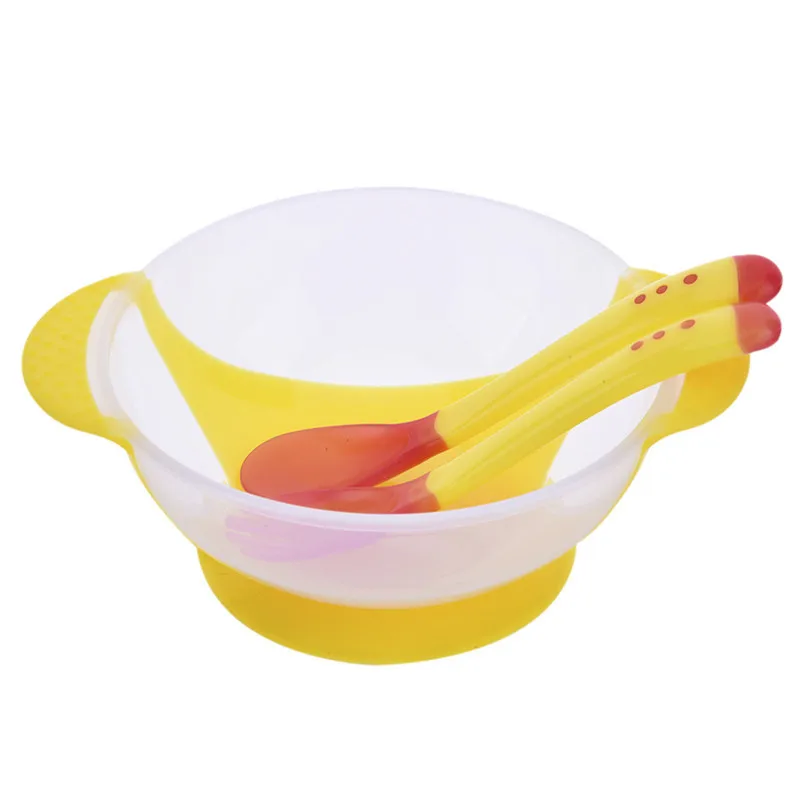 It comes with a silicone-tipped spoon, with no sharp edges or corners that could harm baby's sensitive gums or newly-emerged teeth.
Buy it: $23, TheNaturalBabyCo.com
Best Baby Plates
Once your little one has moved on from purees, and ventured into the wonderful world of finger foods, it may be time to pick up a few extra plates. Many baby and toddler plates are divided into neat sections that help you serve up the perfect amount of food—with the added bonus of appeasing picky eaters that don't like different food groups to touch. Here are a few top-rated baby plates to make mealtime a breeze.
Image: Courtesy Loulou Lollipop
Loulou Lollipop Silicone Suction Snack Plate
Here at The Bump, we're big fans of the Born to Be Wild tableware collection by Loulou Lollipop (the brand won a Best of Baby award in 2021). The plates are made from 100 percent food-grade silicone that's free of BPA, phthalates and other harmful substances.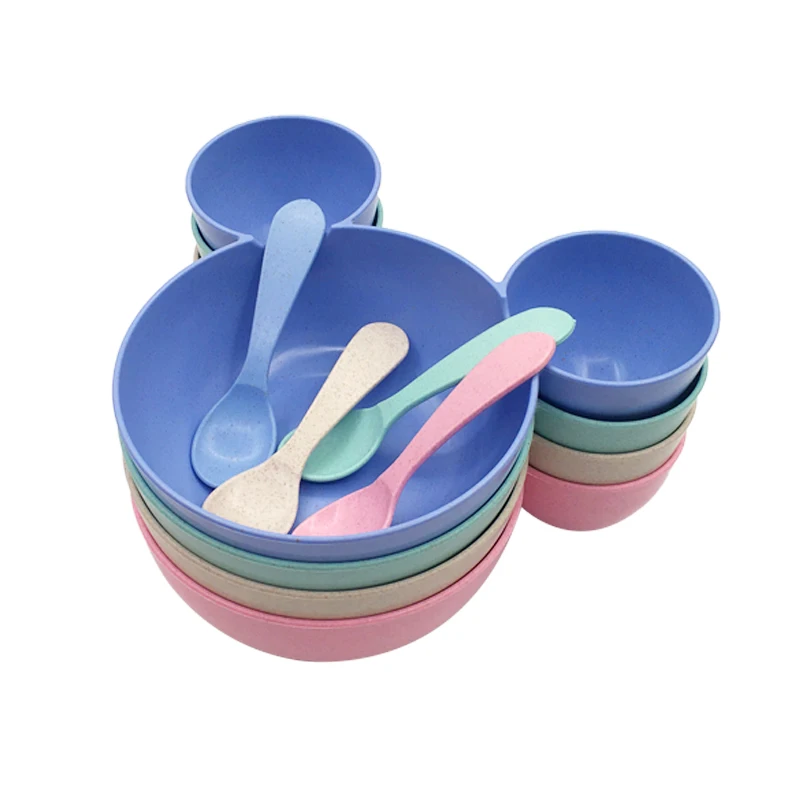 Plus, the plates are microwave and dishwasher safe. And, like many of the best baby and toddler dishes, they have a nifty suction base that won't budge.
Buy it: $20, LoulouLollipop.com
Image: Courtesy ezpz
ezpz Mini Mat
Outsmart baby's tendency to toss their plate on the floor with ezpz's Mini Mat, a one-piece silicone plate and placemat combo that suctions to the table (or any flat surface). Divided sections encourage parents to serve a variety of foods; plus, and it's lightweight enough to bring along on trips or dinners out. Made from 100 percent food-grade silicone, it's BPA-, BPS-, PVC-, lead- and phthalate-free and dishwasher safe. These baby plates even come in a variety of colors. Plus, take 15 percent off sitewide with the code BUMP15.
Buy it: $20, ezpzfun.com
Image: Courtesy Wee Sprout
Wee Sprout Suction Plates with Lids
WeeSprout Silicone Divided Plates are microwave, dishwasher, oven and freezer safe.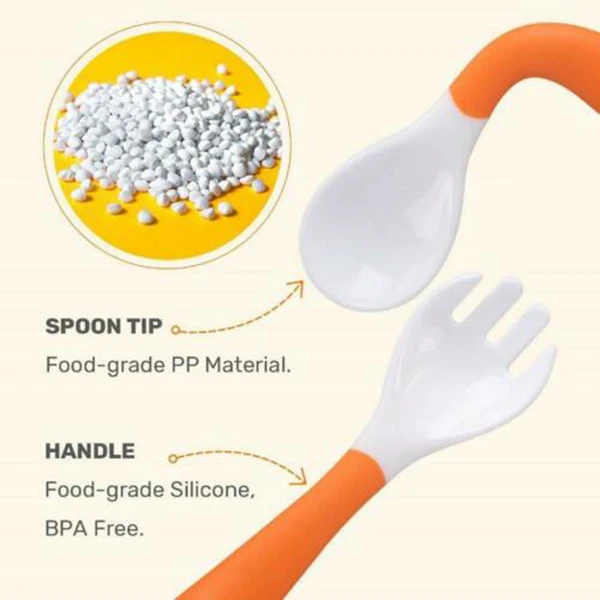 Parents will appreciate that the three divided sections have higher sides than other similar products to better reduce spillage. Plus, these baby plates are made of 100 percent BPA-free silicone and come in sets of three vibrant colors.
Buy it: $22, WeeSprout.com
Image: Courtesy Green Sprouts Baby
Green Sprouts Baby Learning Plate Made from Silicone
Parents of little ones who demand that their peas and carrots don't touch will appreciate this clever dish. It has four separate sections that help you serve up perfect toddler portions of each food group. The learning plate is made from food-grade silicone, and is free from PVC, BPAs and petroleum. It also has a suction base to prevent toppling and an easy-release tab to help you unpeel it from a high chair or table. Better yet, it's heat-resistant, dishwasher safe and virtually indestructible.
Buy it: $17, GreenSproutsBaby.com
Image: Courtesy Baby Bjorn
Baby Bjorn Baby Feeding Set
Here's a dinner set that looks good and works well for little eaters.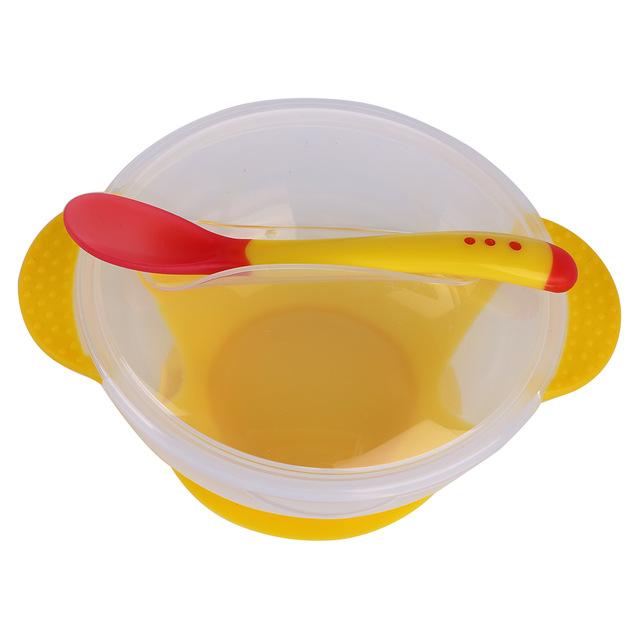 Each item offers smart design features to make feeding all the better. The unique shape of the baby plate makes it easy for tots to scoop up food and harder to tip the plate. The silverware handles have a ring to prevent baby's hand from slipping down too far, and a groove to prevent the fork and spoon from sliding into the plate. The set also comes with a grip-friendly cup and an adjustable bib with a spill pocket. (And who doesn't love the lovely color palette?)
Buy it: $30, BabyBjorn.com
Image: Courtesy Ahimsa
Ahimsa Balanced Bites Stainless Steel Plates in Rainbow
Looking for an alternative to silicone baby plates and bowls? Check out this stainless steel tableware by Ahimsa. Created by a real-life mom (who also happens to be a pediatrician), the plates are free of BPA, PVC, phthalates, melamine and lead. Plus, steel dishes are incredibly strong and non-porous, meaning they won't retain bacteria or become discolored over time. Each plate is divided into three sections to help you serve up a balanced meal.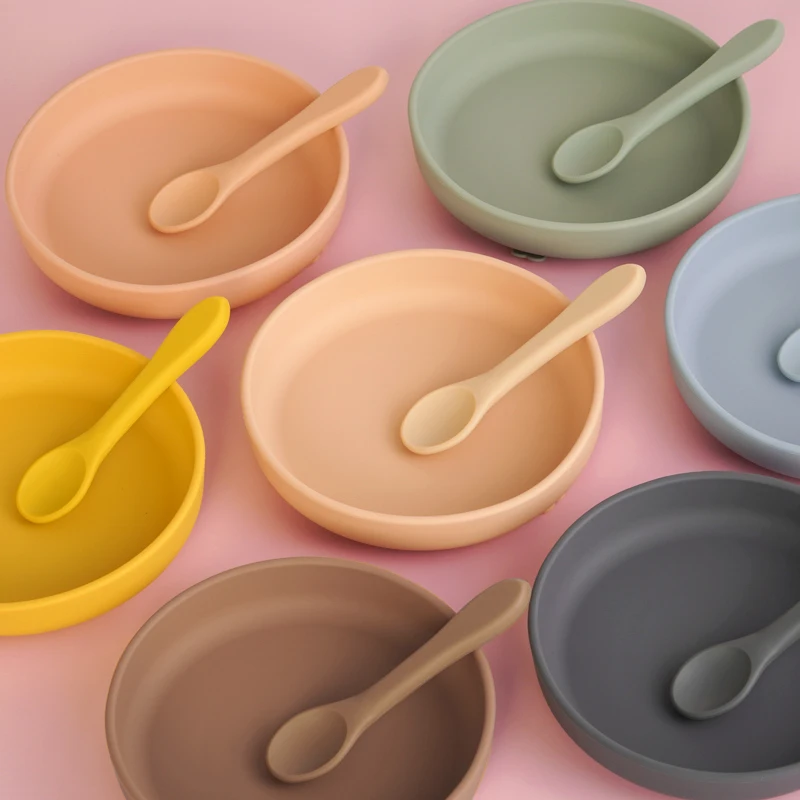 Granted, they are a little pricey, but these plates will last a lifetime.
Buy it: $86 for a set of 4, buybuyBABY.com
Image: Courtesy Bumkins
Bumkins Silicone Grip Toddler Dish in Marble
Last up on our list of the best baby plates and bowls, is this stylish pick by Bumkins. Made from soft silicone, this faux-marble dish features three perfectly proportioned sections and a strong suction base that secures to any surface. It's also dishwasher safe and free from BPAs and other harmful chemicals.
Buy it: $17, buybuyBABY.com
Plus, more from The Bump:
Dig In! A Guide to Starting Solids
A Step-by-Step Guide to Preparing Avocado Baby Food
How to Make Sweet Potato Baby Food in a Few Simple Steps
Baby Bowl and Spoon - Etsy.de
Etsy is no longer supporting older versions of your web browser in order to ensure that user data remains secure. Please update to the latest version.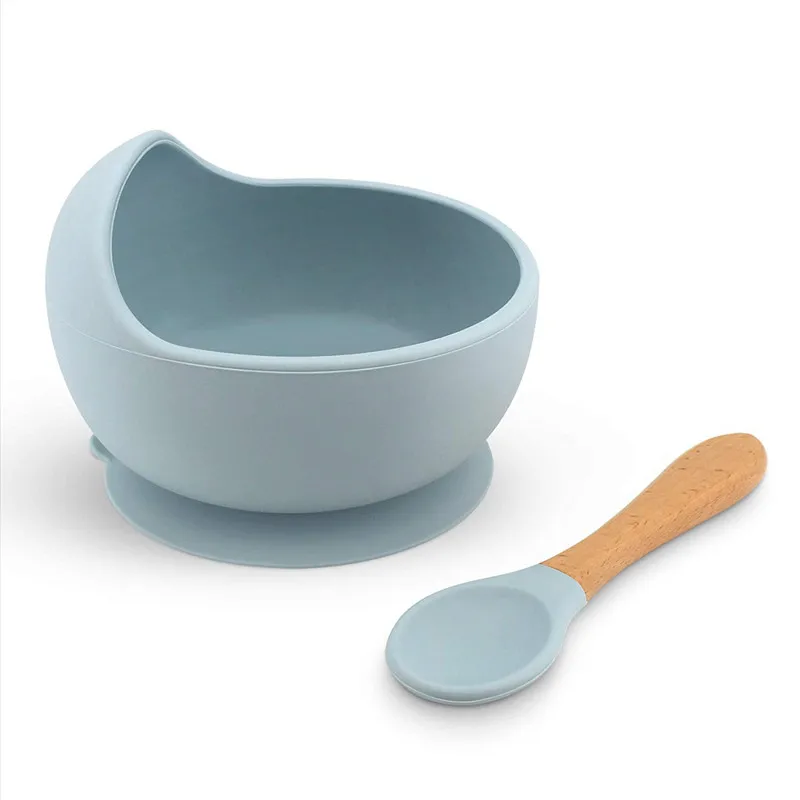 Take full advantage of our site features by enabling JavaScript.
Find something memorable, join a community doing good.
(834 relevant results)
Children's bowls and spoons
Description
Reviews
Seller Information
Other products
Brand new and high quality.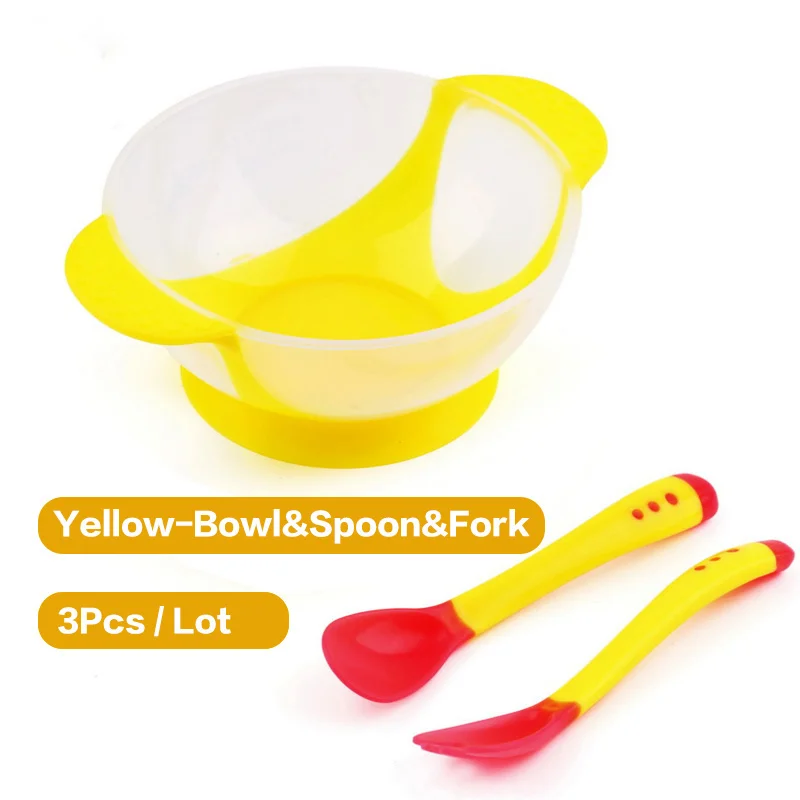 PP container, easy to clean, high temperature resistant, handle, easy to feed. It is a good tool for feeding children. At the bottom of the container there is a vacuum that prevents the baby from falling, sliding and tipping over during feeding. By limiting the child's clumsy movements while learning to eat, the first container that helps the child eat on his own will do. The spoon is very flexible, allowing you to bend the spoon to any angle to get food into your baby's mouth. The spoons are very soft, very light, wide-mouthed, good for the gums and safe for children to learn to eat on their own.
- Bowls and spoons are made from environmentally friendly, non-toxic materials that are safer for babies.
- The bottom of the baby bowl can be firmly attached to the table so that food does not spill
- Different colors visually affect the child, which makes it easier to eat.
– Easy to clean and carry, thoughtful design of the lid allows you to put a spoon on the bowl0004
Salesman Exclusive Expo Business
No rating!
Cotton swabs for children, Hygiene and childcare, Baby products

Children's ear cleaners

0 of 5

(0)

Color: blue, pink -


- Material: degreasing cotton.
- Cotton material is soft on the surface, lint-free, keeps clean.
- ideal for cosmetic and hygiene use, used for beauty, application, removal, touch-up, etc.
- No harm, no stimulation, no chemicals, you can use them with peace of mind.
- Enough for daily use to meet your various needs and requirements.
- When cleaning the ears, you can use a cotton pouch in the ear canal.

SKU: n/a

Home and garden, Cleaning, Home maintenance

Metal scourers for dishes

0 of 5

(0)

0013

Stainless steel metal
sponges remove stubborn dirt from kitchen utensils
cleans very well.

Cast iron, aluminum surfaces, stainless steel
steel cookware, that's all
including grills, barbecues, etc.
makes it easy to clean stubborn dirt
ladies. Their service life
expandable, non-oxidizing and high
heat resistant.
Size: 45x70x180 mm. Set: 3 pcs.

SKU: n/a

Baby feeding utensils, Baby food, Goods for children

Milk container for children 150 ml

0 of 5

(0)

Natural glass bottle resistant to heat and thermal shock. Therefore, it can be safely stored in the refrigerator, heated, and is also suitable for sterilization. This unique anti-colic valve technology is designed to remove air from baby's abdomen, reducing colic and discomfort. The wide mouth of the bottle makes it easy to fill and clean. Disassembles into several pieces for quick and easy assembly.

Code: n/a

Baby feeding utensils, Baby food, Goods for children

Milk container for children 280 ml

0 made of 5

natural glass bottle resistant

(0) to heat and thermal shock. Therefore, it can be safely stored in the refrigerator, heated, and is also suitable for sterilization. This unique anti-colic valve technology is designed to remove air from baby's abdomen, reducing colic and discomfort. The wide mouth of the bottle makes it easy to fill and clean. Disassembles into several pieces for quick and easy assembly.

Article: N/A

Hygiene and children's care, dummy and teeth teeth, children

Silicone elastic band for milk teeth

0 of 5

(0)

A reliable bite developed a reliable bite. so that children can easily hold it. It is made of quality materials and sterile water is used for the water inside the bite, so it is safe for children.

Instructions for use:
- sterilize the product with warm water for 2-3 minutes before use
- Clean after use and store in a clean and safe place

Reference: n/a

Baby feeding utensils, Baby food, Baby products

Baby milk bottle set

0 5 of 3 (0)

Decorated baby bottle is ideal for baby food. It is of course with a pacifier so that your baby can feed easily. The bottle is made of food-grade polypropylene - does not contain BPA. The material is heat resistant up to 100°C. The pacifier is made of highly elastic transparent silicone - it does not stick or crack, it is odorless and nitrosamine free. It has two handles for which the baby will be comfortable to drink. Non-spill product that does not cause discomfort or mess. This will make your child "addicted". Attractive colors and animated figures will grab your child's attention and turn hunger time into a game.

SKU: n/a
KLMN is tourist slang for
Food in nature has a special taste. You can't cook fish soup or pasta with stew at home. The table setting is also special. Each consumer is entitled to a personal KLMN. A beginner is accepted into the tourist crowd if he understands the meaning of the abbreviation.
Content:
Special relation to KLMN
Hiking crockery
Eater's tool
Size matters
Choice of plastic camping utensils
Thermal cookware
Care of dishes
All seasoned travelers have a special relationship with KLMN
KLMN.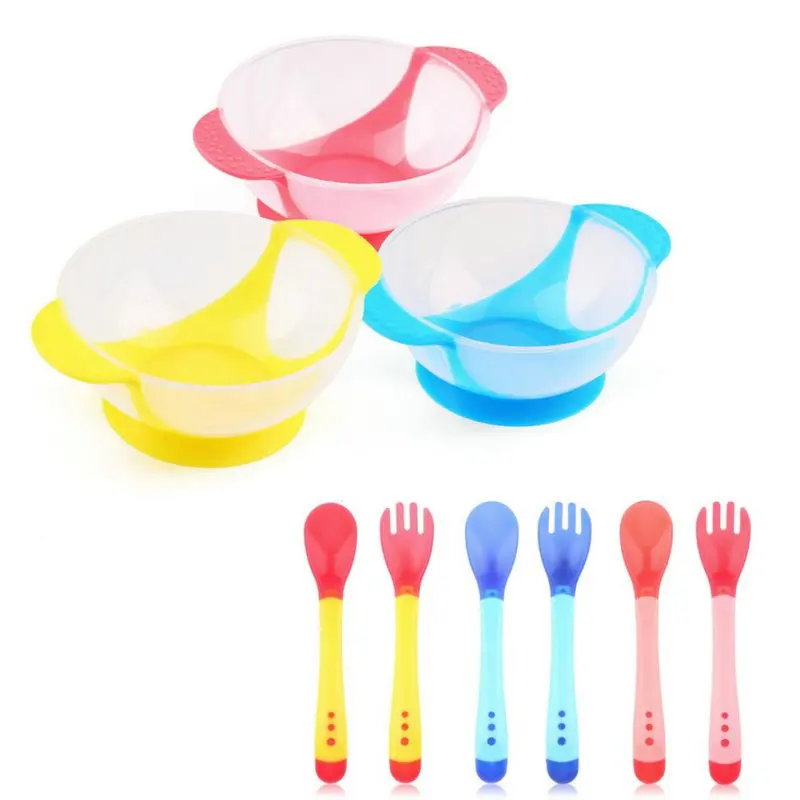 Decryption is simple. In tourist slang, it means a set of a mug, bowl, spoon and knife.
And the fork? You don't need it for the trip. No one will fry steaks. Stews and cereals are much more satisfying. Let's leave the forks for dinner parties.
They run away from urban life to nature. Food performs a primitive function. It saturates with calories to move forward. Products and utensils for their preparation are important contents of backpacks.
Why is the KLMN set individual? Several important reasons:
Hygiene. There are no conditions for sterilizing dishes. It is better to eat from a bowl of your bacilli than to catch someone else's.
Weight. If you put bowls and mugs together, you get an impressive load. Rationally distributed in individual styling.
Saving time and effort. Ten people will wash and pack ten sets of klmn faster than one person on duty - the whole pile of dishes.
The equipment of an experienced tourist is almost animated. Comfortable, proven things are treated with respect. They tell around the fire what campaigns the spoon has been on. What they drank from a mug on the conquered peak.

Outdoor crockery
Bowls and mugs:
| | | |
| --- | --- | --- |
| Material | Advantage | Disadvantage |
| Stainless steel | Durable. The surface is easy to clean. You can put it on a fire or a burner, clean it with sand. | Weight. |
| Aluminum | Light weight. You can put on a fire or a burner. | Crockery is deformed. |
| Plastic | Light weight. | Keep away from fire. Brittleness in the cold. In cold water, fat is not washed off well. |
| Silicone | Collapsible dishes. Easy to wash. Light weight. | Not suitable for fires. High price. |
| Titanium alloys | Light thin-walled cookware. High strength, wear resistance, fire resistance. | High price. |
Foldable handle sets are great for hiking. Each item is multifunctional. The lid doubles as a plate, frying pan and mug. A bowl is a pot for a burner. Items are stacked on top of each other. A spoon is inserted into the latch.
Eater's tool
There are a lot of folding cutlery in equipment stores. This is a penknife with a corkscrew. A folding spoon and fork are attached to it with latches. It is convenient to have at a corporate picnic, where disposable knives and forks are used.
An alternative to folding cutlery is the catcher. Hybrid spoon and fork made of food-grade plastic. There are teeth on the edge of the spoon. They manage to cut a piece of barbecue.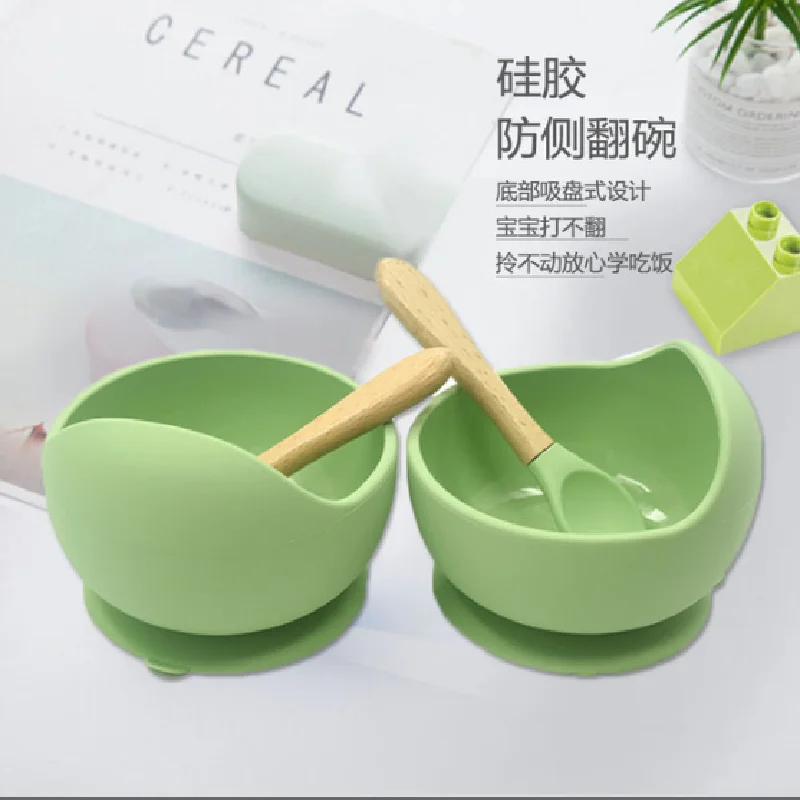 Experienced travelers carry a large cleaver. Spoon - regular, aluminum. Because the spoons in folding sets are slightly larger than a teaspoon.
Size matters
For a hike alone or together, take an army bowler hat. Its lid serves as a plate.
The size of the CLIM depends on the appetite and mode of transportation. In "pawns" and in bicycle trips, every gram of weight is critical. Fishermen in jeeps and watermen prefer large enamel mugs and bowls.

Choice of plastic camping utensils
Camping utensils made of food-grade plastic. It does not contain bisphenol (compound of phenol and acetone).
A bowl or mug must have a rectangular badge with a glass and a fork. The number in the triangle of three arrows indicates the industrial name of the polymer. Food-grade plastic - numbers from 1 to 6.
In LDPE, the bowl can be replaced by a microwaveable food container.
A travel mug requires a handle. You can scoop up boiling water from the cauldron.
Today, well-known brands offer comfortable silicone kits. The walls of mugs and bowls are folding. The entire set when folded takes up minimal space.
Collapsible pots and teapots with a metal bottom are gaining popularity among tourists. But they can only be placed on burners.

Thermal dishes
Mugs and bowls with double walls. They don't set up a table in the forest or in the mountains, they hold the dishes in their hands. The thermo bowl does not burn your fingers.
Thermal mugs have proven themselves well in winter trips. The tea cools down slowly.
Picnic and camping utensils
For a permanent company and a large family, a camping set for 4-12 people is bought. It will save the suburban forests from pollution by disposable dishes.