Baby food steamer glass
Glass Baby Food Maker - Baby Food Blender
tap image to zoom
Easiest way to make homemade baby food in a glass bowl!
$199.99
| 20% OFF + FREE Cookbook
Free Shipping and Returns!
Only food maker that automatically steams & blends homemade baby food in 1 easy step
Get FREE Baby Brezza Cookbook with 50 delicious recipes + FREE 6-month extended warranty with your purchase on BabyBrezza.com in addition to standard 12-month warranty
Glass bowl makes 4 cups of baby food in as little as 10 minutes
Blends food to the perfect consistency
3 in 1 functionality: steam & blend, steam only, blend only
Easy to use and clean – LCD control panel, fully accessible steam tank, dishwasher safe bowl/blade, removable water tank
Great for non-baby foods – use it to steam pasta & vegetables, make hard boiled eggs or even soup
18 month limited warranty (exclusive to BabyBrezza. com buyers) or 1 year if you buy from other retailers; BPA-FREE
Also try the Baby Brezza One Step Food Maker Deluxe which comes with a 3.5 plastic bowl and 3 reusable food pouches 
Try NEW Baby Brezza Descaler - the best way to remove mineral scale and extend the life of your appliance. Shop Now
Automatically steams & blends homemade baby food in 1 easy step

Glass food bowl makes 4 cups of baby food in as little as 10 minutes

Blends food to the perfect consistency for baby

Easy to use & clean:

LCD control panel
Fully accessible steam tank and removable water tank
Dishwasher safe bowl/blade

Other great features include:

Saves you hundreds of dollars vs store-bought baby food

Great for non-baby foods too such as pasta, vegetables, hard boiled eggs and soup

BPA-FREE; 18 month limited warranty (exclusive to BabyBrezza. com buyers) or 1 year if you buy from other retailers

Award-winning and as seen in:

See the Glass One Step Food Maker in action!
Additional Help
User Manual
Recipe Book
Spare Parts
Warranty
Returns
Making homemade baby food is easier and faster than ever thanks to the Baby Brezza Glass One StepTM Baby Food Maker. Just push one button and this supercharged baby food processor will steam and blend your fresh foods for healthy meals in just minutes. 
The viper blade blends everything to optimal consistency in its 4-cup glass bowl.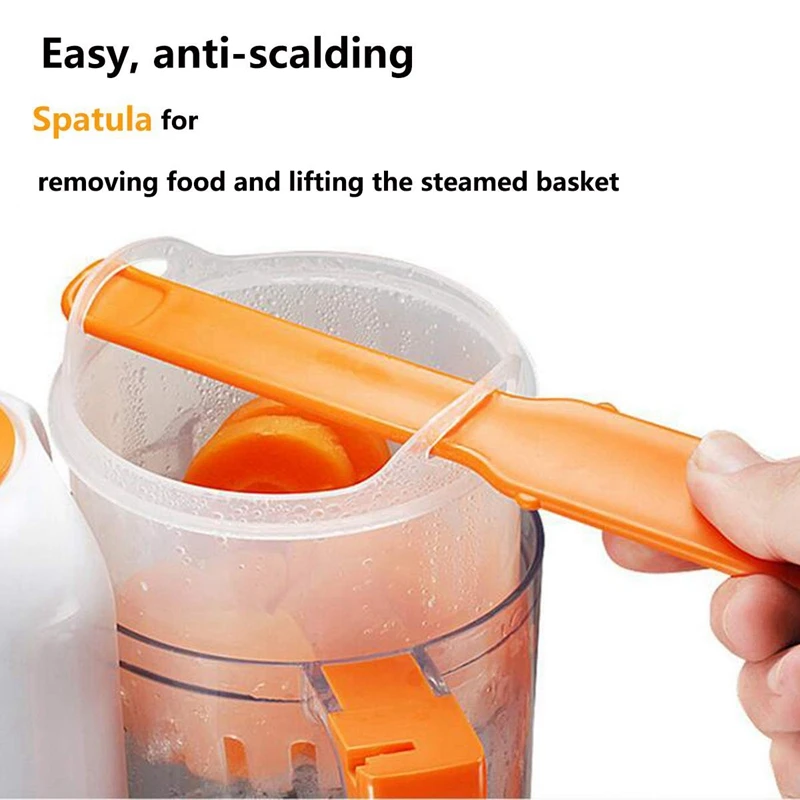 In addition to the steam+blend option, you can also blend or steam separately. The machine is so versatile you can even make non-baby foods such as hard-boiled eggs and pasta for your whole family. Cleaning our baby food processor is a breeze, too. The glass bowl and blade are dishwasher-safe, and the steam tank is easily accessible for cleaning. 
When you make homemade baby food, you get to choose the fruit and veggies you want your baby to eat and know exactly what ingredients you're feeding him or her. Plus, it's economical. You can save hundreds of dollars by making your own food versus buying baby food at the grocery store. 
The BPA-free One StepTM Baby Food Maker is one of the best baby food processors available today. Why worry about chemicals and additives in your baby's food? Prepare nutritious and delicious meals for your little one in no time and order this game-changing food processor today.
The Best Baby Food Makers of 2022
Looking for a versatile, safe, easy to use, reliable, effective, efficient, and reasonably priced baby food maker?
You came to the right place! Every year we put over a dozen baby food makers to the test, finding you the best options your money can buy! Below are the top 5 best baby food makers we found this year, followed by in-depth reviews of about a dozen different options.
| Model and Link to Amazon | Our Rating |
| --- | --- |
| #1. Beaba Babycook Solo | |
| #2. Babymoov Duo | |
| #3. Evla's Baby Food Maker | |
| #4. QOOC Mini Food Maker | |
| #5. Elechomes Baby Food Maker | |
Baby food makers are an excellent addition to the baby essentials list for new parents. Available since the early 1990's in Europe, and in the U.S. for about two decades, baby food makers have saved millions of parents' time and energy when making fresh, wholesome purees. The systems have gotten much better over the years, with higher reliability, ease and convenience, more powerful motors, dishwasher-friendly parts, and phthalate-free plastics.
Carrots? Peas? Sweet potato? Got it. Fun and healthy dessert blends like banana blueberry puree? No problem. Once you get your hands on a good baby food maker you'll be inventing recipes like a professional chef! And your baby will love you for feeding them so many delicious fruits and vegetables!
An awesome baby food maker combines a steamer and food processor all-in-one, includes all the accessories you'll need, is BPA-free and dishwasher friendly, safe, and withstands the test of time and repeated use.
Our baby food maker reviews primarily consider all-in-one models that can steam and process the food, but if you're simply looking for a great food processor definitely check out the Nutribullet. If you're looking to save time, check out our list of the best ready-made organic baby foods!
Table of Contents [show/hide]

Top 5 Baby Food Makers Comparison Table
1. Best Overall: Beaba Babycook
2. Babymoov Duo
3. Evla's
4. QOOC 4in1 Mini
5. Elechomes
6. Whale's Love
7. Bubos
8. Beaba Babycook Neo
9. Baby Brezza
10. NutriBullet
Features to Look For
    Steaming & Processing
    Ease of Use
    Reliability
    Efficiency
    Safety
Full disclosure: Some of these food makers, including the Elechomes, Baby Brezza, and Beaba models, were sent to us as free test samples by the manufacturer.
Here are the Best Baby Food Makers of 2022!1. BEABA Babycook 4in1 Solo Baby Food Maker.
The top-rated BEABA Babycook 4in1 baby food maker is well known for reliability, ease of use, safety, and efficiency. They are the best baby food makers on the market, and for good reason. Even though it is a bit more expensive than other options, we think it is worth the extra cost. The BEABA looks and works great. It uses a large 4.
7-cup capacity so you can fit several servings of food in one batch. You can use it with only 1 hand, so you can hold your baby in one arm while steaming, pureeing, defrosting, or reheating your food. The water reservoir on the side that holds water for steaming is stainless steel rather than plastic, and all surfaces that come in contact with food are BPA, lead, and phthalate free. We found that it is easy to clean, easy to use, and highly reliable. We were impressed with how quiet the motor was when pureeing with the baby food blender, and how evenly the steaming seemed to work. To steam, you place your freshly cut fruits or veggies into the basket and simply press the steam button. When it's finished, about 13-15 minutes later, you simply dump the basket of freshly steamed food into the bottom of the bowl and turn the knob to begin making nice smooth purees. We thought the button and knob were really intuitive and easy to use. And we used it to make baby puree and blend some frozen fruits and veggies as well, to make ourselves a little smoothie.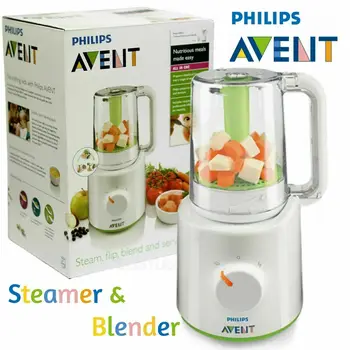 Worked pretty decently as a little blender. Note that with any baby food maker that includes steaming, if you use anything other than distilled water, your water reservoir will develop mineral deposits; as suggested by Beaba, we found that descaling with vinegar every few months was really helpful. If you do have an issue it comes with a 1-year warranty, and the customer service is great. Who else loves the Beaba Babycook? Our friends at Babylist, Babygearlab, and WhatToExpect all consider it a top pick! Interested? You can check out the Beaba Babycook here. Need to cook more than one recipe at a time? Check out the double Beaba Babycook Duo for about $50 more.
2. Babymoov Duo Meal Station Baby Food Maker.
This is new for this year, and we got our hands on it in early January for some in-depth testing. It's a truly awesome and versatile top-rated baby food maker, with some serious functionality. The Babymoov Duo Meal Station is the only baby food maker on this list that can support simultaneous and separate steaming and blending, which allows you to start steaming another food (or keep steaming one tray of food) while blending another.
We found this super helpful when steaming two foods that take different times to steam. For instance, we steamed a tray of green peas while steaming a tray of sweet potatoes: the peas took about 4 minutes, but the sweet potatoes took about 10 minutes (once the steam started). So, this system allowed us to start blending the peas while finishing steaming the sweet potatoes. That's great flexibility for a busy kitchen. It's also very high capacity, the largest on this list of best baby food makers, allowing us to prepare up to 9 cups of food at once! That's like 25 meals for a baby, so that's a big deal. If you don't need to make something that large, you can use just a single layer tray for one food type (or two that have the same cook times), or you can stack the trays up to separate two different types of food. It worked really well for smaller and larger jobs. The steamer was powerful and easy you use: add some water to the bottom until the light turns off, set the timer and you're ready to go.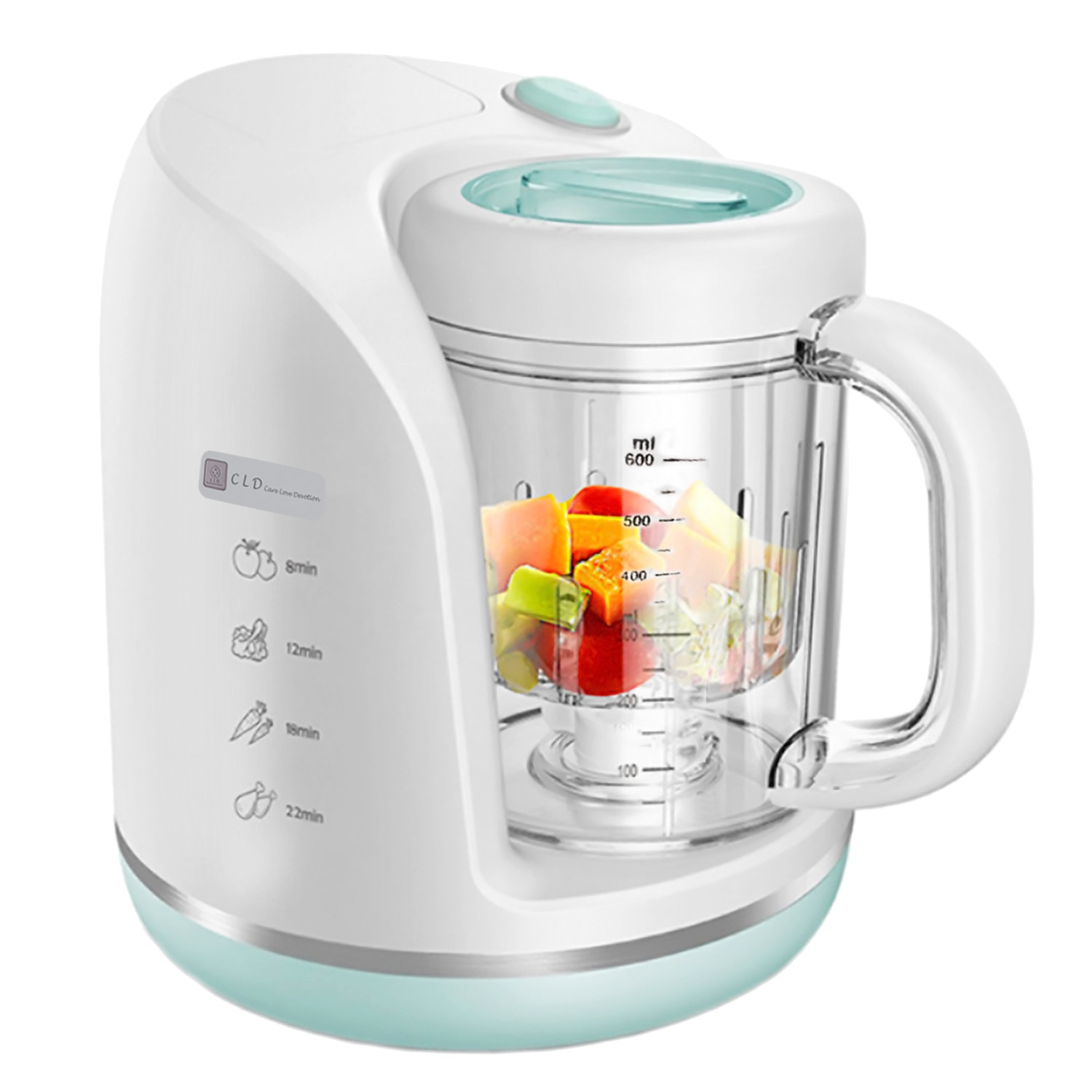 The baby food blender was powerful and the blade was sharp and durable, and the blender itself had three speed settings. The two things that distinguish this from the Babymoov Nutribaby (below) are the ability to steam and blend simultaneously, and the three-speed blender. And the fancy LED screen and interface, which we thought was intuitive and easy to use. The steamer and blender parts are all BPA free (and lead and phthalate free) and dishwasher friendly, making clean-up a breeze. So why isn't it #1 on our list? It might be next year, but first, it needs to pass the test of time. Also, it's quite big, so people will smaller kitchens or otherwise restricted counter space might find it too large for their space. Coming in at about the same price as the Beaba Babycook, if you have the space, this is a must-have. Overall, this is an excellent baby food maker that we highly recommend! Who else loves the Babymoov Duo? Our friends at Babylist and WhatToExpect call it a top pick! Interested? You can check out this Babymoov Duo here!
3.
Evla's Baby Food Maker.
This was completely new to our list last year, and we fell in love with it! The EVLA's baby food maker is fierce new competition for the Beaba and others, providing awesome capability at a price point about $30 less expensive than the Beaba. Out of the box, we thought that everything felt very high quality and well-made. There are so many junky baby food makers on the market that it's always nice to see a high quality unit show up. And it was easy to use and follow the instructions; if the written instructions aren't clear, there are awesome video instructions at Evla's website. The features are great, including steaming, blending (pureeing), reheating, defrosting, and sterilizing functions. It also has a self-cleaning function that helps you clean the blade after use without having to detach or touch it (and risk a cut), which is an awesome feature to increase the ease of cleaning. The water reservoir holds about 7-8 ounces of water and is super easy to clean - it's big enough to fit your entire hand and a sponge in there, making things less likely to get covered with mineral scale, slime, or mold.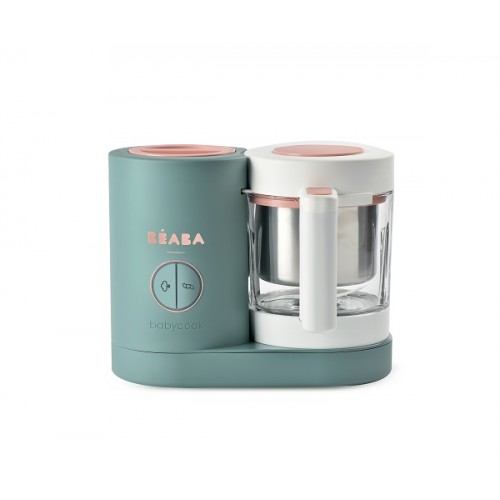 The steaming basket and stirring cup are top-rack dishwasher safe, and all parts that come in contact with food are BPA-free. A couple other things worth mentioning. Turning it on, you need to press and hold the power button for about 3 seconds, which is a great safety feature but also helpful so it doesn't accidentally power on when cleaning the nice digital screen on the top. Speaking of the screen, it's super intuitive to use. The buttons are simple - clean (to clean the blade after using - be sure to attach the spillproof lid first), steam (to steam food in the basket), and sterilize (to sterilize before first use, or sterilize pacifiers and bottle nipples). There are two other buttons, one is an auto puree button that will sense resistance in the stirring cup and blend for an appropriate amount of (usually about a minute), and one is a pulse puree button just in case you want to customize the puree time to make chunky food (less time) or smoother purees (more time). The capacity is about 12 ounces of food (the stirring cup is about 600mL), so it's not the biggest on on the list, but it's plenty big enough for most situations.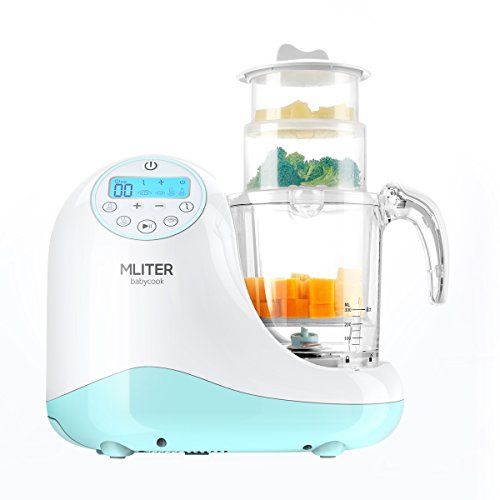 Steaming veggies only takes about 15 minutes (meat takes about 20 minutes), and blending takes another minute, so you could definitely make a few purees in a row - maybe 3 or 4 within an hour, which is pretty good. We're really impressed with this baby food maker and think it's very deserving of its spot on this list! Also, the EVLA's company is super responsive on Amazon or Facebook (or email at [email protected]) and will resolve any issues you have immediately and with a smile. Not that you're likely to have any issues, but just in case! When we tested this food maker it included a bunch of reusable food pouches, which was a nice extra to find in the box! Also, if you register the warranty they will send you a free baby spoon and bowl, and registering takes about a minute. Cons? Not a huge capacity, and it doesn't have the dual-layer steamer baskets. Outside of that, we think this is an awesome new option to consider! Who else loves the Evla's Baby Food Maker? At this point, we're the first to test it - though we expect that to change once others see this review! Interested? You can check out the Evla's Baby Food Maker here.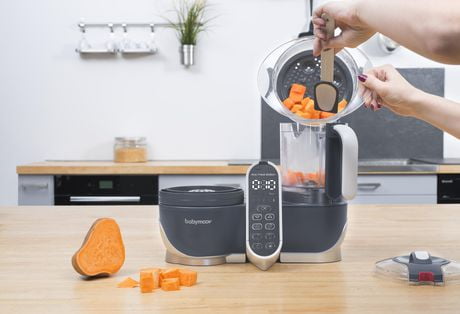 4. QOOC Mini Baby Food Maker.
This baby food maker is brand new to the U.S. market, and is making some waves! It is a small-footprint and small-capacity unit, making it perfect for smaller kitchens, smaller batches of food, and less clutter on the countertop. Its size is matched by its simplicity. It is technically a 4-in1 baby food maker, which means that it does the usual steaming and blending, but it also can reheat and defrost, which is basically just the steaming function used for two other purposes. Convenient, but not any different from most others on this list. The capacity is relatively small, about 300 grams or 2 cups, making it the smallest of the bunch. Its look and feel, and functionality, are very similar to the Beaba Babycook, with a sleek and low-profile shape, and a large and easy to use button right up front and center. We found it very easy to use with only one hand: you simply turn the button to steam or blend and push the button to start.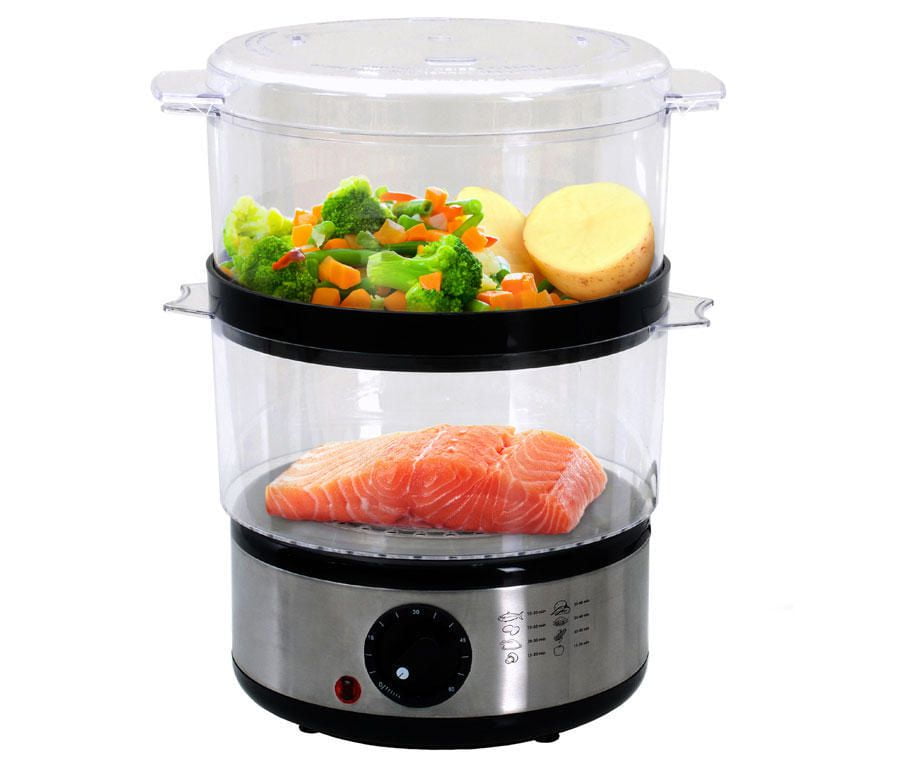 The lid, container, steamer basket, and blade are all dishwasher safe, and the blade pops out of the container for more thorough cleaning. All components that come into contact with food are also BPA free and do not contain lead or phthalates. Some other things we appreciated were the quiet motor, how easy it was to refill the water reservoir, and how little space it took up on our (already cramped) kitchen counter! Because this is a newcomer to the baby food maker category, we do not have extensive experience with it. In our limited testing for about a week, we found it quite capable and a great new competitor for this segment. It's small, but if that's what you're looking for, this is definitely a great option. Over the next 6-12 months we'll keep using this model and report back on its reliability; if things keep going like this, it's very likely to creep up higher on our list! Overall, a great option, and we found it for about $90. Who else loves the QOOC baby food maker? Our friends at The Wirecutter and WhatToExpect call it a top pick! Interested? You can check out the QOOC 4in1 Mini here.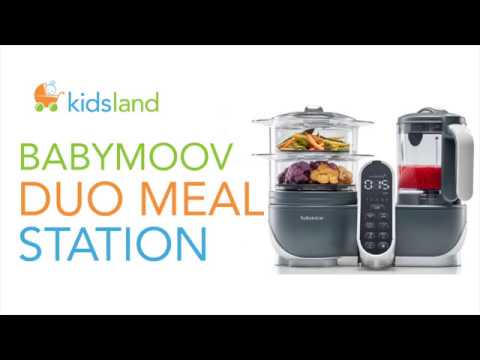 5. Elechomes Baby Food Maker.
The Elechomes baby food maker was recently released and offers a great feature-rich option that doesn't break the bank. Coming in at less than 80 bucks, this is a great choice for parents who aren't willing to drop $150 on a baby food maker, while retaining most features of the pricier options. These features include a dual basket steamer, integrated food processor, BPA-free and dishwasher-friendly parts, kitchen timer, and some cool retro styling (if that's your thing!). There are some things we really liked about it: it was simple and intuitive to use, the parts felt sturdy and good quality, the lower steamer basket was a decent size (the upper one is a bit smaller but still great for peas or other small and easy to steam foods), the steam and puree functions were highly effective, and the parts were easy to disassemble and clean. In our hands-on testing of this model (see our full Elechomes Baby Food Maker review here), we cooked several different frozen and fresh fruits and vegetables.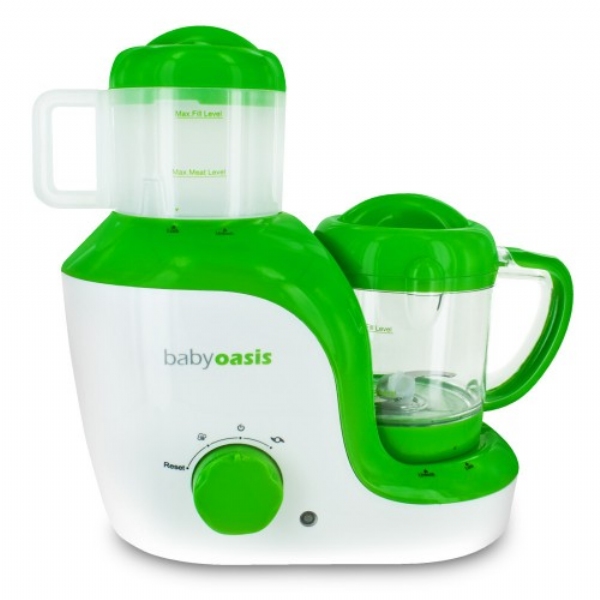 They all turned out really nicely and most took about 15-20 minutes to steam. The owner's manual comes with a little guide with recommended cook times for most popular fruits and veggies. Speaking of the owner's manual, it was in English and generally easy to understand. Design-wise, the Elechomes is most similar to the Bubos model we reviewed (below), and it has a nice small footprint so it doesn't take up too much kitchen counter space. Overall, we really enjoyed testing this baby food maker and think it makes a great addition to this list. So what didn't we like? Well, a couple things. One is that you need to hold down the power button to make the food processor spin, meaning that you need to stand there with your finger on the button the entire time while it purees. A first-world problem really, but worth mentioning. Second is that the steamer timer dial is a bit noisy - it's basically a kitchen timer (and can be used as one when the unit is unplugged, which is nice), so it has a ticking sound and makes a "DING" noise when it finishes.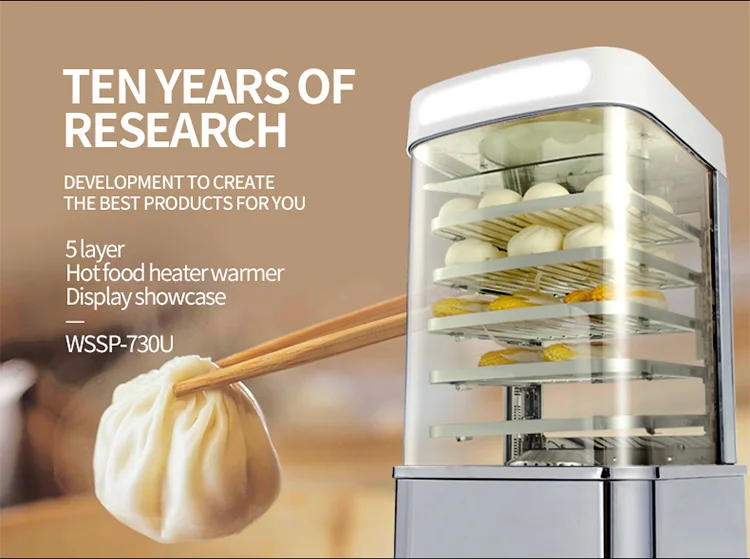 If you're like us and want things to be quiet and simple in the kitchen, this gets a little annoying - but for others, the ticking sound is a convenient reminder that things are cooking, and the ding is a nice reminder that it's finished steaming. Finally, another annoyance is more related to safety: the top blue ribbed lid gets really hot, so when you finish steaming and want to remove the top, you'll need to use an oven mitt or towel to make sure you don't burn your hand. Realistically, these are all pretty minor annoyances that get trumped by the fact that this is a super capable baby food maker that can be found for only about $80, making it an overall great option. Who else recommends the Elechomes baby food maker? Our friends at WhatToExpect! Interested? You can check out the Elechomes Baby Food Maker and Processor here.
6. Whale's Love Baby Food Maker 5-in-1.
Amazon has recently become saturated with baby food makers from China, many of which look nearly identical and have the same functions, but with a slightly different brand.
Most of them are pretty junky, and some of them are hard to tell apart from the good ones, and the fake or padded reviews don't help the situation. We were worried when we bought the Whale's Love that we were basically buying the QOOC or Elechomes with a slightly different style; not that we don't like those models, just that it seems like a waste of time and money to keep testing all the differently-branded products. Well, after over 4 months of use we have been really impressed with this model! They call it a 5-in-1 baby food maker, with the capability to: steam, steam-blend, blend, warm baby bottles, and self-clean its tank. The water tank can hold 230mL of water (just under 8 ounces), and the steaming and blending bowl can hold up to 1000mL (nearly 34 ounces). That's pretty good capacity. The steaming basket drops in surrounding the blade so you can leave the blade mechanism in the bowl during steaming. The blade itself is sharp and easily removed for cleaning. In fact, all of the parts are easy to clean and dishwasher friendly, though the main bowl is a little narrow so you might want to use a bottle brush if you have bigger hands.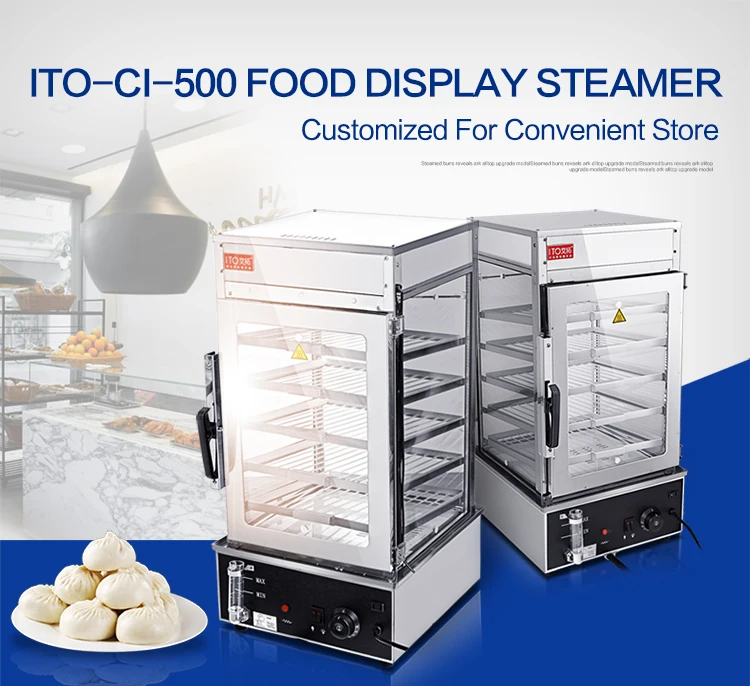 We found the controls and screen easy to operate and understand, and the steaming and blending feature worked really well - you push a few buttons, come back in about 25 minutes and you are ready to eat! Speaking of pushing buttons and walking away, the steam-blend feature is possibly very useful. Technically, you can run the unit without the steamer basket so there's no transition between the phases, but then you're blending the food in its own accumulated water. That might be fine for some vegetables, but tends to make most purees a bit too watery. We suggest doing it the old fashioned way: steaming in the basket, then emptying the extra water out and dumping the food back into the bowl for pureeing. Another interesting feature is the tank descaling self-cleaning feature. At first we were skeptical that this wouldn't do anything helpful, but were actually pleasantly surprised by its effectiveness! During use, we had a couple little grips. The markings in the water reservoir are nearly impossible to see, so it's hard to know how much water you're putting into the reservoir.
We basically needed to fill it all the way to the top each time because we had no idea how much we had put in, or whether it was enough. On a related note, if you end up putting in too little water for the cycle, the system has an auto-shutoff for safety if it detects there's no more water in the reservoir. Also, the unit didn't take up very much space on the counter because it's a bit taller rather than wider, and it has little suction cup feet that you may love or hate. Personally, we didn't like them because they marked up our wooden countertops, but most people won't have that issue. Overall, we really liked this new addition to our list and think it's a great option. We'll revise this after some longer-term testing to give an idea about reliability. We found it for about $90 online, you can check out the Whale's Love baby food maker here.
7. Bubos All-in-One Baby Food Maker and Steamer.
We're always excited about newcomers to the baby product market, and this Bubos baby food maker is an awesome example.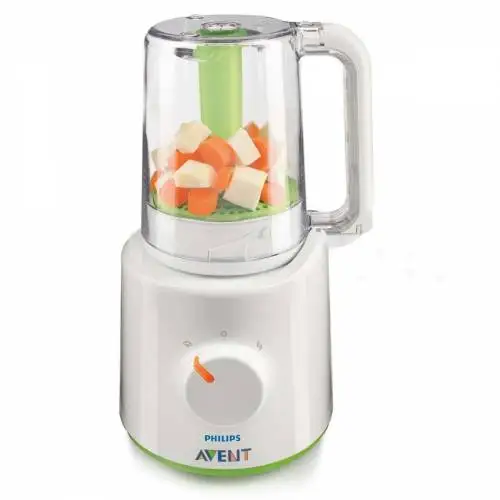 We got our hands on this all-in-one steamer and food processor late last year and were really impressed by the quality, features, versatility, and relatively low price (about $90 at the time of testing). The Bubos can steam, sterilize, blend, chop, defrost, and reheat. Out of the box, the system is a little complicated to figure out, there are a lot of different plastic parts and we needed to read the manual a couple times and look online to figure out exactly how to use the system. Once we figured it out, we were impressed. The steaming is pretty flexible and you can put up to 3 levels of foods for steaming simultaneously - we put peas in the top, broccoli in the middle, and sweet potatoes in the bottom. The three stacking baskets are different capacities, the bottom one is largest (750mL), then the medium one (350mL), and the top one is smallest (150mL). When the baskets are stacked onto one another, the height of the tower is also great for fitting bottles for sterilizing or reheating/warming.
So, this serves as a steamer, bottle sterilizer, and bottle warmer. If you want a separate bottle warmer, check out our reviews of the best baby bottle warmers. Once our sweet potatoes were steamed (about 15 minutes later), we tested out the blender to make a delicious puree - and it worked really well, the blade was super sharp and it pureed the potatoes in less than a minute or so. Clean-up was easy, and you can put the steaming baskets, mixing bowl, and lids right in the dishwasher. Some good safety features here too - it will turn off automatically if it detects a low water level in the reservoir, and it is free of BPA, lead, and phthalates, and uses FDA-approved food safety materials for all parts that come in contact with the food. There's a lot to love here, and we have been using it for a few weeks without any issues. But we aren't going to push it up on this list until this baby food maker proves itself over the longer term. We found it for about $90 online, you can check out the Bubos baby food maker here.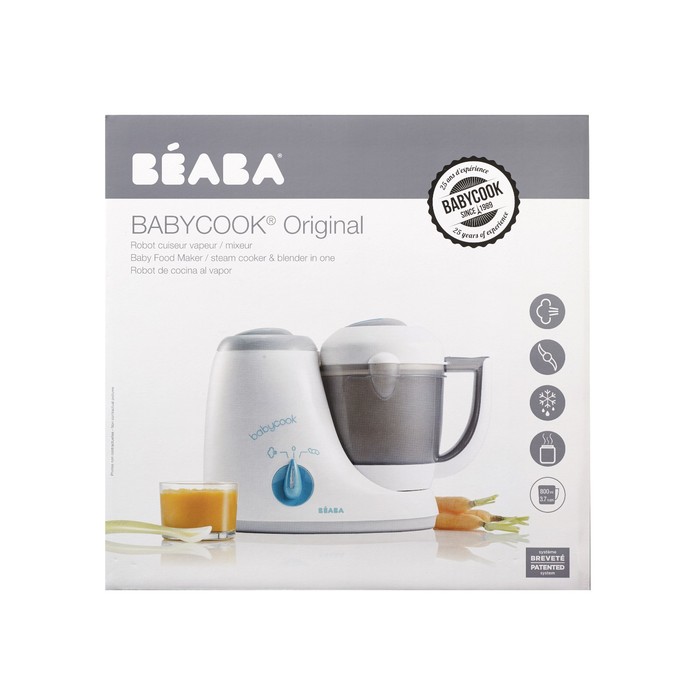 8. BEABA Babycook Neo Baby Food Maker.
This is the baby food maker everyone wants to love, with its sleek European-made styling, glass bowl, stainless steel steaming basket, high capacity (5.5 cups), large and easy to clean water reservoir, and versatile cooking options. And when we got our hands on it for testing, we wanted to love it too! Out of the box, we really did: it is very high quality, looks fantastic, and is easy to assemble and use. For our first use, we steamed and pureed peas, sweet potatoes, and spinach, and everything came out really nicely. In addition to the basic steaming feature, you can also use a defrost and reheat function, both of which worked really well in our testing. The puree and blend blade was stainless steel and super sharp and effective, it was really good at including all of the food into the blend without leaving any chunks around the edges of the glass bowl. And we also found that using a glass baby food maker was a bit quieter when a plastic one, likely due to the superior insulating (sound and temperature) properties of glass versus plastic.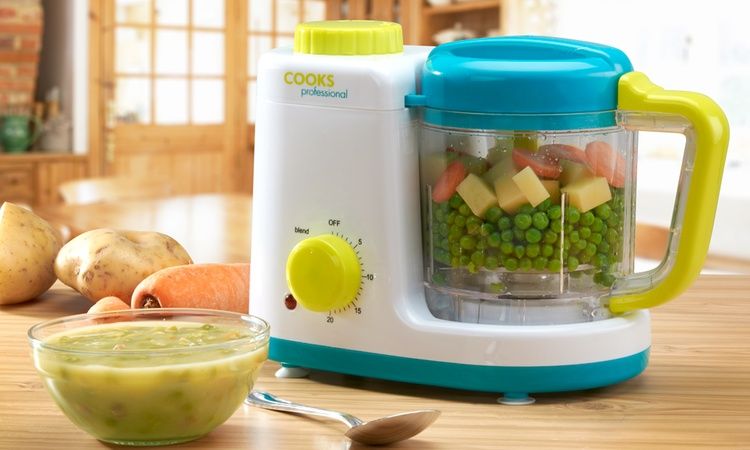 Speaking of glass, this is a great option for parents concerned about BPA and phthalates, or other plastic chemicals leaching into foods while you're steaming; glass effectively solves that problem, as does the stainless steel steaming basket. But just like with glass baby bottles, using glass with plastic can introduce some fitment options especially after repeated warming or dishwashing of the parts. Specifically, the plastic lid didn't fit the glass bowl perfectly after a while, and the plastic handle of the bowl started to separate a bit from the bowl. Not huge deals, but worth mentioning. The other issue is that when you rapidly heat glass there is a risk of breaking the glass, so when you put a bunch of frozen fruits or veggies in there and the glass cools down, and then you heat it with steam it heats up quickly and can crack. That didn't happen to us in our testing, but it's worth pointing out that Beaba just finished recalling their first batch of these Neo baby food makers due to glass bowl breakage.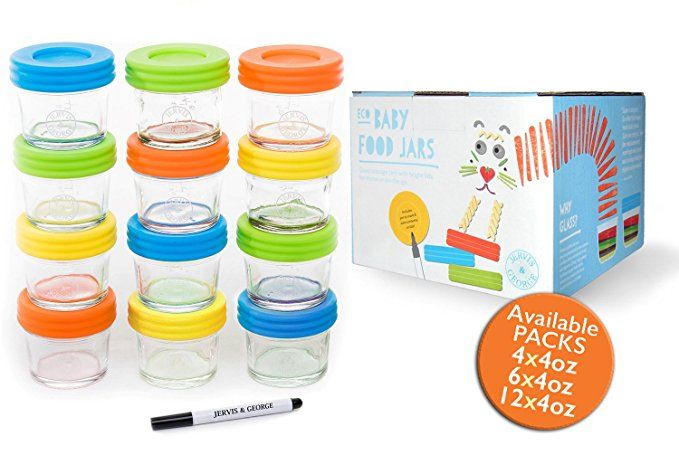 As of early 2020, the Neo models being shipped from Amazon appear to use the new glass bowl that was issued after the recall. The other big issue with this baby food maker is the price, coming in at a whopping $250, which we believe is ridiculous for a baby food maker, even if it uses glass and stainless steel instead of plastic! Maybe a price point around $150-175 would be more reasonable, given the price of the other front-runners in the baby food maker market. Overall, you're getting a very stylish and functional baby food maker with some clear advantages over most other models, but with the risk of glass breakage and a very steep price tag. Interested? You check out the Beaba Babycook Neo here.
9. Baby Brezza Glass 4-cup Food Maker.
Overall, this is a nice decent-capacity (4 cups, same as the Cuisinart, but smaller than the Beaba and Babymoov) unit that is easy and convenient to use and doesn't take up a ton of space on the counter. There are some really awesome features here! First, there is a one-button option for steaming and blending, which means you fill the water reservoir and put your food in the bowl, close it, and press the Steam + Blend button.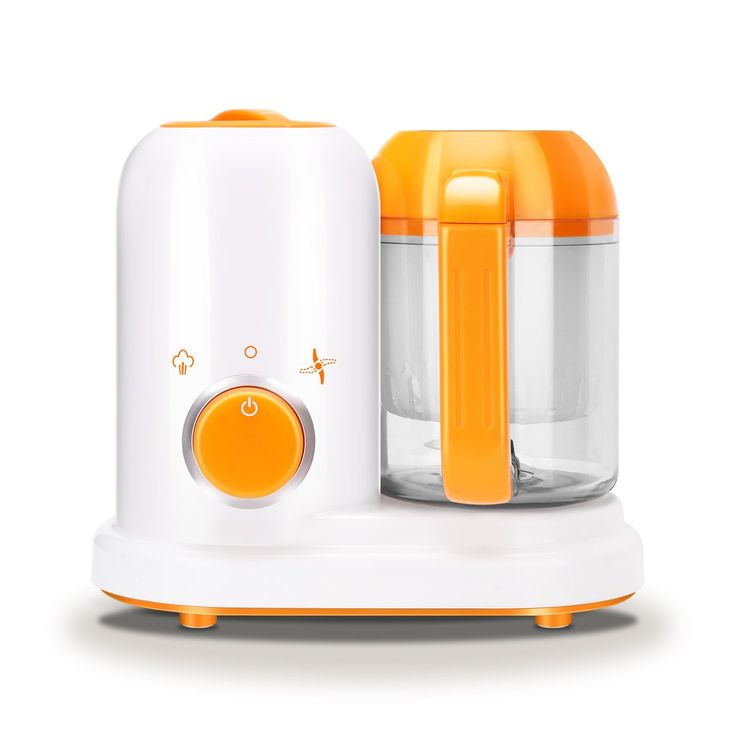 About 10 minutes later and you're ready to go with freshly steamed and pureed fruits and veggies. Of course, if you only want to steam or blend, there are separate buttons to do those as well. Second, another great feature is that the water reservoir is removable, which makes filling and cleaning super easy. In our testing, we really appreciated this feature and thought it set a new precedent for other baby food makers to follow. Third, it has an easy to read and understand display that tells you how much time is remaining until you get to enjoy the food. Finally, when this model first came out on the market, we got a ton of emails requesting we review it, because it is the only all-in-one steamer and blender that uses a glass bowl. This means no more worrying about whether the plastic is BPA free and whether there are other harmful chemicals getting into your baby's food. The glass bowl takes care of that problem, and we think it is an excellent addition to the baby food maker category.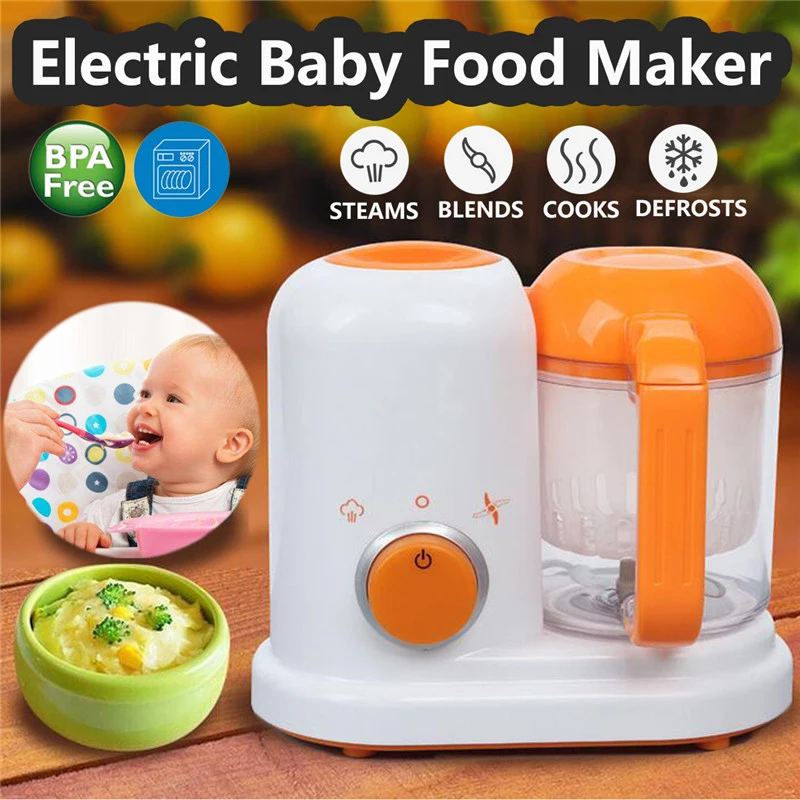 Of course, that glass bowl and the blade are dishwasher safe. Overall, this is an excellent baby food maker option that you will certainly be happy with. Our only major concern with this model is that there are reports of poor reliability after a few months. We happily used our test unit for over 6 months without any issues, but more recently we have encountered some seemingly random problems. For instance, the display sometimes shows erroneous information, and water sometimes leaks from the base. Overall, this is a great baby food maker, and if it improves in reliability over time then it will likely crawl up on this list! It is usually available for under $150. Note that Baby Brezza also makes the famous Baby Brezza Formula Pro that can mix formula perfectly and put it right into your favorite baby bottles. Who else thinks the Baby Brezza food maker is pretty great? Our friends at Babylist and Babygearlab call it a top pick! Interested? You can check out the Baby Brezza food maker here!
10.
Nutribullet Magic Bullet Baby Bullet Baby Care System.
The Baby Bullet was one of the first baby food blenders specifically targeting new parents, including a baby food cookbook, baby food storage containers (fridge and freezer), and a feeding cup. It also boasts the cute smiley face on the front to make you think there's something really special about this blender. Over the years, the Magic Bullet transitioned to being called the NutriBullet, which provided some small improvements upon the original product. The Nutribullet baby food maker is undeniably adorable, with its baby blue or light pink plastics, the smiley faces adorning the front of the clear plastic bowls, and the cute short cup with handles and storage cups. We love when a baby food maker includes storage options, and these little cups are the perfect size and shape, and fit nicely into an included silicone holder for freezer storage. Out of the box, we think you'll love the NutriBullet! It looks great and works wonderfully to blend steam-softened fruits and vegetables, using a reasonably powerful 200 watt motor and a sharp blade.
Getting through grittier foods such as broccoli, or foods that aren't as thoroughly steamed, the NutriBullet tends to underperform relative to its more powerful peers. Critically, the NutriBullet does NOT provide any steam capability. If you need to steam any fruits or veggies, that needs to be done separately before using this system. In our opinion, that's the most unfortunate limitation of this system. Add that limitation to major concerns about the quality and long-term reliability of the motor and rubber seals, and you've got a deal-breaker. In our testing, while we didn't have any issues in our short-term test, speaking with fellow parents who have used the NutriBullet for over 6-10 months reveals that it tends to have failing rubber seals that disintegrate and can even get into the food while being prepared. While our friends at Babylist and the Wirecutter consider it a top pick (though it's unclear if they tested it themselves), we suggest considering an all-in-one steamer and blender that doesn't have these reliability issues.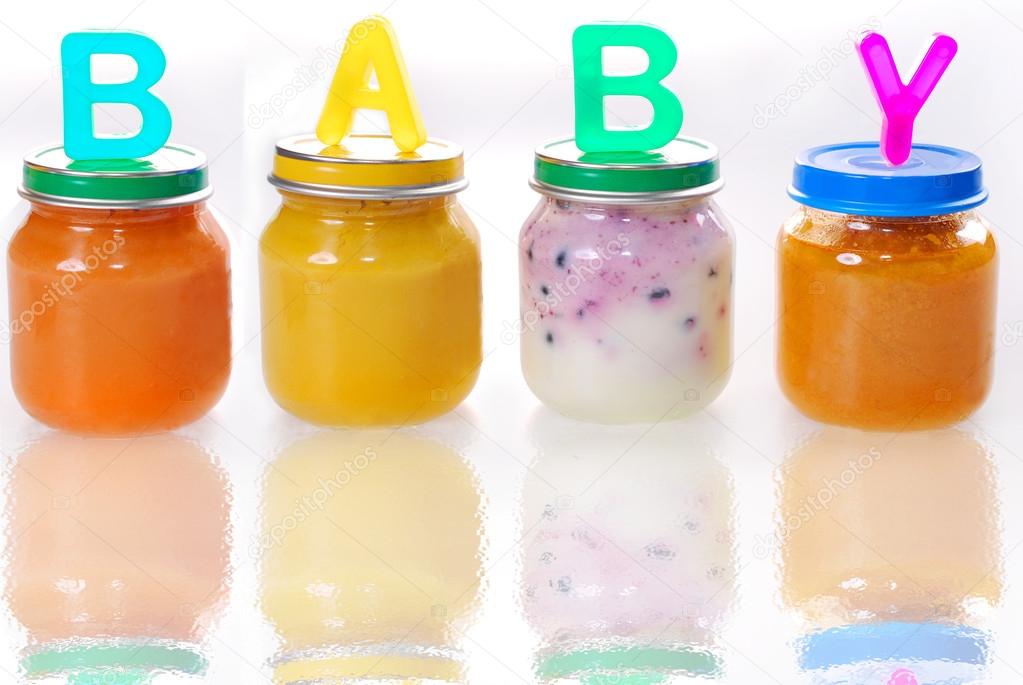 Interested? You can check out the NutriBullet baby food maker here!
How We Find the Best Baby Food MakersSteaming and Processing in One
The original baby food makers were glorified food processors that changed their name and marketing, and were manufactured with some cute colors to entice new parents. With these old systems you had to cook fruits and vegetables separately in a steamer and then puree them in the processor. This method got the job done, but was definitely time-consuming. More dirty dishes, more hands-on kitchen work, and more time away from your baby.
All the new systems we recommend are all-in-one steamers and processors, going way beyond what you will get with a classic blender or a modern mash maker or other baby food grinder. Put in the fruits and/or veggies, add some fresh water, and the system will steam it for you with the push of a button. Aren't around when the steamer finishes? No worries, just come back later to puree, which by the way is simply another push of the button.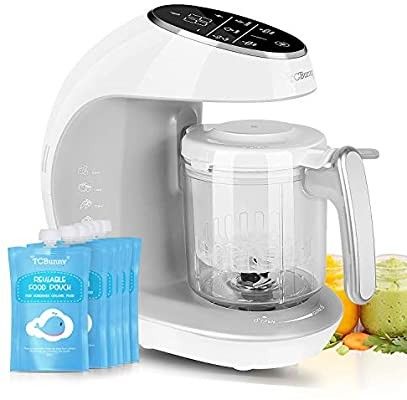 Two button presses later and you have a freshly steamed and smooth pureed masterpiece for your little munchkin. Some of the newer models even have a one-button feature, like the Baby Brezza: you press the Steam + Blend button and 10 minutes later your food is ready!
Maybe a healthy veggie puree for dinner, maybe a fruity blend for dessert? You're the chef now, no more worrying about which Gerber options are on the shelf, or worrying about harmful additives! Need to save time and have high quality pureed food without any hassle? Check out our organic baby food buying guide.
Ease of Use
This is the factor that sets apart the good and bad baby food makers. The fewer steps the better, and the more logical the better. Some systems do this well and others get it wrong. If it takes a rocket scientist to help you figure it out and understand the owner's manual, it's a poorly designed product. All of our recommended systems are highly rated for ease of use.
Reliability
Just like with ordinary food processors and steamer systems, there are reports of smoking motors, melting plastics, quickly dulled blades, breaking clips, and other various defects.
Some of the systems have more issues with this, whereas other systems are consistently reliable and carry great warranties that are reliably honored. All of our recommended systems have histories of high reliability and customer satisfaction. We want to be clear that every baby food maker that includes a steaming feature will develop scaling, discoloration, hard water stains, and even a slimy build-up if you do not do the following three things.
First, always use distilled water. It's easy to be lazy here, but you'll regret using tap water or bottled water after a couple months when your system gets truly disgusting in the water reservoir and heating element.
Second, regularly clean the water reservoir with white vinegar and a sponge or baby bottle brush.
Third, after every 5-10 uses or so, fill the water reservoir with white vinegar and run the system through its entire cycle. That will help keep nasty sludge, mold, or mildew from building up in the reservoir and inside the unit on heating element itself.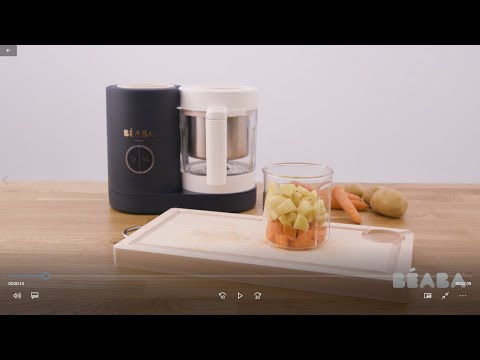 Even the absolute best baby food steamers, like the Beaba and Babymoov will have terrible reviews on Amazon and other sites from parents who didn't follow the instructions to use distilled water and clean the unit on a regular basis.
Efficiency
If you're going to spend over $100 on a good baby food maker, you want one that will make smooth purees quickly and effectively. You don't want to run it, check whether your food is well blended, and keep trying. Weak and slow motors, dull blades, and poor blade design can all contribute to lower efficiency and more headaches. You want a fast steamer, powerful motor, and sharp blades. You also want a bowl large enough to fit enough food to make several servings. Avoid units with capacities under 3 cups because you'll find yourself spending a bit too much time washing, peeling, steaming, and smooth pureeing for single servings! All of our top recommended systems show high efficiency with both the steaming and processing stages.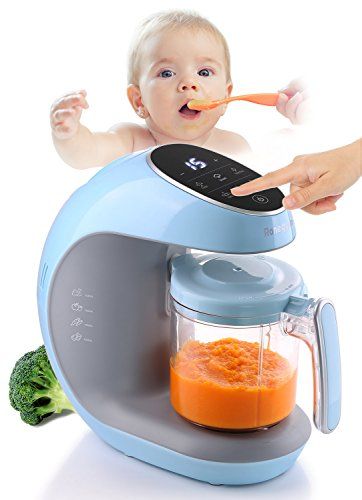 Safety
The original baby food makers used plastic steaming baskets and bowls containing BPA and phthalates, which many scientists and doctors believe leached into foods. These chemicals have been linked with a variety of health and developmental issues. Newer systems from major baby food makers have removed these harmful chemicals, resulting in safer food for your little baby. Even better, some use heavy duty glass bowls, like the Baby Brezza baby food maker, and stainless steel rather than plastic parts. The safer your baby gear, the safer your baby.
Storage and Portability
So, what do you do with all that great food you're steaming and pureeing? Definitely don't fill up those extra baby bottles, that will make a mess! Parents usually put the food into small freezer-safe containers (like these awesome ones by OXO) and take them out as needed. But there's also another way to do this that is gaining in popularity. You know those fun squeezable pouches of baby food? Like the popular ones by Plum Organics?
What if you could make those at home!? Well, the new Infantino Squeeze Station makes that possible.
Simply steam and puree your food in one of our favorite food makers below, and then use the squeeze station to pour the puree into those awesome squeezable pouches. Not only is this an awesome and portable baby food maker option, but your toddler can take charge of the feeding and you're not stuck with a dirty spoon or dirty container in the end! Interested in this option, get more info by clicking the picture to the right.
Glass in baby food: coincidence or trend?
› ›