Baby fresh fruit feeder
Ultimate Guide to Baby Feeders: Mesh and Silicone
You may have seen baby feeders, whether mesh or silicone, and wondered what they are for. They are a great tool for feeding babies and toddlers—and are especially awesome for teething relief. There are many on the market though, so today I'm sharing the best of the best.
Baby Feeder
A baby feeder is made up of an easy-hold handle and a little pouch with lots of holes. The idea is that the holes allow some of the flavor and texture of the food to come out, without the concerns that may come with larger pieces of food.
This means you can worry less when it comes to choking risks.
One thing to keep in mind: They don't allow babies to have the full texture experience of the food—since the texture is mostly the mesh of the feeder. That means you don't want to use one of these for every meal (or even most meals).
Lots of exposures to lots of textures helps babies and toddlers gain confidence in handling all sorts of foods, which can make feeding kids a lot easier over the long run.
But an infant feeder can be a handy tool to have in the mix, especially if on the go, starting to transition to baby food, or trying out a new food that has you a little nervous.
And they are a great way to offer cold teething relief to soothe baby's gums.
Baby Fruit Feeder
Many people like to use baby feeders to offer fruit, either fresh or frozen, since the product is a safe way for baby to suck on and explore the flavor of a wide range of fruit.
TIP: Another name for this is Baby Fruit Pacifier.
Best Baby Food Feeders
Below are my top picks for infant feeders chosen for ease of use, durability, and ease of care (as in washing!). There are different materials listed, as well as specific information on each product.
Best Mesh Feeder
Munchkin Baby Feeder, sold in a set of two. (Or choose the ones that come with travel caps.)
This baby feeder has a streamlined, simple design of a mesh bag for the food and a ring for baby to hold onto.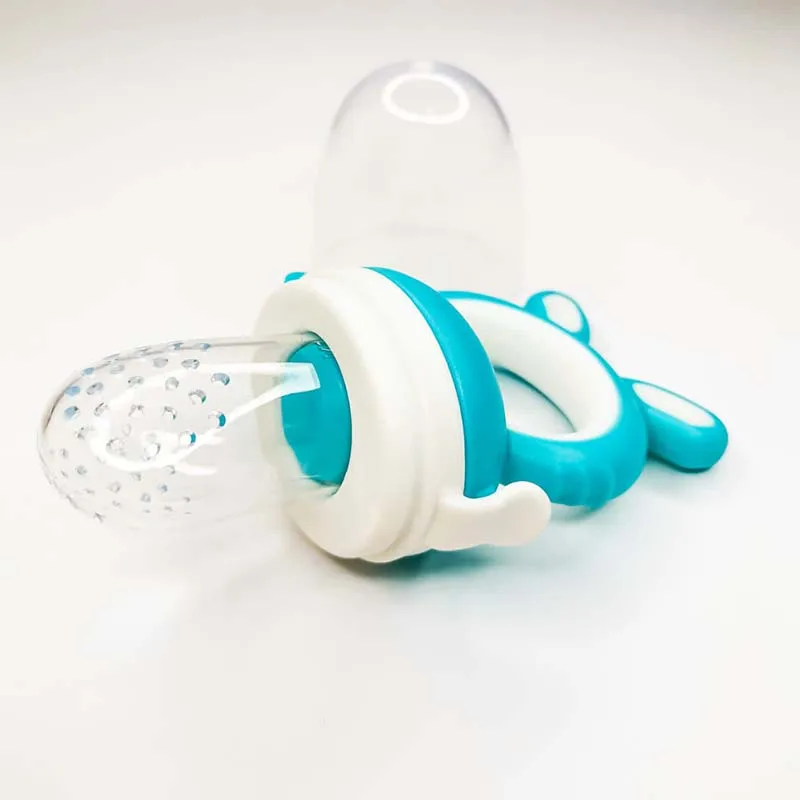 Small, digestible pieces of food come through so baby is getting some nourishment (and comfort if using for teething) without the risk of choking. It's about $7 for two of them.
Best Silicone Feeder
Boon Silicone Feeder
This baby feeder, which is priced at under $6, is made from durable silicone and can be used with fresh or frozen foods. The interior stem forces food toward the tiny holes in the feeder and the small handle is sized just right for baby's little hands.
Kidsme Baby Feeder
Baby Feeder Pacifier Combo
Kidsme Food Feeder
This popular Kidsme feeder has a replaceable silicone pouch that comes in two sizes, so you can adjust and replace as your child grows. It has a unique handle style that some babies may prefer and can be used as a pacifier too. It's usually priced around $15 and is recommended for ages 4-24 months.
What baby foods should I put into a baby feeder?
Here are some fruits that are good to serve in a baby feeder:
Raspberries, fresh or frozen
Strawberries, fresh or frozen
Blackberries, fresh or frozen
Cantaloupe
Honeydew
Banana
Mango, fresh or frozen
Roasted sweet potato
Roasted butternut squash
Ripe fresh pear
Fresh cucumber, skin removed
Watermelon
Cooked red meat such as steak
Frozen grapes (These are NOT safe served to a child this age in any other way as they are a choking risk. They are fine served inside the feeder, though.)
TIP: You can use frozen fruit or ripe fresh fruit that's soft and easy to gum. Avoid any fruits or veggies that are very hard as baby may be frustrated by that texture.
Frequently Asked Questions
What age can baby use a mesh feeder?
Babies can use an infant feeder soon after starting solids around 6 months, or when they can easily hold it and bring it to their mouth.
How do I use a baby feeder to help with teething?
If you fill the feeder, whether mesh or silicone, with frozen fruit, you can soothe teething in infants who are eating solids or in toddlers. It's cold and yummy, yet requires no real work for the child to suck on, so it's comforting.
Are all of these baby feeders BPA-free?
Yes, if you choose a mesh baby feeder or one made from silicone, they are BPA-free.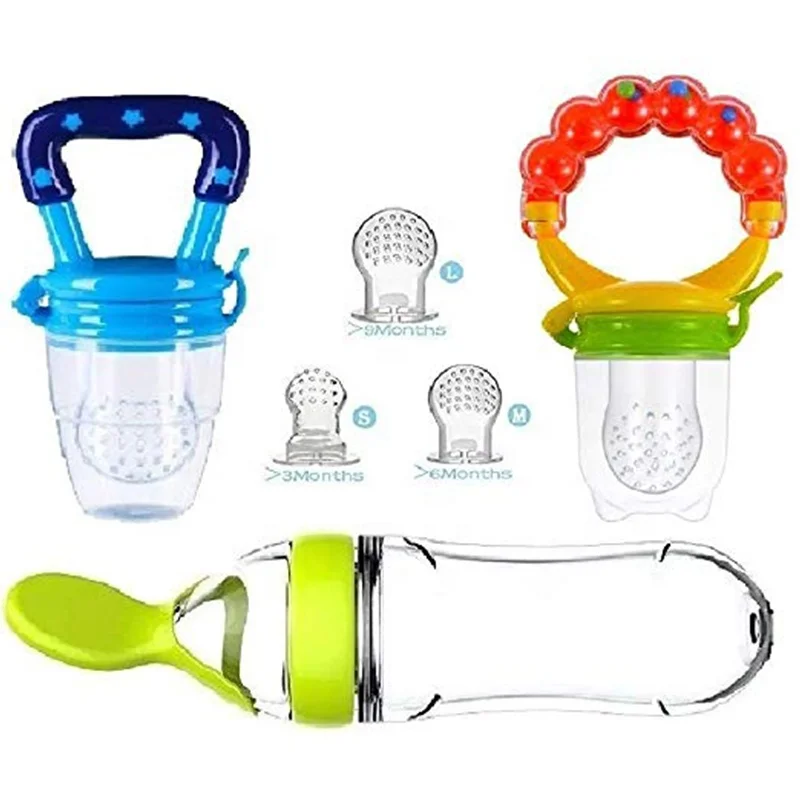 What's the best way to clean a baby feeder?
Try using a bottle brush or just running water to clean out the mesh. It should be fairly easy to clean if you avoid letting it sit too long with food in it!
Are baby feeders good for babies?
The one downside could be that if you rely on them too much, the child learns the texture of the feeder, rather than of the food. This can make it harder for a child to learn to move actual food around in their mouths and harder for them to accept a range of textures in the future when you don't want to be using the mesh feeder as much.
Because of that, I recommend using this product at limited times such as when on the go at a restaurant or to help sooth a teething infant, baby, or toddler.
This is not recommended as a way to feed your child at every meal.
If you are worried about choking, review this information on toddler choking and trust that if you serve foods that are easy to squish between your fingers, baby is sitting down at meals, and you are with them, they will learn to eat like so many other kids who have gone before them!
You May Also Like
Best Baby Puffs
Favorite Sippy Cups
Best Snack Containers
Best Lunch Boxes
Favorite Suction Bowls
Top High Chairs
I'd love to hear your thoughts on baby feeders in general or on these specific products, so please comment below to share!
This post was first published May 2019.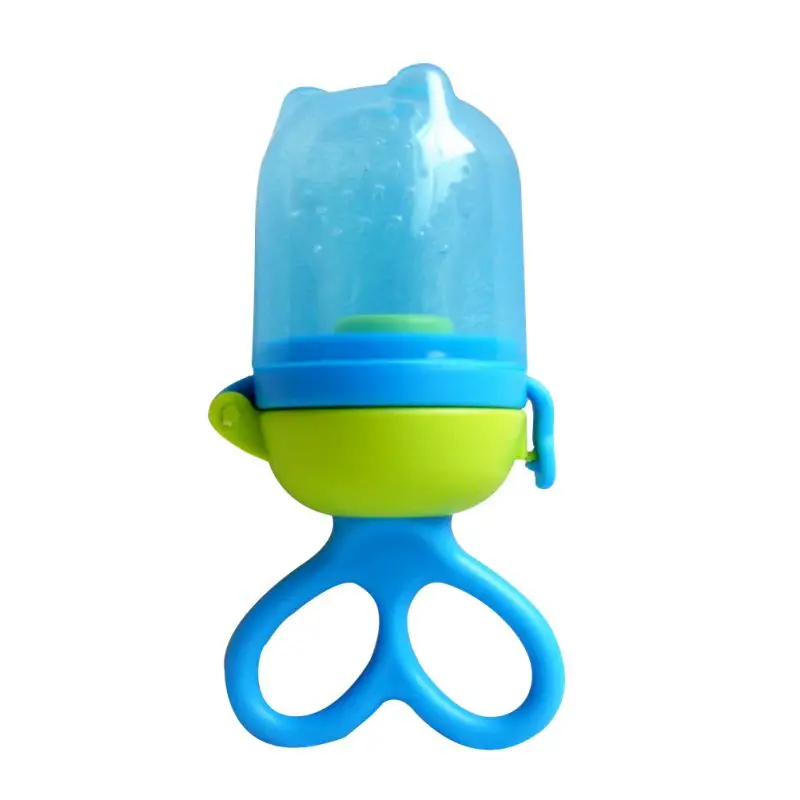 5 Popular Baby Food Feeder Options to Keep Baby Safe and Less Messy
Looking for a baby food feeder? Read on to discover the advantages of a baby food bottle feeder, mesh baby food feeder, silicone baby food feeder, reusable squeeze pouch baby food feeder, and a baby spoon feeder. These can help your child learn how to start to transition from baby feeders to more soft foods and someday solid foods as they get older.
I love my kids when are babies, but I don't always love taking the time to sit there and feed them baby food from a jar (and I certainly don't love taking the time to make my own baby food purees). I'm all about that baby-led weaning and finger foods! I am a busy mom with other kids and work and school so easy is my approach to introducing baby foods.
I wait until at least 6 months before introducing any type of baby food.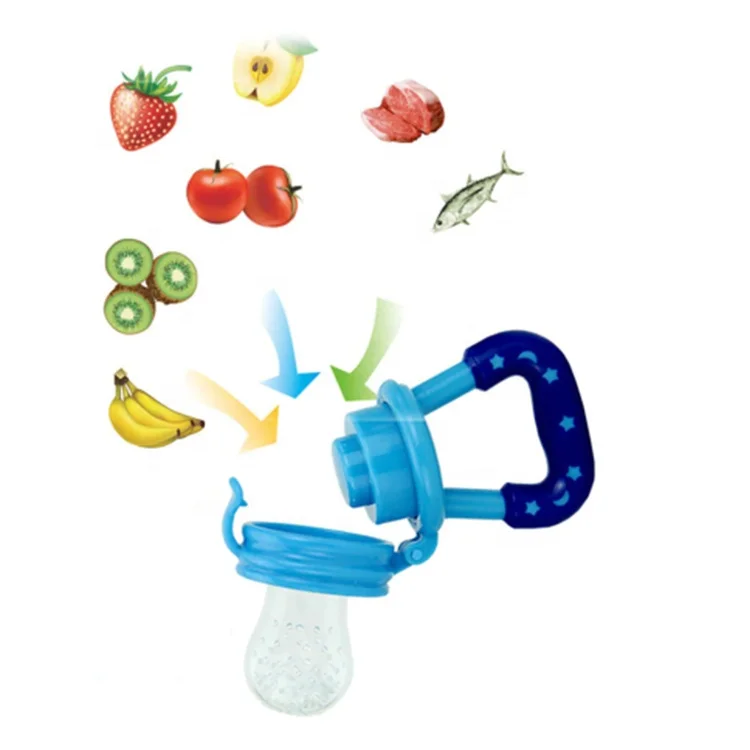 I usually buy some rice cereal and mix it with a little formula or pumped breastmilk (if I have any pumped) and give it a go. I may then try spoon-feeding some simple, single-flavor jarred baby food to my infant.
Once they get more a hang of the idea of food, and can move food around in their mouth and swallow better, I start giving the baby small, soft bits of whatever we are eating at the table, along with baby-friendly puffed cereals, freeze-dried yogurt bites, and more pureed baby foods perhaps from a baby food feeding pouch.
The biggest fear I have every time I start feeding babies is the fear of them choking.
This is one of my greatest fears, not just at the dinner table, but as they crawl around and find all the tiniest bits of whatever all over the floor and stick it in their mouths! I have pulled so many pieces of paper, leaves, grass, and toys out of my fifth baby's mouth.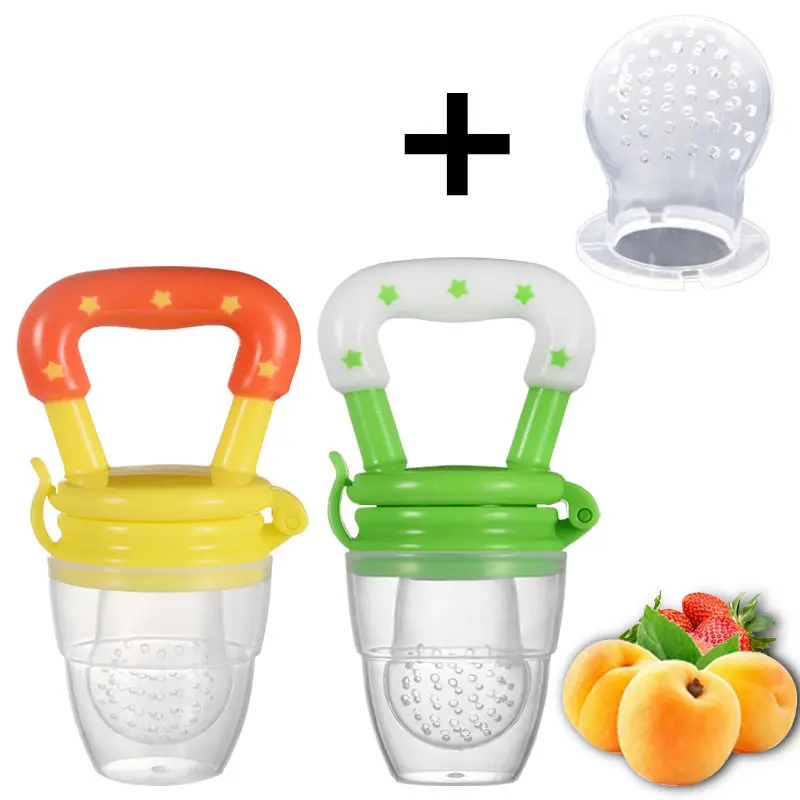 It's nerve-wracking!
And that's why I love the idea of a safe baby food feeder.
Why it works for easy feeding
Using useful tools like a mesh baby feeder is perfect for helping your child transition to soft foods and solid foods. It's also an easy way to help your baby's gums transition to eating a small size of food as well. Baby fruit feeders are great because they are made of safe materials with tiny holes that allow your child to hold onto the food-grade silicone handle and start to figure out the best way to eat.
This is a great way to introduce small amounts of food to a teething baby or to introduce them to new flavors of food in a fun way.
Keep in mind that a baby's age and the baby's diet needs to be kept in mind. Young babies shouldn't be eating the same thing as an older baby so you still have to be very careful as well.
Use these for little hands.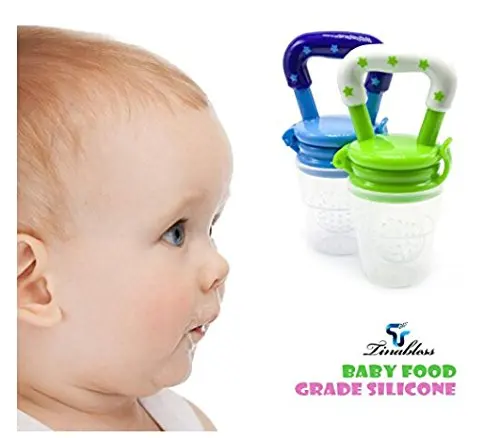 They also work great to work on hand-eye coordination as they're putting them up to their mouths. I also love that they're made for easy cleaning, too!
Baby Food Feeder
Using a baby food feeder is a new thing for me to try with my fifth baby, but I like it so much!
Not only does it make feeding babies safer but makes mealtime less messy! (See my post on limiting messy eating toddlers for tips for the  slightly older crowd!)
I discovered that there are several very popular baby food feeder options out there today, so I wanted to discuss the various options and what makes them each great or not so great and where you can pick them up.
Munchkin Baby Food Feeder
To help facilitate this discussion, Munchkin sent me a few baby food feeders and a cool sippy cup cleaning brush set to review.
#1 Baby Spoon Feeder
This type of baby food feeder is where you dispense baby food through a baby food dispensing spoon.
You simply fill up the soft silicone end with soft pureed foods or things like yogurt and then you squirt baby food out from the silicone part out onto the spoon!
I tried ours out with some Greek vanilla yogurt. While it still ending up being messy and it made all sorts of fun "farting" noises as I pushed out air along with the yogurt, which then kinda sprayed everywhere, it was pretty easy to use.
What I like about this versus a bowl or jar that you are spoon feeding your baby from, is there is less back and forth from the jar or bowl to the baby's mouth. When babies are at the "swat at everything" stage, it means less chance of baby food ending up on the floor, or my lap.
So, still kinda messy but better!
It's pretty easy to clean out, and you can take the squeeze feeding spoon on the go as it comes with a hard plastic cover you just snap on to the end of the spoon.
They come in colors blue, green, and pink and are $7 each on Munchkin.com. You can also find them on Amazon (though for more).
Munchkin Baby Mesh Feeder
I have seen many friends over the years who use and love these mesh baby food feeders (and even pediatric occupational therapists highly recommend mesh feeders)! They are especially handy as a baby teething feeder! You can put some frozen raspberries or other frozen fruit or even an ice cube in it and let your baby safely gnaw and gum it, cooling their poor aching teething gums!
The Munchkin fresh food feeder is perfect in that you can give your baby chopped up pieces of fresh fruits and vegetables without having to puree them to a pulp! The mesh prevents large pieces from coming through so they won't chock on the fresh food! Yeah!
I put some cut grapes, pieces of chicken, and more in mine when I tested it out to give to my 8-month old baby.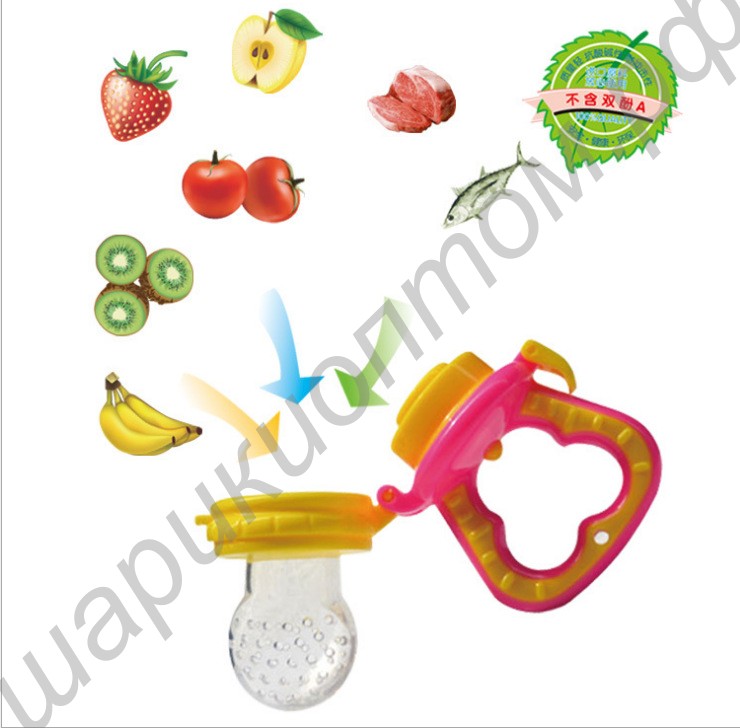 She loved gnawing on it!
Some of the best foods for a mesh feeder include:
raw apples
chunks of melons
frozen blueberries
pears
peaches
raw carrots
nectarines
chunks of meat
It is recommended to empty and wash out your mesh feeders shortly after use to make it easier to clean out and prevent any food going bad in there! I found it super easy to rinse out with a little dish soap at my sink. But some foods like bananas can be more difficult to clean out of it.
The Munchkin Fresh Food Feeder comes in pink/purple, green/blue, and yellow/green colors for $3 each on Munchkin.com. You can also opt for one of their Munchkin Deluxe Fresh Food Feeders that come with a convenient on-the-go cap with snap-tight closure for $4 each on Munchkin.com. Amazon has the 2-pack fresh food feeders that I received for $5.99.
Munchkin Silicone Baby Food Feeder
Similar to the above fresh baby food feeder, there is also a Munchkin silicone baby feeder too (but I didn't receive this product to try out).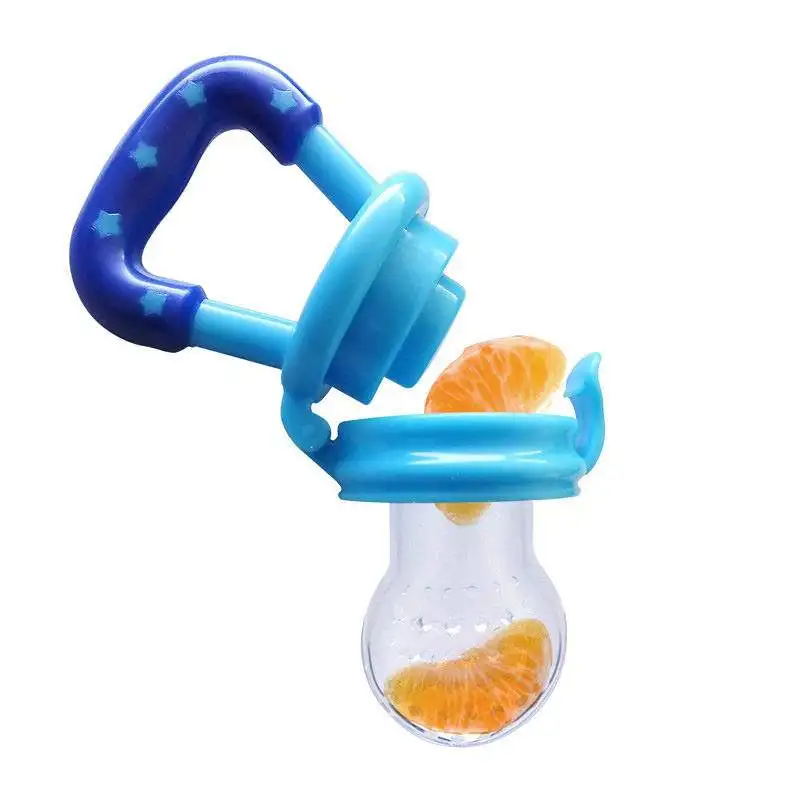 The silicone baby feeder is actually designed for babies ages 4+ months whereas the other ones are designed for babies 6+ months old.
The silicone baby food feeders are easier to clean, but smaller and actually designed for baby food purees rather than large fresh food, though some people still put large pieces of food in them (but it's harder to fit them in these).
Munchkin silicone baby food feeders come in pink, green, and blue and includes an on-the-go cap for $4.50 on Munchkin.com.
Baby Food Bottle Feeder
I don't use baby bottles hardly at all, so maybe that is why I had never heard of a baby food bottle feeder before!
There are some bottle manufacturers that offer alternative bottle tips that allow you to squeeze out baby food from inside the bottle to the base of a replacement bottle head – a food dispensing spoon!
With our baby twins we had used baby bottles that could swap out tips for sippy cup tips, and we used those silicone sippy cup nipples with moderate success (until they got teeth and stuck utensils, pencils, and other objects into the opening making anything but spill-proof).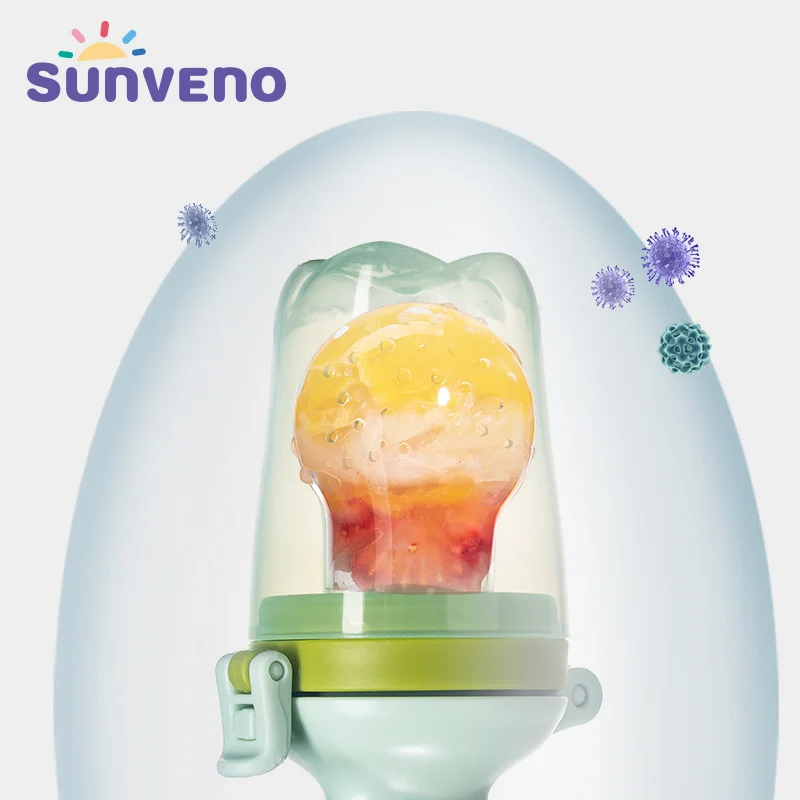 The baby food feeder bottle nipples also make sense!
It doesn't appear like there are many bottle companies that actually make these anymore. Nuby used to make one called the Nuby Infa Infant Feeder and the Nurtur Care Infa Feeder but they are no longer available for purchase. I did find that Sassy offers a baby food nurser bottle (on BuyBuyBaby and Amazon).
The cool thing about this product is that it has a vacuum disc that keeps air out and moves cereal or baby food without clogging. Plus there is a handy travel cover so you can take baby food on the go much easier. The spoon is also like a soft nipple which is easier on those little mouths than a regular spoon. 
Reusable Squeeze Pouch Baby Food Feeder
I recently got a reusable squeeze pouch baby food feeder from Noobie Box's Noobie Eat Box. I have always wanted one of these because I hate how wasteful and expensive all these baby food pouches out there! You can easily fill one of these up with apple sauce, your own fruit purees, or yogurt and save yourself a ton of money, time, and trash!
Squeeze pouches are super handy for feeding soft pureed foods to babies (and older kids too – let's be honest!), especially on the go! No utensils required and when they get older can safely suck them down themselves without making any messes.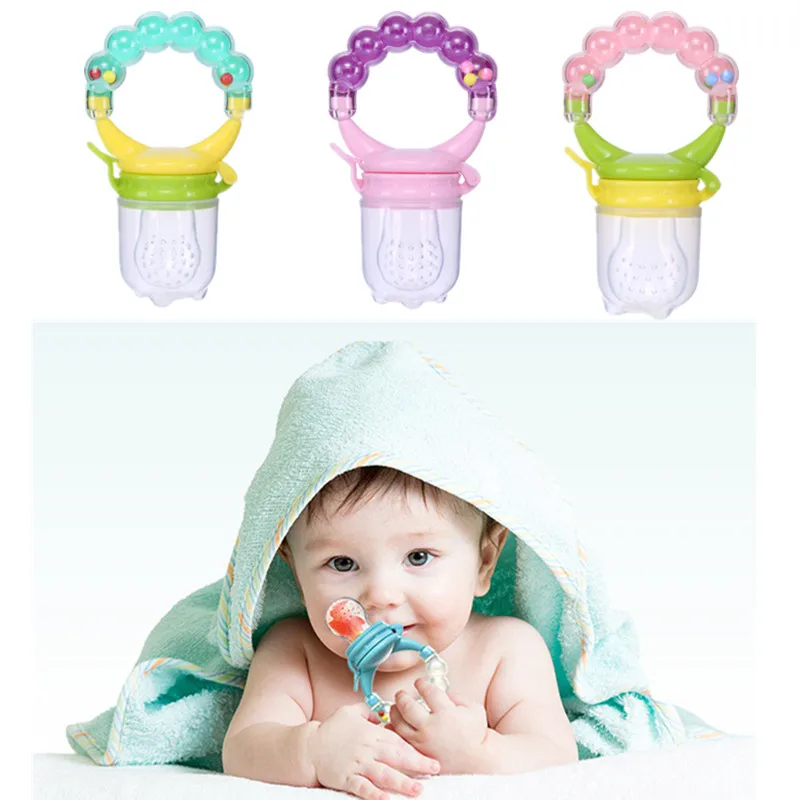 My baby at 8-months old cannot manage one of these on her own (she loves to squeeze them) but uses baby food squeeze pouches has helped her develop some sucking skills, skills that will come in handy when introducing sippy cups with straws.
If you are interested in picking up reusable squeeze pouches, there are many options on Amazon from brands like Squooshi, WeeSprout, Baby Brezza, Kiddzo, and others costing about $9.99-$19.99 for multiple reusable pouches.
Munchkin does not carry any baby food pouches, but they do have Click Lock Food Pouch Spoons! They work with most leading pouch brands. The spoons are twisted onto the ends of the pouches, allowing you to squeeze baby food from pouches onto a baby-friendly spoon. They're designed for kids ages 4+ months. It's pouch feeding without the mess (hopefully).
You can get a 2-pack of the Munchkin Click Lock Food Pouch Spoons for $4 on Munchkin.
com.
If you want to pick up several of these great Munchkin baby food feeders, remember that you get FREE Shipping on Munchkin.com Orders Over $25 + FREE Returns! Plus, you can also Sign up to receive an additional 10% OFF!
I'm so glad there are so many great and innovative baby brands making products to help me feed my baby safer and cleaner!
I'd love to know what you've thought about various baby food feeders you've used over the years, sharing your own reviews of which one(s) is your favorite. 
---
Be sure to check out these other great posts:
Thrifty Mom's Guide to Essential Baby Feeding Supplies
15 Must-Have Baby Items
How to Take Care of a Baby's First Teeth
How to Transition Baby from Bottle to Sippy Cup
What Happens When You Grow Up to Be a Picky Eater Adult
China Custom Fruit Feeder for Baby Manufacturers - Wholesale Service
Product Introduction

Fruit feeder for babies gets more value for your money with fruit feeder pacifier and teething toy in one.
It can store fresh fruits, vegetables, ice chips, breast milk, and even medicines. It can also soothe baby's teething discomfort by massaging the gums, which builds up the mouth muscles, and promotes healthy tooth development.
product parameter
Product name

Fruit feeder for babies

Material

'4 cm, 3'4cm, 3.5'4.5cm

Color

Green, pink, yellow, blue

During the baby's molar period, they like to bite everywhere, and the mother must take the time to do some time to feed. The silicone baby feeder will be a convenient tool to solve the problem, and also convenient for mom to prepare food.


There are three different sizes to meet different requirements for different months of baby. The small size is 3. 8 x 2.3 cm, which is suitable for 4 to 6 months old babies. The average size is 3.8-2.8 cm, which is suitable for children from 6 to 9months. Large size 4.4 x 3.3 cm, which is suitable for 9 months and more babies to use.

Baby fruit feeder is made of food grade silicone material without any harmful materials, and it is very soft and flexible, which will not hurt baby's mouth. Helps kids have a good time during teething.

Baby fruit feeder has four colors for options like blue, pink, green and yellow.

Factory View

Shipping Methods

1. Are you a factory or trading company?

We are factory with sales department, we are factory direct offer with good price, high quality, fast delivery and excellent service.

2. Will you offer a free sample?

Our current samples are free, samples are free for testing. customized samples, please discuss with us online.

3. What payment method do you accept?

We accept bank transfer, Paypal, Western Union.

4. Are you inspecting the product? How?

Yes, each stage of production and finished products will be inspected by QC before shipment.

hot label : fruit feeder for babies, China, manufacturers, custom, wholesale

how to make a bird feeder and how to feed birds in winter

On the winter feeders, one can often observe funny quarrels - a small but brave tap dance drives the great tit away from valuable food. Photo: Anna Lukyanchikova

Winter is a difficult time for birds. With the onset of the cold season and snowfall, birds lose access to the seeds of wild plants. In search of food, sparrows, woodpeckers, greenfinches, bullfinches, tits and titmouse move closer to human habitation. Often in the diet of wintering birds, foods that are unsuitable for them appear - spoiled fruits from landfills, salted lard and moldy white bread. Proper feeding of birds not only helps birds survive the cold, but also stay healthy. Organize a bird canteen with your child so that you can watch birds all winter without leaving the city.

Ruddy bullfinches rarely look at feeders, and they are always interesting to watch. They love unsalted lard and seeds. By the way, only males have a bright red breast. Photo: Anna Lukyanchikova

Is it necessary to feed the birds in winter?

Birds that do not fly away to warmer climes with the onset of cold weather are called wintering birds. These are sparrows, pigeons, crows and jackdaws familiar to the townspeople - city birds that are used to feeding near humans. Forest birds are more cautious, but they also move to cities with the onset of cold weather, and then return to forest parks and green areas. In winter, at the feeder you can meet bullfinches and tits, nuthatches, pikas, greenfinches, tap dances, woodpeckers, blue tit and other species. Wintering birds are adapted to the cold, but whether they can survive the winter and in what quantity depends on the person. Do-it-yourself bird feeders help to survive not only strong, but also young, weakened birds.

Moskovka is a small tit, which is rarely found in the city and is listed in the Red Book. But even she is not averse to eating sunflower seeds on a hemp in winter. By the way, these stumps can be used as natural canteens for birds if there are no ordinary feeders nearby. Photo: Anna Lukyanchikova

What are bird feeders made of?

If you want to buy a ready-made bird feeder or make it yourself, you should pay attention to the fact that the bird canteen must meet some requirements: Safe The feeder is designed to help the birds - so you should take care that it does not have sharp edges or narrow holes where the pichuga can get stuck. If you are making a plastic feeder, glue or melt the edges, or even better, use wood. It is better to refuse metal - the legs of feathered neighbors can freeze. Eco friendly You can make a feeder out of a plastic bottle or a milk carton, but these canteens tend to get soggy or clog up quickly. The plastic needs to be cleaned periodically and the edges made safe right away, and tetra-pak feeders will need to be changed every 2-3 weeks. A wooden feeder or any other reusable alternative would be a great option.

The feeder in the photo is a masterpiece of carpentry, but it is not difficult to repeat it in a simplified version. Materials are easy to pick up at a hardware store or use the remnants of your building materials. It remains only to connect all the parts and treat them with a wood preservative that is harmless to birds. Photo: klimkin, Pixabay

Easy care The feeder should be cleaned regularly to keep the food from spoiling and bacteria from accumulating in it. If the bottom is wide and access to it is open, you can easily remove the remnants of food and fill in a new one, and after the end of the feeding season, thoroughly wash the feeder. Constantly filled Birds perfectly remember feeding places and fly there every day to dine. It is better to fill the feeder constantly so that the birds do not waste their energy, but even if your feeder is sometimes empty, it's okay. After all, birds have a whole map of places in their heads where they can eat. It is best that the food in the feeder is in the evening so that the birds can eat before the cold night. And if you don't always manage to put down the feed, you can team up with neighbors and friends who will also fill the feeder.

Greenfinch, like other wintering birds, enjoys shelling sunflower seeds in a wooden feeder. Photo: Anna Lukyanchikova

Well-designed At the bottom of the feeder, you need to provide bumpers so that the food does not spill out, and close the building with a roof on top - this way you will not only extend the shelf life of the food inside, but also hide the pichug from predators like hawks. Bird friendly It is not very comfortable for birds to feed in an open place - dangers await them everywhere. It is best to place the bird's dining room near the bushes or among the trees - so the birds will be more comfortable. The height should be convenient for filling the feeder, and the food should be accessible to the birds.

Another version of the feeder is mesh. The design allows you to lay a large supply of food at once, and the net allows you to feed even when the lower part is covered with snow. There is a large hole at the bottom of the feeder, in the photo it is covered with snow, but birds can peck seeds through the cells. Photo: Forest Simon, Unspash

What materials should I use to make my feeder?

Plastic Acrylic and polypropylene are resistant to temperature changes and are easy to clean. Acrylic also has high transparency - a great option for those who like to photograph birds and watch them. Metal If you choose a metal feeder, only a metal mesh will do - if a large area of ​​\u200b\u200bthe feeder is made of this material, birds can freeze to it with their paws. Wood Wood is a classic and suitable material for making a feeder. Before hanging, the house should be covered with an antiseptic or varnish in order to protect it from weather conditions and mold, but you should pay attention to the composition - the coating must be safe for birds. For example, used oil is not suitable for lining the feeder.

Tap-dancing birds are small forest birds that enjoy eating sunflower seeds. Males have a red spot on their heads. Photo: Anna Lukyanchikova

What to feed the birds?

In winter, birds need high-calorie food. The basis of filling the feeder should be raw unsalted seeds and nuts . Tits, nuthatches and bullfinches will appreciate butter and lard (the main thing is not salty). And woodpeckers and jays will rejoice acorns . You can add fresh and dried fruits, berries, and whole grains such as millet or corn . In small quantities, dried white bread is also suitable, but plant foods are still better. The more different foods you put in the feeder, the greater the species diversity of feathered guests will be.

On the video you can watch different birds and listen again to the basic rules of winter feeding

Interestingly, many ornithologists and birdwatchers argue about whether it is possible to put shelled sunflower and millet seeds in the feeder. The thing is that these products quickly oxidize and deteriorate. Therefore, if it is not possible to put something else in the feeder, add peeled seeds and millet in small quantities, and if they lie for a long time, clean the feeder from these products.

Two in one: a solid wooden feeder next to a bird biscuit on which a nuthatch sits. Photo: Fabianna Freeman, Unsplash

How to make a feeder with your child?

Making and caring for a feeder is a great opportunity to introduce your child to different types of birds and instill a love of nature. Make a bird feeder together and take care of it during your daily walks. Below you will find some interesting 9 feeder options0004, which are suitable if there are no boards or plastic bottles at hand. Edible feeder The simplest version of the feeder, which does not need to be washed and cleaned. Mix seeds, pieces of dried fruit with melted lard or fat, pour into a silicone mold and put a string in it. Place the food in the freezer to chill. Make bird cakes regularly and hang them in the same place. Remove the empty ropes and, if possible, reuse them (after all, if you leave the rope on a live tree branch, over time it can pinch the branch, and it will dry out). Purchased feeder If you do not have leftover building materials or the opportunity to make a feeder with your own hands, you can purchase a ready-made version. Usually such feeders are made of plywood - with a child, you can paint it in any colors and give an individual style to your own bird cafe.

Buying a ready-made feeder is not difficult - usually such designs last one season, but they will help many birds survive until spring. Even a large spotted woodpecker visits such a bird's canteen. Photo: Anna Lukyanchikova

Vine feeder A feeder woven from a vine or made from a small old basket will look very unusual - you just need to add a roof or turn the basket sideways, removing the bottom.

Learn more about the world of birds

Now you know how to help birds in winter. Involve children, younger siblings, schoolchildren and kindergarten students in the creation of bird feeders so that the chain of good attitude towards birds does not break.

.