Best foods to start your baby on
Dos and Don'ts for Baby's First Foods
Wavebreak Media/Thinkstock
Breastfeeding has been shown to improve infant, child and maternal health outcomes and help control healthcare costs, but how long should breastfeeding last and when should parents introduce solid foods?
The Dietary Guidelines for Americans recommend exclusive breastfeeding, meaning the infant receives only breast milk, during the first six months of life for optimal nutrition and health benefits.
Once solid foods are introduced, health professionals recommend continuing breastfeeding through 12 months of age and, after that, as desired by mother and baby. Introducing your baby to solid foods is an exciting milestone. When you start introducing children to the world of solid foods, you are helping them shape their relationship with food and establish a healthy eating style. The timing for introducing solid foods will depend on the infant, but it is not recommended before the age of four months or after the age of six months.
Not sure how to get your baby started on solid foods? Consider these helpful tips.
Is Your Baby Ready to Transition?
Each child's readiness for solid food depends on their own rate of development. Signs a baby may be ready to start solid foods include sitting up with minimal support, demonstrating good head control, bringing objects to the mouth or grasping at small objects. Check with your pediatrician before starting solid foods.
Getting Started With Solids
Solid foods may be introduced in any order. However, puréed meats, poultry, beans and iron-fortified cereals are recommended as first foods, especially if your baby has been primarily breastfed, since they provide key nutrients. Only one new single-ingredient food should be introduced at a time.
Softer textures are very important when first introducing foods. Infants usually start with pureed or mashed foods around six months. As infants develop chewing and motor skills, they are able to handle items like soft pieces of fruit and finger foods.
As the child ages, a variety of healthful foods is encouraged.
Weaning From Breastfeeding
When deciding if you should wean your baby to a bottle or a cup, consider their developmental readiness. Between 7 and 8 months, most infants will drink small amounts of liquid from a cup or a glass when someone else holds it. Older babies and toddlers often have the coordination to drink fluids from a cup by themselves.
If your baby is under 12 months of age and you are not continuing to breastfeed, wean from breast milk to iron-fortified infant formula. If your baby is 12 months or older, whole cow's milk is appropriate.
Food Safety Do's and Don'ts
Food safety concerns for infants and toddlers include food allergies, choking and risks for foodborne illness. Keep the following safety tips in mind:
Do talk with your pediatrician about the risk of food allergies. Introducing one new food at a time, every several days, allows time to monitor for allergic reactions.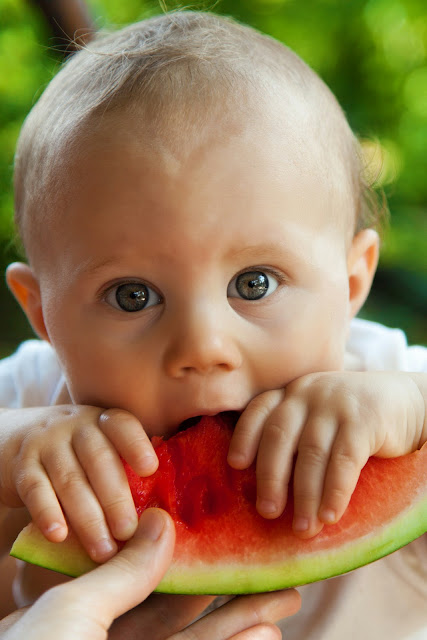 Current evidence does not indicate needing to wait beyond 4 to 6 months before introducing potential allergy-causing foods such as eggs, dairy, soy, peanuts and fish. In fact, introducing peanut-containing foods as early as 4 to 6 months of age may help prevent a peanut allergy. The Dietary Guidelines for Americans recommends introducing potentially allergenic foods when other complementary foods are introduced to an infant's diet. Parents with concerns about food allergies should discuss how to include these foods with their pediatrician.
Don't feed your baby solid foods from a bottle. It can be a choking hazard and despite a popular misconception, putting cereal in a baby's bottle won't help with sleeping through the night. Other foods that are considered to be choking hazards are listed below.
Do supervise your child while eating. Infants should be able to sit upright and face forward when you first introduce solid foods. This makes swallowing easier and choking less likely.
Don't feed directly from the jar of food but instead spoon some food into a separate dish first. Feeding directly from the jar may introduce bacteria from your baby's mouth to the spoon and back into the food, creating a food safety issue.
Don't feed honey to children under 12 months of age due to the risk of foodborne illness.
Examples of appropriate solid foods listed by age:
6 months:
Well-cooked and pureed meat, poultry or beans
Ground, cooked, single-grain cereal or infant cereal with breast milk or formula
Cooked and pureed vegetables
Mashed banana or avocado
9 months:
Well-cooked, minced or finely chopped meat, poultry or beans
A variety of cooked vegetables cut into small, ½ inch pieces, such as squash and green beans
Sliced and quartered bananas or small pieces of other soft fruits
12 months:
Soft, shredded meat, poultry or fish
Small pieces of cooked vegetables
Small pieces of soft, easy to chew fruits
Mixed food dishes the family is eating in appropriately sized pieces
Not recommended for those under 4 years of age due to the risk of choking:
Popcorn and whole kernel corn
Nuts and seeds
Large chunks of meat, poultry and cheese
Candy, gum drops and jelly beans
Hard, raw fruits or vegetables such as apples, celery and carrots
Whole grapes and cherry tomatoes, unless cut into quarters
Hot dogs, unless cut into strips and age appropriate, bite-size pieces
Sticky foods, such as peanut butter, which can get stuck in the back of the mouth – peanut butter is okay if spread thinly on bread
For toddlers and preschoolers, chop grapes, meat, poultry, hot dogs and raw vegetables and fruits into small pieces (about ½ inch or smaller).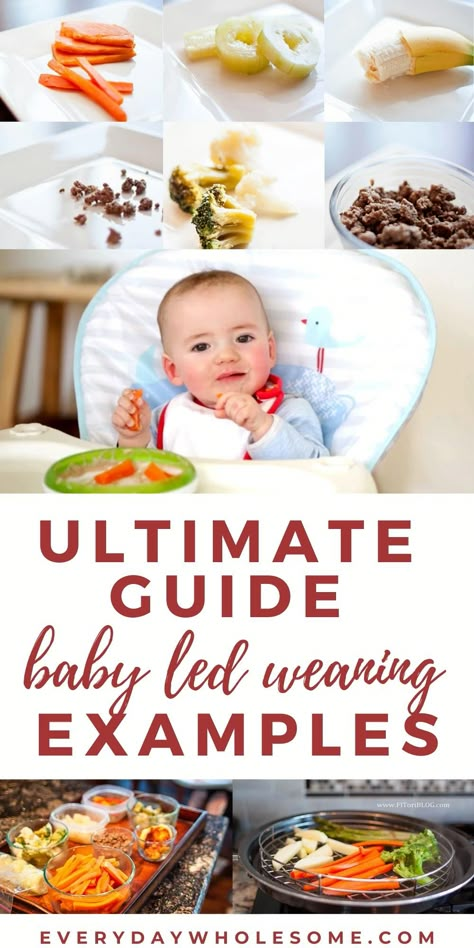 Nurturing Healthy Relationships with Food
Establishing a positive feeding relationship during infancy can have lifetime benefits. Keep in mind that children are responsible for how much and whether they eat so always wait for your baby to pay attention to each spoonful before you feed them. Don't be afraid to let your baby touch the food in the dish and on the spoon. You wouldn't want to eat something if you didn't know anything about it, would you? In addition, know the cues that your baby is done eating. A common cue babies are full is head turning.
Whatever happens, don't get discouraged and enjoy the experience. With a little patience and creativity, you can make your baby's first solid food eating experience fun for everyone involved!
When to Start Baby Food
Starting solids is an exciting and important milestone in baby's development—one that not only opens them up to a brand-new world of flavors and textures, but also puts them on the right path to growing healthy and strong.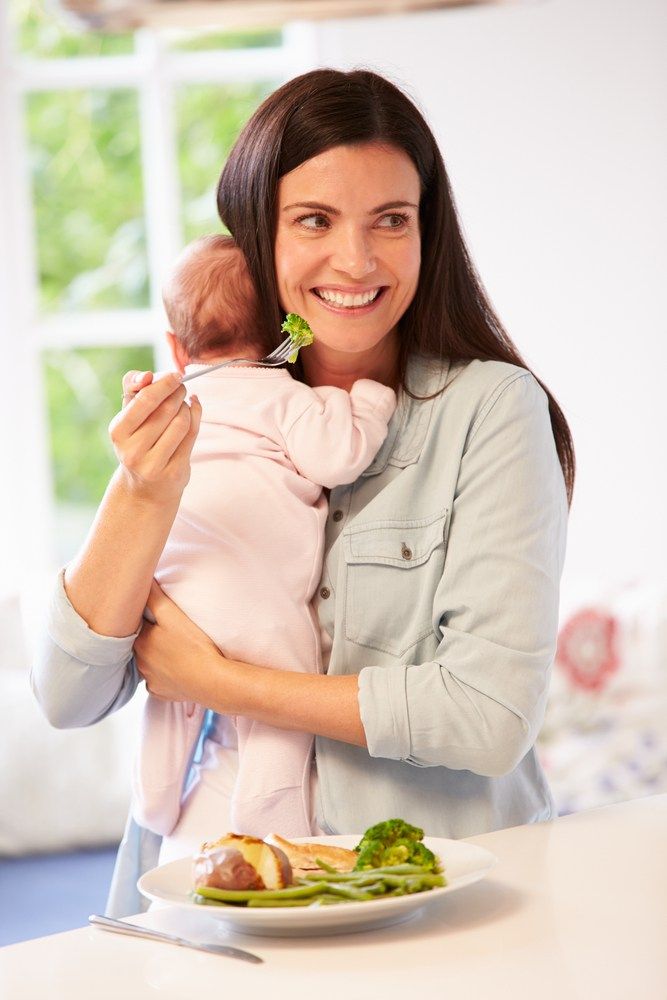 Here's what you need to know about how and when to start baby food for a smooth transition.
In this article:
When to start baby food
How to start baby on solids
Best first foods for baby
Introducing allergenic foods
When to Start Baby Food
Knowing when to start baby food is both crucial and tricky. Starting baby on solids too early means you might increase the risk of choking, obesity and bellyaches, but introducing solids too late means you might slow baby's growth and encourage an aversion to solid foods, among other conditions. Fortunately, doctors have zeroed in on a sweet spot for starting baby food, which is sometime between 4 and 6 months of age—though, ideally, baby should be receiving their nutrition exclusively from breast milk until the six-month mark, according to the American Academy of Pediatrics (AAP). How to tell if it's time for starting solids for your little one? Baby will give you clues, including:
• Baby can sit in a high chair comfortably on their own.
This is a major sign in terms of when to start baby food, says Lauren Kupersmith, MD, a pediatrician at Hassenfeld Children's Hospital at NYU Langone in New York City. It means baby can hold their head up and doesn't need to be propped up to stay in the upright position, which is important to avoid choking.
• Baby looks interested at mealtime. Babies likes to mimic what we do, so if your child likes to sit up like a big kid and watch you eat, then by all means let them try eating too.
• Baby can move food to the back of their throat to swallow. But if baby tends to push the food out of their mouth—not because they don't like it, but because they can't seem to get the food to where it needs to go—hold off on starting solids.
How to Start Baby on Solids
At 4 to 6 months, most of baby's nutrition will still come from breast milk or formula, so don't worry if baby doesn't like eating food right away. Introducing solids is a gradual process, and every baby learns in their own time.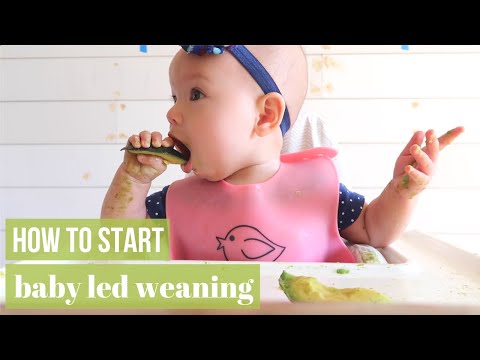 Here are some general guidelines for how to start baby on solids:
• Feed baby with a spoon. Letting your child go at it with their hands may seem tempting (and super-cute), but it's best that they learn the right way from the get-go. (And even then, be prepared to clean up more than a few messes!) Also, never put cereal (or any other food) in baby's bottle—it's a choking hazard.
• Start slowly. When introducing solids, a half spoonful will do at first—you may even want to talk baby through it ("Yummy!"). To make it easier for baby to get accustomed to the idea of swallowing solids, start mealtime with a little breast milk or formula, then offer some food (again, no more than a half teaspoon at a time) and finish off with more breast milk or formula. If baby cries or turns away when you present the spoon, try again some other time. Start off with introducing solids at one meal a day, then slowly work your way up. The morning is a good place to start, since baby is often hungriest at that time.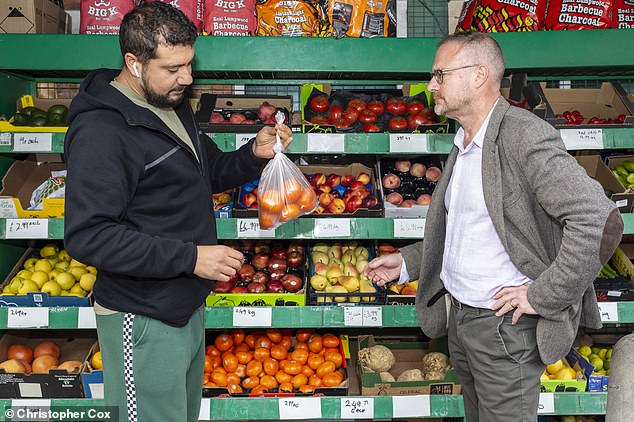 When starting solids, baby typically won't eat more than an ounce or two in one sitting.
• Try new foods more than once. Since babies' tastes will evolve, you may need to try a food 20 times before a baby actually likes it, says Kupersmith.
• Stick with the same food for three days before trying another one. This makes it easy to track whether baby is allergic to a particular food.
• Try foods in different forms. If baby doesn't like pureed food, try it mashed. After all, baby is learning about new textures as well as new tastes. It may be a case of trial and error until you find a winner.
Best First Foods for Baby
Got baby safely strapped into the high chair and bib? You're ready to finally start feeding baby solids! There aren't any official food rules for babies starting solids, and there's no scientific evidence suggesting you should introduce one type of food before another, assuming the foods aren't choking hazards.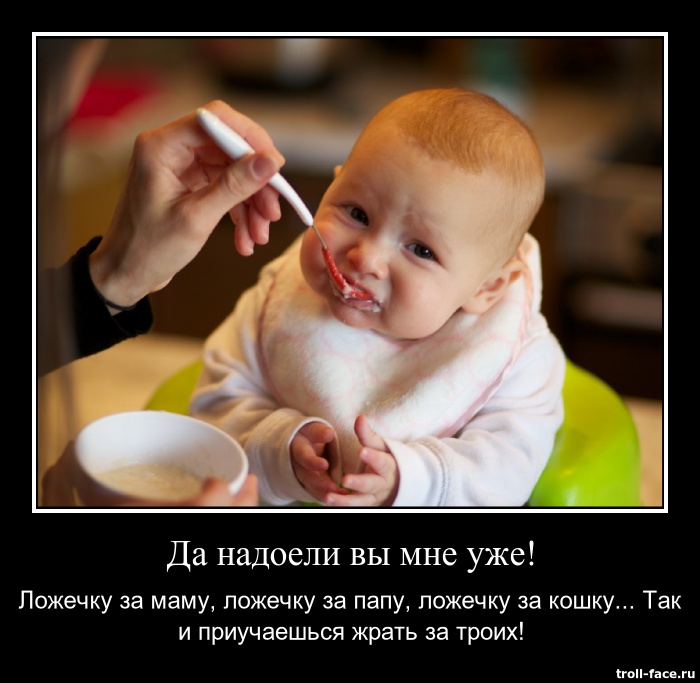 Nevertheless, baby cereal (such as oatmeal, rice and barley) is an "easy training food," says Kupersmith, which is why it's often recommended as baby's first food; you can always mix it with more milk to build up to a thicker consistency. Many doctors also recommend starting vegetables before fruits, but there's no evidence that this would make babies like vegetables more when they grow up—babies innately love sweets, and the order of introducing solids to baby doesn't change that.
So why not simply start introducing solids with something you think baby will like? Here are a few common first foods for baby that are healthy and easy to eat (and, in the case sweet potato and banana, also easy to digest). Whatever you decide to feed baby, mash it with a fork or puree before serving whenever introducing solids.
Baby cereal, such as oatmeal, rice, barley
Sweet potato
Banana
Avocado
Apples
Pears
Green beans
Butternut squash
If your child has been breastfeeding, check with your pediatrician about getting a jump on pureed chicken or beef when you're starting solids.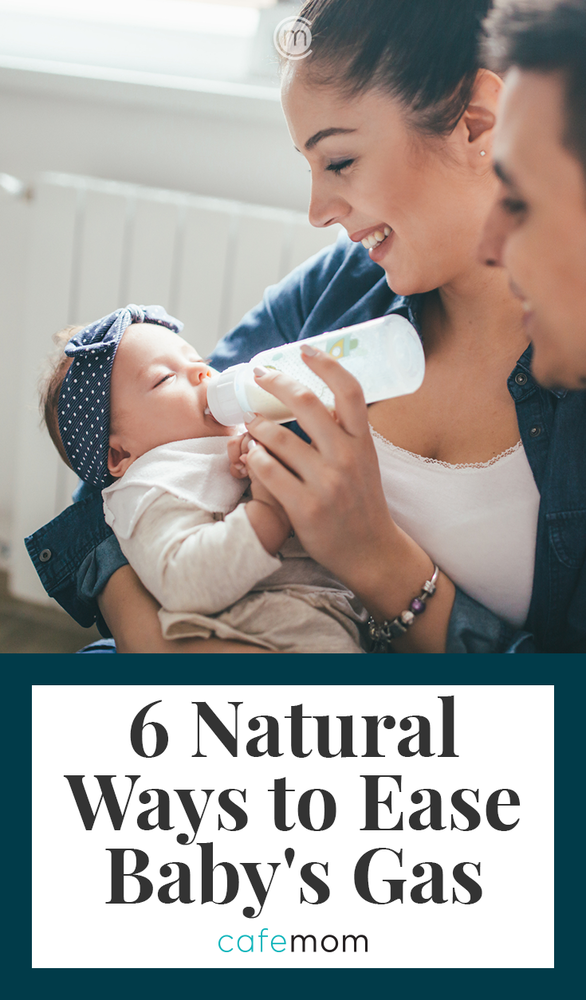 These foods contain easily absorbable forms of iron and zinc, which baby needs by 4 to 6 months, according to the AAP.
At around 9 months, baby should have already worked their way up to a variety of foods, including cereal, vegetables, fruits, meats, eggs and fish (see below regarding the last two). (Keep in mind, though, that baby will still get the majority of their nutrients from breast milk or formula until age one.) By now, baby will probably settle on three meals a day along with two snacks. Let them consume about 4 ounces of solids at each meal (equivalent to a small jar of strained baby food) and about half that amount for each snack.
Save honey and cow's milk for after baby's first birthday—there's a risk for infant botulism with honey (a type of bacterial poisoning), and baby's tummy isn't prepared to digest large amounts of cow's milk until they're about one year old. Avoid adult processed foods and foods that are choking hazards (such as sticky foods, like large gobs of peanut butter; hard foods that are difficult to gum, like raw vegetables, nuts, seeds and popcorn; and round, slippery foods that haven't been cut up, like grapes and cherry tomatoes).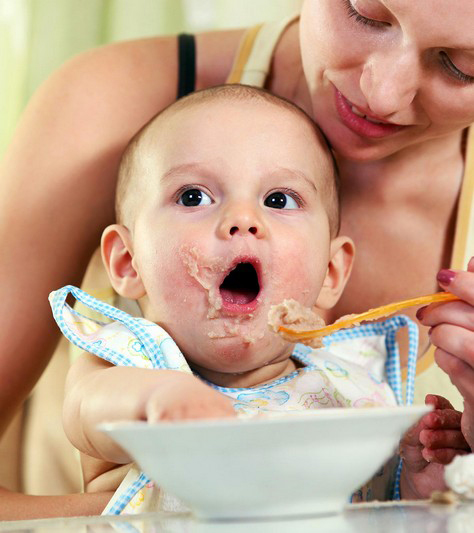 Instead, the first foods for baby, and those in the months that follow, should be soft and served mashed, pureed or (once baby seems ready to move up from the really mushy stuff) cut up into really little bits. "There's pretty much free reign at that point," Kupersmith says.
Introducing Solids Chart
Hesitant about improvising your first foods for baby? That's okay too. If you prefer an "introducing solids chart" to help you plan out baby's path, the guide below can come in handy.
Image: The Bump
Introducing Allergenic Foods
Much of the confusion around when to start baby food stems from questions concerning allergenic foods. These are foods that babies are most often allergic to. The major culprits include dairy, eggs, fish, peanuts and tree nuts. In the past, parents were advised to hold off on exposing baby to these foods, but now doctors recommend introducing them early, often and in age-appropriate format, which means starting off with purees and soft textures.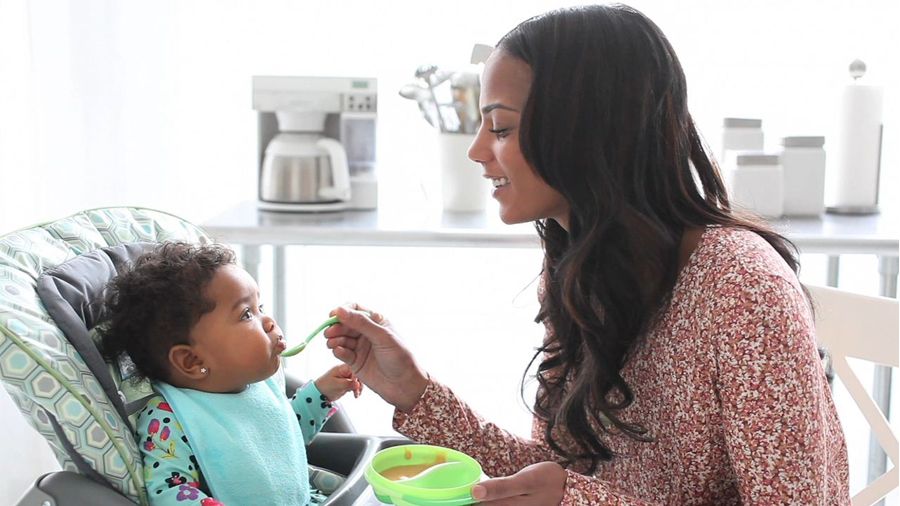 "Dairy is an easy starting point, given options such as yogurt and cheese," says David Stukus, MD, director of the Food Allergy Treatment Center at Nationwide Children's Hospital and a spokesperson for the American College of Allergy, Asthma, & Immunology. You can also try scrambled eggs in small amounts, although baby may not be too pleased with the texture at first.
As far as peanut products go, the National Institutes of Health issued new guidelines in 2017 that encourage parents of children at high risk for peanut allergies to incorporate them into baby's diet at 4 to 6 months of age. Giving these babies peanut products before the age of one actually decreases their risk of developing a peanut allergy before age 5 by 81 percent, compared to kids who are introduced to peanuts later in life. Parents of kids without the food allergy risk can start peanut products whenever they'd like, as long as the nuts are in an age-appropriate form: Peanut butter can be thinned out with water or mixed into a fruit or vegetable puree, and peanut powder can also be mixed into cereal and fruits.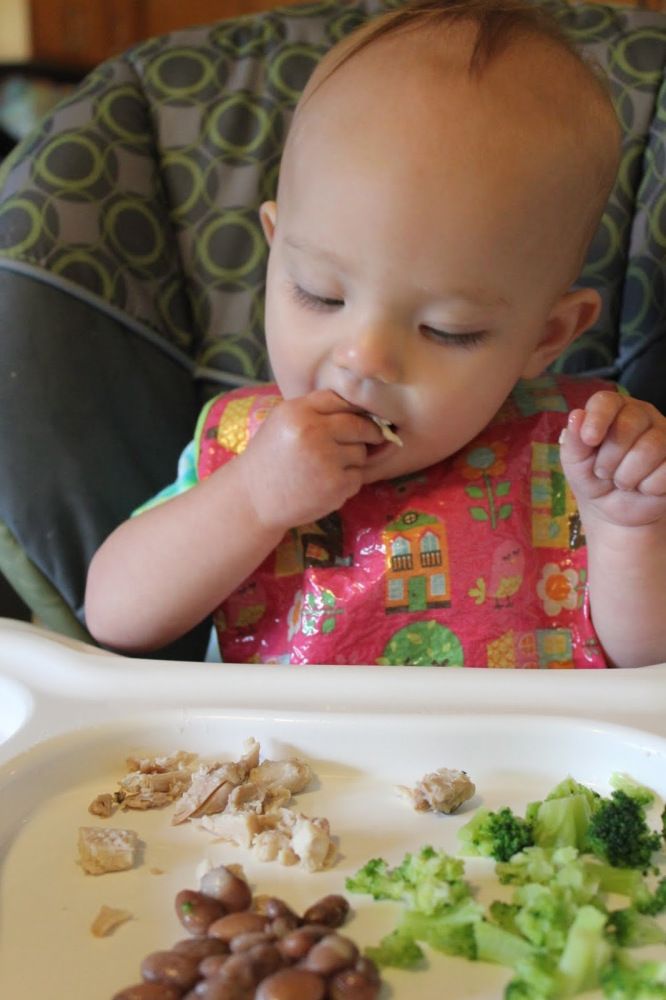 Don't give whole peanuts or pieces of peanuts, since they're a choking risk.
Allergic reactions to food are never just a fluke; they will happen with every exposure. Symptoms can range from mild (such as a rash or vomiting) to severe (such as trouble breathing). If baby has a food allergy, you'll notice a reaction within minutes or up to two hours after eating the problematic food, Stukus says. If the symptoms are severe, call 911 right away. Otherwise, talk to your pediatrician; she can help confirm whether it's an allergy or some other type of condition (such as a viral illness).
Expert bios:*
Lauren Kupersmith, MD, IBCLC, is a pediatrician and clinical instructor at Hassenfeld Children's Hospital at NYU Langone in New York City, as well as a certified lactation consultant. She earned her medical degree from New York Medical College in 2005.
David Stukus, MD, is the director of the Food Allergy Treatment Center at Nationwide Children's Hospital, an associate professor of pediatrics in the division of allergy and immunology and a spokesperson for the American College of Allergy, Asthma, & Immunology.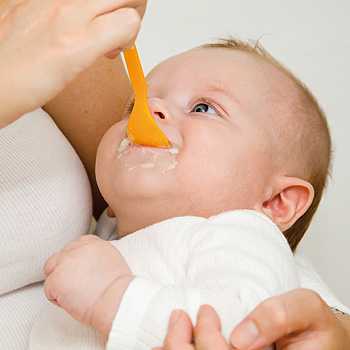 He earned his medical degree from University of Pittsburgh School of Medicine in 2002.
Updated January 2020
Please note: The Bump and the materials and information it contains are not intended to, and do not constitute, medical or other health advice or diagnosis and should not be used as such. You should always consult with a qualified physician or health professional about your specific circumstances.
The best product for the first complementary foods - Encyclopedia Baby food
Levchuk Victoria ©
Usually, at a pediatrician's appointment, mothers find out that it's time to introduce the first complementary foods. It is here that the doctor advises to start complementary foods with one or another product. How do they explain it!
In case of insufficient weight gain, a gluten-free dairy-free porridge from such cereals as rice, buckwheat, corn is introduced as the first complementary food. Usually the baby's first porridge is rice, as it is well absorbed and there is no allergy to it.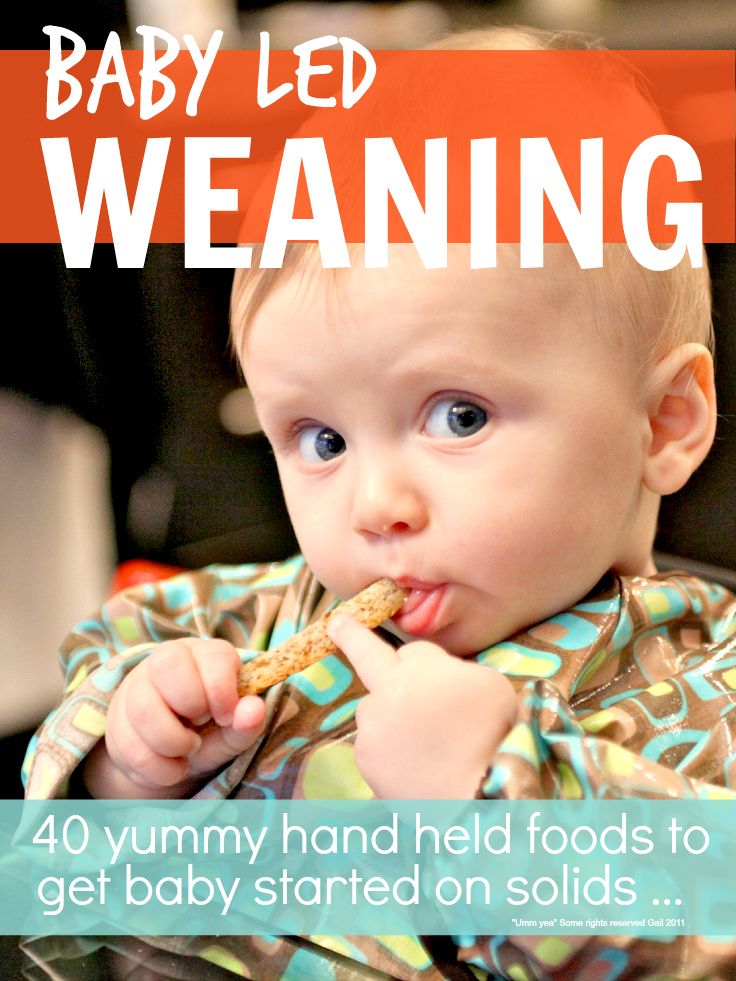 However, buckwheat porridge is also useful, as it contains amino acids. Usually porridge is diluted with familiar food, i.e. formula or mother's milk.
An allergic reaction to gluten is possible in a child, therefore cereals containing gluten are offered to a child after 8 months, and semolina in general after 3 years of age. Although our grandmothers and mothers introduced semolina from the age of 6 months, but now pediatricians recommend not to rush. Porridges are perfectly digested and less aggressively affect the baby's gastrointestinal tract. However, it must be remembered that cereals are strengthened, so if the baby suffers from constipation, then cereals in the form of the first complementary foods will not work.
1. The first food is vegetable puree. Vegetables in their composition do not contain fructose, which adversely affects the pancreas and stomach of the child, and the kidneys are less loaded. Moreover, vegetable purees are less allergic and perfectly normalize stools.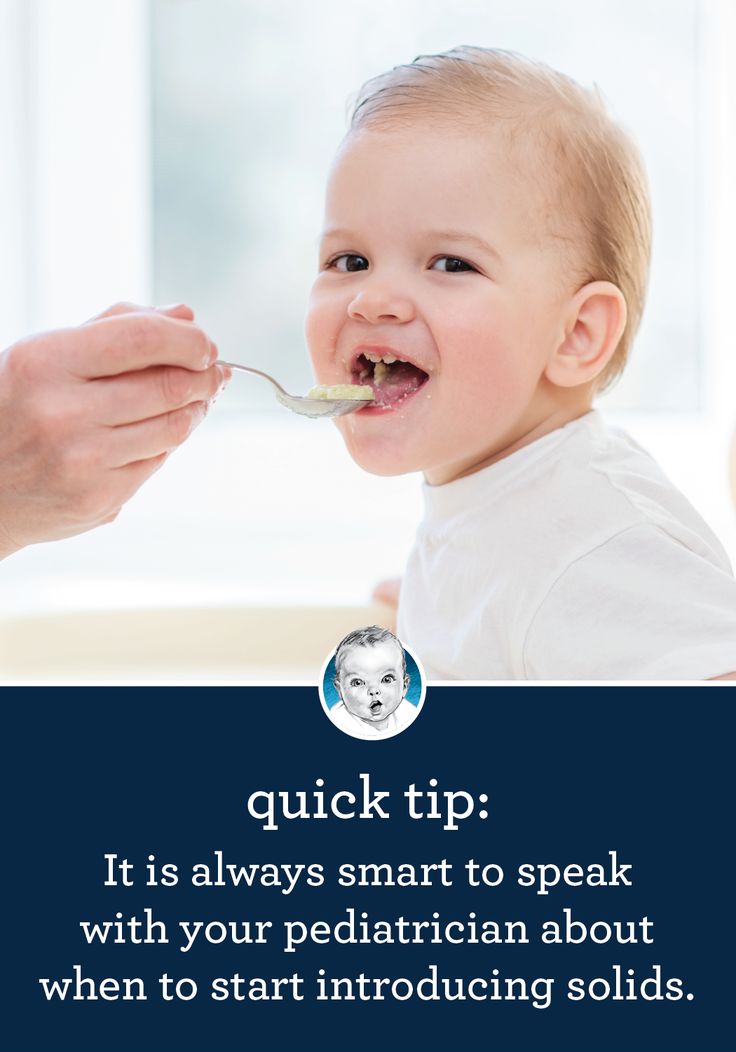 Therefore, with frequent or periodic constipation and overweight, pediatricians recommend choosing vegetable puree as the first complementary food. First, the child is offered vegetable purees with delicate fiber from one type of vegetable (for example, zucchini, broccoli, cauliflower, pumpkin) and only then other vegetables (carrots, potatoes, white cabbage, etc.) are introduced.
2. First food - fruit puree - green apple puree. Children will eat fruit puree with pleasure and get used to it faster. However, most pediatricians believe that it is better to offer vegetable purees first, and then fruit purees, since after sweet and tasty fruits, it is unlikely that a child will want to eat unsweetened squash or broccoli. The child receives all the necessary vitamins from milk formula or mother's milk, and much less from fruits.
3. The first food is baked apples and pears. If the child is prone to allergies, it is best to introduce baked fruit.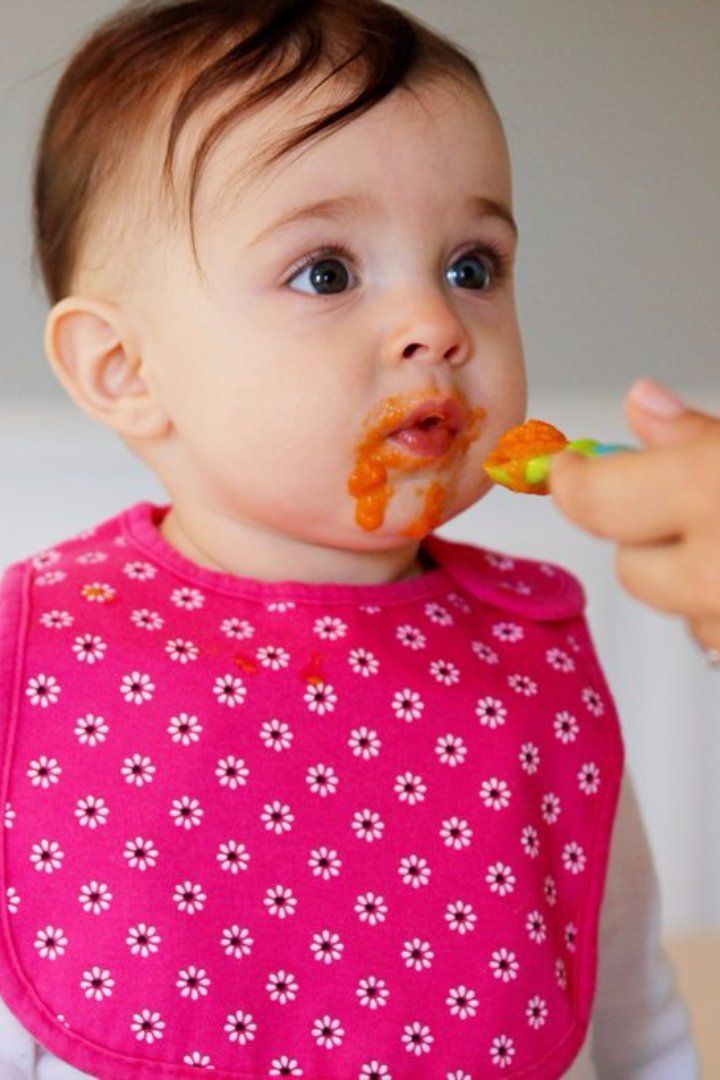 During heat treatment, the allergenic properties of the product are lost. If the child does not have a reaction to the baked fruit, it can be administered raw.
Fruits and vegetables that are white and green in color are introduced into the first complementary foods. Foods must also be hypoallergenic (low allergenic), such as zucchini and green apples.
1. Zucchini, courgette, cauliflower, broccoli.
2. After the introduction of the first solid food - vegetable puree, you can try to give the baby porridge, and later fruit puree. You can start by introducing several types of vegetable purees, for example, everything listed above in paragraph 1, and then enter several types of cereals, and then fruit. It may take about 5-6 weeks to introduce vegetables, but when introducing complementary foods, you should not rush, you need to monitor the reaction of the baby, let this period be a joy for both parents and the child.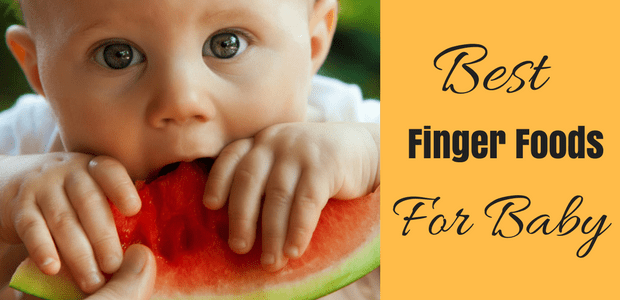 Remember that for him this is an important period in his life, for him everything is new, unusual and interesting, remember that you are laying the foundations for his future nutrition.
We are not afraid and add me to VK and Odnoklassniki, Instagram!
Like this article? Subscribe to site updates
"Encyclopedia Baby Food"!
Don't forget to bookmark us! (CTRL+SHIFT+D) Subscribe to the site, comment, share in social networks.
Our website Encyclopedia Baby Food has useful information on the nutrition of your children, which is useful for everyone, and we update the website "Encyclopedia Baby Food" constantly and try to search and write only excellent, verified and necessary information for you and your children.
Disclaimer No. 1: It must be understood that the author of the articles on the Baby Food Encyclopedia website is not a medical staff, "I am not a doctor.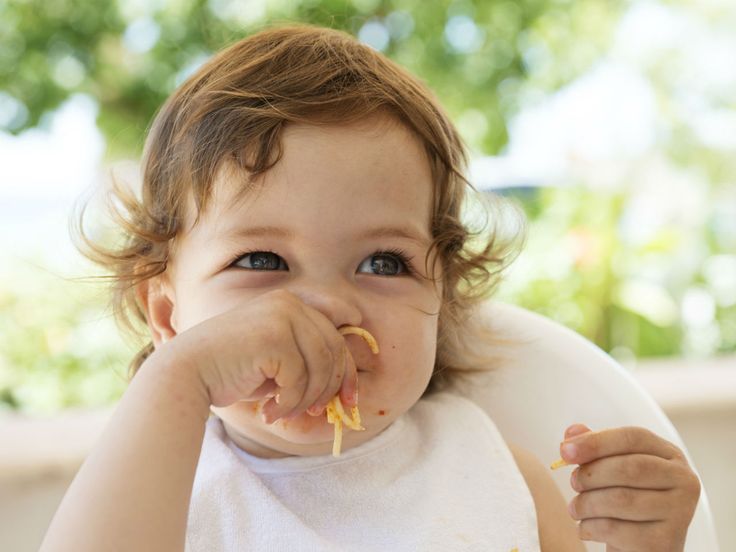 " The information I share is based on my own experience. My goal is not to teach you how to eat or feed your child, but to talk about how we did it, what new things I learned or read. This expands the picture of Baby Food knowledge, gives you a glimpse of the whole process so you can decide if you like it or not.
Disclaimer No. 2 : However, the above does not cancel visiting a pediatrician. Before you start complementary foods, you need to get his professional opinion on the best way to introduce new foods for your baby. I also draw your attention to the fact that you need to look at the original date of the published articles, because some of the "best practices" may have changed. Always check with your child's pediatrician about complementary foods and their health.
Disclaimer #3: Keep in mind that every family is unique, every situation is also completely unique. There are no universal solutions. Only you can find what works best for you.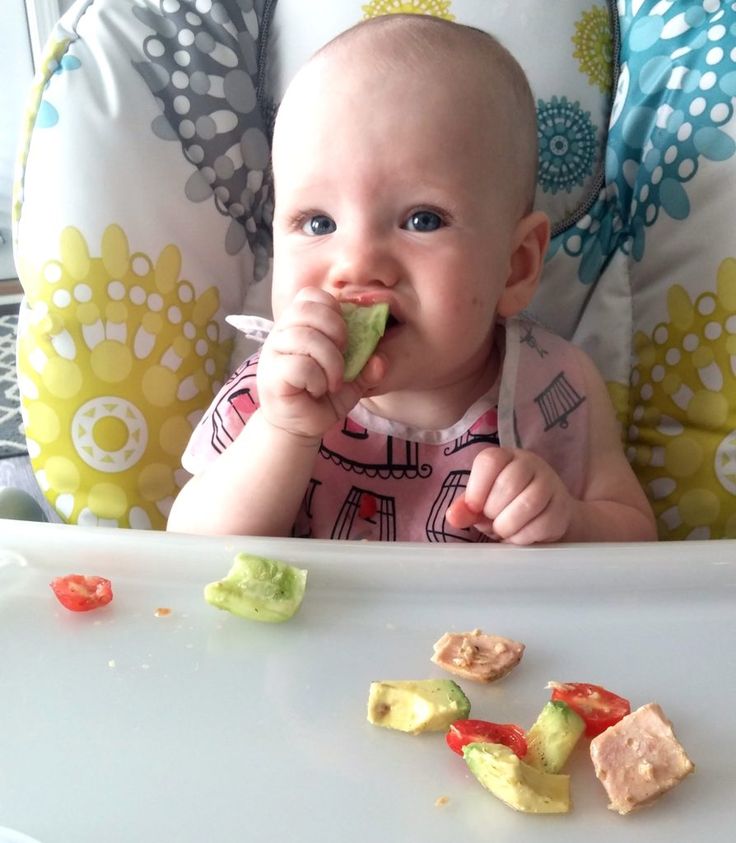 Certain goals require certain sacrifices and priorities - not everyone wants to make those choices, and that's GREAT! Just know what you want to achieve, and be ready to get to work, putting the best of your strength!
Disclaimer No. 4: On the Encyclopedia Baby Food website, photos from books on baby food are used with attribution, for a more complete understanding of the information (Article 1274, paragraph 1, part four of the Civil Code of the Russian Federation). Literature on baby food is found in the public domain on the Internet.
Apricot puree with chicken
Banan-global puree
Banana puree
borsch
Bousse broth with peas and rice
Botterbride with kolrabi
Rapid dessert
Spring salad Buckwheat porridge with apricots
Buckwheat porridge with banana
Buckwheat pilaf
Children's sausage
Children's milk porridge with banana
Children's vinaigrette
Children's ketchup
Children's cucumber salad
Children's salad Olivier
Children's porridge biscuits
Children's puree of strawberries, bananas, yellow cherries, yoghurt and biscuits with cereals
Children's puree with cottage cheese and fruits
Homemade yeast bread with flaxseed flour
Homemade cheese
Homemade pizza
7 Breakfast outside Kohlrabi appetizer
Roasted cauliflower
Roasted carrots
Roasted carrots and cherries with millet
Winter salad with Jerusalem artichoke
Cabbage with white beans
Cabbage salad like in a canteen
Mashed potatoes
Quinoa and pumpkin porridge
Quinoa porridge
Breakfast cereals
Quinoa and apple
Strawberry puree
Strawberry puree with banana
Strawberry compote
Wild apple and raspberry compote
Thermo-steamed fruit compote for children 8 months
Corn porridge
Corn porridge with pear
Corn porridge with pumpkin
Corn porridge with pumpkin and carrots
Corn porridge with apple and carrots
Chicken liver in the oven
Chicken cutlets with carrots
Chicken with carrots, sweet peppers and potatoes
Navy pasta
Pasta with orange sauce
Muffins with vegetables and eggs
Baby potatoes in their skins
Milk vermicelli soup
Carrot-potato casserole-carrot 9007
Carrots with chicken
Egg and tomato fly agarics
Meat envelopes
Homemade Tarragon drink for children
Cauliflower and carrot vegetable puree
Vegetable soup with corn semolina
Vegetable soup with cheese and corn semolina
Vegetable soup with spinach
Vegetable puree soup with bell pepper
Oatmeal porridge
Pollack fritters
Hot kefir fritters
Omelette in a bag
Omelet with broccoli and cauliflower cheese05
Omelette pancake
Peach puree
Baked apples 7 months +
Zucchini and carrot pie
Zucchini pie
Rice and zucchini pie
Fish pie
Fish and potato pie
Pizza with white cabbage
Pizza with lavash
Pizza with zucchini, tomatoes and sausage
Pizza with tomatoes and olives
Pizza with spinach
Pilaf with rabbit
Pilaf with chicken with green peas and corn
Puree with banana and cherry , cottage cheese and cereals 4 cereals
Broccoli (cauliflower) puree
Broccoli, courgette and cauliflower puree
Blueberry puree
Pear puree
Pear and banana puree
Pear and banana puree, baked
Pear and Pumpkin Puree 7 months +
Pear, Pumpkin and Peach Puree
Pear, Apple, Plum and Prune Puree
Blackberry Puree
Turkey Puree
Zucchini Puree
Zucchini and Broccoli Puree 900 carrot and potato puree
Quinoa and banana puree
Quinoa and carrot puree
Quinoa, banana and carrot puree
Quinoa, courgette and carrot puree
Quinoa, peach and raspberry puree
Quinoa, cauliflower, apple, pea puree and mint
Quinoa, apple, pear and raisin puree
Quinoa, apple, carrot puree
Rabbit, broccoli and cauliflower puree
Chicken, carrot, potato, apple and pea puree
Raspberry, cherry and banana puree
carrots
Carrot and apple puree
Carrot, potato, broccoli puree with cheese
Carrot, potato, apple and quinoa puree
Carrot, pumpkin, apple and prunes puree
Carrot, apple and potato puree
Turnip and carrots
Plum puree
Cottage cheese, strawberry and banana puree
Pumpkin puree
Pumpkin and banana puree
Pumpkin and squash puree
Pumpkin and apple puree
Pumpkin, apple and banana puree
Cauliflower and broccoli puree
Cauliflower puree and potatoes
Cauliflower and rice puree
Cauliflower and apple puree
Cauliflower, green peas and squash puree
Cauliflower, turkey and potato puree
Cauliflower, potato and squash puree
Cauliflower, carrot and broccoli puree
Cauliflower, carrot, cheese and rice puree
Cauliflower, apple and courgette puree
Zucchini puree
Zucchini and potato puree
Zucchini, carrot and apple puree 90 cherries
Blueberry puree
Prune puree
Apple, pumpkin, carrot and some curry puree
Apple and pear puree
Apple and strawberry puree
Apple, strawberry and cherry puree
Apple, peach and banana puree
Carrot and pumpkin puree
Cottage cheese and banana puree
Turkey, potato and carrot stew
Zucchini, carrot and broccoli stew
Fish, potato, carrot and broccoli stew
Rice porridge
Whole grain rice porridge
carrot
Rice porridge with pumpkin
Rice porridge with apples
Rice porridge with apple and pear
Rice porridge with apple and pumpkin
Fish cakes with vegetables
Semi-cooked fish
Fish meatballs with ketchup
Baby Fish Soup
Salmon and Celery Fish Soup
Carrot and Kohlrabi Salad
Chickpea Salad
Chickpea and Cabbage Salad
Laziest Soup
Creamy Kohlrabi Soup
Oatmeal Smoothie Pot 90 Sauce
Cheese Pizza
Pea and Bacon Soup
Baked Vegetable Soup
Kohlrabi Soup
Salmon Soup
Cauliflower Soup
Turnip Potato Soup
Meatball Soup for the Picky Eater
Kohlrabi soup with green apple
Rabbit, pumpkin, potato, broccoli and cauliflower soup
Beetroot soup
Pumpkin soup with mushrooms
Broccoli and celery soup
Soup/stew Pork with Potatoes and Carrots
Cheburek Chebureks
Pumpkin Cheese Sauce (Annabelle Carmel Recipe)
Buzz Lightyear Sandwich
Pumpkin Apple Puree
Pumpkin Apple Juice
Pumpkin Cake
Pumpkin Soup9 Puree
Fruit Salad
5 Bread lavash
Cauliflower with cheese
Linden tea and thyme
Experimental noodle soup with lentils
Apple puree
Apple juice
Detailed list of all foods for the first 90 days of introduction of complementary foods for a child.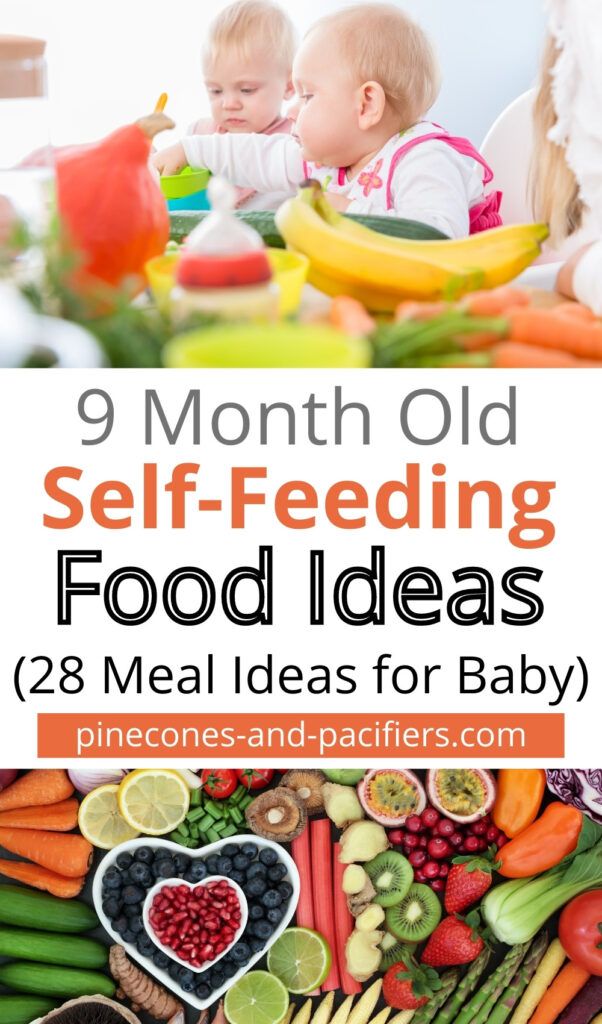 Download the table of complementary foods in PDF format:
Zucchini. Zucchini puree contains only 24 kcal per 100 grams of finished product. Proteins -0.6; fat - 0.3; carbohydrates - 4.6. Contains calcium, magnesium, vitamins A, C, B6 and iron. To save vitamins, we will prepare the first puree for a child for a couple. Zucchini cooks quickly, 10 minutes is enough. The first serving is 5 grams (a teaspoon), even less, at the tip of a spoon. We'll give you a taste of the new flavor. Take a small circle of zucchini (we choose the smallest, youngest baby zucchini, the puree will be sweet), wash well (you don't need to clean and remove the seeds from young zucchini), cook for 10 minutes for a couple and grind through a sieve. Let the child try. The feeding temperature should be around 40 degrees. DEFINITELY try the puree yourself before giving it to a child! Not bitter, not sour, are there any strange aftertastes that may indicate poor quality of the vegetable? We offer zucchini for 5-7 days according to the scheme: 5 grams - 10 grams - 20 - 40 - 60 - 60 - 60. The zucchini has passed the test! Let's put it aside for now and move on to the next product.
Cauliflower. Cauliflower puree contains 33 kcal per 100 grams of finished product. Proteins, fats and carbohydrates, respectively: 1.6 / 0.7 / 5.4. Contains calcium, magnesium, iron, vitamins C and B6. To save vitamins, we cook for a couple. We divide the cabbage into small inflorescences, cook for 15 minutes. Grind the first portion (5 grams) on a sieve, prepare large portions with an immersion blender with the addition of boiled baby water, so that the consistency is the same as that of the zucchini. Cabbage, unlike zucchini, contains less water, so it needs to be added. We give according to the scheme: 5-10-20-40-60-60-60. Recall that it is not necessary to give all 7 days, five days will be enough to test for allergens.
Broccoli. For 100 grams of finished puree 34 kcal. Proteins 2.8; Fats 0.4; Carbohydrates 6.6. Broccoli contains a lot of vitamin A, as well as calcium, magnesium, iron and vitamin C. We prepare mashed potatoes according to the same principle as cauliflower.
Buckwheat porridge. From vegetables to cereals. It's time to try the cereals. Previously, it was recommended that babies start complementary foods with cereals if they are not gaining weight well, or start complementary foods before six months. But it's all MYTH! Well, the baby will not start gaining better if instead of a portion of fatty milk he receives 60 grams of lean porridge cooked in water. Yes Yes! The first cereals are dairy-free, sugar-free and gluten-free! It is important! For the first test, it is still recommended to introduce special baby cereals, which are sold in stores. Why? Because cereals for children's cereals are not treated with rodenticides, unlike ordinary cereals on store shelves. Yes, and making flour from ordinary buckwheat and cooking 5 grams of such porridge will not be so easy as pouring half a teaspoon of prepared store-bought baby porridge with water, stir and give to the baby. Therefore, we suggest buying a pack of special children's dairy-free buckwheat for the first try and cook it according to the cooking method indicated on the package.
Rice porridge. Same as buckwheat: dairy-free, gluten-free, salt-free and sugar-free. We look at the energy value on the packaging.
Corn porridge. This porridge is the most high-calorie of the three, so it is still better to introduce it as the third one. The scheme is still the same as with vegetables: 5-10-20-40-60-60-60 (the last two days are optional). When the volume of any of the cereals reaches 40 and 60 grams, you can add a little already introduced vegetables to it (also up to 40 grams), so that the porridge is not too viscous and monotonous for the child ("in a dry bag", as we usually say).
Pumpkin. Puree and pumpkin will already contain 88 kcal per 100 grams of the finished product. Thus, we gradually raise the calorie content of products. Proteins / fats / carbohydrates - 1.7 / 6.2 / 6.3. We clean and cut it into cubes, steam the pumpkin, about 15 minutes. Puree is introduced as before 5-10-20-40-60-60-60. For portions of 40 and 60 grams, you can try to give it together with the already tested porridge and bring the total volume up to 100 grams.
Apple. It's time to taste fruit. Why weren't they introduced earlier? Because, from birth, a child has a love for sweets, and if you start complementary foods with fruits, then there is a high probability that you will eat vegetables yourself later. We start complementary foods from the most tasteless foods incrementally. The finished puree contains 85 kcal per 100 grams of the finished product. How to cook: wash, peel, cut apples and send to a double boiler or cook in boiling water for 10 minutes (a couple more vitamins will be preserved). Scheme 5-10-20-40-60-60-60. By the way, with regard to fruits, a dose of 60, maximum 80 grams for a child up to a year is quite sufficient. If we then increase the portions of vegetables and cereals, then we will leave the fruits. A large amount of sugar is not good for a child. Up to 40 grams we give applesauce as a separate dish, from 40 grams and more we mix with cereals. Now we will gradually increase the volume and replace breakfast with porridge with fruit, seasoned with a small amount of butter (at the rate of 2 grams of butter per 100 grams of porridge).
Rabbit. It's time to introduce meat! At this point, the baby should be about 8 months old. It is recommended to start with a rabbit, as this is the most dietary meat. How to cook: we twist the meat in a meat grinder, form small meatballs and weld them a little in boiling water. It's good if you have a kitchen scale at home and you can immediately prepare meatballs for the required 5-10-20-40 and 50 grams. We throw the boiled meatballs into a colander so that the glass is excess water and they cool, then we freeze. Our semi-finished product is ready! The first 5 and 10 grams are given separately. Boil or steam again and grind with a blender. Starting from 20 grams, grind together with the introduced vegetables. Now you can gradually increase the portions and replace lunch with vegetables and meat seasoned with a small amount of vegetable oil (at the rate of 1 teaspoon per 100 grams of vegetables). Meat, unlike all other products that are necessarily introduced in the first half of the day, is introduced at lunchtime.
Prunes. We prepare mashed potatoes in the same way as from apples, but first, prunes need to be washed, peeled and soaked for a couple of hours in water, then steamed and chopped with a blender. Portions are the same as for an apple: 5-10-20-40-60-60-60. Starting from 40 grams, mix with porridge.
Turkey. We choose a fillet and give it according to the principle of a rabbit.
Pear, banana, apricot, peach, plum. We introduce these fruits one by one according to the same principle as we introduced apple and prunes.