Feeding baby tigers in thailand
Sriracha Tiger Zoo - Thailand
I've been to the Sriracha Tiger Zoo on two occasions. I first made the trip back in 2013 and went again about a month ago. Both times were a lot of fun. Everyone who accompanied me on the adventures enjoyed the experience as well. It's just something you can't get in the West.
I'm going to tell you about the shows, the schedules, and the prices first. At the end of this article, I'll tell you exactly why you should visit the Sriracha Tiger Zoo and feed baby tigers. That will be the political and philosophical part so I'll save it for last.
The Sriracha Tiger Zoo is open from 8:00 a.m. to 6:00 p.m. daily. The admission fee for adults is 450 baht at the door or 420 baht if you book in advance on their website. A child's ticket costs 250 baht at the door or 220 baht online. Kids below 100 cm in height get in free.
Where is the Sriracha Tiger Zoo?
It's located about half way between Bangkok's Suvarnhabumi Airport and Pattaya, Thailand.
If you're staying in Pattaya, it will take you about an hour to get to Sriracha. A taxi will probably charge between 1,000 to 1,500 baht to take you there, wait around, and then return you to Pattaya.
A taxi is cheaper than paying the per-person shuttle service price on the Tiger Zoo's website. I recommend arranging your own transportion.
Sriracha Tiger Zoo Schedule of Shows
Crocodile Show
0930
1030
1300
1400
1500
1600
1700
Tiger Show
Elephant Show
Pig Racing
Every 30 minutes from 0900 to 1700
Feeding Baby Tigers
One of the coolest things is having your picture taken with a baby tiger. It's a brief experience so you don't get to really spend much time petting the little guy. The staff gives you a bottle of milk, puts the baby tiger in your lap, and then snaps a quick photo.
The whole thing is over within 30 seconds but it's still worth it. You'll have a great photo for Facebook and a newfound love for baby tigers.
This is not included in the price of your ticket. It costs extra to do this and includes a photo.
Photo with a Big Tiger
Many people are just too damn scared to get in the cage with a full-size tiger. It's funny to watch. Those that do take on the adventure seem to be at opposite ends of the spectrum. People in the first group are terrified, but they are determined to get the photo. People in the second group don't have a care in the world because they apparently don't recognize the danger. I've seen Middle Eastern and Indian tourists burst into the cage laughing and joking, plop down on top of the tiger, and pull on its ears. Dumbasses.
The tiger has a chain around its neck and is secured to the little stage. However, I would have to admit that if it got pissed, it could still take a bite out of you or swat you before anyone could intervene.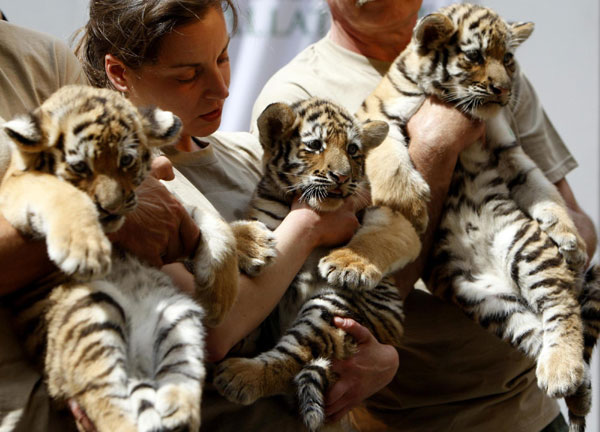 Is it safe? Yeah, for the most part I would say it is. I don't think anyone can give you a solid guarantee, though. There are usually two handlers in the cage with you plus the guy taking the photo. As long as you do as directed and don't act stupid, you'll be just fine.
The cost of taking a photo with the big tiger is not included in the ticket price. You have to pay extra. It comes with a nice photo in a souvenir-type paper frame. Don't bother asking for the digital file to be emailed to you. They won't do it. They will take a couple of pics with your iPhone. Since they do this all day, they're pretty good at cell phone photography. There's no need to explain to the staff about how an iPhone works. They know.
This is one of those things you have to do while you're in Thailand. As I've talked about in previous articles, being up close and personal to these animals will cause you to become involved in their struggle for survival. Watching them from afar at a zoo in the U.S.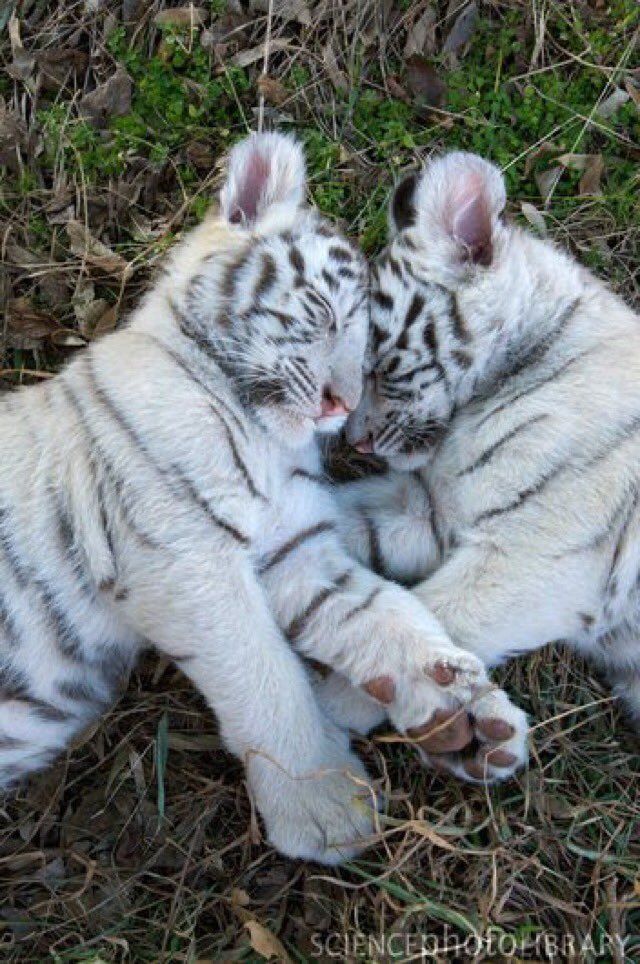 just isn't the same.
More Activities at the Sriracha Tiger Zoo
You can feed crocodiles. They give you a bamboo fishing pole of sorts with a string tied to a raw chicken. Dangle it above their heads in the water until one takes the bait. It's pretty amazing to see how fast crocodiles are when they decide to strike.
Feed the CrocodilesBottle Feed the FishYeah, that's a real crocodile.
There is a girl with about thirty, real scorpions crawling on her dress. If you decide to take a photo with this chick, be aware that she will try to put one of the scorpions on you when you're not looking. I wasn't the least bit cool with that. Sure, it's a unique photo, but I recommend you make it clear to the girl that she needs to keep the scorpions on her own damn body.
Sriracha Tiger Zoo Contact Information
Here is the contact info taken from their website:
Sriracha Tiger Zoo Co., Ltd.
341 Moo 3, Nongkham, Sriracha, Chonburi 20110, Thailand.
Tel : (038) 296556-8, 339111, 338884, 081-7509104, 084-9453722
Fax : (038) 296559, 338517
E-mail : [email protected].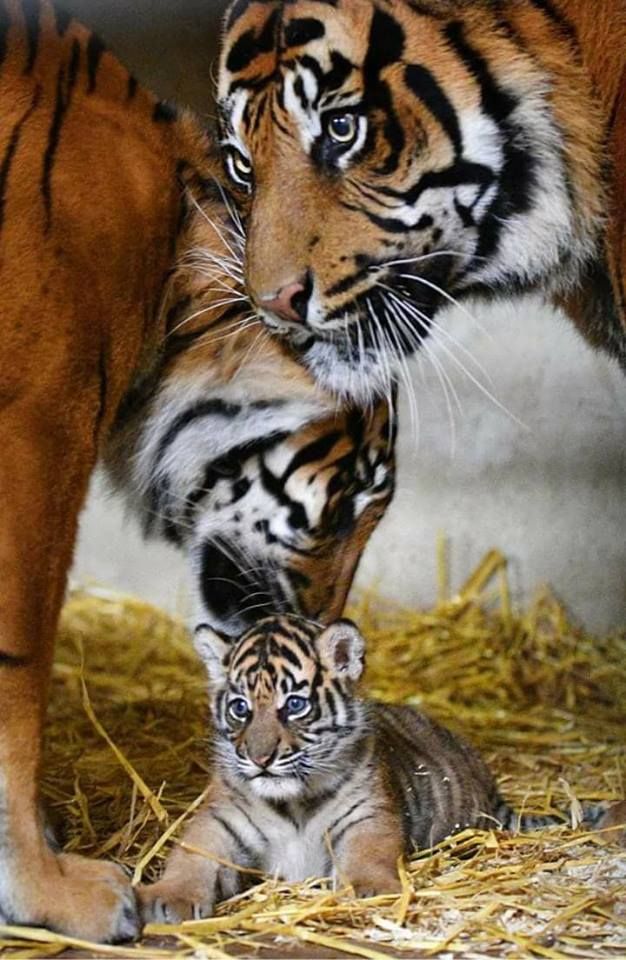 com
Website : www.tigerzoo.com
Restaurant
Tel : (038) 296562-3, 081-3771470, 081-9963585
Fax : (038) 296561
Bangkok Office
Tel : (02) 9330566, 9330977, 086-3028848
Fax : (02) 9330311
E-mail : [email protected]
Why You Should Visit Sriracha Tiger Zoo
If you've read my article entitled Ride Elephants in Thailand. You Are Protecting Them., you already have an understanding of my position on "ethics" from animal rights activists. If not, read it and ponder the philosophy. The same philosophy on elephants applies to tigers as well.
There are only a few thousand tigers left in the wild–in the entire world. According to researchers, there were around 100,000 tigers in the wild at the turn of the century and now they number approximately 3,000. At this rate, tigers in the wild will no longer exist within a decade.
Places like Sriracha Tiger Zoo in Thailand and zoos in the West will be where the last of the tigers reside.
In the West, no one makes a special trip to the zoo just to view tigers from afar while they lounge around their concrete jungle. Nobody really cares. But, when you feed a baby tiger a bottle of milk in your lap or sit next to a full-grown tiger and touch its fur, you become attached. You're suddenly involved. You won't forget the experience and may begin to further educate yourself about tigers.
No trip to the zoo in America has ever resulted in me giving two shits about any of the animals. You make the rounds with the kids, eat an over-priced hotdog on stale bread, and suffer amidst the stench wafting through the air. The highlight is the petting zoo where you get to interact with the Pygmy goats. That's the only part anyone remembers. It's not exactly a pleasant experience for adults. Since I've moved to Thailand, I think about elephants and tigers every day. Why? Because I'm up close and personal with them frequently.
Is it "cruelty to animals" to make tigers do a few tricks for the tourists? No, it is not.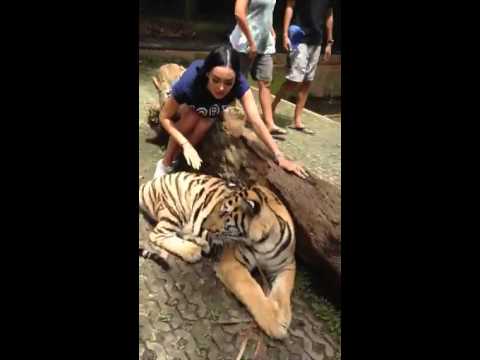 Those tourism dollars protect the tigers, buy them food, and provide veterinary care. It's a small price to pay for ensured survival of the species.
Do animal rights activists really want to release all the tigers back into the wild? They'll be gone because of poaching. I will concede that if PETA can write a check big enough to take care of all the tigers involved in the tourism industry, then there's no need for the tigers to be jumping through hoops of fire. Until then, PETA's arguments are a waste of time and breath. All of the travel writers and their negative articles just make me laugh as well. Don't let others decide what's "ethical" for you from their laptops at a Starbucks in Washington D.C.
My Advice for Tourists?
Come to Thailand. Feed a baby tiger. Have your picture taken with a full-grown tiger. Ride elephants. Feed baby elephants bananas. It's ok to do so. You're helping secure their existence.
Tiger Kingdom in Chiang Mai: Visitor TIps & Guide
Tiger Kingdom In Chiang Mai:

Chiang Mai's Tiger Kingdom is a once-in-a-lifetime chance to interact with adolescent tigers and baby cubs.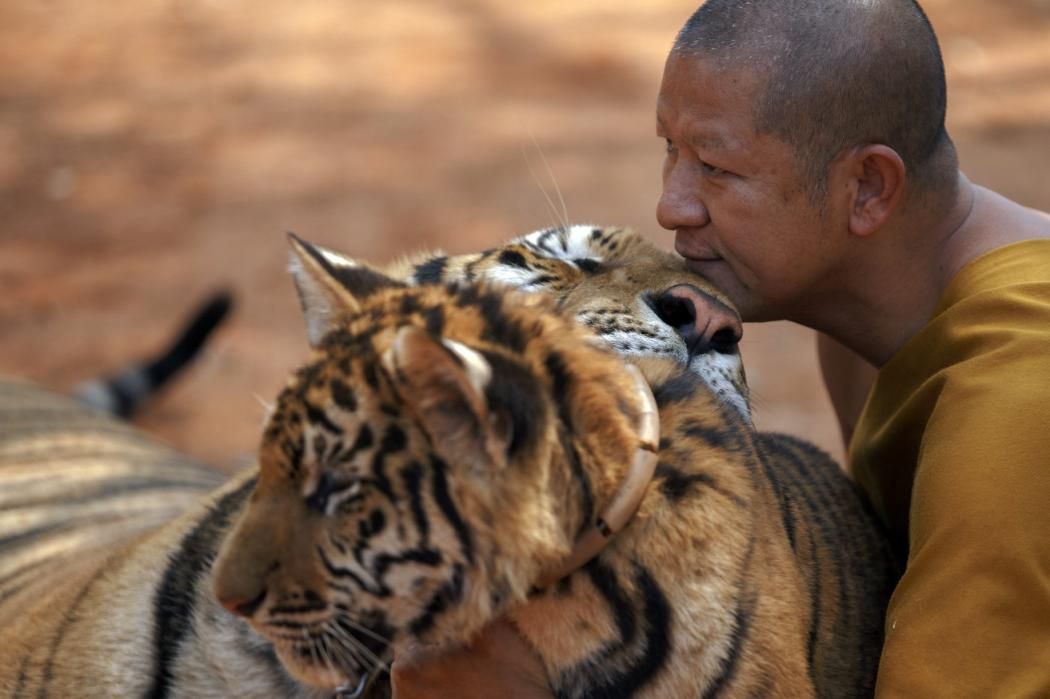 You can do every thing from bottle-feeding the baby tigers to bravely posing with and petting the big guys.  A couple hours here will stick with you forever, and knowing that the tigers at Chiang Mai's Tiger Kingdom are treated with great care will help to give you peace of mind.  The tigers are not sedated like at other tiger places in Thailand and the facilities are extremely clean.  The Tiger Kingdom assigns professional staff with each group of visitors to ensure everything goes smoothly and comfortably.  Did we mention you can also hire your own on-site photographer so you can focus on the fun instead of your camera?  If playing with tigers is on your bucket list, Tiger Kingdom is the best place we've found to do it.
[easy-social-share counters=1 total_counter_pos="leftbig" buttons="facebook,twitter,pinterest,print,mail,love" counters=0 morebutton="2″ hide_names="yes" template="metro-retina" fullwidth="yes" hide_mobile="yes"]
General Visiting Information:
Location: 10 km North of Chiang Mai.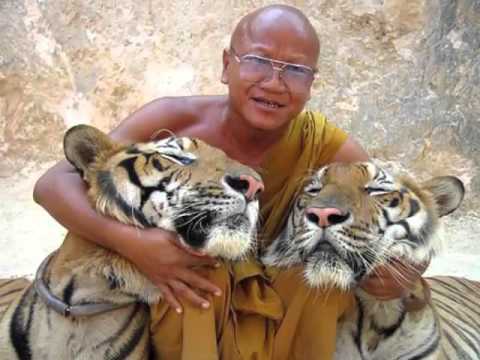 Just past Mae Rim where Hwy 107 meets County Road 1096 (every driver knows where it is, but we detail it below).  They also have a second location in Phuket near Patong Beach which is just as good.  We added it on this map as Stop #18 just North of Chiang Mai.
Hours: Daily 9am-6pm.  You should assume that it will take between 2 1/2-4 hours for a visit.
Cost: Smallest (2-3 Months) 700 Baht; Small (4-8 Months) 500 Baht; Medium (9-12 Months) 500 Baht; Big Cat (13-30 Months) 600 Baht.  Some people complain about the cost, but we felt it was appropriate and there are discounts for visiting multiple areas.  A full-time worker that specializes in each age group will be with you the entire time to ensure safety.  Accident insurance is included in the price just in case, and discounts are available when viewing multiple enclosures.
Photographer: You can always bring your own camera or hire their photographer for 299 Baht per cage which includes a CD of 50-100 photos when you leave.
  We really like hiring their photographer, as it lets you focus on just having fun and enjoying it – plus they already know all the good angles.

Common Visitor Questions:
How do you get to Tiger Kingdom?: There is no need to book a tour since getting there is very easy and any cab driver in Chiang Mai will know what Tiger Kingdom is. Expect to pay 500-700 Baht for a round trip taxi for 4 people which includes the taxi waiting for you the entire time you are there. You'll pay the taxi at the end.
How long do you get to spend with the Tigers?: You get to spend about 15 minutes per age group, but they usually stretch this to 15-20 if you have a group or get their photographer.  A typical trip including round trip taxi and time in 3 enclosures will take about 2-3 hours.
Are the Tigers Sedated or Drugged?: No, the Tigers here are not sedated which is a huge problem at other tiger places, especially the Tiger Temple near Bangkok.  The tigers here are very active, which is the most obvious sign they are not sedated.
  The second, less obvious sign is that 30 months old is the oldest tiger you'll be able to interact with.  Adult tigers are often too dangerous and unpredictable for even professional handlers and it would be unethical to let you in. Chances are, any place letting you get close to tigers aged 30 months or older are either drugging or sedating them.
Is Tiger Kingdom Safe?: No one has died…. yet.  We found our experience to be extremely safe and the staff not only treats the Tigers well, but doe a great drop making both you and Tigers feel comfortable.  The oldest Tigers you can visit are only 30 months old which helps to make it safer and they play with the bigger ones enough to keep them from being too wound up
The Tigers aren't sedated so you do have to use common sense by avoiding fast movements or getting by their heads.  Petting them firm helps too so they don't think you are a fly.  The safety training and constant re-enforcement was welcomed and better than we expected.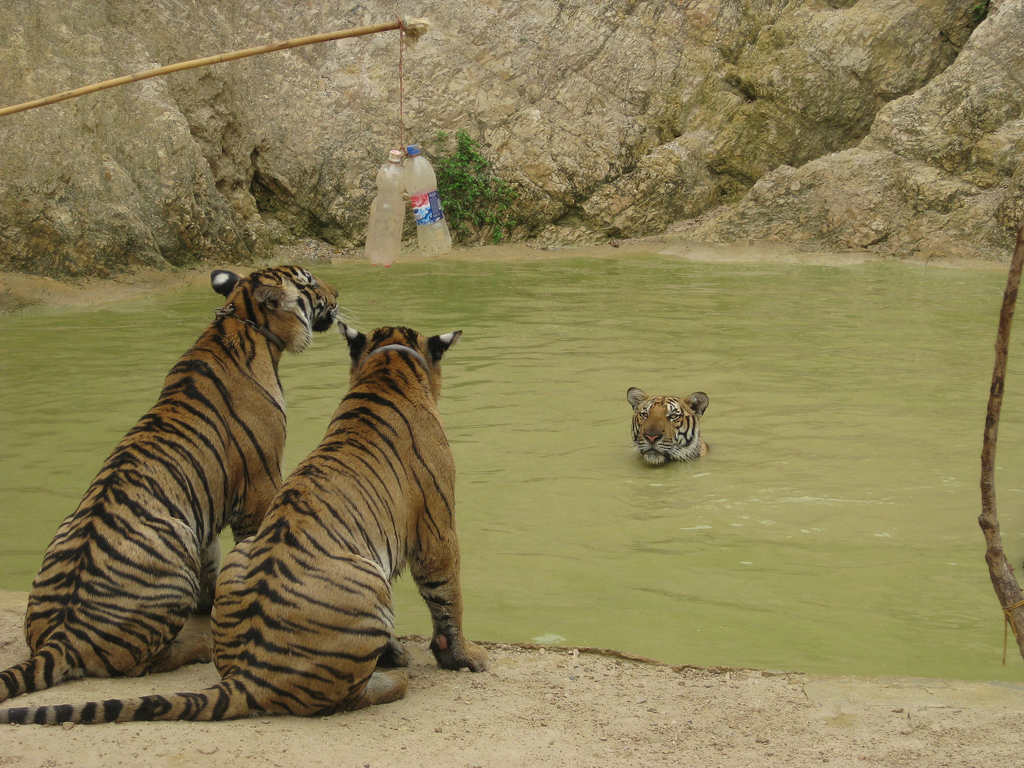 Our Recent Visit To The Tiger Kingdom:
Our group of four arrived in Chiang Mai around noon, checked into our hotel and headed straight to the Tiger Kingdom!   Flagging down a taxi was very quick and he knew right where the Tiger Kingdom was, but we were shocked when he told us it would cost 600 Baht to go just 10 km which was almost more than double what we expected.  Why so much?  He quickly let us know that it included round-trip transport and that he would wait for us however long we wanted to stay.  It seemed a little weird, but he said we can pay him at the end, so we got in.  In only about 20 minutes we got to Tiger Kingdom as Chiang Mai traffic is not too busy.  Along the way he pointed out other places he would take us and wait for us afterward such as the Snake Farm for 200 Baht or Doi Suthep Temple (more info) for 400 Baht.
Deciding which ages of tigers we wanted to see was a harder task than we thought.  After some debate, our group settled on a 3-Cage package which included Smallest (2-3 Months), Medium (9-12 Months), & Big Cats (13-30 Months) which worked out to under 1,400 Baht a person.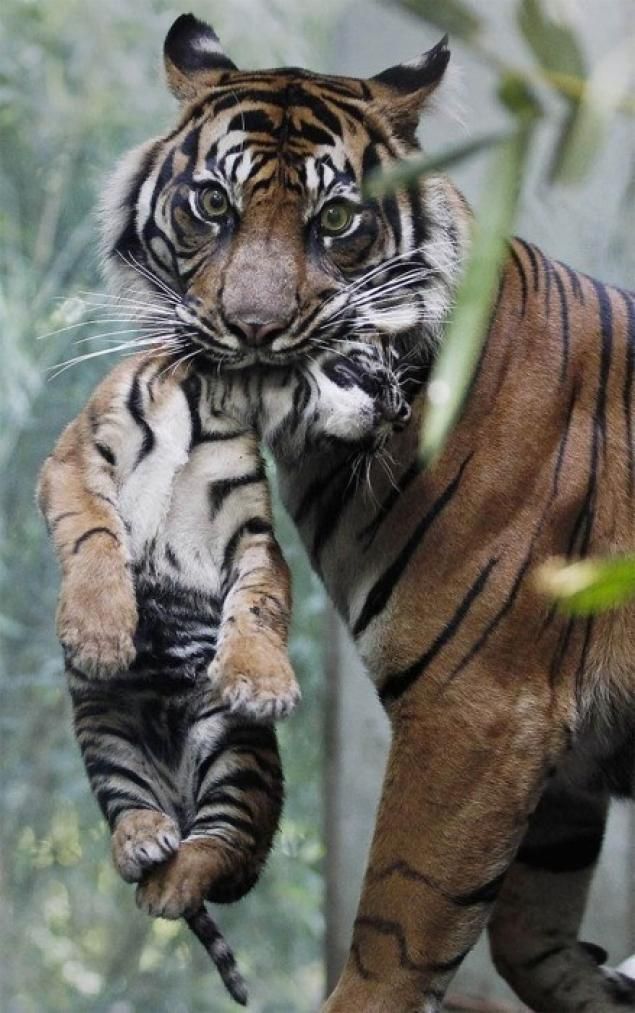 We also decided to hire their photographer for the Smallest and Big Cat enclosures at 299 Baht per cage, although we also had our own professional camera with us.  Our rationale was that they know the tigers better, we may only get to do it once in our lifetime, it let us focus more on having fun, and with our group of 4 it was only $2.50 American dollars to get the photographer for each cage.
After getting our package purchased, there was a couple minutes of down time until our group was called, but then we were off to see the Smallest Tigers (2-3 Months)!  For the health of the young tigers, we had to wash our hands and switch from our shoes/sandals to their flip flops before entering, a step not needed for the older cats.  The anticipation mounted as we moved to join the 2-3 other groups already in the large enclosure.  Inside were about a dozen young cubs, and it was remarkably clean.
As the worker assigned to our group walked us to our first set of cubs I got worried as one of them looked like we was sick or drugged.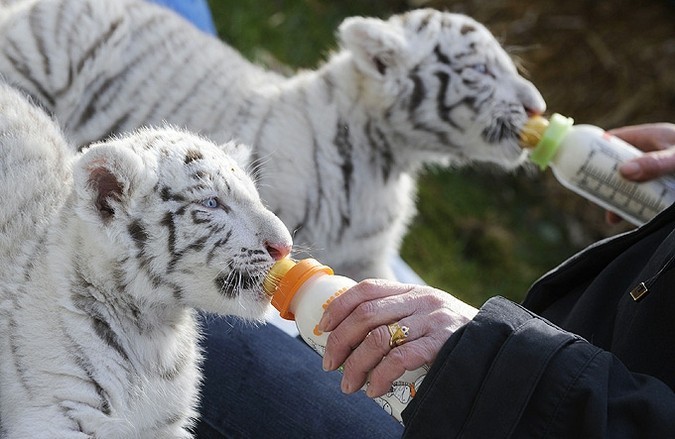 Another worker quickly checked on him and he was totally fine, playful, and he had just been sleeping.  All of the cubs were very lively and loving, which was a relief as it was a big concern of mine going into the visit (most other tiger places in Asia, most notably the Tiger Temple near Bangkok, constantly drug their tigers to keep them calm, which is horrible).  Playing with the cubs was awesome and they were very vocal, would pounce each other, and seemed to go from sleepy to play-mode within a second.  The biggest highlight was when we asked our worker if we could bottle-feed a tiger, and he mixed up some formula right away.
Next up we choose the Big Cats (13-30 Months) cage which was a little intimidating as they were absolutely huge for only being 13-30 months old adolescents. While entering, our worker took us through a double gate to ensure the Big Cats don't get out and he went through safety instructions.  All four Big Cats were just lounging around and we dove right in petting them and taking pictures.
  It was fun using their tails as makeshift mustaches although we operated very cautiously so we didn't get our heads bit off.  The worker and photographer made both us and the large cats feel at ease, and reminded us if we got too close to a tiger's head or front paws.  It was surprising when they encouraged us to firmly pet the tigers as petting too light may feel either like tickles or flies to the Big Cats.  To help keep the larger tigers in a good mood, the workers would toss toys into the pool from time to time which the tigers would spring up for and chase.  If you ever needed proof that the Tiger Kingdom doesn't sedate their tigers you just have to watch how fast they spring up and run for their toys.  The Big Cats loved swimming in the pool and climbing the trees inside the enclosure.  We always felt 100% safe and comfortable during our time with the Big Cats and I'm glad their size didn't scare us away.
The last of the 3 enclosures we checked out was the Medium Cats (9-12 Months).
Just like the Big Cats, they were bigger than we expected for their age.  They were the size of huge full-grown dogs.  The coolest thing about the Medium Cats is that all they wanted to do was play, play, play.  They are too big to directly play with, but the trainer had a long pole with a palm tassel on the end, which he used to play with them just like you would have a string on a stick with a house cat.  The Medium Cats seemed to love running up the trees and diving into the tiger pool!  Because the medium sized cats were more rambunctious and running all over the place, it created a great contrast with the other ages we spent time with and really made it worth it.
Looking back on it we always felt safe, always felt that the tigers were treated great, and the workers really seemed like they loved what they do.  Our visit to the Tiger Kingdom will stick with us forever and we hope you get a chance to make it there as well.  Just after spending a day at the Patara Elephant Camp (more info), the Tiger Kingdom is our second biggest must-see Chiang Mai attraction.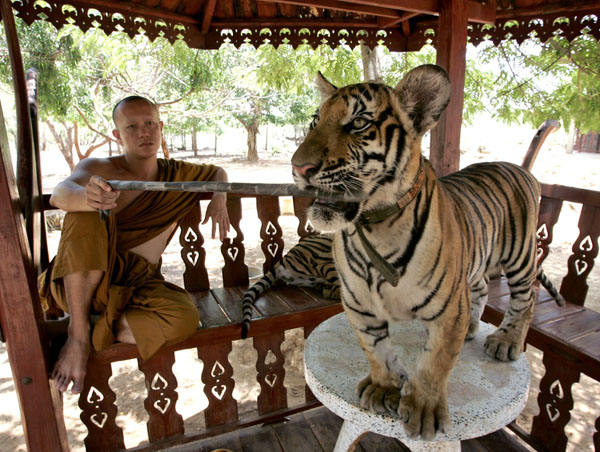 Tiger Kingdom is close to the city, only takes a couple hours, and is a once-in-a-lifetime experience, so you have no excuse to not visit the Tiger Kingdom while in Chiang Mai.  Maybe you'll get lucky on your trip and they will even have a new little lion cubs to visit in addition to all the wonderful Tigers.  Have fun and bring your camera!

Other Sights Near Tiger Kingdom:
The coolest thing to add on to a trip to Tiger Kingdom is the Baan Tong Luang Village which features a 5 Hill Tribe exhibition village.  The exhibition village isn't as authentic as the more rural stand alone villages, but it will give you a great opportunity to learn about the different Tribes.  Three of our favorite Tribes to visit here are the Hmong (Meo), Big Earring (Akha) and the Long Necks (Karen).  You'll be able to take photos with the women and we encourage you to buy unique souvenirs from them.  There is also a snake farm nearby, but it is a little cheesy.
  These sights are all just a little further down Hwy 1096 just West of Tiger Kingdom.
Tiger Temple in Thailand. Kanchanaburi Province – So Comfortable! traveltu.ru
We travel a lot, but we never had such feelings from any trip! The opportunity to cuddle a tiger cub, chat with a smart, naughty teenage tiger, play "bow" with adult animals and watch how these gentle trusting "cats" that have already grown to adulthood communicate with each other, be "one on one" with the most powerful representative of the living nature is an experience that cannot be obtained anywhere except the Temple of the Tigers.
Contents of the article
1 Tiger Temple is our sword
2 Location and how to get to the Tiger Temple
3 Who can visit the Tiger Temple
4 Tourist programs
Detailed description of our program
Tiger temple - this is the name of the monastery in Thailand, in the province of Kanchanaburi, where a group of monks settled, taking on the mission of raising tigers.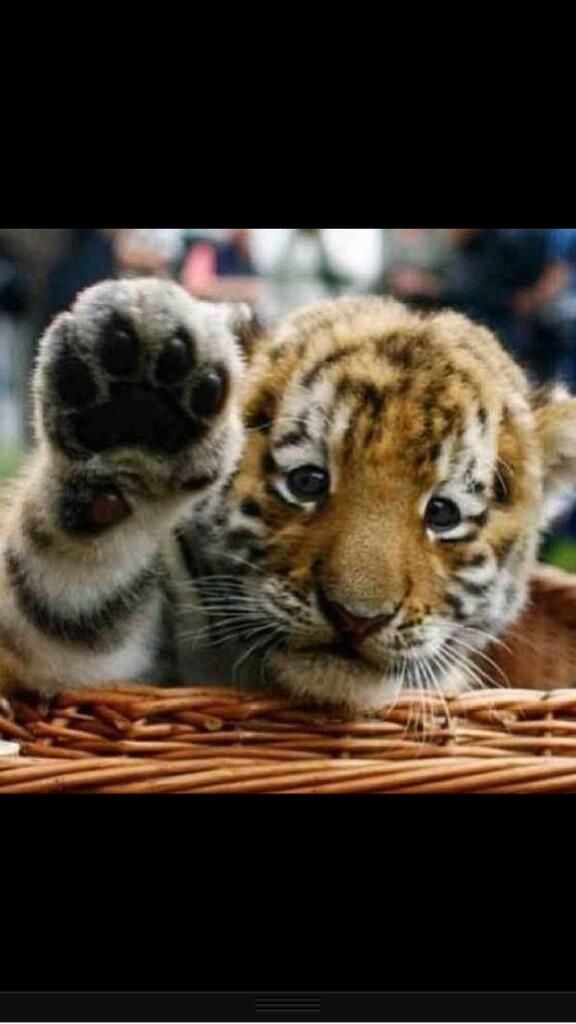 It all started with orphaned tiger cubs whose parents were killed by poachers...
Temple of the Tigers - our sword
1 year 7 months and 14 days have passed since I, flipping through the pages of cozy hotbooks in the feed of friends from the travel community, came across a photo of a friend walking through the park "embracing" with a tiger , until the moment when Galka and I picked up bottles of milk and, having put on our knees a thick-legged tabby kitten with white spots on the ears, we began morning feeding from the nipple.
There are many amazing places to visit. But there are those that change you immediately and forever. Sometimes it is an ancient castle or a modern architectural structure. Sometimes it is the country itself and its people, sometimes it is a holiday or an event. The Tiger Temple is a place, people, an event and an incredible celebration.
In Russian, this place is called differently: the Temple of the Tigers, the Tiger Temple, and even the Tiger Temple.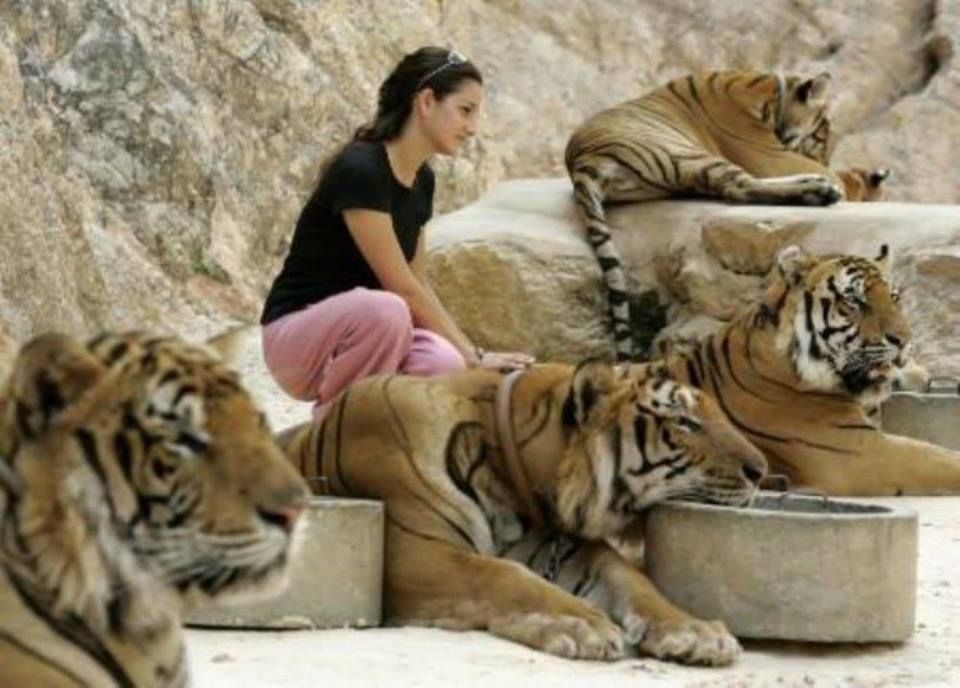 The last name evokes associations with tiger shrimps and Galka and I do not like it at all, because. does not convey feelings. The tiger temple... looks like a toy with stripes. The Temple of the Tigers resembles a forgotten ancient temple, where on the walls there are images of these animals and one gets the impression that ancient people served and performed rituals, anointing formidable predators. We like the Tiger Temple. Here and about tigers and about people. So we will call this amazing place.
1 year 7 months and 14 days - the time it took me to fulfill my Dream. As we collected information and prepared for the trip to Thailand, our feelings changed: from slight excitement and fear - "what if the tiger attacks us", to an itchy desire - "would rather cuddle the baby!" One thing was clear - to guess what will happen, it makes no sense - we have no idea what awaits us! I counted the days... Jackdaw gave reasonable arguments... Together we planned different options.
One of the volunteers
There was one - we wanted to get a job as a volunteer in the Tiger Temple within a month.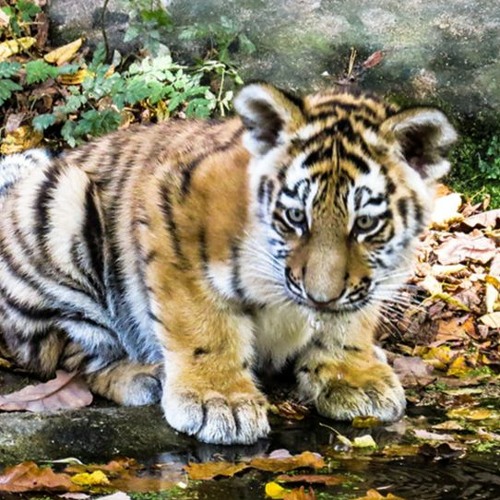 But, alas or not, in order to work with tigers, you need to be fluent in spoken and written English, undergo a full examination and provide a certificate stating that you do not have any chronic diseases ... We broke off on the first point - language ...
From this point we began to plan a visit to the Tiger Temple.
Let's say right away - the impressions are incomparable with anything. And now the details about the schedule of life in the temple, about what must be done without fail, otherwise you simply will not be allowed inside, about the rules and cost.
Location and how to get to Tiger Temple
Tiger Temple is located in Thailand. in Kanchanaburi province. Near the city of Kanchanaburi.
Who can visit the Tiger Temple
Any tourist who follows the rules of the temple.
Galya will continue to talk about the rules:
DRESS CODE
Girls must cover their shoulders and chest. Skirt or trousers below the knee.
It is forbidden to walk in red clothes.
It is forbidden to walk in puffy skirts and scarves.
It is forbidden to enter in "noisy" clothing. (Cellophane raincoats and other things that make sounds when moving).
It is highly undesirable to use perfume.
Tourist Programs
There are 4 different temple programs for tourists:
1. Morning Program. The program starts at 7.30 am and ends at 11.30 am. It costs 5000 baht. This program includes: milk feeding and squeezing of cubs, walks, bathing and feeding of teenage tigers, games near the pond with older tigers, and watching the older tigers frolic in the lake. After that, you can feed and communicate with other animals living on the territory of the temple: fallow deer, wild boars, buffaloes.
2. The regular program (Regular Tiger Temple Program) lasts from 12.00 to 15.30-16.00. It costs 600 baht. This program consists mainly of walking next to the tigers and trying to photograph them.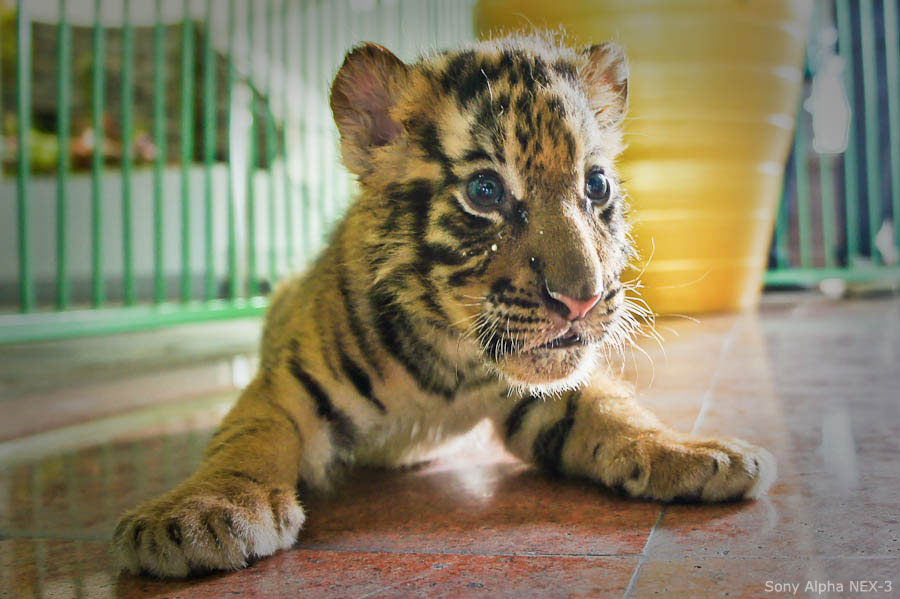 You can also take a picture with them at the waterfall alone or in a group. A special photo with a tiger's head on your lap will cost 1,000 baht.
3. Evening Program - 500 baht from 16.00 to 16.45. At this time, the tigers frolic among themselves and play with many toys.
4. Tiger Cub Feeding Experience gives tourists a unique opportunity to experience the Tiger Cub Feeding Experience. This program will cost everyone 1000 baht and takes place four times a day: at 12.45, 13.30, 14.15 and 15.00. Each visitor "under guardianship" is given a tiger cub, which can be petted, played with, and most importantly, fed from a bottle!
In general, there is a difference in price and programs. you can choose the one that suits you. We, of course, chose the first option. Still, we were preparing for a meeting with tigers for 1 year and 7 months and 14 days! We could not cross half the world and come just to take pictures of tigers!
And this is the reward we got for our patience:
On the songthaew, which we booked for 3 days after our arrival in Kanchanaburi, we arrived at the Tiger Temple around 7 am.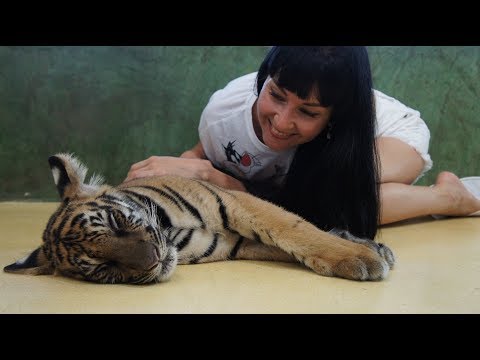 About 10 more people came to the same lucky ones. All were from different countries, Europeans.
A sociable goat was waiting with us to start the program. If you go and see this goat, give Alla and I our fiery greetings! You will recognize the goat immediately: it has its own unique behavior:
While the monks do not see, she chooses a "victim" to express her love and begins to caress. In our group, the choice of the goat fell on me. The goat caressed, poked her muzzle into her legs, knees, I stroked her, dying with laughter from such goat tenderness.
As a result, the goat got carried away and almost knocked me to the ground. And then a temple worker came running and drove away the loving animal. The goat hid in the territory of the temple, and from that moment accompanied our group, walking a little further, whenever I looked at the goat, she cast sad inviting glances at me. But she followed the rules clearly - she didn't pester anymore!
Beginning of the visit to Kanchanaburi Tiger Temple
An hour before the start of the tour, our group was gathered at the square in front of the gate to the temple.
On the territory of the square there is a cafe-dining room and ticket offices. We did not go to the checkouts ourselves. Our driver took the money from us and took it to the cashier himself. Others had their drivers or guides do the same. We felt like VIPs.
After that, they brought us A4 paper, on which a lot of things were written in English on both sides. And this paper had to be signed. We understood that this is an agreement that we will not have claims if we are bitten by tigers or something even worse. But there were no precedents and we cheerfully signed.
While we were reading the terms and signing, the monks came to the square: some in cars, some on motorbikes. On a motorbike more often. The monks were walking around the square, sitting next to the cafe, some on chairs, some on their motorbike. What struck us was that some smoked. One monk was covered in tattoos. Yeah... the monks in Thailand look brutal, especially in the tiger temple.
At 7.
30 the program started. We were given several bags of food, which we had to give to these same monks. They explained how to give food to the monks. This is a ritual and everything must be observed! Now we know how to start communication with the monks.
Formed, as it were, 2 ranks. One was ours, we stood at the tables with bags of food, and the second line was the monks. The monks calmly passed by us. We properly offered them food. The monks took something, refused something. (There were different foods in the bags). This is the morning ritual that takes place in the Tiger Temple every morning. Introduction to Thai culture.
Detailed description of our program
The next part of the excursion began.
We were taken to the tiger nursery. We understood that this was a nursery from the demanding tiger squeak, which was still heard on the street, before entering the temple. The kittens insistently demanded their rightful breakfast. They wanted milk!
When we entered the room without walls, only a roof and a small decorative fence, we were quickly picked up by staff (temple workers and volunteers).
They gently but inevitably took away our cameras and started clicking at 5 frames per second as we babysit, cuddle and feed the cubs with milk.
We were lucky, because by our arrival we had a large offspring, and the approximate age of the babies was about 1-2 months. Some have just opened their eyes. Our other acquaintances, of those who have been to the Tiger Temple, did not come across cubs of this age. The kids were either quite crumbs, or already older. And our cubs still smelled like milk, you could calmly stroke their pink tummies.
Since then, we have been closely following publications about the Temple of the Tigers and looking at photos from the temple for a long time, recognizing familiar kids! It's interesting to watch them grow up. Even the photographs show the character of each tiger cub. They are easy to recognize!
After half an hour of feeding, the excitement subsided a bit. People from an overabundance of emotions, tiger cubs from overeating.
Some kids fell asleep. Who is on the move, who is on the knees of the visitors.
After feeding the cubs, we were also offered to have breakfast. We love Thai food!
The next part of the program is walks with teenage tigers. We got a young tigress who, during a walk, hunted everything that caught her eye. She often clung to the ground, but when a doe appeared in the distance, and the tigress took the "ready to jump" pose, we were seriously scared: "What to do in such a situation ?!" But everything is thought out. Alla, me, and our tigress were under the supervision of two volunteers who immediately reacted. Hunting has been canceled for today!
It should be noted that the young hunter was not very upset. She jovially trotted on.
Local workers are experienced, knowledgeable, trained people. They are constantly monitoring the situation. They make sure that tourists do not turn their backs on the tigers, they immediately react, switch the attention of the tigers.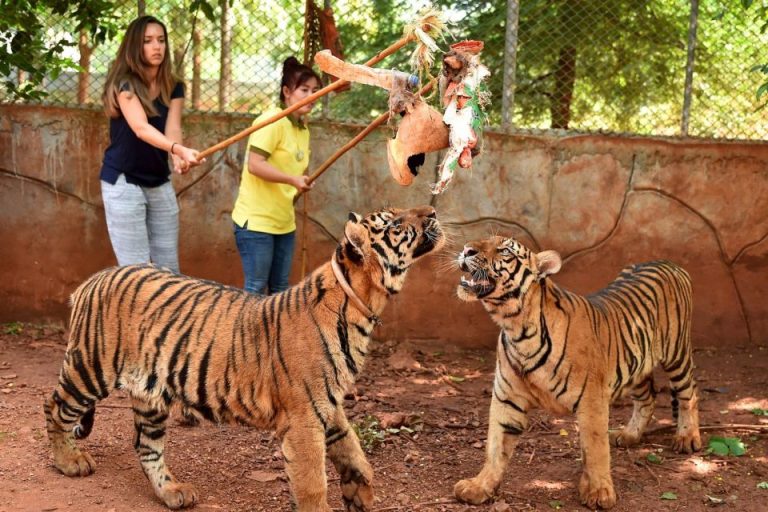 So slowly we reached the next point - washing the tigers.
Tigers are washed with shampoo and the foam is washed off with a hose. This is what we did.
Having washed their paws and body, the tigers begin to eat. For breakfast, the usual dish is boiled chicken. The same tourists are trying to feed them, i.e. we! We are trying, because the tigers in the temple eat their fill of this chicken, and, in fact, they no longer want to see it. We almost forcibly put a bored dish into the mouths of the tigers.
But! Be careful with your fingers! Although tigers are tame, even though their hunting instincts have become dull, they are real tigers, alive, not chipped by anything, and therefore the reactions of tigers are quick and, nevertheless, these are the reactions of a predator. It is clear that it is better not to put your fingers in such a tiger cub's mouth - it will cut off to the elbow!
Perhaps we are exaggerating: there are staff and volunteers nearby with no less quick reaction.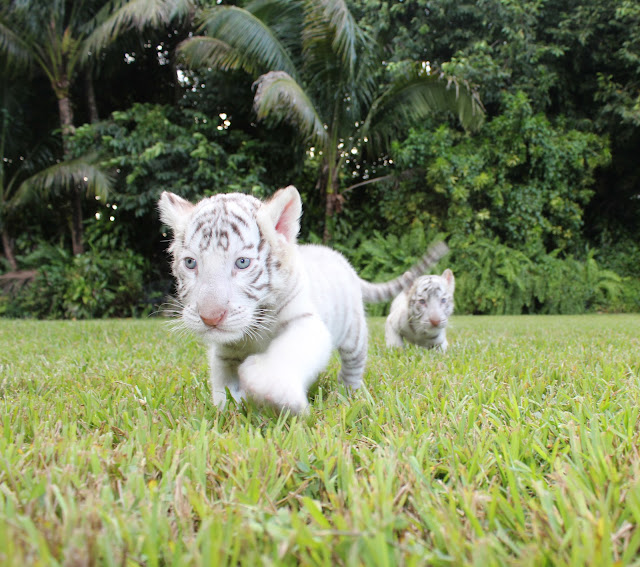 They do not allow dangerous situations! Everything is thought out and worked out.
And now the most entertaining part of the program - games with tigers.
Each tourist was given a toy for the tiger in the form of a stick, at the end of which either rustling bags or rattles were tied. The task of the tigers was to catch the toy, our task was to prevent the tiger from catching our toy.
Some of the lucky ones got a gnawed plastic red buoy of considerable size! We were jealous: this buoy was attacked by the most powerful and active tigers. But, if the tiger managed to grab the buoy, then hold on - just like that, he will not let go of his powerful paws and teeth. "I wish we could memorize this buoy!" we dreamed.
Our wish was heard and fulfilled. Such was our luck: we took possession of this buoy. As long as we had a "fishing rod" with a bunch of multi-colored plastic bags, we did not imagine the power of a tiger's grip. As soon as the treasured buoy fell into our hands, we saw traces of tiger bites on it.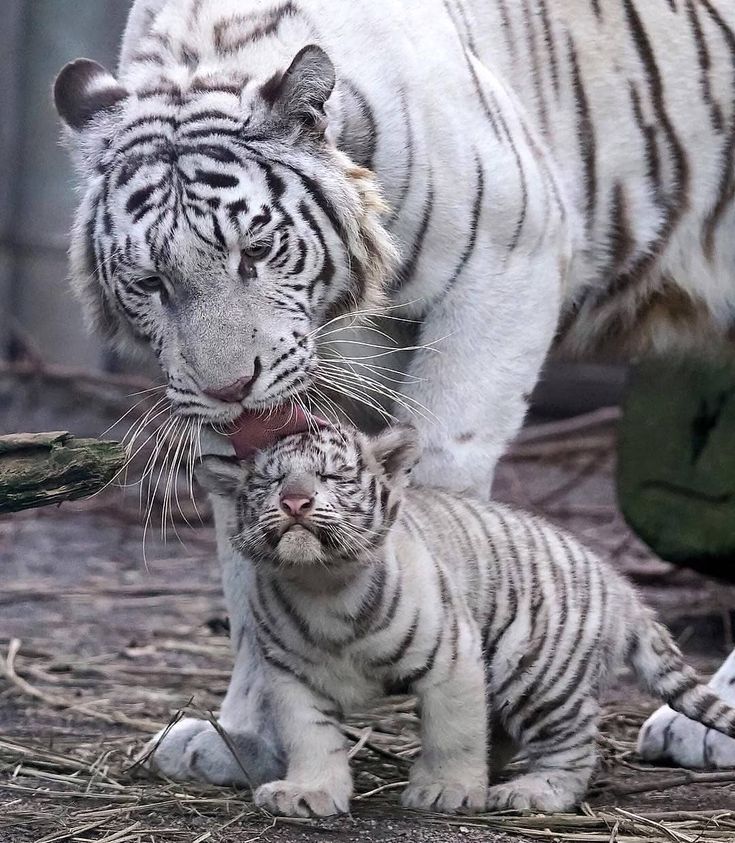 In the densest and thickest places there were large holes from fangs...
And after a couple of minutes we felt the strength of the jaws: while we were getting ready for the game, the tiger did not yawn. He clutched the buoy with a death grip. Somehow, the workers lured the "toy" from the tiger, and the game began anew. Two or even three of us, holding on to a stick, tried to prevent the tiger from clinging to the buoy. To do this, we had to quickly "work together" and learn to feel each other as ourselves.
After we were taken to take pictures with the coolest tiger in the temple. Surely half of the cubs are his offspring.
Further - steeper! After the games, we went to the lake to watch the adult tigers swim. Tigers swim in the lake, play, sort things out and do many other things that we do not have time to press the buttons of our cameras.
Our group was placed "in a cage" - behind a fence, 50 meters from the lake. At this time, the temple workers lead the tigers to the lake.
For a second it seemed to me that they were leading the goats to pasture. But the glitch went away.
In general, the tigers had their fun on this lake. The workers helped them. And we all had to take more memory cards for cameras))
This concludes the morning program. After 30-40 minutes, that is, at 12.00, the daily program starts for 600 baht. As we already wrote, this program includes walks next to tigers and photography.
If you are without a small child, we highly recommend that you attend the morning program. Do not spare money and early awakening. Then you will remember the happy moments of communication with tigers for a long time. You will not find such close contacts with these amazing animals anywhere else.
UPD: In 2016, the Tiger Monastery in the province of Kanchanaburi was closed.
Best regards, Galina Subbotina and Alla Sutyagina
Nature therapy. Tiger Temple, Thailand. - Cheaptrip - Carpe Diem
A few hours from Bangkok, while the monks are having a meal in the temple, stately pink-nosed tigers are catching sunbeams nearby in the alleys, frolicking in the pond, pushing each other with their big heavy paws, allowing curious tourists to scratch their soft tummies and are very fond of drinking milk from a bottle.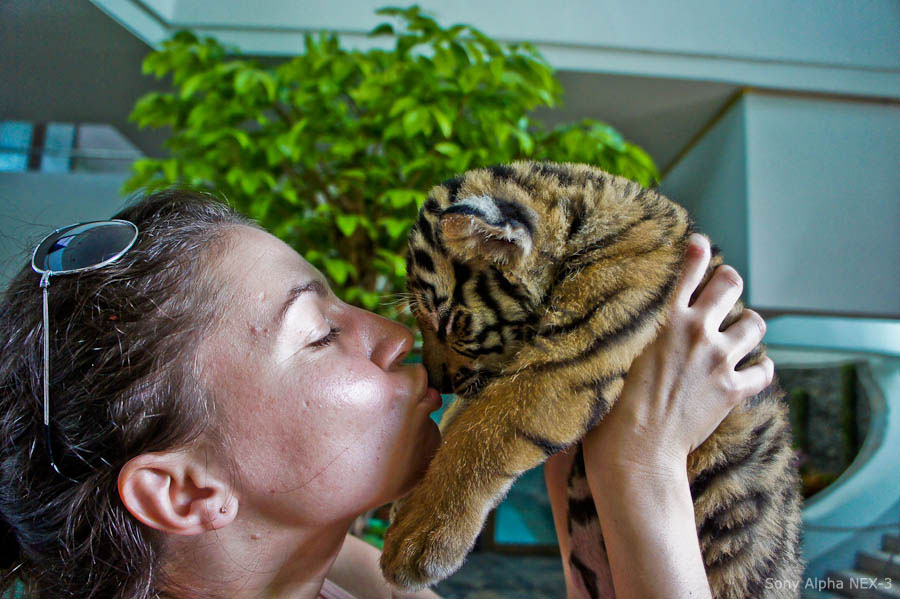 About 15 years ago, in a small temple in the province of Kanchanaburi near the border with Myanmar, the villagers brought a dying tiger cub - poachers killed his parents, the baby had the same fate, but he miraculously escaped and was badly injured.
The monks, unfortunately, could not cure him, but after this incident, tiger cubs, and then adult abandoned tigers, were brought to the temple.
So, in the monastery Wat Pha Luang Ta Bua Storm, Thunder and Rainbow appeared, and soon, fifty tigers and cubs walked along the alleys along with the monks. And now there are about fifty striped heads, which, however, it is better not to stroke on the head - the connection with space is broken, and tigers do not like this))
Tigers and cubs joyfully devour boiled meat and cat food so as not to get used to blood, and in the book that is given to visitors in the monastery, the character of each tiger living here + possible dangers and precautions is described in some detail .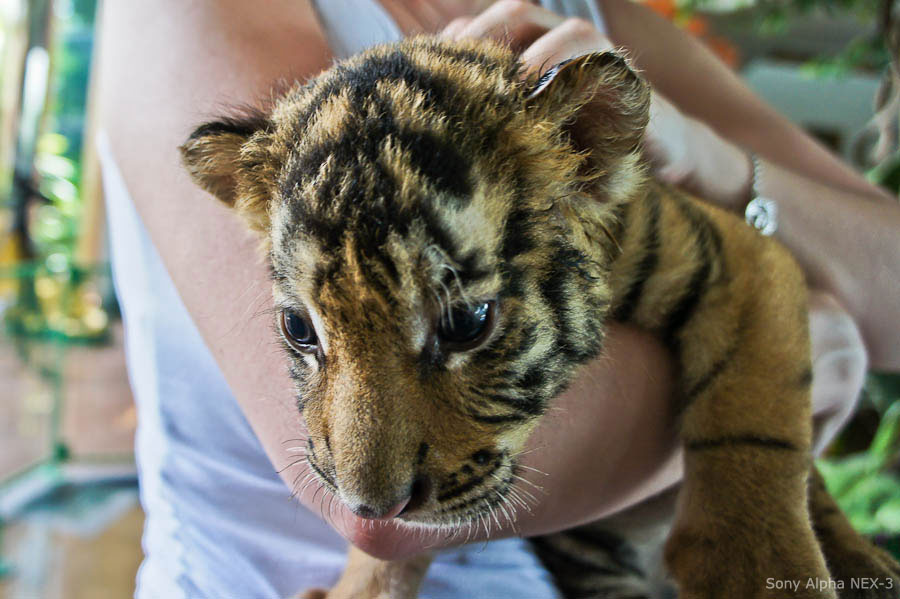 In addition to monks and tigers, wild boars, roe deer, buffalo cows and a camel live on the territory of the temple)
In the morning, tigers walk inside the monastery quarry, accompanied by monks or volunteers, or sleep peacefully, tied to trees or in cages. You can approach each tiger (accompanied by a volunteer) + climb into the cage with the cubs, feed, stroke and take pictures.
After 15-30 tigers are called for dinner, and then all the alleys of the park are filled with beautiful wild and free animals. Tigers are calm, and it's not about drugs, but about attitude and care. Monks diligently protect tigers from irritants, and the monastery itself is not only for humans, it was also created for all animals seeking peace.
Volunteers are waiting in the temple (accommodation and meals are provided by the monks), details are here
A time of the monastery of the monastery of the monastery of the monastery of organizations from organizations under the part of organizations under the protection .