Freezer storage baby food
Tips on Freezing and Best Containers
Learn the secrets to storing and freezing homemade baby food for ultimate freshness—AND the best baby food storage containers to use to ensure that you never waste what you make!
Baby Food Storage
Going through the effort to make homemade baby food really only works if you have a good plan for how to store the food to ensure that it stays fresh and that baby has plenty of opportunities to enjoy it. After making a LOT of baby food for my third kiddo to send with him to daycare, I got into a good routine of making and storing baby food—both in the fridge and freezer. Here's how you can do it too.
TIP: You can find my favorite baby food recipes here.
Homemade Baby Food Storage: In the Fridge
You can store baby food in the fridge in airtight containers for up to 3 days. You can use masking tape and a Sharpie to label the containers with the contents and the date if you have a hard time keeping track of when you made something.
(It's definitely helpful to do that!)
Best Baby Food Storage Containers
I have a four favorite baby food storage containers that I use regularly.
1. Wean Green Baby Food Cubes
These are small, incredibly durable, and made from glass. They're easy to clean and last forever. (Seriously, I've been using the same set for 7 years and they're still as good as new!) $19.99 for a set of 4
2. Easy Lunchboxes Mini Dippers
These small containers are a perfect size for 1-2 frozen baby food cubes and they're my go to for packing food for a baby to take to daycare. They also nest nicely when stored in the cabinet. $7.95 for a set of 8
3. Beaba Food Storage Containers
I have two sets of these and I use them regularly for larger amounts of baby food (you could probably fit 4 cubes of frozen food) and for toddler snacks. When assembled, they snap together, so they're an easy way to stay organized. $14.95 for a set of 6
4. Oxo Tot Baby Food Blocks
This neat system is easy to keep contained in the fridge and is also made from a polypropylene body that is PVC, BPA, and phthalate free.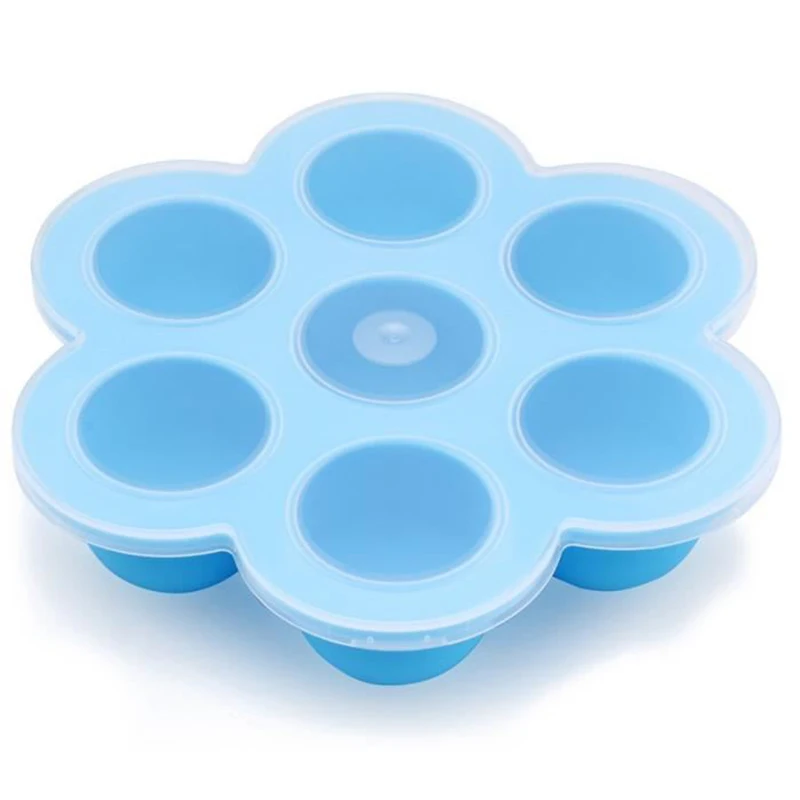 They are dishwasher and microwave safe. $9.99 for a set of 6
Homemade Baby Food Storage: For Freezing
Storing homemade baby food in the freezer allows you to make a bigger batch at once, and then serve it to baby over the course of a few weeks or months.The easiest way is to use an ice cube tray, which has the added benefit of portioning out the baby food nicely.
TIP: Any ice cube tray will do. You can use silicone ice cube trays if you prefer a non-plastic option.
Baby Food Storage Without An Ice Cube Tray
If you don't have an ice cube tray or you'd just rather not use one, you can place a predetermined amount of baby food into a pint-size freezer bag. Remove as much air as possible, press flat, and seal. Place flat in the freezer to freeze. Then you can thaw the entire bag in the fridge overnight, or break off a portion of it to thaw.
How to Store Baby Food in the Freezer Step by Step
Place baby food into each compartment of the ice cube tray, or fill as many as you need to with the amount of baby food you have.
Cover (if your ice cube tray has a cover) and freezer for 4-6 hours or overnight.
Pop out frozen cubes and transfer to freezer storage bags. Label as desired with the type of baby food and the date.
Store in the freezer for up to 3 months.
TIP: I like to have a bag of sweet fruit purees and more savory vegetable purees to avoid having too many separate bags in the freezer at any given time. Then you can combine them into baby food combinations easily!
How to Thaw Baby Food
To thaw baby food, simply remove a cube (or as many as you need) and place into airtight containers. Thaw overnight in the fridge and serve. 1 cube may be plenty for a baby aged 6-7 months and older babies may enjoy two cubes.
Tips for the Best Baby Food Storage
Keep fresh baby food in an airtight container for up to 3 days in the fridge.
Use a regular ice cube tray to freeze, a silicone ice cube tray with a lid, or a small freezer bag with the contents pressed flat.
Store frozen baby food in a freezer storage bag in the freezer for up to 3 months.
To avoid freezer burn, try to remove as much air as possible from the storage bags.
Label your bags with the contents and the date.
To thaw baby food, simply remove a cube (or as many as you need) and place into airtight containers. Thaw overnight in the fridge.
Use leftover baby food to flavor yogurt, baby oatmeal, baby rice cereal, smoothies, or cottage cheese.
See some of my favorite Baby Food Pouch recipes here for more ideas on how to serve your baby food!
I'd love to hear your feedback if you have another storage technique or container that you love, so please comment below!
Buying Guide 2022: Best Baby Food Storage (6 expert tips)
The Best Baby Food Storage Containers for storing and freezing homemade baby food. Plus – 6 expert tips on how to store baby food, as well as a how-to guide on freezing and thawing your own baby food, FAQs, pros and cons and so much more!
Medically reviewed and co-written by Lauren Braaten, Pediatric Occupational Therapist (OT).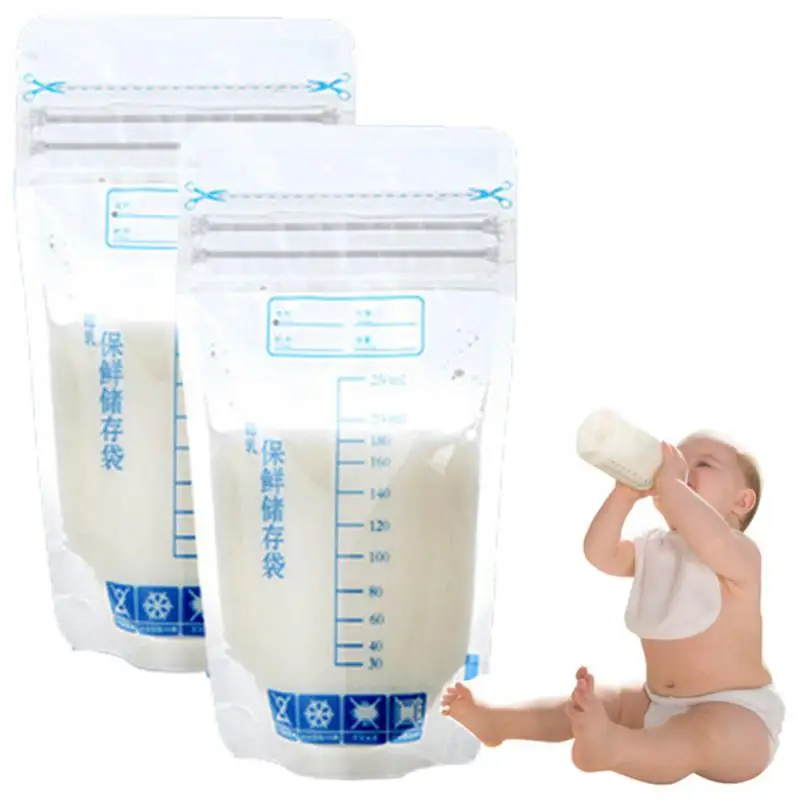 Best Baby Food Storage Containers
Want to make your own homemade baby food, but are not sure the best way to store it?
Then this post is for you!
Regardless if you are making homemade purees or going with the baby-led weaning approach to feeding your baby, you will need some small fridge and freezer-safe containers to store your baby's food in.
Below you will find my tried-and-true storage containers at all price points, along with my guide on how to freeze and thaw baby food purees., FAQs, pros and cons of each container, as well as 6 tips on the best way to store baby food.
How to Make Baby Food Video
Watch this video to see how easy it is to make and store your own baby food!
Top Baby Food Freezer Storage Containers
If you just want to cut straight to the chase – these are our absolute favorite storage containers for baby food.
Baby Food Trays
WEESPROUT Silicone Baby Food Freezer Tray – great 10-sectioned baby food tray that holds 1.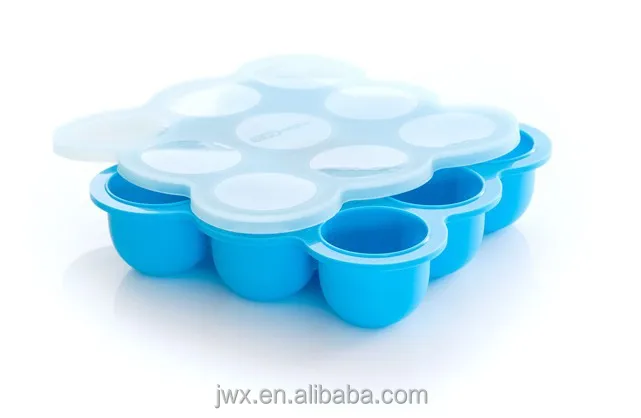 5oz each, but has a 1 oz fill line for smaller portions. Is made out of premium food-grade silicone and has a plastic lid for easy stacking. These trays or worth their price and we would recommend getting a couple of their fun color trays so you can easily stock up on your homemade baby food.
4 Pack of Silicone Ice Cube Molds Tray with Lid – This is a newer purchase for us and so far the quality has been great and you can't beat the price for 4 trays! The trays are made out of food-grade silicone and BPA-free plastic and each cube gives you 1oz of baby food.
Glass Baby Food Storage
WEESPROUT Glass Baby Food Storage Containers – We absolutely love these jars! You get 12 colorful glass jars that hold 4oz each. Great for storing baby food purees as well as yogurts, overnight oats, chia seed pudding for toddlers and kids. While the price is a little high, you will get many years worth out of these jars. Well worth the investment in our opinion.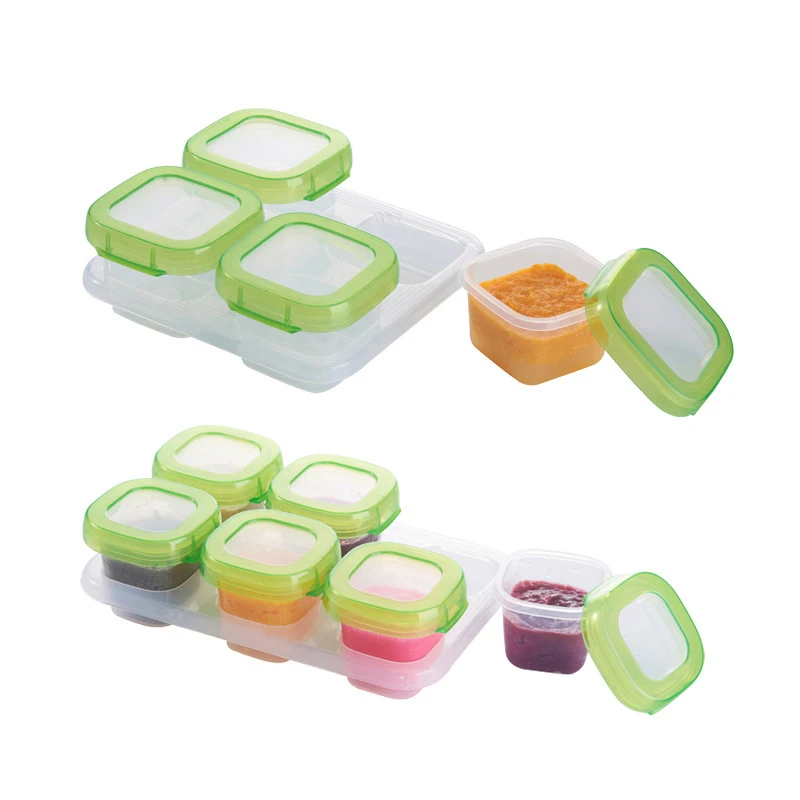 Babymoov Glass Food Storage Containers – I love that this set comes with two different sizes of containers – 4oz and 8oz. This is great if you have a baby that is a bigger eater and needs more than an ounce or two of purees at each meal.
Plastic Baby Food
Containers
WEESPROUT Leakproof Baby Food Storage – just as amazing as their glass jars, just with a smaller price tag! This set comes with 12 colorful 4oz jars made out of BPA free high-quality polypropylene plastic. I also love that this plastic version is easier (and lighter) to toss into your diaper bag for a quick baby meal on the run.
OXO Tot Baby Blocks Freezer Storage Containers – a great smaller set that contains 4 – 4oz PVC, BPA, and phthalate-free jars and a storage tray. Great space-saver system that helps keep your jars of baby purees organized and tidy. Plus, you can easily stack more trays on top of each other if you need a bigger freezer stash.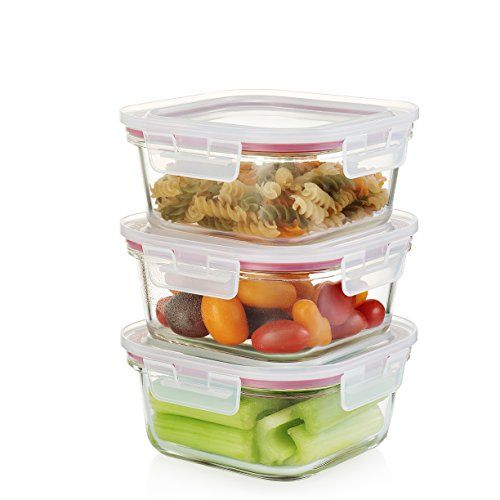 Full Review of each Container: for our full reviews on each of the above products, including pros and cons, go to the end of this guide.
Other Helpful Tools
Stasher Bags – these silicone reusable bags can hold your frozen cubes of baby food purees.
ZipLock Bags – another option for storing your frozen purees in.
How to Freeze Baby Food
When making homemade baby food purees, your freezer is about to become your best friend, allowing you to keep several weeks' worth of baby purees at the ready.
For more information on how to make your own baby food, check out my Ultimate Guide on Making Your Own Baby Food!
After making your puree, let it cool until just warm.
Spoon the puree into your choice of baby food storage container.
Cover your container with a lid or plastic wrap, and place in the freezer.
Let the puree freeze completely before you crack the purees out of the tray and place the cubes into a plastic freezer zip-lock or stasher bag. If using jars, the frozen purees would stay in the jars.
Label each bag or jar with the name of the puree and the date you made it.
How to Thaw Baby Food
Thawing may seem like a no-brainer, but it never hurts to know your options. There are three different ways to thaw purees:
Microwave
Take the frozen puree cubes that you want to serve out of your freezer, place them in a glass container, and microwave in 20-second increments, stirring every time. The puree is ready when it is just warm to your touch.
Grab two clean spoons, one for you and one for your baby, and test your puree before serving.
Some infants like their puree cold, warm, or really warm, and some will devour it no matter the temperature. You will get to know your baby's personal preferences as the two of you bond over food.
Fridge
This one takes the longest time, but it is a great alternative to using a microwave.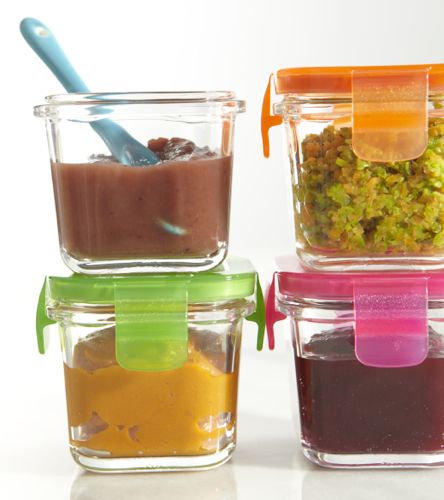 Take the frozen puree cubes you want to serve out of your freezer, and place them in glass containers with airtight lids and leave in the fridge for 12 to 16 hours. Do not leave the puree in the container to thaw on the counter or anywhere out of the fridge, as bacteria will start to grow at a rapid rate – which is definitely not good.
The puree will be cold but thawed, so if your baby likes her puree warmed, you'll have to finish the job using the microwave or stovetop method.
Stovetop
In the smallest saucepan, you can find, place the frozen puree cubes you want to serve, and gently thaw them on medium-low heat until warm, stirring occasionally.
Frequently Asked Questions
How long can you store homemade baby food?
You can store homemade purees in the fridge for up to 5 days or up to 4 months in the freezer. For small finger foods, depending on the item, you can store those in the fridge for 2-3 days.
Is it better to store baby food in glass or plastic?
You can do either! Just make sure to use plastic containers that are BPA-free and container no scratches or dents. To keep the plastic in tact, be sure to wash the containers by hand and do not place in the microwave.
6 Expert Tips on Storing Baby Food
Do Not Overfill: it's important not to overfill any baby food storage container as the purees will expand slightly when freezing.
Label Purees: in order to know what you are feeding baby, it's important to label your purees while they are freezing in the storage containers and when they are stored in freezer bags. Make sure you put the name of the puree as well as the date you made it on. Putting the date on it helps you remember when the puree will expire.
Keep Some/Freeze Some: whenever you make a puree, put several ounces in the fridge for your little one to enjoy that week, then freeze the rest of the batch for her to finish up at a later date.
Dedicate Space in Freezer: I found it helpful to dedicate a certain space in the freezer (a shelf or drawer) just for your homemade baby food purees. That way you don't have to go rummaging around your freezer trying to find a puree when your baby is already hungry for dinner. I also found this helpful so that I could take a quick look in my freezer to know exactly how much purees we had on hand and when I would need to make some more.
Have Multiple Storage Containers on Hand: while not cheap, having multiple storage containers on hand is really needed to be able to have a good freezer stash of your own baby food. I usually recommend having at least 4 storage trays or 2 sets of jars. This way you can make and store a good amount of purees for the weeks ahead. With the trays, you will freeze the purees in them and then once frozen you can pop out the cubes and place them into a freezer bag, thus leaving you with more trays to work with. For the baby food jars, you will freeze the purees in the jars but they do not pop out, you have to thaw and serve the purees in order to get the jar ready for the next round of food. Either work great, just depends on how you work in your kitchen.
What to Look For: regardless of which jars or trays you go with, look for a freezer-safe and dish-washer-safe brand, cuz I know you have better things to do than handwash dishes!
More Resources
Here are some more in-depth guides that will help you feed your baby!
Best Spoons for Baby
12 Best High Chairs for Baby
Best Sippy Cups for Baby
Best Baby Cereals
Beaba Babycook Neo Review
Key Features
Includes 10 sections that hold 1.5 ounce each, with a 1-ounce fill line for smaller portions
100% food-grade silicone
Reinforced bottom with a sturdy build for stacking multiple trays
Non-stick for easy food removal
Easy clip-on lid provides coverage
Dishwasher safe
Available in a variety of fun colors
Why Our Experts Love it
No more time spent looking for lost container lids! We love this compact, all-in-one baby food storage design.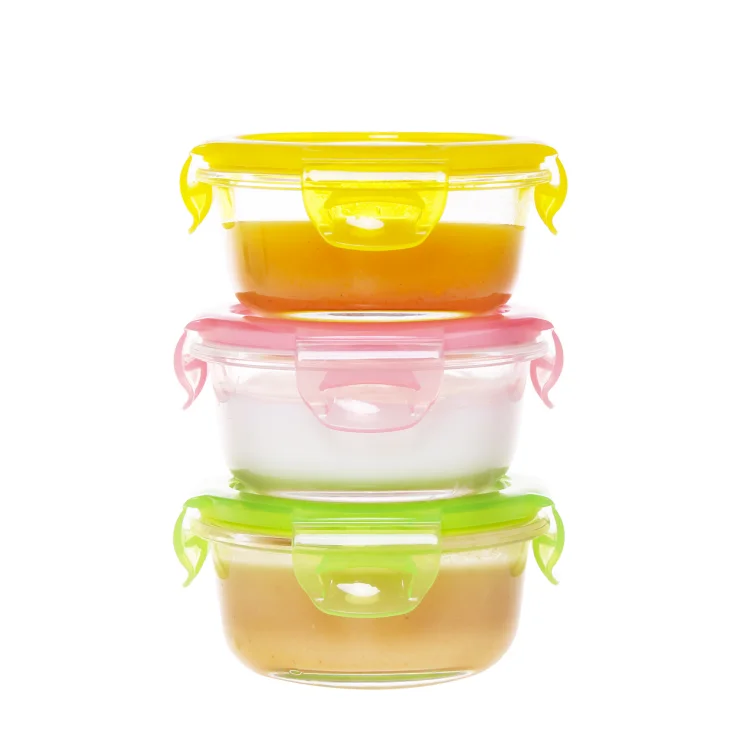 It's ultra-durable, unbreakable, and made with 100% food-grade silicone, which means no harmful chemicals contacting your baby's food.
Pros/Cons
Pros
Multiple sections make it possible to mix and match flavors for a balanced meal
100% food-grade silicone
Sturdy design makes it easy to stack multiple trays at once
Comes with easy clip-on lid
Dishwasher safe
Cons
Lid is made of plastic, although contact with baby food is minimal to none, depending on how full you decide to fill containers
Parent's Review
I'm really pleased with the baby food cube trays. I've now been using them for 2 weeks to do my batch cooking for my baby boy. They're fantastic, good portion sizes, easy to remove and clean, great clip-on lid to prevent food from spilling out before frozen. I will most likely invest in a couple more trays in the near future.

-Jenni
WEESPROUT Silicone Baby Food Freezer Tray
No more making baby food every day or cleaning multiple containers throughout the week! Batch prep baby food, purees, breastmilk, and more – then store your food in the tray or transfer to a Ziploc bag for easy meals.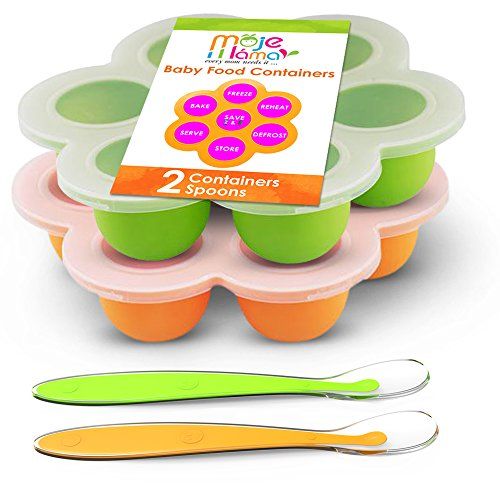 Amazon
Walmart
Key Features
Food grade silicone
Comes with removeable lid
Easy to stack and store in the freezer
Dishwasher safe
Why Our Experts Love it
The quality is great and you can't beat the price for 4 trays! Each cube gives you 1 ounce of baby food for perfect portion sizing to help minimize waste.
Pros/Cons
Pros
Great price
Each tray has 14 small sections, giving you plenty of space for different baby food flavor combinations
Small portion size can be useful for other items, such has freezing bone broth, fresh herbs in olive oil or candy molds
Cons
Not made with the same high-qualilty materials as the trays marketed for baby food – which may not last as long.
Parent's Review
I bought the trays to freeze my homemade baby food (thanks to COVID-19, I needed to save money and had the extra time). These trays are AMAZING! The lids made for easy stacking in the freezer. The cubes were very easy to pop out, definitely more sturdy than they feel, easy to clean, great colors, and can't beat the price for he quality. I highly recommend this product!! Thank you!!

-Lacey
4 Pack of Silicone Ice Cube Molds Tray with Lid
These silicone ice cube molds are quite the bargain! The flexible silicone material shapes the bottom well, making it easy to release baby food.
Amazon
Key Features
Set of 12 glass baby food storage containers with lids
4-ounce capacity jars with measurement markings
Made of food-grade glass
Airtight, twist-on lids
Microwave, freezer and dishwasher friendly
Also available in 8-ounce capacity
Why Our Experts Love it
We love these colorful, eco-friendly glass jars. They are great for storing baby food purees as well as yogurts, overnight oats, and chia seed pudding for toddlers and kids.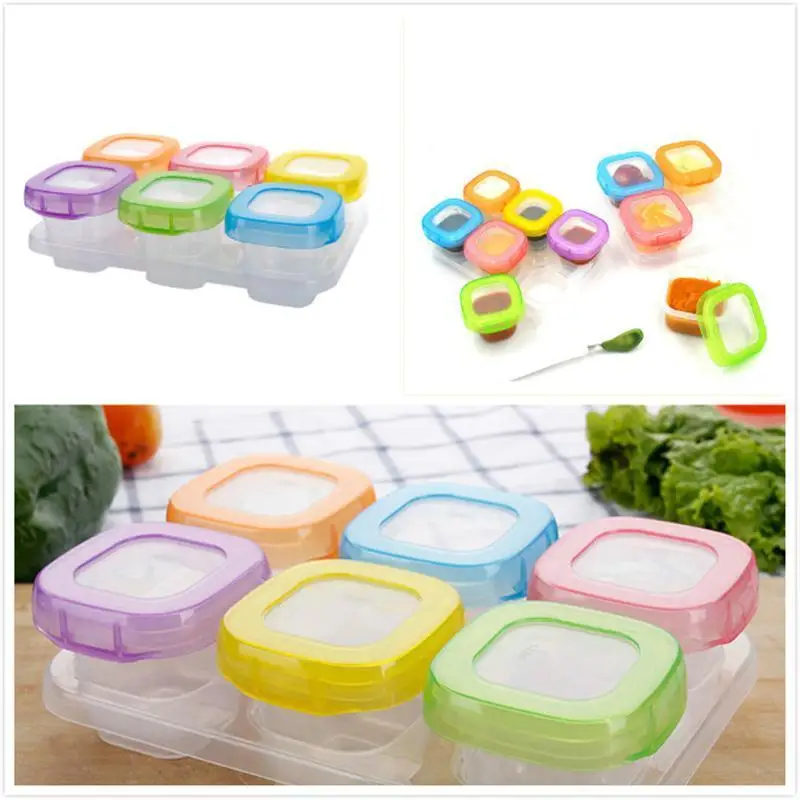 They also come in a BPA-Free plastic version – WEESPROUT Leakproof Baby Food Storage.
Pros/Cons
Pros
Ultra-durable glass jars
Airtight twist-on lids helps keep food fresh
Convenient measurement markings lets you control the portion size
Jars are stackable for space saving
Cons
More expensive than other storage containers, although many reviewers feel their durability makes the investment well worth it
Parent's Review
I'm thrilled at this product. I was looking for non-toxic, non-plastic container options to store baby food and to take to daycare. This has been an awesome solution! I love that I can store in freezer, write on lid, and thaw food in warmer without worrying about heating up plastic. The glass is sturdy, they look great, and I can reuse for more than just baby food. I'm really happy with this purchase. The package came safe with thoughtful minimal packaging. Love this eco-friendly, zero waste baby product. Wee Sprout has been excellent to work with and offers amazing customer service.

-Michelle
WeeSprout Glass Baby Food Storage Containers
WeeSprout Baby Food Storage Containers make batch preparing baby food quick and easy. Airtight lids keep food fresh, nutritious, and delicious longer.
Amazon
Walmart
Key Features
Set of 8 glass containers and lids (four, 4 ounce and four, 8 ounce containers)
Measurement markings on the jars
Leak proof lids
Made of environmentally-friendly glass, BPA and Phtalate free
Microwave, freezer and dishwasher safe
Why Our Experts Love it
We love that this set comes with two different sizes of containers – 4 ounce and 8 ounce. This is great if you have a baby that is a bigger eater and needs more than an ounce or two of purees at each meal.
Pros/Cons
Pros
Multi size pack provides convenience
Airtight screw top keeps food fresh
Stain resistant and free from harmful components
Stackable for easy storage
Cons
More expensive than other storage containers, although many reviewers feel their durability makes the investment well worth it
Parent's Review
I bought a set to test out as reusable containers for my breast milk and I am not disappointed!! I love that they're able to hold a good quantity of milk even more so than the baggies and the main reason I got them is because I can easily just wash them and reuse them…. they fit perfectly fine and could be easily stacked so I'd say they're the perfect size!! The lid is a twist on so you don't have to worry about leaks at all which was another important thing for me very easy to use clean and reuse… the best part is I can use them for this now and later on when needed I can use them for other things so I'll be getting my money's worth with them.

-Adriana
Babymoov Glass Food Storage Containers
Provides a healthy and easy way to store your baby's meals, in addition to preserving the taste of food for longer. Stackable for easy storage and microwave, freezer, and dishwasher safe.
Amazon
Walmart
Related
Title of Related Post
Key Features
Set includes four, 4-ounce containers and stackable tray
Leak-proof seal
Measurement markings indicate portion sizes
BPA free
Microwave and dishwasher safe
Also available in 2-ounce capacity
Why Our Experts Love it
The OXO Tot Baby Blocks are a great smaller set if you don't plan on making a lot of baby food or only making baby food occasionally.
The space-saver system helps keep your jars of baby purees organized and tidy.
Pros/Cons
Pros
Airtight, watertight, leak-proof seal prevents spills in freezer or diaper bag
Stackable tray keeps containers stable and organized in the freezer
Measurement markings make portioning simple
Cons
 Some reviewers find that taking apart 3 pieces to wash can be tiresome, but does allow for a thorough cleaning
Parent's Review
The quality of these containers is definitely much superior than the other cheap ones we see here on Amazon. Why buy a cheaper thing to your baby if you will be using these containers over an over again? Also they are beautiful and very easy to clean. They are so good that I decided to buy more sets, I have 2 of 4 oz containers and 2 of the 6 oz containers. For now, that my baby is 8 months old his meals are 4 oz but might improve in the future so I decided have those bigger ones and fill with whatever quantity I want now.

– Renata
OXO Tot Baby Blocks Freezer Storage Containers
Baby Blocks are airtight, watertight and leakproof for safe storage and spill-free outings. Blocks fit into the freezing tray, and multiple trays can be stacked to save space in the freezer.
Amazon
Walmart
Target
Merchandising - interesting about Selgros Cash&Carry products
Volumes and dimensions
In the standard recommendations for choosing a refrigerator, you can read that refrigerators with a volume of 100-150 liters are recommended for people who prefer solitude; 150-200 liters - for families of two people; 200-250 liters - for three people and so on.
But these are just conditional boundaries that strongly depend on your habits, preferences, tastes. Only a long experience will help to determine exactly how much volume you need.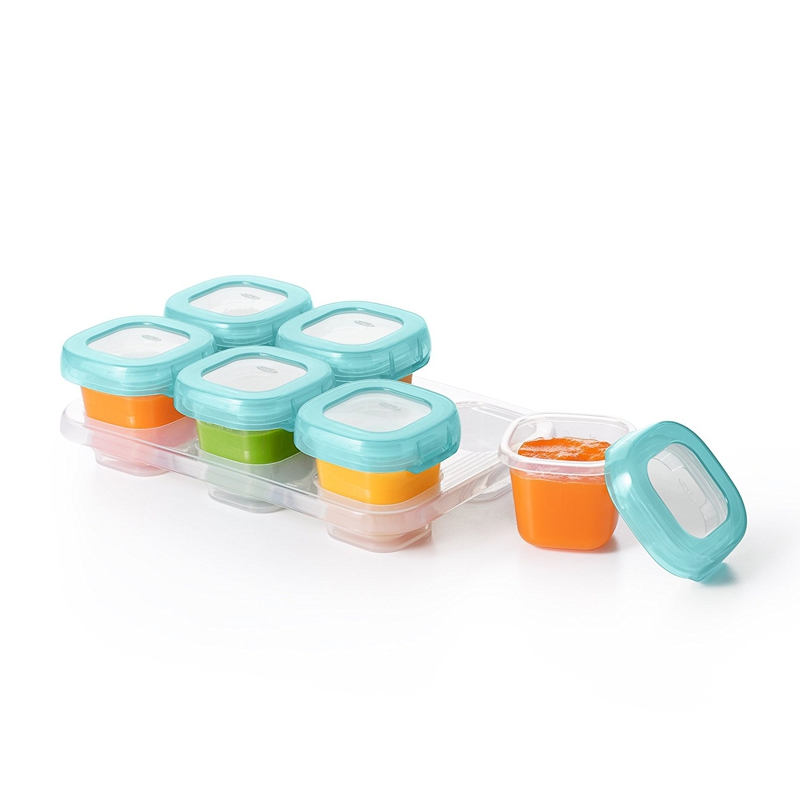 And remember that a refrigerator is a long-term purchase; to a solid perspective. If your family is planning an addition, feel free to buy a larger refrigerator - milk formulas and products for the youngest family members take up a lot of space.
Unfortunately, an increase in volume means an increase in the size of the refrigerator itself. And here we are often limited not even by the space of the apartment, but by the size of the doorways. So, when buying a refrigerator, make sure that your purchase can bypass the elevator and apartment doors; because, unlike other furniture, the refrigerator cannot be disassembled into parts.
You may be better off buying two or more refrigerators. For example, one for everyday products, one for baby food. Or, let's say, a separate freezer is an extremely convenient tool for long-term storage of meat, fish, fruits and vegetables.
Refrigerator layout
A single-compartment refrigerator lags behind its multi-compartment counterparts in versatility, but it does a good job of any one task: for example, storing fresh vegetables and fruits.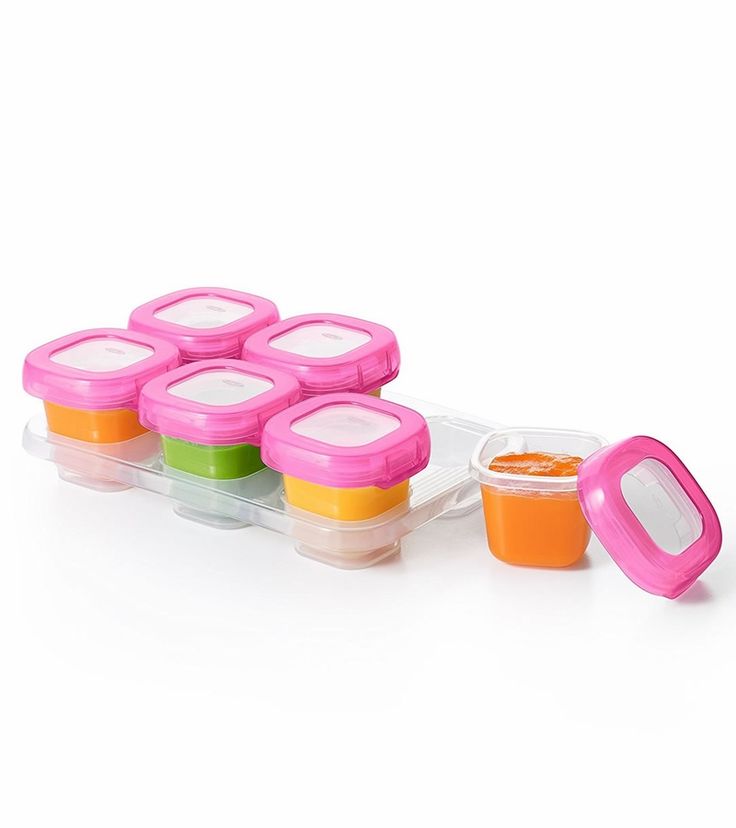 Or fresh fish and meat. You can find a single-chamber refrigerator with a freezer, but in practice this means that the temperature in it will be higher than necessary for long-term storage, and on the contrary, products on the shelves next to the refrigerator are at risk of freezing.
Two-chamber refrigerators are much better at storing a variety of products. True, the partitions between the refrigerating chambers reduce the usable volume. If the refrigerator chambers are equipped with separate compressors, then it becomes possible to defrost them separately without turning off the entire refrigerator.
Of course, in many modern refrigerators, the formation of frost is reduced to zero due to auto-defrosting: for example, No Frost, Multi-Air Flow and other similar technologies, but these innovations cannot replace the hygienic treatment of the refrigerator. Remember that many bacteria can multiply even at sub-zero temperatures.
Side-by-side, or "hinged" refrigerators with a double door, as a rule, have a large volume, are easy to use, but take up a lot of space.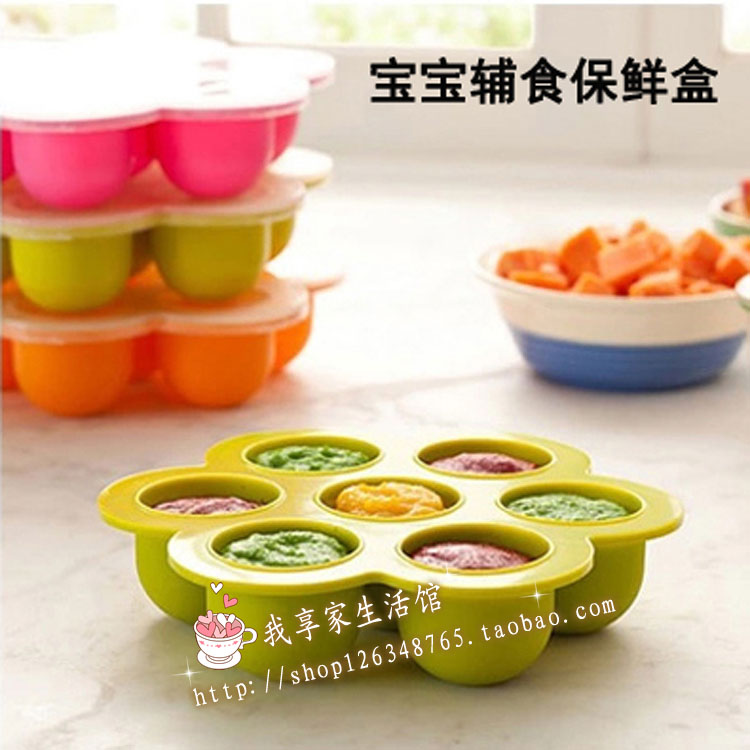 Having decided to buy such a refrigerator, first think about whether it will fit in your apartment?
There is a lot of debate about whether the freezer should be on top or bottom. From our point of view, it is worth choosing based on your convenience: if you often use food from the freezer, it makes sense to buy a refrigerator with a top freezer.
Refrigerator characteristics
One of the most important characteristics of any refrigerator is the freezer class, which is usually shown on the front surface with "snowflakes".
- One "snowflake" - the temperature in the freezer drops to -6 degrees. It is suitable for short-term storage of frozen food, no more than two weeks.
- Two "snowflakes" - up to -12 degrees. You can store frozen foods for up to 3 months.
- Three "snowflakes" - up to -18 degrees. You can store frozen foods for up to a year.
There is also a class of "4 snowflakes": freezers of this class provide a temperature drop of up to -24 degrees, which allows, for example, to quickly freeze a new batch of food.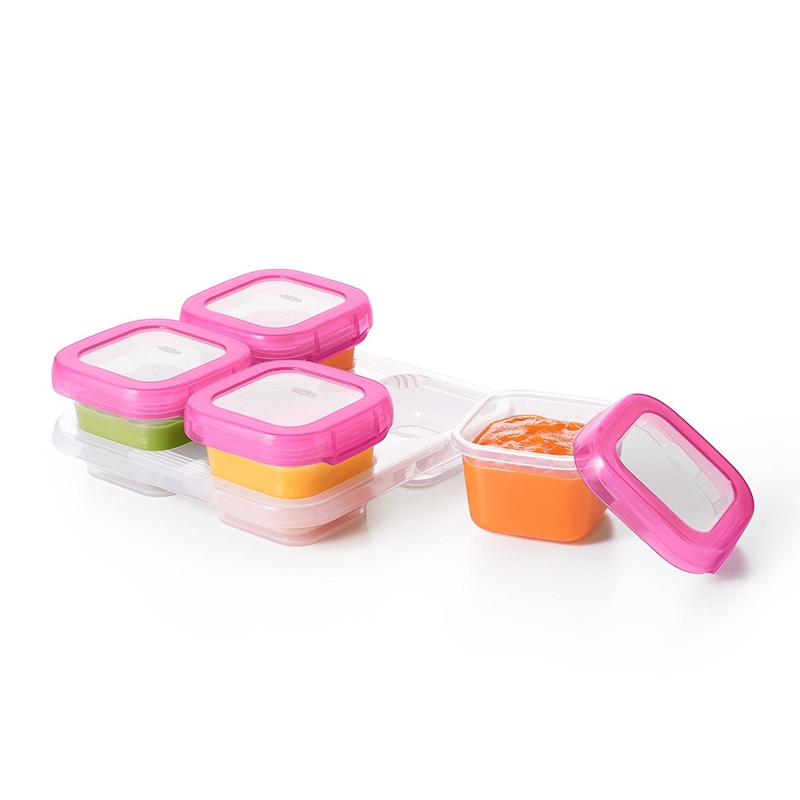 The fact is that the faster the food is frozen, the more flavor it retains. This is especially important for berries and fruits - the slower they are frozen, the more likely it is to get mashed potatoes instead of fruits when defrosting.
Another important characteristic of the refrigerator is energy consumption. Like other household appliances, refrigerators are divided into classes - from A to G. The most economical refrigerators are designated by class A (and even A +).
Freezing capacity indicates how many kilograms of food the refrigerator compartment can freeze in a day. It can vary from 3 to 20 kg, but for domestic needs, you are unlikely to need a refrigerator with a capacity of more than 10 kg per day.
Defrost mode. How the refrigerator copes with frost on the walls of the chambers is a very important question. In refrigerators with No Frost and Multi-Air Flow technologies, frost falls outside the refrigerating chambers on special surfaces, from which it periodically evaporates back into the atmosphere.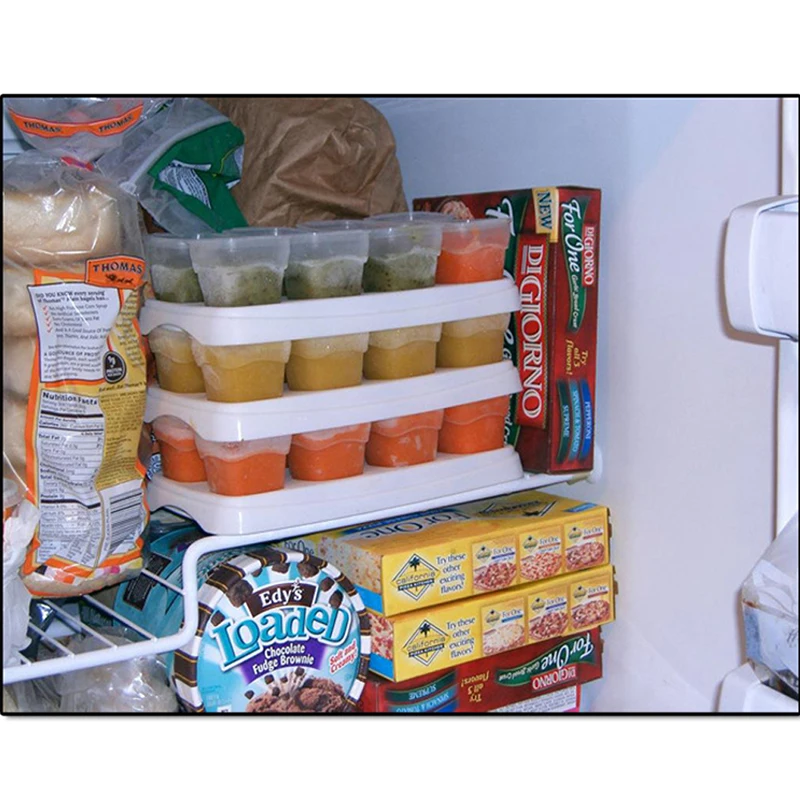 In practice, this means you won't have to worry about ice caps in your freezers. There is also a drip defrosting option for the refrigerator compartment: frost collects on a special surface inside the refrigerator, which periodically heats up, and water is removed outside the refrigerator.
There are refrigerators with semi-automatic defrosting. In them, you just need to press the button, starting the auto-defrost cycle, and overnight the refrigerator will remove the frost that has grown without affecting the products stored in it.
Useful functions of refrigerators
Freshness compartment or Biofresh: special compartments that maintain a temperature of +0.2 degrees. They keep fresh meat, fish, fruits and vegetables for a particularly long time. There are sections of dry freshness - with humidity up to 50%, they are ideal for meat and fish. Wet freshness compartments - with humidity up to 90% - intended for fruits and vegetables. Here they do not dry out longer; this is especially important for greens.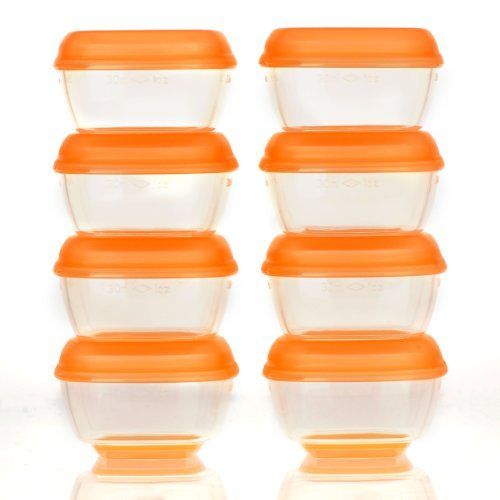 Super Freeze/Super Cool: Useful when you need to chill or freeze a large amount of food. These modes preserve the taste of new food placed in the refrigerator, and at the same time do not allow those products that are already in the refrigerator to spoil.
Electronic control: possibility of defrosting without disconnecting from the mains, "holiday" mode, which saves energy and does not give foreign smells in the refrigerator compartment, fine-tuning the temperature in the refrigerator and freezer.
Ventilation: uniform cold air blowing on food ensures that new food is quickly cooled and the temperature is uniform throughout the refrigerator compartment.
And this is not all the features that modern refrigerators offer. Each manufacturer strives to attract the attention of the buyer with as many new features as possible; how useful they are - you decide, of course.
Refrigerators in Zelgros
If you decide to purchase a refrigerator, you can do it in our shopping centers.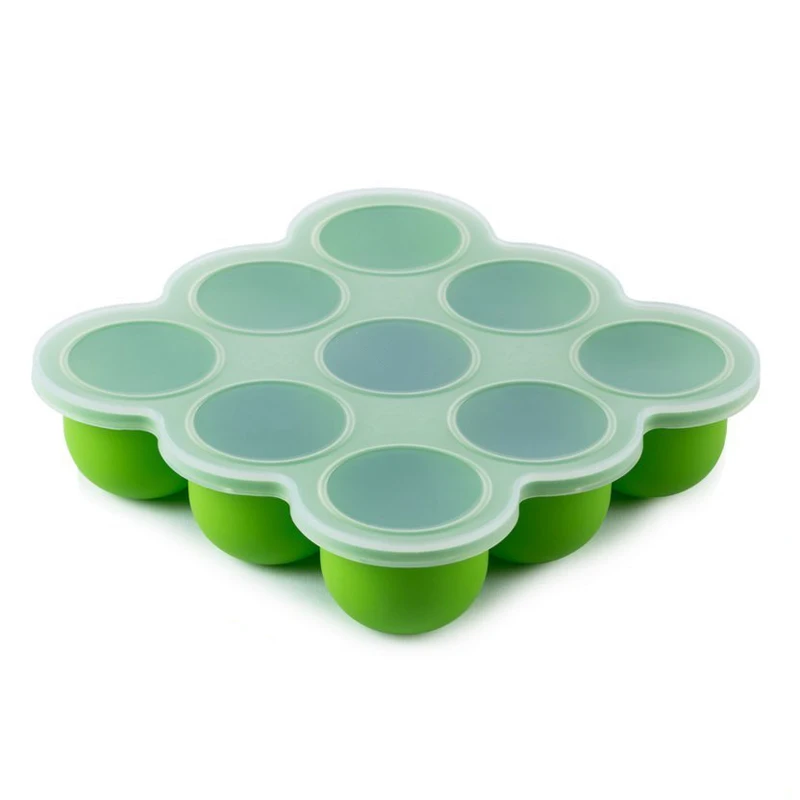 Our range includes refrigerators from well-known manufacturers: Samsung, Zanussi, Indesit, Hotpoint-Ariston, as well as budget brands: Saratov, Biryusa. We can offer you one- and two-chamber refrigerators, mini-refrigerators, freezers and side-by-side refrigerators (volumetric two-chamber refrigerators with chambers on the right and left). And all this at very competitive prices!
In addition, at Zelgros you can immediately purchase all the necessary products for your new refrigerator: fresh meat and fish, fruits and vegetables, dairy products, drinks and much more. Our range will not leave you indifferent!
We are waiting for you in Selgros!
Medical thermal containers for carrying vaccines. Cooler bag for medicines
O Termokonteyner.ru
Our company sells universal and most popular thermal containers. Our products will pleasantly surprise you with low prices and consistently high quality. On our website, using a convenient filter, you can quickly select and order the necessary thermal containers, as well as ice packs and other accessories for them.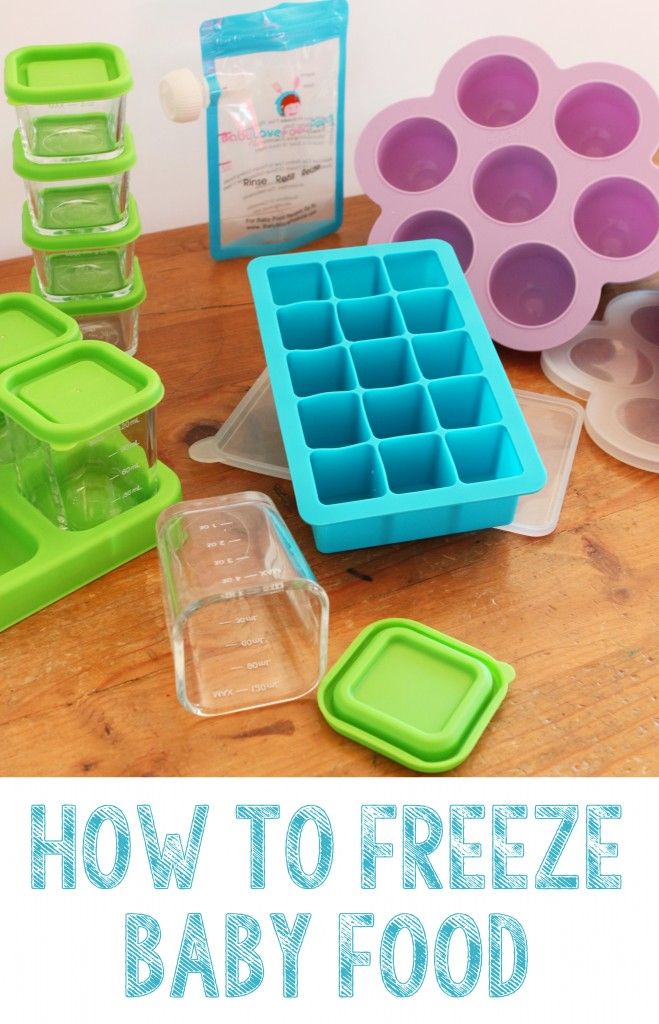 After you place an order, we will once again pleasantly surprise you with fast delivery.
The medical thermal container is used to ensure the optimal temperature regime during the storage and transportation of vaccines, as well as other biological preparations. Thermal containers are made of expanded polystyrene. The outer surface is protected by a cover made of durable synthetic material, the inner surface is protected by a very durable polystyrene film. A refrigerator bag is a thermal container for carrying and storing medicines. We offer cooler bags with a capacity of 2 to 50 liters.
Basic requirements for thermal containers:
ensuring the optimal temperature inside the container during the transportation of biological products, the minimum time for maintaining the set temperature values ​​is 8 hours;
the presence of built-in or separately attached devices for threshold registration of fluctuations in temperature values;
the presence of special devices designed to seal the lid of a medical thermal container;
the presence of a reliable system of fixing parts that prevent accidental opening of the lid of the medical thermal container during transportation.
Thermal containers differ not only in external characteristics (weight, dimensions, internal volume), but also in their main operational properties, the main of which is the duration of storage of vaccines and other biological products in them.
Compact and lightweight thermal containers (TM2, TM4, TM6) with a volume of 2, 4 and 6 liters ensure that the temperature is optimal for storing vaccines for 6-12 hours. They are ideal when small quantities of biologicals need to be transported over short distances.
Medium-sized medical thermal containers (TM9, TM16) with an internal volume of 9-16 liters are distinguished by their greater weight and longer vaccine storage time - 12-18 hours. Large thermal containers (TM25, TM32, TM50) are designed to transport much larger batches of vaccines. Their volume is from 25 to 50 liters, while the period during which the normal temperature is maintained is also no more than 18 hours.
For transportation over long distances, special weighted medical thermal containers model TM9 are designed.