How long is fresh baby food good in the fridge
Little Remedies Blog - Making Baby Food at Home: Safety Tips You Should Know
Food and Nutrition
Written by
Cathy Hale
on May 17th, 2016productslittle tummys
---
Paving the path for a life of nutrition can start at home in your own kitchen with a food processor. If you're interested in making homemade baby food your hungry little tot, you're not alone. Today lots of moms and dads are preparing their own baby food at home, which is wonderful. But before you grab your apron and potato masher, there are some important things to consider.
Just like in every other situation with your baby, safety comes first. If your store breast milk, you already know there are rules you follow for safe storage. When you make baby food, similar rules apply. That's why you need to be knowledgeable about proper preparation and storage.
• As always, wash and rinse your hands and equipment prior to use. 
• Don't just rinse off fruits and veggies before your prepare them, scrub them to make sure they are clean, even if you will be peeling them.
 
• The best way to preserve all of the yummy nutrients is to bake, steam or roast the foods you're going to prepare.
• Store your baby food in the refrigerator or freezer in airtight containers. Unlike pre-packaged baby food you buy at the grocery store, homemade baby food can't be stored in the pantry. 
• The rule of thumb is pureed homemade baby food can be stored up to 48 hours in the refrigerator. Many food safety authorities say that 72 hours is fine too. This time limit decreases the likelihood of bacteria growth in the puree. Plus, it keeps that icky "taste of the fridge" out of your tasty meals. 
• Harmful bacteria can grow quickly if foods aren't properly cooled. Refrigerate or freeze perishable foods within two hours of preparing them.
• You should not freeze meat purees from meats that have been frozen when raw, thawed, cooked and then frozen and then, thawed again.
• Freeze ground meat, poultry, fish and shellfish if you don't expect to eat it within two days, and freeze other beef, veal, lamb or pork within three to five days.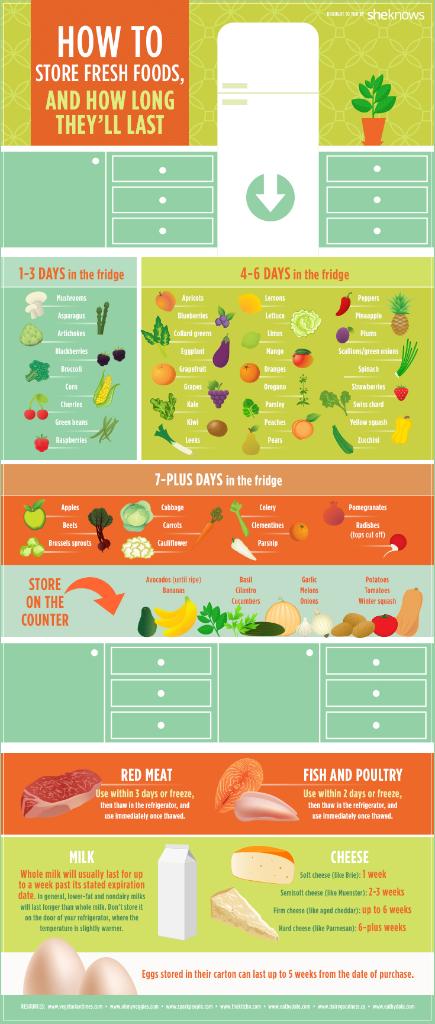 • It's best to transfer hot food you have cooked to the fridge and then to package for freezer storage within 2-3 hours after it has cooled off. Again, you may safely leave prepared foods in the fridge for up to 48 hours (72 hours max) before you freeze it.
More Food for Thought
• Don't Double Dip - If you do make small batches of baby food and store in the refrigerator, please remember you shouldn't feed your baby from that container and then re-store it. That's because saliva may contaminate the food and bacteria can grow. I know it means more dirty dishes, but you should always put the portion you serve in a different bowl.
• No Need for Sugar or Salt – Salt and sugar are never needed when making baby food, so it's best to just leave them out of the mix. Literally! 
• Frozen Food is Fine – Contrary to myth, freezing foods (fruits and vegetables in particular) does NOT deplete 100% of that food's vitamins and minerals.
• Afraid of Freezer Burn – During your first few attempts at freezing baby food, you may think it has freezer burn because you'll see ice crystals from on it.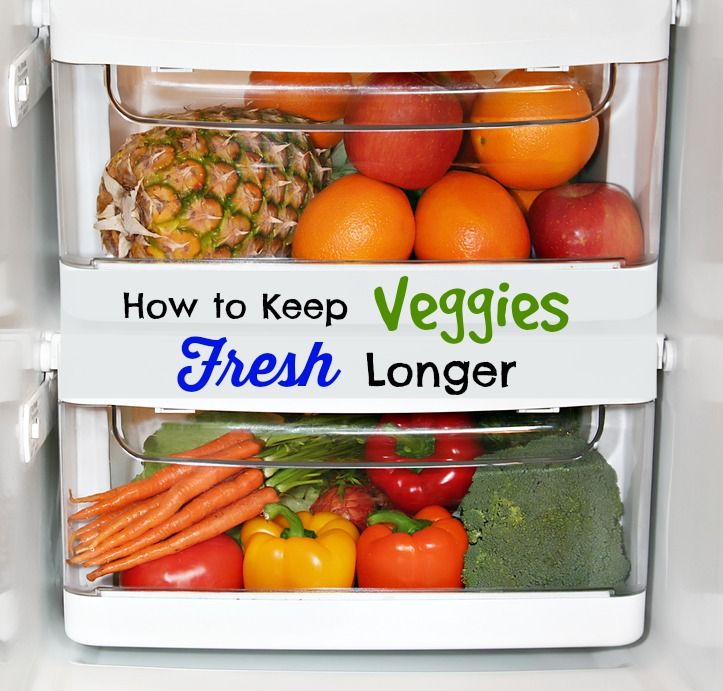 That's actually just excess liquid. Freezer burn is when you see leathery looking grayish brown spots. Ice crystals are A-Okay!
Blog
Creative Quarantine Activities for Toddlers Shared by Parents on Social Media
products
Blog
Why You and Your Child Should Get The Flu Vaccine
productsLittle Colds
Blog
What You Really Need to Get for Your First Baby
productskits
Little Tummys
Remedies for Little Tummys
Safe and Reliable remedies to help relieve your little one's tummy discomfort*. *This statement has not been evaluated by the Food and Drug Administration (FDA). This product is not intended to diagnose, treat, cure or prevent any disease.
Little Colds

colds

Little Coughs

coughs

fevers

fevers

little noses

noses

little tummys

tummys
Where to Buy
Find Little Remedies In Stores or Online
About Cathy Hale
Cathy Hale is a nationally recognized writer and lifestyle blogger.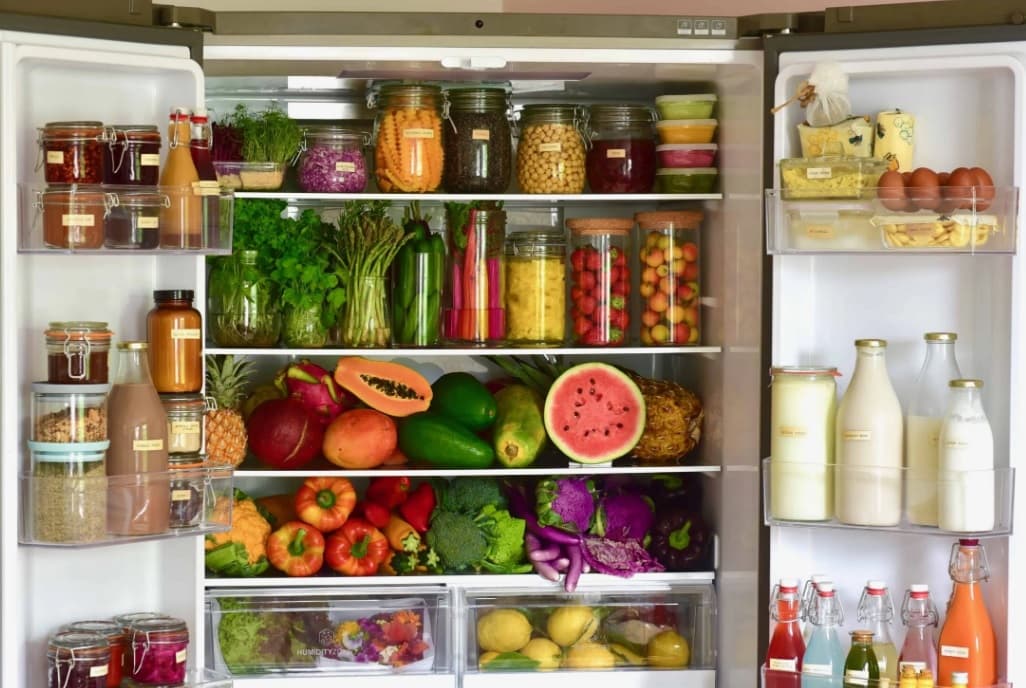 Read More
About Cathy Hale
Cathy Hale is a nationally recognized writer, lifestyle blogger, autism advocate and proud mother of two. In 2008, she began navigating the wild world of motherhood as a mom blogger after her oldest son was diagnosed with autism at the age of three. Cathy's candid perspective about raising a child on the autism spectrum garnered national interest. Cathy has contributed articles and appeared in lifestyle powerhouses like Babble, iVillage, Betty Confidential, SELF, HLN, Marie Claire, Parents and Parenting. Cathy grew up in Richmond, Virginia, and attended Virginia Commonwealth University where she graduated with a BA in English and a German minor. She lives in Austin, Texas, with her family and writes about life in the Texas Hill Country for LakeTravisLifestyle.com.
Product Finder
How Long Does Homemade Baby Food Last?
As your little one grows and develops, they will continue to reach new milestones along the way.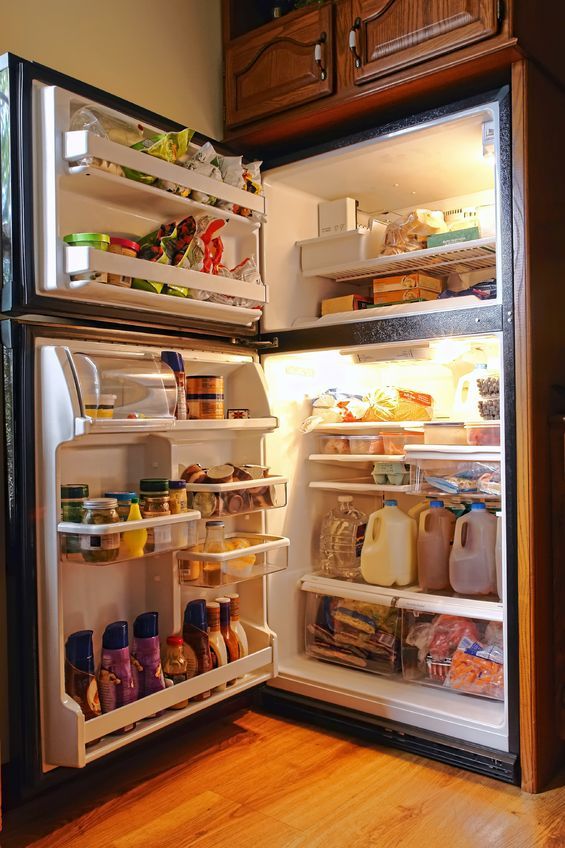 One of the most memorable (and messy!) experiences you will have with your new baby is their introduction to baby food! Many parents prefer to make their child's baby food at home, as opposed to purchasing pureed foods in-store.
Although the possibility may seem daunting, it can actually be quick and easy! Making homemade baby food also has tremendous benefits for your little one (and you)! Not only will your baby benefit from more variety and textures, fresh tasting food, and more nutrition, but you'll be able to have more control over what your baby is eating and can easily keep track of the ratio of fruits and veggies their having.
Shopping trips are reduced, and buying fresh fruits and veggies in bulk to make your own baby food can produce more ounces of fresh purees than store-bought baby food jars can offer. However, without a printed expiration date on a jar, it is important to pay attention to how long homemade baby food lasts! Here are some guidelines for keeping your little one's purees safe and fresh:
Refrigerated - 48 Hours
If you are storing your homemade baby food in the refrigerator, freshly made baby food will last in the fridge up to 48 hours.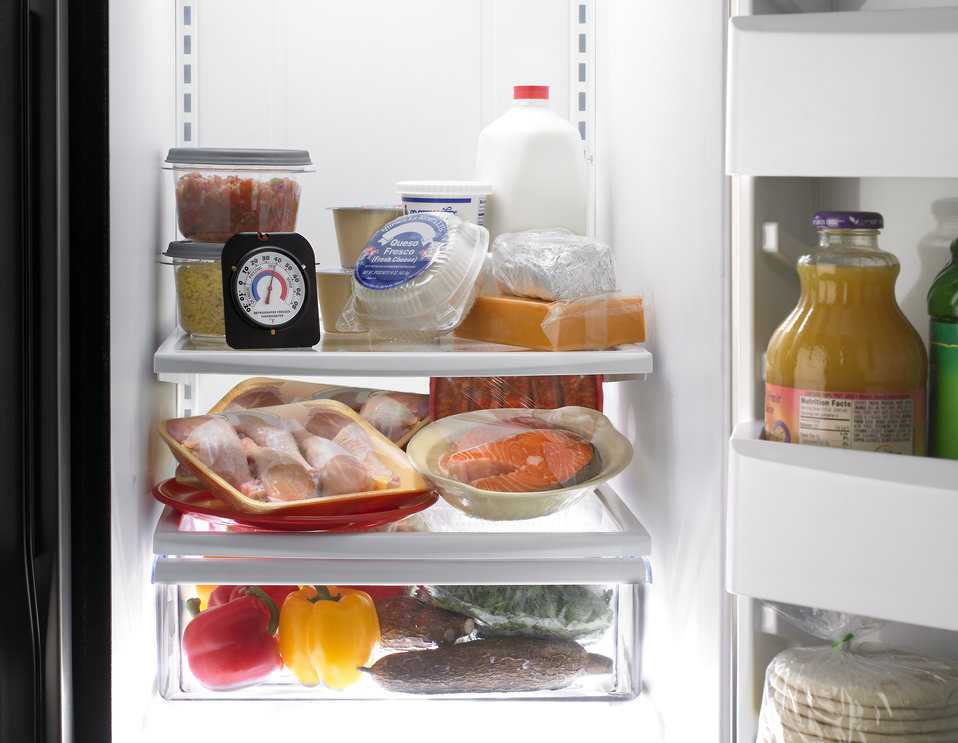 However, if you store purees in individual containers for quick, single-use servings, this storage method can be a convenient option (as it will eliminate the need for defrosting or any other extra steps).
Be sure to write the date on the containers, to ensure that they are being thrown out after the 48-hour window closes! If you do not plan to freeze your homemade baby food, we would suggest that you make the puree on a day to day, or every other day, basis. Also, never feed your baby directly from the original storage container and then re-store. Saliva and other bacteria can contaminate the food if you do so.
Frozen - 3 -6 Months
For optimal quality and nutrient retention, it is suggested to keep homemade baby food in the freezer for a maximum of 3 months. However, it is still safe for your baby to eat for up to 6 months. The ideal way to freeze homemade baby food is by using the Infantino Squeeze Station™.
The Squeeze Station makes the task of making homemade baby food even easier by offering an easy container for immediate use, or storage for later in the fridge or freezer.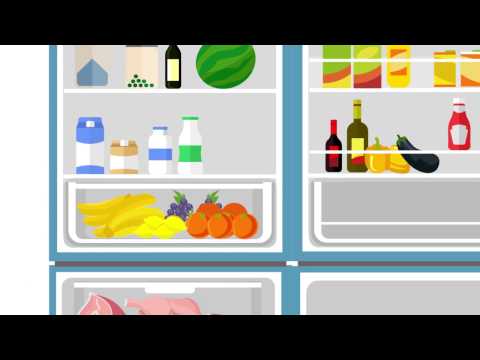 Convenience is key when you're a mom on-the-go and the Squeeze Station is the perfect tool to help with all of your baby food needs.  
Another way to store frozen baby food is to put your homemade baby food in ice cube trays covered in plastic wrap, and then pop them out into freezer Ziploc bags once frozen. Be sure to label with the type of food and the date it was made. This method can help to keep track of portioning because every ice cube sized frozen baby food puree is approximately one ounce, which helps you measure how much food your baby is actually eating! You can also defrost one cube at a time, which creates less waste than traditional baby-feeding methods.
Whether you choose to refrigerate or freeze your homemade purees, you may find it convenient to make your own baby food pouches and our Squeeze Station can help with just that. Homemade baby food pouches can be stored in the fridge or the freezer, and they follow the shelf life and freshness guidelines as homemade baby food that is stored in other containers.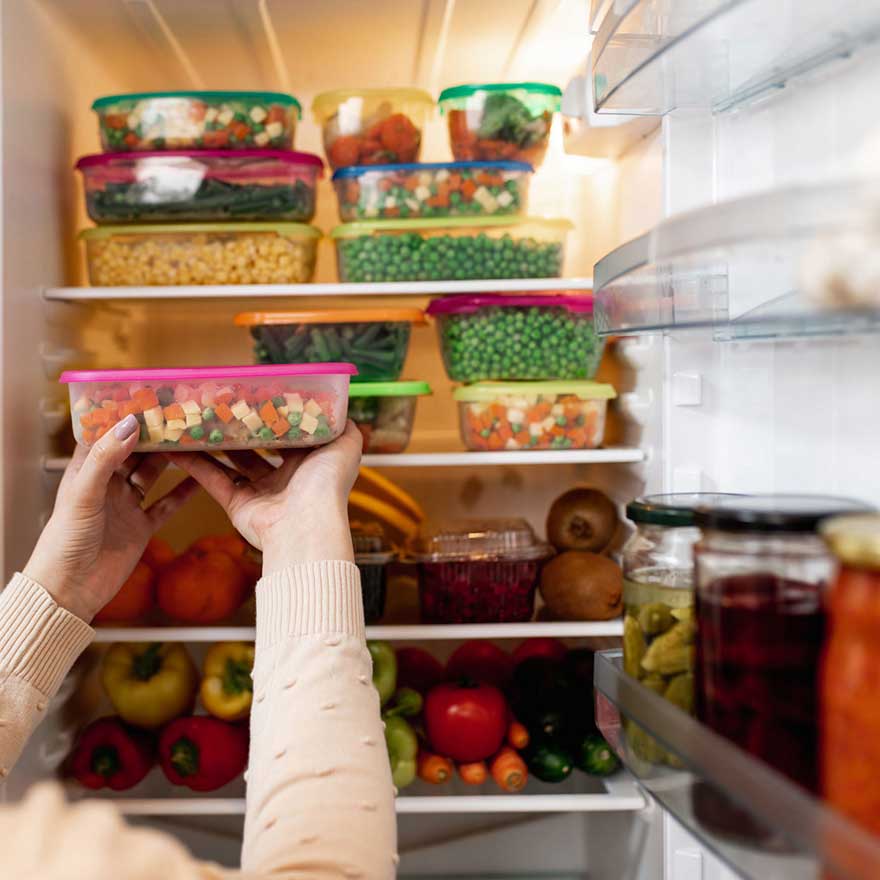 If baby food pouches seem like the best option for your family, whether at home or on-the-go, Infantino has some great products that can help!
Squeeze Station™
You can make and store your own convenient food pouches with the Infantino Squeeze Station. It's quick and easy! Just pour in the purée and press down to fill. The non-skid base stays secure on your counter, and the soft press ensures a stable grip. Plus, the station is dishwasher safe, so clean up is simple! The Squeeze Station is perfect for homemade baby food and smoothies, as well as store-bought applesauce, yogurt, and purées. Your little one can enjoy the pouches right away, or you can store them in the refrigerator or freezer for later. These are perfect for making on-the-go feeding a breeze! The Squeeze Station also includes 10 Squeeze Pouches™.
50-Pack Squeeze Pouches™
You can also purchase more squeeze pouches in packs of 50! Use the Fresh Squeezed® refill pack of pouches with the Squeeze Station™ to create homemade food pouches.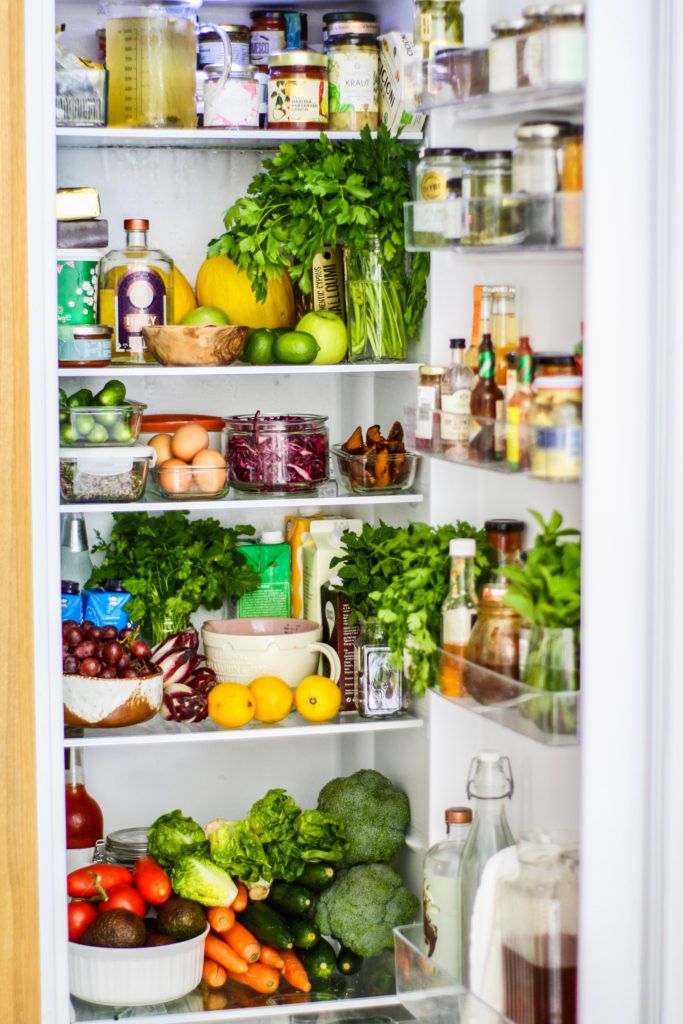 The pack includes 50 food-safe, disposable pouches, and 50 kid-safe caps. Each pouch holds up to 4 ounces of food and features a clear window to see the food inside. The rear window also has a space to write dates, name, and the food type. All of the pouches are freezer safe and BPA, PVC, and phthalate free!
Reusable Squeeze Pouch™
This environmentally friendly, reusable food pouch can also be used with homemade purees, smoothies, applesauce, yogurt and more. Use the screw top to pour in your child's favorite snack. Perfect for The secure, screw top prevents leaks and messes. Plus, the Reusable Squeeze Pouch includes a handy clip for attaching to bags and strollers. This silicone pouch is easy to clean, dishwasher safe and BPA, PVC, and phthalate free.
We hope that these freshness guidelines will help you along your homemade baby food journey, keeping your little ones healthy, happy, and safe!
How to store baby puree correctly and for how long
When a baby grows up, in addition to breast milk, he is given various vegetable, fruit or meat purees.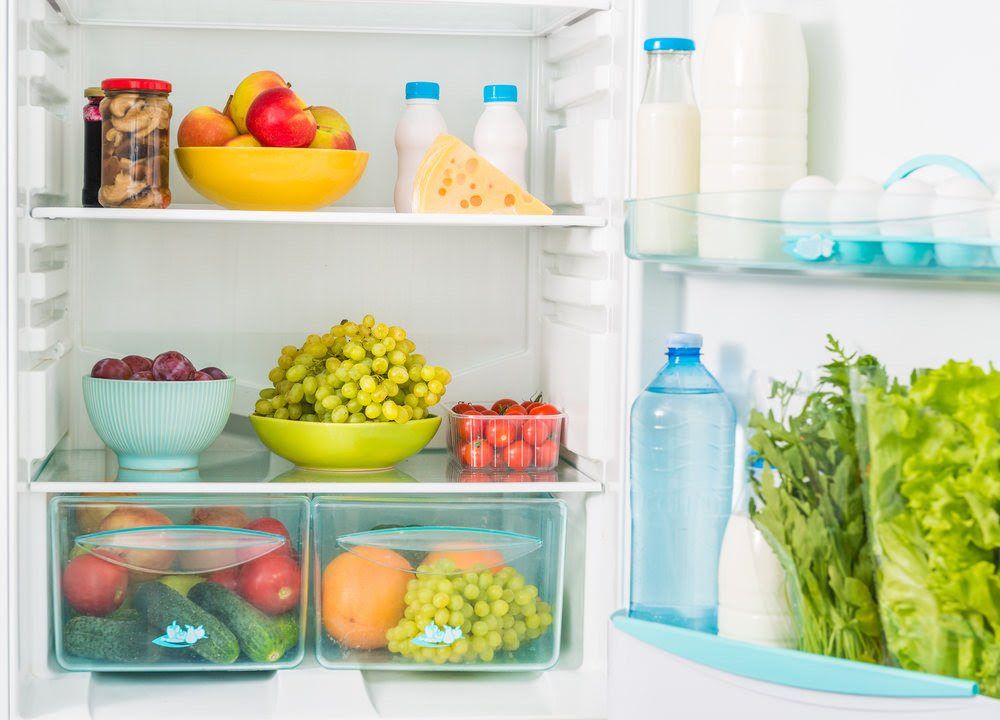 The proper development of the child's body will depend on the quality of complementary foods. Therefore, you should buy only fresh products from time-tested manufacturers. Where and how to store baby food puree, you can read on the jars. But it will not be superfluous to familiarize yourself with the general rules for storing food for babies in order to prevent poisoning, indigestion and other negative consequences of eating low-quality or expired products.
How to choose
When buying baby puree for future use, you must strictly follow the storage rules specified by the manufacturer. But if after opening the jar there are doubts about the quality of the product, you should not give it to a child. Better to play it safe and go for fresh mashed potatoes than put the child at risk of poisoning.
Quality fruit or vegetable puree should not contain any additives other than water and, moreover, preservatives.
Making a choice in favor of one or another type of product, first of all, its useful qualities are evaluated.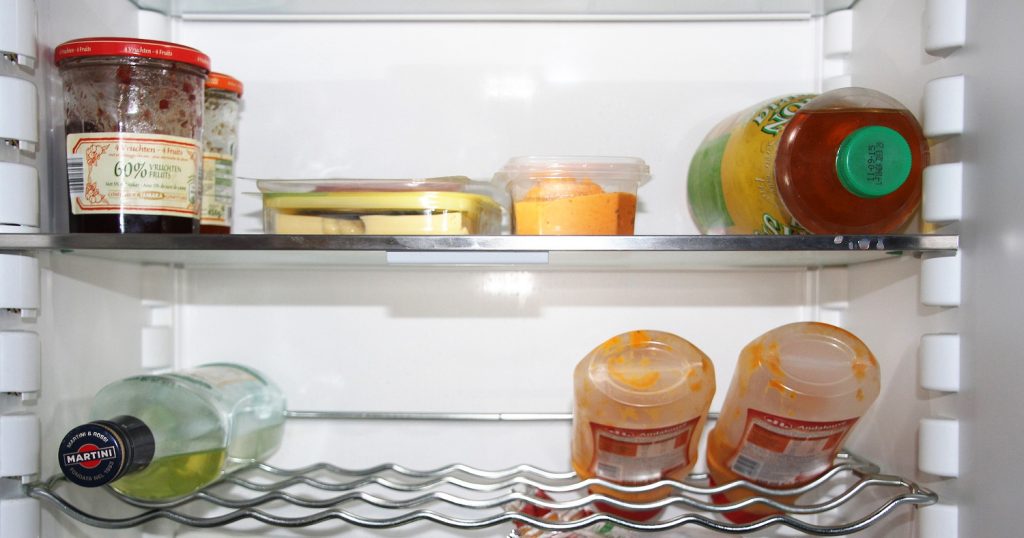 Exotic fruits, for example, will not bring as much benefit to the children's body as an apple or a pumpkin.
The fruits and vegetables best absorbed by a child are those grown in the area where he lives. Therefore, when choosing baby puree, preference is given to products of local manufacturers. More natural and useful for the digestive system of our child will be puree from ordinary carrots, apples, pears, zucchini than from mangoes, bananas and other exotic fruits.
There are three types of baby puree packages:
glass,
metal,
cardboard (Tetra Pak).
It is impossible to say exactly which package is better. Each of them has its own disadvantages and advantages.
In glass container the product can be stored without fear that this material will somehow change the composition of the baby puree. At the same time, the small volume of the jar (100 ml) allows you to use its contents without residue. And in this case, you no longer have to store baby puree.
In metal containers the shelf life of baby puree will be longer. In addition, it will not break in case of careless handling.
Baby food in carton is the most budget option for low-income families. But this does not mean that the contents of the package are worse. Just monitor the safety of the product should be more carefully.
Purchased puree
Pre-sealed baby food containers can be stored even at room temperature. The manufacturer creates a vacuum environment inside each of them, which minimizes the development of harmful microorganisms. But if the storage of baby puree occurs without a refrigerator, the product is placed in a cool place, closed from sunlight. It should be understood that when heated, the contents of the containers will deteriorate faster than the period specified by the manufacturer.
Tetra Pak carton packs are as convenient as glass or metal packs.
In it, the product can also be stored for a long time. Unlike a glass jar, cardboard does not let in sunlight and is cheaper.
The disadvantage of cartons is their relative fragility. They are easily deformed and may lose their tightness during transportation.
While still in the store, you need to read the information that is present on the container with baby food. First of all, pay attention to the date of release of the product, and its expiration date.
Homemade puree
At home, prepare baby puree immediately before use. Storage is contraindicated for it, since cooling and subsequent heating deprive the product of useful properties.
How long can homemade puree be kept when there is no other way out? No more than 24 hours in the refrigerator, and within 3 months in the freezer.
To freeze the product, it is laid out in ice molds and sent to the freezer. After solidification, the cubes are transferred to special freezer bags or food containers, after which the date must be indicated on them.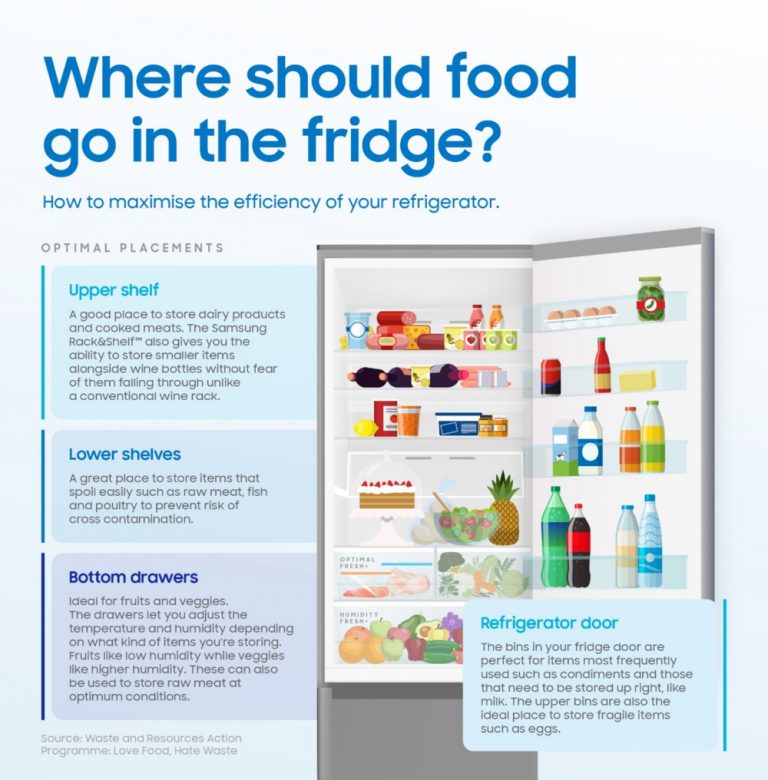 Then the product is sent to the freezer for 3 months.
When preparing and freezing baby puree, use only sterile containers and cutlery.
Product can be defrosted on the refrigerator shelf or at room temperature.
Opened baby puree
The answer to the question of how long open baby puree can be stored can be found on the product packaging.
Most manufacturers do not recommend storing baby puree after opening in general . Or it allows it to be in the cold for no longer than 1 day. This will allow you to divide the product into 2 feedings, but you should not heat it directly in the jar. The necessary part of the puree is transferred to another container and heated. If you heat the entire jar, the shelf life of the baby puree that remains in it will be reduced to a few hours.
The temperature at which baby puree should be stored after opening should be between 0°C and +4°C.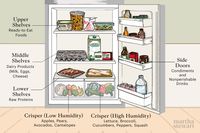 If you keep it in a warmer place, it will lose quality after 5 - 6 hours. The product cannot be kept on the refrigerator door due to constant temperature changes every time the door is opened.
When closed baby puree can be stored at a maximum temperature of +22°C
A after opening at a maximum of +4°C.
You can read the manufacturer's instructions for how long puree can be stored in the refrigerator, but if the jar is opened, it will not be possible to give the product to the child in a day.
Out of the refrigerator, opened baby food will retain its quality for up to 6 hours at temperatures up to +20°C, and no longer than 4 hours in an even warmer place.
Storage rules
If your baby consumes poor-quality products, it can lead to serious consequences, so you need to know how to store baby purees in jars (other packaging).
Closed baby food containers should be kept in a dry, dark place. These are various closed cabinets, pantries, etc. There should not be heat sources nearby, otherwise bacteria will begin to actively develop even in closed packaging.
Arrange the jars so that those with the earliest expiration date are closest. Accordingly, they must be used first.
Lids on containers must always be tightly closed.
Do not feed your baby directly from the bottle if you plan to continue to store the contents. When children's saliva enters the container, the development of microorganisms occurs. Then the product becomes unusable.
If you leave an open jar right on the table, after 2 hours, bacteria dangerous to your baby's health will begin to develop in it.
It is categorically impossible to continue to store expired baby puree and, moreover, to offer it to a child. This can lead to severe poisoning.
If the product has not changed its appearance, smell and seems to be quite edible, but its expiration date has passed, it should not be given to children.
Every mother should know exactly how to store baby puree and strictly follow all the manufacturer's recommendations.
How much and where to store baby food in jars?
Some manufacturers write detailed storage guidelines for sealed and unopened baby food right on the label. These rules must be observed, even if they differ from the rules for storing similar products from other manufacturers. If there is no detailed instruction, use the following recommendations.
Once again, we remind you that even unopened packaging must be stored in a dark, cool place. At temperatures above +25°C, products may deteriorate even in their original packaging.
Porridges for breeding:
The main enemy of dry mixes and porridges is moisture. Therefore, always make sure that the spoon for the porridge set is absolutely dry, and the bag itself is tightly closed after use;
Try to release as much excess air as possible before closing, so that moisture from it is not absorbed into the product;
Keep an opened bag of porridge in a dry place at room temperature. There is no need to store cereals in the refrigerator, they quickly become damp and spoil there;
Ready diluted porridge can be stored for no more than an hour or two. An opened package can be stored for 2-3 weeks (see manufacturer's instructions). But if after a few days you notice that the powder has become damp, lumps are noticeable in it - throw it away. Even if the product looks normal, but was opened more than three weeks ago, it is dangerous to feed it to a child. You can use leftovers in adult homemade cakes.
Choose cereals for your baby
Industrial purees
Unopened can can be stored at room temperature in a dark place.
An opened jar of fruit and vegetable puree will live in the refrigerator for no more than a day, and only if you follow simple rules.
Select baby puree
Do not bottle feed your baby. Put the desired portion with a clean spoon into a separate container, close the jar with the rest and put it in the refrigerator. Reheat reserved food if necessary. You don't need to heat the whole jar.
If you fed your baby directly from the jar, the shelf life of such puree is only a few hours even in the refrigerator, because the baby's saliva and bacteria got into the food on the spoon.
Important!
The shelf life of meat puree after opening is only 24 hours, subject to the same rules. If you bought puree in a metal package, be sure to transfer it to a clean, dry jar and close the lid. It is undesirable to store opened puree in its original packaging and it is recommended to use it immediately. Closed - store in accordance with the manufacturer's instructions.
Homemade cereals
Same rules as for diluted cereals.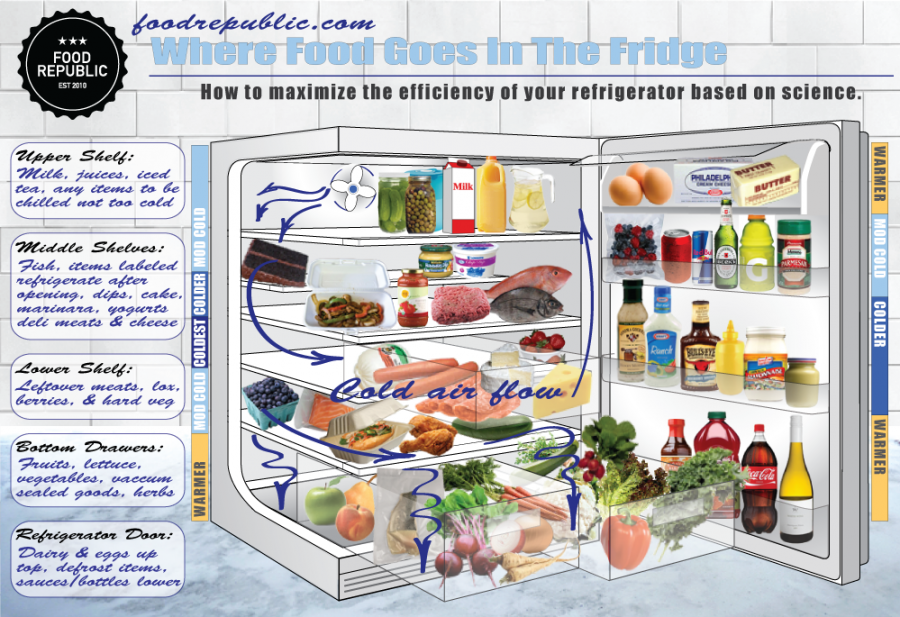 In the process of cooking, the porridge is ground with a blender and rubbed through a sieve. At this time, microorganisms get into the porridge from the air, so you can't store such porridge for a long time.
Home-made puree
It is possible to increase the shelf life if the finished puree is poured into small sterilized containers, covered with cling film and immediately put in the freezer. At -18°C, this puree can be stored for up to three months.
Important!
The finished product is stored in the refrigerator for no more than 6 hours, as bacteria have probably got into it during cooking. Do not freeze starchy puree (with potatoes, peas), as starch is destroyed during freezing.
Homemade fermented milk products
Made only from sterilized milk in a sterile thermostat can be stored in the refrigerator for up to three days. Mixed with fruits or juices, as well as additionally rubbed or otherwise in contact with air, they cannot be stored, they must be eaten immediately after preparation.